A Brush with Life - Issue #121 Best of 2022 and Hello 2023
What was that!? This is how I think of 2022. Continued monitoring and masking coupled with a new war and global financial uncertainty. However, here I am sprinting into 2023 with hardly a backward glance…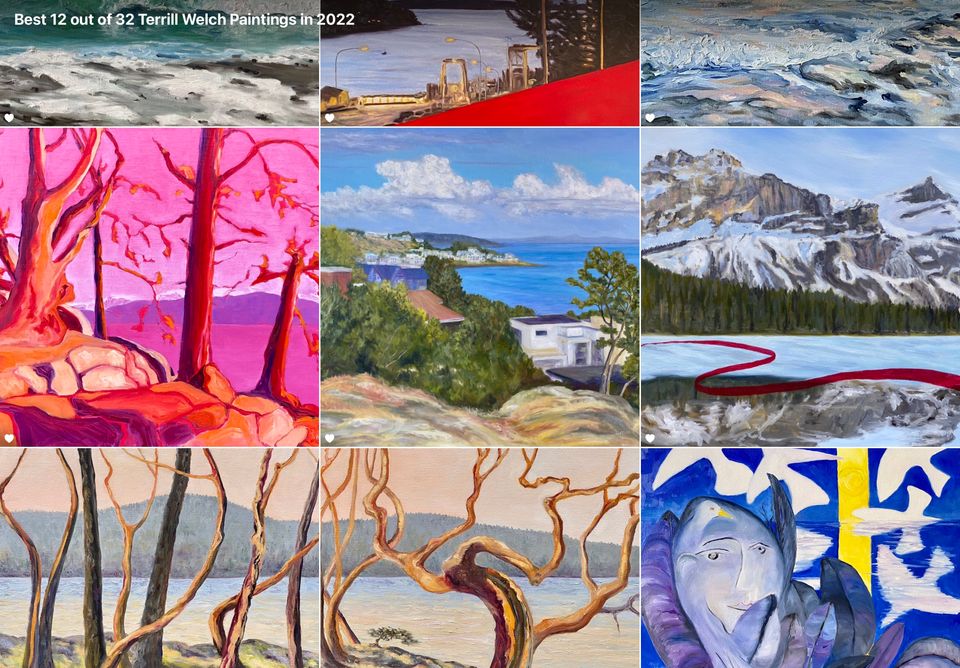 What was that!? This is how I remember 2022. Continued monitoring and masking, coupled with a new war and global financial uncertainty. However, here I am sprinting into 2023 with hardly a backward glance. Still, my moments of reflection prove fruitful when I review my 32 completed and released paintings for 2022 which I will share with you in a moment.
Next, I remember the two publication mentions.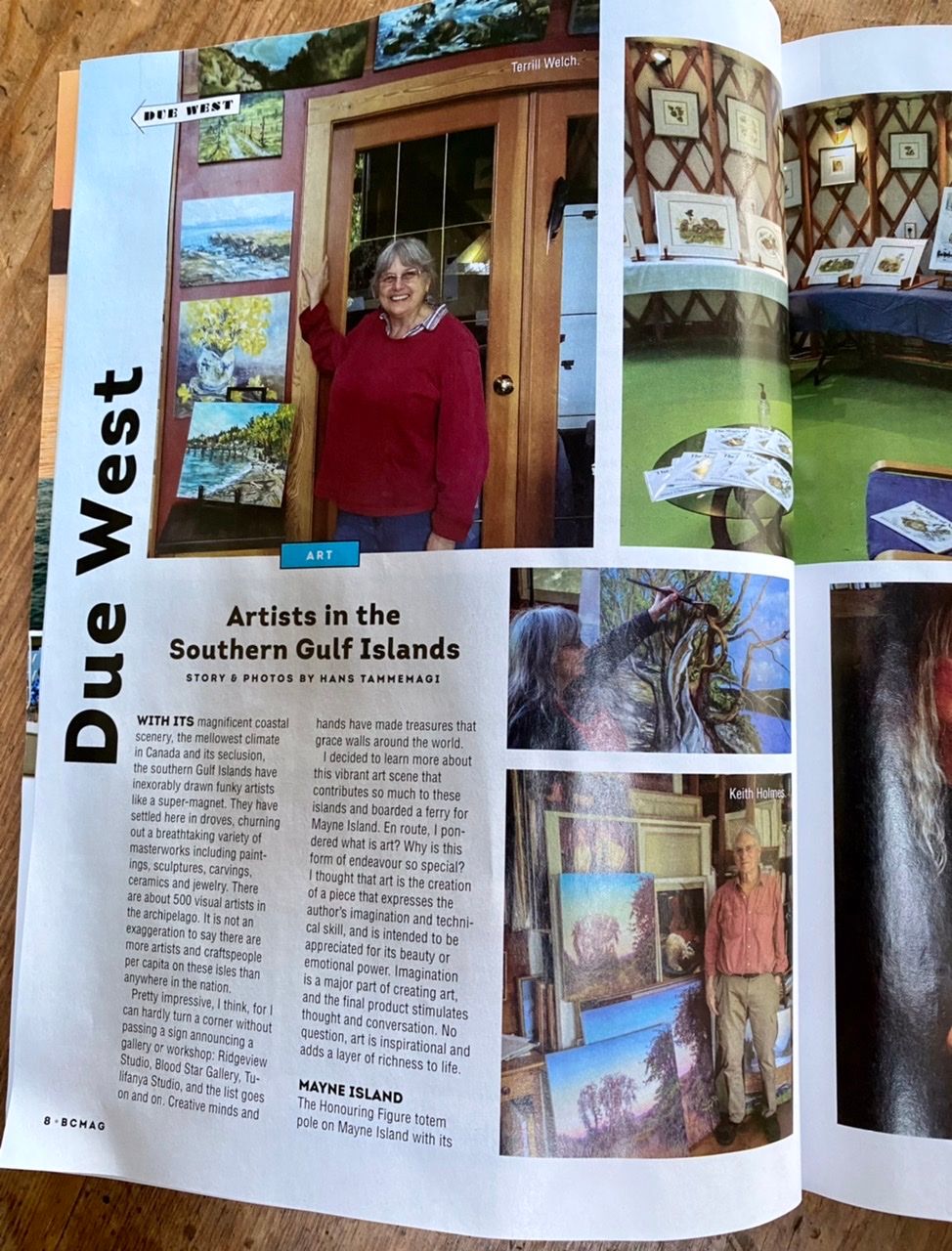 The first mention was in an article by Hans Tammemagi in the respected British Columbia Magazine, summer issue 2022, along side a few fellow Southern Gulf Islands artists including Keith Homes, Morgan Warren, Stan Oglov, Robert Bateman, Donna-Fay Digance and Judy Weeden.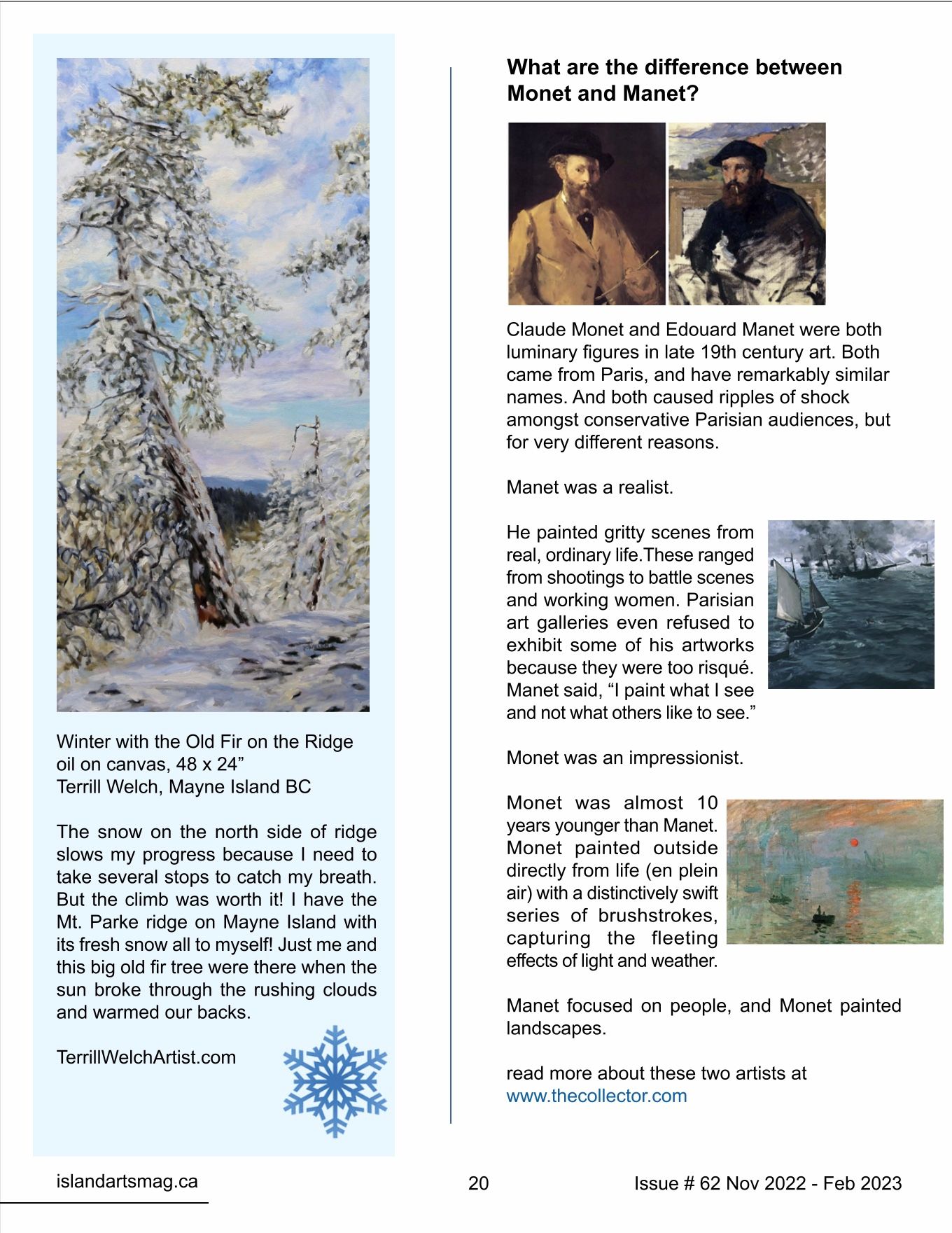 The second mention was a feature of the "Old Fir Tree in Winter on Mount Parke" painting in the Winter 2022 issue of the online Island Arts Magazine that reaches from coast to coast in Canada and is owned and published by Canadian Fine Artist Susan Schaefer.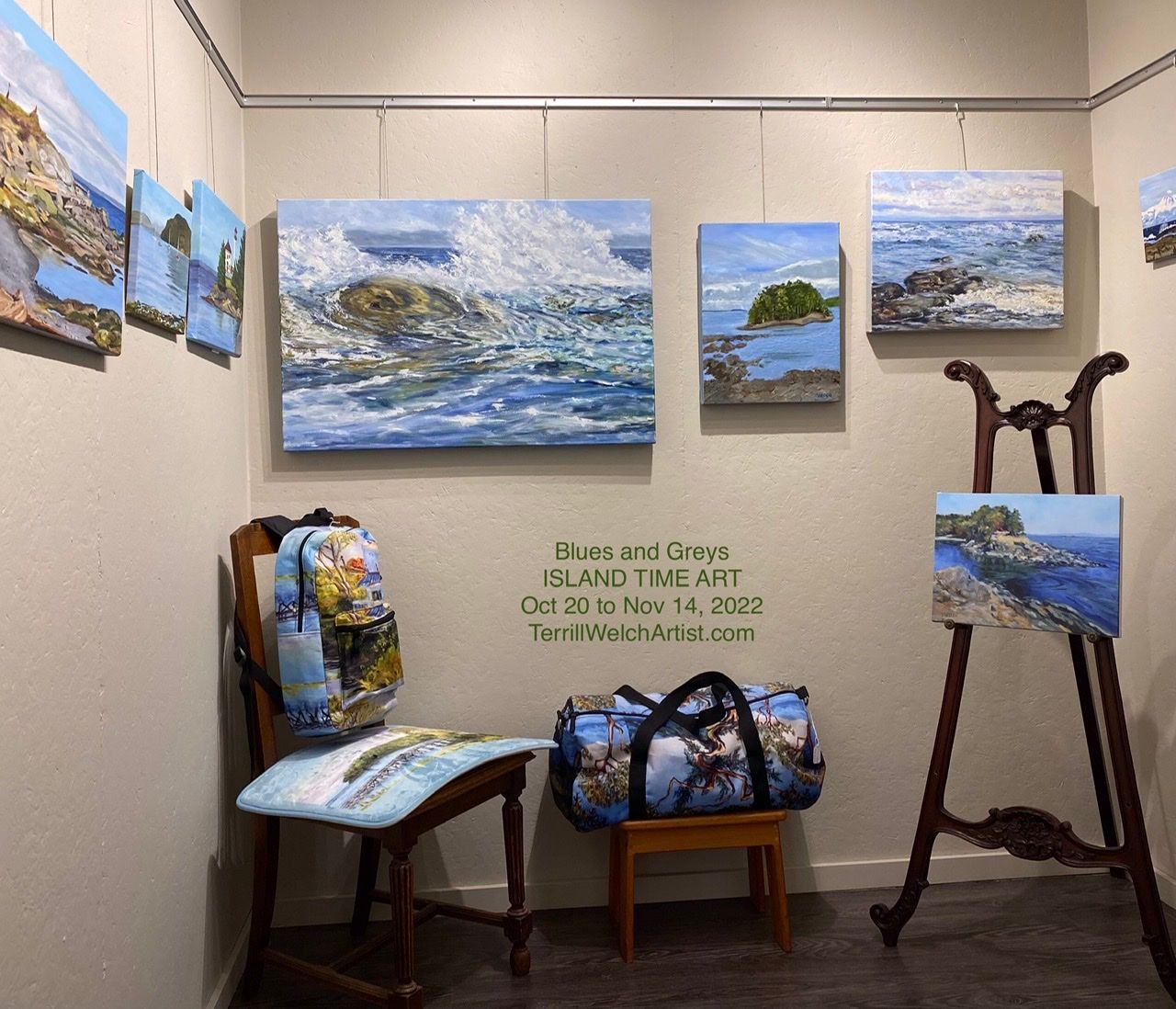 After this, I browse through the group art shows that have taken place in the ISLAND TIME ART room since April. I am thankful for the time I have shared with fellow local landscape painters Glenda King, Jody Waldie, Jennifer Peers and Maeva Lightheart. It has been an honour to show their work along with my own and smaller reproduction and useable art using images from my paintings.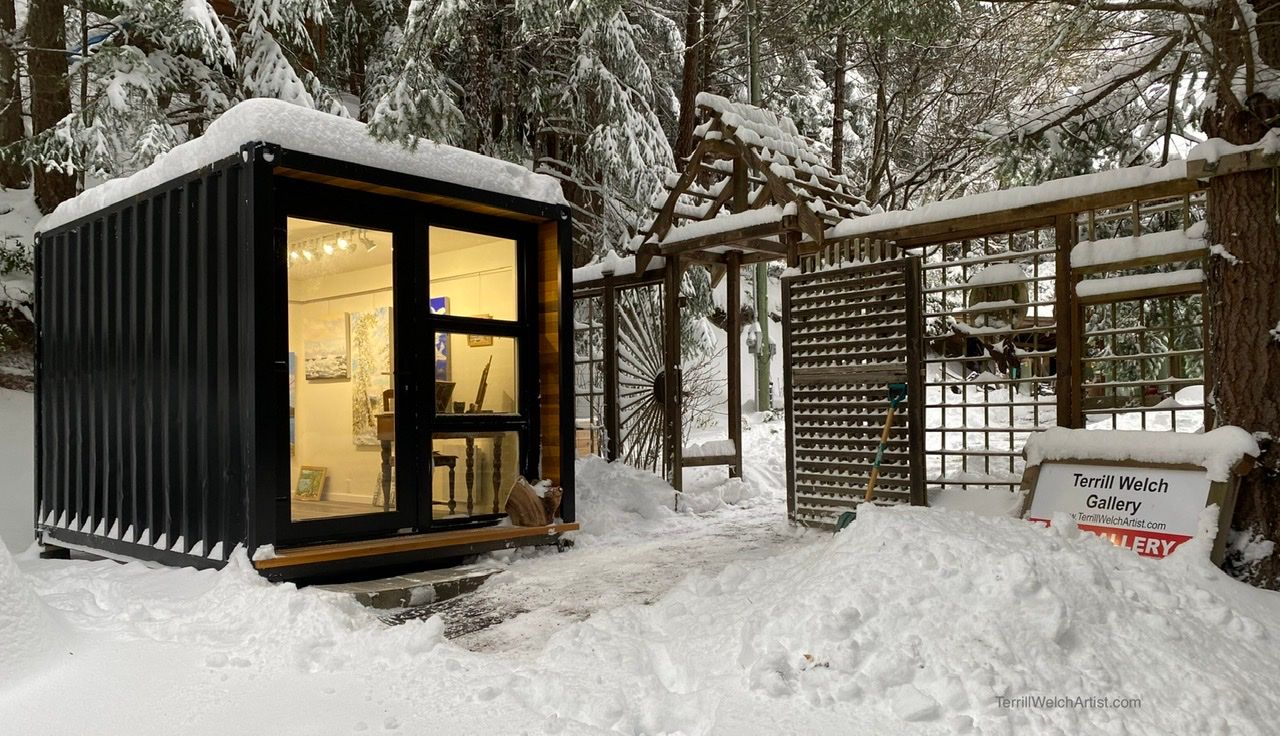 I take a long pause over a recent photograph of the December snow-covered Terrill Welch Gallery Pod that arrived in the middle of August and has been showing and finding homes for paintings every since. In fact, the gallery pod has been a huge success and it is a perfect fit for my painting practice at this time.
For example, on December 31st, we had visitors from Montreal, Quebec and Seattle, Washington who came with family and friends. It is such a pleasure to treat people to this sweet and unique gallery space which allows visitors to easily take in my large local paintings as well as smaller works. I am also able to bring additional paintings out from the home studio as interest dictates (which it did). And if a visitor stays engaged long enough, or asks, it is often possible to come into our strawbale timberframe house to view what I am working on in my home studio as well.
All in all, it was a great transition year with more still in progress and anticipated in 2023 as I spot my sixty-fifth birthday clearly on the horizon.
BEST 12 OUT OF 32 TERRILL WELCH PAINTINGS IN 2022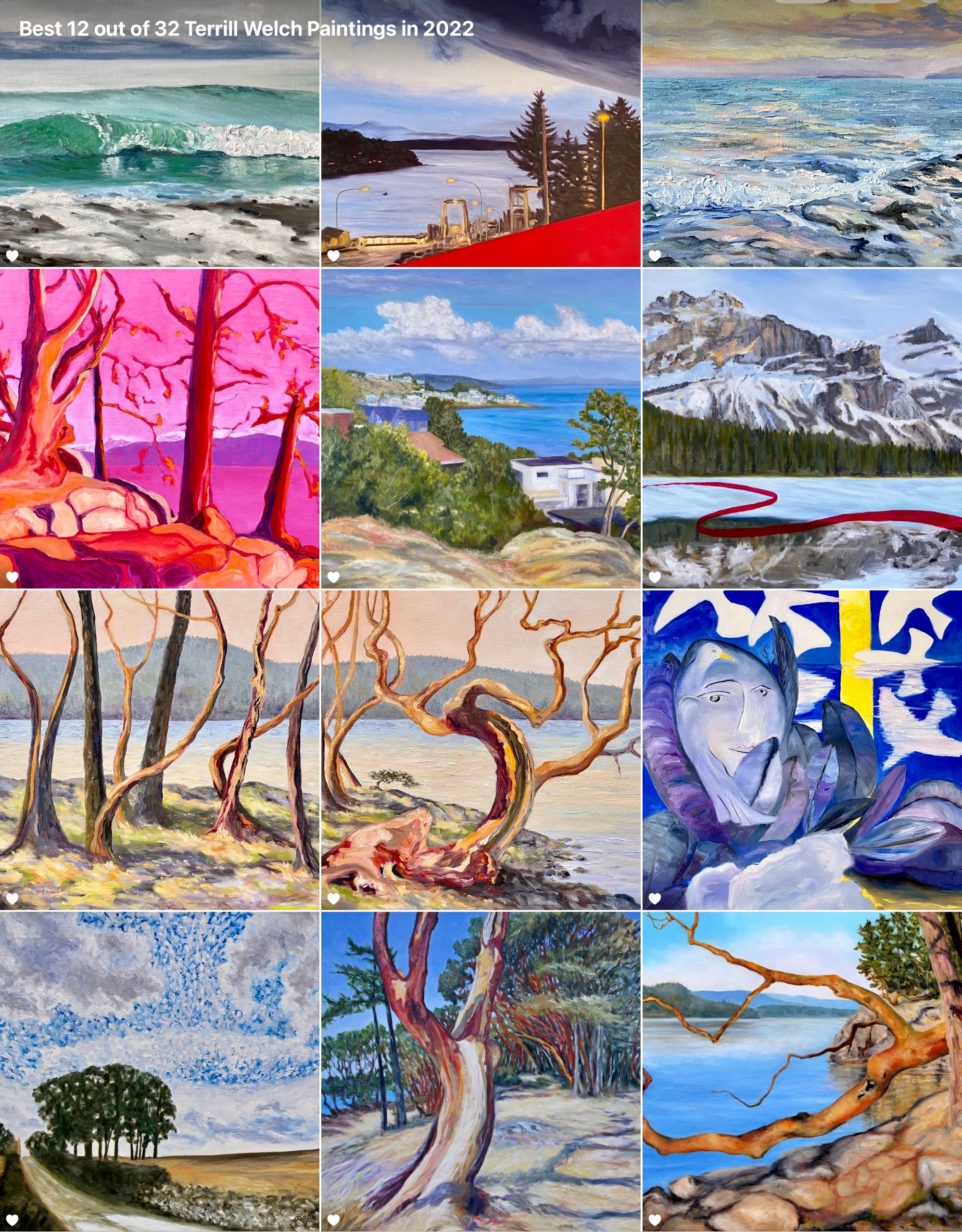 Each year I like to review which are my best paintings painted and released in that calendar year. Sometimes this selection is easy and other times it can be more challenging to decide. This is a more challenging review of 32 new paintings in 2022 with a wider range than usual of approaches. However, a decision has been made! I ended up choosing 10 paintings, including a diptych, and one bonus painting. (So there are 12 separate canvases in total)
View all paintings in detail from our online private viewing room at the link below.
HELLO 2023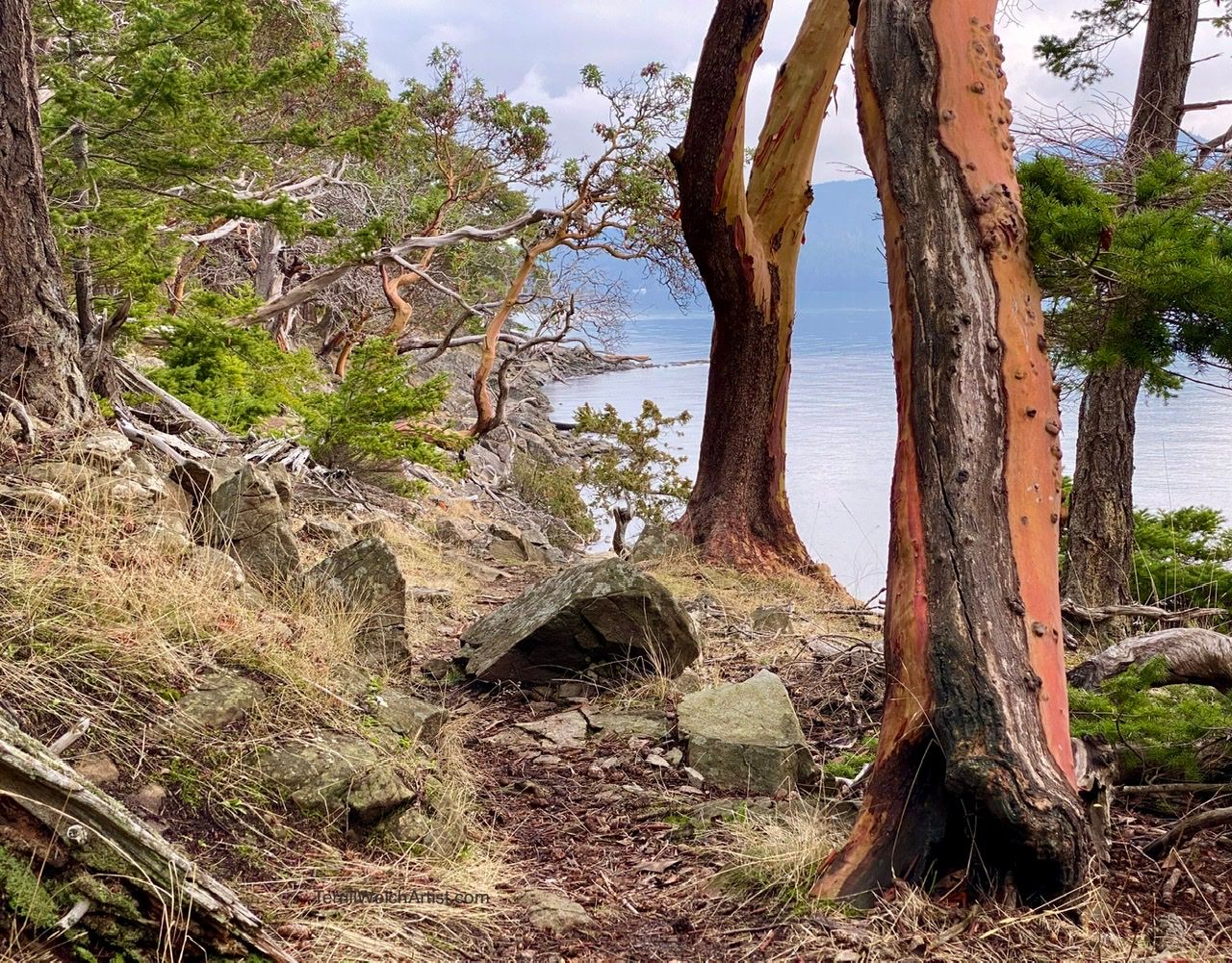 My intention for 2023 is for far less online screen time and more time on the hiking trails and in the studio with new work rhythmically showing in theme exhibitions in the gallery pod. This means that I will mostly be in touch with fans and art collectors through "A Brush with Life" issues that are published free on the 1st Friday of each month and "Terrill Welch by herself" published through a paid subscription on the 3rd Friday of each month. My social media accounts will remain with a trickle of postings (just slightly above dormant) for now. I have been slowly working this into my practice since about the middle of 2022. I admit, it is extremely difficult to make this shift. I like visiting online. But the negative results are profound when it comes to keeping time to be actually living in my physical world during the past couple of years when circumstances forces us into our small intimate bubbles. So this is it! I am off to find my way off line, even if this means far less company to visit with, at least at first. By the way, both of these newsletters allow for direct comments. Please feel free to engage here as it is much more contained than on my social media profiles. As always, it is important to remember that information is or can be public even when currently limited to a paid subscription. This is always good to remember about anything that is posted online anywhere. I look forward to our conversations! Psst! And there is no advertisements or outside distractions from the content you have come here to read. Ta-da!

PAID SUBSCRIPTION- INTRODUCTORY OFFER FOR "TERRILL WELCH BY HERSELF"
Our Introductory Offer is available starting today with a 50% savings at $18 CAD annually. This introductory offer will remain available until the second Friday in March 2023. For clarity, the current ongoing regular price for a "Terrill Welch by herself" subscription is $6.00 CAD per month or $36 CAD annually.
Click on the link below to subscribe to this new paid subscription to "Terrill Welch by herself" published.

In this PAID publication to "Terrill Welch by herself":
You will receive full access to premium content published on the 3rd Friday of every month.
You will receive musings, opinion pieces, reference gathering hikes and travel updates, plus behind the scene art studio work-in-progress explorations.
This is where you will learn what I am thinking about, reading, watching, learning, writing and a first glimpse into a new idea or a the development of a new series of paintings.
You will gain access to an intimate connection with what I celebrate and the challenges I face as a painter exposing extraordinary moments within an ordinary day. Basically the paid subscriptions is where you will find the stories about my life and work.
Though the very BEST offer for my new "Terrill Welch by herself" annual paid subscription ended December 31, 2022, there is still a chance with this Introductory Offer available until March 2023 for a substantial savings forever. After this, you will still be able to purchase a paid subscription at the full price of course and read all premium content. There is already a nice sized group of paid subscribers who I am hopeful will also participate in a community of conversations through comments on each new issue that is published on the 3rd Friday of each month. Currently, there is a bonus issue that awaits all new subscribers. So we have a start as I write and organize special content for this first paid subscription issue to be published on January 20, 2023. Here is the Introductory Offer link one more time for your convenience…
TWO NEW RELEASES
We have two more paintings now released as part of my new "Thriving in Place" series which I discussed in detail as part of the bonus issue for the paid subscription to "Terrill Welch by herself". This bonus issue is also where these two works were first exclusively available until their public release on January 1, 2023. However, paintings have a long life span and they still look as intriguing today as they did then. Here are the direct links to each painting for your browsing pleasure:
AND...

This brings our 121st issue of "A Brush with Life" to a close as we reflect and lean into a New Year while unfolding a continuous experience of self and place.
UNTIL NEXT TIME
The past few years have been tougher than some for many. There has been many losses and more than our usual doses of uncertainty. Yet, I sense a deepening of general gratitude and appreciation. There is a recognition that slips quietly between us through our body language that is easily conveyed without words. We know..... even if in this knowing there can still be huge difference. This knowing provokes kindness, embraces patience and sometimes, grinds out frustration with rare occasions of erupting or unexpected outbursts. This is because, as usual, we are all our best selves and our worst selves mingled into agreement within one body. A clear-eyed glance into 2023, offers hints of further challenges that are likely stretching out for a few decades into the future. At the same time, I also get glimpses of our grit and integrity as we search to find our way. Continued flexibility is required. I have more confidence in our ability to discern what is precious and essential than ever.
Happy New Year and wishing you all the best of 2023!
Terrill :)  ❤🎨
Please feel free anytime to either leaving a comment in the Member Discussion below or write to me privately via email at tawelch@shaw.ca as you wish.