A Brush with Life - Issue #122 Starting to Stir
Spring starts early here on the southwest coast of Canada. As soon as the days are noticeably longer the snowdrops bloom and the magnolia buds form. Not even temperatures dropping to just below freezing seems to still the stirring of new growth…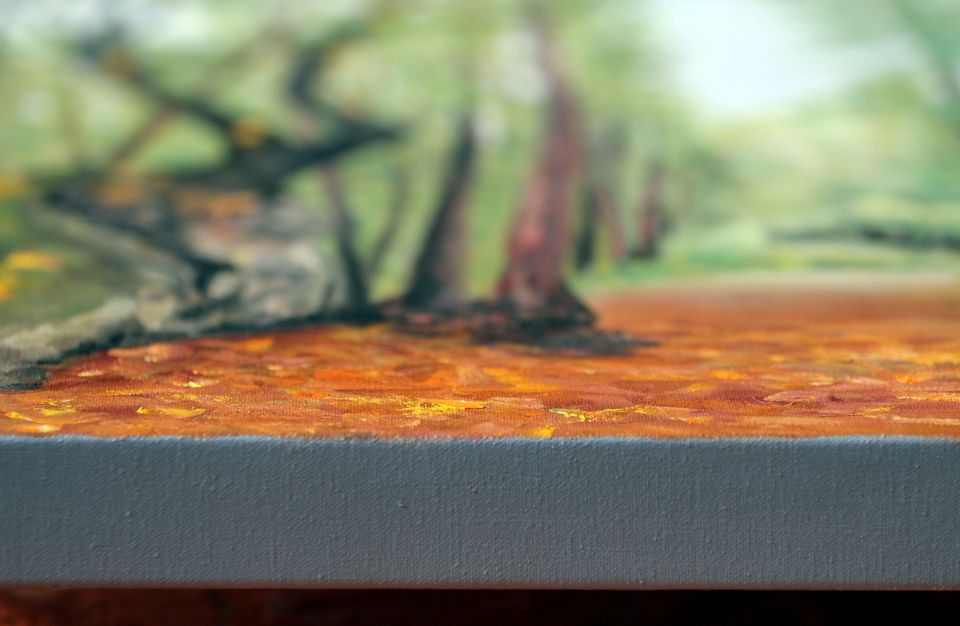 Spring starts early here on the southwest coast of Canada. As soon as the days are noticeably longer the snowdrops bloom...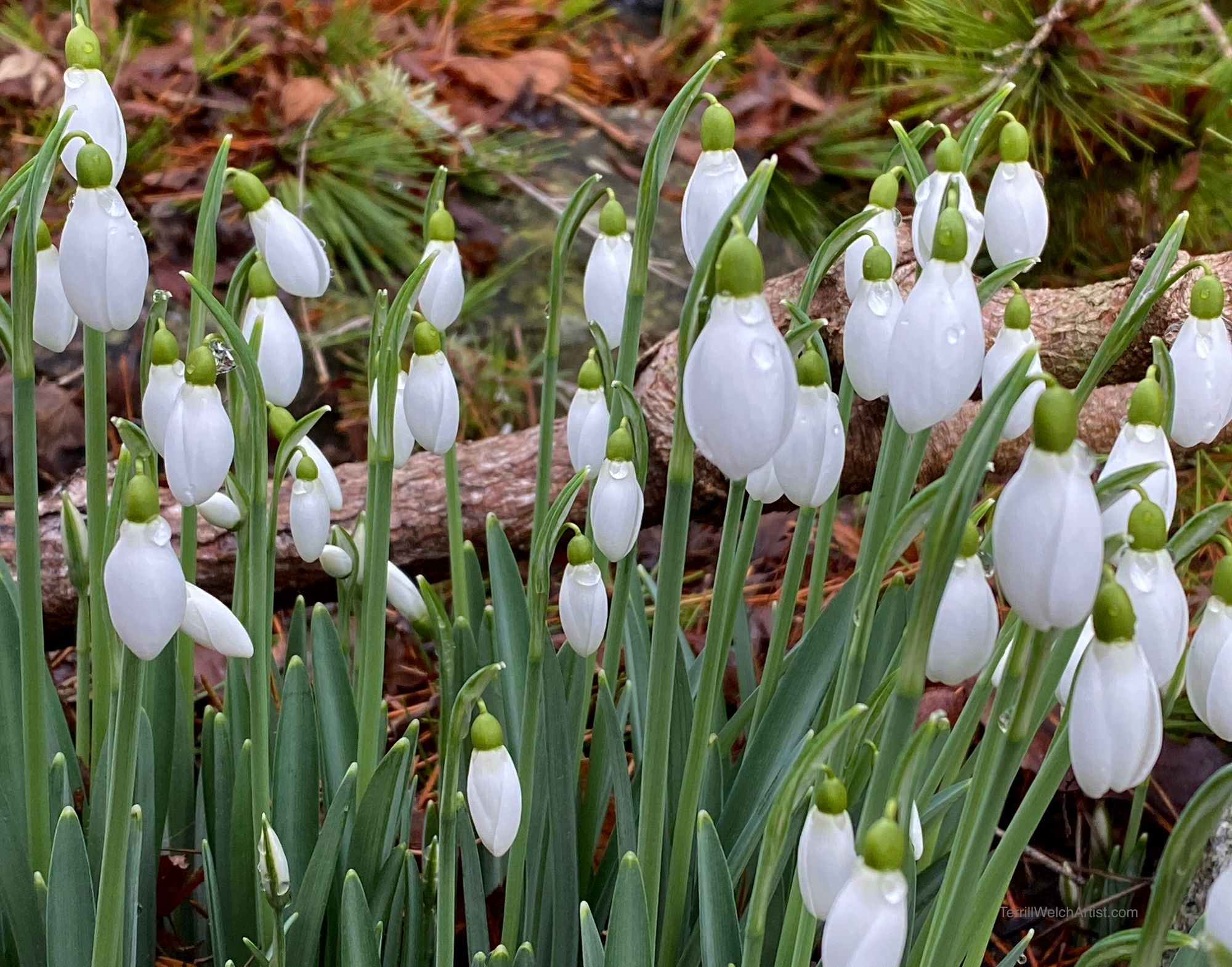 and the magnolia buds form.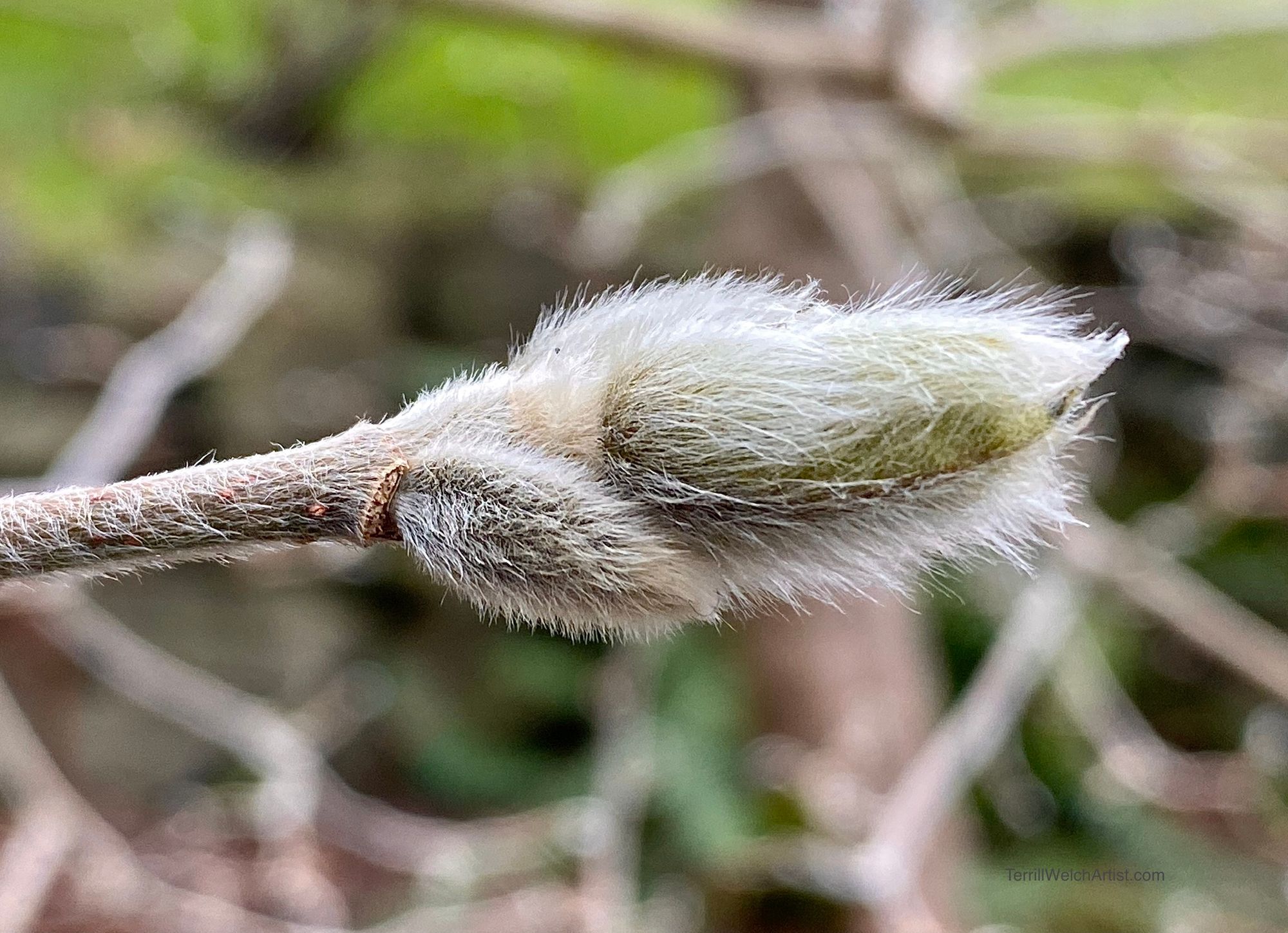 Not even temperatures dropping to just below freezing and a skiff of snow seems to still the stirring of new growth and life.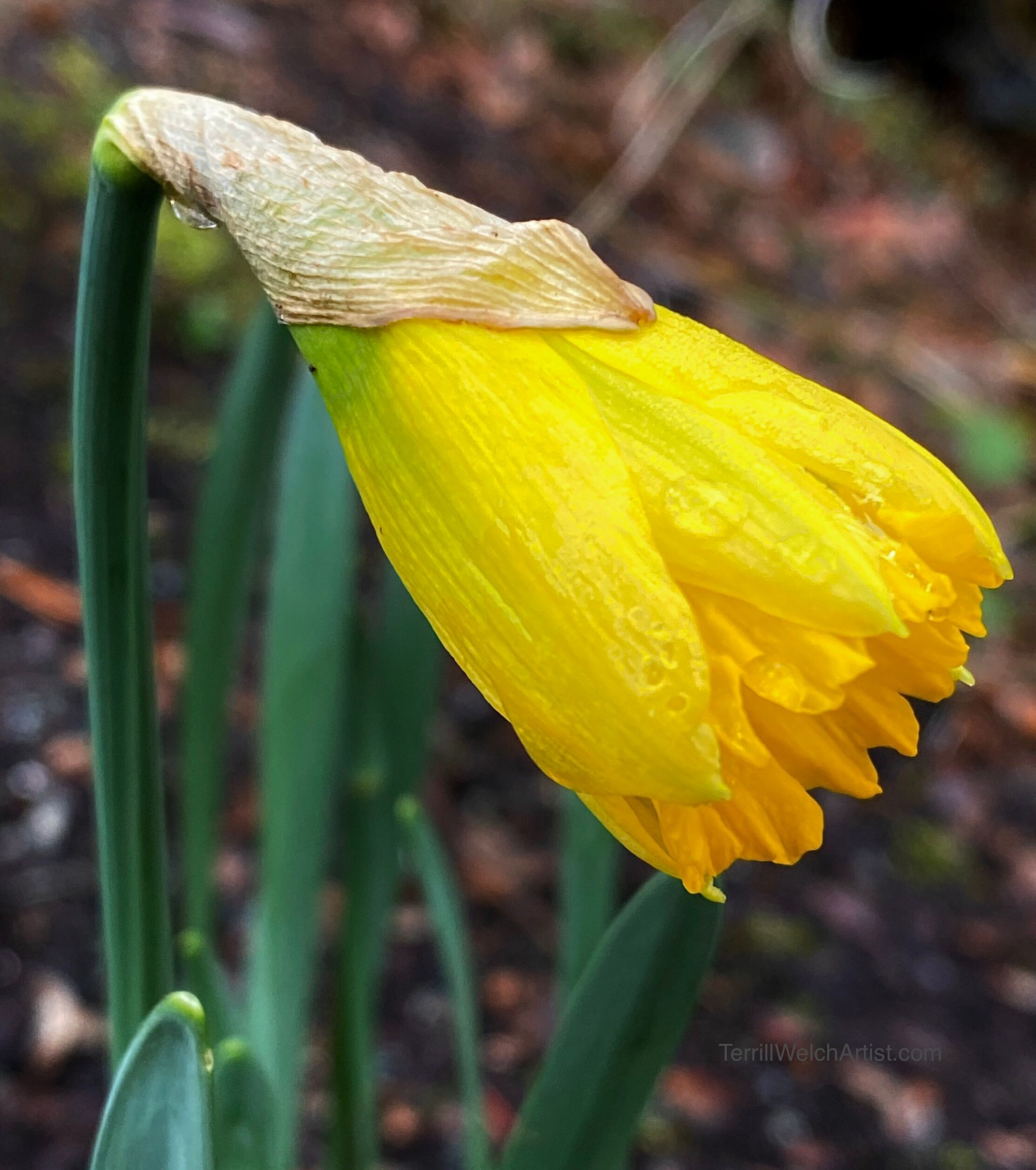 The backbone of winter is giving way.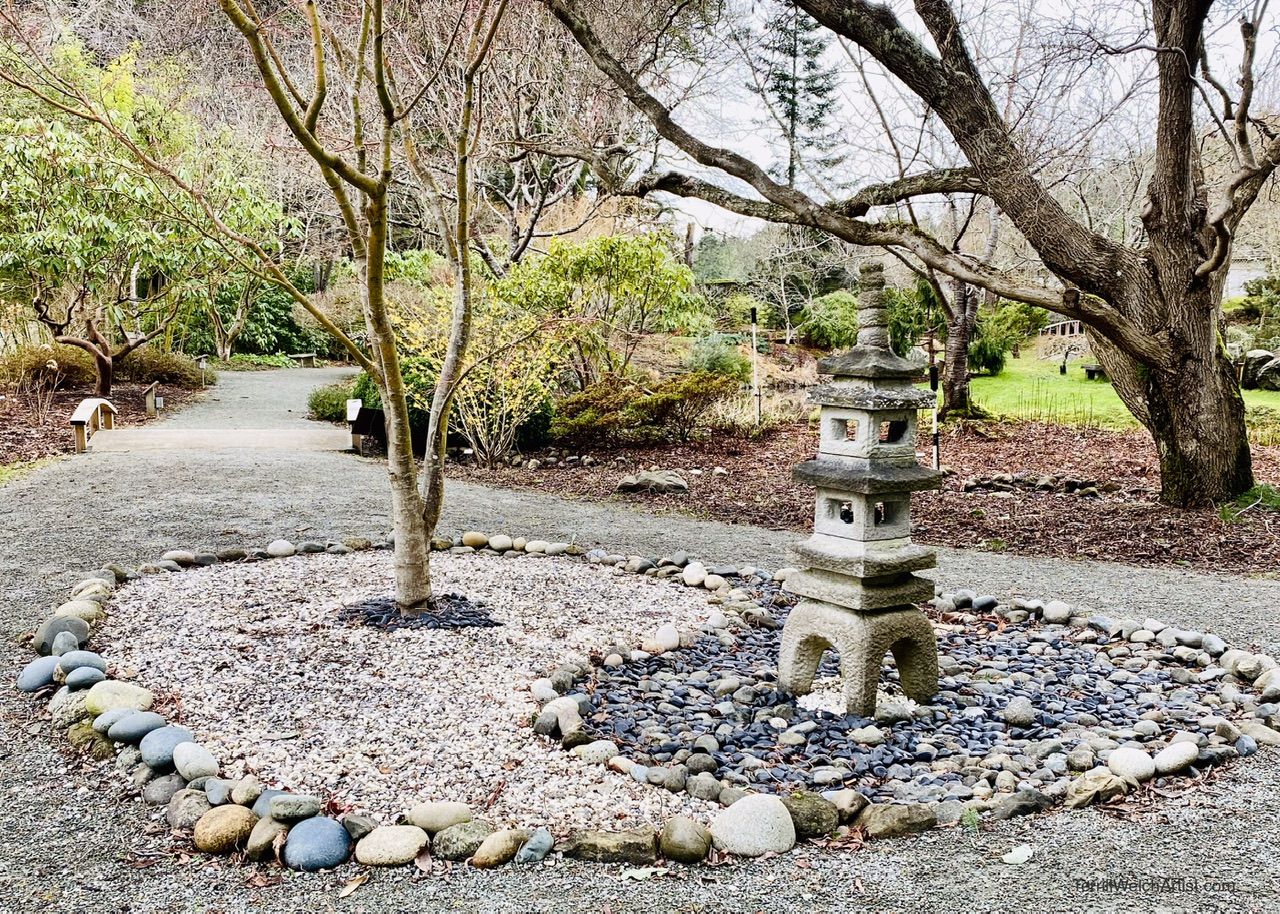 So we hope anyway.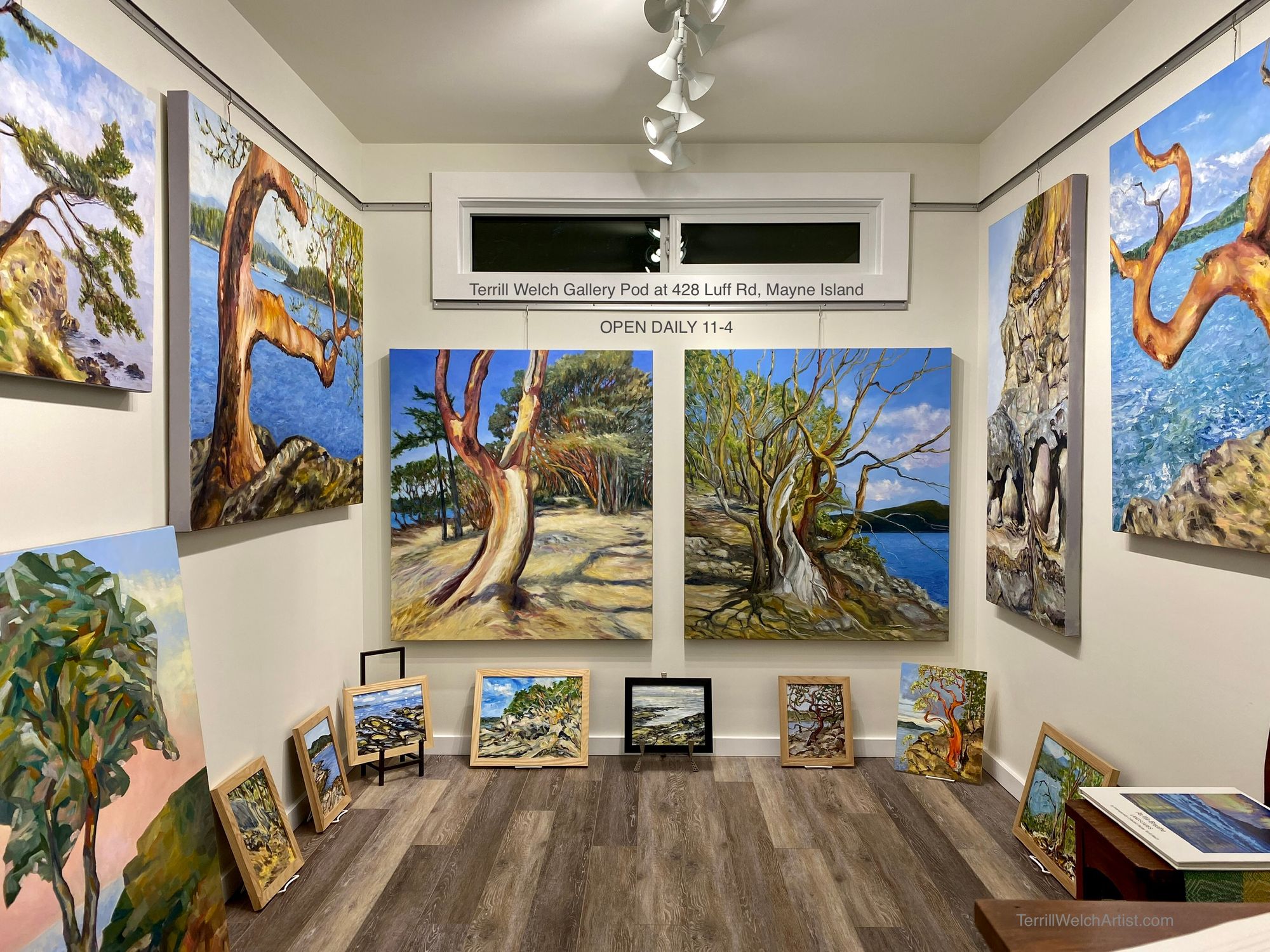 GALLERY POD NOW OPEN DAILY 11-4 - Yes, this means everyday!
We are coming out of our winter cozy season by featuring Mayne Island Landscape paintings by Terrill Welch in our unique gallery pod in the woods at 428 Luff Rd, Mayne Island, British Columbia. Special arrangements and appointments are no longer necessary. We are boldly going forward with DAILY OPEN hours from 11-4 which means everyday!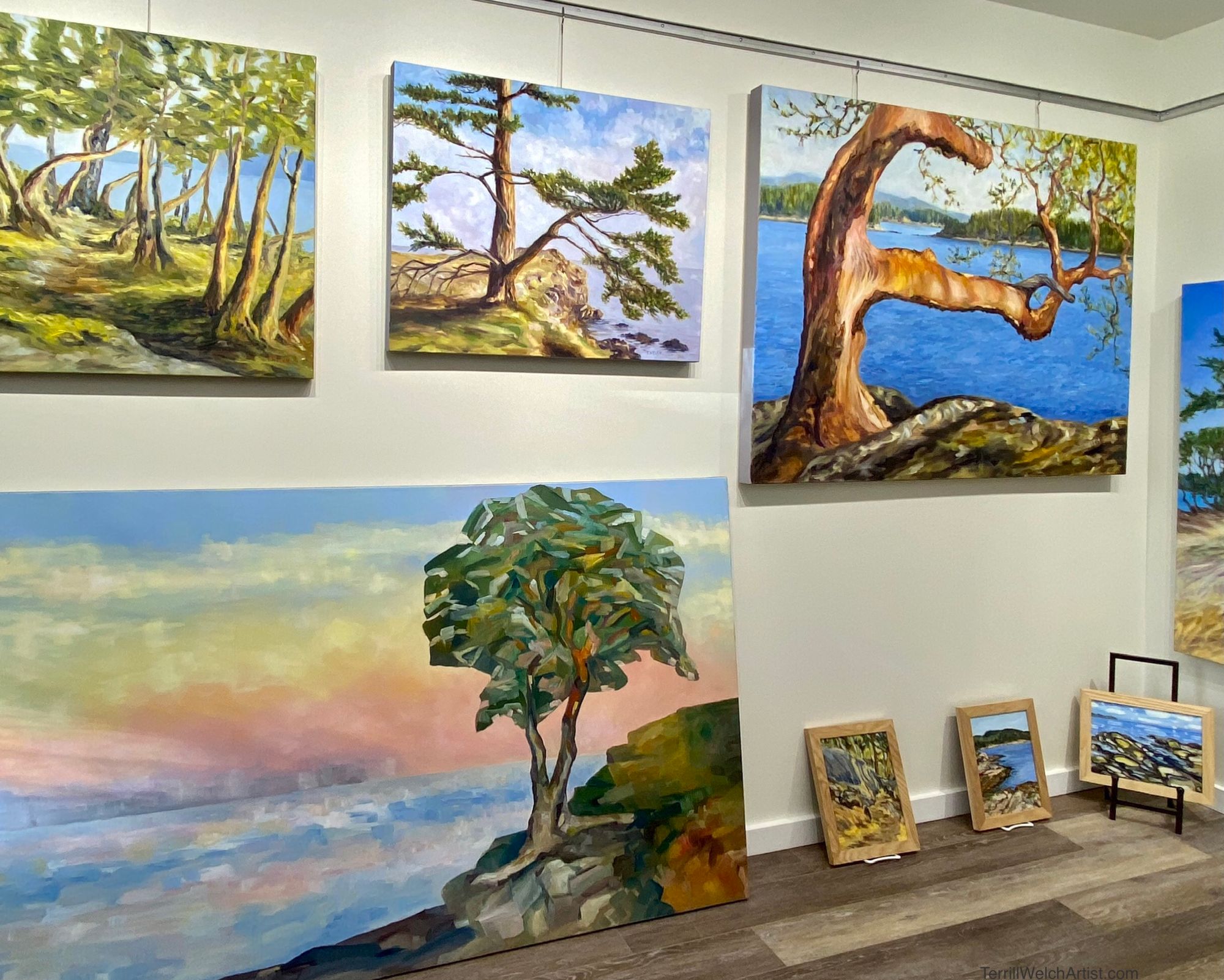 Since our Terrill Welch Gallery Pod has the option of walk in self-browsing with a QR card posted by the light switch and thermostate for access to purchase links in our online gallery, we can do this! So we are!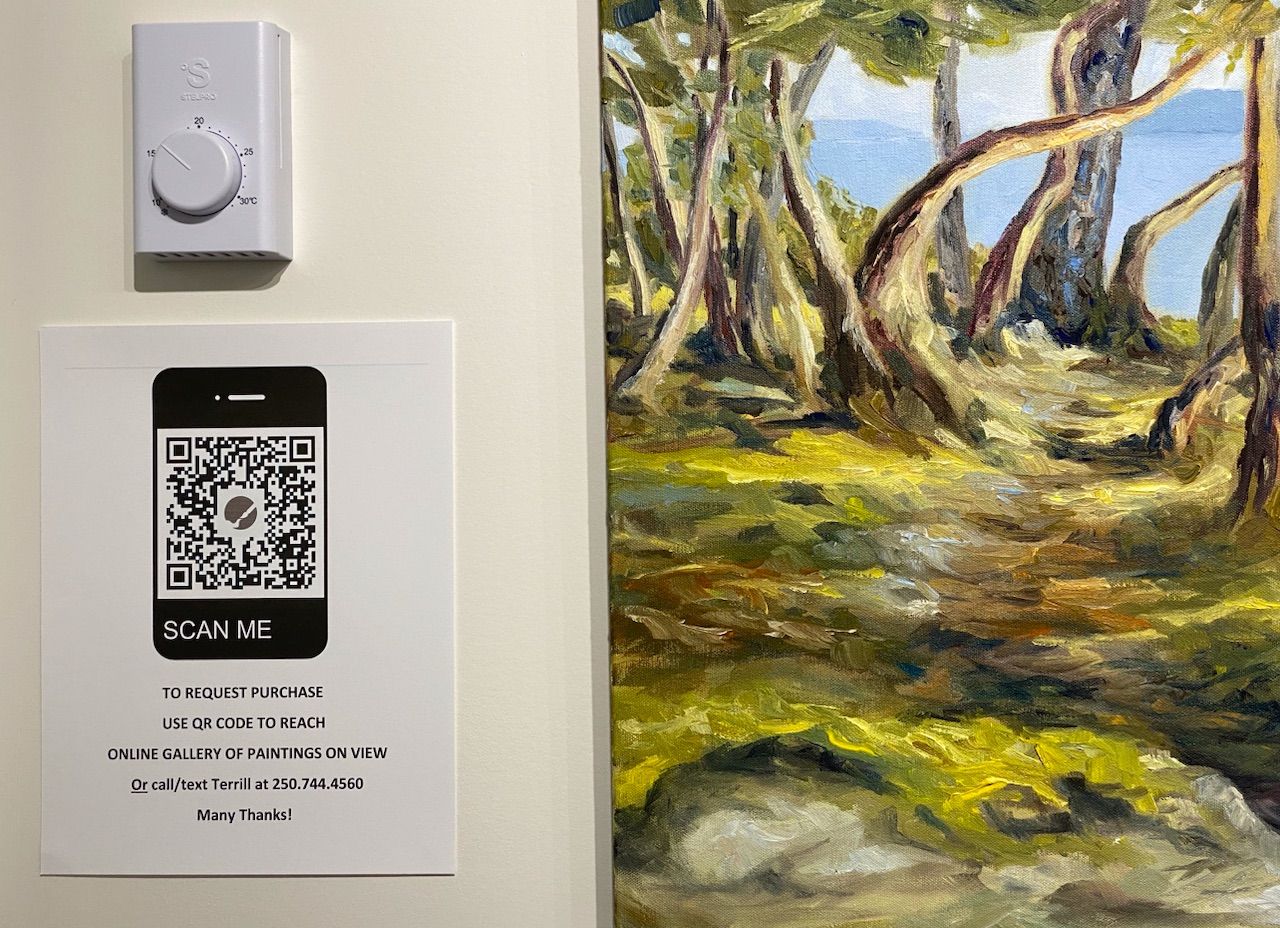 There is a phone number for additional assistance and Terrill will come say "hello" in person if she is available. Either way, stay as long as you like and enjoy the paintings.
Here is a link to our online private viewing room that shares current paintings showing in the Terrill Welch Gallery Pod:
Enjoy and feel free to share this online link with your family and friends. Bring them by to personally experience this unique gallery space that is here to warmly welcome you.
NEW PAINTING NOW PUBLICLY RELEASED
I am excited to share this new maple tree painting with you. The painting has been added to the current show in the gallery pod for a total of twenty paintings on exhibit. I had no idea that this space could successfully show so many large and small paintings at once! You will just have to come see for yourself. Anyway here is the new painting...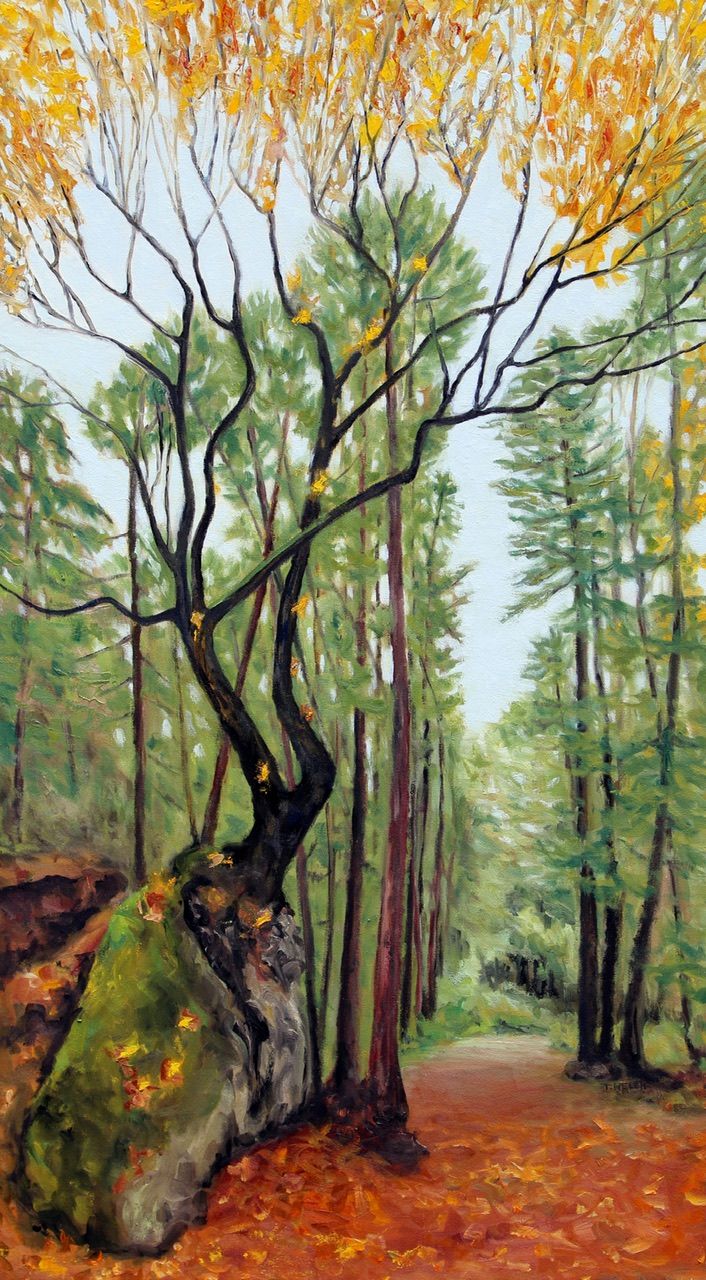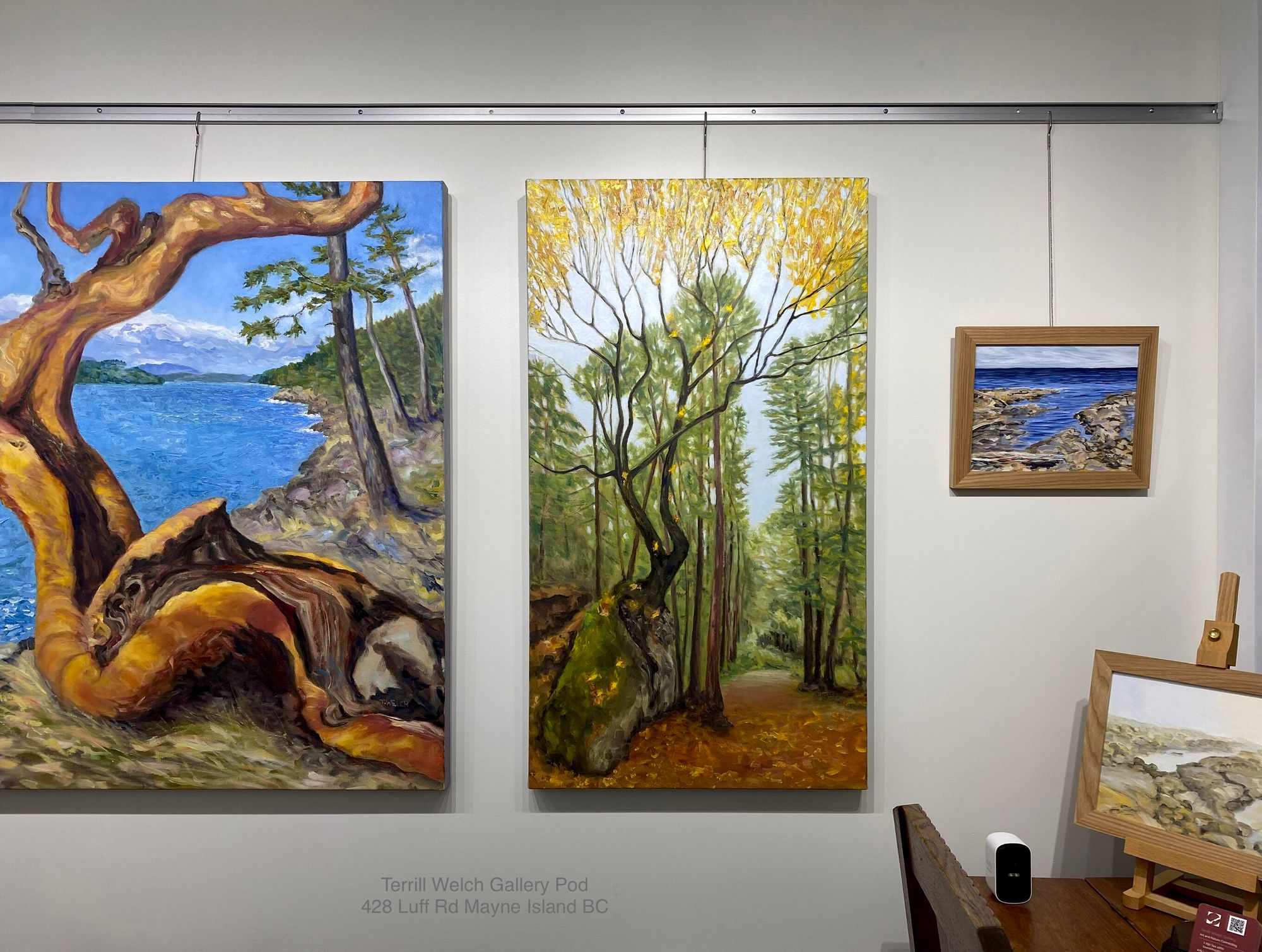 Artist notes: I was raised by trees, not because I didn't have loving parents but because I spent so much time alone in the company of trees. Trees are great company. This particular Maple tree is excellent council on the strength of persistence and creativity. She is a gentle woman tree who guards the trail and brushes me with her falling leaves as she lets go of the southwest coast November sky. She has grown by spiralling around in mystifying swirls that allow her to perch on top of a large fallen conglomerate boulder while rooting down into the earth and holding herself and the boulder both in place. I cannot but wonder - how does she do it? A strong lesson for discovering how to grow where you are and "Thriving in Place".
More information, detail images and room views available for "Letting Go of the Sky" at: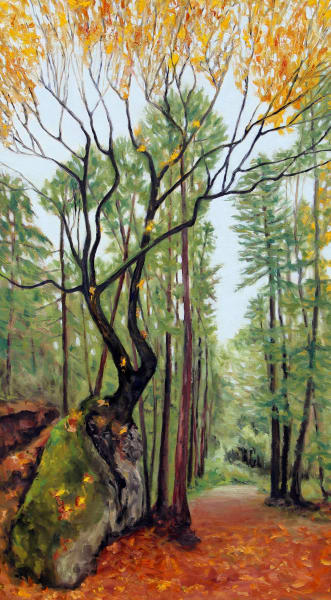 MY GIFT OF TIME TO MYSELF AND THE CLOSING OF ISLAND TIME ART IN MID AUGUST 2023
My 65th birthday is approaching in August of this year. With much thought and consideration I am fulfilling a commitment to myself for a little less work during the next five years. This commitment has resulted in deciding to close ISLAND TIME ART and also to no longer represent the work of other artists. It was a tough decision as I do enjoy doing everything. However, life doesn't go on forever and it is necessary to always evaluate where one wishes and needs to spend their time and energy. This is simply because to try and do everything means doing nothing to our fullest potential. I have had a good chat and exchange with the artists whose work I share with you and everyone is going to continue to show their work until closing time in August of ISLAND TIME ART. Lucky us! So nothing is changing immediately other than we will be working together to explore other options for you to be able to connect with them directly in the future, if you wish. I like a long view to the horizon whenever possible. This means you are the first group of individuals, beyond the artists, that I am sharing this news. However, feel free to share as you wish. Now we shall get on to business as usual until closer to the closing date. Speaking of which, there are four more days, including today, for the current show in ISLAND TIME ART. If you want one last meander of the current show, this is your chance!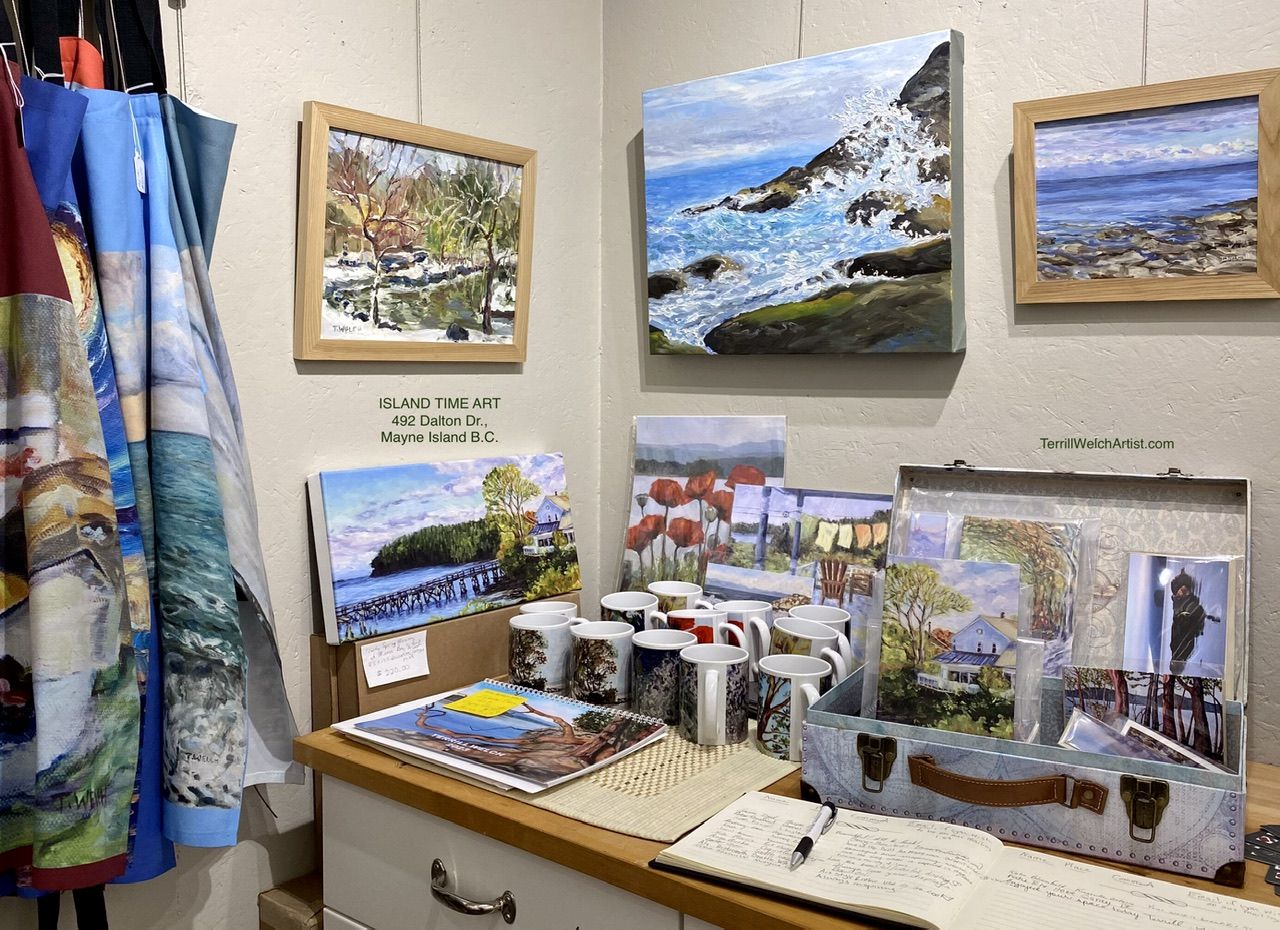 Here is the link for a browse as you wish:
The wonderful delightful feature of this link above is that if you click on it after February 8, 2023, the content will be for the new ISLAND TIME ART show that will be in place by then. An insider's tip. 😉

A NEW OPEN ACCESS DISCOVERY - SMITHSONIAN
I recently made a fascinating discover about some of the Smithsonian collection that I thought you might be interested in exploring. The content has been photographed in high resolution and is now available for creative use without needing to seek permission or purchase user rights. This open access status isn't for everything but there are some fine materials to consider. Go ahead, have a read about how it works. Then have a browse and get creative at:
I took a liking to "The Girl I Left Behind Me" (ca 1872) in oils by Eastman Johnson, born Lovell, ME, 1824 and died in New York City, 1906.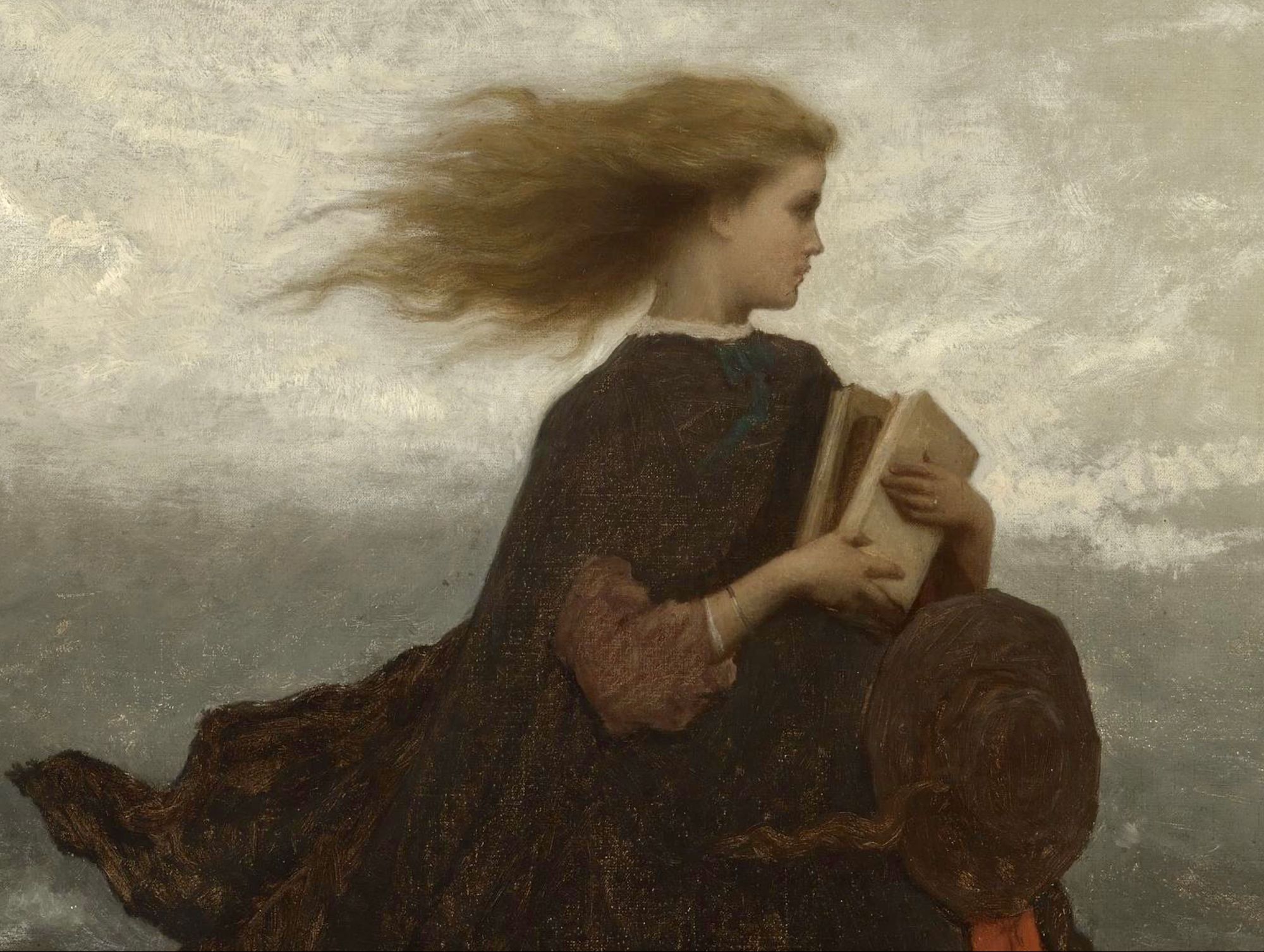 Isn't it fun! I wonder what the story is with this very young woman, who indeed does still seem to be a girl, carrying these books and sporting a wedding ring already?
A TEASER FROM the Recently Published "Terrill Welch by herself - Issue #2"
My new paid subscription to "Terrill Welch by herself" is now on a roll to providing more intimate, longer and personal stories about my life as an artist. Our current paid subscription readers have provided some really positive feedback that is most encouraging. Here is a short teaser from the 2nd issue followed by a direct link to get your own paid subscription and keep reading…
MY PLACE IN IT
I crunch crisp toasted wildfire baked bread slathered in butter and strawberry rhubarb jam while sipping green cardamom and rose petal black tea with the bound cover of Braiding Sweetgrass by Robin Wall Kimmerer held firmly in my right hand. It is a flat pewter grey January afternoon. I have already been out along a seaside trail after bending and breathing my way through a morning online yoga session. My mind, body and spirit are relaxed and humming from the inside out. I turn the page to the third chapter - The Gift of Strawberries. After the first paragraph that introduces the idea of nature and place raising a person, Kimmerer mentions dewy wild strawberries and how they gave her a "sense of the world" and her "place in it." I understand this notion in the deepest part of my being. I understand, as she tells how Evon Peter, living in a small village in northeastern Alaska, might say he was "raised by a river." I understand why Robin Wall Kimmerer might say she was "raised by strawberries" in upstate New York. I understand this because I was raised by trees. And later by the sea.... because I am still growing up….
PAID SUBSCRIPTION- INTRODUCTORY OFFER FOR "TERRILL WELCH BY HERSELF"
Our Introductory Offer is available at a 50% savings at $18 CAD annually. This introductory offer will remain available until the second Friday in March 2023. For clarity, the current ongoing regular price for a "Terrill Welch by herself" subscription is $6.00 CAD per month or $36 CAD annually.
Click on the link below to subscribe to this new paid subscription to "Terrill Welch by herself" at the introductory price and go to issue #2 to continue reading the teaser story above.
Introductory Offer Link:
Terrill Welch by herself - Issue #3 will be published on February 17, 2023 and, if you purchase your paid subscription now, it will arrive in your email inbox on this date. 😉
UNTIL NEXT TIME
Thank you continuing to read each issue of "A Brush with Life" and it is always a pleasure to have you along! This new platform is a little different. I discovered that, if you would like to comment on the newsletter, you will need to open up it up online first. To do this, go to the top of your email and, under the title on the right, it says "VIEW ONLINE". Click this and it will open in your browser. Now, if you scroll to the very bottom you should be able to see where to leave a comment.
In addition, you are always welcome to write to me directly at tawelch@shaw.ca
Warm regards as always,
Terrill ❤ 🎨