A Brush with Life - Issue #112 The Terrill Welch Gallery Pod Is Open
Once upon a time there was a Canadian contemporary landscape painter, Terrill Welch, who needed to create a new gallery space on small rural Mayne Island on the southwest coast of Canada, right in the middle of everywhere. She thought and thought and considered and then considered some more. It was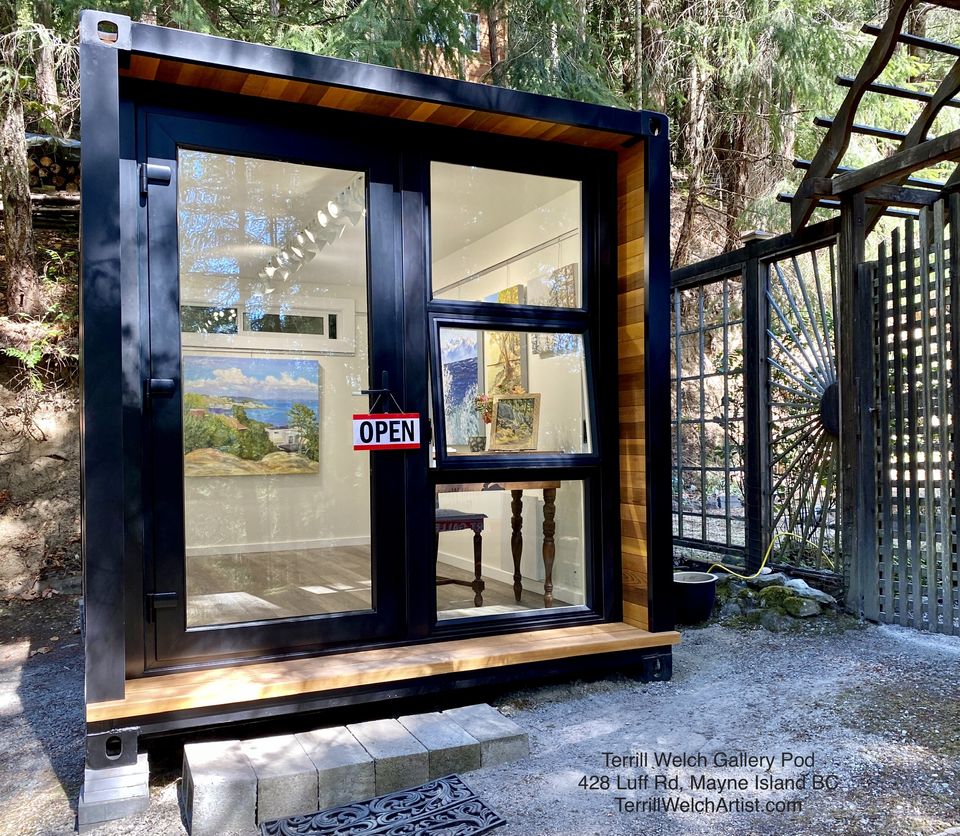 Once upon a time there was a Canadian contemporary landscape painter, Terrill Welch, who needed to create a new gallery space on small rural Mayne Island on the southwest coast of Canada, right in the middle of everywhere. She thought and thought and considered and then considered some more. It was the end of October 2021. The commercial space that she had rented since the summer of 2017 in Miners Bay was closing and she needed to secure a new show space for her paintings and those of the other artists she is showing with the gallery. What could she do? Commercial space was extremely limited. In a swish of inspiration during a sleepless night, she had an idea. Terrill thought "what if I was to use a small container designed for this specific purpose and placed it at the our front gate?" Then she set out to make it so.
Following a trail of internet crumbs, she found the website of West Coast Container Homes. They were making "Office Pods" close by on Vancouver Island. One look at these and it wasn't even a stretch to imagining a Gallery Pod. So, after a couple of design conversations with founder Adam Benning, followed by a few weeks of a special offer of paintings to the gallery's generous art collectors, the funding was secured for this new adventure and it was scheduled for creation. With supply chains being what they are, we did have a wee bit of a delay. However, our new Gallery Pod arrived mid August 2022 and is sporting its first show. Please do come have a look!
---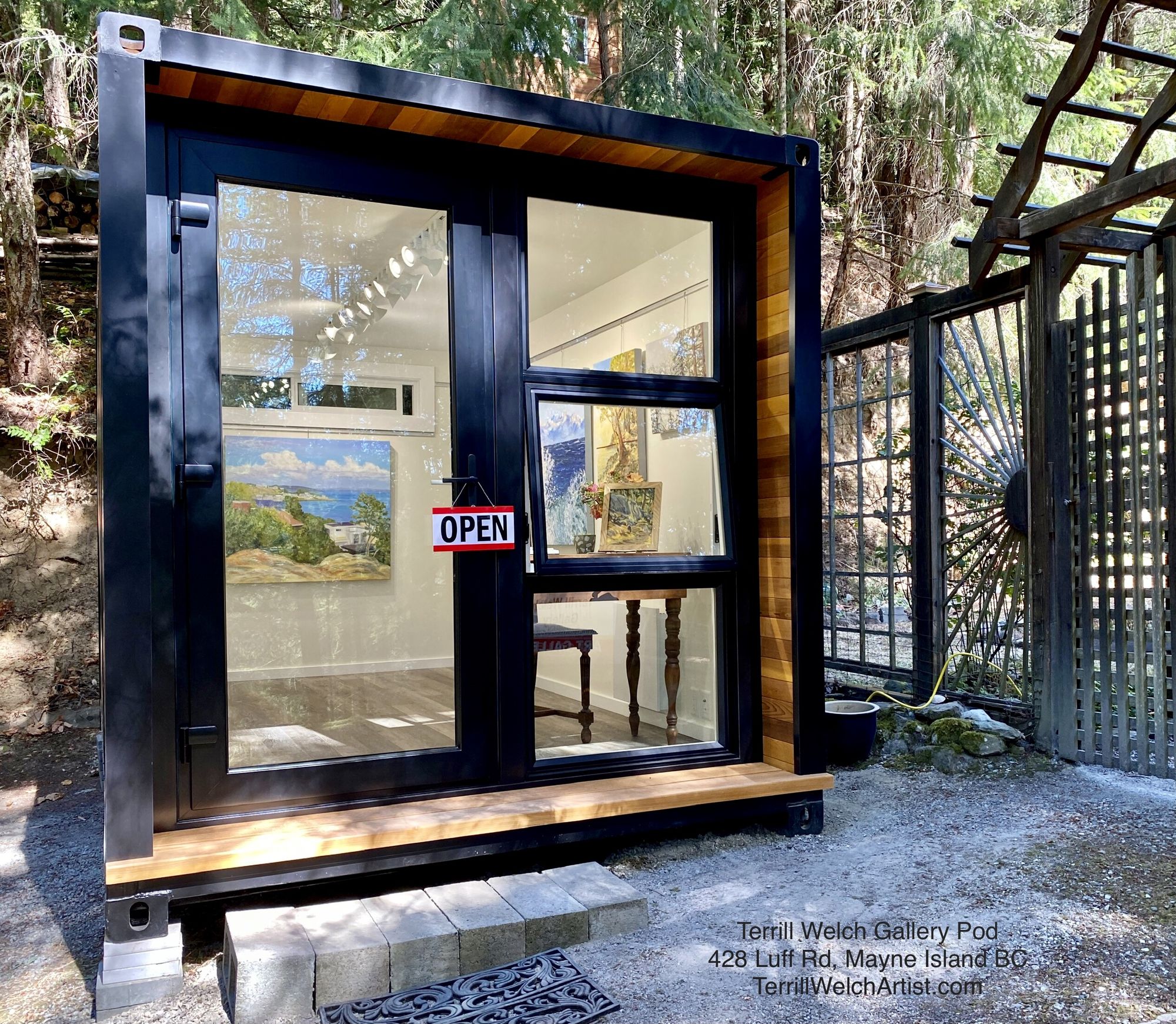 There are smaller paintings near the entrance…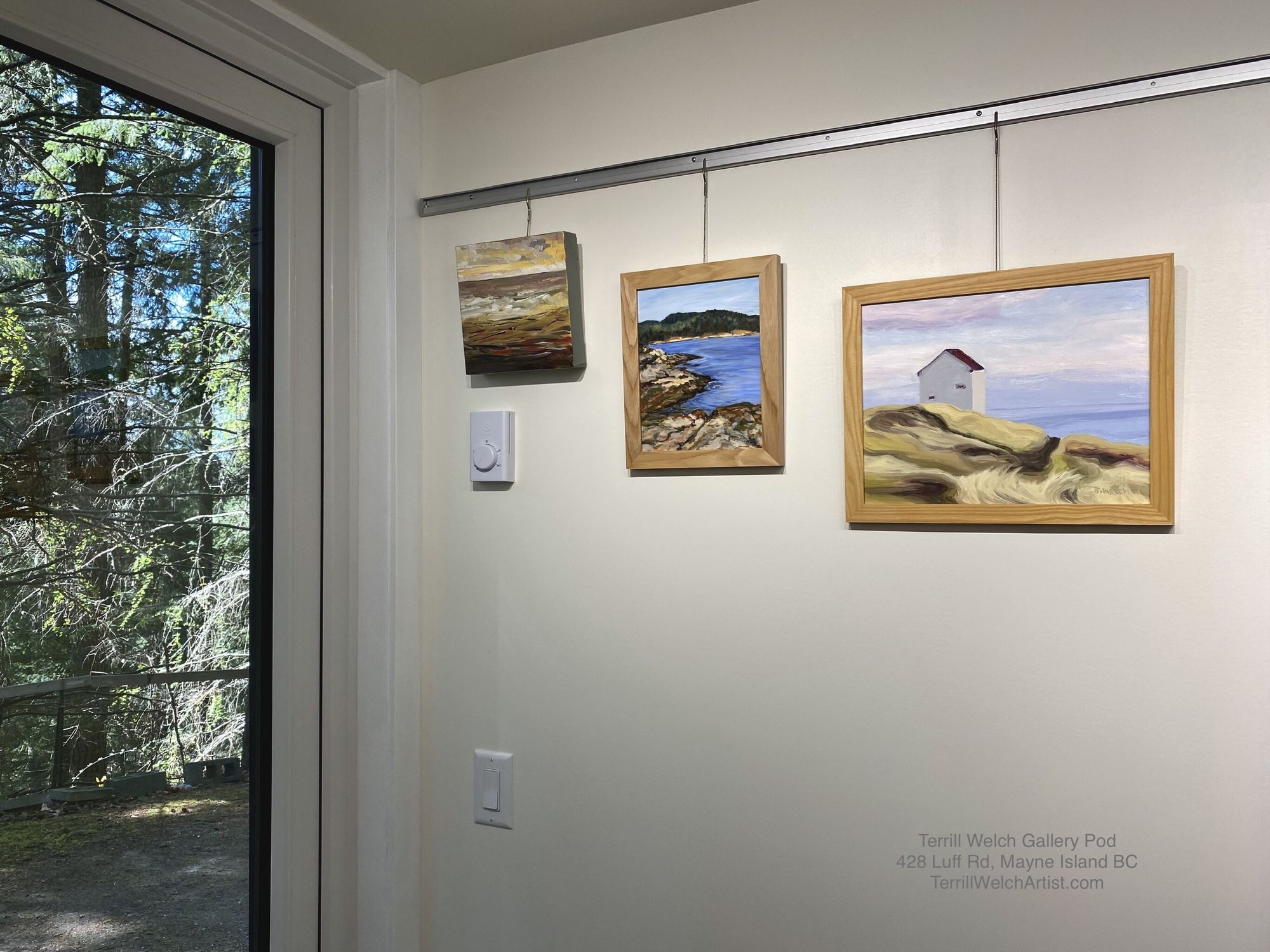 Then there are larger paintings farther along. All of these paintings are by Terrill Welch, except the guest painting on the left in this image which is the work of fellow painter Jody Waldie.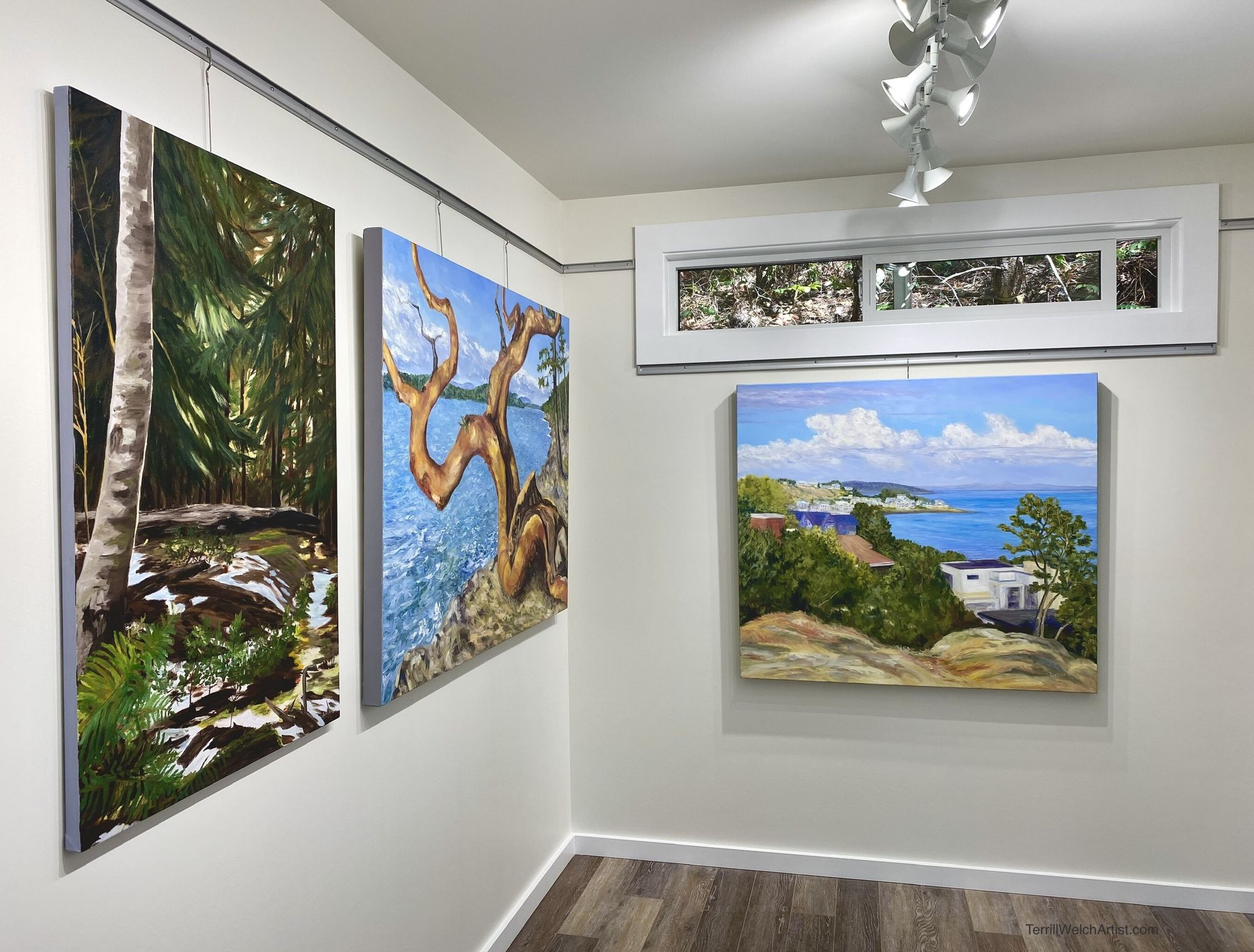 The painting on the far wall is of a view at Trafalgar Park lookout along King George Terrace in Victoria, British Columbia. We decided it was the perfect summer painting to open the first show.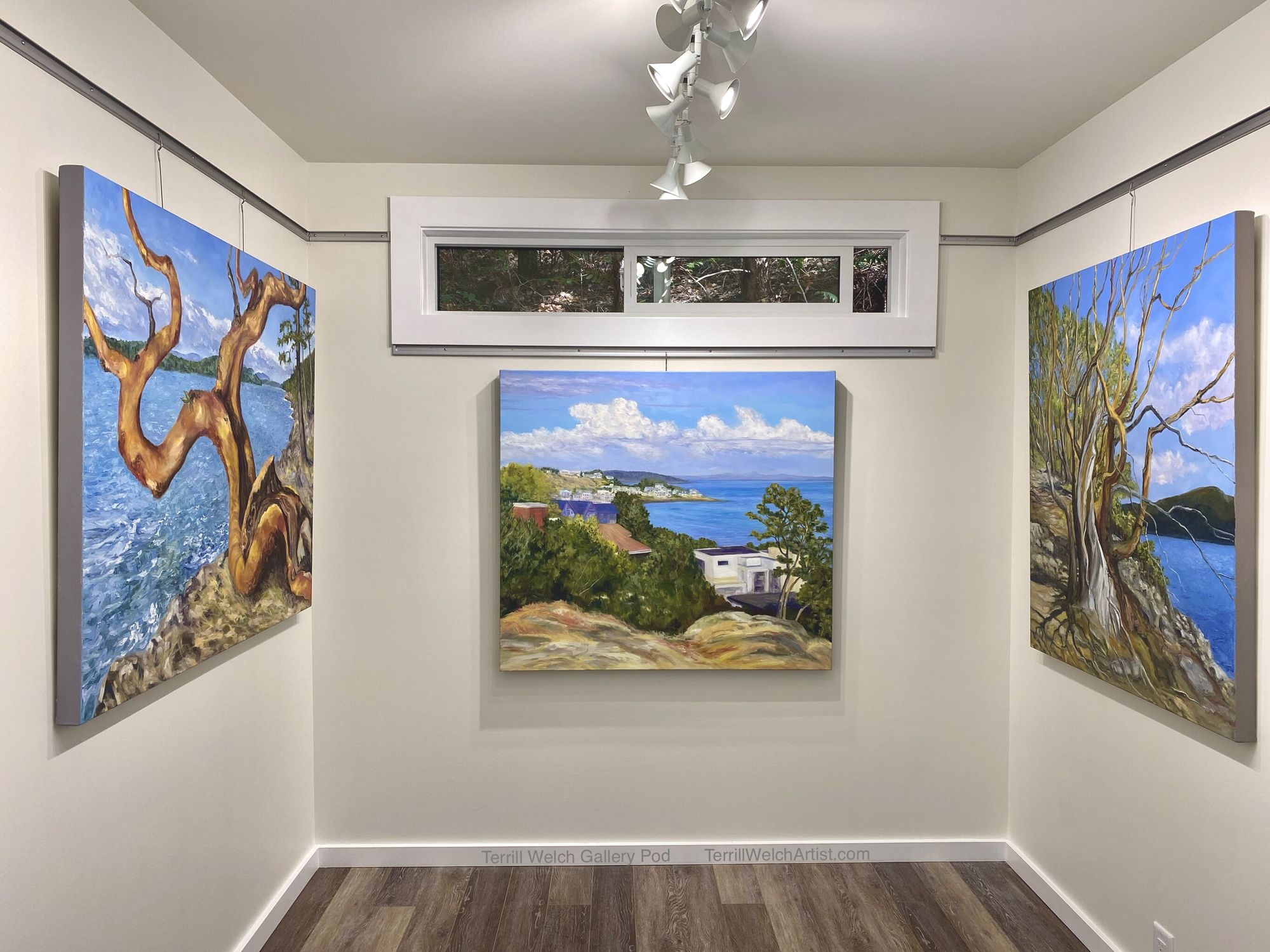 Of course, no Mayne Island inspired landscape painter would open a new gallery space without offering paintings of arbutus trees and the Salish Sea.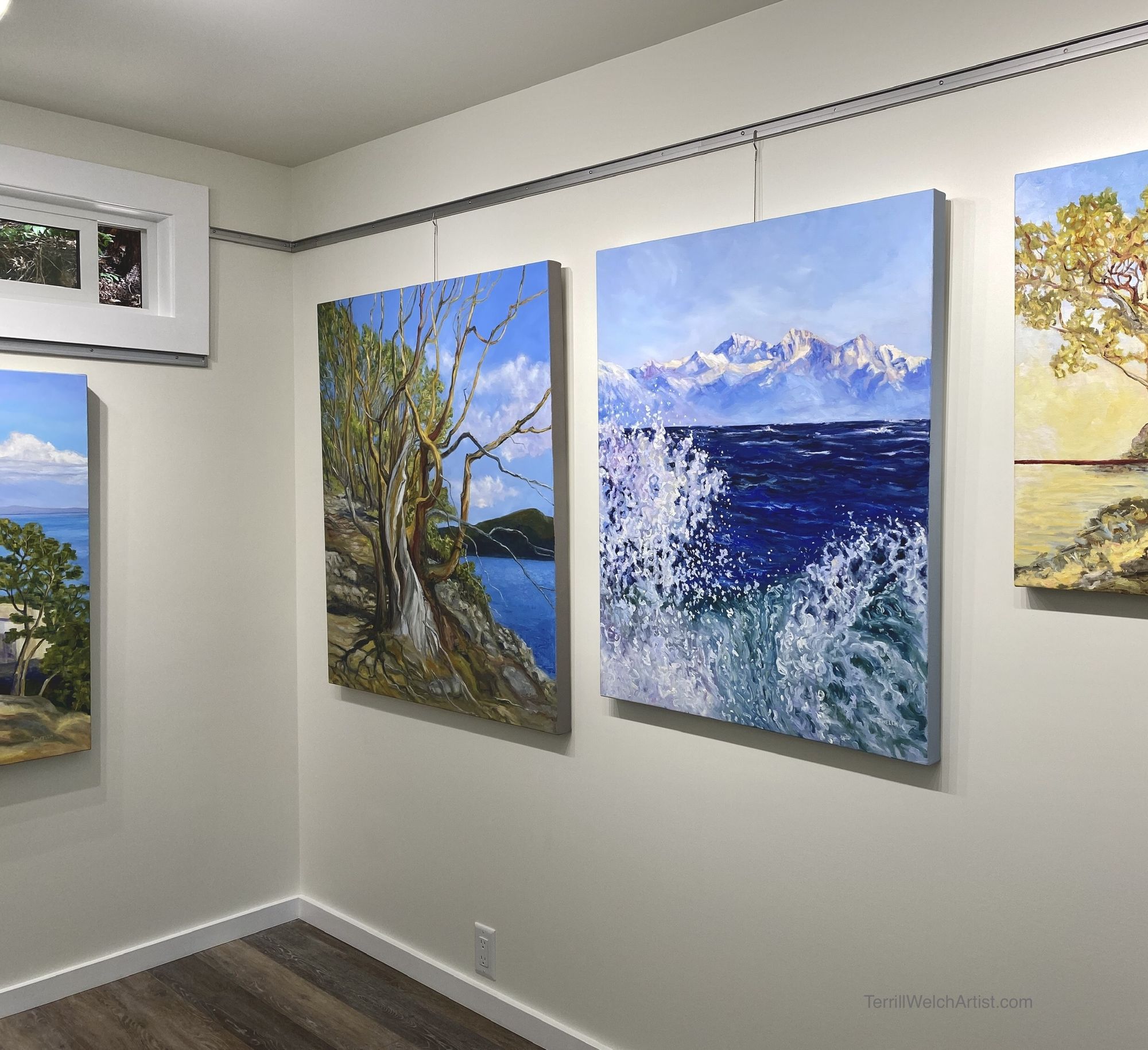 There it is! Our first show in our new Terrill Welch Gallery Pod is ready for your visit!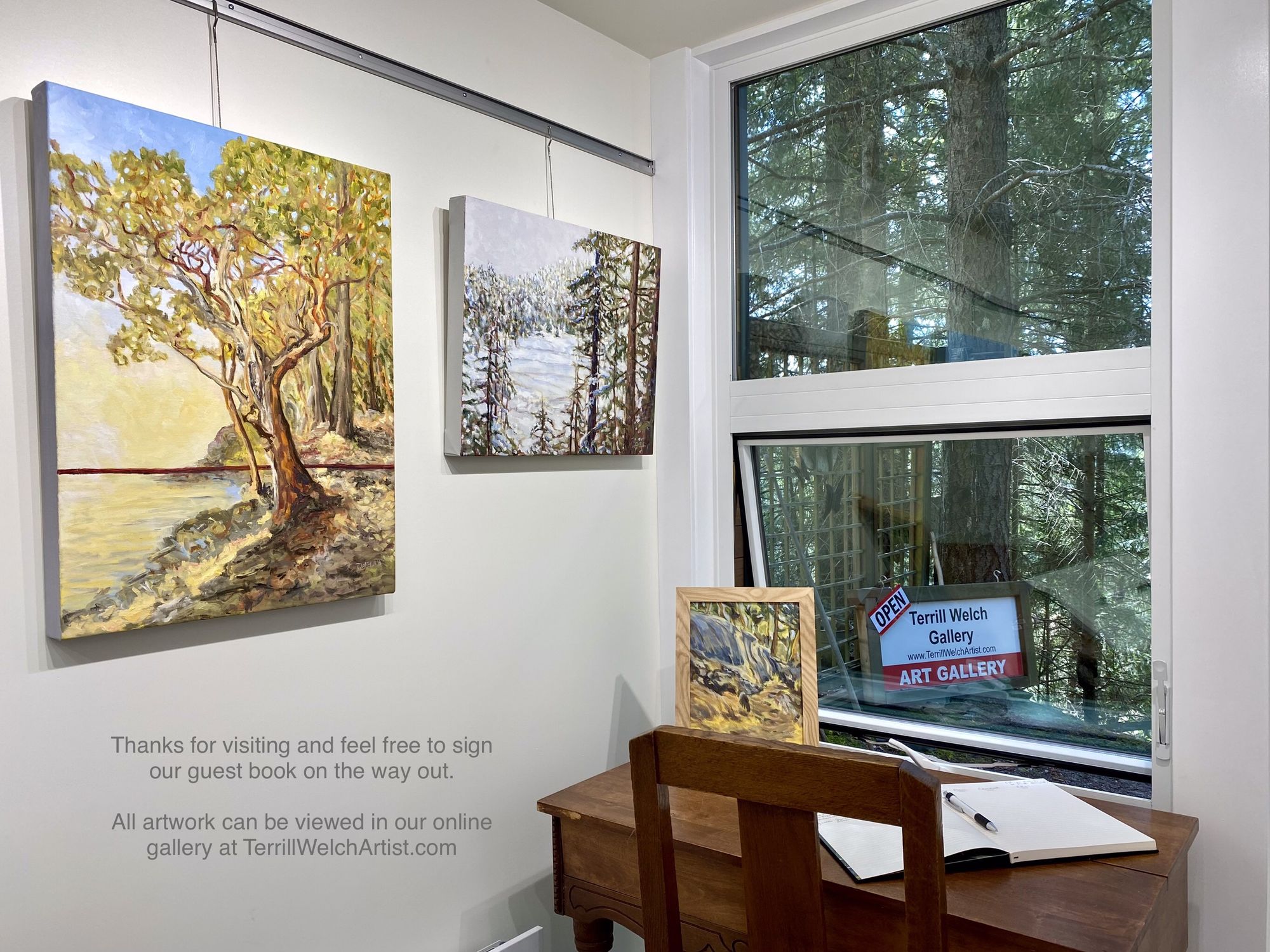 Feel free to take a candy from the mug, sign the guest book, leave your email address if you wish to receive our newsletter and take a business card to further explore our paintings online at your leisure.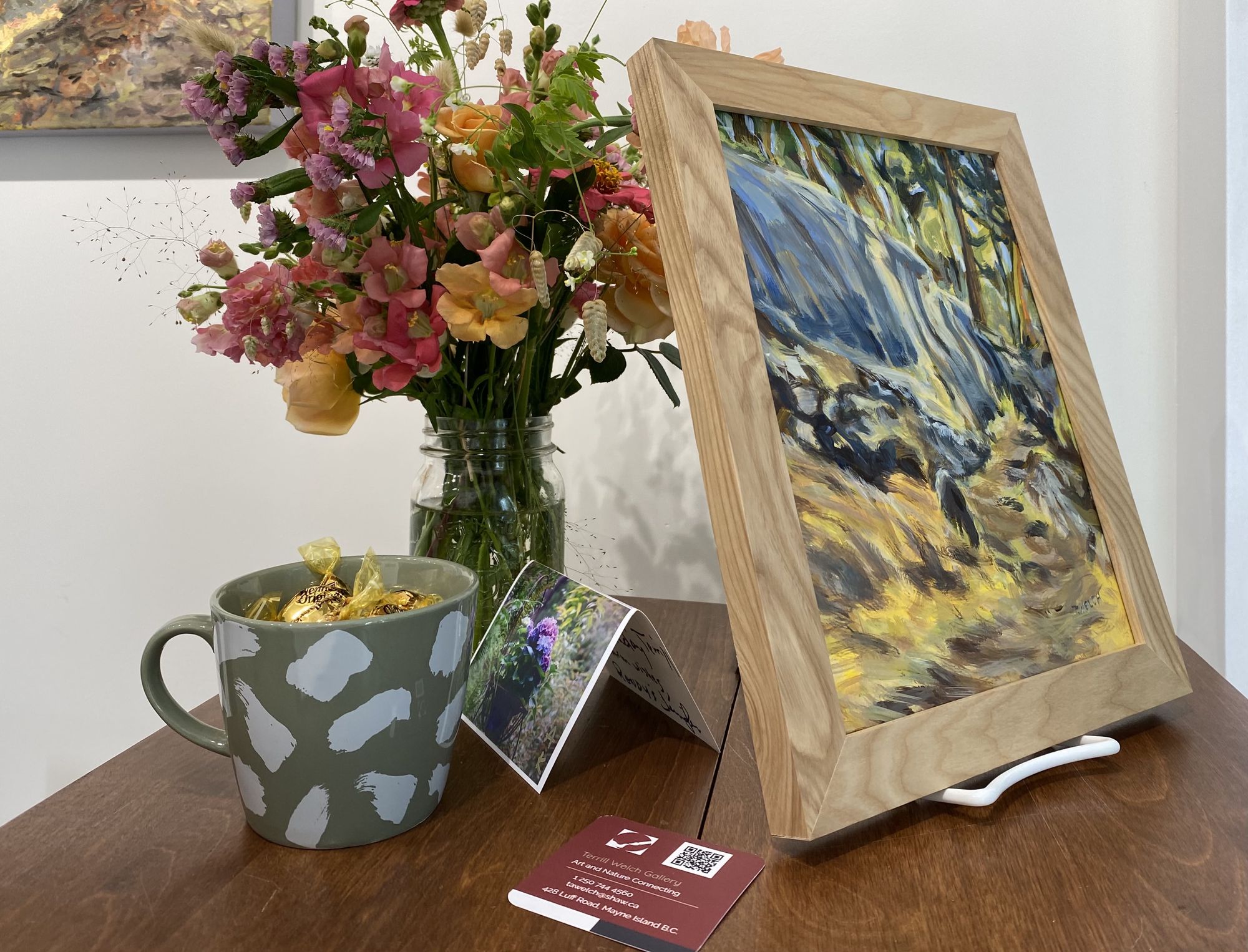 The official opening started yesterday and is 11-4 Thursday, September 1st through Tuesday September 6th, when we will have both the Gallery Pod and the Home Studio open for walk in visitors. After the special opening days, the Gallery Pod will be open during the fall shoulder season for walk-in 11-4, Thursday through Monday or by arrangement on other days. The Home Studio will remain open by advanced arrangement or impromptu visits if it is possible.
The non intrusive road signs are up as well. However, there are directions on our website with a map for finding your way to the Gallery Pod and Home Studio at 428 Luff Rd, Mayne Island HERE. This map also shows where to find our other Terrill Welch Gallery adventure – the ISLAND TIME ART room located at 492 Dalton Dr. in the Dragonfly that is in the blue building above the ferry terminal in Village Bay. ISLAND TIME ART offers smaller original paintings and usable art such as totes, aprons, greeting cards, coasters, zipper pouches and more. Between the two locations we can offer great options to consider for your art collection and gift giving needs.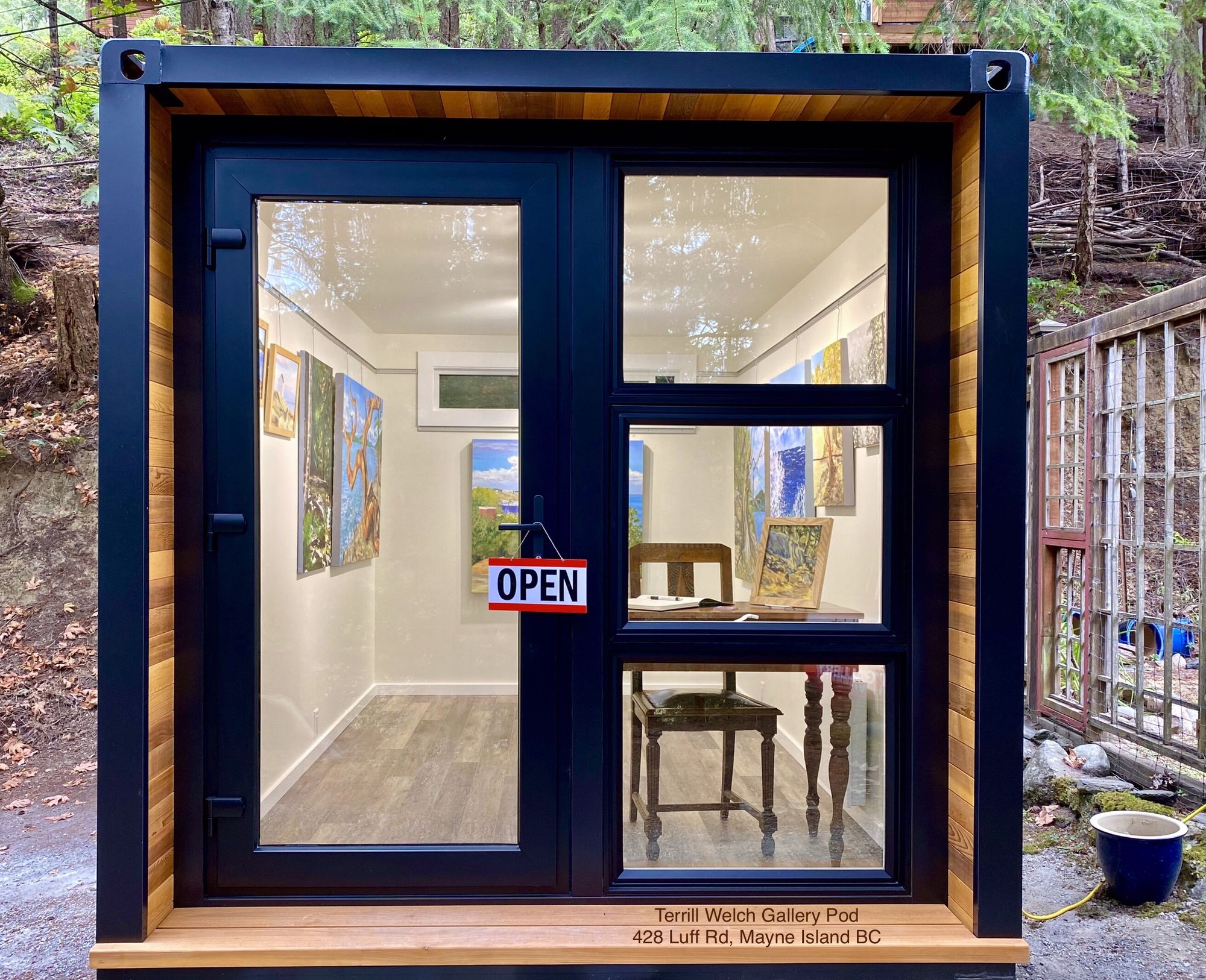 Online Viewing Room for Gallery Pod
To support easy online access for additional information and purchasing of paintings in the Terrill Welch Gallery Pod shows an online viewing room has been developed and is accessible at the link below.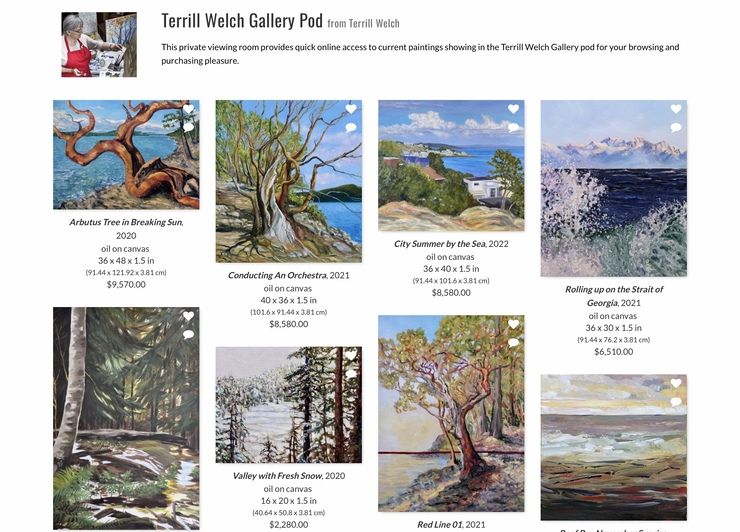 A private room from Terrill Welch
The viewing rooms have some unique features in that if you want to "favourite" or "message" on a painting then you sign in with an email address. However, if you want a closer look at a painting and more information, click on the painting image and it will open up to provide the same view as in the main portfolio for a specific paintings. From there you can still favourite, message or make an inquiry to purchase. The difference is that this viewing room only shows paintings showing in the Gallery Pod at this time.
Reminder - Gallery Pod Opening Savings
For every purchase, online or in person, of ANY original Terrill Welch painting during the opening days of Gallery Pod between September 1st and 6th there is a possible savings [NO LONGER AVAILABLE] on your purchase.  The amount of your saving will be disclosed on your invoice and has been determined by chance. If you are already a collector of Terrill Welch Gallery paintings, then your art collector savings still applies in addition to our opening savings. Here is the link to ALL released paintings that are currently available organized from largest to smallest…
View the full portfolio of artwork from Terrill Welch
Tip: When seeking out an available painting, click on "available" at the top of the portfolio on the right. Since so many paintings are already sold, this will make it much easier.
Until Next Time
This week feels like I have turned some kind of invisible corner in the process of realigning the Terrill Welch Gallery adventures into new locations. I admit that it has taken a focused effort and it was a challenging nut to crack but we got it! Now I am looking forward to welcoming you to view the paintings both in person and online and getting back to the primary focuses of painting, selecting paintings by other artists, curating painting shows and finding homes for paintings. How does this sound? Good I trust. 😊 I am looking forward to seeing or hearing from you soon. All the best until then!
Terrill 👩‍🎨🎨❤️
Welcome! We are pleased to present our online gallery specifically for "TerrillWelch" paintings for your viewing and purchasing pleasure. The gallery can be viewed as "ALL", "AVAILABLE" or "SOLD". You can search for a specific painting or look at a collection of works. Once you have found your perfect painting, click on the "INQUIRE" button…