A Brush with Life - Issue #115 Red Line Series Featured in New Show
Sea levels rise, damage from storm surges increase, wild fire smoke gives us deep orange moonrises, glaciers in the mountains melt endangering our freshwater supply and we are running out of suitable sand to make cement as we mine the landscape relentlessly for its resources. I could paint stunning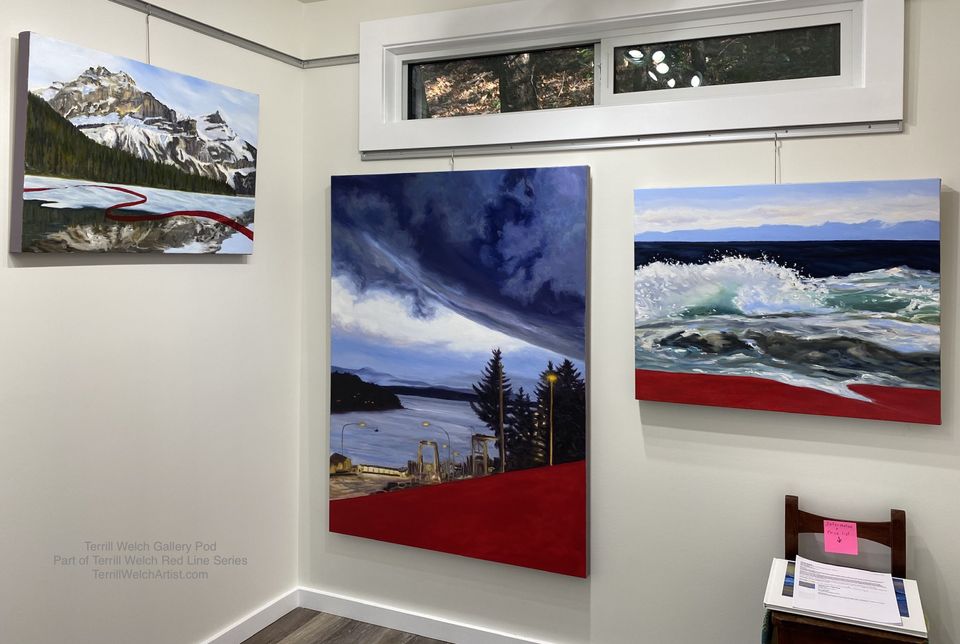 Sea levels rise, damage from storm surges increase, wild fire smoke gives us deep orange moonrises, glaciers in the mountains melt endangering our freshwater supply and we are running out of suitable sand to make cement as we mine the landscape relentlessly for its resources. I could paint stunning landscapes for the next twenty years. But, in a way, they would be a lie, denying the pain and lump in my throat as I walk amongst the trees. Right now, painting only such paintings of bliss seem irresponsible, an unacceptable personal denial. So I went to work to find a more honest way to render my experiences.
---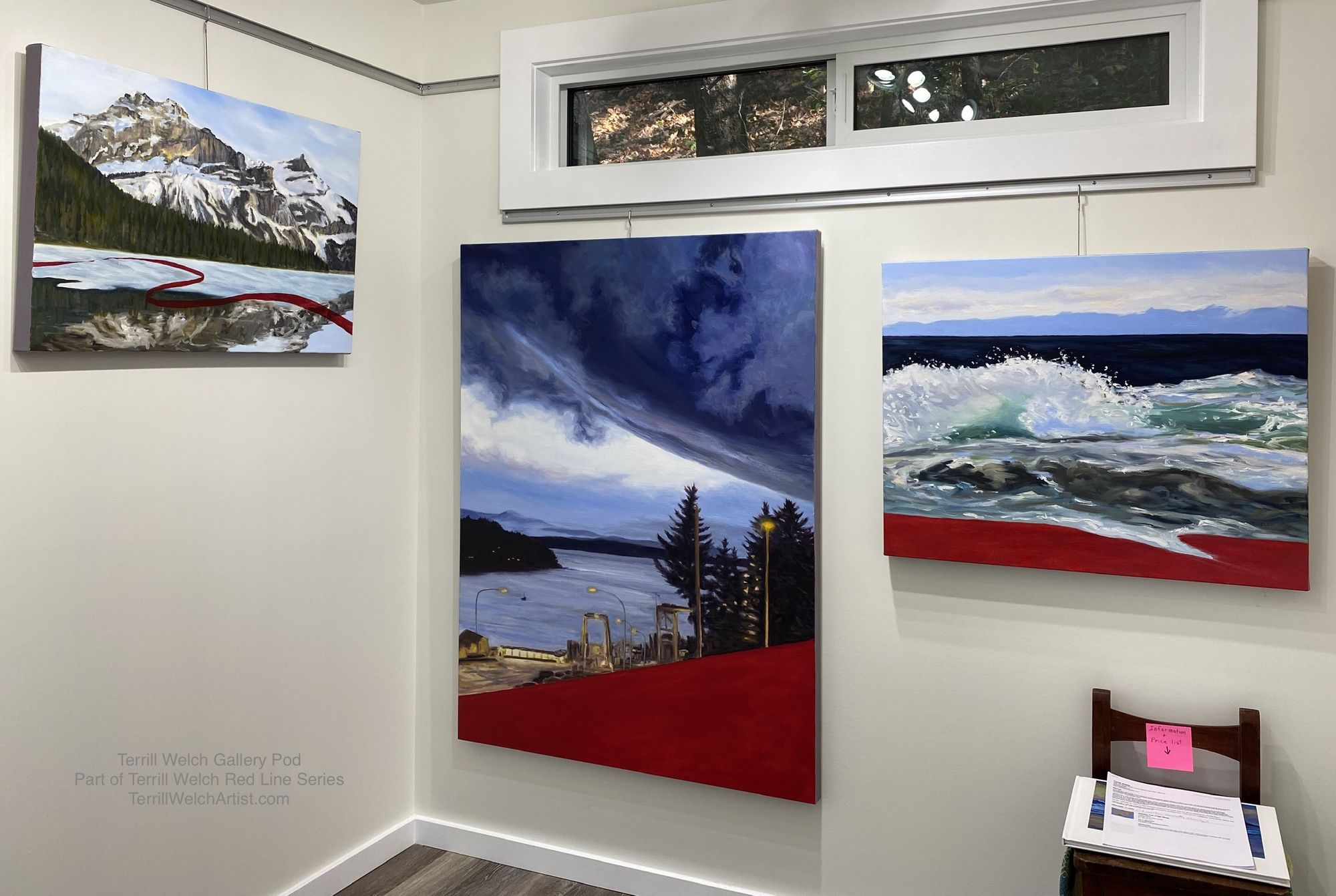 This new series is showing in the Terrill Welch Gallery Pod opened October 6 and is showing through to October 31, 2022. Self browsing is available in person from 11-4, Thursday through Monday, at 428 Luff Rd., Mayne Island British Columbia. Or the work can be viewed online in a link provided below.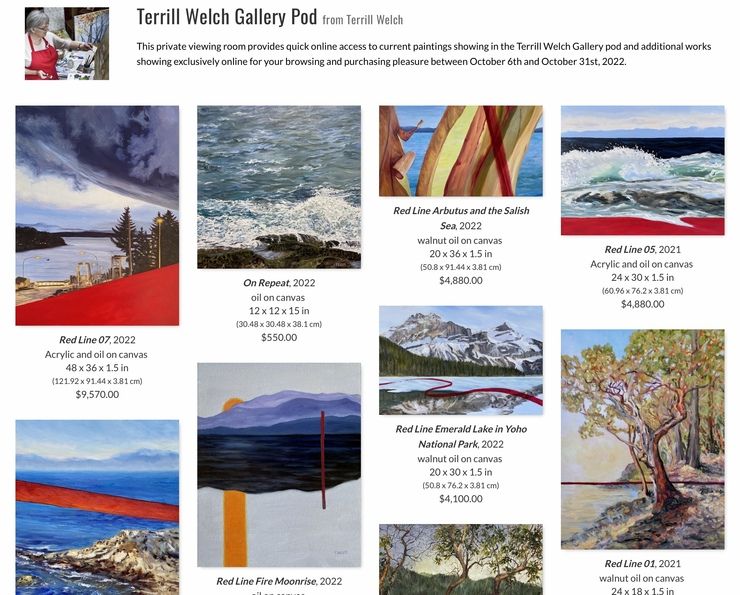 A private room from Terrill Welch
The Red Line Series began in 2021 as a way for me to be personably accountable for noticing the impacts on our environment while holding the tension between the grandness and beauty and the ongoing destruction of our landscape. This series will likely continue as circumstances demand. For now, these are the paintings that are completed.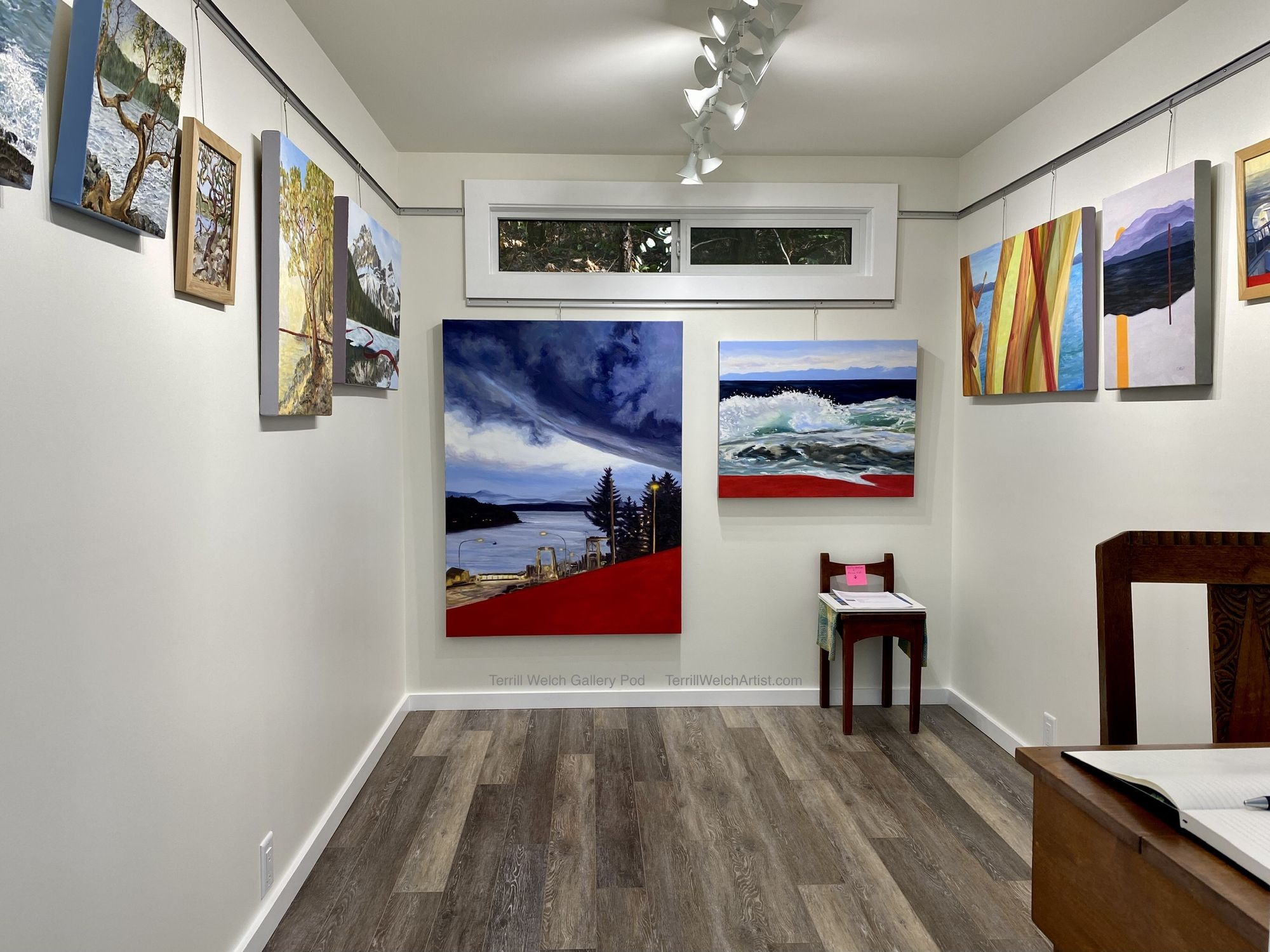 Additionally, some of my smaller paintings are included outside of this series and we have two guest paintings by Jennifer Peers.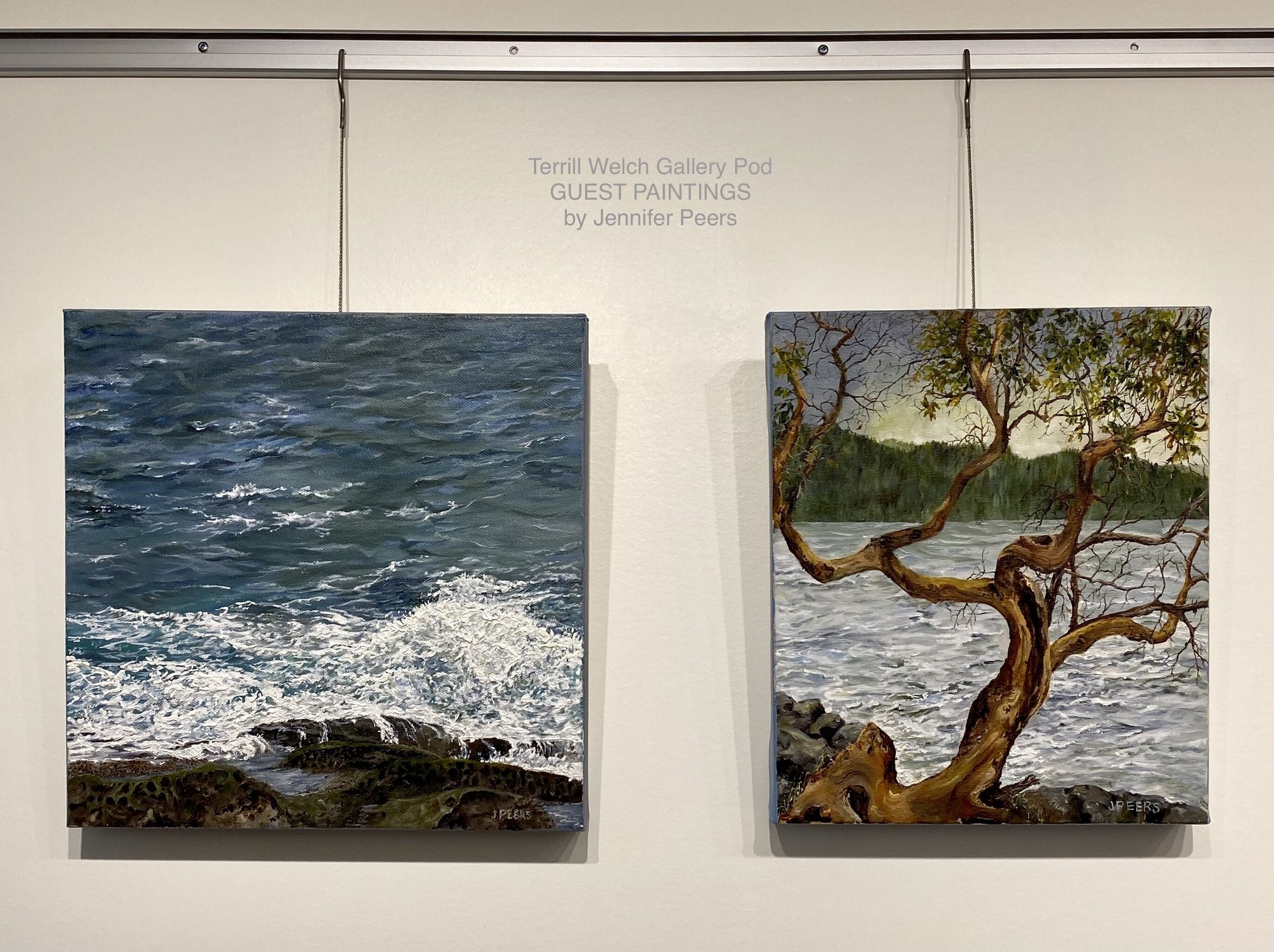 New Releases
Most of the following paintings you will be familiar with through having followed their work-in-progress. Some were completed late in 2021 and some are very recent with just having had their edges painted. Either way, I hope you enjoy having a closer look by clicking on these direct links provided below…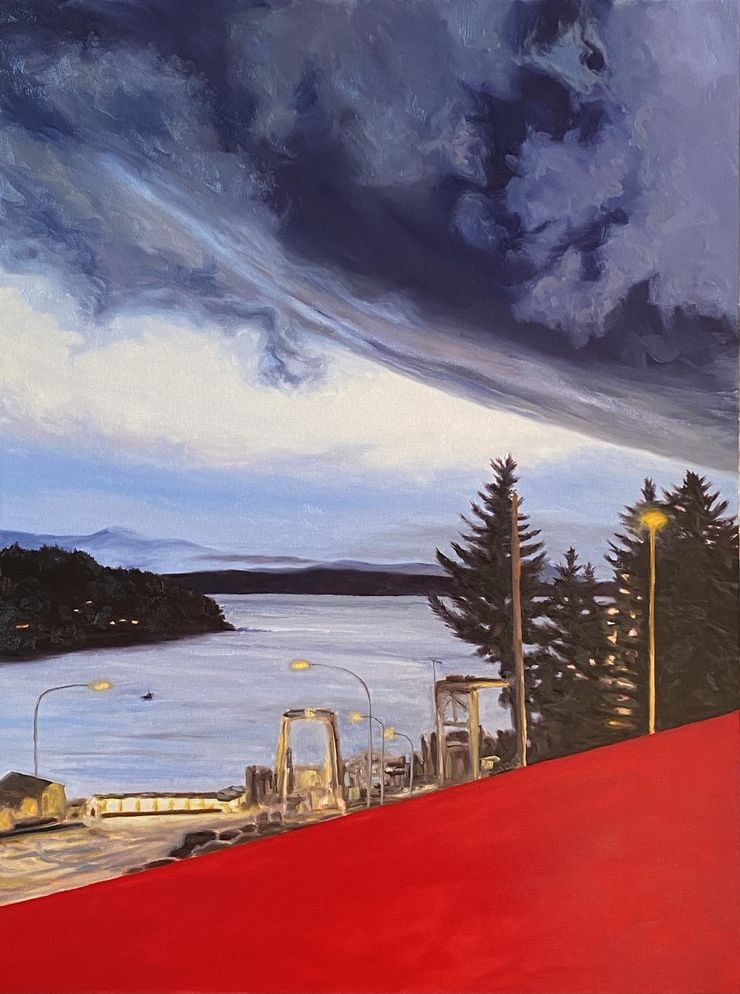 Artist notes: On November 30, 2021 at 4:51 pm I was coming home from a friends and looked up to see the third in a parade of atmospheric rivers turning a ben...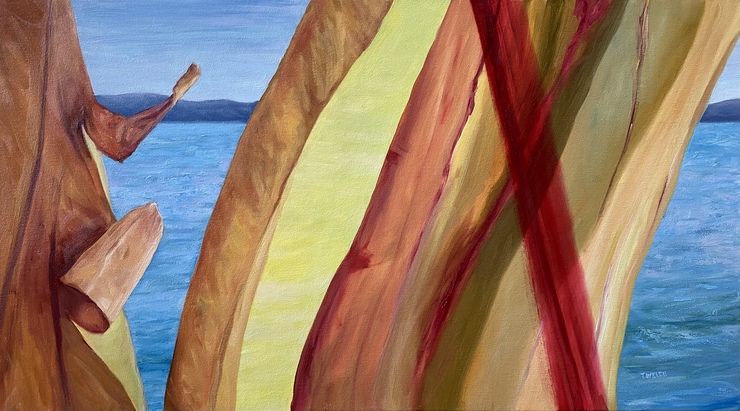 Artist notes: Recent years of drought and an over population of deer eating the seedlings has been challenging for Mayne Island Arbutus Trees. The red line i...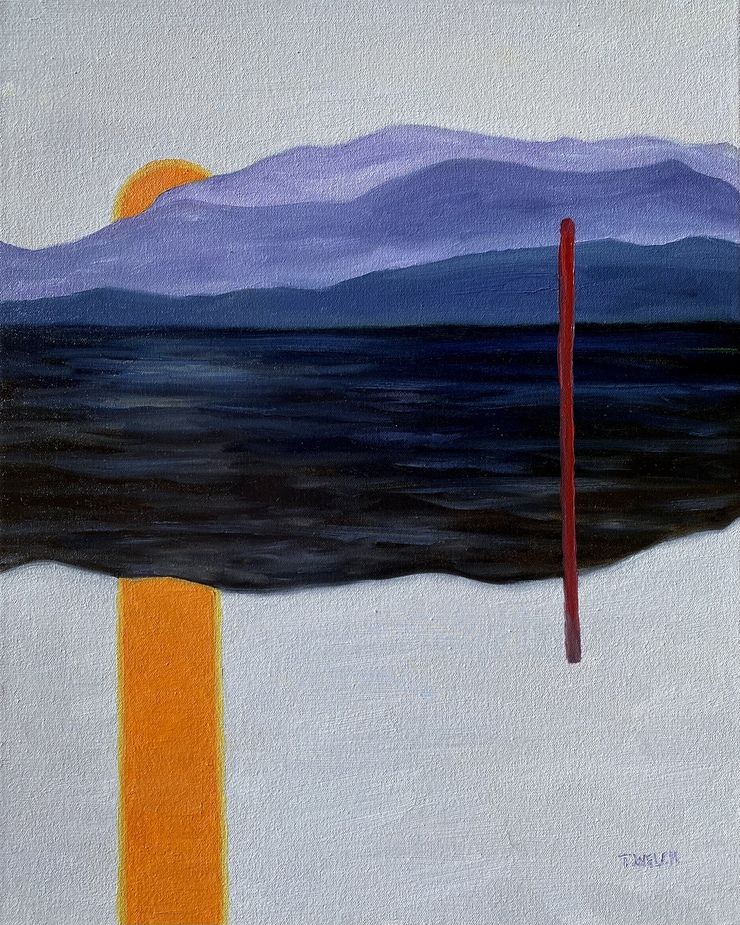 Artist notes: I tore random piece of coloured construction paper, laid them down in a pleasing pattern, Somehow, I found my way back to a summer moonrise whe...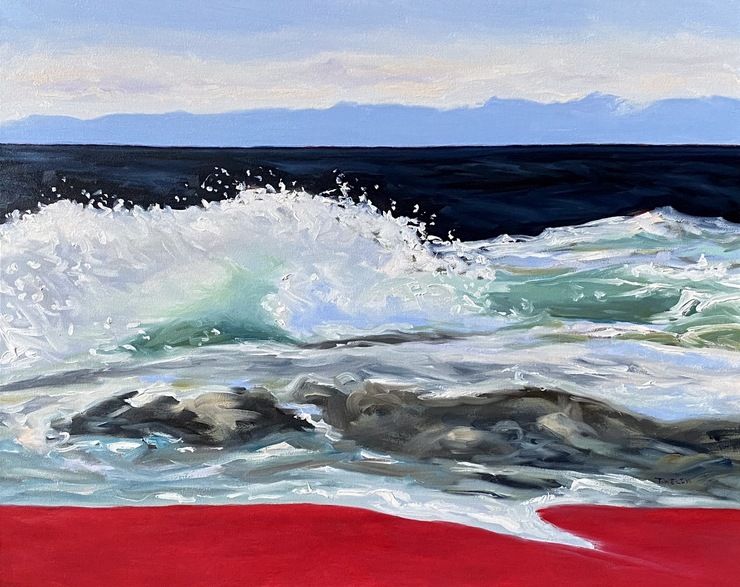 Artist notes: Surging king tides with rising sea levels are often a mesmerizing beauty in the winter sun with its deep midnight blue waters. Underpaintin...
What is on the Easel
In between putting up a new show in the gallery pod, I have managed to get a larger canvas work to "resting" on the easel which has its own post in my Creative Potager blog linked below…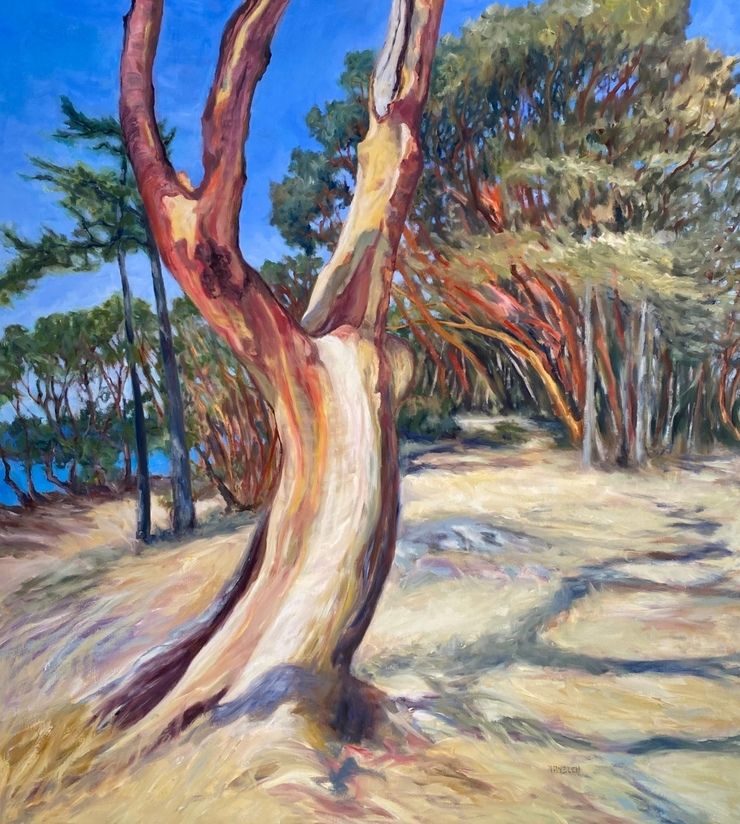 There is a new painting on the easel. I love the curvy strength and elegance of Arbutus trees and I have my favourites. For now, this Arbutus tree rests on a larger canvas in the middle of my Mayne Island home studio. The last evening's sun is stretching across the valley outside the window as…
Review of  "7,000 Spirits" Art Installation
Mayne Island artists have a community of around 80 individuals working in various media. We attempt to get to at least a few of these shows and events. Most recently, a specific experience caught my attention enough to write a review about the installation in the link below….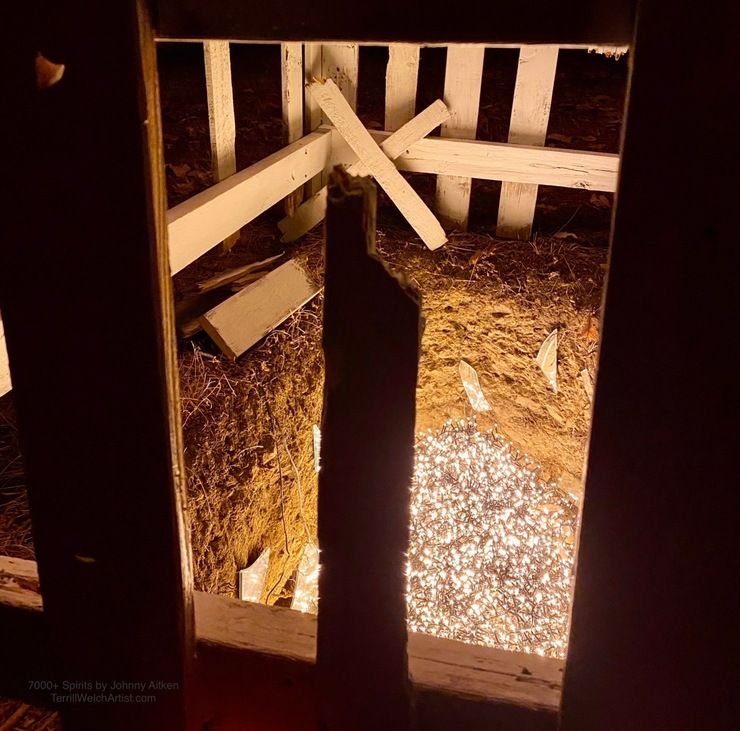 Mayne Island / S,KTAK artists Johnny Aitken, Bill Jamison and Wayne Thomas took on the monumental task of hosting a four day art installation with the intention of inviting deep observation, thought and conversation about the past, present and future of colonialism, genocide and the unsettled coexistence of Indigenous and white settlers in what is…
Long Hikes are Still A Thing
The topics presented so far in this issue are heavy and emotionally demanding. These subjects, combined with the war in Ukraine and global economic instability, can weigh on a person. I have a personal practice that seems to allow me to be present and distill informational about these difficult and challenging circumstances and events and still embrace the beauty and bounty around me. I am not suggesting it is an easy practice but it is a sustainable and successful means of managing daily life in a rich and compelling way. So as a way to offer a counterbalance to the previous content, let's take to the trails shall we?…
The low autumn sun has chased me into the last possible space of my less than ideal south exposure painting studio and crept onto the canvas. In frustration, I give up and wash my brushes. Then I tie up my hiking shoes and escape to the sea. The familiar forest middle trail eventually leads me in a steady easy rhythm out to seashore.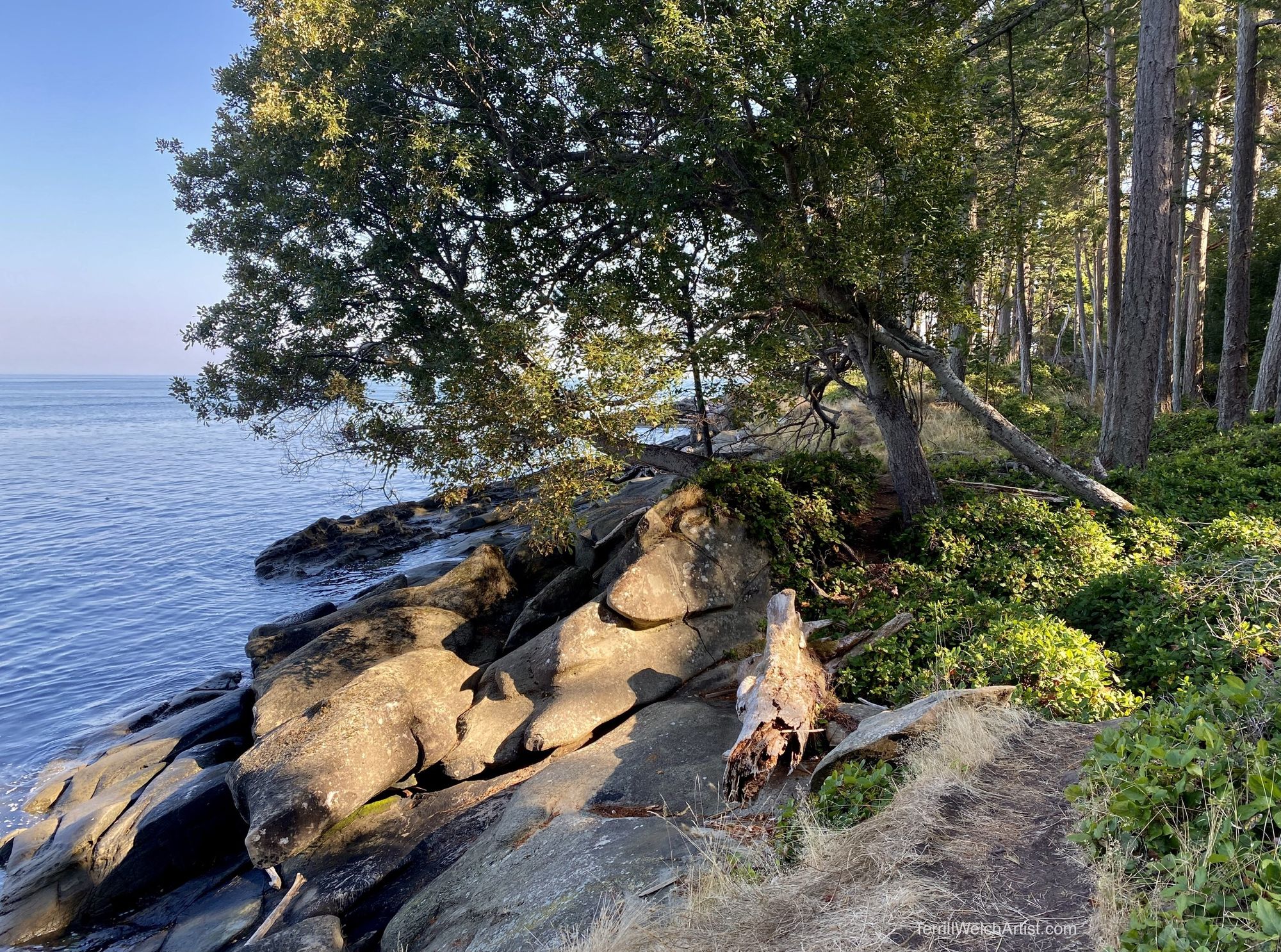 The ground is dry even though the air is humid enough to feel cool and damp in the shade while sandstone rocks have soaked up the sun's heat.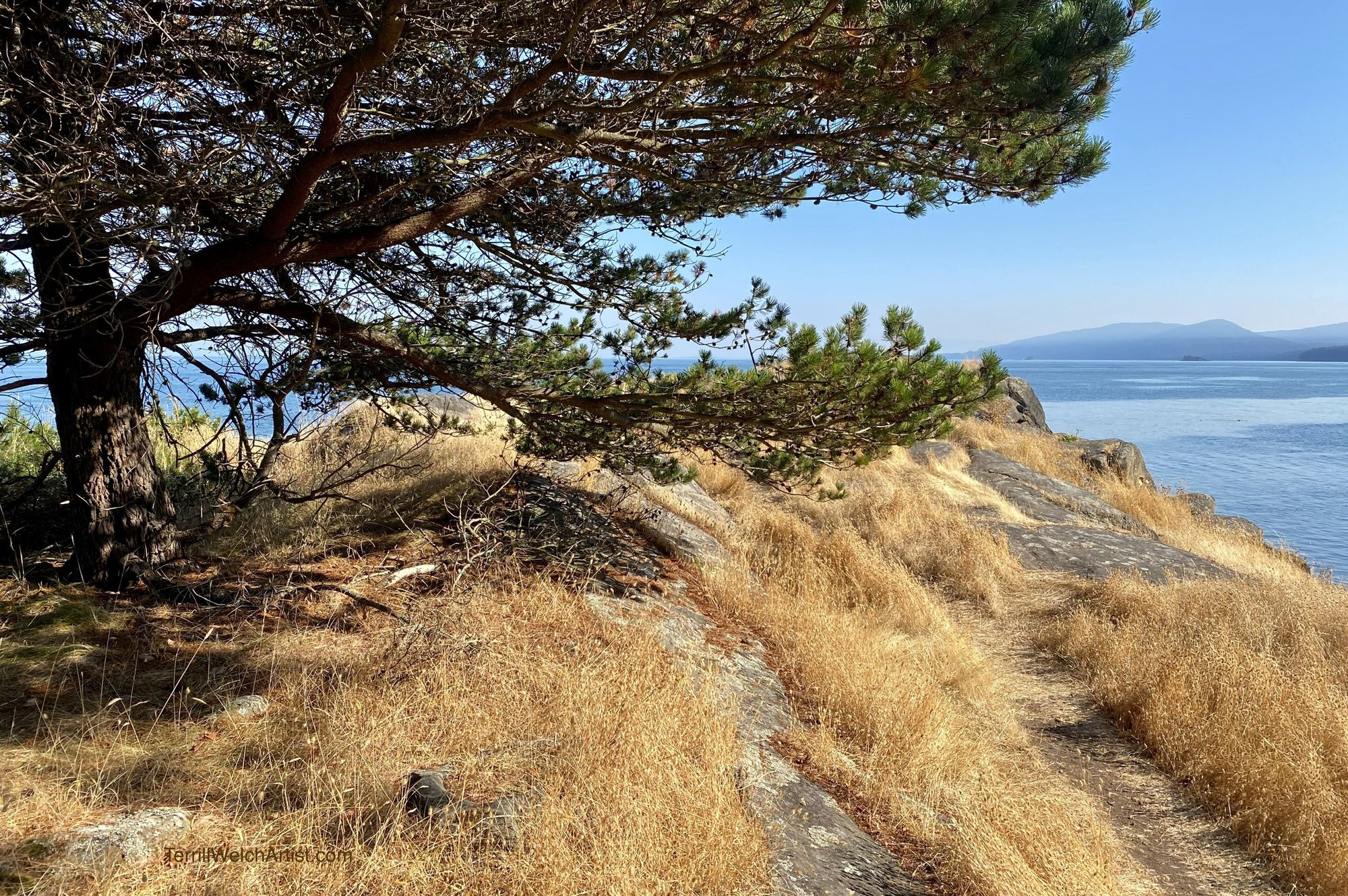 It is an early October day of deep contrasts.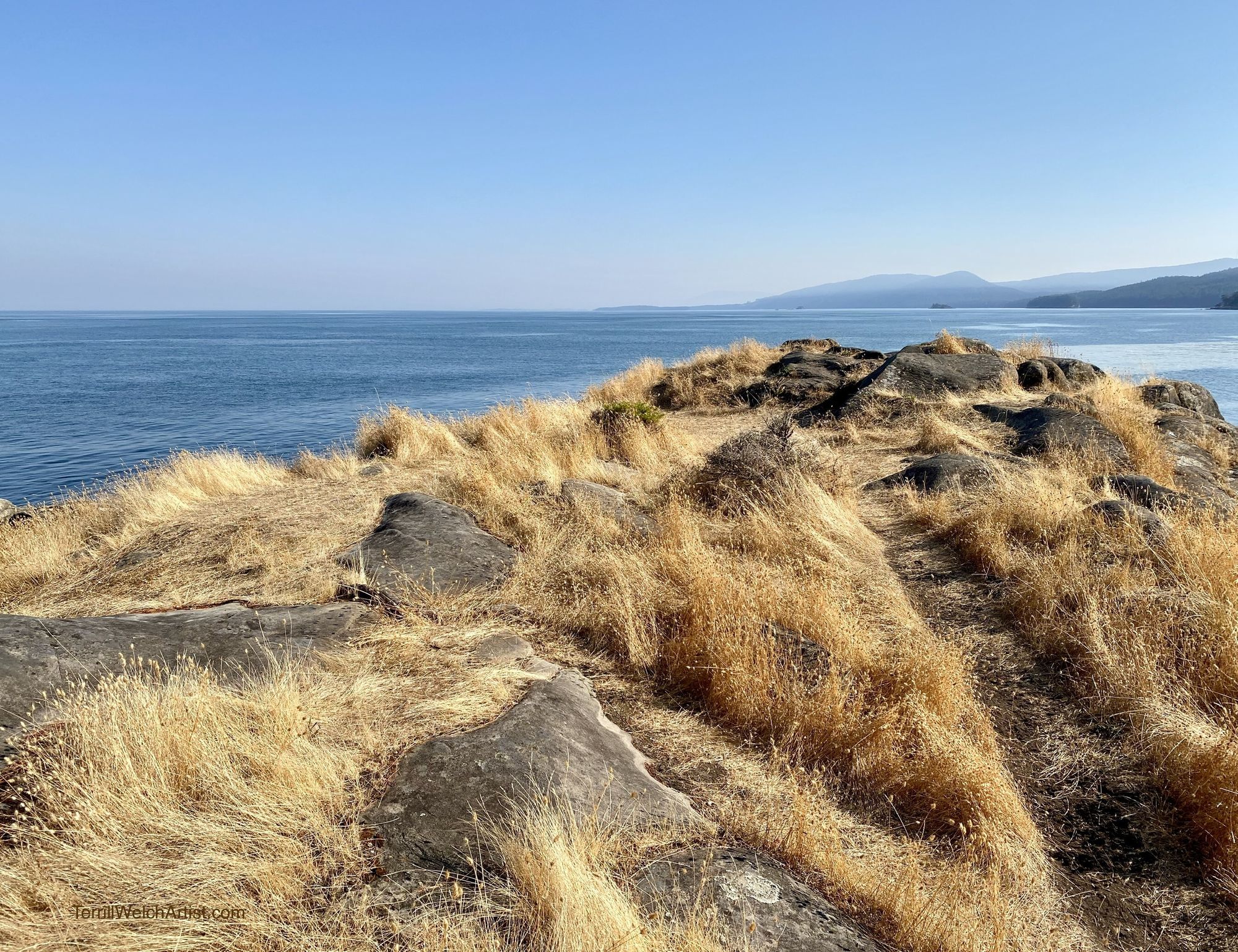 Punctuated by open space, there is room to breathe here and no need to think. Feeling is enough. I lay on the sandstone with my eyes closed listening to the sea. These are my ordinary everyday moments that I purposefully engage in to sustain my resilience.
It means taking time to pull over and walk down on the docks.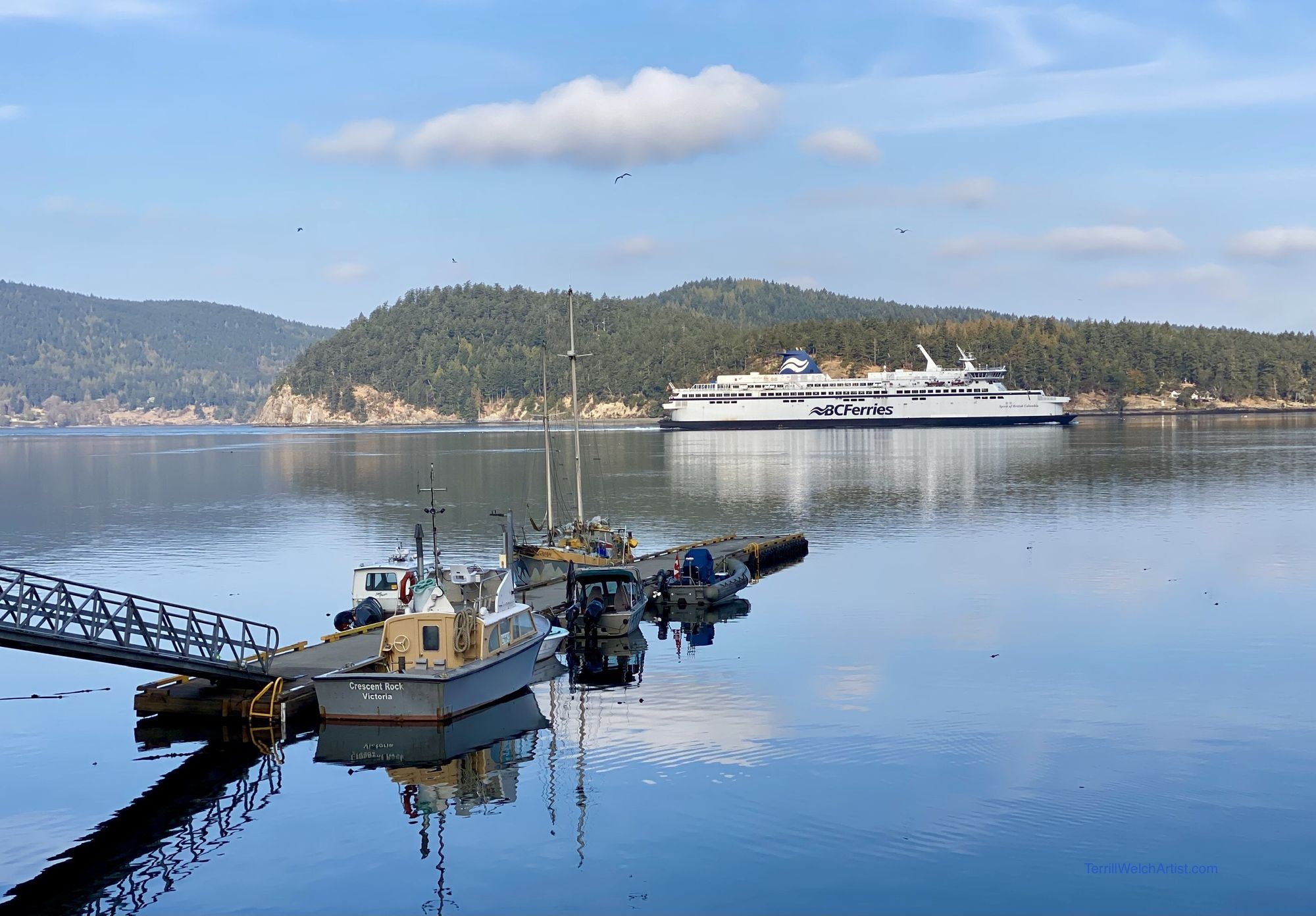 It means taking lunch to the beach for a quiet car picnic with my husband David.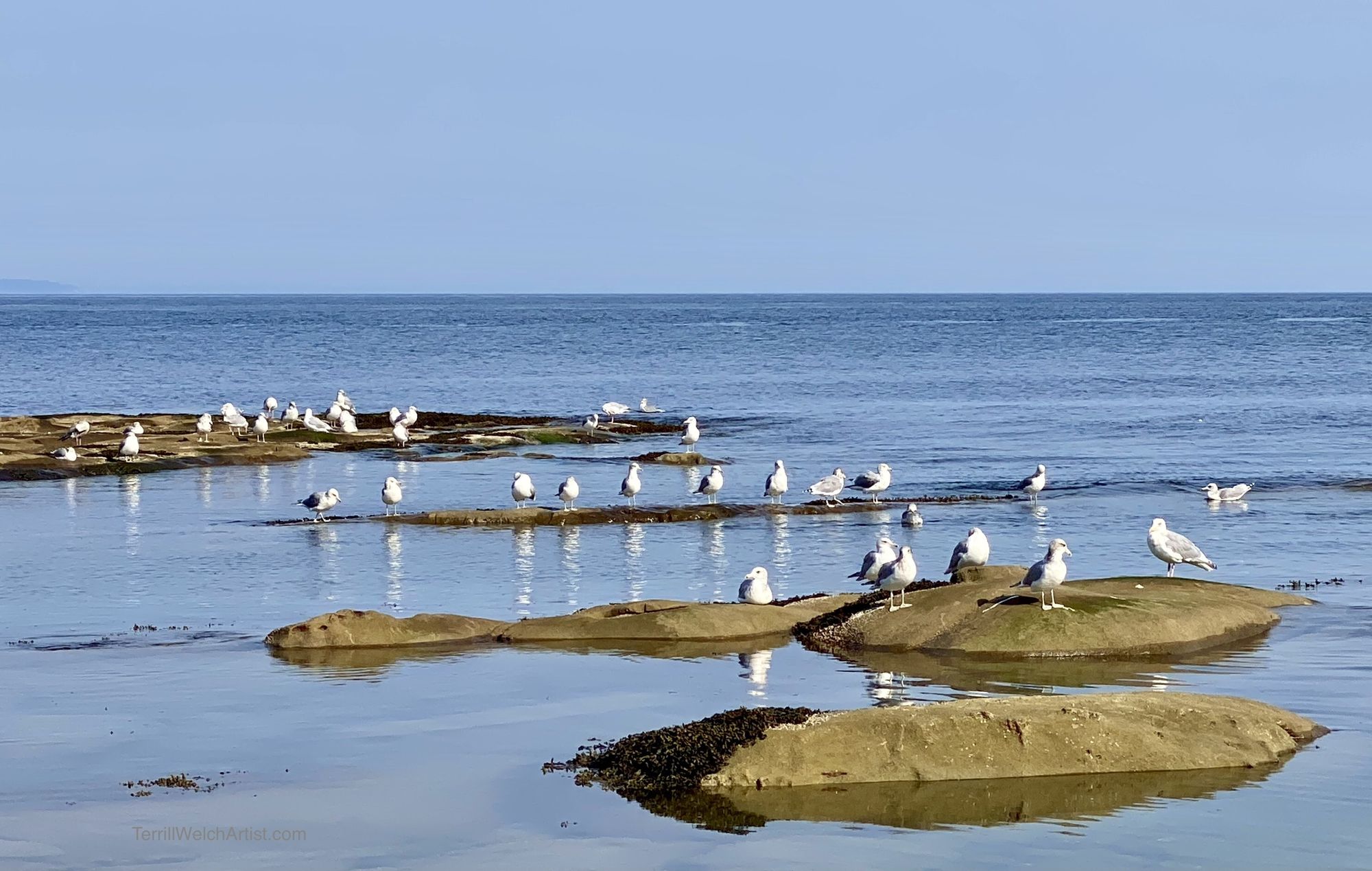 It means standing gazing through the trees before getting in the car to go to an art opening.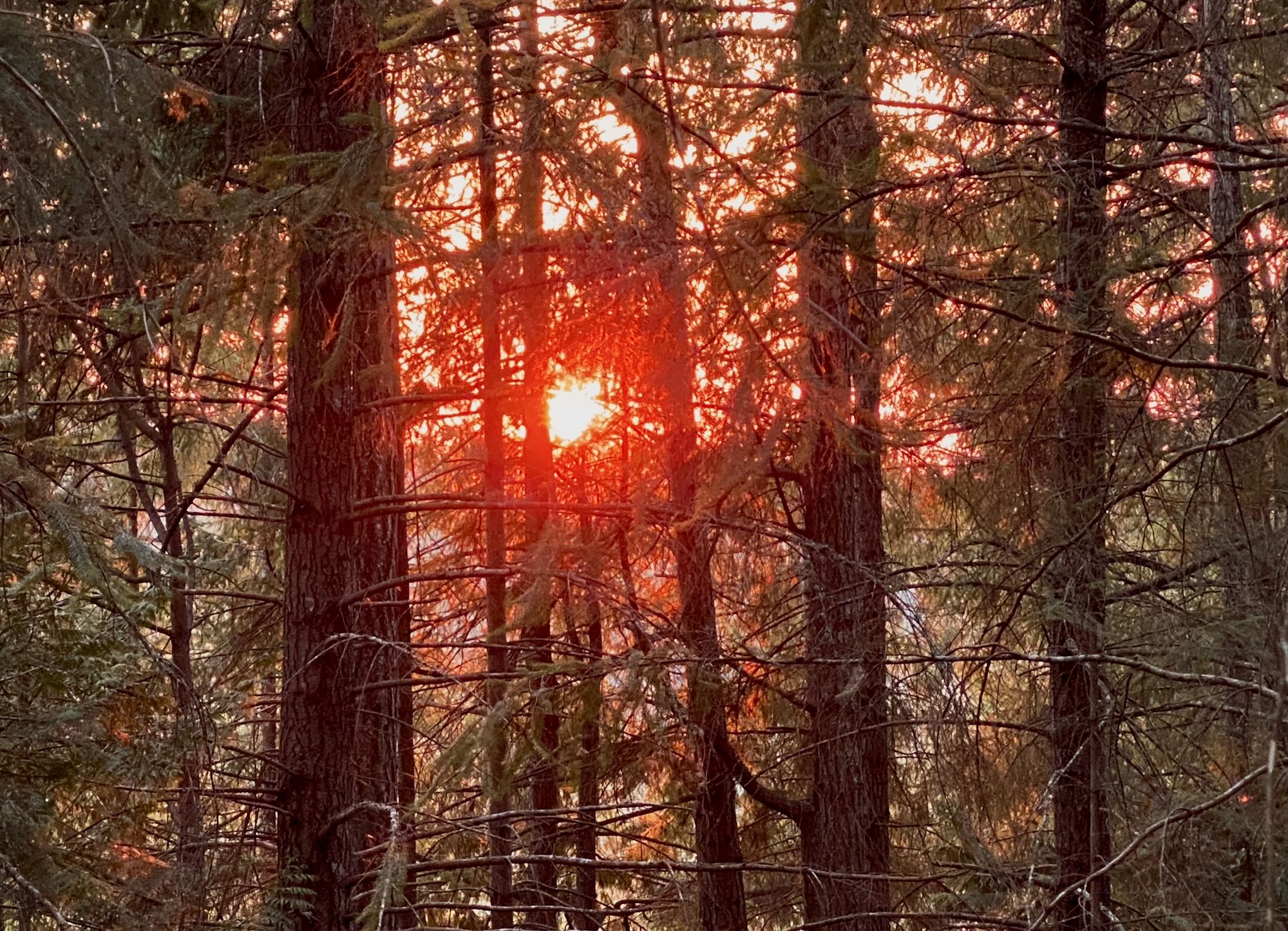 It means leaving the art opening with enough time to catch the last of the sun on my way home.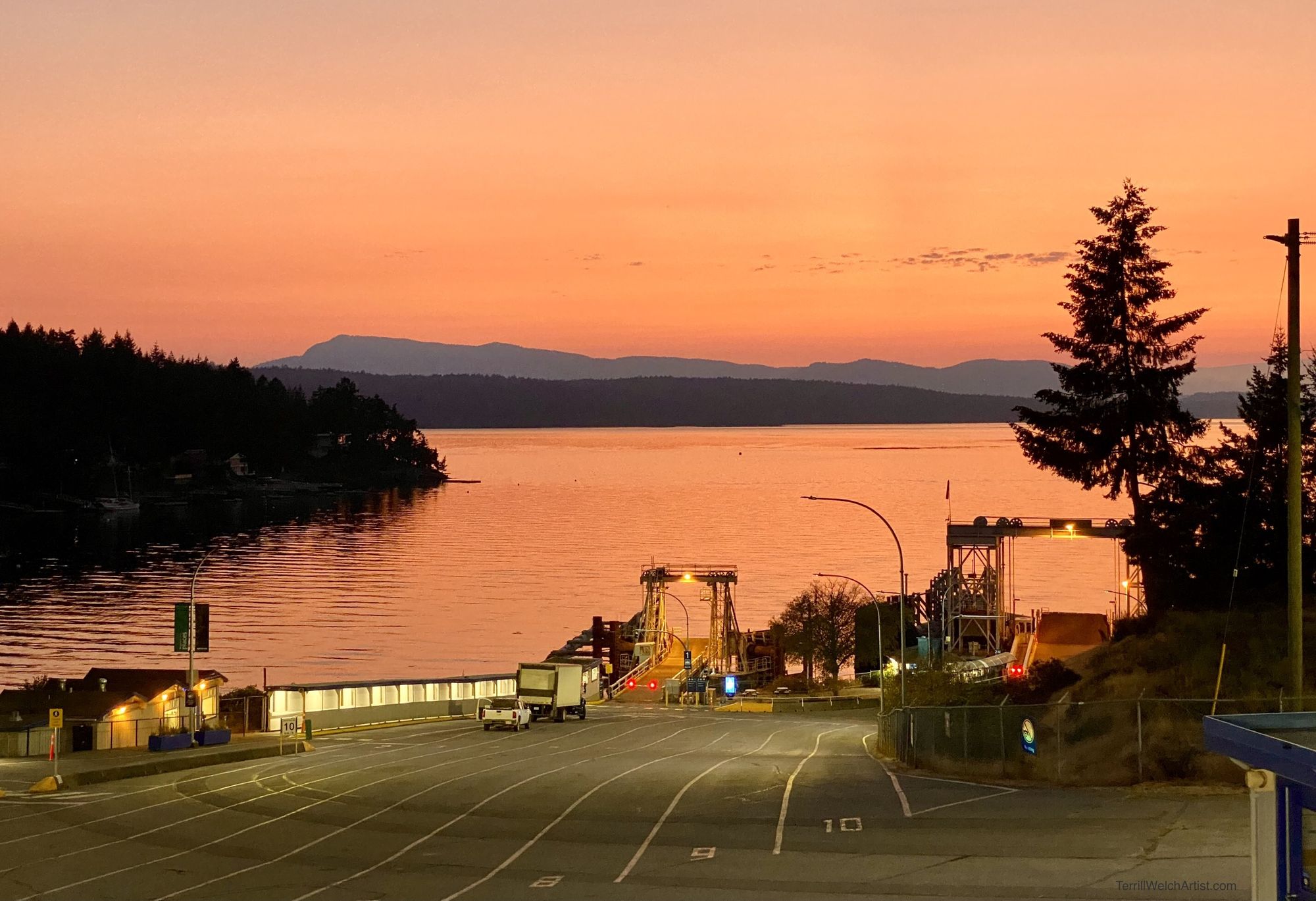 Then there is the searching out new adventures that link to a trail I use to hike during the first few years we were living on Mayne Island. It is a walk that begins on an old road that is now a park that begins right next to our home. No driving is necessary.
Near the other end is a freshly ribboned trail through the new park that guides hikers around private property.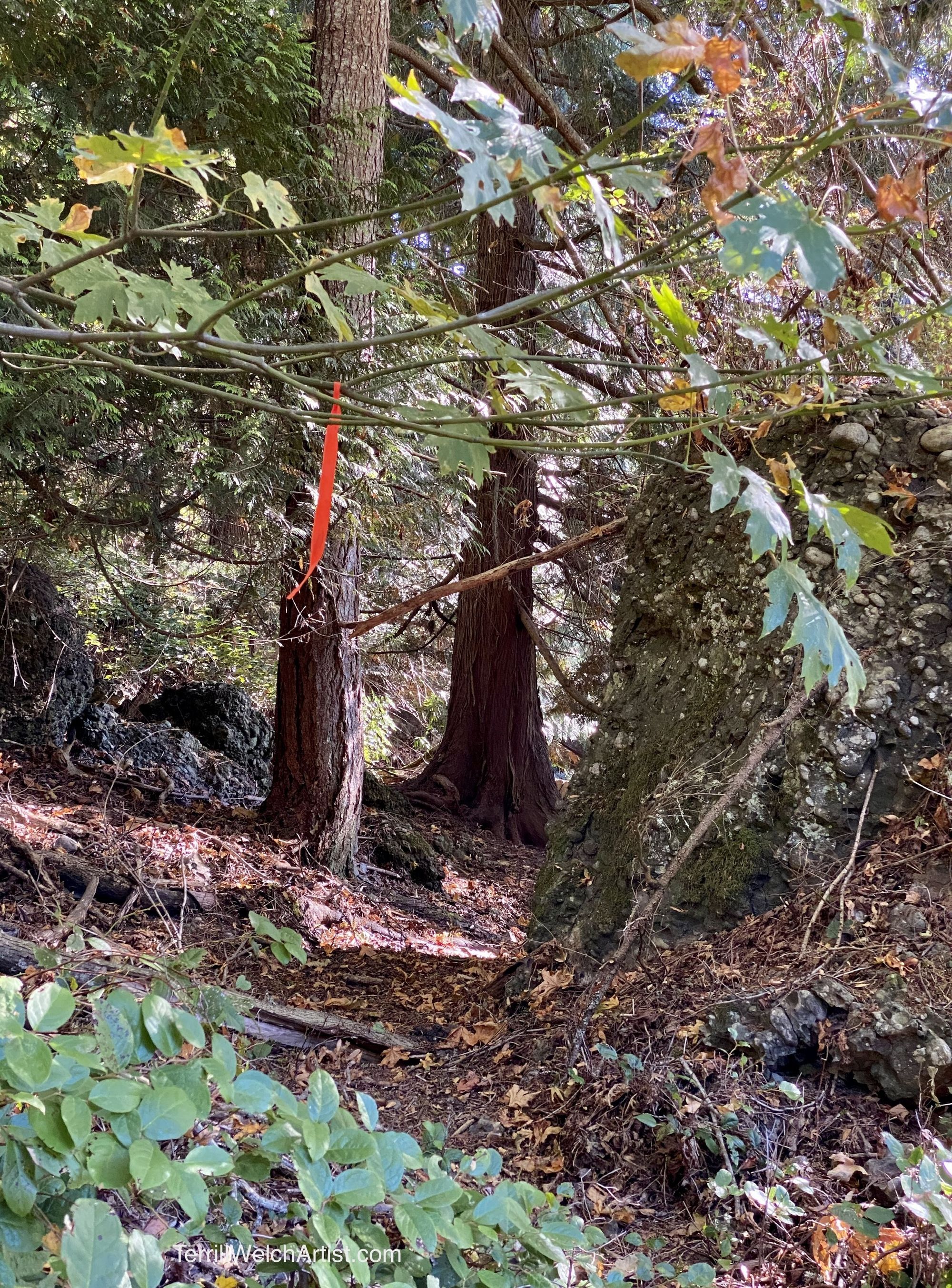 There is a sense of challenge but no bushwhacking is necessary.
Eventually the trail meets up with terrain I am familiar with from previous explorations and the path slips between the imposing cliff face.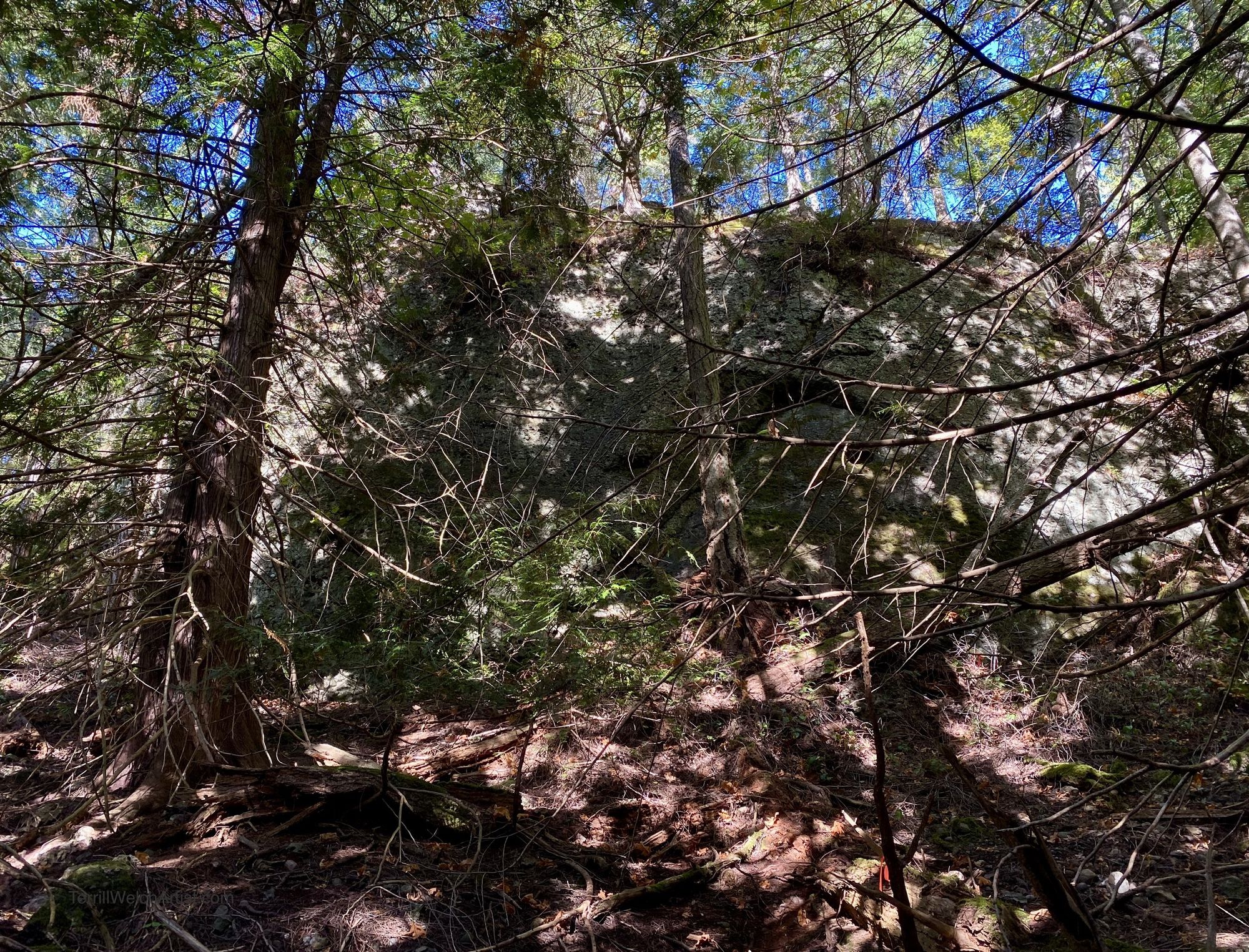 Tall natural rock walls crane towards the sky on both sides.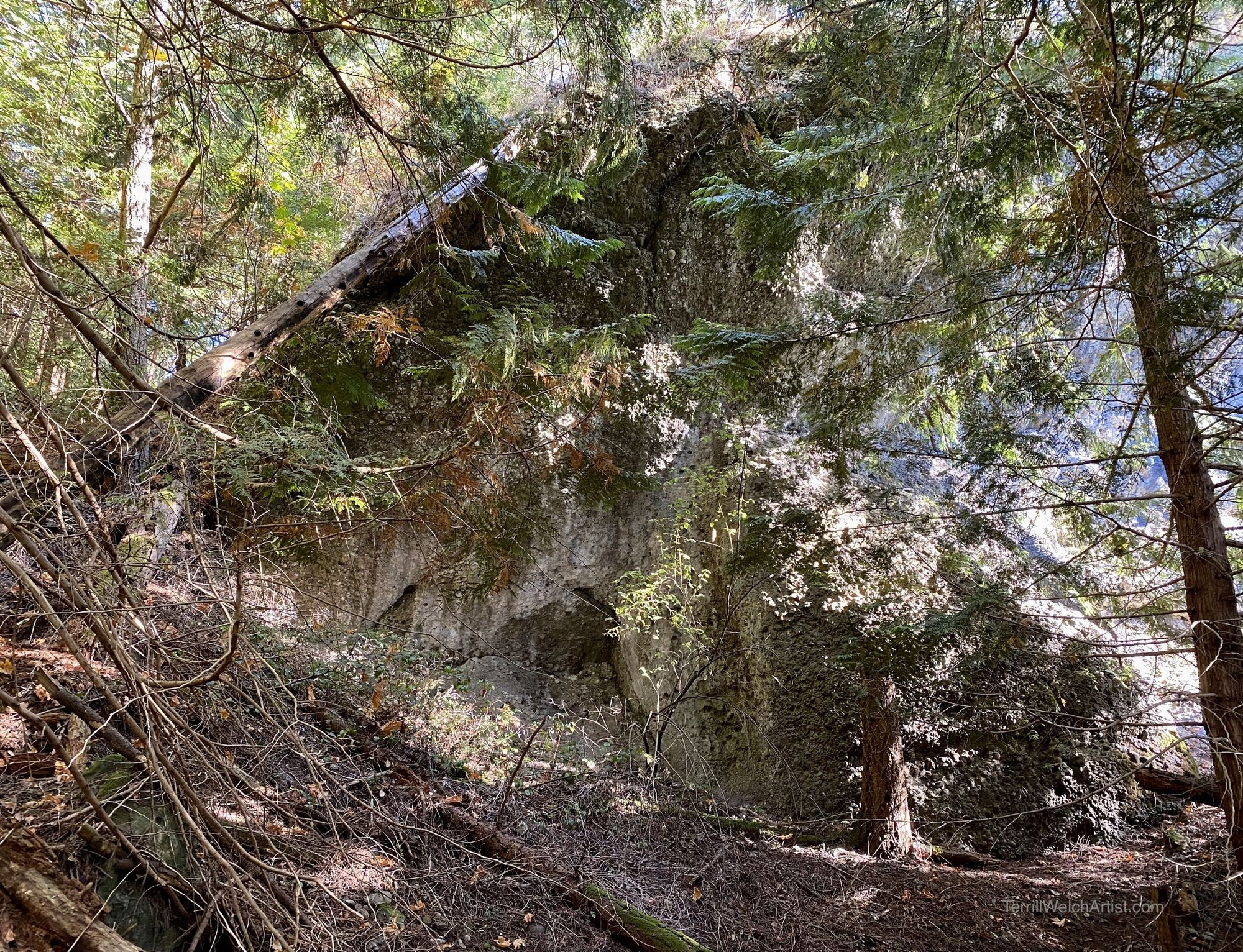 Then I am on top of Mount Parke after hiking about 35 minutes from the house almost completely in the woods on park trails. Perfect!
There is this familiar old fir tree in the middle of the image below that I have painted twice, once when it was covered in snow.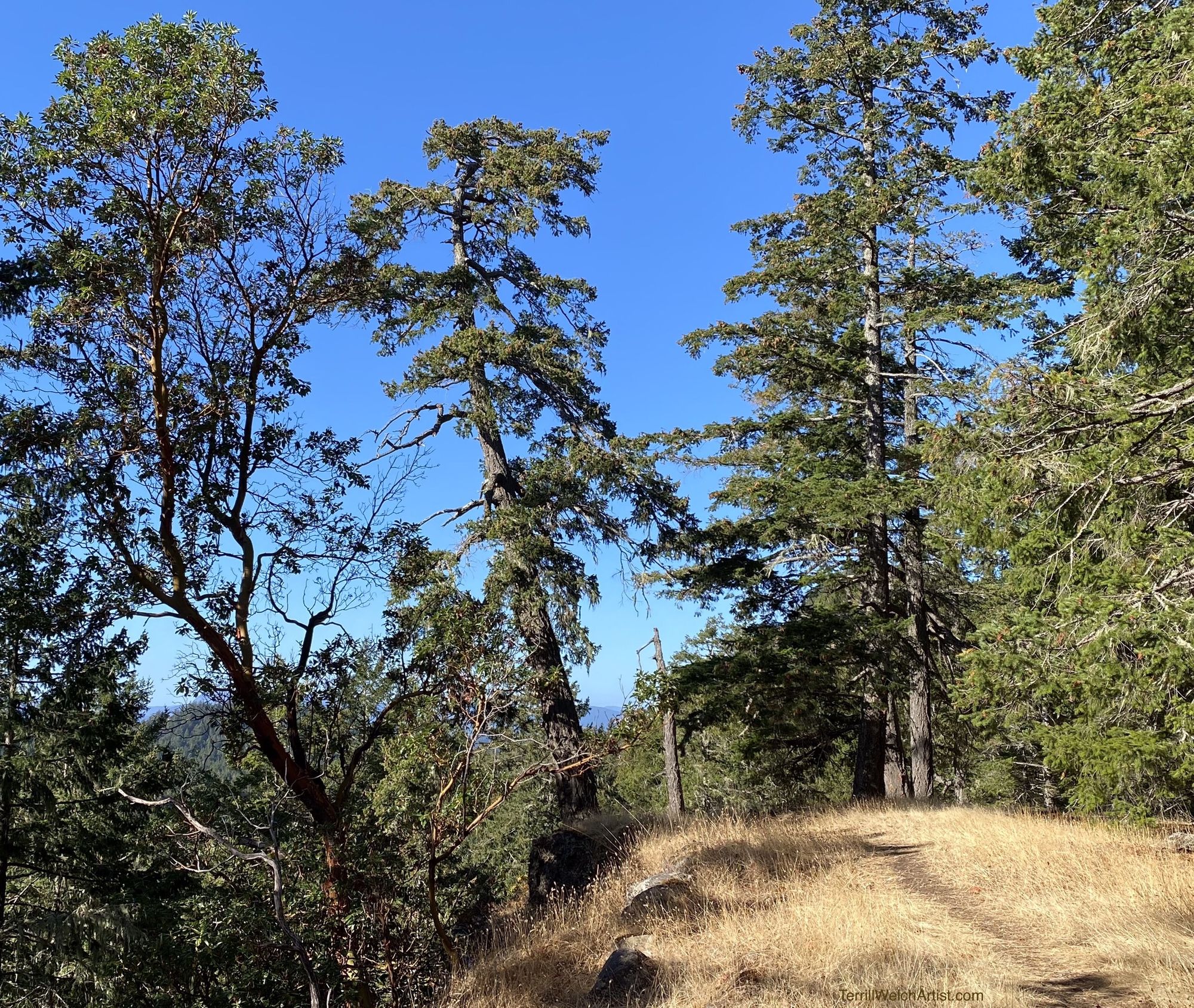 I love being up high and looking out over the islands.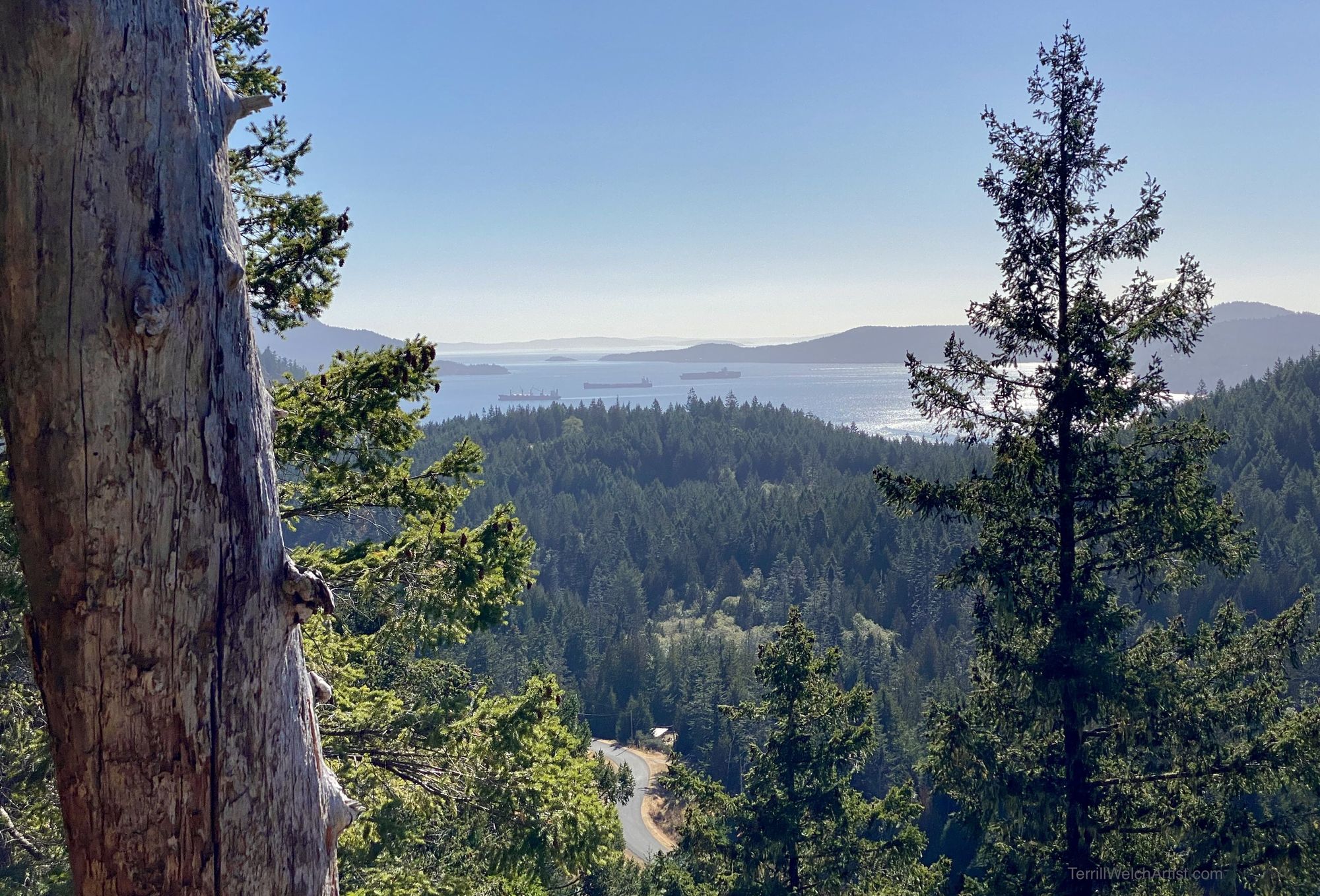 All too soon, it is time to carefully pick my way back down the loose stones and twigs, that can unexpectedly roll underfoot on the dry ground, and through the trail between the conglomerate boulders and home.
Now isn't that better?
Other Resilient Practices
Walking alone along the trails beside the sea or through the deep woods to reach the views high up on the bluffs are magnificent practices for keeping the various incongruent elements of our lives in perspective. They are not enough all by themselves though. This is because we are social beings and to be our best means considering and caring for other human beings, even if this is simply taking time to enjoy their company.
Here is a story about "A small harvest dinner for two" for our Canadian Thanksgiving harvest dinner.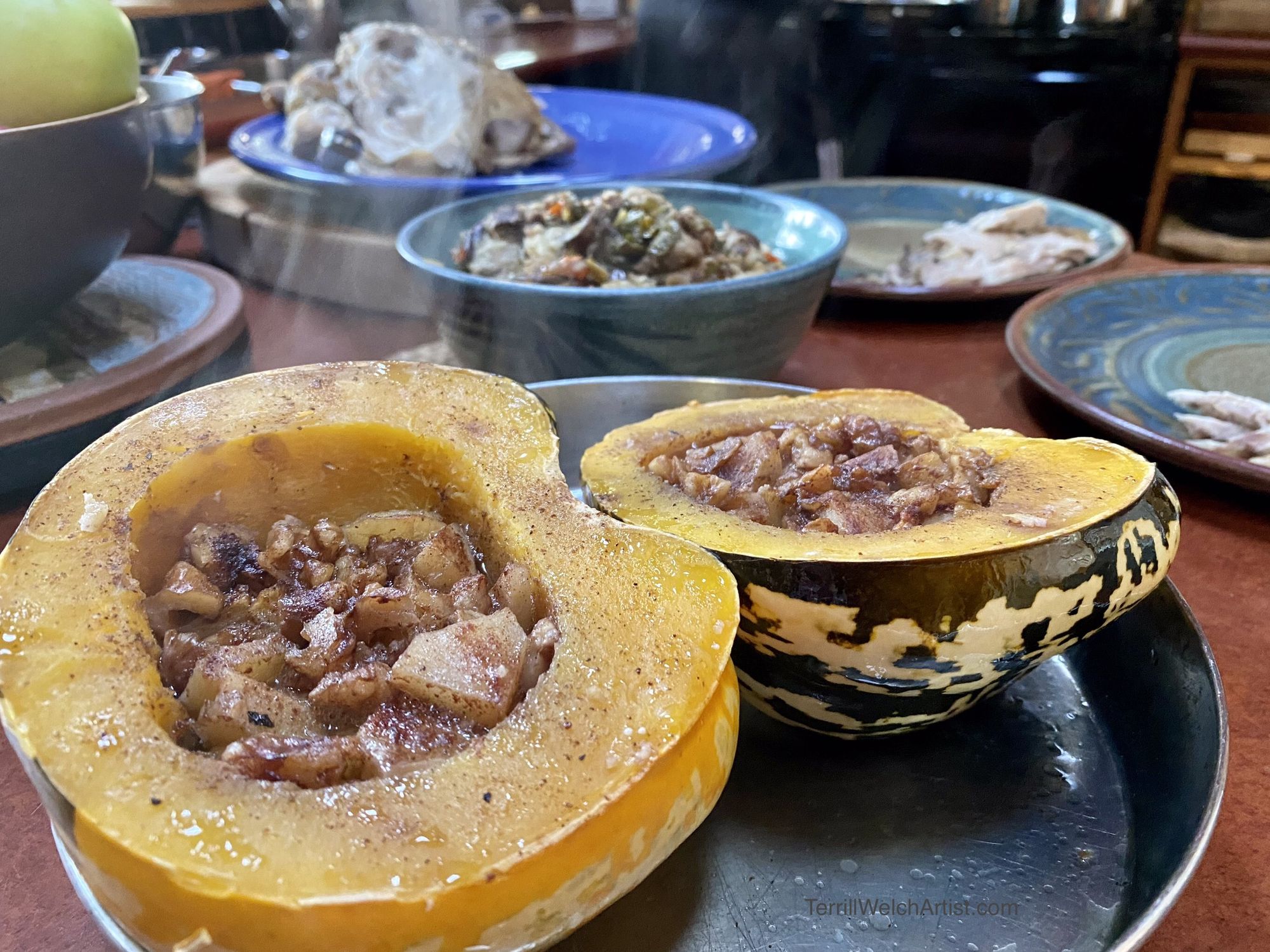 Today is a much easier day in our house. I have art collectors dropping off a box for a large painting they pick up early in the spring and others who may come by to see the new show in the gallery pod. I cooked our harvest dinner for Canadian Thanksgiving yesterday and today and tomorrow will be warm up dinners. And I will be at the easel painting shortly.
This has been the first year, with the help of mainly three local Mayne Island farms, that almost all of our produce was possible locally. We are deeply thankful for the hard work and long hours it takes to grow and sell these products.
At one time I use to find these intimate holiday dinners for two challenging. There was always too much and I missed my family terribly. But, due to circumstances beyond my control, after 13 years of making most holiday meals for just the two of us, I have developed new rituals and the first is that I do not cook anything that we both don't love and the salad is mostly for me.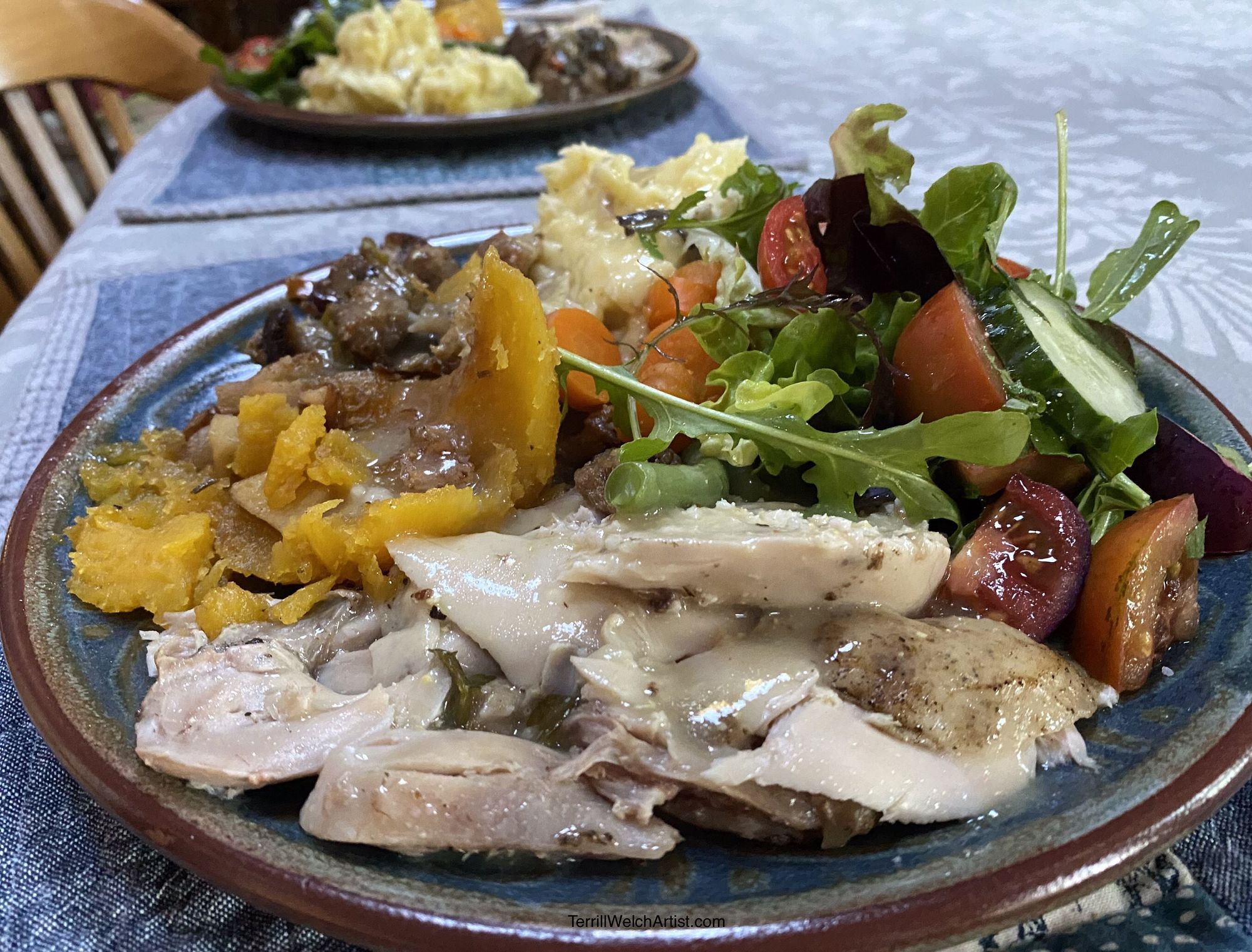 Happy Canadian Thanksgiving wherever you are and whatever challenges you and we all face. My heart and every cell of my being is fillled with gratitude for the experiences life is offering and that, for now, we are safe and warm and have enough. I am grateful for my family and our friends and our collective resilience. I am thankful for small and large pleasures in an ordinary day.
Island Bounty Group Art Show
This same weekend was also a local community "Island Bounty" group art show that many of the gallery artists participated in. Spending time celebrating with fellow colleagues is also good for keeping our inner mojo in prime condition.
Between the Apple Festival and live music at a bustling Farmers Market, there is the  "Island Bounty" Art show at the Agricultural Hall presented by Arts On Mayne. I want to especially thank Deborah Strong and the Arts on Mayne team for their hard work in putting this show together. While I was sitting the gallery along with Jessandra Phillips this morning I managed to get a few photographs as I maneuvered around the some 90 visitors in the first two hours. The hanging team did a lovely job of finding a great space for each work and creating a nice flow for viewing the 60 or so diverse pieces. Now, let's see what kind of small sampling we have to share with you.
The painting on the left most of you will recognize as one of my Arbutus tree portraits. But the work on the right is likely new to you. It is by Matthew McFeely who, along with his musician wife Hannah Epperson and their baby daughter have come to live on Mayne Island about seven months ago.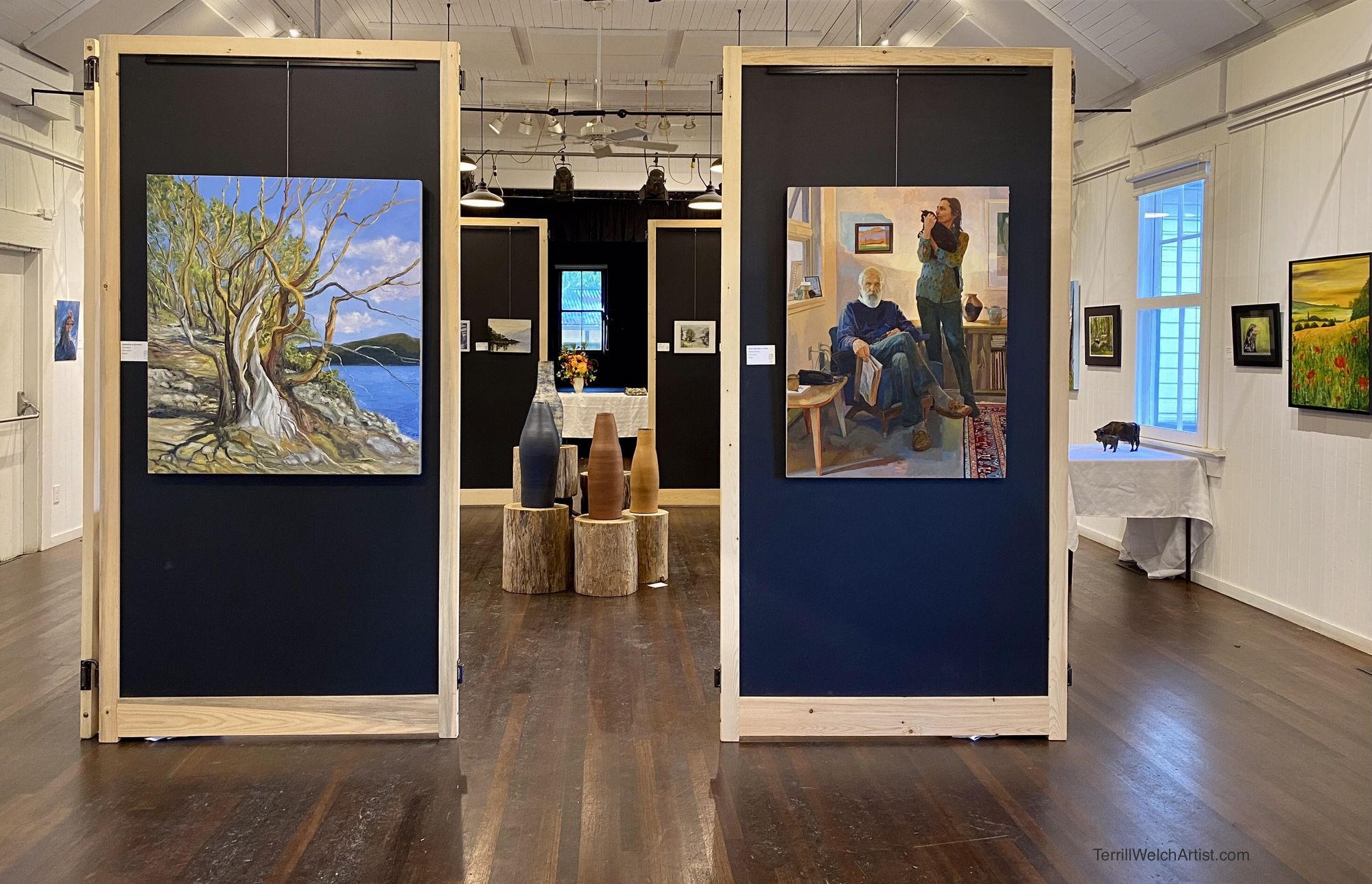 We got lucky due to the keen eye of Jessandra Phillips who spotted the couple in the portrait visiting the show. She recognized them even with their masks on and I quickly asked if they would mind getting their photo taken with the painting. Being the best of sports they agreed and I have permission to share this impromptu moment with you. I am hoping that we shall see more Matthew's paintings in the future.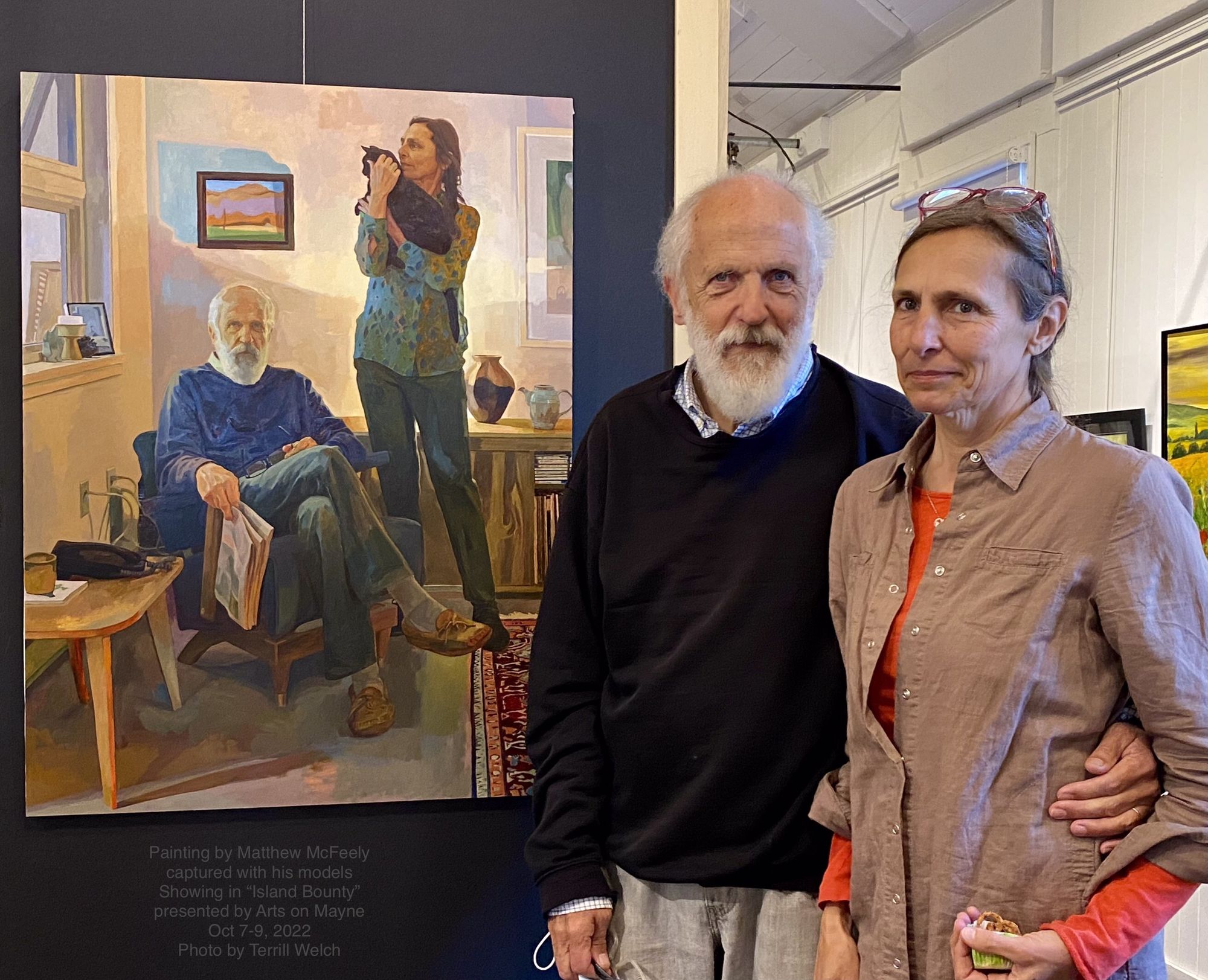 Look at the gorgeous flow of orange and yellow through these works going from left to right by Stephen Cropper, Jody Waldie, Glenda King and the last one on the right is by Bev Whitney.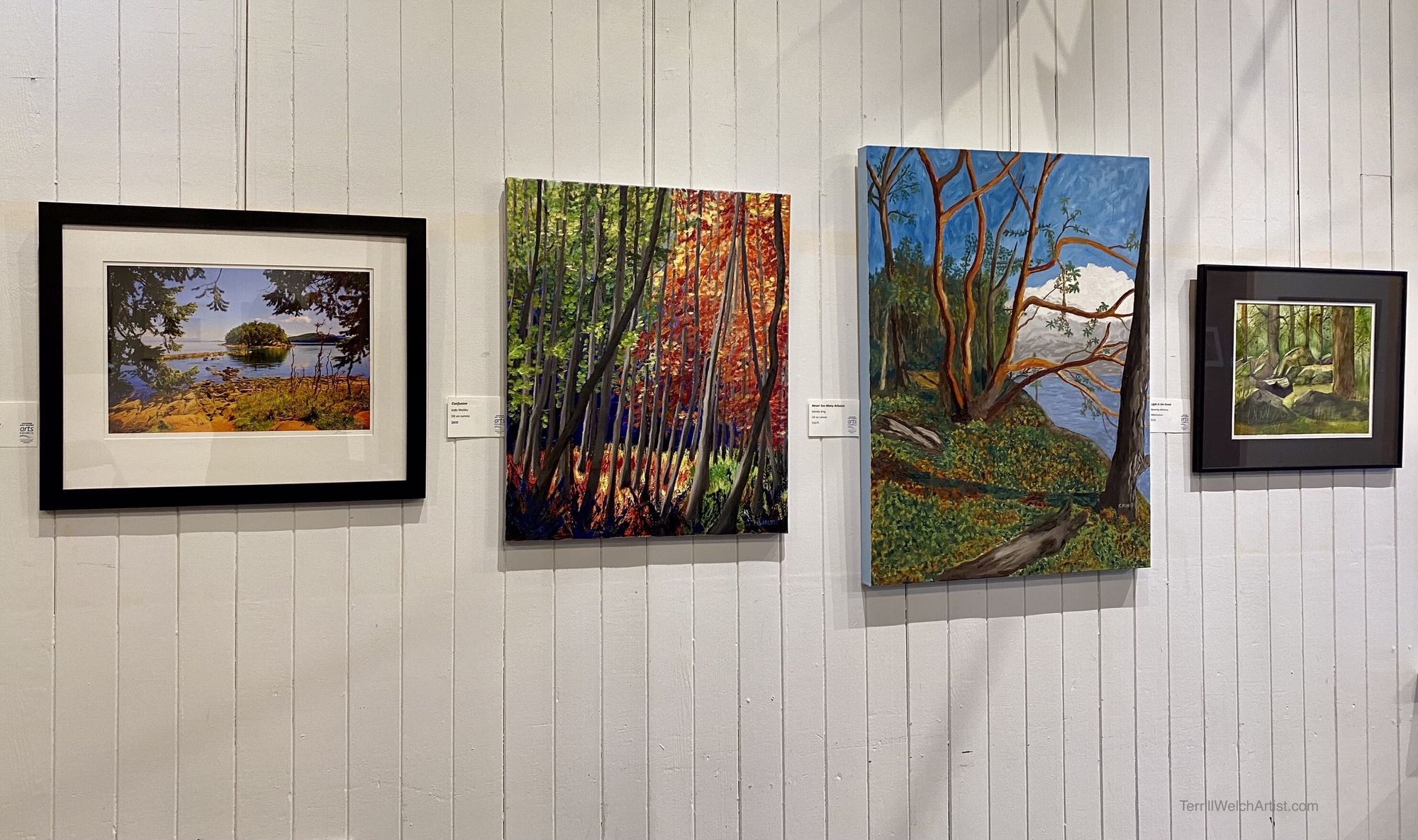 Here on the left is a painting by Sam Israel which brought Richard Diebenkorn to mind. On the plinth is an eco-dye fabric piece by Abigail Hain, followed by a work by Donna Dubock and a painting of Village Bay by Maeva Lightheart.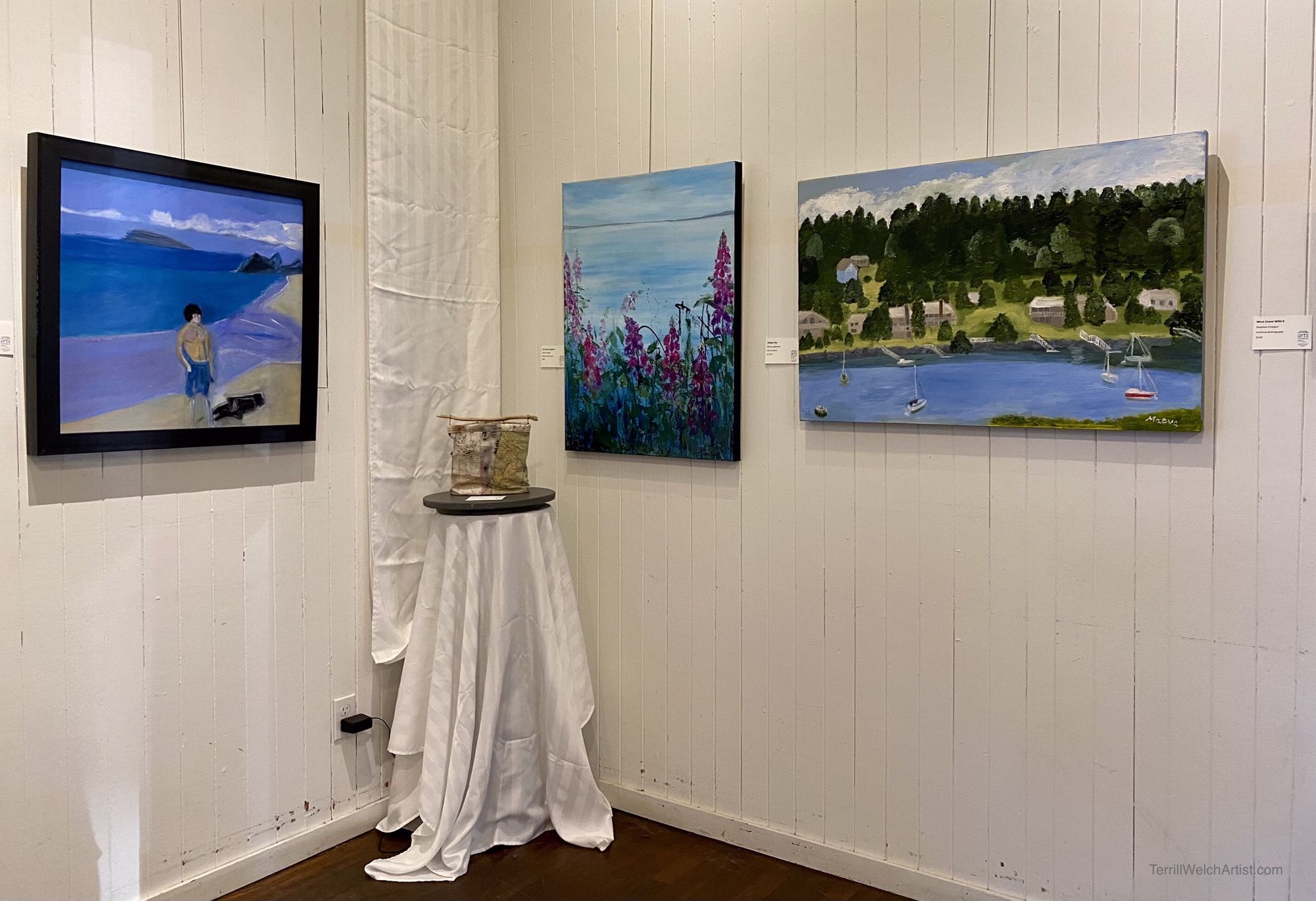 Not wanting paintings to get all the attention, I want to share these wall hanging sculptures by Kristine Webber with Mayne Island Clay Works. I love how they quietly command the wall space.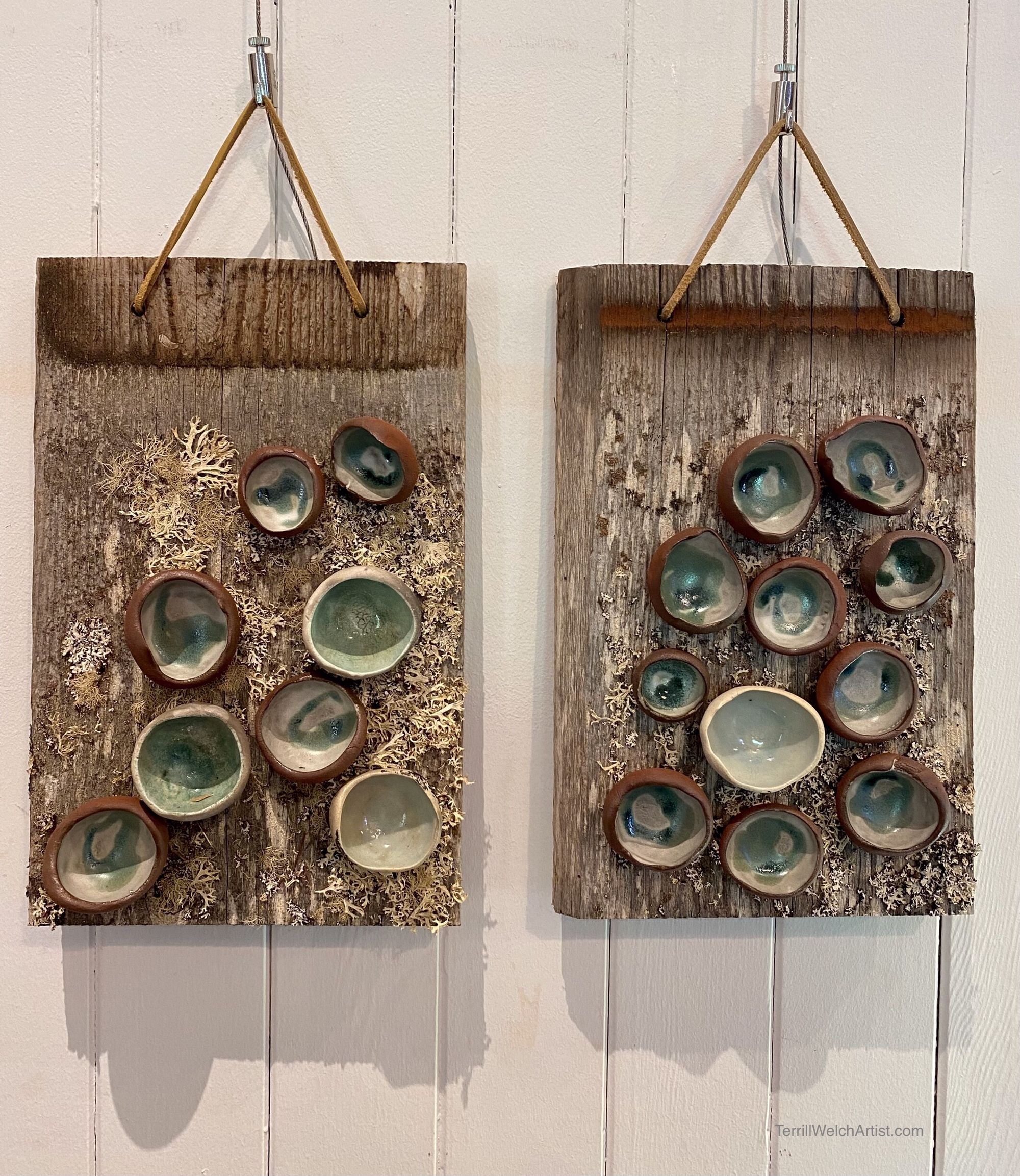 And here we have jewelry by silversmith Jessandra Phillips framed by a sunny window.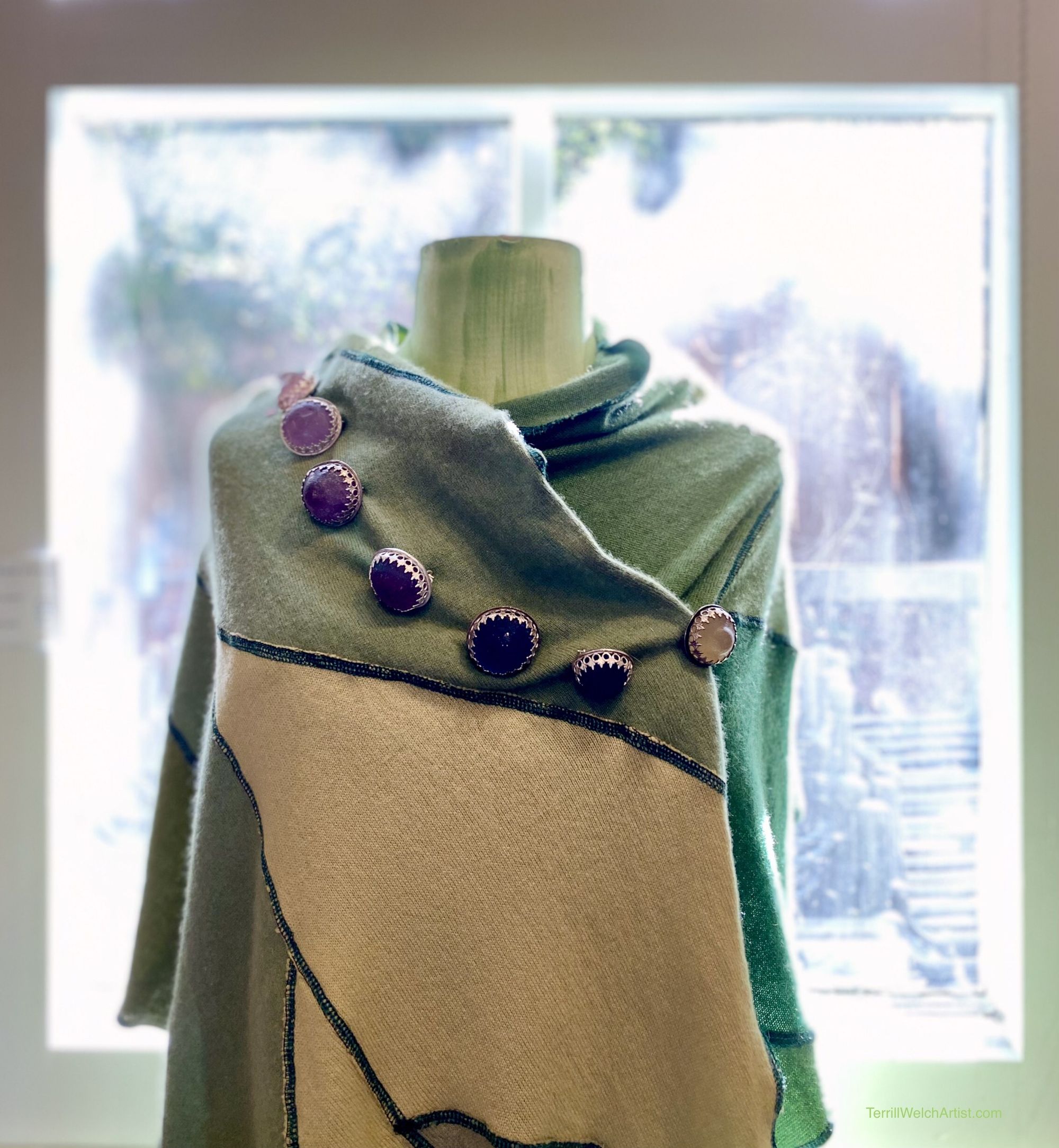 There was much more to see and study and enjoy in this solid and competent group of artworks but this gives you a small taste which I hope you enjoyed.
Until Next Time
Ah I see! This has become one of my longer issues even with providing links. What can I say? It has been an eventful couple of weeks. I hope you enjoy the selection and variety of offerings between direct material and links or additional information. And congratulations if you have read and explored all the way to the end! I keep expecting my artist and gallery work to slow down some for the next few months but this hasn't been the case yet. I will start a new 20 x 24 inch commission this week and there are ongoing painting studies for a contemporary landscape course I am taking. So expect more of the same I suppose.
Thank you as always for your patronage and support!
Terrill 👩‍🎨🎨❤️
View the full portfolio of artwork from Terrill Welch