A Brush with Life - Issue #117 Change is Always in the Wind
Today, I could use several carbon copies of me to implement online changes that hopeful will be seamless for our "A Brush With Life" newsletter. The short version is that the platform (Revue) that hosts "A Brush With Life" is suppose to become nonexistent by the end of the year. I have been monitori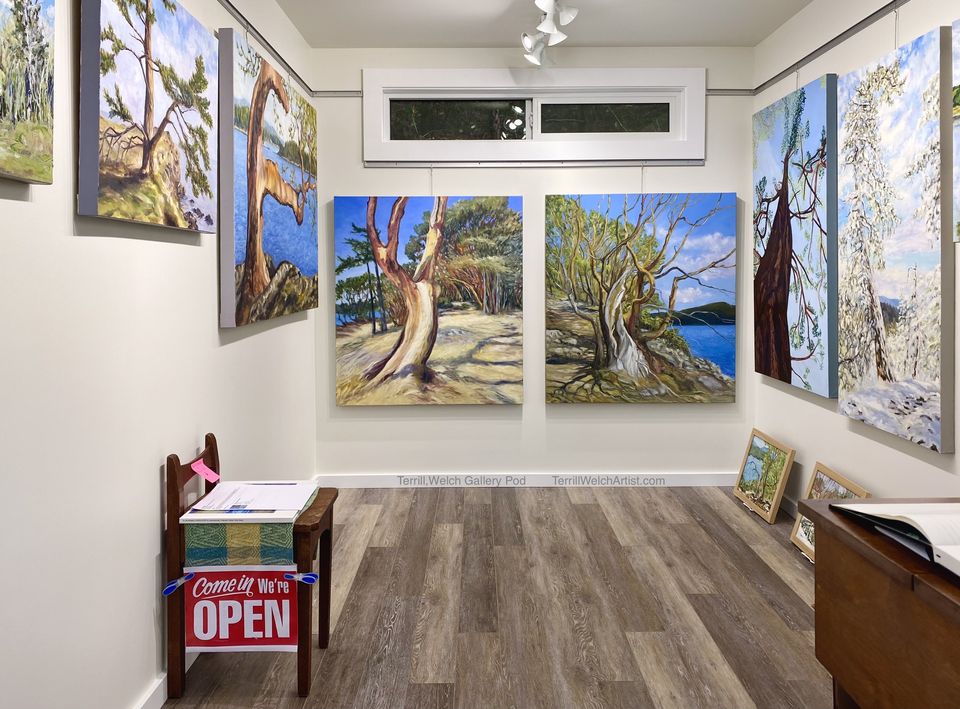 Today, I could use several carbon copies of me to implement online changes that hopeful will be seamless for our "A Brush With Life" newsletter. The short version is that the platform (Revue) that hosts "A Brush With Life" is suppose to become nonexistent by the end of the year. I have been monitoring it closely since it was bought out by Twitter a while back. Now the Elon Musk has taken over, the axe has fallen on our delightful Revue platform. It happens. We shall gracefully move on.
What can one do when using a small start up venture project for a service provider? The answer is to be a little smarter next time. I am feeling much wiser this time with my choice for our next newsletter platform option (Ghost) which is both open source and non-profit. My next task will be to carefully move our newsletter over to this new platform which has the same data safety and no advertising features as Revue. This change should be almost seamless for you as the reader though I will eventually be adding a subscription option as well. So all is good and I shall get into the details a little later on. First, let's have a look at other news.
---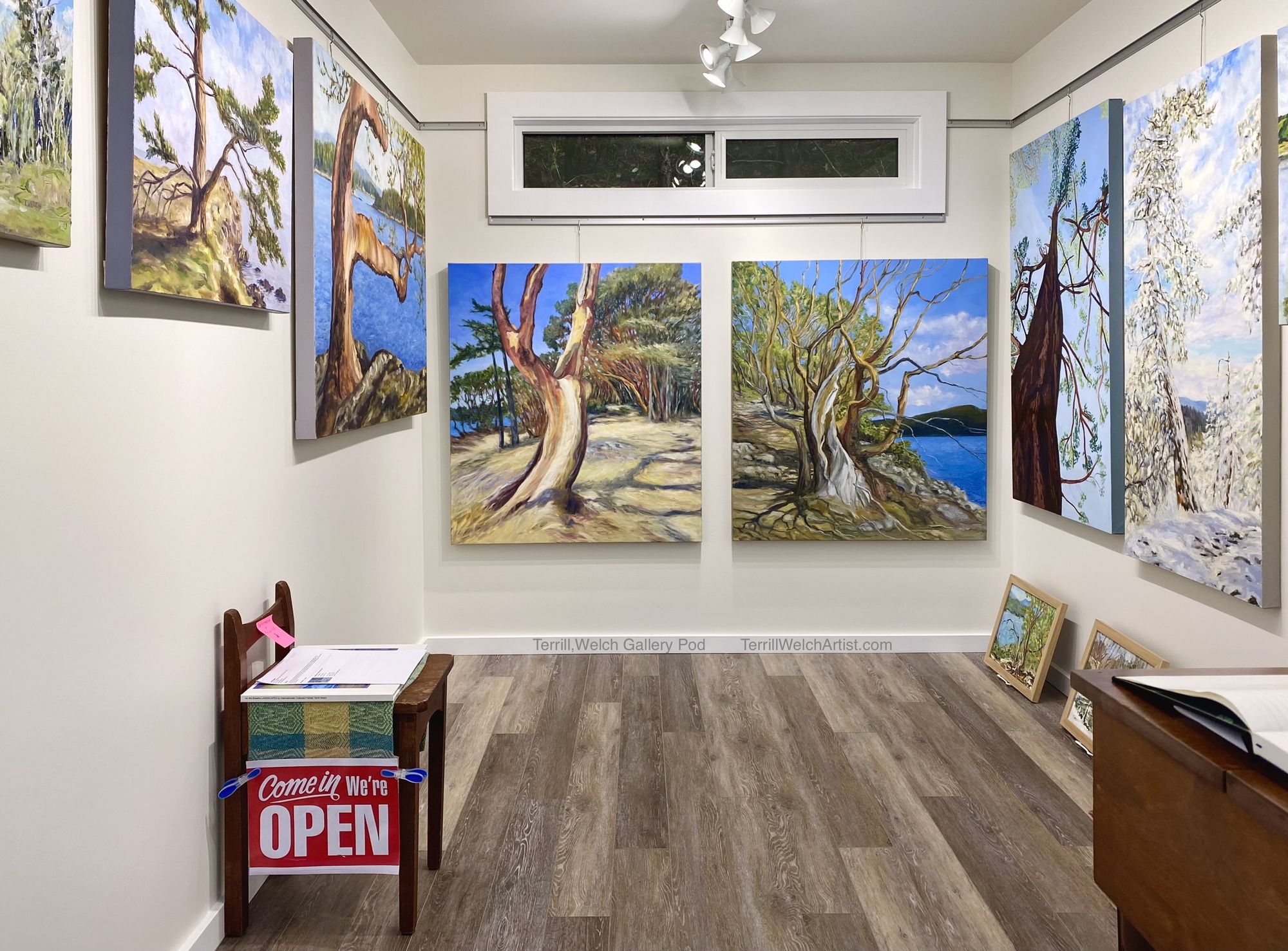 New Show - For the Love of Trees
The Terrill Welch Gallery pod has a new show with additional works showing exclusively online for your browsing and purchasing pleasure between November 3 and November 28, 2022. "For the Love of Trees" includes a selection of Terrill Welch's tree paintings and a guest tree painting by Glenda King. Visiting this unique gallery space, tucked into the woods at 428 Luff Road on Mayne Island, is becoming a travel destination for the gallery's art collectors, fans and island visitors. All artworks in each current show can also be viewed with additional information and also purchased from online in our private viewing room below…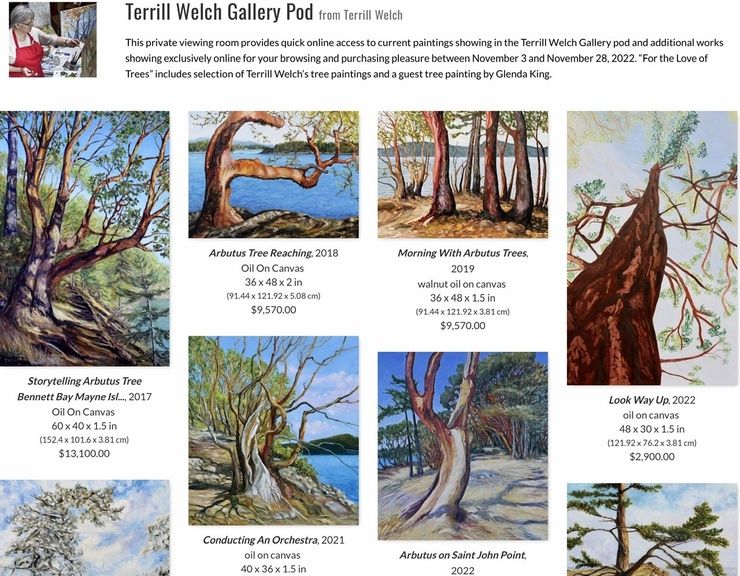 A private room from Terrill Welch
As a reminder, the gallery pod space is purposefully designed for self-browsing with assistance upon request and is open 11-4 Thursday through Monday and closed Tuesday and Wednesday unless arrangements are made in advance. This Friday, out of respect for Remembrance Day, both the Terrill Welch Gallery spaces will open at noon.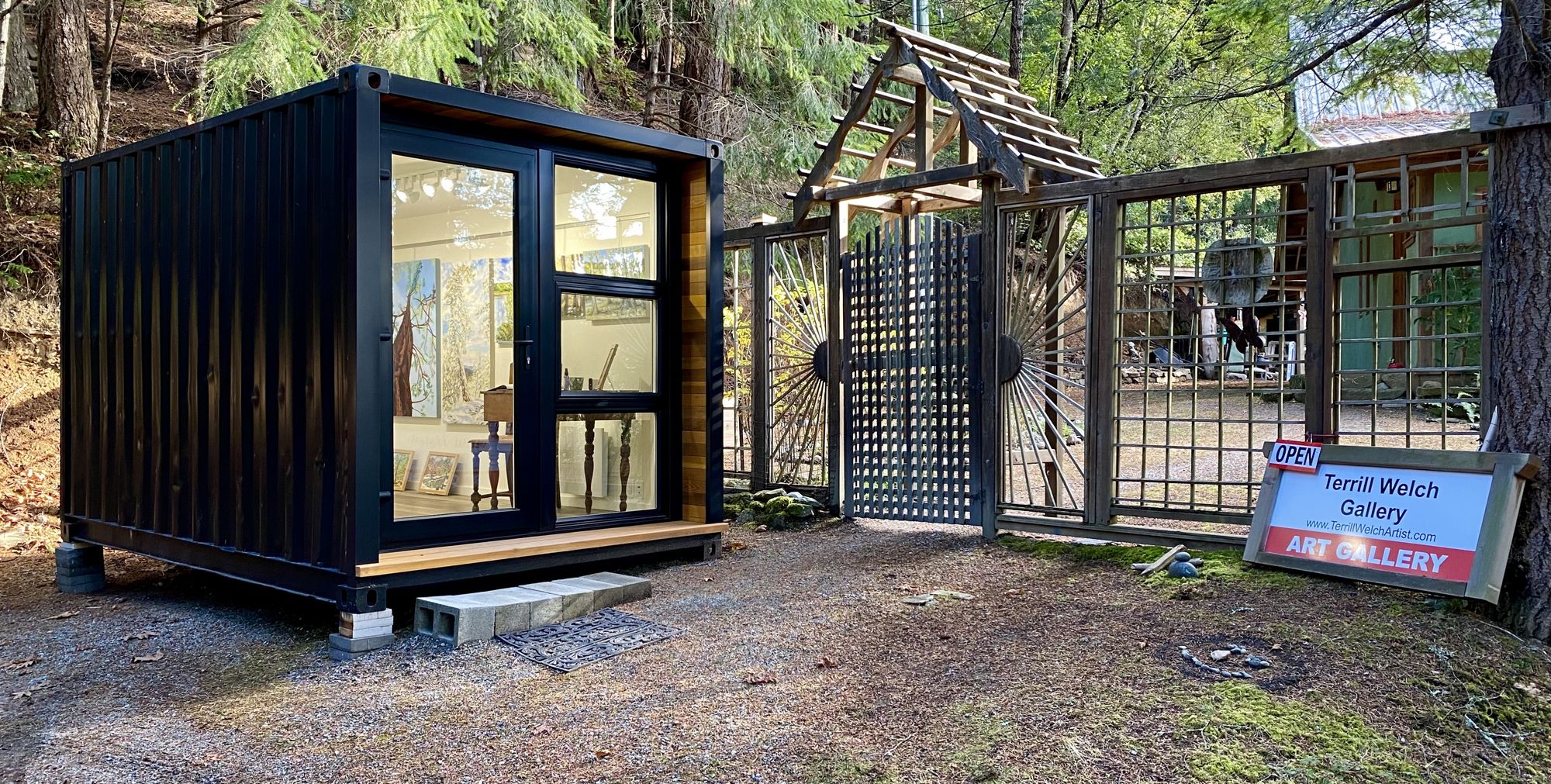 "For The Love Of Trees" is our third show that we have curated in this new gallery space since the beginning of September. If a large gallery space were like a novel, then the gallery pod's modest size is like poetry. There is a desire and a need to make each painting exactly the right choice in precisely the right position with no more and no less artworks than what is necessary to complete each show. Poetry, yes?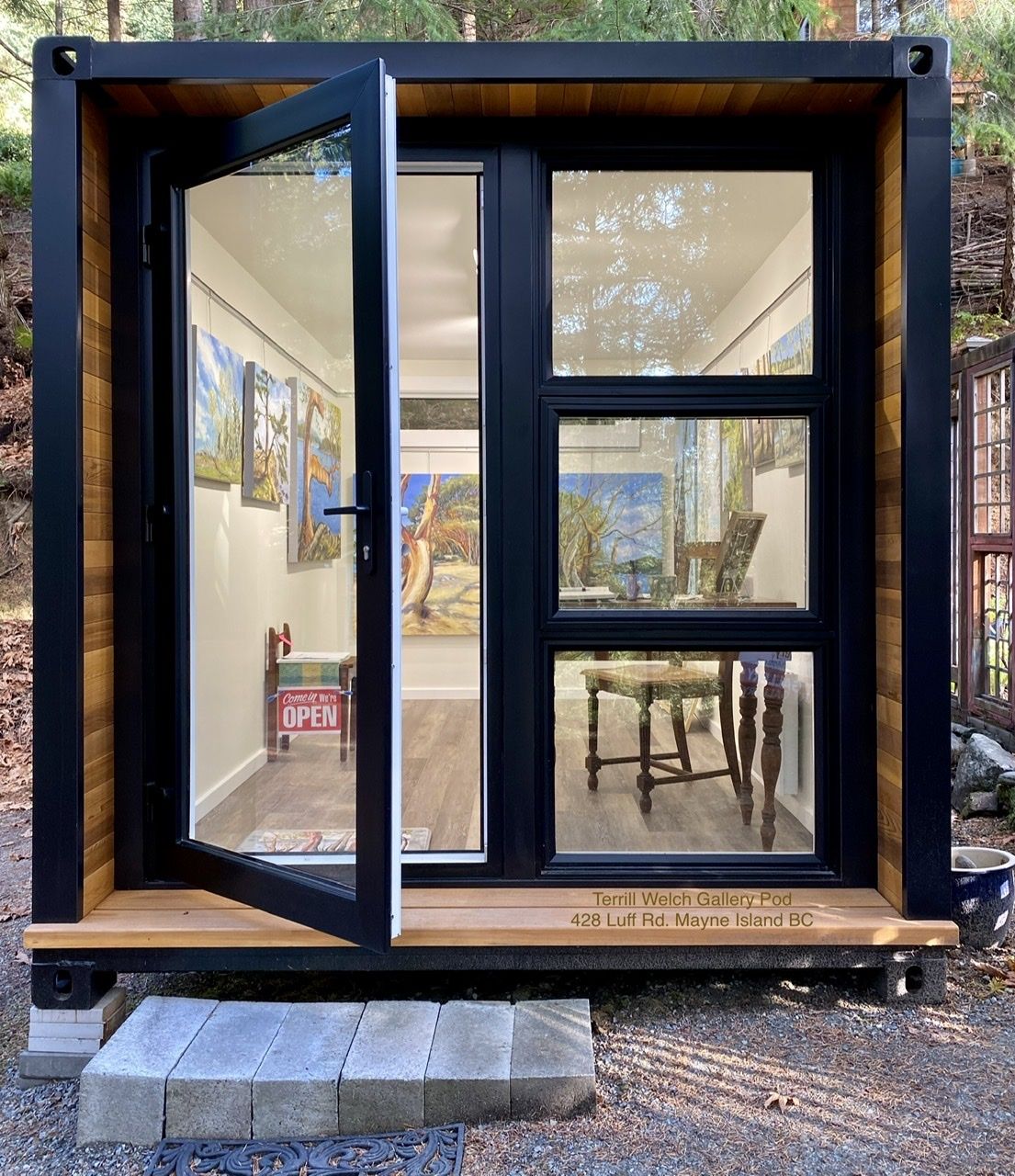 Keeping the walls for artwork only, a price list with descriptions and additional information is available on a chair for visitors to discover more about specific paintings that are of interest.
The painting on the left is by Glenda King and is titled "Look Way Up".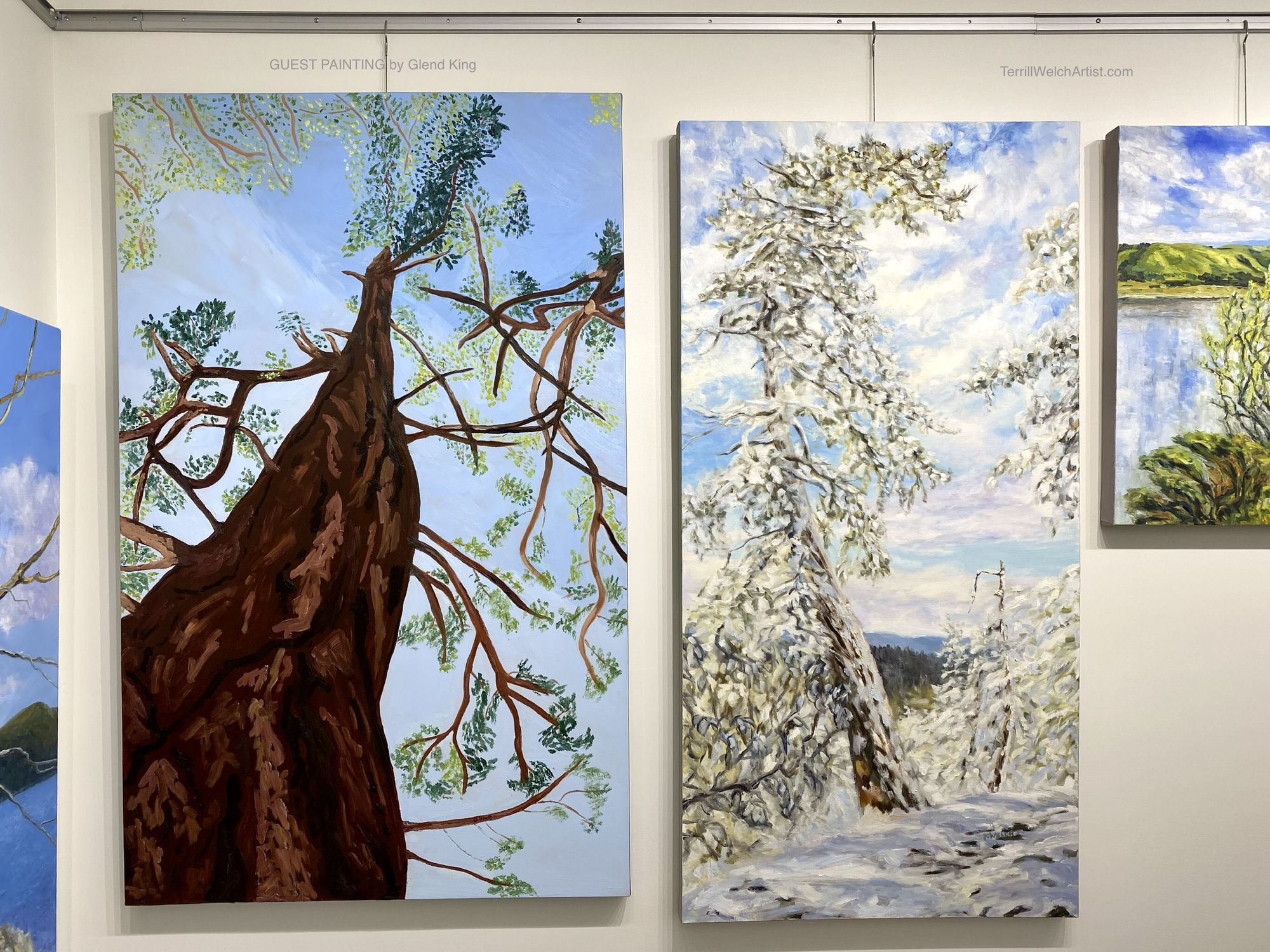 Trees are a long-standing subject for me. The tree paintings in this show range from Fremont in California to the Stuart River in north central British Columbia with many located on Mayne Island on the southwest coast of Canada. There are willows, polars, firs and arbutus trees as well as a winter scene painted plein air in the snow at the Mayne Island Japanese Memorial Garden.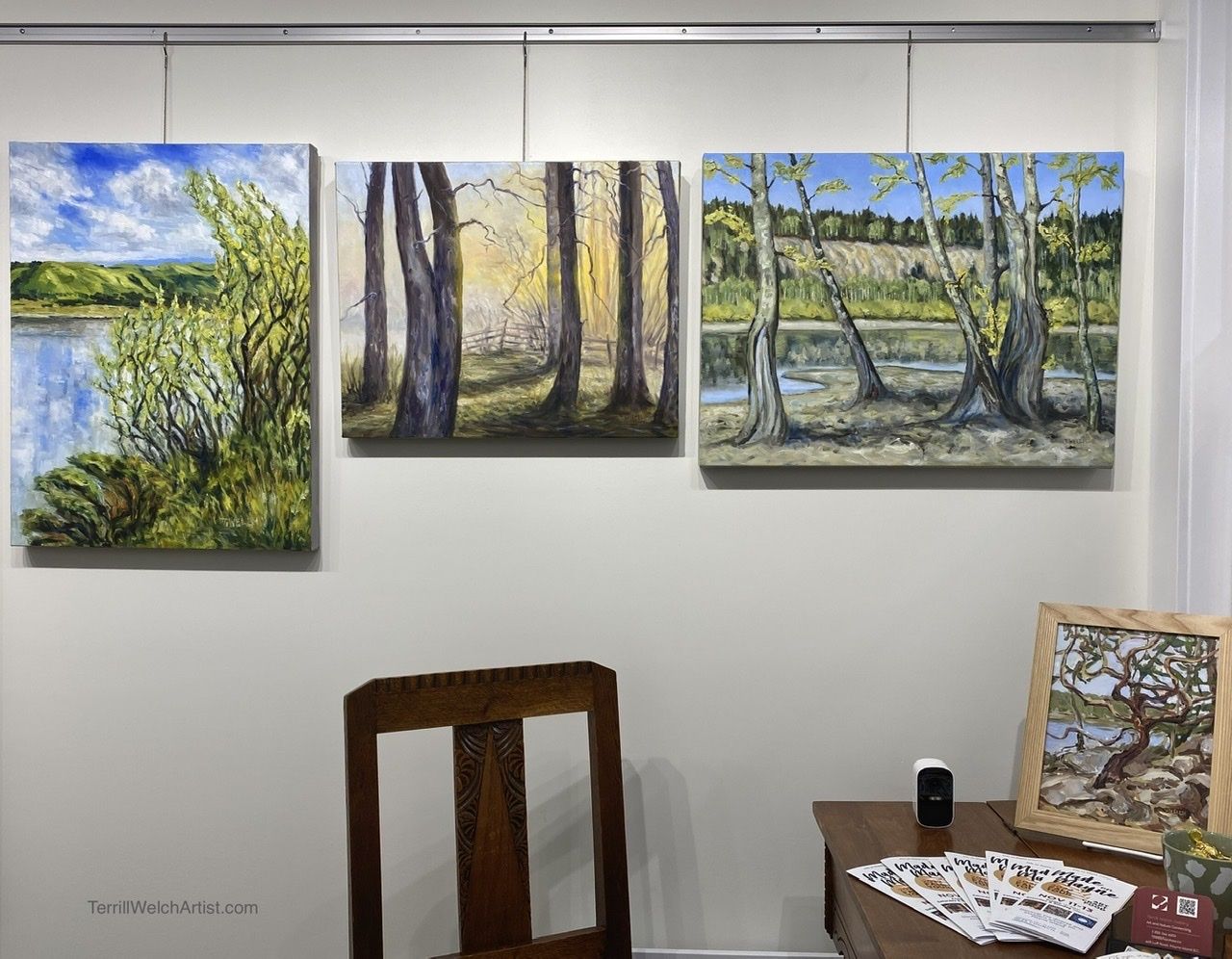 Each tree or clump of trees is painted as if they were sitting for a portrait or telling us a story about their lives while we listen intently.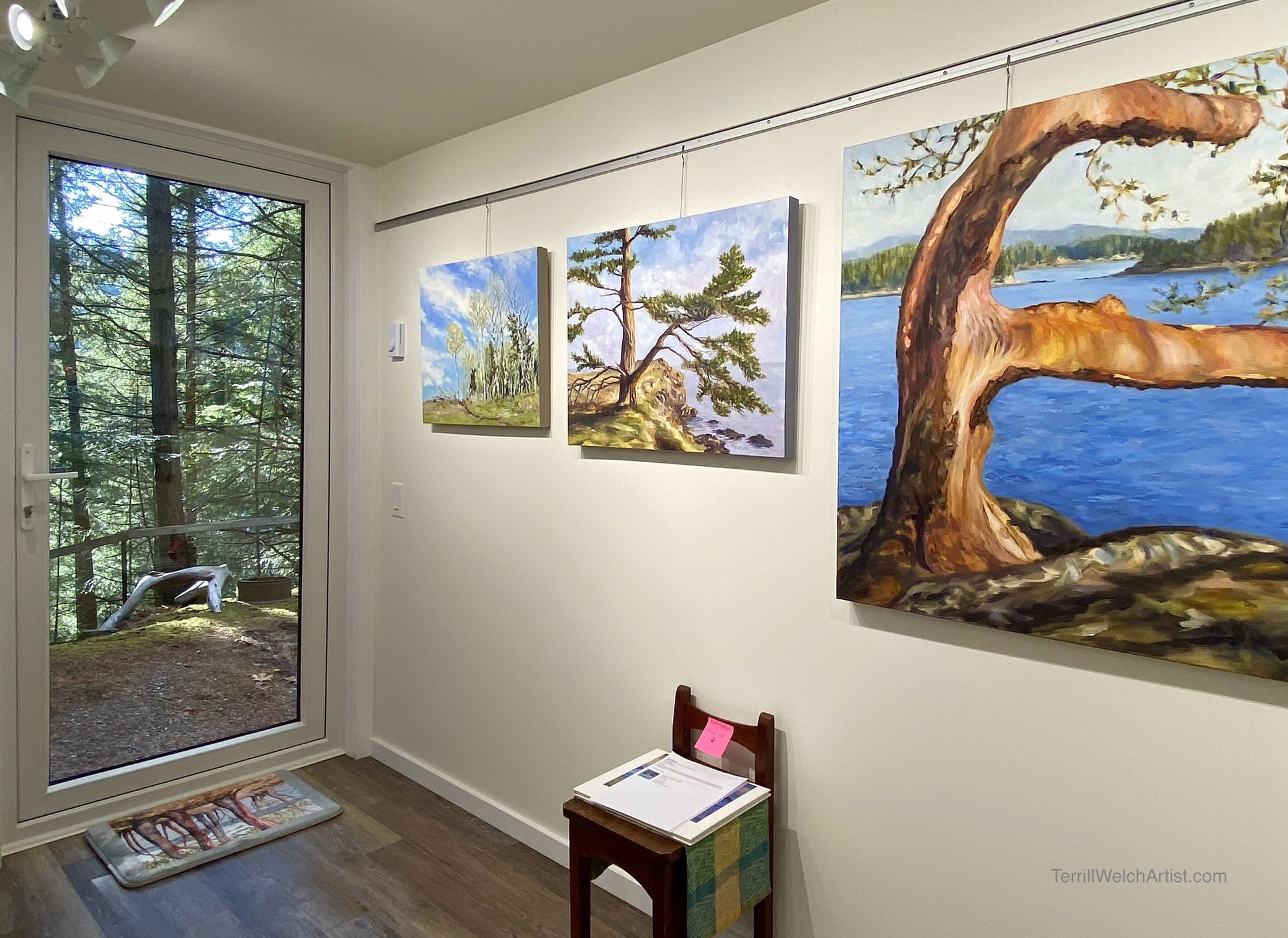 I hope you enjoy exploring and discovering these tree paintings!
In the News
I would like to extend a thank you to Island Art Magazine for including "Winter with the Old Fir on the Ridge" that is also in this current show and shown on page 20 of the magazine's November publication. I smiled when we saw it placed next to a a short article about the difference between Monet and Manet.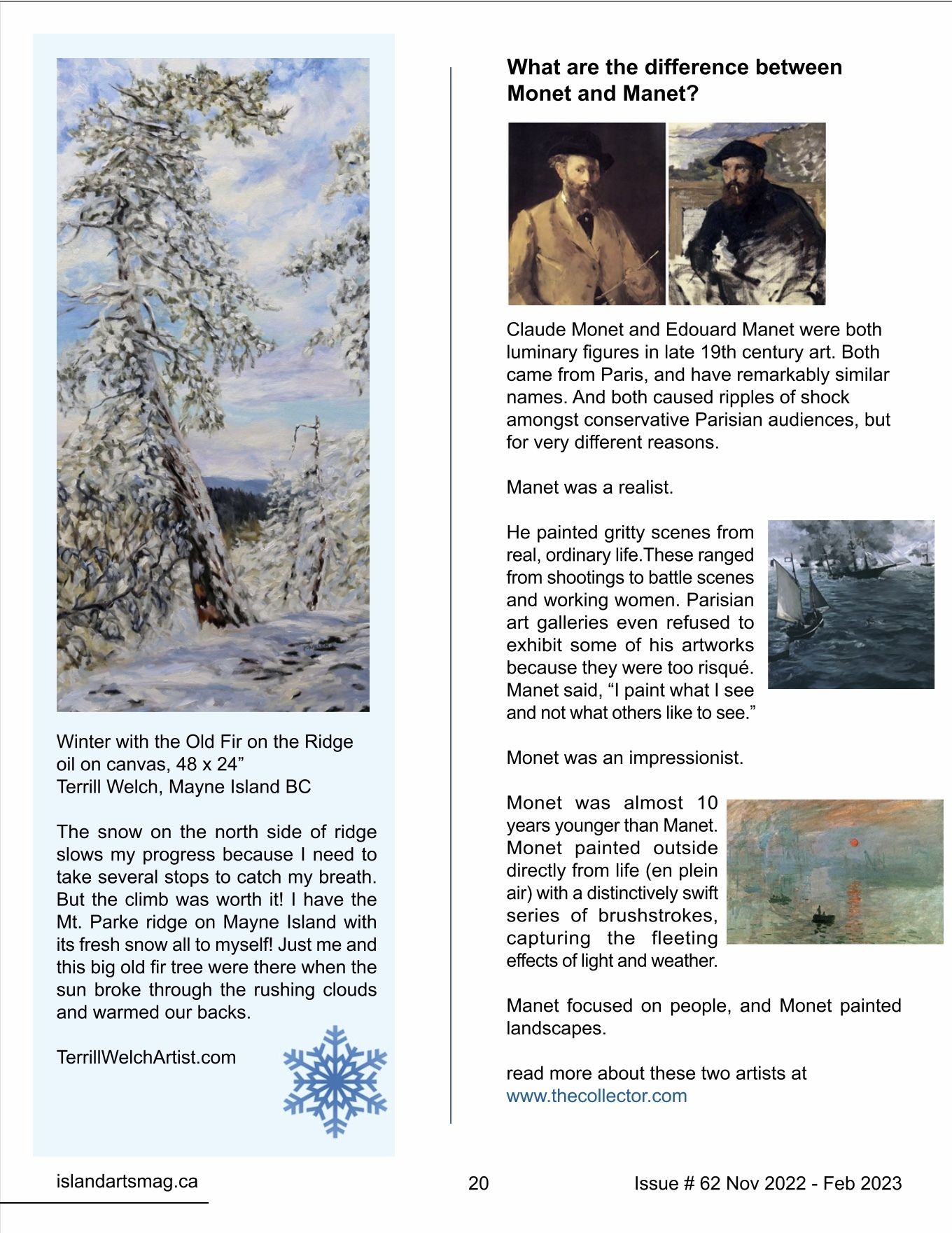 The complete online publication can be viewed HERE and if you love art, and Canadian art in particular, you will enjoy the read.
What Has Sold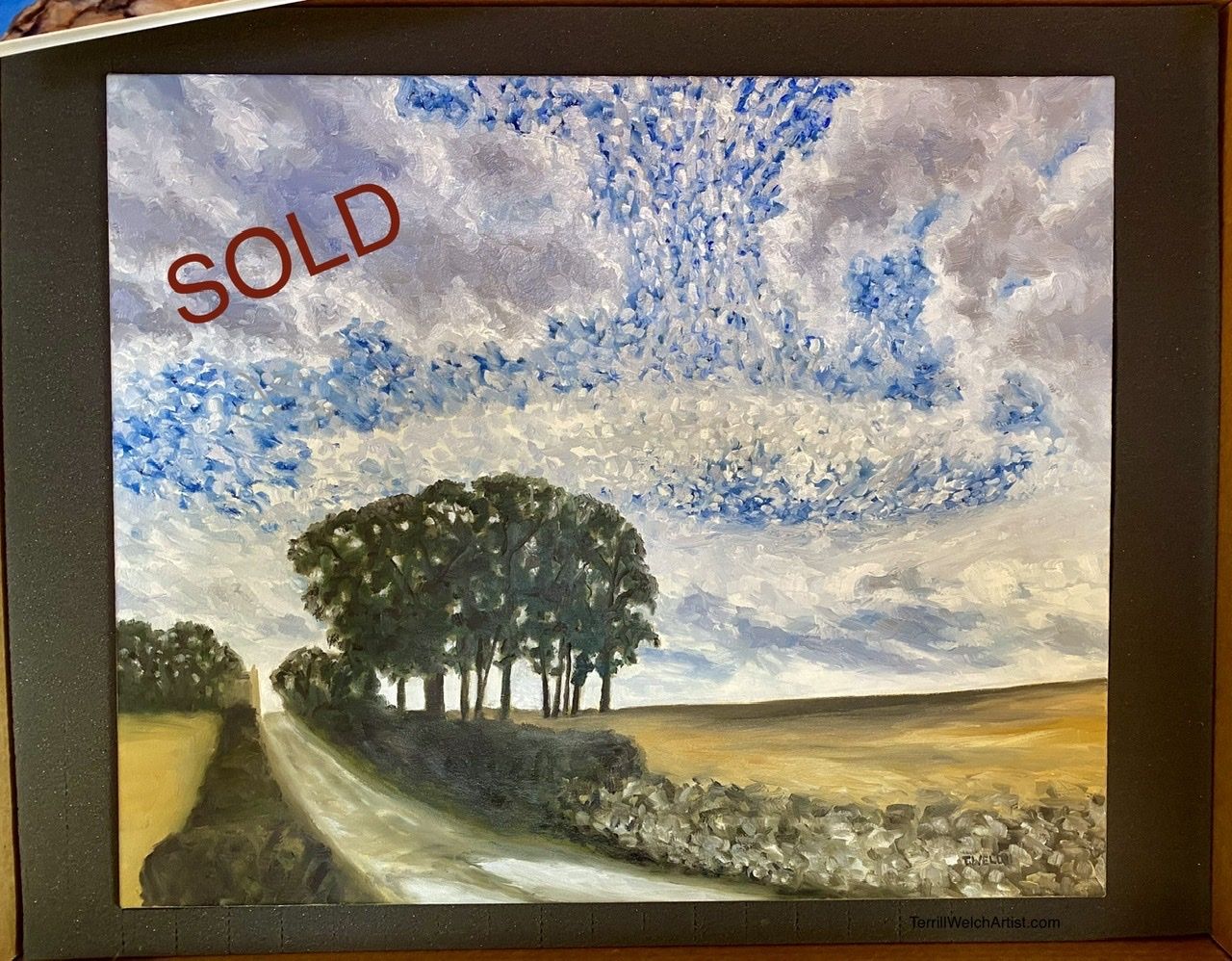 What happens in the creation of a Terrill Welch commissioned painting is in the realm of an adventure. Most often, an art collector chooses a size and general subject area that I usually paint and have gathered references from my hikes and travels. If desired, I then share work-in-progress images and when the work is finished, the art collectors makes their final decision to purchase. If for any reason, the work doesn't satisfy the art collector then it goes into my general inventory and I paint another work for the art collector to consider. In this way the artist maintains maximum creative freedom and the art collector is able to purchase a work once they know they are completely smitten with the results.
On a very rare occasion, I will collaborate with an art collector on a painting subject that starts with a photographic reference that is not my own and is instead taken by the art collector. This latest painting is one of these occasions.
So here we have the latest completed and sold commissioned painting that the art collector traveled for a full day on three ferries to pick up directly from Mayne Island after it was carefully packed into a shipping box.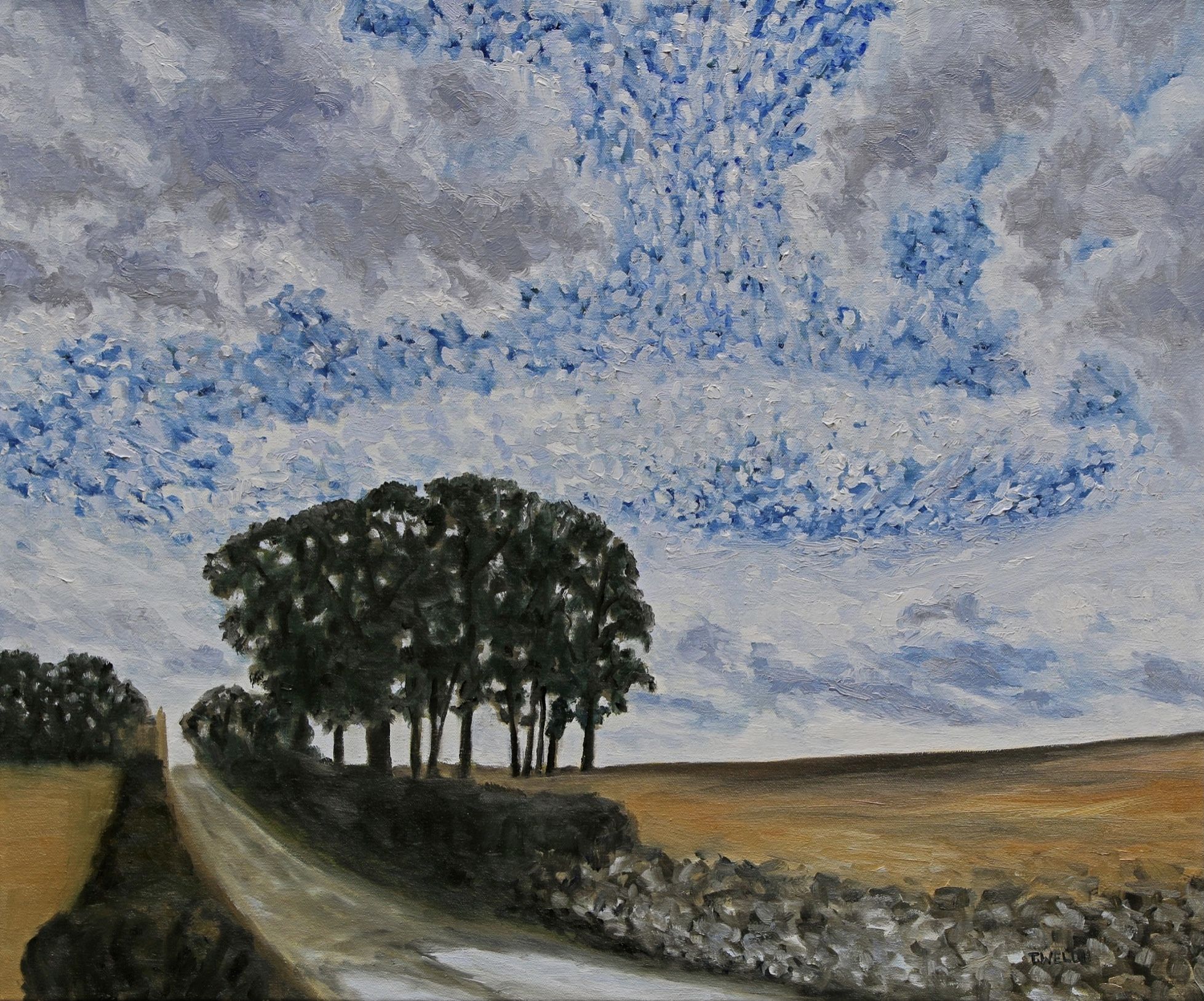 Artist notes: This painting is a rare collaboration starting with an art collector's image. Much research, my own memories of painting in England and plain imagination went into this homage to a fascinating mackerel sky.
Our thanks and gratitude to all of our art collectors and serious fans who keep me painting and gallery spaces open. You are the best!
What is on the Easel
Here is a new painting while it was still resting…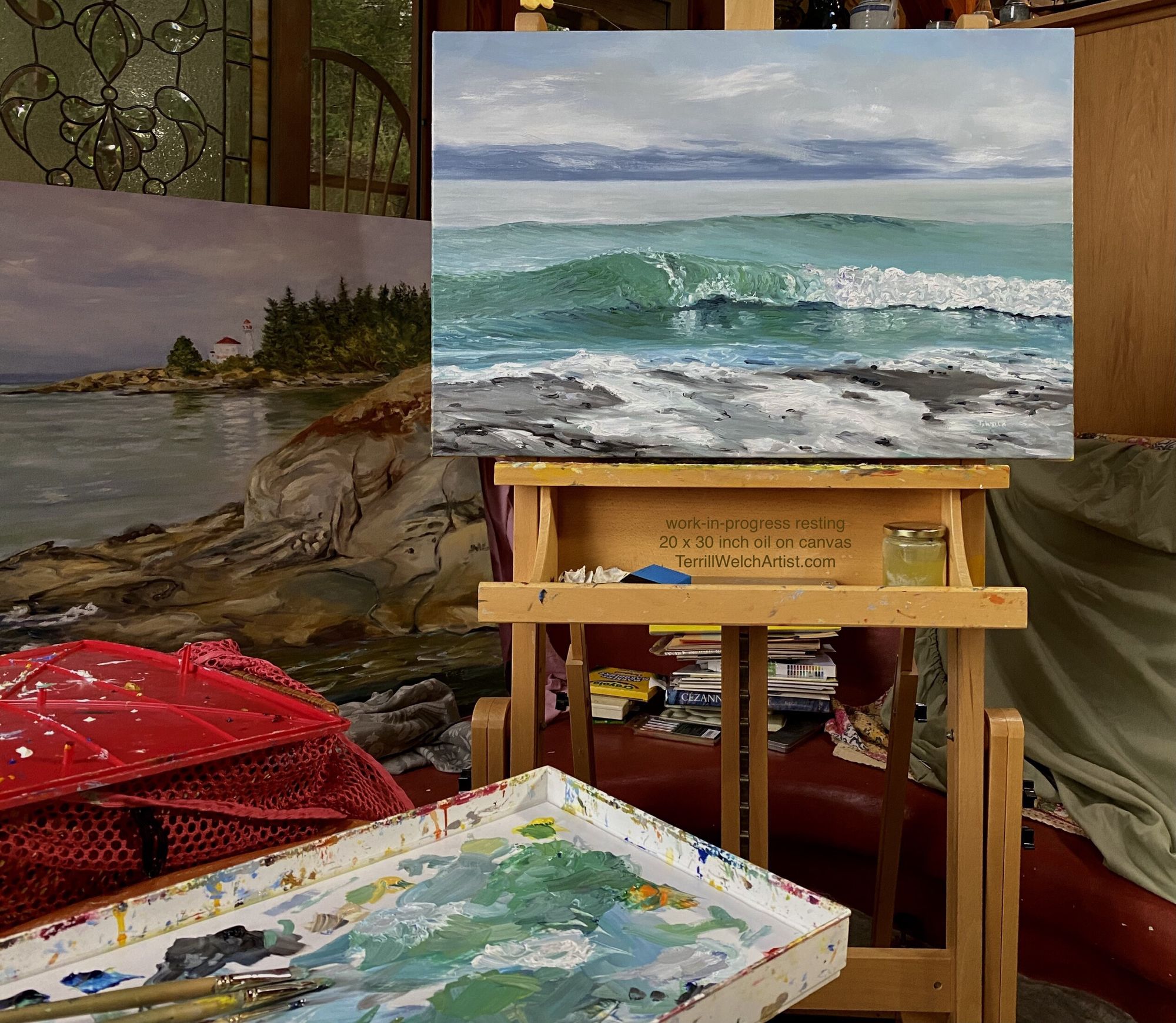 And here it is all by itself finished but still waiting for a final photograph…
"China Beach in late February" by Terrill Welch, 20 x 30 inch walnut oil on canvas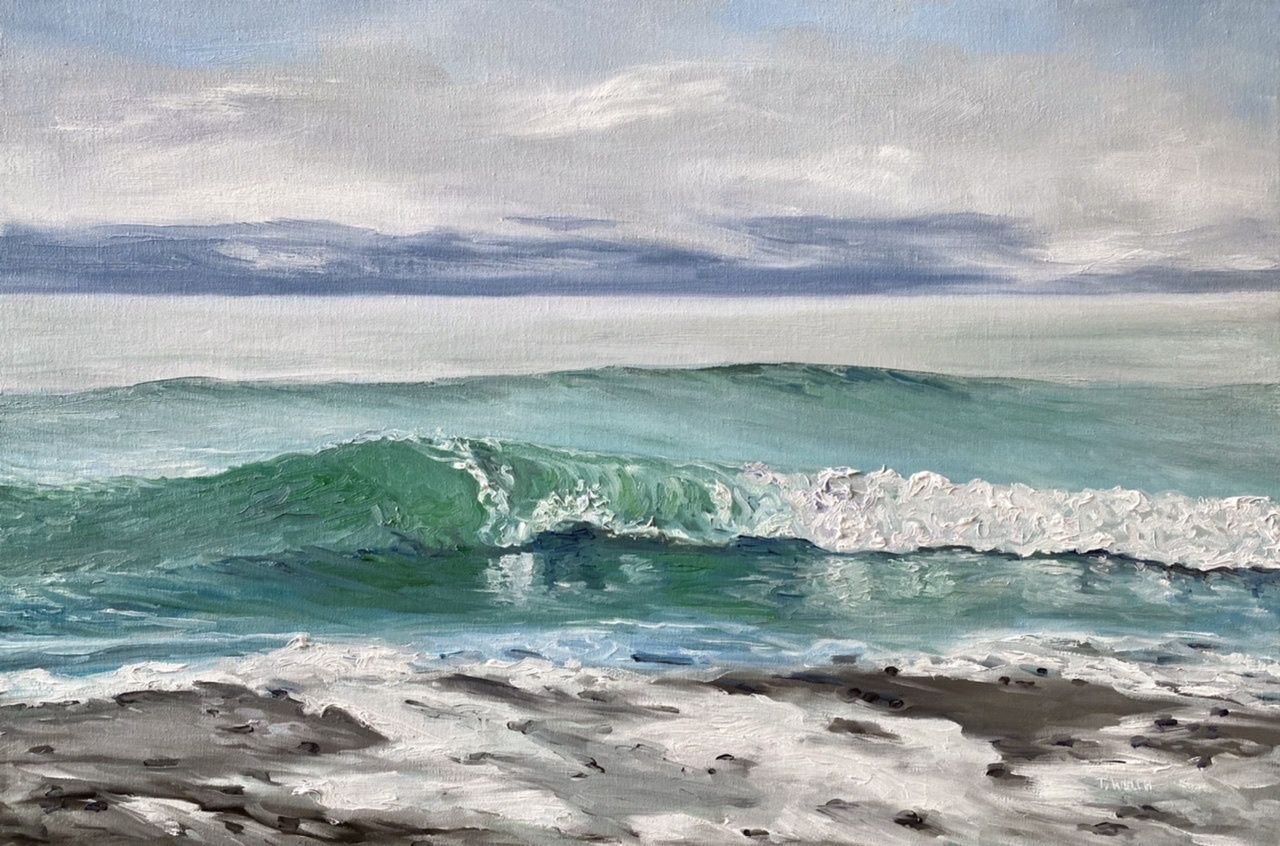 Artist notes: The backpack with plein air gear can still be felt resting on my shoulders as I step up to this canvas later in the studio. What a morning as the fog started to lift and the sea let go of its grey cloak.
And here it is in a room view without the clutter of the studio.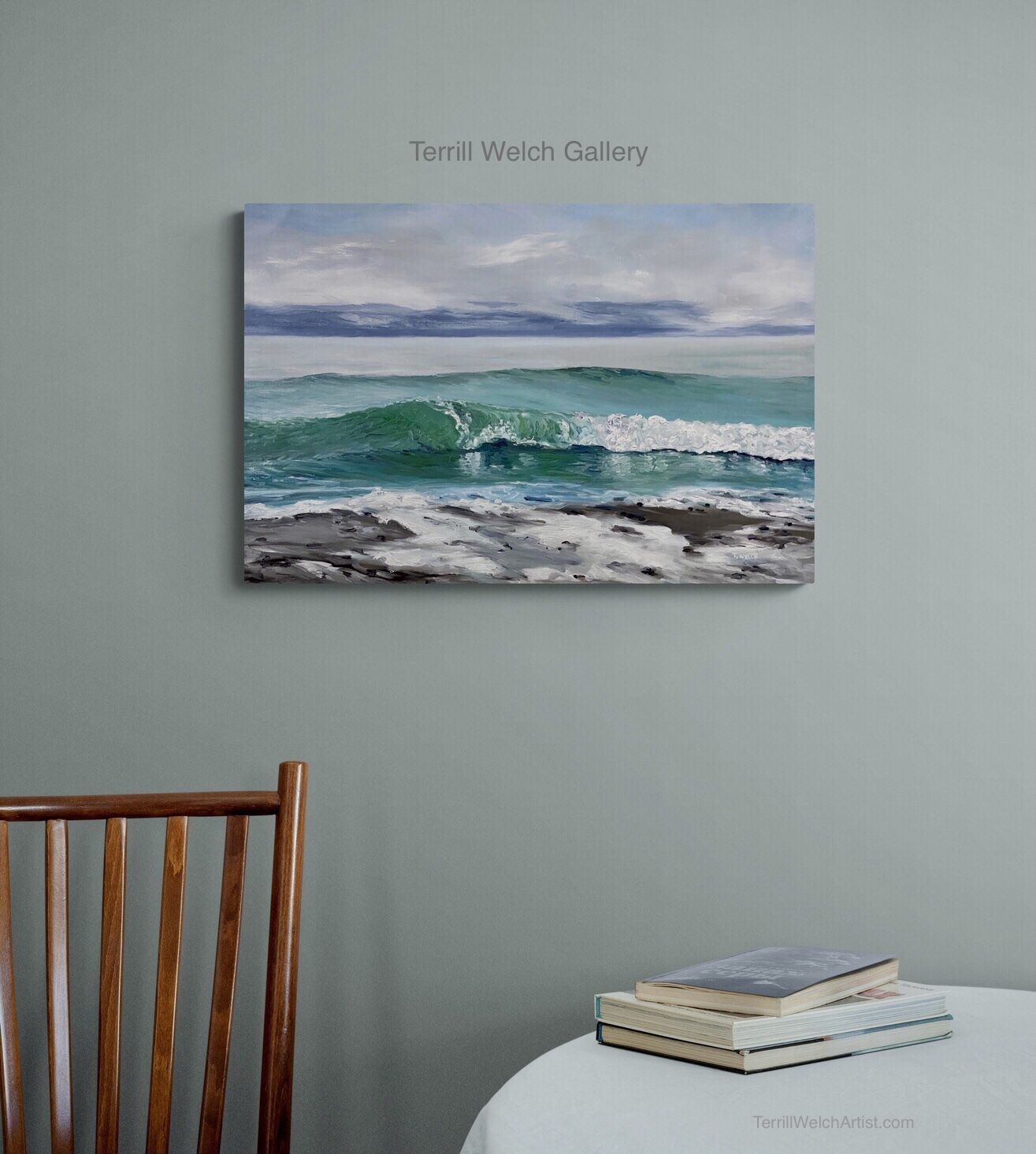 Please note: one of our art collectors caught a glimpse of this painting while it was still in process and has asked if it can be shipped for a trial hang once it has dried and the edges are painted. So for now, this painting is "on hold" until they have made a final decision. If you are interested, you are welcome to let me know and I can keep your name on file on the off chance it becomes available. I have also had requests for decorative reproduction prints of this new painting and they will become available once a final image is taken.
From the Revue to Ghost Newsletter Platform
As promised, here is a little more about our future email newsletter platform change. There will ALWAYS be a FREE complimentary option published on the 1st Friday of every month. This option will look very much like this issue and will include, direct, curated and personal insights into my new shows, links to private viewing rooms, new releases, notices about what has sold and a glimpse into work-in-progress. I even have a the first sample issue on the new platform published so you can see what it is like…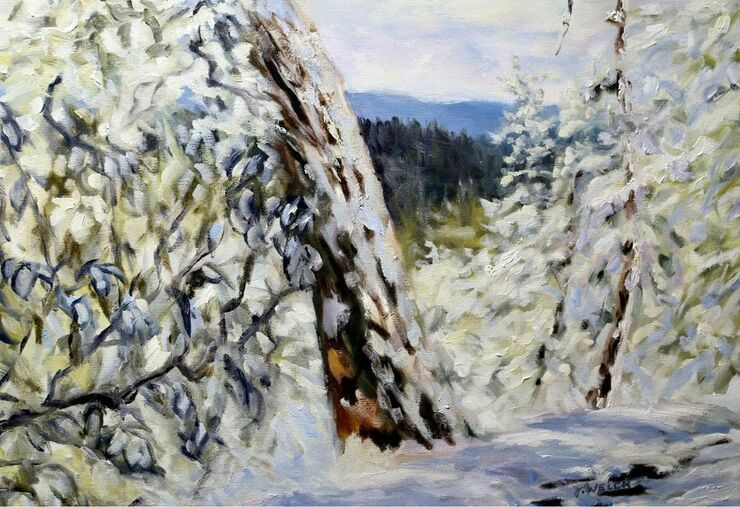 On the southwest coast of Canada in winter, mostly it rains. Sometimes the rain freezes as it falls. Then it snows. Most often it snows half-heartedly. And sometimes it actually snows. But the transition always feels expectant because it has the potential of being so much more and stunningly beautiful.
If you wish, you can can open this link above and subscribe directly right now. Or you can wait for me to move your subscription over manually behind the scenes. Your choice.
Other than making my brain hurt from stretching to learn another new platform I am pleased with the results.
Second Part - A Subscription
The second part of this change is that I really want to see if it works to separate the news about shows and paintings from some of the other aspects that I share with you. The Subscription option would be published on the 3rd Friday of each month. This is where serious fans and art collectors gather and connect for a deeper dive into my inner life as a independent landscape artist and gallery owner while living in the forest on a small island off the southwest coast of Canada. In the PAID subscription, you will receive musings, opinion pieces, images and stories reference gathering hikes and travel updates plus behind the scene studio work-in-progress exploration. This is where you will learn about what I am thinking about, reading, watching, learning. writing and a first glimpse into a new idea or the development of a new series of paintings.
What do you think? Would you be willing to pay a modest fee of $12.00 - $15.00 a year for these more personal stories and musings?
It is not necessary to decide right now. It will be early in the 2023 before I offer the subscription option. However, I thought it would be worth getting a feeling for if this is something you would be interested in and value. Something to think about anyway. If not, this is okay. There will still be the free issue published on the first Friday of each month that features gallery shows and painting news.
Starts Today! Made on Mayne 2022 Fall Tour
ISLAND TIME ART is #6 on the map and we have been adding lots of small items for your consideration including a few 2023 calendars, more spiral journals, decorative canvas art prints, bath mats, a gaggle of new mugs, a few coasters, totes, aprons, greeting cards and more that are all sporting images of local artist Terrill Welch's paintings.
Lots to see! We just barely squeezed it all in around our new "Blues and Greys" show of original paintings by Jody Waldie, Glenda King, Jennifer Peers, Maeva Lightheart and Terrill Welch.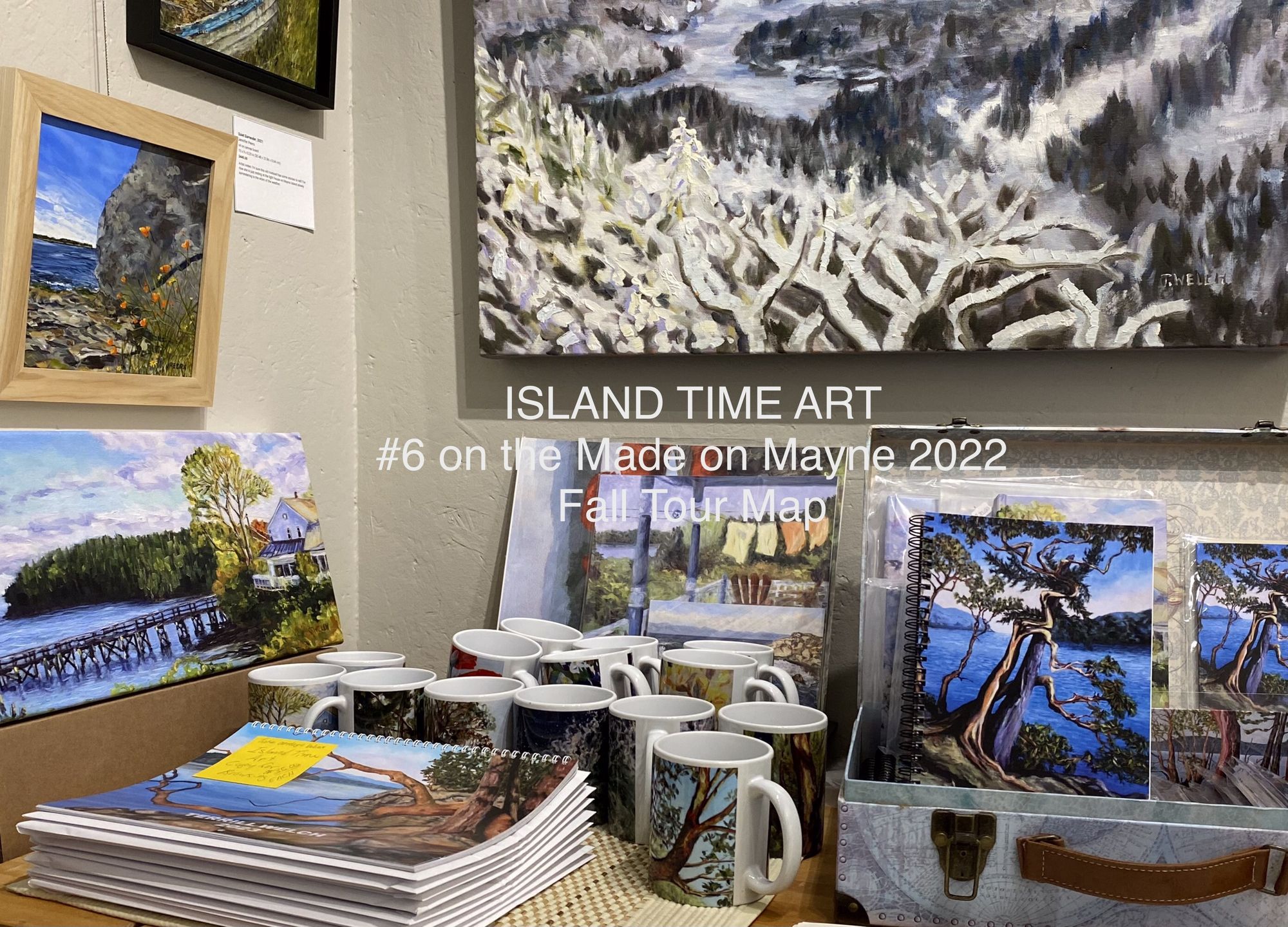 I will also have the Terrill Welch Gallery Pod open for browsing at #8 on the map and there is a special offer for Saturday and Sunday visitors. Note: This is unconfirmed Island rumour is now confirmed. Please share widely in the usual fashion. 😉
If you live far away off island or for any reason cannot come in person, you don't have to miss out. Contact me directly to access this surprise two day offer. Just send me a note by any method and I will fill you in.
Until Next Time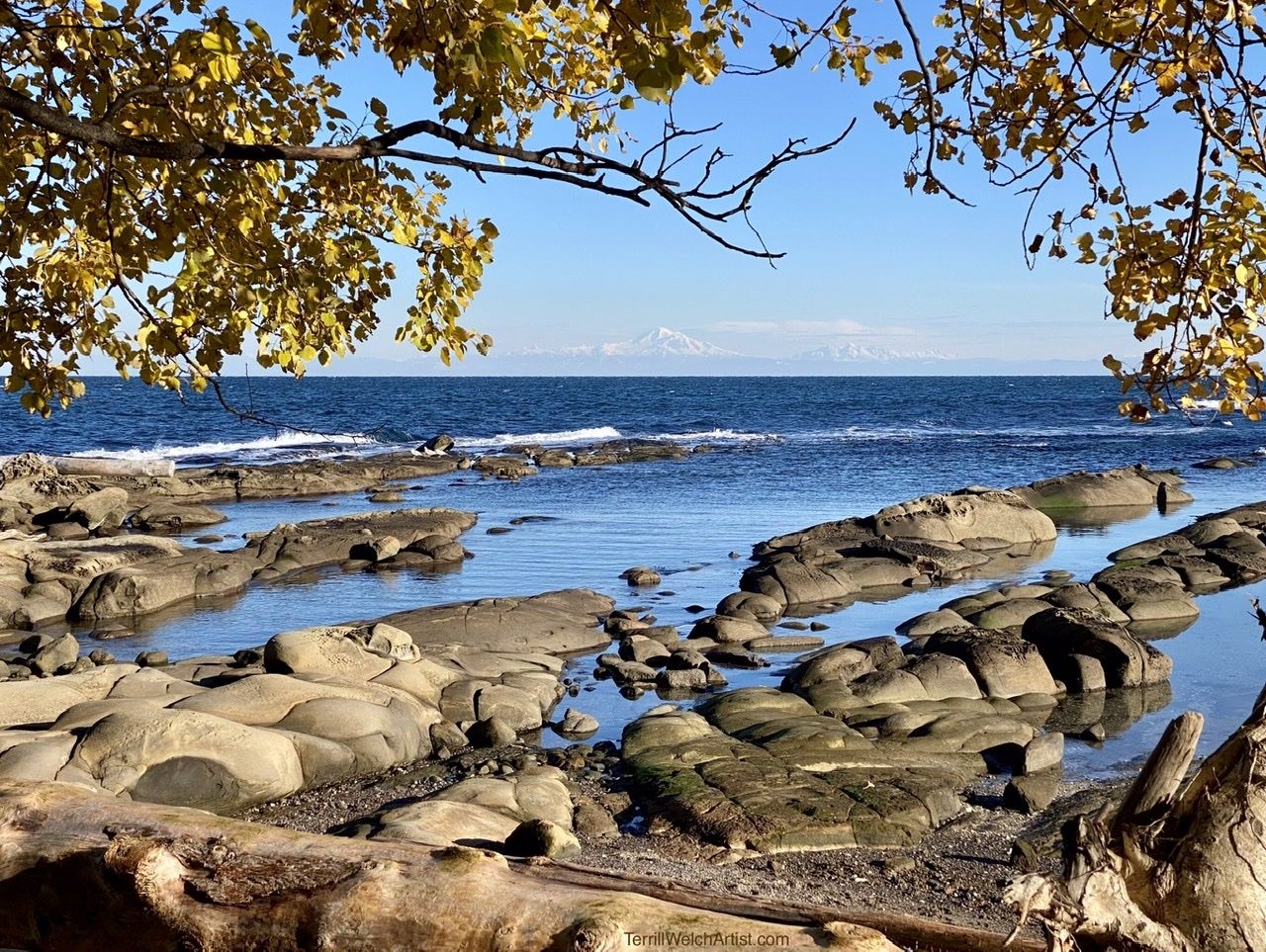 Well, it is a full newsletter issue this time and if you made it this far, congratulations! I truly appreciate your ongoing support as always. Do drop a note if you have a moment and let me know you are doing. It is always a pleasure to hear from you.
Warm regards,
Terrill :) 👩‍🎨🎨❤️
View the full portfolio of artwork from Terrill Welch