A Brush with Life - Issue #116 Finding Small Beauties while at the Easel
There is the smell of snow in the mountains around us as daily highs drop to 11 degrees or so Celsius and water barrels refill after more than 100 days without rain and unseasonably warm temperatures. Blustery winds hint at future winter stores and leaves and tree cones fly through the air. The shif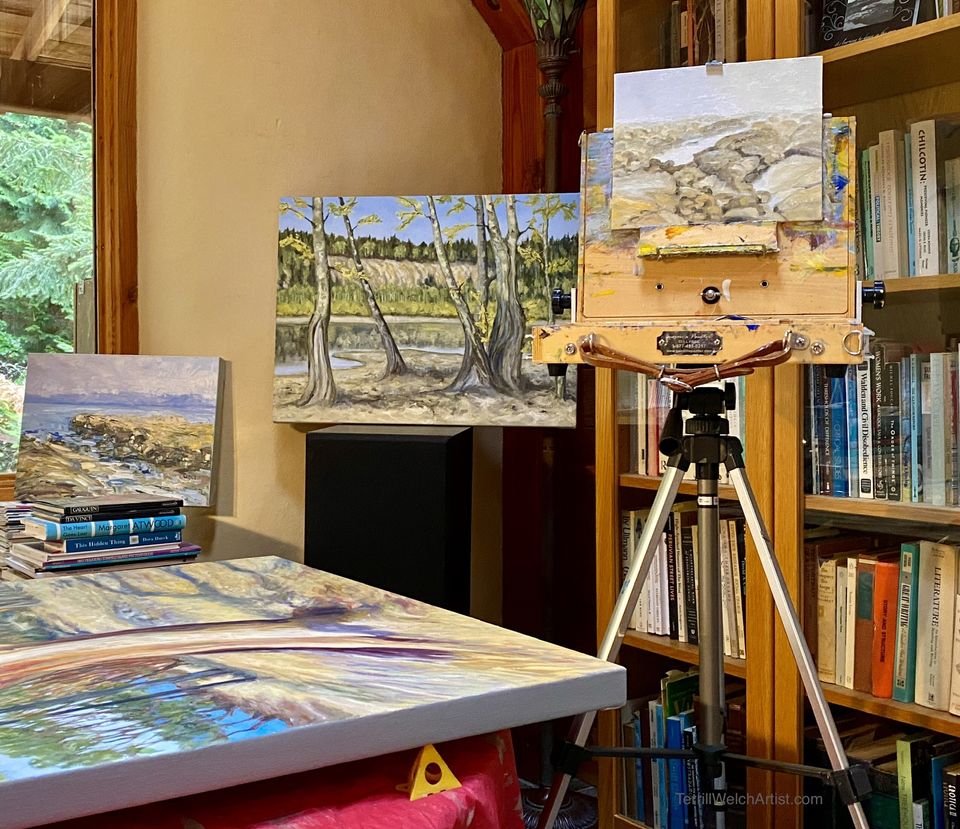 There is the smell of snow in the mountains around us as daily highs drop to 11 degrees or so Celsius and water barrels refill after more than 100 days without rain and unseasonably warm temperatures. Blustery winds hint at future winter stores and leaves and tree cones fly through the air. The shift was abrupt and welcomed. The wildfire smoke has eased and we sigh with relief along with the trees around us. We made it. This time anyway. Pheewwwf! I have two new paintings completed, a new show up in Island Time Art and the next new show for the Gallery Pod planned to open on November 3, 2022. We are well on our way to being prepared for the Made on Mayne 2022 Fall Tour Nov 11-13 that is supported by the Mayne Island Branch of the Southern Gulf Islands Arts Council. This is all unfolding while I am contemplating a tough question with as much bravery as I can muster. We will get to this question in my Opinion Piece a little later on. For now, let's have a look at the new paintings on the easels and what is selected for the new shows…
---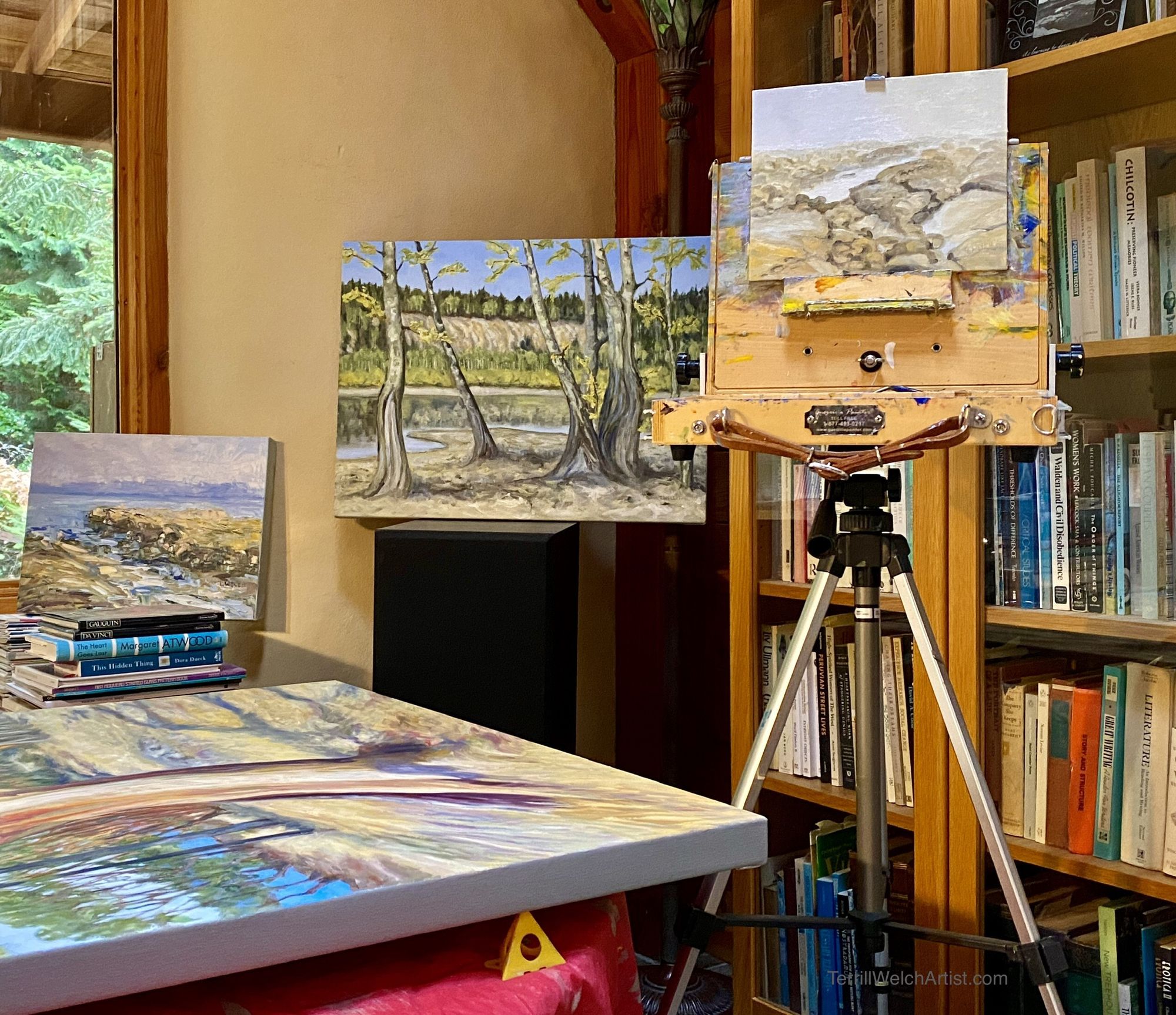 Fog and Smoke Reef Bay
Above, a small work is drying beside the large Arbutus tree painting with freshly painted edges. This minimalist feeling painting is another work for my Red Line Series even though the red line is not visible.
Fog and Smoke Reef Bay by Terrill Welch, 8 x 10 inch walnut oil on linen board.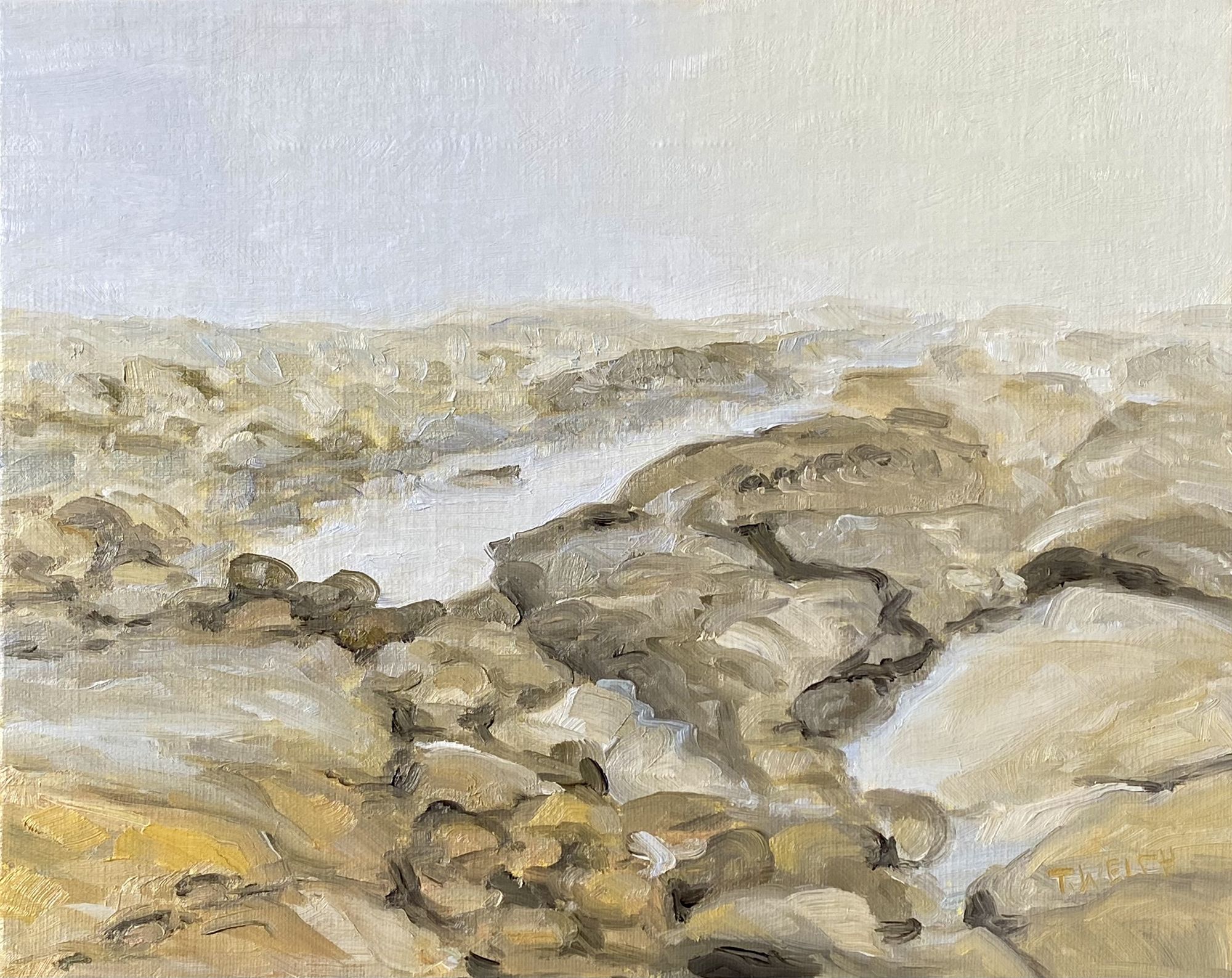 Artist notes: With the change in the weather, fog had rolled in over the sea mixing with thick smoke from wildfires across the border. The combination is as eery and unsettling as it is beautiful. This painting belongs in the red line series even though the red line itself is missing and hidden from view. Within sadness there are still incredibly beautiful moments, if one is open to noticing. with the change in the weather fog had rolled in over the sea mixing with thick smoke from wildfires across the border. The combination is as eery and unsettling as it is beautiful. This painting belongs in the red line series even though the red line itself is missing and hidden from view. Within sadness there are still incredibly beautiful moments, if one is open to noticing.
Cotswolds Memories
This amazing mackerel sky with breaking rain clouds comes from the Cotswolds curtesy of one of my art collectors that asked if I would be willing to do a painting of it for them. After negotiating a few small composition changes from the reference image, I said yes. It is extremely rare for me to work from anything other than my own references. But sometimes a project is just so compelling there is no other answer than – YES.
I stand in front of the easel and work through a collage of references and ideas until the painting emerges.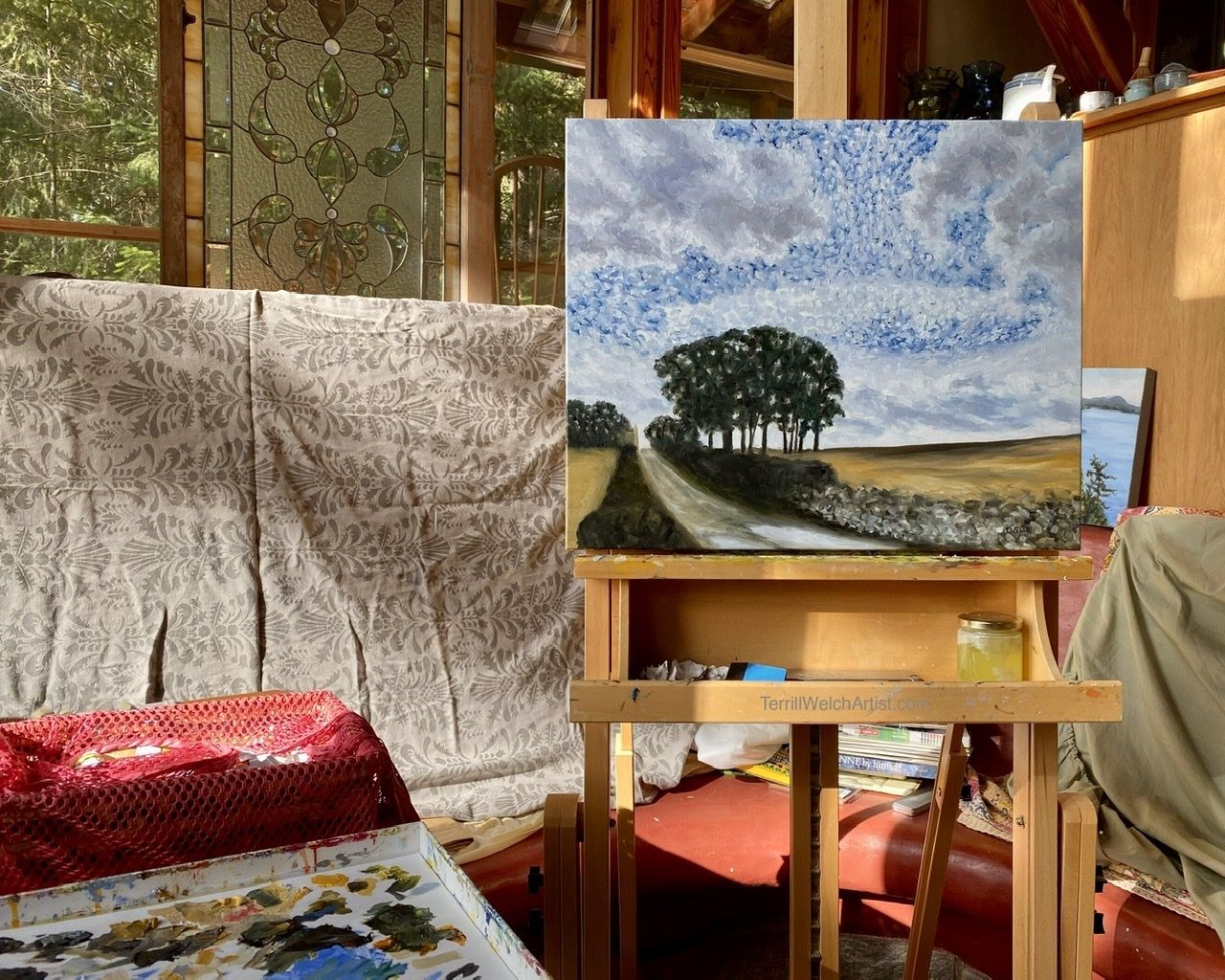 Cotswolds Memories by Terrill Welch 20 x 24 inch walnut oil on canvas.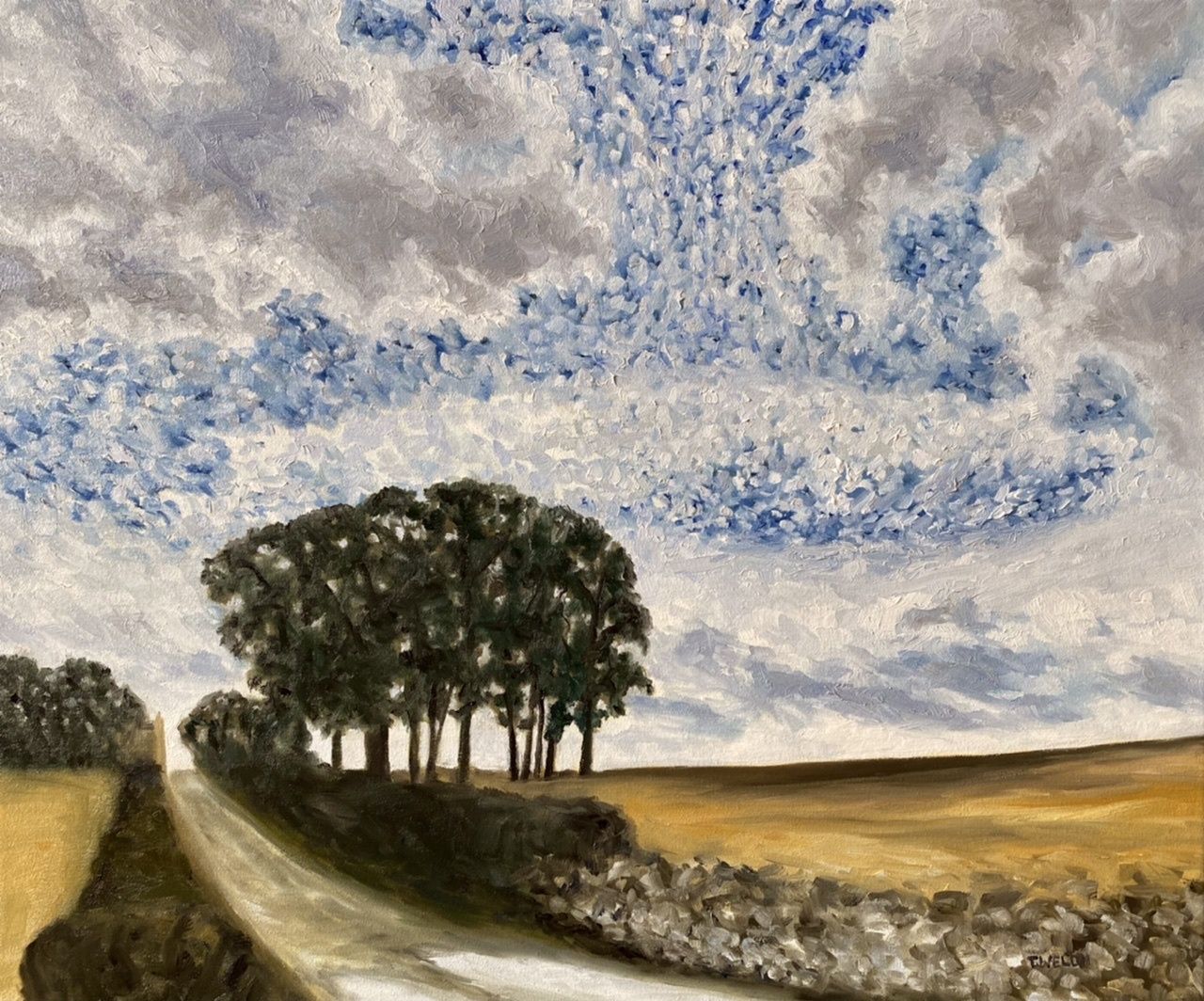 Artist notes: This painting is a rare collaboration starting with an art collector's image. Much research, my own memories of painting in England and plain imagination went into this homage to a fascinating mackerel sky.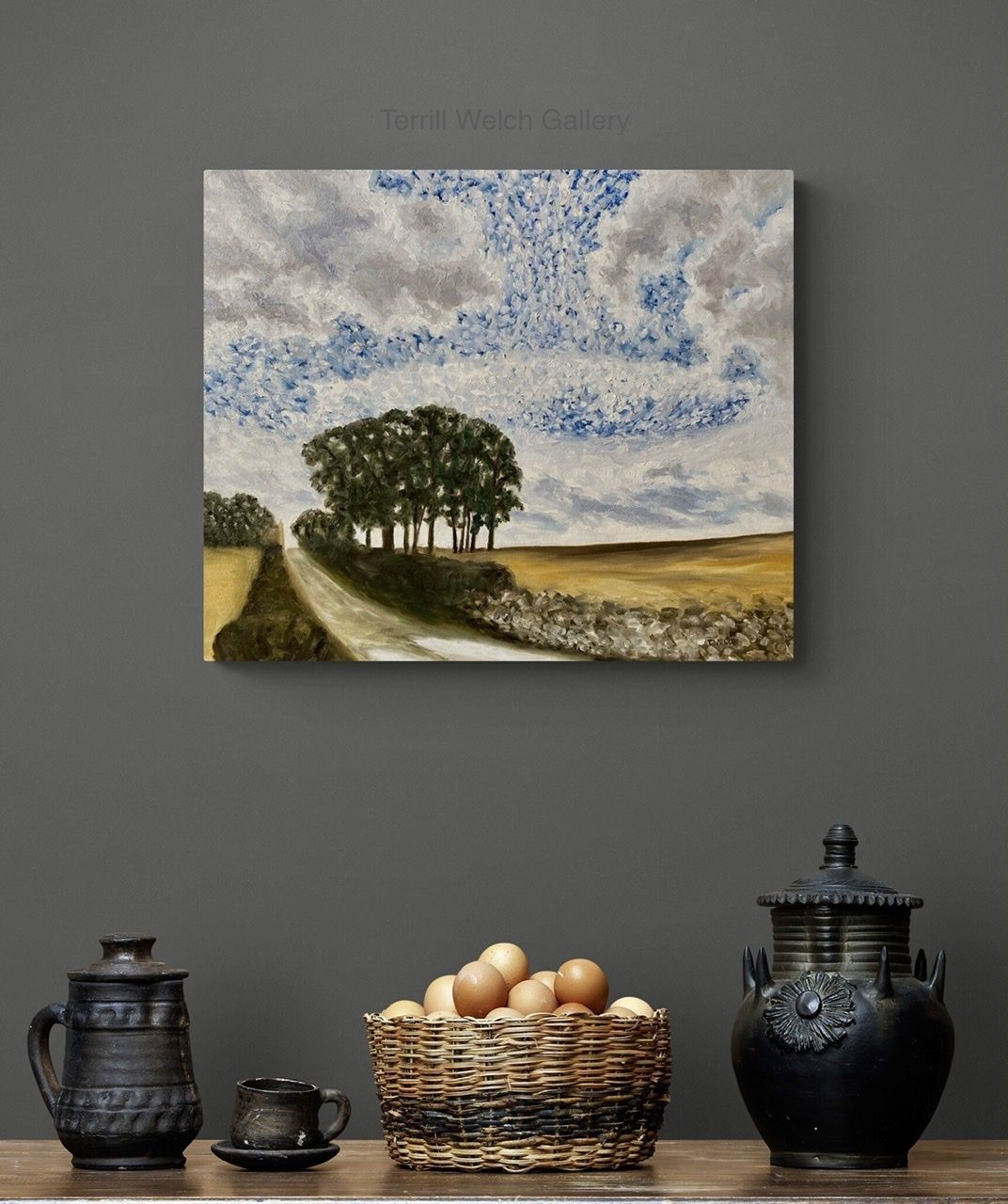 Both of these paintings are still too shiny and wet to move or photograph properly at the time of publishing but they are complete and set aside now while I prepare for the Made on Mayne 2o22 Fall Tour.
Made on Mayne 2022 Fall Tour
The Made on Mayne 2022 Fall Tour is a large tour this year with 23 venues including multiple makers and artists participating at our community centre. Both the ISLAND TIME ART room and the Terrill Welch Gallery Pod are part of this annual event. Because the organizers have done such a great job of creating an online map complete with website links to artists and makers, I am going to provide you the link so you can join in on the adventure even if you are far away and off island. Have fun exploring!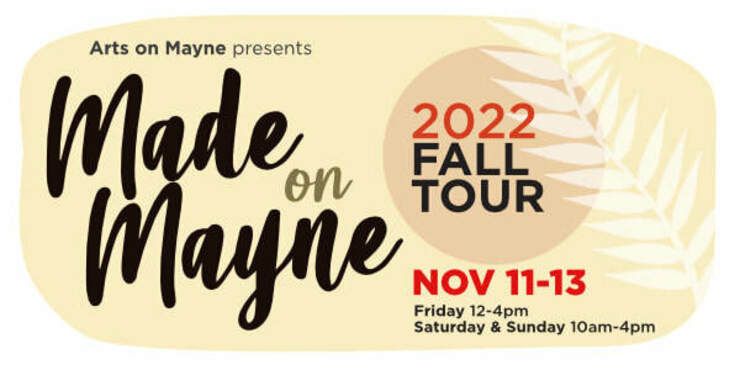 November 11-12, 2022 ​Friday 12noon-4pm, Saturday & Sunday 10am-4pm ​Discover Mayne's diverse and excellent artistry, crafts and more! Peek inside the studios and galleries of resident artists,...
New Show in ISLAND TIME ART
Our latest ISLAND TIME ART show is mostly the blues and greys of our west coast. After the warm colourful still life paintings of our previous show these are definitely a strong shift which harmonizes with the change in our weather.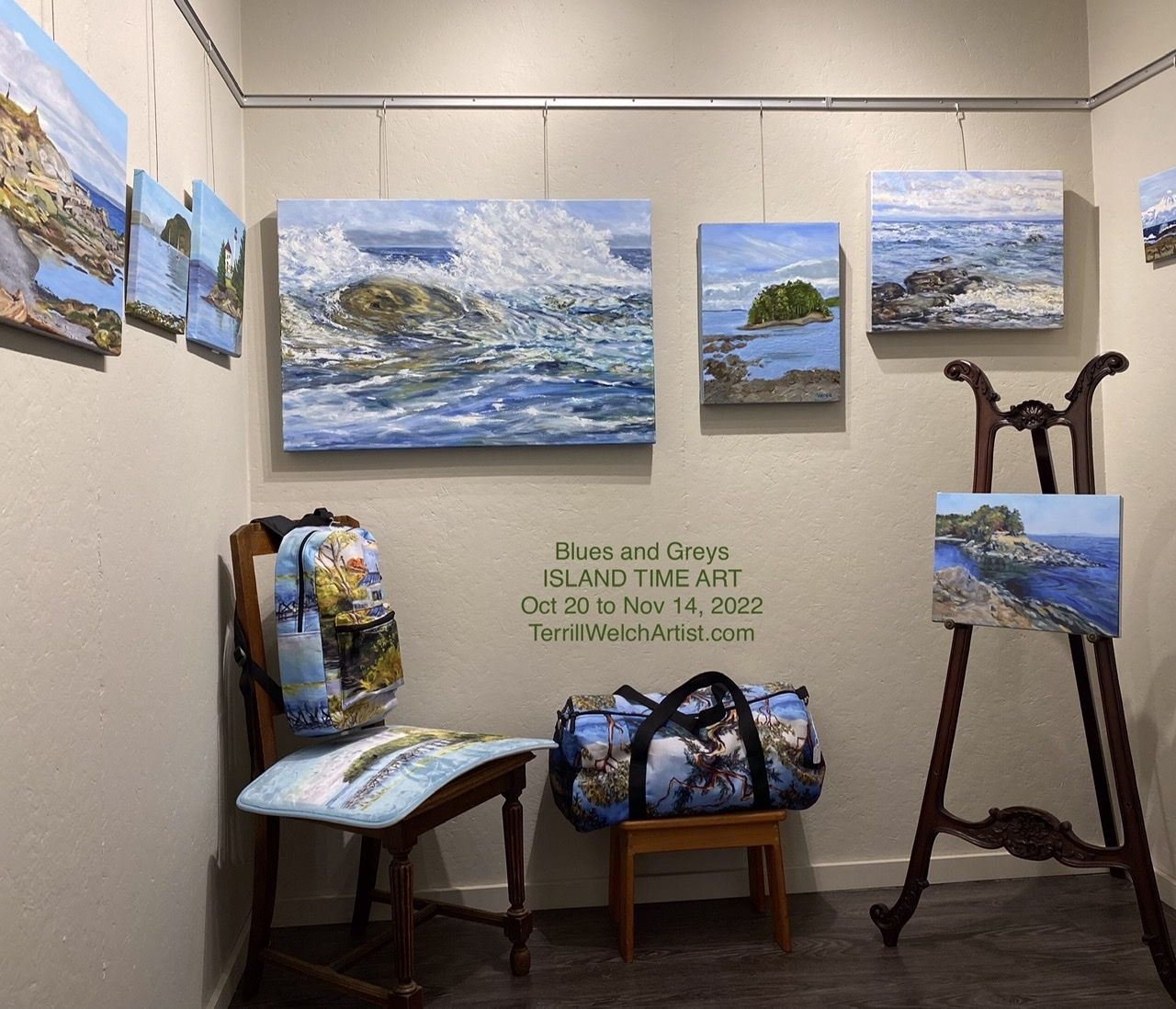 This show includes original paintings by Jody Waldie, Jennifer Peers, Glenda King, Maeva Lightheart and myself. View all paintings in this show online in our private viewing room at the link below…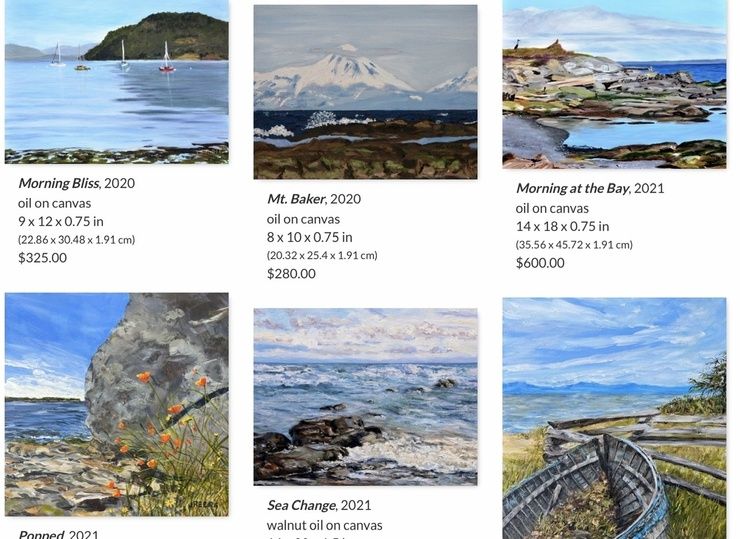 A private room from Terrill Welch
There are also more mugs and other smaller items arriving soon.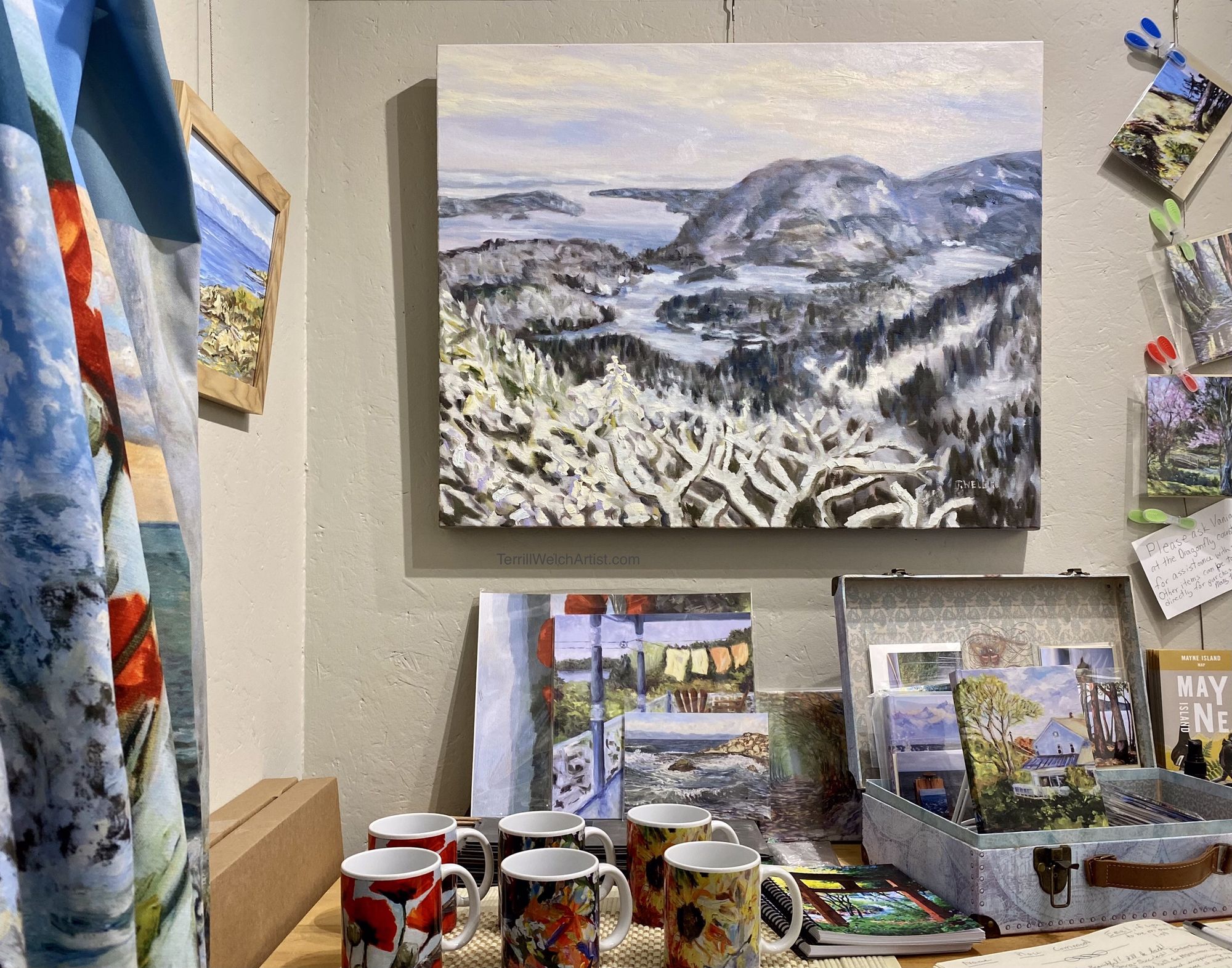 There are also plenty of aprons and totes.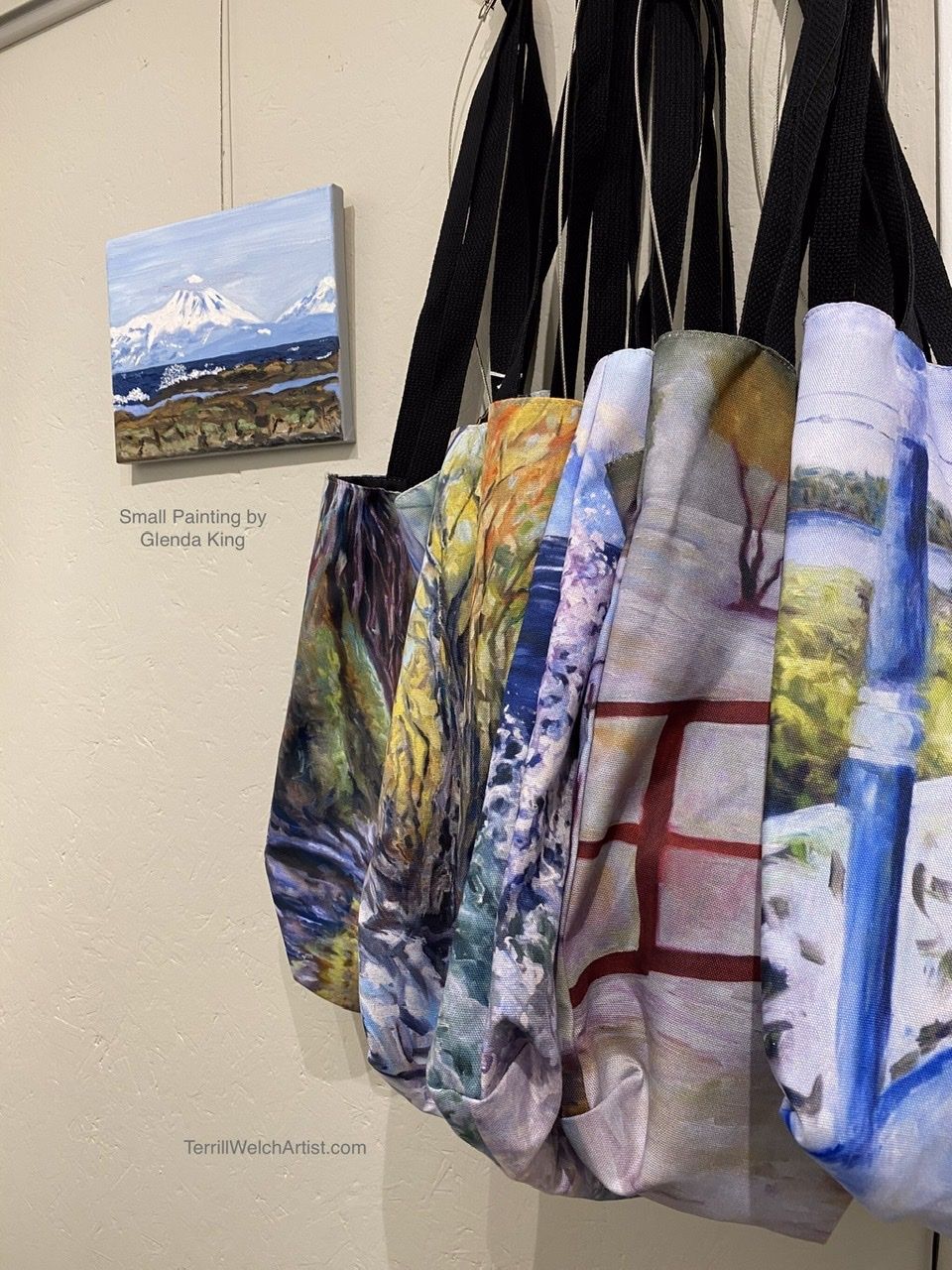 Along with other small usable art finds.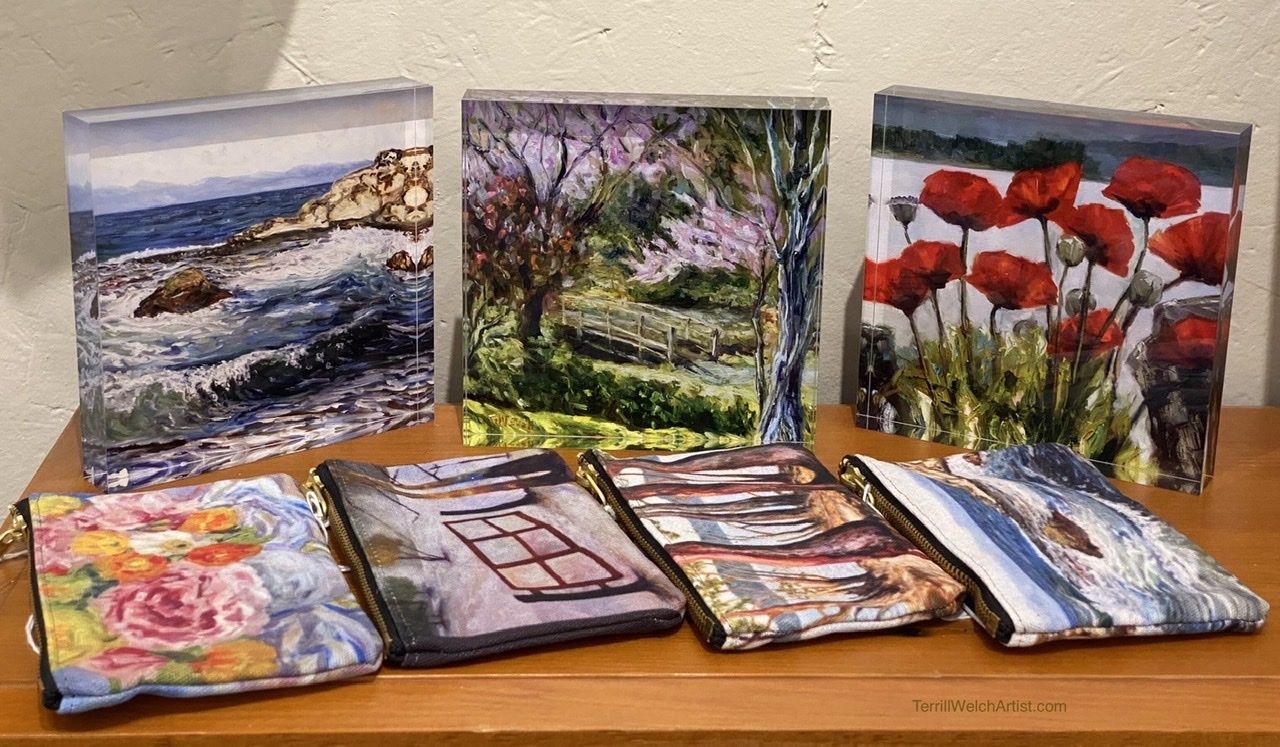 However, the newest addition to ISLAND TIME ART are a few decorative canvas art prints of my work.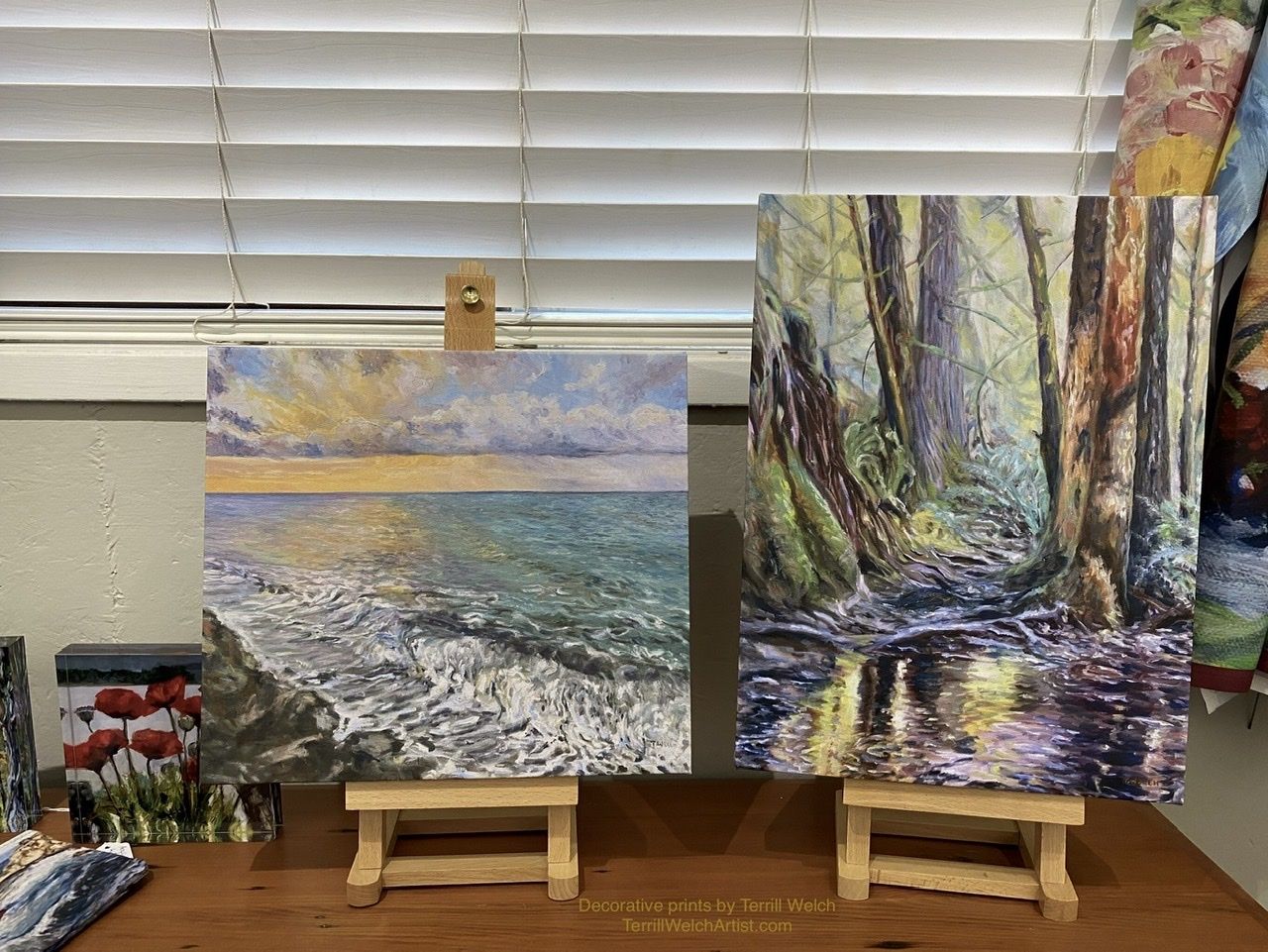 I have one more on order but this is what is in the art room right now.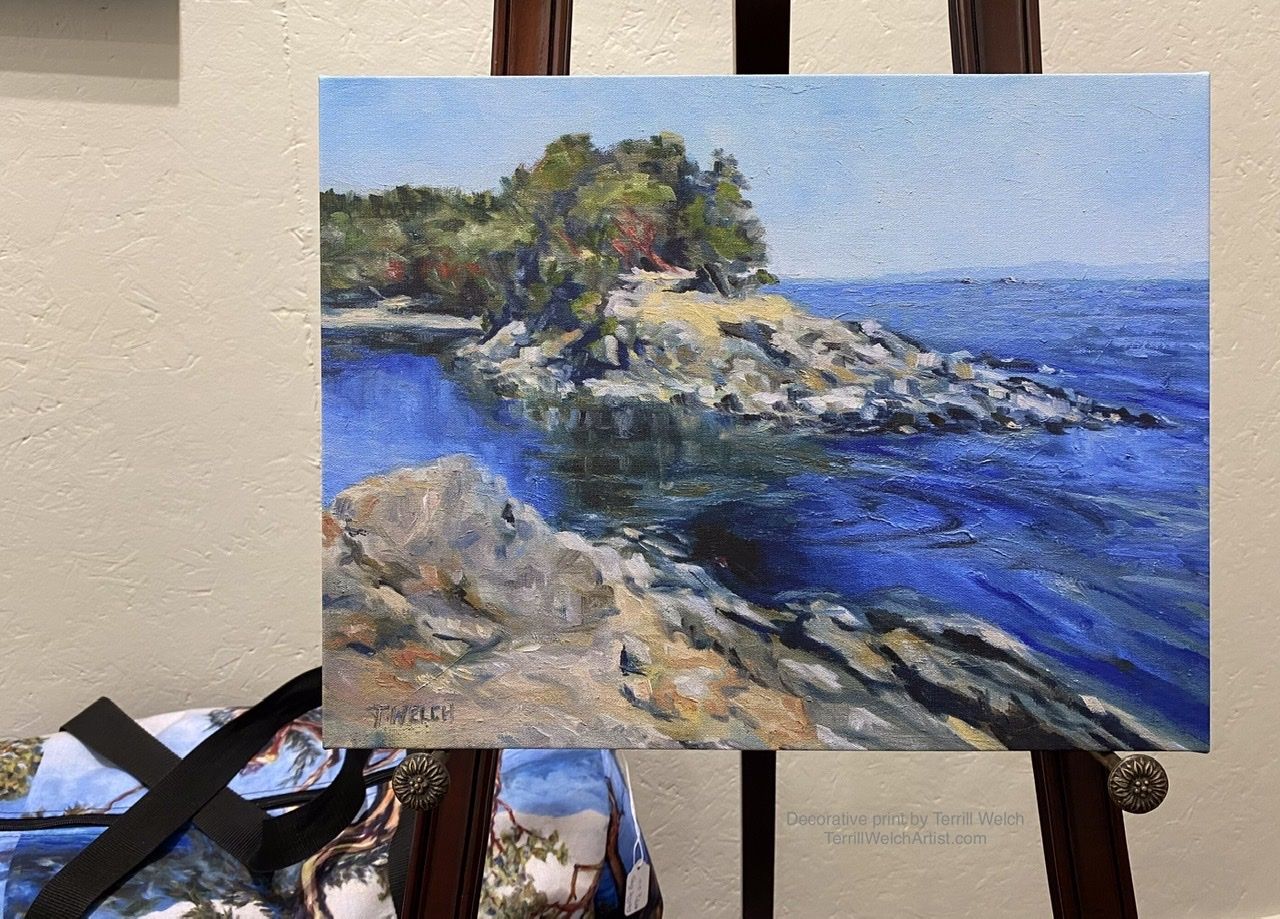 I am actually impressed with these. If you happen to order one of these directly from Redbubble, I am happy to send you a archival linen label signed by me to go on the back in the mail to anywhere in the world. 😊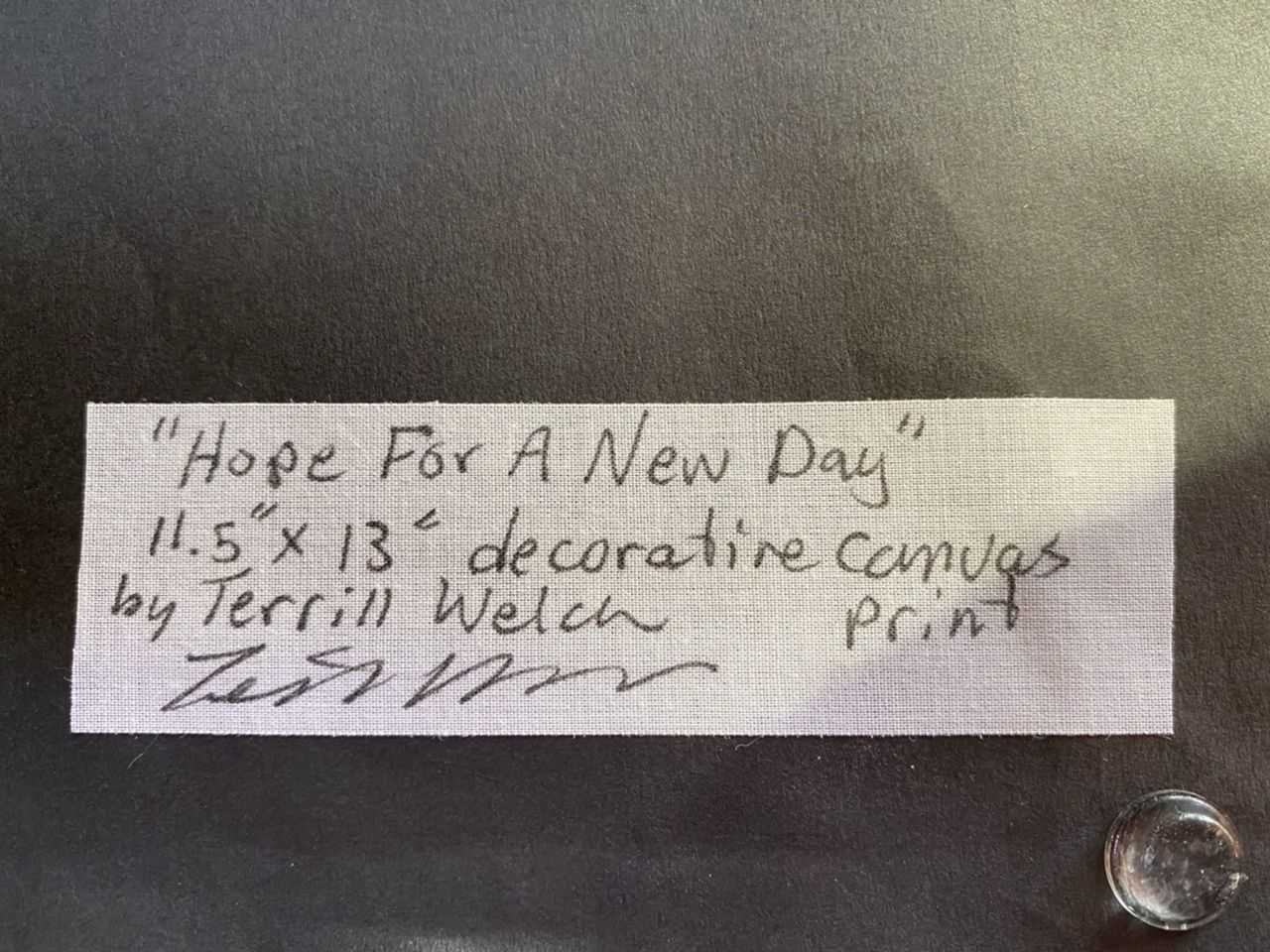 Here is the link to my Redbubble Storefront canvas prints for you consideration and convenience.

TerrillWelch is an independent artist creating amazing designs for great products such as t-shirts, stickers, posters, and phone cases.
Finally, there are my new calendars which have been quickly selling to enthusiastic fans all over Canada and into the United States.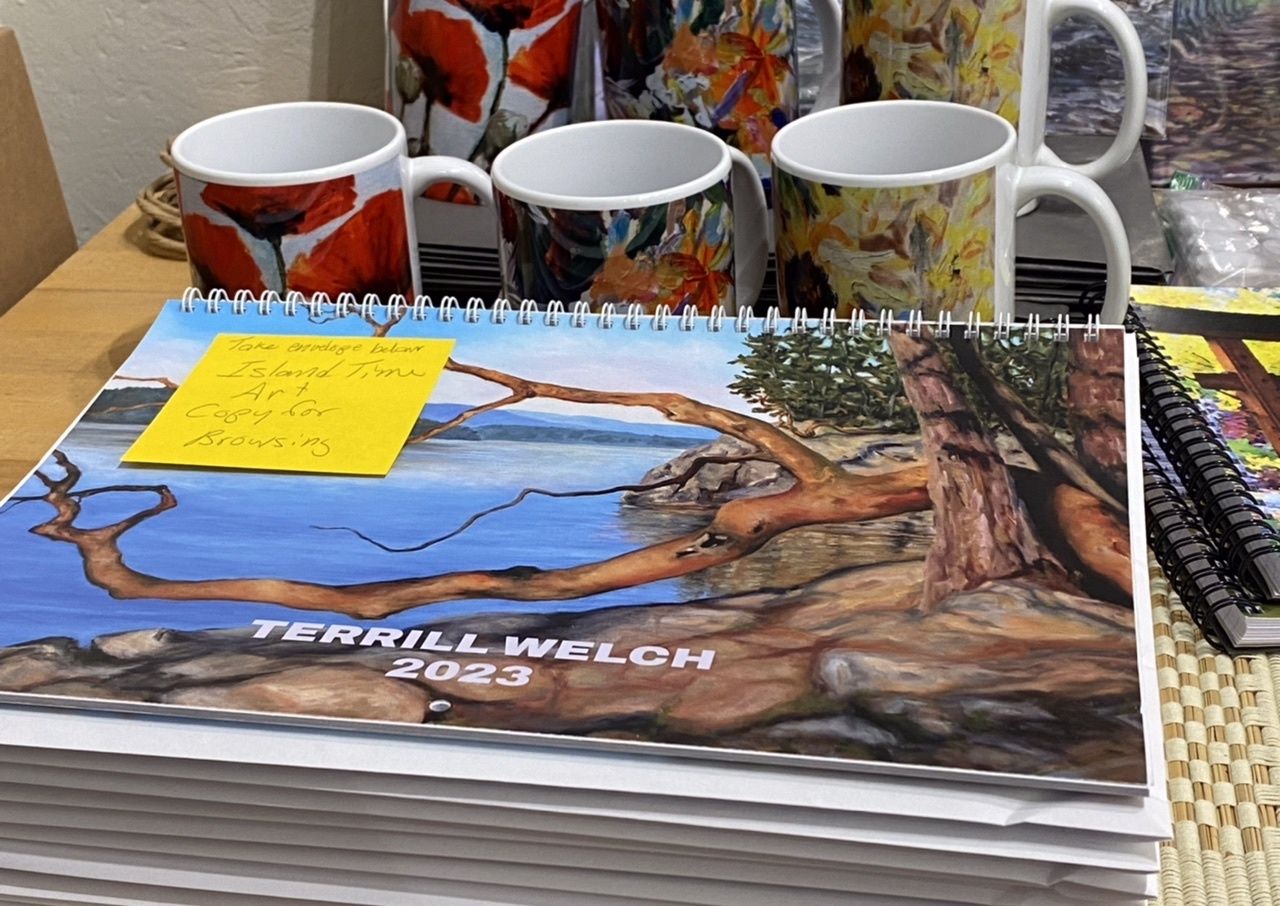 I do have a very few still available. If you would like one it is only possible to order them directly from me. They are $44 CAD including taxes (if applicable) and shipping. Or $39.20 with taxes directly from ISLAND TIME ART if you are on island. I do not expect them to be available for very long though. So if you want to secure one, sooner will be better than later.
Final Weekend for Red Line Series Show
This show has been such a great feel for the new Gallery Pod space and I will show the Red Line Series again at some point in the future.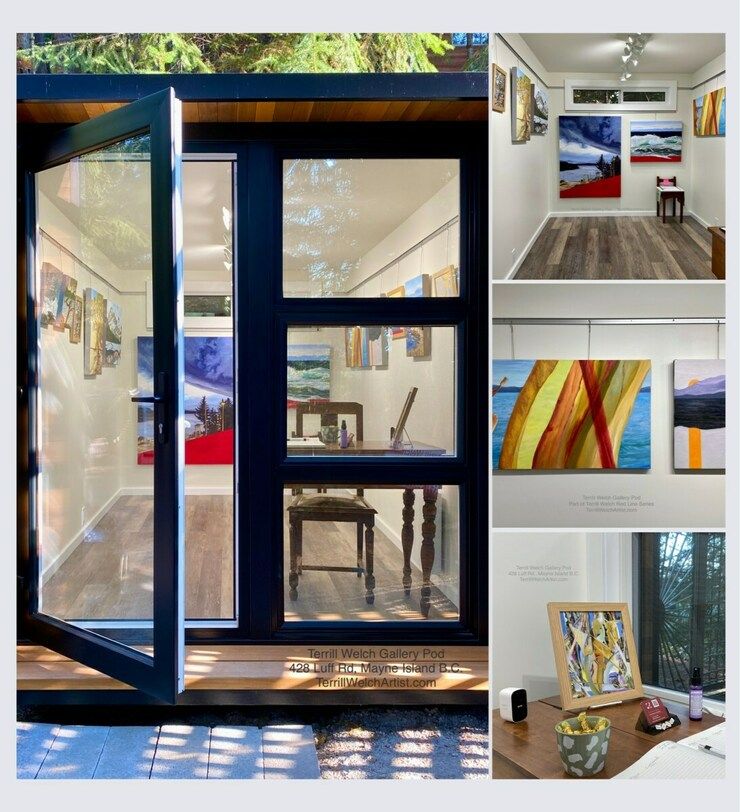 New show in the Terrill Welch Gallery Pod opening today October 6 and showing through to October 31, 2022. Self browsing available in person from 11-4, Thursday through Monday, at 428 Luff Rd., Mayne Island B.C. or online in our private viewing room HERE. This show is primarily Terrill Welch's Red Line Series which began…
The private viewing room will only have these works in it until October 31, 2022 and then it will host the new show which is "For the Love of Trees" and we will have a large guest painting by Glenda King as well as my new "Arbutus on Saint John Point" painting. With this in mind, here is the direct link to my Red Line Series collection that is available for viewing ongoing.
View the full portfolio of artwork from Terrill Welch
Opinion Piece - Holding Sadness and Beauty without Unrealistic Hope
My time at the easel and immersed in the painting process is often also a time of rigorous unpacking of our human condition within our landscape. Two paintings later, I rest within a notion presented by documentary filmmaker Michael Shaw that we must be brave enough to have this conversation about "Living in a Time of Dying" (full documentary is currently available free on YouTube). The goal is to extend the glide. I love this analogy! The documentary proposes that are in the time of the great dying or the sixth extinction. It comes with equally great sadness while we still find small beauties in our ordinary everyday. Or "Even in a world of dying there are new loves being born." This Jonathan Franzen quote is shared about the 35:52 in the documentary by Catherine Ingram, author of Facing Extinction. What happens to us if we consider that so much environmental change is already baked into the feedback loops that we can neither save life on the planet or ourselves? Can we be brave enough to have this conversation, even if we are not possibly yet ready to accept this notion? Are we simply buying into doomsday prophecies or is it simply a calm realization that this is where we find ourselves? Not what we would generally call easy questions are they? We are capable of understanding smaller anticipated dying experiences of individuals, trees, pets and our own impermanence. This we know firsthand. This we often call the cycle of life whether it is a long life or if it is a life cut short by disease or tragedy. I am not so sure I have a reference though for the possibility that there is no future for humanity within the time of my future or that of my children or grandchildren. What to do? Well, as a landscape painter I paint. Then I think about painting and I stay with my brushes as my intuitive self leads my cognitive awareness through this possibility. I do this because to fully live, I believe one must be acutely and compassionately prepared for one's death and the death of others. The grief is visceral and tangible and so are the immediate and transitory beauties and loves. This is the messy wholeness of it all. This is my painter's journey and a space I am compelled to hold for you to step into with me as I mix the next value to capture the hard or soft contrasts on the canvas. If you have been connecting with my paintings and my painting process for any length of time, this space is somewhat familiar. It is the same space that the Red Line Series has developed and the same space that the paintings that reference the war in Ukraine come from. However, this week's paintings about those intoxicating moments of beauty are rendered while holding space for immense sadness as our earth twirls its way through space nearing its most likely and probable inability to support our continued existence. I want to be brave enough. I do. I want to be brave enough to fully live in a time of dying. Because I must and because I am.
Until Next Time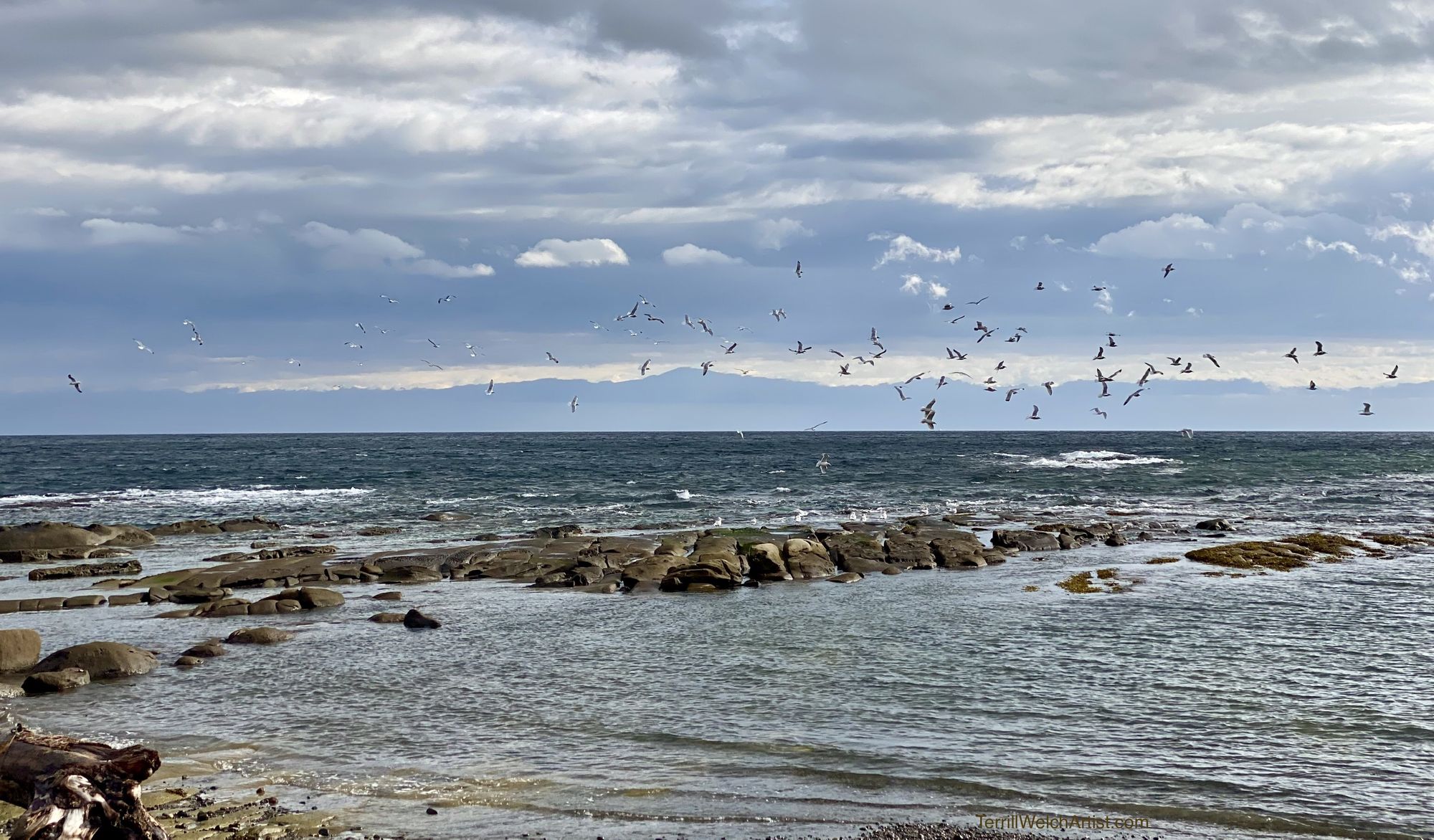 And so we here we are at the close of another issue of "A Brush with Life" and I cannot even begin to adequately tell you how much I appreciate your company, support and patronage as we all venture forth on this journey we call life! It is significant to my creative being knowing that so many of you take the time to connect and browse the work that is created by all of the gallery artists and myself. May these artworks offer you good company on these shorter days of the year.
Warm regards and all the best as always,
Terrill :) 👩‍🎨🎨❤️
View the full portfolio of artwork from Terrill Welch