A Brush with Life - Issue #55 A Different Kind Of Summer Online Show
The Terrill Welch Gallery has put together a special online gallery show of available Terrill Welch summer paintings. Here in British Columbia, we are talking about a different kind of summer and one where we stay close to home. Words like "staycation" and "explore your own backyard" have cropped up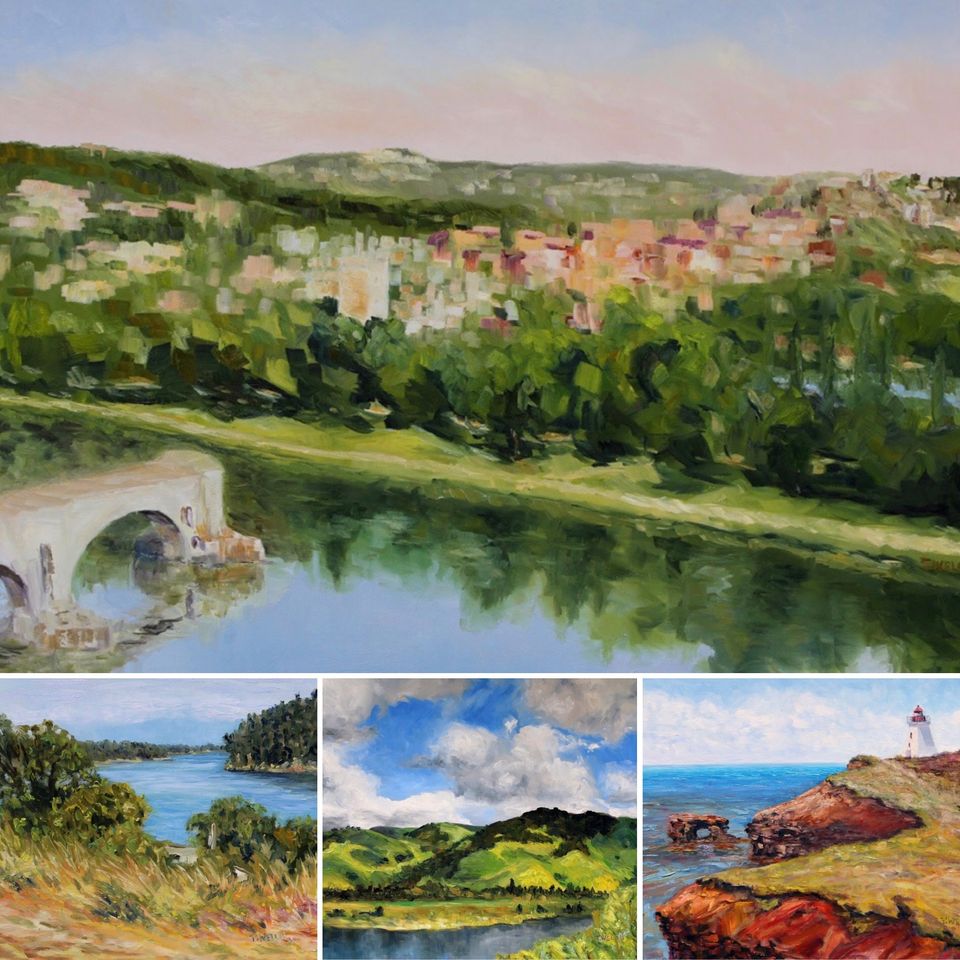 The Terrill Welch Gallery has put together a special online gallery show of available Terrill Welch summer paintings. Here in British Columbia, we are talking about a different kind of summer and one where we stay close to home. Words like "staycation" and "explore your own backyard" have cropped up between the weeds in newly planted patio gardens. Yet, we have been a mobile people for a while now and "home" has taken us on many adventures to landscapes near and far. I am one of those traveling painters and have selected seven spring and summer landscape works from both my Mayne Island home in British Columbia, Canada and my travels to Avignon in France as well as Prince Edward Island on the east coast of Canada and Northern California in the U.S.A.
---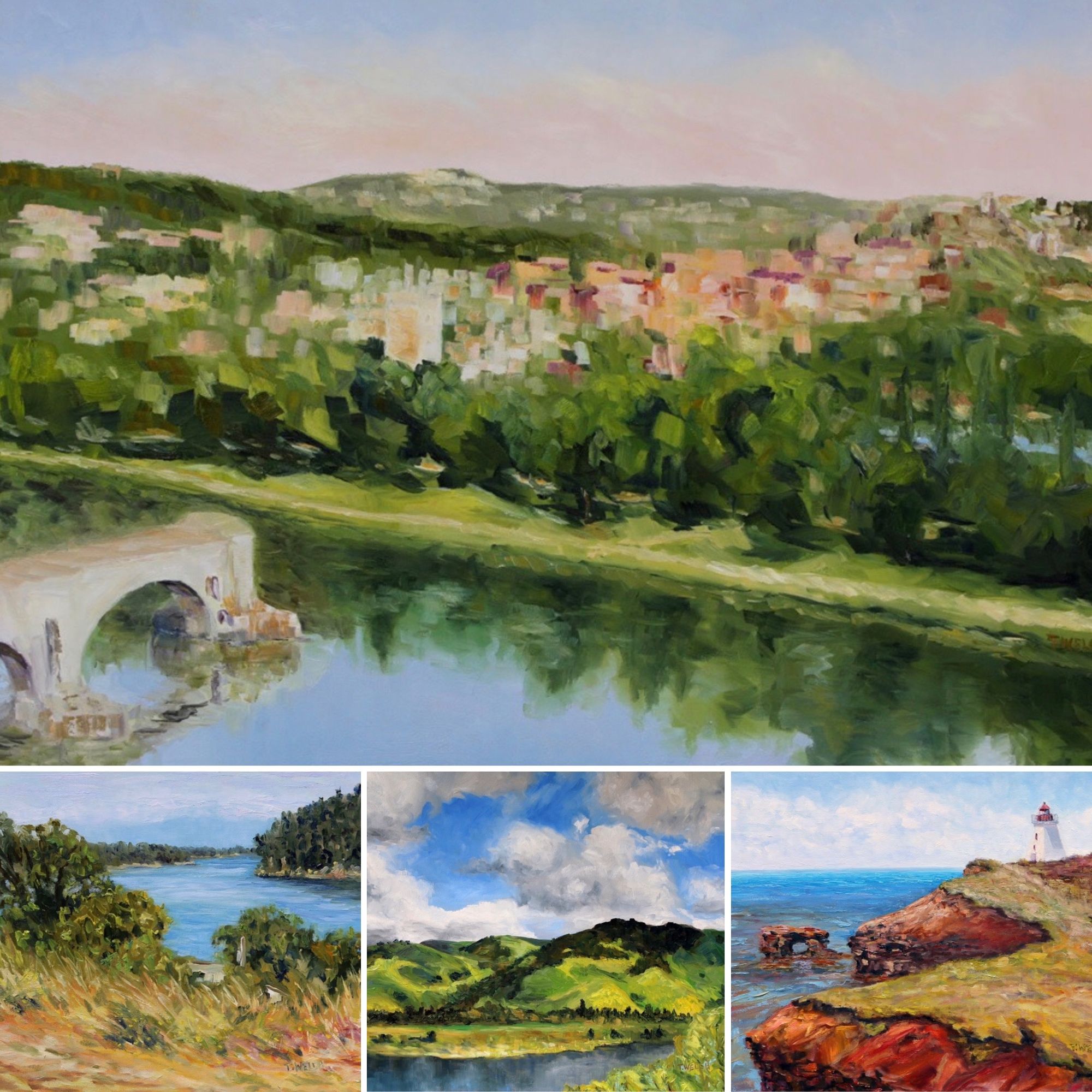 So for one of our occasional online shows here in A Bush With Life issues, I look forward to presenting a separate link below for each of the seven Summer paintings.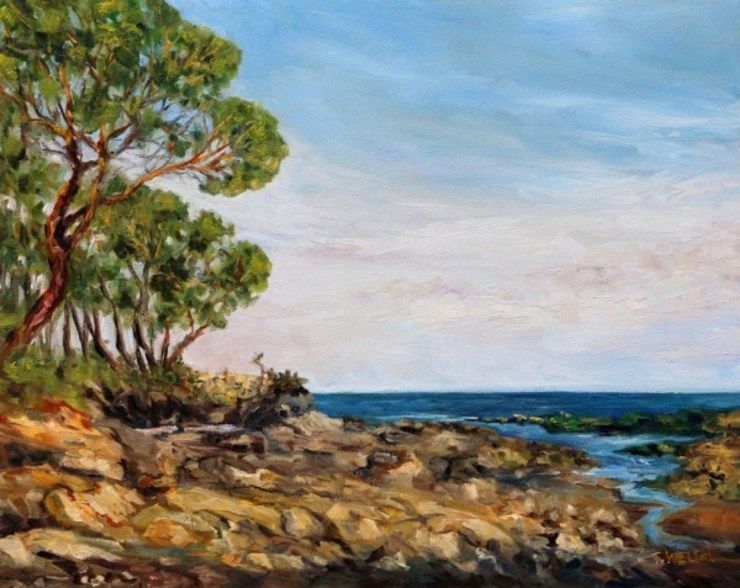 The August light is losing its harsh edges and the morning rich hues stay with the brush for an extra few minutes. A sigh. A glance. A smile for these lazy d...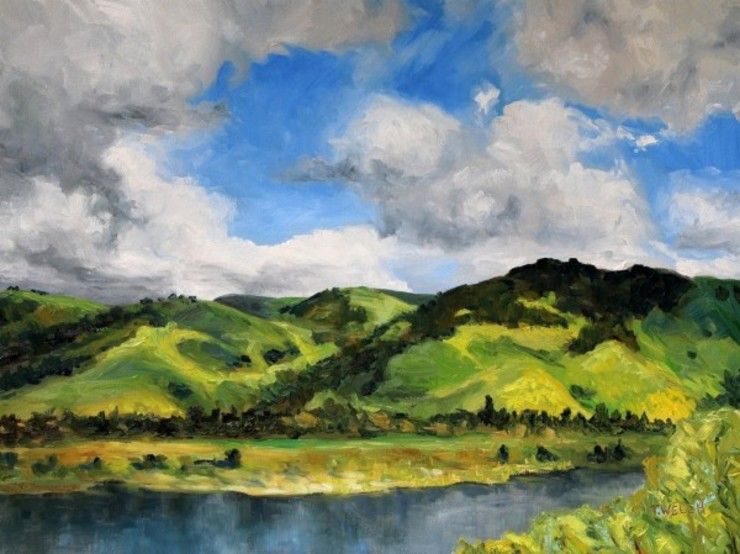 Big fat fluffy clouds move swiftly across the early spring brilliant green of the Fremont Hills. The dark drama mirrored in the quarry lakes. A brief burst o...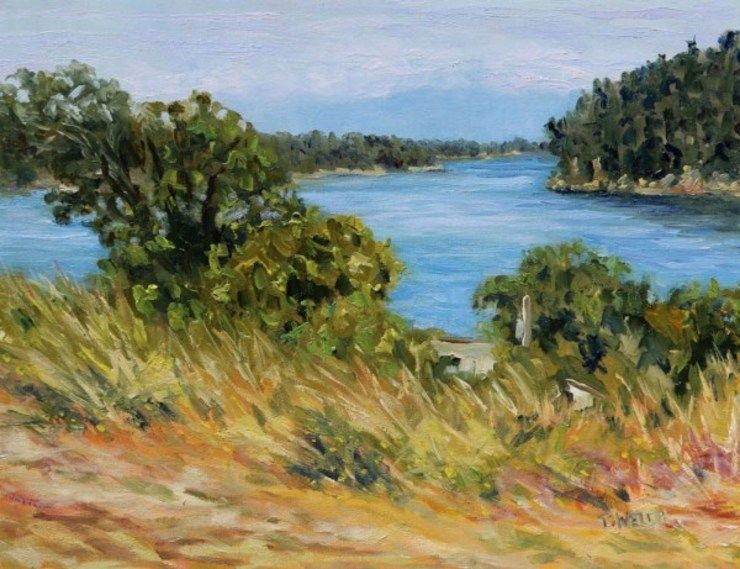 There are days that make us feel as if summer will last forever. This is one of those days. A plein air painting over two days in the view area of at Shavas...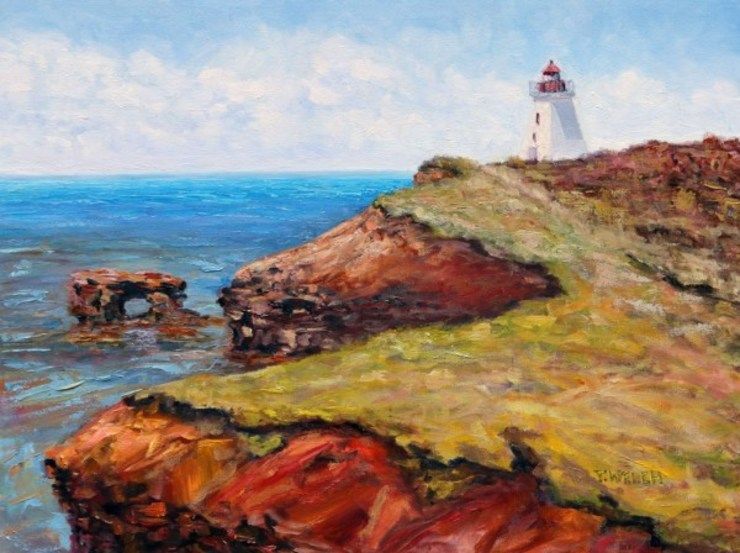 While standing on a narrow slip of land reaching out into the Atlantic sea it is tempting to shout "Give it back! Give all that red dirt you have swallowed b...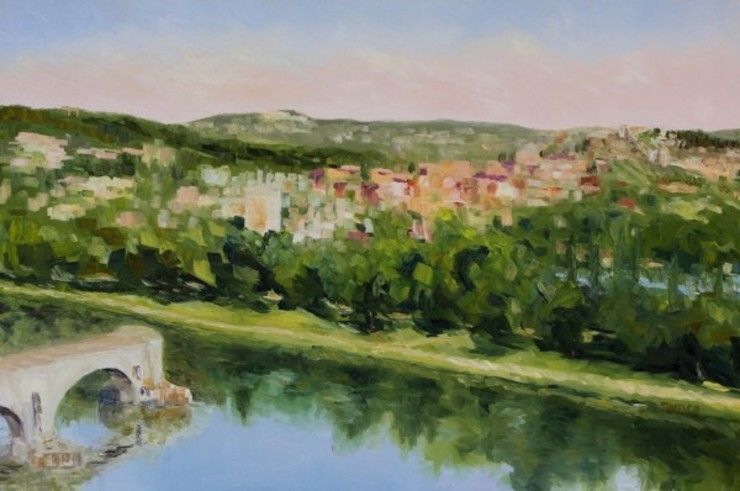 From up on the hill in Avignon looking across the river to Villeneuve les Avignon in France. I started with a plein air sketch and then went on to paint this...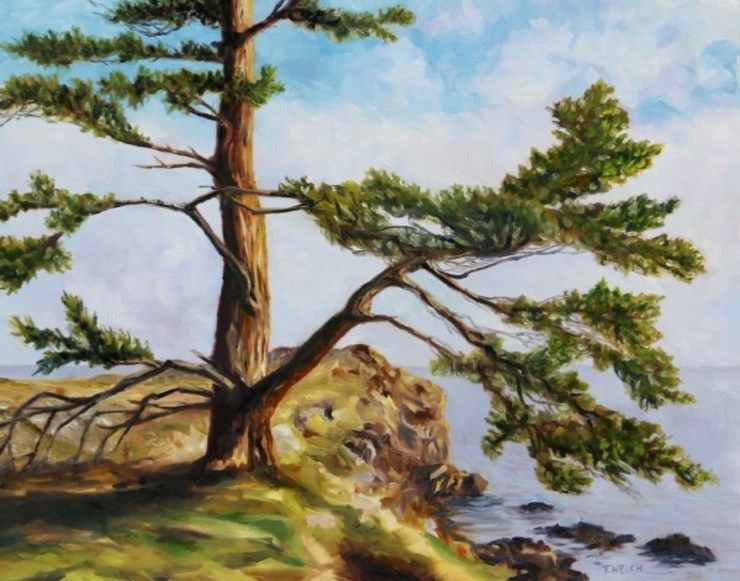 Drowning in despair about our dissolving humanity on a particular day in early April, I made myself a promise – I shall go for a long walk and listen to the ...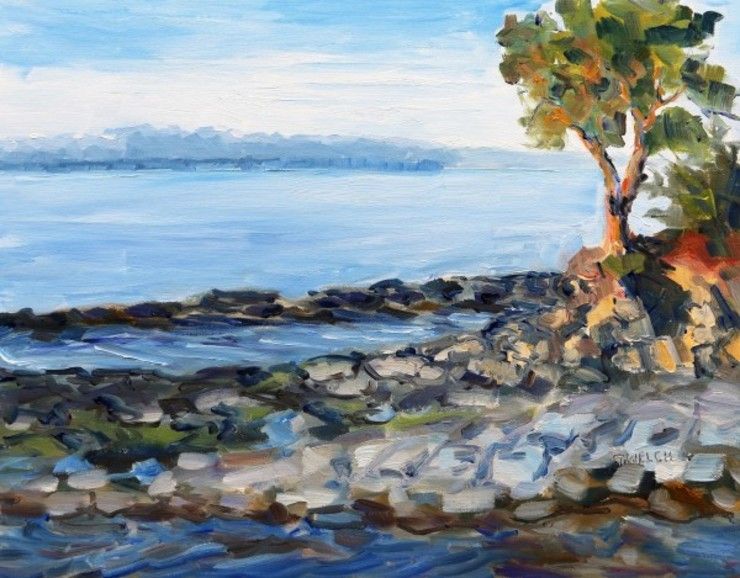 My evening plein air painting at Georgina Point beside the sea. What ended up on the linen board as each brushstroke of oil paint found its way to the surfac...
This is just a small sampling and more summer paintings can be found by going to my full online gallery at the link below.
Insider Tip: These days, it is best to click "available" at the top because so many of my works have already found homes of their own.
Welcome! We are please to present our online gallery for your viewing and purchasing pleasure. The gallery can be viewed as "ALL", "AVAILABLE" or "SOLD". You can search for a specific painting or look at a collection of works. Once you have found your perfect painting, click on the "INQUIRE" button for purchase and delivery…
A Special Surprise Gift Project
Sometimes, I am part of the most inspiring special surprises.
I received an email from a past gallery visitor looking to surprise her husband with a painting of the view from their property in Village Bay on Mayne Island for a special birthday. With a few exchanges, a size for a quick painting sketch was decided and the neighbours were notified that I would be coming down to work on sight, en plein air.
I went out on a Monday evening to get a feel for the place and was back before 7:00 am on Tuesday morning. The couple were returning on Thursday so time was of the essence!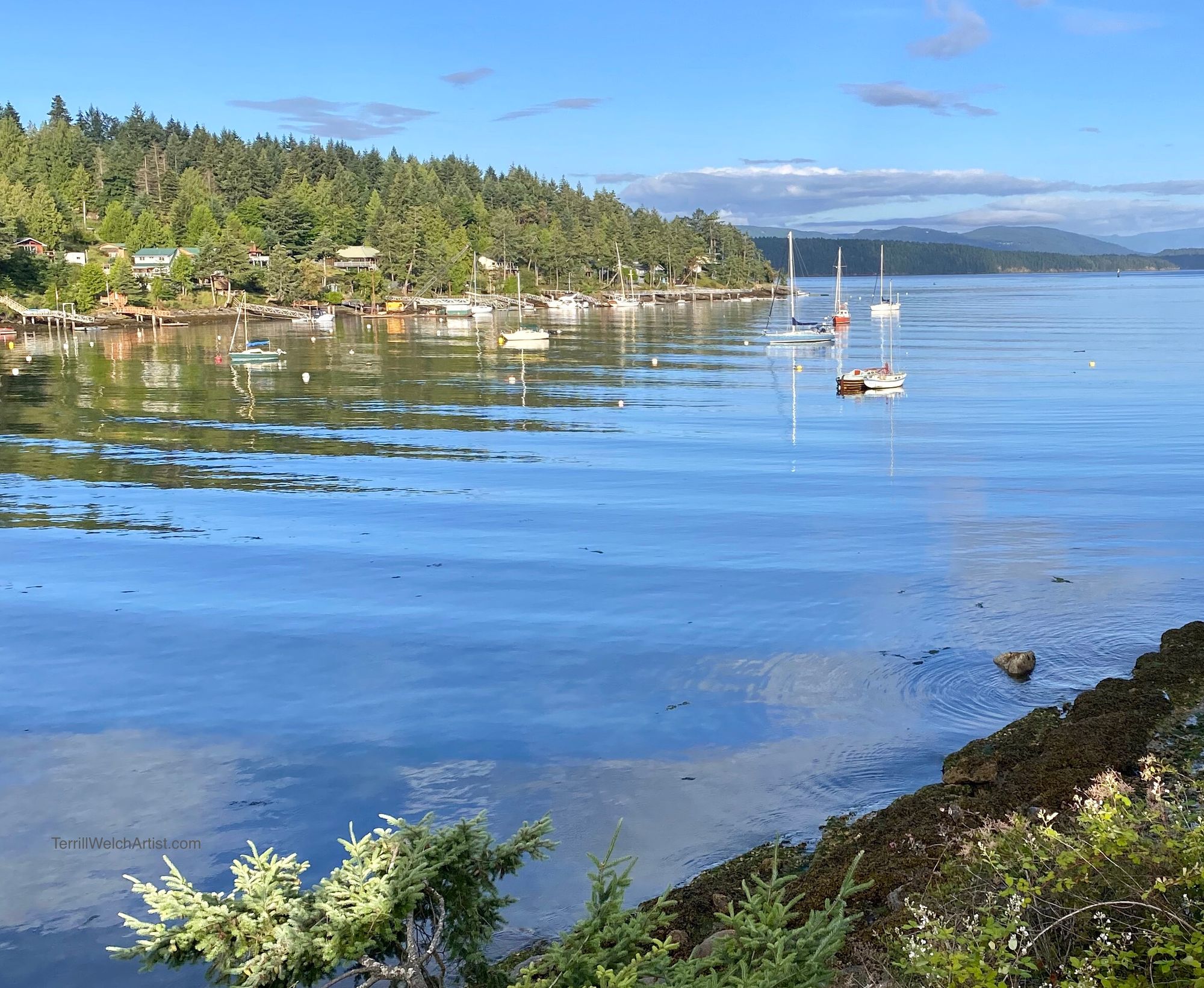 The neighbour came down to grab a couple of work-in-progress photos.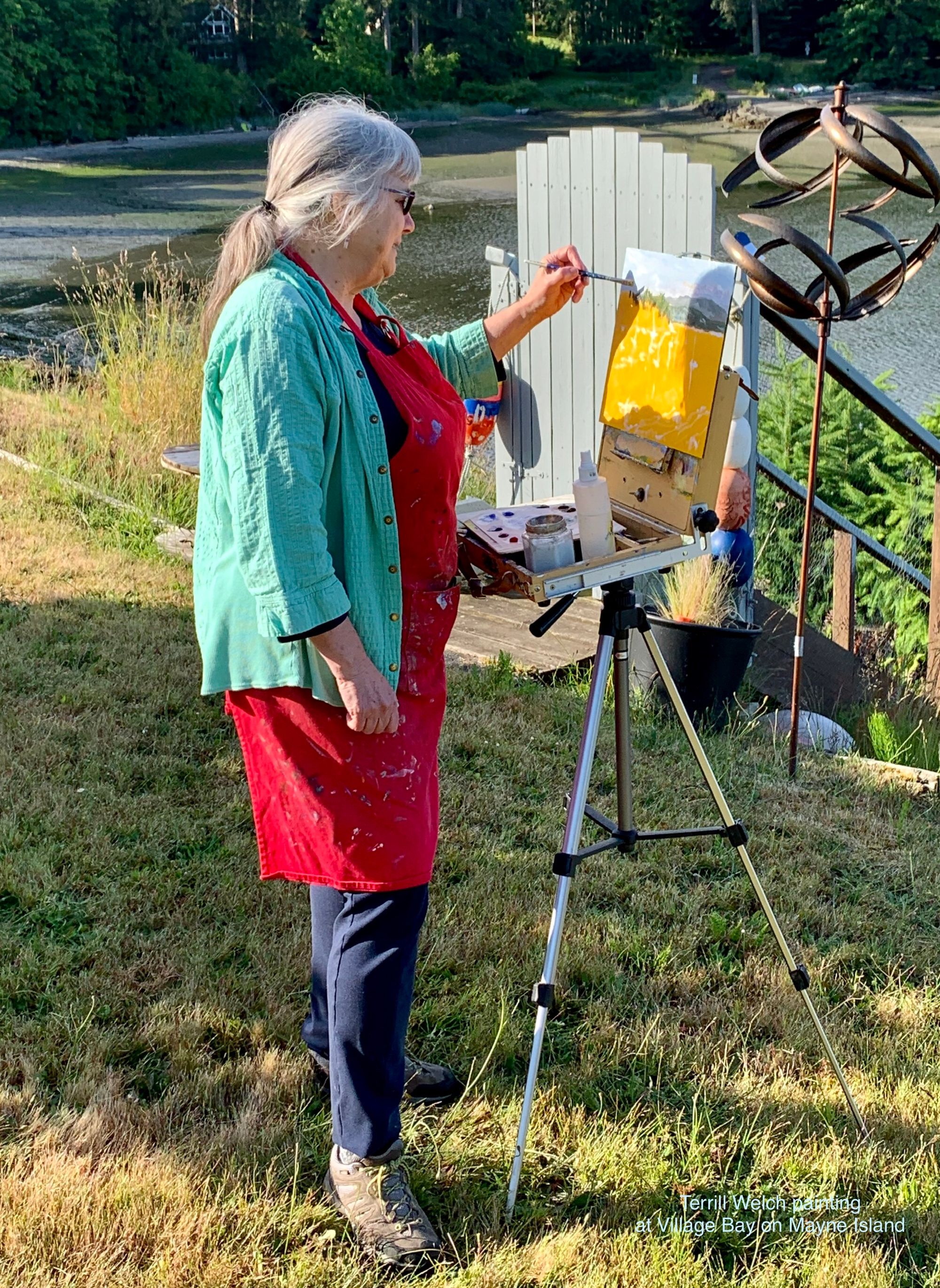 I continued to work as quickly and efficiently as possible.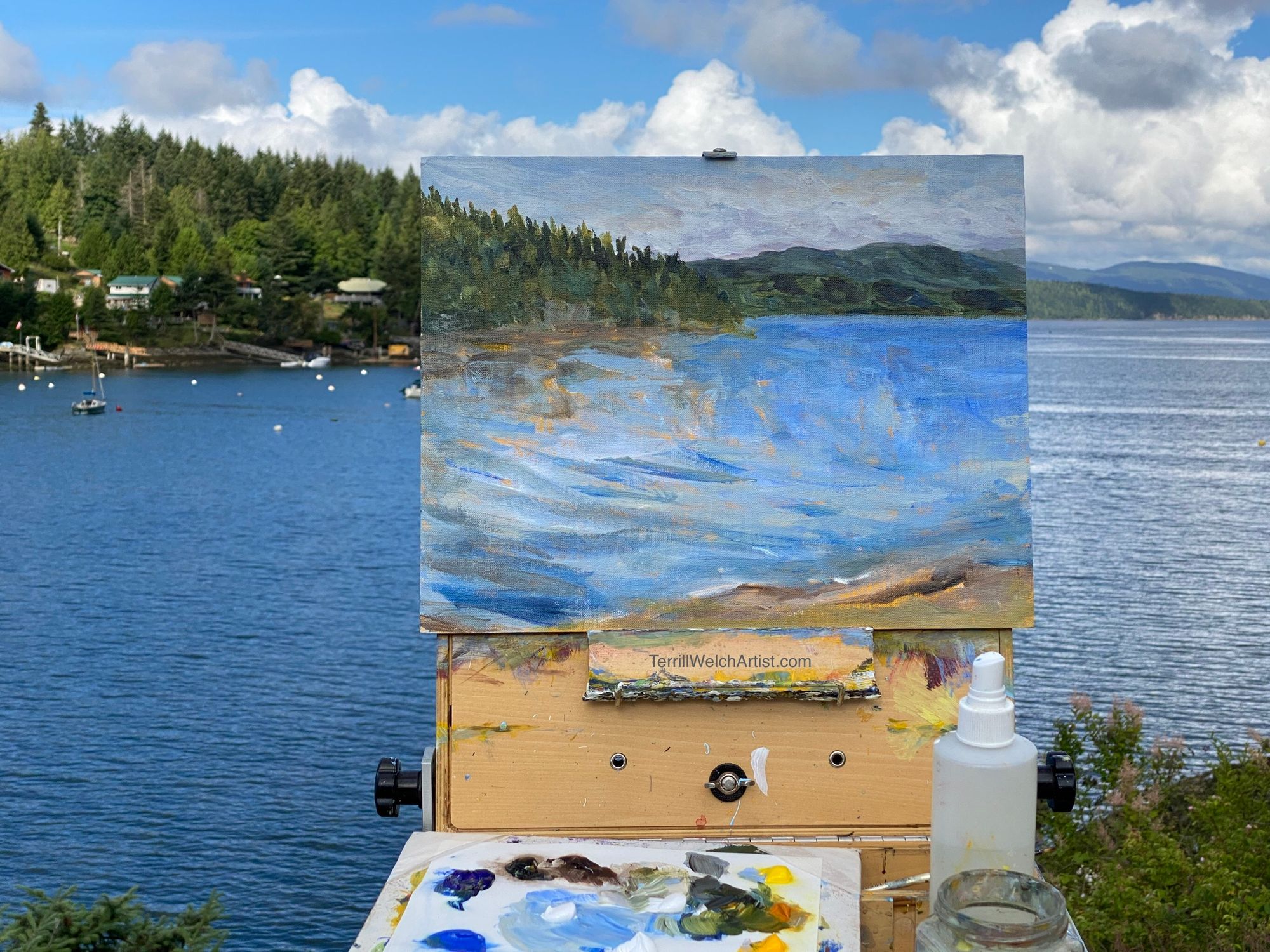 The light was moving faster than my brush could manage. I had lost the reflections in the water I so very much wanted and they didn't seem to be returning anytime soon as a breeze rippled across the water.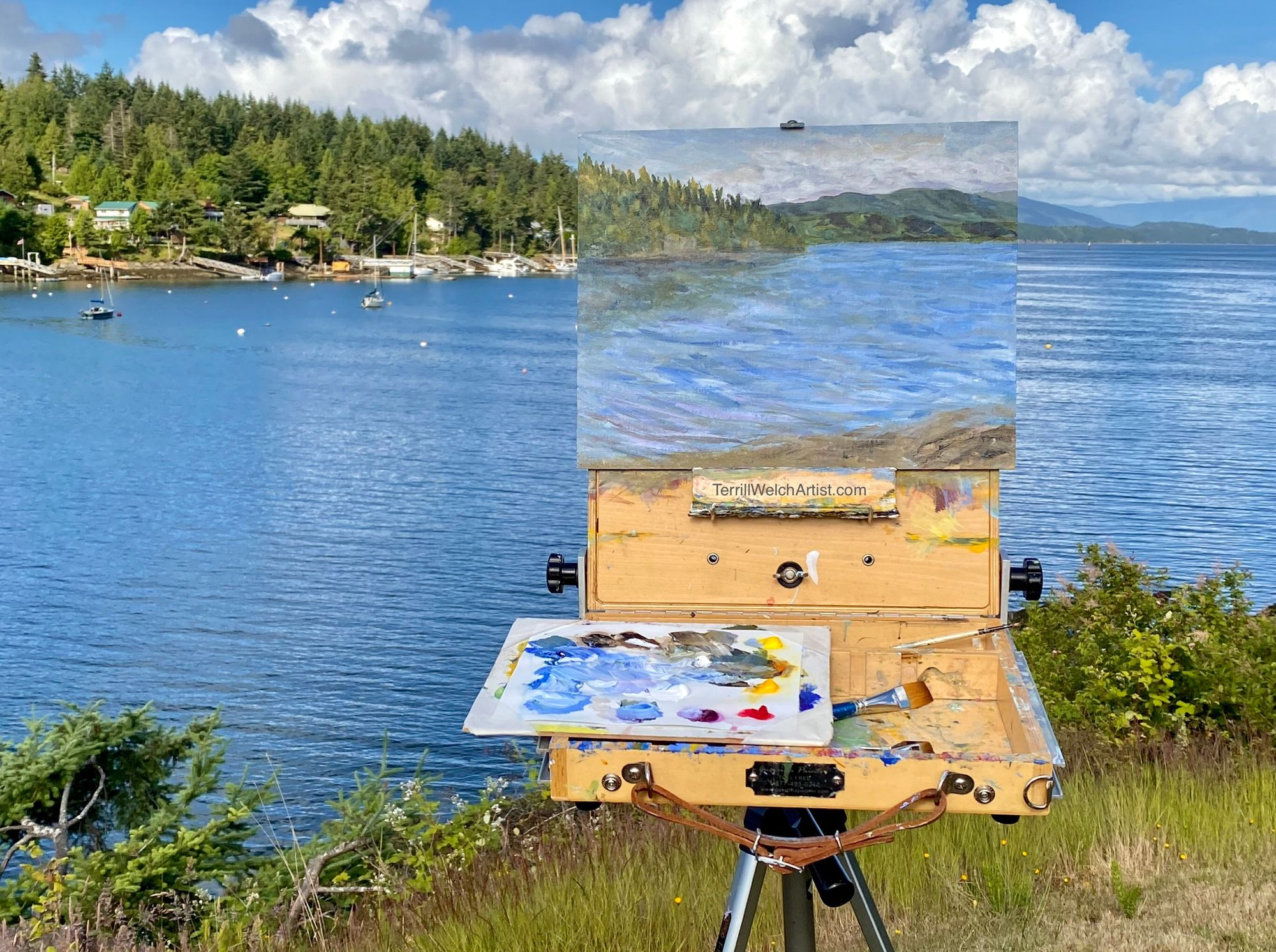 Finally I gave in and finished the painting up back at the studio using references. But we got it done!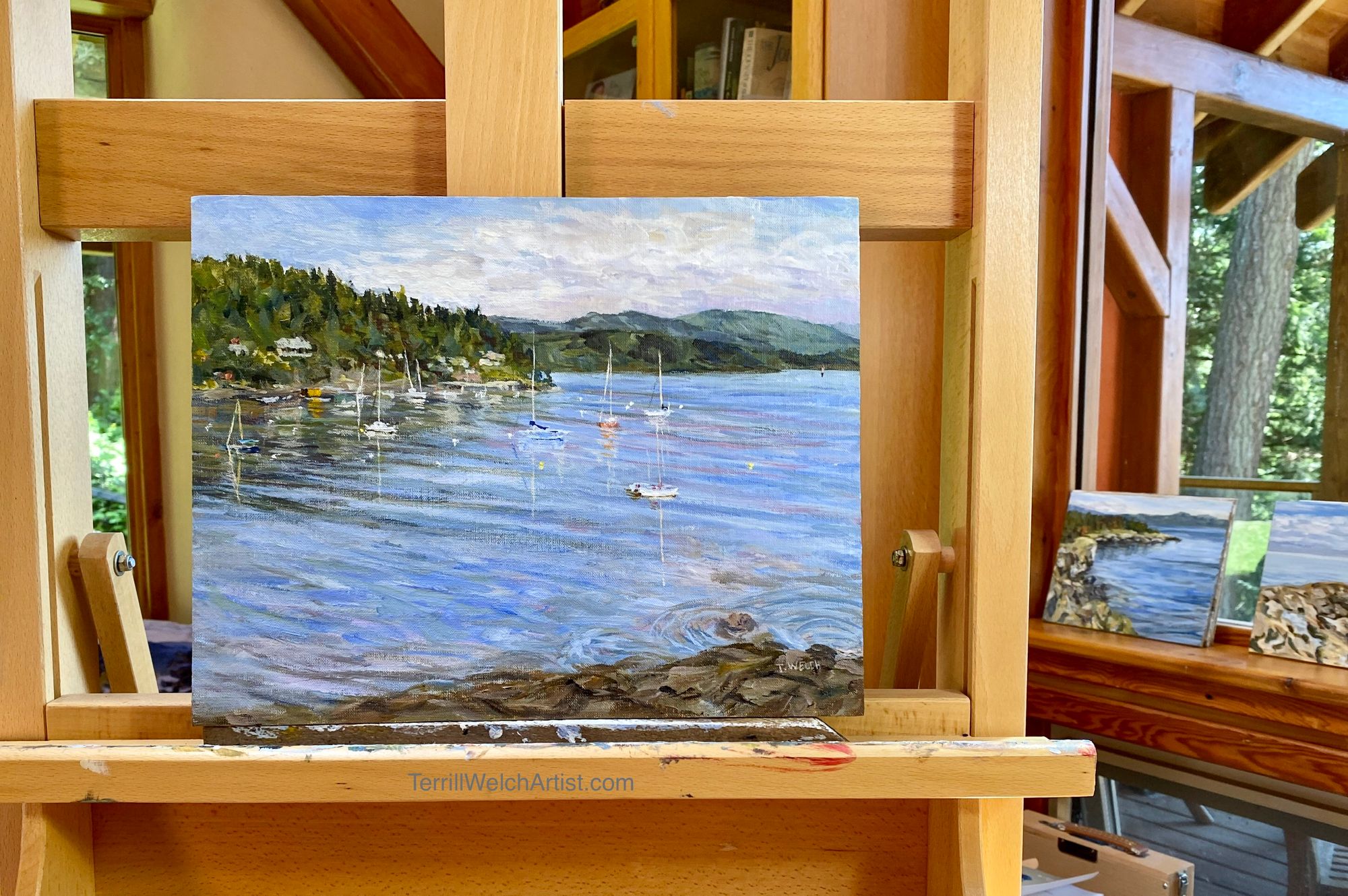 Last Saturday afternoon, the couple came into the gallery's new Arbutus Room where I had tucked the gift painting behind another on a stand so they could browse and then I could reveal the work at the right moment.
A couple of days later when the sun came out again, I received this image of the happy recipient holding the painting in the view it depicts. With permission, I am sharing it with you.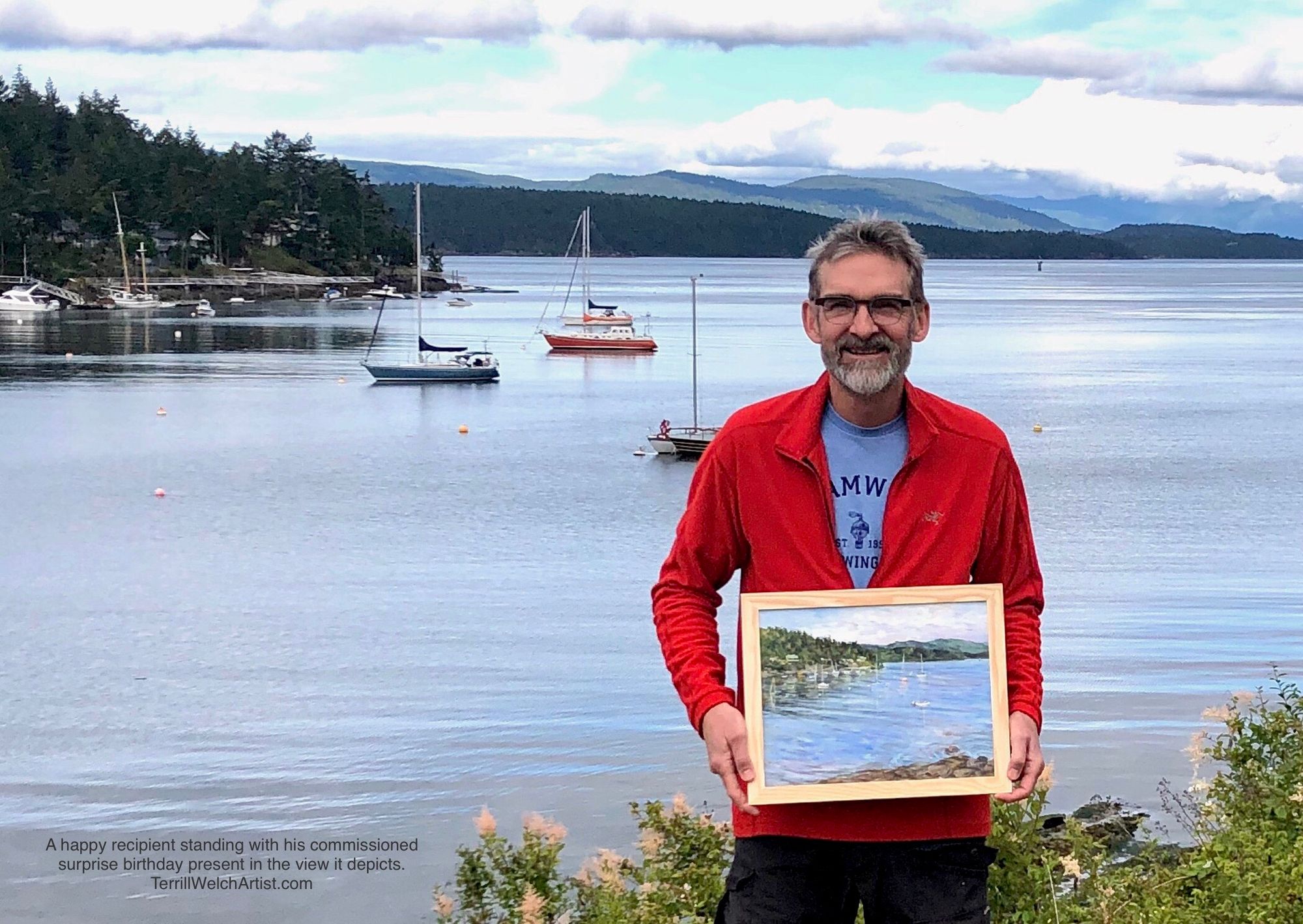 What fun! I am honoured to have been commissioned for such a special project.
I generally don't do a lot of commissions as I am focused on a particular series of my own work and just don't have the time. But these last six months have resulted in six compatible requests. How my commission process works is, we decide on a size that fits your needs and budget and the general subject. I then research that subject and gather my references, that can include both painting studies and photographs. I do not work from anything but my own references. A project has to be a subject I am interest in exploring and the potential purchaser has little say on how I compose and approach the final work. When the work is completed, the purchaser makes their final decision. If the work is not to their liking, it goes into my inventory for others to consider. So it requires a lot of trust in what I will do but the risks are low because of when the final purchasing decision is made. This process gives me maximum creative freedom to do my best work and I know you are happy with it when you add it to your collection.
For those that haven't yet engaged in such a commission process with me yet, I thought I would let you know, just in case it sparked an idea. Just a thought. I can likely manage 1 or 2 requests a month (depending on the size of the work requested) and still not get derailed from my other projects.
What Has Sold
This past two weeks has seen four works sold to three different collectors and newsletter subscribers. All four are already in their new homes "off island" but still within British Columbia. First, is the surprise painting from above...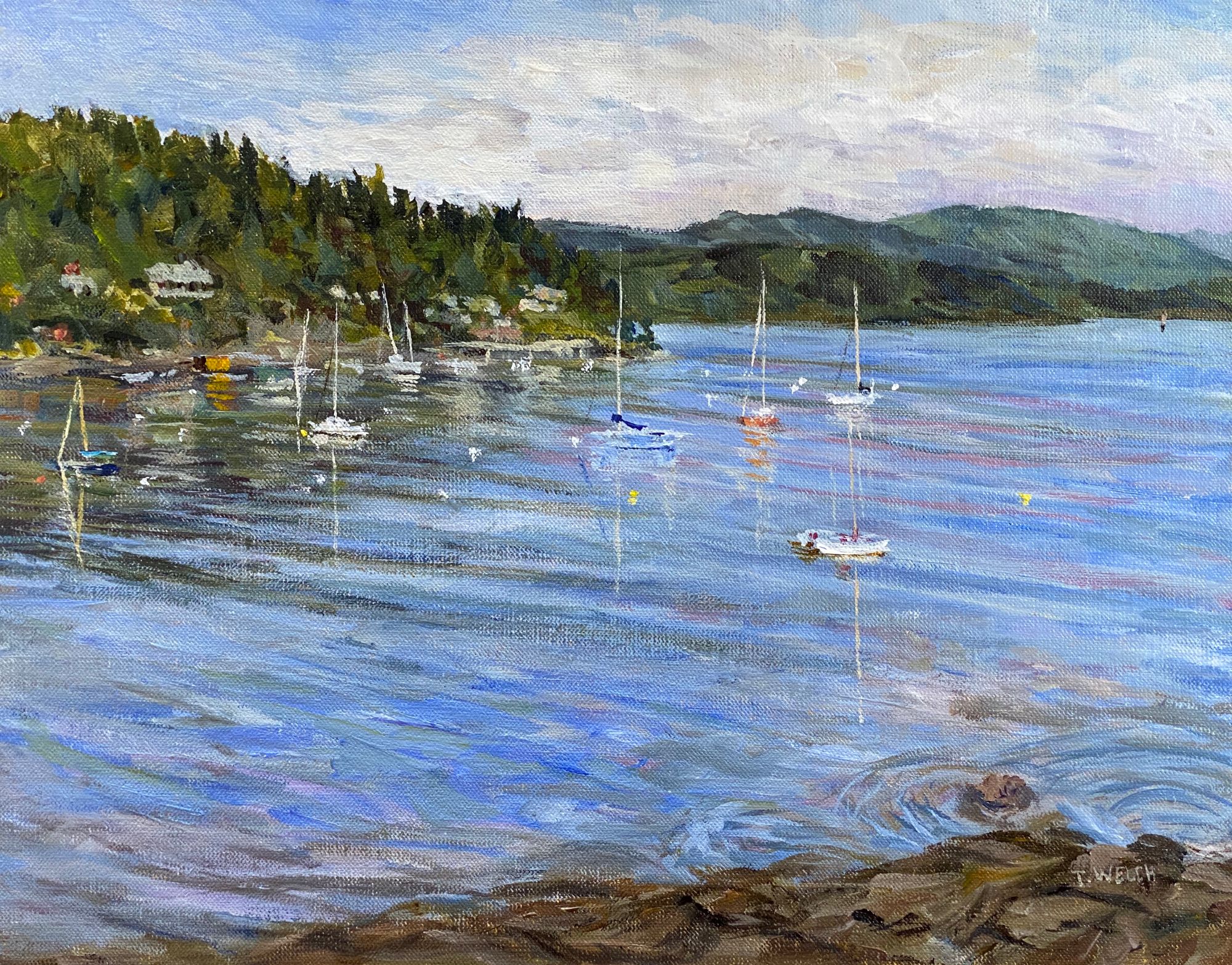 Next is a painting sketch that allows an art collector to take her Mayne Island heart home with her.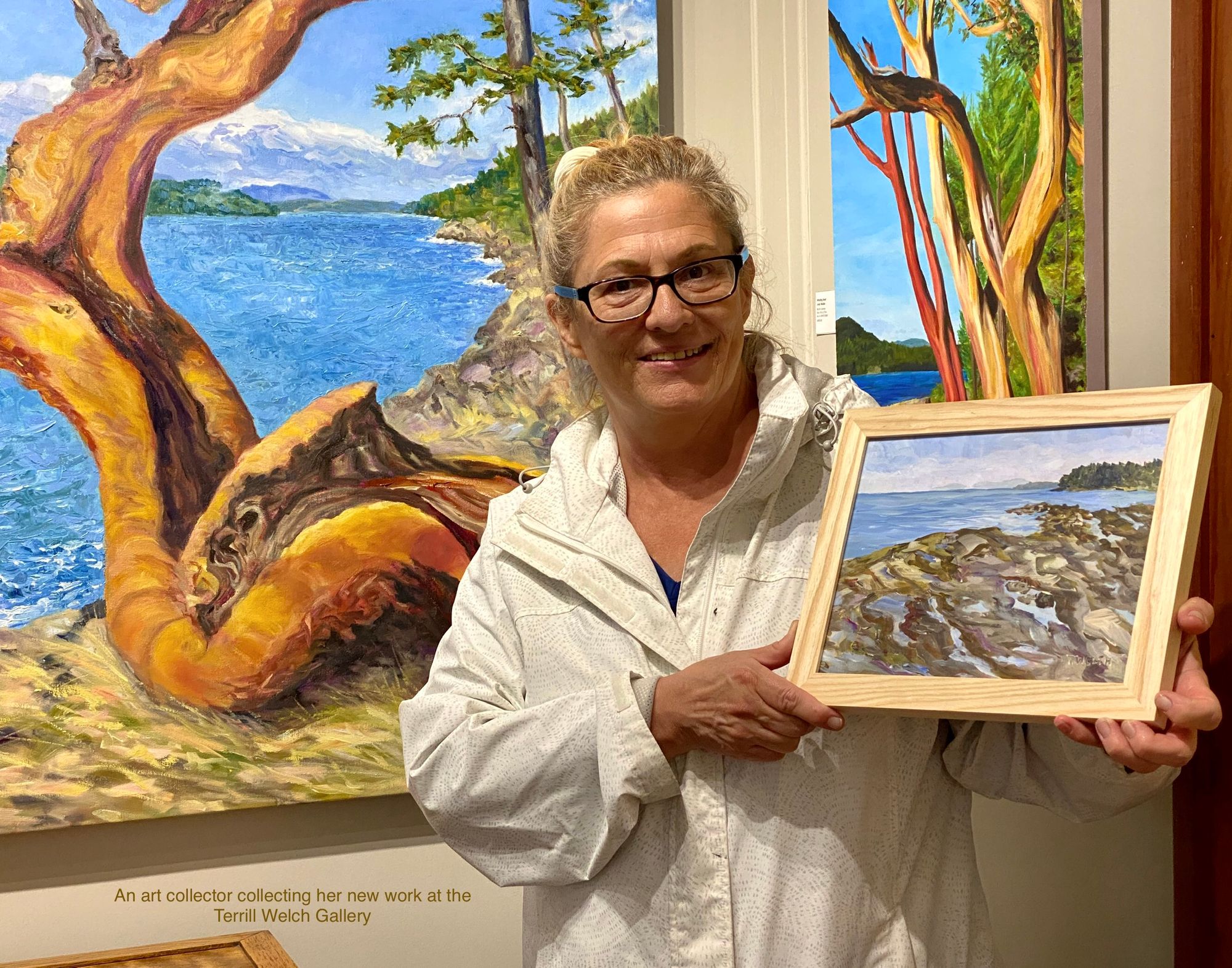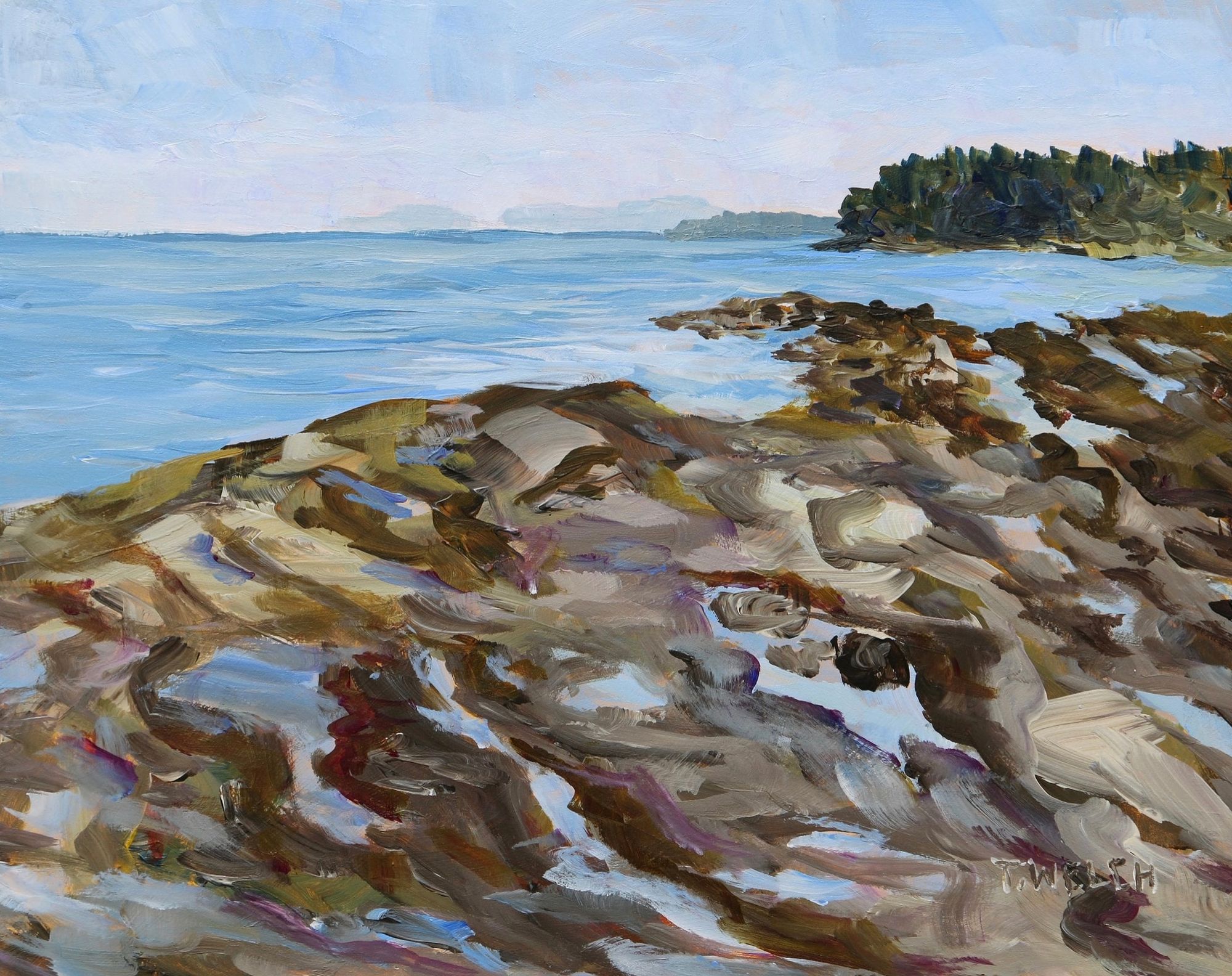 And two more that are staying together after being shipped over for consideration by a discerning art collector on Vancouver Island.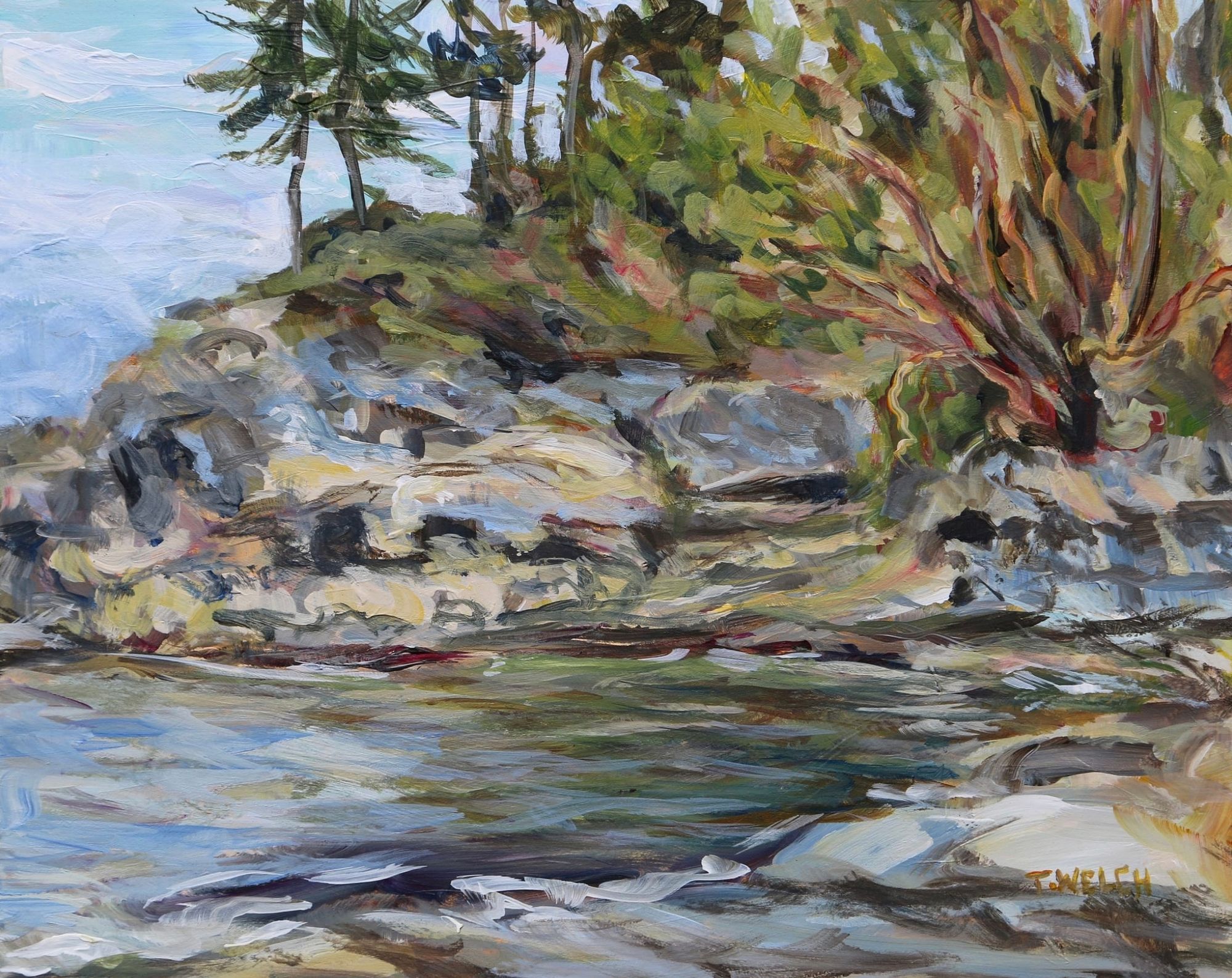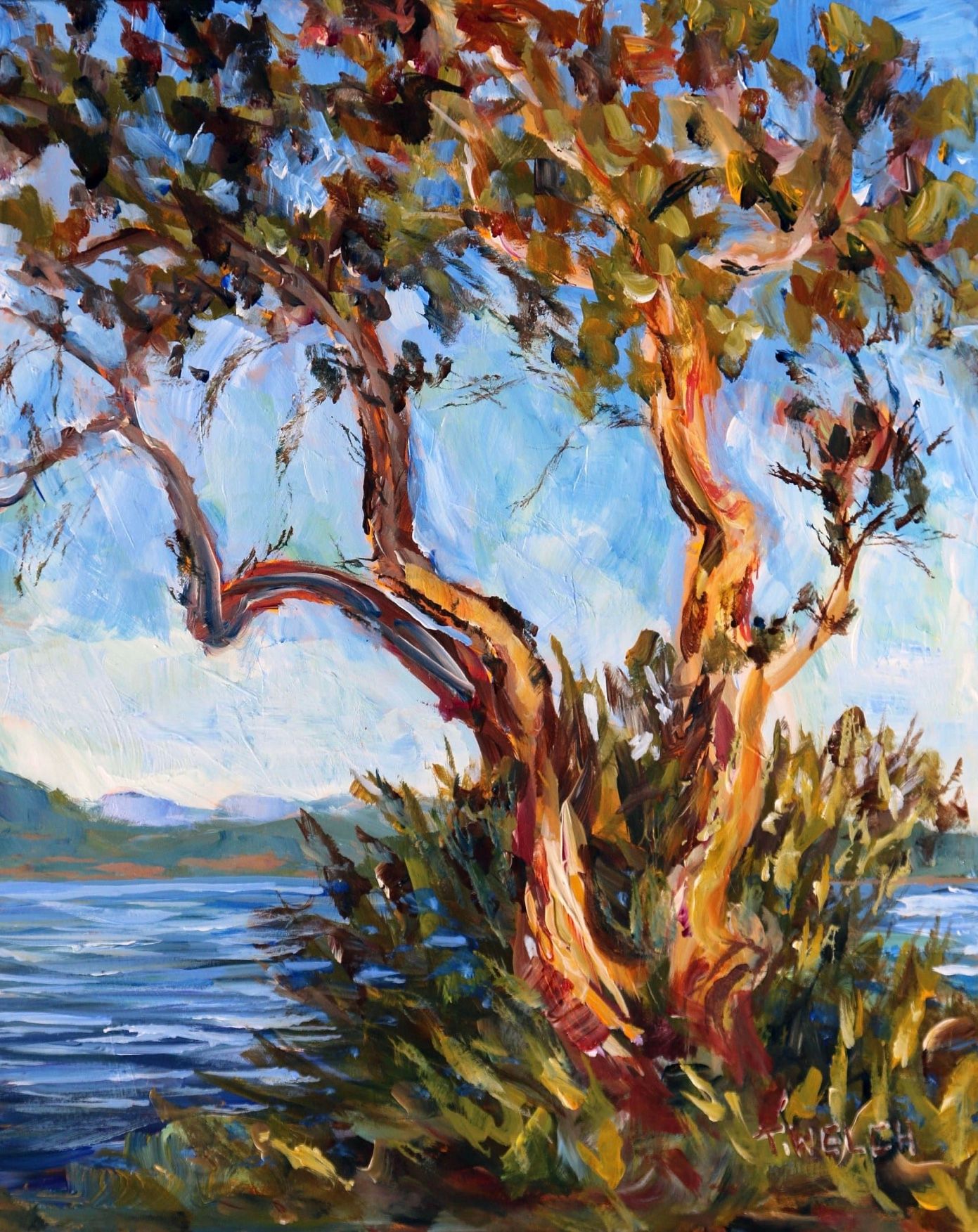 New Releases
I know, you are likely wondering what new could possibly still be available. But there are a still a few. The first is a rare still life of peonies that is a nice change from my usual landscape paintings.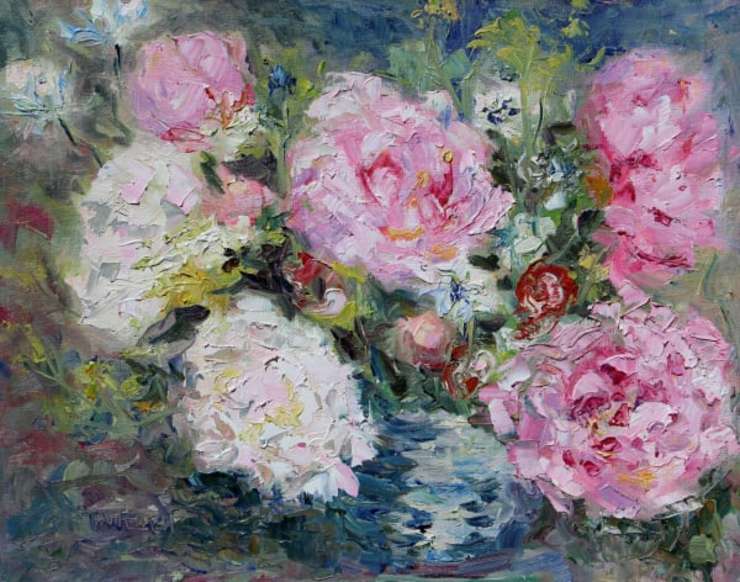 I could smell their pink peppermint scent all the time I was painting. They are quite an evocative flower with a kind of delicate flounce despite their larg...
And then these three small plein air painting sketches.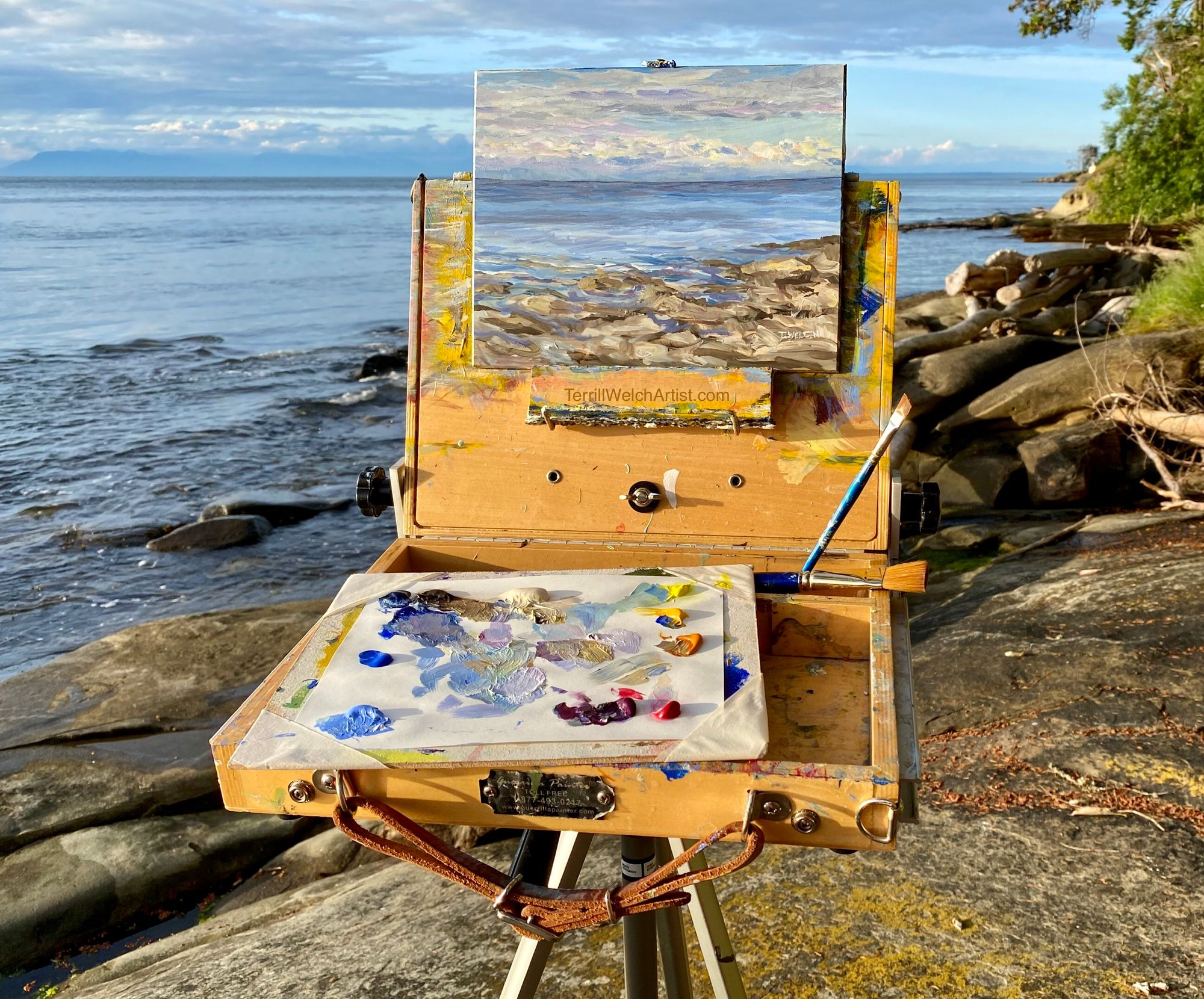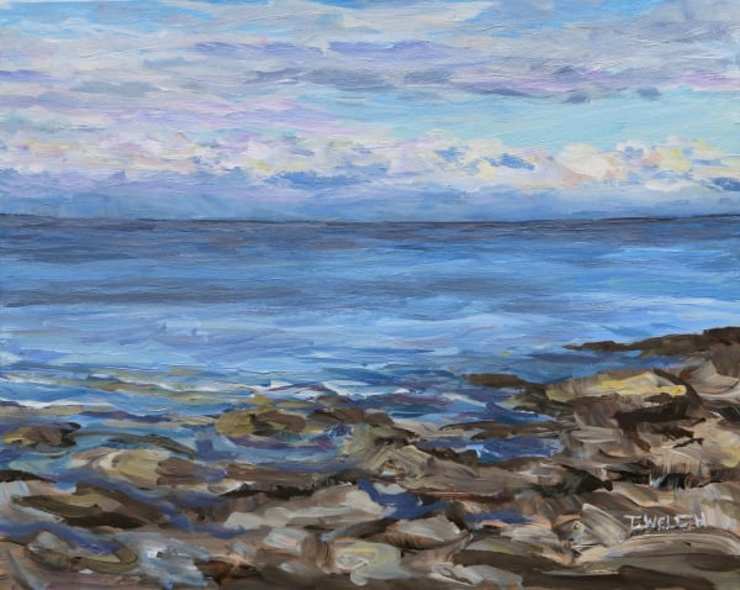 Evening is settling in and the light warms as the glare of midday is released around the edges of each intermingled moment. Life is good. Active Pass...
If not the sea, then how about an old fir tree..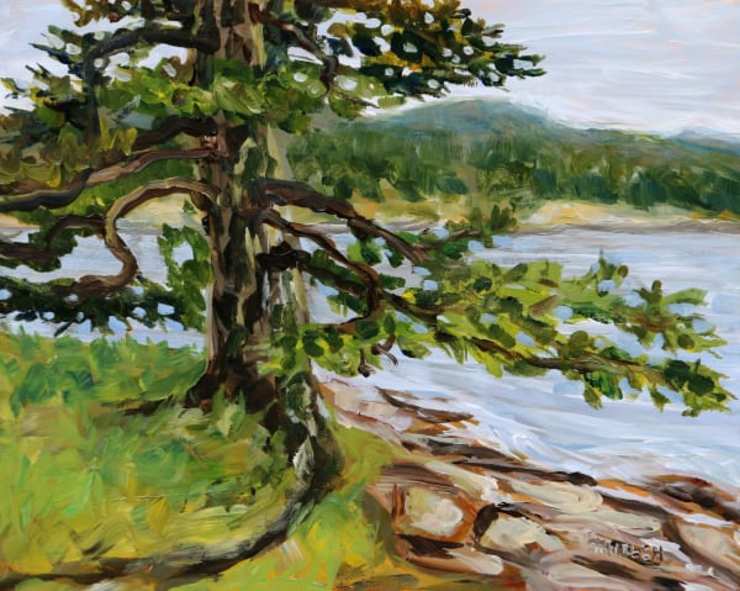 The evening was pleasant with muted greys deepening the relationship between the old fir tree, the shoreline and the sea. How long had they been in this rela...
And finally, a chance to stay with the summer blues...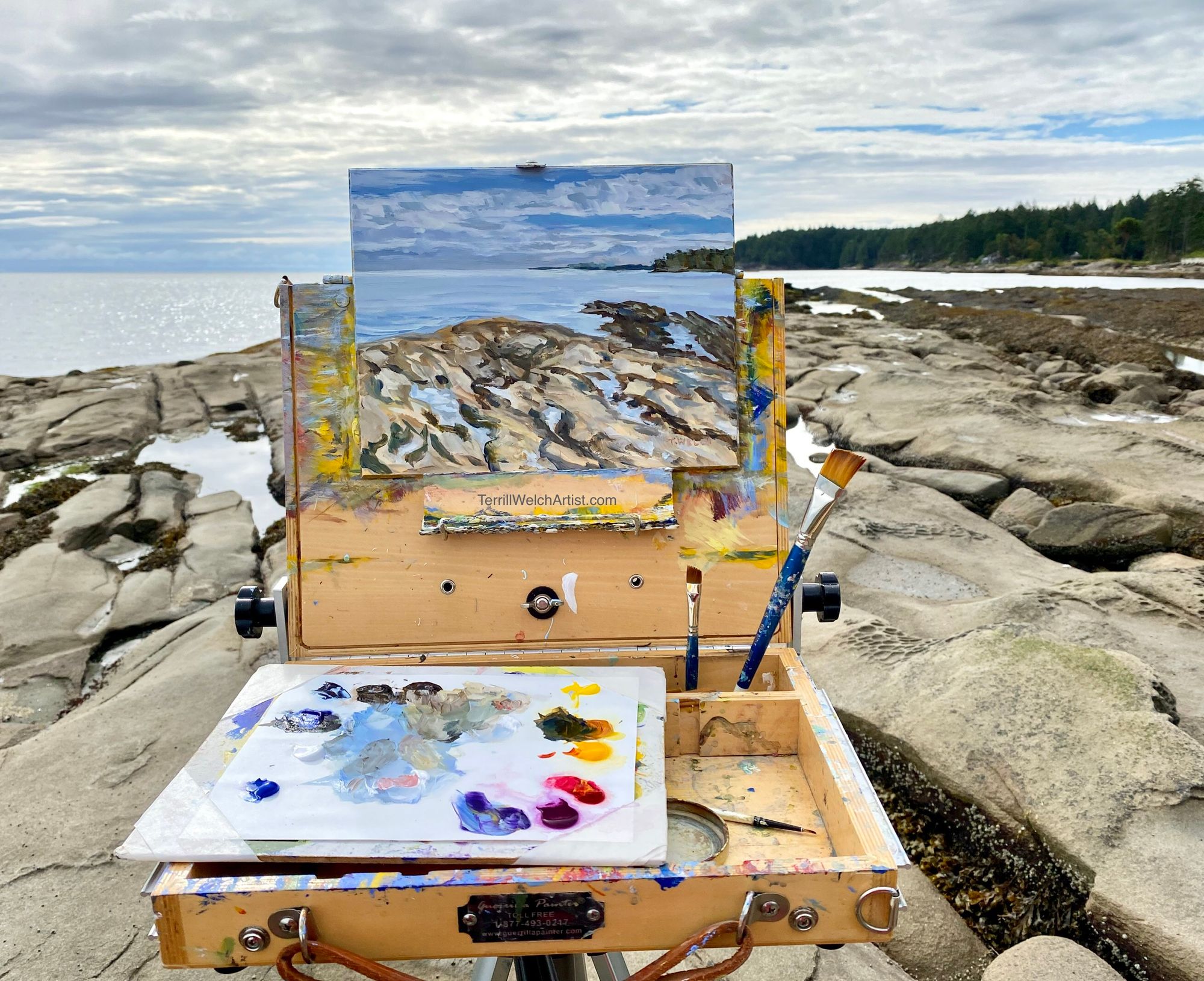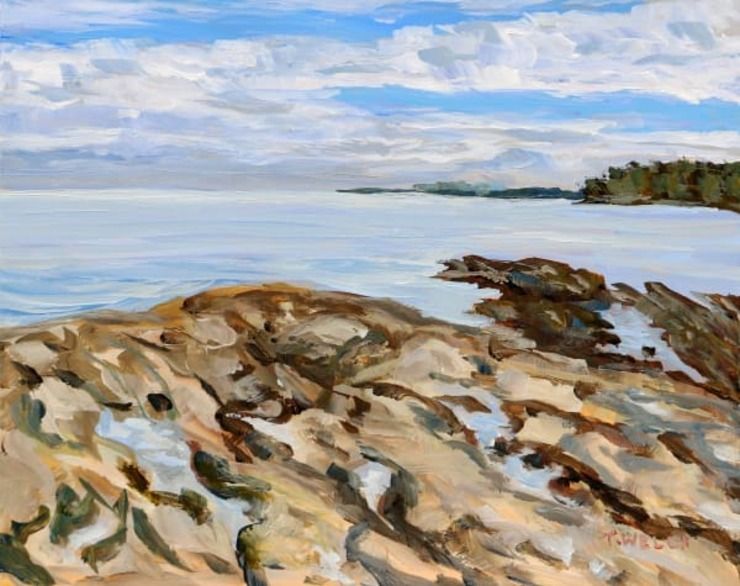 Racing the morning light and unsettle weather I decided to stay with the blues as clouds rolled in from the west. It didn't rain but that is because I had a ...
As you can see, it has been a busy time with sometimes two works completed each week. I am most thankful for our long summer daylight hours!
What would you like to know?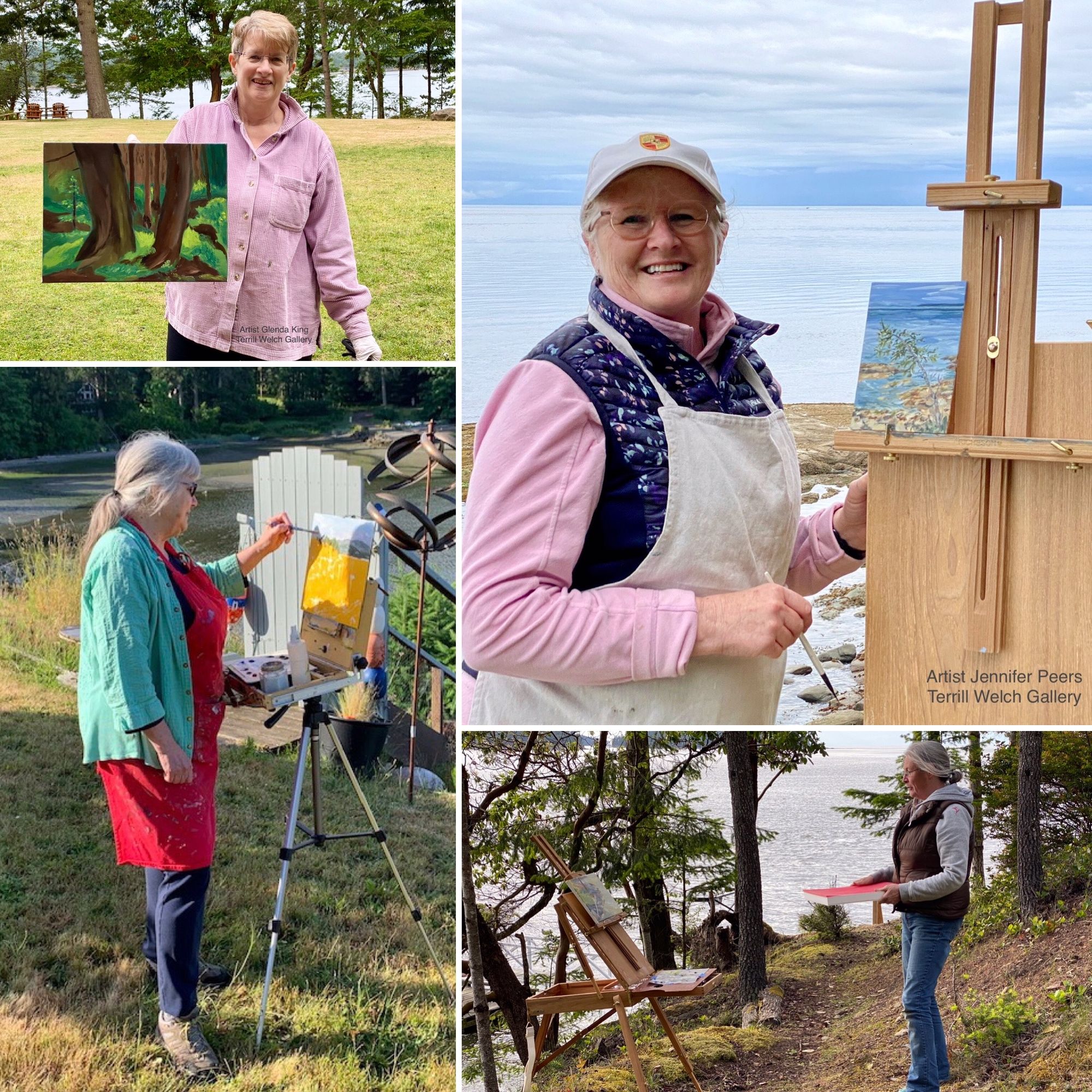 Over the weeks and months ahead, the Terrill Welch Gallery is going to seek out ways for you to get to know Glenda King, Jody Waldie and Jennifer Peers in the same way that you know me and my work. We have some ideas but thought it might be worth asking -
What would you like to know?
Do you have any burning questions for these artists that I could ask? If so, I would love to hear them and then see what they have to say.
Until later!
I think this should be enough art hold you until next issue! Thank you for being part of this grand adventure and, as always,  I look forward to hearing from you.
Canadian landscape painter, Terrill Welch, exposes the mystery in an ordinary day, reminding us that there is only one moment – this one.