A Brush with Life - Issue #66 Two Artist Feature - Between Branches
Discover where the work and stories of Canadian landscape painters, Annerose Georgeson and Terrill Welch, meet and where they diverge from within their own unique forests and experiences. We are thrilled to bring you this online exclusive show "Between Branches - our being with trees" that extends f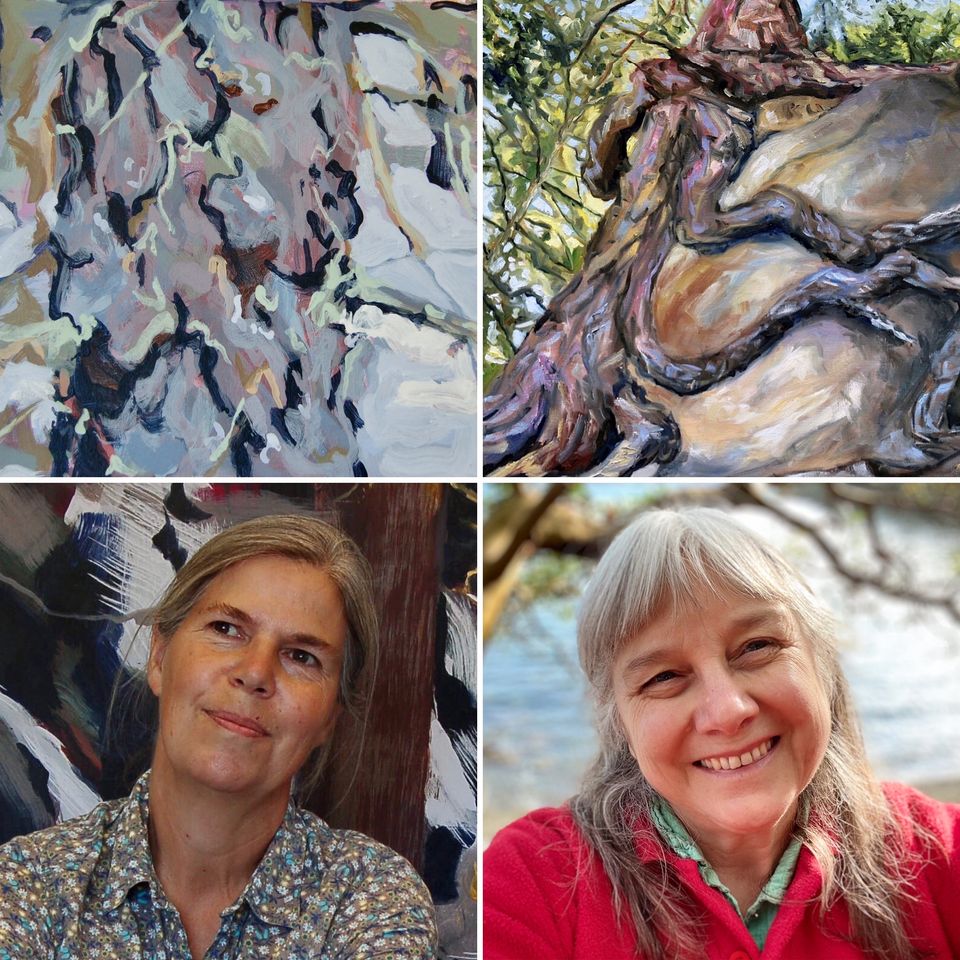 Discover where the work and stories of Canadian landscape painters, Annerose Georgeson and Terrill Welch, meet and where they diverge from within their own unique forests and experiences. We are thrilled to bring you this online exclusive show "Between Branches - our being with trees" that extends from our southwest coast to halfway up British Columbia. This issue will showcase the work of these two artists and their interviews with each other. We invite you to tuck in and enjoy the adventure!
---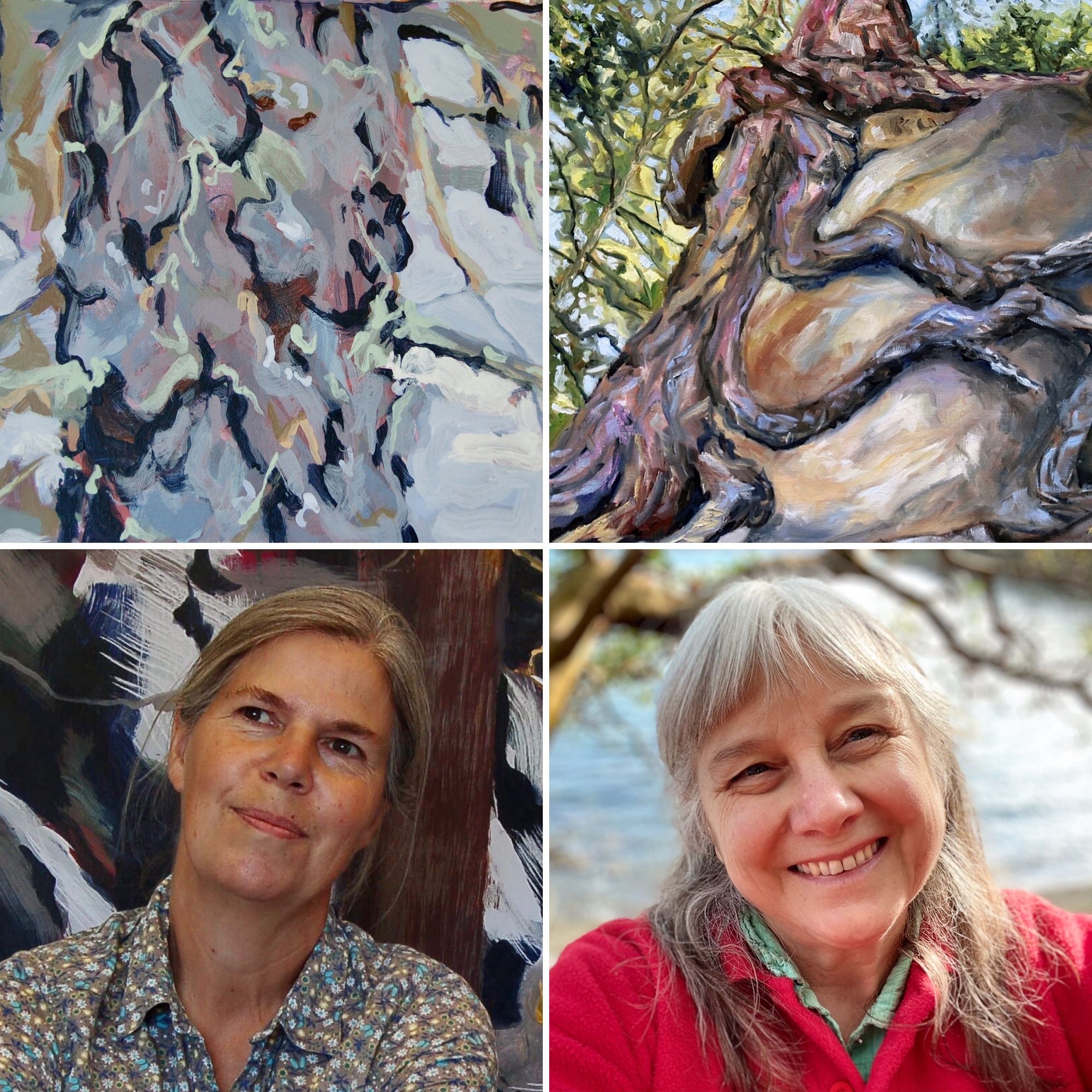 This is a shared story about being with trees between two landscape painters located in two different areas of British Columbia, Canada. From the geographical centre and the southwest coast of this diverse province, we will discover where the work and stories of these two painters meet and where they diverge from within their own unique forests and experiences. The Terrill Welch Gallery offers a joint online show of Annerose Georgeson and Terrill Welch's landscape paintings and more importantly, a chance to share a painterly conversation between these two Canadian artists.
Twigs In Her Hair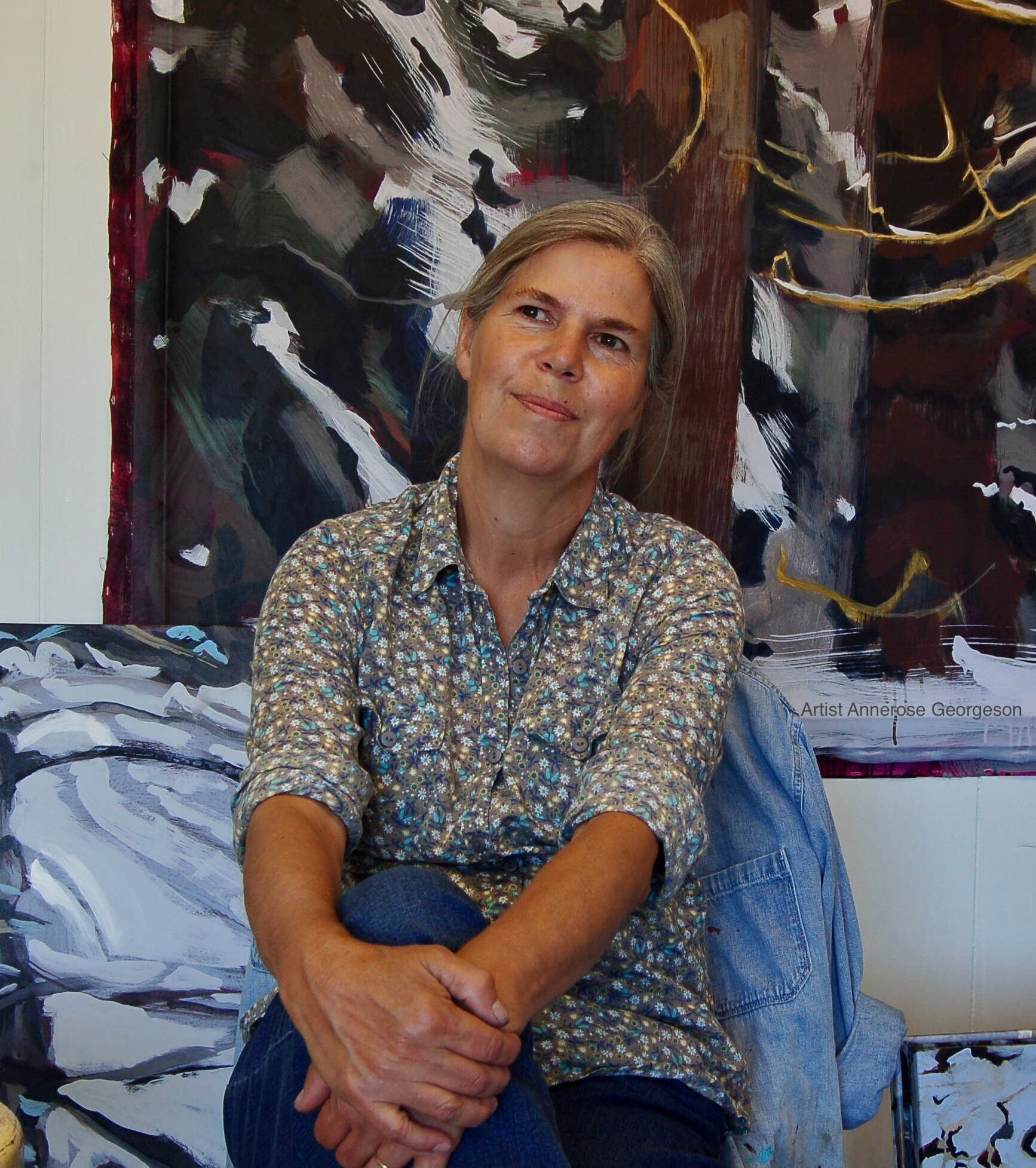 Annerose Georgeson is a visual artist living near Vanderhoof in British Columbia. She has shown her artwork in many solo exhibitions in public galleries in British Columbia and Alberta, Canada.
Georgeson has a BFA in Visual Arts from the University of Victoria and was the artist in residence at College of New Caledonia - Nechako for five years. She was the curator of Red and Blue Beetle Art, a regional touring exhibition about the impact of the mountain pine beetle. She has taught art to adults and children for many years and facilitates many community arts projects.
Georgeson's art is based on imagery from nature. She is currently working on a series of paintings about the forest floor.
Interview with Annerose Georgeson
Terrill: Welcome to the Terrill Welch Gallery Annerose. I am so pleased to do this two artist show with you. Shall we dive right in? Living near the town of Vanderhoof in British Columbia, where I was born and my parents still live, I have some idea about the area. However, each person and landscape painter has their own unique relationship with the forest. How is the forest part of your everyday experience as a painter?
Annerose: I live right in the forest and I paint what is around me. I've lived in the same place for a long time and really enjoy all the changes, the seasons, the weather, the ecological changes. It's a dry forest so change is slow. I'm sure I could draw and paint it for the rest of my days. The more I look, the more there is to see and the more it interests me.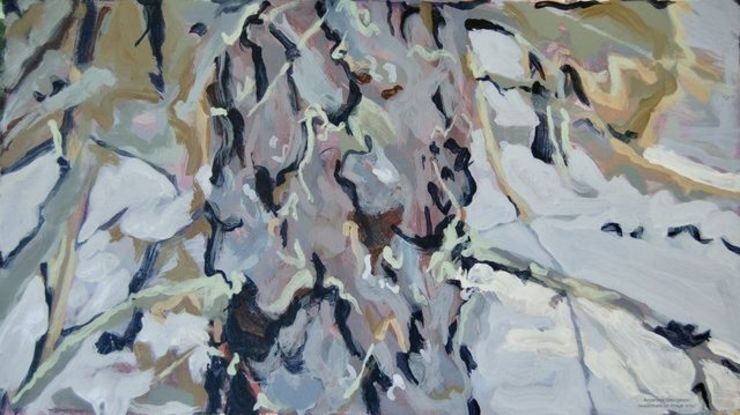 Available for sale from Terrill Welch Gallery, Annerose Georgeson, Swamp Spruce Stem  (2012 ), Acrylic on canvas, 12 × 24 in
Terrill: What is one of your most powerful experiences of being in the woods or forests?
Annerose: There are a few, when I saw the wildfire close up, that was certainly profound. It was both beautiful and terrifying. Also when our trees got the mountain pine beetle epidemic and we ended up logging them. Over one summer we went from living in a pine forest to living in a clearcut. Another pround experience, although very slow moving, has been the regrowth of that forest, with trees growing above my head. When I saw the first new tiny seedlings, I cried. Also when I got chased by a mama moose. It was entirely my fault, I was accidently between her and her calves. She was snorting and waving her front legs but my dog saved me. It made me respect more.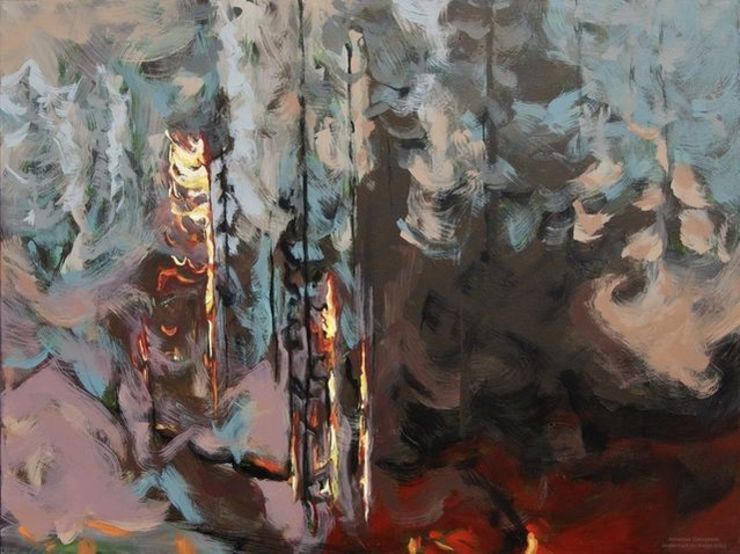 Available for sale from Terrill Welch Gallery, Annerose Georgeson, Wildfire  (2017), Acrylic on canvas, 36 × 48 in
Terrill: If you could only have one specific tree for company in this lifetime, is there one you would choose?
Annerose: We live in a lodgepole pine forest, they are mostly not so lovable because they are so numerous and tall and spindly. We used to have a few very old large lodgepole pine and I would pick one of those. They smell so good, the wind makes a beautiful sound passing through their needles, their bark, pine needles and cones  are amazing colours. Mostly because they mean home to me.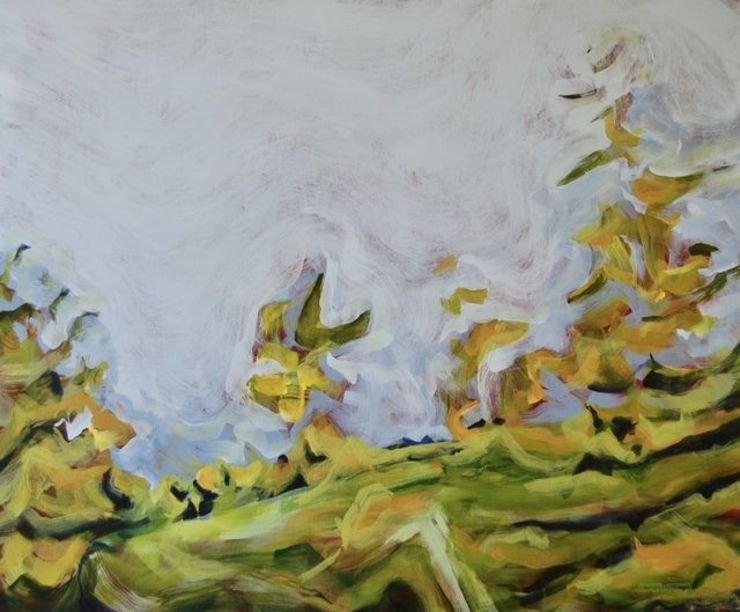 Available for sale from Terrill Welch Gallery, Annerose Georgeson, The Start of September Colour (2011), Acrylic on canvas, 30 × 36 in
Terrill: You are an avid sketcher and have a well refined practice of taking daily time to draw. Can you tell us a little about what happens between the nudge of an idea to a final work on your canvas?
Annerose: I look though my sketchbooks and see something that intrests me. Sometimes I'm trying to show an idea, such as new life juxtaposed with old so I pick a sketch of a young sapling next to a stump. Sometimes it's more like an overall pattern that attracts me. Sometimes I put a few drawings together. I get a canvas that is the same format, colour the undercoat with acrylic and then go to painting with oils. The colour choices are often fairly arbitrary since I'm following a black and white sketch.
Salt Air On Her Cheeks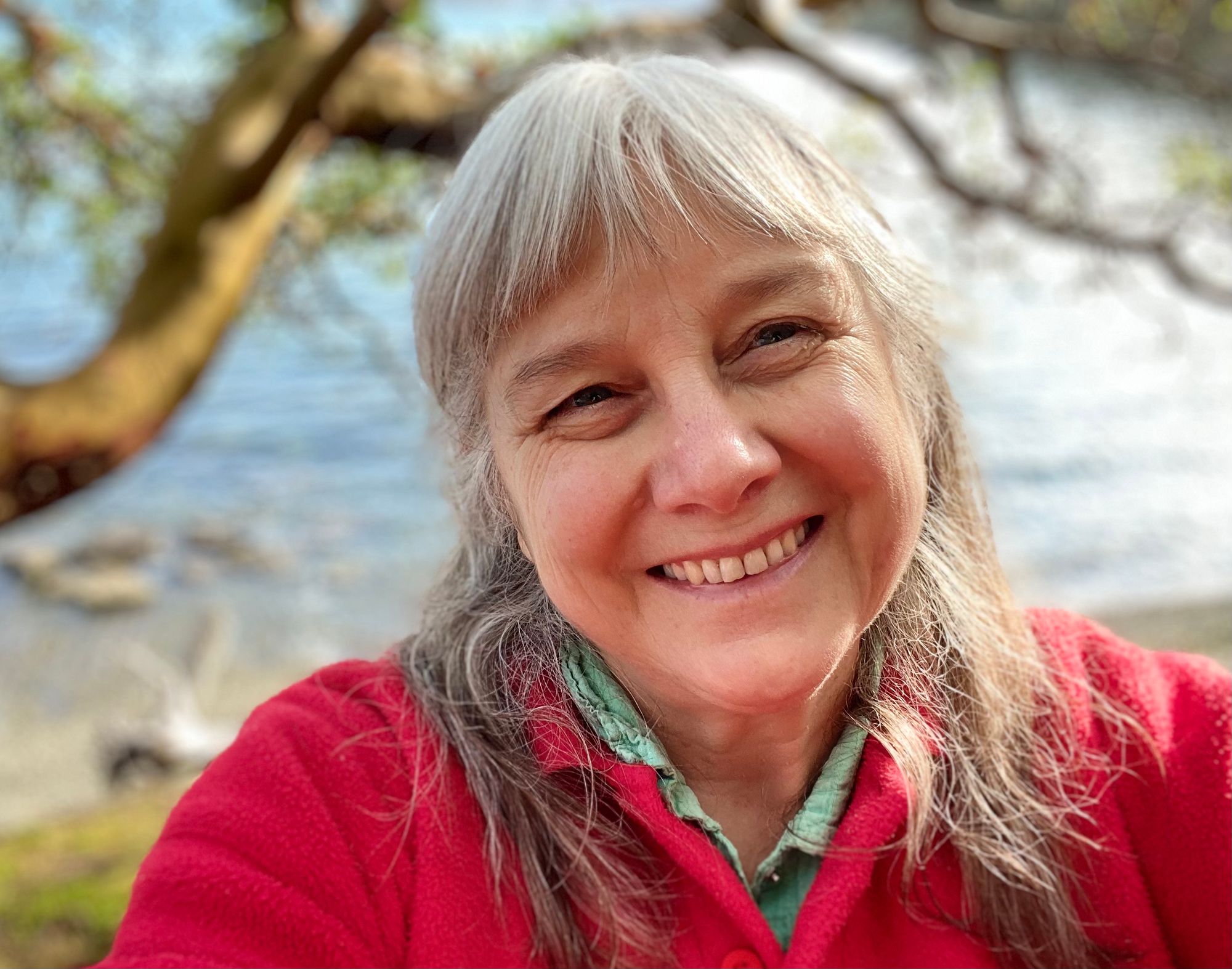 Terrill Welch's oil paintings frequently showcase the beautiful, mysterious and rugged southwest coast around her home on Mayne Island in British Columbia, Canada as well as landscapes from her travels. Terrill Welch's paintings are internationally collected. Her oil paintings and acrylic painting sketches have been shown in public and commercial spaces since the late 1990's.
Born in the village of Vanderhoof in north-central British Columbia, Terrill Welch was invited into an adult painting class when she was fourteen years old. Terrill Welch has taken several college-level courses in drawing and painting. For several years, she taught the art of oil painting from life in natural light, using water mixable or walnut oil paints. Currently, Welch also owns and operates a fine art gallery on Mayne Island with international reach while still maintaining her own painting practice.
Interview with Terrill Welch
Annerose: How do you experience differently the coastal island forest and the forest of your childhood, the central interior forest?
Terrill: The most profound difference is that along the west coast, except for brief periods of the year, there are very few mosquitoes. The ones we do have ask permission before they bite and they don't come dive bombing in from several miles away. When I moved here, it was a little unnerving not to have that steady hum in the woods from early spring to late summer. Quickly though, I adjusted to the sounds of waves and winds instead. We do get the occasional snowfall but not often and it doesn't last long. The other significant difference on Mayne Island is we have no large wild animals. There might be an occasional time where a cougar or elk will have swam over from another island but they tend to just keep going. There are no bear or moose and the deer are extremely use to people and will become lawn ornaments if you allow them. We do have lots of eagles, otter, mink, seals, sea lions, hawks, turkey vultures and shore birds. There are a few grouse and lots of flickers, robins and forest birds. The trees are often bigger and the vegetation is different. This, along with the sea, means everything smells different than near my childhood home outside of Vanderhoof. The winds bend the trees as they grow and tops are frequently broken off in winter storms. The temperature is mostly mild and neither too hot nor too cold. Winter rains usually keep us truly identified as a northern rain forest. Six weeks of heavy grey sky and a kind of damp that makes your bones ache is not uncommon during the shorter days in a year. There are seldom any of those sparking blue on white winter days in February of the central interior that give rise to cross country skiing and strapping on snowshoes. This I miss along with the autumn colours of the poplars and cottonwood trees. The mosquitoes and -40 degrees not so much.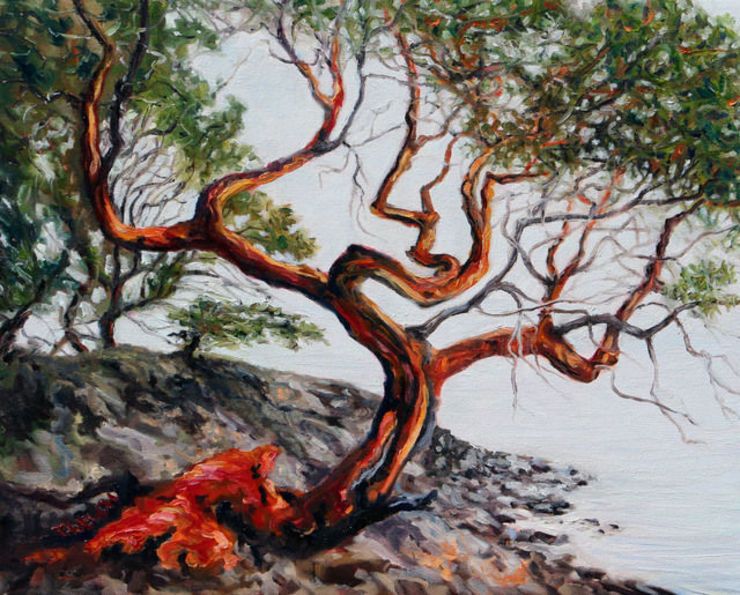 Available for sale from Terrill Welch Gallery, Terrill Welch, Arbutus Tree in the fog St. John Point (2018), Oil on canvas, 16 × 20 in
Annerose: What attracts you to those wonderful twisted shapes that you often include in your painting?
Terrill: The twisted shapes are our west coast arbutus trees that shed their bark and curl up towards the sunlight along our shores or up through the forest canopy. These trees with their changing yellow, lime green, orange and red smooth outer layers have a visual sensual nature that is carried right through to the palm of your hand as you run your fingers along their surface. The combination of visual and tactile sensory information just begs to be painted, not once but over and over again.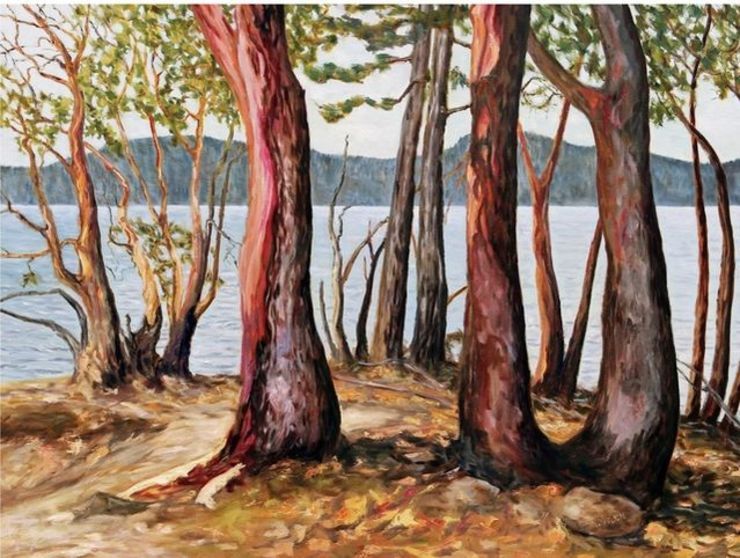 Available for sale from Terrill Welch Gallery, Terrill Welch, Morning With Arbutus Trees (2019), Oil on canvas, 36 × 48 in
Annerose: How does returning to your trees, or the strong emotional connection you have with trees, influence your artwork?
Terrill: Trees have always been my first company beyond my immediate household. Trees feel like they are there for me, in that nonjudgemental way that only trees seem to have had for my whole life. In this way, they allow time to safely review, reflect and challenge one's self. Trees don't care whether I am young or old, woman or man, straight or gay or the colour my skin or what culture I identify with or what beliefs I might hold. Trees, and the landscape in general, give me the most direct access to my paints and my brushes as I approach a blank canvas. This is the time when I feel most fully myself, without apology or explanation. These opportunities are extremely rare in our lives as humans when living in communities with other humans. When I return to my trees, I gather strength and resilience needed for those other times in my life when raw vulnerability is necessarily filtered, stifled, and contained within concentric circles of identifiers and expectations. In painting trees and landscapes my wish is to give these same opportunities to the viewer.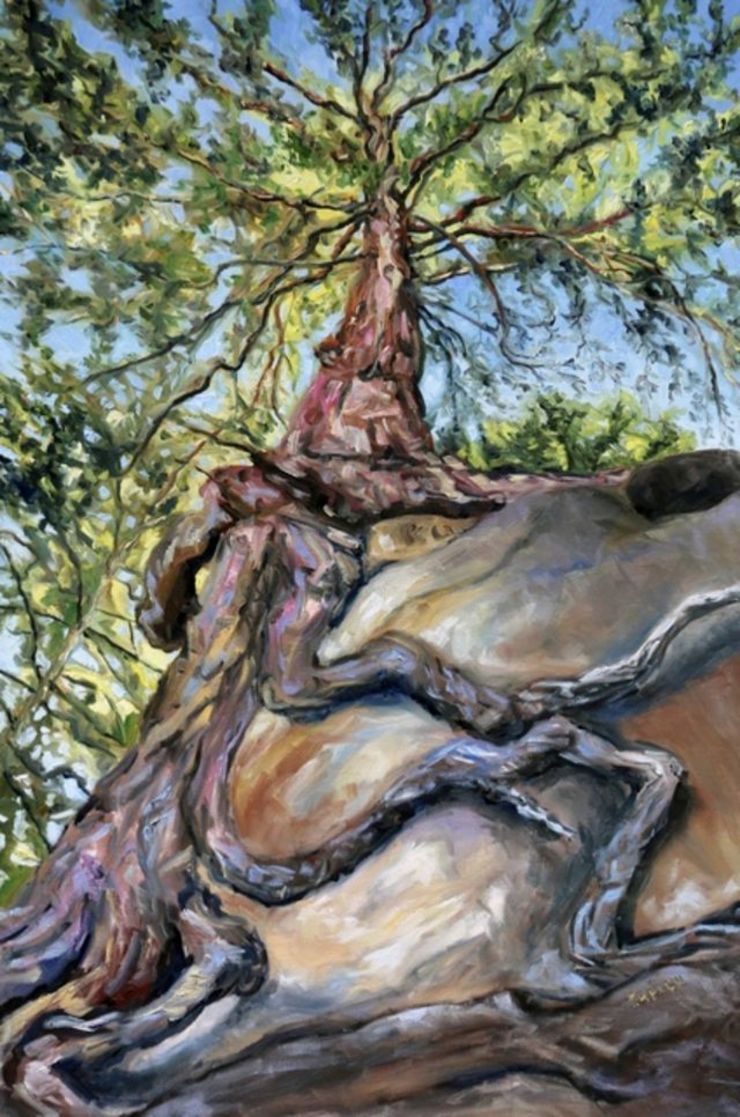 Available for sale from Terrill Welch Gallery, Terrill Welch, Standing below the old fir at Tribune Bay (2019), Oil on canvas, 36 × 24 in
Annerose: I hope you have a good day, with some time to visit the trees.
View the Show
If you wish to view and explore all the work in our new online exclusive show "Between Branches - our being with trees" that opened November 21, 2020 and will close April 21, 2021, click on the link below.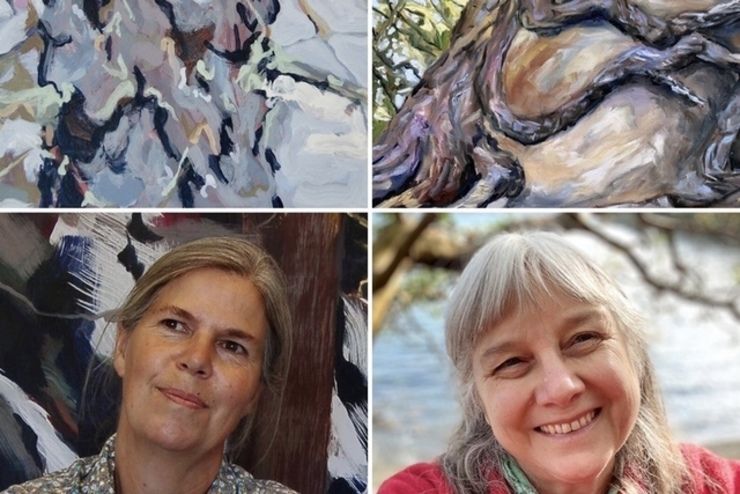 Discover where the work and stories of Canadian landscape painters, Annerose Georgeson and Terrill Welch, meet and where they diverge from within their own unique forests and experiences.
There Is A LOT To Explore in the Gallery!
Our gallery program brings extraordinary connections to ordinary moments in our natural landscape. The Terrill Welch Gallery opened in August 2017. Since then, the gallery has more than doubled its physical gallery exhibition space and online reach.
The Terrill Welch Gallery currently has over 80 landscape paintings of various sizes available with work by Glenda King, Jennifer Peers, Jody Waldie, Annerose Georgeson and Terrill Welch in our Artsy online gallery. For those long dark winter evenings or quiet weekend afternoons, we invite you to come and explore and take grand adventures into the wilderness or down beside the sea. Let us know if you need anything else to make your discoveries complete. We are happy to take additional images of any work for you or make arrangements for the piece to come to you for a trial hanging. In any case, all online purchases come with a 30 day return options. This is just how we do things and have been doing them since 2010.
New Releases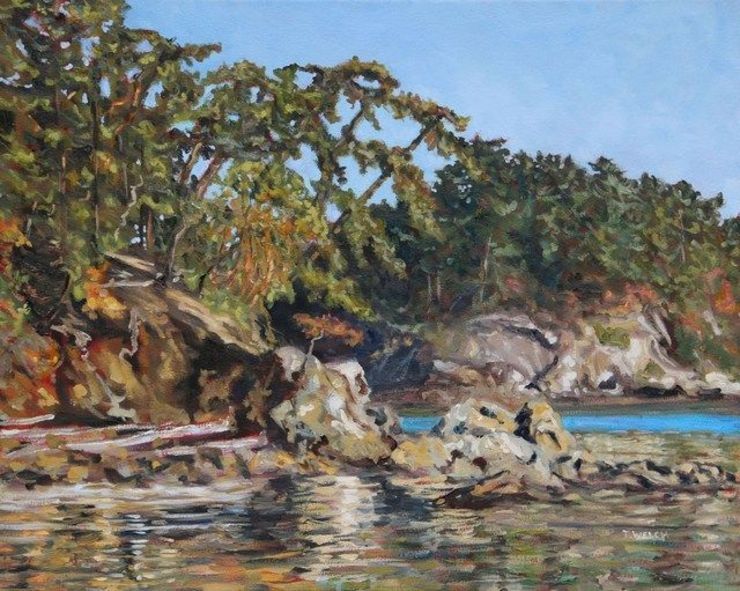 Available for sale from Terrill Welch Gallery, Terrill Welch, Bennett Bay Afternoon (2020), Walnut oil on canvas, 16 × 20 in
Available for sale from Terrill Welch Gallery, Terrill Welch, Blue Heron and the Chinese Poet (2020), Walnut oil on linen board, 16 × 12 in
Until Next Time
This is our final show opening in 2020 and though there may possibly be a few more individual pieces added to the gallery online releases, we are about ready to draw our gallery year to a close and will be focusing our efforts to see what we can bring you in early 2021 and for the new spring and summer season. If you have anything you have been longing for us to take on or an idea that is percolating, do drop us a line and share your thoughts! After all, we are indeed here for you. In the meantime, we hope you enjoyed this special interview issue of A Brush With Life as we come together while staying apart. Take good care and be well! Terrill :) 👩‍🎨🎨❤️
p.s. I do know that this newsletter issue is being published on Black Friday followed by Small Business Saturday and then Cyber Monday. And yes, the Terrill Welch Gallery could do promotions for all three. However, I don't know about you but I have been deleting unopened promotional emails since Monday with the swiftness of a Paleated WoodPecker drumming on a hollow tree. So, let's just give the hype a miss shall we? Enjoy your browse and if you find something you like, drop me a line and we shall see if we can make it happen for you.