A Brush with Life - Issue #70 When Daylight Arrives
January on the southwest coast of Canada can leave the small Gulf Islands with long nights, high winds and power outages. It is not a matter of if it will happen but rather when and how long the storms will last. However, planning and resilience and just plan old acceptance can harness this time in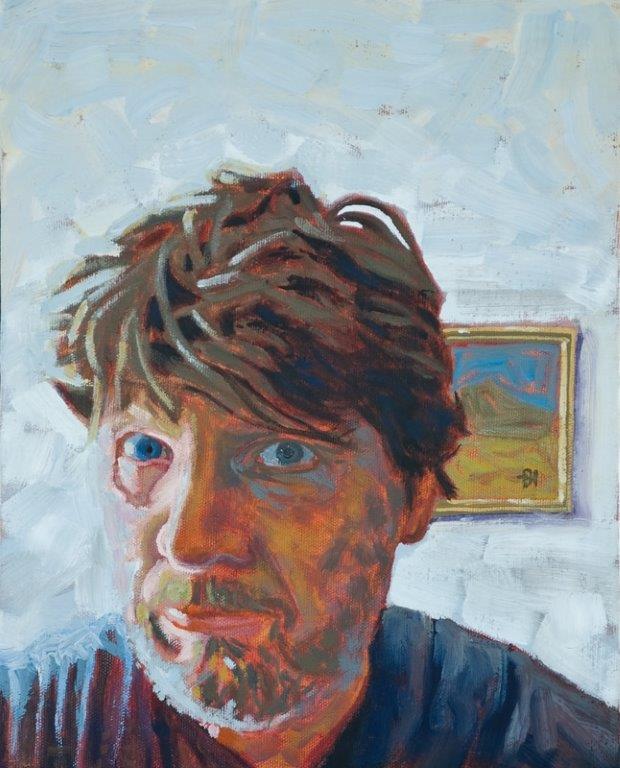 January on the southwest coast of Canada can leave the small Gulf Islands with long nights, high winds and power outages. It is not a matter of if it will happen but rather when and how long the storms will last. However, planning and resilience and just plan old acceptance can harness this time in unique ways. In this issue we will introduce you to Bill Hibberd a landscape painter from Duncan B.C. who is showing in a two artist online exclusive exhibition with Terrill Welch opening February 17, 2021. We will take you through what happens creatively for Terrill when daylight comes after a winter storm including the development stages of a new painting. Though the days are getting slightly longer, the quiet contemplation of winter is just starting to signal a stirring prospect of spring. The next Arbutus Room group show will open February 10, 2021 and we have an early look at few canvases that will be debuting at that time. We hope you have time to take your time and enjoy this early viewing with us.
---
Introducing Bill Hibberd
Bill Hibberd is a landscape painter that we are thrilled to introduce to you, along with his work that is being shown in an online exclusive two artist show with Terrill Welch.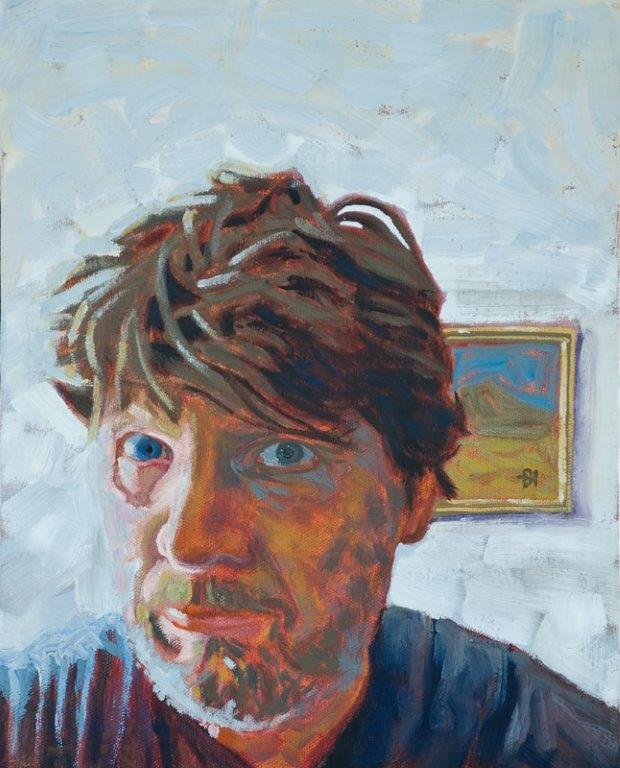 To be honest, it was Bill's paintings we became familiar with first. His characteristic attention to form, shapes and values provides a volume or weight to a landscapes that is intensified with his use of strong contrasts. Irresistible to a fellow painter's eye! Let us give you just a glimpse of what we speak...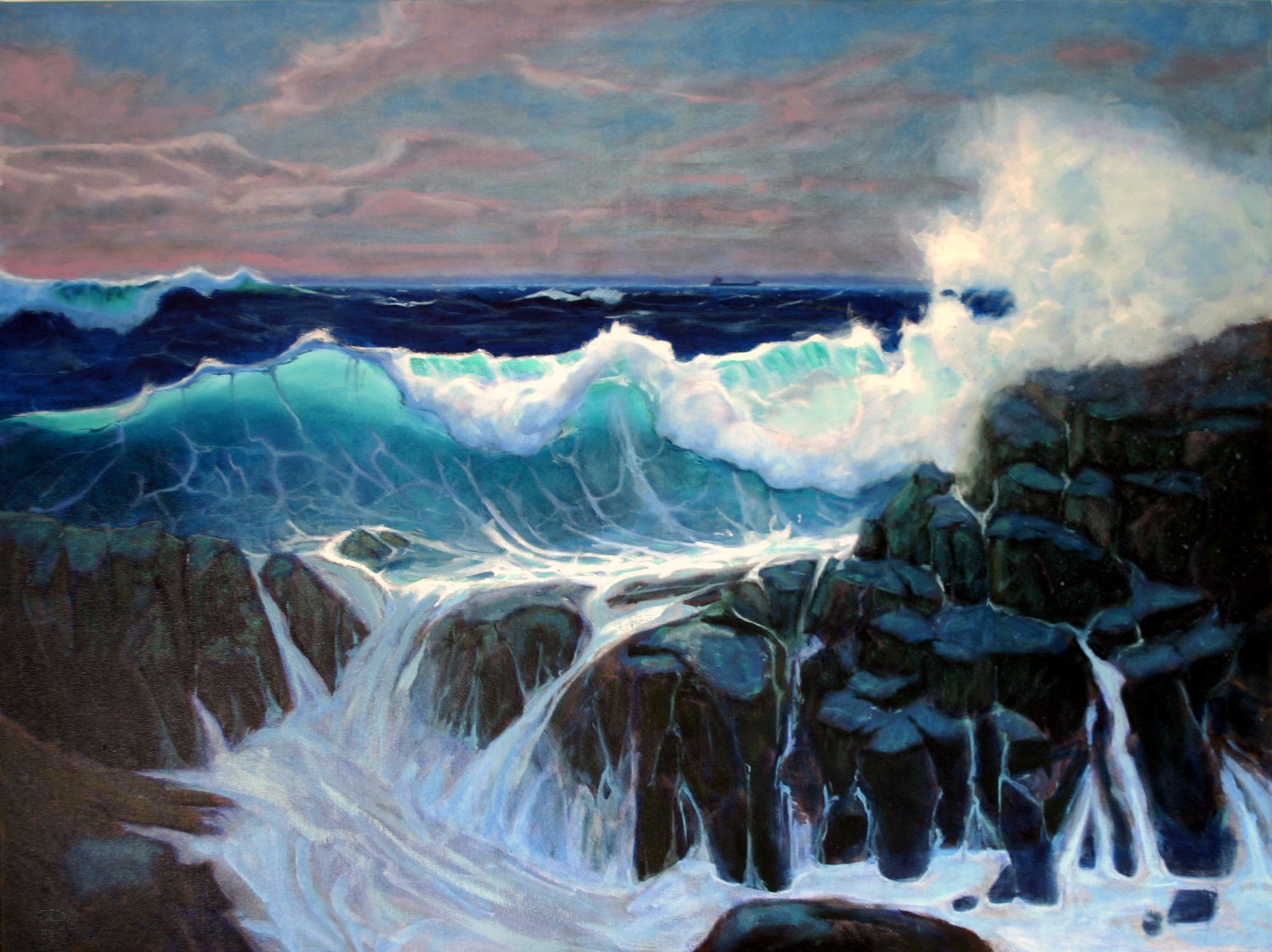 Available for sale from Terrill Welch Gallery, Bill Hibberd, Petroleum-economics. Not a zero sum game. (2018), Oil on canvas, 30 × 40 in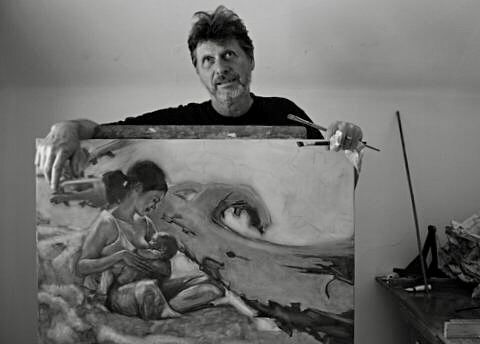 Bill Hibberd lives and paints in the Cowichan Valley on Vancouver Island, Canada. The southern Gulf Islands provide Bill with scenes and elements that move him emotionally and spiritually. He explains, "my goal is to create art that people perceive to be beautiful. Perception of beauty causes an involuntary release of dopamine to flood our minds. Mutual appreciation of beauty nurtures consensus and unity. That is my quest". Bill works thematically and presently is working in oils with walnut oil medium, with occasion applications of silver or gold leaf.
Bill and Terrill have a few question for each other that we will share in the next issue and, at that time, we will share more of his work. But if you want to leap ahead right now, here is the link to all of Bill's work that we will have in the upcoming two artist show...
Find the latest shows, biography, and artworks for sale by Bill Hibberd
Storm season and one of Terrill's tales
I woke up when the power went off sometime around 1:00 am. The wind was howling through the darkness. I went back to sleep and then woke up just after 3 am when the power came back on. The wind was still gusting significantly. I decided to make coffee while we had power. Then, it smelt so good, I decided to have a cup, followed by breakfast. The power then got knocked out again sometime after 4:00 am and is still off. It is after 6:00 am now. I can still hear the wind howling up on the top of the cliff. I've been listening to Eva Cassidy and just hanging out by myself in the dark. David fortunately sleeps through nights like this.
What is waiting for me when daylight arrives or there about....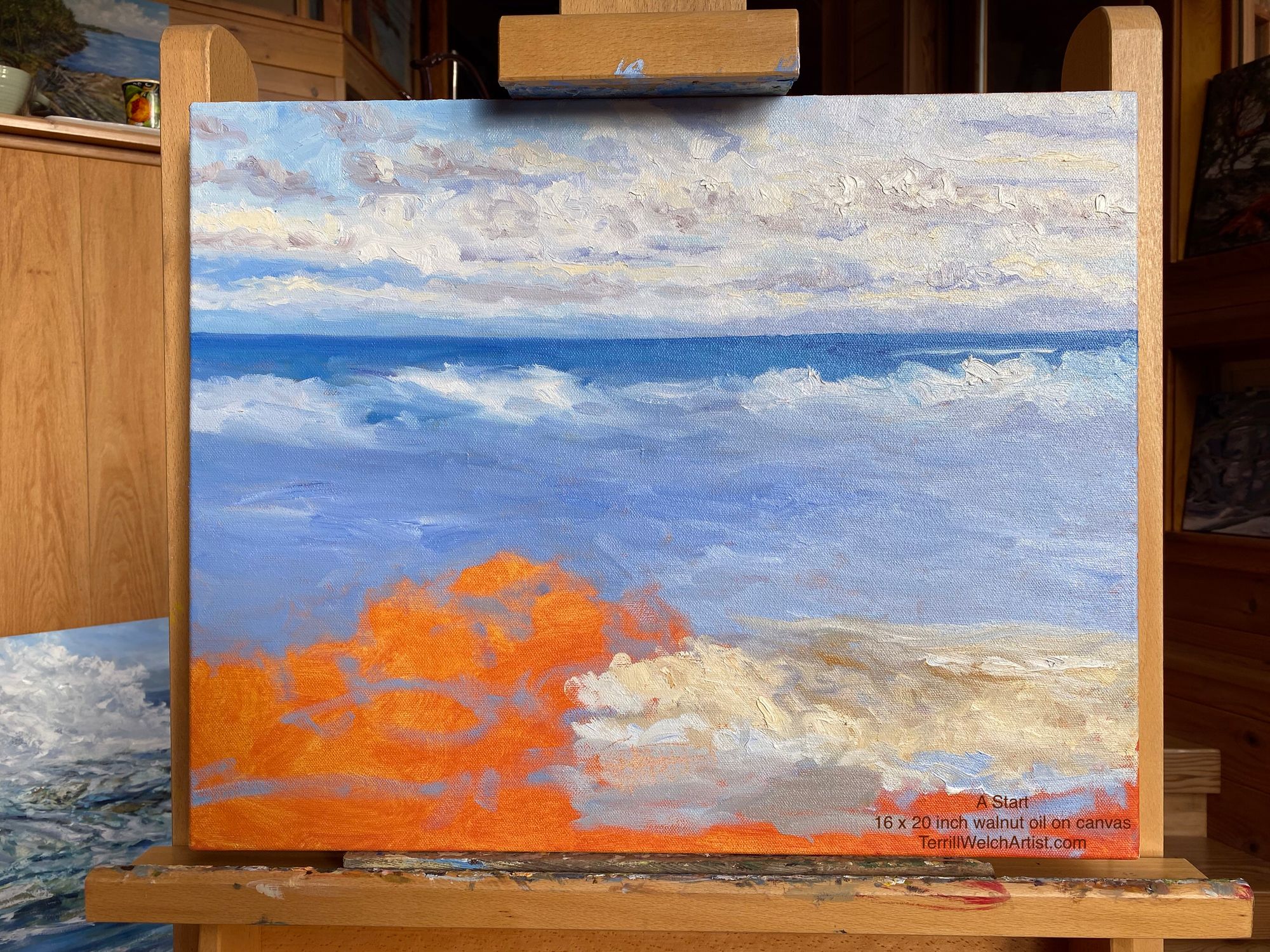 Except now it is daylight and the power is on but I am not able to paint. What to do with all that rattled, sleep-deprived energy that reminds me of caring for a newborn? Baking! I still have three standing brain cells that are alert enough to follow a recipe. I can bake. I think.
One of my favourite cookbooks is little more than a soft-covered pamphlet with a 363 heritage collection of recipes first published by Chatelaine in 1968. Though it contains casseroles and main dish recipes, it is the baking section that I have used most often. I love the ability to cook without having to use mixers or blenders and with just natural ingredients. I like a plain mixing bowl with a wooden spoon approach. I mostly use organic ingredients but it could just be local farm fresh products. These recipes deliver big when using this approach. The recipes that are heirloom recipes in the pamphlet, and over a hundred years old at the time of publishing, are marked with a star.
This one has a star and is at least 150 years old but my guess is that it is much older than this. It is a cake that would likely have been made in the fall while the apples were still fresh and tart, the hens laying ample eggs and cows producing an abundance of cream and butter.
Please note, that a contemporary baker will need to be fine with dairy, eggs and wheat and have the ability to share with several friends as not many of us have 12 people in our household bubbles at the moment. If you don't have enough people to share the cake with, try having a generous serving for your breakfast for a couple of mornings.
Paula's Apple Cake
First layer
2 1/2 cups of flour
3 tsp. baking powder
1/2 tsp. salt
1/2 cup butter
3 large eggs, beaten
Juice of half a lemon and a little zest if you wish (I did)
1 cup sour cream (The whole recipe will need around 3 cups or you will end up mixing it with yogurt to make up the second and third cup I had to do.)
Second layer
5-6 tart apples
Third layer
Sour cream
Fourth Layer
1/2 cup flour
1 cup brown sugar
1/4 cup butter
(A pinch if salt if using unsalted butter)
* Final layer added part way through the cooking process is more sour cream and brown sugar.
And then top with sweet heavy cream when served.
Directions:
Preheat oven to 350 degrees
Sift the first three ingredients together and set aside.
In large bowl, cream butter and white sugar. (If butter is too stiff, let it sit out while you core peel and slice the apples.) Beat in eggs mixed with lemon juice and a little zest if you wish.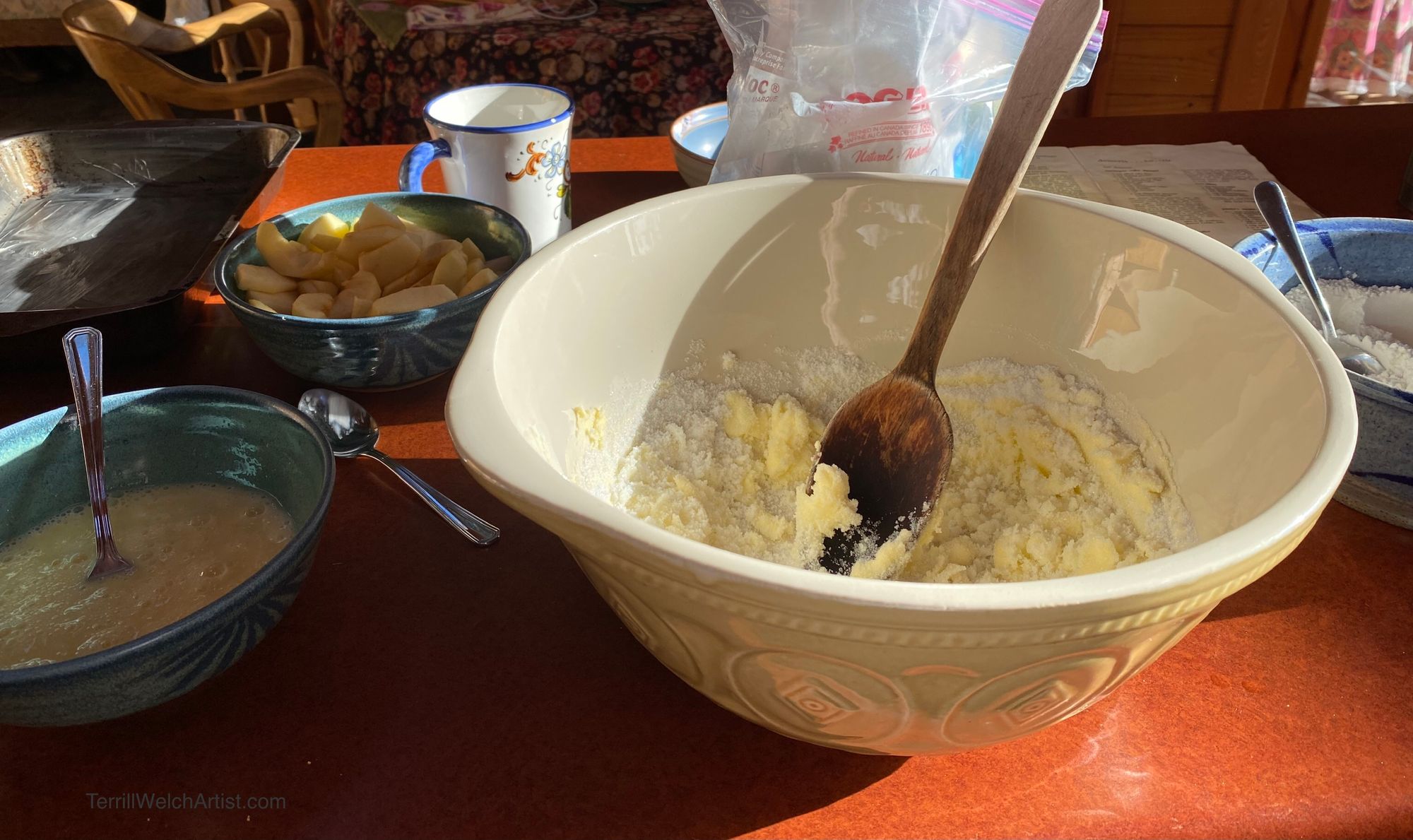 Add sifted dry ingredients while alternating with 1 cup of sour cream. Start with dry ingredients and end with dry ingredients when alternating. Batter is quite stiff. Spread into TWO 8 x 8 x 2 inch deep greased pans or use one 9 x 12 inch pan like I did.
Core and peal apples and slice into 8 wedges each or more if your apples are large. Press Apple slices with core or thin edge down into the batter. Space evenly.
Cover with 3/4 to 1 cup of sour cream.
Sprinkle with mixture of 1/2 cup flour, brown sugar, butter. My Tip: mix the flour and brown sugar first and then cut in the butter with your hands until it is a crumbly mix.
Bake in oven for 30-35 minutes, then spread with more sour cream (2/3 cup) and sprinkle with brown sugar. Continue baking until knife slips out clean for another 20 minutes (or total baking time of about 50 minutes in all).
Serves 12 or more with sweet heavy cream poured liberally over top.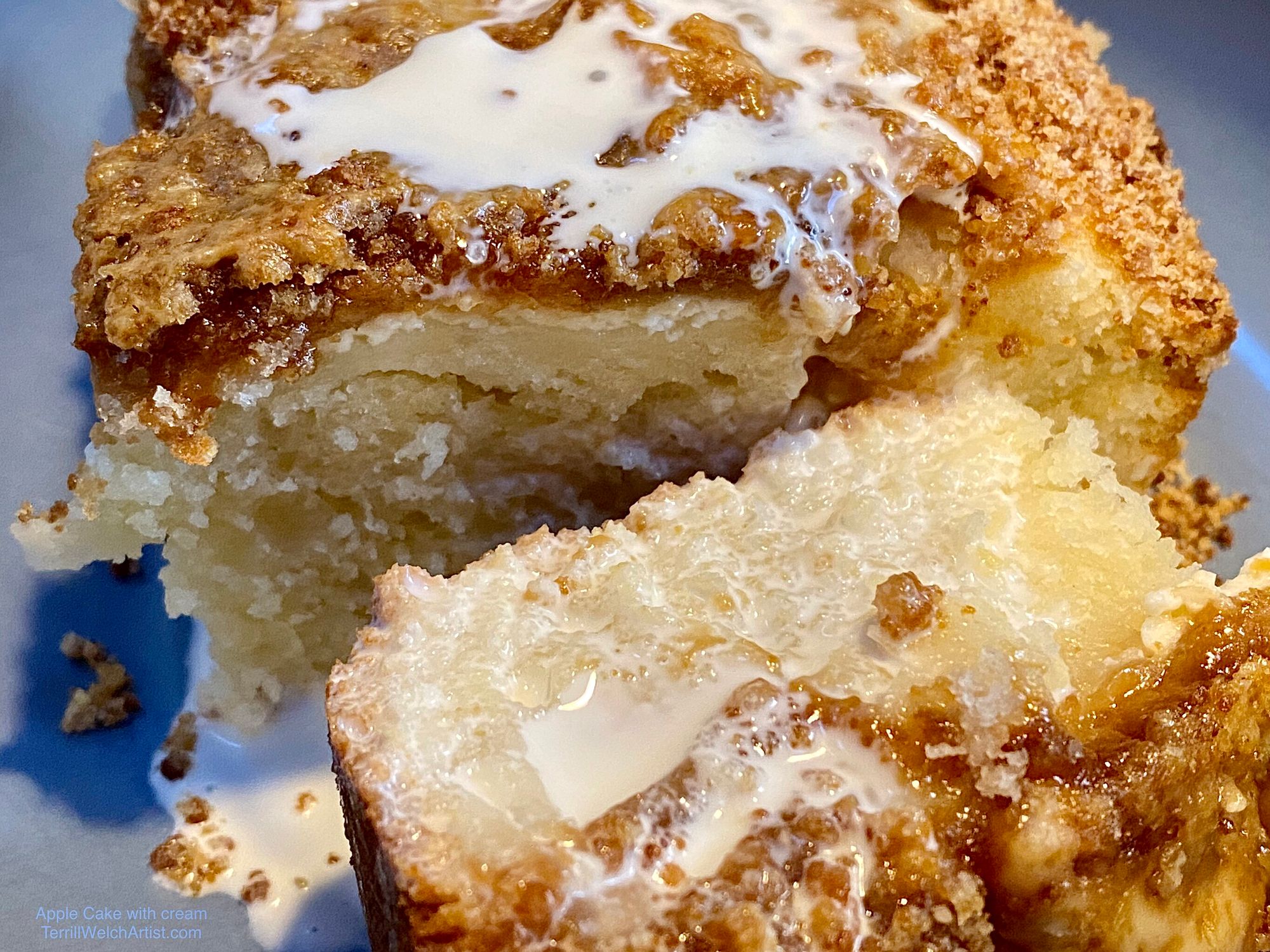 The original recipe was submitted to Chatelaine by Mrs. Beverley Morin from Hull, Quebec.
Now about that painting...
The start of the painting stayed on the easel for a couple of more days like a warm, comforting, smooth worry-stone in this painter's pocket. Then one morning she woke and squeezed fresh colours onto the palette. It was time.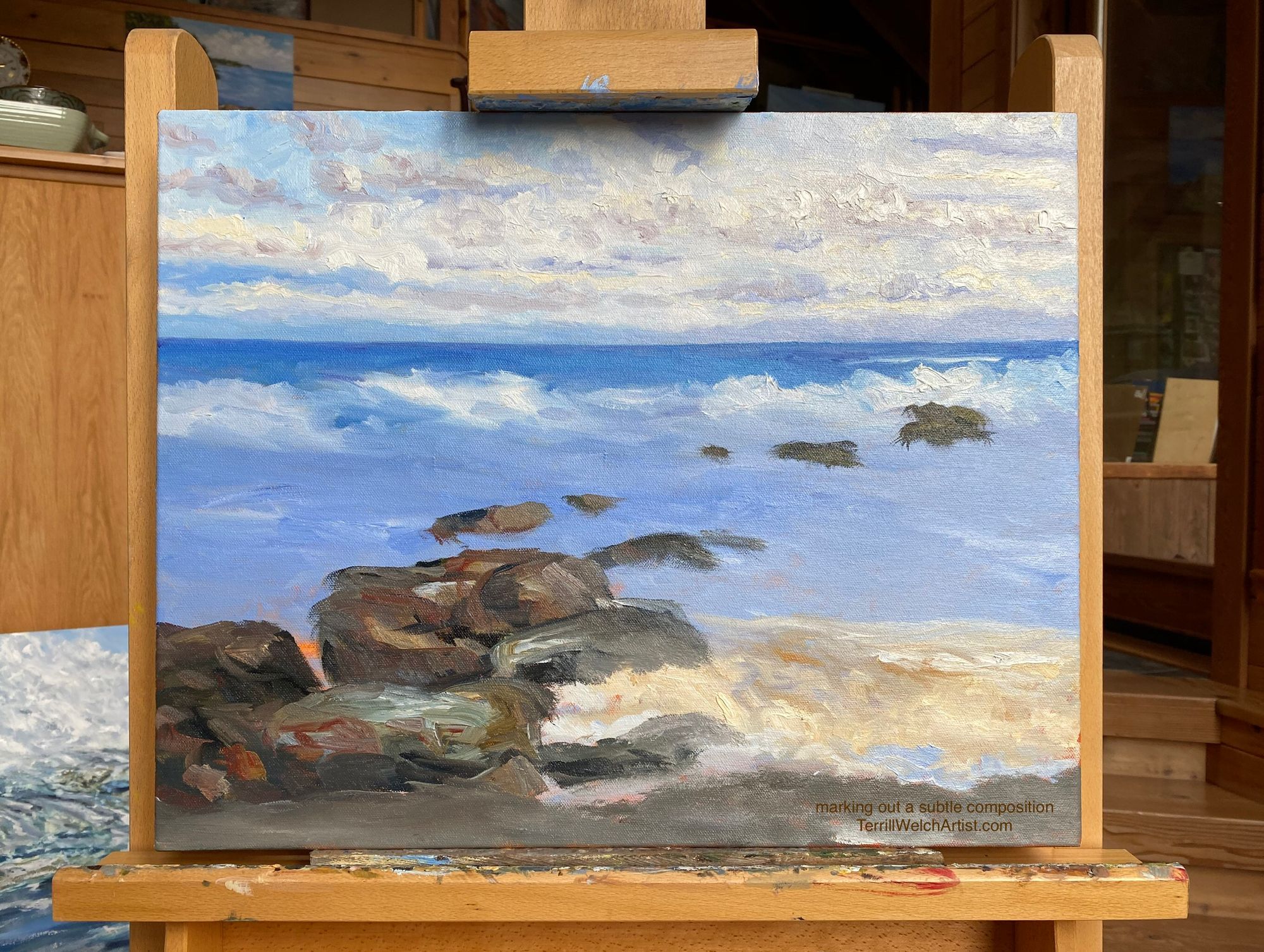 Feeling my way into the composition, mark after mark appeared on the canvas.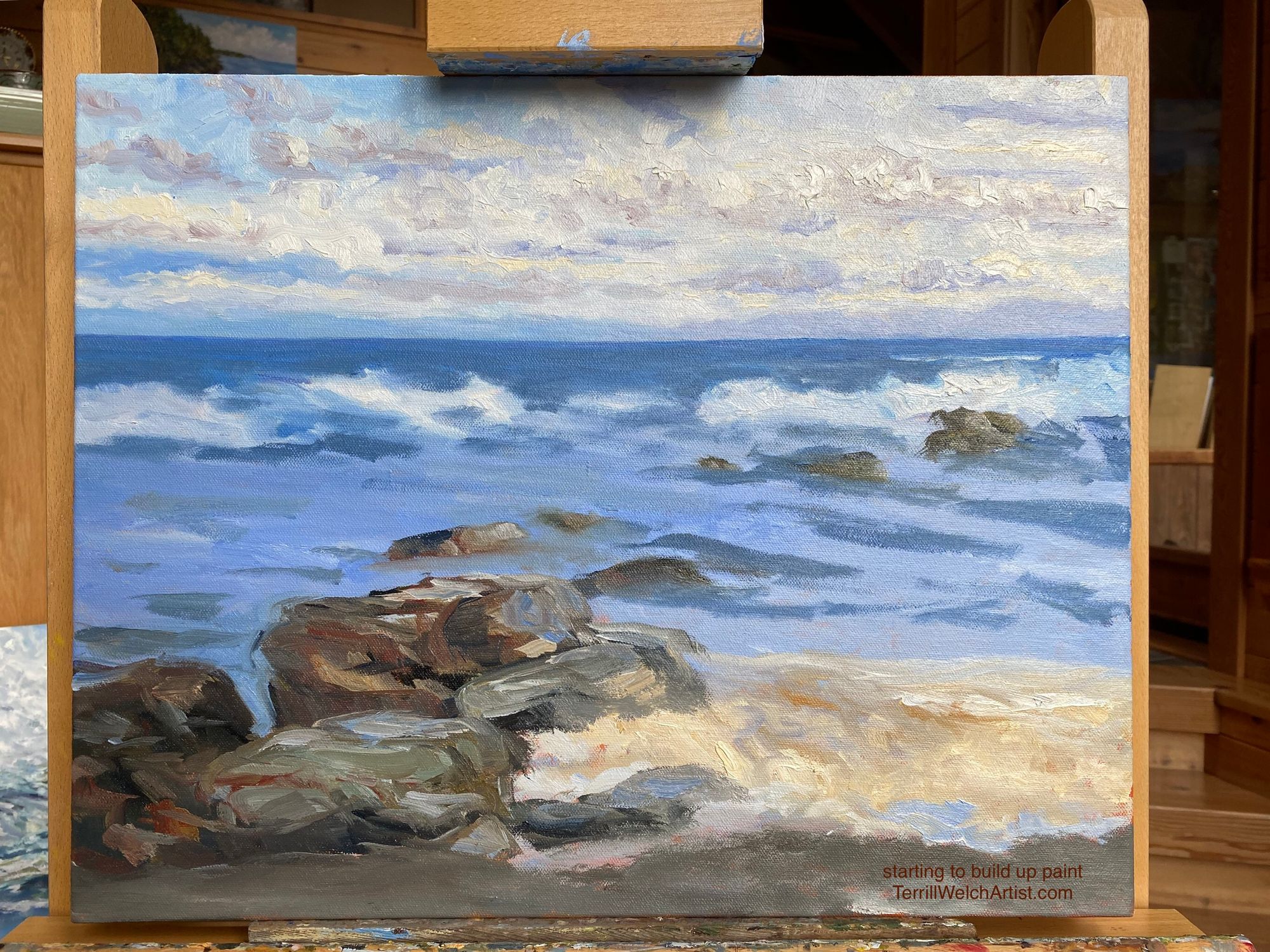 Sandstone rocks lay wet with sea and waves rolled farther out in the Strait of Georgia. Light scattered across the surface like jewels tumbling from the purses of joyous dancing gods.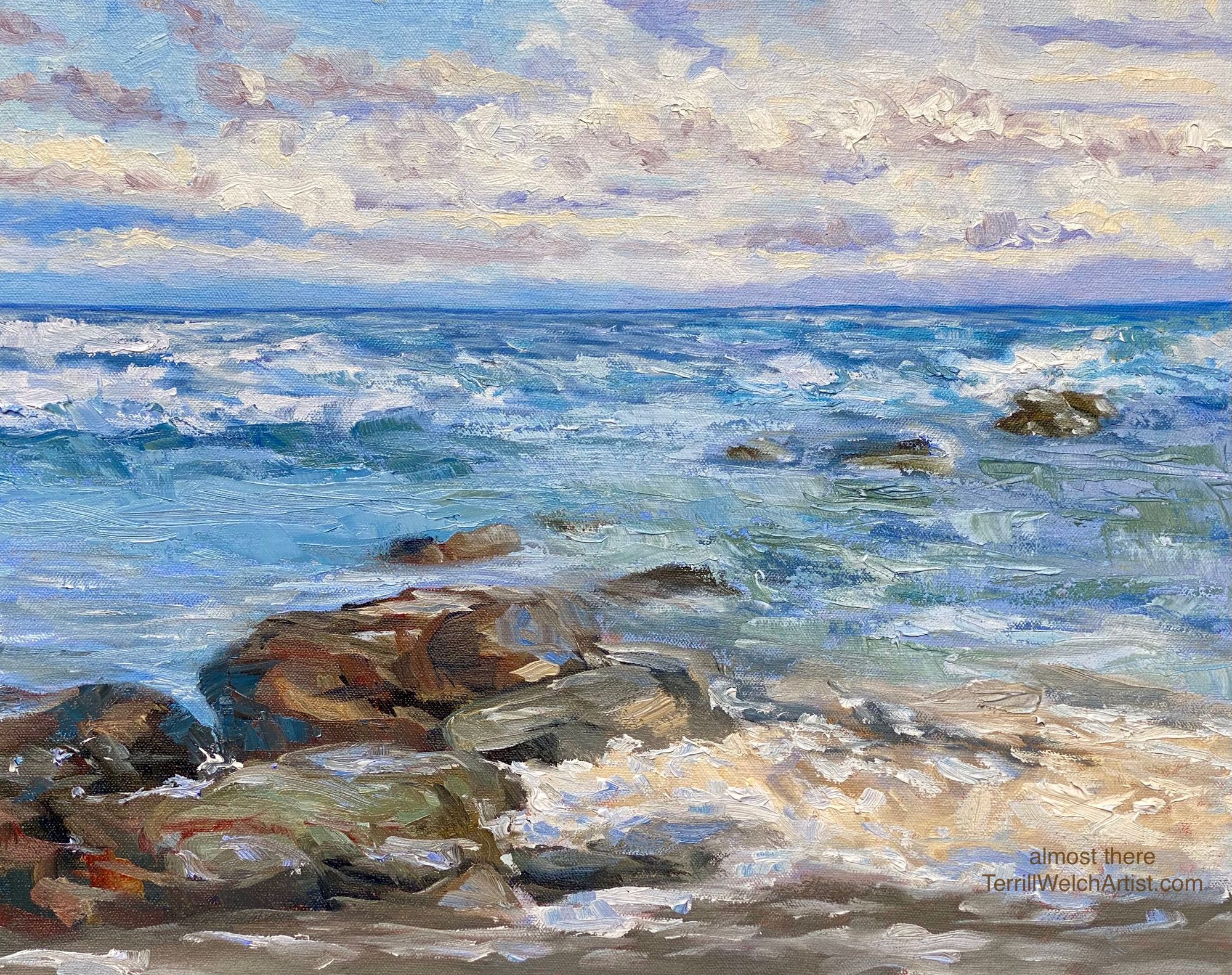 And then, it is done! Shiny and wet and making it to really see but done just the same.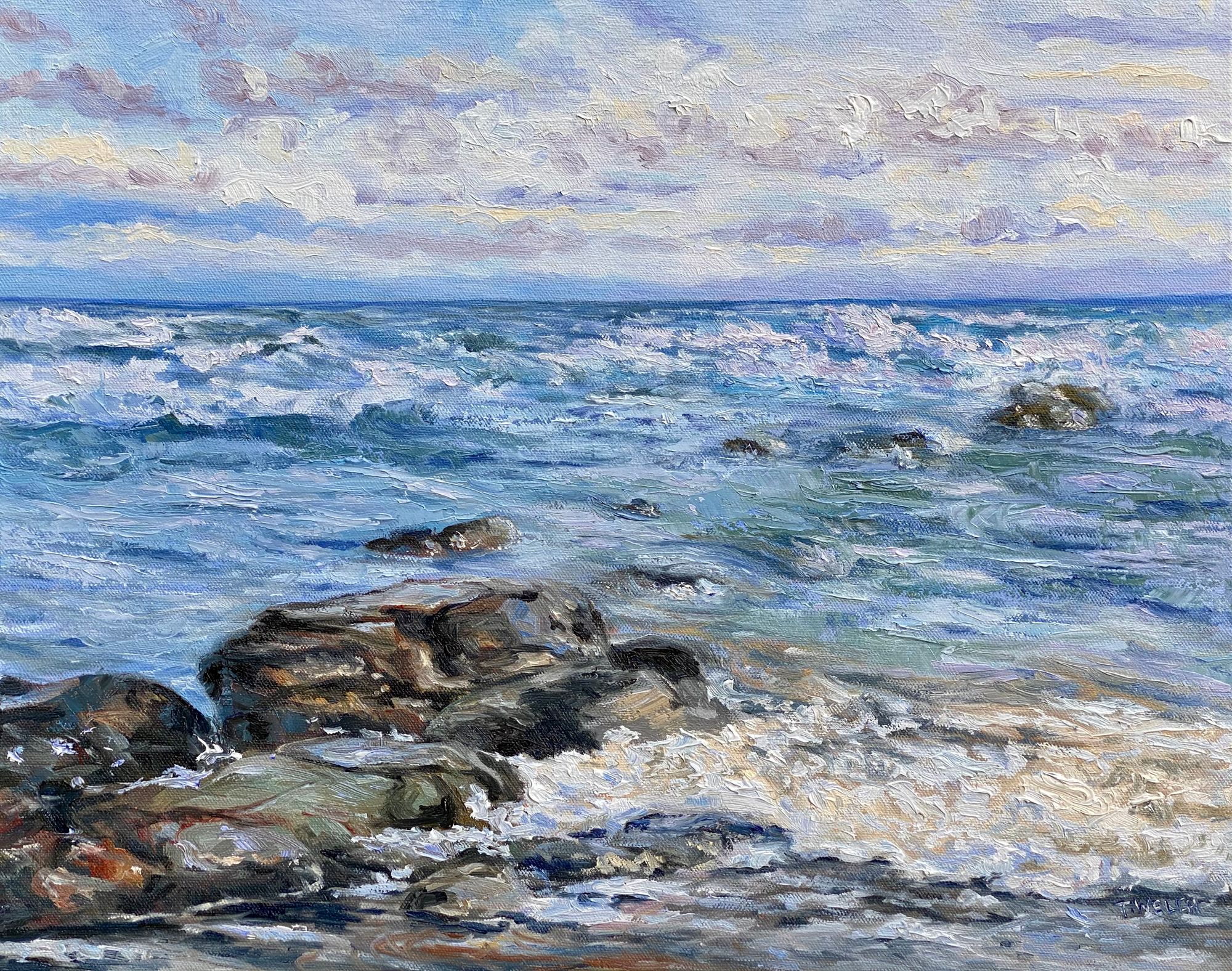 And this leads us nicely into a few new paintings that have been released by the gallery for upcoming shows, this one is included. There will be more but here is a start.
New Releases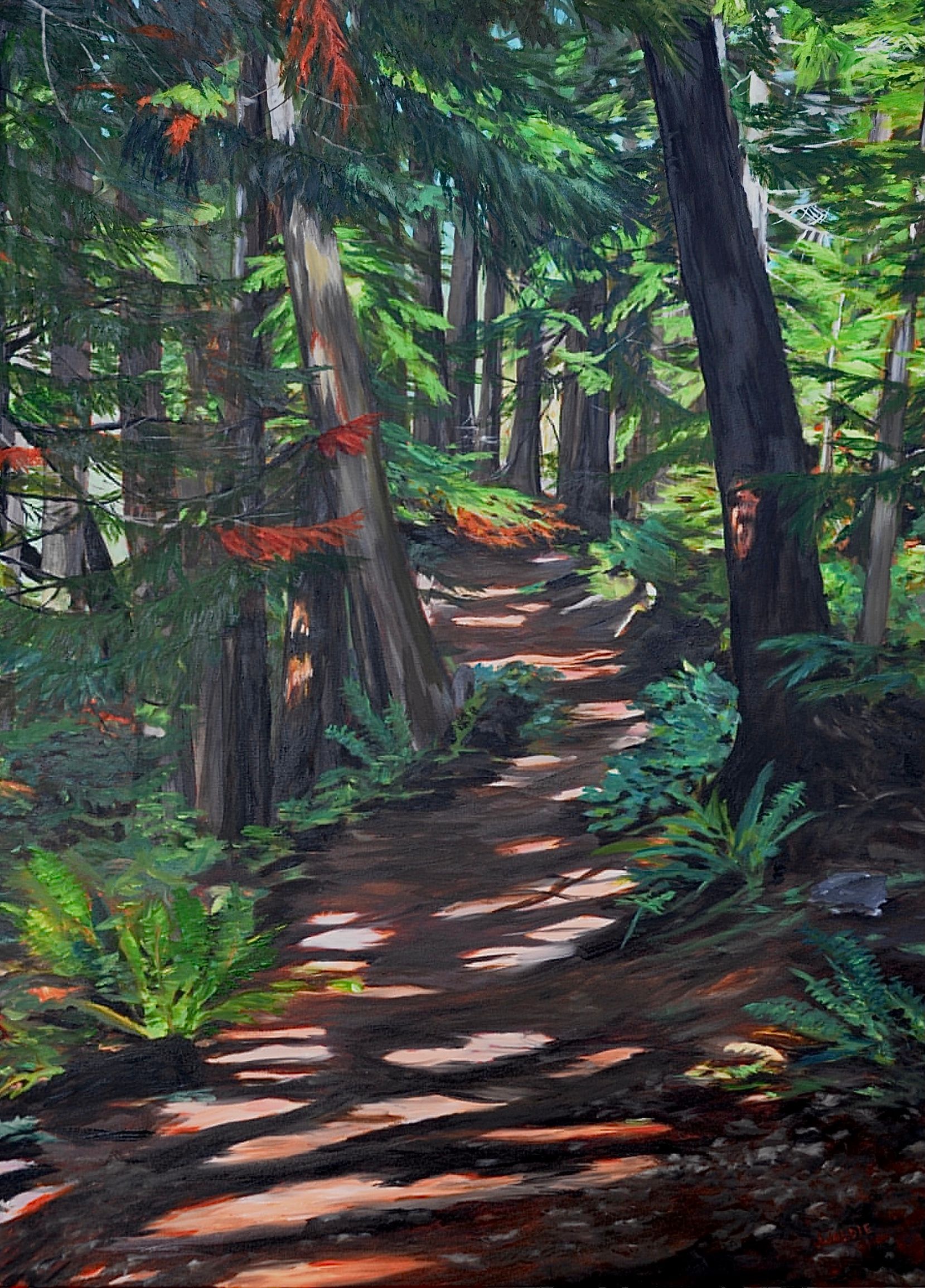 Available for sale from Terrill Welch Gallery, Jody Waldie, Follow the Light (2021), Oil on canvas, 48 × 36 in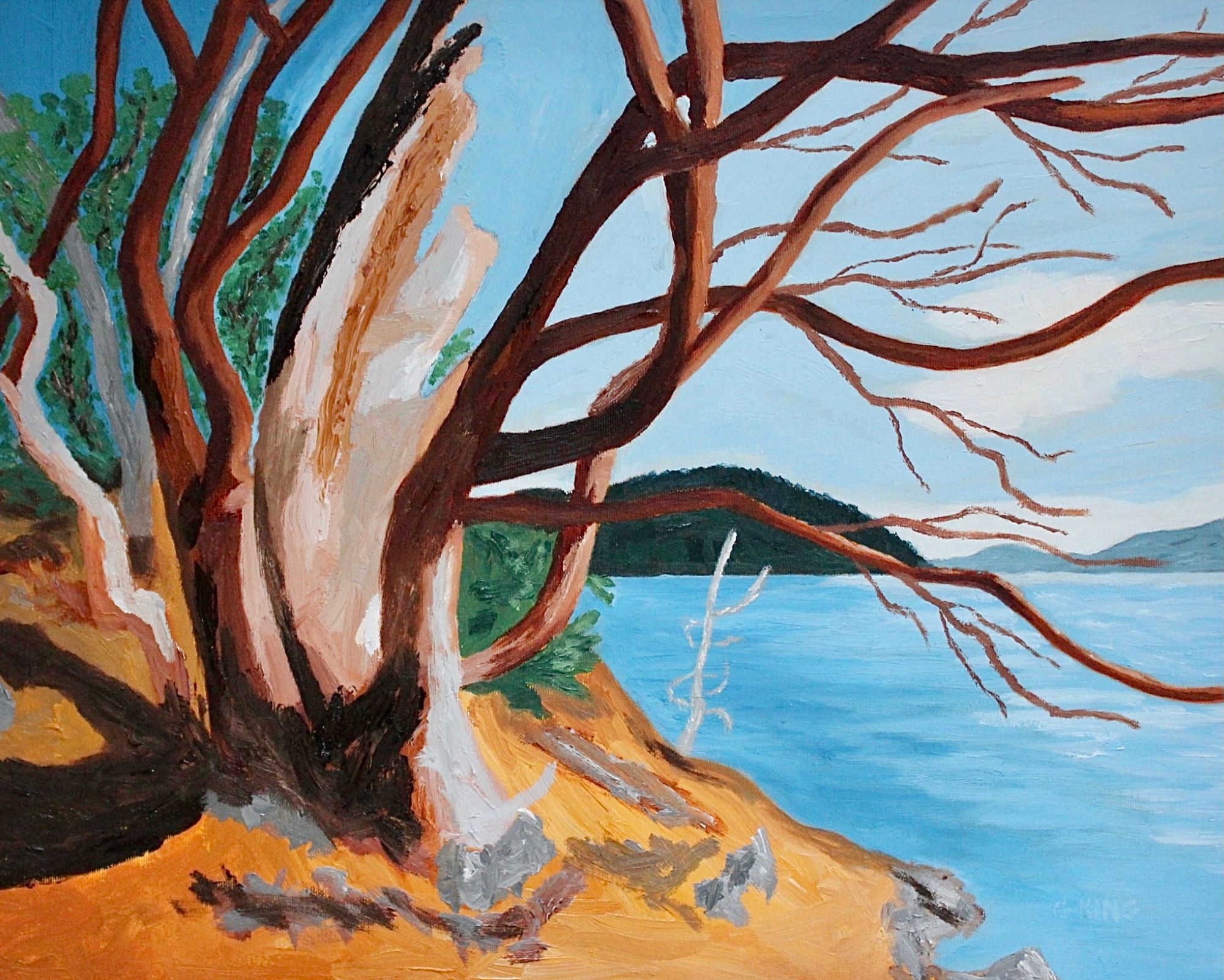 Available for sale from Terrill Welch Gallery, Glenda King, Surviving Through Time (2020), Oil on canvas, 16 × 20 in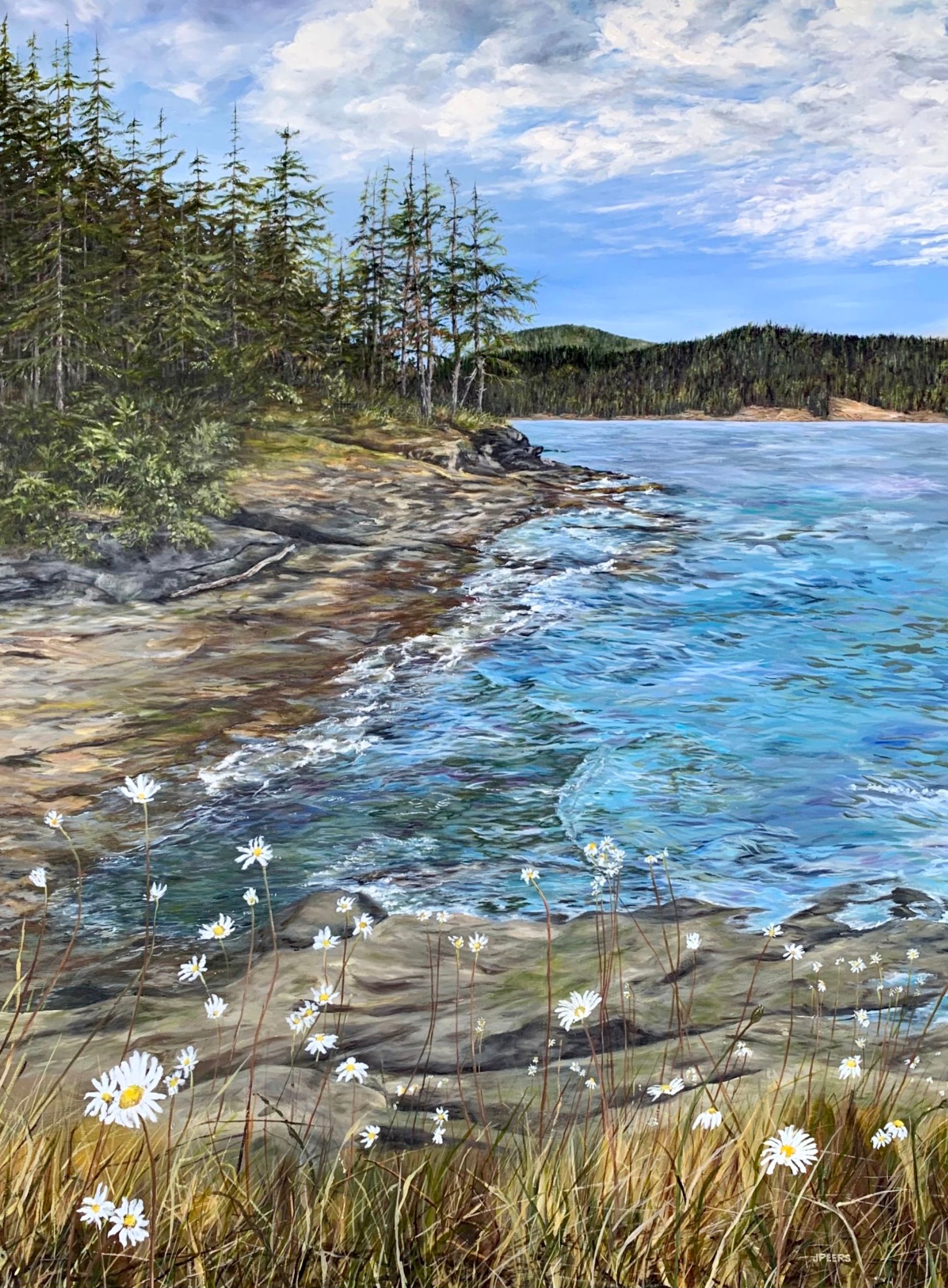 Available for sale from Terrill Welch Gallery, Jennifer Peers, A Daisy a Day (2021), Oil on canvas, 48 × 36 in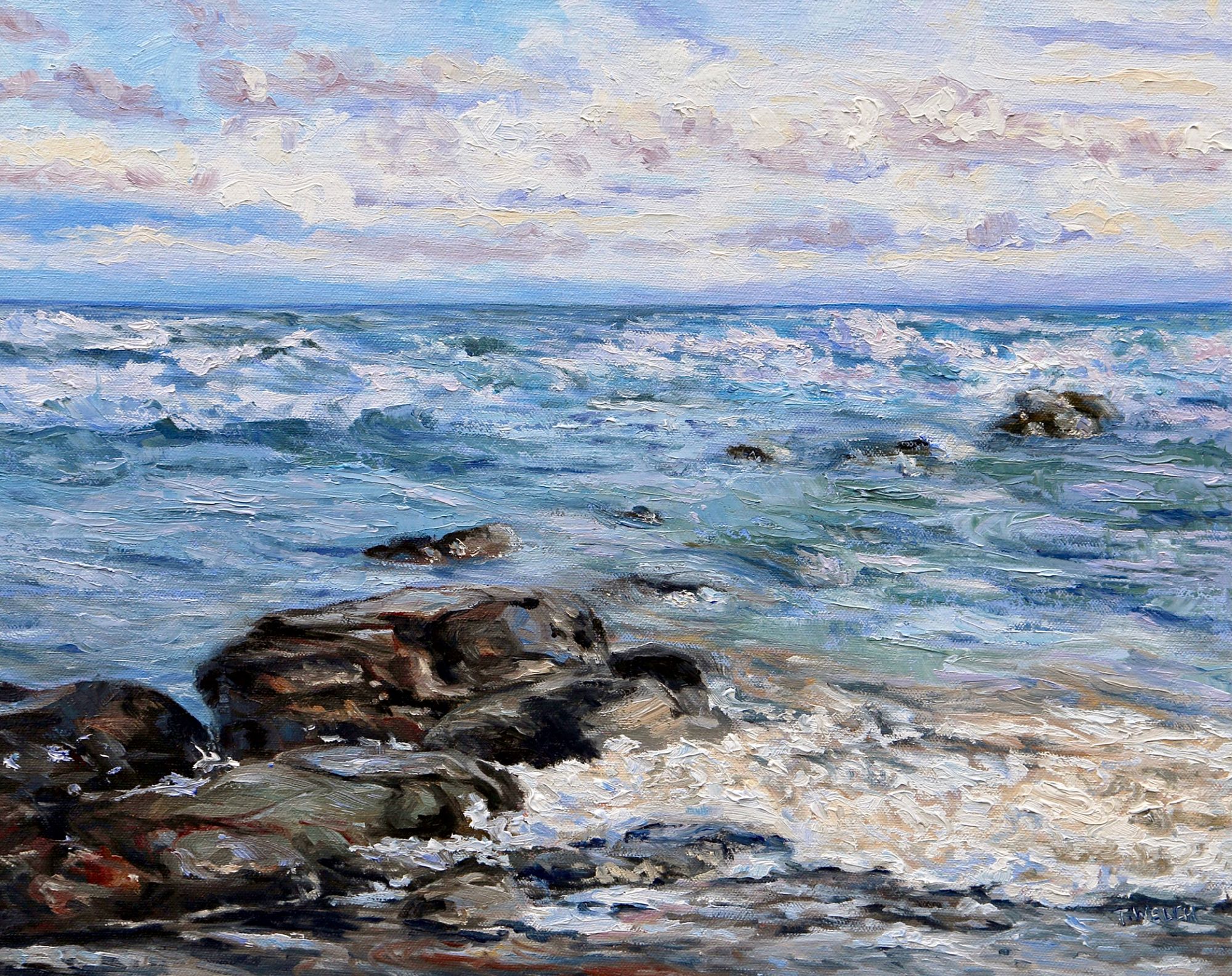 Available for sale from Terrill Welch Gallery, Terrill Welch, Sea Change (2021), Walnut oil on canvas, 16 × 20 in
What Has Sold
With great pleasure, I am honoured to let you know that the commissioned painting "Saint John Point Trail" has been accepted by the art collector and will soon be ready to leave for its new home. This art collector saw the painting in the primary reference image even before it was painted. The work was a joy to paint and a such a sunny subject is a welcomed escape on days of heavy rain.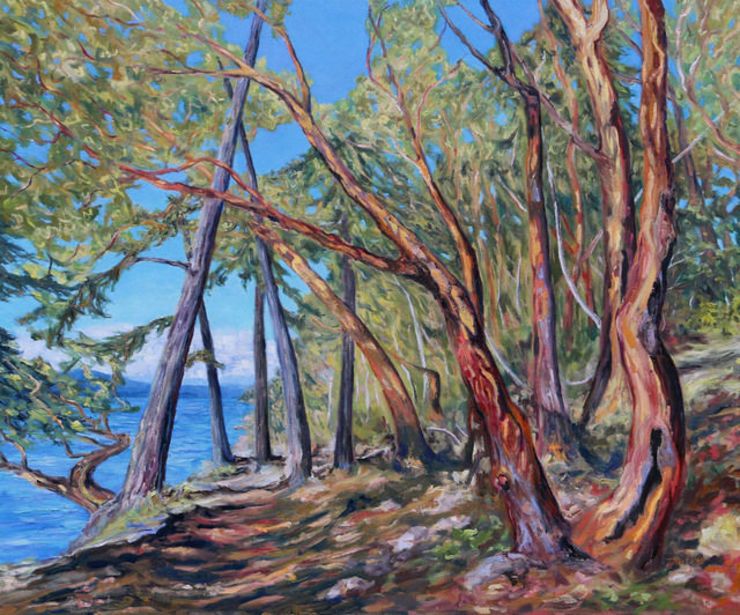 From Terrill Welch Gallery, Terrill Welch, Saint John Point Trail (2021), Walnut oil on canvas, 30 × 36 in
We received these lovely words from the art collector:
"I just love it, Terrill! And it's been wonderful to see the painting take shape over the past weeks. Looking at it takes me back to a lovely day I spent with friends walking on that trail and all of us just soaking in the beauty of our surroundings."
A few moments from around the island
British Columbia continues to request that we limit our contacts to those in our household and highly recommends that we only participate in essential travel. This has been in place since early December 2020 and continues until at least February 5, 2021. Though it is quiet on the island, life is pleasant most of the time with some fine sunny warm days between winter storms. Here are few moments from around the Mayne Island, capture from the front deck or while out on the trails, that you might enjoy.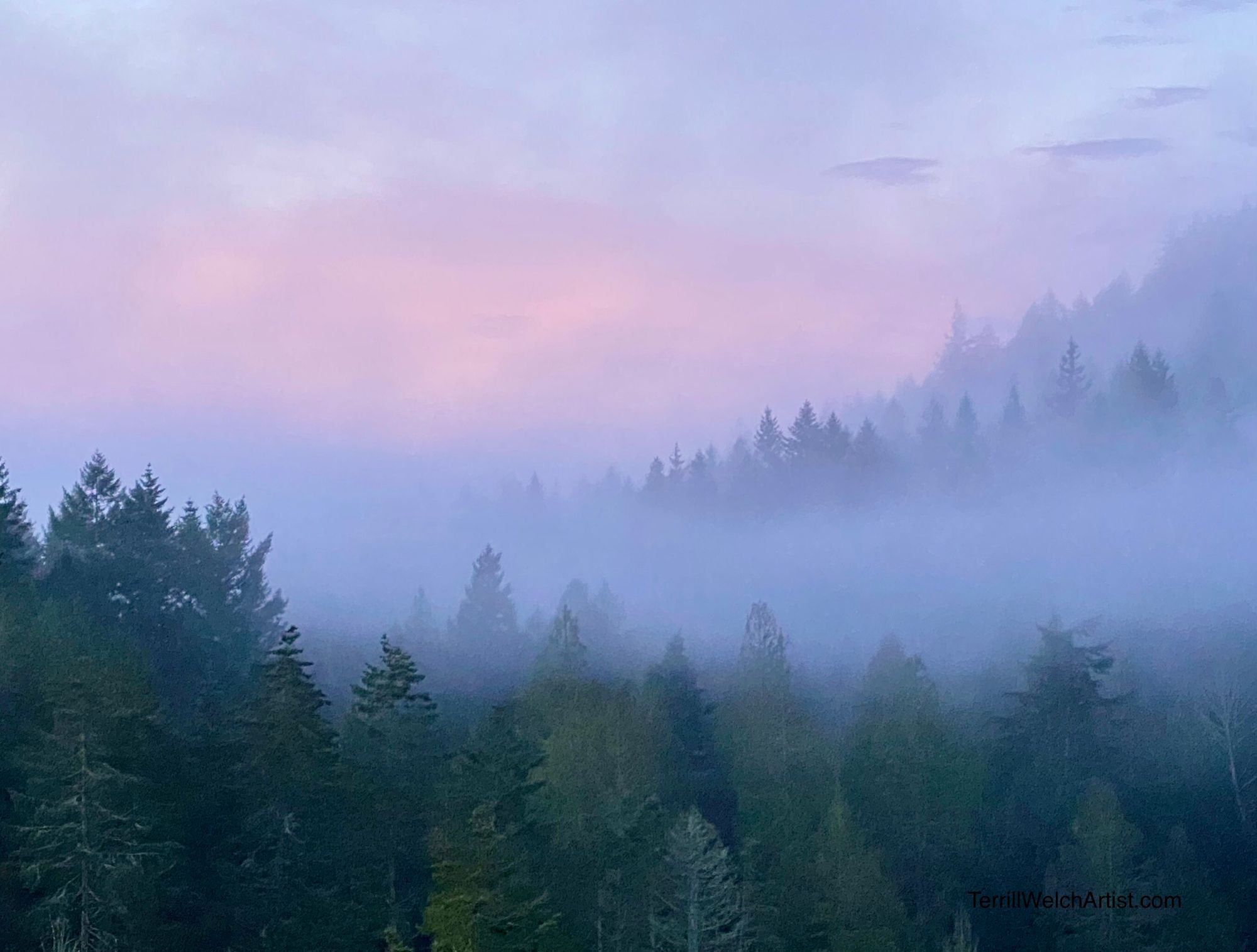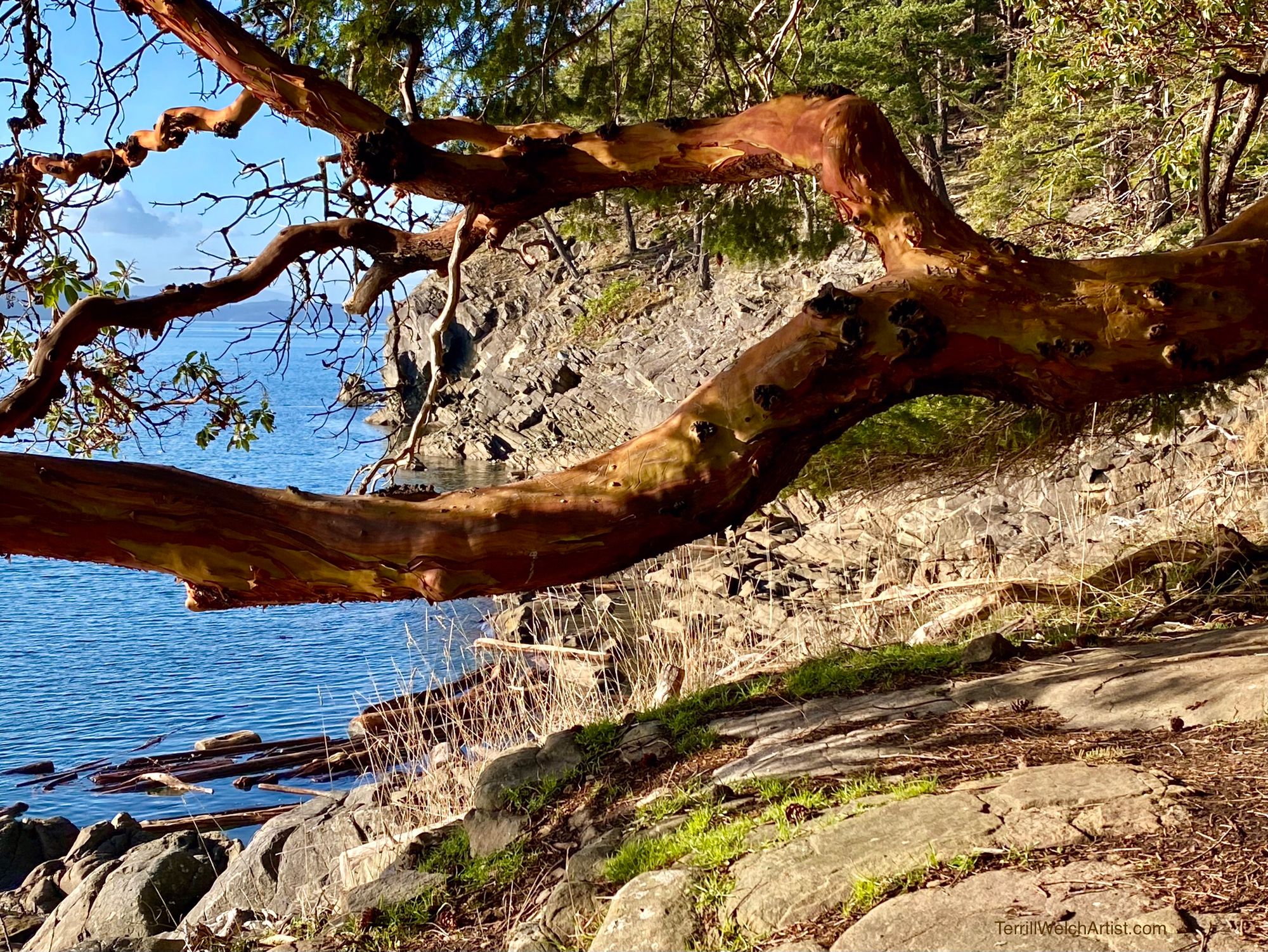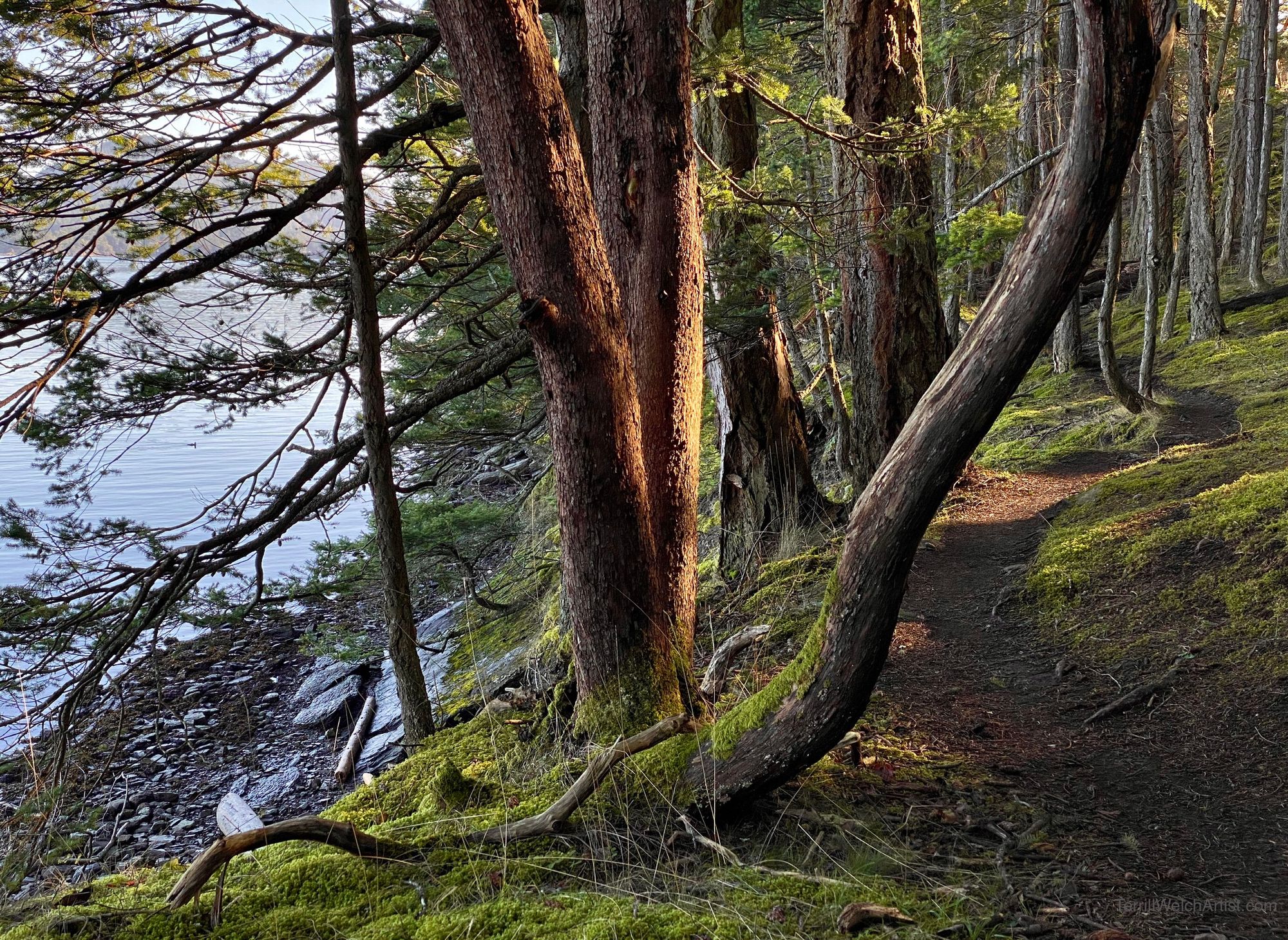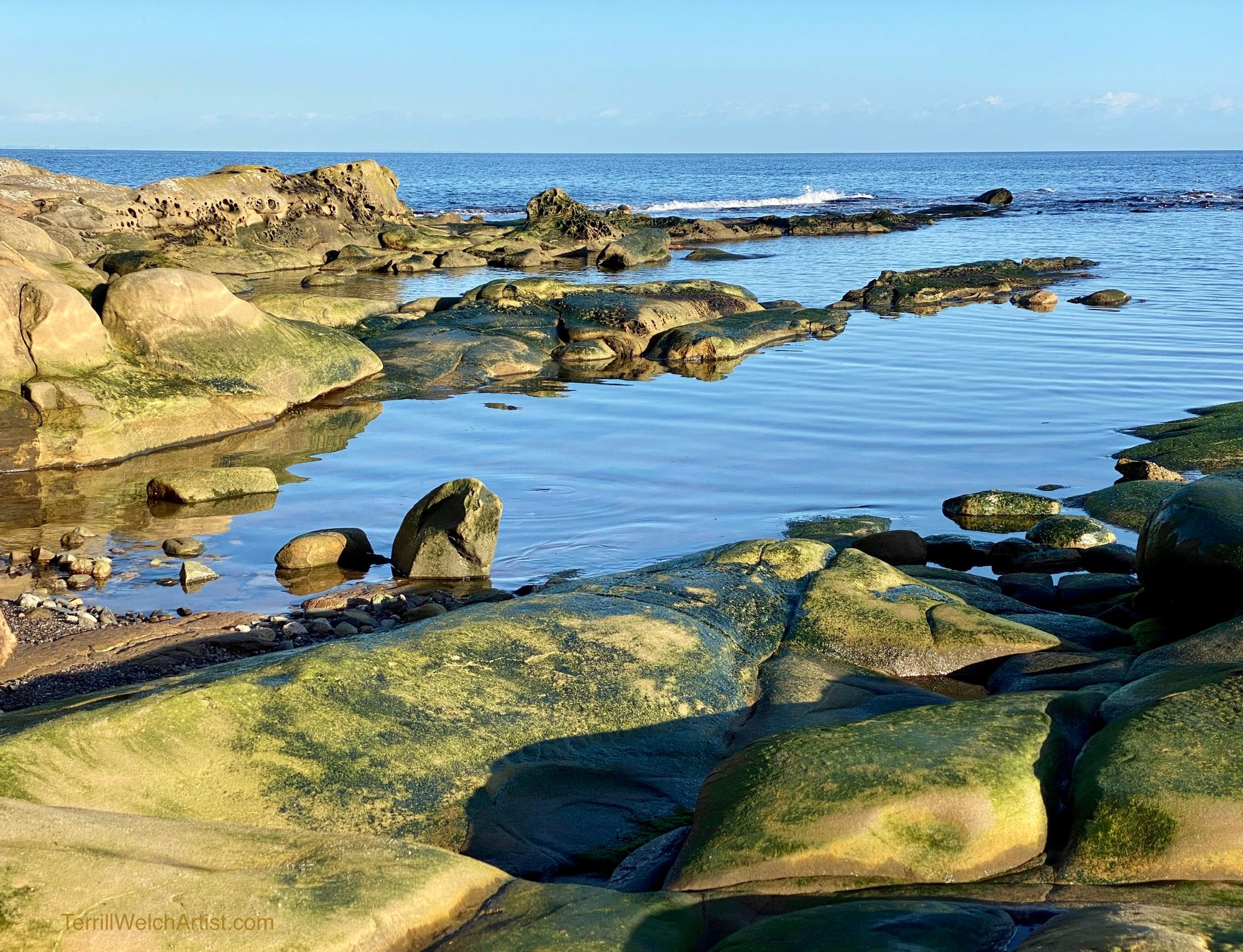 Until Next Time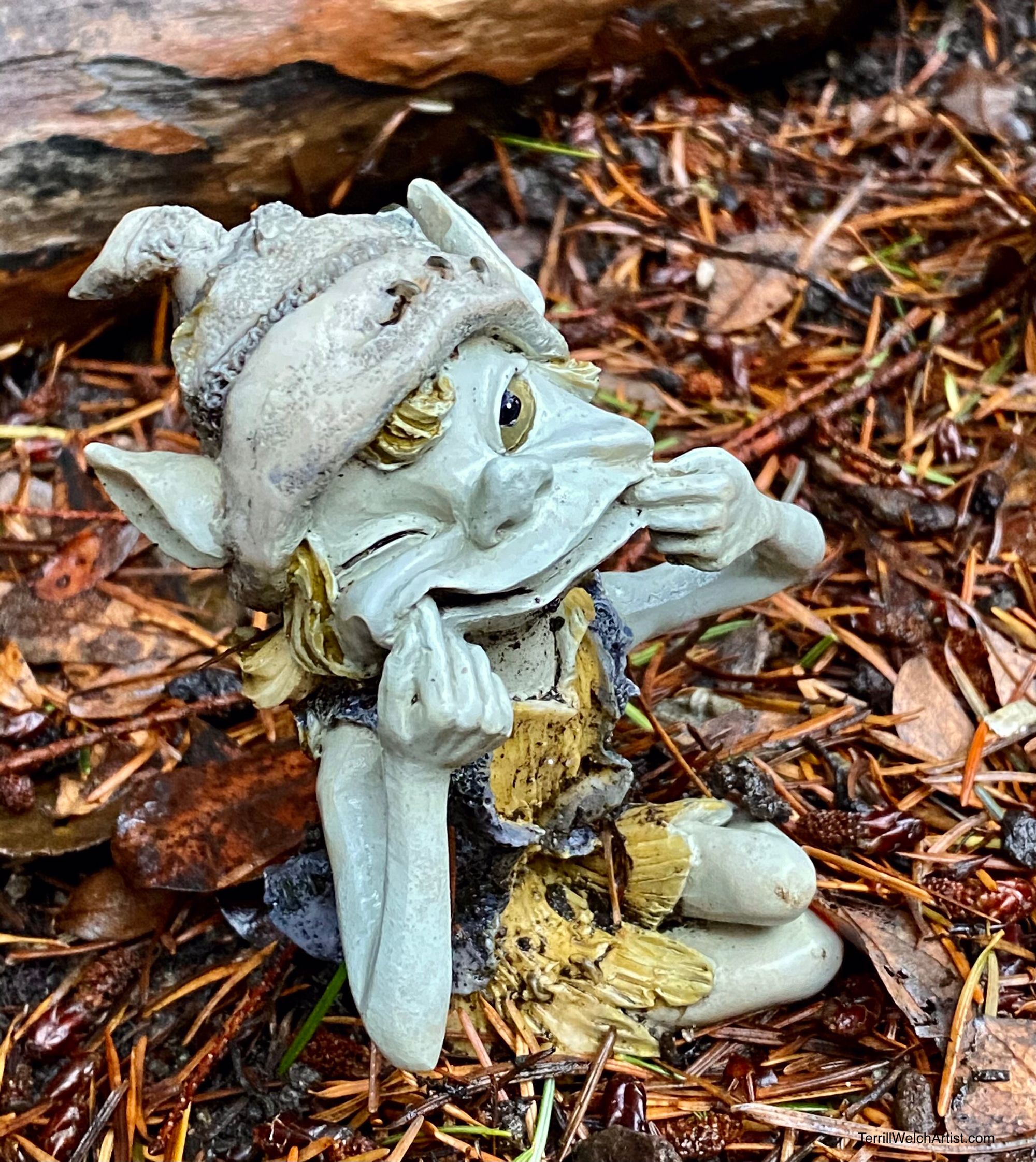 We shall close with an entertaining expression from my favourite garden pixie because she always makes me laugh when I go out to cut fresh herbs to go in dinner. Today, I have a lighter heart, a sense of joyful grit that will be needed to get through the next six to twelve months. I am hopeful you are feeling the same, if maybe not before reading this issue of the newsletter, then possibly afterwards.
With warmth and kindness, all the best until next time!
Terrill 👩‍🎨🎨❤️
Our gallery program brings extraordinary connections to ordinary moments in our natural landscape. The Terrill Welch Gallery opened in August 2017. Since then, the gallery has more than doubled its physical gallery exhibition space and online reach.