A Brush with Life - Issue #72 Painting Between Waves
A little less than a foot of snow blanked the southwest coast and our small island this past few days. Early blooming spring flowers withered as temperatures dropped below freezing. Still, the art shows must go on and we take you between the waves of past and present in this issue, beginning with a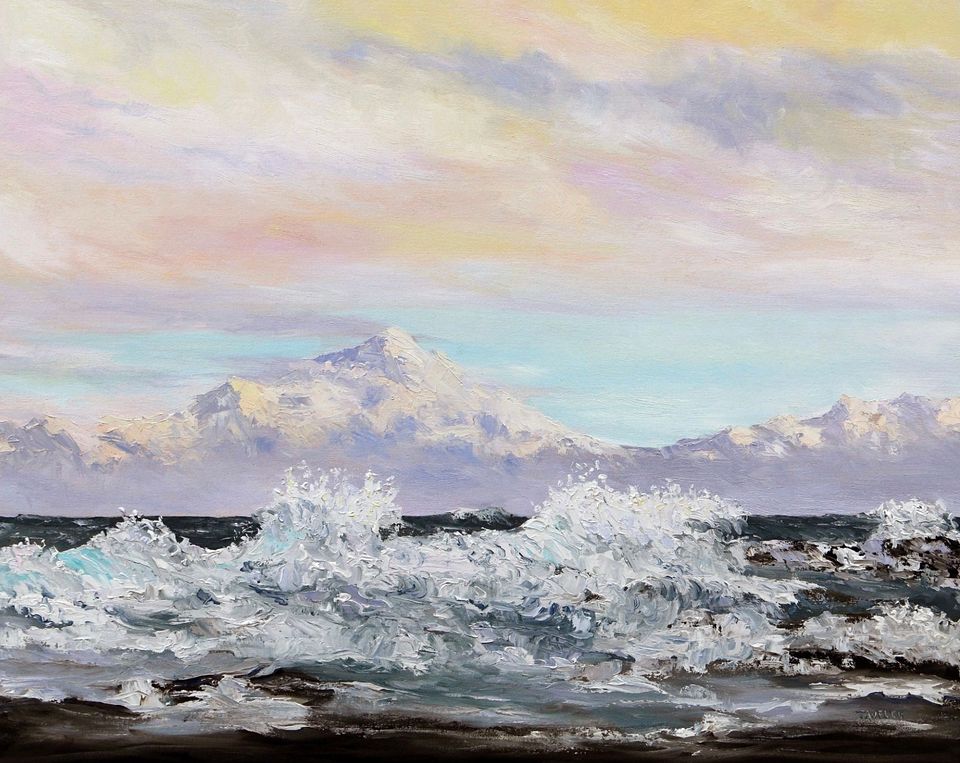 A little less than a foot of snow blanked the southwest coast and our small island this past few days. Early blooming spring flowers withered as temperatures dropped below freezing. Still, the art shows must go on and we take you between the waves of past and present in this issue, beginning with a new work by Terrill Welch.
---
Head Long Into The Sea
From the artist's notes: A deceptively warm sky tangos with a rough Salish Sea. Stepping in such strong movement is only possible while resting against the strength of Mount Baker as it anchors our gaze between sea and sky.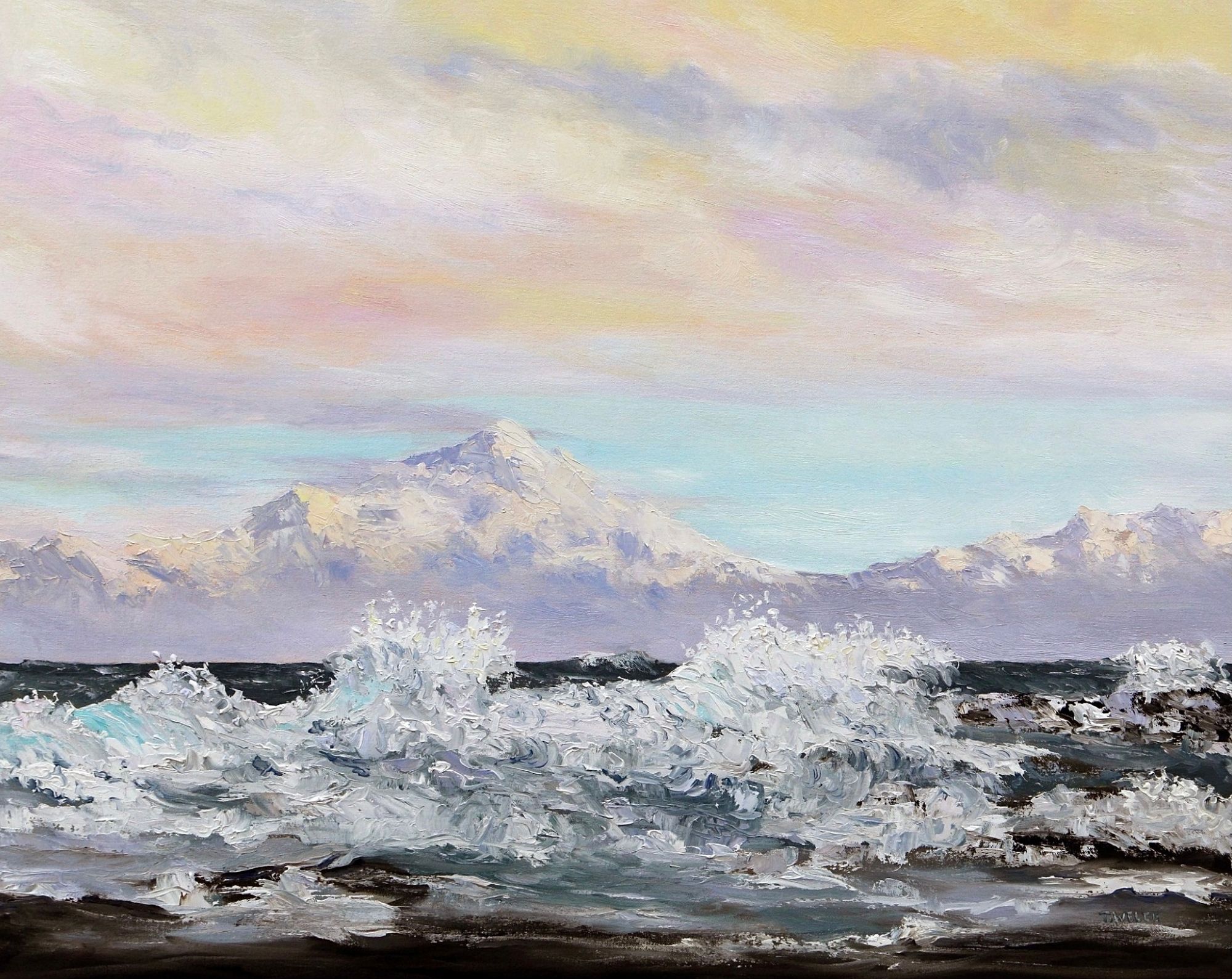 Available for sale from Terrill Welch Gallery, Terrill Welch, Salish Sea Entertaining Mount Baker (2021), Walnut oil on canvas, 24 × 30 in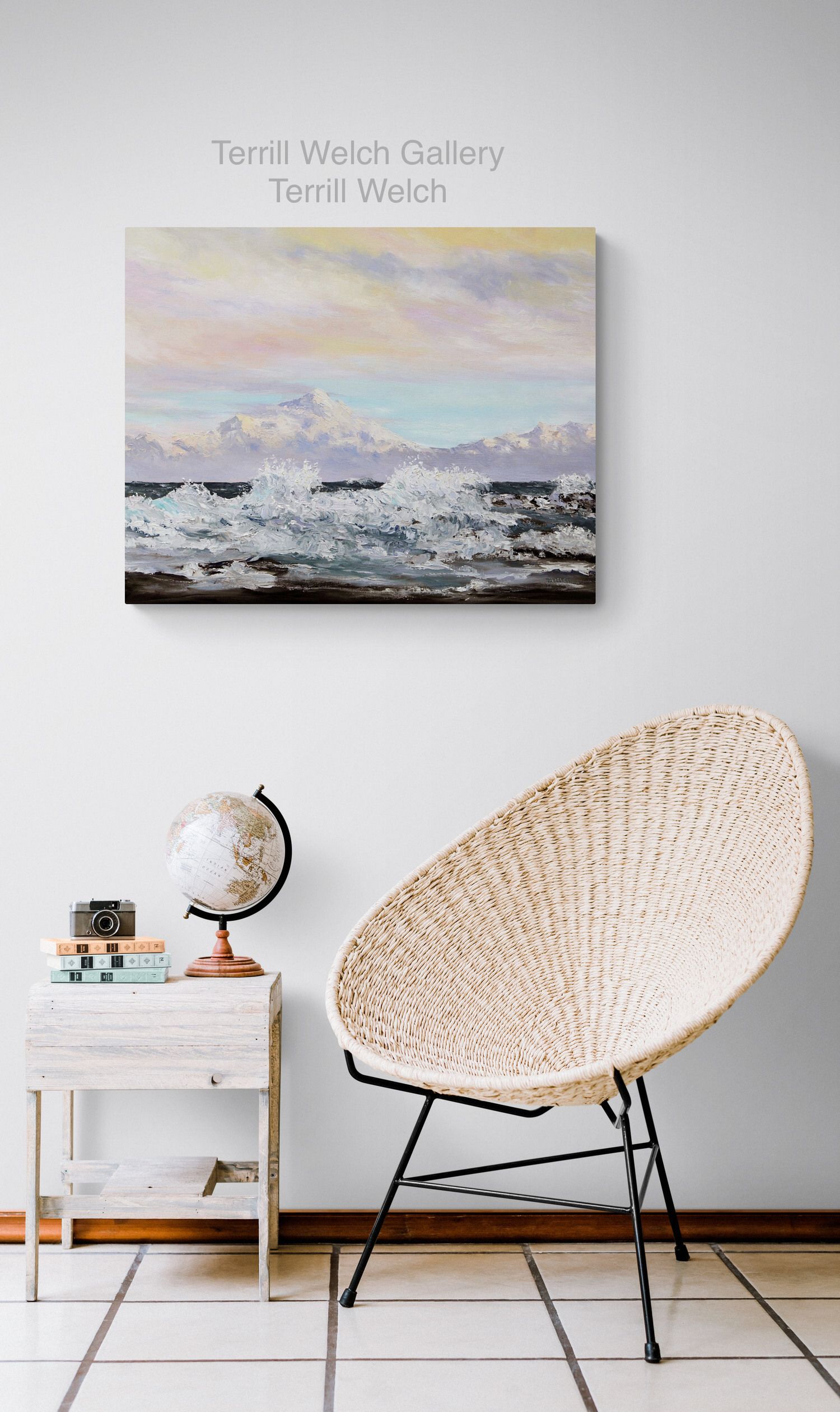 You would be right if you guessed that there had been a wee bit of wind to stir up the sea. But how much sloshing around the Strait of Georgia was involved, really!? Let's have a look at a couple of references that inspired this recent painting to give you a sense of the situation.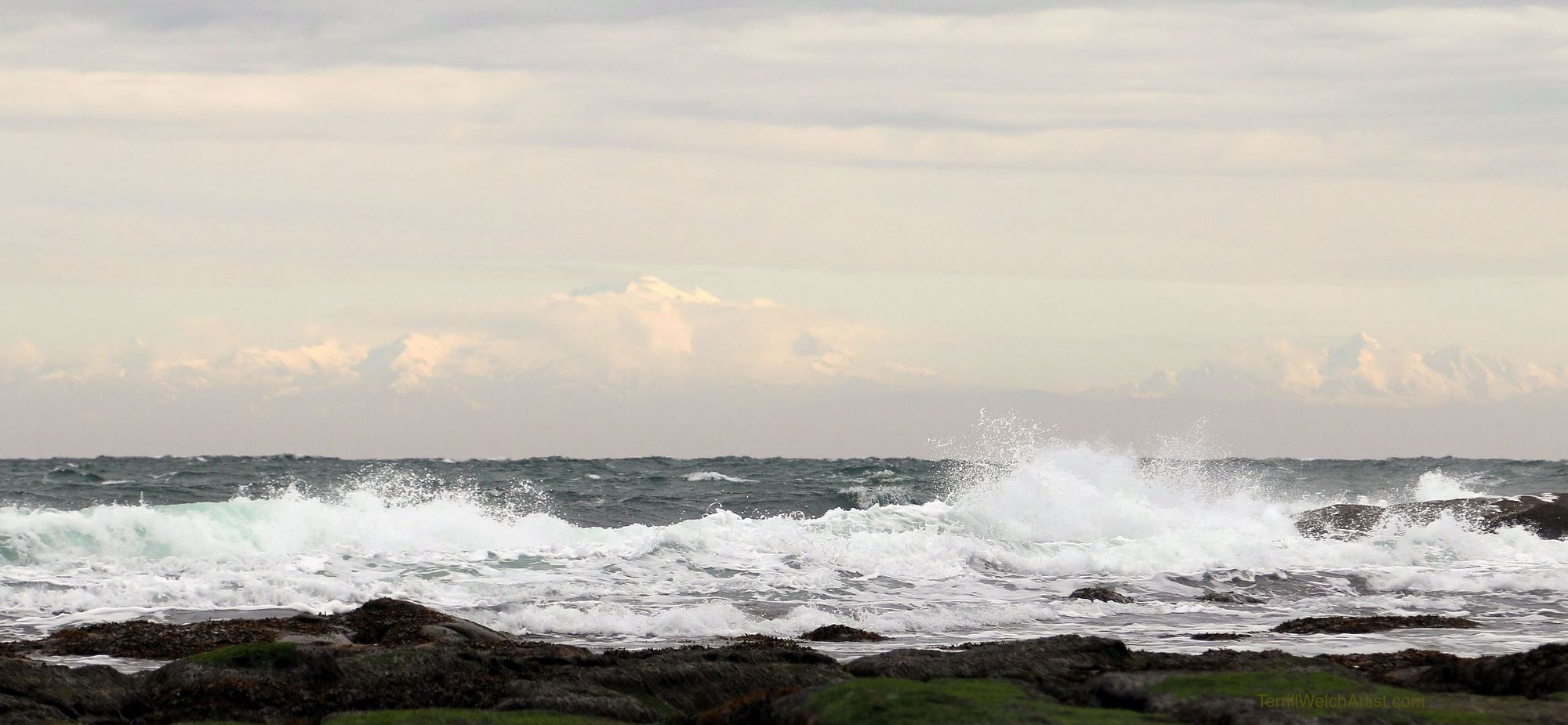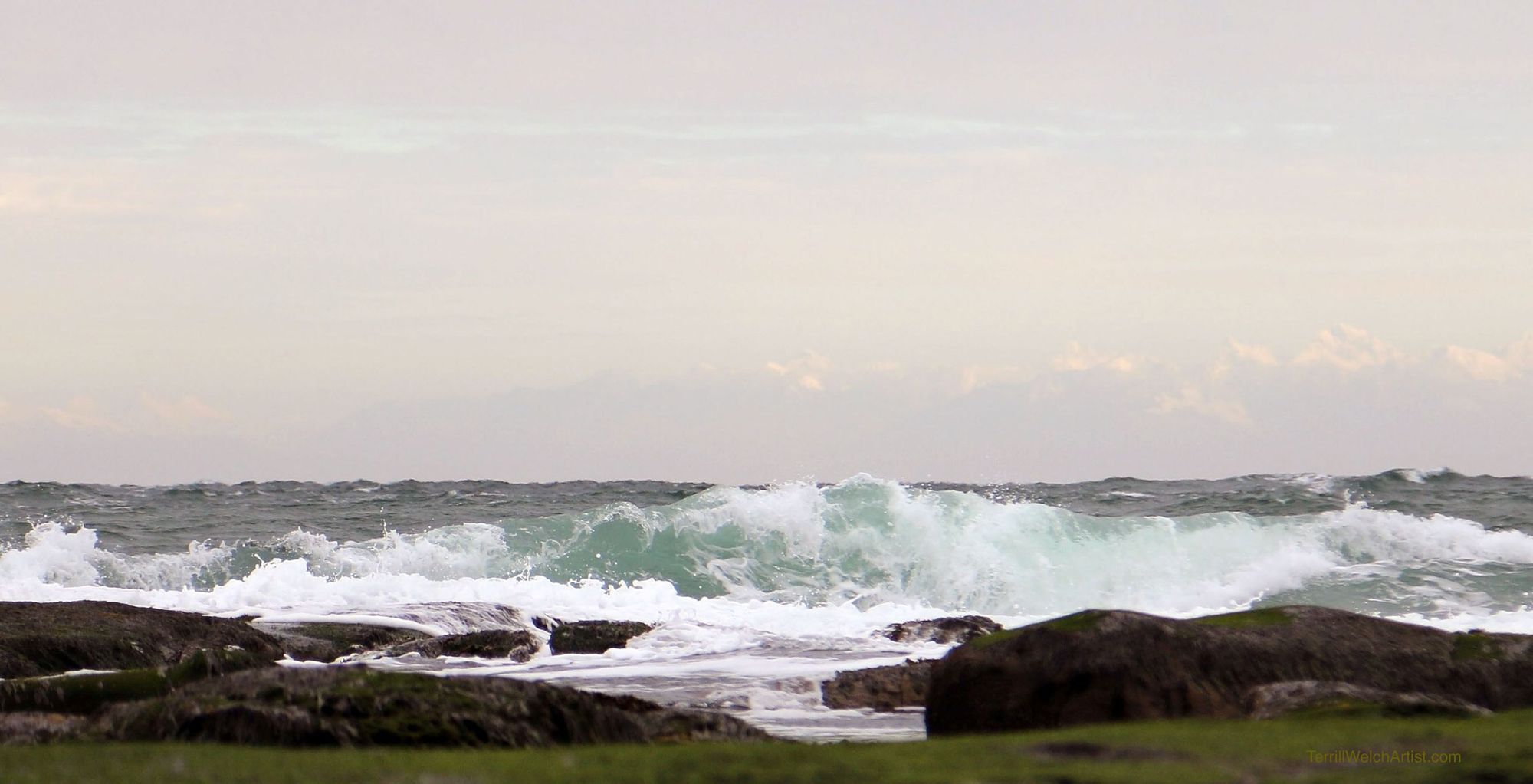 Can you guess what the weather did next? Over two days, the island was blanketed with between eight inches and a foot of heavy snow as temperatures stayed just below freezing.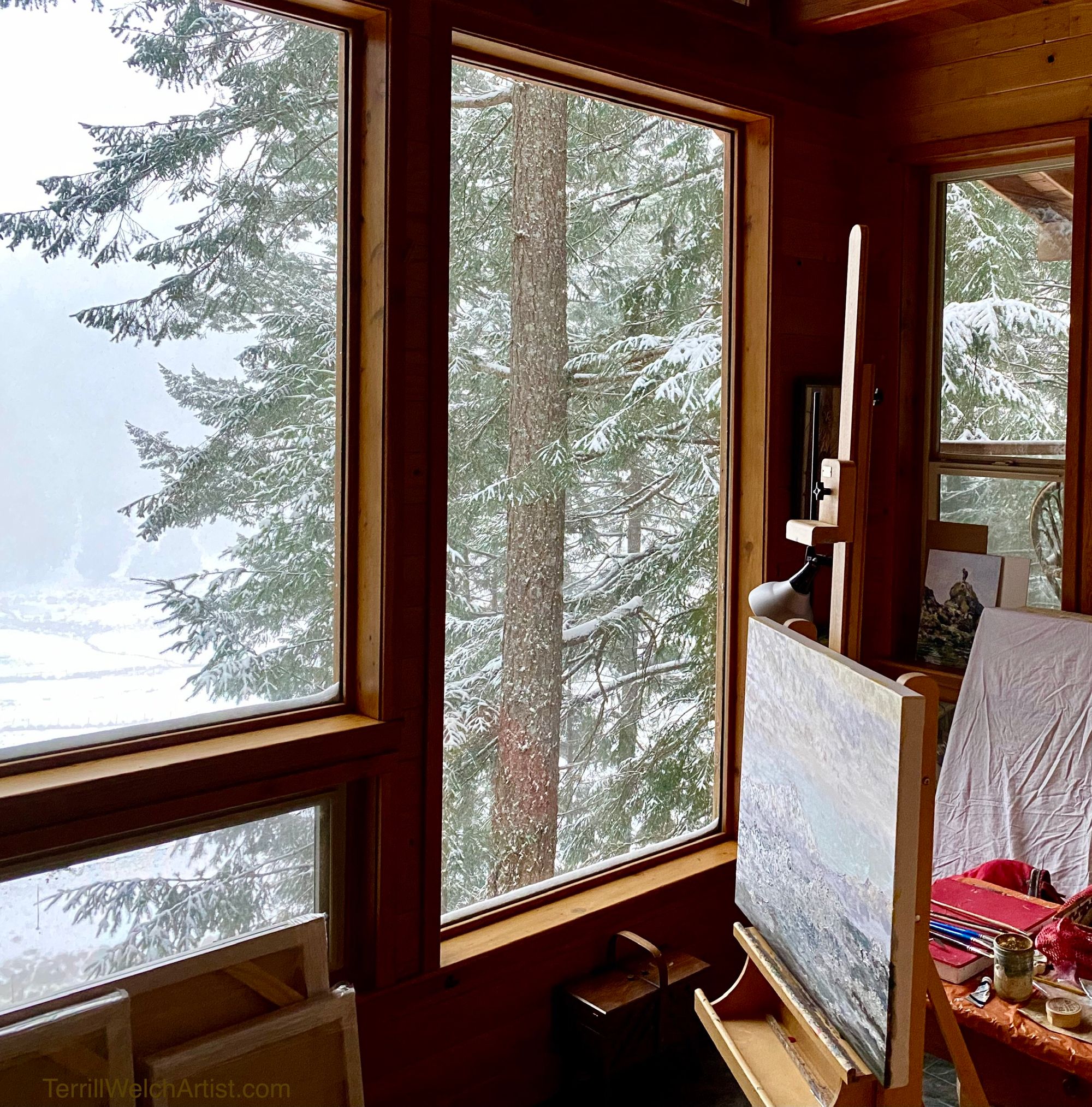 However, the shows have gone on... mostly online of course, but "on" nonetheless.
Video Tour of "Embracing the Unknown"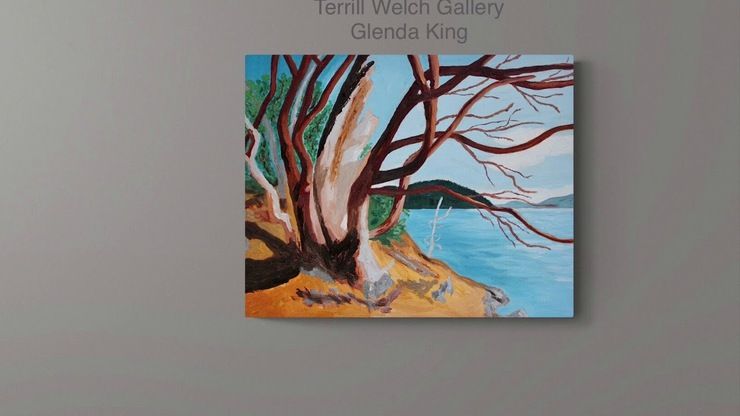 Paintings that place our minds in a cradle of nature's loving kindness with work from landscape painters Jennifer Peers, Jody Waldie, Glenda King and Terrill...
Landscape painters Jennifer Peers, Jody Waldie, Glenda King and Terrill Welch know the power of being in nature and remembering our time on the trails beside the sea or high on the cliffs surveying the view. We need these connection more than ever right now. Allow these landscape paintings to place your mind in a cradle of nature's loving kindness. "Embracing the Unknown" will be showing in the Terrill Welch Gallery's Arbutus Room from February 10 to May 16, 2021. The gallery continues to be open by appointment or the Arbutus Room can also be casually browsed on specific days during the week. However, travel to and from Mayne island is currently recommended only for essential reasons. Until this changes, we are most happy to assist you through our online gallery and virtual conversations and tools.
"West Coast Edge" Opens!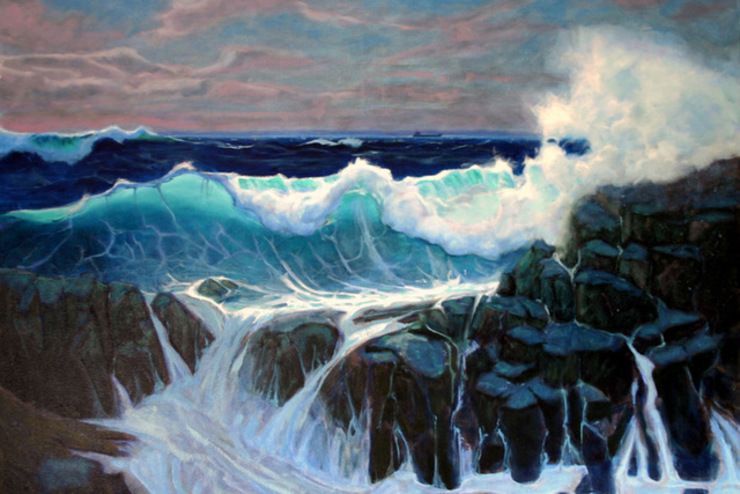 Landscape painters Bill Hibberd and Terrill Welch push their brushes up against the dramatic west coast edge between sea and shore.
The shifting mood of the southwest coast of Canada invites an expressive fluid painterly brush. Bill Hibberd and Terrill Welch are both British Columbia landscape painters willing to accept this invitation. The Terrill Welch Gallery is pleased to bring you these ten oil paintings in our shared two artist online exclusive show.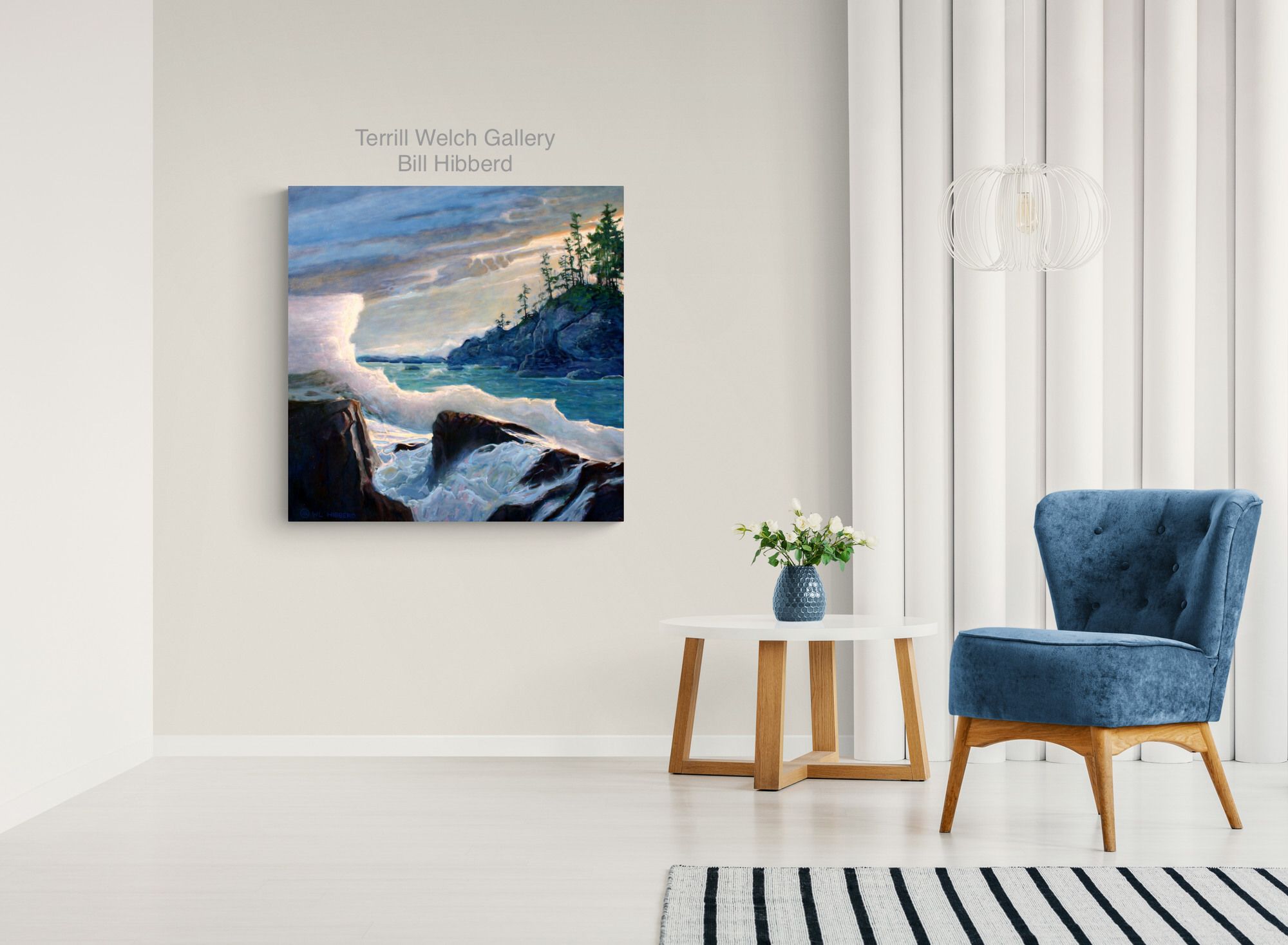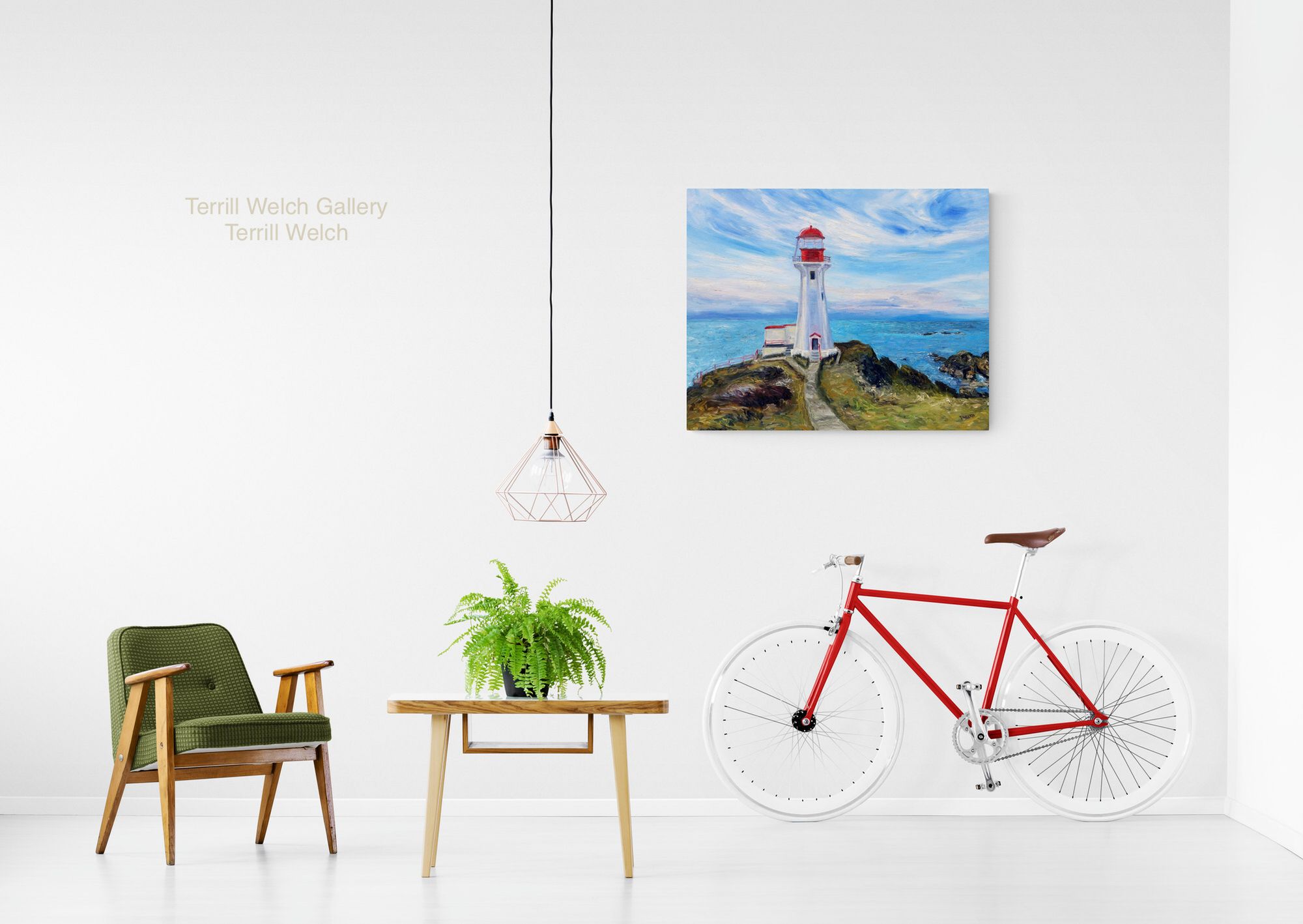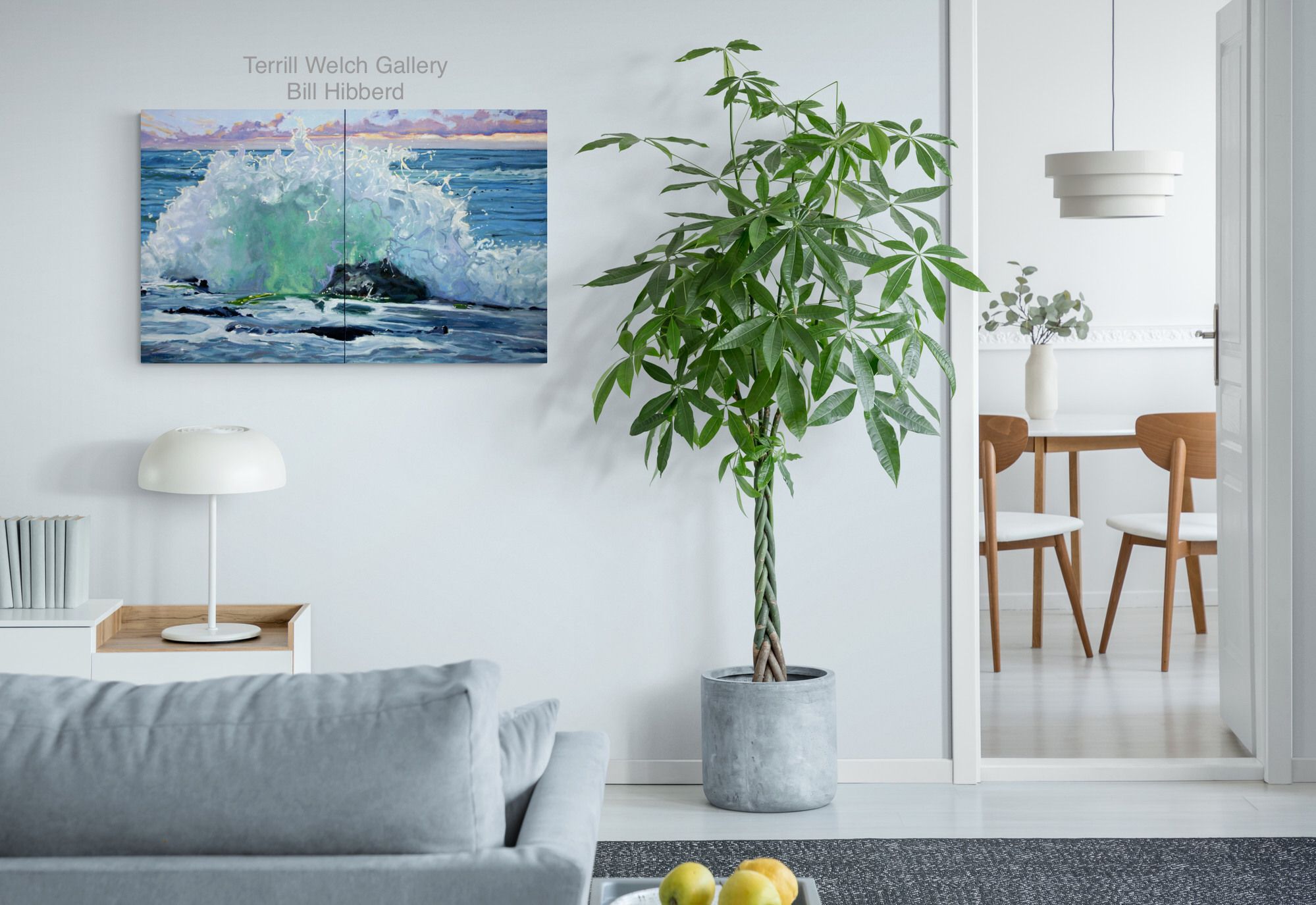 What Has Sold
Sold in the Terrill Welch Gallery - "The Start of September Colour" by Annerose Georgeson Acrylic on canvas, 30 × 36 inches.
This painting has now traveled safely halfway down British Columbia to its new home where the art collector is smitten with her new view. There is nothing quite like adding a new painting to your art collection to chase the winter and COVID-19 blues away.
Congratulations to the art collector and the artist!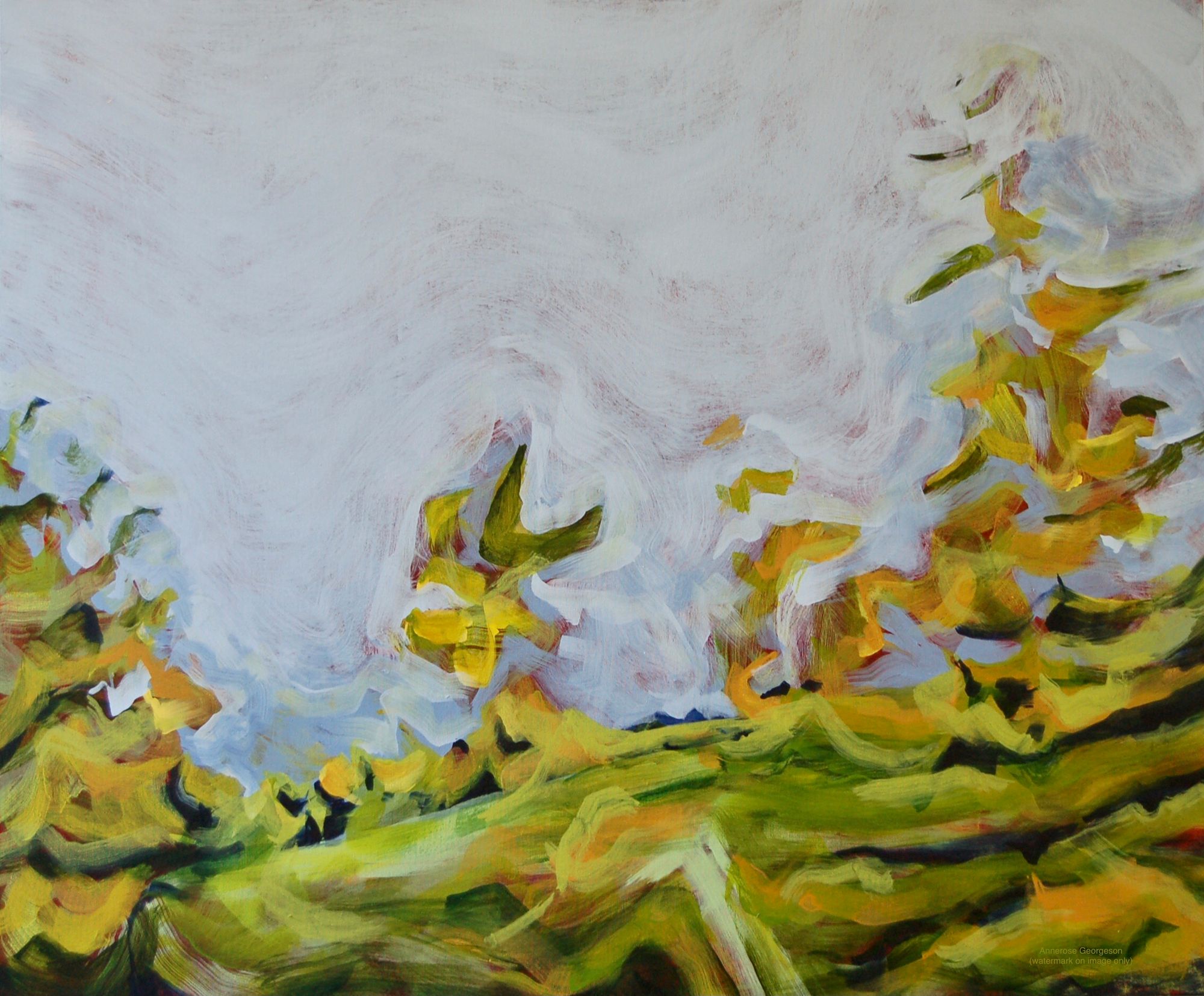 We have only four more works by Annerose currently available in our two artist show at the link below.
Discover where the work and stories of Canadian landscape painters, Annerose Georgeson and Terrill Welch, meet and where they diverge from within their own unique forests and experiences.
Perhaps another room view? "Wildfire" by Annerose Georgeson is a large 36 by 48 inch transfixing landscape.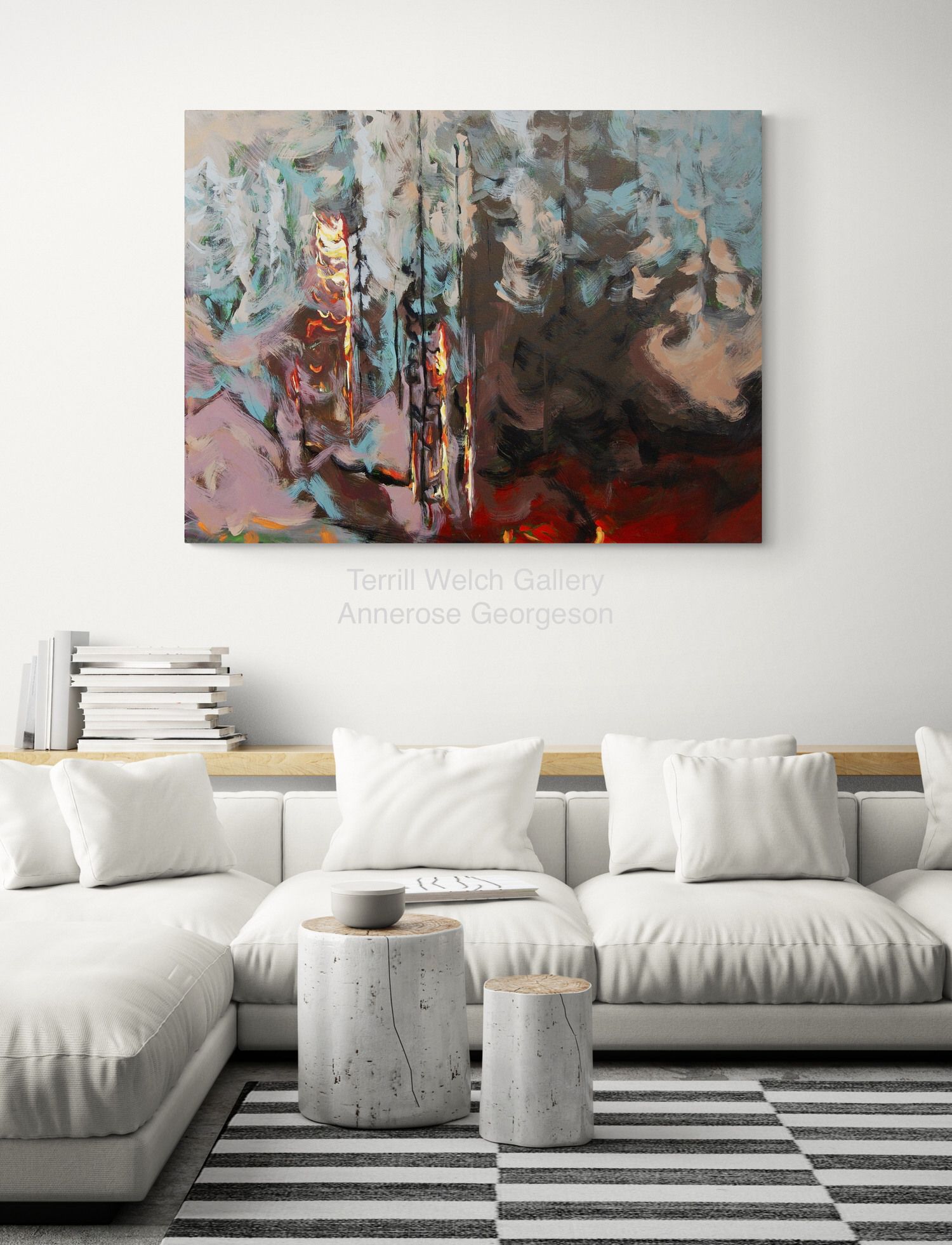 Artist notes: Wild fire is overwhelmingly powerful and beautiful. My brother, a logging contractor, invited me to go along with him to his work where crews had been fighting a fire for weeks. We watched as wildfire burned his logging block. I made paintings from photographs I took that day. Wild fire is probably the most dramatic thing that can happen to a forest. I've seen both the surreal stark aftermath of forest fire and the forest rejuvenate after fire, and but until that summer I had never seen the forest on fire. It made a huge impression on me. At the time I wrote, "Fire is very powerful, it sounds like a train, makes its own wind and is so terrible and so beautiful."
Latest Terrill Welch Commission in New Home
Yesterday, the new "Saint John Point Trail" painting was placed up on the wall in its new home....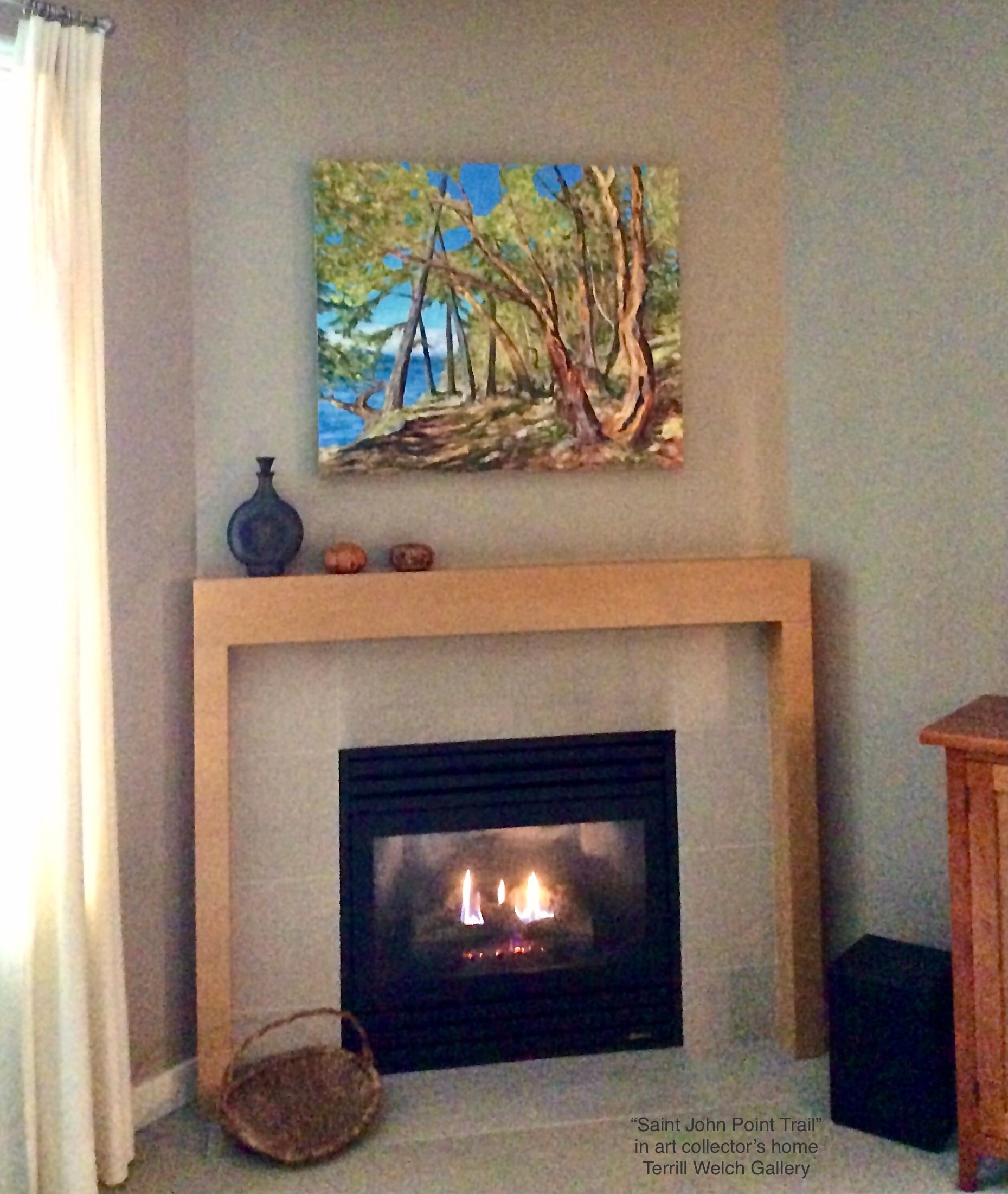 "I enjoy just sitting on the sofa looking at it...such a beautiful rendering  of a special place on Mayne Island. Thank you for getting it just right." - art collector
Another one of Terrill's many stories for you....
I spent yesterday going through boxes of old photos and found some of my earlier water colour paintings. At time I wasn't working very often in oils because my homes were small and the fumes too much without a separate studio space which simple was not in the budget. This one is from 1994 and is on a quarter sheet of 300 lb Arches water colour paper. The view is from Honeymoon Island on Stuart Lake BC.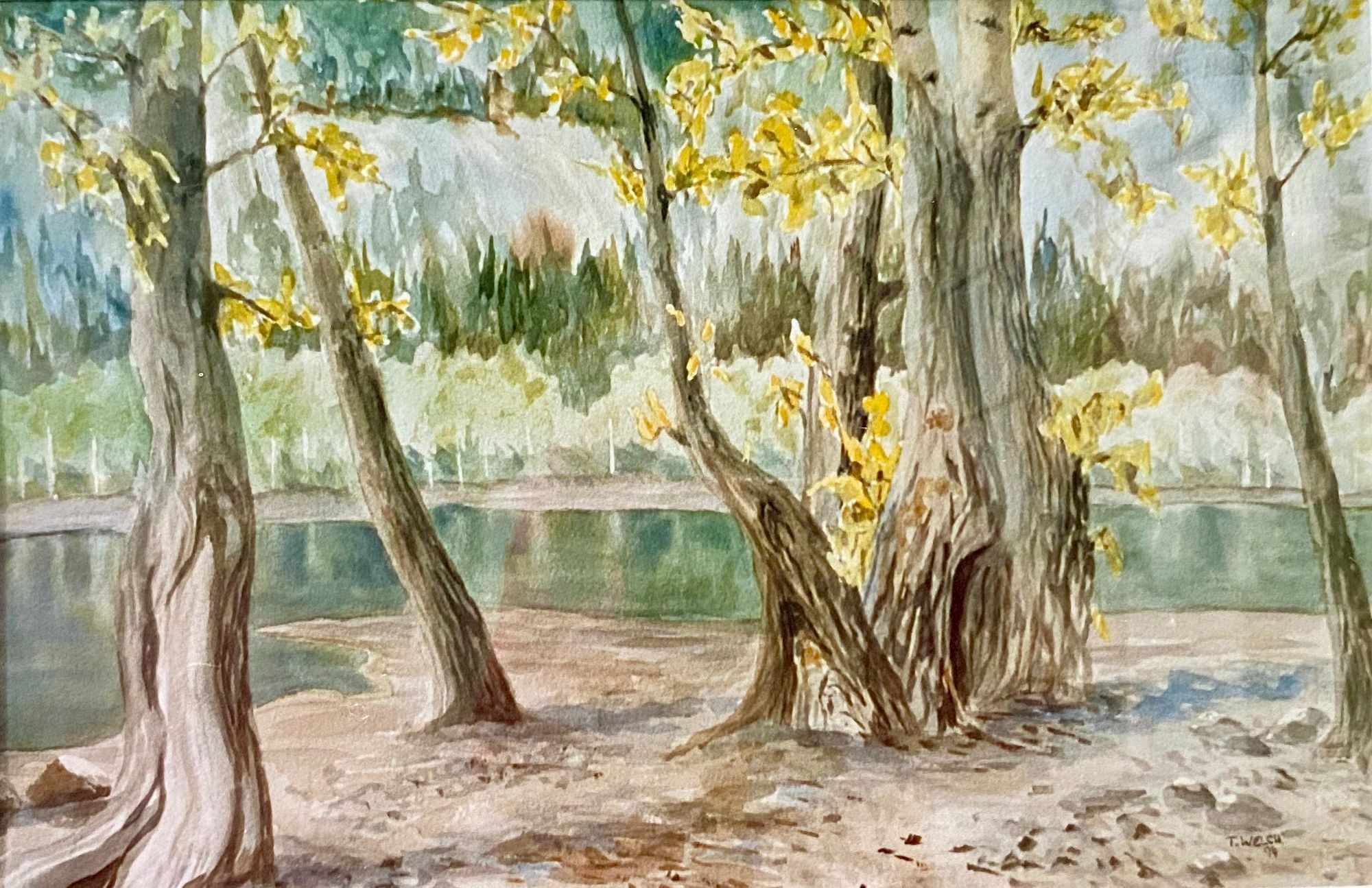 How I got there to take the reference for this painting is as much about the painting as the painting itself. It was a hot weekend in August 1994 and Ed Forfar, my partner at the time, and I loaded up his small river boat with our camping gear and we headed up river from my parent's farm.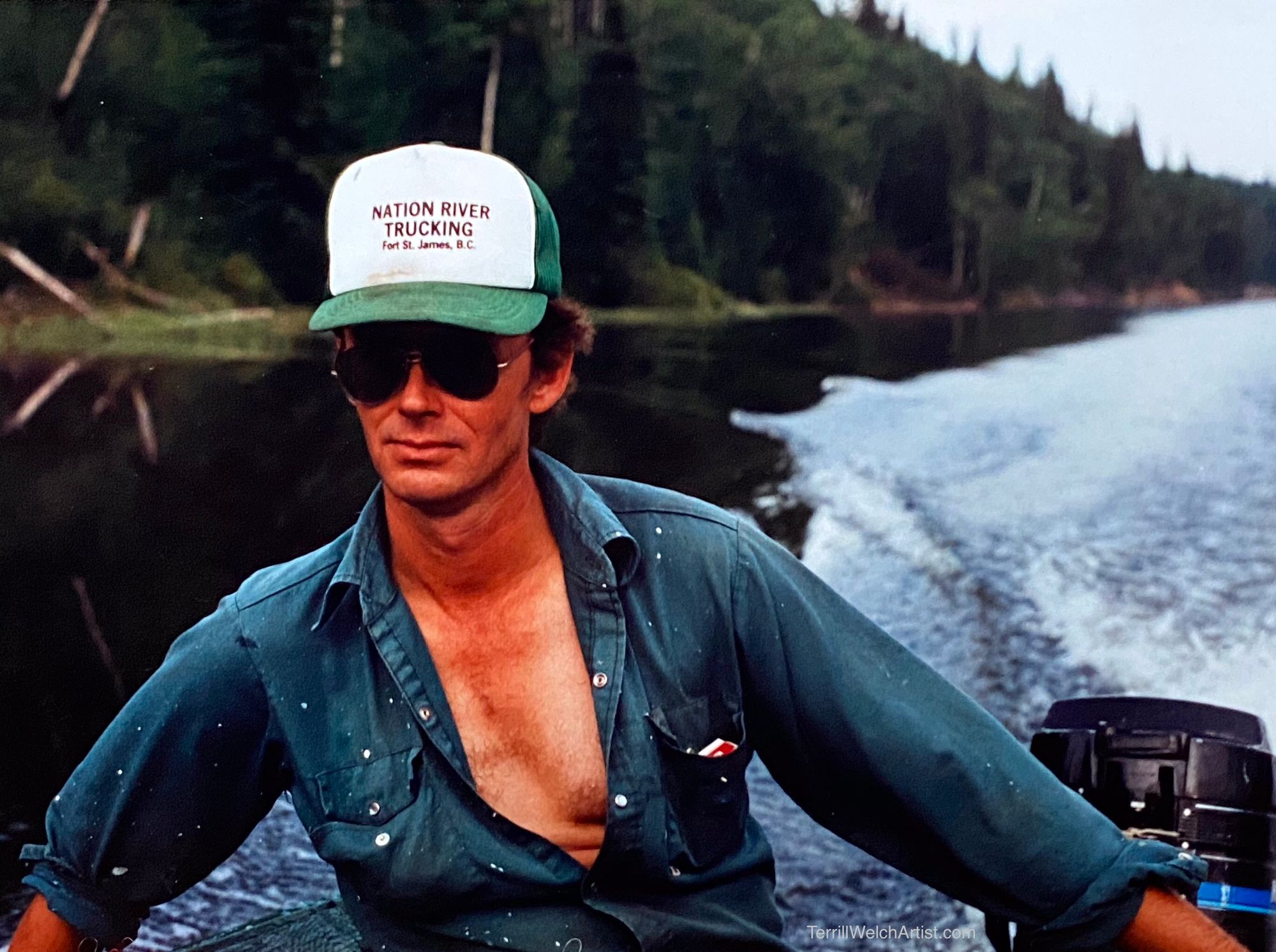 I am including a map so you have some idea where we were going. The red line runs along the Stuart River and up the Stuart Lake until it reaches Honeymoon Island. It took us most of the day if I remember correctly.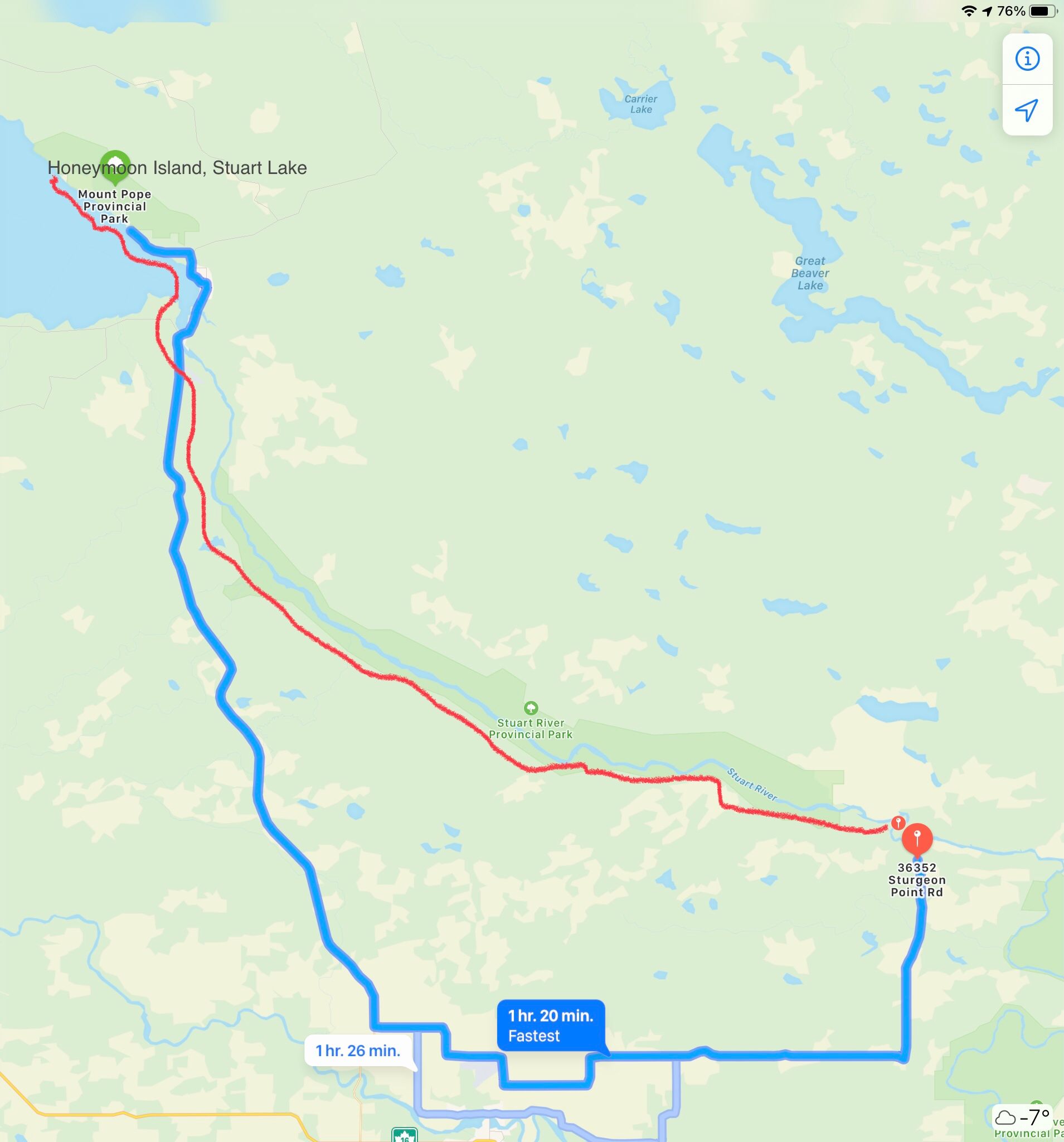 There are rapids at the top end of the Stuart River near the lake. I remember people coming down to shore to watch us make our way up in this small river boat as we picked our way through. There are no photos going in that direction because I was on the bow of the boat helping to give directions so we didn't hit a rock. But I have included a quick snap of our return trip coming back down.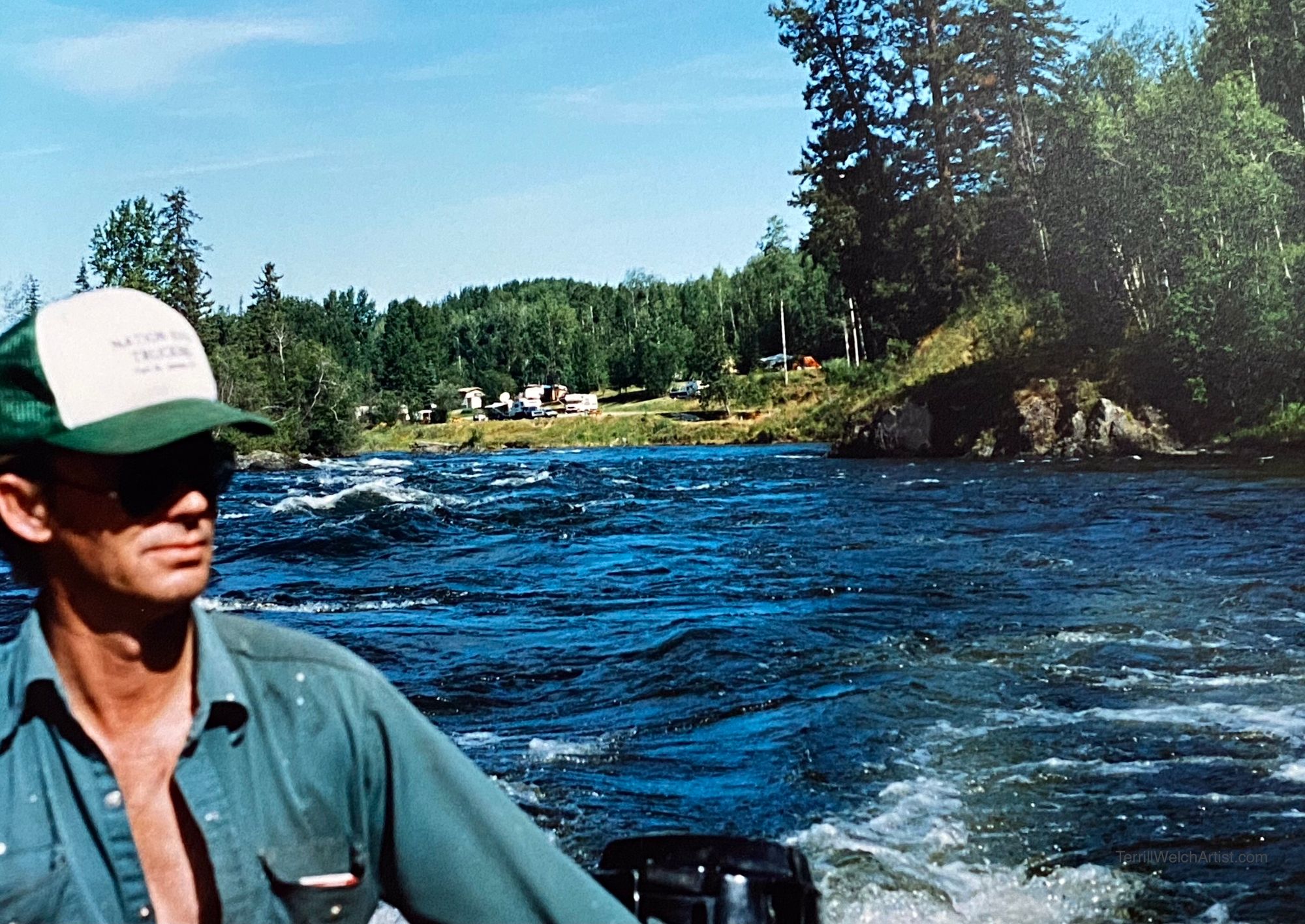 Ed and I had known each other almost forever. We met when I was six and he was ten and our birthdays were on the same day. We dated as teenagers and had been living together about four of our ten year relationship at this point. These lake and river boating and camping trips were some of our favourite things to do together, besides a Sunday spent getting firewood. We were young as you can see from the photo taken on Christmas of the same year. Ed was just 40 and I was 36.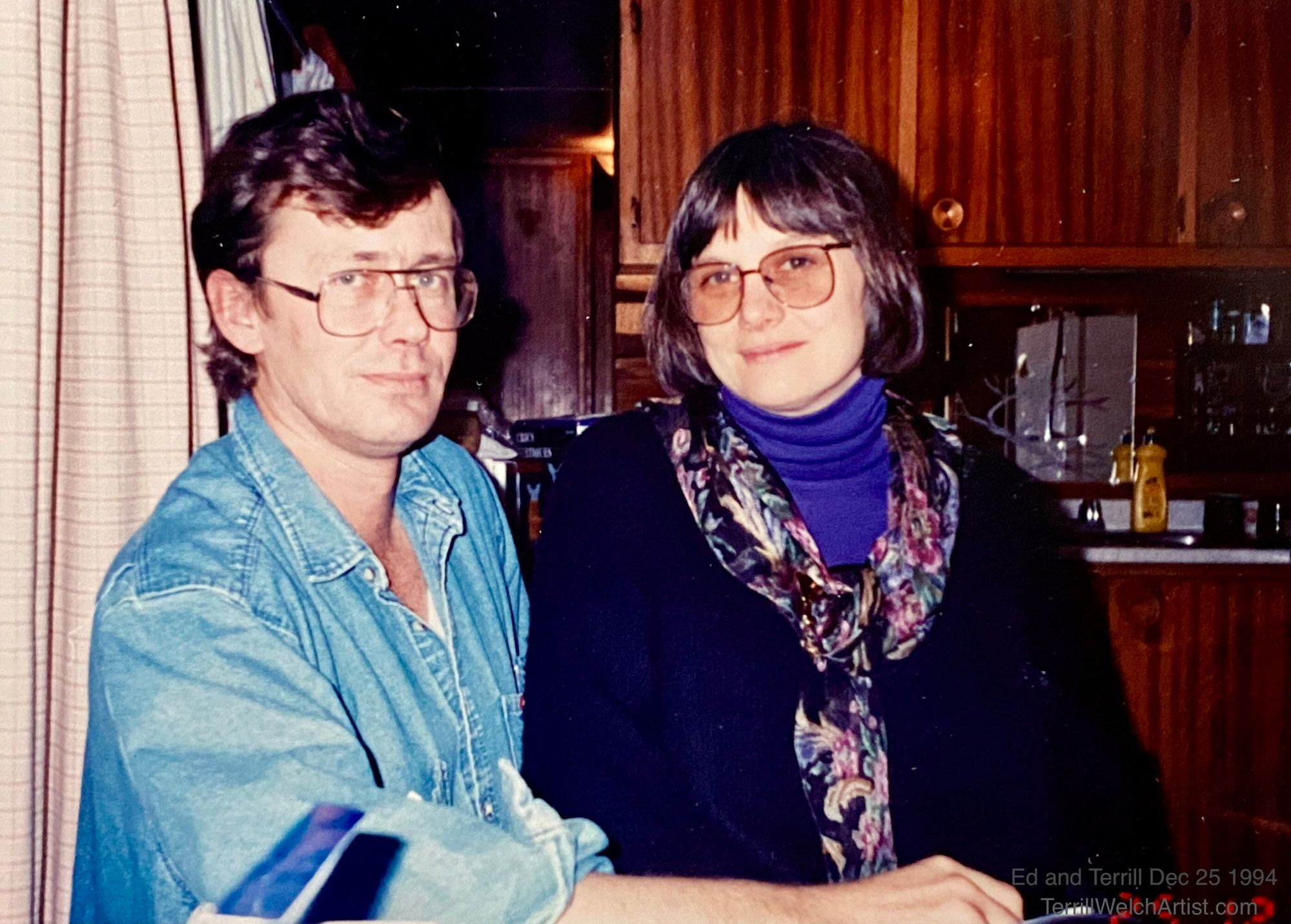 These were some of our best years together before life took us in different directions for the last time. We remained friends until his death a couple of years ago but we had to work around things we knew we could never resolve.... My husband David always says "this is my good fortune" and it is true.
I have thought about this painting a lot in recent years. If the art collector who purchased this and another figurative portrait (that I will also include just because I can) is still around and still has it, I might try and get a better photograph. These images have reflections from the glass and this is interfering with our viewing of the paintings. However, they are better than nothing at all which was where I was before I went up into the loft to find the boxes of old photographs.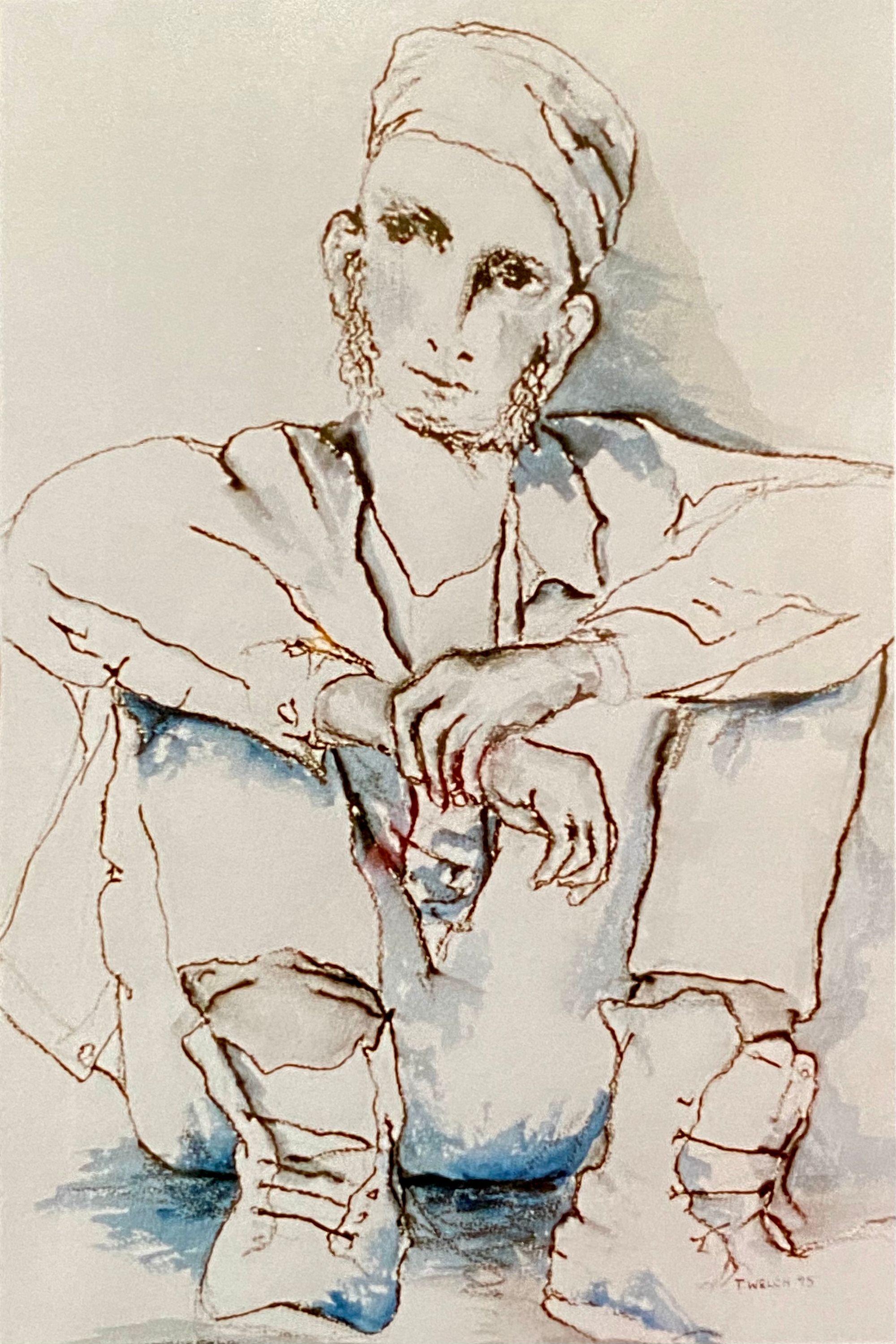 So I am thinking I shall do an oil painting of Honeymoon Island using the water colour image for reference (I can't seem to find the original photograph references so this will have to do) and I will decide on the size next.
Anyway, this is what I am up to next, possibly.
The Accidental Curator - George Bathgate
We know many of you love stories as much as we do and a great reader of their stories is a treasure! We would like to introduce you to a fellow Mayne Island gallery owner and creative being, George Bathgate. Below, we provide you the link to his Podbean channel where you can listen to his amazing stories for yourself. The pandemic has meant the closure of his physical gallery cafe for now. But not a closure to his gentle outreach to Islanders and beyond with humorous updates and local artist interviews. We dare you to listen to just one, anyone one, of these podcasts and not end up listening to them all before you are finished.... and then subscribing so you don't miss out on the next instalment.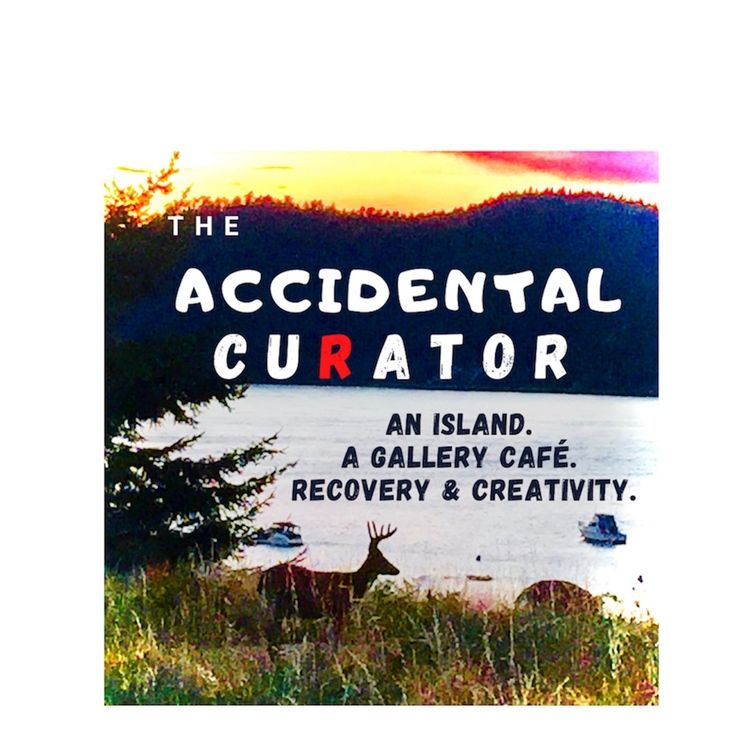 An island. A Gallery Café. Recovery & Creativity....
Until next time!
By the next issue I suspect we shall be greeting much more spring-like weather and the west coast painters will be sorting their plein air painting gear and finding a sun-warmed shelter curve away from the cool sea breeze. Until then, do take the time watch our video of the new physical show in the Arbutus Room from the link provided above. Take a good long slow browse through our current shows. The paintings are happy to have you "just look" and enjoy their company and so are we!
Also, welcome to our twelve new recent subscribers. Our gallery's reach grows through these gentle shares of each issue of "A Brush with Life". We hope you enjoy and share this exchange about landscape paintings with others that might be interested.
Our gallery program brings extraordinary connections to ordinary moments in our natural landscape. The Terrill Welch Gallery opened in August 2017. Since then, the gallery has more than doubled its physical gallery exhibition space and online reach.