A Brush with Life - Issue #94 A Lonely Painter Living in a Box of Paints
Holidays can bring moments of doing-the-nothing-of-nothing until melancholy cracks open into even the brightest of days. The west coast winter snow between Christmas and New Years offers me a chosen wakeful early morning in bed. Our fireplace glows as the sun catches the far hill across the valley w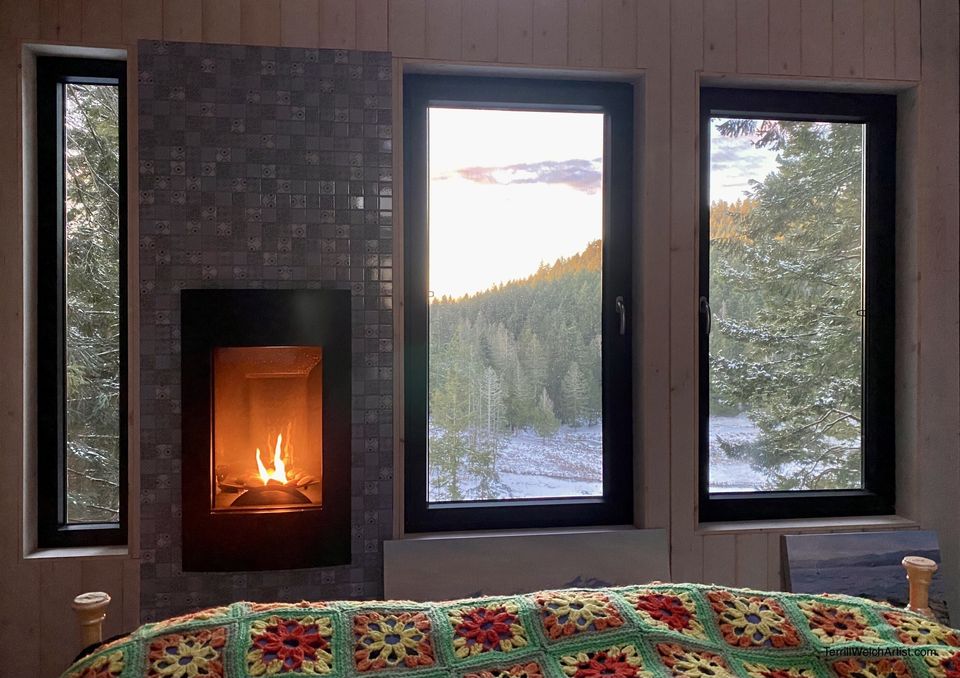 Holidays can bring moments of doing-the-nothing-of-nothing until melancholy cracks open into even the brightest of days. The west coast winter snow between Christmas and New Years offers me a chosen wakeful early morning in bed. Our fireplace glows as the sun catches the far hill across the valley while I listen to Joni Mitchell's 1971 "Blue" album. I borrowed her imagery from "A Case of You" for the title of this first issue of 2022. Since I am not going out into the world much just yet, I invite you into my personal space and home studio. I shall share my top ten paintings from 2021 and then slip directly into the work ahead on five commissions followed by glimpses of some of our snow days. Then we will share what has sold and introducing a few new directions for the gallery during the 2022. May we continue to journey boldly together with courage and vision.
---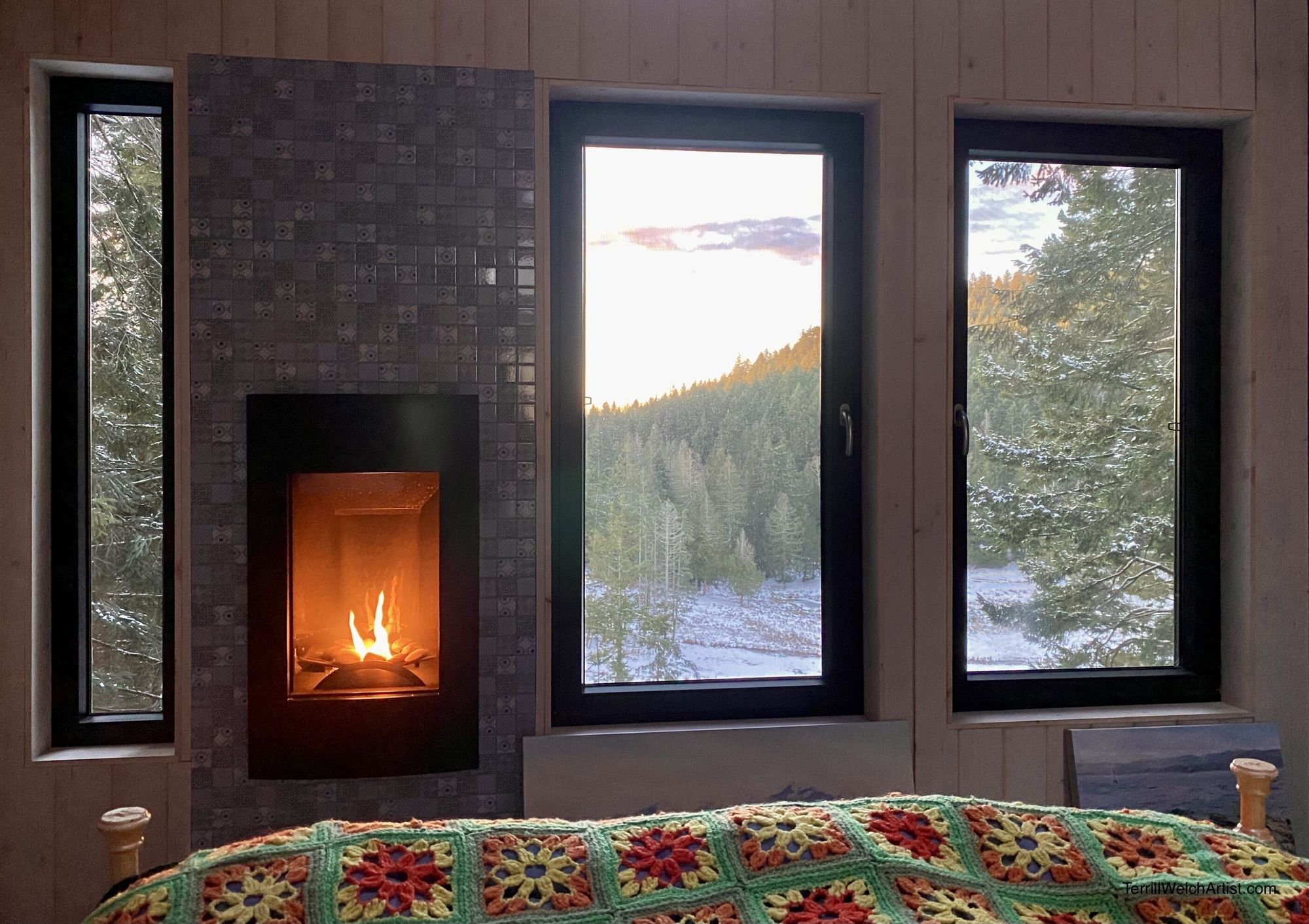 Terrill's Top Ten of 2021
With my toes curled up under a blanket my mother made for me almost 20 years ago, using the colours from my much-loved small flower garden at the time, let's review my ten favourite paintings from 2021. With 44 paintings sold out of my inventory and only 29 new works released, we can say it was a reasonably good year overall. In fact, it is my best year so far since starting full-time as an artist in January 2010. With a bit of good luck and hard work, may this trend continue for the year ahead.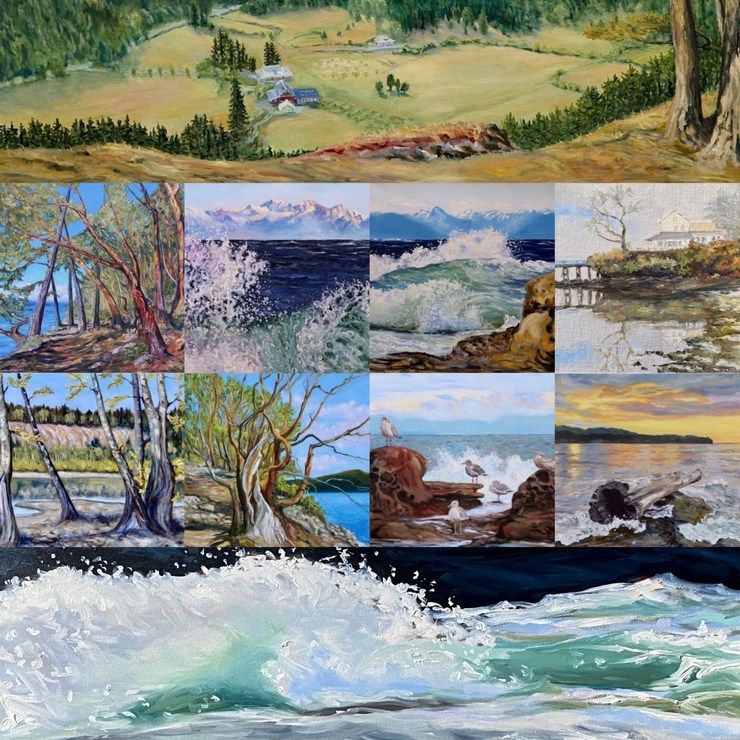 All the best of 2022 from the southwest coast of Canada! May you have time for long conversations. May you read books simply for the pleasure of it. May you view art that makes your heart sing. May you be healthy and filled with gratitude. May you lend a hand to others in their moments…
Five "Terrill Welch" Commissions
The paintings to be completed during the first part of 2022 are already spoken for and have been commissioned in agreements reached with art collectors at the end of 2021. I love how I do commissions! The art collectors decide on the general subject matter and the size of the painting and then it is over to me. I keep them posted on the progress as I go and then they make their final decision about accepting the work when it is finished. If for some reason it doesn't meet their expectations, the work then goes into my inventory and I try again. This way I always have happy commission art collectors and I retain maximum freedom over my work and the intrigue and excitement that comes with this approach. I always work from my own reference materials and painting sketches and generally there are no pet or human portraits or paintings of a house or cabin. I am a landscape painter with an independent creative streak. 😉 If you are interested in a landscape painting commission using this approach, I will be accepting new commission requests for completion between late spring and early summer.
For now, the high quality custom made canvases have arrived and the hanging wires for the current commissions are on…
The largest canvas will be of an Arbutus Tree with a view and is 30 x 42 inches. The smallest is poppies in the seaside mist and is 18 x 14 inches. The 12 x 24 canvas is a sunrise at Reef Bay and then there are a pair of 20 x 24 inch sister paintings with views of Saint John Point. Exciting, yes?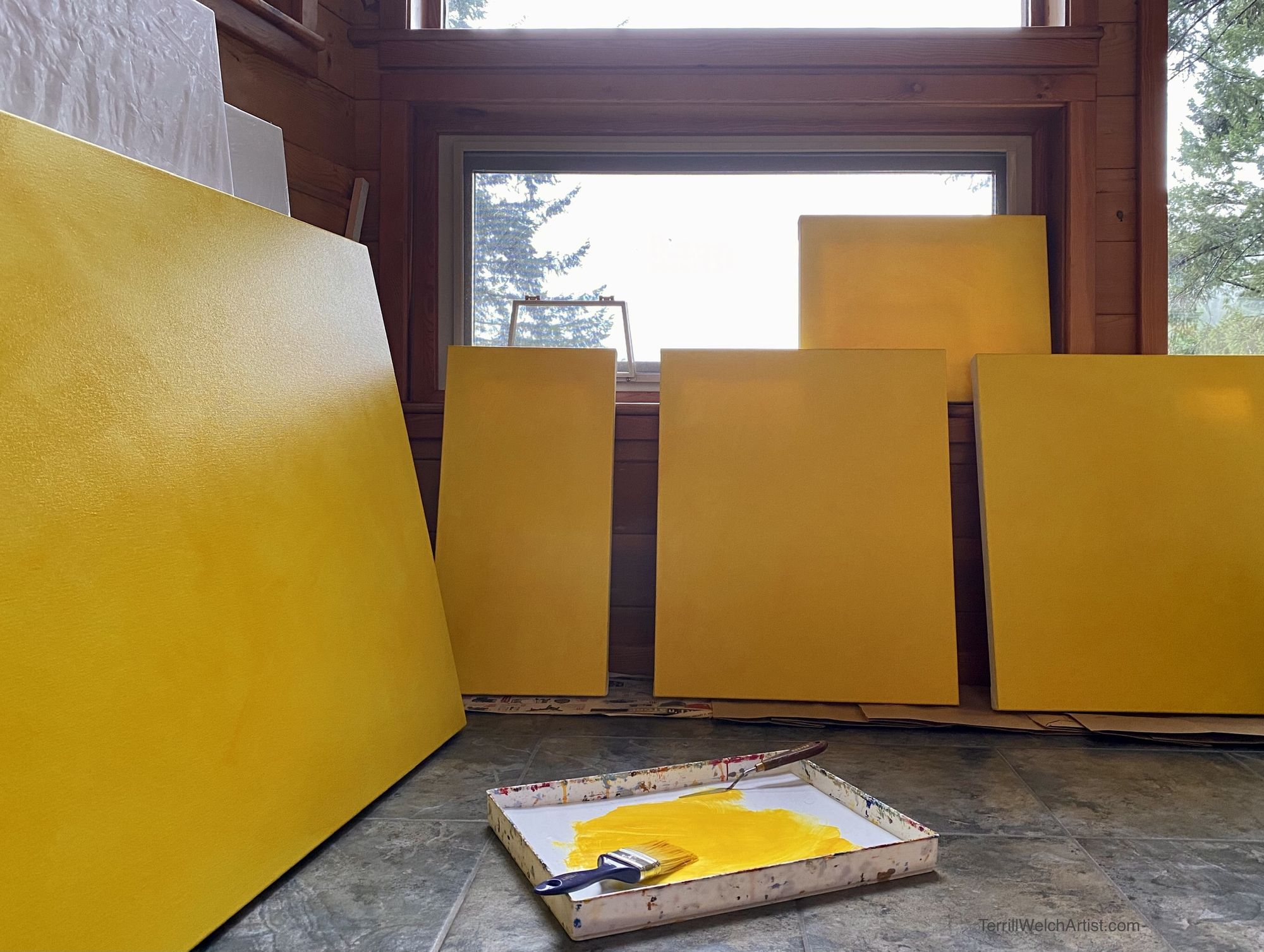 Mist lingers against the far hill across the valley as dawn gently pulls another long night back onto a clear morning. The next few days are all about watching paint dry while getting work that I held over from last year into the inventory and packaging a few paintings for shipping that sold when delivery plans were necessarily modified.
More to come as the work develops!
Snow Days
Recent relatively light snow days during a cold snap keep us close to home and often tucked in after long walks on the old road in our neighbourhood park though we do make it down to the sea now and again. Would you like to take a ramble with me for a bit? Yes? I thought so.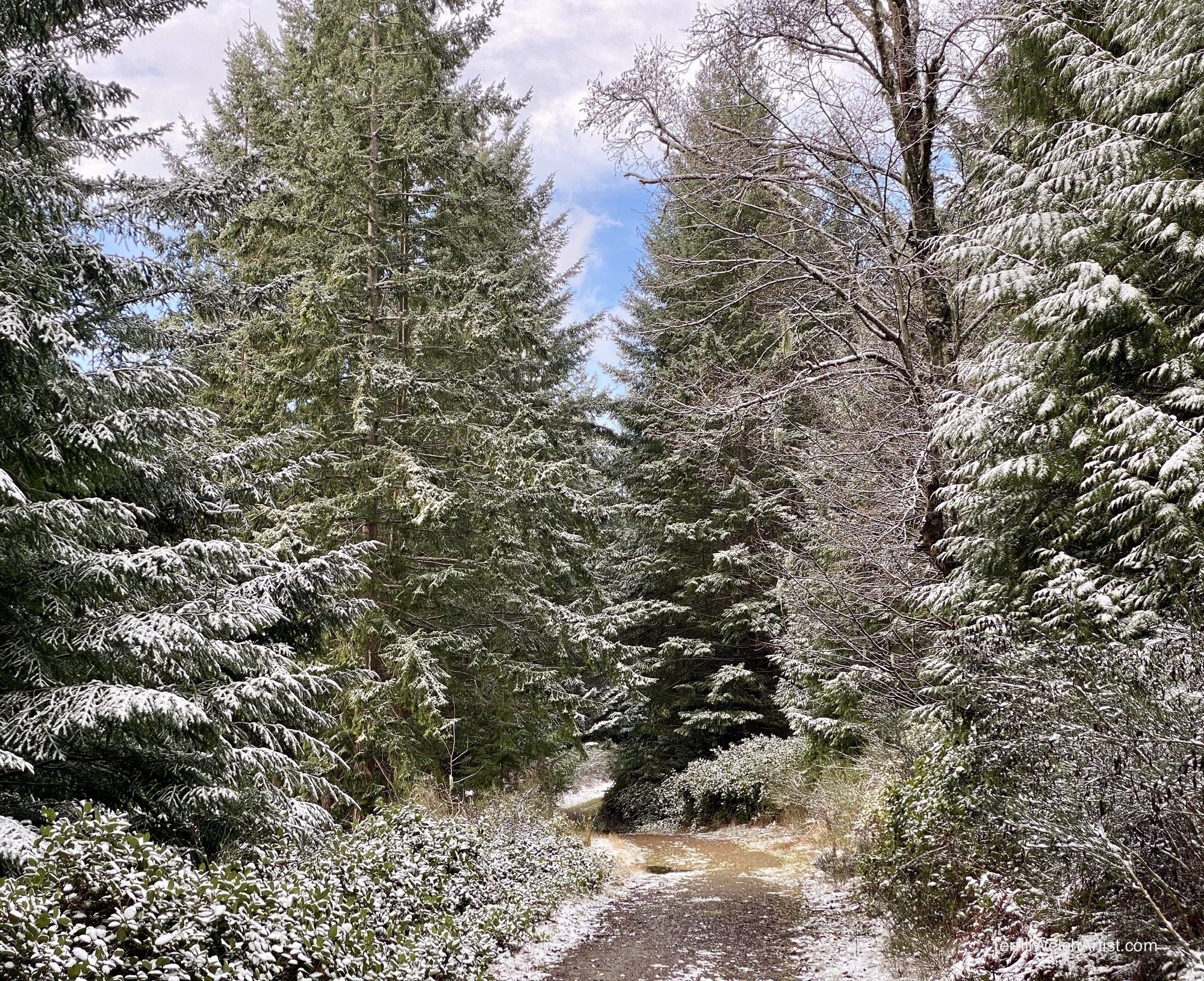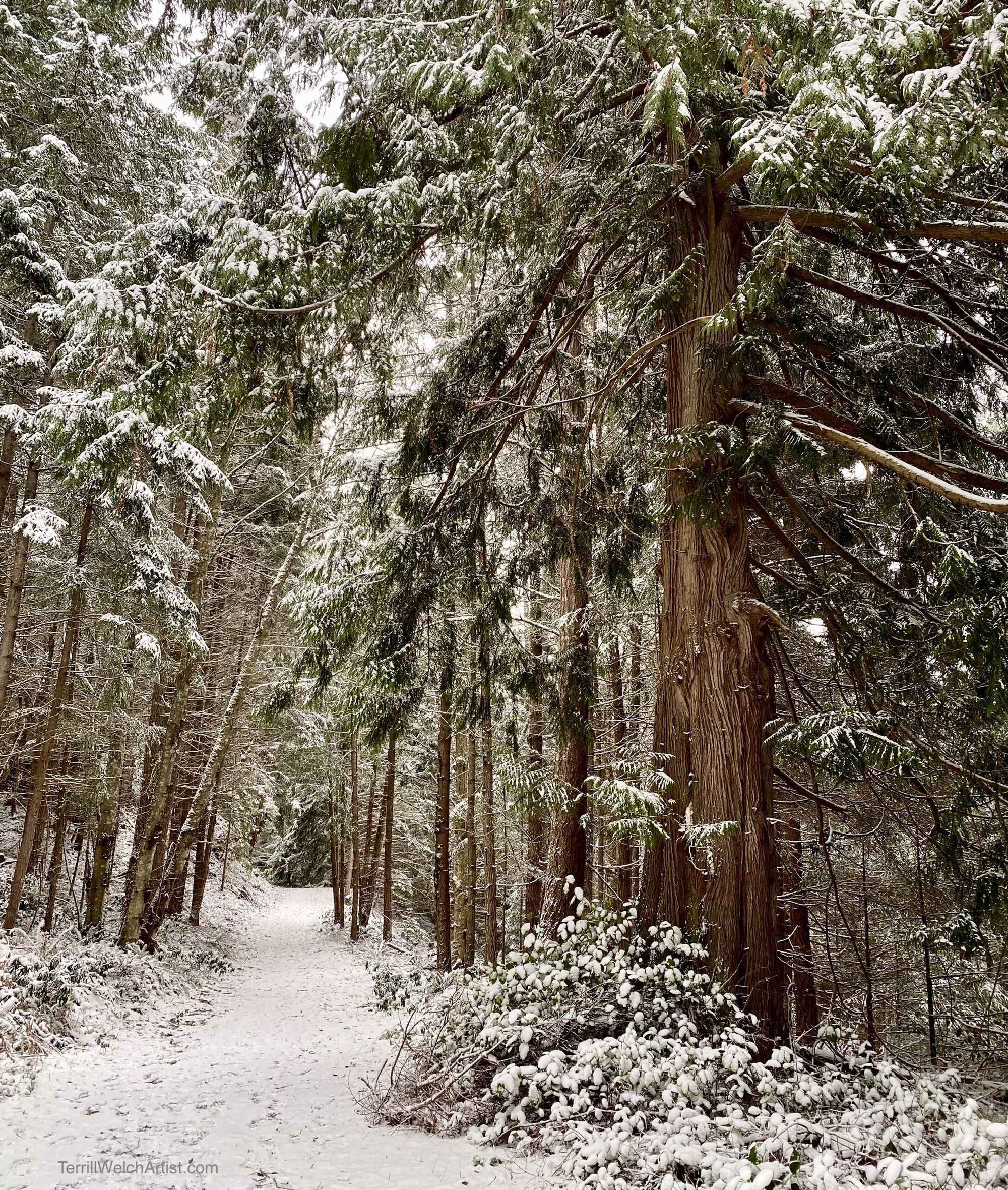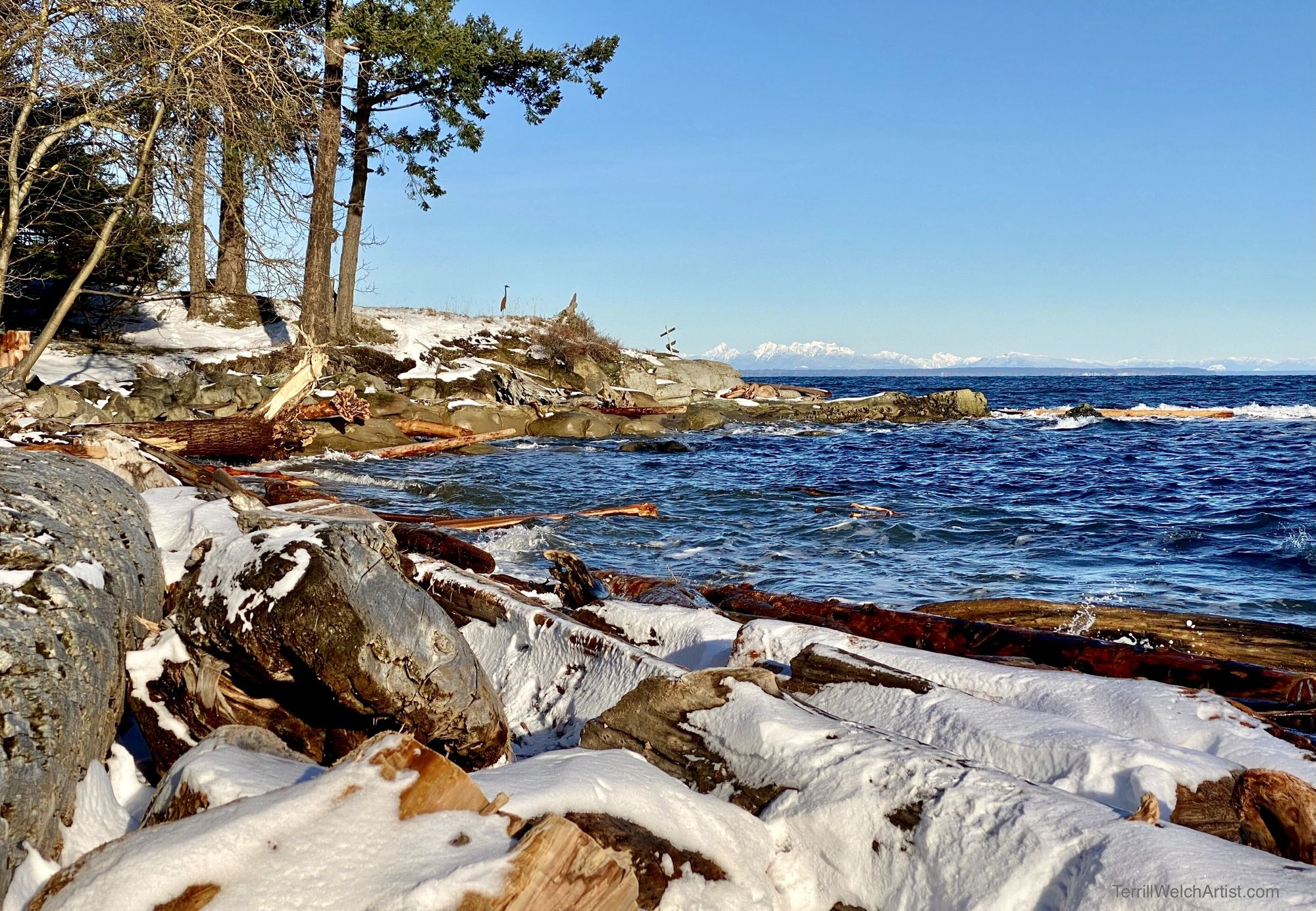 Then yesterday we received another seven inches overnight of heavy wet snow with rain by afternoon. The view out the studio window was lovely even if the power did get knocked out by falling trees and I needed to shovel the driveway so we could get out for booster shots.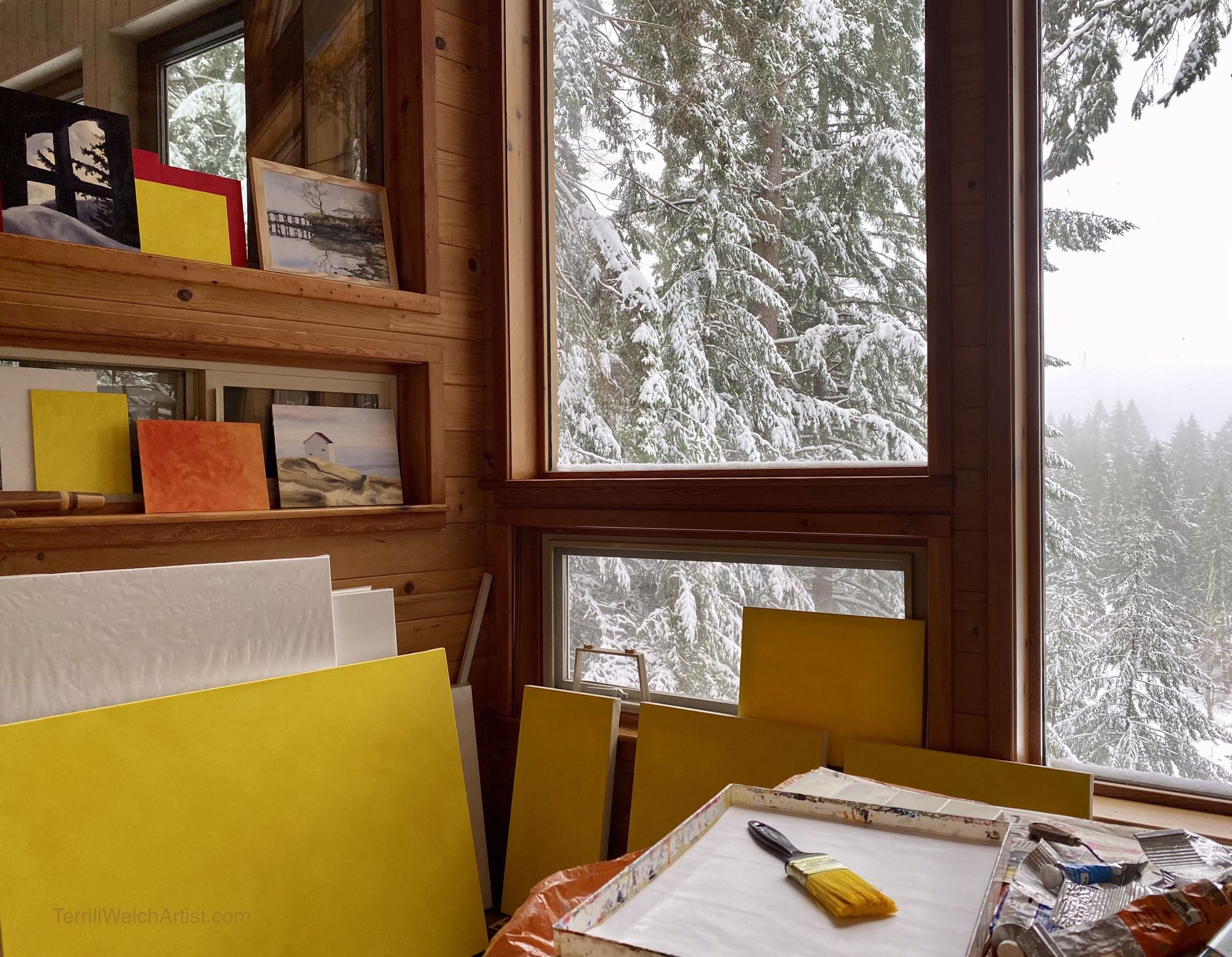 The best part was a neighbour came and helped with the shovelling and the plow truck had all ready done a pass down our side road. All is good and there was soup for supper but the power came back on just before 6:00 pm.
What Has Sold
Congratulations to artist Jennifer Peers and the art collectors who added this small beauty to their collection during the holidays…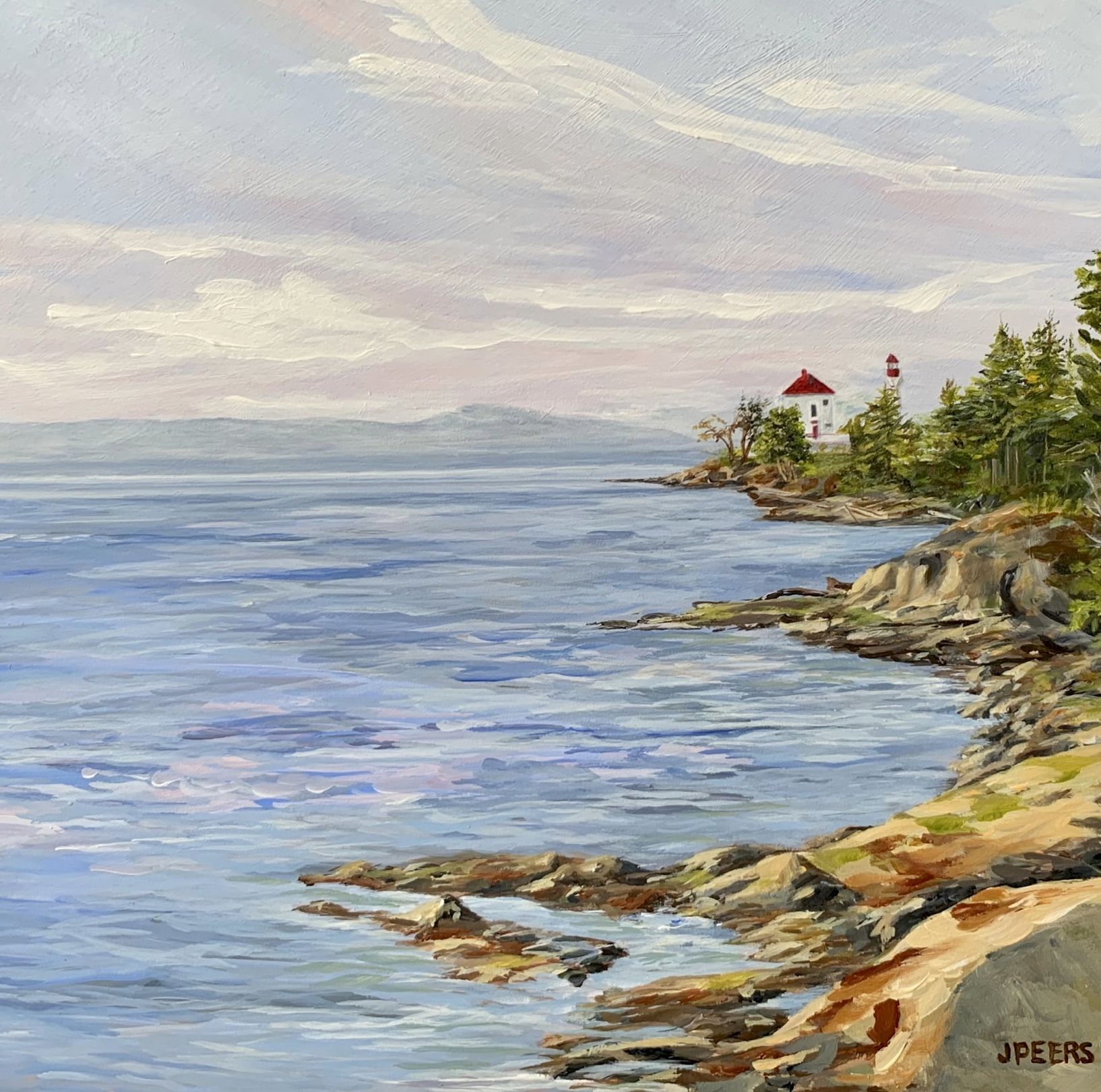 Our first sale of 2022 happened on the first day of the New Year! It is a new work that was not yet listed but had been selected in Terrill's favourites of 2021. Our congratulations to the art collector who discovered this painting in an earlier Facebook post….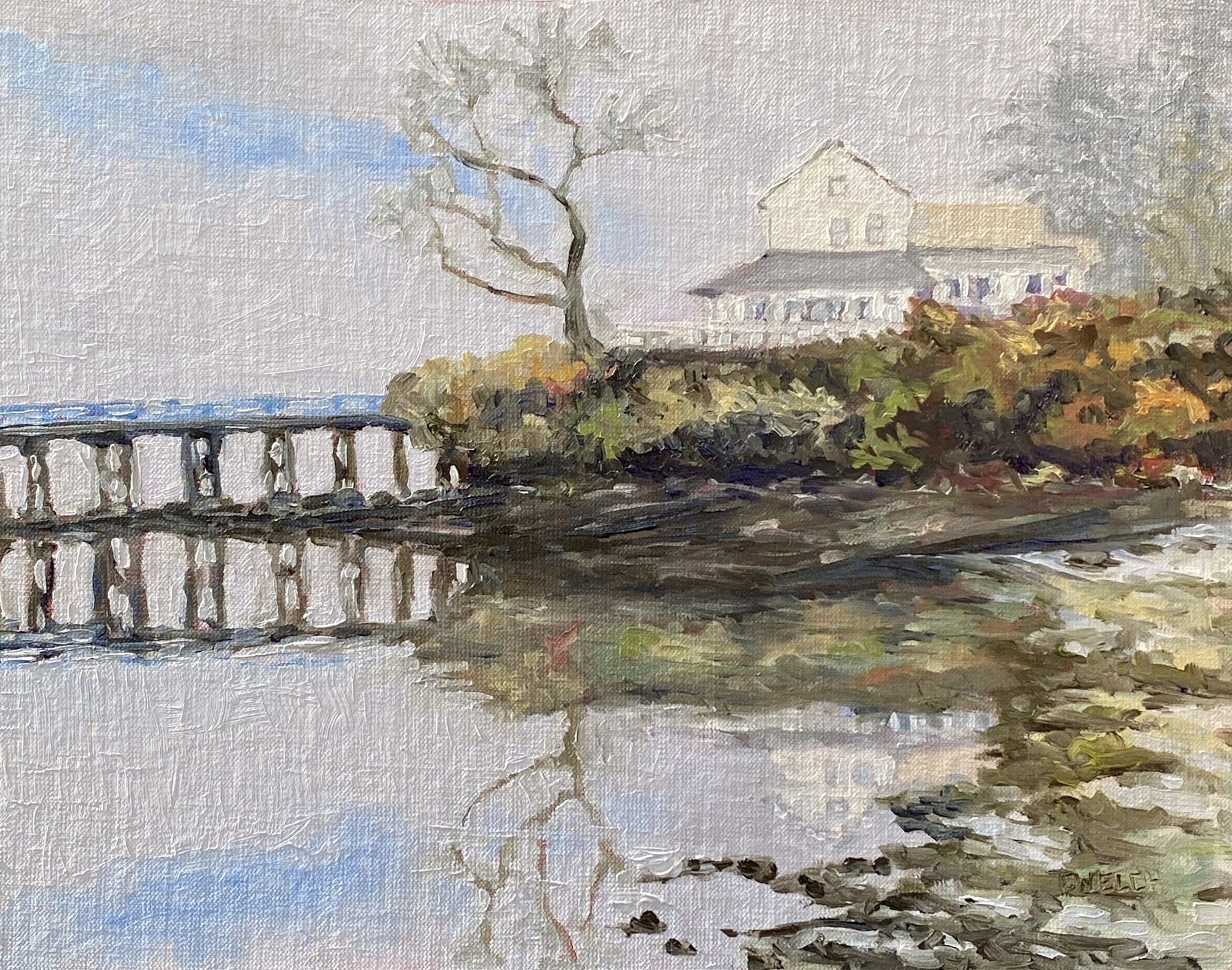 So we are off to a good start. More work by both these artists and Jody Waldie and Glenda King can be viewed in the gallery's current Arbutus Room show and also online at the link below.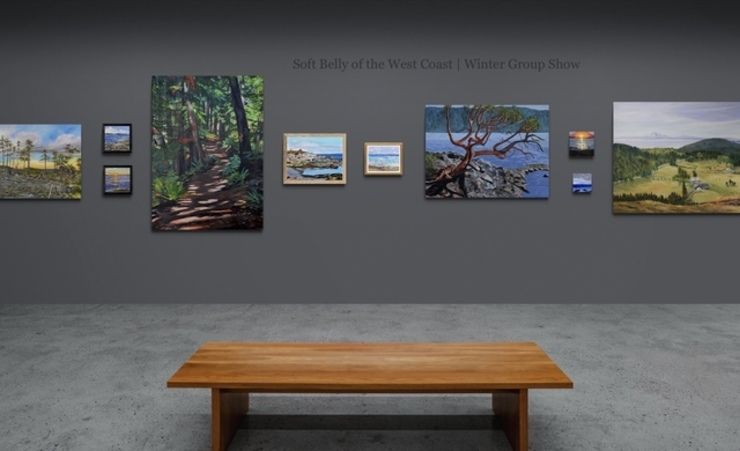 Regardless of their unique differences, each painting leaves us with the feeling that this is the soft belly of the West Coast that continues to  capture the attention of Mayne Island landscape painters Jody Waldie, Glenda King, Jennifer Peers and Terrill Welch.
New Directions in 2022
This coming year has some significant changes for the gallery as we move to our new gallery pod sometime late May or early June. The back window and the front door window unit have already been ordered. Here is a peek at one of the drawings to give you an idea…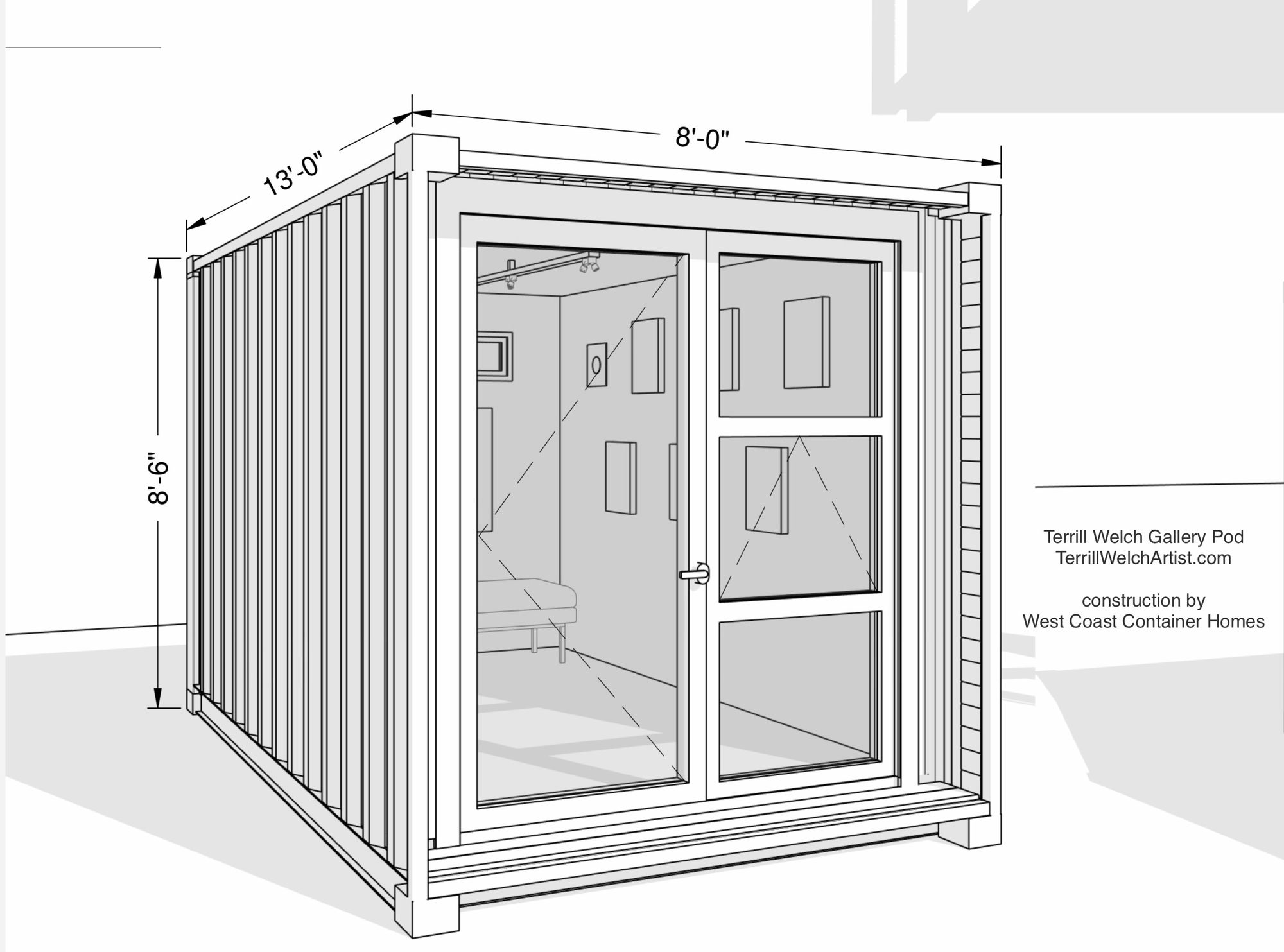 Adam Benning with West Coast Container Homes has been awesome to work with and is almost as excited as I am to see how this is going to work for the gallery. He arrived from Vancouver Island to do a site visit just before Christmas and everything has a green light. I shall keep you posted as new developments become available.
The space is about 1/4 of the physical show space of our previous two rooms in Miners Bay. This will mean some serious creativity and an adjustment in our approach. We are combining this new pod show space with our art collectors' purchasing desires for a boutique, friendly, trusted and intimate art experience. Besides, the gallery pod is just so darn cute that we want to give it the best chance to show us what it can do for you! With this in mind, we are moving towards presenting individual and small group feature and new release paintings ongoing rather than full changes of shows with new work being presented in larger groupings all at once. We are also going to more heavily use the gallery's TerrillWelchArtist.com website in combination with our newsletter and social media platforms. An example of this is my favourite Top Ten Paintings of 2021 that is linked to the website up above. As newsletter readers I suspect you will hardly notice the shift in link locations because the content for each work will remain the same. This shift will happen gradually in a rather relaxed gentle fashion. Please feel free to let us know if something isn't working for you in the process. Everything about presenting paintings is always our best attempt in the moment. If there is something that will work better for you, we want to know. The other Mayne Island artists will continue to show with me in the physical gallery pod and include Glenda King, Jody Waldie and Jennifer Peers. We are still considering how best to present other online exclusive national and international art shows in the future. For now, our focus will be on getting this new physical space up and running. That said, we still have a lovely solo show of Annerose Georgeson's paintings available for you…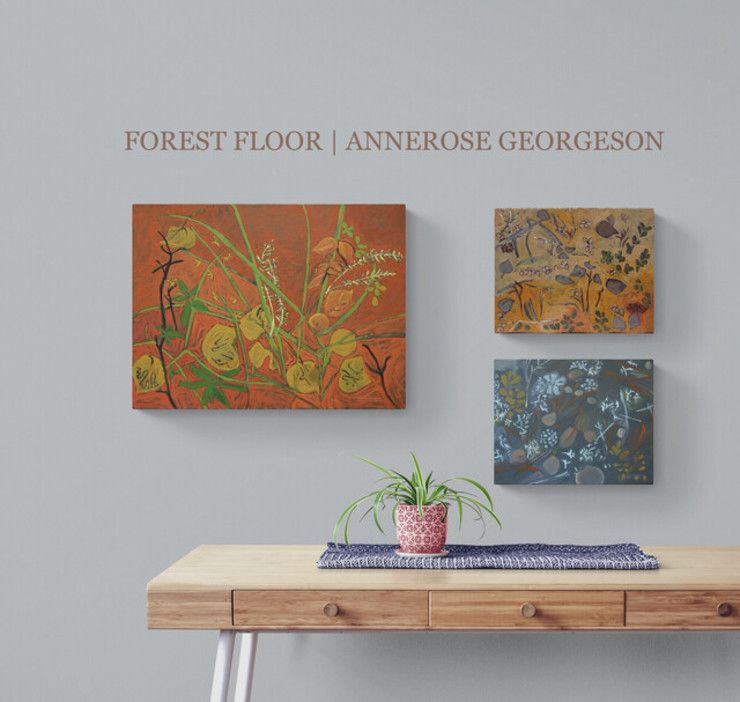 Deep in the Canadian woods, Annerose Georgeson keeps her gaze low. Her careful observations bring us landscapes of the forest floor.
Until Next Time!
Hibernating is appealing as we hug some of the shortest days of the year during winter of 2022 on the southwest coast of Canada. Still there are paintings to paint and new project move forward.  No matter where you are living or where you are choosing to place your focus, we wish you all the best!
From our heart to your home, Happy New Year!
Terrill 👩‍🎨🎨❤️
p.s. I am truly only a little seasonally lonely which is perfectly manageable with frequent long walks and good books and the great company of my partner with the addition of a few friends as condition permit. And then there is painting! I often do feel as if I am living in a box of paints. I love that mental image!
Canadian landscape painter, Terrill Welch, exposes the mystery in an ordinary day, reminding us that there is only one moment – this one.