A Brush with Life - Issue #110 Art Is Long
During this past couple of weeks I have been watching interviews with American art critic Jerry Saltz and reading his fascinating small, perfect summer reading book HOW TO BE AN ARTIST. Born in 1951 Chicago, Jerry Saltz now lives outside of New York City and was a Pulitzer Prize winner in 2018. Salt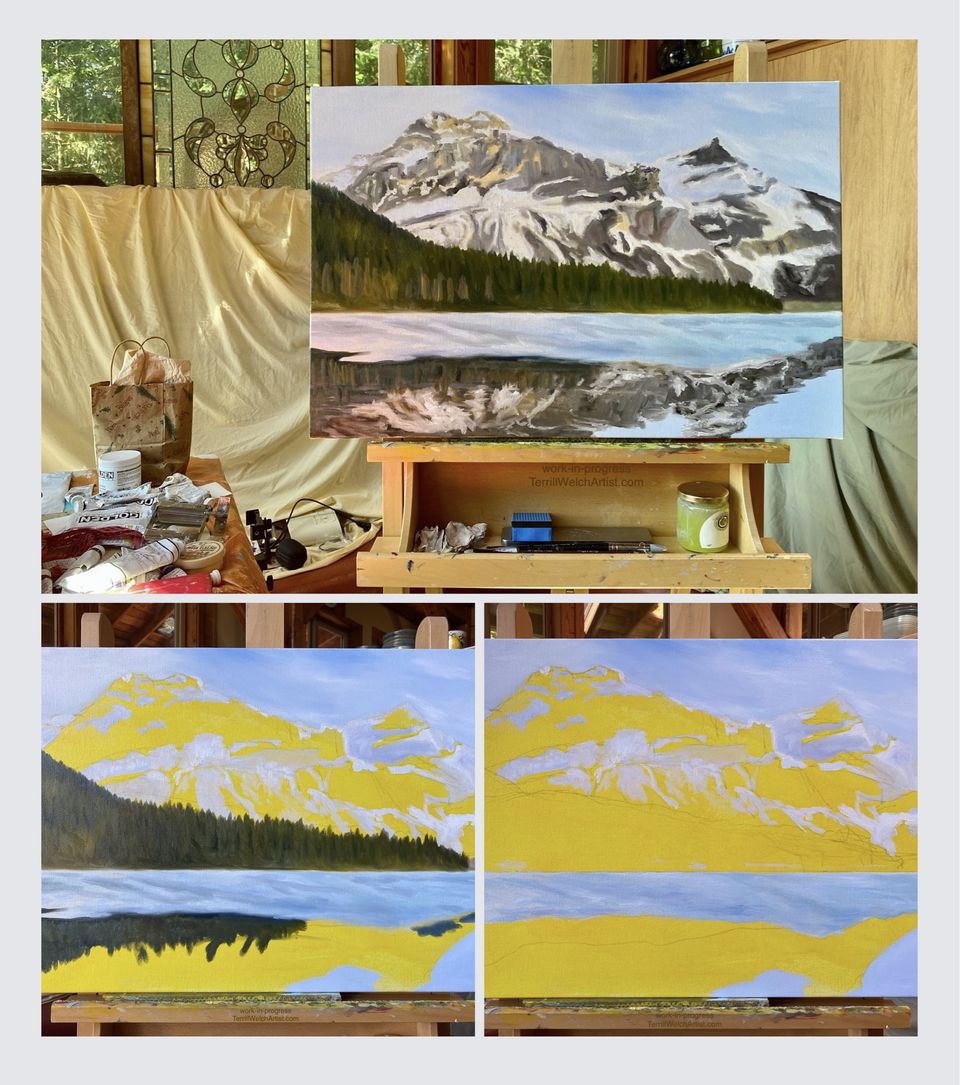 During this past couple of weeks I have been watching interviews with American art critic Jerry Saltz and reading his fascinating small, perfect summer reading book HOW TO BE AN ARTIST. Born in 1951 Chicago, Jerry Saltz now lives outside of New York City and was a Pulitzer Prize winner in 2018. Saltz is a colourful, irreverent character with a devilishly sharp mind and expansive visual vocabulary. He is currently the senior art critic for New York Magazine but is frequently lectures and teaches and is interviewed by various art world hosts who are prominent in the international art scene. I like Saltz's perspective because he grabs all the "must do" wisdom of established art creating, art marketing and art collecting and mixes them all up then drops them from a great height so that all the nonsense is laid bare and naked on the page. With this context, there are two things that he said that will anchor my painting practice over the next while.
These are:
a) "Art is long" - humans have always made art from the beginning of humanity. Therefore, it is reasonable to expect these creative practices to continue. Also, art is best understood as a verb not a noun. It is a doing. Even as viewers, we are in the act of creating what we are seeing and experiencing.
b) "Success is when an artist has time to make their work." - such a simple truth! In addition to this he adds that it is helpful to have a critic or two and maybe a curator to enhance that success. Mostly though, an artist's success is having the time (and I would add the drive and discipline) to make their work.
These two points ring deep through my being as I worked on a new painting for the red line series this week. These two points and a poem…
The water in your body is just visiting. It was a thunderstorm a week ago. It will be the ocean soon enough. Most of your cells come and go like morning dew. We are more weather pattern than stone monument. Sunlight on mist. Summer lightning. Your choices outweigh your substance.
(From FIELD GUIDE TO THE HAUNTED FOREST Field by Jarod K Anderson which is now in my Kindle collection)
So, besides my summer reading adventures, what do we have for you in this issue? How about a a work-in-progress? Then maybe a sunset, followed by a reworked painting. Plus, a late morning hike. And finally, an update on the estimated arrival of the new Gallery Pod and the difference between a gallery and a studio. This should do it! Right?
---
A Work In Progress for the Red Line Series
The studio painting started out as it usually does. There was a ground and some marks in relation to photographic and plein air references.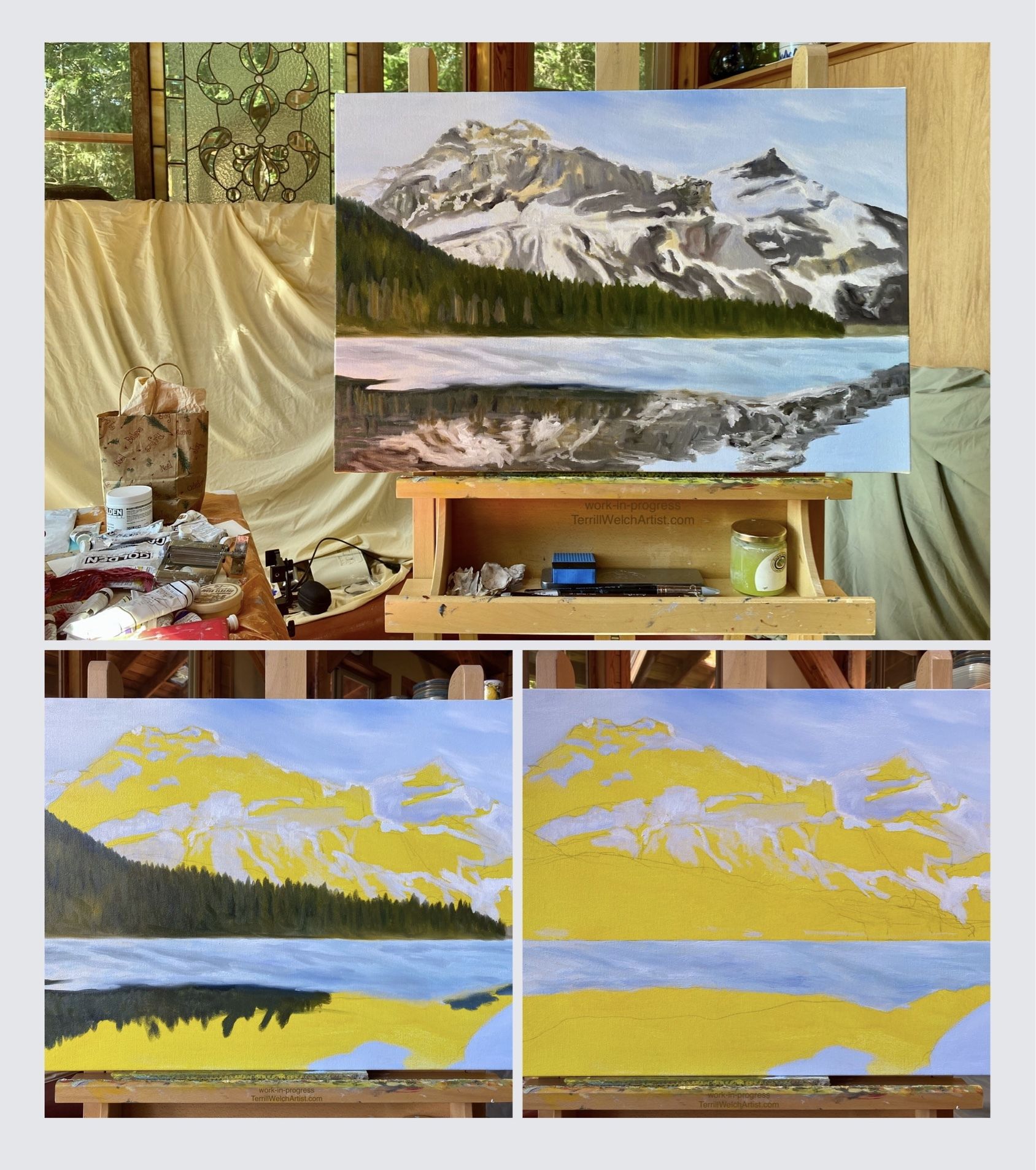 Then I let it dry before continuing. There was still lots to do but I needed to get that red line in before building up the mountains. It all came together in the end and it is now resting in the easel…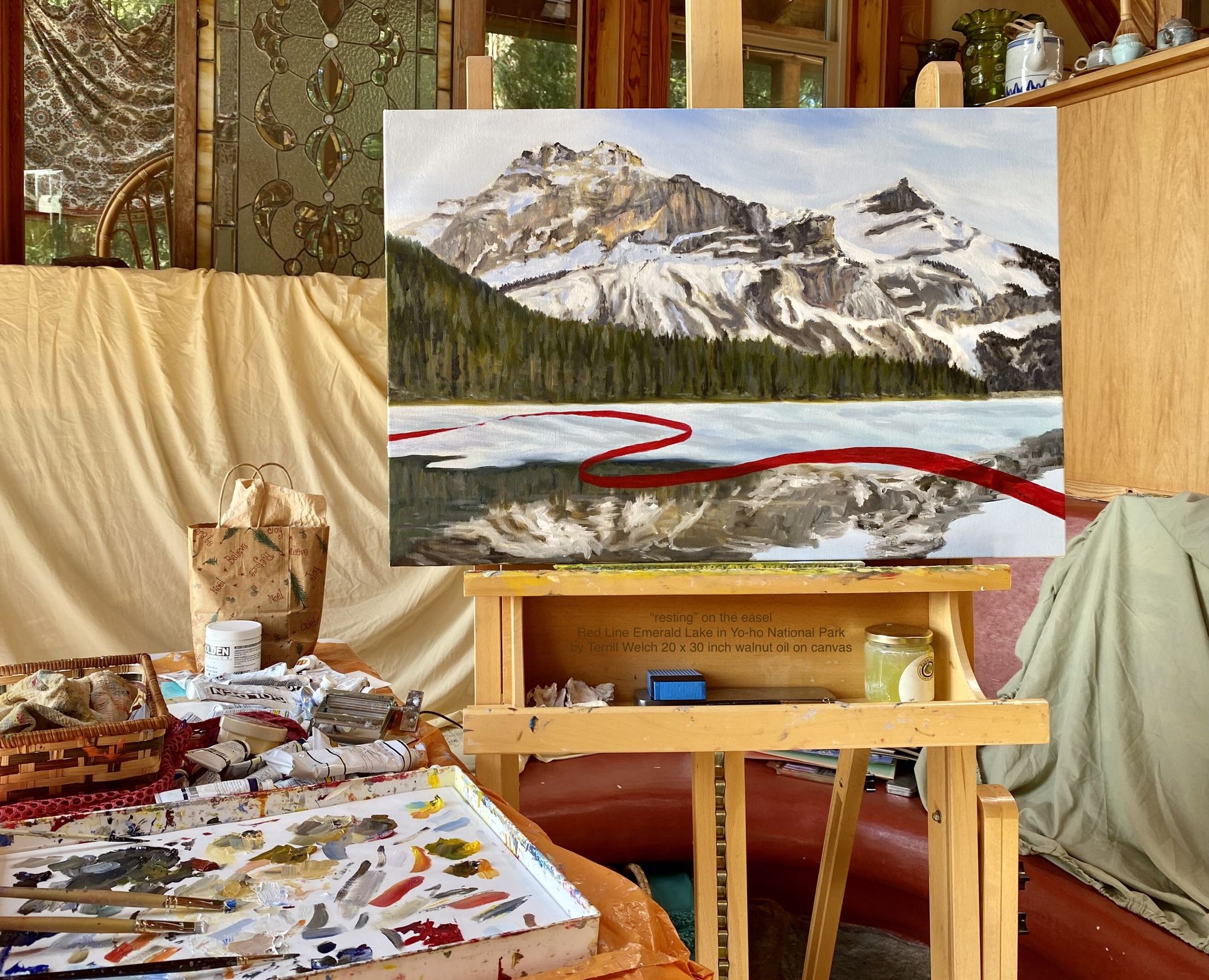 It still has a few small things to adjust but I don't believe it will change much from here…
"resting" Red Line Emerald Lake in Yoho National Park by Terrill Welch, 20 x 30 inch walnut oil on canvas.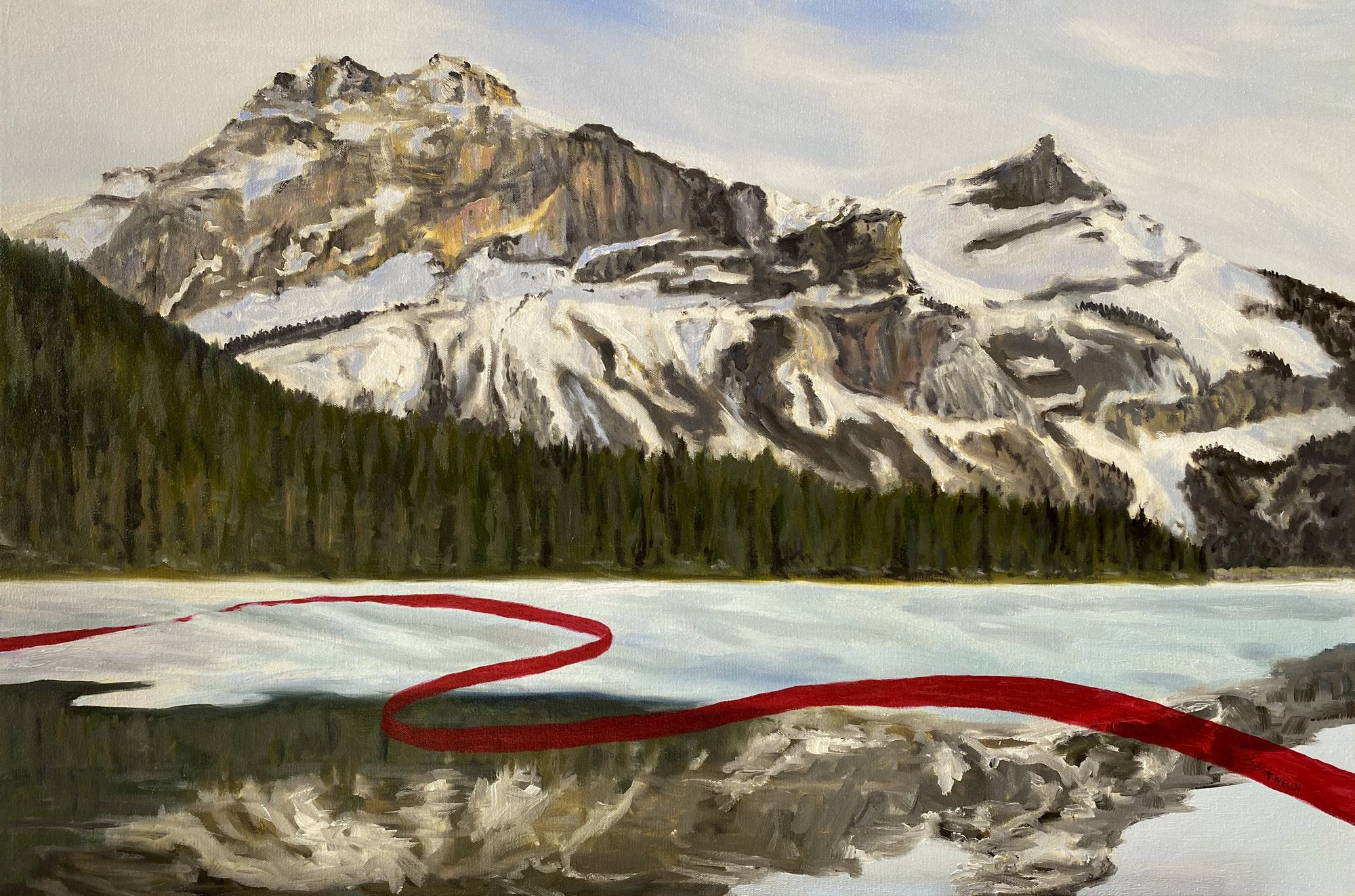 Artist notes: Emerald Lake is a compelling mountain location with a lovely body of water below. This work started with a plein air study. The broken part of the red line is to leave a little bit of hope in our ability to change our behaviour in the face of the consequences from environmental impacts.
Between 2010 and 2018 the visitors to the park increased 30%. There is a review in progress to implement a shuttle system to visit here now too, just like at Lake Louise.
As for other broader global impacts, climate change is evident in the dramatic recession of glaciers in the mountain parks, but may also be observed in other changes to the landscape and park ecosystems, and degradation of cultural resources. As the climate warms, changes in hydrological flow patterns may occur that can affect various aspects of aquatic ecosystems. Changes in the amount and patterns of winter snow accumulation may alter patterns of avalanche activity leading to changes in local vegetation patterns. A warmer climate may result in hotter, drier summers with a corresponding increase in the frequency and severity of wildfires and the length of the wildfire season. The area of montane, subalpine and alpine ecosystems may fluctuate. The duration of the summer season may increase, resulting in changes to wildlife movement, habitat use and visitor use patterns. Intense weather events may affect patterns of erosion and deposition, putting park infrastructure and cultural resources at risk and straining the park's capacity to maintain safe and enjoyable opportunities for visitors.
(Reference: Yoho National Park of Canada Draft Management Plan, 2021)
Basically, between humans loving these places into the ground and a warming climate cause from our absolute inconsiderate relationship to the natural world we love, it is a red line situation all around. Still, it works as a painting I think even without the backstory.
Mayne Island Sunset
Sometimes we think it is is the shiniest seconds that are the big moments. But they aren't really. Before this dipping sun at Georgina Point, there were other seconds that matter and kept it company.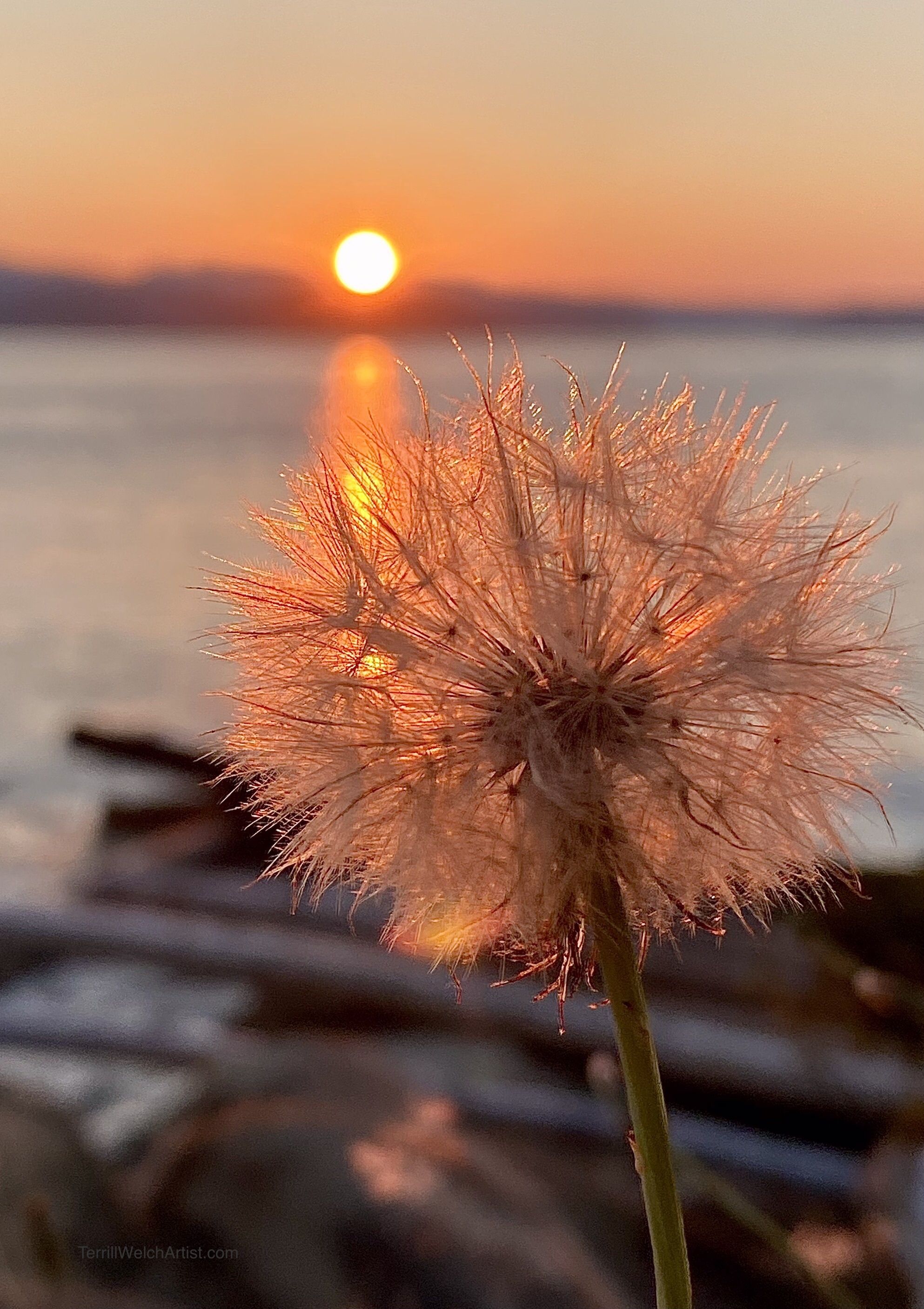 Our evening meander started with just a hint of colour at Reef Bay.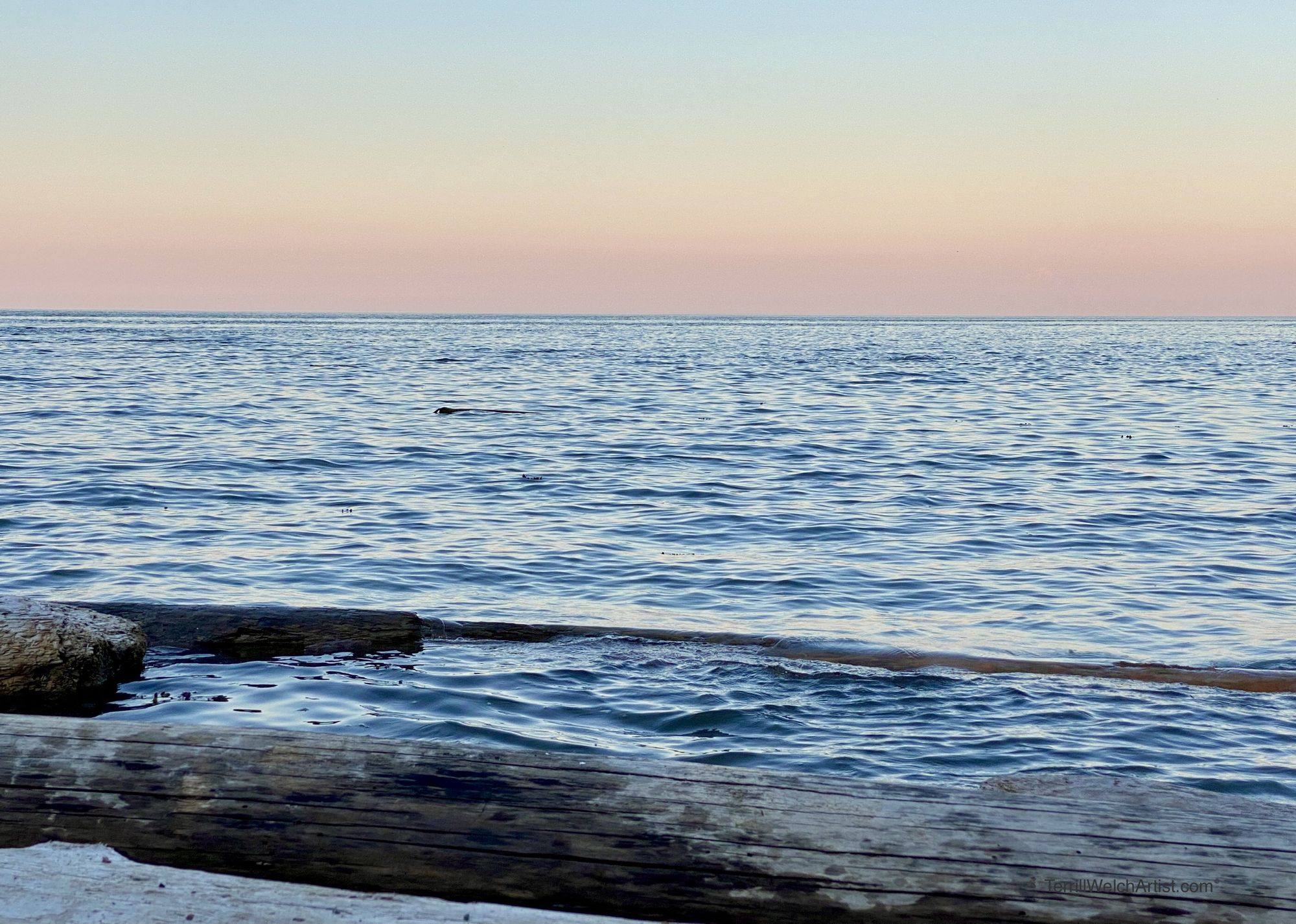 On a rising high tide, logs rolled against the shore. We stayed in the easterly stillness for a short while and then slipped off in the other direction towards the setting sun.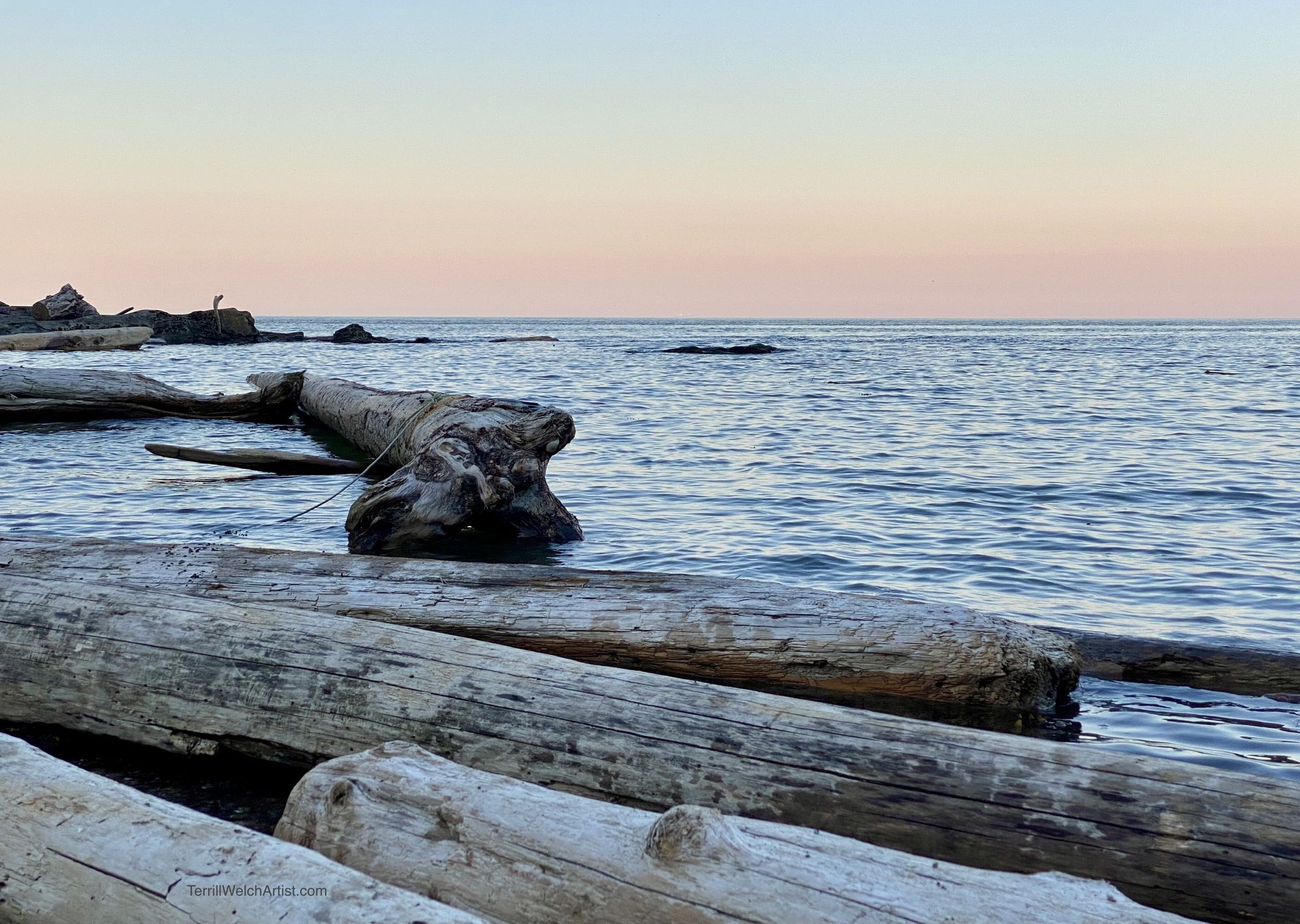 Summer golden hour at the Georgina Point Lighthouse is often a hallmark card shuffle no matter where one looks.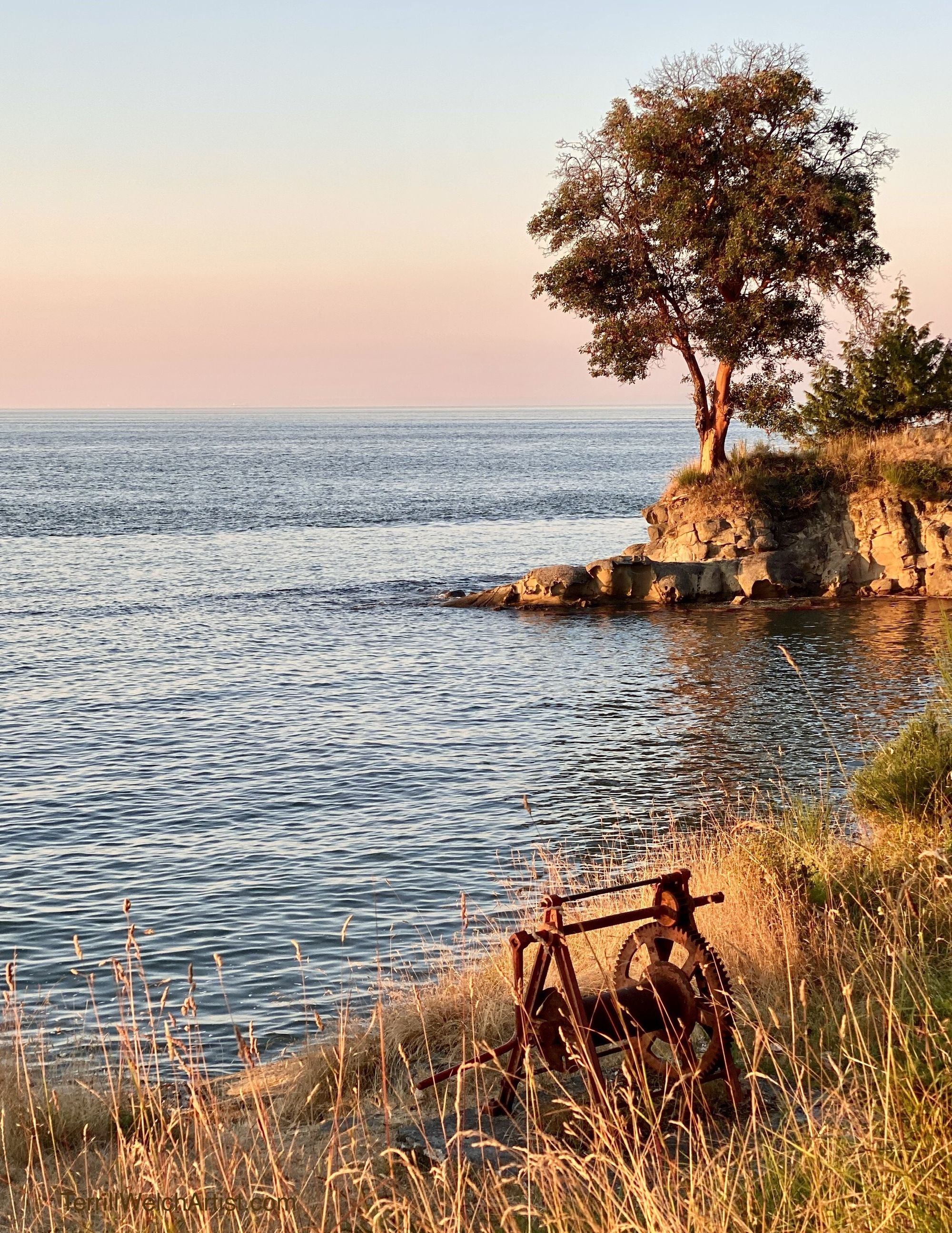 A fir tree stirs just a little with relief as the relenting sun finally leaves for another day.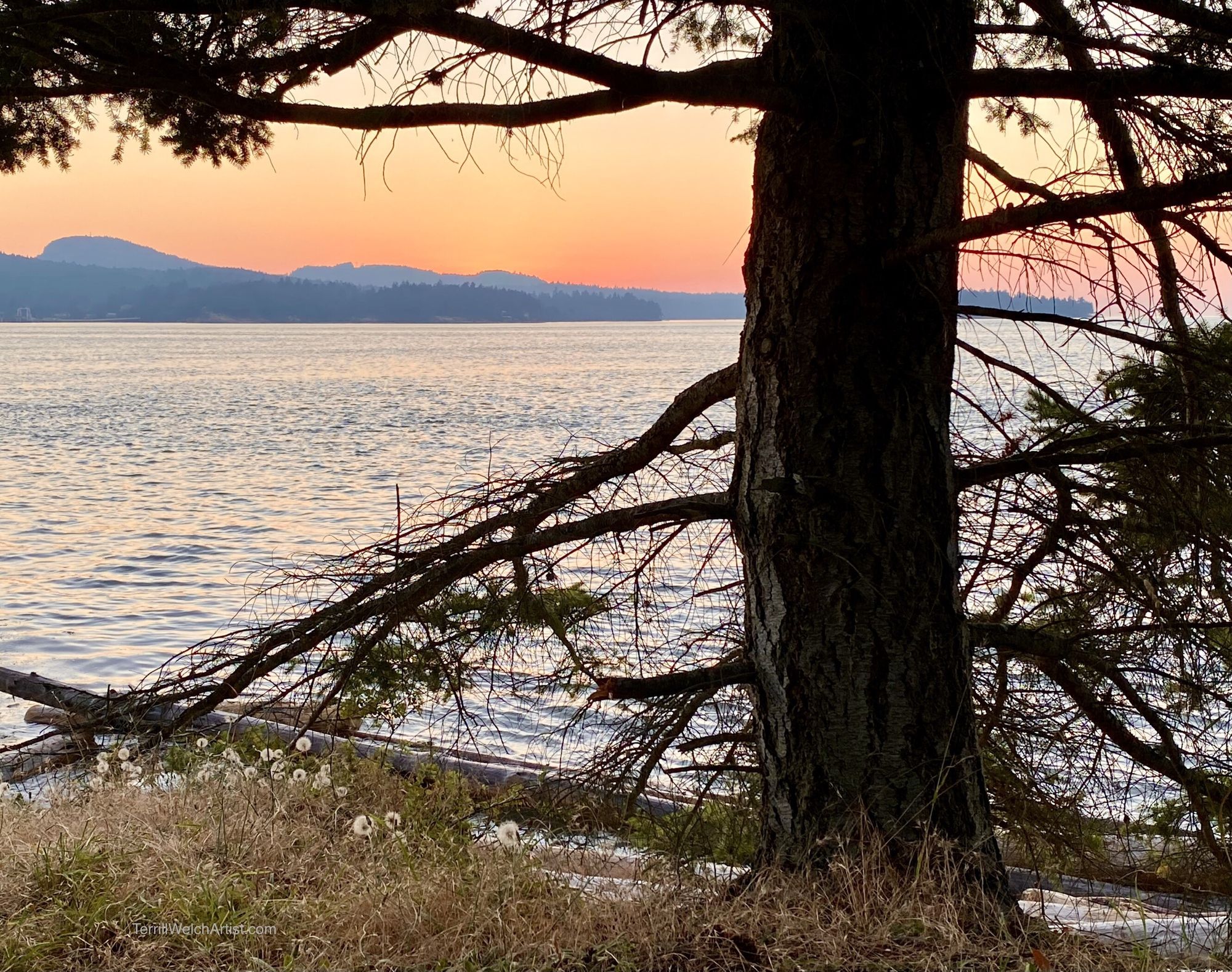 A younger tree creates a festive holiday silhouette.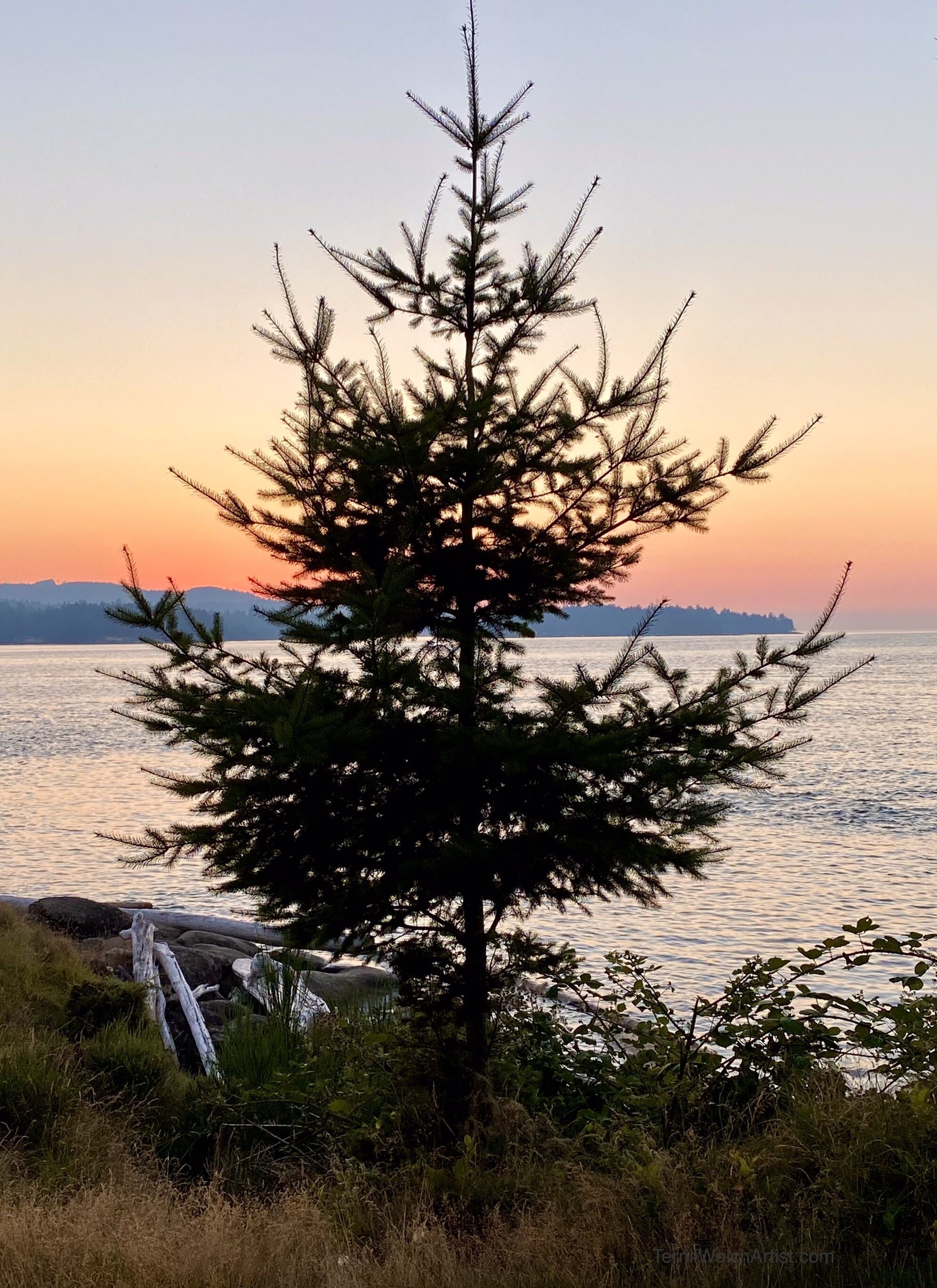 Over by a familiar bench, the path is worn through next to bleached and broken shafts of grasses. Tonight, the evening doesn't complain. It is a warm summer evening. Harmony prevails.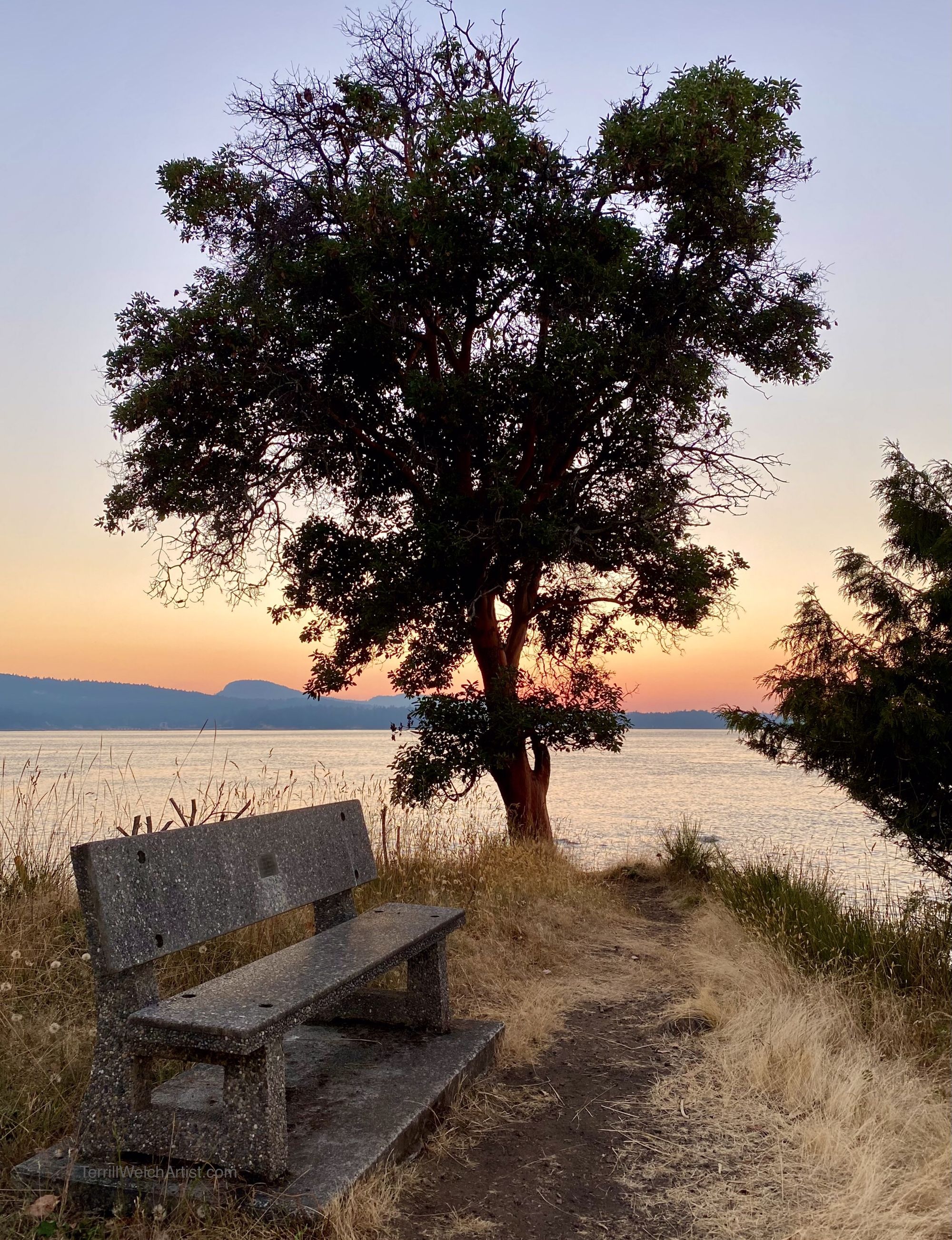 It is one of the best kinds of evenings.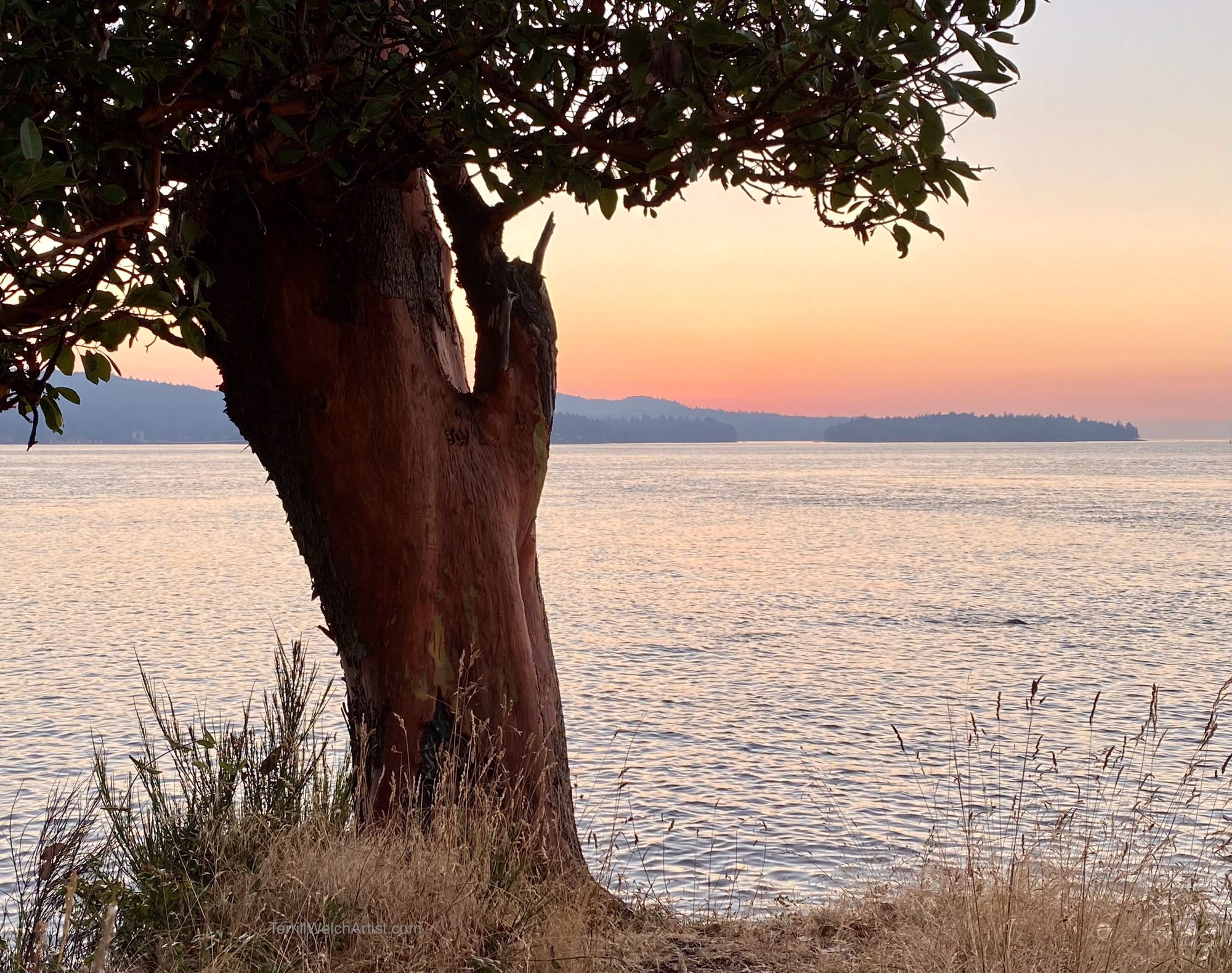 And though our focus softens slightly, sleep is brushed away in favour of a gentle Mayne Island quiet.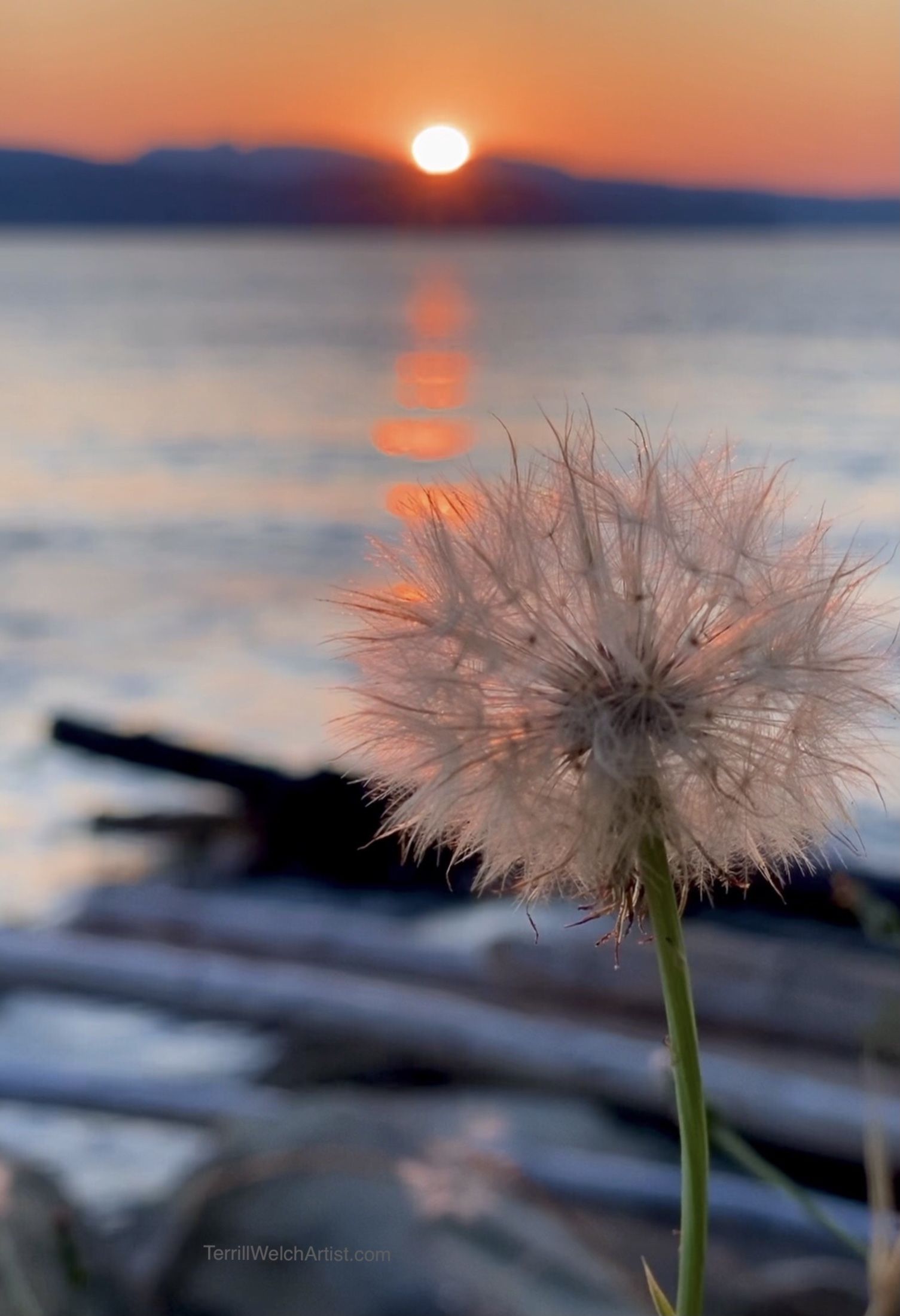 Reworked Painting
Sometimes a painting just never quiet settles. In this case the vase simple was not visually stable enough for the flowers even though it worked just fine in real life. I was in kind of a whimsical mood when the canvas landed on the easel so the results might possibly be a bit of a surprise…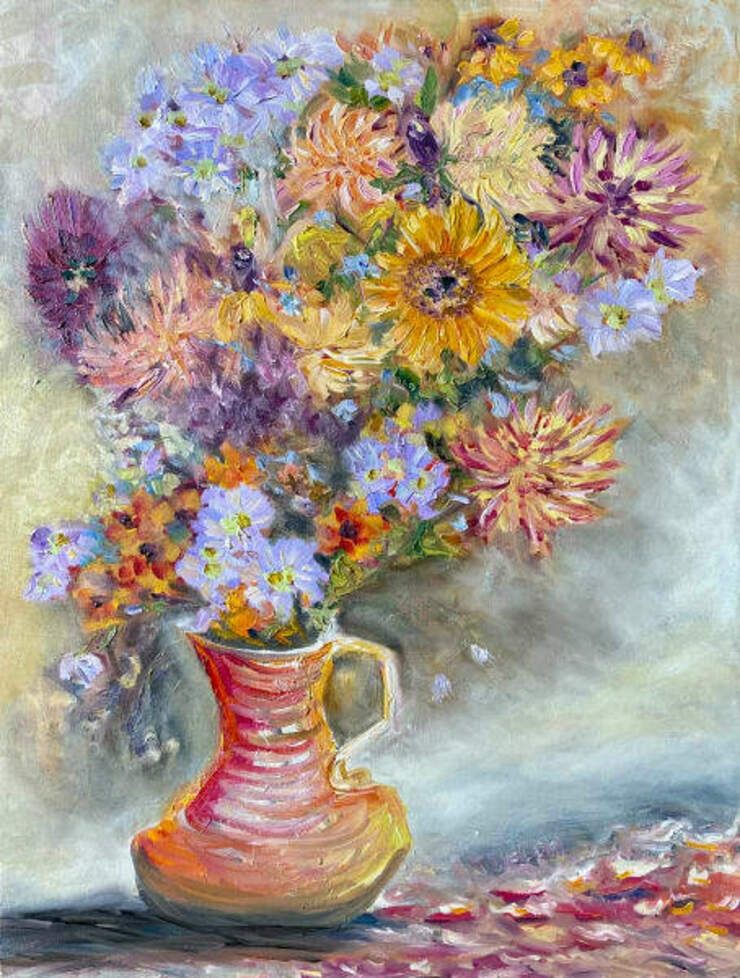 There are people we all know that shine just a little brighter in their ordinary everyday interactions with us. Shanti is one of these people. When I asked h...
Late Morning Hike
No matter how I attempted to create some order out of this past Tuesday, the universe was having none of it. After being jostled off course several times I gave up, grabbed my water bottle, put on my hiking shoes and left the digital tangle to sort itself out without me. It was getting close to 11:00 am by the time I parked the car at the trailhead.
Abstract references peel away on a cool breeze as I escape along the seaside trail. It wasn't how my day was expected to go but it was perfect...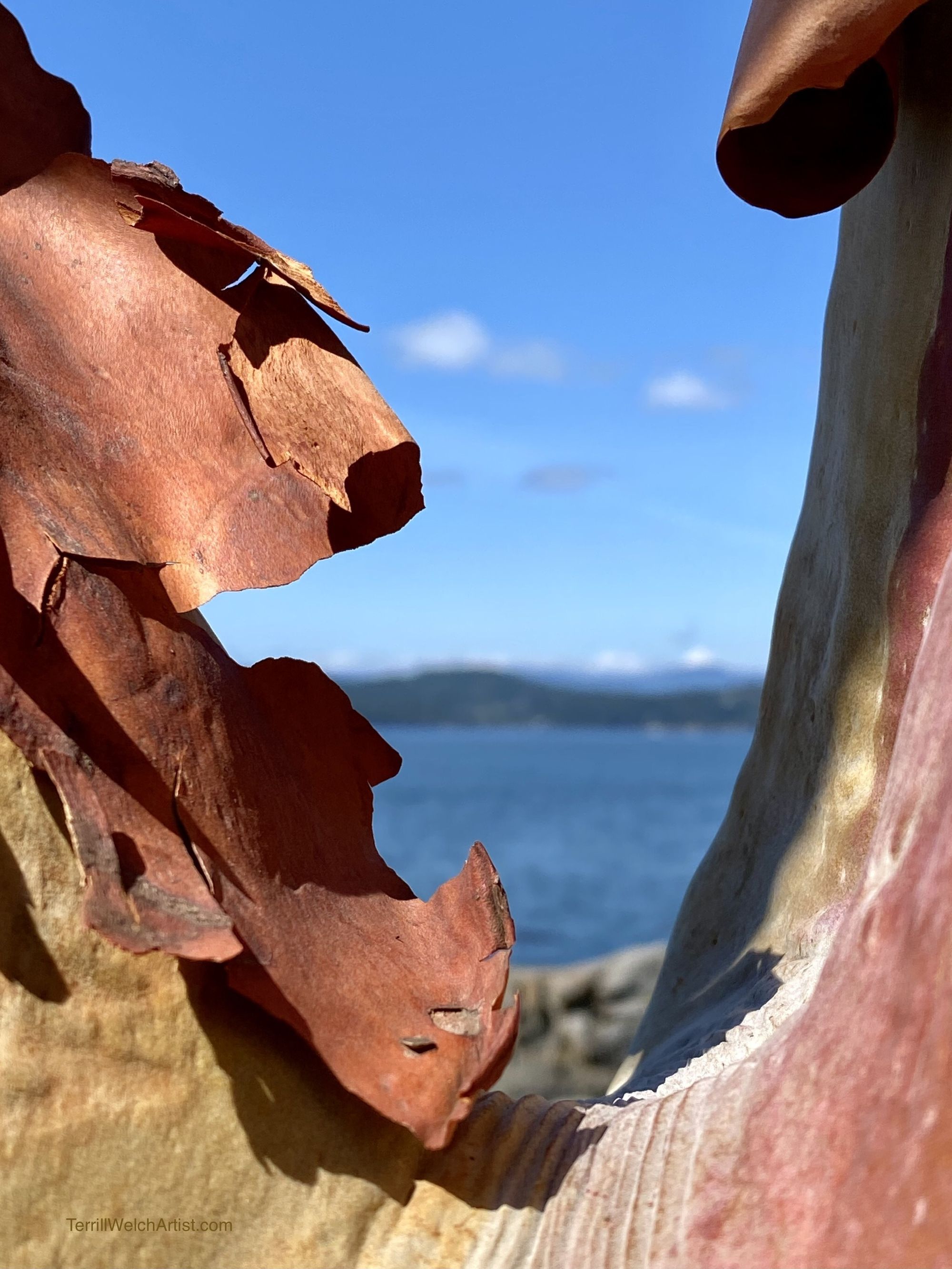 It has been warm and ideal for taking off another layer.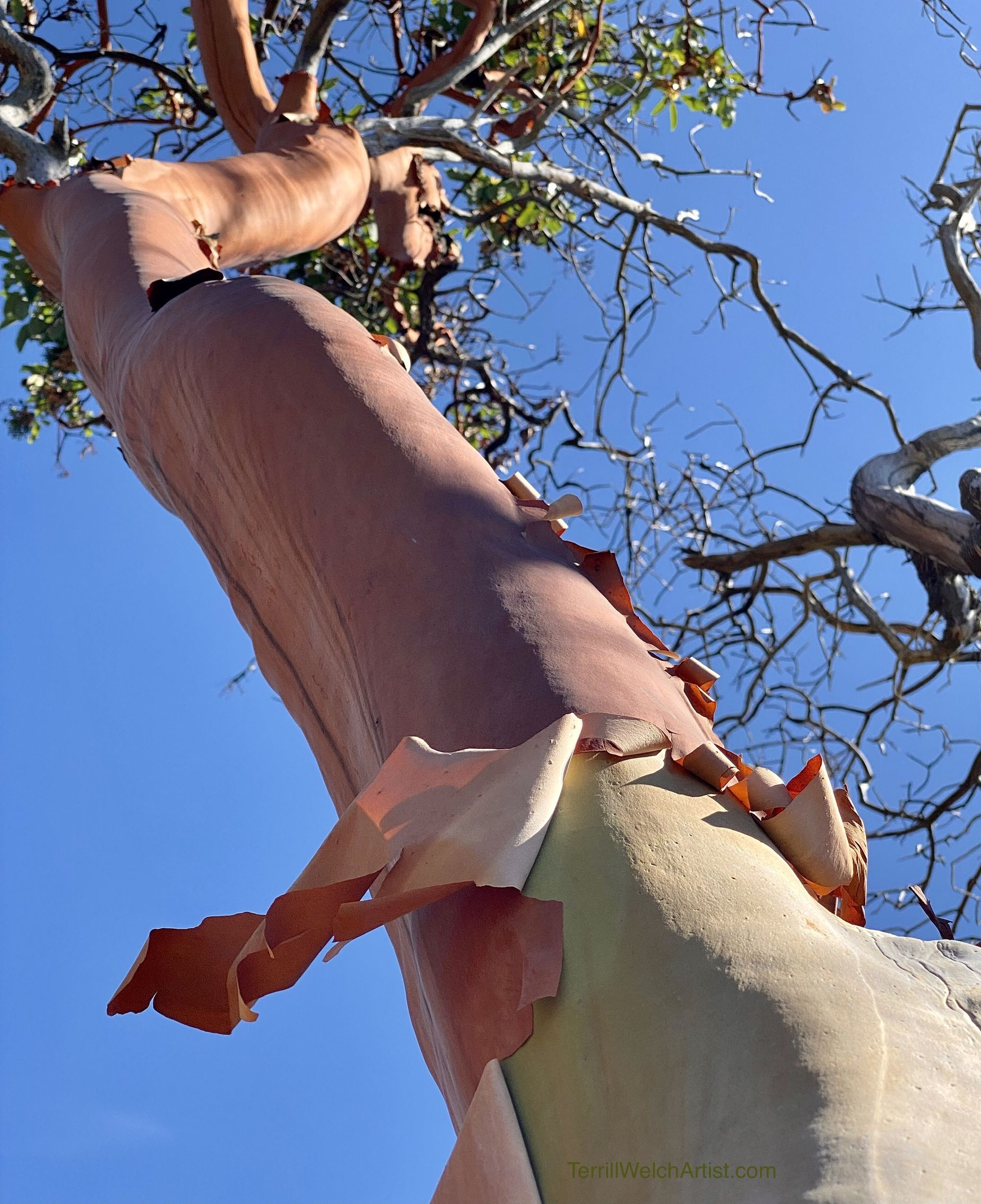 Burnt oranges and soft blues. Nothing more is needed.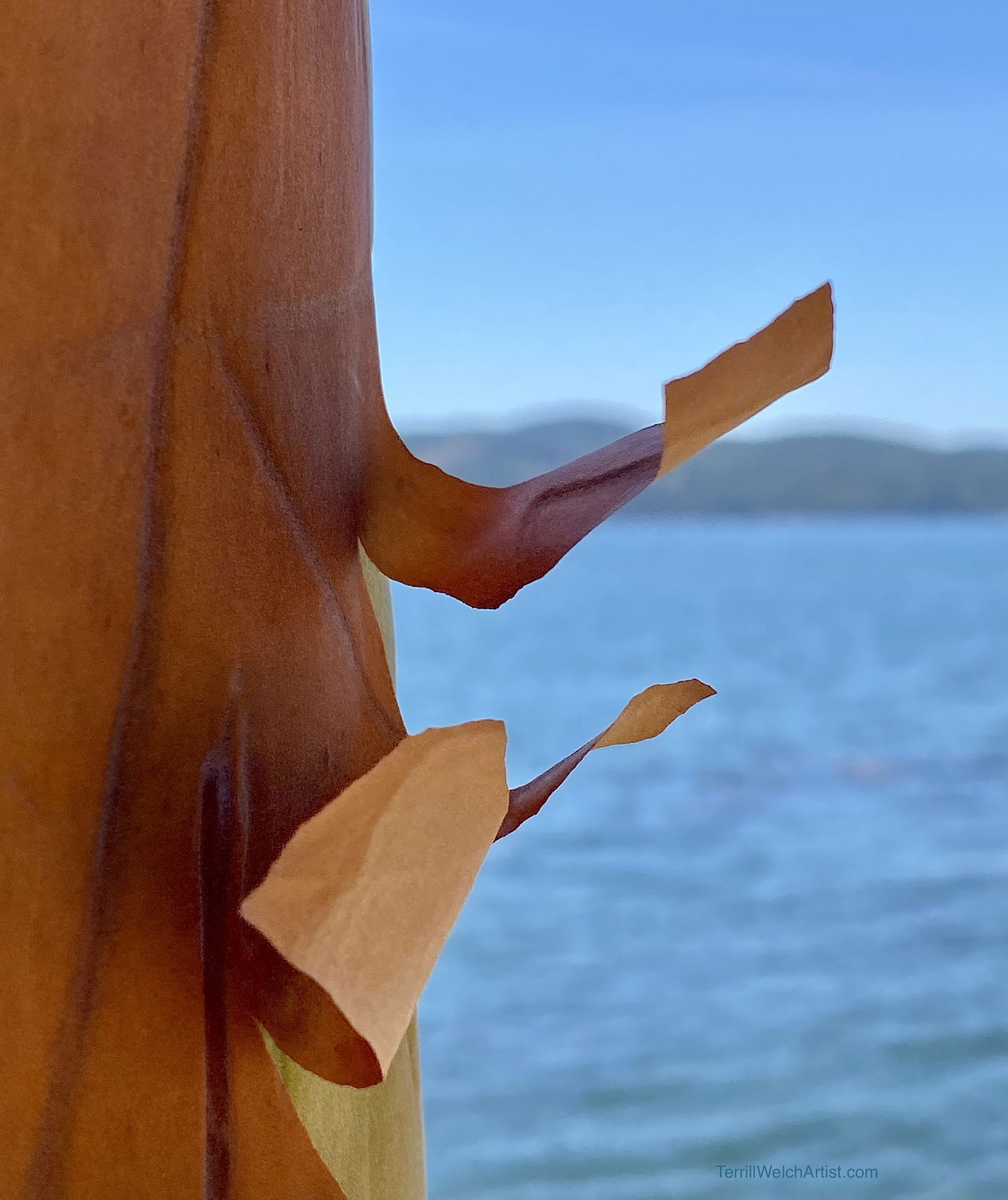 Then, even the blue is gone.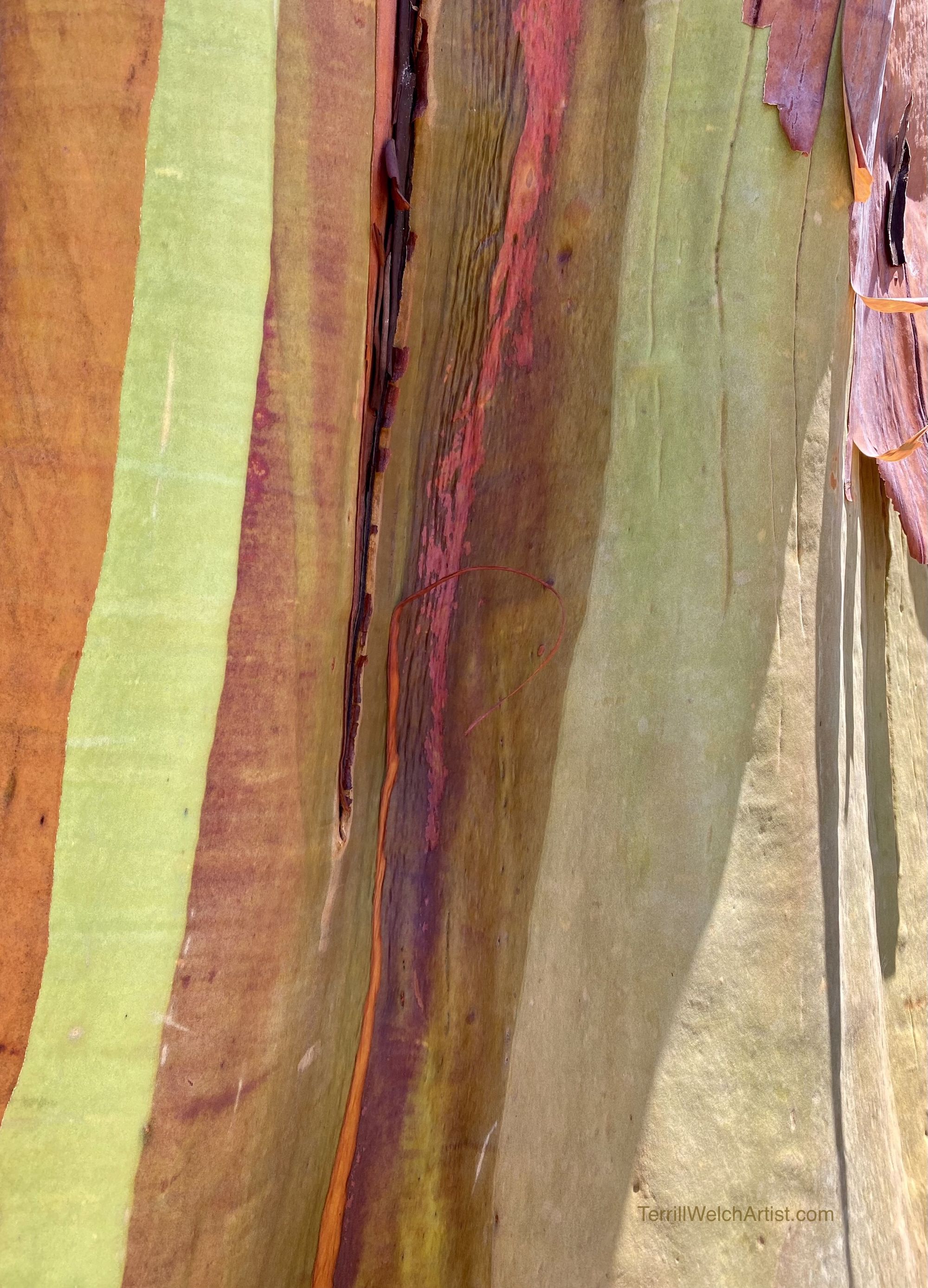 I was only going to do half of the outside trail at Saint John Point today because of the really late and unexpected start. But once there, the Arbutus trees and a quiet song from sea, gently lifting up along the cliff side on a cool breeze, had other plans. What was I to do? I kept walking.
He said "you are really late" with a raised eyebrow when I got home.
I had stopped at the store to get a few extra things to make our supper. I reached into the grocery bag and pulled out a candy bar and handed it over the railing of the side deck and walk around into the house.
With a grin he met me in the kitchen and asked about what I had seen.
"It is a perfect summer day" I replied. "August is my favourite month of the year."
Arrival of the Gallery Pod - Soon!
The contractor is saying that the Gallery Pod should be here before the next "A Brush With Life" issue is published. They are hoping to have it here sometime late next week. This means I have begun preparing in earnest to open this new gallery space. One of my tasks has been to draw a map that will go on the website and be available as a handout at ISLAND TIME ART. The Gallery pod location is marked on the Mayne Island Community Chamber Brochure but it is not as detailed as I think you might like. At least in the beginning. Besides being on the website, the map will be on the inside of a three fold letter size brochure. I will at first print only a few and see what changes I need to make following a trial run before having them batch printed. The map is meant to be informative and a little bit fun. There is a high resolution map on our website that you can screenshot or download. See what you think…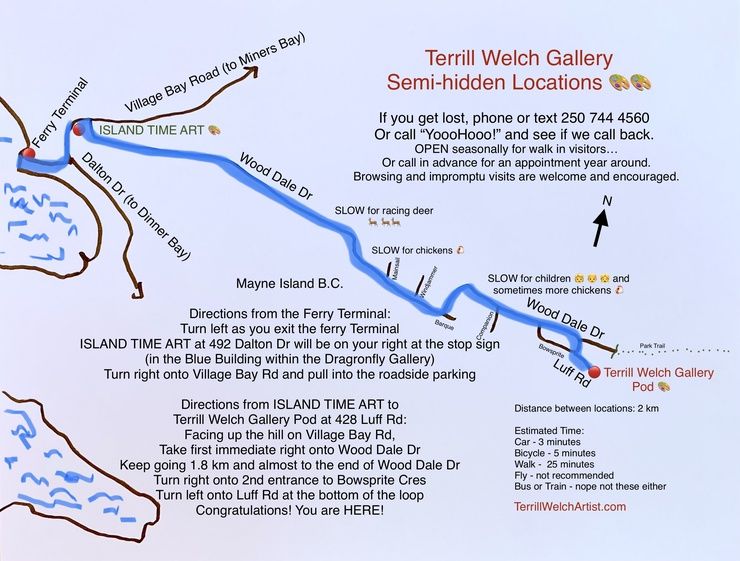 An Art Gallery in the middle of everywhere.... Do sign up for our newsletter and visit our online gallery of Terrill Welch's Paintings. PLEASE NOTE: We have physically moved and now have three visiting opportunities in two locations… ISLAND TIME ART - 492 Dalton Drive. Open the same hours as Dragonfly Gallery 10-5 Wednesday through…
Gallery or Studio - opinion piece
As an artist who has gallery space there seems to be some confusion at times. Is my space an art gallery or an art studio? And more importantly, does it matter? Well, "it depends" is likely the best answer. Both spaces have art and both spaces will often have art on show and for sale. So what is the difference between them then? Here is how I view the distinction.
An art gallery space most often separates the art from the process of its creation. The work is lifted out of its creative context and is left naked and bare in a room to stand on its own with minimal distraction or reference to its origin.
An art studio space is one of the central working areas of the artist. There are completed paintings, work-in-progress, art materials and blank canvases in orderly and often disorderly arrangements. It is primarily a place for creative work!
In each of these kinds of spaces, there may possibly be times where an area is reserved for the activity of the other. For example, an art gallery might have an artist in for a live painting session. Or a portion of a studio might have a show room or gallery space. At no time though is the function of a space about the its size or the fact that it is the space of a curator or gallery owner or that of an artist. The distinction is all about what happens within the space. And an art gift shop is yet again a specific use of a space that can have art in it, just to muddy the distinctions even further.
Why, you might ask, am I taking the time to observe and describe these functional space distinctions? Well, because very shortly the Terrill Welch Gallery will provide public access to all three of these different kinds of spaces.
My artist home art studio is indeed in our home with all of the contextual clutter one might expect in a space that supports the creation of 30 - 40 paintings a year. This space and our home is open by appointment and which is best made at least one day before your desired time to come by and visit. That said, impromptu visits can still sometimes be accommodated.
The Terrill Welch Gallery Pod is going to arrive about the middle of August 2022 and will be a dedicated gallery space where no easel, palettes or brush will cross the threshold except for display purposes. This space will have seasonal open hours and also be available to view year round by appointment. It has been designed to be physically accessible and to have great ventilation. The gallery is of modest size and will be open for self guided access and browsing is encouraged.
Then there is our ISLAND TIME ART room which is a new Terrill Welch Gallery adventure that is a small show and gift shop space with both smaller original art and usable art products such as totes, aprons, mugs, backpacks, journals and greeting cards. It is a space where I curate shows displaying the work of other artists along with my own. This space has generous open hours as it is hosted within the Dragonfly Gallery where Vania is able to accept payment for your purchases. No appointment is required. You are most welcome to drop by on a whim or just to browse or you can contact me to meet you there if you wish a personal tour.
So there you have it! In the end though, it won't matter if you call one space by the name of another, I am always happy to satisfy your passion for viewing art in any of these spaces.
Location, location, location! They are all on Mayne Island and located as follows:
Terrill Welch Artist Home Studio - 428 Luff Rd. Open by appointment.
Terrill Welch Gallery Pod - 428 Luff Rd. Opening late August 2022 with drop in hours to be announced and by appointment all year around.
ISLAND TIME ART - 492 Dalton Drive. Open the same hours as Dragonfly Gallery 10-5 Wednesday through Monday and closed Tuesday. No appointment is required and drop in browsing is most welcome.
Until Next Time
I am so hoping and crossing my fingers that I will be able to share with you the very modest Gallery Pod in the next issue. If not, I am sure I will have other news. But this would be the best outcome. My wish for you is that you have time to stroll into August, my favourite month of the year, as the days become noticeably shorter and we can feel fall just around the corner. The light is softening its midday glare and the shadows are cool again after our heat wave of the past weeks.
All the best as always!
Terrill :) 👩‍🎨🎨❤️
Canadian landscape painter, Terrill Welch, exposes the mystery in an ordinary day, reminding us that there is only one moment – this one.