A Brush with Life - Issue #109 Deep Shadows in Midsummer
Our island mornings quickly turn into sun-bleached transparencies roughly visible between the deep swallowing shadows of midsummer. I am not fond of this heavily squint-worthy time of year. Even our southwest coast cool weather this spring and summer doesn't limit the effects from the angle of our J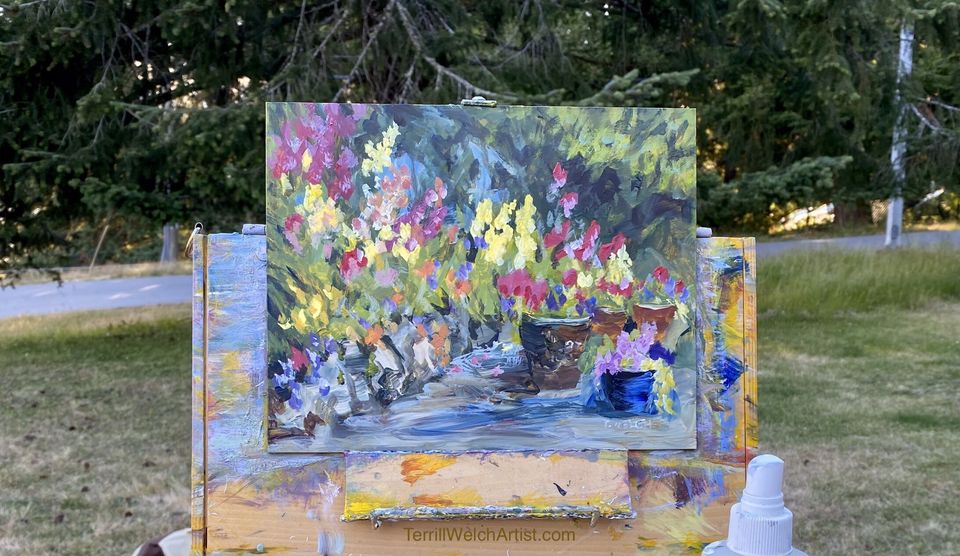 Our island mornings quickly turn into sun-bleached transparencies roughly visible between the deep swallowing shadows of midsummer. I am not fond of this heavily squint-worthy time of year. Even our southwest coast cool weather this spring and summer doesn't limit the effects from the angle of our July sun. During this month I find a kind of dormancy flows through my limbs. A lazy, stillness remains until the days shorten enough to take the edge off our bright summer days.
I start to whisper to myself what most do not want to notice "late August and then September are not far away."
Yet, there are still long evening and morning hikes and afternoon naps, group live painting sessions and fresh garden vegetables that keep a sweet spot open for the summertime vibe. Such are the rhythms and musings during the past couple of weeks….
---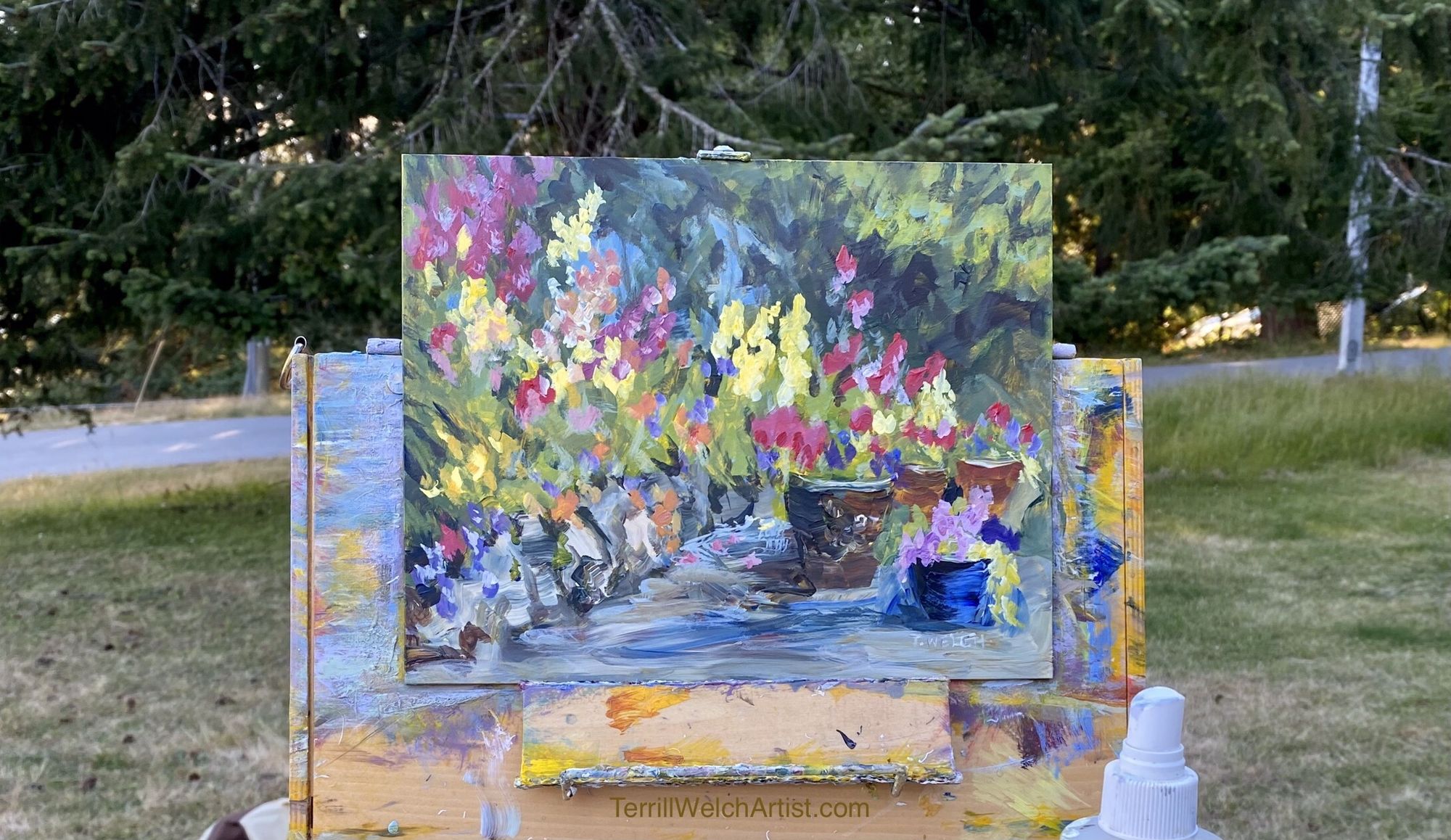 What Has Sold
Above and below is a small study of a lovely local garden that caught my attention during the Mayne Island House and Garden tour recently.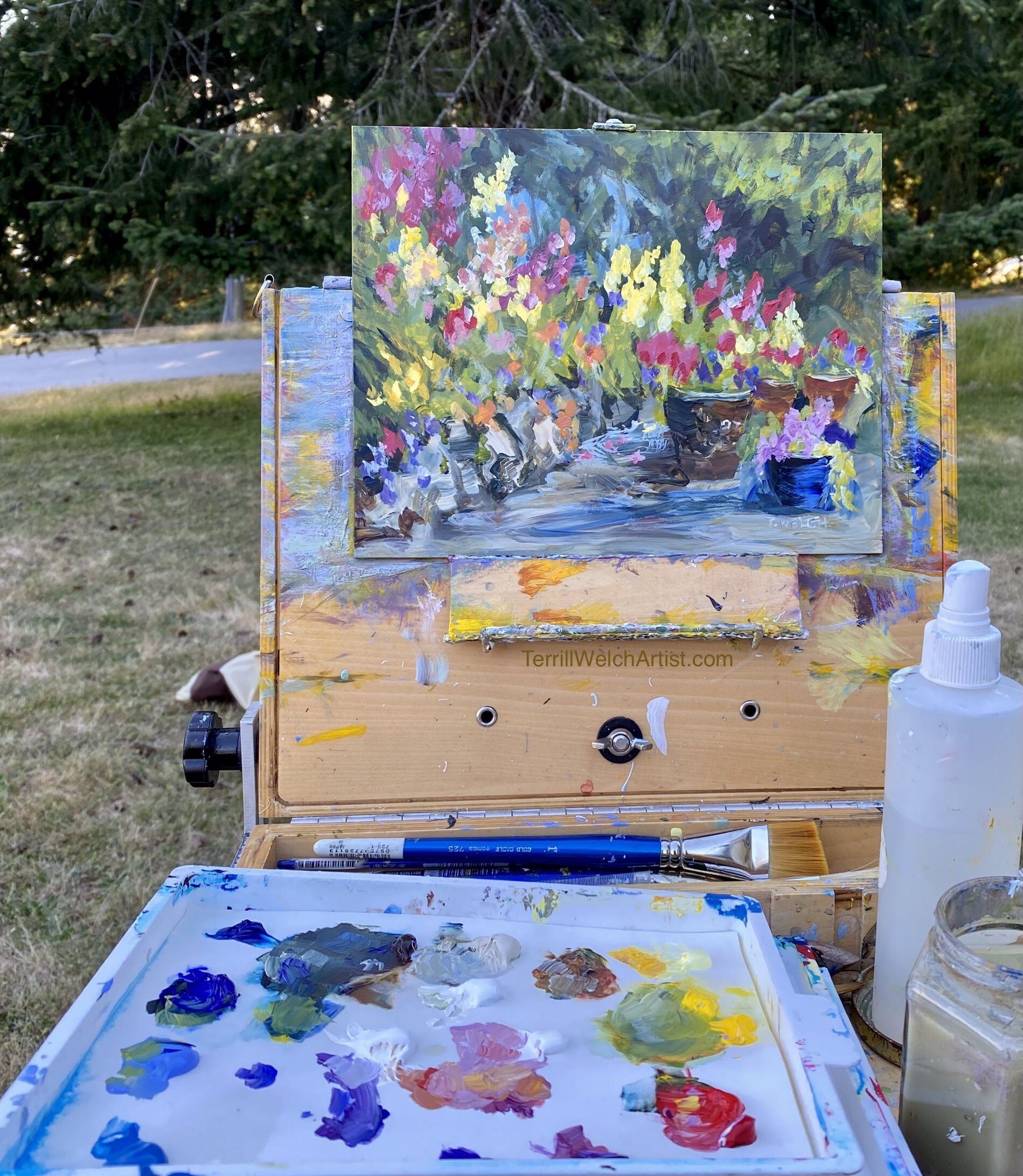 The study was started during the first of two live painting sessions that were hosted by ISLAND TIME ART for "A West Coast Spark on Mayne Island" group of twelve painters.
The painting was finished the next day, and a few days later put up in ISLAND TIME ART.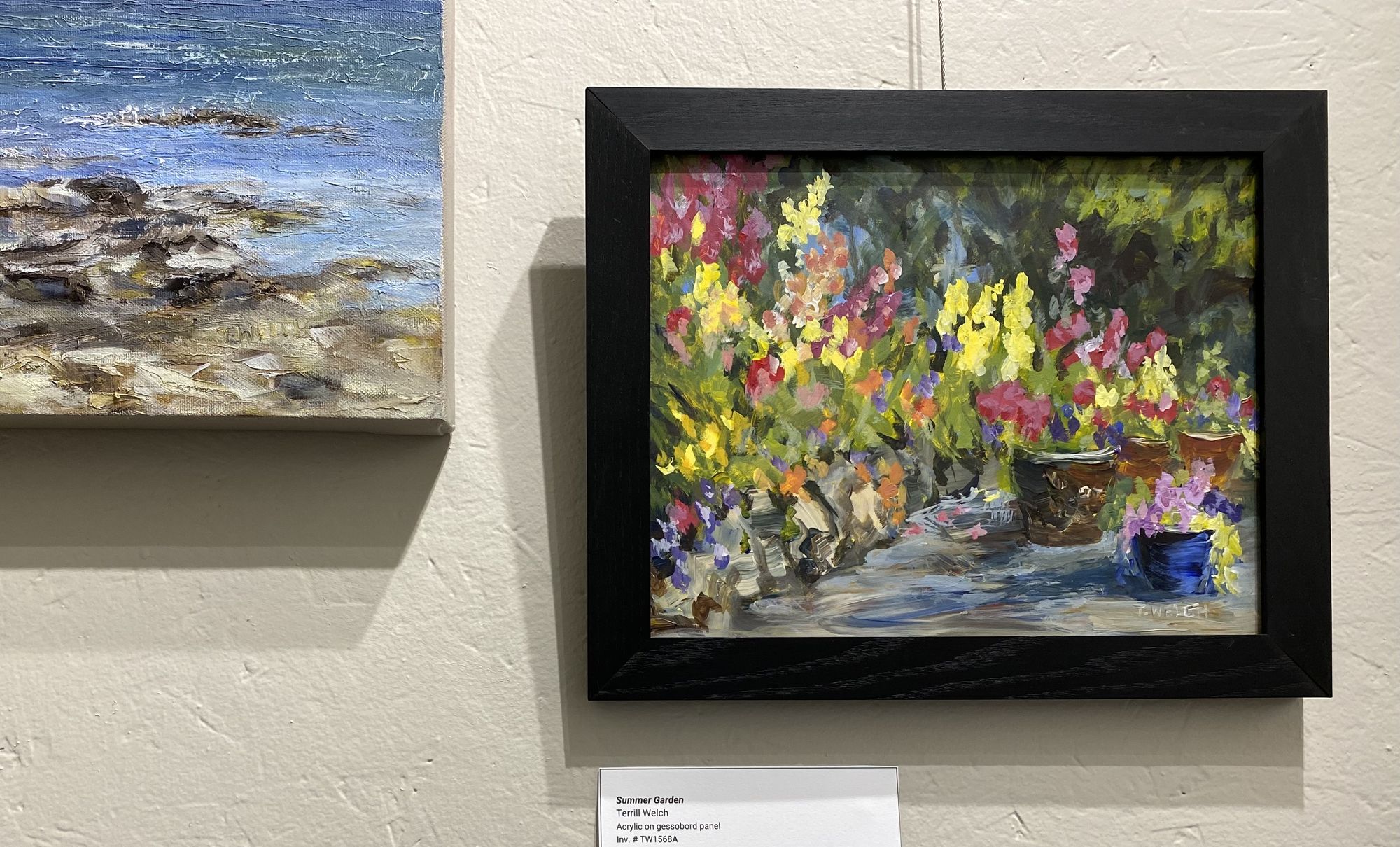 At the same time, I posted the artwork on my FaceBook and Instagram art business pages with a couple of room views and sample frames for inspiration.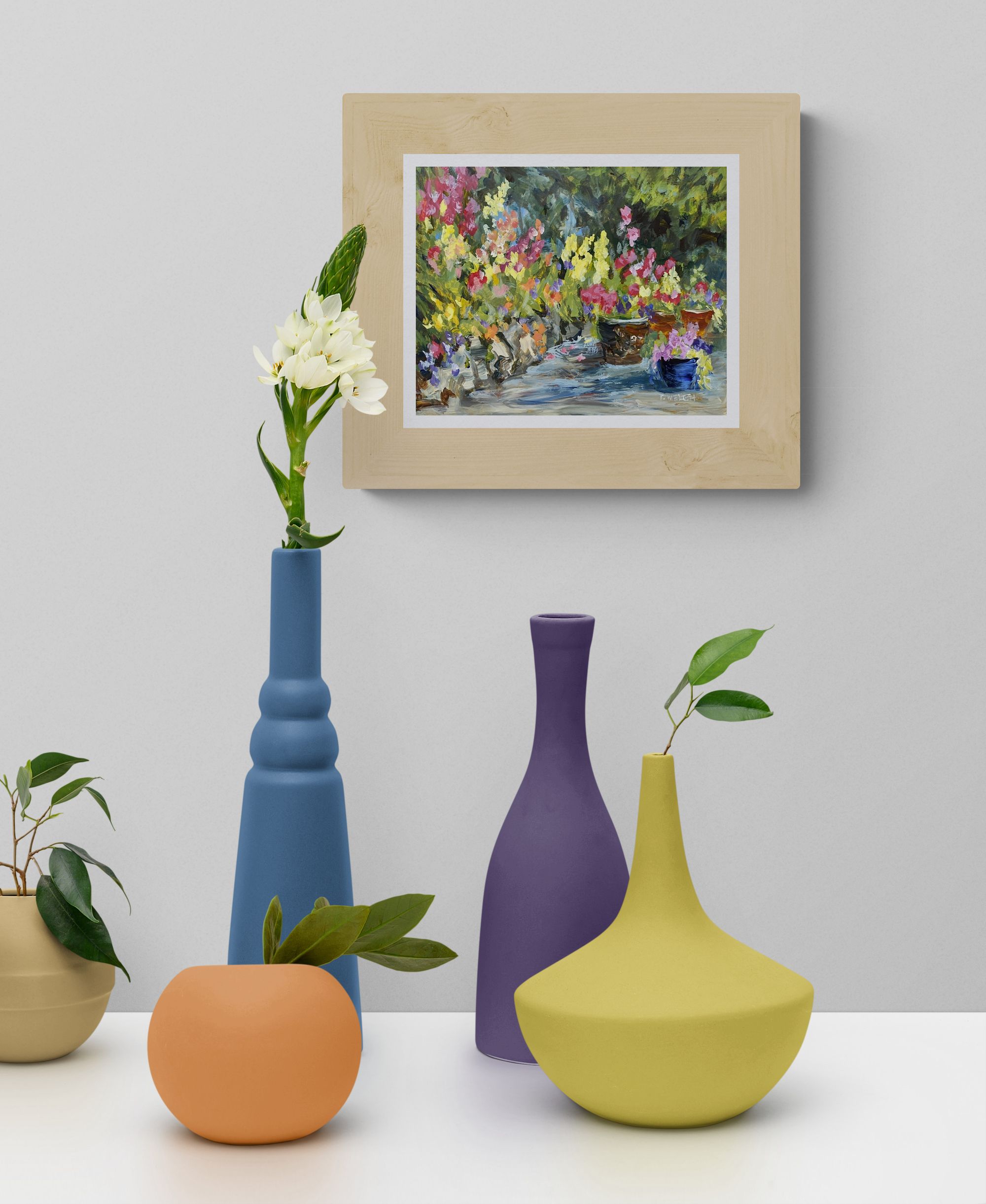 This is when this modest painting sold within three hours of posting to an art collector in New Mexico.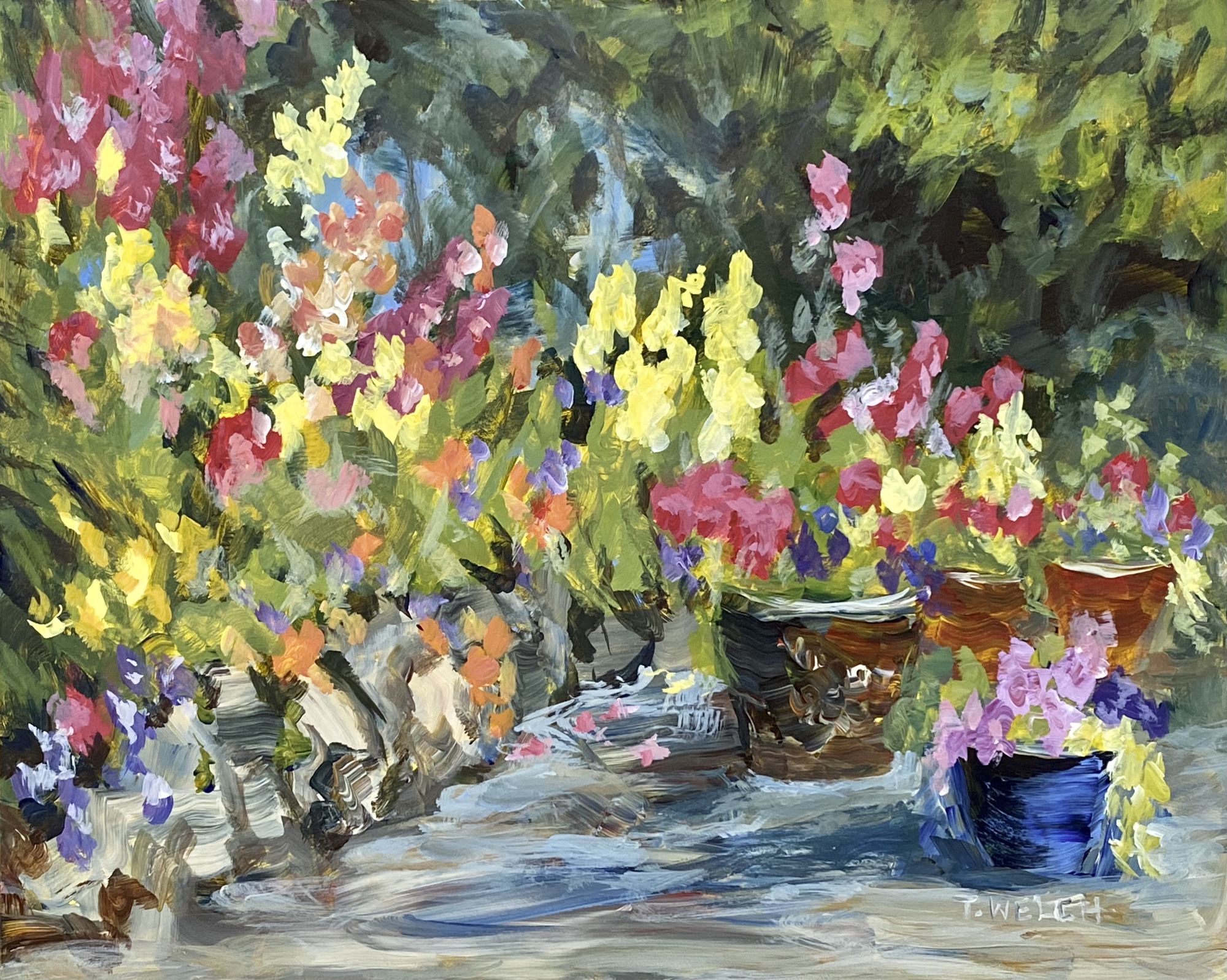 I had already shared it on my personal profile and the the art collector had taken a few days to contemplate the painting. Or as she says "it just wouldn't stop whining at me!"
I tried to offer some comforting words as I packed the work up about how "some paintings are just like this." They know immediately where they want to go and just won't let up until a decision is made in their favour. And that is that!
Morning Hike
The other morning I was out reference gathering on a long seaside trail. Some of the views will be deeply familiar from past treks and from my paintings. Others will feel new as they are seen with fresh eyes. Anyway, if you would like to come along…
There is this chair that someone decided in the last couple of years belonged on this little point. It seems to migrate a little to one spot or another now and again. Maybe it has settled now. We shall see next time I am out this way.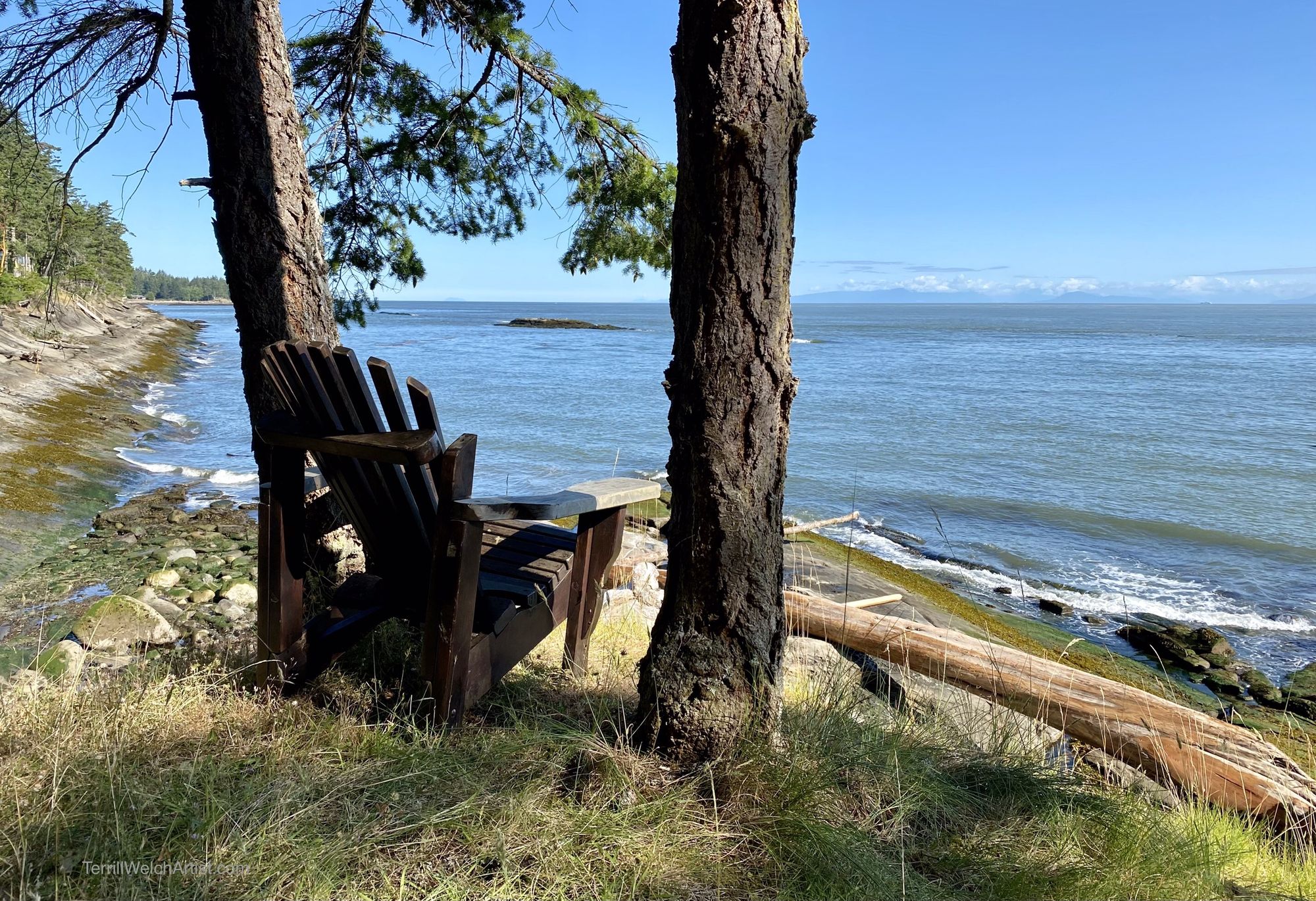 Yes, I have a painting of this next view.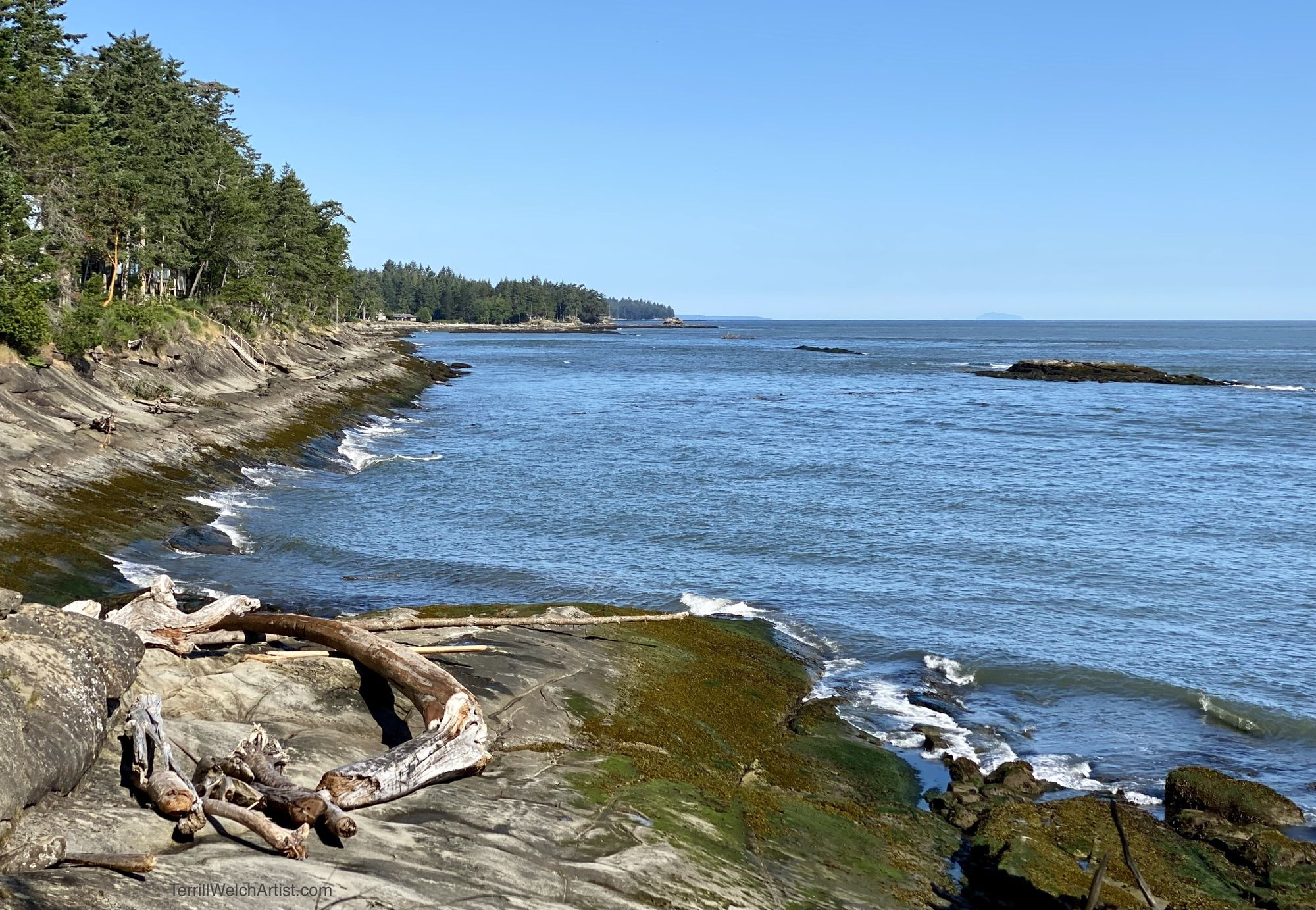 The sea in this available painting is much more blue and there were a few clouds in the sky and the chair wasn't there between the trees yet.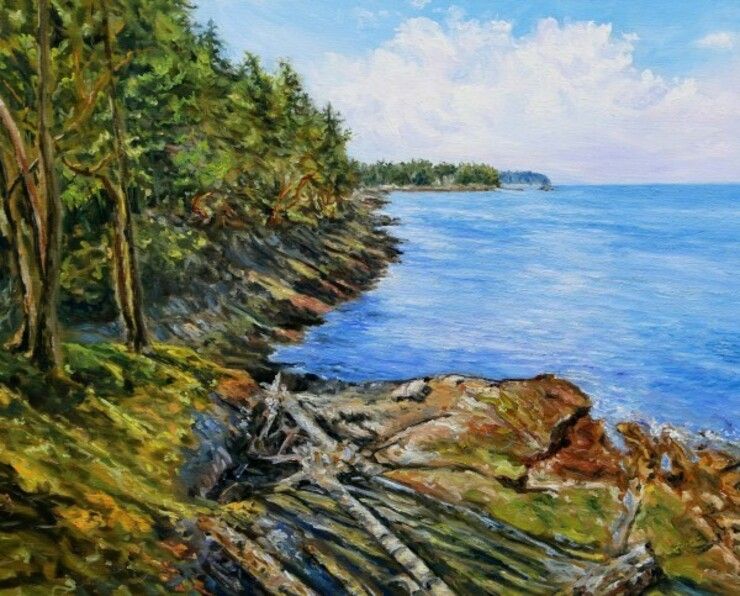 A late afternoon in early April as the light slips through the trees and reaches its bright fingers over the steep sandstone shore. Edith Point, Mayne I...
Father on, there is stretch of the path where a second branch of an Arbutus is beginning to hang over the trail. The first has been cut back. I wonder what has this tree wanting to grow to this particular place? The sunlight I suspect.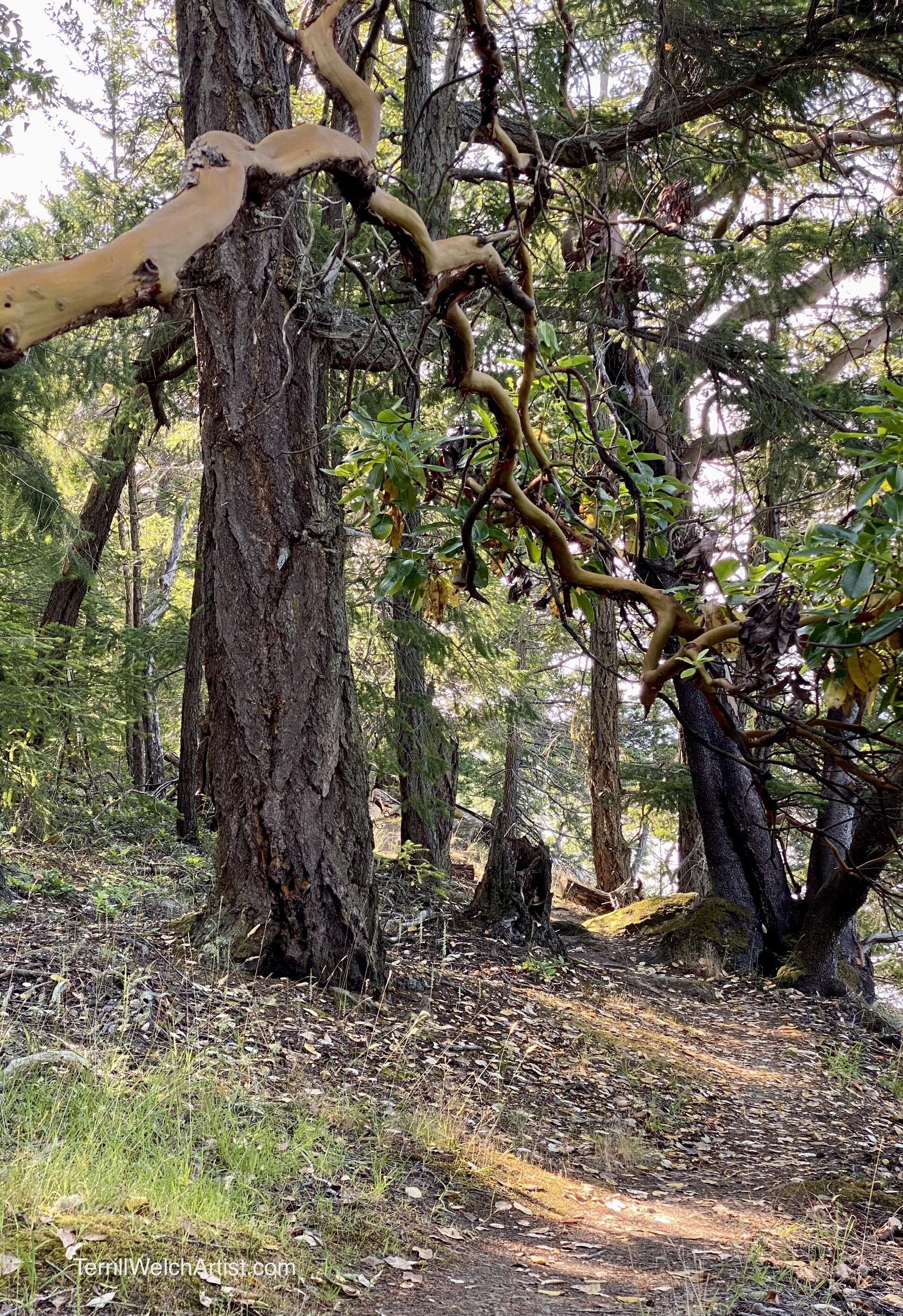 Campbell Bay is a cloudy Jade hue this morning. Most likely a cross between silt from the Fraser river and an algae bloom.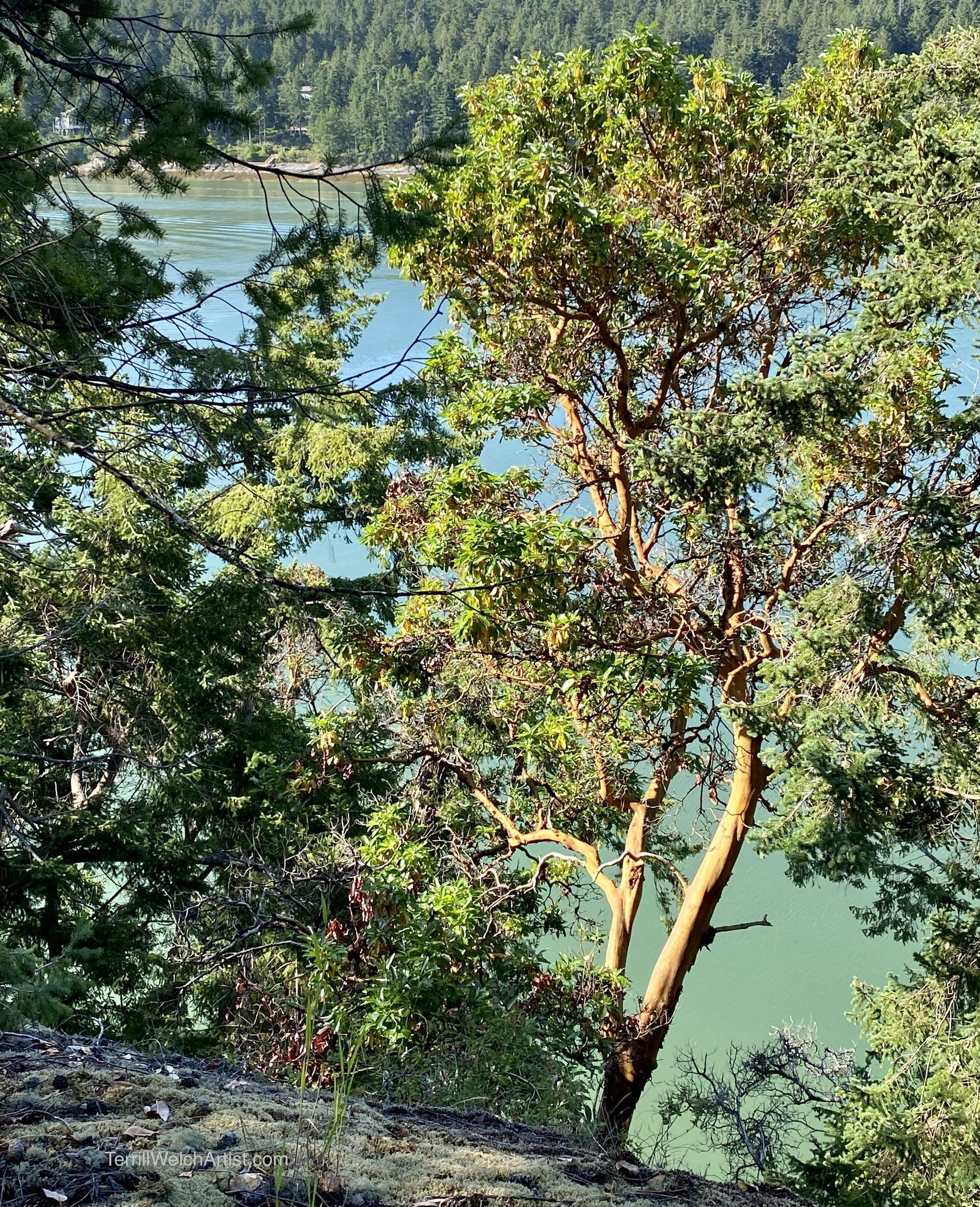 Grass along the trails are bleaching out to soft wisps.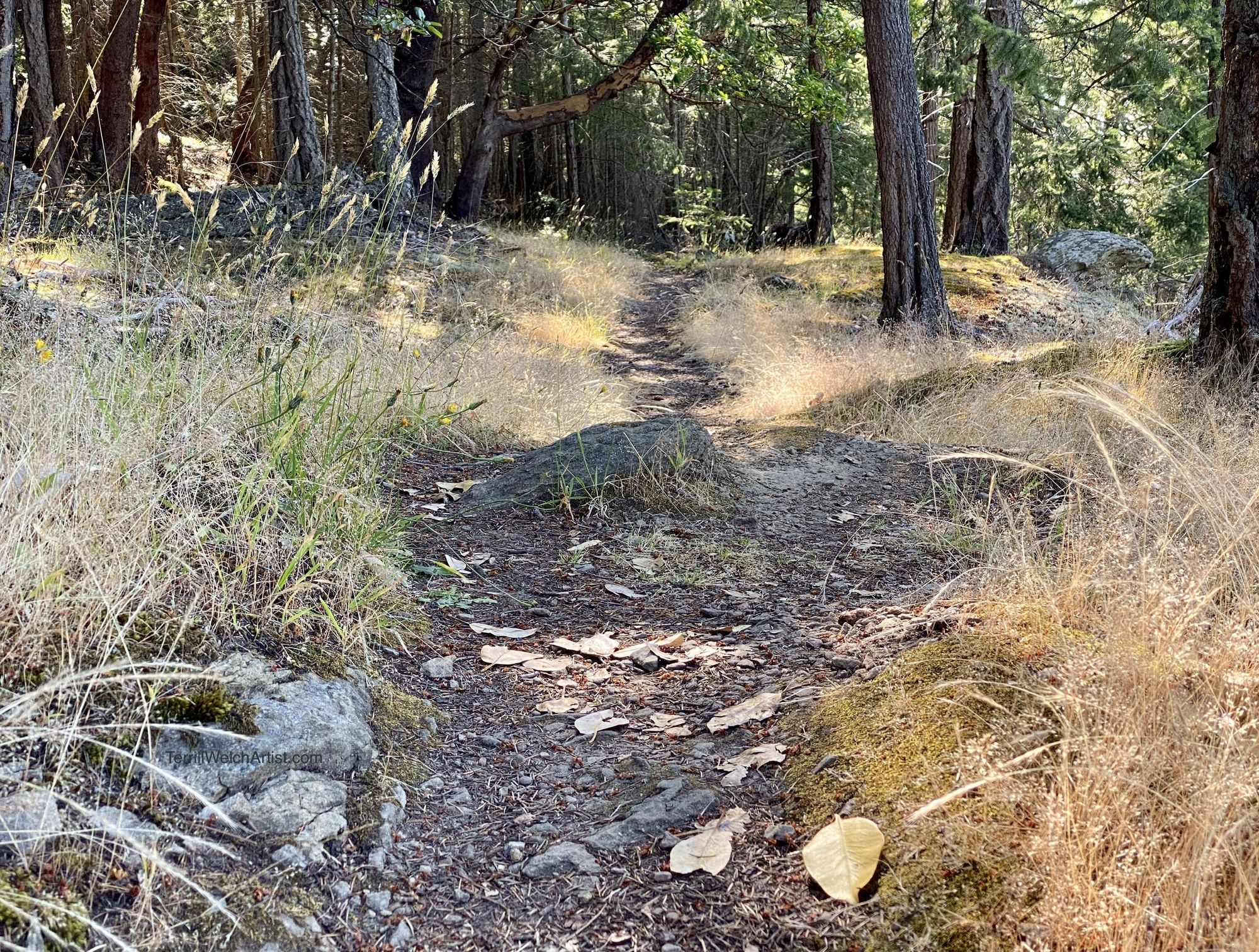 More harsh contrasts of summer hide details in the shadows. As I mentioned, this is not my favourite light, not even as early as 9:00 am. I squint to see during the summer and furrows between my eyebrows are often painful from the effort, though my glasses darken and lighten all on their own to help protect my light sensitive blue/green eyes.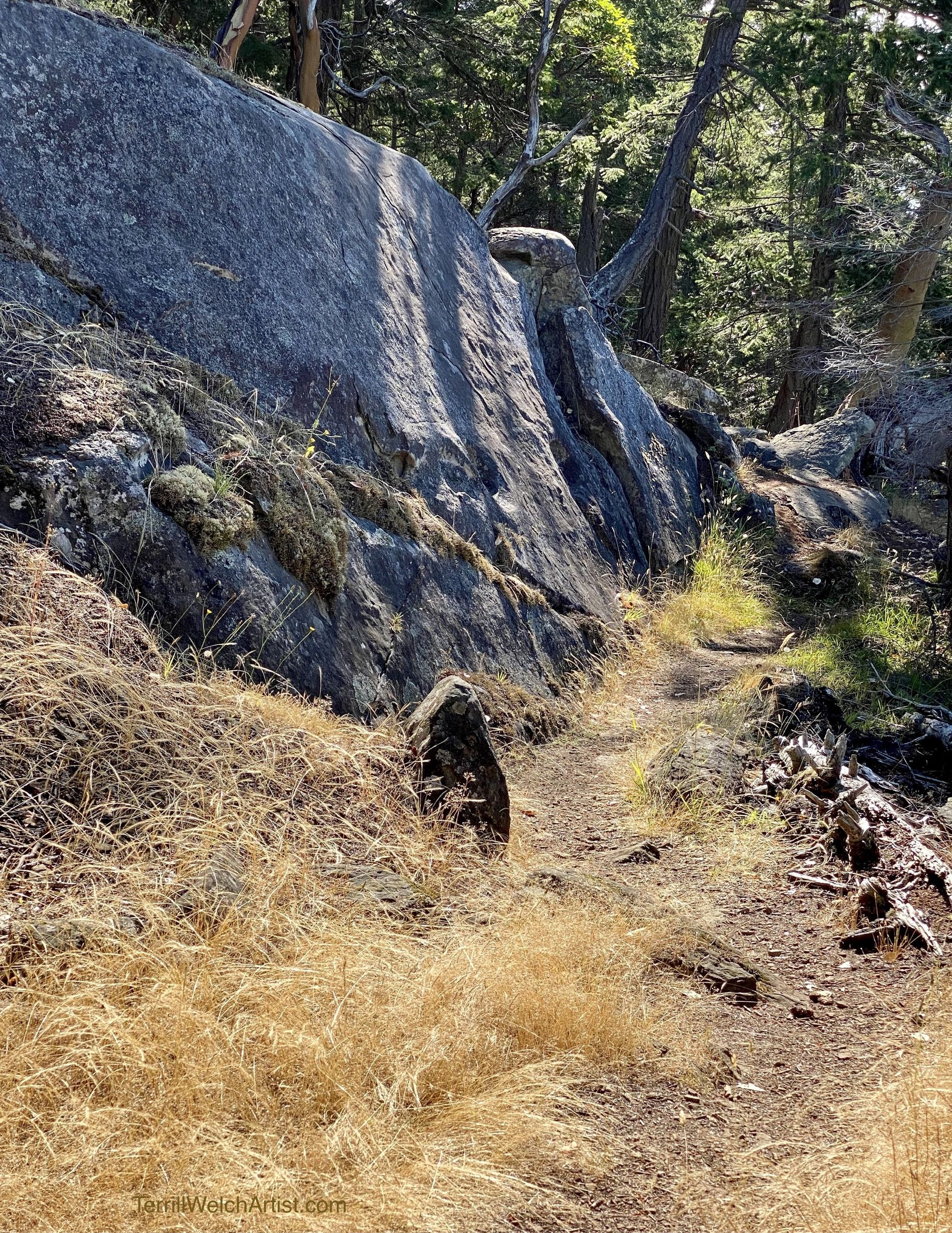 Strangely enough, this particular image reference is the one I chose for the second Sunday evening of live painting…
New Release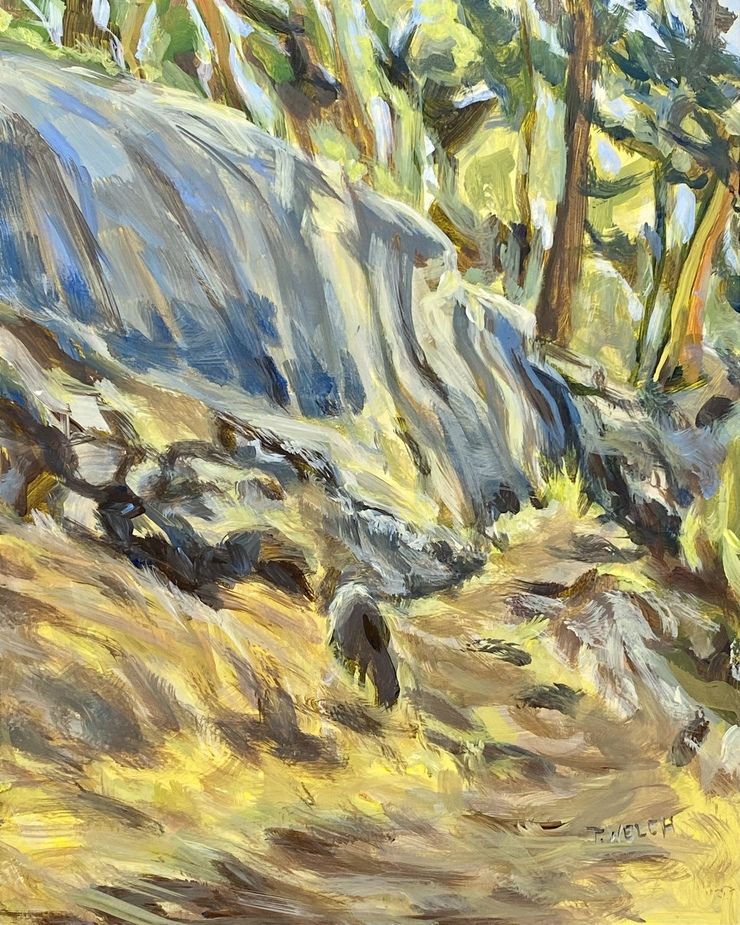 Artist notes: The late morning sun has reach around Edith Point and through the trees, casting strong summer shadows between harsher flares of light.
Now where were we?…
The curve of the cliff top makes me think a tree is missing because, in 15 years of hiking the trail, I am not sure I have noticed it before. It could be the time of day and angle of the sunlight. Forms can be tricky this way.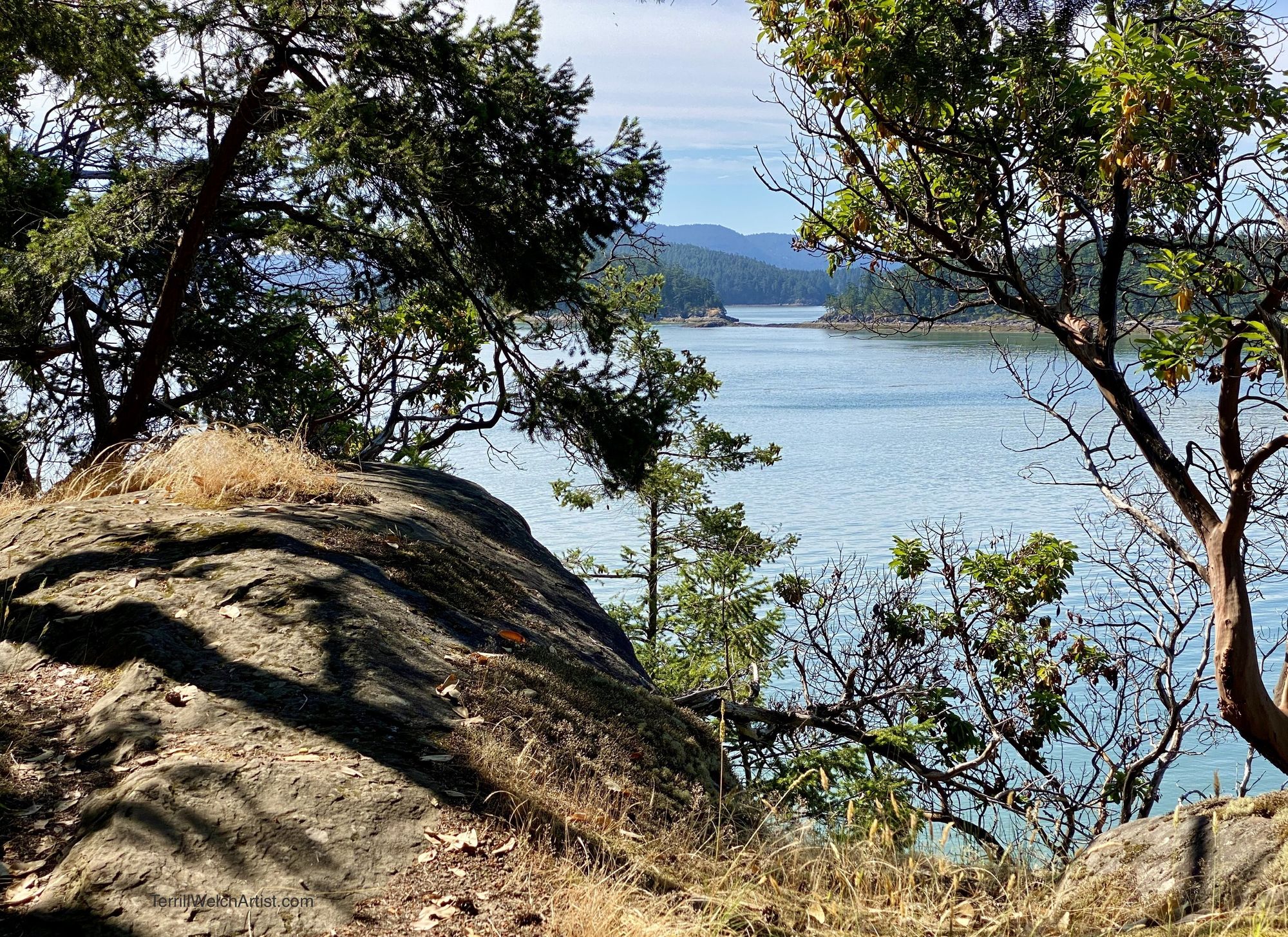 I have been observing these two Arbutus and love how they grow on hard sandstone and manage to survive.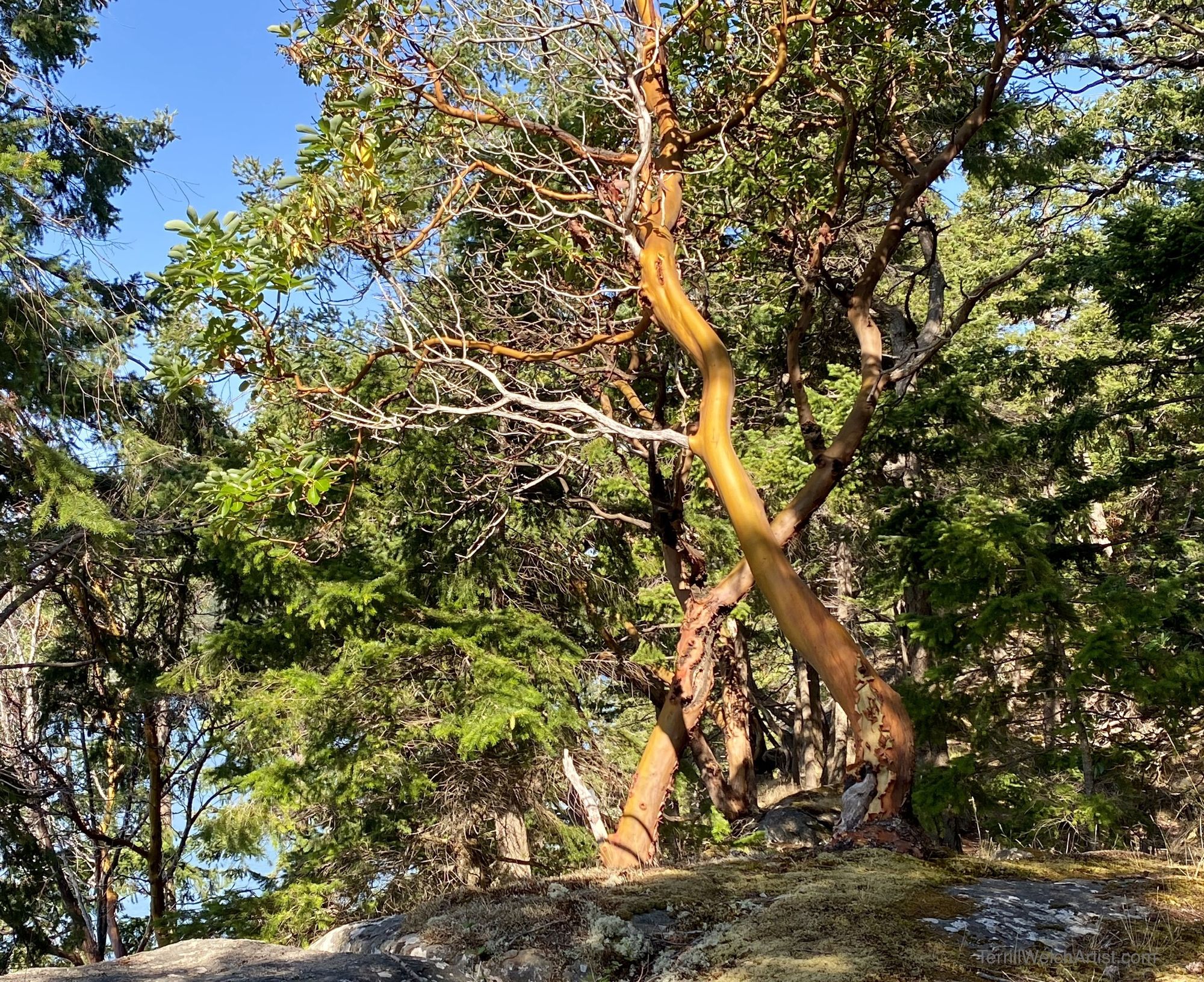 There is a painting of this area as well though from a slightly different angle. The painting has long since found a home and is part of a favourite "latte dollars saved for a painting" story…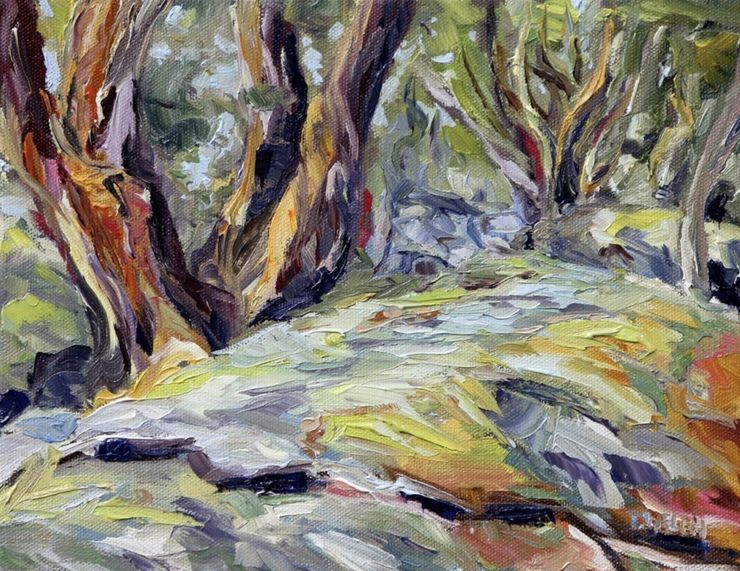 About half an hour into the opening evening of my solo exhibit "West Coast Landscape as Home" the room had reached a pleasant hum. Classical guitar and flute players are keeping harmony with drifting conversations. Small hot savories appear swiftly from the kitchen and the wine is flowing with every bite of cheese. I looked…
There is something enticing about a screened view rather than one that is fully revealed. It might not make a painting but I enjoy the moment anyway.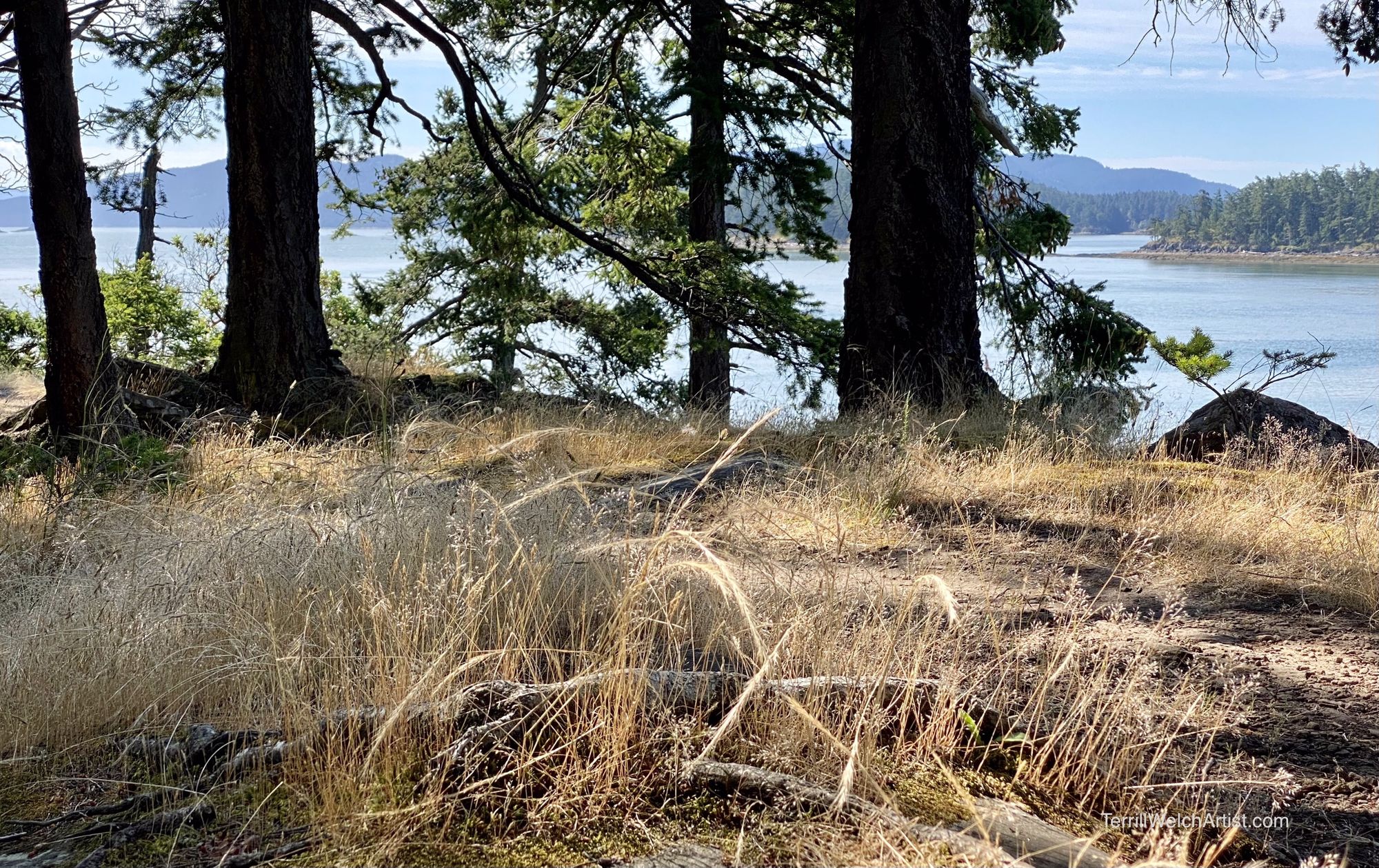 This view of the landscape I have painted twice though.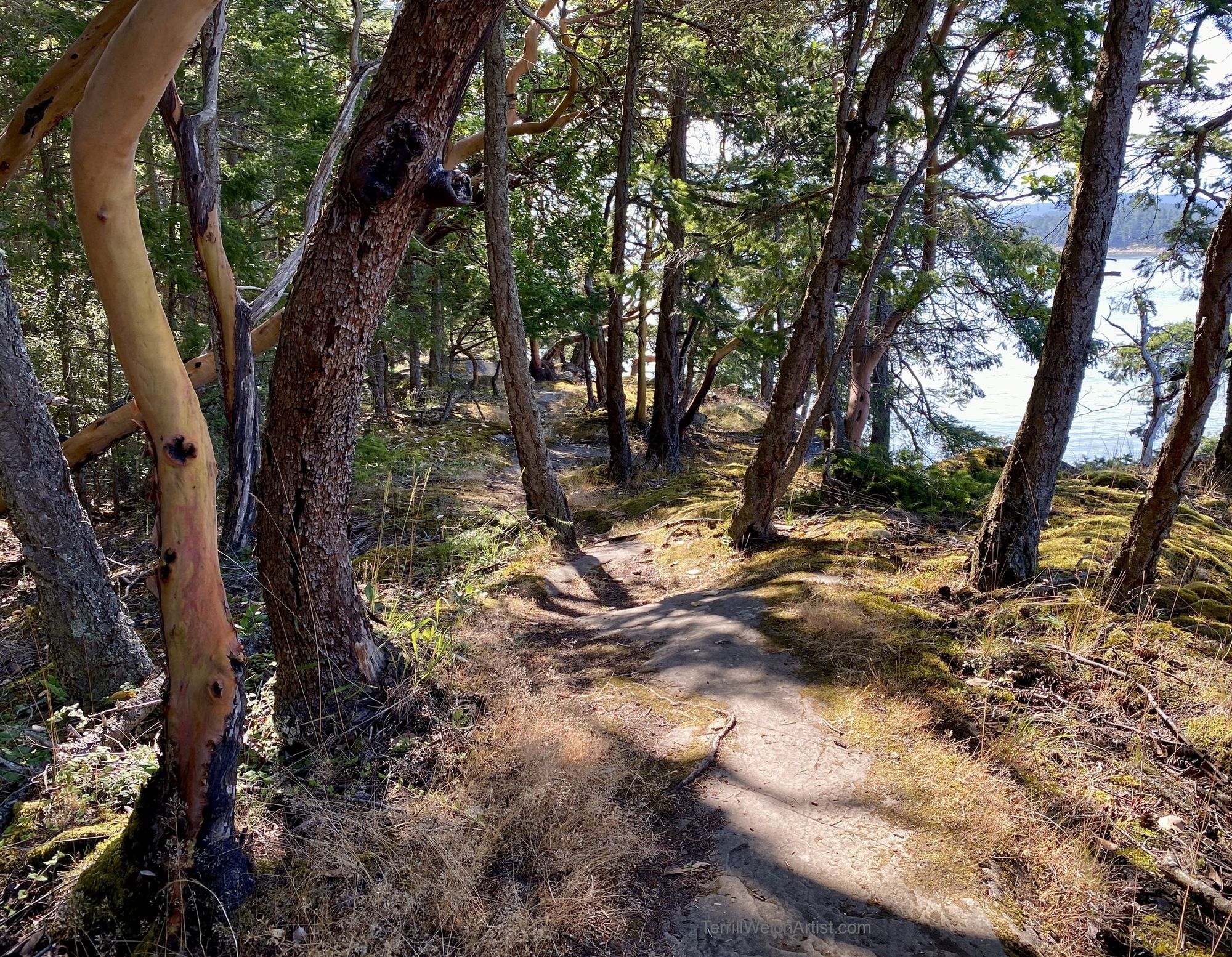 And one is still available even…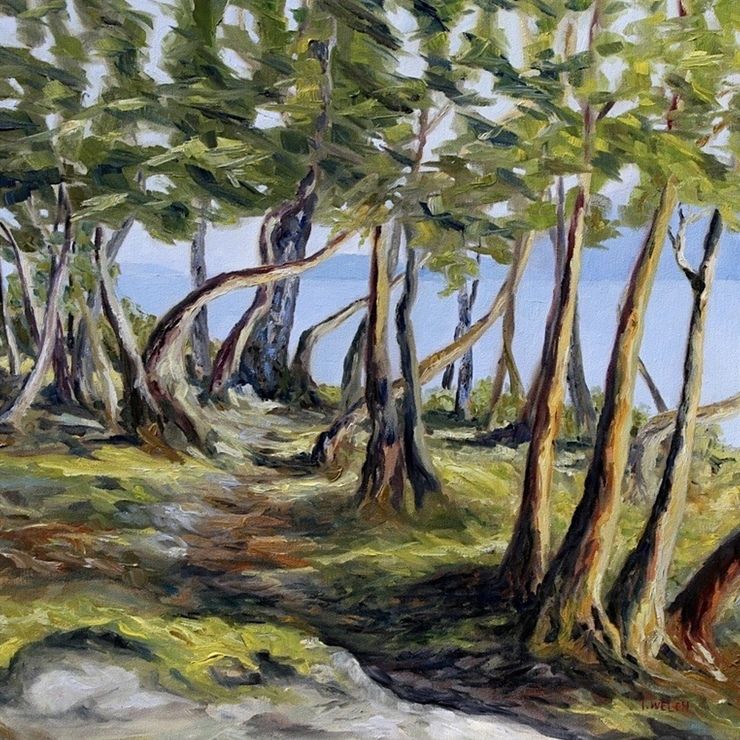 The trail is never exactly the same twice. With each season, each varied direction of the sun and the time of day, something new comes to our attention as th...
This one is in a private collection but still worth a browse…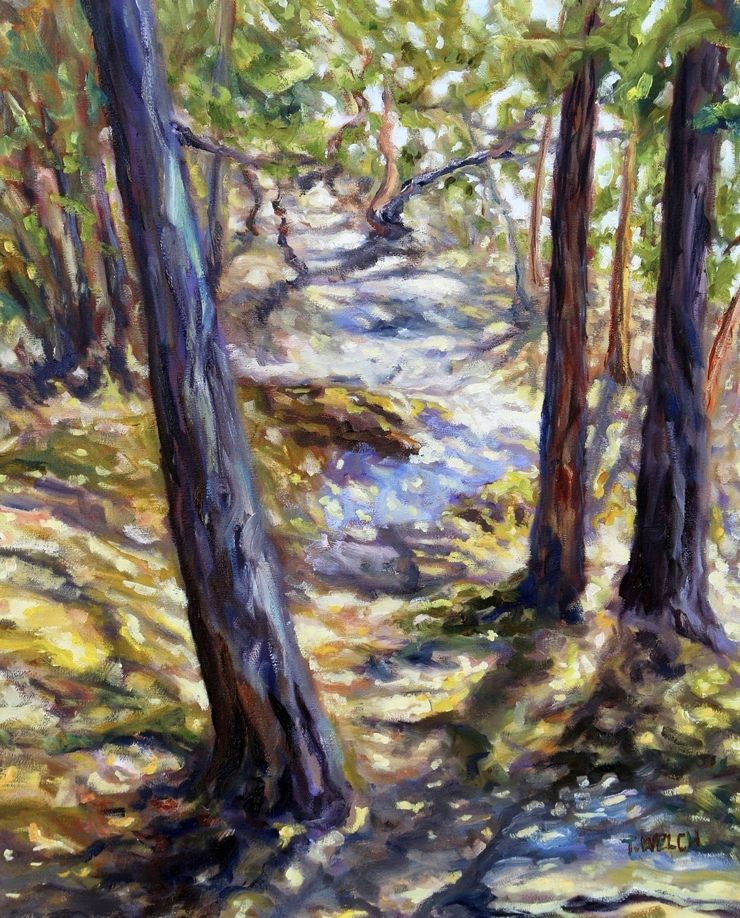 I can feel the sandstone, worn bare of moss, under my feet as I stride the undulating path. Bits of arbutus bark leave warm orange-red foil colours in groove...
I have always wanted to take on this angle and the shadow patterns are exquisite. Maybe this will be my Sunday evening subject? Still considering.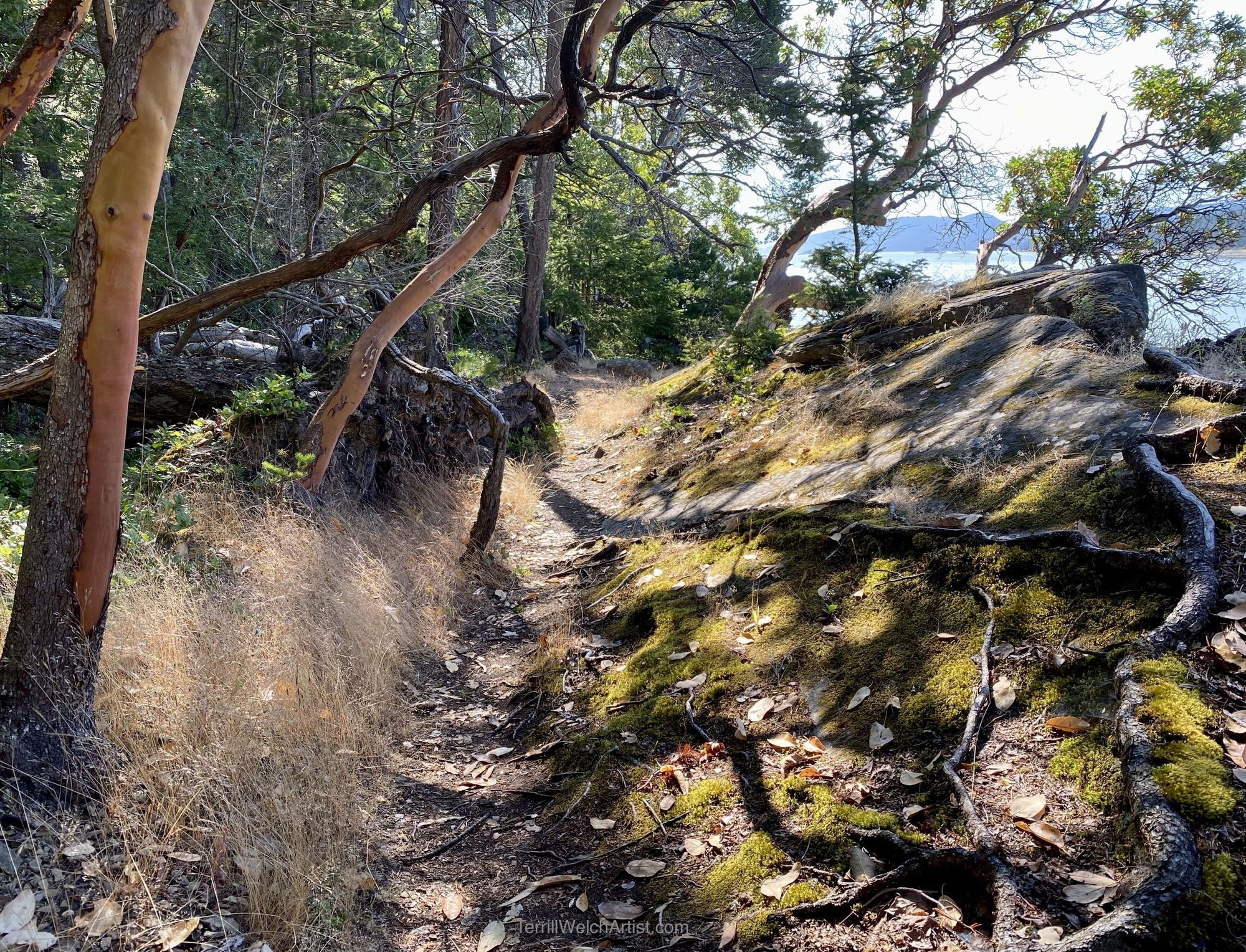 And then a favourite tree in shadow that I have painted a portrait of on a large canvas.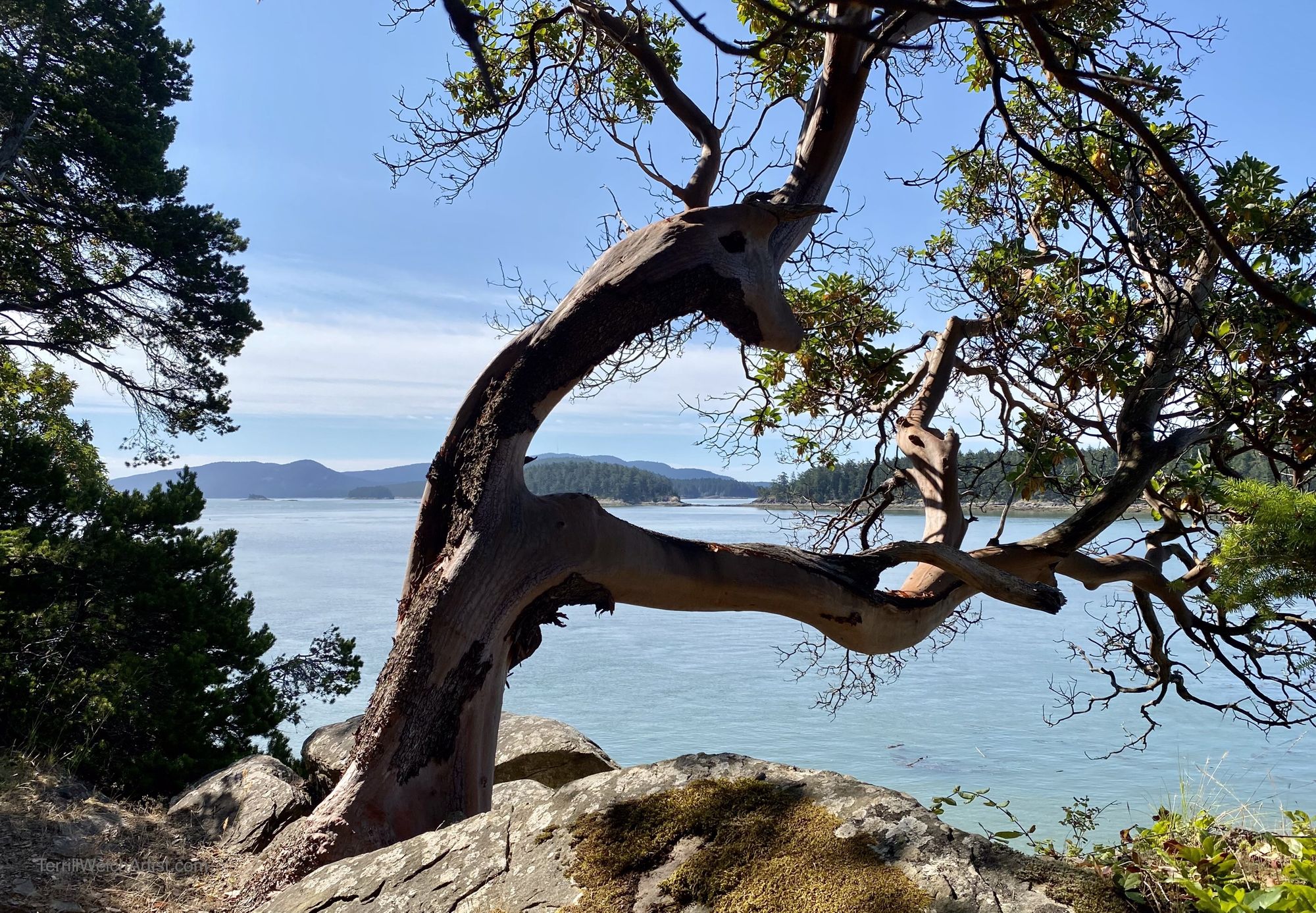 It no longer seems as healthy and when I painted it but I am hopeful this cooler wet summer will help it out some. This large 36 x 48 inch oil on canvas painting is available…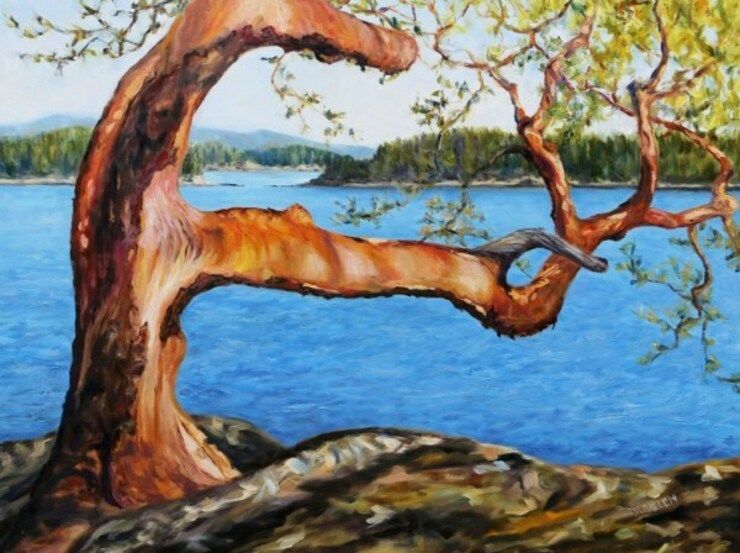 Late afternoon sun catches the curves of a grand old arbutus tree reaching out into Campbell Bay on Mayne Island in British Columbia, Canada. I want not to m...
The large painting had been followed a small painting sketch that is now in a private collection…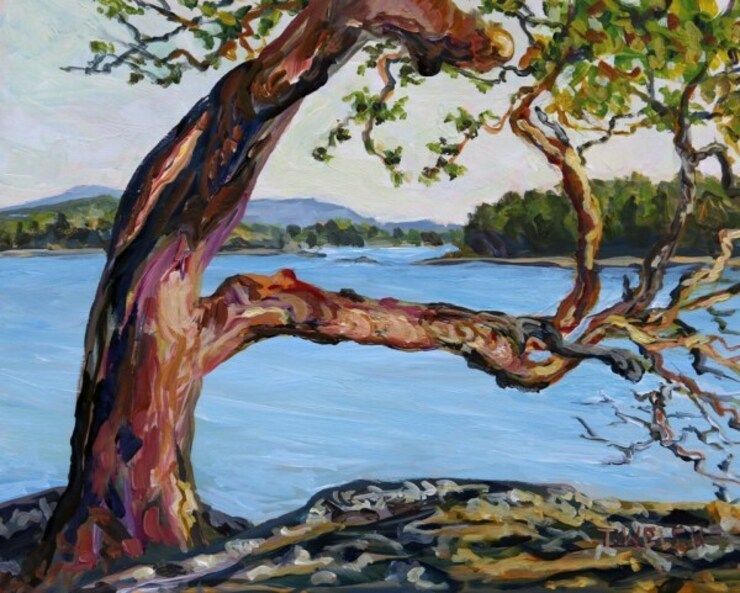 Stretching in some complicated dance designed for balance the arbutus tree frames the view across the water. It is one that we return to often, bobbing our h...
This was a day of a negative tide giving us a rare shoreline view.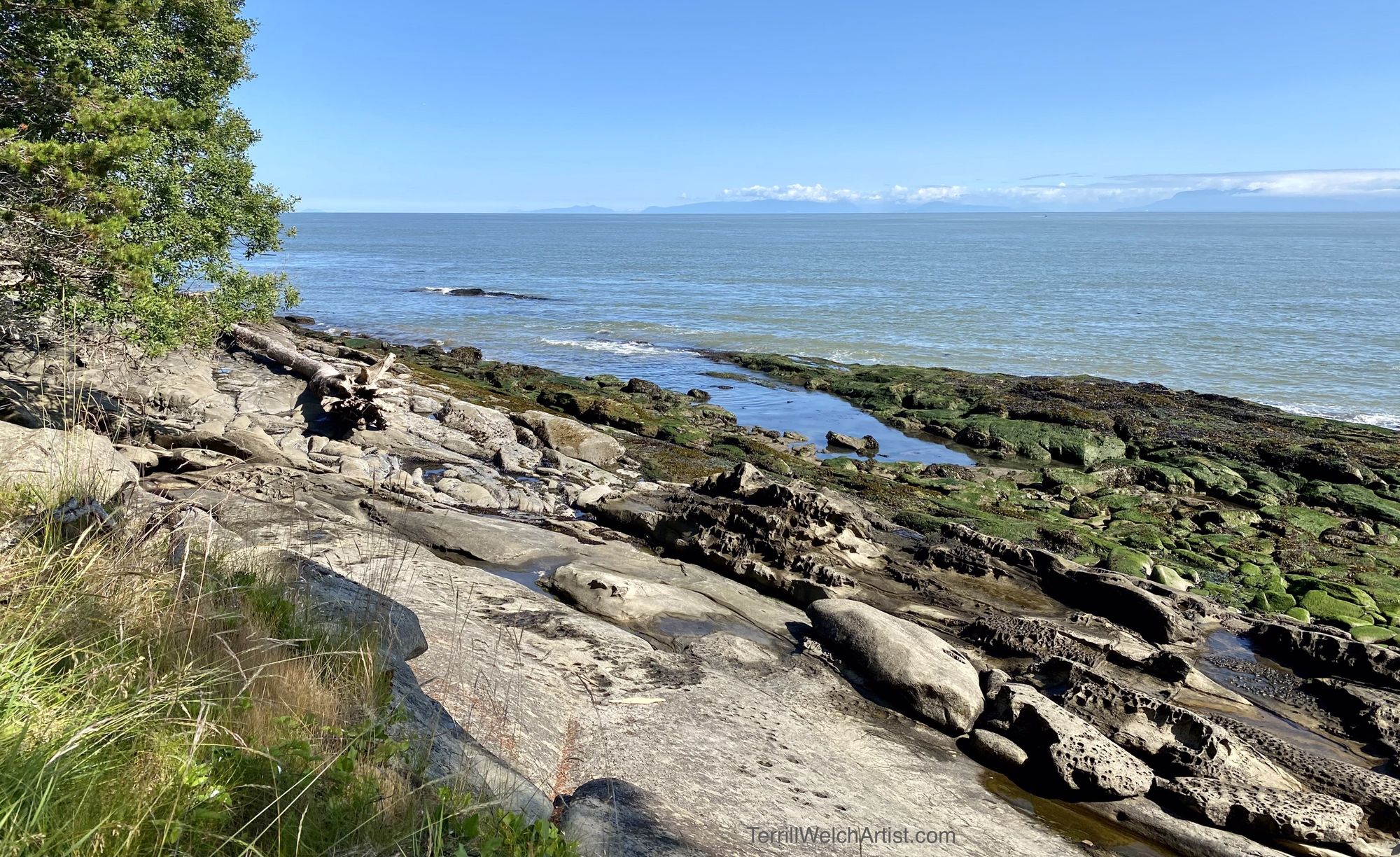 So little sea and yet it feels just right…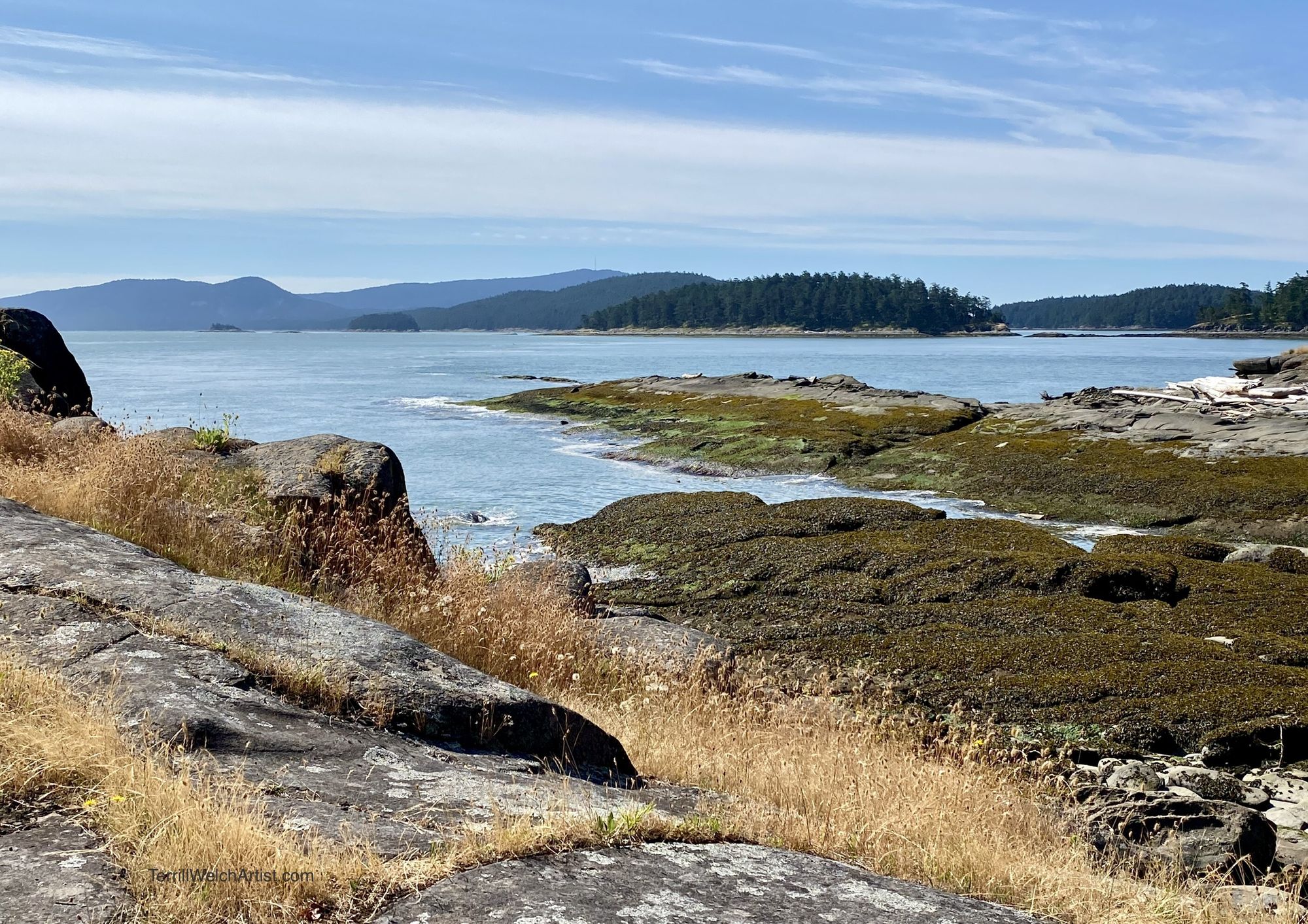 This view too is painted on a larger 30 x 40 inch oil on canvas and is now in a private collection.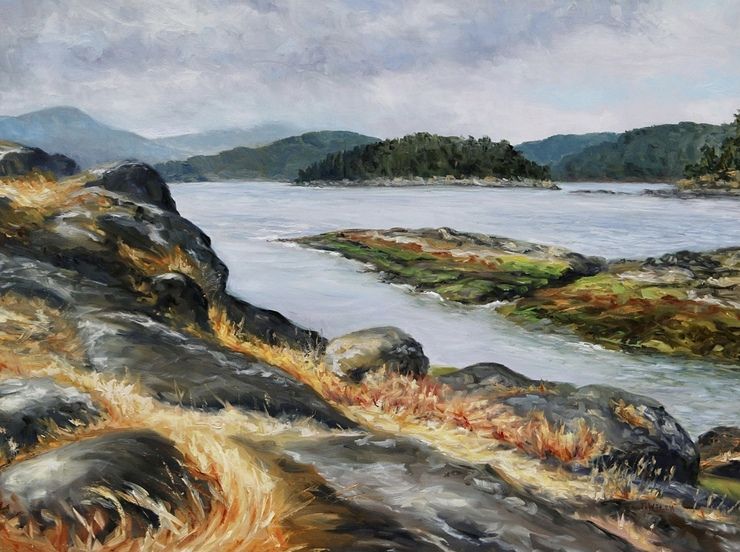 The early morning has slipped away as I hiked along the shore in the late August light. It may rain just a little but it will matter not to the grasses. They...
There is a small study as well that is also in a private collection some places in England.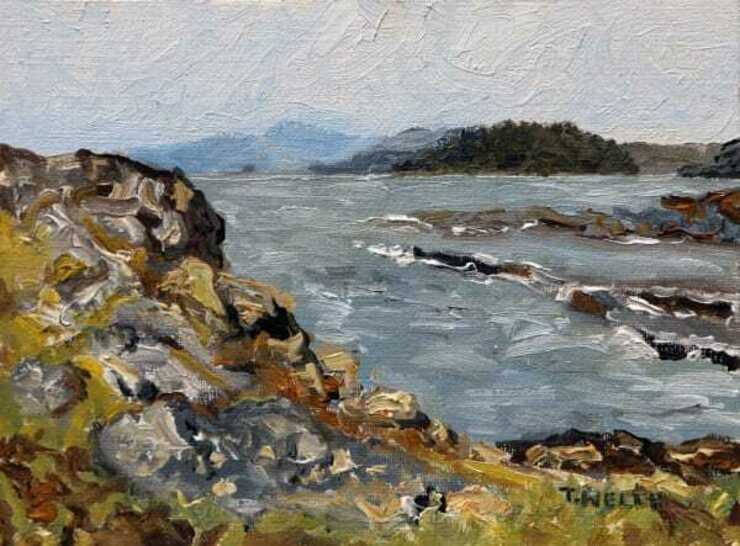 This wee postcard oil on paper painting was created for Twitter Art Exhibit 2021 International fundraiser held in England. Most years I do a small postcard l...
And there it is! A walk with imbedded paintings from previous adventures on the same walk. I hope you enjoyed the integrated tour through this landscape and through time.
Sunday Even Live Painting
Blue skies arrived just in time for our second evening's live painting on the grass at 492 Dalton Drive. The Terrill Welch Gallery's ISLAND TIME ART room would like to thank the artists, visitors and Vania with Dragonfly Gallery for embracing this painting adventure that took place for two Sundays in a row. What fun we had!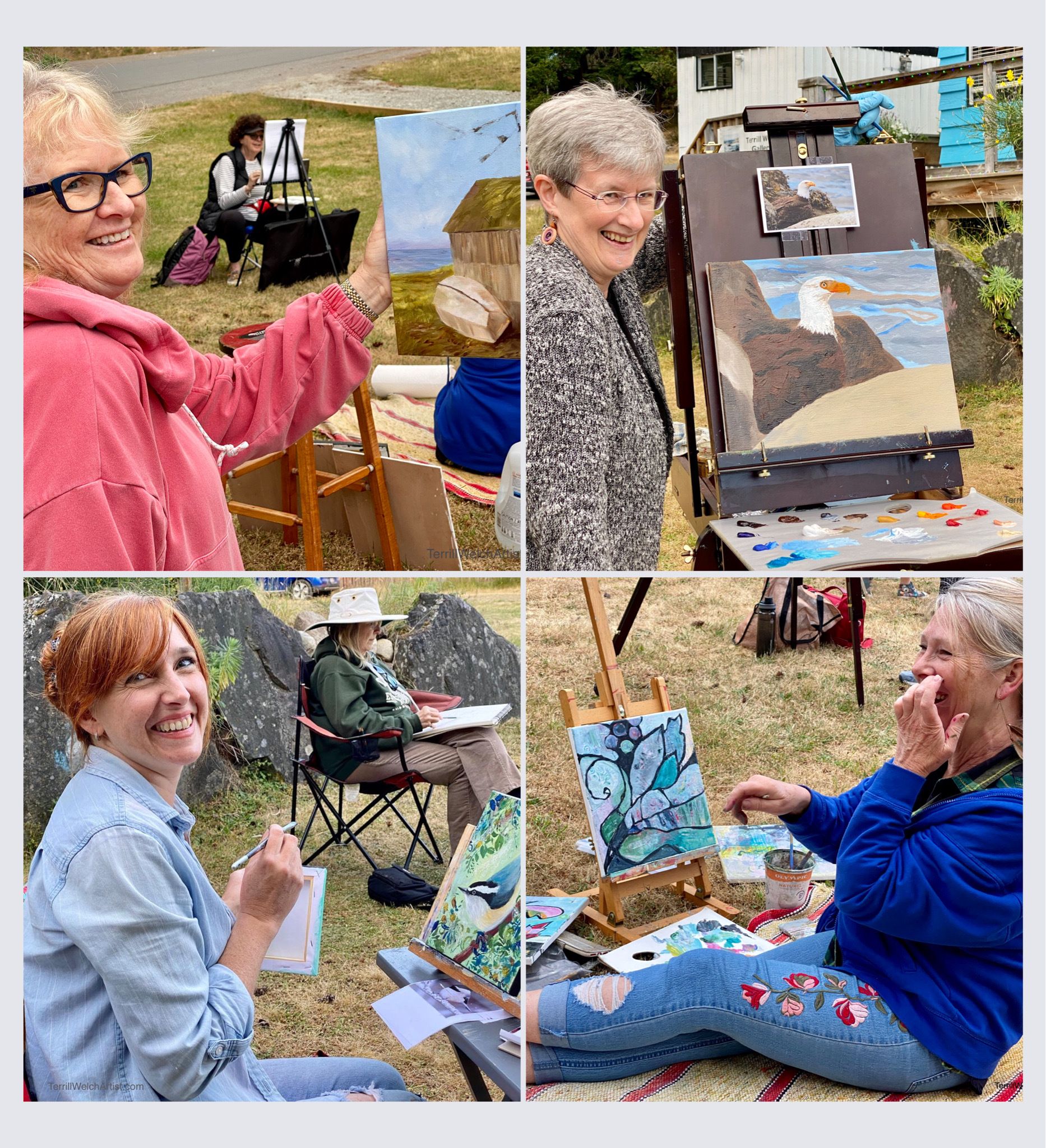 There were four painters the first Sunday and eight out of twelve the second Sunday. In the photo collage above, on the top left is Jennifer Peers and beside her on the right is Glenda King. In the bottom left is Donna Dubock and beside her Elisabeth Jahren.
Below on the top is Jerryann Hamilton and on the bottom left is Julie Ireton and beside her a group shot with Julie, Donna and Elisabeth and a painter's best friend, Kit.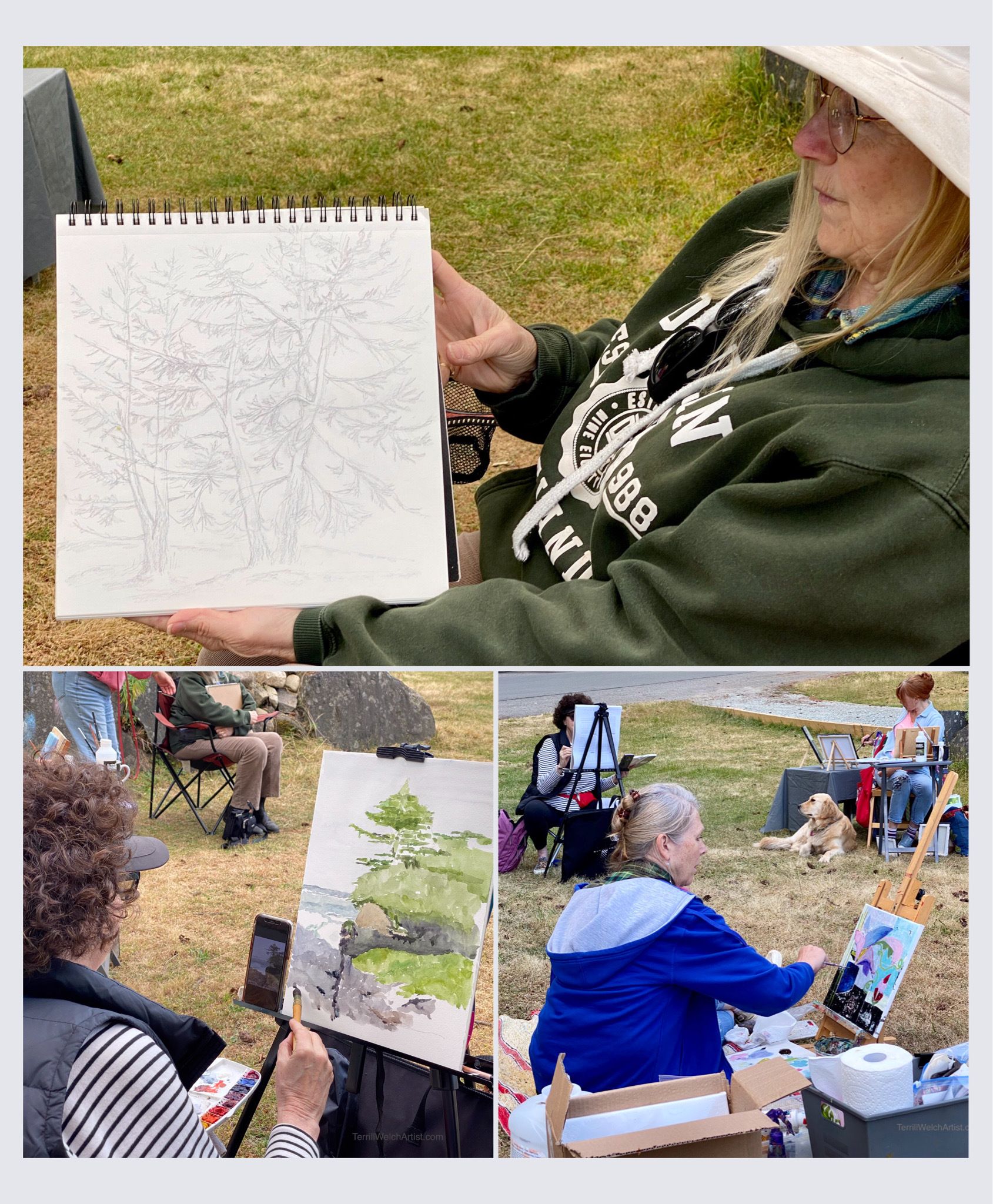 Then in the collage below on the top left is Maeva Lightheart with camera person, Terrill Welch's painting by itself. In the bottom row on the left is another group image and a second photo with Maeva near the end of the painting session.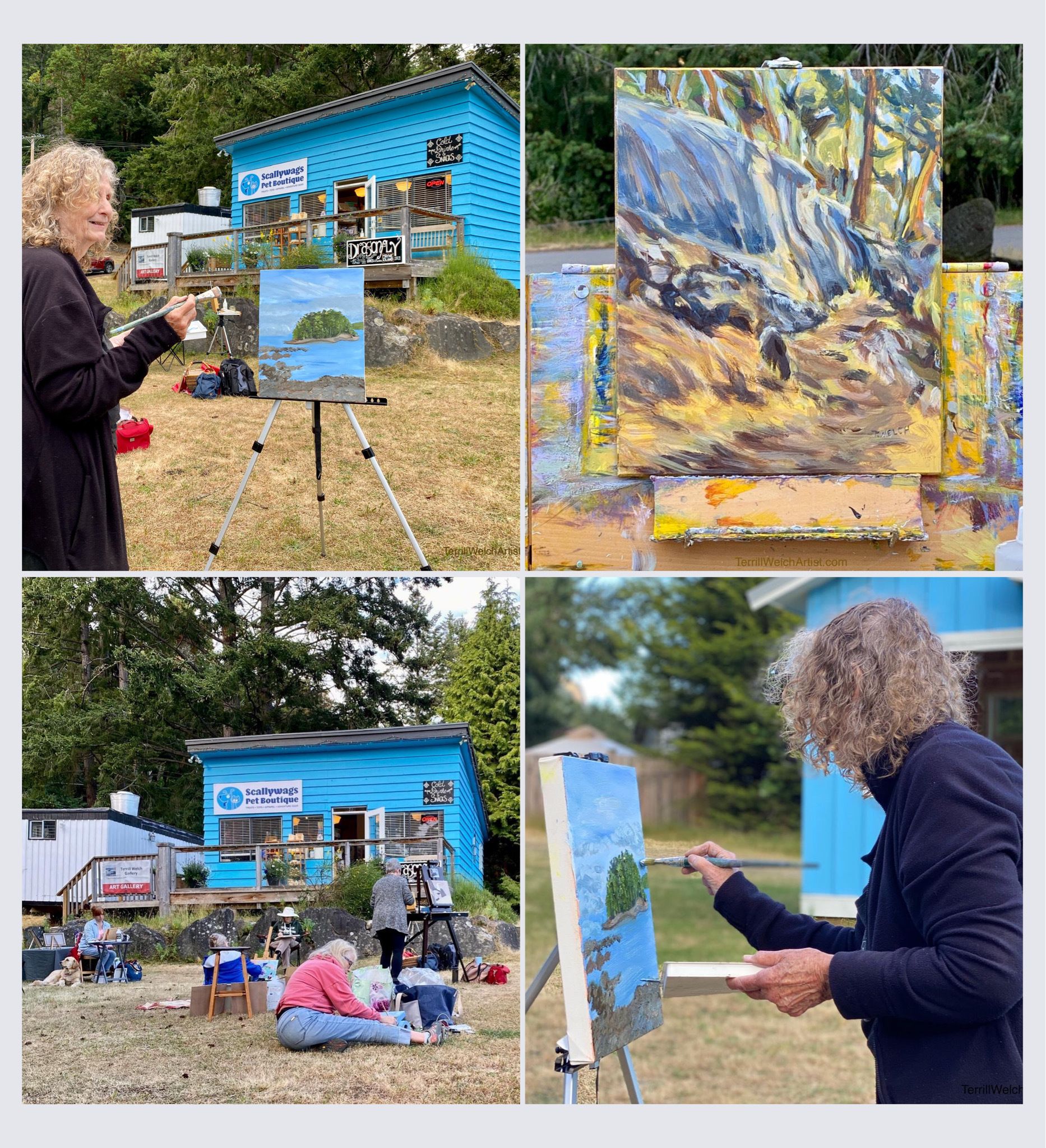 We had such a great time with lots of laughter, chatting and visiting while we worked. We will likely do it again sometime I am sure.
Morning Plein Air Active Pass
Wednesday morning's work is now off the easel after a few of us met in Cotton Park along Active Pass to plein air paint...
New Release
"Active Pass Summer Morning" by Terrill Welch, 10 x 8 inch acrylic on gessobord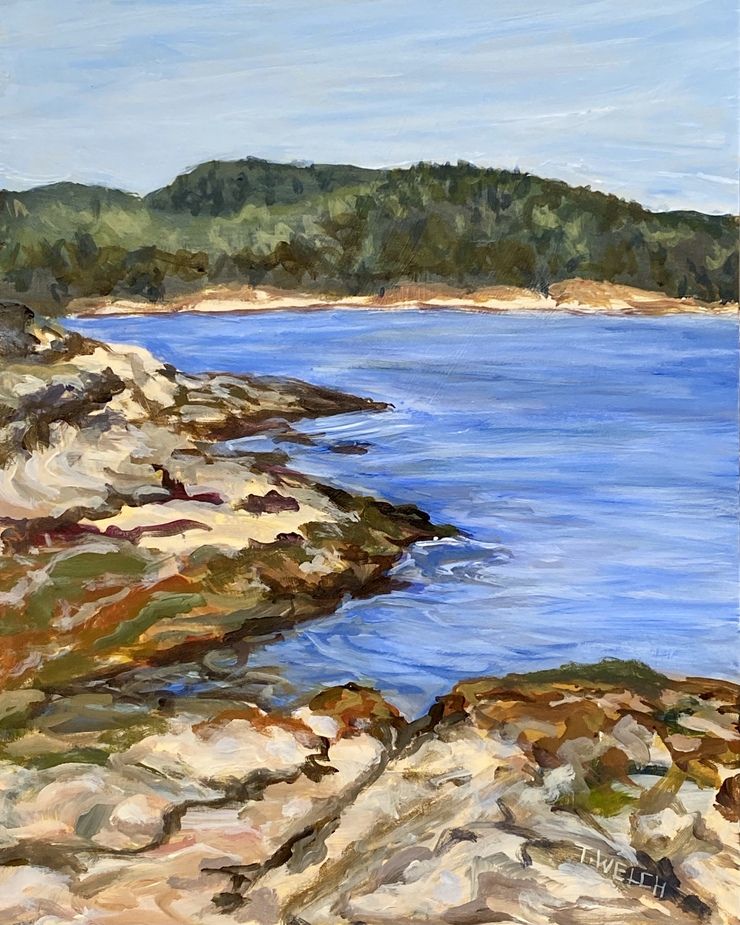 Artist Notes: The morning was warmer than I expected but the fast moving light was no surprise. The effects of tides and blue skies shifting the Salish Sea c...
My purpose with this painting is to capture the spirit of a place. I am seeking its pure essence rather than just what I can see. There is a kind of fiction in this because my brushes are not a slave to visual references. Mostly choices are made to leave things out and simplify. There is a passage of time and experience between 7:30 am and just after 9:00 am when I stop. I love this about plein air painting. It has a free unpredictable spirit that is guided rather than directed by the elements and the paintbrush.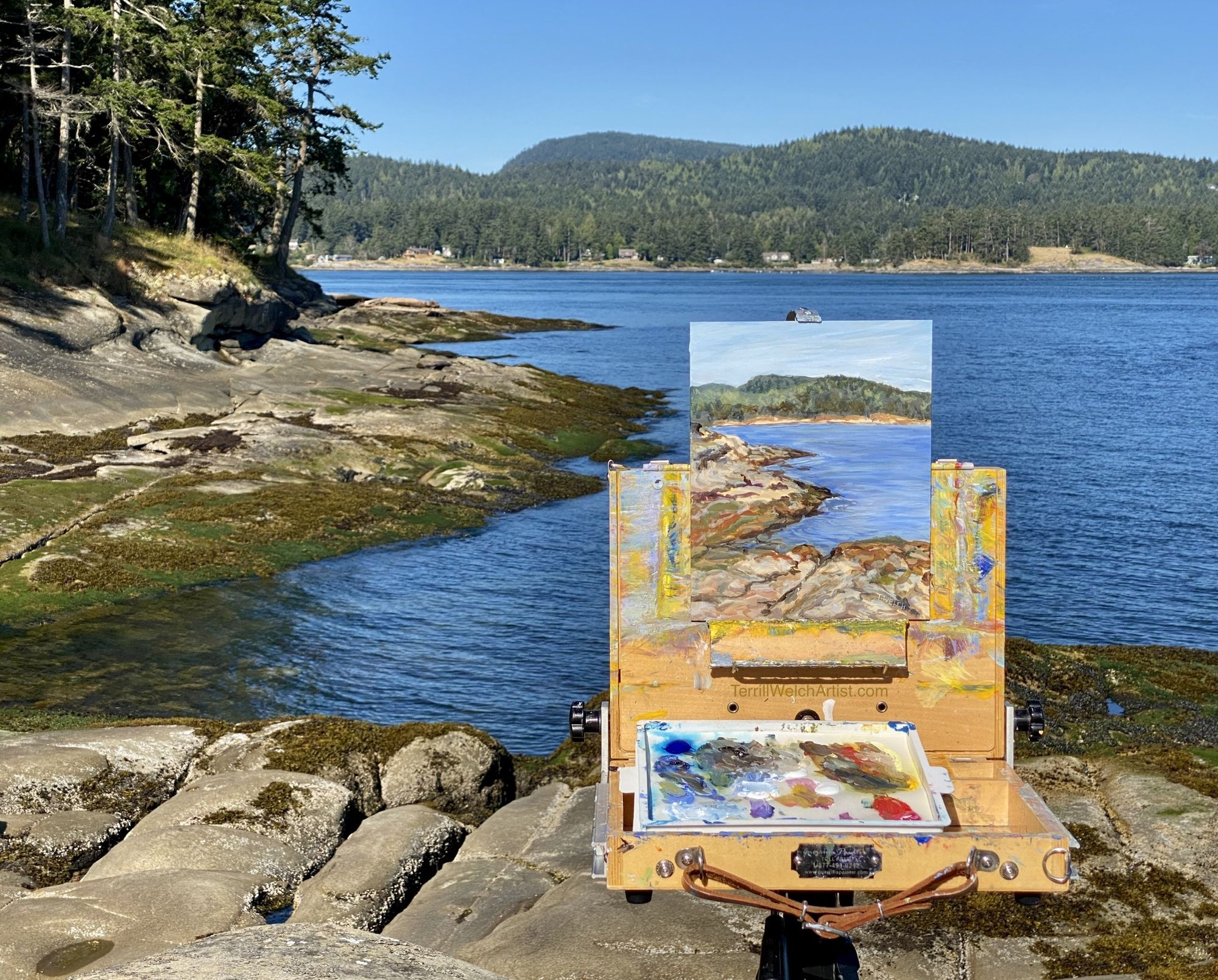 Here is the lemon-lime light on my subject at 7:20 am.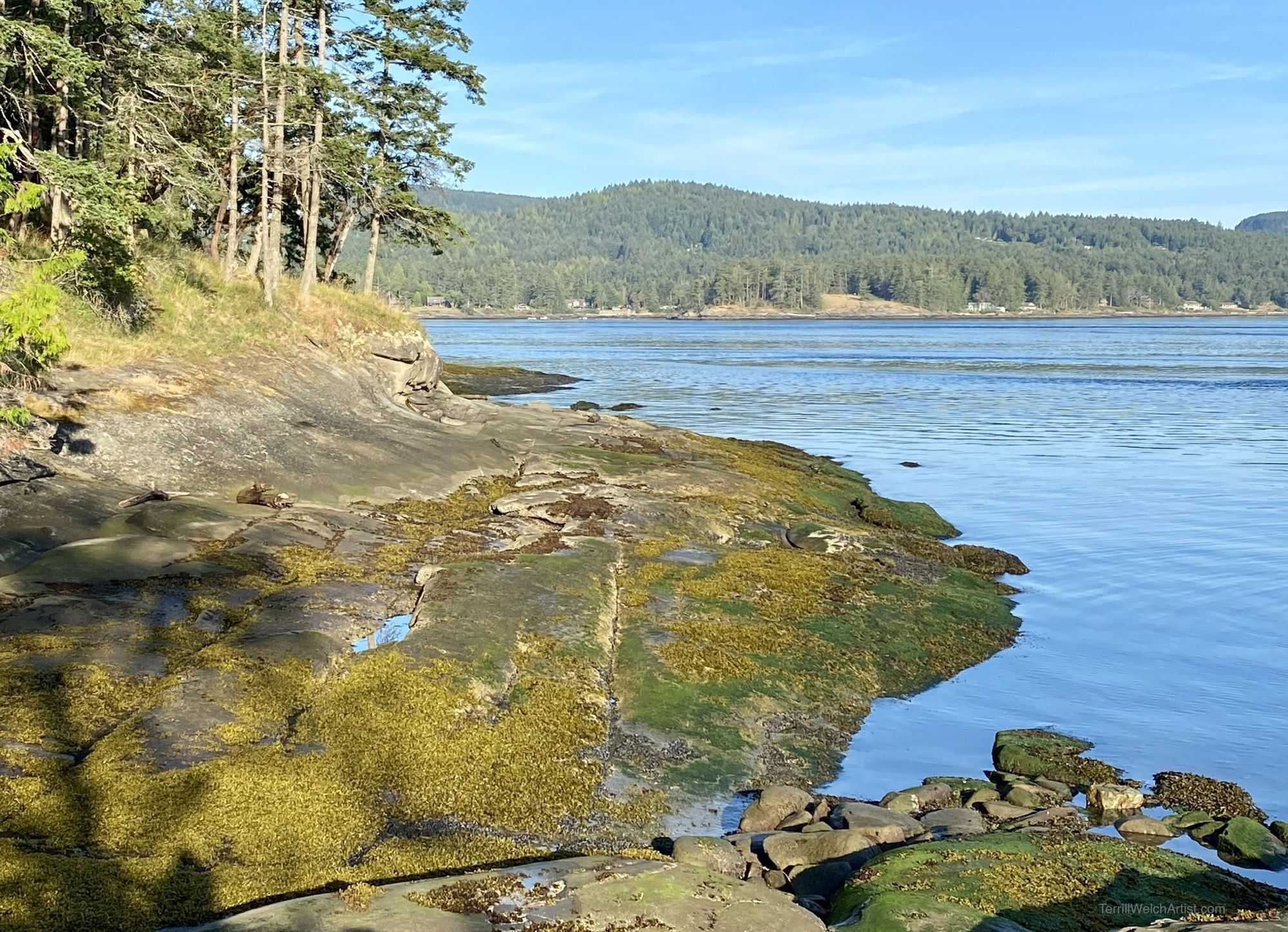 It is 7:48 am by the time I settle farther out on a sandstone point. I am ready to start. Hues have deepened and moved along the red scale.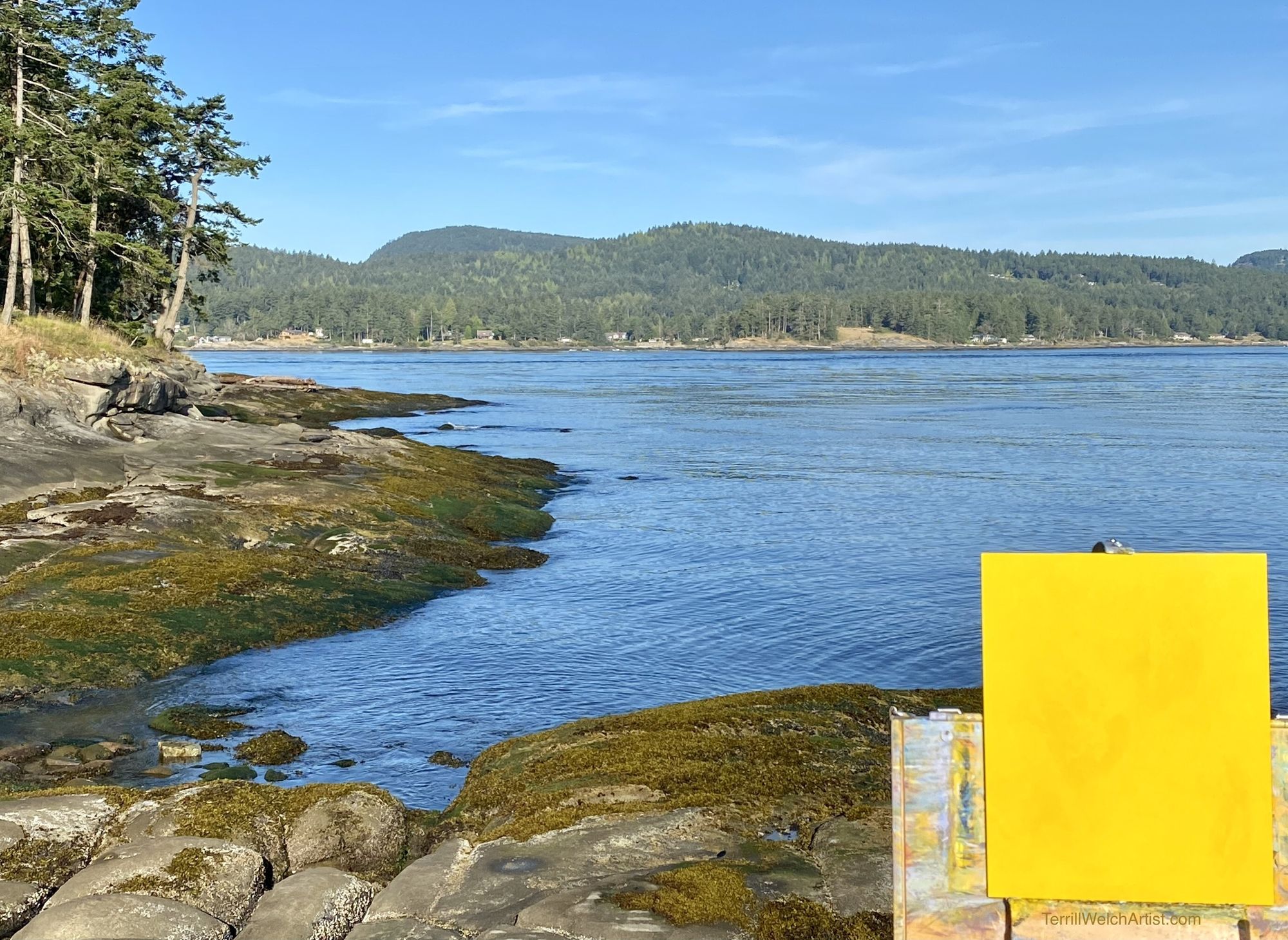 I take another photo reference just in case I want it for later.
This view was also taken early on when I first arrived but I knew it wouldn't likely hold long enough for me to paint. I will keep this one for a studio reference.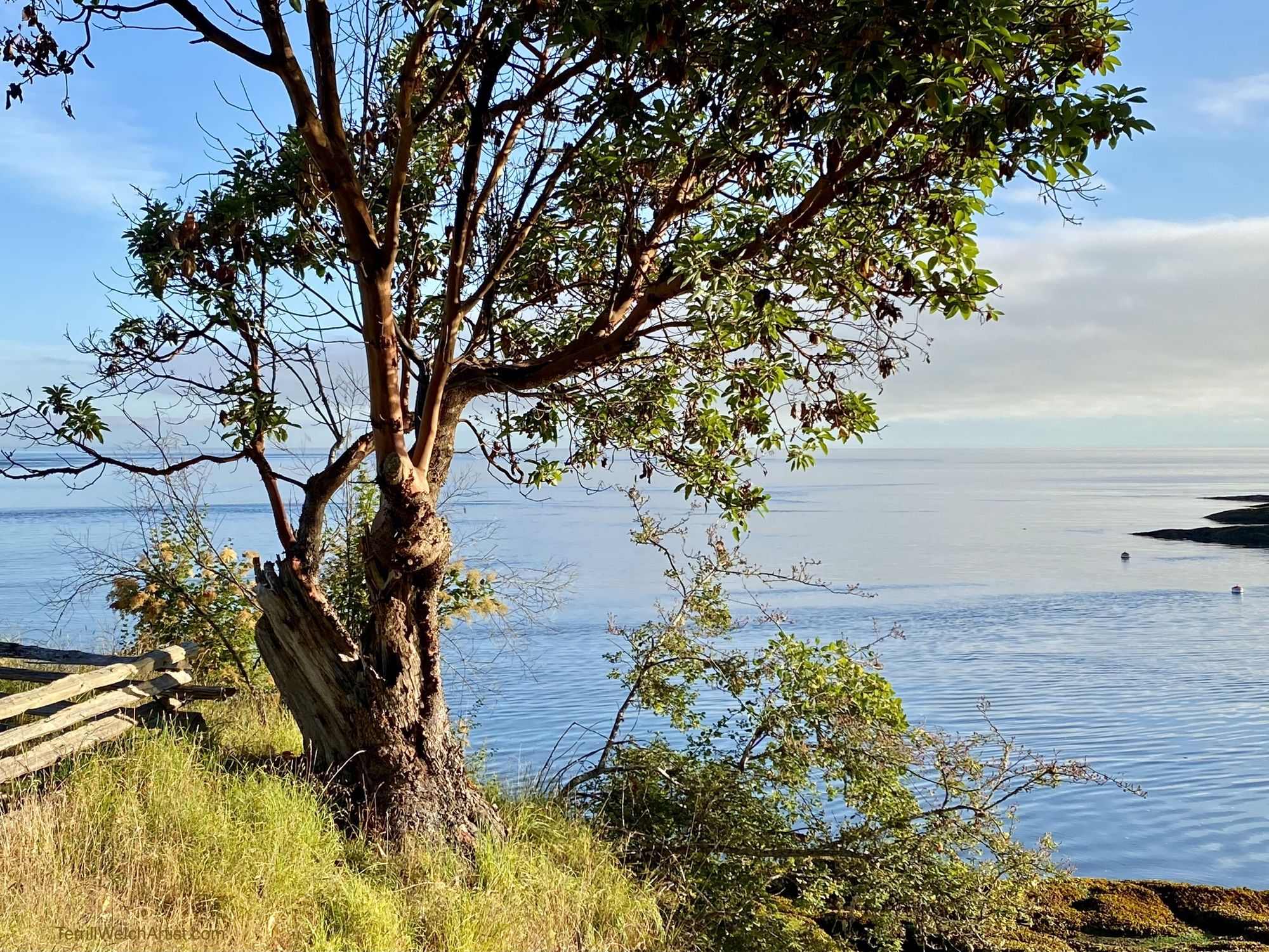 And this one too. It is a studio reference that I may never paint but somehow the experience of that moment will become an emotional underpainting for some future work.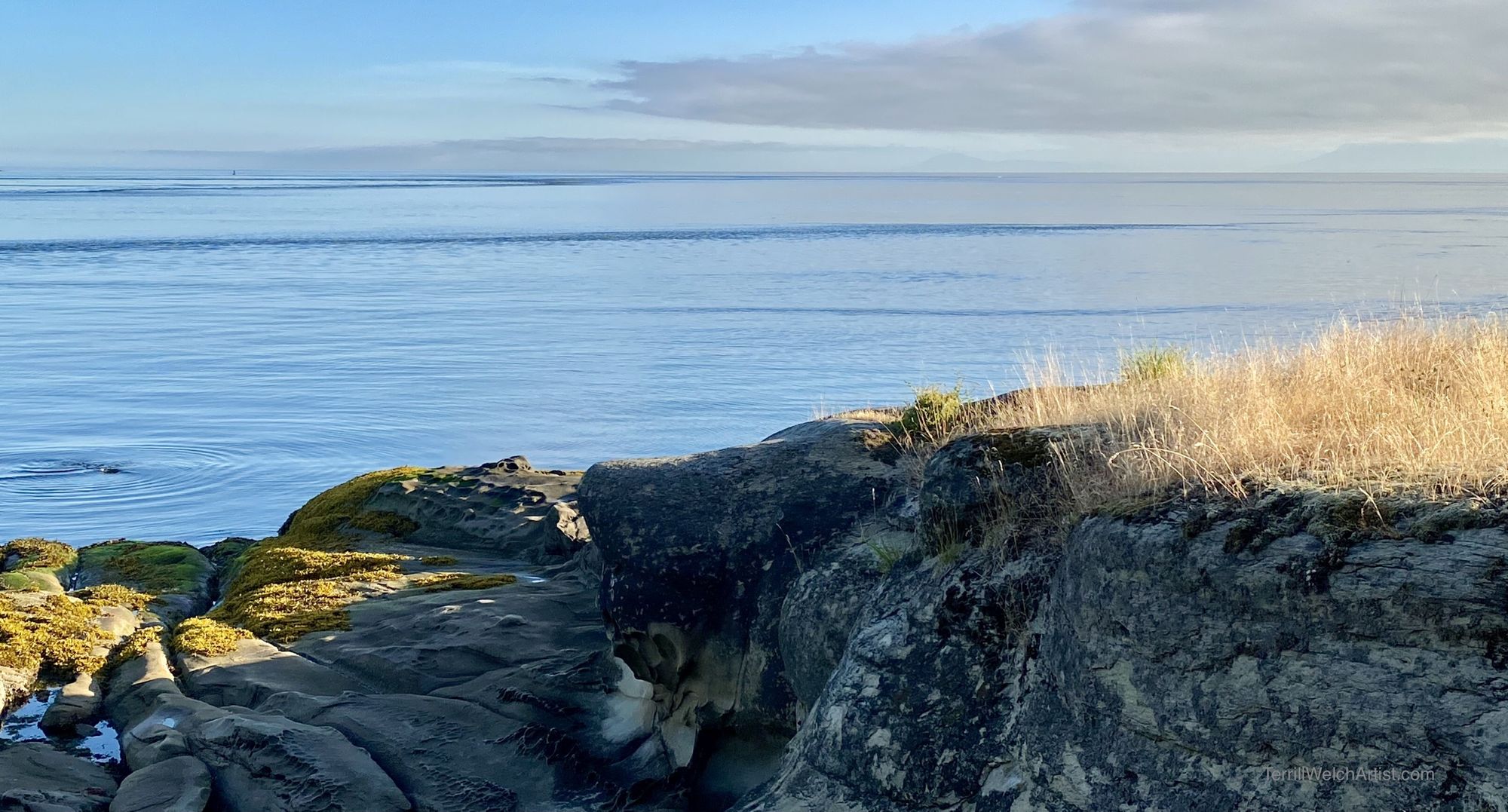 Plein air sessions like this are the life's blood flowing in my paint practice. I am refreshed and ready for some larger canvases and unresolved painting compositions.
Art Watch
Now that I have kept you on the shores of Mayne Island for most of this issue, I thought you might like to explore something a little different. Allow me to introduce art reviewer Mary Lynn Buchanan who is a tech product manager in her day job but does the most amazing video tours of contemporary art in New York City and beyond. Each informative and relaxing clip is both condensed and expansive within the same frame. I am hooked and I have viewed several of her current offerings already. Let's start you off where I started and you can explore from there…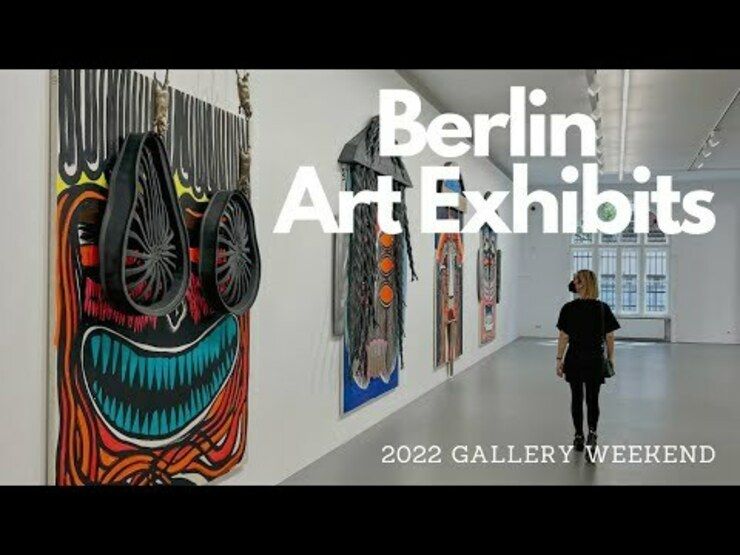 Exploring Berlin Art Exhibits: 2022 Gallery Weekend, Part II'm in Berlin! Come along with me on my very first trip to Berlin, during gallery weekend none the...
In addition, I am recommending this second watch for art collectors, and aspiring art collectors, because it is advice on art collecting from the worlds top art adviser Lisa Schiff. Lisa uses a three prong system to purchase between 100 and 300 artworks for her art collectors a year. This approach goes far beyond the over used refrain "by the art you love". In her system:
First, the artwork must be conceptually and visually compelling.
This first prong gets at the aspect of WHY you love the art you love. When you are able to articulate why an artwork is conceptually and visually compelling you will have strengthened your artist language several yardsticks beyond - I love it!
Second, the artwork must be historically relevant in that it interacts with what is going on around us and also, interacts within an art historical conversation.
This second prong implies that an artist must have studied, formally or informally, art history and have a working knowledge about at least some of the contemporary art conversations and how they are historically relevant in their artwork. My newsletter issues often place my paintings within such contexts and conversations for us to consider.
Third, the artwork must be strategically placed.
This third prong is truly the most challenging aspect for an emerging rural artist like myself. Yes, I have paintings in some more important collections such as those that are in the company of Emily Carr and Group of Seven paintings. Also, some of my paintings are with art collectors with more broad contemporary collections. But most of my paintings are working hard in the homes of art collectors who live with them for their own sake. I am good with that! At the same time, based on this interview with Lisa, I think I could do more in this area and it would be good for both the paintings and the art collectors who have and will collect them. Of these three prongs, this is my growing edge… when not focused on what to do with the paintbrush already in my hand.
Lisa Schiff's view is a challenging perspective in that it is sitting right in the cusp of a changing art world that might possibly have those art collectors under the age of 45 questioning the importance of her advice in respect to the second and third prongs in her system. That said, I feel that her views are still extremely relevant and she articulates her position well. The interview is definitely worth a listen, even if discover that you do not agree.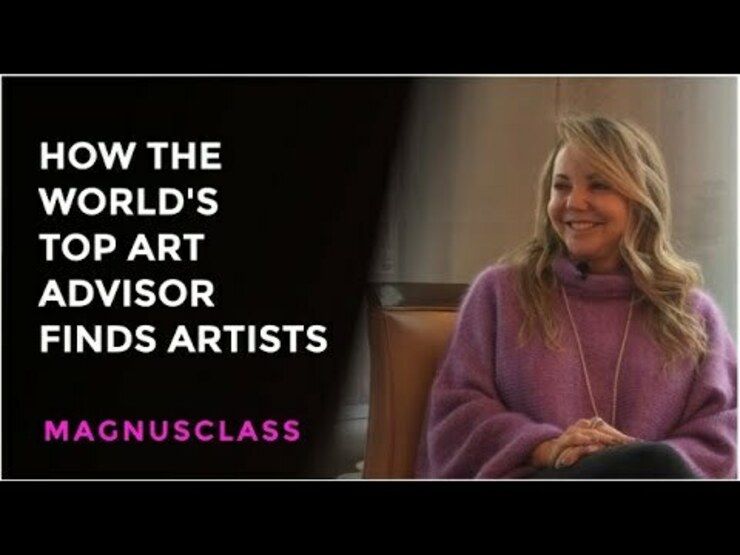 Lisa Schiff is the world's leading art advisor and one of the world's most active art buyers. On behalf of her clients she buys 100-300 pieces, yearly – so a...
I am curious to hear what you think, if you decide to watch this interview. Feel free to send me a note if you wish.
Until Next Time
As you can see this past two weeks has resulted in three new small painting sketches. It feels like there is a fluid flow to each day and week that is more joyful and relaxed even with all the craziness in the world at large. I'll take it! Wishing you all the best with your summer adventures no matter where they take you.
Terrill 👩‍🎨🎨❤️
Canadian landscape painter, Terrill Welch, exposes the mystery in an ordinary day, reminding us that there is only one moment – this one.