A Brush with Life - Issue #15 Last Minute Relaxing
There is the holiday hustle, the slipping out the back door to the pub, the pulling the covers over ones head, the avoiding of all malls and family gatherings, the baking frenzy and a bazillion other ways to navigate the month of December. But for me, it is the last minute relaxing during the holida
There is the holiday hustle, the slipping out the back door to the pub, the pulling the covers over ones head, the avoiding of all malls and family gatherings, the baking frenzy and a bazillion other ways to navigate the month of December. But for me, it is the last minute relaxing during the holiday season that I look forward to the most. I often get up to greet the sunrise in the month of December because it is not so early. I put money in envelopes for grand children to be able to shop for something they really want. The big kids get a hug or a phone call or even just a text message. I make shortbread most years. I prepare grounds on canvases, paint edges and start to organize the year-end paper work for the New Year. I chat with friends in-person and online. If the mood strikes me, I just may pull out the ceramic Christmas tree and a few battery operated candles. If not, no one seems to notice. The Holidays, as you can tell, are pretty low key for us.
Sometimes, there are unique seasonal painting sales that come with their own special story. These I savour and often revisit this time of year. I will see if I can find one to share you from a couple of years ago...
---
A Painter's Favourite Holiday Story
This is a true modern-day story about how a "Rainy Day by the Sea" painting saved a west coast Christmas morning... The shopping mall was stuffed with shiny objects, seasonal jingles and the grimaces of determined shoppers during the last weekend before the holidays. A woman stood stoically in the middle of the good cheer…
International Gallery Representation
I was recently scouted by an art consultant for the International Laguna Art Gallery in California. It is one of three prominent galleries owned by Shane Townley, artist and art app developer. The Laguna Art Gallery and I agreed to start with sharing three of my paintings in their online gallery plus on a high-end platform, Artsy, and another online platform I know less-well for designers and collectors called 1stdibs through their sister gallery - Gallery 104 in New York City.
Gallery representation is tricky, especially in larger growing venues like these. As you know, it takes time to get to know an artist's work and represent it well. Despite popular notions, paintings DO NOT sell themselves. It requires an investment of time and interest in both the work and the artist that is then shared with potential art collectors. But the gallery's offer was fair and genuine so I decided to give them an opportunity to give it a go. So we shall see.
Here is a link to one of the three paintings in the Laguna Art Gallery. As trusted fans and collectors, I would love to hear what you think in comparison to my one online gallery experience.
30" x 40" Original Artwork Oil on Canvas art, artist, artwork, painting, shop, new york, contemporary, modern, fine, canvas, oil, acrylic, decor, interior, design, designer, home, garden, luxury, house, decoration, lifestyle, Gallery, original, photography, photography, pigment, curator, decorator, curation, sale, 104, gallery, paintings, fine art, studio, store, shop, price, abstract, curation, laguna, beach, nyc, ny, broadway, app, application, laguna, laguna beach, ca,california, orange county,
And here is the link to where all three paintings are represented by Gallery 104 in New York City on the Artsy platform...
Find the latest shows, biography, and artworks for sale by Terrill Welch
For those that are not familiar with Artsy, it is an art collectors' online gallery website where artists must be represented by a selected (juried/approved) gallery to have their work shown. Another way to say this is that - this is "top drawer" international exposure for my work.
So for now, these three seascapes paintings of California, Prince Edward Island and Mayne Island are flashing their colours and spraying the sea across the globe in style.
What I am reading...
I am more than halfway through a e-copy of the most intriguing book written using the structure of a road trip east-to-west across Canada taken by an artist after his wife died. REQUIEM by Frances Itani goes from present to past with snippets about times with his wife and son and also his experiences growing up as a Japanese Canadian during the interment of Japanese citizens on the west coast of British Columbia. The writing and storytelling are superb but I don't want to give away too much as part of the pleasure is in the quiet discoveries of this novel.
A favourite quote:
He [Okuma-san] went on. "Think of the many times you have tried to draw wild horses, or even the big river. It is like that with music, too. If you draw the river, you want to transfer what you know you have inside yourself to a single sheet of paper. You want to work with the white space of the page; you want to create light and flow, mist and current. You especially want to capture spirit. But as you have already learned, these things are difficult, which does not mean that you stop trying. There is good reason to try again, to move forward, to make the attempt to accomplish what you have not been able to do before. There is always good reason to keep trying."
Sometimes, while I read, I listen to the classical music mentioned - such as Beethoven's "Missa Solemnis" in Chapter 21 or "Hammerklavier" in Chapter 22, as a way to further disappear into the story. Anyway, a great read for "last minute holiday relaxing" ;)
Requiem: Book summary and reviews of Requiem by Frances Itani
Latest work with in-progress video
Terrill Welch is a Canadian Contemporary Landscape Painter. Learn more about her work on her website at https://terrillwelchartist.com or sign up for the Ter...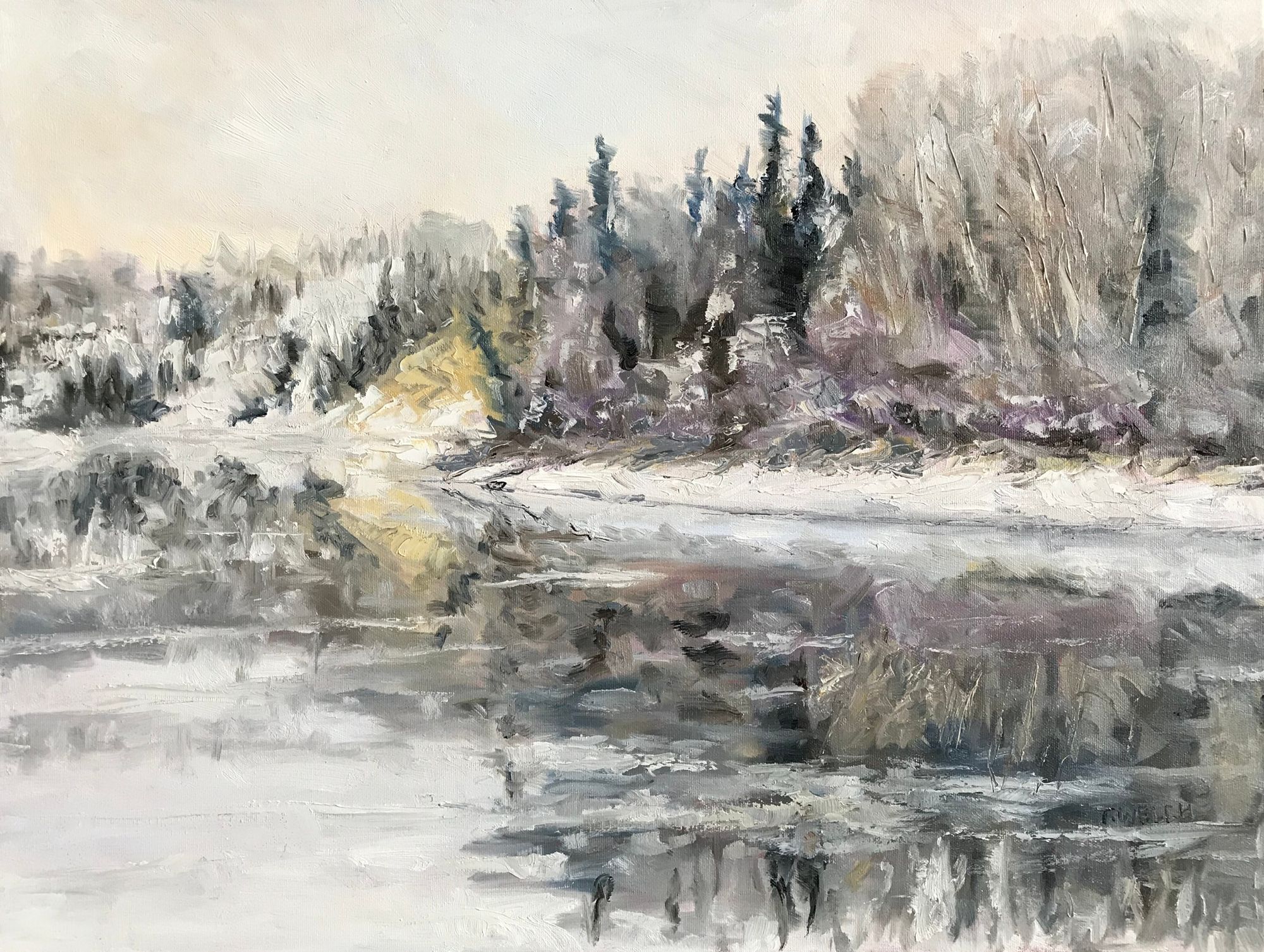 Happy Holidays!
Thank you as always for sharing this painting journey with me as we all bumble along living our best lives. May the holidays be all that you wish for and Seasons Greetings from the Terrill Welch Gallery!
Landscapes and more by impressionist painter Terrill Welch