A Brush with Life - Issue #14 West Coast Winter Paintings
What is a west coast winter like? Well, sometimes there are high winds, lashing and drizzling rains or fog and mist. Always, when you can see it, there is the low-angle of sunlight and on rare occasions snow - first in the mountains and then settling into the lower elevations. But since, snow is not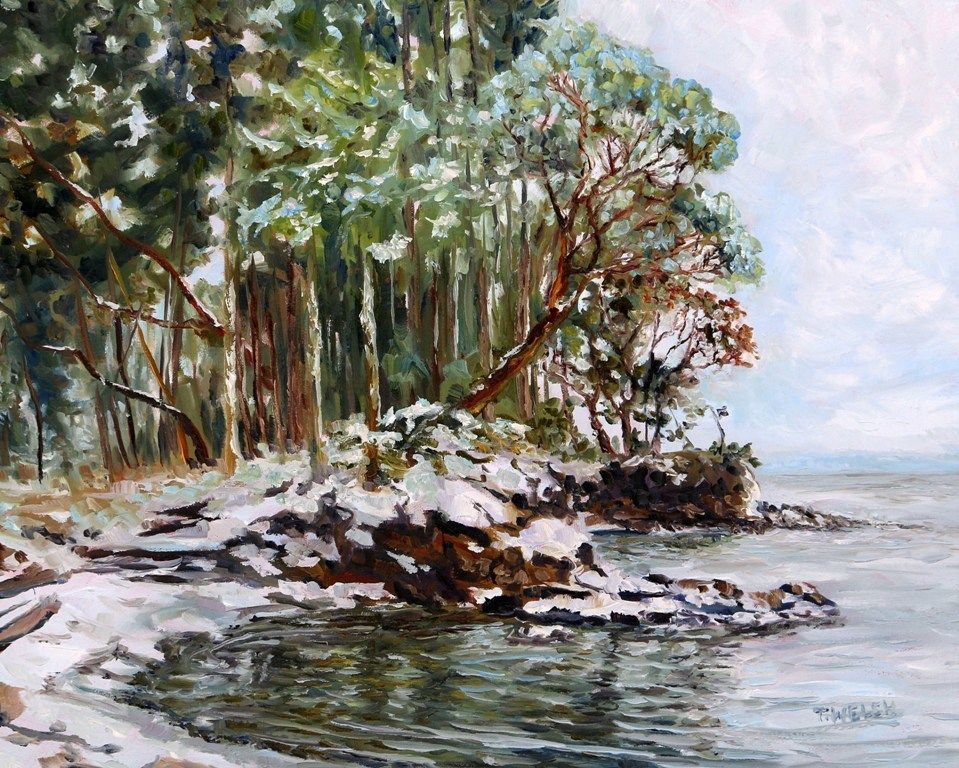 What is a west coast winter like? Well, sometimes there are high winds, lashing and drizzling rains or fog and mist. Always, when you can see it, there is the low-angle of sunlight and on rare occasions snow - first in the mountains and then settling into the lower elevations. But since, snow is not a predictable occurrence on our part of the coast, I have only a few paintings of snow or almost snow and several of those are already in private collections. Still, I wanted to share them with you. It is the last day of November today and that time of year where we know winter has settled into the west coast. The SOLD paintings are marked as such and do not have a clickable link. The rest you are able to follow to the online gallery if you wish.
Enjoy the West Coast Winter Snow & Almost Snow 2nd virtual newsletter show!
---
West Coast Winter Virtual Show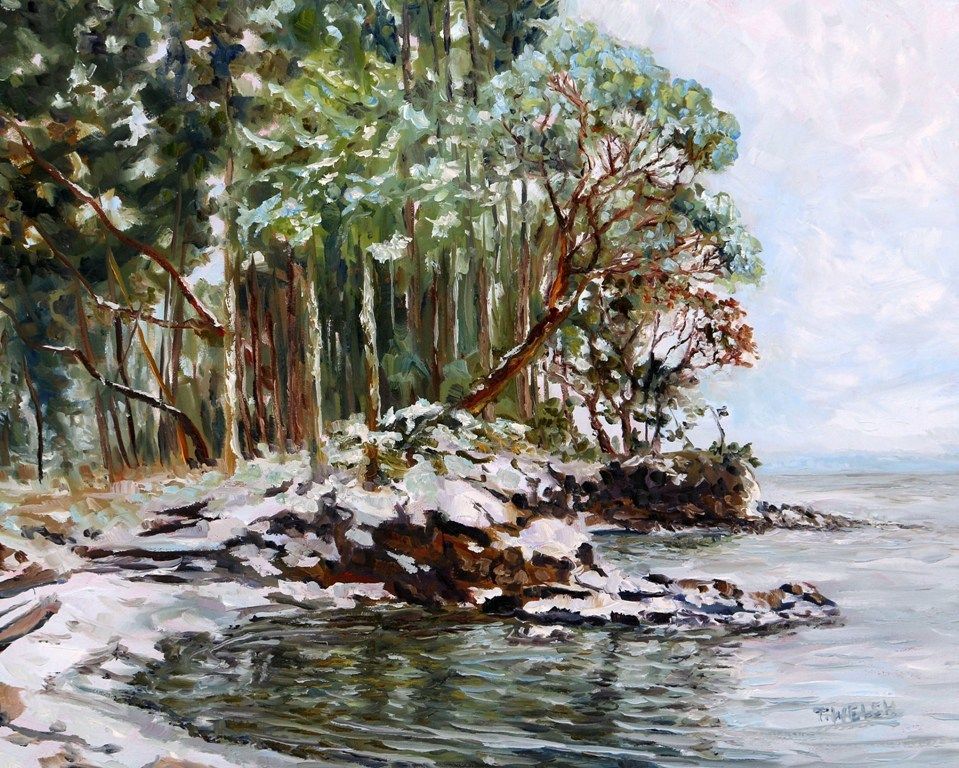 Snow seldom reaches the shores of the Salish Sea and less often does it strike such beautiful contrasts between the land and sea. There is cause to stand for a long moment in its wonder, maybe even to celebrate its rarity in this quiet scene at Oyster Bay on Mayne Island in British Columbia.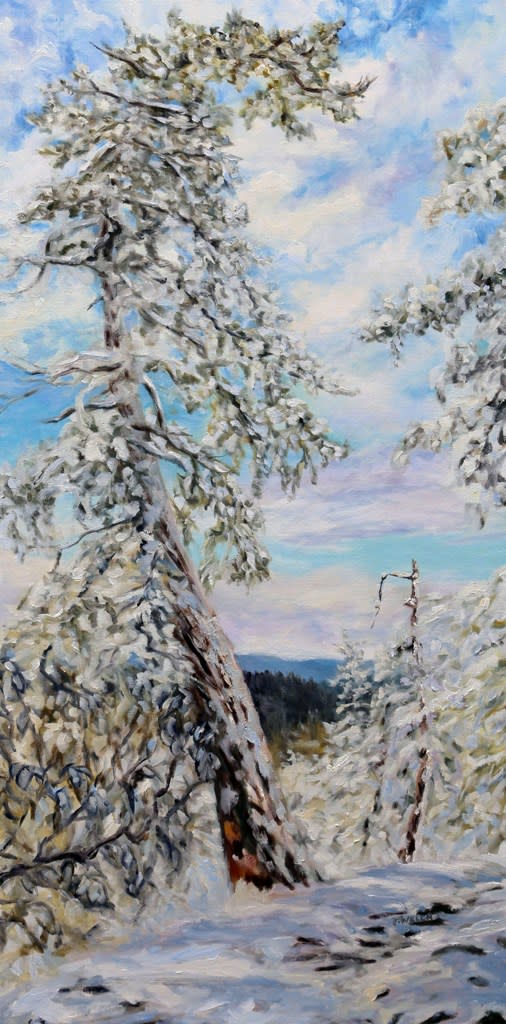 Note: this painting is so long and narrow at 48 x 24 inches that I have shared the image sperately. The online gallery link is below.
The snow on the north side of ridge slows my progress because I need to take several stops to catch my breath. But the climb was worth it! I have the Mt. Par...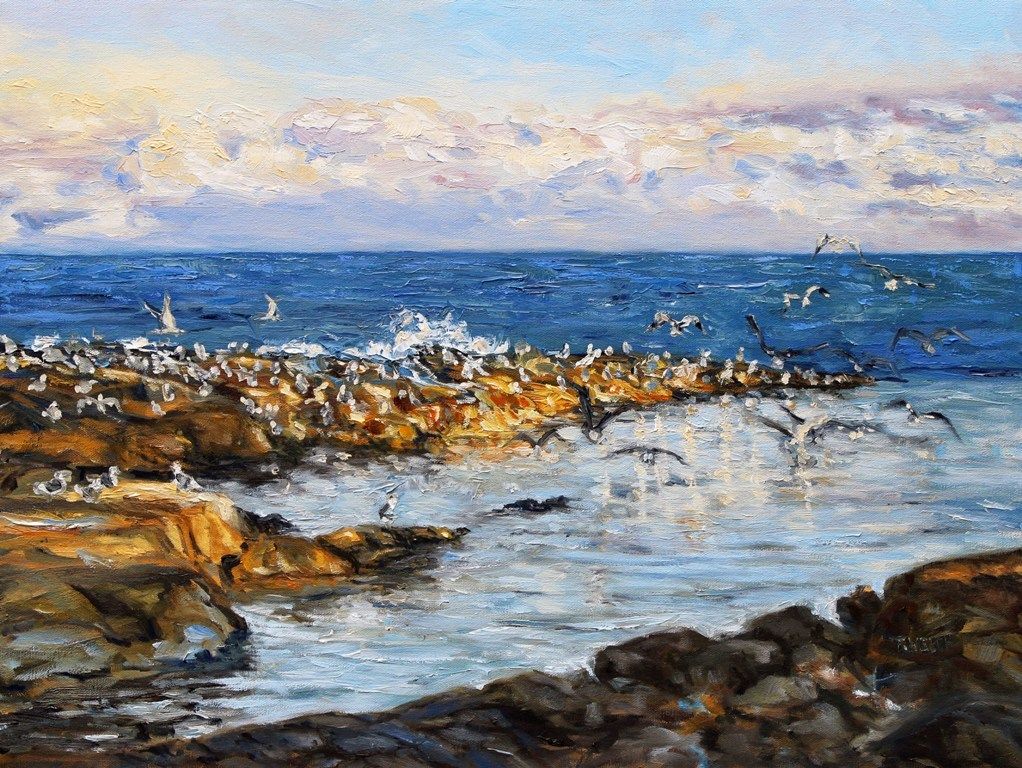 Deep veins of melancholy resist the golden glow of the low afternoon winter sun on sea and shore. While the gulls cry, we laugh and weep with equal tension. We tell ourselves it is a happy moment, a joyful bounty of abundance.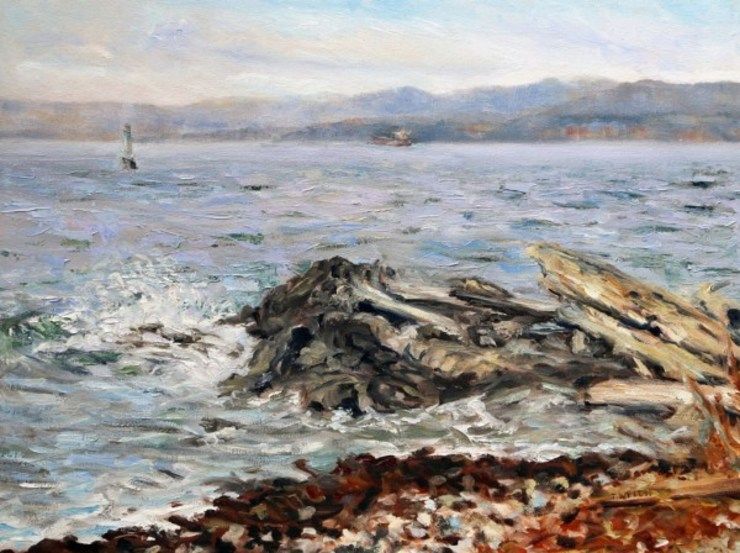 There are those last days when our eyes have almost adjusted to the low angle of the sun and the fast moving clouds still grasp at the last muted colours of ...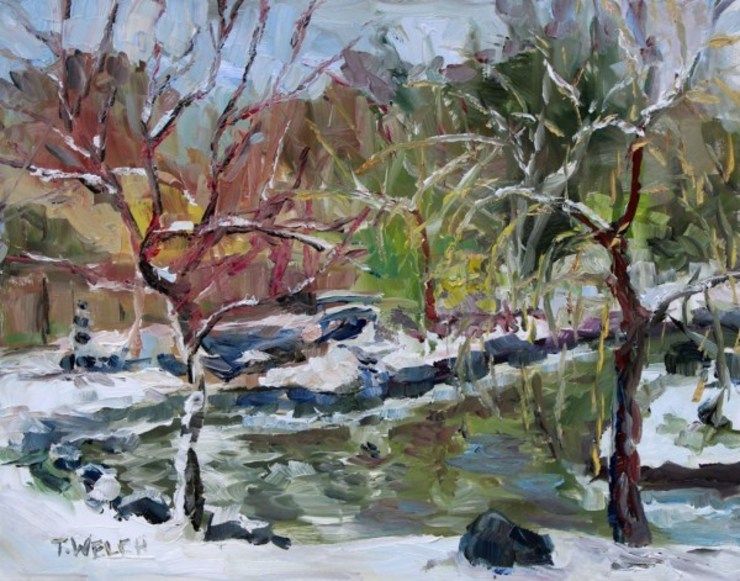 A rare walnut oil quick plein air painting sketch of the Japanese Garden in the snow. Reaching the Japanese garden on the other side of the island, I not...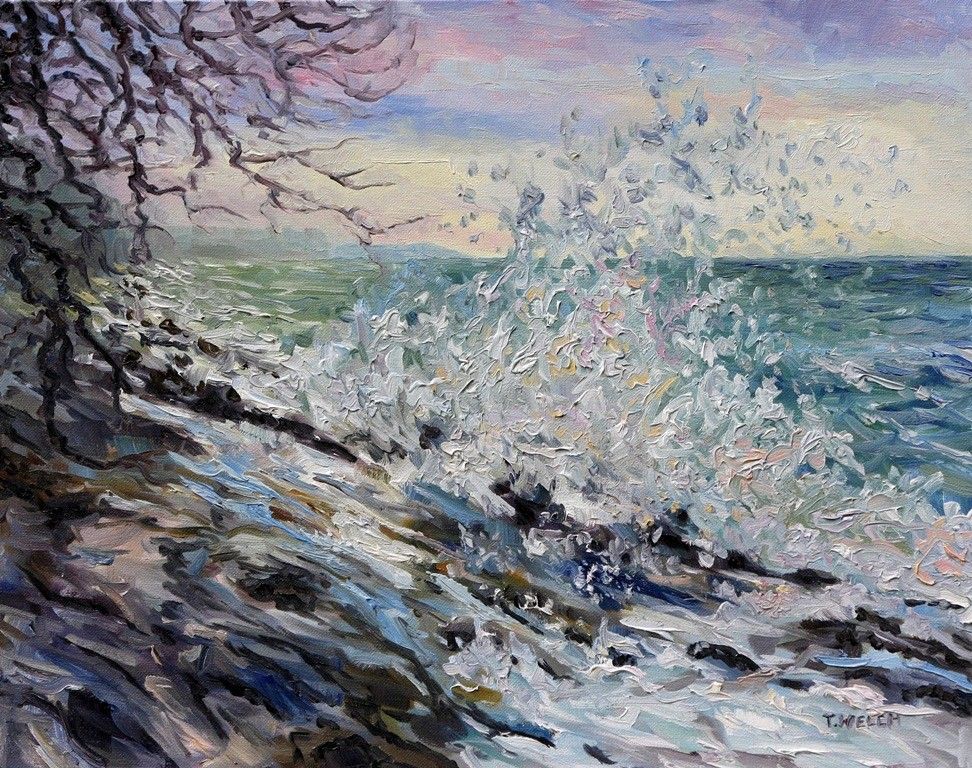 Simple abundance is an evening winter sea, wanting for nothing and entirely grateful for natural gifts. Brush strokes are challenged to create this lack of wanting as emotions shift toward inspired while waves swing into the sandstone with gusto.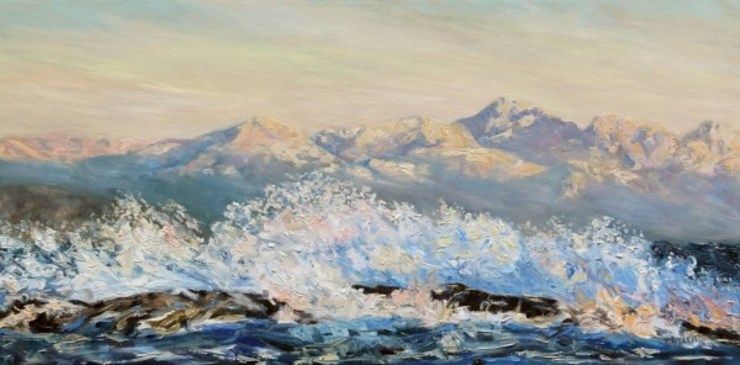 The cool winter light of early morning splashes with the waves in the high winds along the Strait of Georgia. Chilled to shivering, I stand transfixed. What ...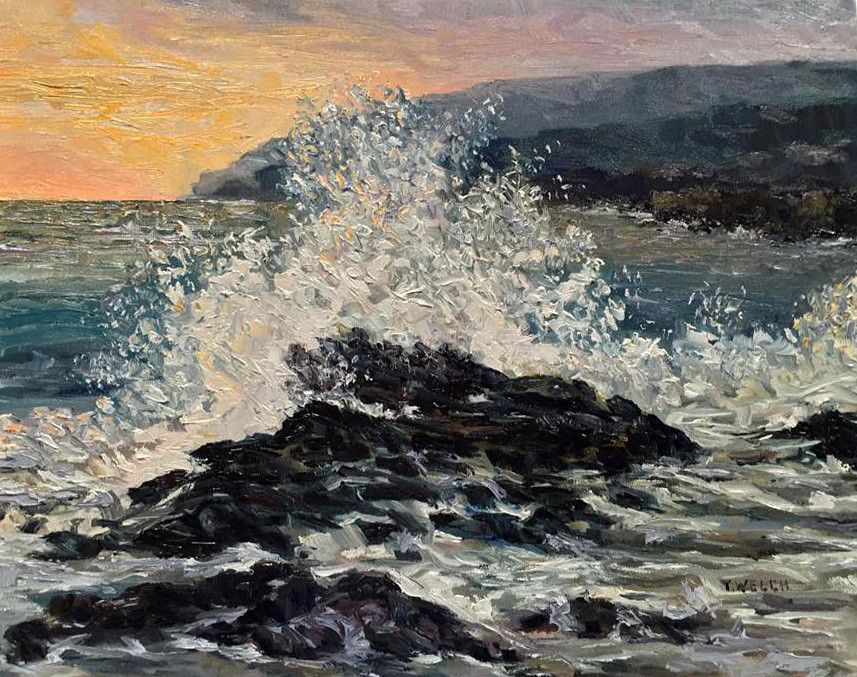 The sea has its own reverence for the end of the day. Evening brings momentary relief in a four day storm as I stand just out of reach from the spray. Point No Point is on the southwest coast of Vancouver Island in British Columbia, Canada.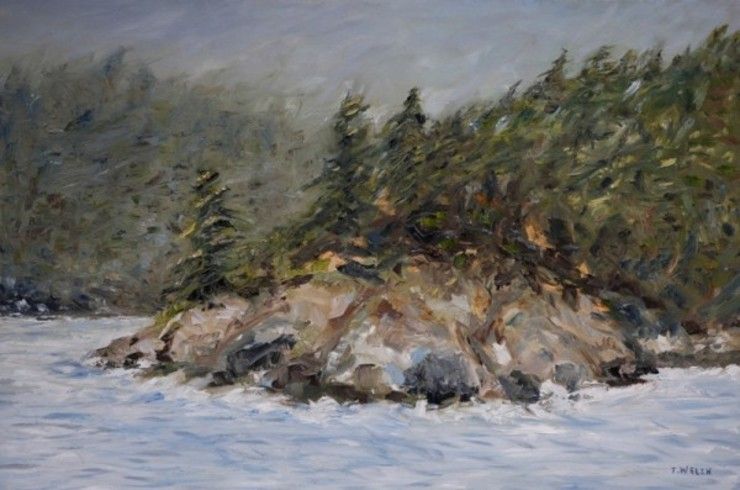 Winds howl as the rain slaps driving mist across the landscape. It takes fortitude, girt and a bit of foolishness to be out on a day like this. With shoulder...
Five of the nine paintings in this virtual show are still available and together with the sold paintings, they capture my experience of our west coast winters. These works were all painted between 2012 and the present. I hope you enjoyed your browse.
What says "winter" to you?
P.S. More Paintings In Private Collections
Since the beginning of October, eight works have left the Gallery and home studio - that is three more since my last newsletter two weeks ago! Each has gone to accompany a newsletter subscriber and art collector. For this I am most thankful! I deeply appreciate each and everyone of you sharing this painting journey with me whether it is as a serious fan or as a collector. I am sincerely by your company and support either way!!! If you like, you can see what has been chosen in the latest post on my website (it says seven but there are eight and the post is updated ;) ....
Since the beginning of October, seven more paintings have left the Terrill Welch Gallery and the artist's home studio for private art collections. We haven't shared these departures for a while so we will also add in three other favourites from earlier in the year for a total of ten featured in this post that…
Enjoy the low-angle of winter light!
Landscapes and more by impressionist painter Terrill Welch