A Brush with Life - Issue #17 West Coast Island Winter Studio
January - the month when many of the full-time west coast islanders take a break to someplace warm and away from the heavy rains and high winds. Not this painter though. January is the month when the winter studio starts to look a little like the busy workshop. It is a hunker down for studio paintin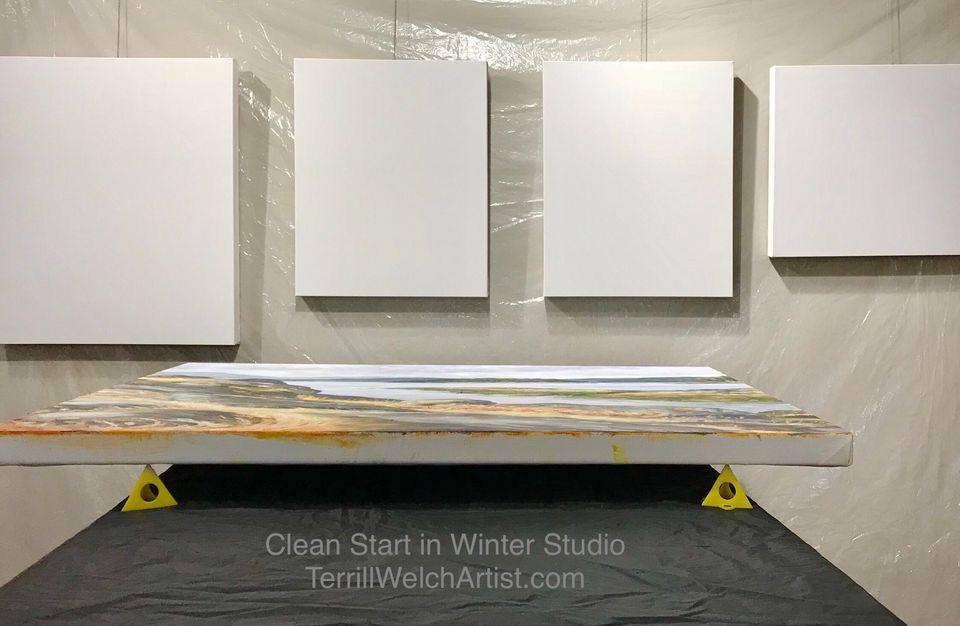 January - the month when many of the full-time west coast islanders take a break to someplace warm and away from the heavy rains and high winds. Not this painter though. January is the month when the winter studio starts to look a little like the busy workshop. It is a hunker down for studio painting. In order to best accommodate this deep focus with the canvases, the Terrill Welch Gallery becomes my winter studio. I love this time! There are painting projects in the works, edges to paint, new ideas flowing for other canvases and the winter light on long walks gathering reference materials is often stunning... when it isn't heavy rains and high winds of course. Come with me and let me show you what I mean...
---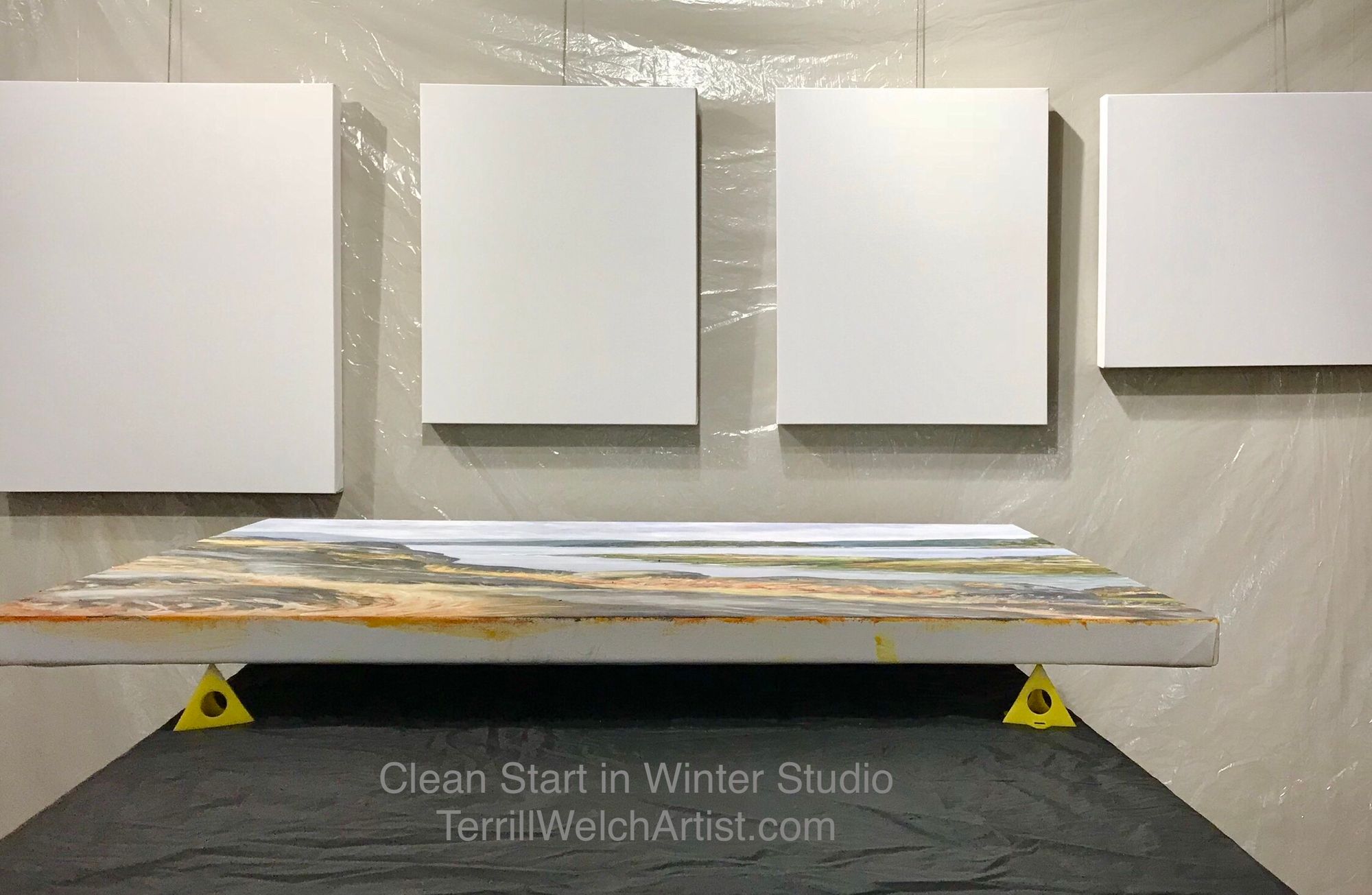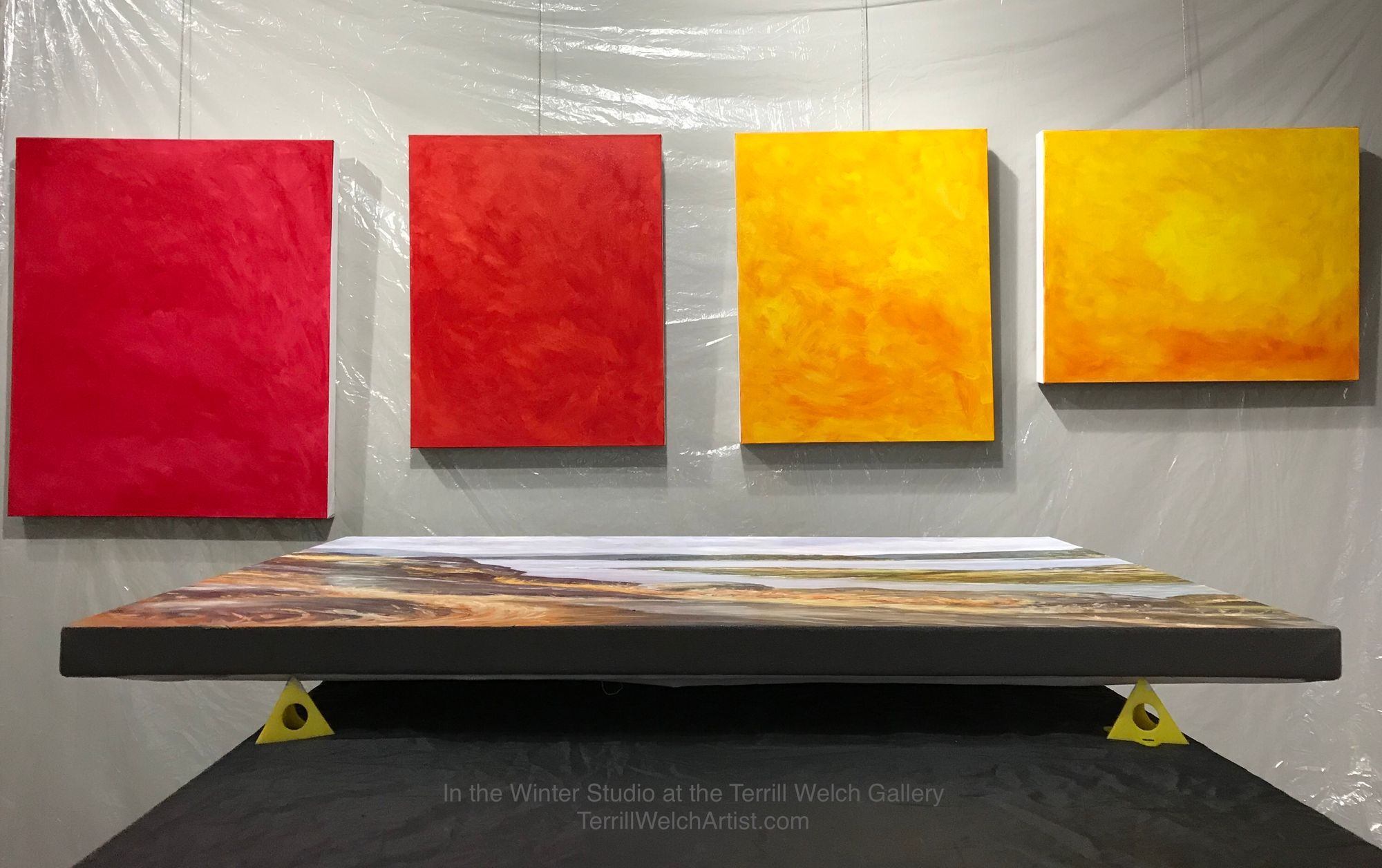 And a hike is in order next...
Notes from the Halliday Ridge trail up to the top of Mount Parke on Mayne Island - Long sashaying switchback with winter run off springs near the bottom obscuring dry footing on the trails. As a gentle wind calls through golden green tree tops I surmise that this is the only low angled sun this north western slope might see today.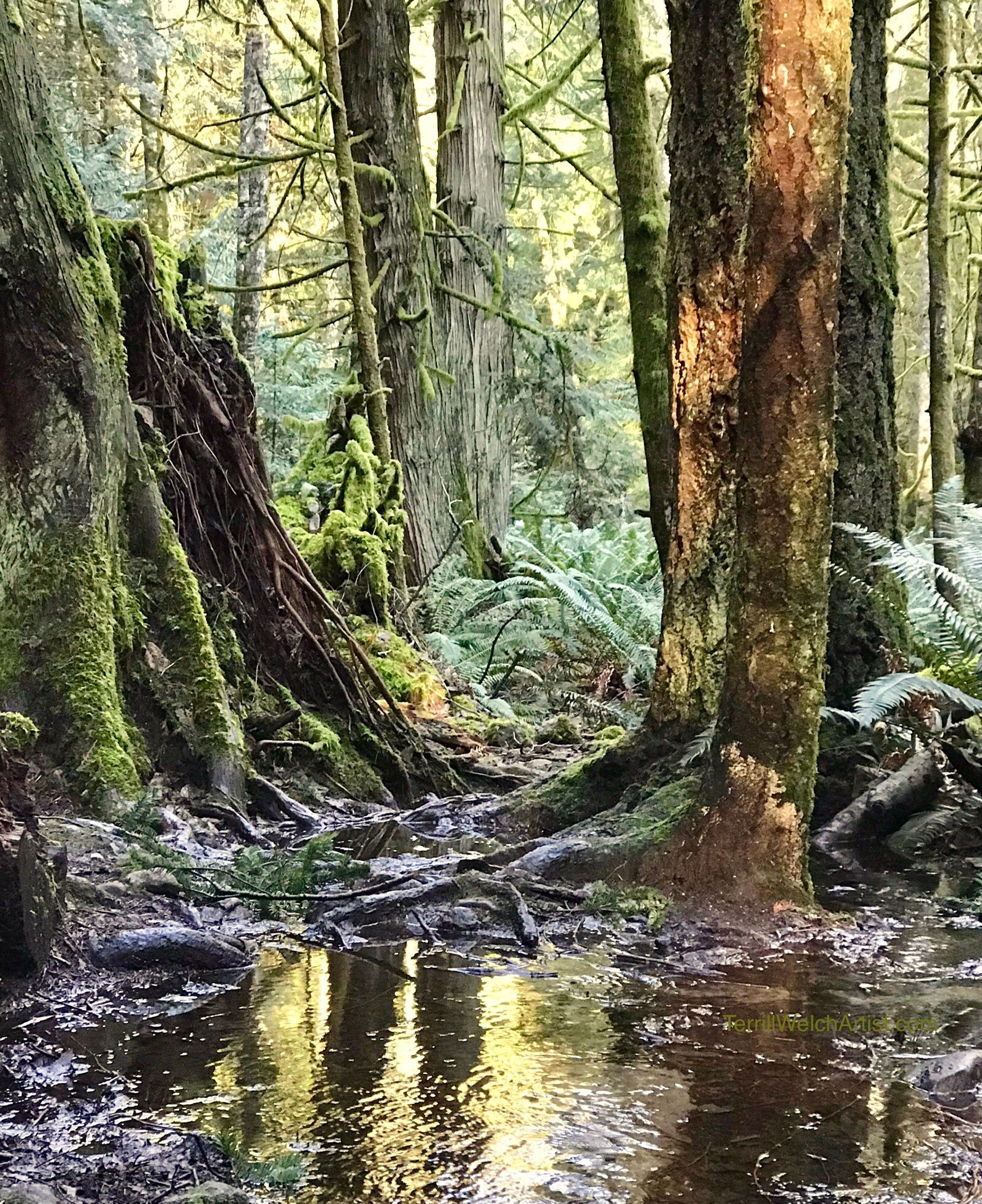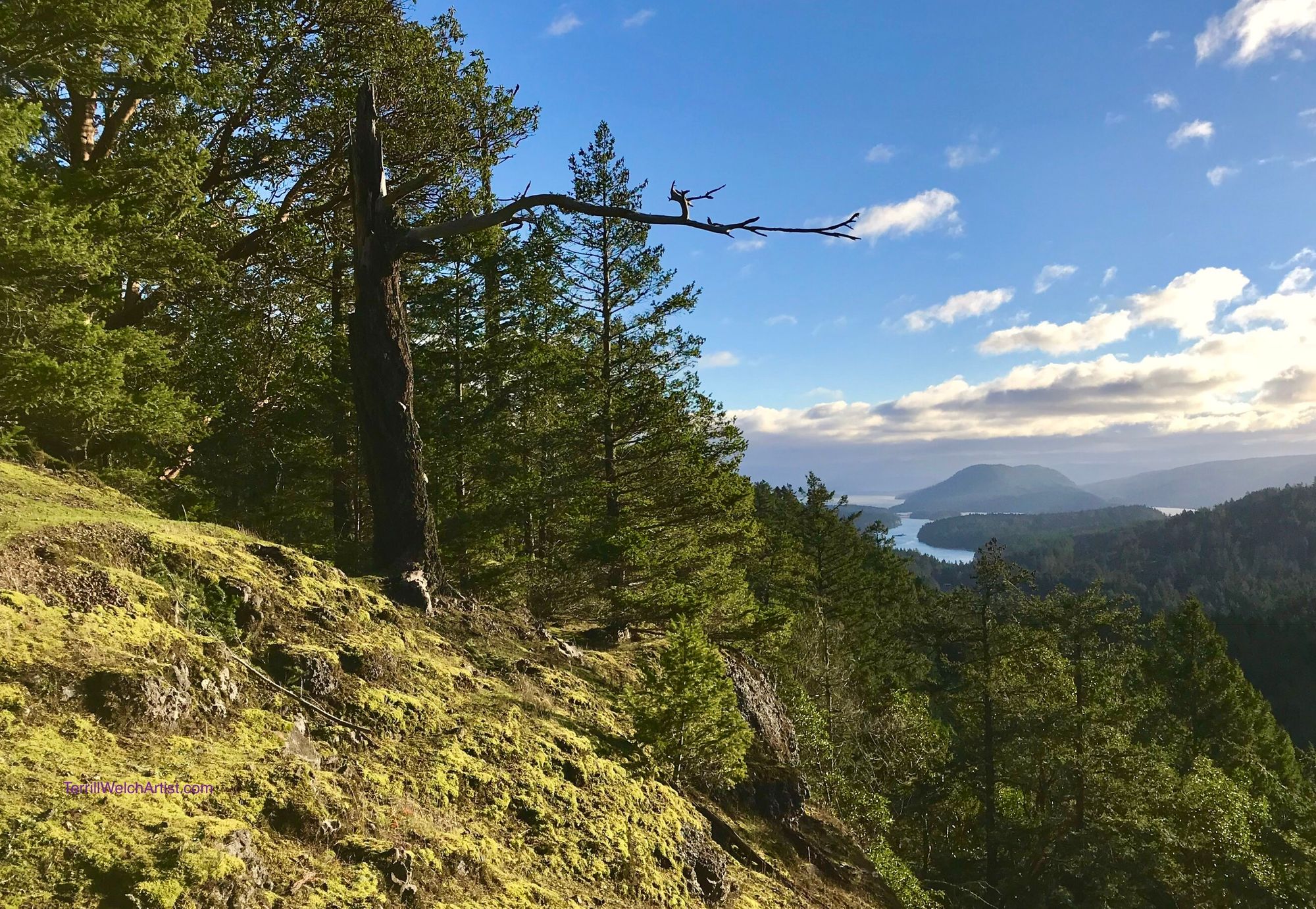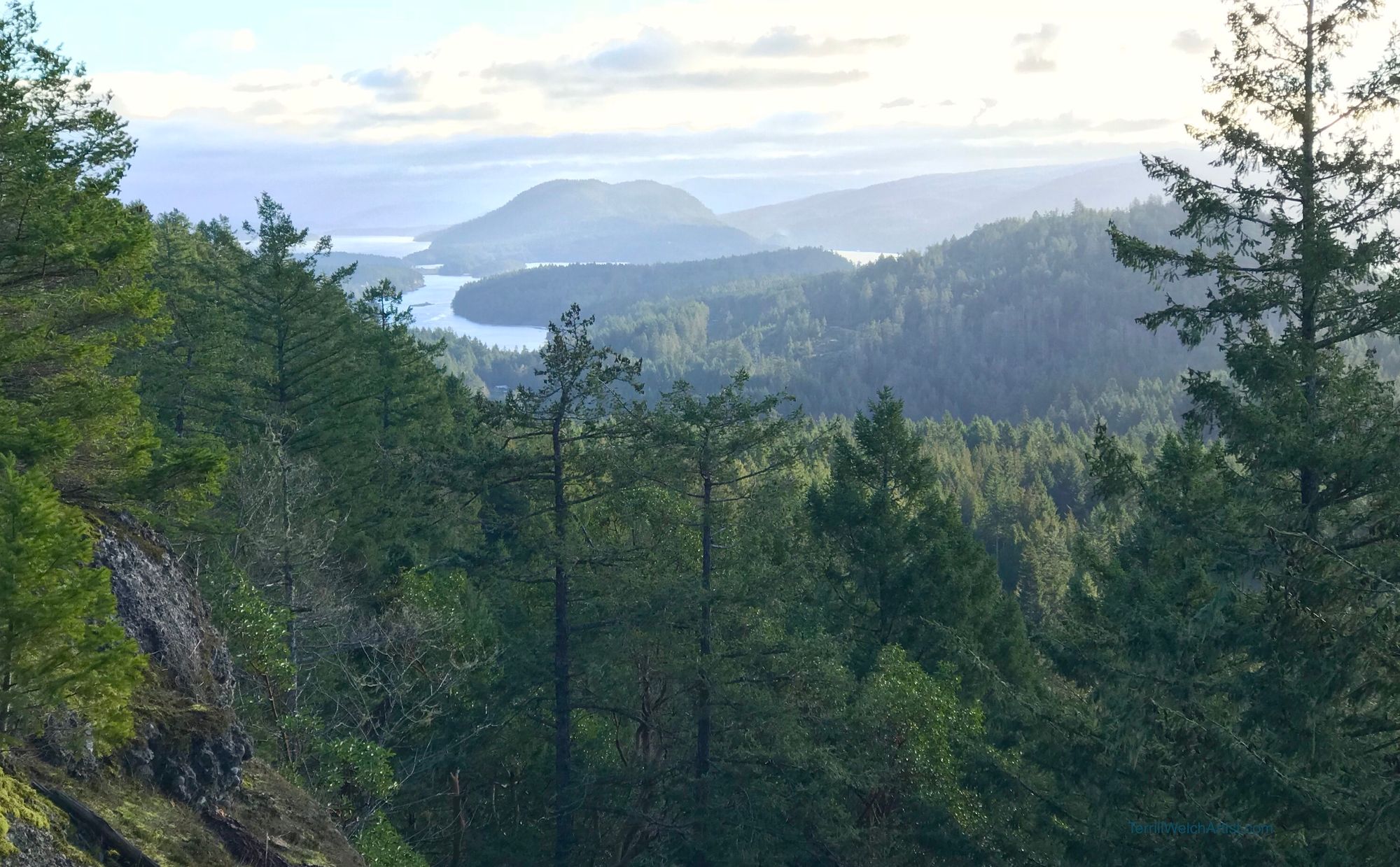 I think this is enough to give you the idea. May the New Year bring you simple abundance in an ordinary day!
Opinion Piece
The Work Of Art
Like people, my paintings have work to do. My paintings are not just a pretty face to dangle on your wall for others to admire or an accessory to balance or decorate a room. In fact, many collectors of my paintings hang the work in their bedrooms where few see them but the intended viewer. So, what is this important work that these paintings do?
Many "Terrill Welch collectors" are leaders in fields that they are passionate about – it is demanding work, meaningful work. The risks are often high and the learning curves steep because these individuals continually reach for what is just at the edge of their ability, simply because the positive outcomes for change, in individual lives and in community, are great. It is work that will matter ten years and even a hundred years from now. These individuals give everything they have and then find that extra 10 percent. In these situations, my paintings frequently provide a focus for reflection, a chance to regroup and build resilience, an opportunity to dream and problem-solve. They provide confirmation that you are enough – just as you are. Finally and most importantly – hope. The paintings are a touchstone and buffer. They are a reminder of our ability to endure and navigate significant losses and the trials we all must face in living a full life, one that is well lived. (Excerpt from "The Work Of Art" post linked below)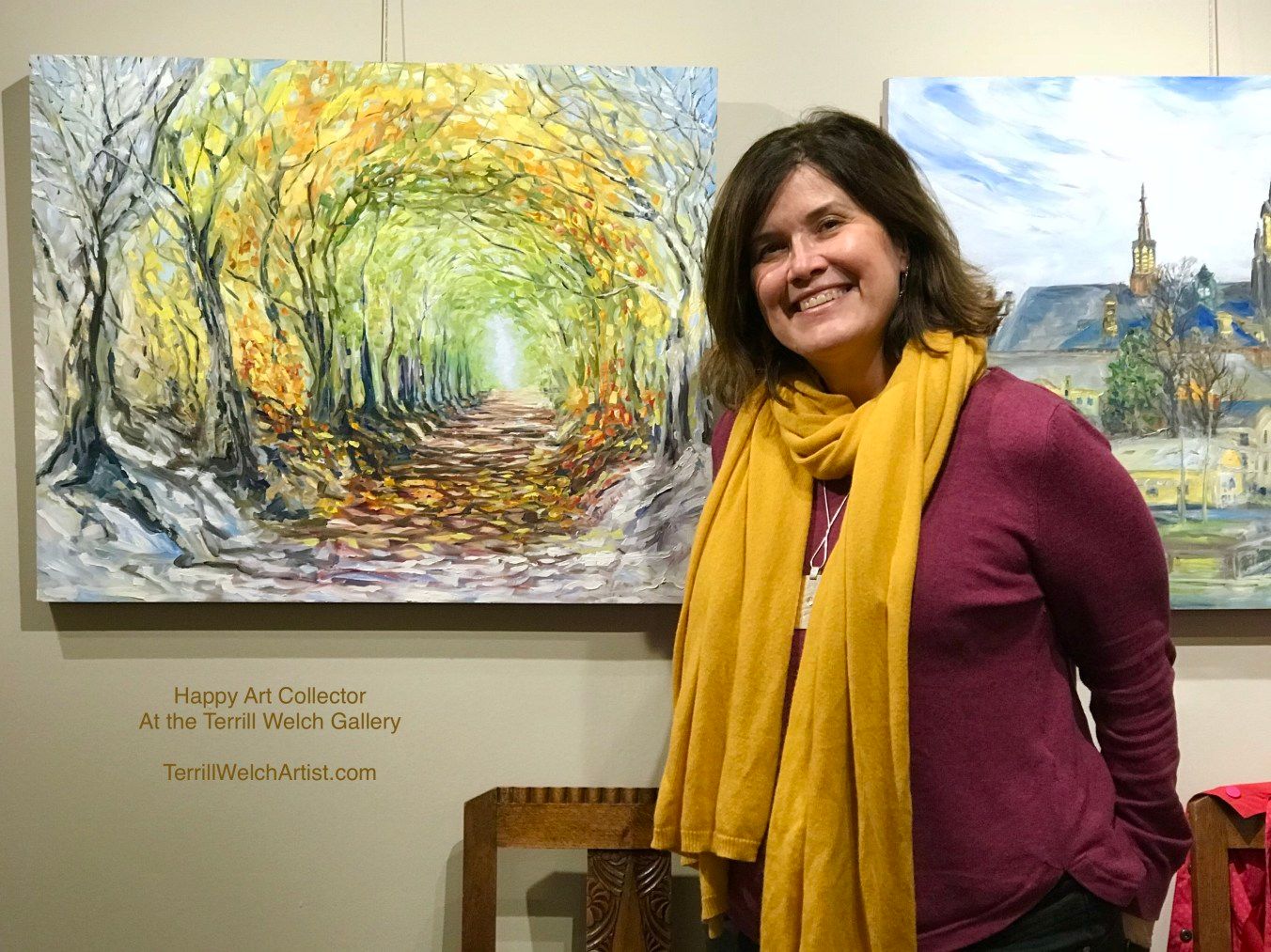 Read about Katrina Elliot, and this collector's long history with engaging the work of Terrill Welch paintings. Also, have a closer look at the first painting to sell in 2019...
Yesterday, following a rocky ferry ride, a power outage and in the mids of winds and heavy rain, business woman, Katrina Elliot and I slipped into the Terrill Welch Gallery. A painting had been set aside months ago, waiting for her final review and consideration. She said "yes!"  Happy Art Collector You see, like people,…
What I am wanting to read...
Sometimes, I come across a quote or a few lines of someone's work and I wonder what else they may have written. Such is the case when I read the following by Rabindranath Tagore (1861 - 1941) also know as Rabi Thakur:
Clouds come floating into my life, no longer to carry rain or to usher storm, but to add color to my sunset sky.
Rabindranath Tagore was a Bengali philosopher, poet and winner of the Nobel Prize for literature in 1913.
Now here is my question - if you have read Tagore's work, do you have a recommendation about what you enjoyed most?
If not, in my usual approach to a new author, I will just see what, of his many works, jumps out at me and dive in!
New Release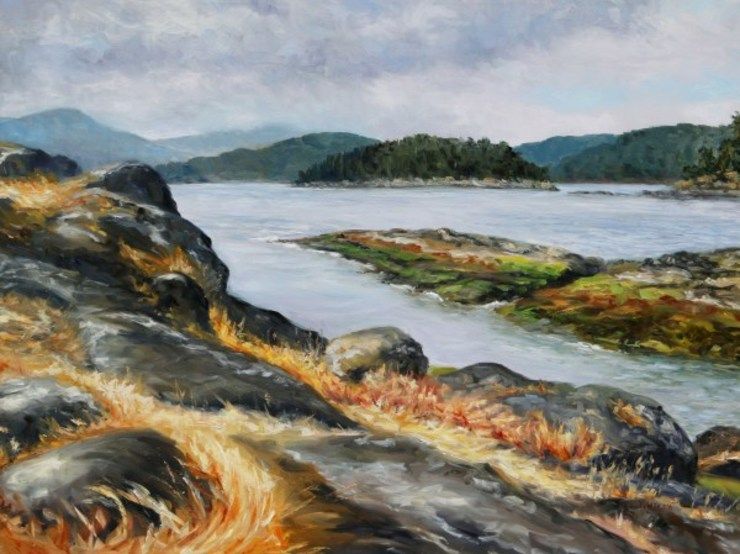 The early morning has slipped away as I hiked along the shore in the late August light. It may rain just a little but it will matter not to the grasses. They...
Enjoy your winter wherever it takes you!
Landscapes and more by impressionist painter Terrill Welch