A Brush with Life - Issue #18 Morning Has Broken
Have you broke into song? Shall we do it together? "Morning has broken, like the first morning...." If for some reason you do not know this song, that was made popular in the 1970's by Cat Stevens, later know as Yusuf Islam (born Steven Demetre Georgiou; 21 July 1948), feel free to go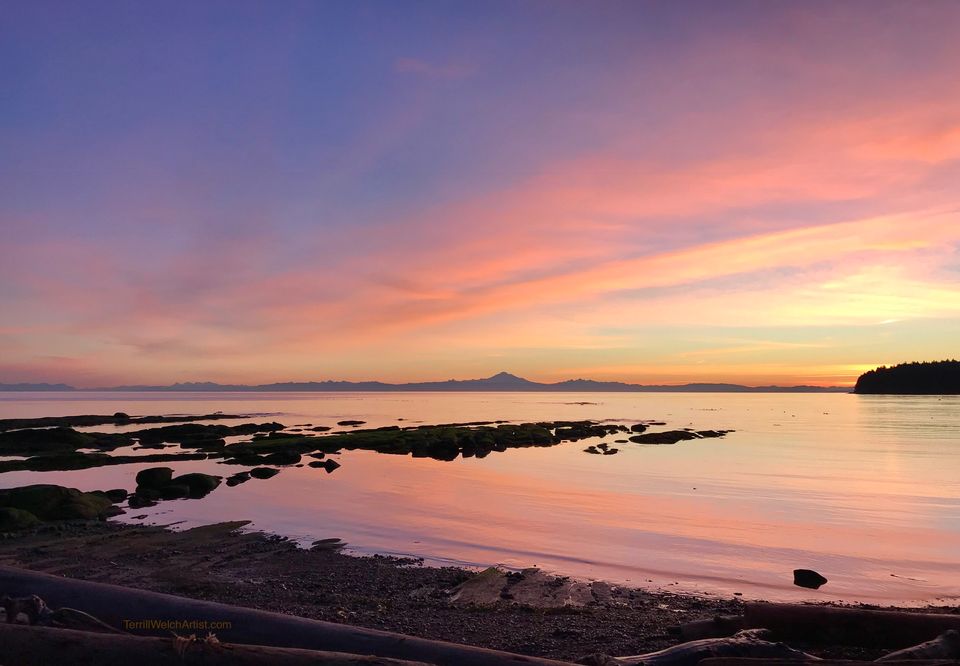 Have you broke into song? Shall we do it together? "Morning has broken, like the first morning...." If for some reason you do not know this song, that was made popular in the 1970's by Cat Stevens, later know as Yusuf Islam (born Steven Demetre Georgiou; 21 July 1948), feel free to go to YouTube and give it a listen. Then you will forever have these lines humming through your body at sunrise. Fair warning! Later in the song there are the lines "mine is the sunlight, mine is the morning" which I can so relate. This newsletter issue is in honour of morning, my favourite time of day. But before we go on, I want to note that the words of this song are attributed to poet and children's author Eleanor Farjeon and published in 1931 as hymn to the tune "Bunessan", composed in the Scottish Islands, and it shares its tune with that of of the 19th Century Christmas Carol "Child in a Manger". The familiar piano arrangement on Stevens' recording was composed and performed by Rick Wakeman, a classically trained keyboardist best known for his tenure in the English progressive rock band Yes. (Research credit goes to Wikipedia)
---
Good Morning World!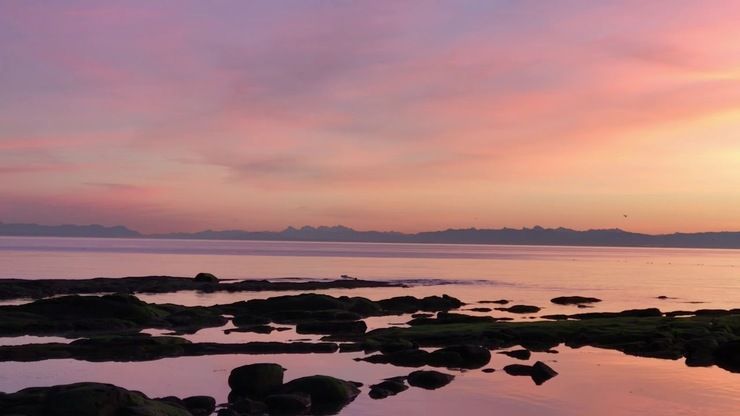 Winter sunrise Mayne Island B.C. Canada.
It was a glorious start to the day from the moment the stones rolled under my feet as I made my way to the water's edge....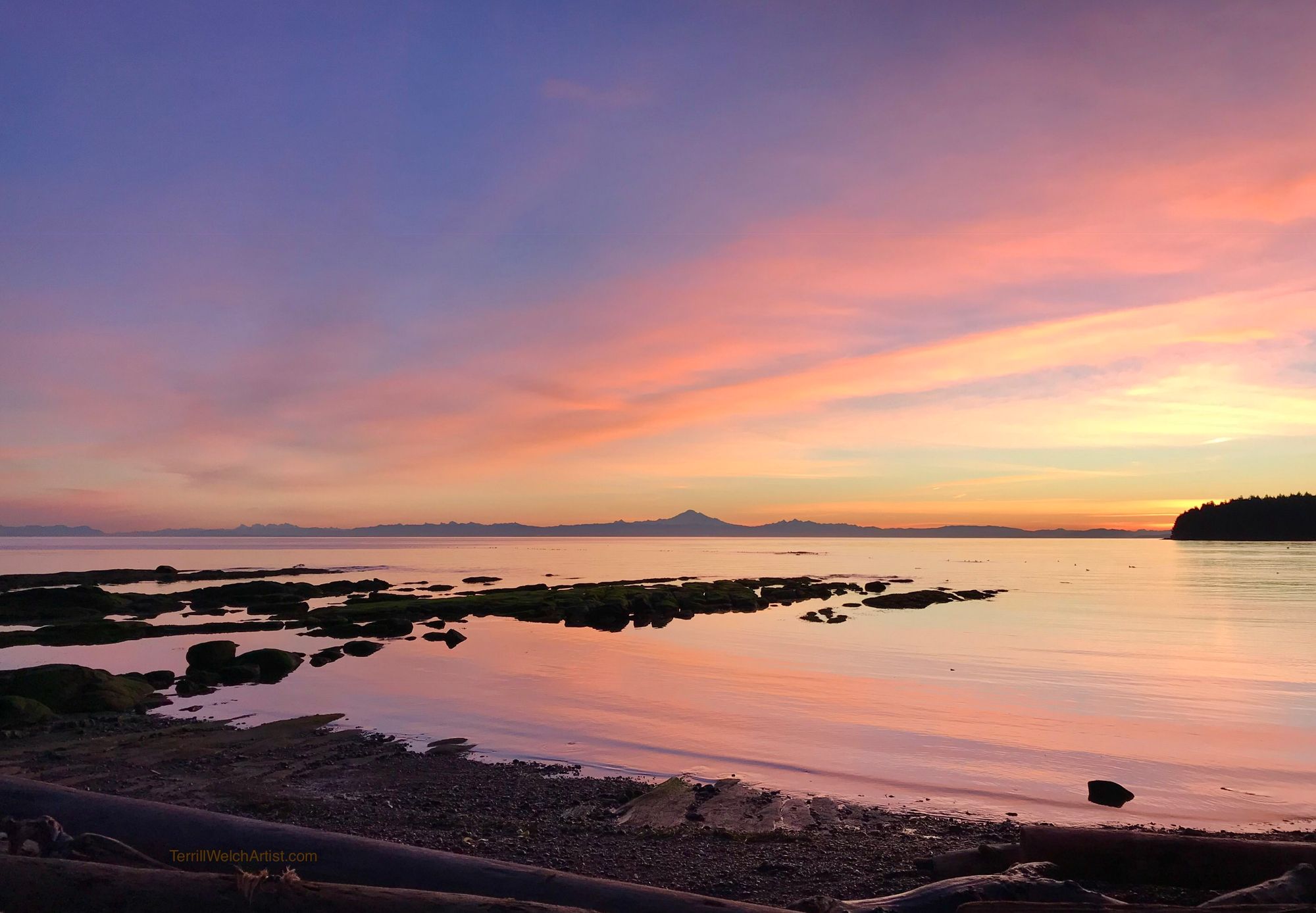 until the sun cleared the trees and soaked me with its warmth.

This was the best of mornings. Yet, as much as I love early morning and sunrise, I seldom paint it. But there are a few paintings. Let's have a look at a handful, just because we can. [Note: some of these paintings are sold and some are available. Do click on the image link before you get your hopes up.]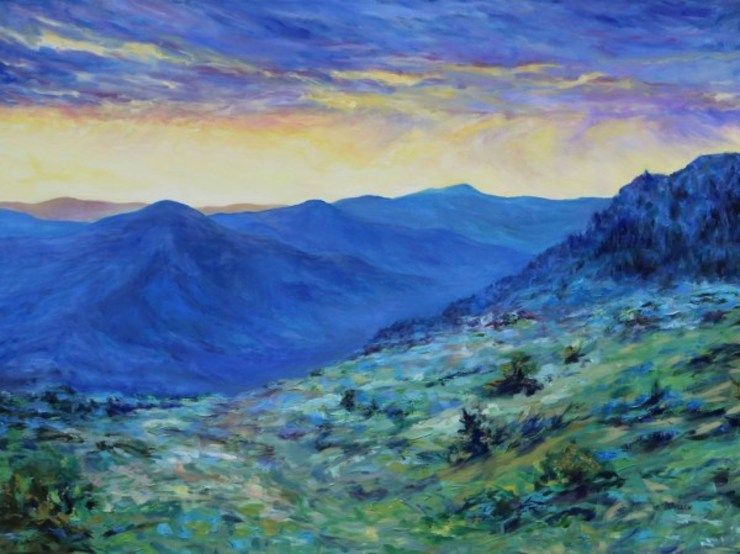 The morning light slices through the heavy storm clouds over the high desert in Orville Washington.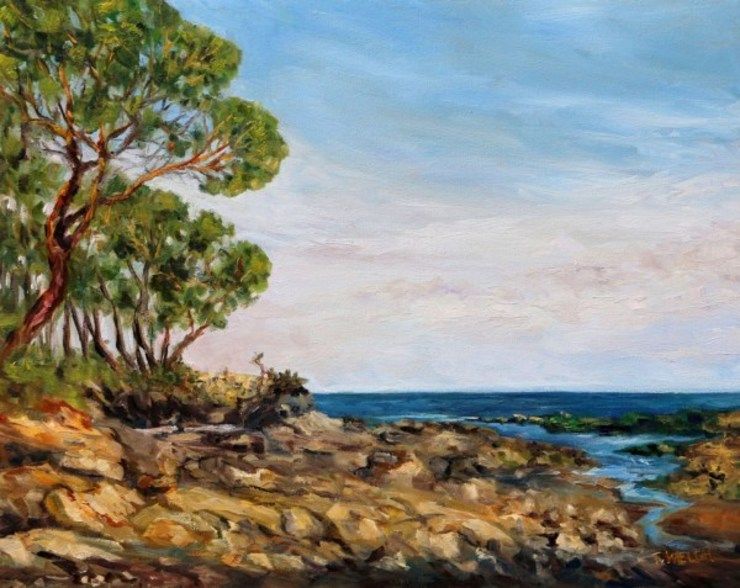 The August light is losing its harsh edges and the morning rich hues stay with the brush for an extra few minutes. A sigh. A glance. A smile for these lazy d...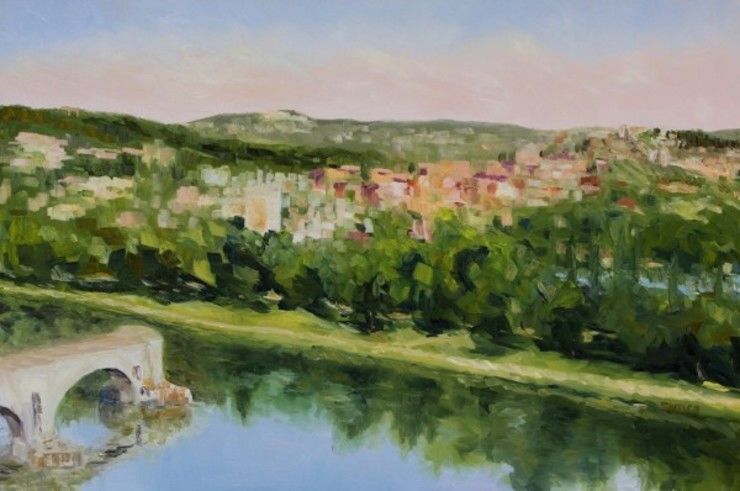 From up on the hill in Avignon looking across the river to Villeneuve les Avignon in France. I started with a plein air sketch and then went on to paint this...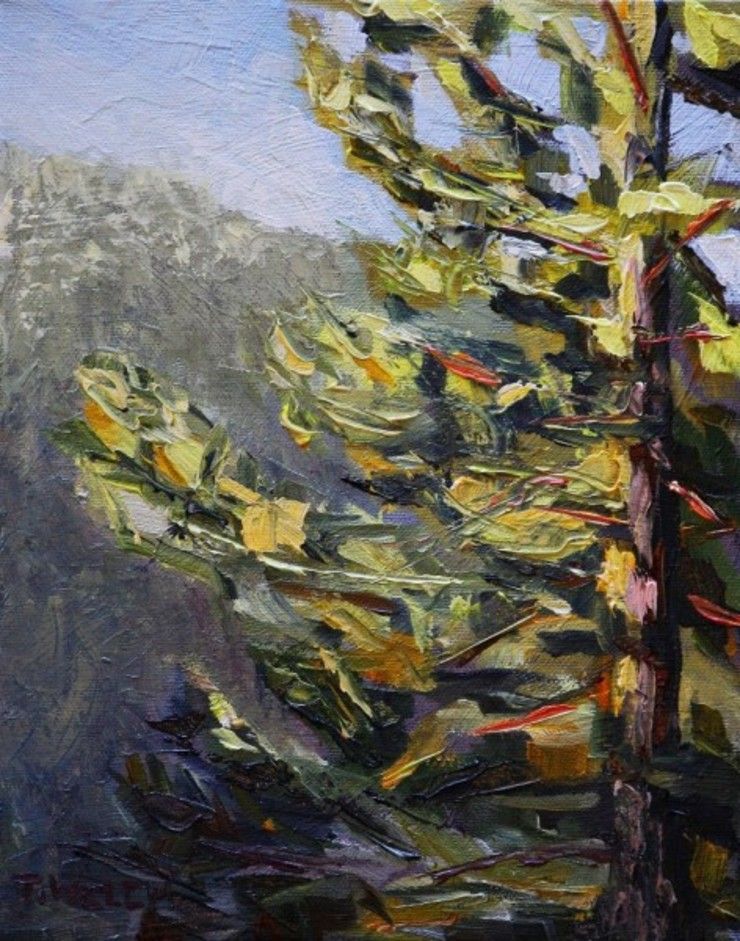 The winter morning sun reaches the fir tree and is lightly brushed onto the canvas.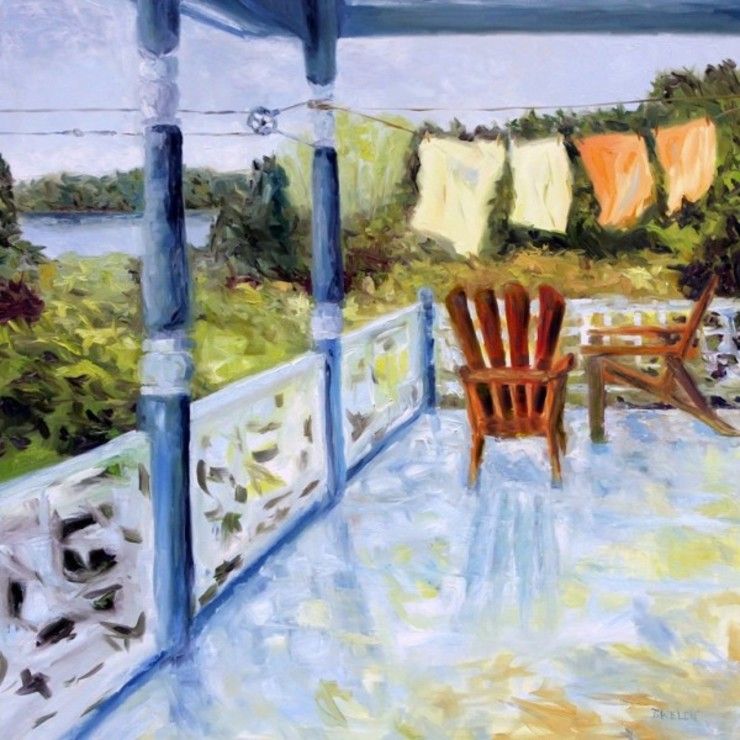 Squared with a Breezy Bay morning view from the deck of one of the oldest farm houses on Saturna Island British Columbia, Canada. This painting is more than ...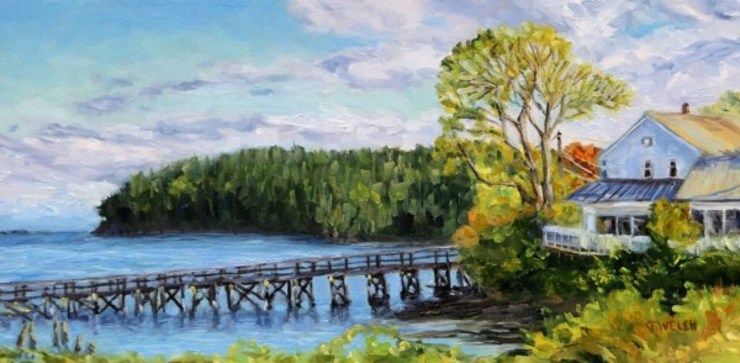 The spring morning sky brightens all in its path including the green firs on the hill across the way. Song birds sing, grass grows and an eagle cries somewhe...
I think we shall stop there for it is easy to see that each minute of a morning sunrise offers new intricate relationships between light and surfaces. I am usually so profoundly caught up in its changing mysteries that I am reluctant to frame just one moment on a canvas. But sometimes I can't resist and so we have these mornings that have broken "just like the first morning."
What I am reading...
Last issue, I asked a question about what writings by Rabindranath Tagore I might want to start with in my discovery of his work. Well, as you might expect, an art collector and newsletter subscriber responded.
The highly recommended suggestions are - Stray Birds and Fireflies and the play The Postoffice.
I chose to start with a kindle copy of Fireflies with its 253 poems, written while Tagore was recovering from an heart ailment in Hungary and published in 1928. In this 2013 edition, each poem is interestingly (and sometimes distractingly) illustrated Alberta Hutchinson.
I read until I came to this short poem (p. 17) and concluded that it was perfect for sharing in this issue focused on - mornings.
The departing night's one kiss
on the closed eyes of morning
glows in the star of dawn.
In the process of reading the introduction of Fireflies, I discovered that Tagore also painted. At first glance, his work is possibly more emotive and in line with art therapy than with masterly painting skills. However, that said, the power of his expression with a brush should not be too lightly dismissed. I include just one favourite example here with its a link for you to explore his painting go further if you wish.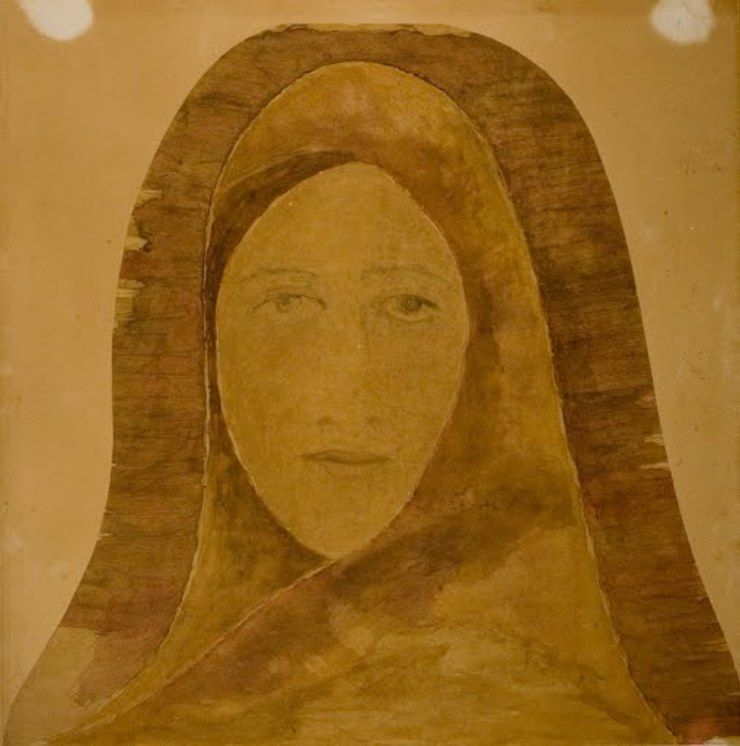 Rabindranath Tagore was primarily known as a writer, poet, playwright, philosopher and aesthetician, founder of a unique educational institution, Visva- Bh...
For more background about his painting practice this link about The Last Harvest is particularly useful...
Notes about Mary Oliver...
Also, with profound sadness, I mourn the loss of one of my favourite poets - Mary Oliver - and share life's ending with her words from the poem "When Death Comes" ....
When it's over, I don't want to wonder
if I have made of my life something particular, and real.
I don't want to find myself sighing and frightened,
or full of argument.
I don't want to end up having simply visited the world.
******
I include here a few of the words that were posted for us on her Facebook page....
To Mary's beloved readers, we're very sorry to share this sad news:
Mary Oliver, beloved poet and bard of the natural world, died on January 17 at home in Hobe Sound, Florida. She was 83...
Her poetry developed in close communion with the landscapes she knew best, the rivers and creeks of her native Ohio, and, after 1964, the ponds, beech forests, and coastline of her chosen hometown, Provincetown. She spent her final years in Florida, a relocation that brought with it the appearance of mangroves. "I could not be a poet without the natural world," she wrote. "Someone else could. But not me. For me the door to the woods is the door to the temple." In the words of the late Lucille Clifton, "She uses the natural world to illuminate the whole world."
In her attention to the smallest of creatures, and the most fleeting of moments, Oliver's work reveals the human experience at its most expansive and eternal. She lived poetry as a faith and her singular, clear-eyed understanding of verse's vitality of purpose began in childhood, and continued all her life. "For poems are not words, after all, but fires for the cold, ropes let down to the lost, something as necessary as bread in the pockets of the hungry."
For this landscape painter, she is a painter's poet, and has been a great source of inspiration and grounding. I will miss the possibility of new poems and yet, celebrate Mary Oliver and a life so well-lived! I do so hope to be able to live up to her fine example.
My Note-to-Self upon the news of the death of Mary Oliver:
Tie up your walking shoes and pull on a sweater.
There is no verse, slogan or meme that can cradle the soul like the soft earth under our feet and the rhythm of the sea.
Tie up your walking shoes and pull on a sweater.
The poet of nature is dead, but her words are found amongst the leaves, in the beaks of gulls and in the smell of new growth beneath the moss.
Tie up your walking shoes and pull on a sweater.
Go! As always,
where Mary Oliver will be.
New Painting Project underway...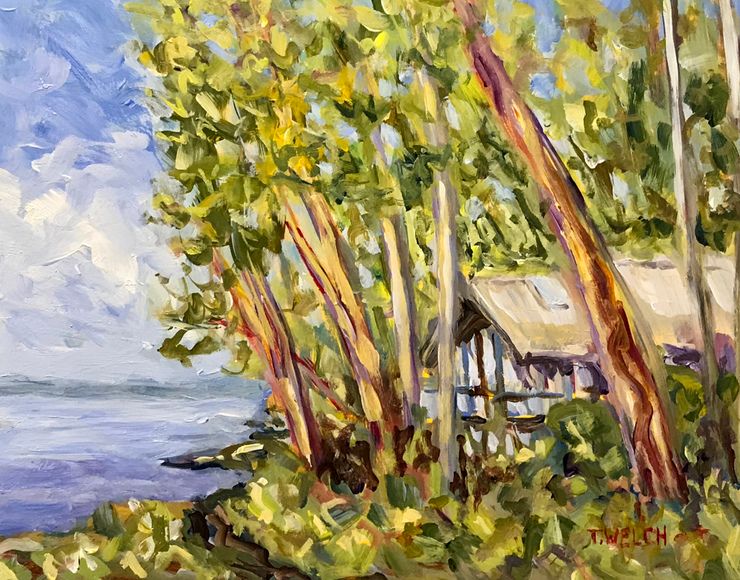 The curved deck and angular presence hints mysteriously as it sails through the trees. I have walked all angles, from the expanse of lawn, to ground zero, where the building towers steep above me. After musing over several possibilities, I settle on this view.  There are curves of arbutus held tightly among the straight firs,…
New Release...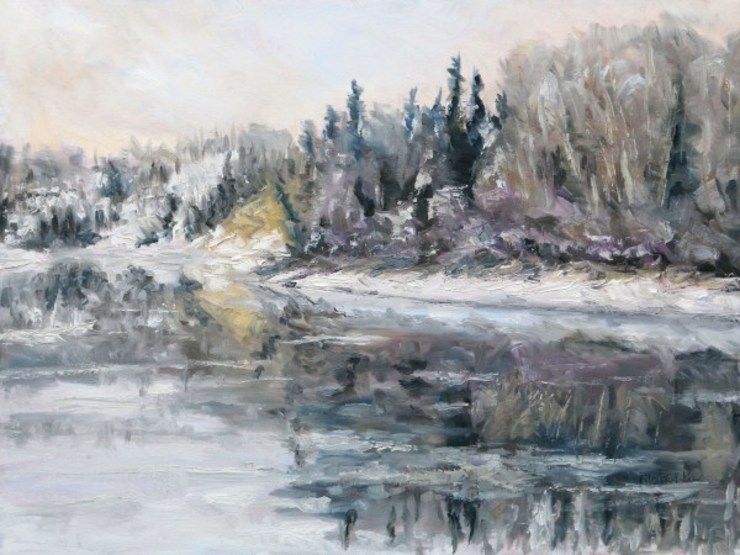 There are places to crouch low and listen to the river as the ice floats tighter and tighter together - its soft notes reminding us about the coming of wint...
May you enjoy your mornings!
Landscapes and more by impressionist painter Terrill Welch