A Brush with Life - Issue #43 Art of Terrill Welch Gallery Is Expanding
Yes, the Art of Terrill Welch Gallery is adding another room. This new room will allow the gallery to show both more of my paintings, and a small number of highly curated new works by other artists, in the same kind of ambiance as the current gallery.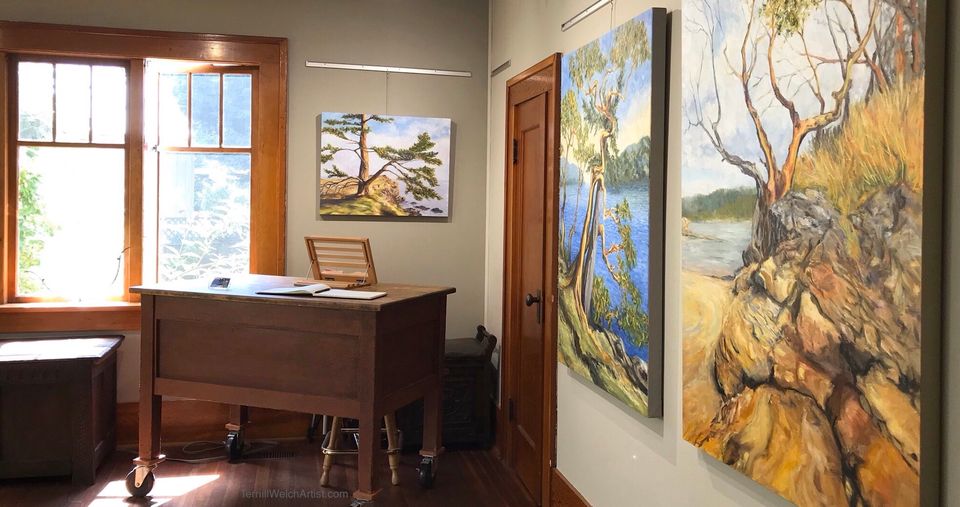 Yes, the Art of Terrill Welch Gallery is adding another room. This new room will allow the gallery to show both more of my paintings, and a small number of highly curated new works by other artists, in the same kind of ambiance as the current gallery.
---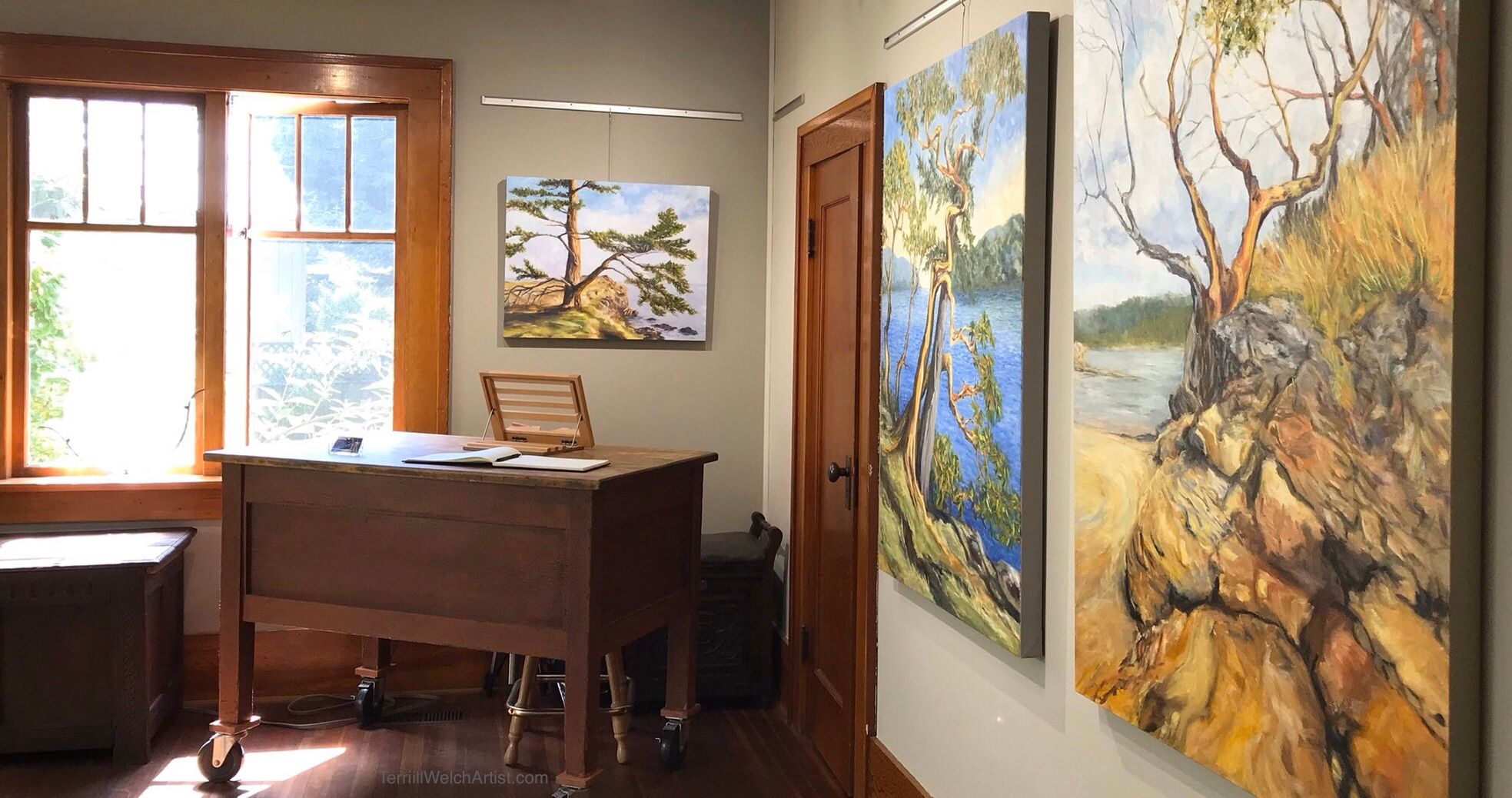 The new gallery space will be named the "Arbutus Room" and will be in the former Dragonfly location, owned by Vania Williams, which is moving next door. The Arbutus Room will be dedicated to west coast and Salish Sea landscape paintings.
Vania Williams will also provide sales and retail support for the Art of Terrill Welch Gallery in the new Arbutus Room. This allows the Arbutus Room to be open year-round for the same hours as the Dragonfly. This arrangement will have the advantage of keeping the accessible side entrance available to Vania's store and protect my sacred painting time, even with the expanded gallery showings.
The Arbutus Room is anticipated to be open sometime in April or early May. Please stay tuned while I work out the details and complete the renovations. With Vania's support form the Dragonfly, I look forward to providing you with the same great art and relaxed, personal and informed service on this new and grander scale in the near future.
Other Gallery News
I have accepted an offer to place a work in a fundraising live art auction for the Mayne Island Agricultural Society. The money is being raised to create an historical legacy with a better, more accessible, and attractive heritage site. The event is February 1, 2020 from 7-10 pm at the Agricultural Hall. Tickets for the evening are $20.00 and include entertainment, wine and hors d' oeuvres as well as the live art auction. If you are on island, and would like to attend, send an email to info@maynislandheritage.com to secure your tickets.
The painting I have chosen to contribute is: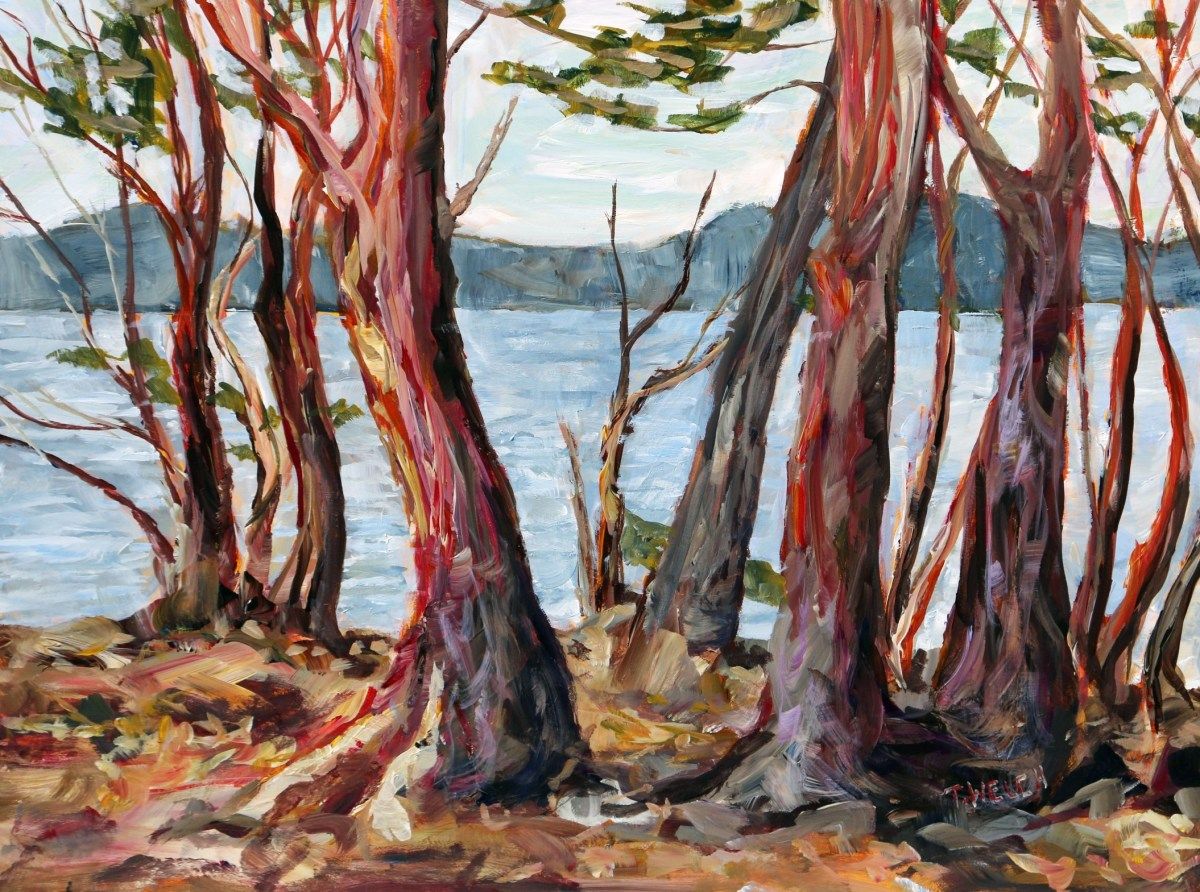 The "Arbutus Tree Morning St John's Point study" is an acrylic plein air painting sketch on a 12 x 16 inch gessobord panel. The measurements are 16 x 20 inches with the show frame, which is included with the sale of the artwork.
The reserve bid is 20% less than list price (plus PST and GST of course). For regional and island collectors of my work, this is a perfect opportunity to add another piece to your collection and support a great cause at the same time.
What I am Reading
I hope you love this informative, intriguing and humorous article from The Tyee as much as I do. This quote in particular, had me laughing out loud -
Sheri Williamson, a naturalist at the Southeastern Arizona Bird Observatory, once joked that if hummingbirds had human language, "their vocabulary would be 100-per-cent swear words."
Vancouver's official bird is a sex-crazed, smart, supercharged recent arrival.
Did you know a painting worth more than $15,000 by a deceased Canadian artist and more than 50 years old— may require a permit to be exported? There are (A) and (B) criteria to meet for restricting an export.
I am still very much alive and I think the oldest paintings I have in collections are just over 40 years old. In addition, I can think of none that currently meet the criteria for restriction. However, as an art collector, you may still find the information in the Canadian Art magazine worth knowing.
New Work In Progress
I have found it challenging to get uninterrupted and significant blocks of time in the winter studio this past couple of weeks. That said, the painting I was working on before the holidays is now completed and a second work has now also had its final brushstrokes. Both oil paintings will need their edges painted and final photographs before release. Therefore, I am going to keep you in suspense until next issue when the works will be ready for purchase. Here is a glimpse early on in the process of the second work, just to give you a hint of what is to come.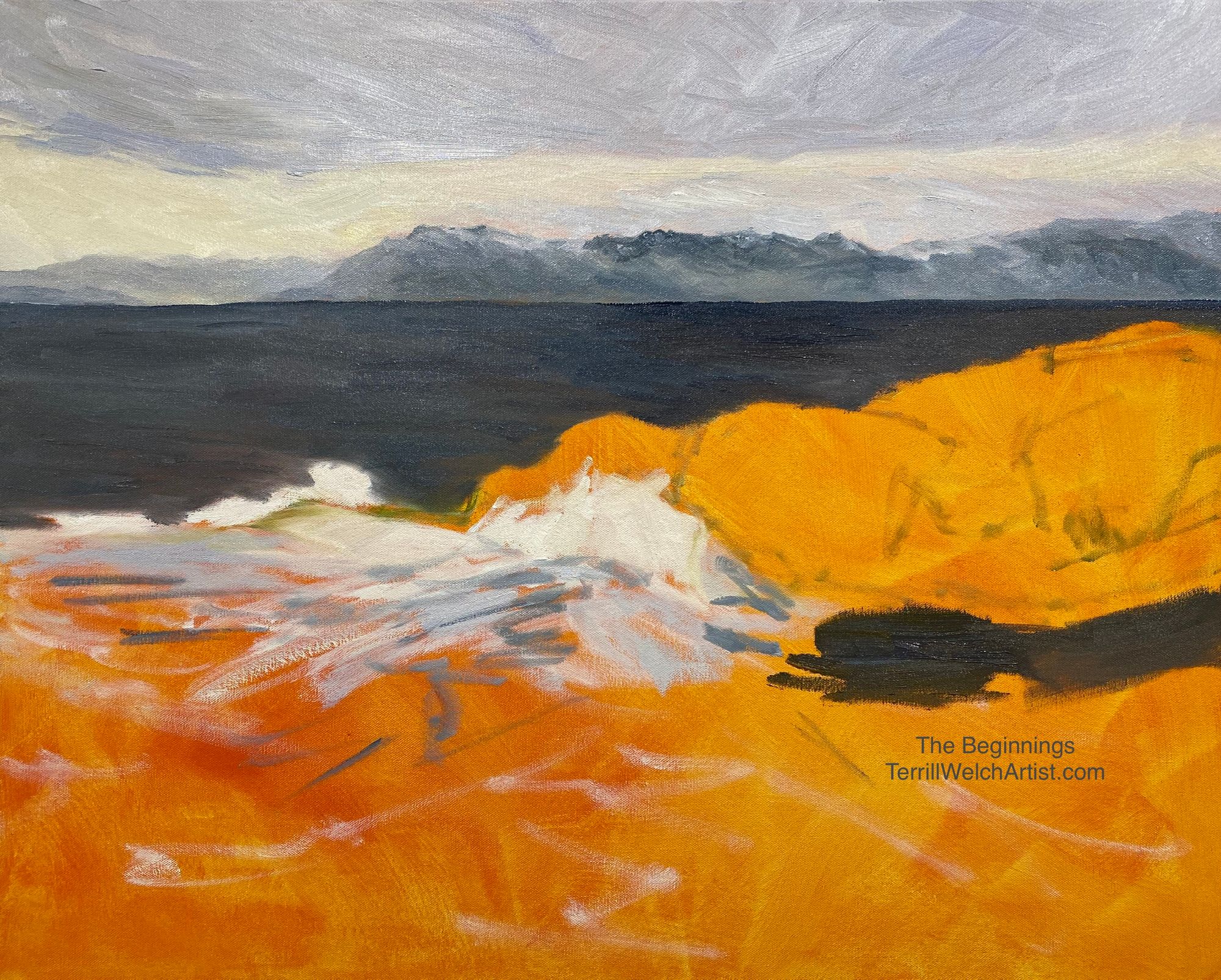 Until Next Time!
Canadian landscape painter, Terrill Welch, exposes the mystery in an ordinary day, reminding us that there is only one moment – this one.