A Brush with Life - Issue #45 There Are Only Artists
At the beginning of The Story of Art, Ernst Gombrich wrote, "There is really no such thing as Art. There are only artists" (first published in 1950 and now in its 16th edition). What might he have meant by this and why is it important? Gombrich later elaborated on this statement by saying that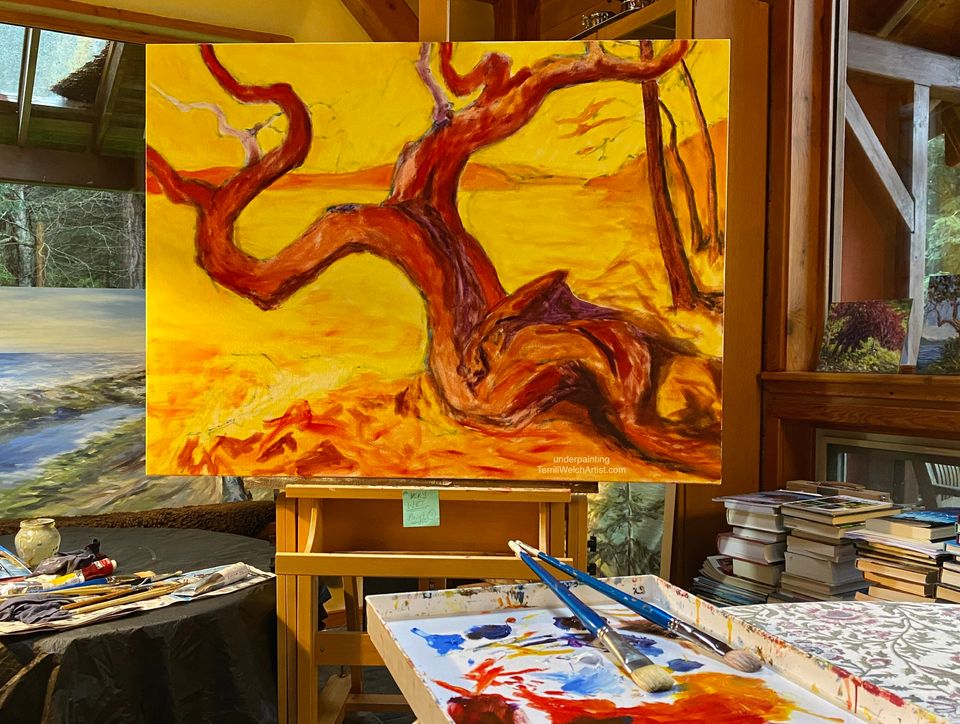 At the beginning of The Story of Art, Ernst Gombrich wrote, "There is really no such thing as Art. There are only artists" (first published in 1950 and now in its 16th edition). What might he have meant by this and why is it important? Gombrich later elaborated on this statement by saying that he defines "art" based on its Latin root, meaning "skill," and that there is "no disembodied skill." However, the answer might also partially be in the explanation given by David Lewis-Williams in his book The Mind in the Cave: consciousness and the origins of art (2002 and e-book 2011) - "I seek a practical, down-to-earth goal: I enquire about the origin of image-makers ('artists', if you will), not the genesis of some impossible-to-define philosophical concept." When I went on to read what Lewis-Williams is considering, it seems he is proposing that marks and images can only be understood within the context of the maker of the marks. After that, we reinvent a meaning based on our viewer context. Wassily Kandinsky on the other hand in Concerning the Spiritual in Art (first published in Munich 1911) proposed that we may better be able to access the spiritual essence of those marks if we view them with some distance.
It is all an interesting puzzle for a curious individual to try and resolve. The answer is likely not nearly as significant as the questions that are raised because they force us to critically engage with what we are viewing as art. While you are thinking about the various aspects, let's go and see what is happening in the home studio...
---
A New Painting Under Way
In the late morning light, another underpainting awaits further work on a large 36 x 48 inch canvas. But it won't be today. The brushes are cleaned and I will be off to other adventures until tomorrow.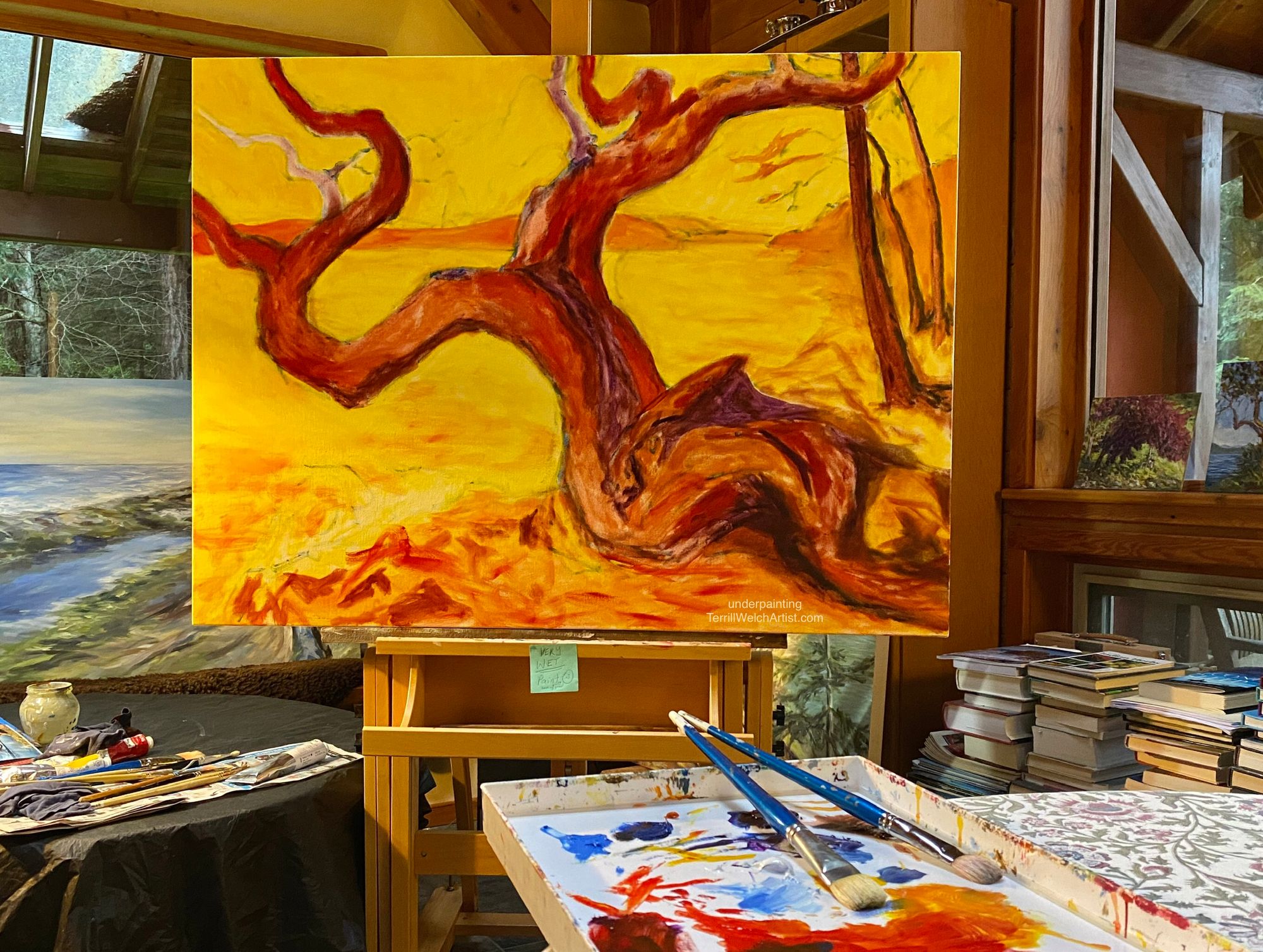 Tomorrow arrives, several days later, and I begin blocking the work in. This is a tentative time still in the painting process. The composition remains fluid and subject to adjustment.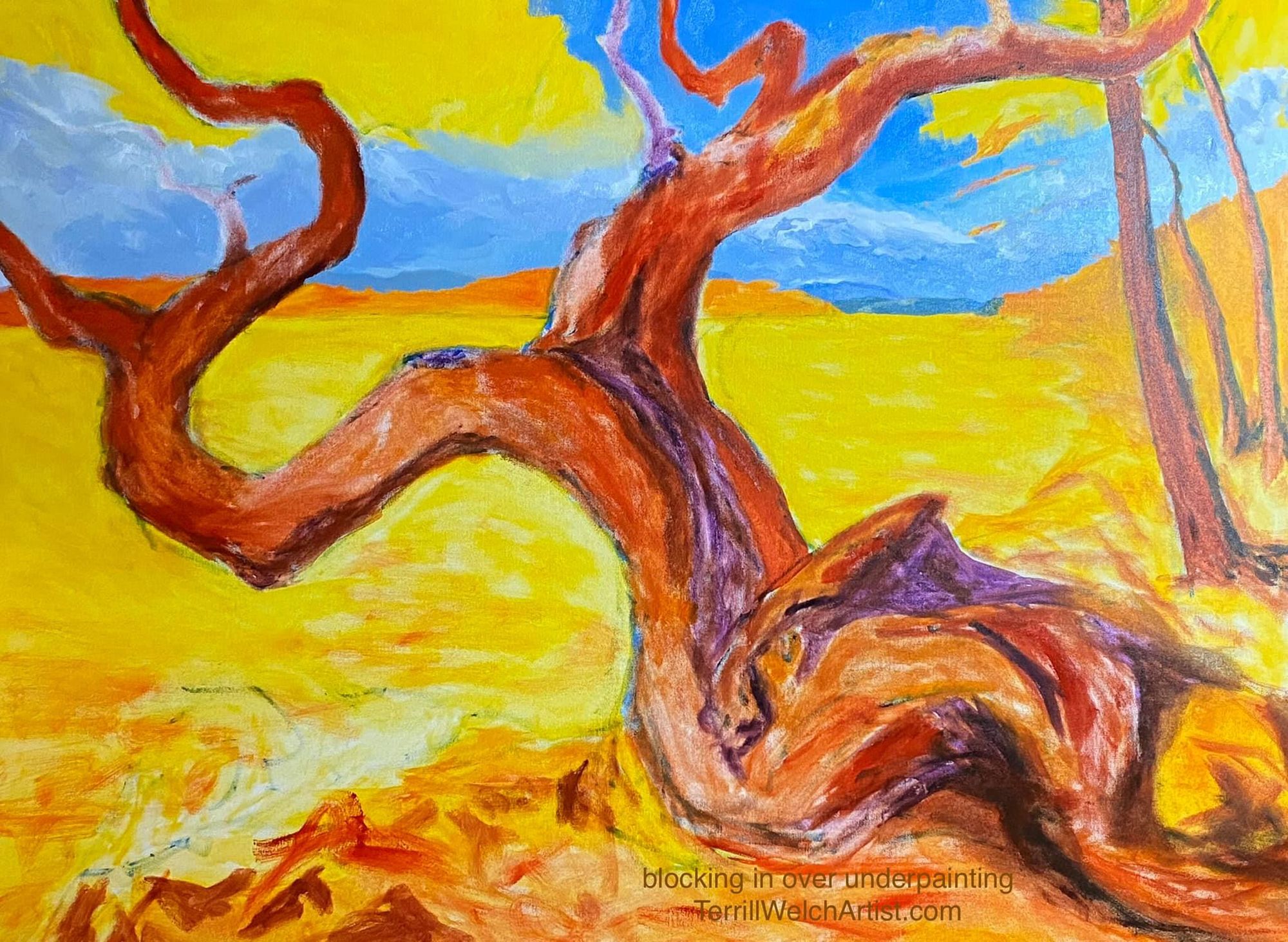 On these larger works, it takes a while to cover the whole canvas with paint. But I keep going.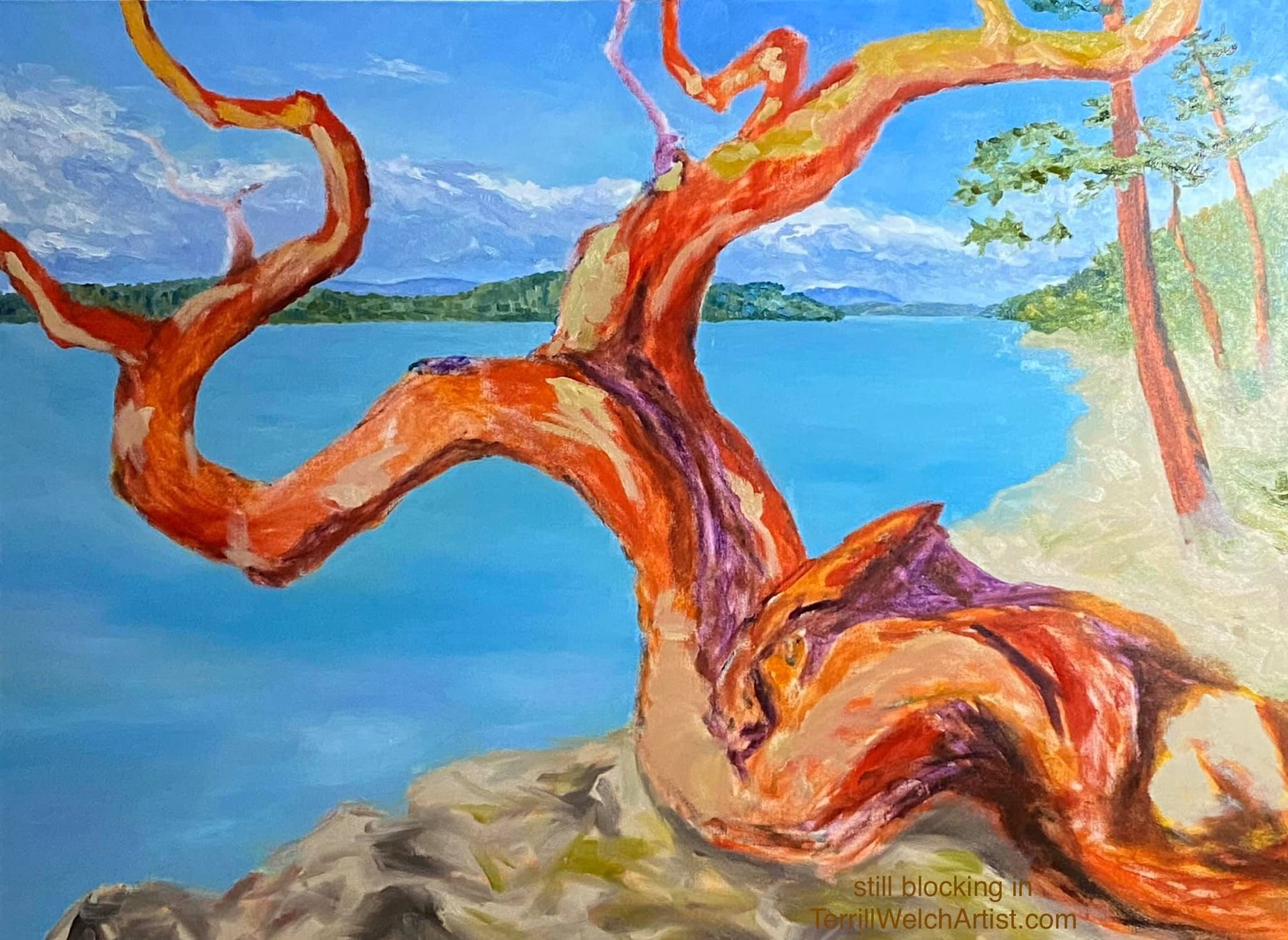 By the end of the second day, I have the painting completely blocked in.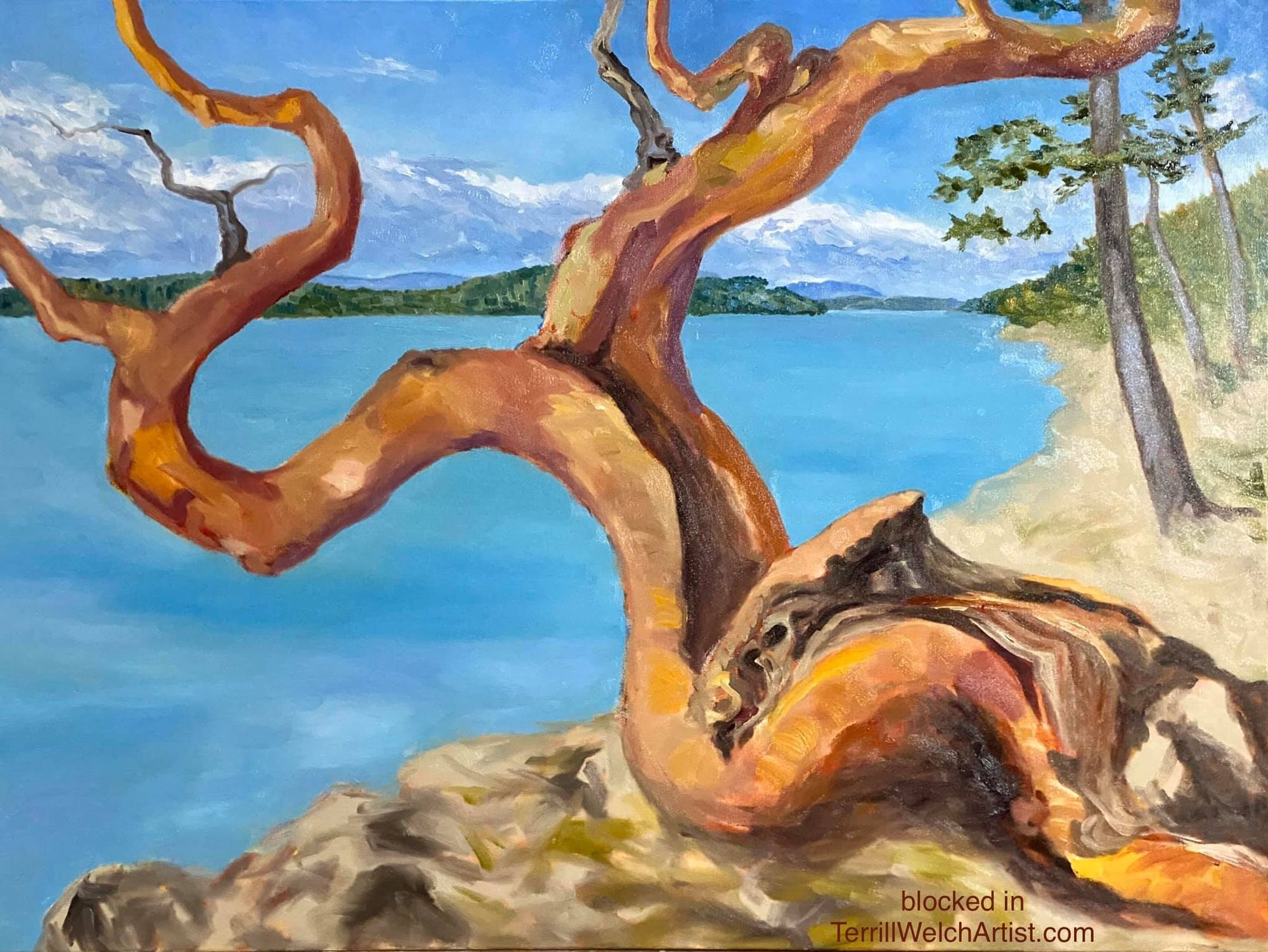 On the third day, I am ready to start building up paint and bringing the work alive! All the trekking through the trails, snatching up the best light in reference images and doing plein air painting sketches for months (and then composing and editing and composing again) come down to what can be done at this last stage. Will it work?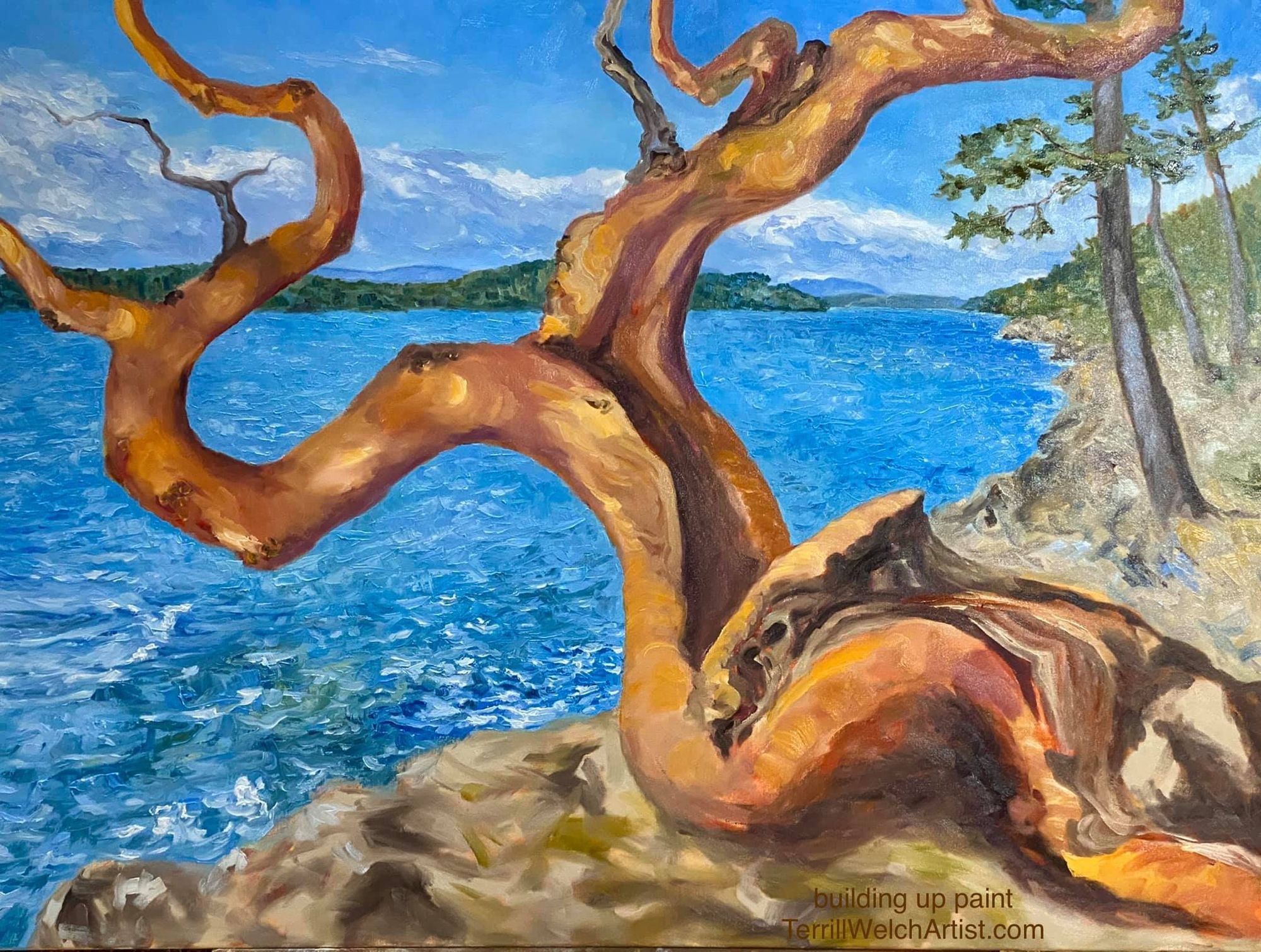 I think maybe it will. There is still at least one more day of painting to finish it up and bring the piece to the "resting" stage. But I feel like it is solidly present. In fact, I am working on it while you are reading this issue of the newsletter and will hopefully be able to show you the finished work next time.
Well, was that fun? Whatever you are doing, give it your all and find the pleasure that is ever-present in the ordinary!
Rain, Winds and Snow
How about I do a short image reference gallery of the past two weeks? We have had heavy rains (atmospheric rivers even) here on the west coast, followed by enough wind to give me some nice waves and then wet snow. Sunshine? Not so much! But as you will see, there has been some and it has been quite beautiful just the same.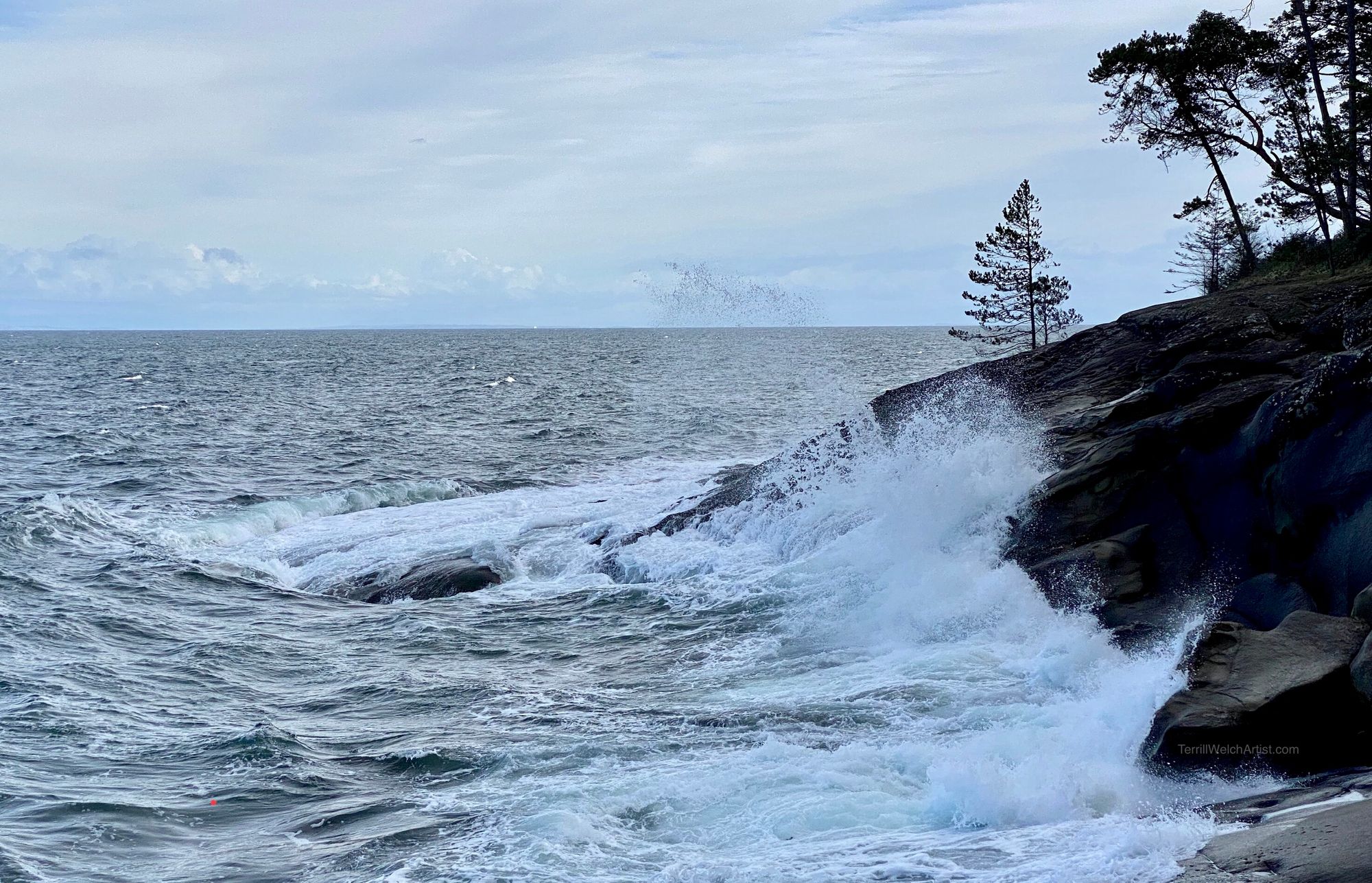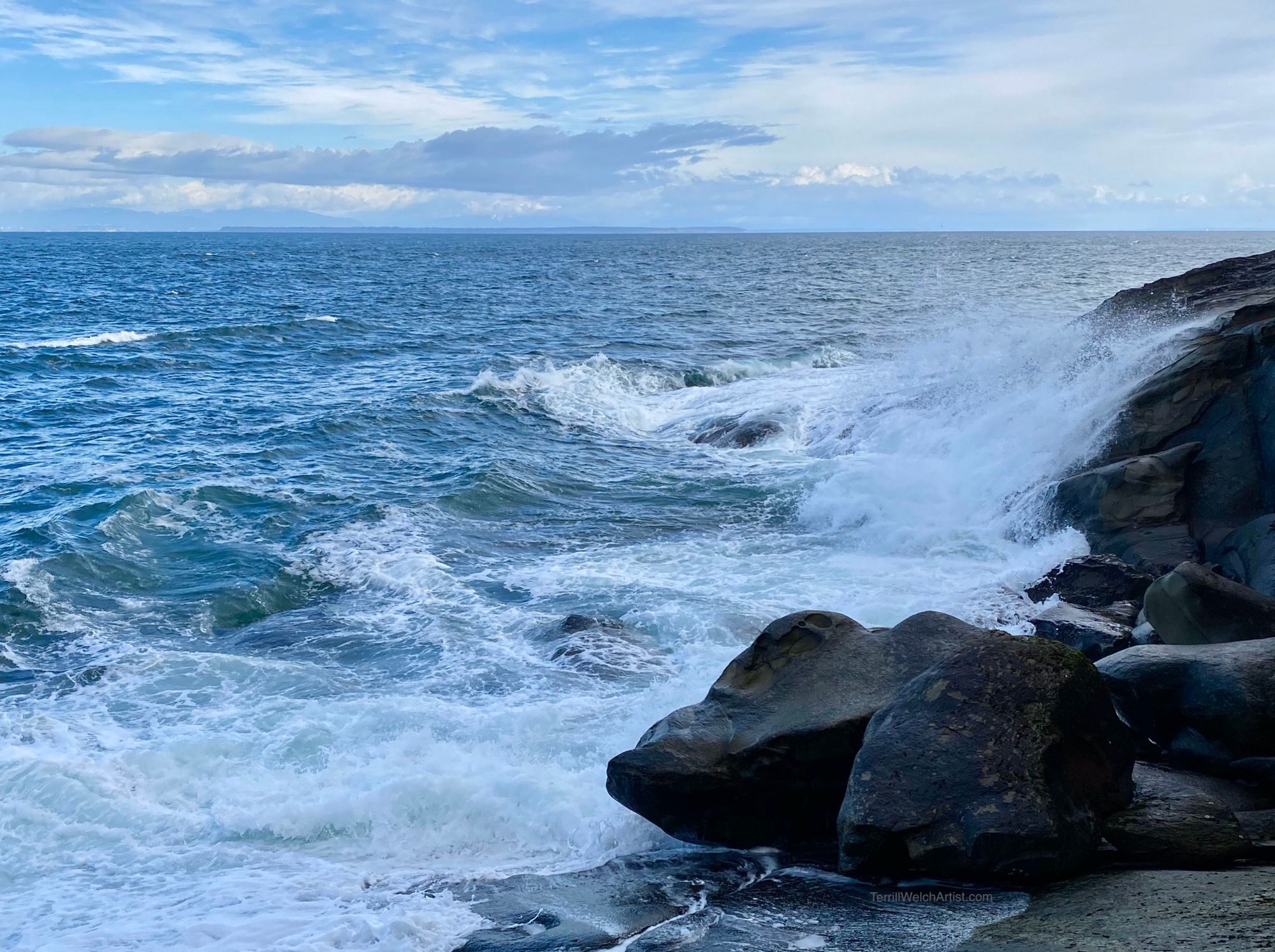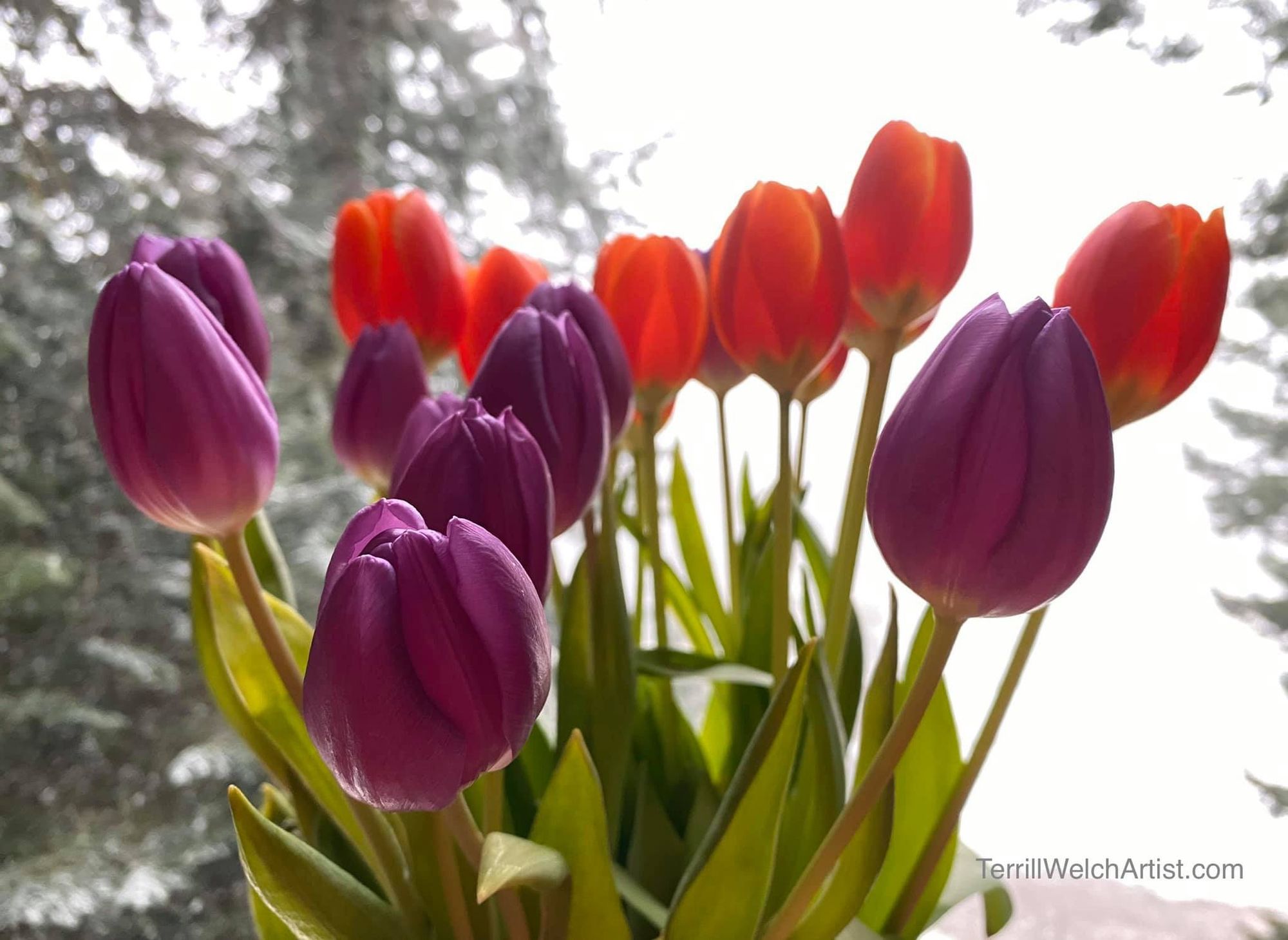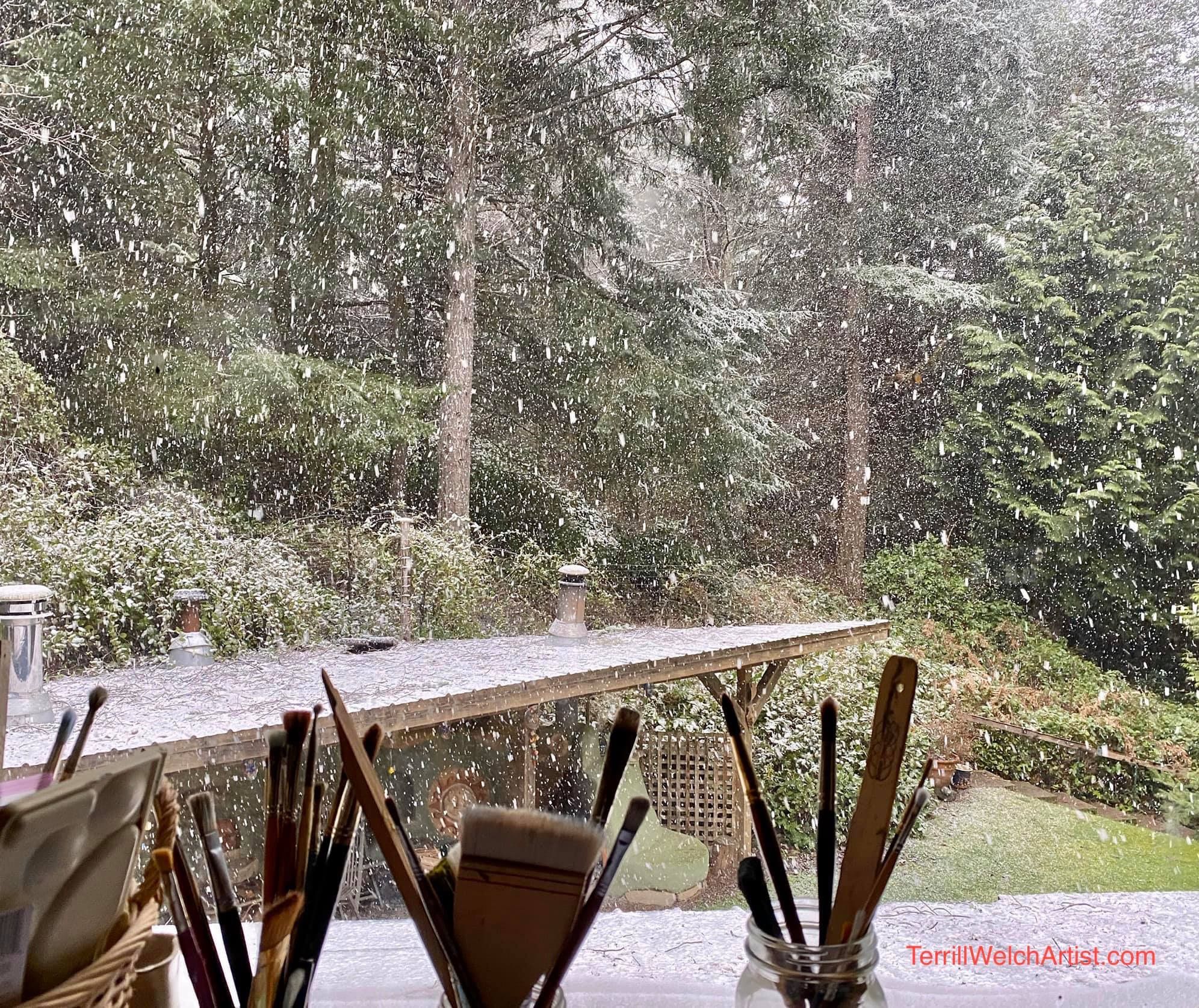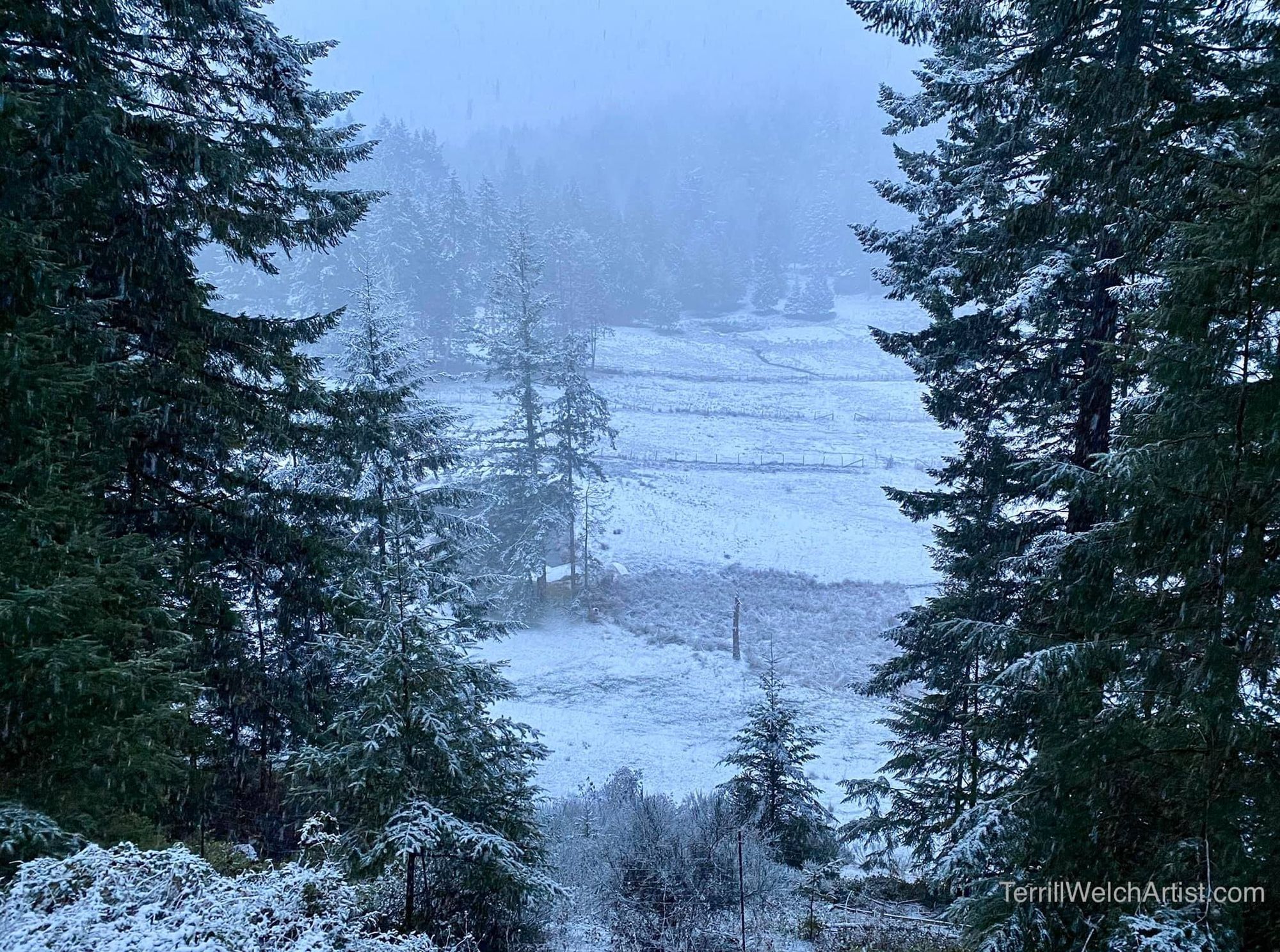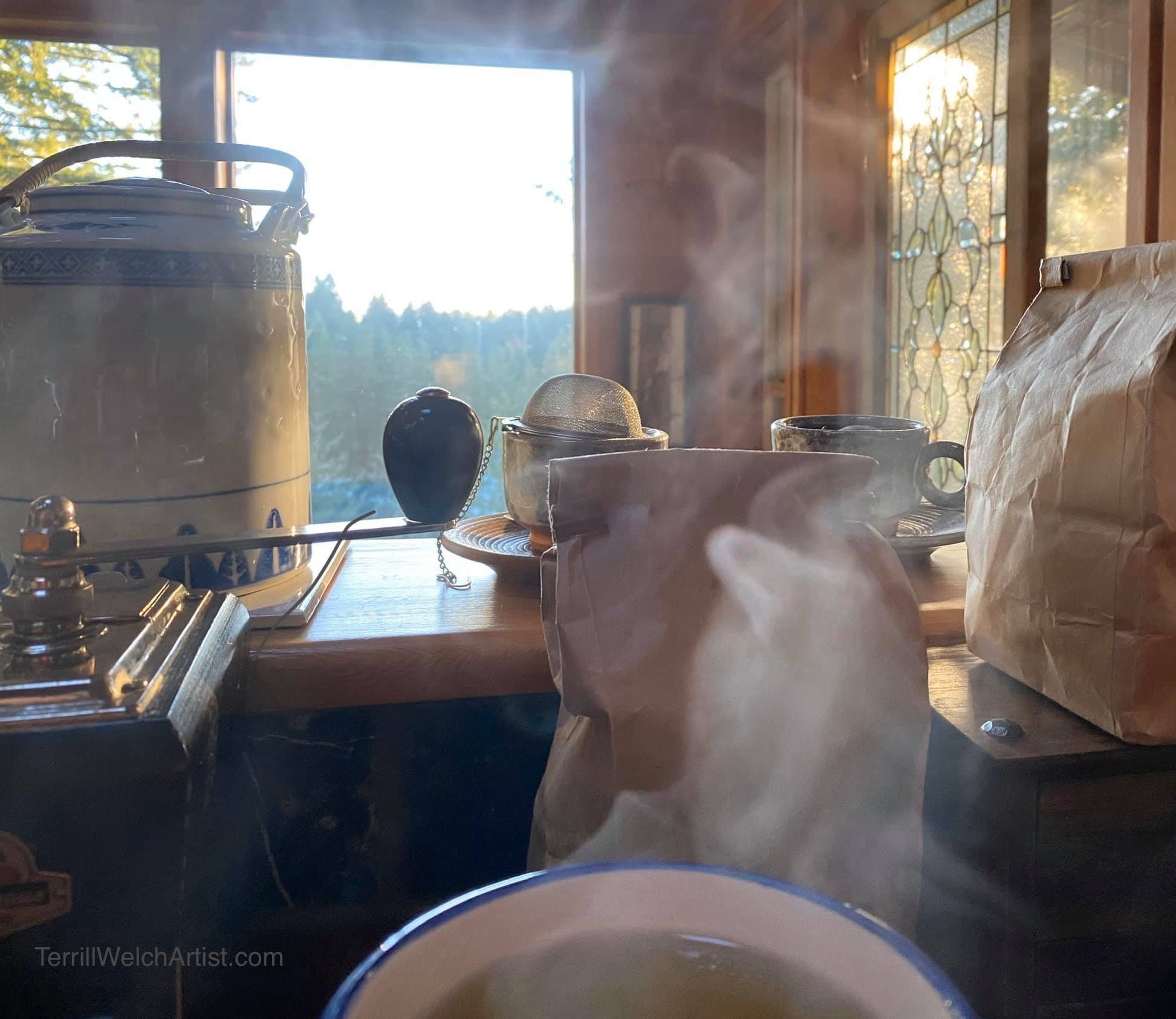 My whole cellular system is desperately pretending it is Spring. I am a little nervous about telling it the truth, just in case it decides to crawl back into hibernation.... and I get nothing more done for the next six weeks! So "sssshhhhh!" We are pretending it is almost Spring.
What Has Sold
Sometimes, I just get the most wonderful opportunities to meet and assist amazing people to take their very-own-perfect-painting home! Truly! There is nothing quite like showing paintings to people who have been following your work for several years and now are in a position to make that sought-after purchase. They know the paintings almost as well as I do. They know the prices so avoid that sticker-shock moment of some new fans. It is just a matter of seeing the paintings in person and making a final decision.
The couple had preselected two seascapes for viewing and I added in another four along the same subject lines. I had cleaned up most of my scattered painting equipment and slipped the plastic off the walls so the work would look its best. Then, when they walk into the gallery after arriving on the ferry, we looked and talked about paintings and life for about 45 minutes... until a decision made itself clear. And there you have it! Another painting off on an adventure all it's own.
Here is their choice...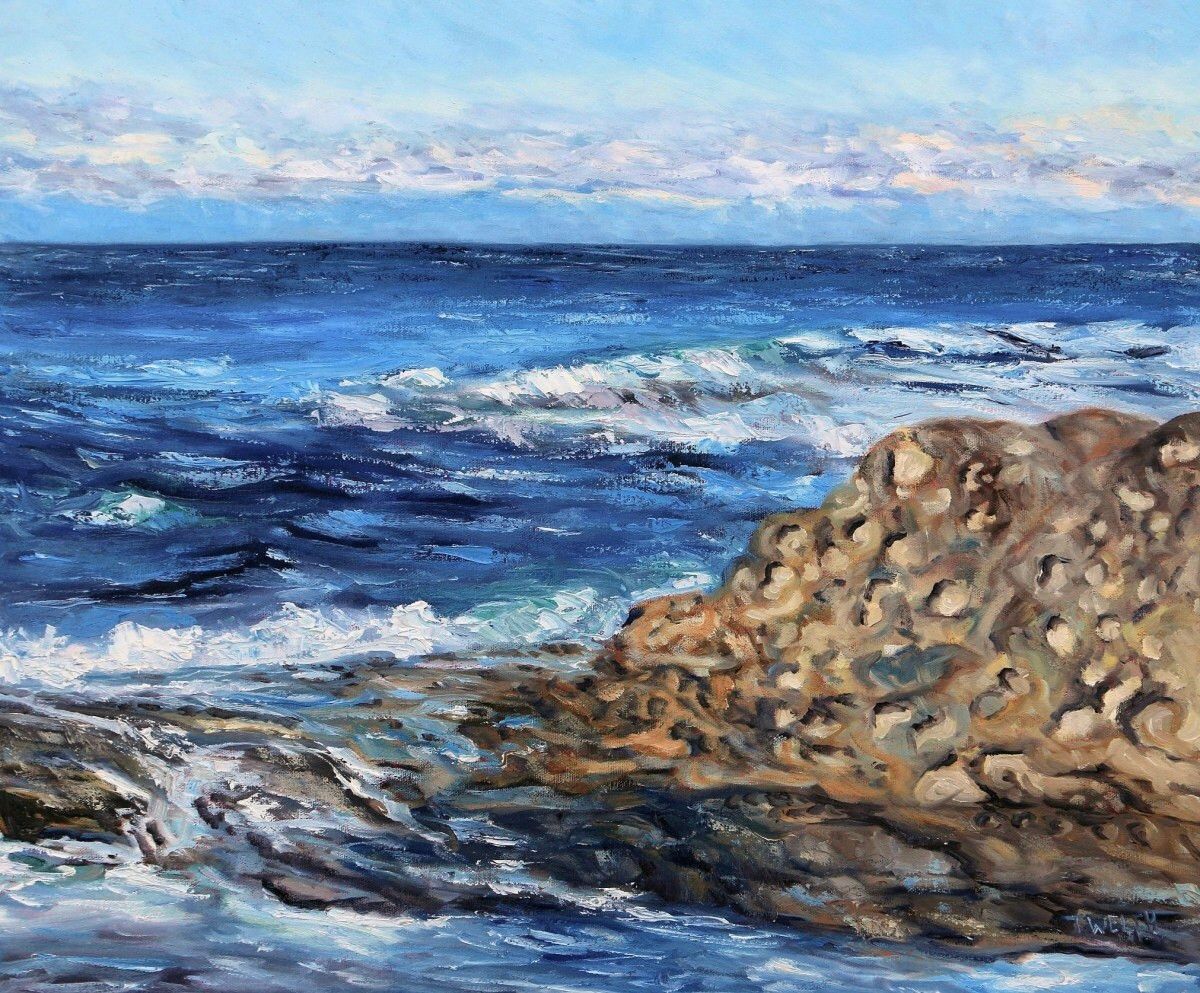 Secondly, this painting sketch was sold at the Mayne Island Agricultural Society art auction in a unique event where artists, or art collectors, could contribute a work with a commitment to donate 50% (or more if they wished) to raise funds for the society. This is the first really truly win-win for artists fundraising event put into practice I have ever seen. How it works is that, after a reserve bid is set by the contributor, the artwork is auctioned off. The purchaser pays the artist the auction price (plus any applicable sales taxes). Then the artist makes a donation of 50% of the auction price and receives the charity tax receipt for the amount donated. We share this process with you because it would be awesome if this became a standard practice when asking artists if they are interesting in contributing to a fundraising event. Basically, the organization is asking if they can sell the artist's work for a similar percentage as a gallery would take if they were to sell the work. This leaves the artists, if they price their work and set the reserve bid appropriately, still getting paid for the creation of the art - which is extremely important if you want artists to be able to continue supporting fundraising events long-term.
Hats off and high five to the Mayne Island Agricultural Society for seeking out and implementing a win-win fundraising model with the support of artists and art collectors!
Also, thank you and congratulations to the new collector with the winning bid! I hope this small painting sketch brings you years of enjoyment. Here is the work as it was shown on the Ag Hall wall ahead of the art auction....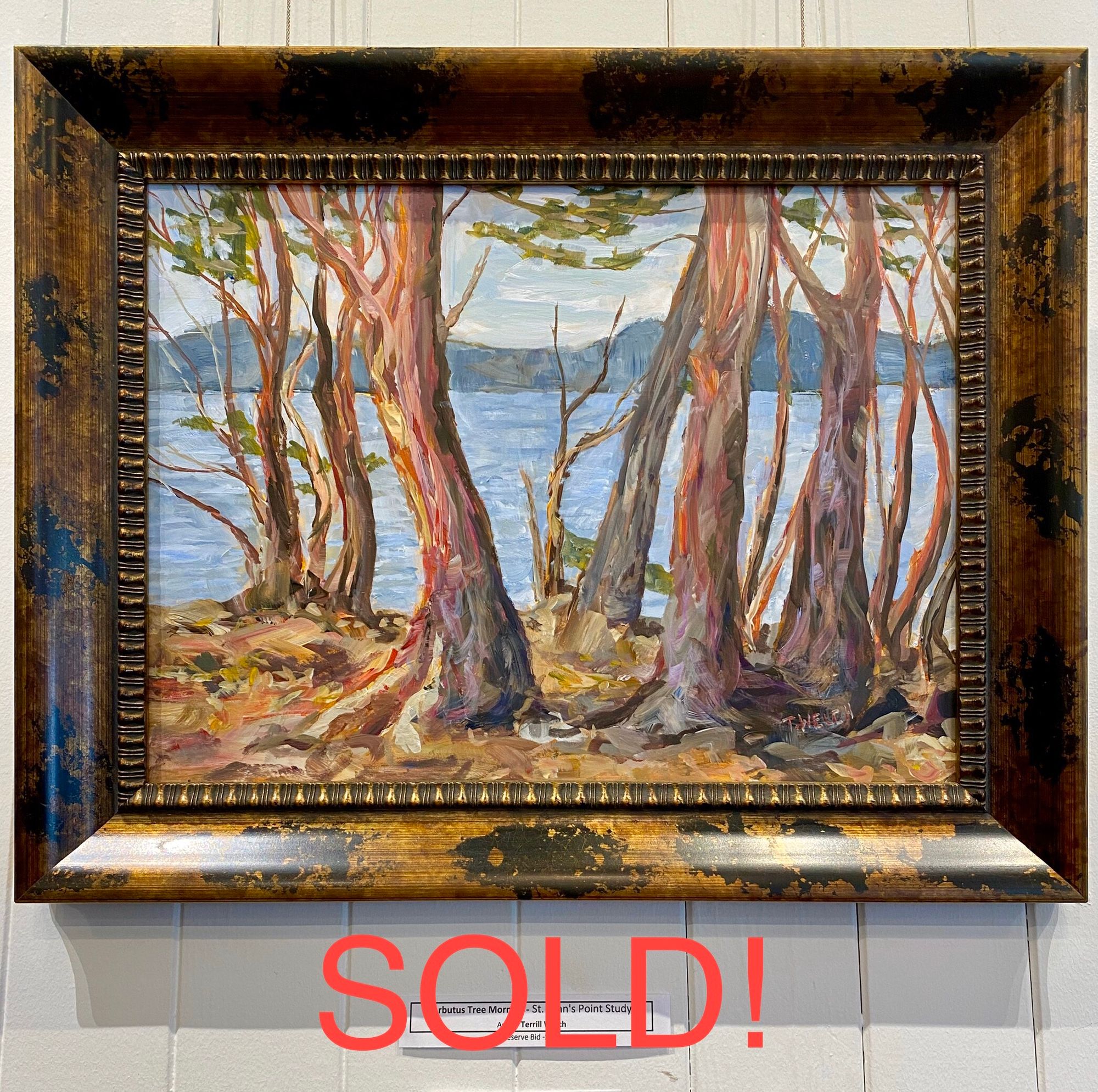 Until Next Time
Since I have left you my current reading list in the introduction, I think this is about it for this issue. I must get back to painting that large canvas and sending an email to have a large sign made for the gallery. Until later!
Canadian landscape painter, Terrill Welch, exposes the mystery in an ordinary day, reminding us that there is only one moment – this one.