A Brush with Life - Issue #46 Your Perfect Nature Adventure Partner
Come discover nature through the eyes of a landscape painter. While exposing the mystery in an ordinary day, the Terrill Welch Gallery takes you right into our nature world. Stay current with recent adventures through our A Brush With Life newsletter. Every second Friday a complimentary is
Come discover nature through the eyes of a landscape painter. While exposing the mystery in an ordinary day, the Terrill Welch Gallery takes you right into our nature world. Stay current with recent adventures through our A Brush With Life newsletter. Every second Friday a complimentary issue shares works in progress, reference gathering adventures through winds, rain, snow and sunshine. Each issue brings you personally to the front lines of landscape painting without leaving the comfort of your home. New paintings are introduced. Articles of interest to serious fans and collectors are reviewed and linked. Personal opinions are shared. Plus you can write back directly to the artist and engage personally about the subjects that interest you most.
But I didn't really need to lay this out for you did I? I am practicing to find ways to increase our number of newsletter subscribers. I thought this wording might work on the website or anywhere I wanted to introduce the newsletter. What do you think? Do you think it will work? Am I missing anything?
---
All Done!
There are still some shiny wet patches but it is ready to be set aside to dry before I paint the edges and get it ready to release.
I had hiked out to St John's Point between heavy rain showers and was rewarded with an amazing bust of winter sunshine. The tree positively preened in its glow. What is a painter to do but pull out a large canvas and prepare to do a portrait of its elegant limbs.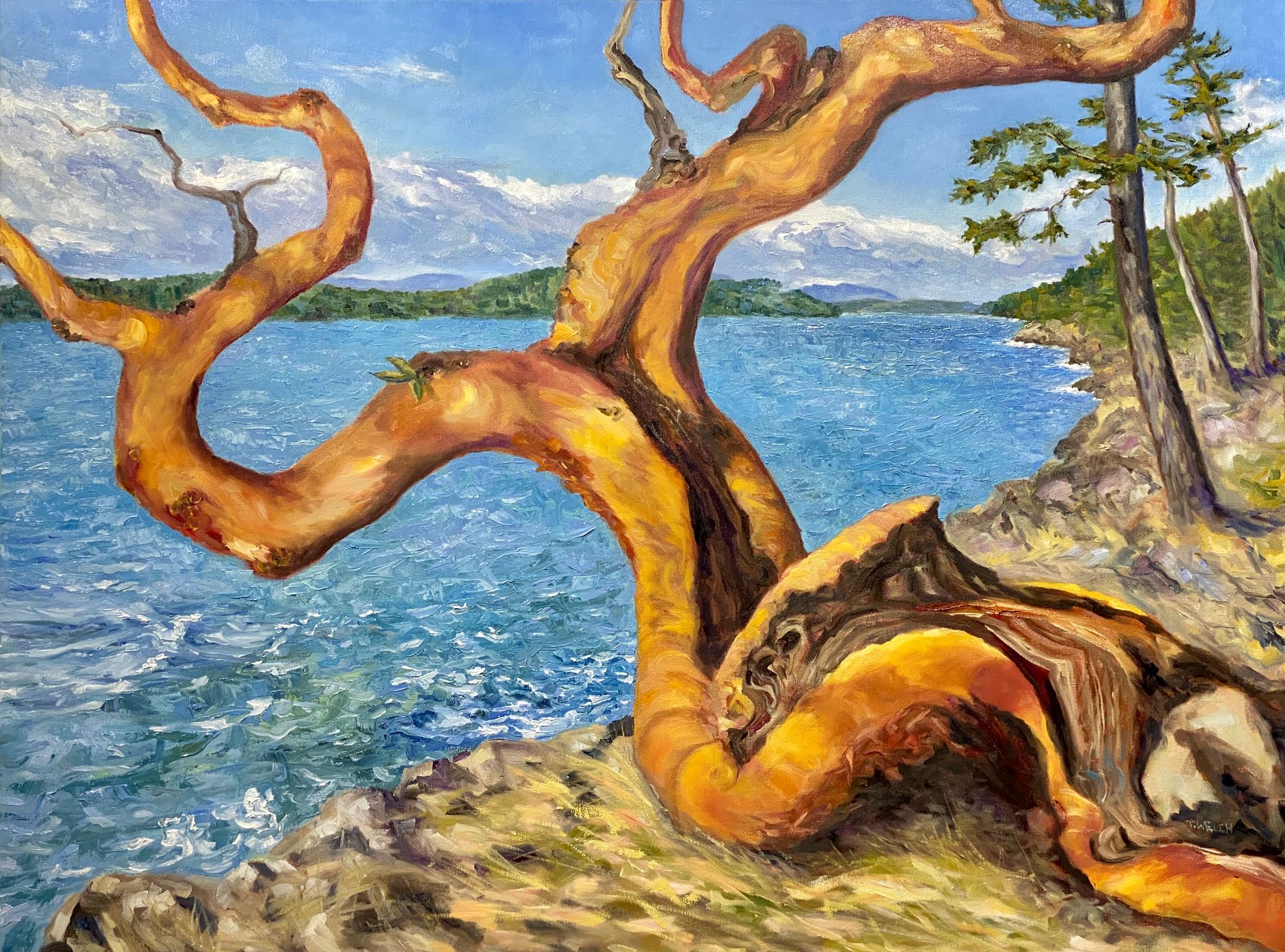 New Work-in-Progress
Next, a new 20 x 24 inch "rough seas and sunshine" work-in-progress is on the easel. It still doesn't look like much yet but this is normal at this stage of the process. I just want to get the main elements in place so I can see where I am going. The reference day is 3:00 pm February 9, 2019 and the sun was shining with a hint of clouds resting on light blue-green sky over the mountains with a wild deep green and blue sea roaring towards shore. When I was going through my references for this day it was hard to choose. But for the dimensions of this canvas, I decided on this moment. Sunshine and wild seas!
More or less blocked in and a good solid start!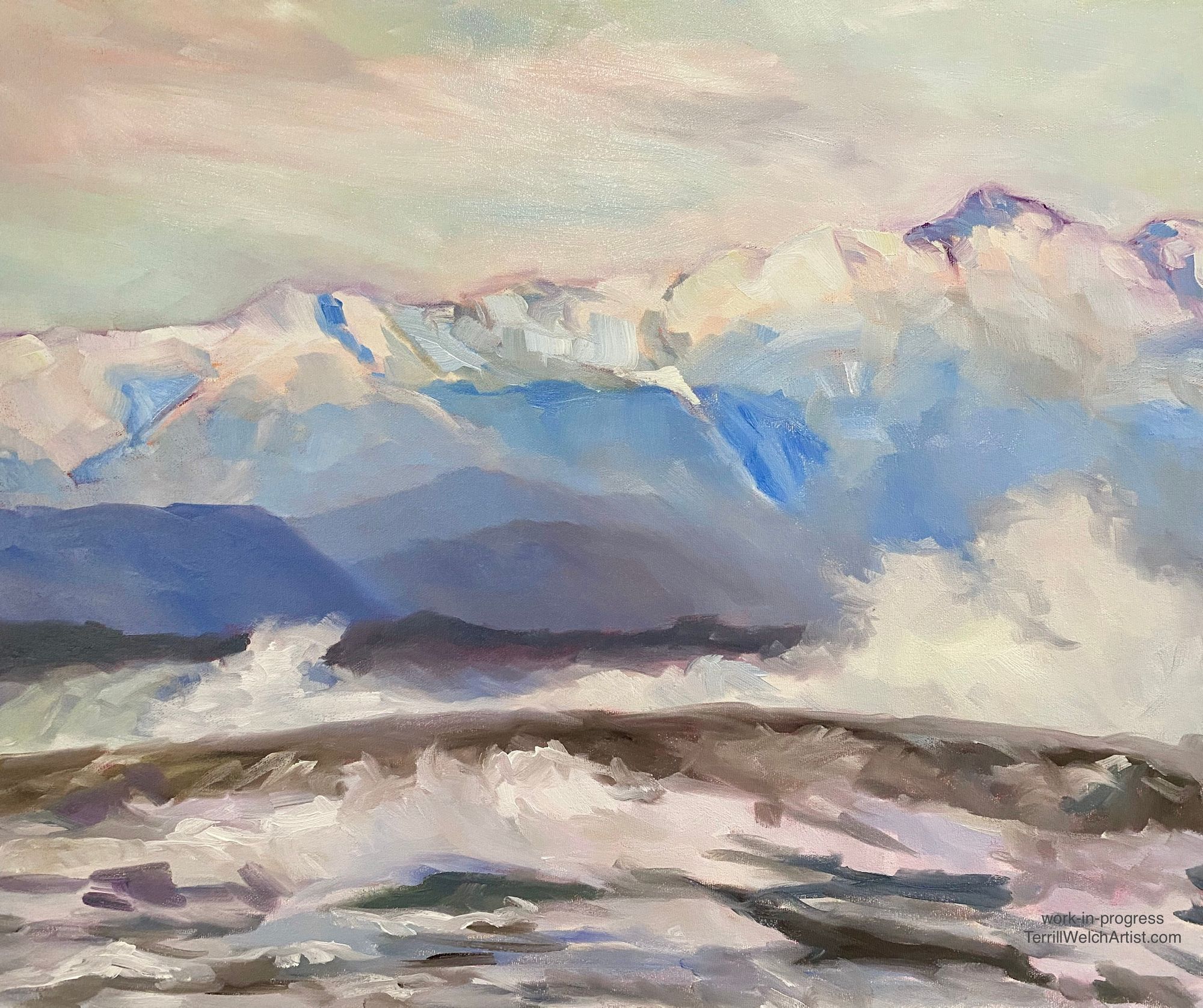 And as of yesterday, it is now "resting" and very shiny and wet still.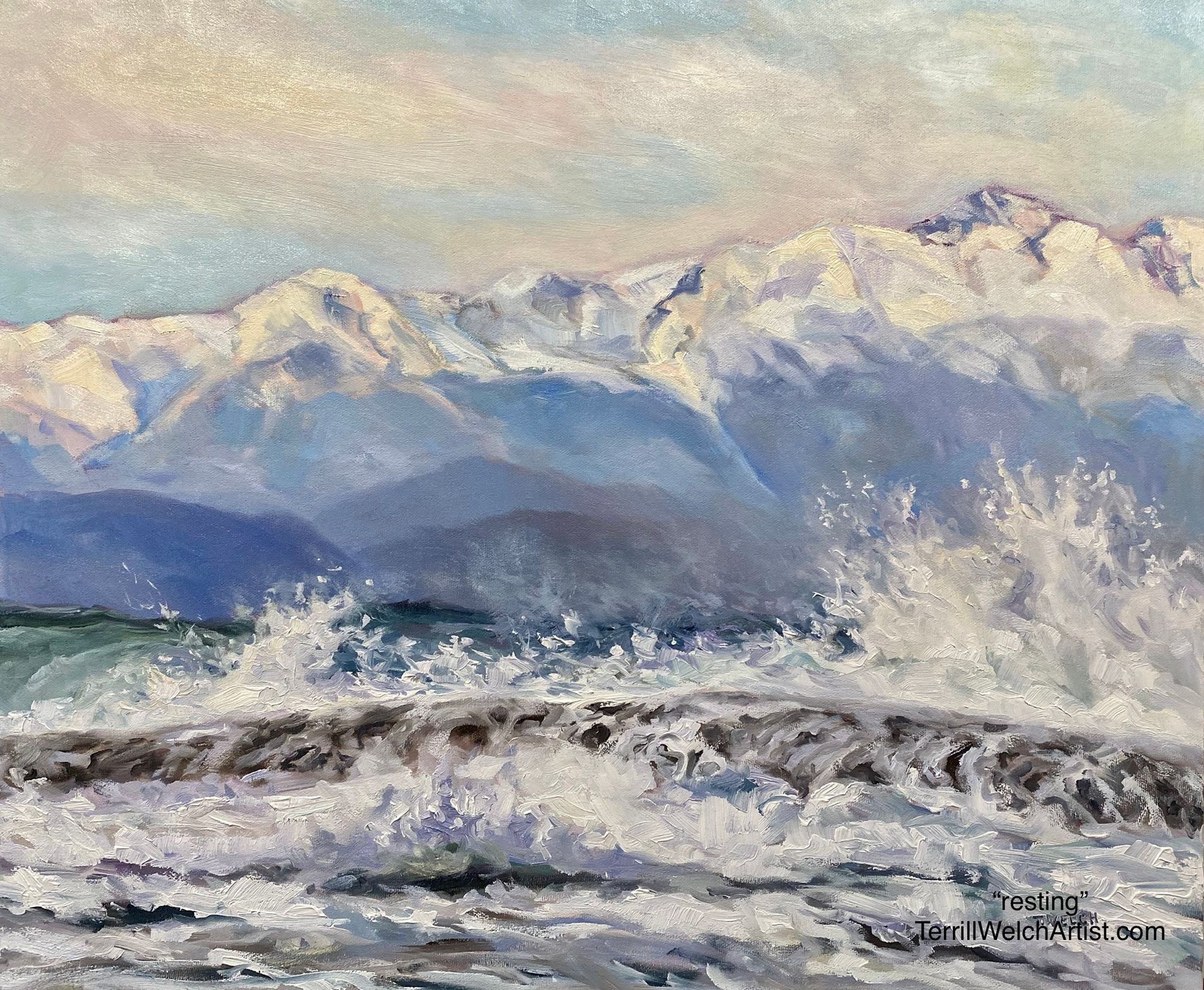 Update on New Gallery Room
The Arbutus Room expansion for the gallery is slowly falling into place. Soon I shall be able to share a few before photographs. All the various balls are in the air and I am tossing them back up as they start to come down. This is the time of holding the vision until we can get a closer look likely by next issue.
So not much to tell just yet other than to clarify that the main gallery is staying in its original space. This original room will show just my work and be open from May long weekend to the end of September long weekend on Friday, Saturday and Sunday. I will continue to use it in the off season for my winter studio.
The Arbutus Room however will have much more generous hours and be open all year around. Vania Williams of Dragonfly which will be right beside this new space will offer assistance as required. The Arbutus Room will have my paintings as well a carefully curated selection of west coast landscape painting by other painters, starting with three painters that I know well.
These first three painters that are joining me are former students in my oil painting classes and have studied with me for between three and four years. They are Glenda King, Jennifer Peers and Jody Waldie. I introduce each of them individually in the near future, once I have done studio visits and selected paintings for the first show that will open some time in the middle of May.
Favourites From Recent Island walks
There isn't much room in this issue left for photographs but let's slip a few of my favourite island seaside images in anyway.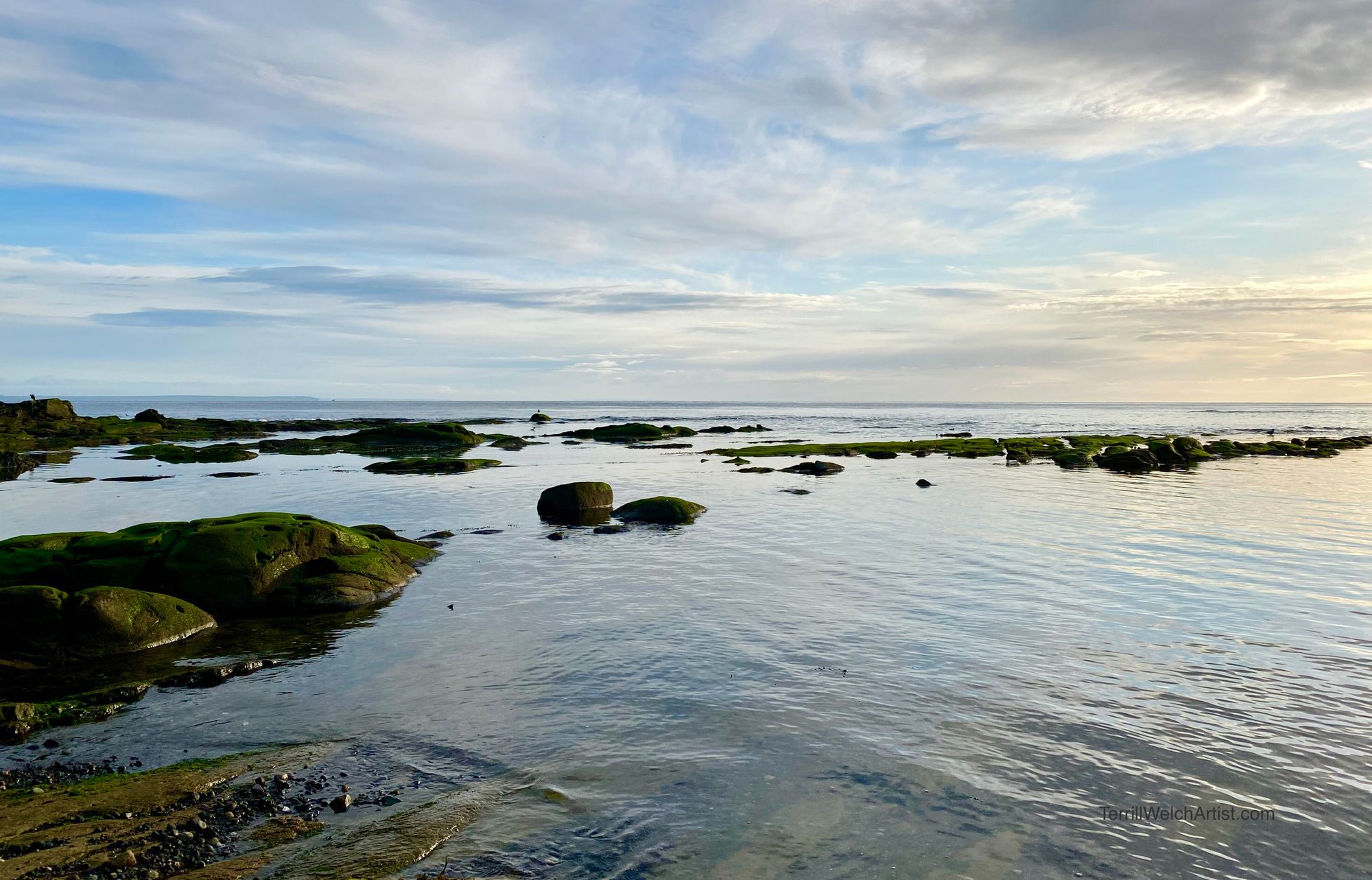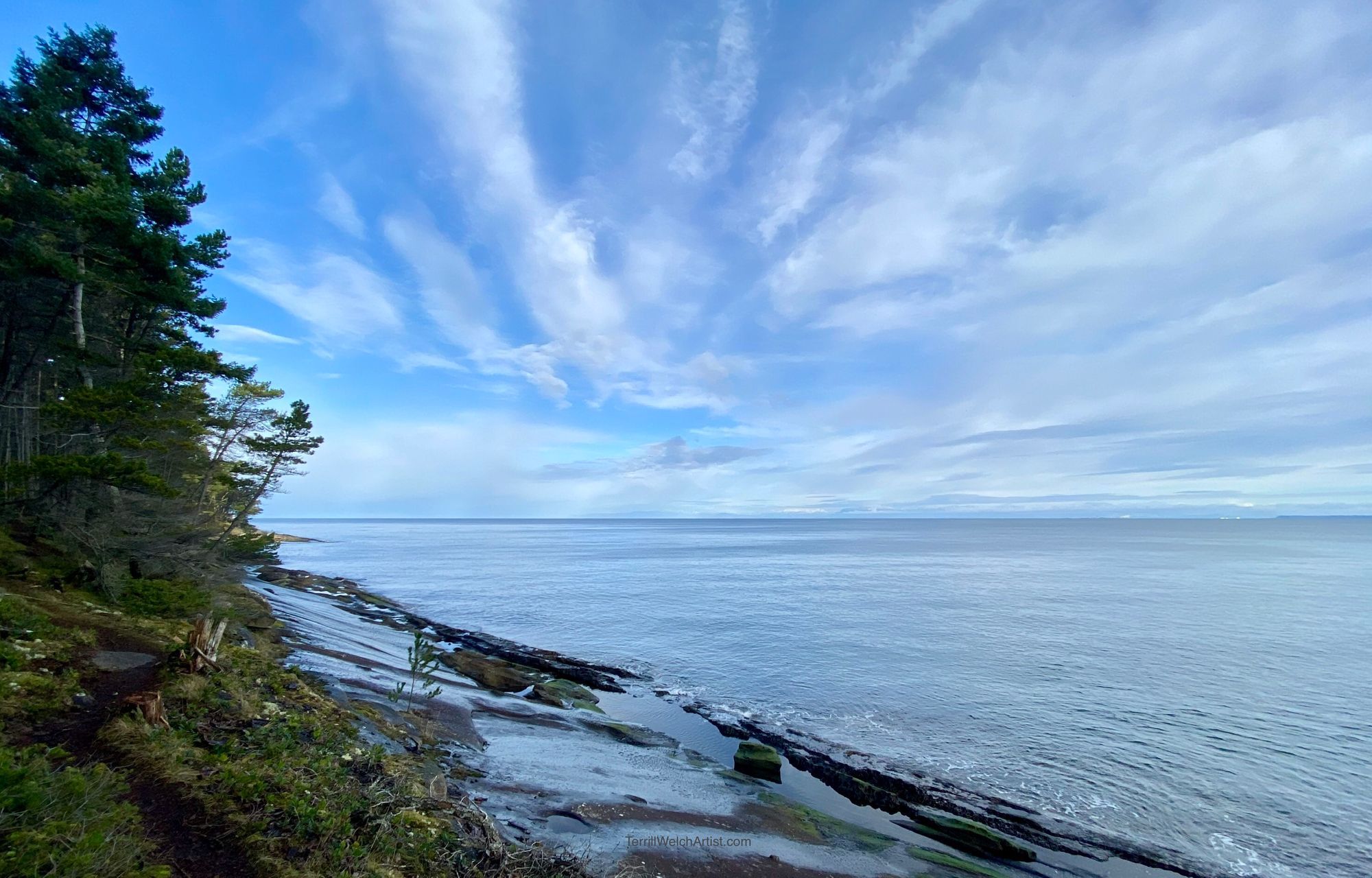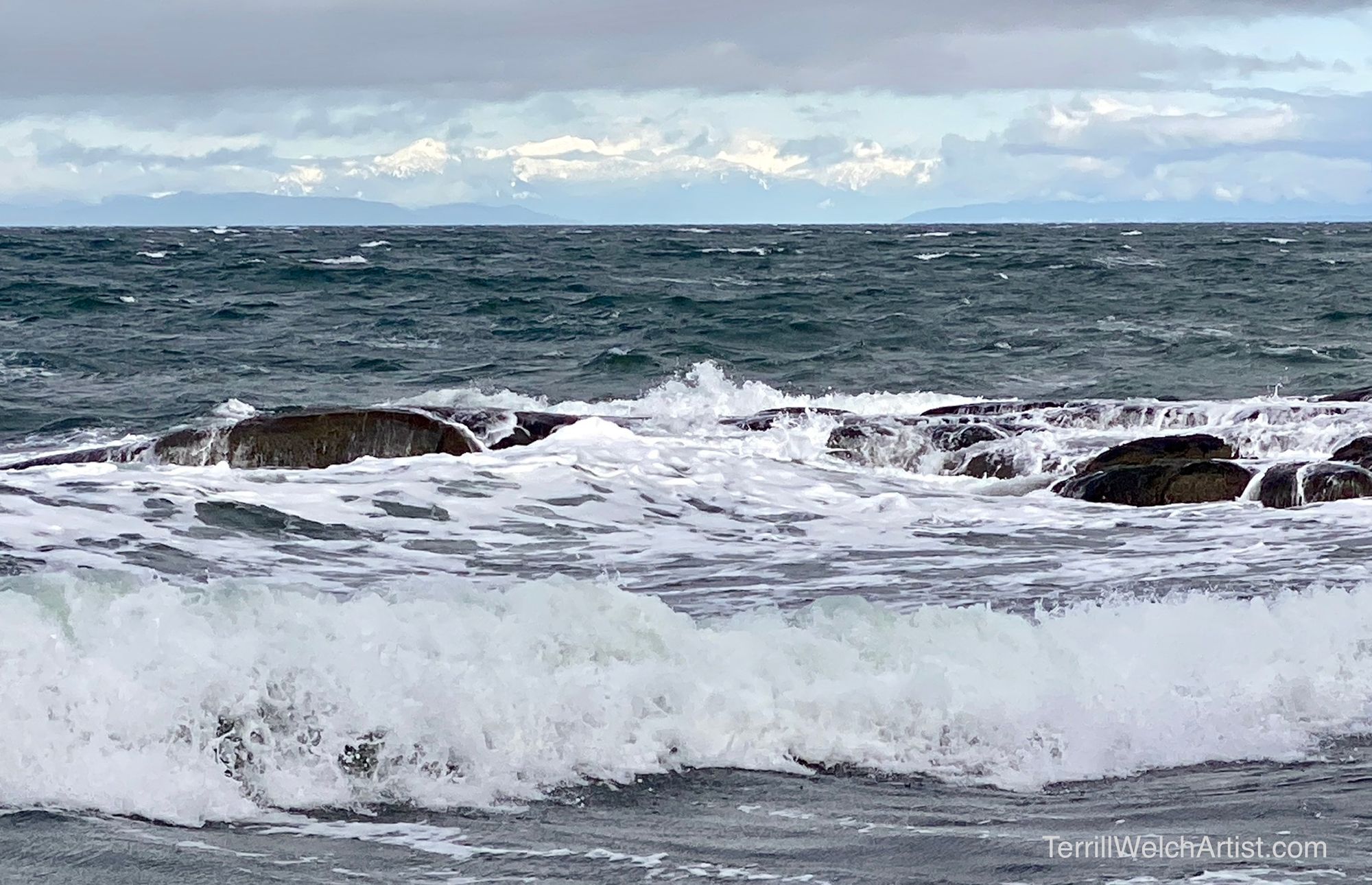 What I am watching
Secrets of How We Learn
Learn to paint by understanding and applying the methods of extreme trick cyclist Danny McAskill - who love to watch ride from the camera on his helmet by the way. I was introduced to him several years ago by my grandsons of course. 😉 This video episode shared on CBC is in several parts. It is all interesting but it is the first segment that can most significantly enhance your painting practice and skill development.
Watch this 45 minute "The Passionate Eye" episode at:
https://gem.cbc.ca/media/the-passionate-eye/episode-148/38e815a-0122af37c40
Painting from life, like extreme cycling requires full body memory and split second decision making to paint wet-into-wet in a plein air situation. This is what painters call a "plein air high". In order to fully engage and have even a chance of success, we must bring our whole being and all of our past experience into the situation. Though physically less demanding on the body than extreme trick cycling, I am happy to argue, painting under these conditions is an equally complex skill that requires endless practice to become proficient so that we spend less of your time crashing and tumbling around in the brambles... until we take on the next learning hurtle that is. This is what muscle memory development in my painting practice looks like. Enjoy!
The Farewell
This film might be one of the best I have watched in years. The 2019 film is directed by Lulu Wang. The film follows a Chinese-American family who, upon learning their grandmother has only a short while left to live, decide not to tell her and schedule a family gathering before she dies. It was classified as a comedy on Prime Video but there is only small amounts of humour - just enough to keep you from drowning in tears of sadness for the 30 year old Billi as she navigates saying good-bye to her Nai Nai (grandmother). Powerful award winning acting combined with beautiful depictions of cross cultural lives that become something that is not completely about where we have come from nor from where we gone. You will need to read subtitles some of the time but it is worth every line! Not to oversell it but this film holds an approval rating of 98%, with an average rating of 8.55/10, based on 314 reviews on Rotten Tomatoes. We will most certainly watch it again.
Learn more about this excellent film at:
https://en.wikipedia.org/wiki/The_Farewell_(2019_film)
Until Next Time!
We are starting to notice hints of spring here on the southwest coast of Canada. Longer days make me smile more readily than usual. I wish you many a long walk, snowshoeing or skiing if you are in a place where these are possible and the beginning of blossom counting for the rest of us. Wherever you are and whatever you are doing I hope it brings you great satisfaction and quiet mystery.
Canadian landscape painter, Terrill Welch, exposes the mystery in an ordinary day, reminding us that there is only one moment – this one.