A Brush with Life - Issue #49 The Courage To Paint
"I think Mother Nature is telling us to pay attention to what truly makes us happy, and I think your art is one of those precious things." - from an art collector to artist Terrill Welch.Receiving notes like this, gives me the courage to paint even during these are extraordinary and challenging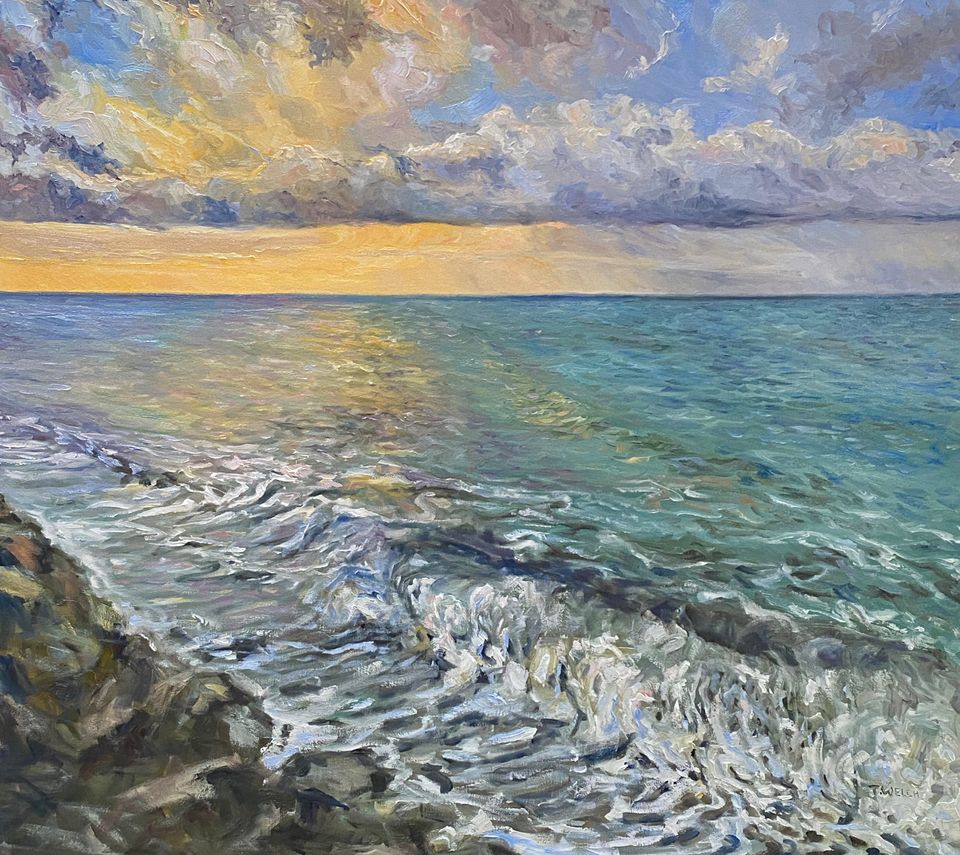 "I think Mother Nature is telling us to pay attention to what truly makes us happy, and I think your art is one of those precious things." - from an art collector to artist Terrill Welch.
Receiving notes like this, gives me the courage to paint even during these are extraordinary and challenging times. I have let you know that all of my work can be viewed online just for your pure enjoyment or for inquiry and purchase. You are welcome to copy an image as a screensaver or to tuck away an image of a painting in a special album that brings you joy and comfort. However, some fans and art collectors are also sharing favourite paintings with their family and friends on social media and via email as a way of supporting each other during these weeks of staying at home. Thus has been an additional pleasant surprise and one I hadn't considered. Whether you own originals or have a collection of virtual images, I hope these contemporary landscape paintings bring you peace, resilience and strength. And I shall keep my courage to painting and continue to offer work for your private art collection of originals or virtual images. Thank you for your ongoing validation in so many different and creative ways.
---
Introducing Hope For A New Day
Now for the full quote from an art collector on March 26, 2020 - "It's not a good time to be spending money - my retirement savings are taking such a hit, but on the other hand, I think Mother Nature is telling us to pay attention to what truly makes us happy, and I think your art is one of those precious things....."
I almost cried reading her words. Then I exhaled and put the last brushstrokes on this seascape painting which isn't available yet but will be soon. Don't lose hope. We will get through this!
The latest painting...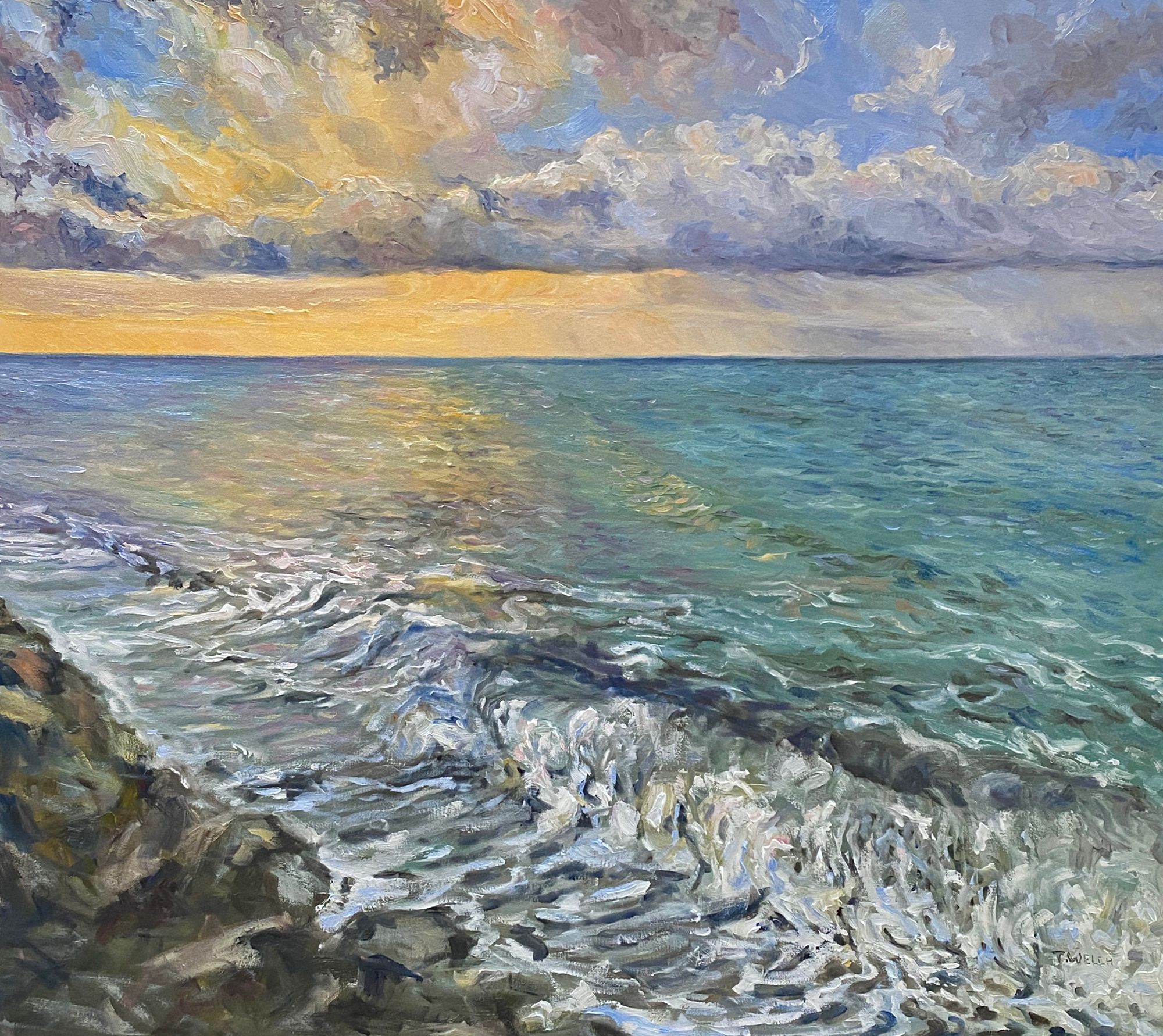 Artist's Notes: The sunrise at Gordon's Beach on the southwest coast of Vancouver Island is often stunning and fills our hearts with the hope for a new day.
I don't often step in front of the camera. But every once in a long while, I feel compelled to do so. In this case, I have used this video format to introduce this latest painting and to speak a little about what is happening in my world as an artist and a human being from my home studio on Mayne Island in British Columbia, Canada. Enjoy!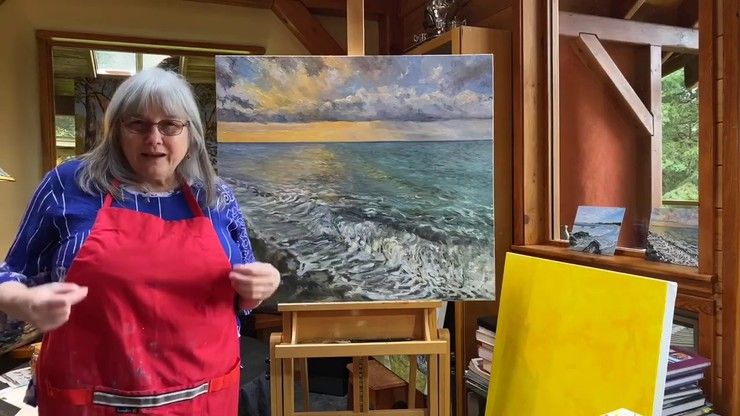 Enjoy the videos and music you love, upload original content, and share it all with friends, family, and the world on YouTube.
What Has Sold
And off goes another Terrill Welch painting! Well, soon anyway. This small seascape study that I introduced to you last issue will wait to travel until the current extreme social or physical distancing challenge is behind us. Or, if this appears to be taking a while, the painting sketch will be shipped by mail to the art collector. We are just hoping that we might get a chance for a coffee and visit together. We will have to wait and see.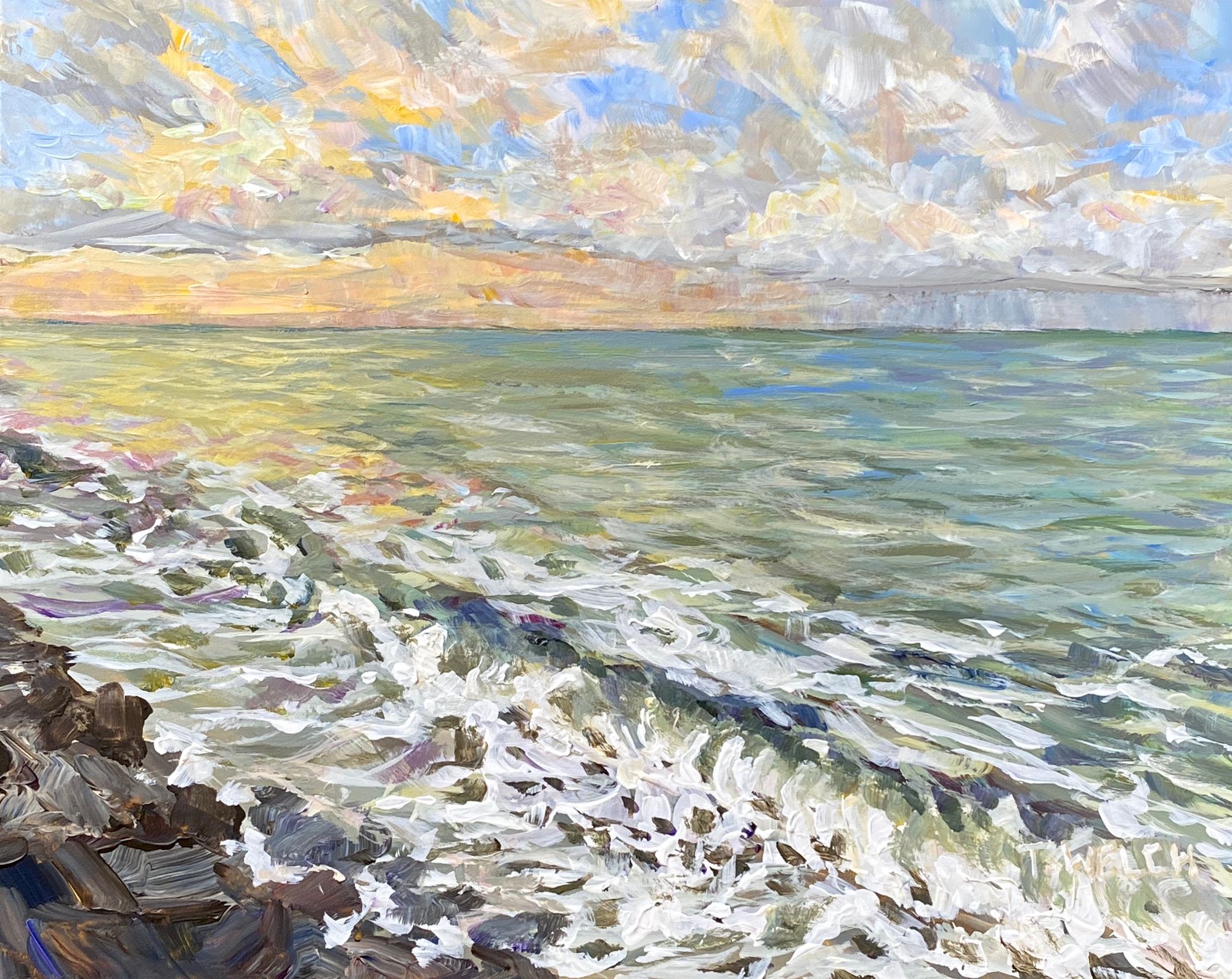 Art Share...
Several of you have been sharing my paintings with family and friends this week. Though I have chosen this one example, I want to thank you all!
Art share from the private collection of an art collector during this time of physical distancing:
This painting reminds me that we are all on this collective journey- whichever corner of the globe we live - from darkness towards the light. It also speaks of the cycle of life and the interconnectedness of humans and nature.
Wondering how this painting represents the cycle of aging? It has that covered too - with the young ones, to those of us residing in the sandwich generation to the Elders - and how each stage of life has gifts and hurdles - and inevitable transitions.
My reflections remind me that trees need their roots, their branches and their leaves . Like these trees, we need each other, standing tall and resilient, and acting together, resembling the tree's systems - in our families, communities, countries and in our beautiful, interconnected world.
This painting, like the changing seasons, gives me hope that life will "blossom" again and perhaps - we'll integrate the lessons learnt about love, friendship, community, connectedness, stillness, appreciation, hope, generosity, tempering, sacrifice for the "greater good", clarity of purpose/what really has value, sharing knowledge and gifts, conservation and compassion.
From the art studio of my gifted friend, Terrill Welch, bringing every day joy, beauty, and hope to our home.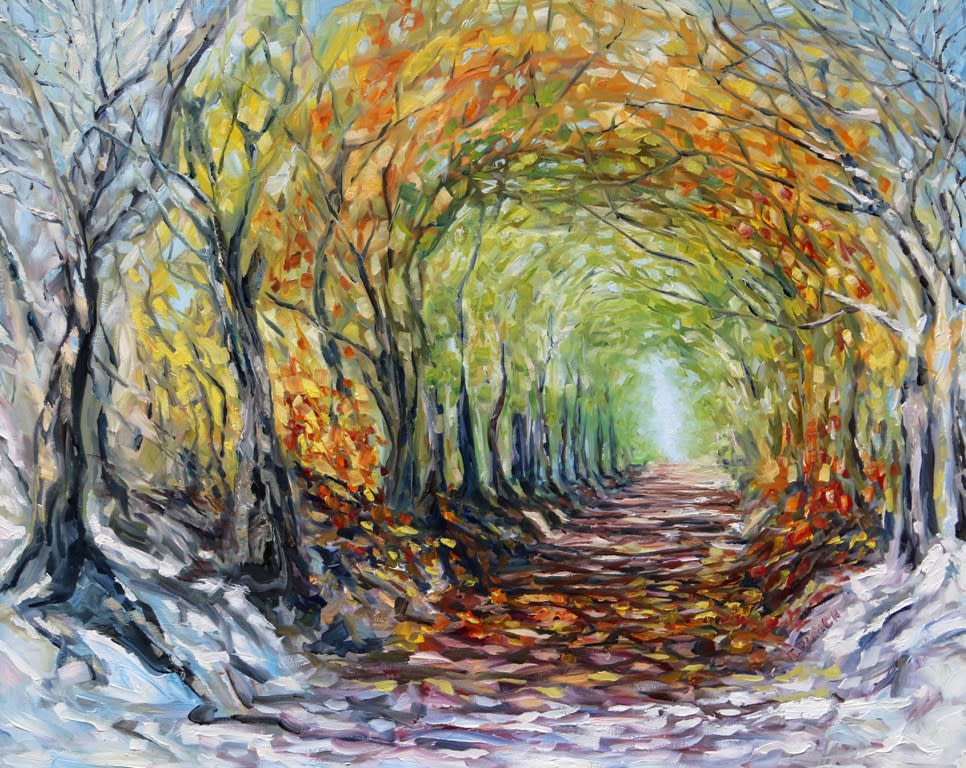 A Gift from an Art Collector and Friend
About the time I am beginning to second guess myself, around my perspective and orientation to my paintings and how they can help us navigate our current circumstances, I receive a text message from a long time friend and a collector of my work. He is sending me a link to a BBC interview by Will Gompertz with artist David Hockey who is in lockdown in Normandy, with his dog Ruby and two assistants, painting spring...
"We have lost touch with nature rather foolishly as we are a part of it, not outside it. This will in time be over and then what? What have we learned? I am 83 years old, I will die. The cause of death is birth.
The only real things in life are food and love in that order, just like our little dog Ruby. I really believe this and the source of art is love.
I love life."
You can see his sketches and iPad paintings and read the rest of the interview by clicking in the article link below. I think you might enjoy it as much as I did.
The artist, who's in lockdown in Normandy, shares 10 soothing paintings of the springtime.
Introducing the First New Artist
The Terrill Welch Gallery continues to move forward with selecting west coast landscape paintings and establishing a presence online for new artists it is representing. Allow me to present Glenda King and share with you one of her three landscape paintings that will be in the first group show in the new Arbutus Room of the Terrill Welch Gallery.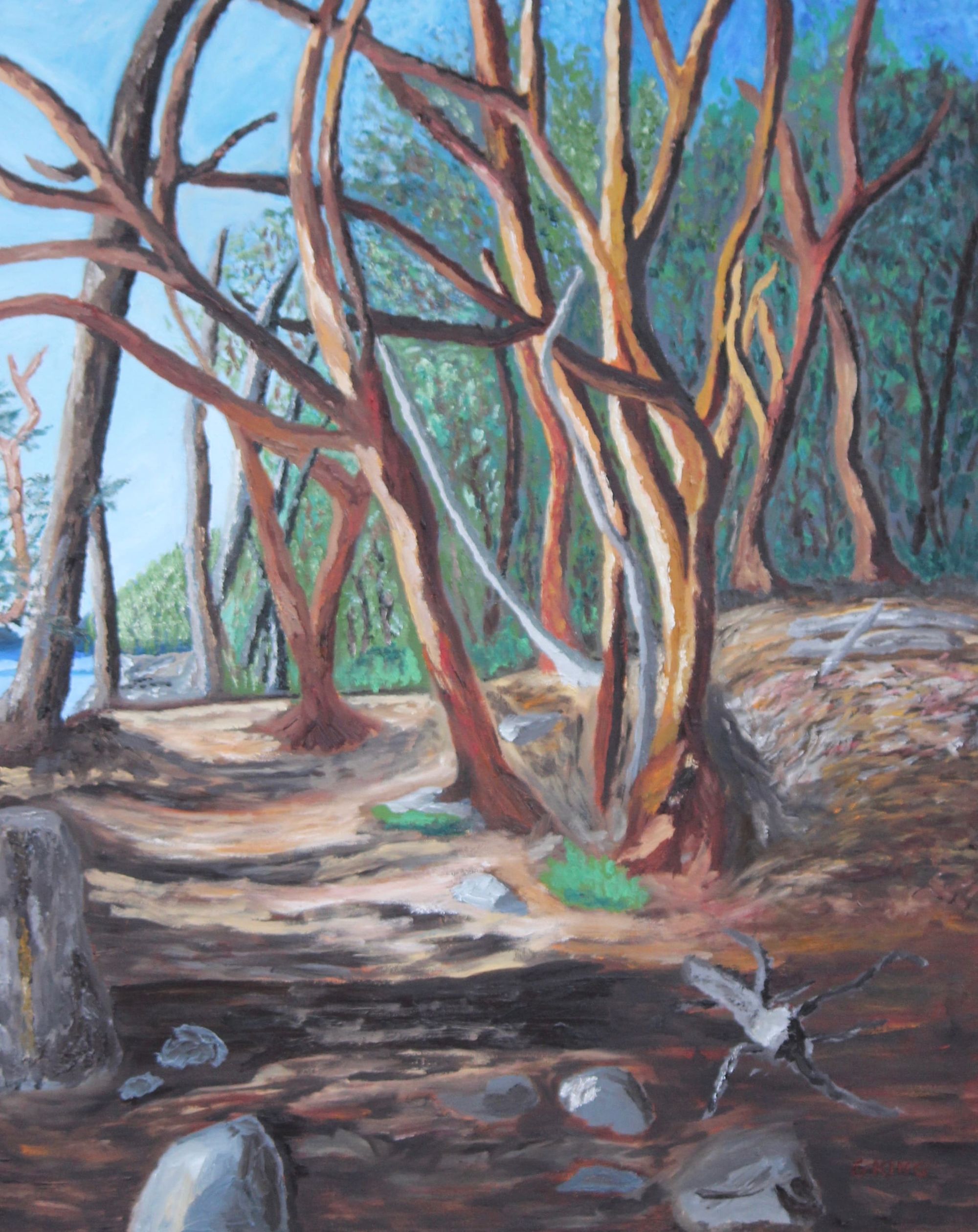 Artist's notes: An arbutus garden along the St John's Point park. These beautiful trees stretching out across the path may capture your eyes & your heart.
Additional viewing and purchase information in online gallery HERE or feel free to just email the gallery directly to inquire.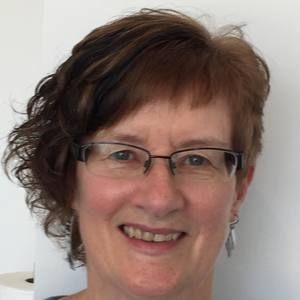 Biography: Glenda King was born in Montreal and moved to the west coast before she became a teenager. She has travelled and lived in other areas of British Columbia and Canada but finally has been able to relocate back to B.C.. This is where she feels rooted, with its mountains and the ocean. Since settling on the west coast in 2010, her love for wildlife and local scenery has grown through her photography and painting adventures.
Glenda began developing a serious oil painting practice in 2016. She has shown her work in student shows, regional art council shows, a three artist show, Envision Gallery group shows and is currently represented by the Terrill Welch Gallery on Mayne Island. Her work is in private collections in western Canada and the United State. Glenda continues to explore the bounty her natural world has to offer.
Artist Statement: Living on Mayne Island allows me to have so many possible beautiful compositions, whether it be a seascape, landscape or wildlife & birds. There is so much life & beauty surrounding us everyday that sometimes we just need to stop & paint it. I capture nature's intensity, beauty and energy in my work. These paintings are completed using my own photography reference studies and notes as well as plein air when our west coast weather allows. Hope you enjoy viewing them as much as I have enjoyed creating them.
View other paintings by Glenda King being represented by the Terrill Welch Gallery on our new work-in-progress website page at:
Featured Original Oil Paintings by Terrill Welch Morning with Arbutus Trees by Terrill Welch - 36 x 48 inch walnut oil on canvas Artist's notes: To stand quiet and alone with these arbutus trees during a late summer morning is to find the spirit of the place, resting next to my bones with the slow…
I am excited to begin sharing with you the west coast landscape paintings from Glenda King and the other new emerging artists that are being represented by the Terrill Welch Gallery. I know all of their work well! These artists are my former students and they have been developing and honing their skills for several years. Each has perfected their individual voice on the canvas and yet, I think you will find an overall synergy between us that will speak to you. As emerging artists, art collectors also have an opportunity to purchase their work at entry level prices. When you visit their individual online portfolios, you will see that many of their paintings have already sold, including work that has been added to my own personal collection. I will introduce Jody Waldie and Jennifer Peers individually as well in the next two issue. Insider tip: if you check the work-in-progress website page/tab periodically, you can see their work even sooner. 😉
Because It Is Spring
Yesterday, Art brought present and past together on the end table in our great room. I received these daffodils as a gift on Wednesday and put them in the same vase as the one in the painting. Then I set them together to enjoy both in this special relationship with time and presence.
Artist's notes: Spring! I can still hear the sounds of the room and the smell of the flowers of the day this was painted. Pure joy!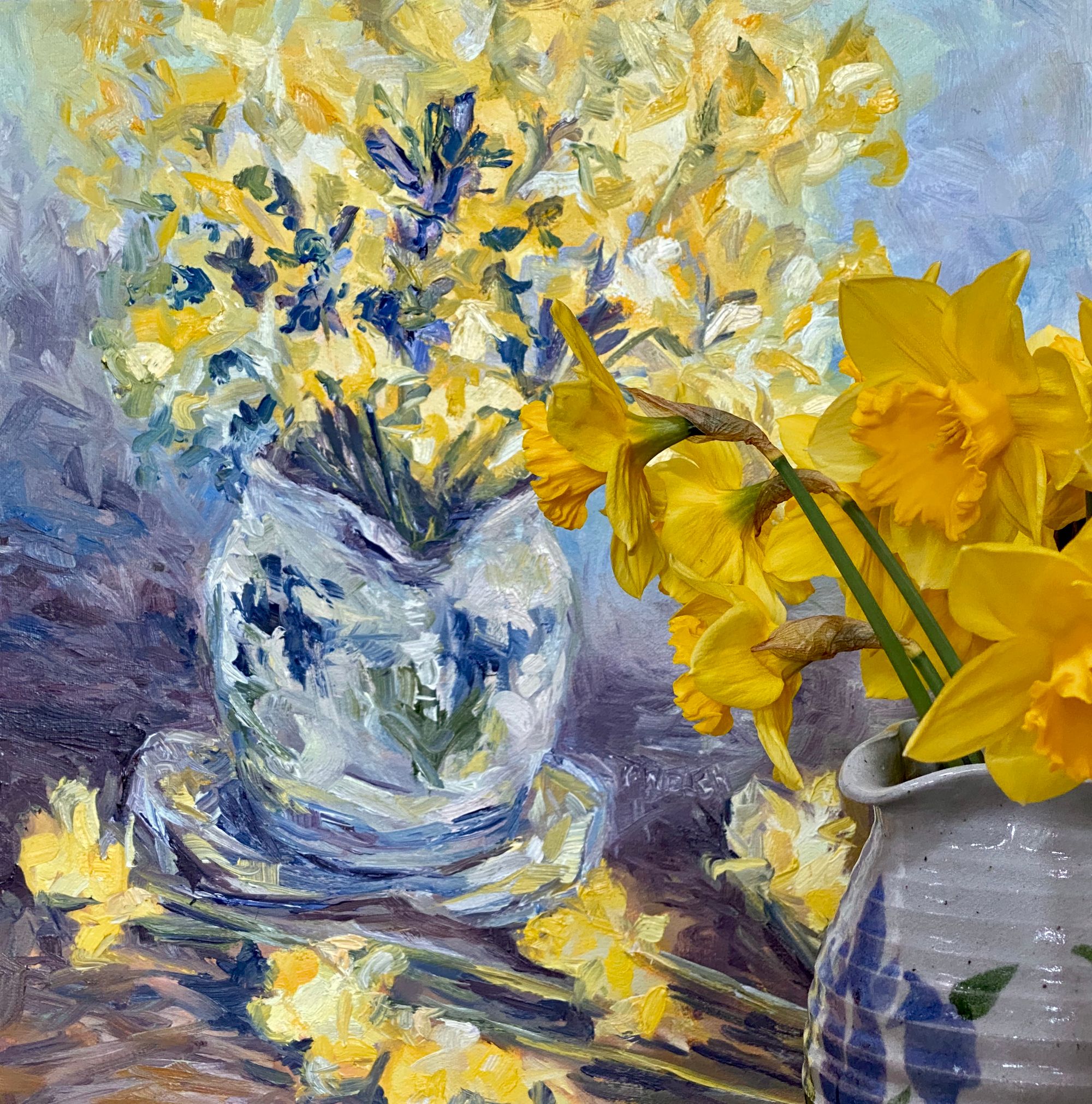 View the full painting in detail and purchase information HERE.
Until Next Time!
May we have the courage and grit to do what we need to do and the one thing that will make a difference, beyond the work of our many fellow human beings risking their lives delivering essential services -  stay home and be well. Virtual hugs and gratitude for being you just as you are, in this moment on this day.
Canadian landscape painter, Terrill Welch, exposes the mystery in an ordinary day, reminding us that there is only one moment – this one.