A Brush with Life - Issue #50 Your Lunch Money For A Painting
What a time we are having. By all accounts, it is globally grim and going to get grimmer yet. The International Monetary Fund in its latest forecast is saying that the world economy in 2020 will suffer its worst year since the Great Depression of the 1930s. So why might I ask for your lunch money in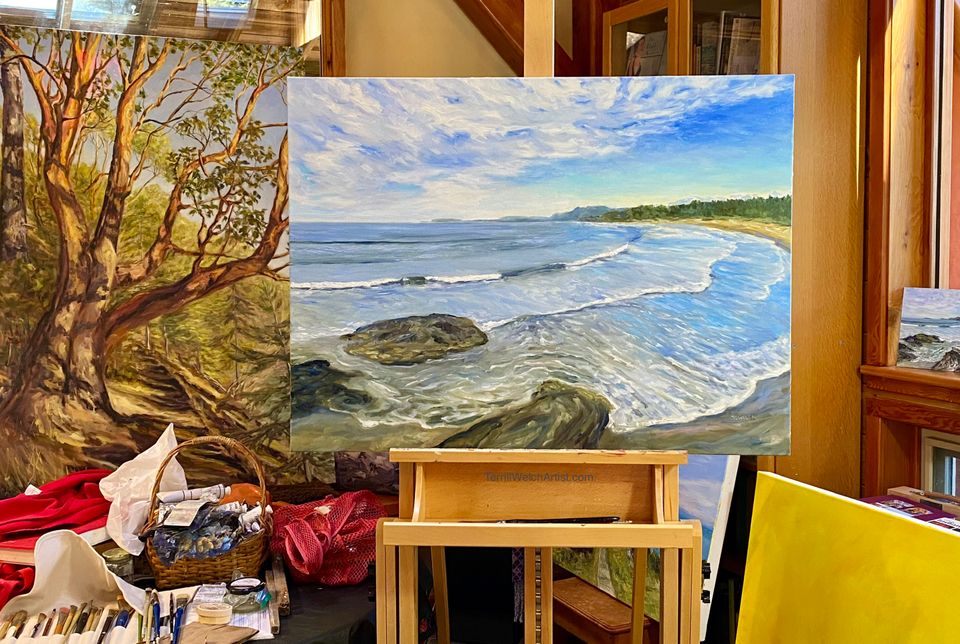 What a time we are having. By all accounts, it is globally grim and going to get grimmer yet. The International Monetary Fund in its latest forecast is saying that the world economy in 2020 will suffer its worst year since the Great Depression of the 1930s. So why might I ask for your lunch money in exchange or a painting? A rather bold move isn't it!? Well, it is because during the past few weeks you have let me know what it means to have my paintings supporting you during this extraordinary time of disruption. I am hearing words like peaceful, comfort, hope, calming and so on. These are the things that feed our spirits and help us weather difficult times. And I want to be able to support you to do just that! We need more of this in our lives right now. If you are like us, all eating out, coffee dates and bakery excursions have been suspended for weeks and likely several more weeks into the future. And possibly, if you are like us, you have reviewed your expenses and realized that a substantial amount of money each month was going towards these eating and social outings. This is why I am asking if you would consider putting your monthly lunch money towards the purchase of a small painting sketch or even a larger oil painting. All I ask is the you think about it. Toss the idea around for a bit and see how it lands.
Some of you have already done this in the past and are now receiving the benefit of your foresight. You tell me often that my paintings are good company, whether viewing them online or during a visit to the Terrill Welch Gallery or from your own private collection. These landscapes and seascapes offer peace and grounding and connection to our natural world while we are staying home, holding the line, sometimes within urban apartments or condominium blocks. But even those of us with more rural dwellings are mostly staying within property boundaries except for essential needs. It can be challenging. The window of a special painting can offer a needed escape beyond our present physical settings and can provide solace, intrigue and strengthen our resilience. It is kind of like paying yourself or your partner for all that meal preparation and having something concrete to look forward to in the future. Therefore, if you are a serious fan or already a collector of my work and if you choose to redirect your lunch money for a painting, I am offering more options for layaway plans over slightly longer periods of time.
If this is something you would like to consider, reply to this issue of A Brush With Life or use the inquiry button on a specific painting in the online gallery. I am sure we can work something out. This is my way of offering a small comfort during turbulent times. In the meantime, stay safe and be well.
Now let's move on to the newest work and introducing Jody Waldie, the second of the three emerging painters being represented by the Terrill Welch Gallery.
---
Another New Large Seascape
I have continued to paint and the latest is another large 30 x 40 inch seascape oil painting.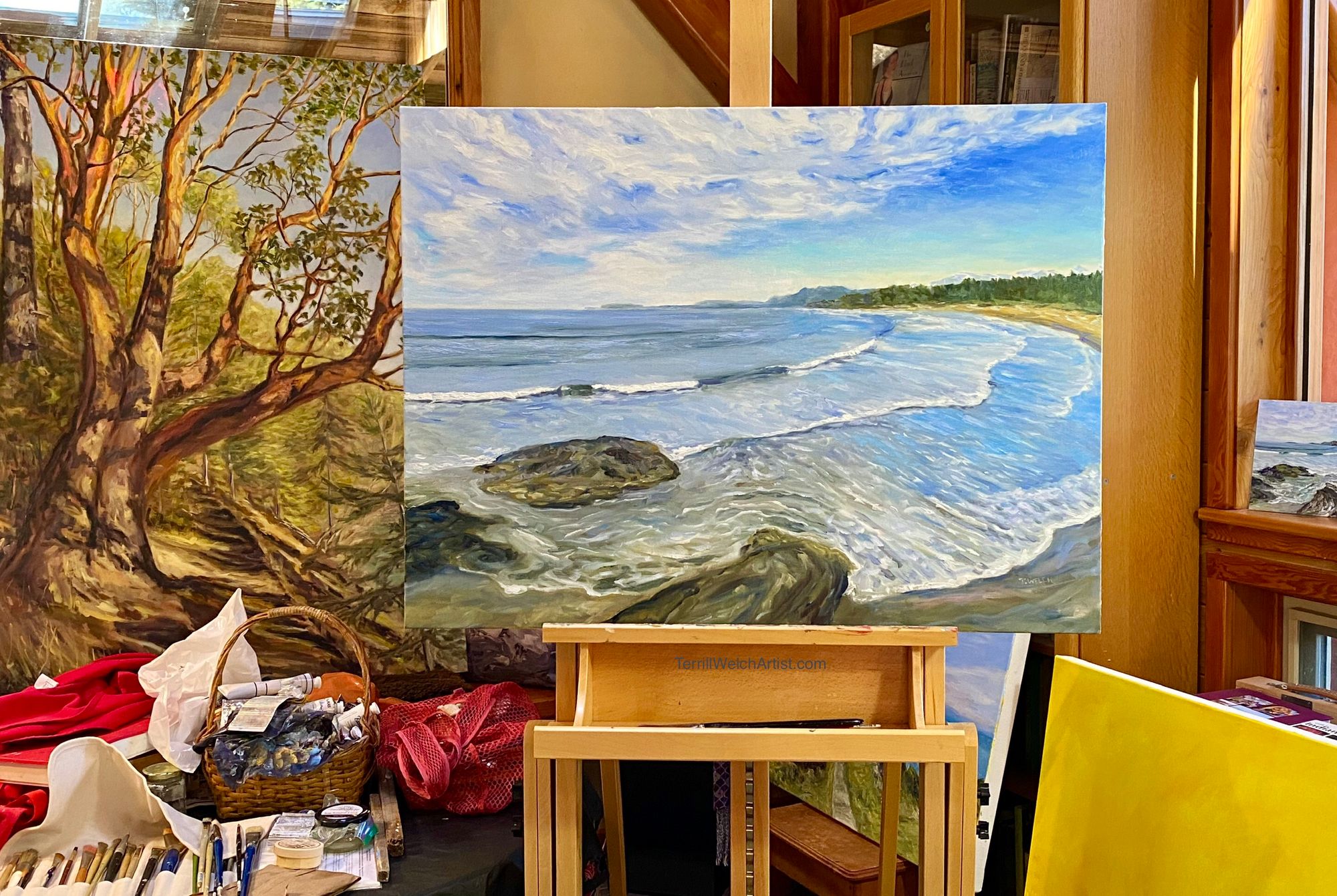 The work has been completed in the home studio and I was reminded the other day that we are not "working from home" but rather we are "at home during a global crisis trying to work". How many of you can relate? My painting practice must happen around increased meal preparation time and even between baking batches of cookies.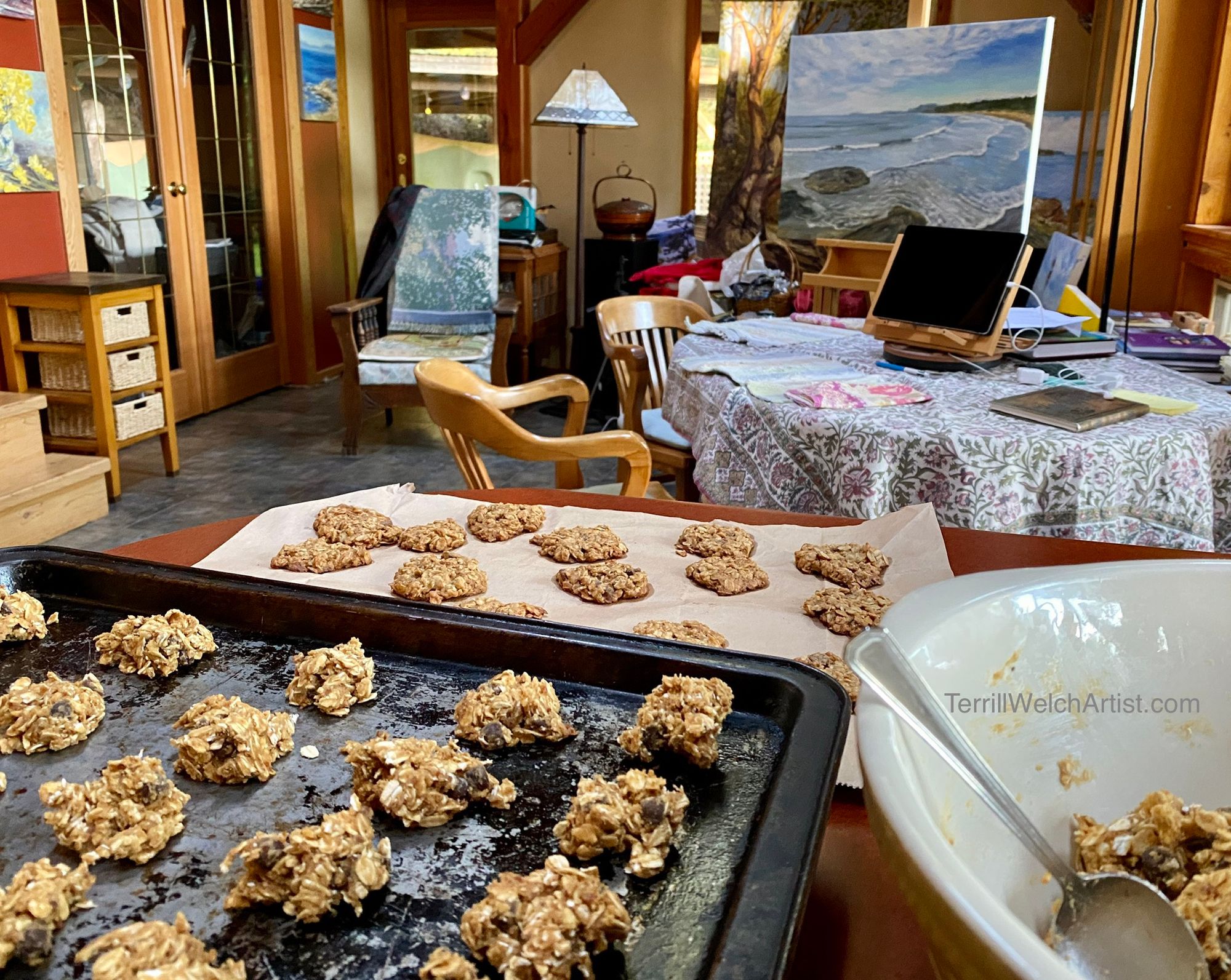 Here is the completed 30 x 40 inch walnut oil on canvas painting solo. This work, like the previous seascape painting are excellent company... though, admittedly, it is extremely hard to social distance from either of them. It is a good thing they are part of the  family household.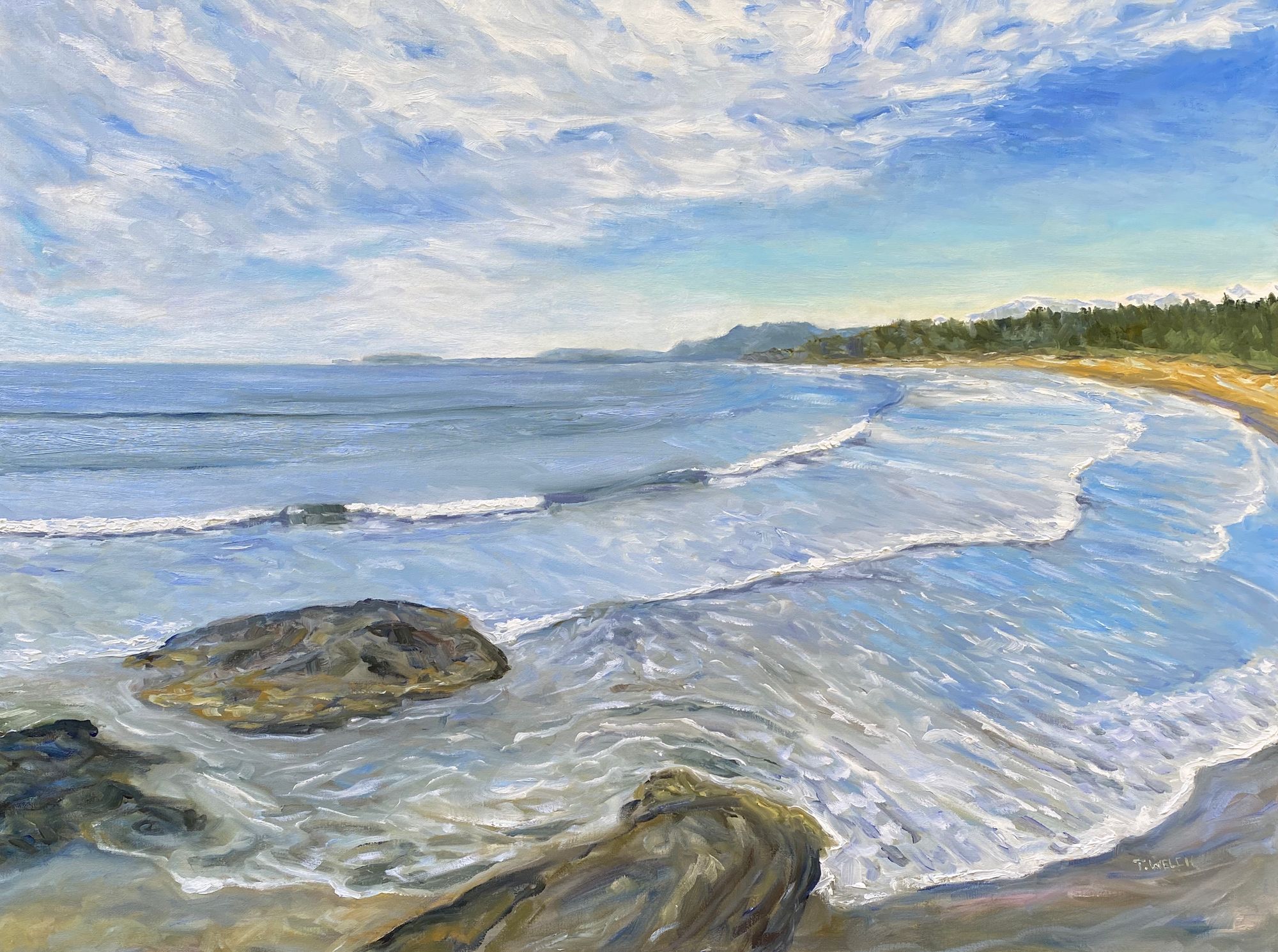 Introducing Painter Jody Waldie
With great pleasure, the Terrill Welch Gallery introduces the second new emerging painter that is now represented by the gallery. Allow us to present Jody Waldie and one of her four paintings currently displayed on the gallery's featured artists page of the website.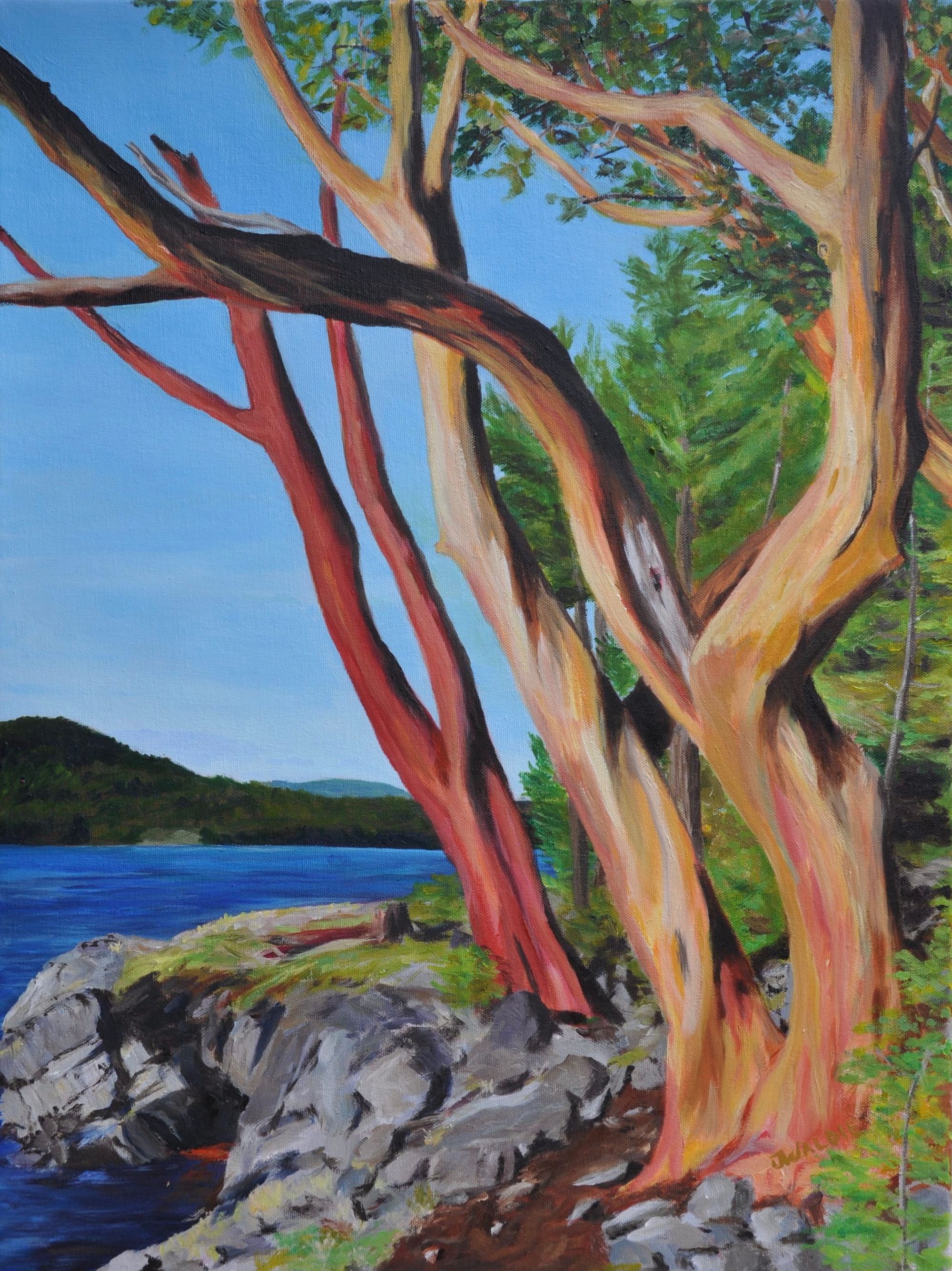 Artist's Notes: The Arbutus trees wind together with the trail on St. John's Point reaching toward the sunlight over Navy Channel.
Additional viewing and purchase information in online gallery HERE or feel free to just email the gallery directly to inquire.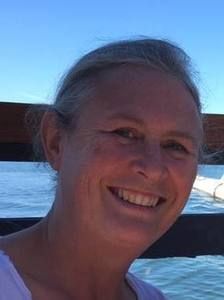 Biography: Jody Waldie was born on the West Coast of British Columbia and is held firmly there by the roots of its natural beauty.
A career in education, with various teaching and school administrator positions, provided much time for encouraging and facilitating the artistic development of her students and less time for her own artistic ventures.
Jody now resides on Mayne Island surrounded by nature, fulfilled with the joy of grandchildren, critters, her partner for life and her painting.
She feels a strong visual, emotional and physical connection with the natural world and represents this for the viewer through use of colour, shape and value in her images.
Artist Statement: I am privileged to be strongly connected to the natural beauty that surrounds me in the environment I call home.
Through my paintings I experiment, discover and represent the beauty of nature through the deliberate use of colour, shape and value with oil paint media.
I appreciate these elements as they exist in my visual world, filtered through my emotional senses and expressed boldly on canvas through my compositions.
My mentors are held close to my heart. Emily Carr, Vincent van Gogh, and a very special artist whose presence I feel each and every time I pick up a brush. A few short years ago I lost my mother, Betty Waldie, who started painting at 82 years of age. I remember her first painting. She courageously faced the blank canvas, picked up a brush and soon colours and shapes were boldly and freely falling into place. Images began to appear pure to what she saw, felt and wanted to represent to others.
My intention is to represent my world to others with this same sense of freedom.
View other paintings by Jody Waldie being represented by the Terrill Welch Gallery on our new work-in-progress website page at:
Featured Original Oil Paintings by Terrill Welch Morning with Arbutus Trees by Terrill Welch - 36 x 48 inch walnut oil on canvas Artist's notes: To stand quiet and alone with these arbutus trees during a late summer morning is to find the spirit of the place, resting next to my bones with the slow…
I am honoured to have the opportunity to represent Jody Waldie's landscape painting. Jody's hunger for learning and developing a self-directed discipline in her painting practice shows in the strength of the work she renders. For those that have had the opportunity to get a wee glimpse of her work-in-progress, let it be known that her underpaintings are greatly admired. I am looking forward to seeing her work, and the work of the other two emerging painters, hanging in the Arbutus Room as soon as is feasibly possible.
Gallery Renovation Update
It is proceeding! The new signs are ready for pick up when the sign business in Sidney reopens again. All the the materials, including hanging system that arrived from Quebec, are in the new gallery room that is being renovated. The wall prep is mostly completed I believe. But I haven't been by to see how the contractor is progressing. We set up a system where I put the last of the supplies inside and then we waited for several days to make sure no virus lingered. After that, the contractor is the only one who has access until the project is finished. He will either work completely by himself or, if needed or practical, his life partner. There will be no exchanges or chance of transfer of anything between our two households or anyone else to complete the renovation. Since construction is an essential service, this is within the allowed activities when taking into account specific protocols to social distance. This will cost a bit more as I am not able to assist. But it should be a safe plan for proceeding. So no pictures. You will just need to wait until the end to seen now, just like me.
The North America Mailer Series
In combination with my proposal for your lunch money to purchase paintings, the gallery (along with its represented artists) is preparing to do a special set of North America Mailer Series for 2020 and possibly 2021. These are original painting sketches and oil paintings that will fit inside two specially ordered standard shipping boxes.
The first mailer box is for 8 x 10 inch acrylic on gessobord painting sketches with plain wood show frames or 8 x 10 inch or 9 x 10 inch oil on stretched canvas paintings. The second mailer box is for up to 16 x 20 inch oil on canvas paintings. Basically, if we can pack the painting safely in one of these two boxes we will cover the shipping costs to anywhere in North America.
As always, list prices in the online gallery are in United States Dollars. And as always, Canadians can purchase work for the same price in Canadian Dollars plus appropriate taxes for their province. The standard mailer boxes have been ordered and should arrive soon. We are offering these series because there is a good chance that even within the region, work will need to be shipped rather than  viewed, purchased and picked up at the gallery or delivered directly to the collector. We may get narrow windows now and again Where previous to the pandemic viewing and purchase and delivery methods will work. But it is reasonable to plan for an 18 month to 2 year alternative solution. So this is what we are doing.
Our Online Painting Purchase Guarantee will apply: When you purchase original paintings from the Terrill Welch Gallery, we want you to be completely thrilled with your new addition to your art collection. If this is not the case, unharmed and safe return of online purchased paintings to the Terrill Welch Gallery, at the cost of the buyer, within 30 days of receiving the purchase, will result in a full refund of the purchase price by the Terrill Welch Gallery.
We are in the process of purchasing more gessobords and canvases to create these standard small painting sketches and medium sized oil paintings and will introduce the work as it becomes available. However, we have a few works we are current offering in each series for your immediate consideration. Just click on the image of any you  are interested in considering more carefully.
Sample Offers in the Small Mailer Series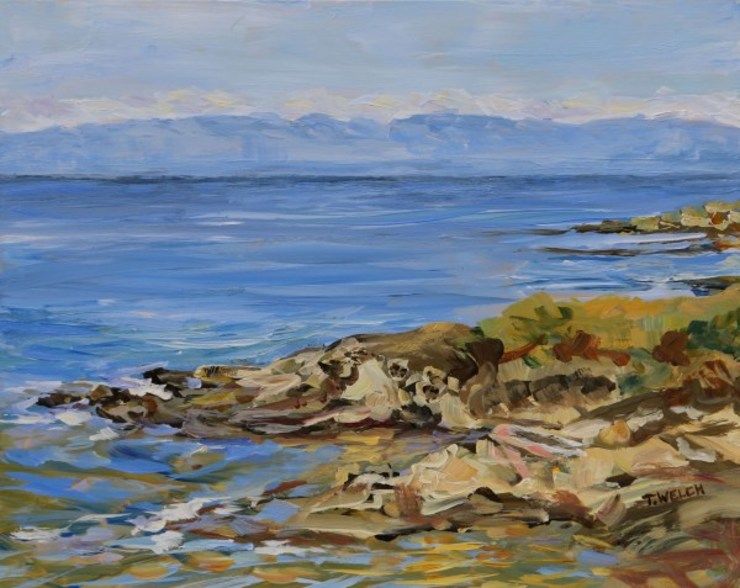 The golden hour of evening light rests at the opening of Active Pass and stretches out across the Strait of Georgia. My brushes hover for a moment and then d...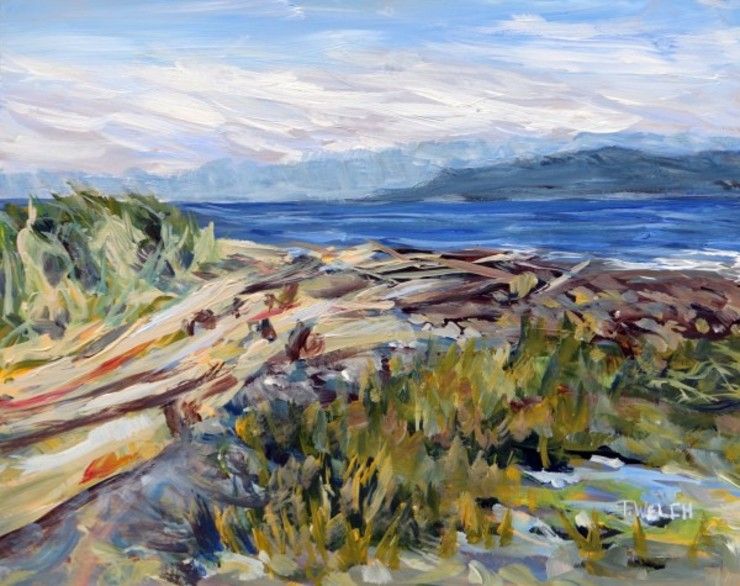 The weather had cooled overnight and a wind was huffing along out of the west. So I tucked in with the sunrise on the east down near the shore where there wa...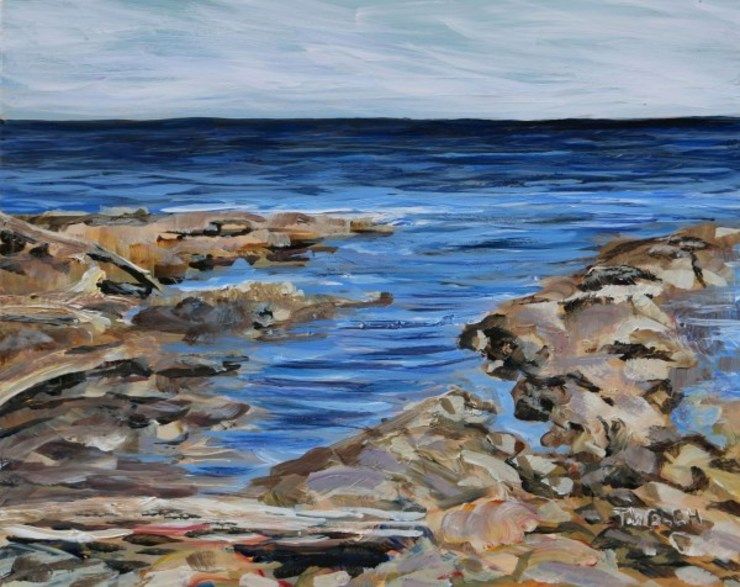 A painter can do a lot of things to plein air paint on a fine August day but I chose the light, sandstone and sea of Reef Bay on Mayne Island in British Colu...
Sample Offers in the Medium Mailer Series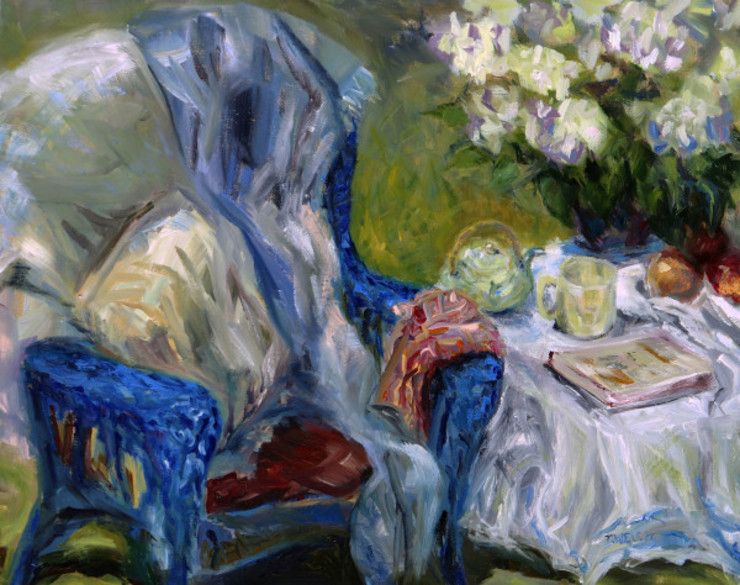 An outdoor still life where brushes move quickly over the plein air canvas in the cool shade of a warm spring afternoon. Maybe we can just sit and read a whi...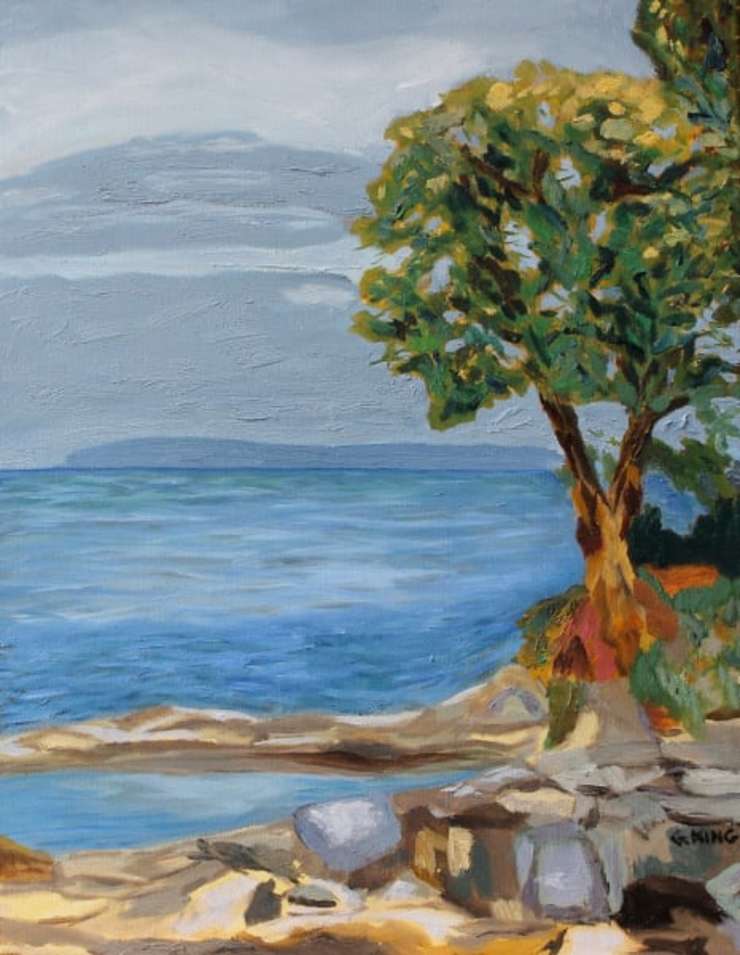 An arbutus that weathers everything as it lives on the edge and appears to just be hanging on. Currently represented by the Terrill Welch Gallery. Please c...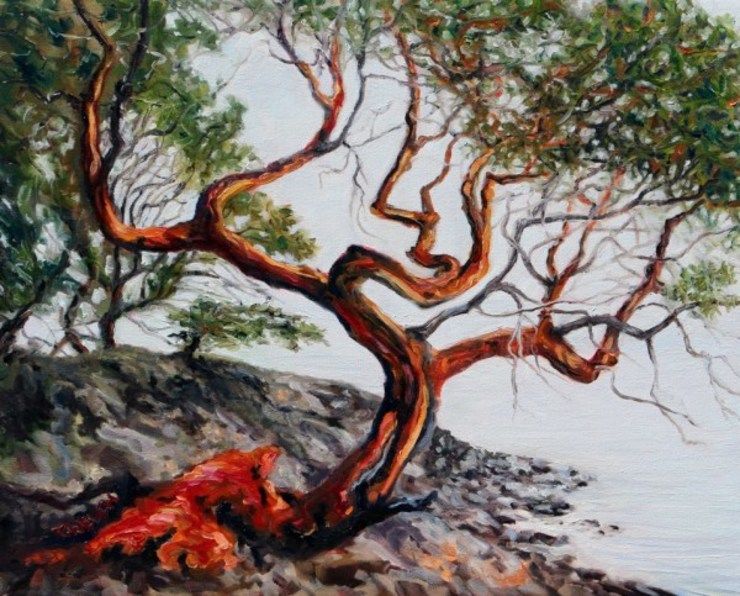 The old arbutus on St. John's Point tells the story of winds, dryness, winter rains and endurance as it curls up and back over itself for balance. The mornin...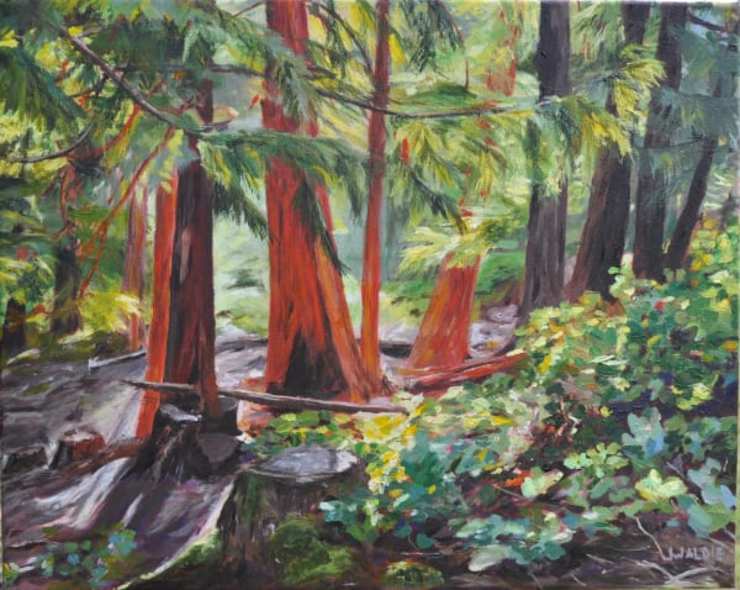 Walking through the West Coast forest this patch of sunlight bouncing off the trees was the perfect place to set up my easel. Currently represented by t...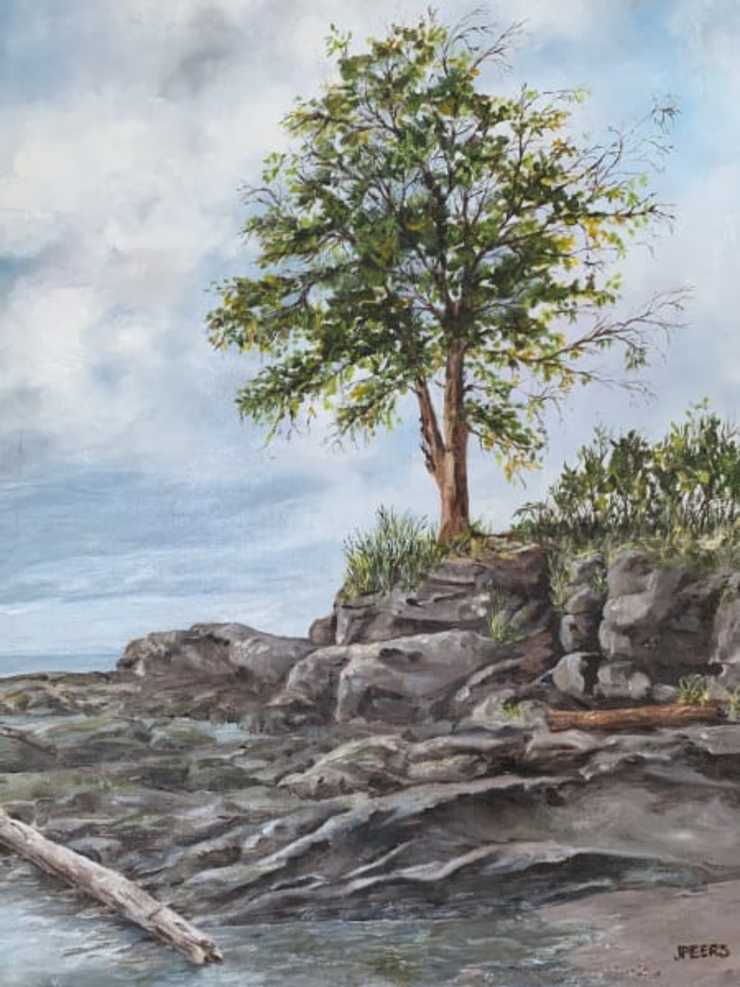 May can have clouds, perfect to show off new greenery on an iconic arbutus tree at Lighthouse Park. The incoming tide brings change to the beach below the t...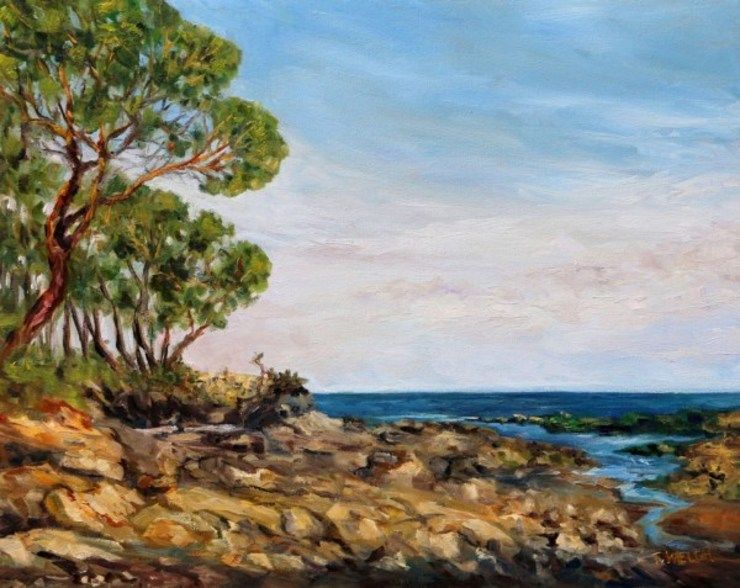 The August light is losing its harsh edges and the morning rich hues stay with the brush for an extra few minutes. A sigh. A glance. A smile for these lazy d...
A Painter's Corner and Plein Air Views
I am holding space for loving kindness, compassion and thoughtful resilience for each and everyone of us. I invite each of you to do the same. Take a moment and just imagine everyone closeby and afar embraced in love.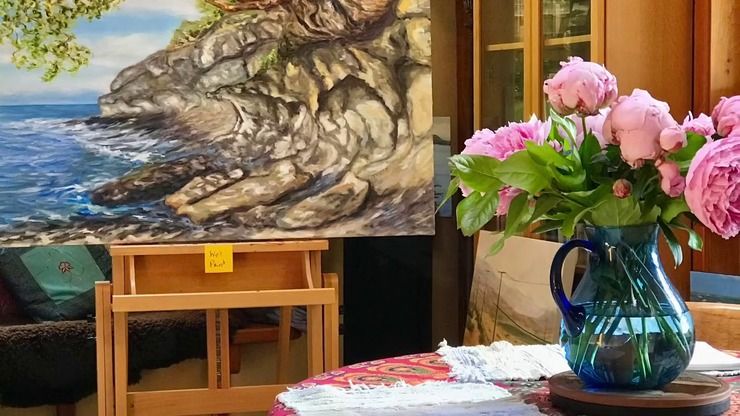 This staying home, self isolating and social distancing is hard on individuals and communities alike. Human-beings are such social creatures. It is a big ask...
We are near the beginning of our collective global journey with this COVID-19 virus. Our abilities to navigate the continual changes that are going to be asked of us will be paramount to shaping our future.
We can do this. It is going to test us as individuals and as a community beyond anything we are familiar with in our lifetime. Yet, I know we will come out the other side, whole, together and strong. Whatever happens and whatever we do, being kind is always possible. Let's start there and proceed with thoughtfulness and personal accountability.
May this video bring you inner peace, strength, hope, resilience and compassion for others.
Finally, if there is something that you would like the Terrill Welch Gallery to consider, or an idea that you think might be useful in assisting the gallery to navigate these next couple of years, we are definitely open to your suggestions. This is definitely a time when the more diverse the networking and brainstorming, the greater chance we have of finding viable solutions. Please note that, though we do not yet qualify for any of the government initiatives, we are keeping an eye out. We also have come into this global pandemic well positioned, both with online gallery viewing/purchasing tools and established distance internet communication strategies combined with forward thinking financial planning. All things being accounted for that we know about at this time, along with your continued patronage and our good health, the gallery will come out the other side of this situation stronger than ever.
Until Next time!
Canadian landscape painter, Terrill Welch, exposes the mystery in an ordinary day, reminding us that there is only one moment – this one.