A Brush with Life - Issue #5 The Sea And Me
Opening today in the Terrill Welch Galery is "The Sea and Me " - a solo exhibition of seascapes. Whether the crash of a humongous wave against the rocks or the slow ebbing of a slack tide, I belong to the sea and with my brushstrokes the sea belongs to me! Starting with the poster painting, let's go
Opening today in the Terrill Welch Galery is "The Sea and Me " - a solo exhibition of seascapes. Whether the crash of a humongous wave against the rocks or the slow ebbing of a slack tide, I belong to the sea and with my brushstrokes the sea belongs to me! Starting with the poster painting, let's go feast our eyes and fill our hearts with the sea and more! But first the "Opinion Piece" and you will, I am sure, understand why we are starting here once you have read it...
---
Opinion Piece
Is a bigger painting a better painting? As you may intuitively guess, not necessarily so. After all, the Mona Lisa is about the size of the bathroom mirror in my old summer cabin.  At only 30 X 21 inches, the queen of the Louvre definitely garners more attention than thousands of other larger works within the museum. So why are we often drawn to the largest work in an exhibition?
I have puzzled over this observation of gallery visitors frequently. The only way to mitigate this tendency is to show several large pieces together. Even then, many visitors visual seem to scan for the largest painting and anchor their exploration of a show using this work as their primary reference. As a curator of art shows, I have tried different strategies (unsuccessfully I might add) to minimize this tendency. So what to do?
As a casual viewer of paintings, I like to do a slow circle of a room first one way and then the other and then I settle in and explore more fully just two or three works. I step back then I step forward and then I step back again. I ask myself what is it that is drawing me towards this specific painting? In answering this question, size rarely comes up as a consideration. This process seems to get me past the hooks of the-largest-painting-in-the-room syndrome.
When I am viewing work for a specific location, I use the same process with one distinct difference. I measure the space I want to hang the work before I go looking at paintings. I have a minimum and maximum height and width in mind. These measurements are seldom as large as the empty space available on the wall. Remember the example of the Mona Lisa? The measurements are only a guide because paintings do not take up equal visual space based on their dimensions. Sometimes an ill-fitting large work becomes nothing more than background noise in a room where a different small work will set a visual still point well beyond its small real estate. For these reasons, the measurements we take are not rules but guides to assist us in our decision.
In conclusion, the best painting is one that sings to your heart and enhances your space. Size should only be a secondary consideration when choosing an original painting.
Now for the new show - The Sea and Me ...
Let's start with a smallish 11 X 14 inch plein air acrylic study to begin the sampling from this new exhibition of seascape paintings that will be up until October 21, 2018.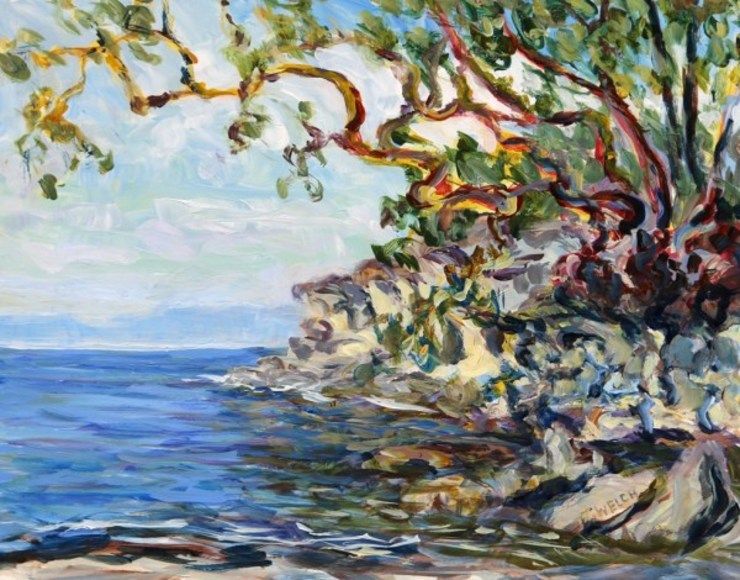 Sweeping curves round above seal-shaped forms below. Light and shadow intertwine in a symphonic melody. I am standing, painting, studying for a large canva...
And a 30 X 40 inch oil painting...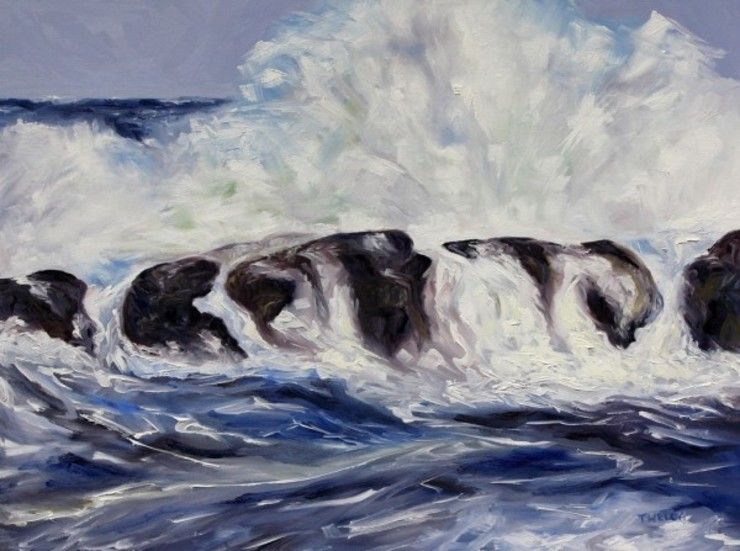 The continuous motion of the winds and the sea stir sea-spray high up onto the cliffs above. Terrill Welch wants this. She wants that feeling of stirring and...
Now stepping to the east coast and a 40 X 60 inch and more reflective work.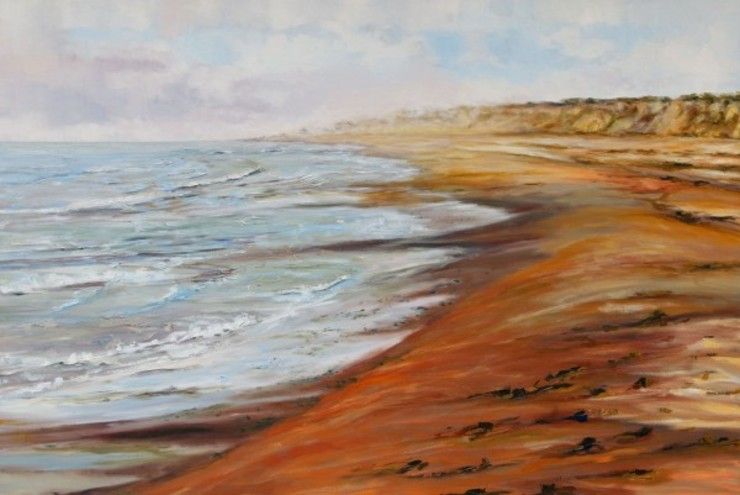 Upon finishing this painting I believe we can say "never turn your back on World Peace" because, like the sea, World Peace is unpredictable and, if we
More information about this show is available on the website at:
From crashing waves to a quiet ebbing tide, you will be at the edge of sea with contemporary landscape painter Terrill Welch. The solo exhibition opens Friday, July 27th and is up until Sunday, October 21st 2018 at the Terrill Welch Gallery on Mayne Island in British Columbia, Canada. In less than 3 minutes our…
Or go directly to a short video...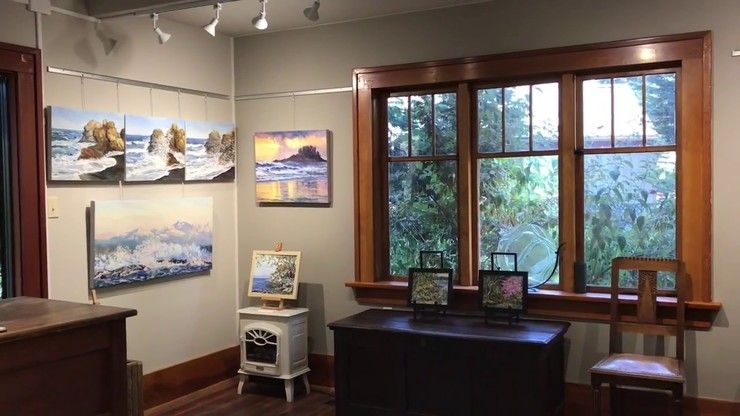 The Terrill Welch Gallery is pleased to bring you a selection of seascape paintings by Terrill Welch from a variety of geographical locations including the S...
What Am I Reading?
The Moth Snowstorm: Nature and Joy by Michael McCarthy (2016)
This is a most unusual and unique approach to a combination of memoir and science regarding climate change. Instead of telling you about it I am going provide a couple of quotes:
Loss is everywhere, and the defining characteristic of the natural world in the twenty-first century is no longer beauty, nor riches, nor abundance, nor, if you like, life force, but has become vulnerability.
In a famous preface to one of his short novels, Joseph Conrad pointed out that the enterprise of the scientist or the intellectual may have more immediate impact, but that of the artist is more enduring because it goes far deeper; the statement of fact, however powerful, does not take hold like the image does. I believe that in defending the natural world, the time has come to offer up the images.
What I mean is, it is time for a different, formal defence of nature. We should offer up not just the notion of being sensible and responsible about it, which is sustainable development, nor the notion of its mammoth utilitarian and financial value, which is ecosystem services, but a third way, something different entirely: we should offer up what it means to our spirits; the love of it. We should offer up its joy.
"A great, rhapsodic, urgent book full of joy, grief, rage, and love. The Moth Snowstorm is at once a deeply affecting memoir and a heartbreaking account of ecological impoverishment. It fights against indifference, shines with the deep magic and beauty of the nonhuman lives around us, and shows how their loss lessens u
Until Next time!
Thumps up (or down) and comments are always welcome. Until next issue!  Terrill :)
Landscapes and more by impressionist painter Terrill Welch