A Brush with Life - Issue #4 Going Where?
What does it mean these days to be an international artist? Well, I am not sure there is a simple answer to this question because our ease of connections have created a small accessible world. I am suspicious that it might be harder NOT to be an international artist than it is to be one. For ex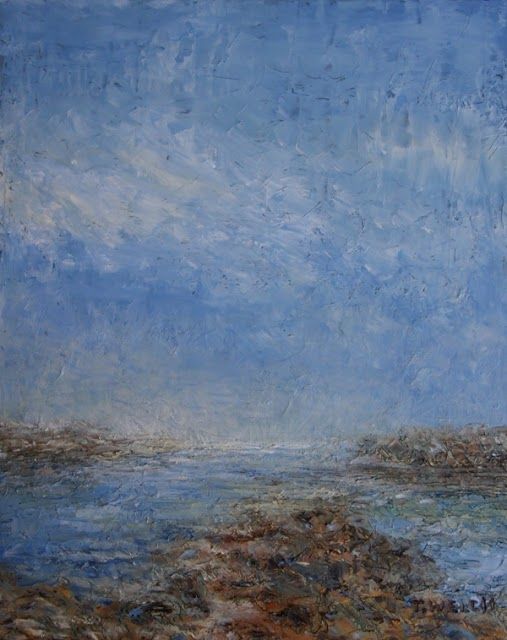 What does it mean these days to be an international artist? Well, I am not sure there is a simple answer to this question because our ease of connections have created a small accessible world. I am suspicious that it might be harder NOT to be an international artist than it is to be one. For example, in the past few weeks, paintings that sold from the Mayne Island Terrill Welch Gallery have founds homes in New Mexico in the United States, and in Great Britain and in Australia, as well as, the Canadian cities Toronto, Vancouver and Victoria. A few paintings did stay on Mayne Island but this is a relatively limited market in comparison to off stand sales. Besides Canada, I have also painted in the countries of England, France, Switzerland, Italy, Spain and the United States. In addition, I also have a global network of painter colleagues who also have paintings scattered across several countries. With travel and online connections being what they are this global reach is not as difficult as it once was. But it still requires some desire and purpose to spread ones wings. So in this issue, we are going to dip into a few of these connection and explore!
---
"Valley in Galluzzo southern part of Florence Italy" – an acrylic plein air painting sketch stayed in Florence but I brought the experience home with me.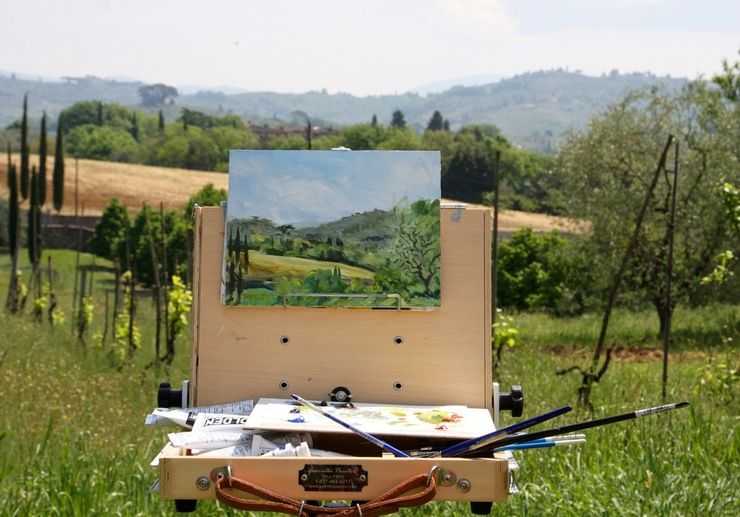 Today the sun shines but we have had some great thunderstorms  and we were glad we could borrow umbrellas during this past week.  On a particularly miserable day, while we were tucked into our apartment that is part of an old Farmhouse on the outskirts of Florence Italy, I read advice in a travel guide…
"Rising" went off to Switzerland in 2010,  four years before I traveled there.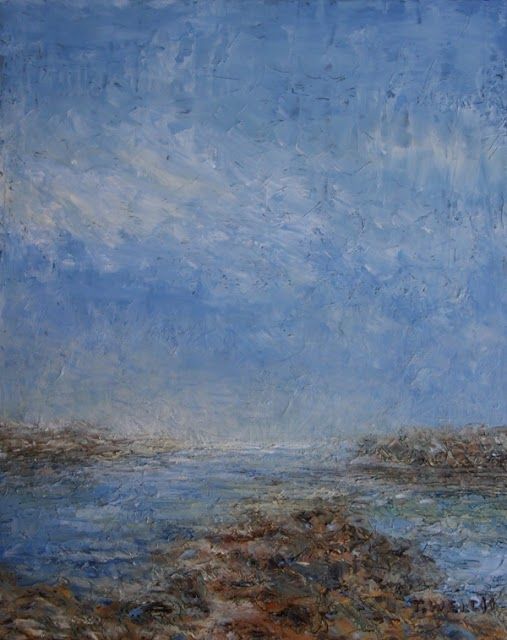 But I did make it eventually...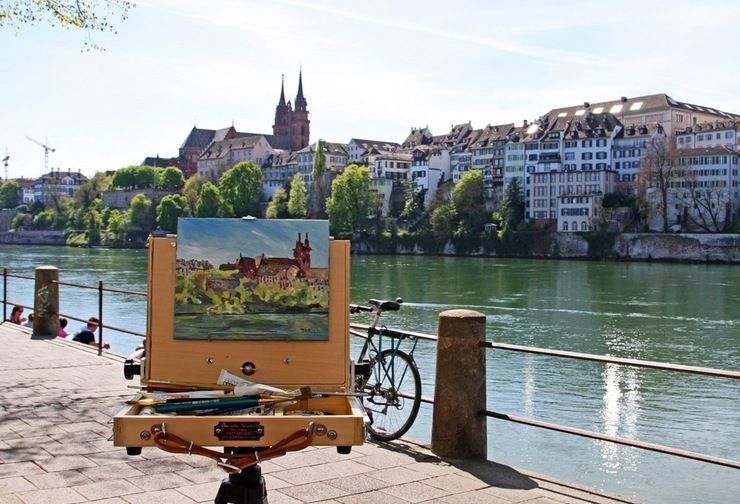 The Rhine is a working river, moving cargo and people along its length and from shore to shore. She knows her place in that respect. Yet, what passion this slow moving river awakens during a long and warm spring morning. Even having just arrived the evening before I know her charms intuitively. The Basel Minster…
Other times, paintings travel to me such as this one that arrived last week.

Late in the evening, as the sun was setting, "Just Raven" by Eva Lewarne completed its journey from Toronto to La Casa de Inspiracion on Mayne Island.
This shape-shifting spirit bird drew me to it with the same power as my painting colleague Eva does herself. With paintings sometimes leaning three and four deep in the studio loft, I am not exactly sure yet what "Just Raven" has in store for us but I am prepared to let the mystery unfold.
Eva Lewarne was born in Poland but has lived mostly in Canada. She is a graduate of Toronto's Ontario College of Art and Design, and has always painted. Among the many awards she received is a Grand Prix Medal in a Painting Festival in Avignon, France. Her art was shown at the Grand Palais in Paris and she has had exhibitions worldwide. And in 2016 she received an AWARD OF EXCELLENCE from Manhattan Arts International.
I encourage you to learn more about her large and dynamic body of work at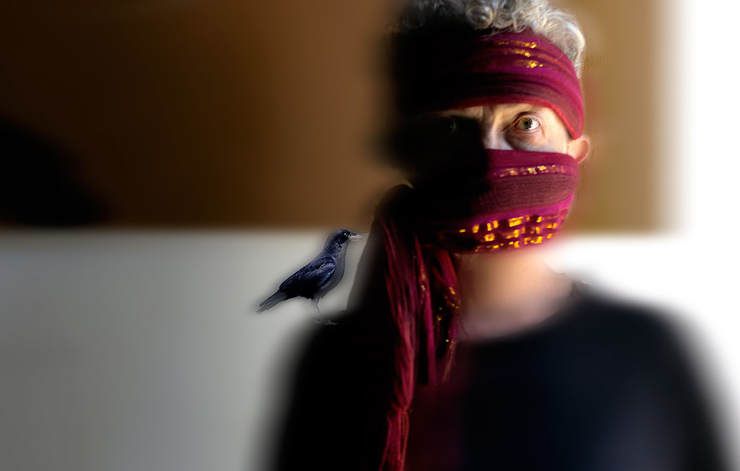 Artist Eva Lewarne
Sometimes the painter comes along with the paintings....
Elena Maslova-Levin is a long-time painting colleague and friend who came to Mayne Island for our two-artist exhibition this spring at the Terrill Welch Gallery. The paintings by Elena in the background can be found in my personal art collection. I chose these three, not just for their beauty, but also because of the significance of Elena's study in these works and the impact it has had on the paintings that followed these.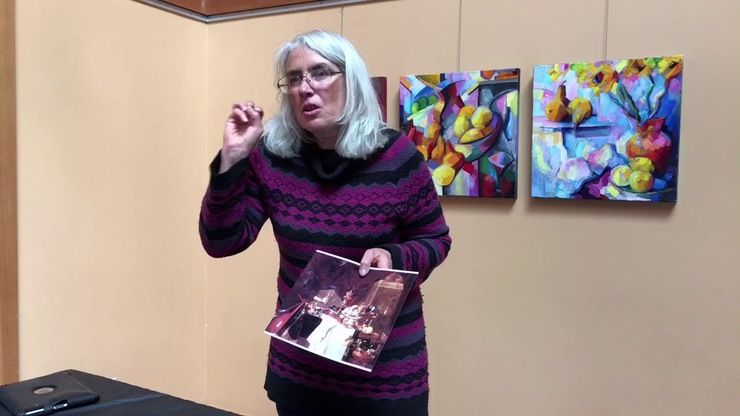 This lecture is from Terrill Welch's Beauty of Oils painting class. Elena Maslova-Levin has written on this same topic for people who would like to learn mor...
There are, of course, many other adventures and explorers I can introduce you to but this, I think is enough for now.

Opinion Piece...
This issues opinion piece is actually embedded in the final third part for the "Sea and Shore" painting. I believe it is a fit because the emphasis is about how the painter is no longer of much importance once the painting has been seen by the viewer. So once paintings leave the studio they mostly must travel unaccompanied and stand alone.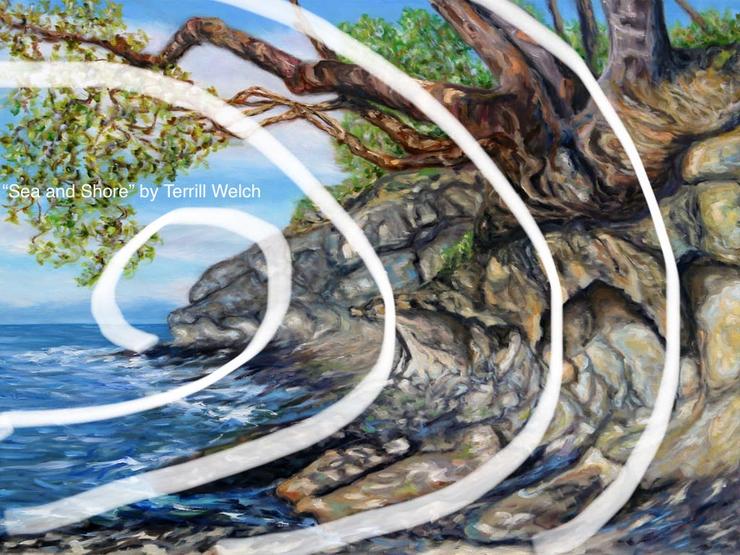 As a painter, I must "hold space" for a work from the first moments of standing before my subject, gathering information and feeling my way into the painting, right up until the final brushstroke that says - done! It is not a linear process but rather a series of sparse markers that move in and…
New Release
Again this issue, the latest painting completed has already sold and is discussed above. So, we are going to feature the painting before the latest release. A small quick sketch gathered onto the canvas as I stood painting in Active Pass.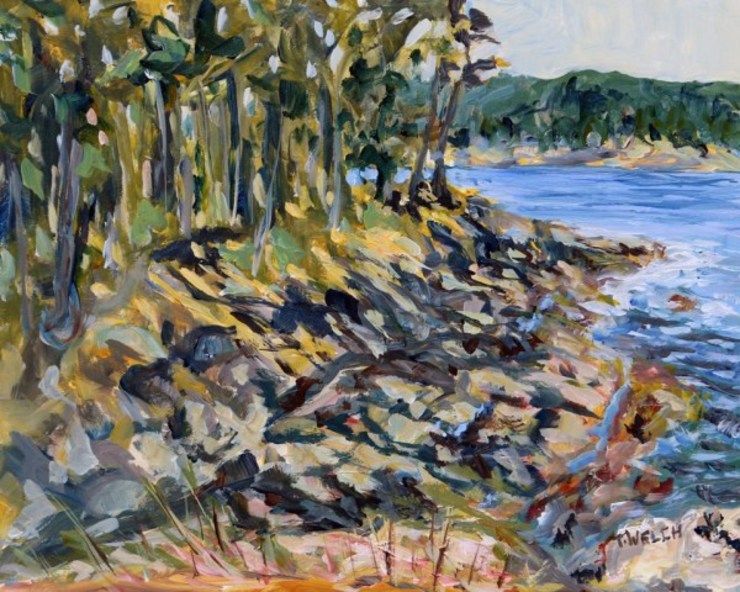 A glorious day standing by the sea plein air painting for summer solstice. Mayne Island, British Columbia, Canada Includes simple wood frame and hangin...
Insider Gallery News
After selling, still wet, in April 2016, the popular "Chesterman Beach Sunset" 20 x 24 inch oil on canvas painting is again coming on the market through the Terrill Welch Gallery.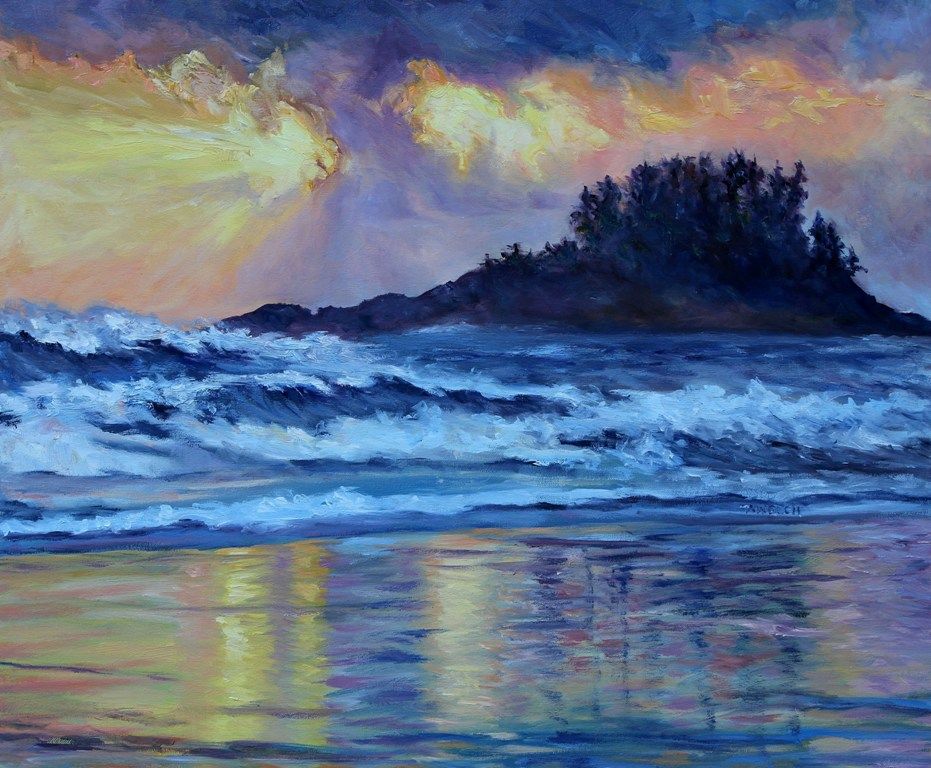 There has always been a lot of interest in this painting so I thought I would give newsletter subscribers a chance to consider it before placing the work in the next gallery exhibition which opens on the August long weekend. If this is a work you want to add to your art collection, please send me an email immediately to work out the details.

May you travel far...
in paintings and friendship!
Thumps up (or down) and comments are always welcome. Until next issue!  Terrill :)
Landscapes and more by impressionist painter Terrill Welch