A Brush with Life - Issue #52 Stepping Away From a Life I Thought I Knew
I hope you are well and getting lots of fresh air. It is the best! I have been painting of course but also just taking time to do nothing now and again. Time to simply be! I am in the process of organizing my daily living into to new rhythms with less focus on what is getting done and energy going o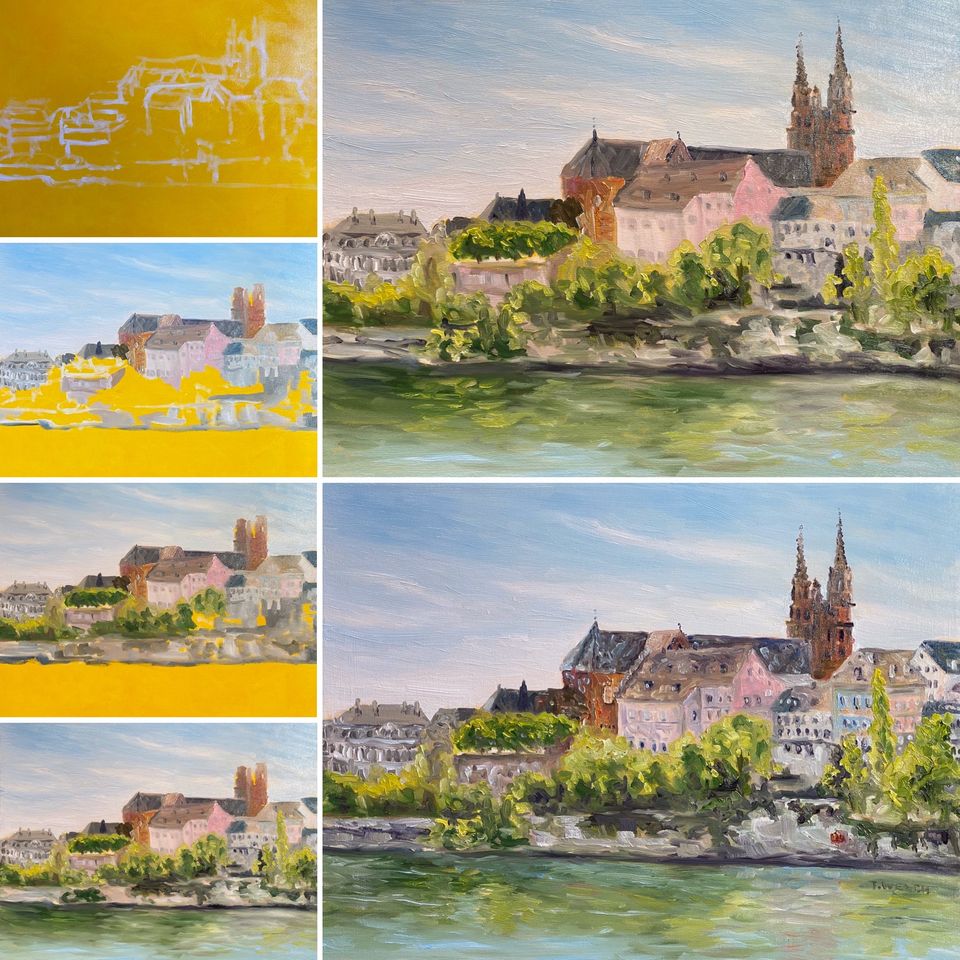 I hope you are well and getting lots of fresh air. It is the best! I have been painting of course but also just taking time to do nothing now and again. Time to simply be! I am in the process of organizing my daily living into to new rhythms with less focus on what is getting done and energy going outward and focusing more on welcoming what is coming into my life. It is possibly a coping strategy or it could just be this beautiful vacuum from activity that staying home offers. There is so much good to observe and that requires no action or contribution on my part, other than to witness and then, possibly to share. But even this is seldom necessary. Noticing can be enough by itself.
We have a chance now to be and live differently because we are not spinning in some kind of economic machine stuck on the agitation cycle being rubbed and pushed and worn through in the suds and grim of commerce. A little capital investment goes a long ways I think and should be only part of the mix rather than a driving force of social and political global human organization. Less focus on our economy and more on our health and social connections is definitely a significant feature of our pandemic. We have a collective extraordinary moment to determine what really matters and how we want and can live in greater harmony with our environment and with ourselves and, for many of us, with a heck of a lot less. Before the COVID-19 pandemic I had thought I was already practicing these beliefs. I had thought I was already applying these principles. But these unprecedented times have revealed faultiness in my assumptions. I am now in a place of stepping away from a life I thought I knew. This is a time of the beginning of a new global beginning. It is a time of my realization about living a daily practice in unknowing the unknowable. As I pick up my brush, I wonder what will be the rest of this life I have left to live?
Dusk settles over my shoulders,
wrapping around me,
on a soft breeze through the open window.
I step away from a life I thought I knew.
May 10, 2020
---
Painting the Rhine River in Basel Commission
Here is another story of the creation of a painting for you...
The initial work was completed alla prima and of course it is still all shiny and wet but is now "resting".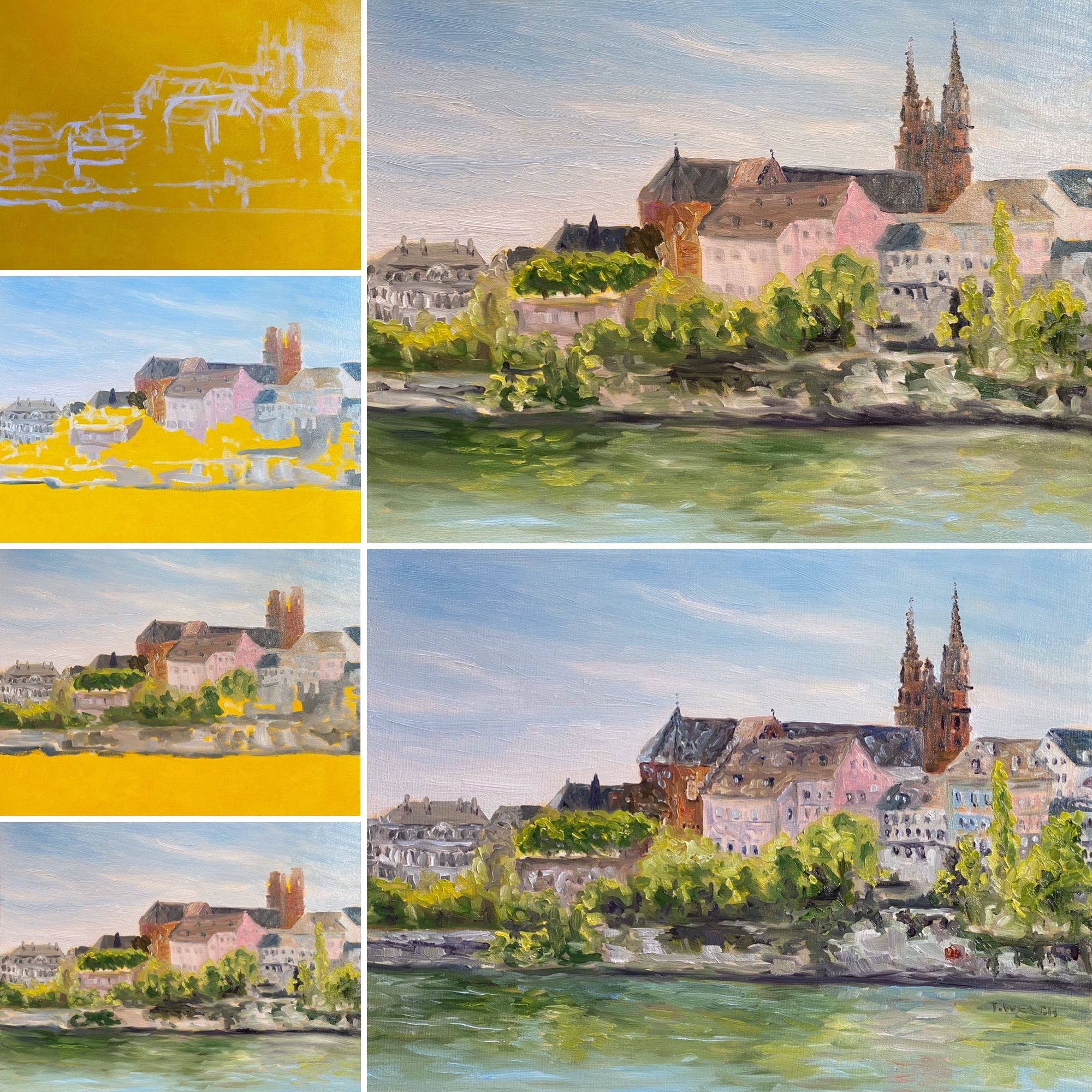 I started at 9:30 this morning and didn't stop until after 5:00 pm. I was about crosseyed and my body was a bit stiff from standing and fatigued in a good way from concentrating. But I was like a dog with a bone and just didn't want to leave it until the painting came to rest on the canvas.
With my commissioned paintings, the final decision isn't made and payment requested until the work is completed. A buyer can request a specific size and a landscape subject I am personally familiar with and that I also have or can gather my own photography references and painting studies. If the person or people requesting the commission are not happy with the work, it goes into my inventory and I can try again if they wish. This process provides the lowest risk for the person commissioning the work and the most freedom for me. In this case, the commission originated from a large corporate buyer in Switzerland. Here is their reply last evening to a note I sent along with these same images.
"I love it, absolutely fantastic. I have no doubts it will be exactly what we are looking for and will make an amazing [gift]. Looking forward to seeing the final."
So far so good!
I will look at it again in the morning to see if it needs any small adjustments.
You can see the plein air painting sketch that was the instigator of this commission request and read about my day standing beside the Rhine River in Basel, Switzerland in a blog post on Creative Potager at:
The Rhine is a working river, moving cargo and people along its length and from shore to shore. She knows her place in that respect. Yet, what passion this slow moving river awakens during a long and warm spring morning. Even having just arrived the evening before I know her charms intuitively. The Basel Minster…
Now, the painting is completed and accepted. We are just making final arrangements for payment and shipping when it is dry.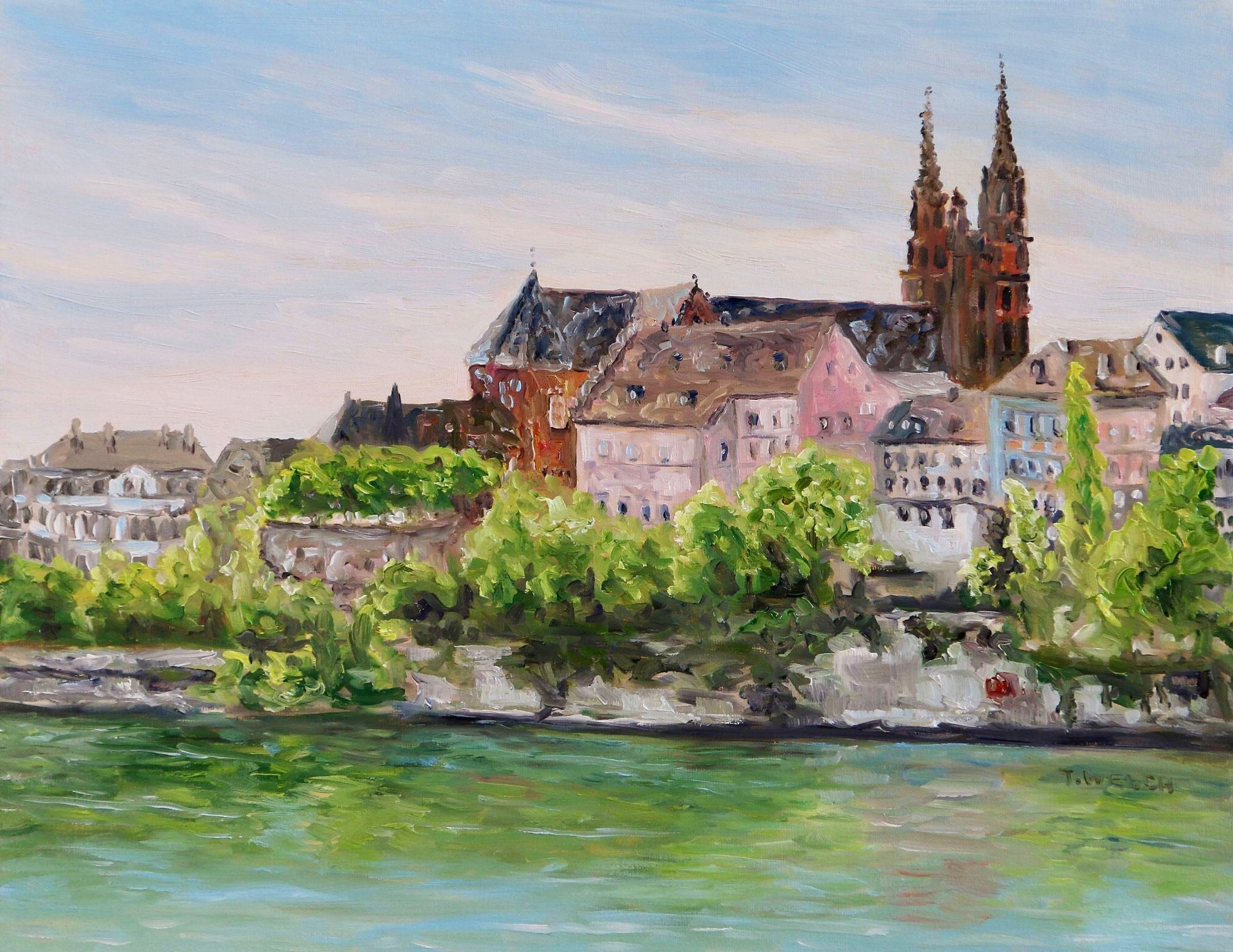 And Another Work That Sold This Past Week
"I was going to wait until fall" she said. "But you don't often paint flowers and I didn't want to miss out on adding it to my collection."
She is correct of course. I don't often settle into a still life painting. They mostly come about in very early spring when I want a splash of colour or in the heat of midsummer when the landscape can be rather washed out but the local flowers are stunning. So off it goes...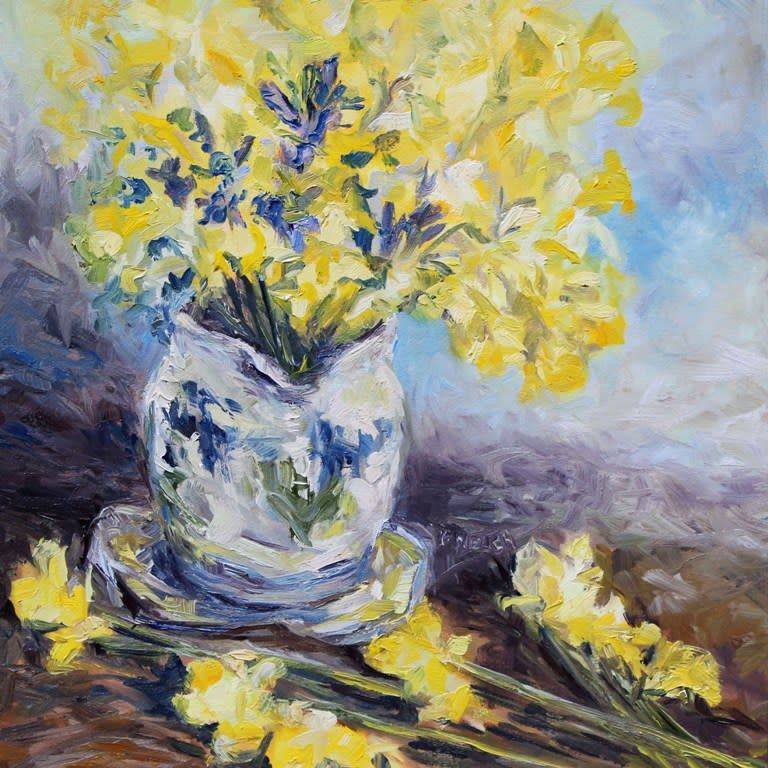 New Releases
There a few new releases this week as I get ready for the first shows of the summer season.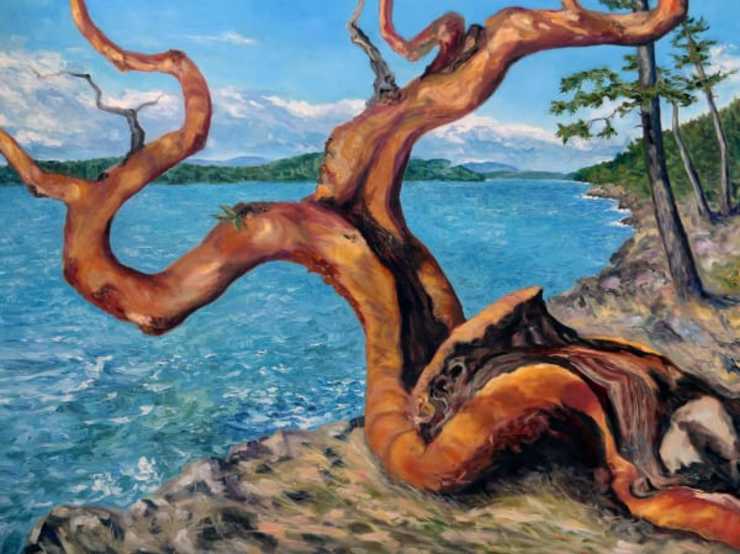 I had hiked out to St John's Point between heavy rain showers and was rewarded with an amazing bust of winter sunshine. The tree positively preened in its gl...
These next two paintings are on reserve until likely the first week in July. After this, the prices will be added and I shall have painted the edges. But the paintings themselves are done and if you are interested in one of them just use the inquiry button and we can talk further.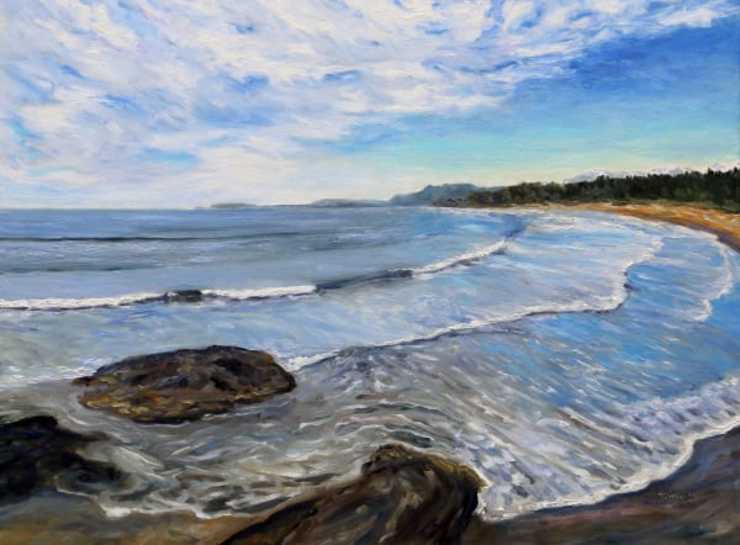 Wickininnish Beach is on the wild west coast of Vancouver Island in British Columbia, Canada. This relaxed surf curls around our hearts such that we can mome...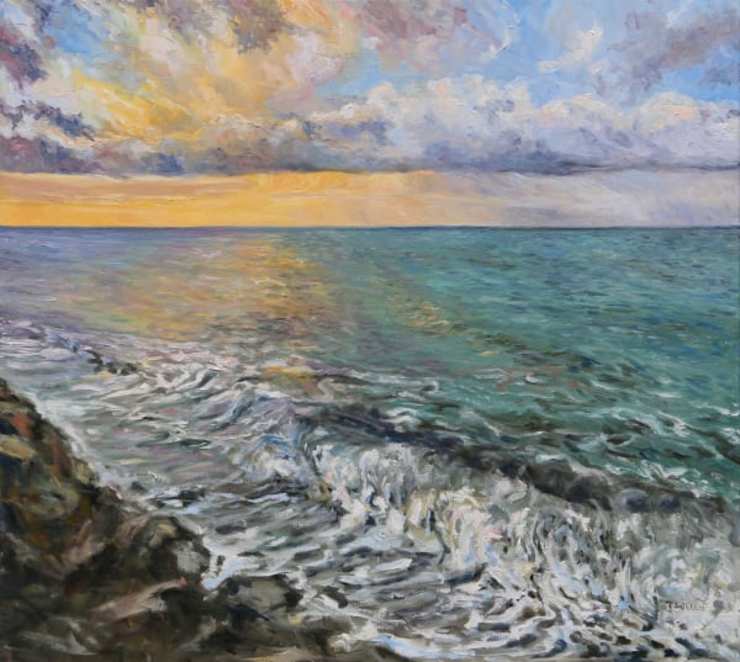 During these extraordinary times, we desperately appreciate a sunrise over the sea and hope for a new day. This work is painted from my own reference materia...
I am truly not very anxious to sell "Hope For A New Day". It can stay with me for as long as it likes. But, if it must go, then this too can be done. These three new releases are larger paintings but I have discovered that I can indeed ship them by going to the FedEx Shipping in Saanich near the airport on Vancouver Island. This can be done with extreme caution and minimum exposure to others. The main door is left open, only one person goes in at a time in a large room with plexiglass divider and hand sanitizer provided. The person serving me was confident, relaxed and cheerful about walking me through the process and new procedures. For the trip, we packed our food and drinks and stayed in the car on the ferry both ways except for one bathroom break going into town. So yes, I can safely ship large paintings to you and I will provide additional instructions for what to do to safely unpack your treasures on the other end when they arrive.
What I Am Reading
Well, I am reading all sorts of useful things. But I looked at the list and set it aside in favour of this short film with subtitles that go by a little too fast. However, the contribution feels like just the right hopeful closure for this issue A Brush With Life.
All the best of the May long weekend!
Here in British Columbia we are encouraged to stay close to home this year for the May long weekend so this is what we are going to do. I hope you find ways to make it special and maybe develop a new tradition that you will look forward to doing next year. Stay safe, be well and remember to smile and wave from a distance. 👩‍🎨🎨❤️
Canadian landscape painter, Terrill Welch, exposes the mystery in an ordinary day, reminding us that there is only one moment – this one.