A Brush with Life - Issue #53 The Gallery's Arbutus Room Opens
The Terrill Welch Gallery's new Arbutus Room features west coast landscape paintings of three other artists along with my own work. The Terrill Welch Gallery now has two rooms. The original main Garden Room of the gallery will continue to showcase just my paintings. I will soon have more information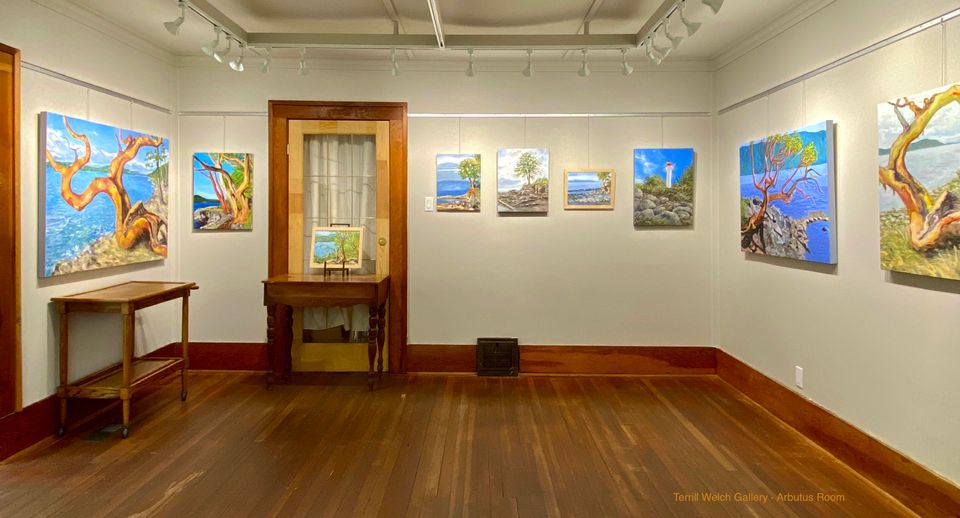 The Terrill Welch Gallery's new Arbutus Room features west coast landscape paintings of three other artists along with my own work. The Terrill Welch Gallery now has two rooms. The original main Garden Room of the gallery will continue to showcase just my paintings. I will soon have more information about the Garden Room's first show of the 2020 season during these unprecedented times. For now, please enjoy our introduction of this new Arbutus Room which can be visited in person, 1 or 2 people from the same household at a time, by appointment, during our slow opening up in June 2020. I encourage you to preview the available work online below and make an appointment after you are familiar with the work of  Glenda King, Jody Waldie and Jennifer Peers and myself. As well as online and in person viewing, I am also offering video call appointments to visit the work.
---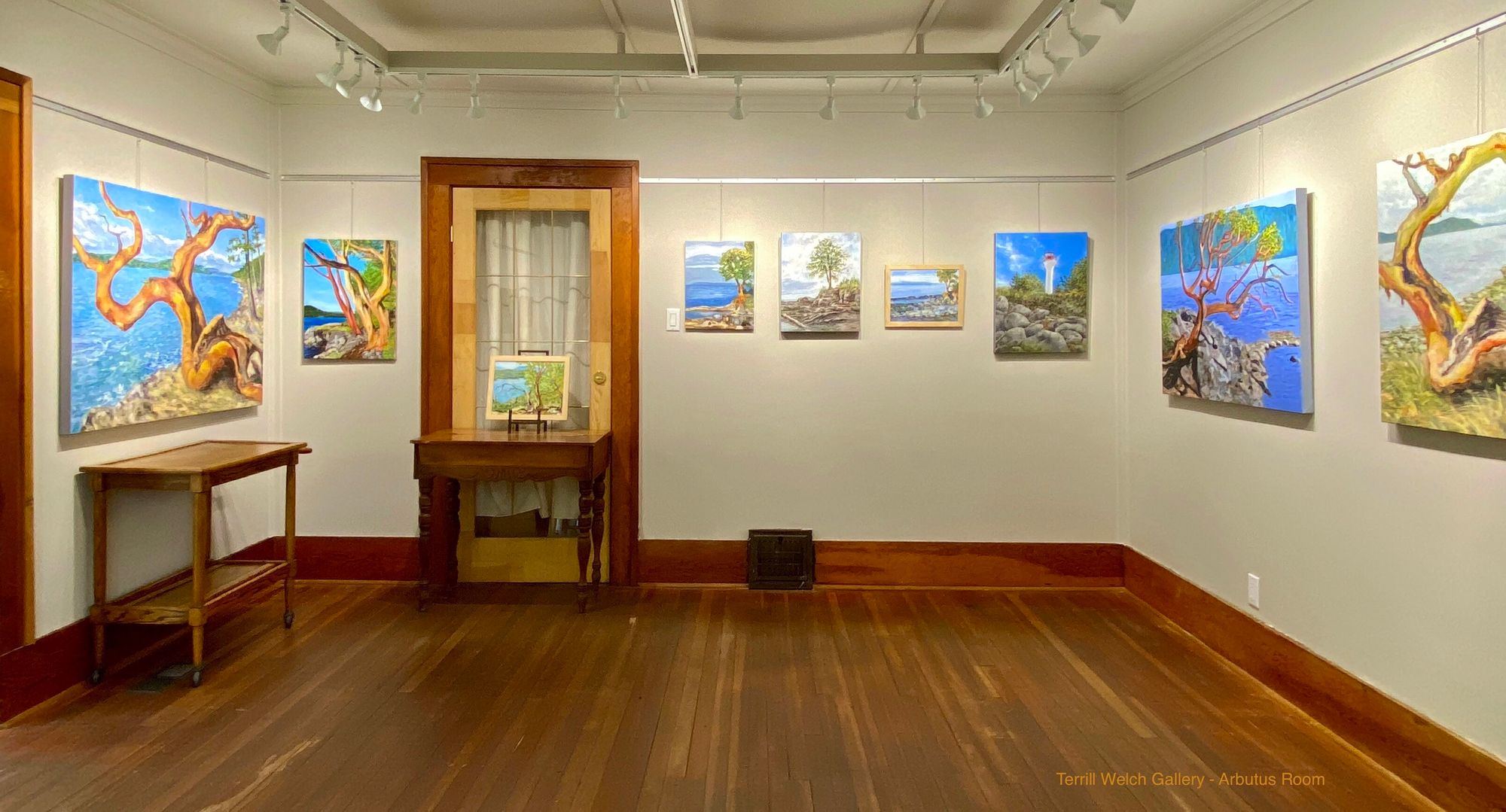 Introduction to the Arbutus Room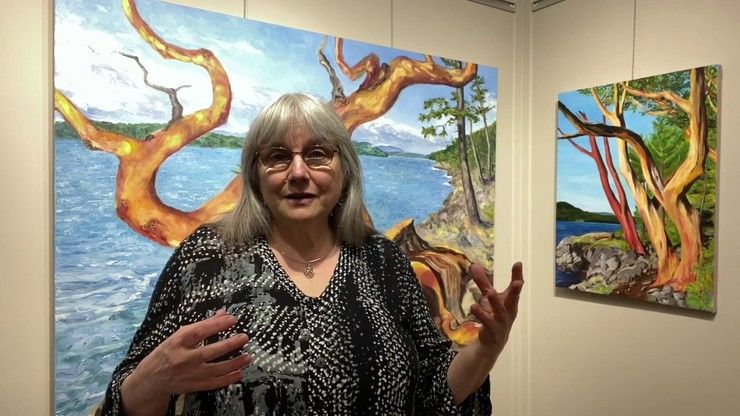 Terrill Welch introduces the Terrill Welch Gallery's new Arbutus Room which will feature west coast landscape paintings of three other artists along with her...
Call or text 1.250.744.4560 or email at tawelch@shaw.ca (or reply to this newsletter issue) to schedule a video call or in person (if you are on island) viewing appointment of these inspiring new west coast landscape paintings today.
Thank you so much for your interest and I look forward to connecting with you online, by video conferencing and in person by appointment as circumstances permit.
It has been an awful lot of work to get ready for this day and I want to tip my hat to painters Glenda King, Jody Waldie and Jennifer Peers for offering us some delightful, intriguing and inspiring work to view. I also want to offer a shout out to Jean-Daniel Cusin for all of his problem-solving and renovation skills that have resulted in the incredible space we now have for showing this work.
Collectors Share Painting's New Home
The large seascape painting has arrived safely and is now on the wall of its new home and the new owners kindly sent a photograph for sharing. Doesn't it look rather comfortable there?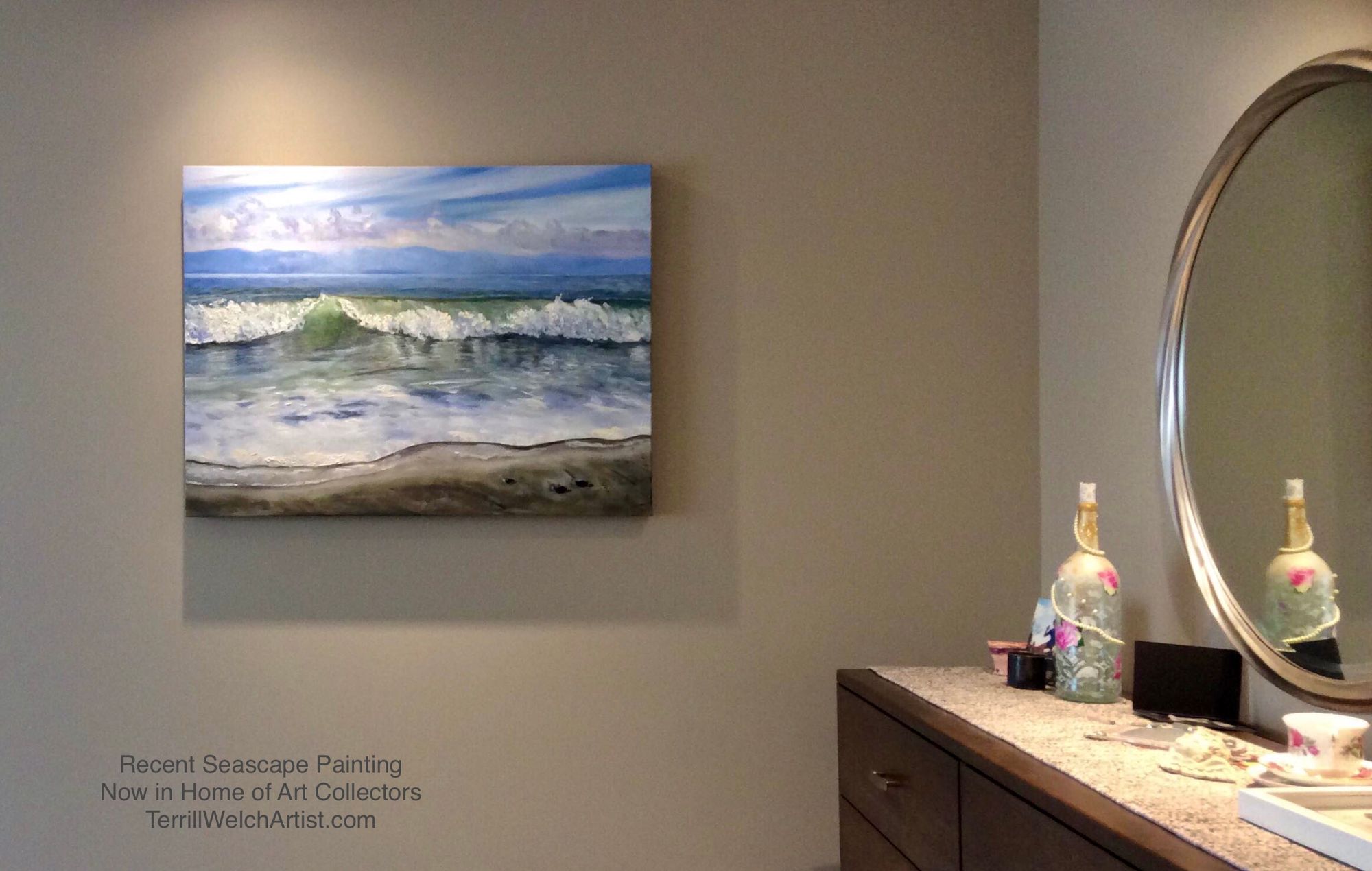 A big thank you to these art collectors for sending this photograph!
A Special Gift for Private Plein Air Painting
I want to share about plein air painting during these past couple of weeks. You see I wasn't alone. There were six of us including me. I had made arrangements with one of our newsletter subscribers and collectors who I knew was use to having people come by. The art collector gave us permission to come and paint and so we planned a physically distancing and rejuvenating plein air evening together and it worked perfectly!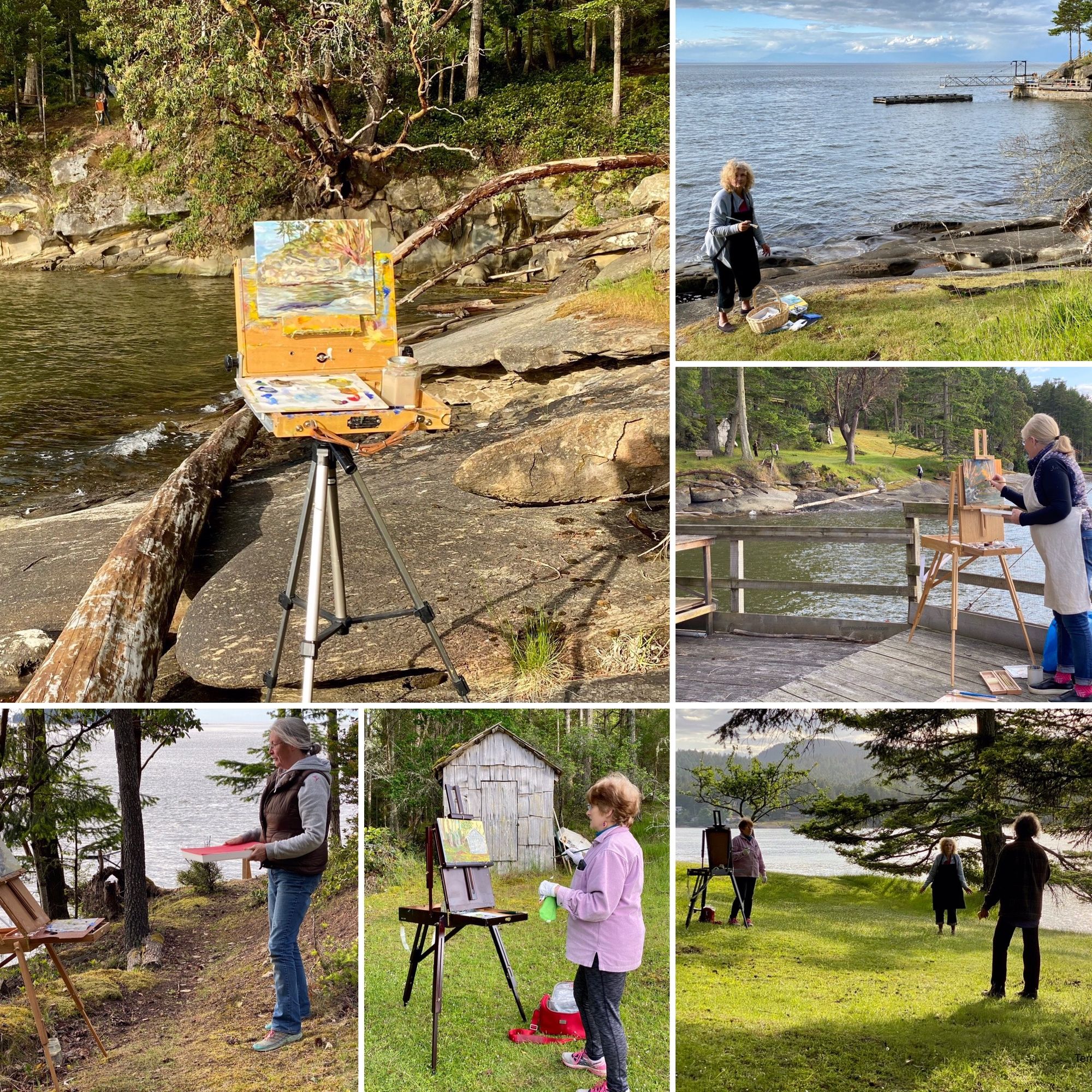 We were back again this week as well. Early evening became late evening as I finished one plein air painting from last week (which I forgot to photograph) and then started another with only an eye for the sea and sky even though there were some more interesting views to be had, as you can see in my final reference image. Again, there were six of us this week, dotting the coastline with our easels or sketchbooks or just our camera. The art collector and property owner had invited those of us who could, to come bit early so he could say "hello" and personally welcome us to his beautiful property before he headed out to catch a ferry. It was nice to get a chance for a short visit.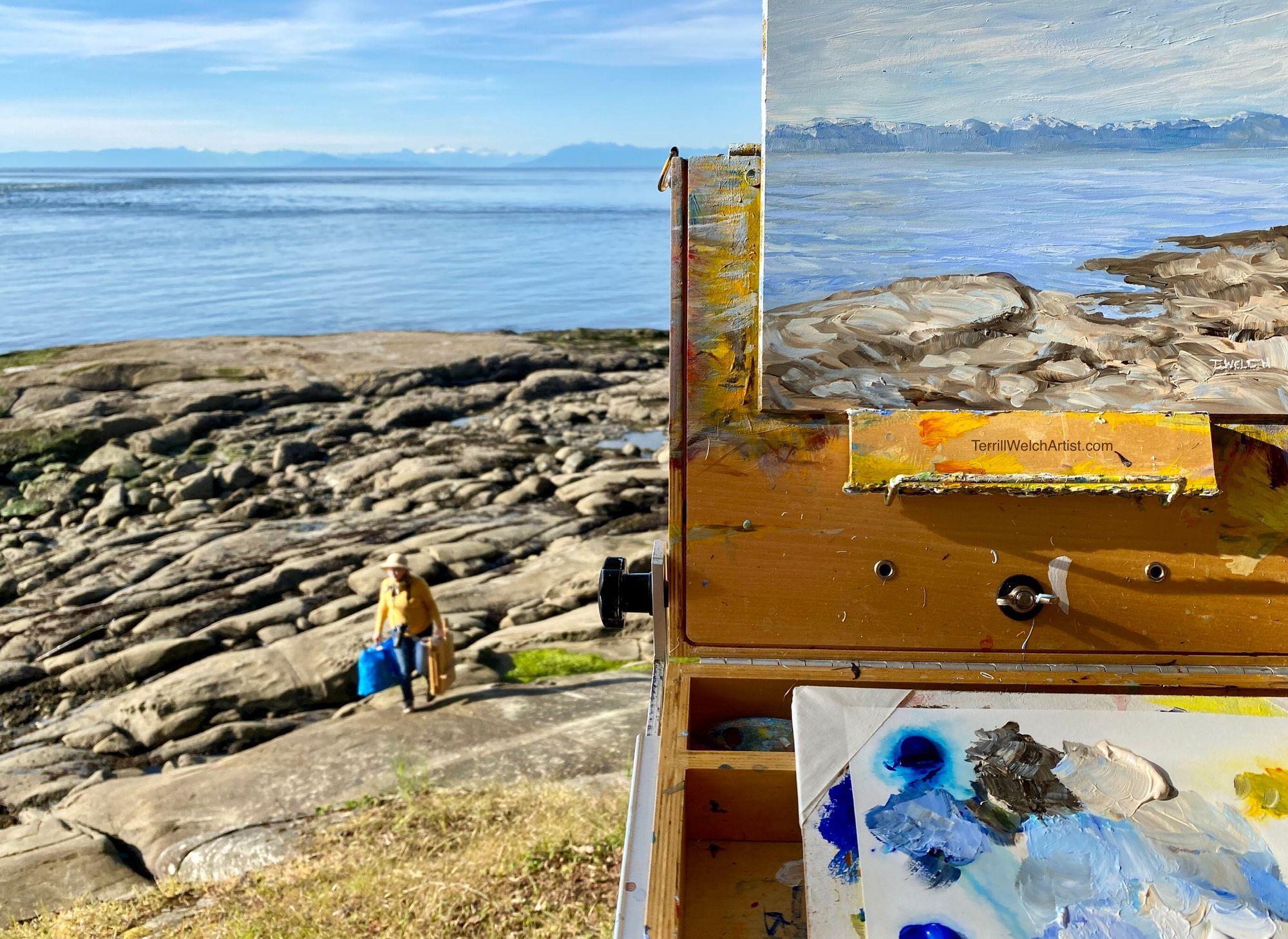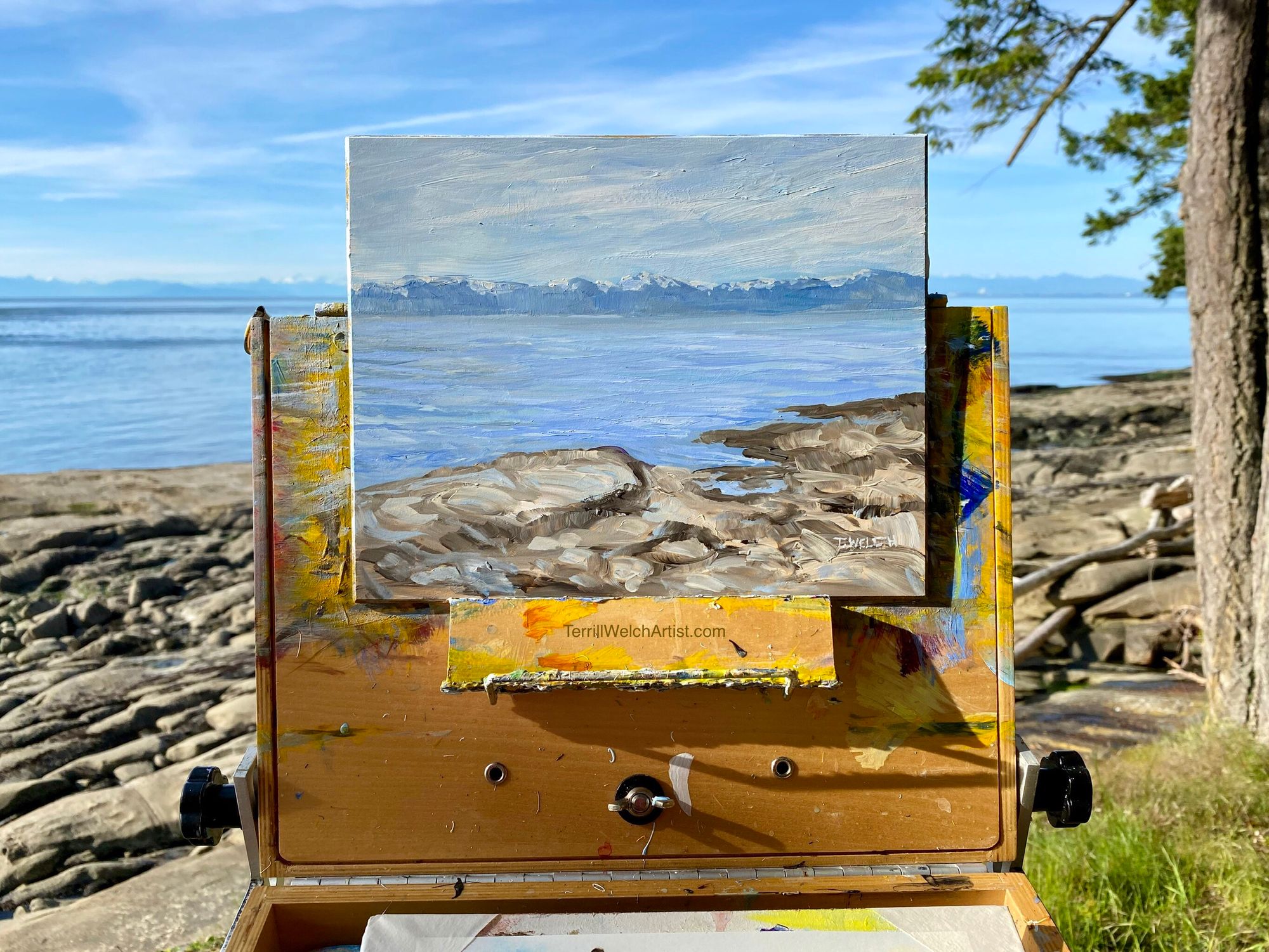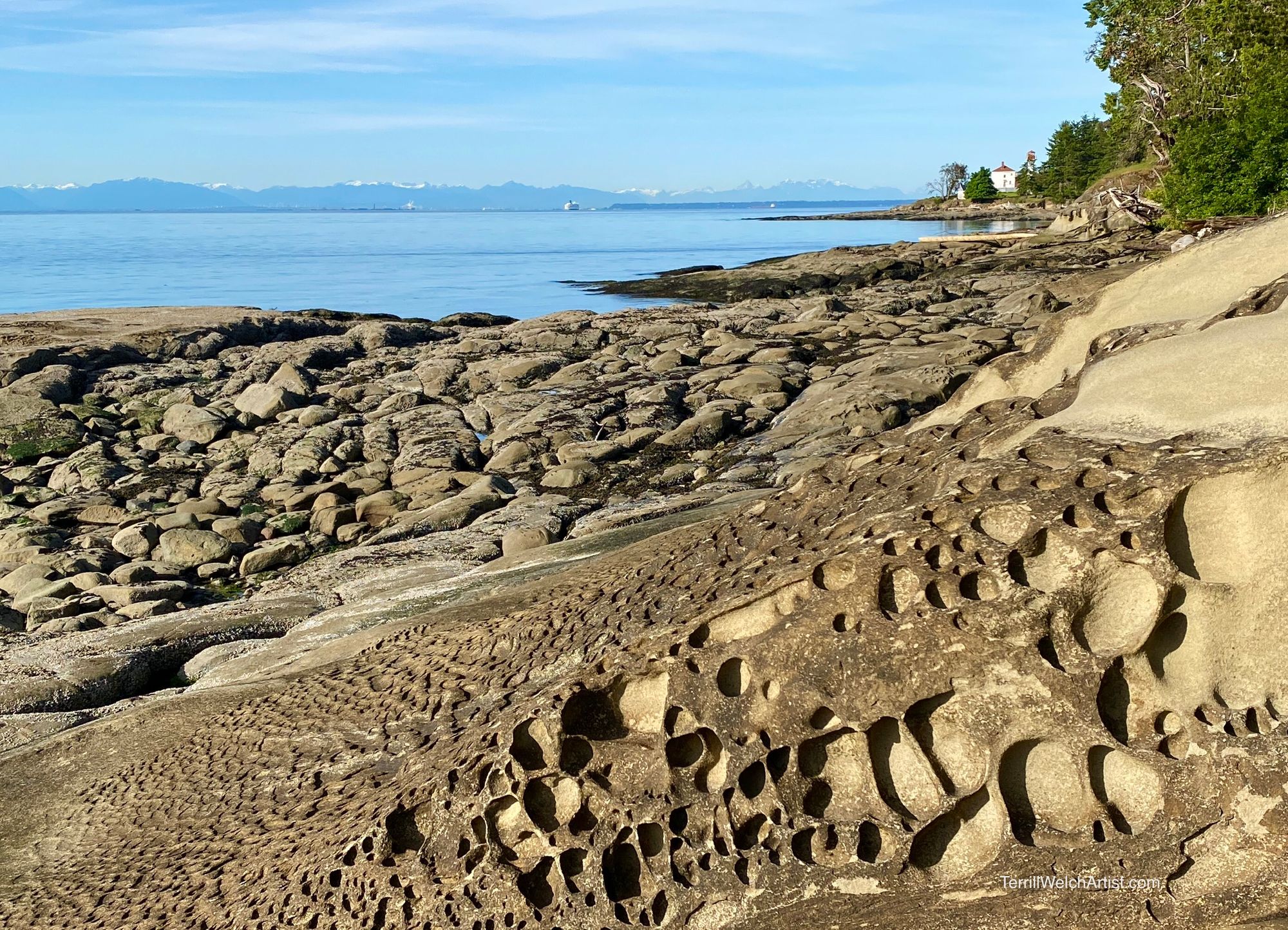 I came home tired and content, both from raising my voice to speak over greater distances for longer periods of time and from standing in the sun surrounded by the open air and the sea for a few hours. It was a good day to be alive!
Now can life really get any better than an evening like this?
Opinion: More Ideas for Physical Distancing
This kind of outdoor, together yet separate, where we each can creatively maintain our physical bubble is something I would encourage us all to explore, especially if you or a member of your family is in the highly vulnerable category either due to age or health issues or both. We are likely going to be practicing physical distancing for a long while. And we humans need the company of others! At least most of us do.
Maybe we phone up a family member or friend and offer or invite a lawn or porch distancing for short "hello" from 15 (or so) feet for 15 (or so) minutes.
Maybe we each pack individual picnics and go sit on a piece of driftwood, physically distanced apart, for a meal instead of hosting a dinner.
Maybe we invest in folding chairs and take up the quiet rural street with neighbours like I noticed in our neighborhood a few days ago.
Maybe it is an outdoor physical distancing yoga or group meditation.
Maybe it is outdoor knitting even, with a couple of friends.
Maybe, if you have large yards and gardens, it is a small team weeding party from one yard to the next where distances can still be easily maintained.
The ideas are only limited by our imagination.
I have heard about many regular over-the-fence chats happening and more households sitting in the front yards where they can wave and call out a few words to the neighbours or work safely apart in their gardens.
Of course, as long as the activities are within your abilities, there are hikes, mountain biking, road biking or strolls in the neighbourhood or on a beach that can be done while easily maintianing appropriate physical distancing. If you live in an urban area that is more crowded, maybe try a really early morning time for that walk on the beach or through the neighborhood or on a nearby trail or to play tennis.
For us, it is summer plein air painting! It is something we have been doing for several years now (and not always in summer and nice weather) and it seems to work well under these physically distancing conditions.
Everyone has to assess their own individual risks and the risks to those they will be connecting with or who live in their household during this slow and cautious opening up over the weeks ahead. But within these considered applications of the recommended principles and protocols for your area, let's be creative, if we can, about moving beyond Zoom or FaceTime and phone calls. Finding these creative solutions are likely as much a part of maintaining our good health as eating our greens and getting a good night's sleep. Once we figure out what we like and what works, it gets easier. If visiting with your first choice of special people isn't possible for a variety of reasons, choose others you enjoy.
Search for ways to say "yes" to connecting with few faces in big spaces outdoors. I promise, it is totally worth the extra effort of thinking it through and making an unfamiliar plan!
Taking A Moment
One of the things that I sometimes forget to do is to stop and acknowledge small successes before moving on with whatever is next. It is something I think we should all do, otherwise we miss out on that short pause of satisfaction or still point of contentment. These moments are often fleeting and can easily be slid past with the pressure of the next urgent item on our list of tasks. So I do deliberately pause sometimes and in this case that pause is captured in my most recent post in the website....
Against formidable odds in extraordinary times, Terrill Welch's contemporary landscape paintings continue to be acquired by art collectors. In fact, out of the last nine paintings she has released since February 14, 2020, five have sold. One large seascape, that she painted near the beginning of her Province's "stay at home" orders, was sold while…
Most of the information in the post will be not news to you as it has been shared here as we go. But selling five of the last nine paintings completed is an accomplishment at anytime for an artist, never mind during a pandemic and a Provincial and Federal state of emergency. The fact that I was even able to keep painting is a triumph all by itself. In addition to this, having so many of you decide to make room for these works is rather like a miracle under the circumstances. So thank you!
Until Next Time!
The longer days and warmer weather will be a great no matter where you live in the northern hemisphere. May you enjoy plenty of time in the open air, taking in all our natural world has to offer. I look forward to hearing from you at your convenience and I always enjoy the letters and notes you write in reply to these newsletter issues. Until later! Terrill 👩‍🎨🎨❤️
Canadian landscape painter, Terrill Welch, exposes the mystery in an ordinary day, reminding us that there is only one moment – this one.