A Brush with Life - Issue #58 Three Year Anniversary
The beginning of August is our three year anniversary of the Terrrill Welch Gallery. Thank you for your support and ongoing patronage.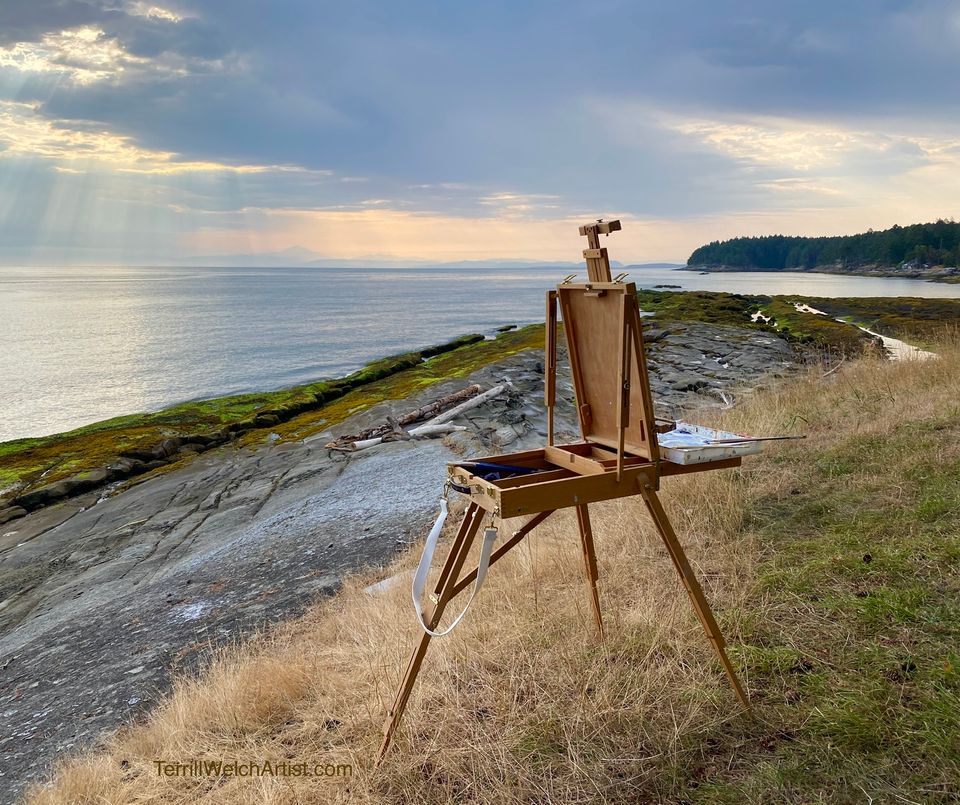 The beginning of August is our three year anniversary of the Terrrill Welch Gallery. Thank you for your support and ongoing patronage.
---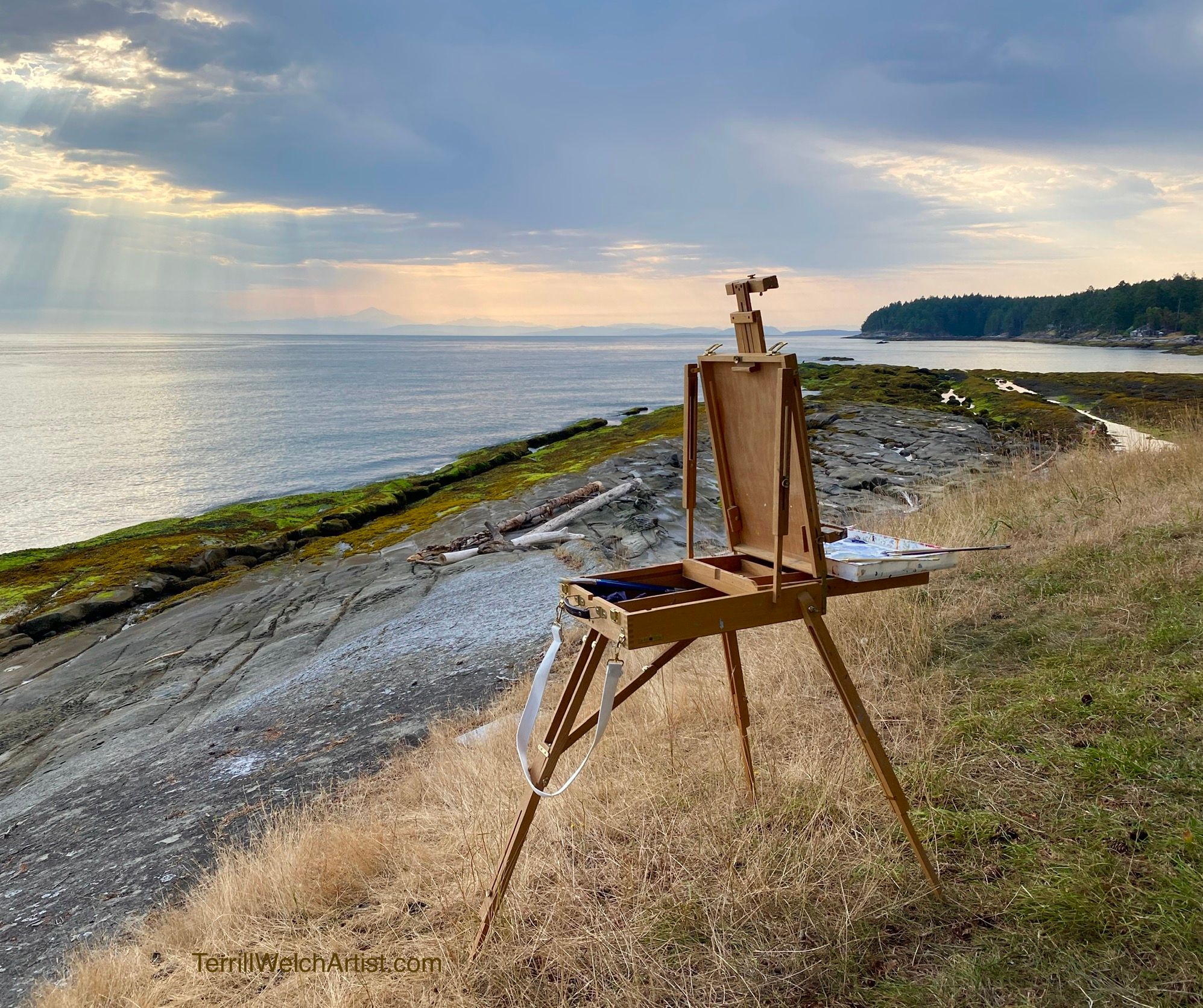 What can we say!? It has been an amazing brush with life. 😉 Have a  watch for yourself...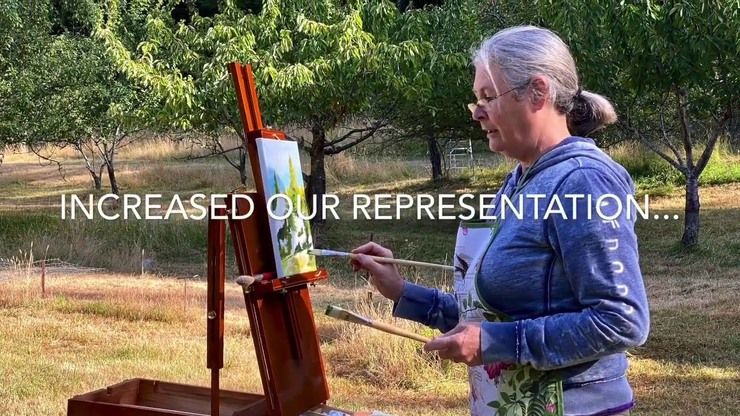 Three years today! It is our three year anniversary of the Terrrill Welch Gallery. Thank you for your support and ongoing patronage. Let the adventures conti...
And since we have Jody Waldie featured on the video preview, let's see if we can engage her in a bit more of a chat....
Where Do Studious and Playful Meet?
We may think that studious and playful may not belong together. But this just means you haven't met and had a chance to get to know Jody Waldie. Her warm and observant nature gathers in the world around her with a generosity of spirit tempered by equal amounts of personal accountability. This striking combination of innate characteristics brings both life and rigour to her landscape paintings. Let's see if we are able to unravel her approach in a series of probing questions in a similar manner as Jody herself might explore her painting practice.
Terrill - I have always loved your painterly problem solving approach and dedication to learn Jody which I suspect was well ingrained as a life practice before you started painting in oils. Can you tell us a little about your life outside of painting? Have you always had this kind of approach to your work?
Jody - My most recent career was in education as a school principal.  Rather than encouraging a focus on what comes naturally easy or consistently showcasing strengths I encouraged learners to dig deep, identify challenges and blocks and to embrace and face these.  I believe our greatest learning occurs in facing challenges and overcoming adversities.  So I guess within my painting I am practicing what I have preached.  I love a good mystery, solving puzzles, and strategizing solutions and find these are the most enjoyable parts of painting for me.  How do I create that brilliant, vivid green with these blues and yellows?  What do I need to do to warm up that cool grey?  How can I represent the energy and emotion I see in a composition clearly for the viewer?  It is all so mysterious, challenging and fun!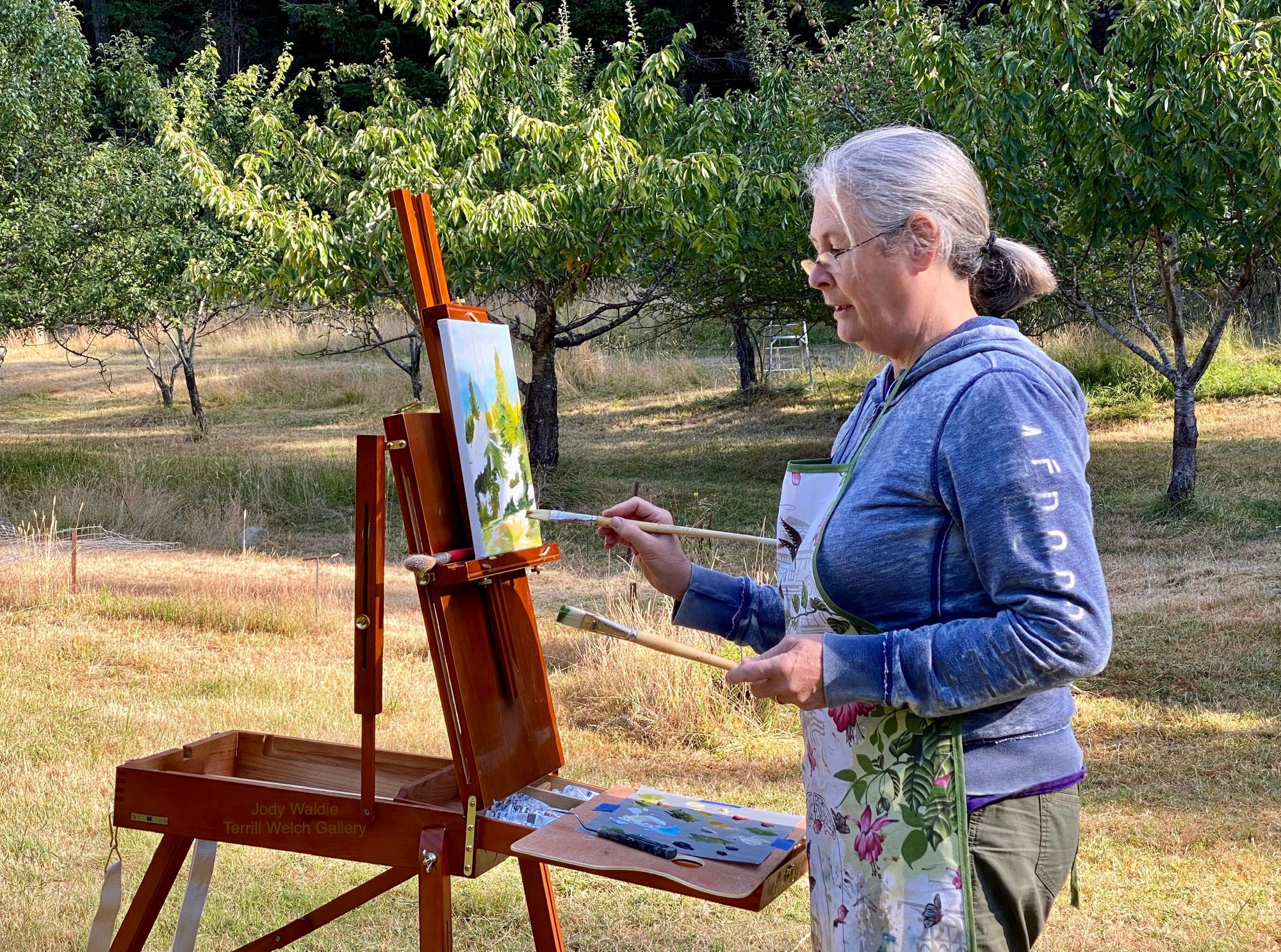 Terrill - I have always appreciated your ability to draw and understand values and the effects of light. Have you always drawn and been interested these aspects?
Jody - I have always been interested in values, light and colour.  I remember many, many nights as a child, and more than a few in my recent years, concentrating with great intent at being able to identify that exact moment of transition from day to night, of seeing colour to not.  I still haven't pinpointed it.  I find when I am painting holding a focus on values and identifying my lightest lights and darkest darks gives me reference points that provide a skeleton for the composition.  Drawing is something I have always enjoyed and find it fascinating that the greys of graphite can be used to represent lights and darks.  I appreciate taking time to sketch a composition prior to painting because it presents my mind with a mental memory of the image.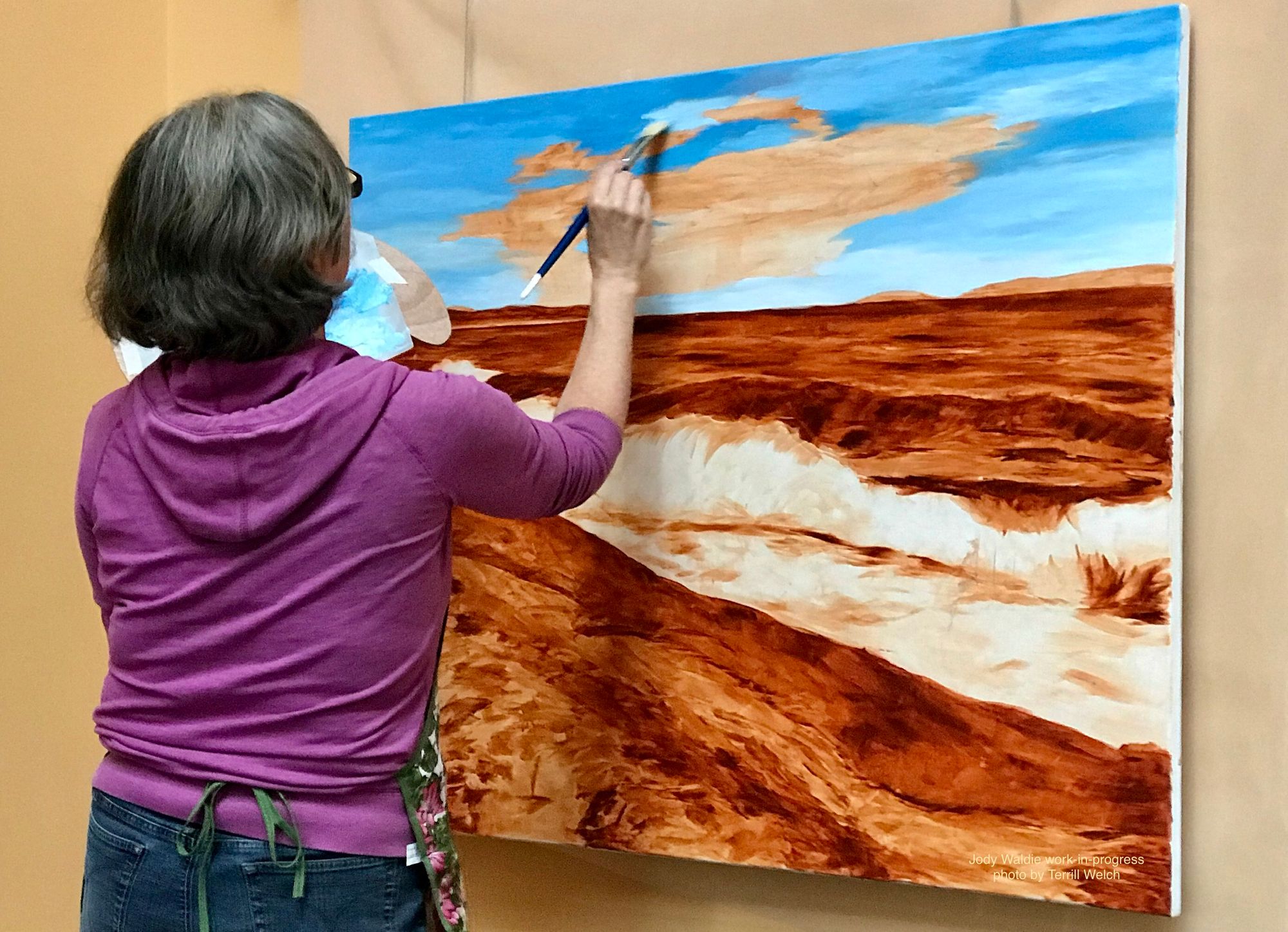 Terrill - Your experience painting with your mother in the last years of her life appears to have been influential, can you tell us about this special time?
Jody - Mom was an amazing woman and held a secret that I only found out late in her life.  For her 80th birthday I wanted to do something very special for her and asked her to think of one thing she has always wanted to do in life and hadn't yet had the opportunity.  She immediately answered that she would like to paint.  I never knew!  So paint we did.  We signed up for two acrylic workshops and I was in complete awe with how her brush moved on the canvas with no hesitation.  Vivid colours and brush strokes brought images to life.  My mom was an artist…a secret kept from her family and from herself.  We talked about why throughout her life she had not painted and she told me that she had so many other things to do but had always wanted to paint and that perhaps she was looking for "permission" from someone that really needed to come from herself.  I remember feeling sad hearing this and at the same time felt a great awareness that I was falling into the same trap with my own art and life.  It was one of the greatest lessons she taught me.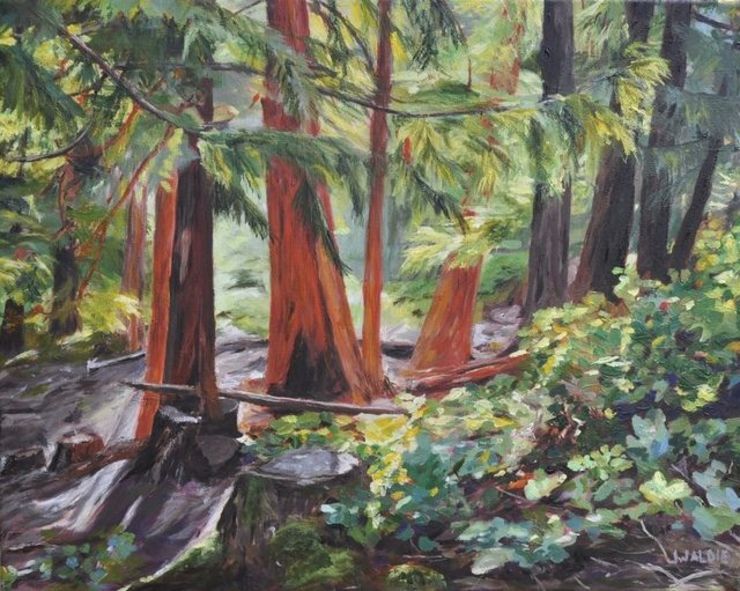 Available for sale from Terrill Welch Gallery, Jody Waldie, A Piece of Paradise (2019), Oil on canvas, 16 × 20 × 3/4 in
Terrill - Jody, your island life is filled with more than painting landscapes... can you tell us a little about how your painting is part of a fuller relationship with the land through your gardening and animals? What do these aspects, if anything, teach you about painting?
Jody - My children use to tease me that we could not go on a hike without me giving a full narrative of my joy for each and every little miracle of nature I saw on the way….they would say the miracles  were plenty.  Throughout my life I have had a deep appreciation for the beauty in our natural world and the ways in which my senses respond to it.  I find it remarkable that we can take tubes of paint, in some altered form represent nature on a canvas and in our viewing have a similar emotional response to being in nature itself.  Having a garden and animal friends gives me a bit of this feeling in my own space.  Little miracles that bring me joy and support.  When painting in my home studio I often am stepping over four dogs in various positions as close to being under my easel as they can.  I talk with them about my composition ideas, painting challenges, ways to represent what I want the viewer to see and they are the greatest supporters because they listen but don't offer any suggestions.
Terrill - How would you complete the following sentence?
If I was a tree I would be....
Jody - ... a curvy, red, sleek and strong Arbutus jutting out from the rocks and reaching for the sun over the sparkling blue of the Salish Sea.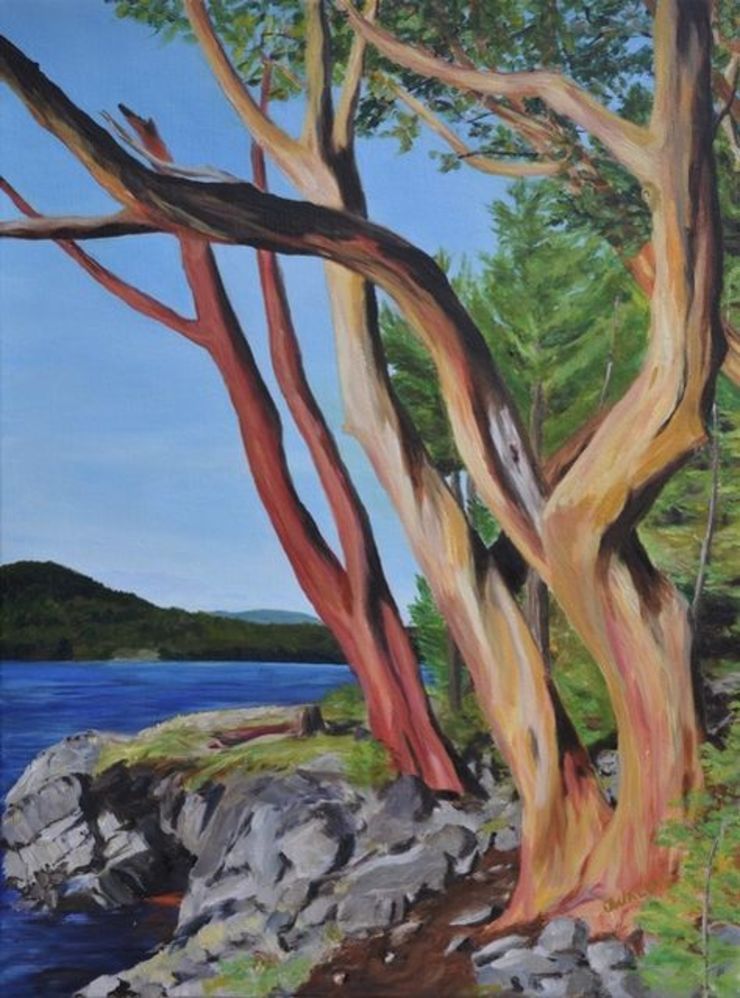 Available for sale from Terrill Welch Gallery, Jody Waldie, Winding Road (2019), Oil on canvas, 24 × 18 in
May we all benefit from tackling our most challenging learning curves and be reminded to give ourselves permission to explore and learn what we are most curious about today. Our thanks to Jody for sharing her own journey with us.
New Gallery Profile on the Artsy Platform
The Terrill Welch Gallery received a coveted "by invitation only" invite to Artsy which is the largest fine art online platform hosting galleries, museums and art fairs for art collectors. We are pretty stoked to be able to offer you the online viewing and inquiry to purchase services available through this platform. When you view an artwork, if you click or tap the middle option it will give you a "View in Room" to help with visualizing the scale of the artwork. This has been one of the biggest hurdles with online viewing of artwork and it is now resolved! Plus, we can beautifully display all the gallery represented artwork by various artists nicely together in one place. There is also an app for viewing the work in your own home that I should be able to introduce to you in the next issue. We are just getting started with setting things up but have a poke around and see what you think. I would love to get your feedback and first impressions.
Our gallery program brings extraordinary connections to ordinary moments in our natural landscape. The Terrill Welch Gallery opened in August 2017. Since then, the gallery has more than doubled its physical gallery exhibition space and online reach.
New Releases
These three new works are now available. However, only the Sheringham Point Lighthouse painting has the edges painted and hanging wire added. The other two will be completed this coming week. But you can have a look just the same.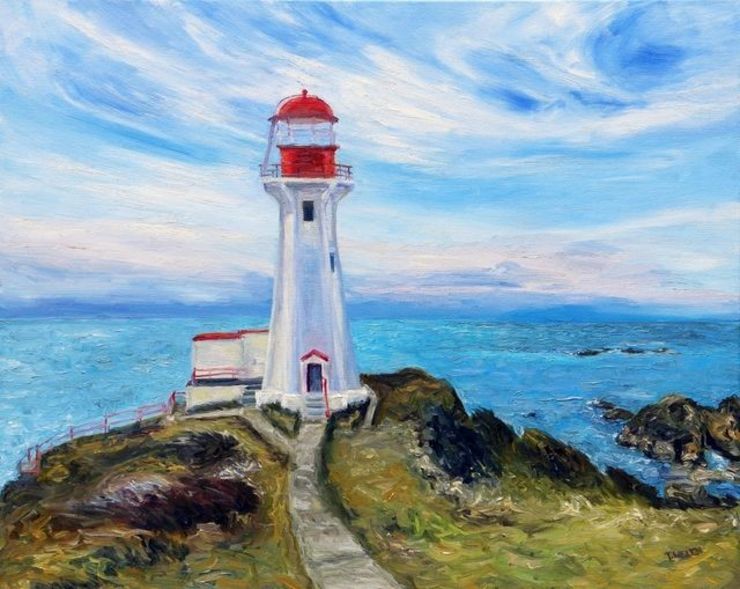 Available for sale from Terrill Welch Gallery, Terrill Welch, Sheringham Point Lighthouse (2020), Walnut oil on canvas, 24 × 30 × 1 1/2 in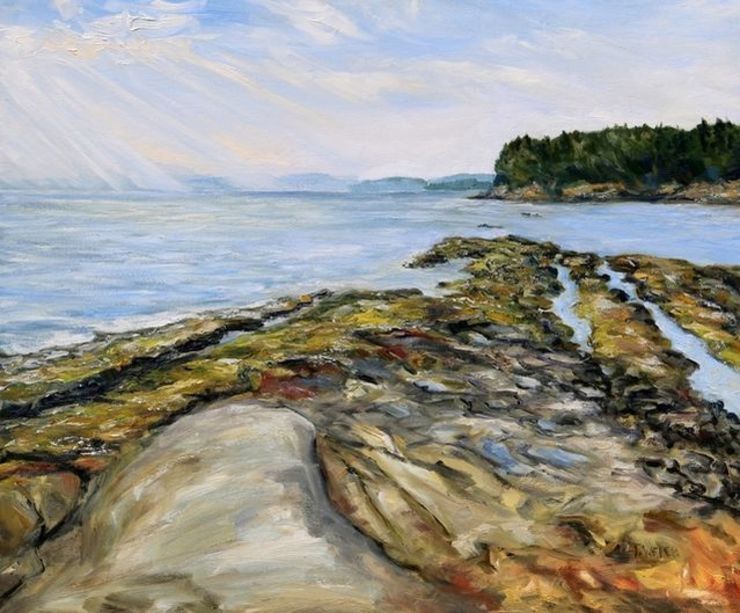 Available for sale from Terrill Welch Gallery, Terrill Welch, Morning Rays Reef Bay (2020), Walnut oil on canvas, 20 × 24 × 1 1/2 in
And then this large seascape which really needs to be seen in person to be appreciated. This work might possibly be the feature painting for the gallery's Arbutus Room show in the fall....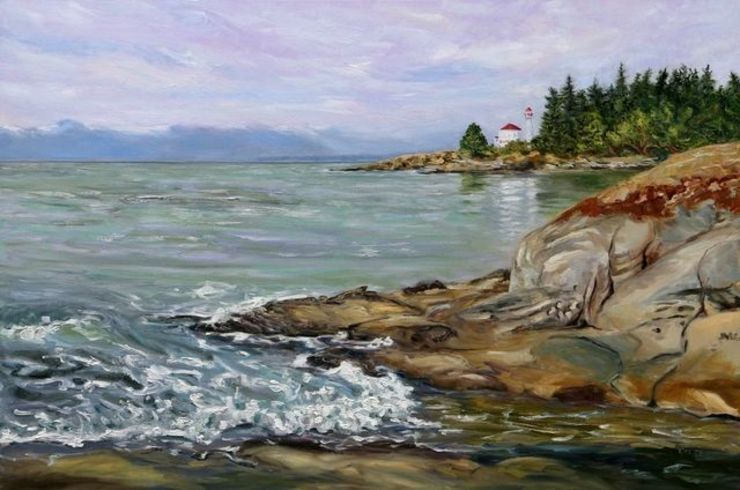 Available for sale from Terrill Welch Gallery, Terrill Welch, Infinite Impermanence (2020), Walnut oil on canvas, 40 × 60 × 1 1/2 in
If you want to check back from time to time, I have some of my small painting sketches photographed and will get them released during the next couple of weeks between issues,. Also, if you create an Artsy account, you can follow the gallery and the artists and I believe you should receive a notice immediately when new work is released. Just a thought. All usual channels that you receive information now will remain in play. So suggesting this as another option.
What I am Reading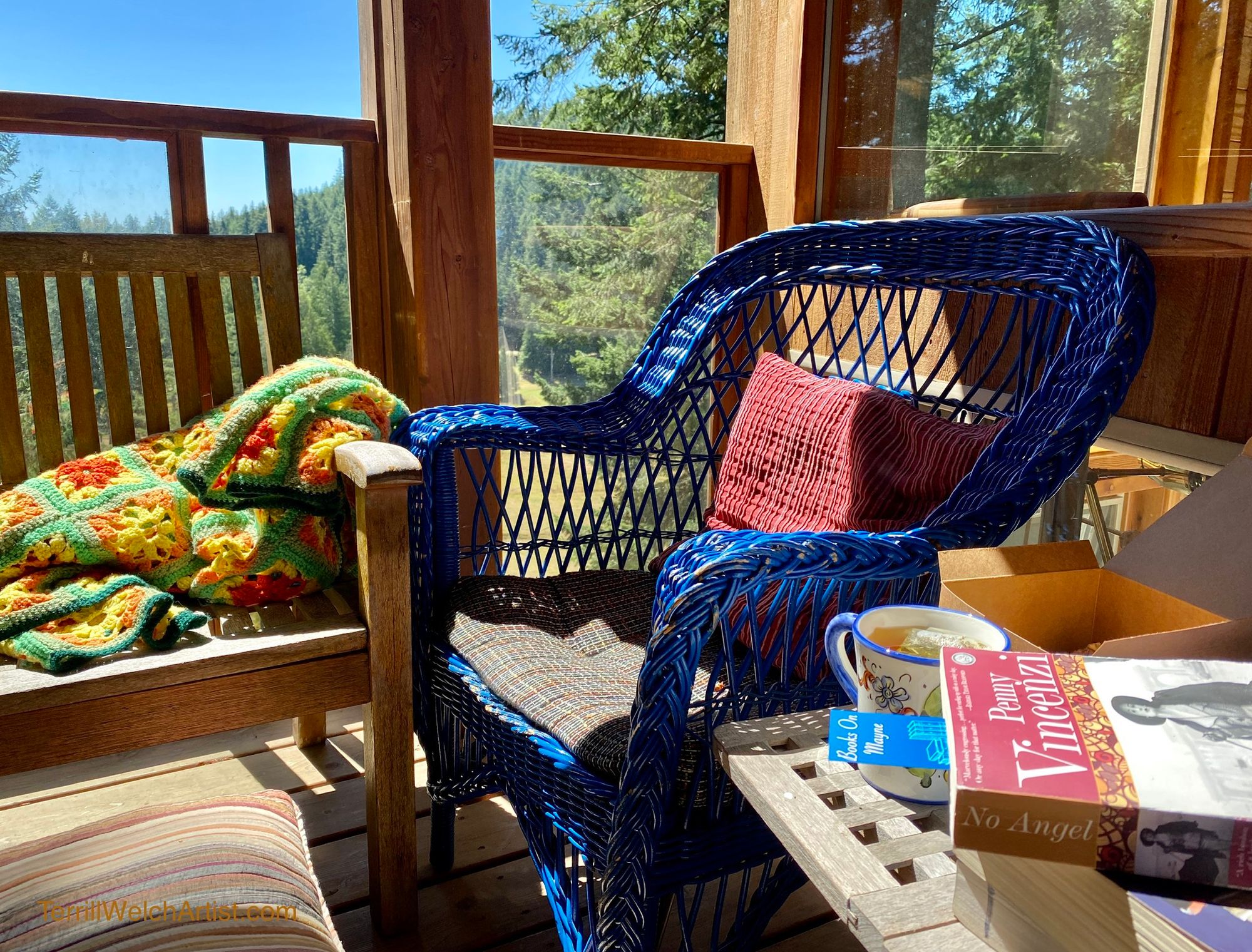 The fine art of escapism....
I was feeling unusually out of sorts yesterday. It could have been any one of a half a dozen things but none of them consciously seem to warrant my funk. There seemed to be only one possibly good solution. I went to Books On Mayne, masked up, and told the wonderful bookstore owner, Gail Noonan, I was looking for historical fiction. She came from around the desk and pointed out the section on the newly organized shelves. After a moment, I could see her frowning slightly behind her mask.
Gail thinks visibly. It is one of her many endearing qualities.
I waited.
"I am not sure what era you are interested in but I have this sequel by Penny Vincenzi."
I looked a the set of three thick books and paused. She hands me one.
"Have a look and see what you think."
The reviews included things like 'marvellously engrossing... perfect for curling up with on a rainy day. Or any day for that matter.'
"The perfect medicine for my ailment" I thought.
"Good!" I said out loud, like an avid reader who has just committed the rest of her summer to a reading chair. "I will take all three."
Before leaving the book store, I inquired about a stunning painting on the back wall that Gail informed me was one of her own. I knew she was an animated filmmaker and that she had of course painted. However, for whatever reason, I had not seen her fluid work before. So if you go in, you can't miss the large expressionist influenced landscape and it is indeed worth a long pause between browsing the aisles.
Earlier yesterday morning, I had met visitors to the gallery and then stuck around for the market crowd to filter casually through exploring the rooms in the old Root Seller building. Later, I went to the Farmers Market and I had picked up a few delicious small cupcakes from Fernhollow Farm.
Now home, I shared my cupcake bounty with David. Then I made a large cup of peppermint tea, snuggled into the reading chair and disappeared into the life of a young woman just married and pregnant in 1904 England. The chimes chimed. The sun moved past the chair. I read.
A couple of hours later, the phone rang and I discuss a painting inquiry with an art collector. Then it was leftovers for supper and rearranging from the deck to the bed before slipping back to my characters, who were deciding on biographies for their publishing house, going to socialist meetings, discussing the women's vote and other early 1900's European kinds of things.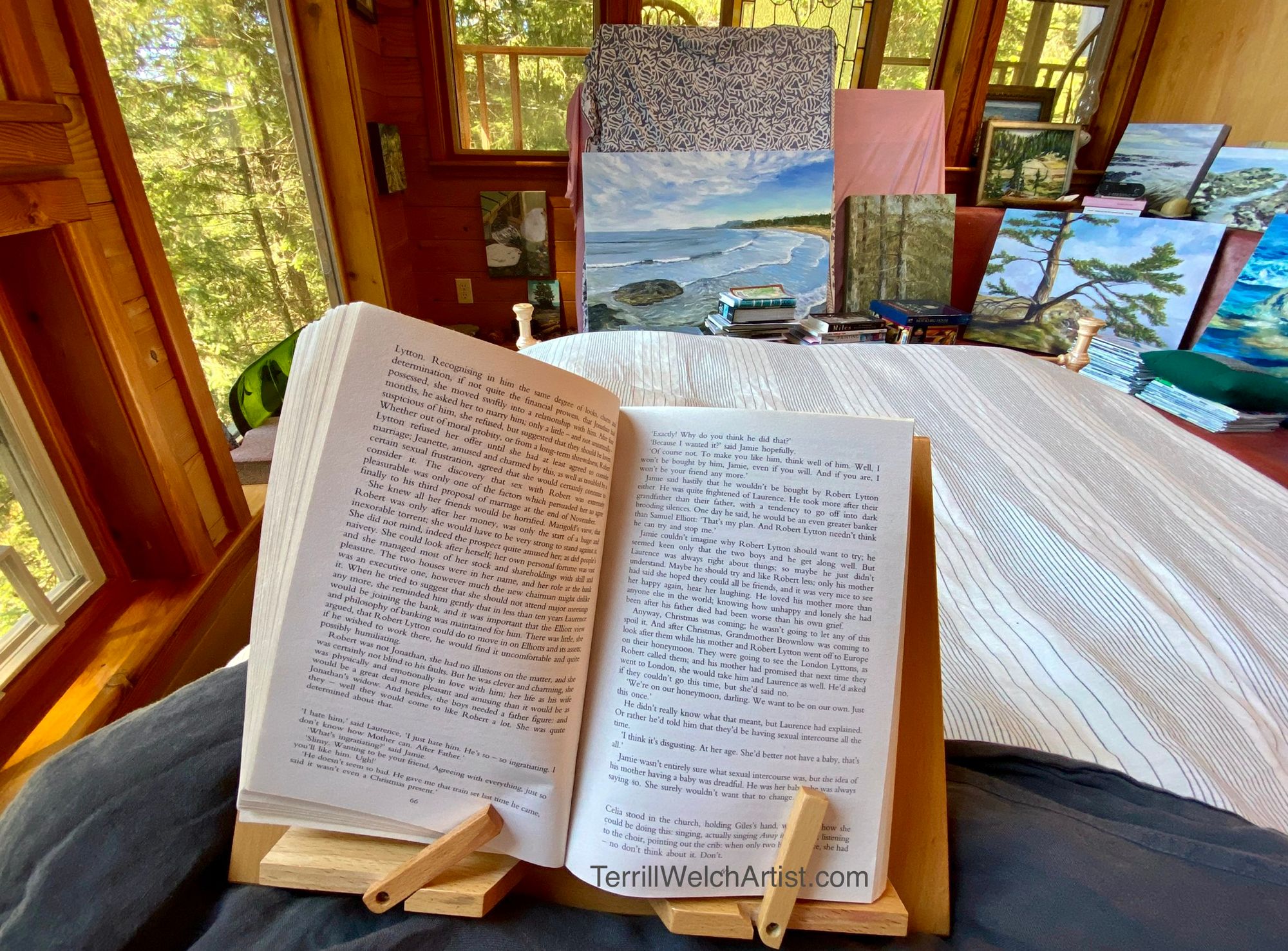 This morning I woke at just after six as the sun caught the treetops across the valley. I prepared coffee, picked up my book, turned on the lamp beside the daybed and haven't moved.....
I feel much better now! Though you might see more comments like this over the following weeks...
"Slow start today I read late. The front deck is littered with paintings that need a final look and it would just keep a light cloud cover until about noon I will have a few of the last plein air sketches photographed..."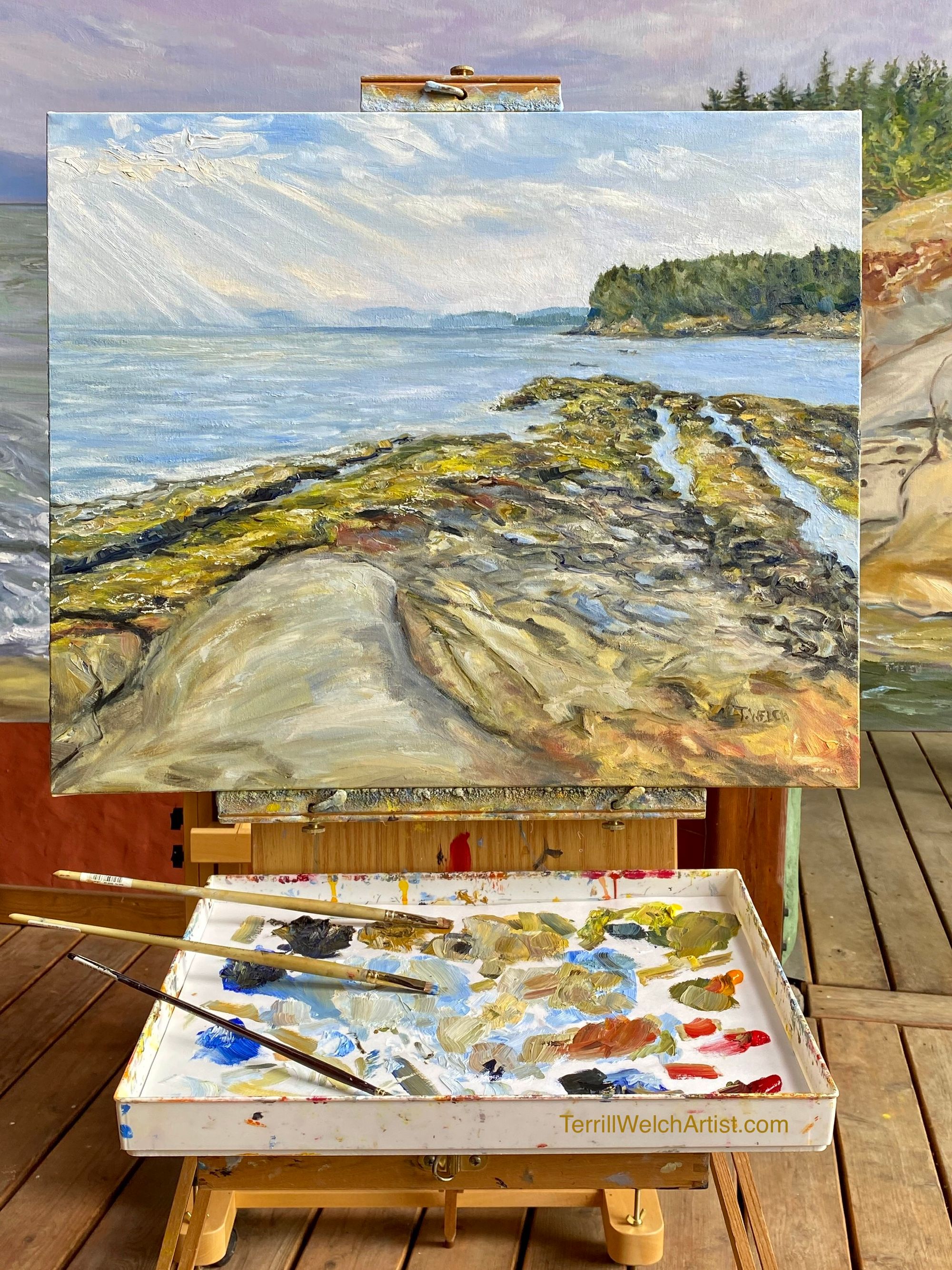 Until next time!
May your summer be filled with quiet wonder, early morning sunrises and country charm or slipping off to sail on the seas.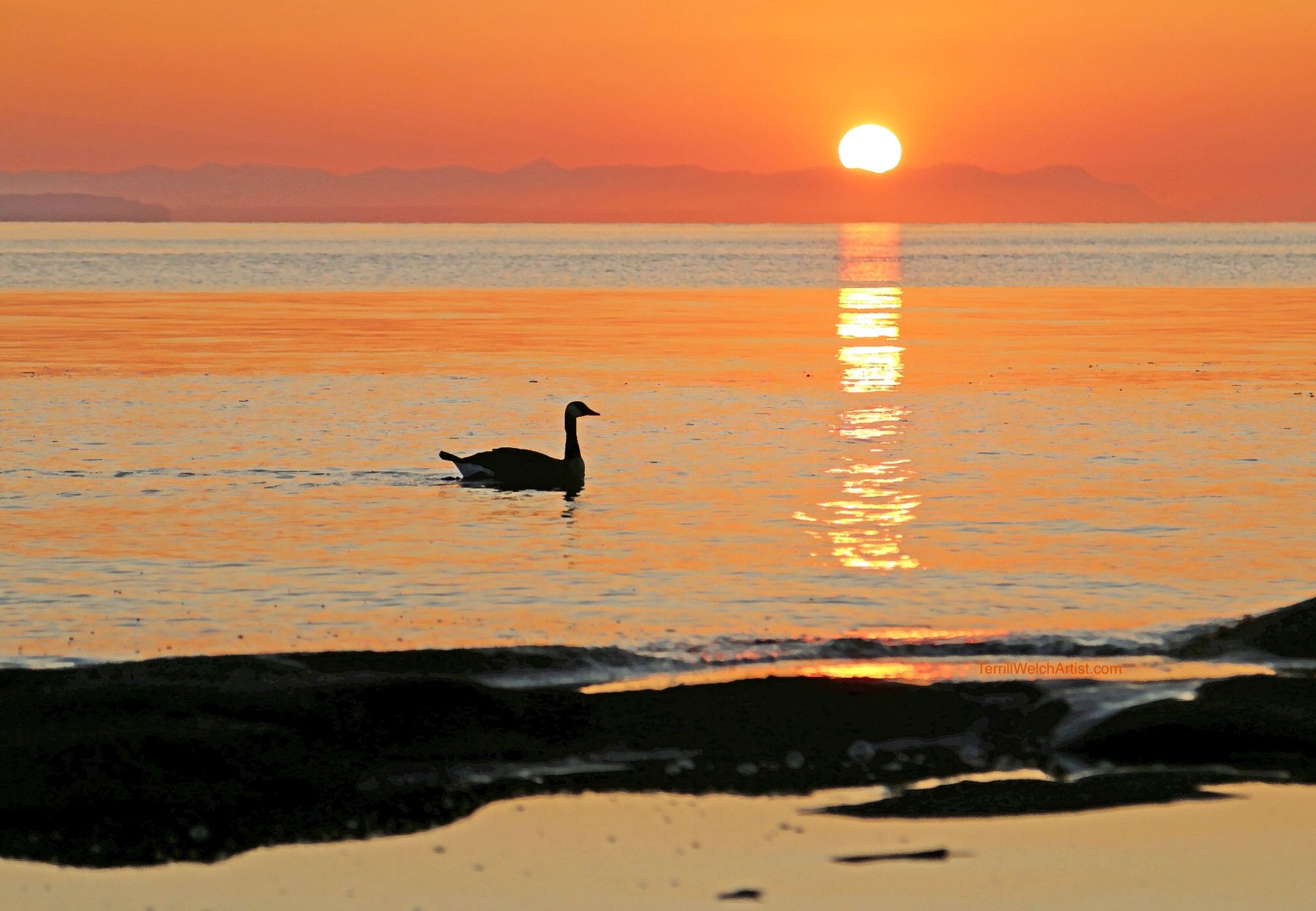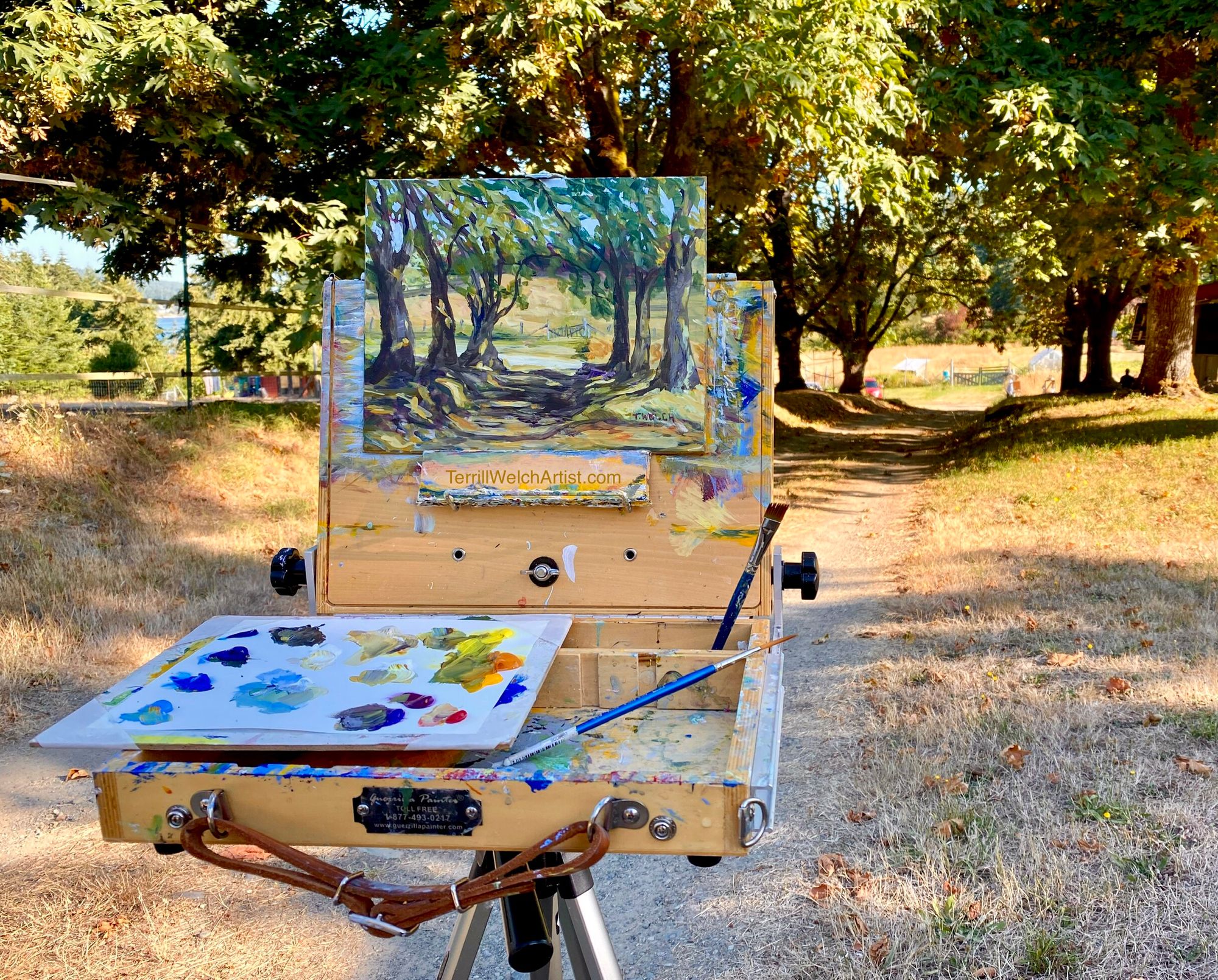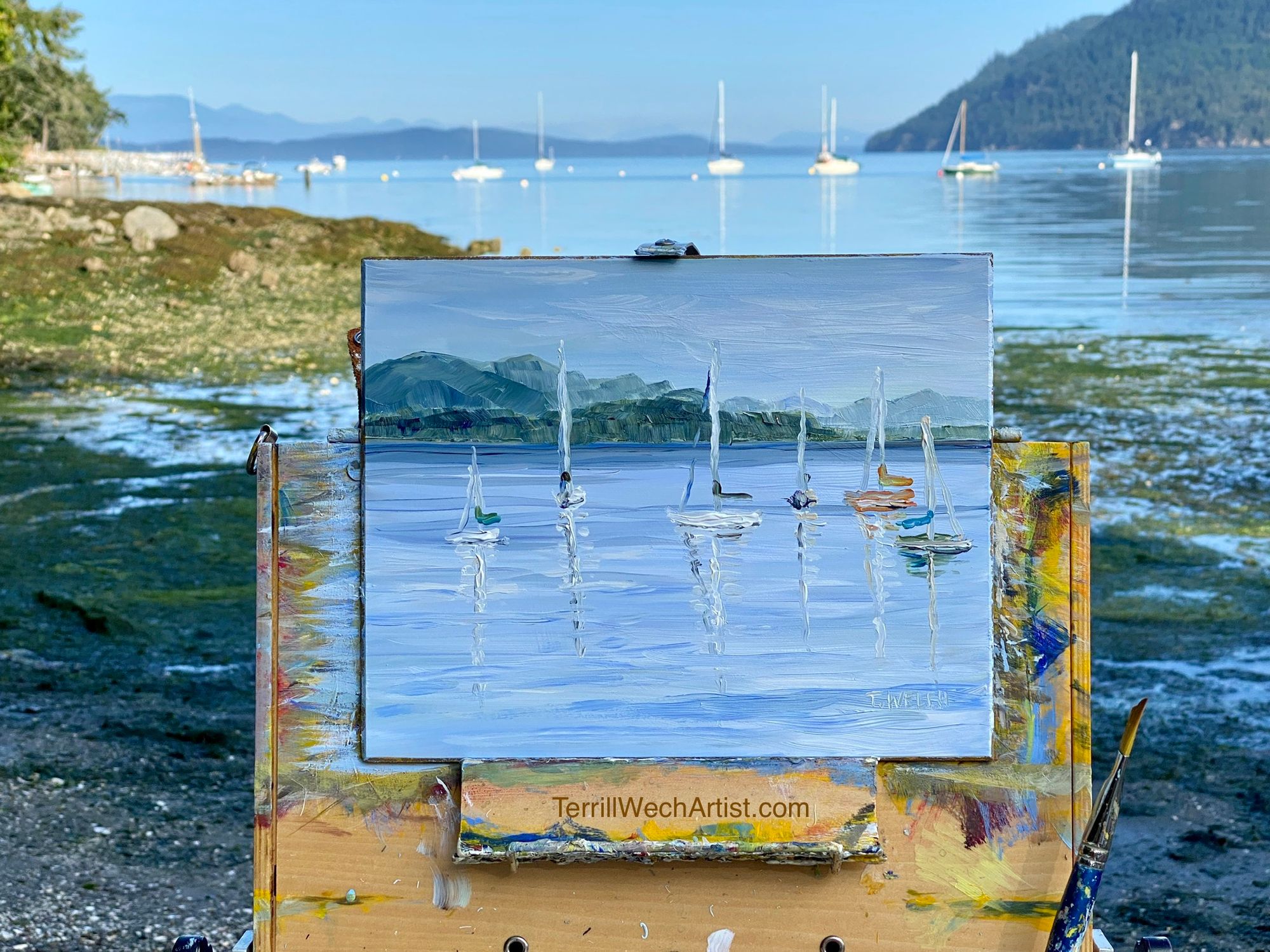 Canadian landscape painter, Terrill Welch, exposes the mystery in an ordinary day, reminding us that there is only one moment – this one.