A Brush with Life - Issue #59 Dig Deep And See What Is
Do you remember those moments when you don't have a clue but you proceed with naive confidence anyway? This is how it all began. In one of these kinds of moments. I had decided that the Terrill Welch Gallery needed a logo. I found a great AI online support through Looka and started designing. I knew

Do you remember those moments when you don't have a clue but you proceed with naive confidence anyway? This is how it all began. In one of these kinds of moments. I had decided that the Terrill Welch Gallery needed a logo. I found a great AI online support through Looka and started designing. I knew I wanted something simple, something that moves towards a present and future for a gallery which will include representation of several artists. With great enthusiasm, I picked out aspects of logo design that I liked. After several hours, working deep into the night, I had a draft. The next morning I decided that I had better seek some feedback from my trusted FaceBook community. Well!?.... am I ever glad I did!
With some 100 comments on my post later, coming from a collective brain with a wealth of experience and impressions, I had a much better idea about what it was I needed to do. Back to the drawing board I went!
Here are the results.
As one person told me - it needs to sing. If it is not singing you are not done yet. This is the same with painting. So I knew the feeling I was reaching towards. This one does it for me.
---

I learned so much about logos from everyone and in the process I also became extremely clear about what the gallery logo needed to do. Like all things in my life, each aspect must serve multiple purposes.
I realized that initials of any sort were not going to work for me or the business at this point in its development. I have been an independent business owner in one business or another for 18 years and had never bothered to develop a logo. Imagine that. I just put my name out there and went for it! Like in my employment years, I have leveraged what I can deliver. I often feel there is only one way to find out what can be done and that is by doing it. Then we can talk.
Using this approach, the gallery name is its brand. It's stays and the initials in the first draft idea go, for now. The symbol of the gallery is the work of brushes. The gallery will likely only ever show paintings with strong and supple brushstrokes for the foreseeable future. Red is for my apron and a flash of an often surprising smile and arbutus trees. The deep red is for heart, strength and warmth, all at the same time. Blue is sea, sky and even the land. It is the connection between us and earth. It is the subject matter of the gallery - landscape paintings. The paintbrush in the circle is for global community and reach. The coming together of many, as we did in the FaceBook conversation. And, a little cheekily, a red dot is for success in finding homes for paintings. The font needs to be strong and solid but not overbearing and above all, easy to read at a distance, often without your reading glass on. I like that "Gallery" is larger than "Terrill Welch" implying that it is more than just me.
I never would have got here without this large audience sharing their immediate impressions, thoughts, suggestions and encouragement.
We did it!
Now to get busy and use the new logo everywhere in the gallery's communication which has included changing the FaceBook Art Business Page from "Art of Terrill Welch" to "Terrill Welch Gallery".
More refinement to our brand presentation to come in the near future. Now back to reference gathering, and interview with Jennifer Peers and paintings!
Recent Collected Paintings Shared
These art collectors purchased several of my paintings this spring, right at the beginning of our pandemic, and then a couple more painting sketches a few months later. They have now placed lovely frames on the small painting sketches and, for now, are showing four of their five "Terrill Welch paintings" together with a special oil painting by an artist cousin that is in the white frame. I always enjoy seeing work in its home environment. So I asked permission to share this image with you. I hope you enjoy it as much as I have.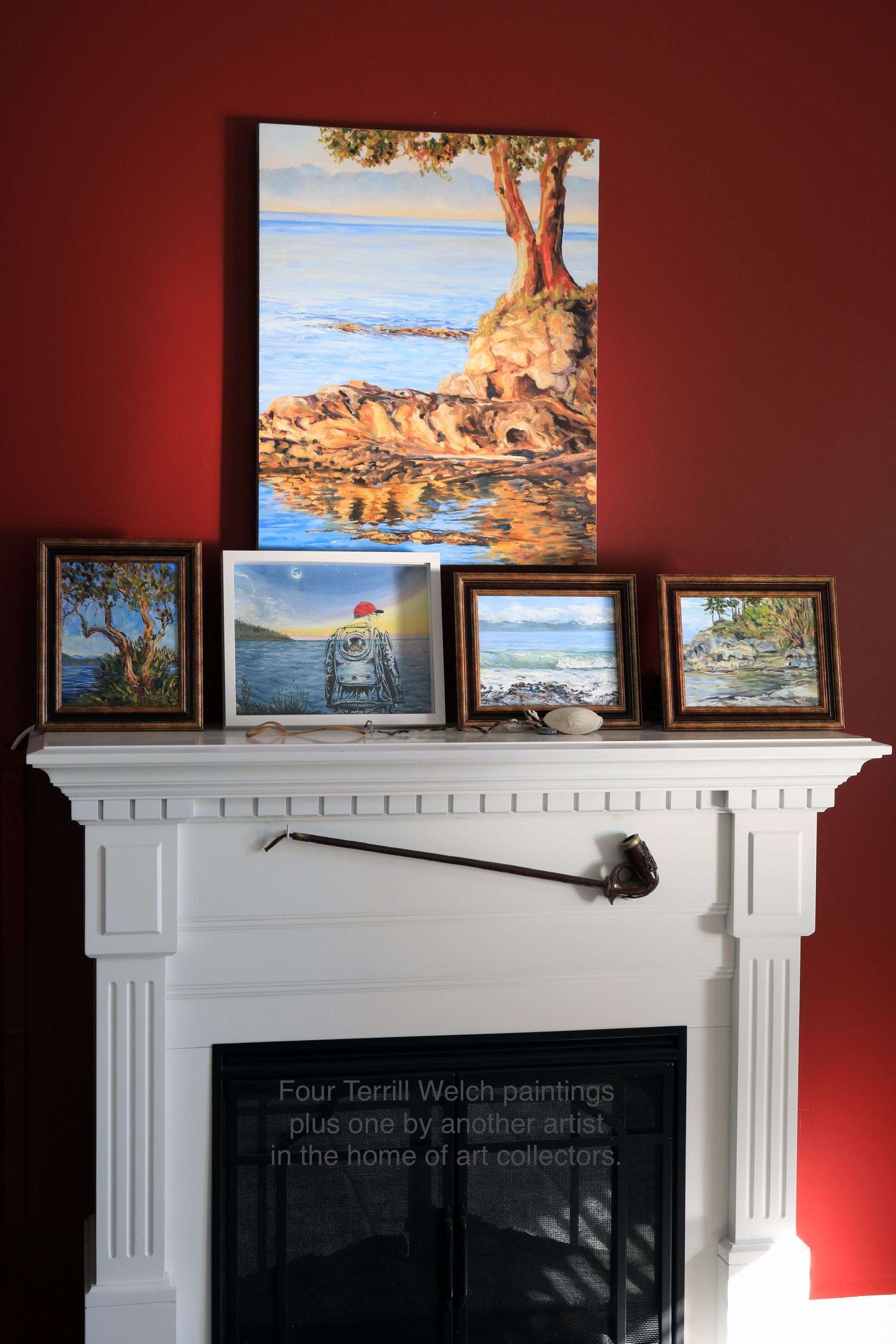 August Morning Sunrise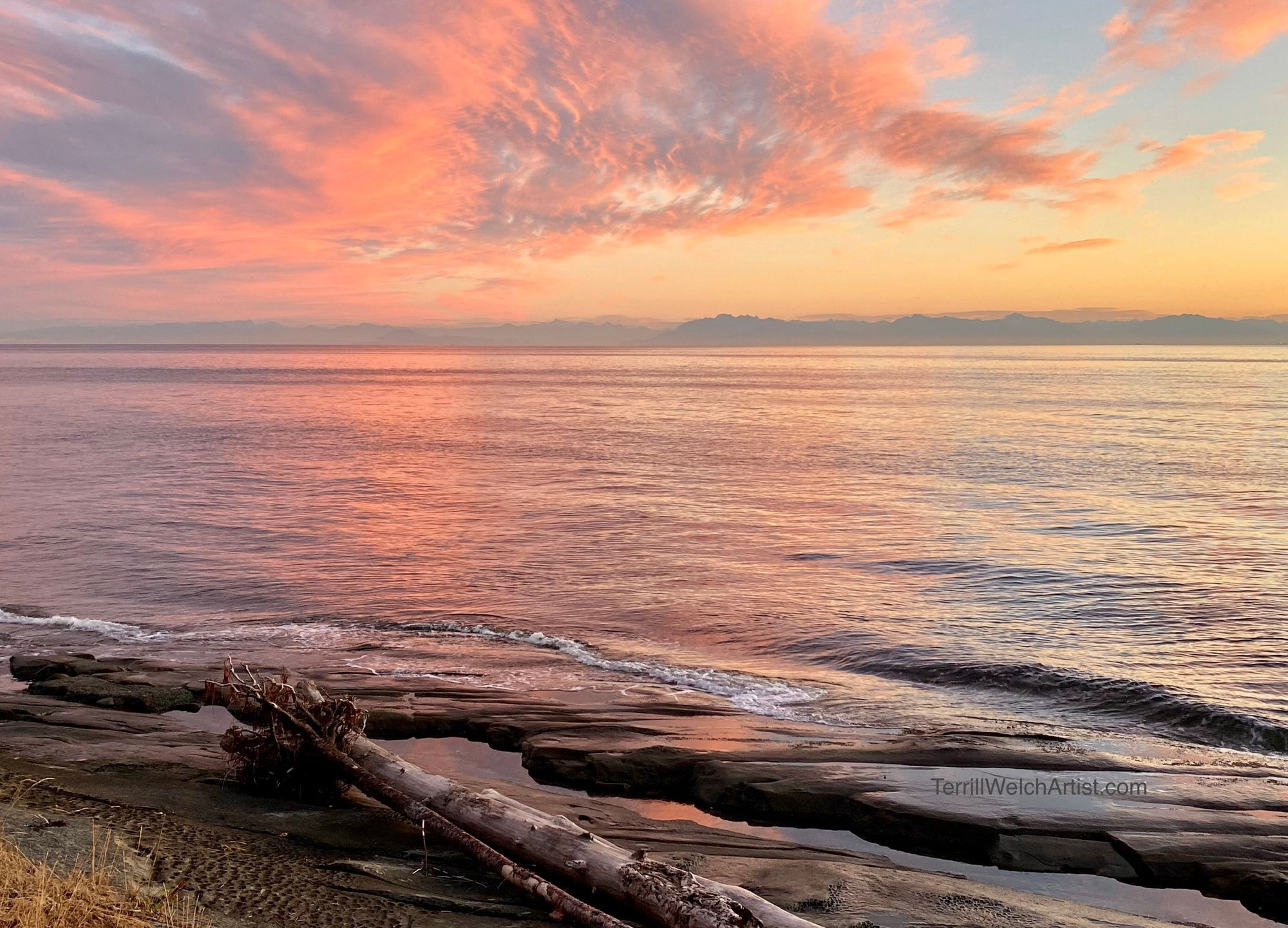 Do you every change plans midway and it feels like that is what you intended all along? This happened to three of us artists the other morning.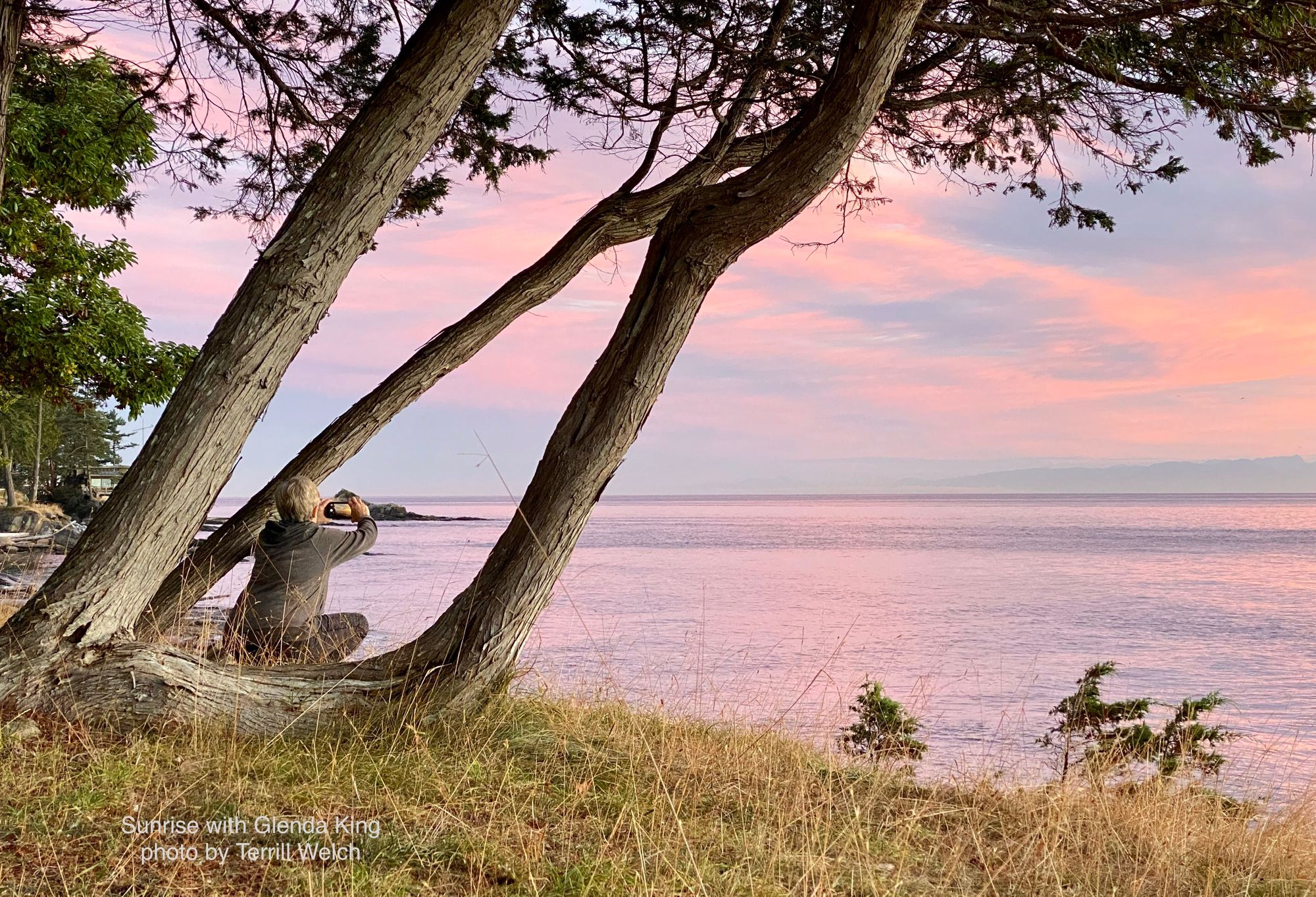 The warmth still hung close as we sat waiting physically distanced for sunrise. Though all three of us are painters, we are also no stranger to picking up our cameras as needed.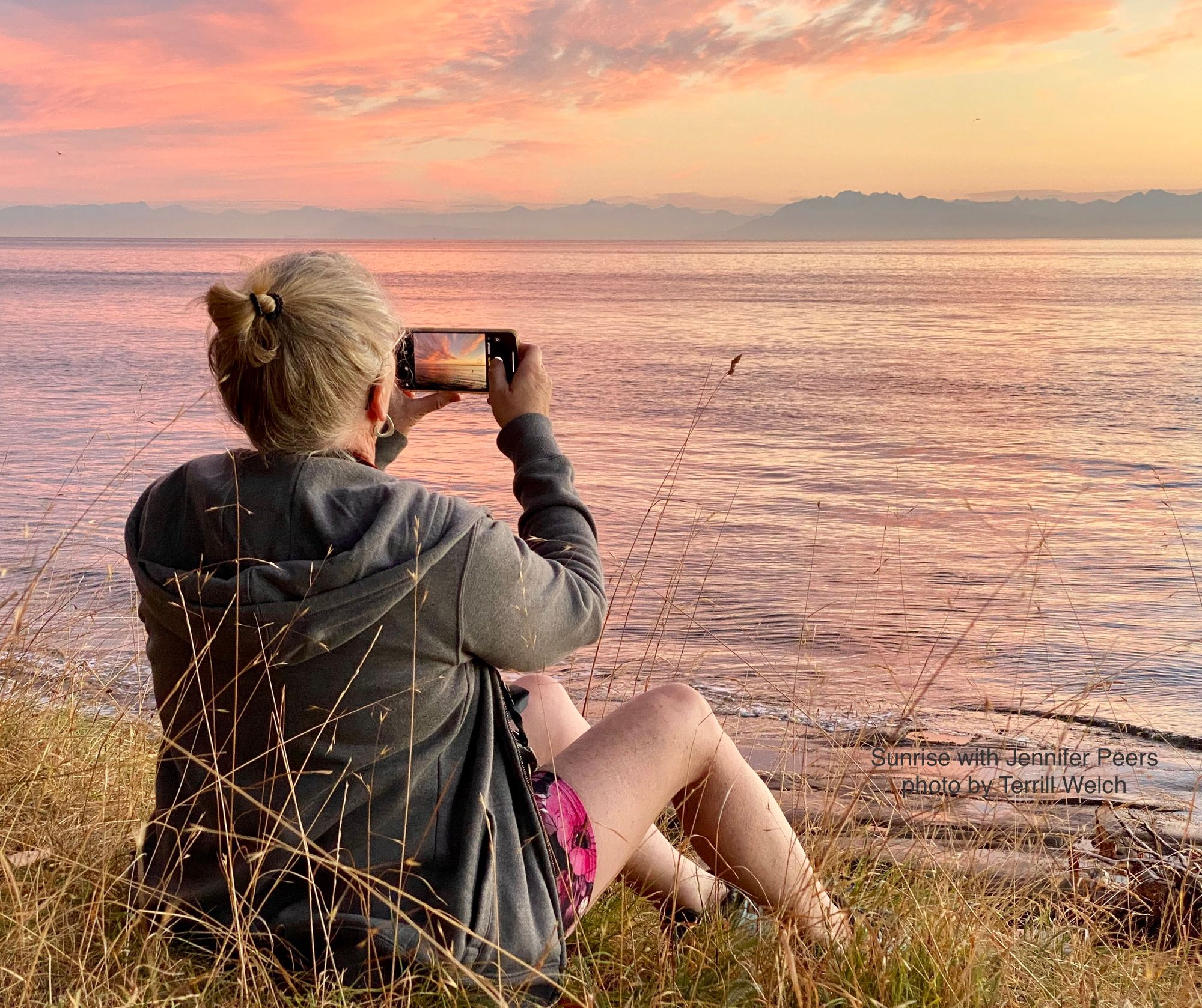 Sunrise is a good time for camera work and gathering references for later.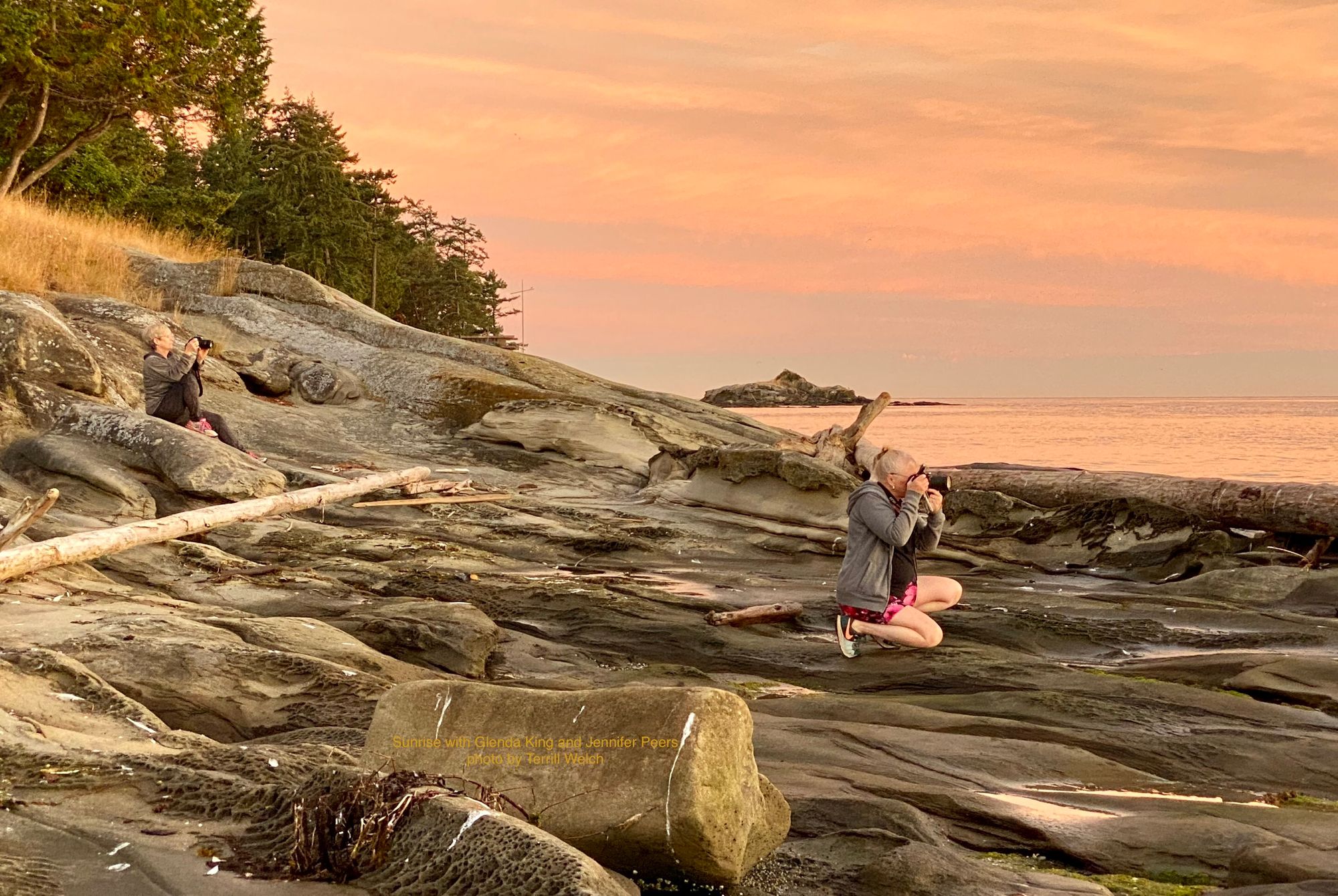 We had thought we would watch the sunrise and then paint. Painting not the sunrise but rather the early morning light. But we didn't. The sunrise was so satisfying that we packed up afterwards and went to our separate homes for breakfast. This final image was taken about 6:10 am PST. 😉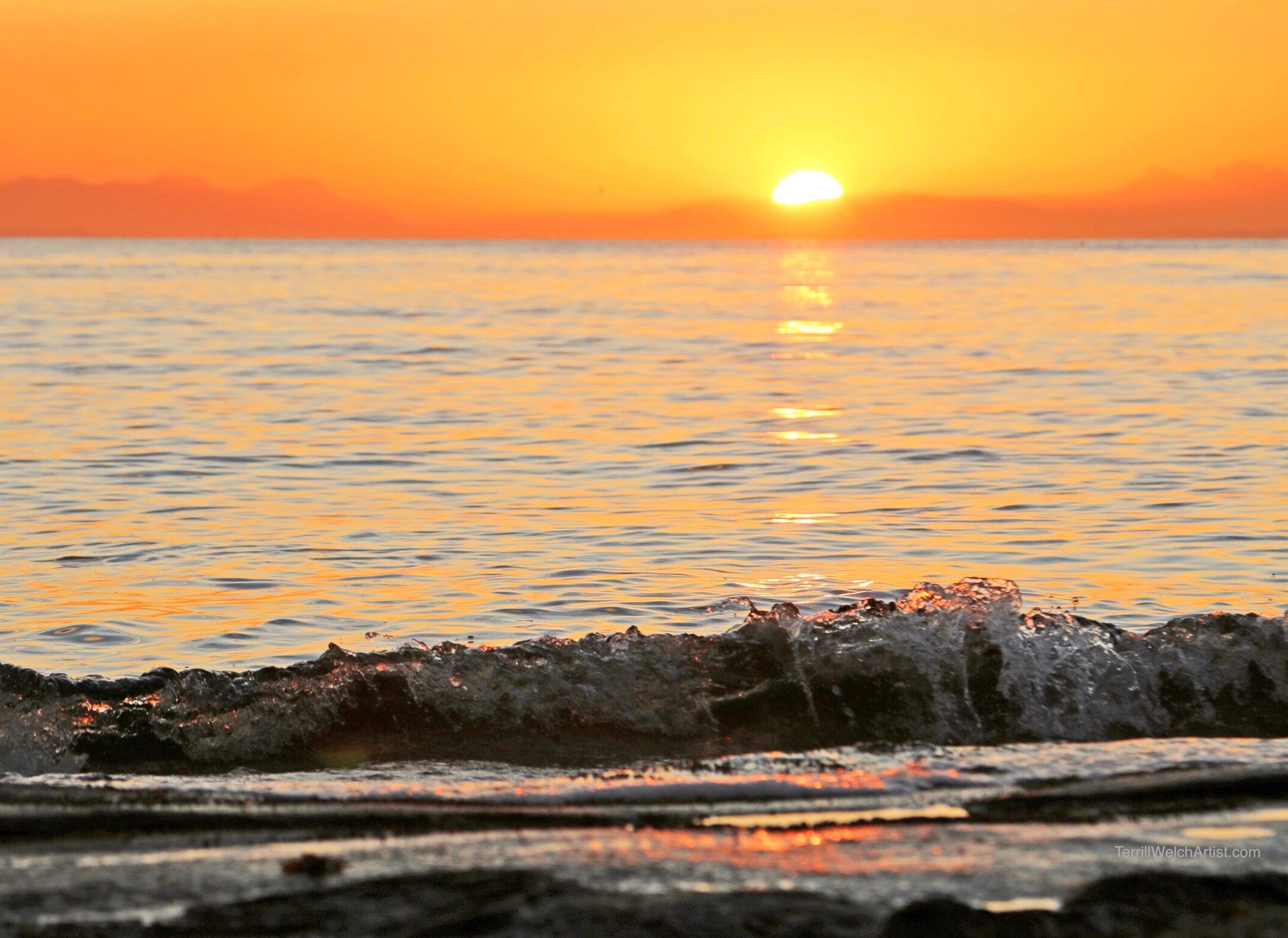 The moment is complete.
Those Eyes That Quietly Notice - Jennifer Peers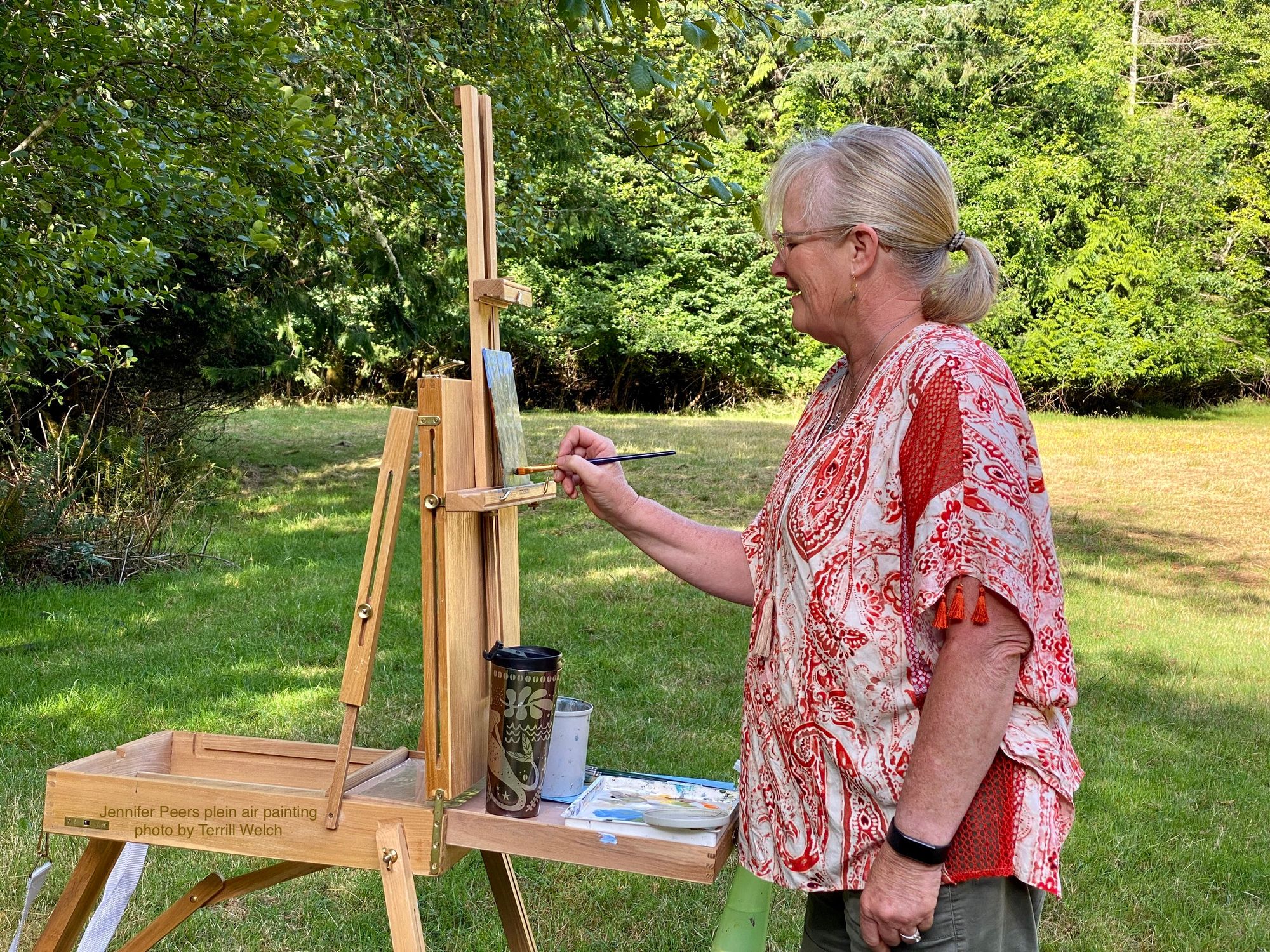 When I met Jennifer Peer's, her warm bubbly nature was my first impression. After several years of watching her work, and being the subject of more than one candid photograph, I have also come to appreciate her ability to slip into a space as if she has always been there. Jennifer seldom startles me because she speaks softly when approaching. Then she can move around unnoticed, observing or working or usually both. In this manner, her keen sense for details are satisfied and her canvases are the fortunate recipients of those observations. What is behind those eyes that quietly notice? Let's find out!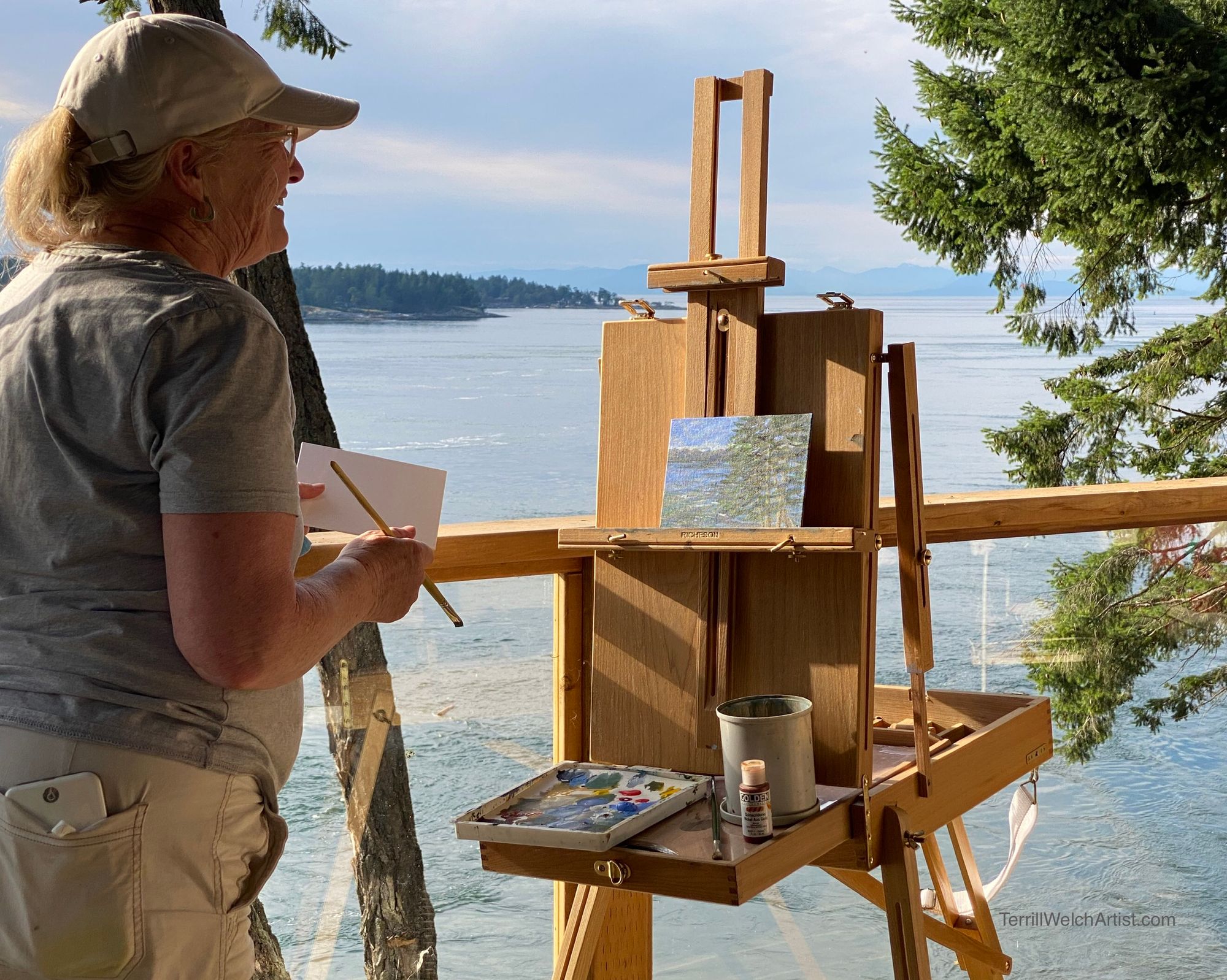 Terrill - I have a hard time imagining you any place except beside the sea Jennifer. However, you moved to Mayne Island from a farm in Ontario in 2015 and still have horses here in a neighborhood pasture. Did you grow up on a farm or was this an adult adventure?
Jennifer - An adult adventure! A move from Calgary to Toronto in 2008 we seized the opportunity to have our horses with us on our own farm rather than boarded.  It kept us busy and hands on!  Growing up I rode, and horses have always been a significant part of our lives.  So, in 2015 two of our horses found a new pasture to call home on Mayne Island. We love having the horses enjoying a beautiful retirement and bringing pleasure to others watching them peacefully graze.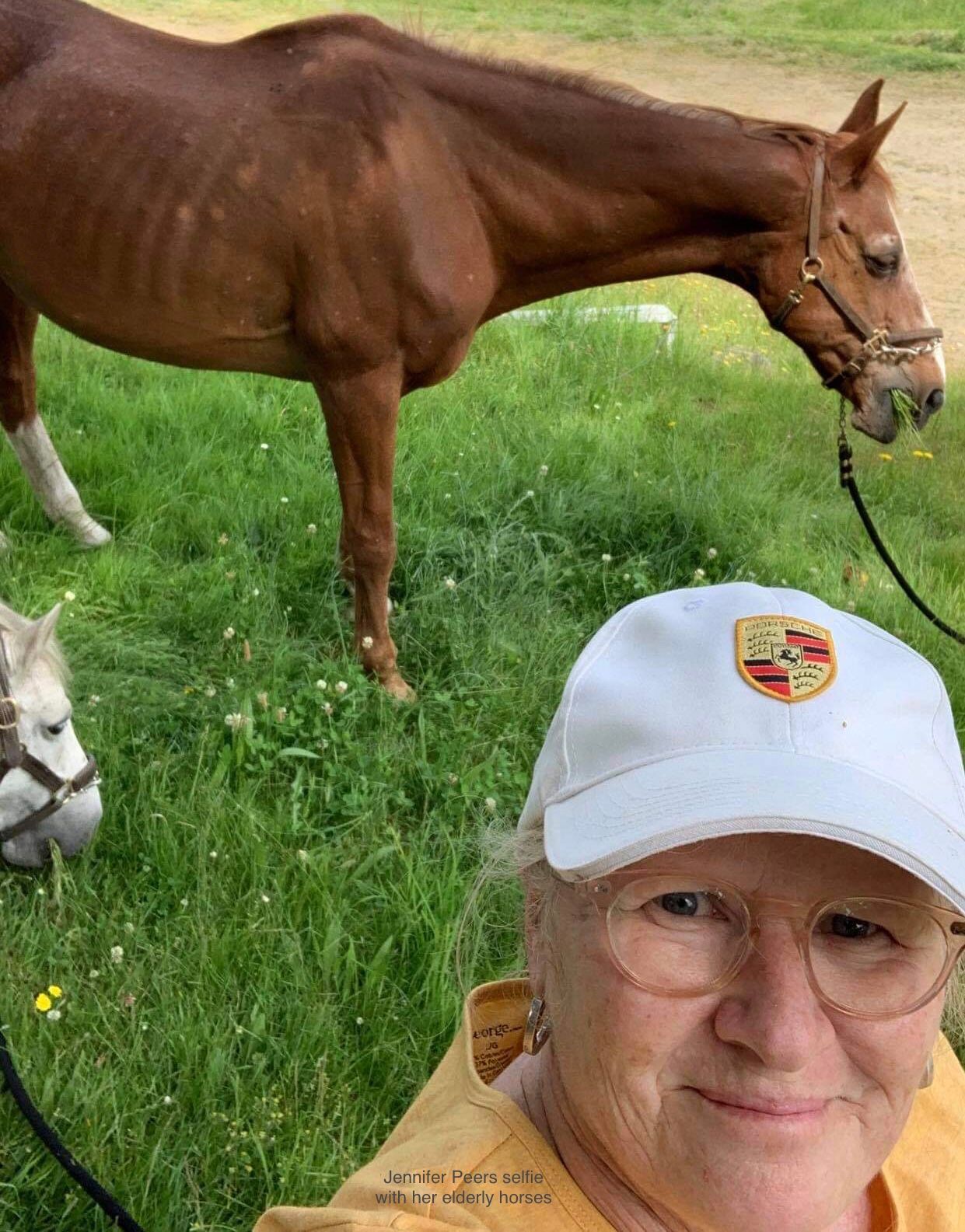 Terrill - Your professional career was as a graphic designer. How, if at all, has this influenced your painting?
Jennifer - The precision required when designing was done by hand and has definitely had an influence.  Architectural renderings for the housing industry played a role in my passion for detail. I love to bring this same focus to my canvas.  It is part of my skill to add details. I consider it important to the integrity of my piece for the beholder.  Plus, this is part of my identity as an artist showing up in my painting!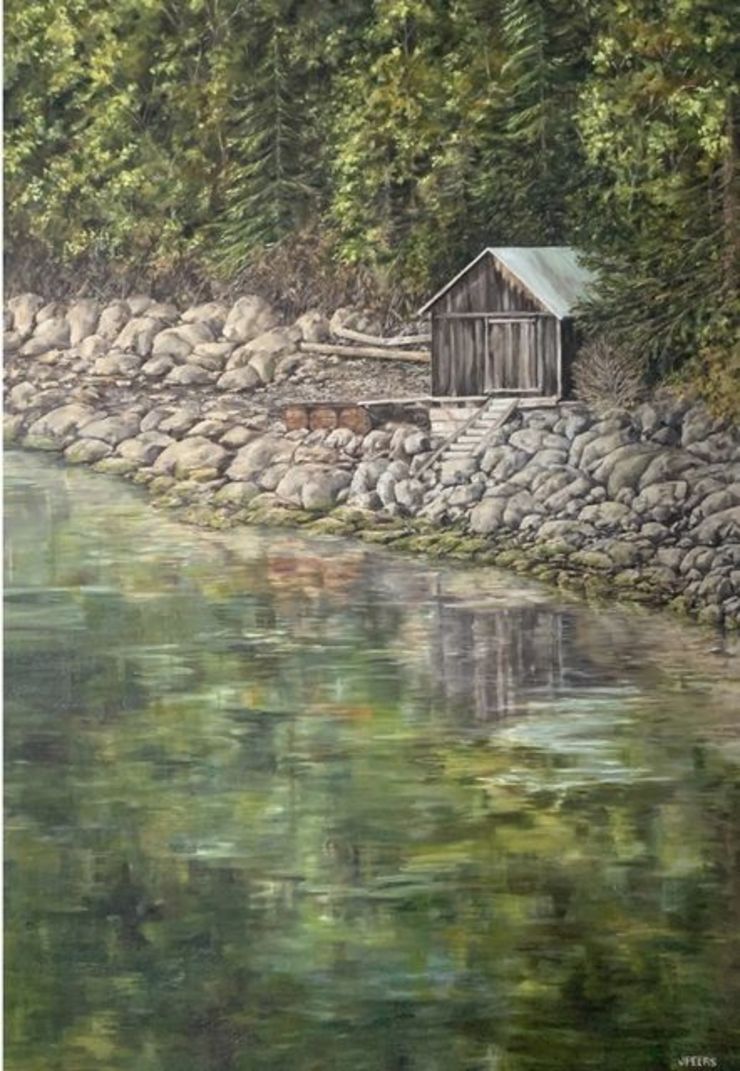 Available for sale from Terrill Welch Gallery, Jennifer Peers, Charlie's Boat House (2019), Oil on canvas, 36 × 24 in
Terrill - Out of curiosity, what did you do as a graphic designer? Who were your clients?
Jennifer - As a graphic designer, corporate identities were always a welcomed challenge. Ongoing brochure design, and annual reports were needs that went to print. There was a variety of clientele from the Molson Group, Woodward's real estate, new housing developers (architectural renderings), Shell Canada, Brites eyewear to name a few, all whose ever-changing requirements were met by a graphic designer.  There was never a dull moment in a fast-paced world of design.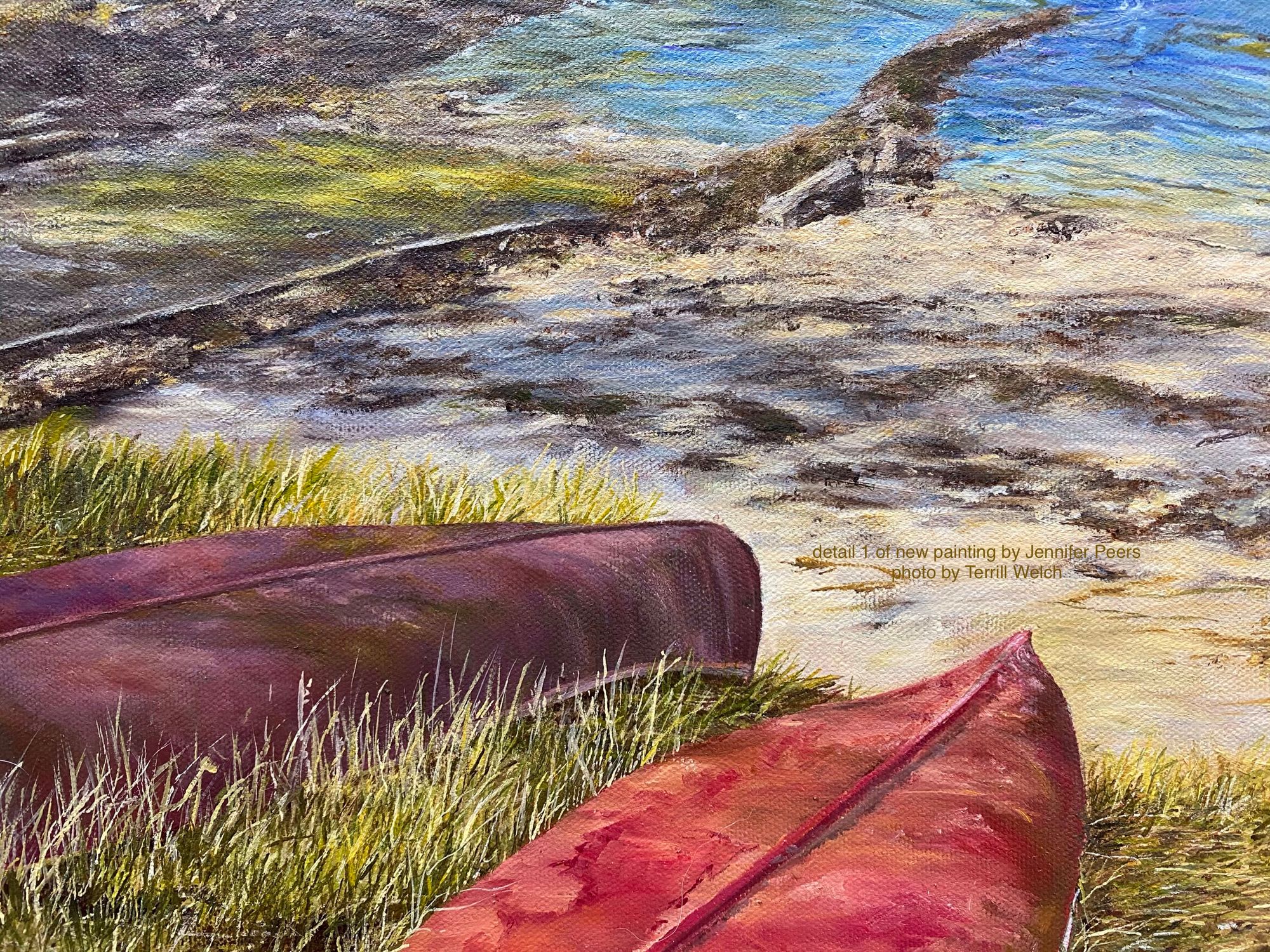 Terrill - Someone was in the gallery just the other day and remarking on the beautiful details in your work. Unlike my own paintings, where the subject disappears into brushstrokes of paint, most often we can see refined forms even up close in your work. Tells us about your passion for detail? Where do you think it comes from?
Jennifer - My vision of detail is deep and questioning.  My answers come as I delve into layers of my chosen image. I begin adding paint to my canvas and capturing nature's minute specs which then draw your eye closer into the painting.  As an example, with a maple tree my eyes gently climb the aged wide trunk, laden with thick bark and moss.  The branches protrude out and up, sometimes knarled, chasing the sun, and angling for a good position.  I find the samaras (those flat double-winged fruit clusters hanging on the trees) are especially beautiful late summer as they dry and get ready to spin from the maples, blown down onto the grass, or as they are hanging in big clumps just below the vibrant green leaves. These little details are what I love to capture.  I love my plein air sessions to relax and let my brush strokes flow!  Don't get me started on the greens in nature!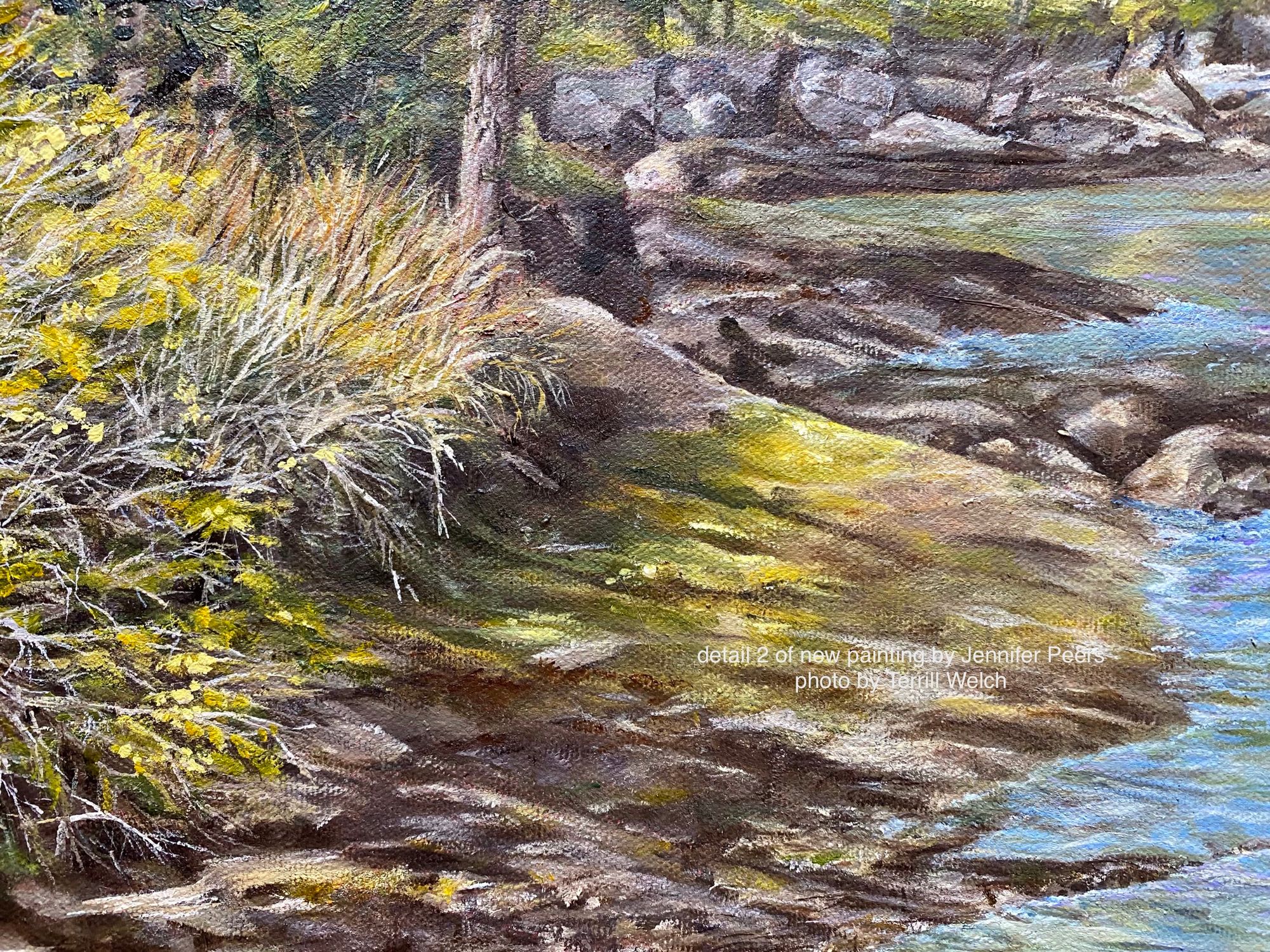 Terrill - Like many of us, you have a large plate of responsibilities as a wife, mother and grandmother as well as caring for animals. How do you secure your painting time with so many other time sensitive demands? How do you get those close to you to take your painting practice seriously?
Jennifer - One of our reasons for moving to Mayne Island was to refocus, "live small to have a big life"!  I have begun taking time for me between chores.  It means "heading to my studio to paint" and as my days open up, it has allowed me to dedicate more time to painting.  My work has become more fluid and decisions are quicker. This dedicated time has been amazing and constantly sharing "selfies" through family group chats of plein air or in my studio has resulted in some great encouragement from my family for my work!!!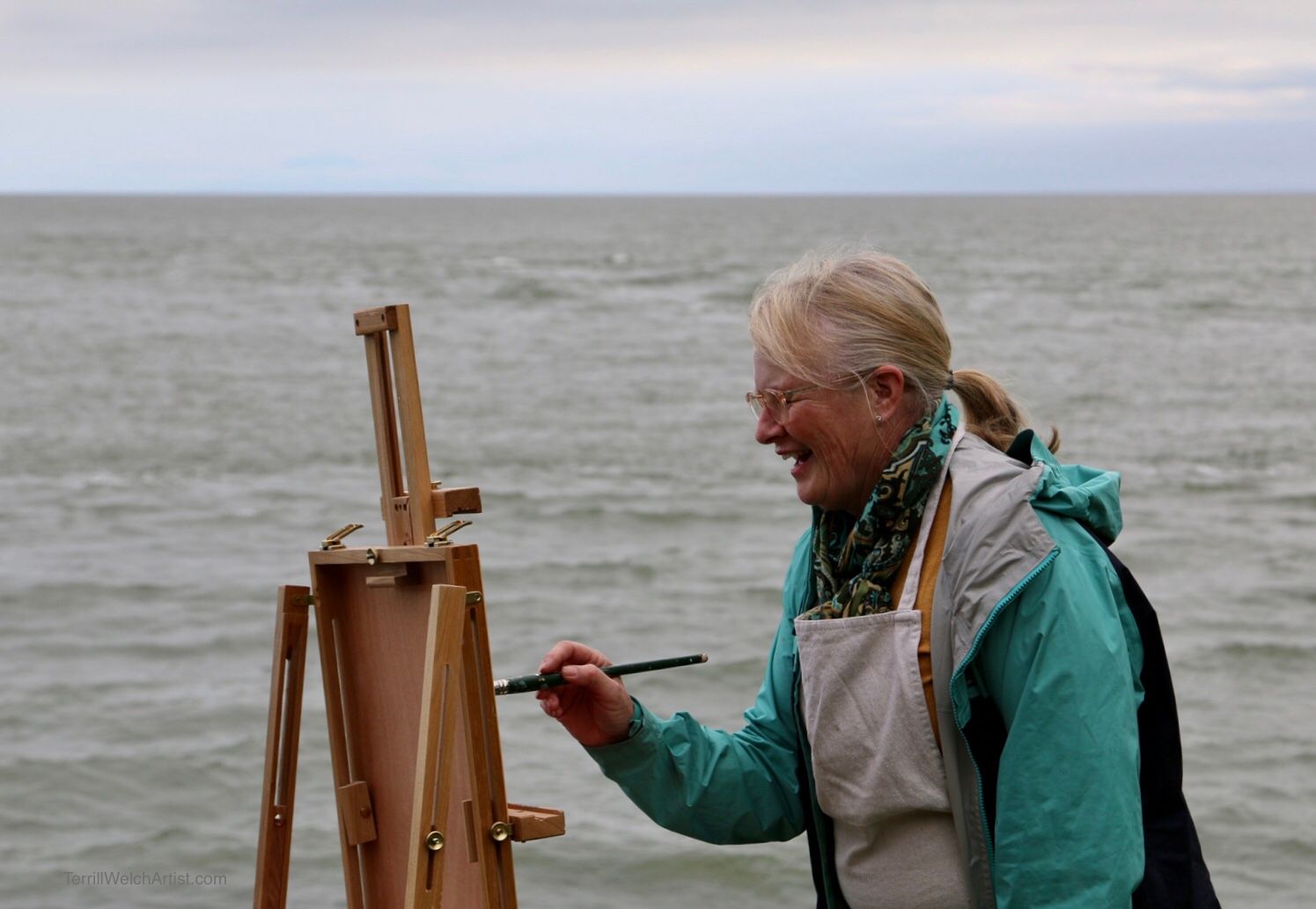 Terrill - If you only had one canvas Jennifer and only had time for one single painting for the rest of 2020, what size would the canvas be and what would you paint?
Jennifer - Oh I love this question Terrill!  I currently have my thoughts on some photo references I took at Cotton Park, where Active Pass meets the Salish Sea, an evening with a light breeze that had the daisies gently waving. The canvas size would be 36 x 48!  I'm already dreaming about my approach, I can hardly wait to get into it!
Terrill - And since you are no stranger to a large canvas, we look forward to seeing how your vision unfolds.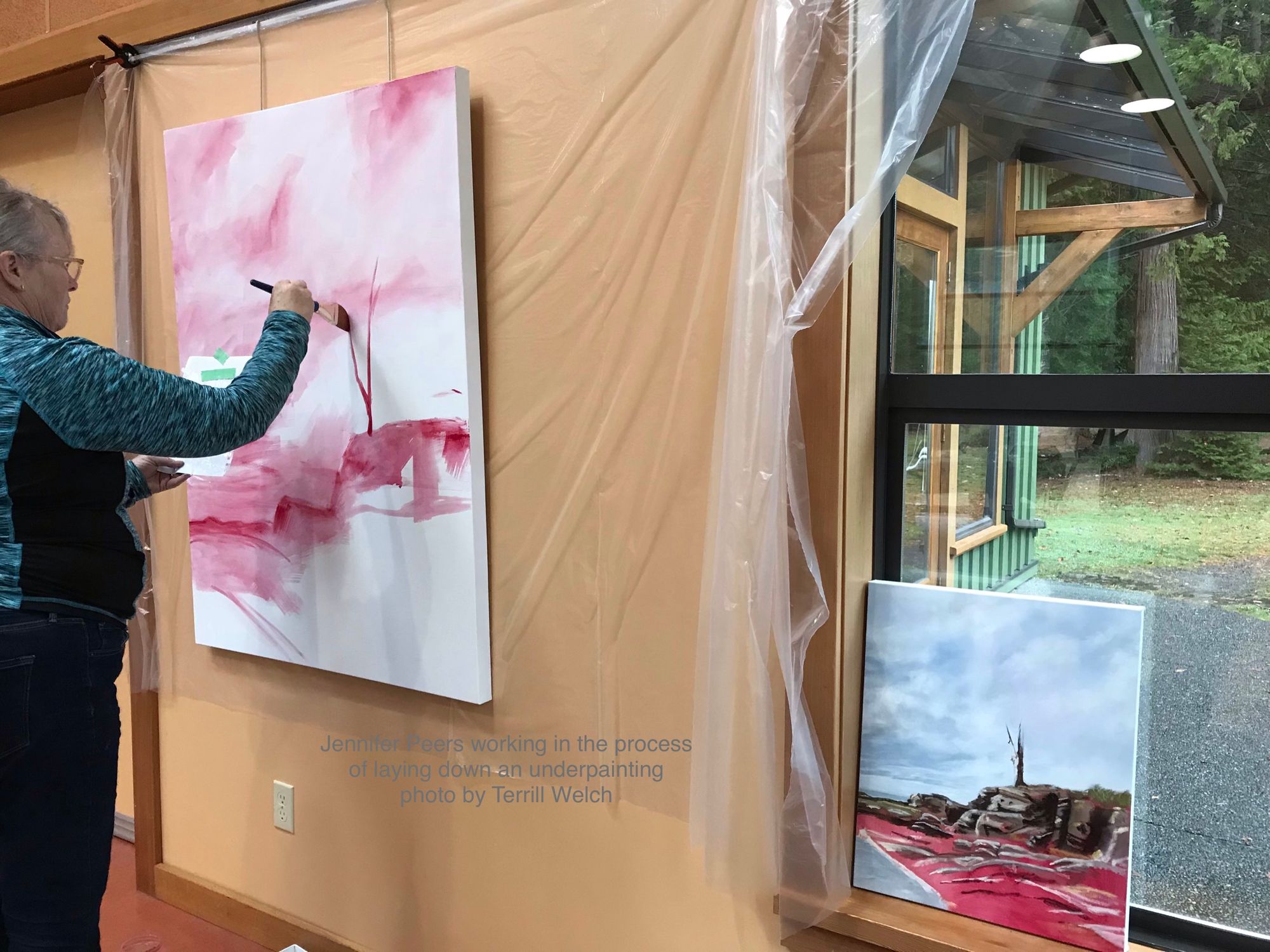 Our thanks to Jennifer for sharing her work and her life with us. Also, a huge thank you to her family for their ongoing support and encouragement. Finding and making room amongst competing priorities is never easy in self-directed careers.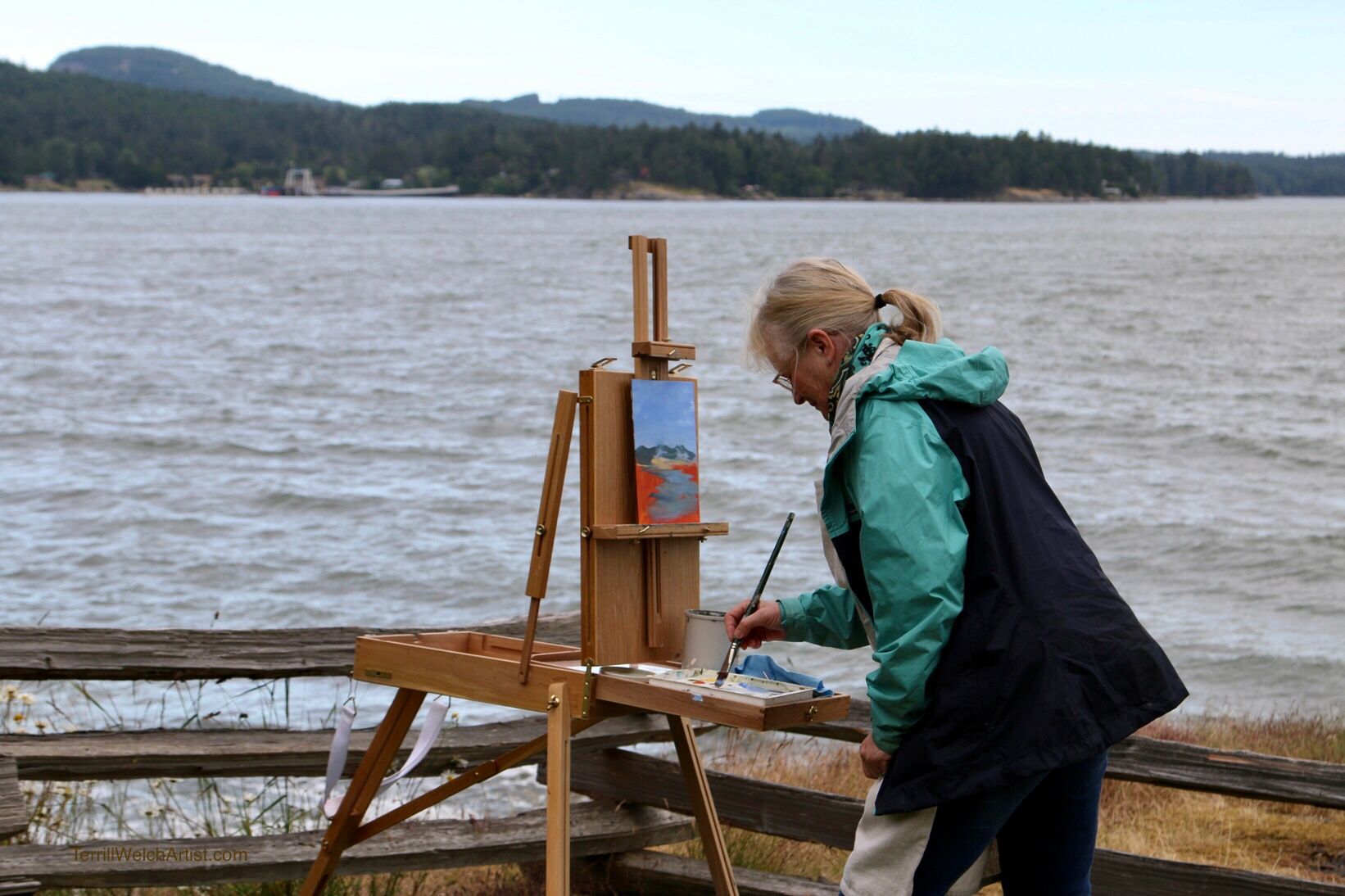 However, when our families stand with us and help define those boundaries by noticing more, taking on more, and by encouraging us to leave things aside for now and to go to the studio and paint - then it is easier, much easier, to make it all happen.
Psst! And you can inquire to see a full image of the new painting that will be in the next show. I have already secured it to be represented by the gallery. Jennifer Peers just needs to take a final image and paint the edges. Just send me a note if you want to explore the work further.
Time Limited Viewing Room
This is something new and a bit different for us. Artsy has just launched a private viewing room option for subscribers. I am not sure how well it is going to work to share it's link for you in the newsletter but let's give it a try. To enter the viewing room you will need to open an account or profile with Artsy. The viewing rooms are time sensitive and this viewing room will only remain for another 18 days. As special offer is included during this time and it is mentioned in the story about this painting. And while you are there if you "follow" the gallery and each of our work, you can receive notices as soon as new work is released and shows are opened. So please do let me know how this viewing room works for you. I would love to hear.
"During these times I often ask myself - what is it I know for sure?... I know that my intention is pure and direct - I want to save the world by connecting us to our natural ordinary day, one person at a time for all time."
What Has Sold
A week ago Tuesday, by invitation, we were plein air painting up high above Village Bay on Mount Parke. It was a glorious morning!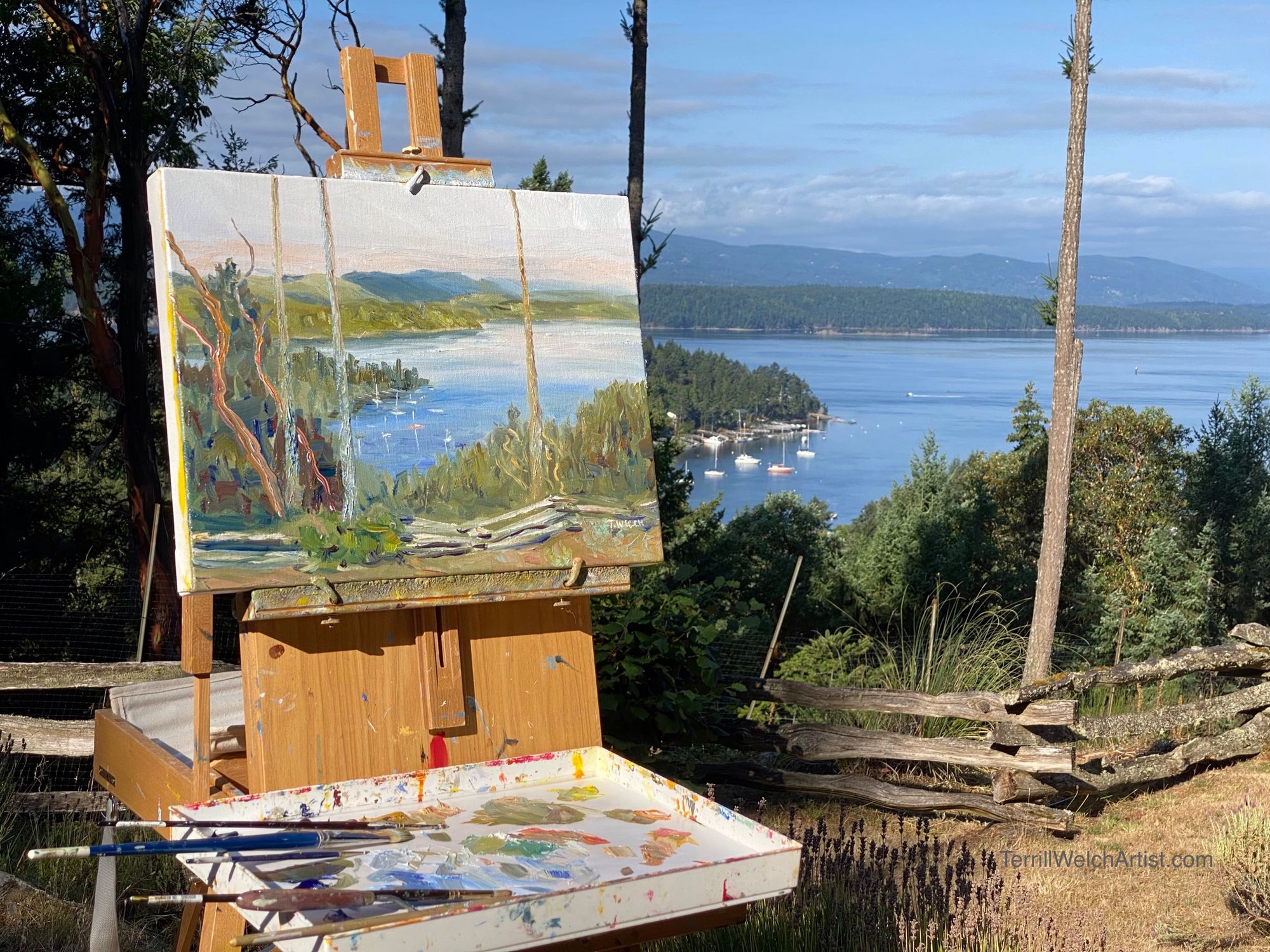 On this past Sunday, the painting was still wet, hadn't had a final photograph or the edges painting. But I slipped it into the gallery at the special request following a serious inquiry.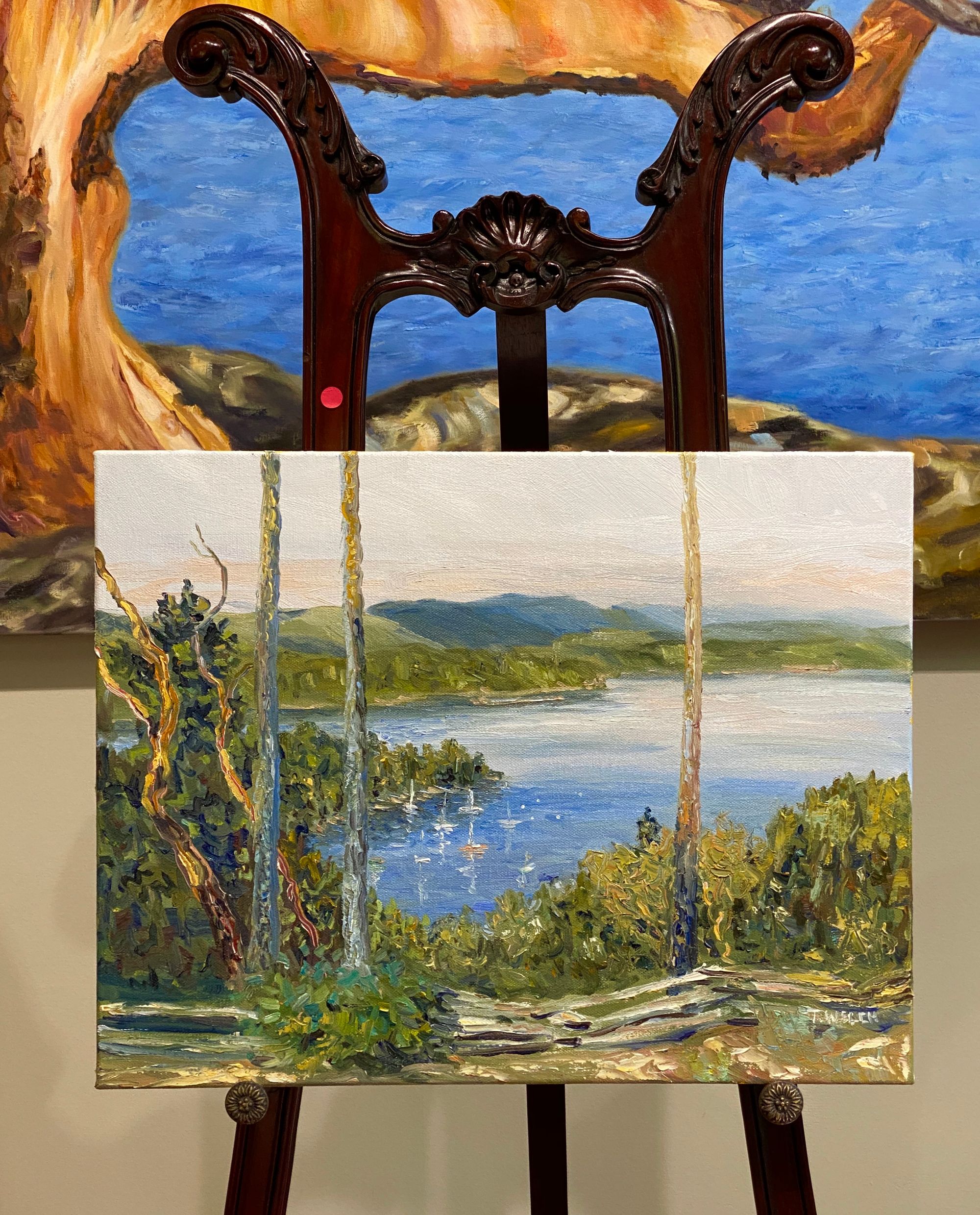 And the painting sold to one happy new art collector of "Terrill Welch paintings".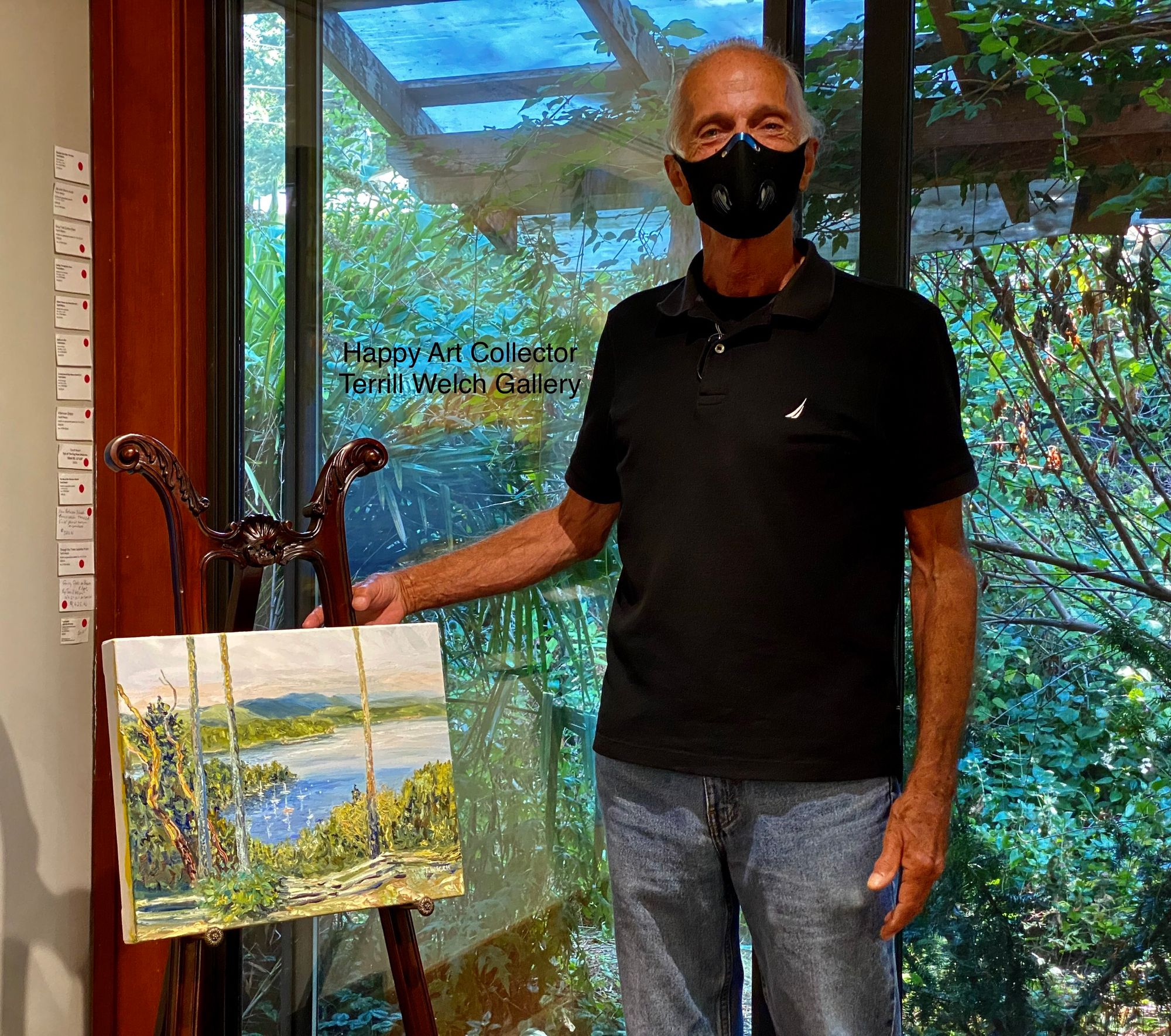 Another Gallery Snippet...
I have had the gallery open "by chance" more often these past two weeks. You would have loved yesterday. These two young boys about 10 and 6 came to the door. They were masked and stopped to wait to be invited in. Once I had welcomed them, without being asked, they went straight to the hand sanitizer and carefully proceeded to prepare for browsing. I double checked to make sure they were in the same bubble. The older boy's eyes sparkled as he confirmed that - yes, they were. From there, they slowly took in the paintings and asked all sorts of intriguing and intelligent questions for the next 15 or 20 minutes. They then thanked me for my time and confidently went to suggest that the adults come and see the paintings... which they did. Talk about a burst of hope and compassion for our human ability to adapt and make things work! Truly inspiring.
Until Next Time!
As the summer season rounds the corner and the finish line is in view, I wish you all the best. Continue to seek joy and happiness and to support each other. When it gets tough, as it does at times for all of us, I slow things down and count my blessings. We can do this. We know what to do and most of us are doing it. As we say here in British Columbia, be safe, be calm and be kind, with fewer faces in big spaces.
Terrill 👩‍🎨🎨❤️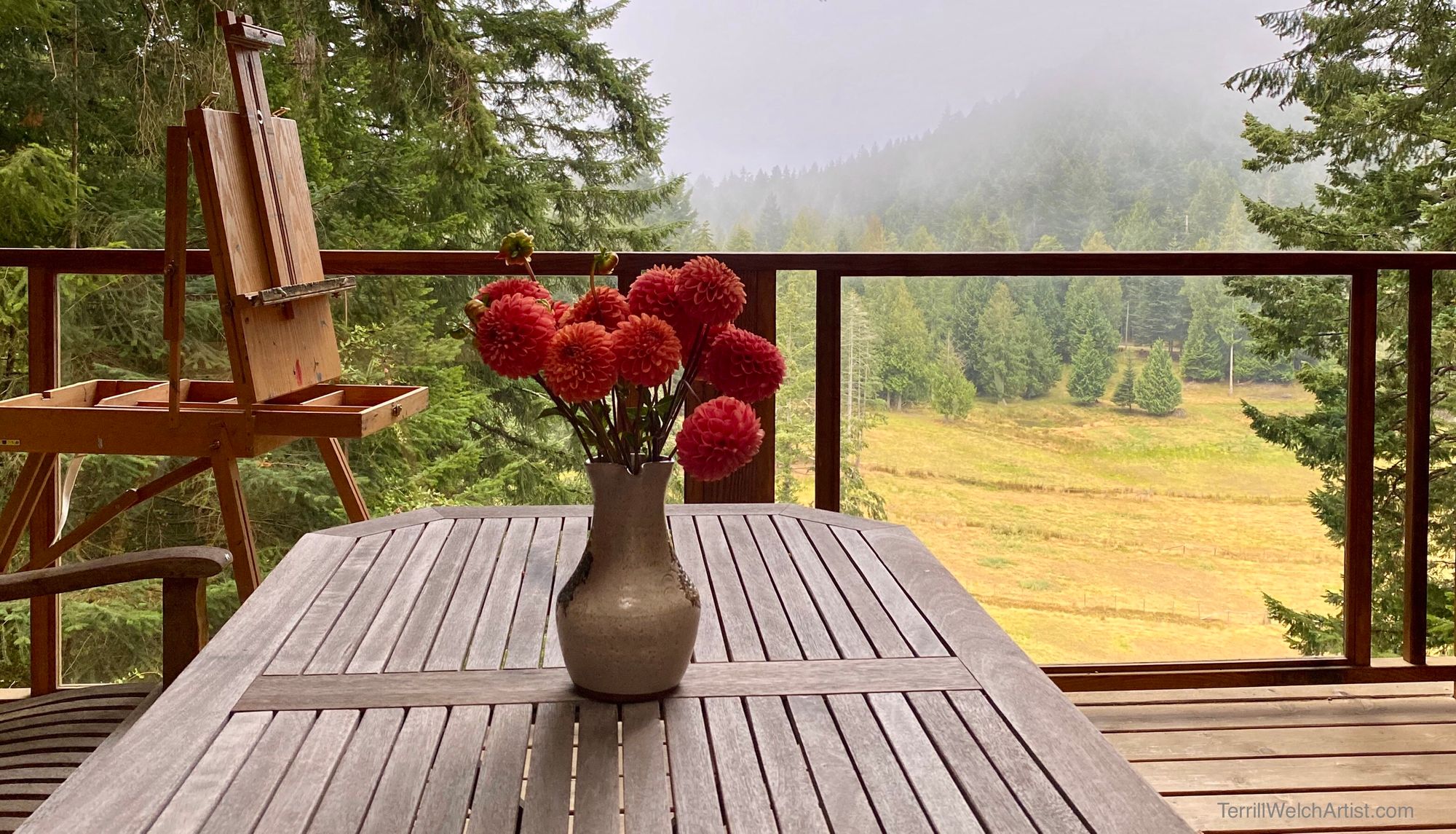 Our gallery program brings extraordinary connections to ordinary moments in our natural landscape. The Terrill Welch Gallery opened in August 2017. Since then, the gallery has more than doubled its physical gallery exhibition space and online reach.