A Brush with Life - Issue #62 Close To Home Opens Wednesday
The pandemic has kept most of us close to home during these past months and this reality has brought many changes to our daily lives and expectations. This is equally true for the artists in the Terrill Welch Gallery. Allow us to introduce one new painting from each gallery artists that is in the up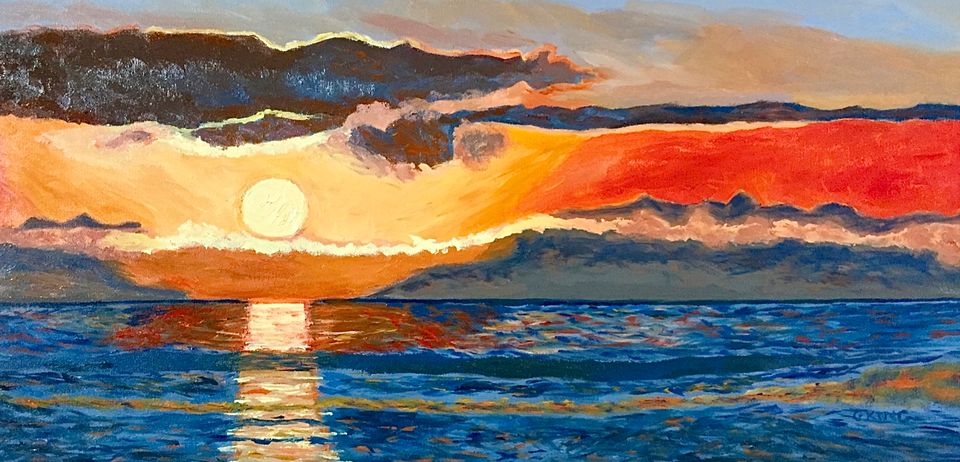 The pandemic has kept most of us close to home during these past months and this reality has brought many changes to our daily lives and expectations. This is equally true for the artists in the Terrill Welch Gallery. Allow us to introduce one new painting from each gallery artists that is in the upcoming show before providing the link to the show in our online gallery at Artsy.
---
Glenda King has found a new appreciation for sunrise that has resulted in this new painting that she completed just in time for this next Arbutus Room group show.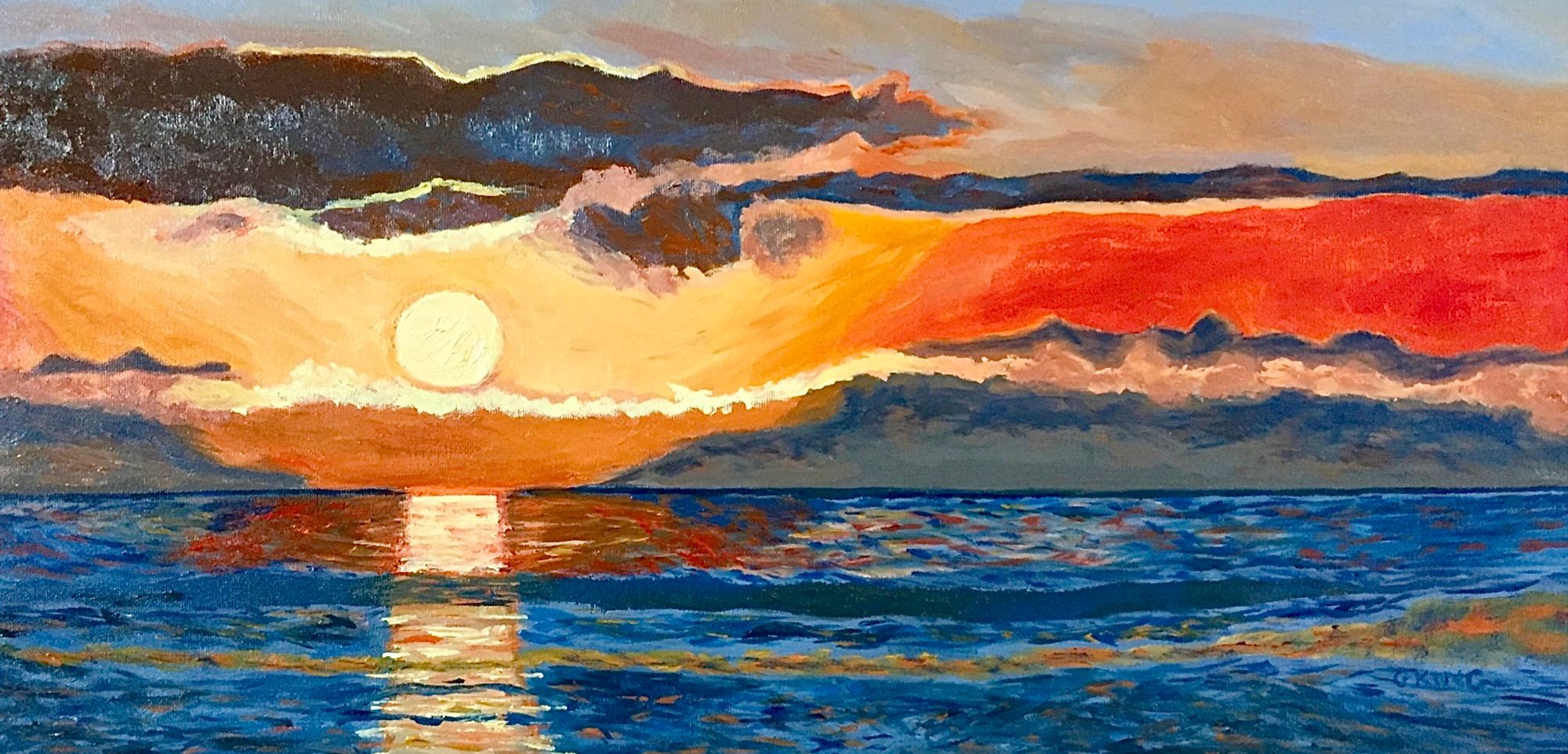 Jennifer Peers has renewed her use of acrylic paints for plein air studies over the summer.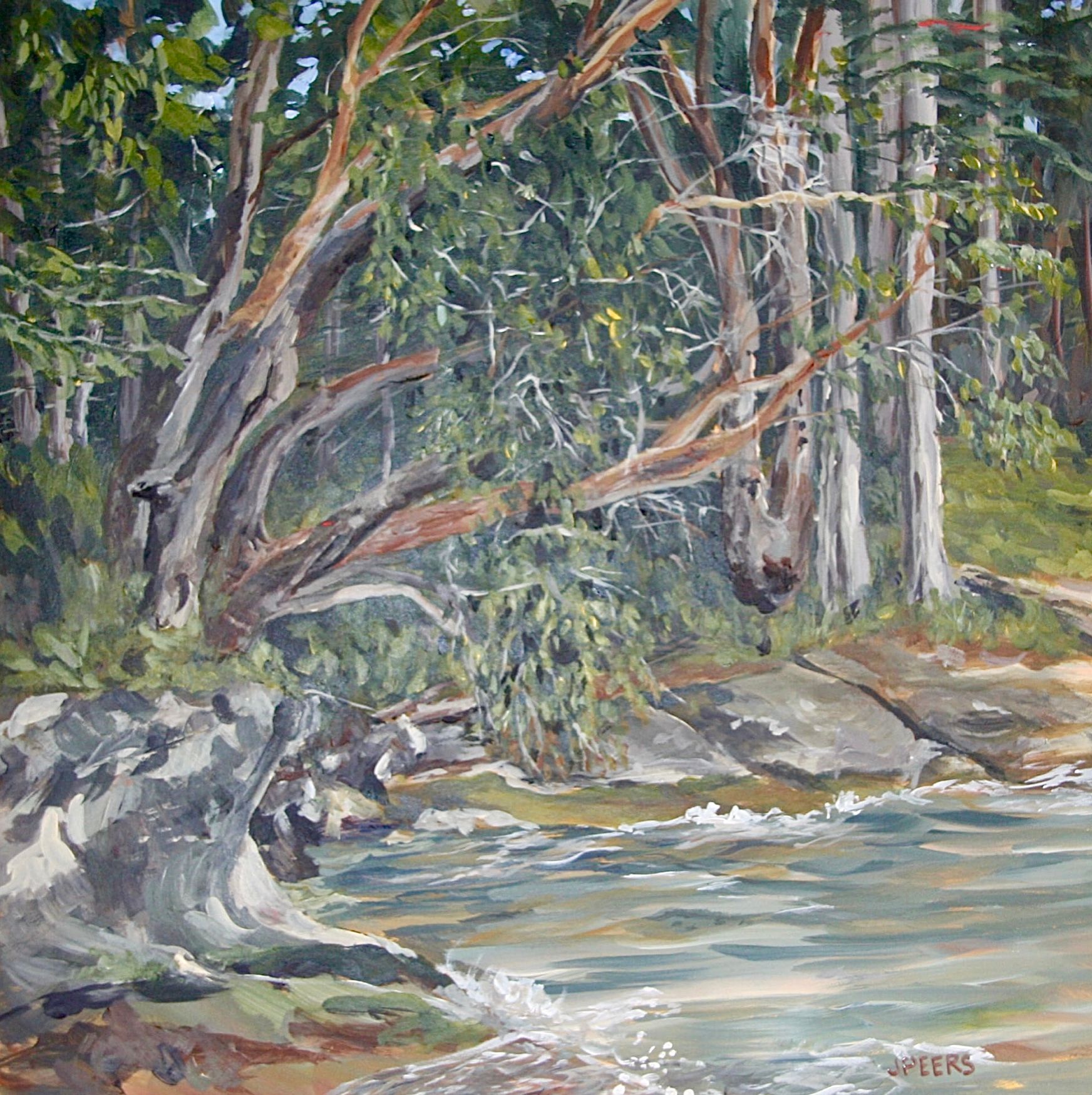 Jody Waldie has set her understanding of place to the task of rendering the sailboats at Village Bay.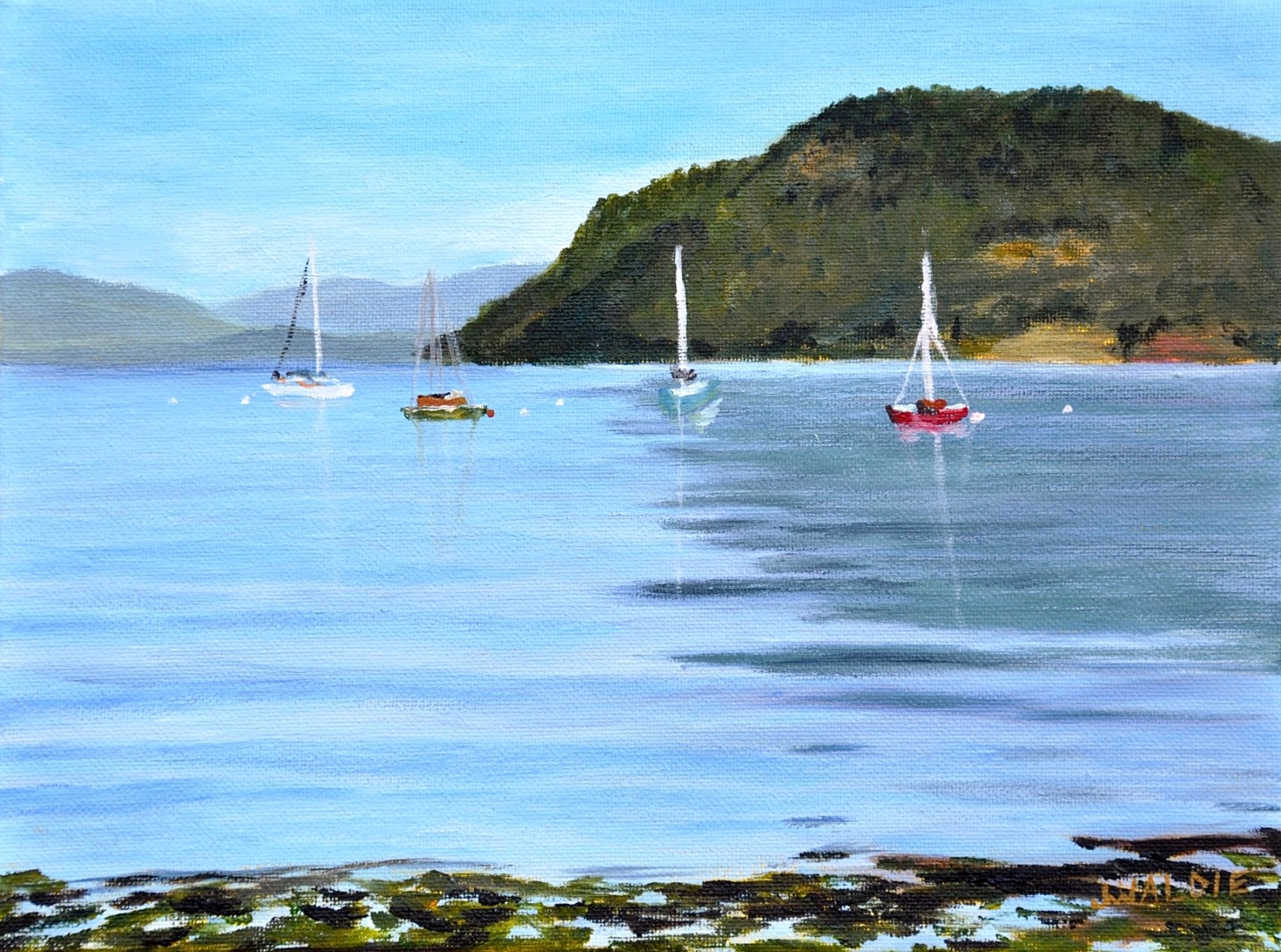 And Terrill Welch settles next to Salish Sea shores with renewed engagement.
On small, medium and large canvases, these artists bring us their most recent "Close to Home" landscape paintings from Mayne Island in British Columbia, Canada into the Terrill Welch Gallery's Arbutus Room. Several of these west coast landscape paintings began while plein air painting and physical distancing together during this past spring and summer. The fall has meant going back to even smaller groups and mostly painting alone on private properties as the artists comply with changes to provincial and local requests to flatten the curve and keep our community and themselves safe. These recent paintings are about persistence and resilience. They are about a quiet coming together while maintaining safe distances and finding possibilities within limitations. May you find inspiration from these renderings of open spaces close to the homes of these artists.
The Terrill Welch Gallery's Arbutus Room "Close To Home" group show is open to visitors by appointment or Wednesday to Sunday 11-4 , 1 or 2 from the same household at a time, mask recommended and hand sanitizer provided.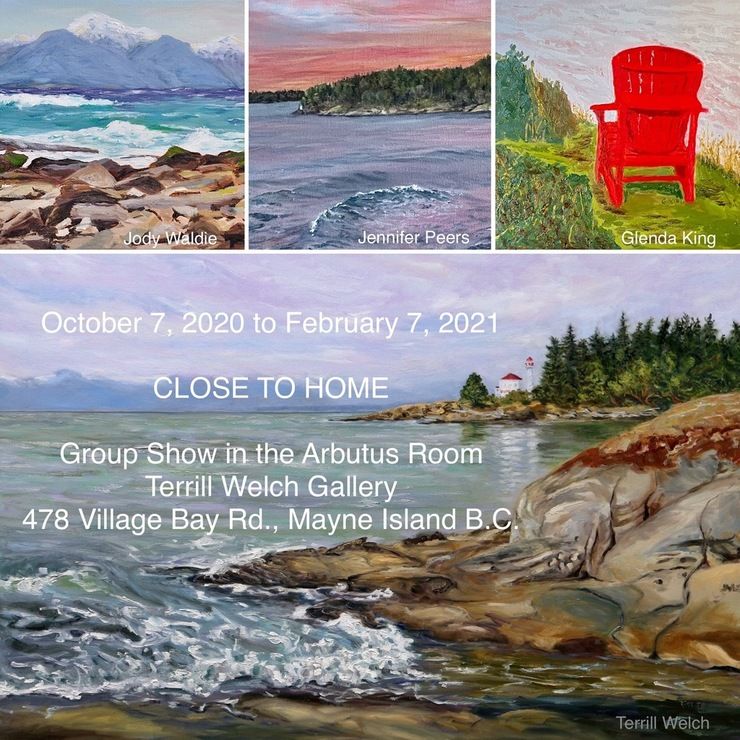 Upcoming show featuring works by Terrill Welch, Jody Waldie, Glenda King and Jennifer Peers at Terrill Welch Gallery Mayne Island, 478 Village Bay Rd Oct 7th, 2020 – Feb 7th, 2021
We would also like to thank all the collectors and other individuals who invited these artists to paint at their private property. These were extremely special and welcomed opportunities.
Our current two weeks have been focused almost exclusively on getting ready for the opening of the next shows. It is a time of painting edges, taking final photographs, writing description and press releases, picking up work and dropping off work and generally remembering to stay calm and focused. So, for this particular issue, our preview link above for the show that opens on Wednesday is our most significant offering. There are still a few more paintings to be added but we are close to having everything ready for you. We hope you take the time to check it out.
A Quieter Island Time with Terrill
With new COVID-19 numbers still not coming down as much as we need, we are all staying closer to home these past couple of weeks. Long walks in the woods and beside the sea encounter far fewer people and there is a sense of solitude and almost sought-after melancholy that comes with the warm midday light and pulling on a sweater before heading out. Many of us that live on the island year round tend to secretly savour these times before winter storms can knock over trees and take the power out for several days in a row. This time of year might even be loved as much or more than the full blossom of summer. Hence  our lengthier soft chatter and hearty waves with big grins when we see each other. Here are a few of my quieter moments over the past few weeks for you...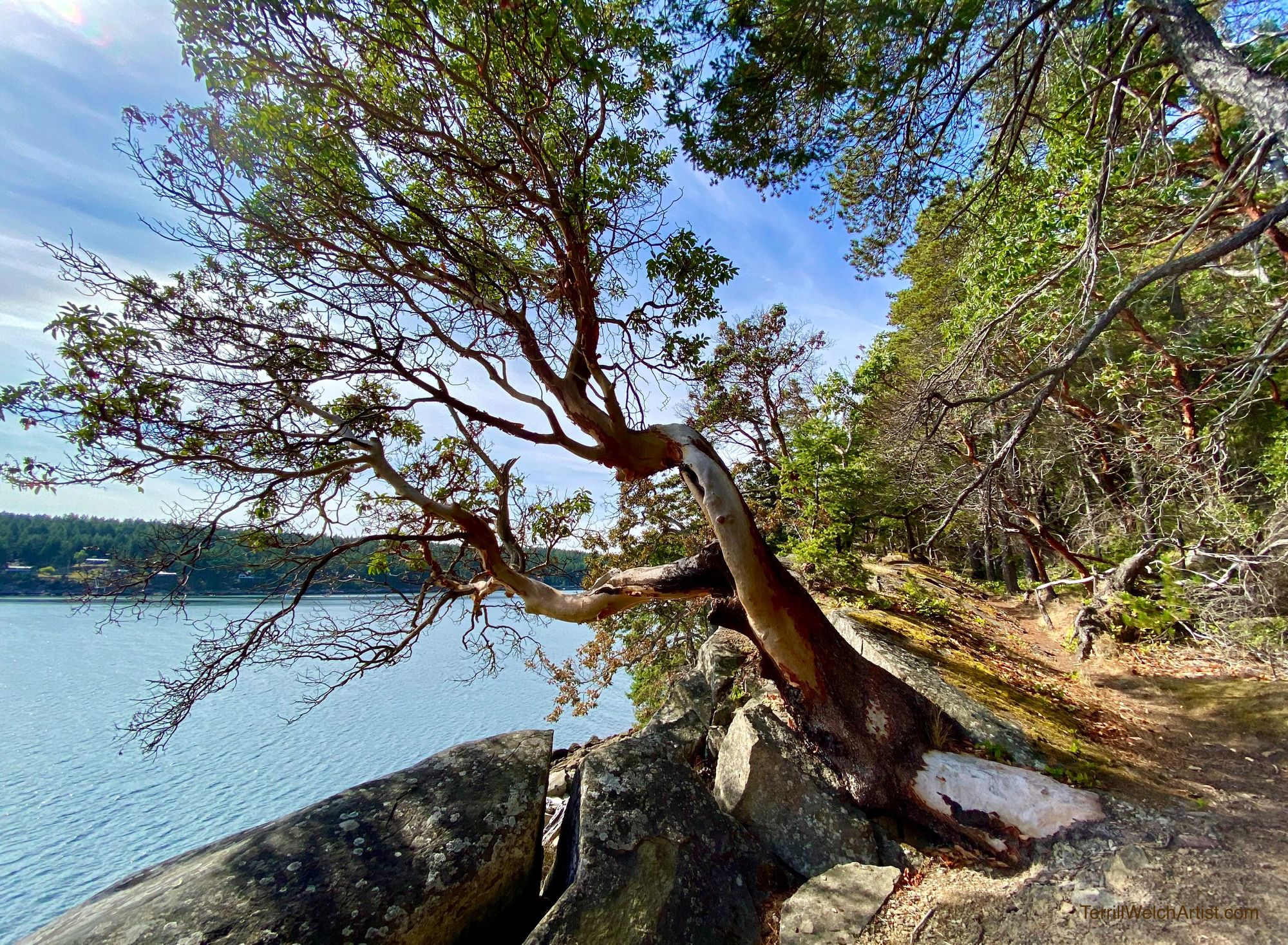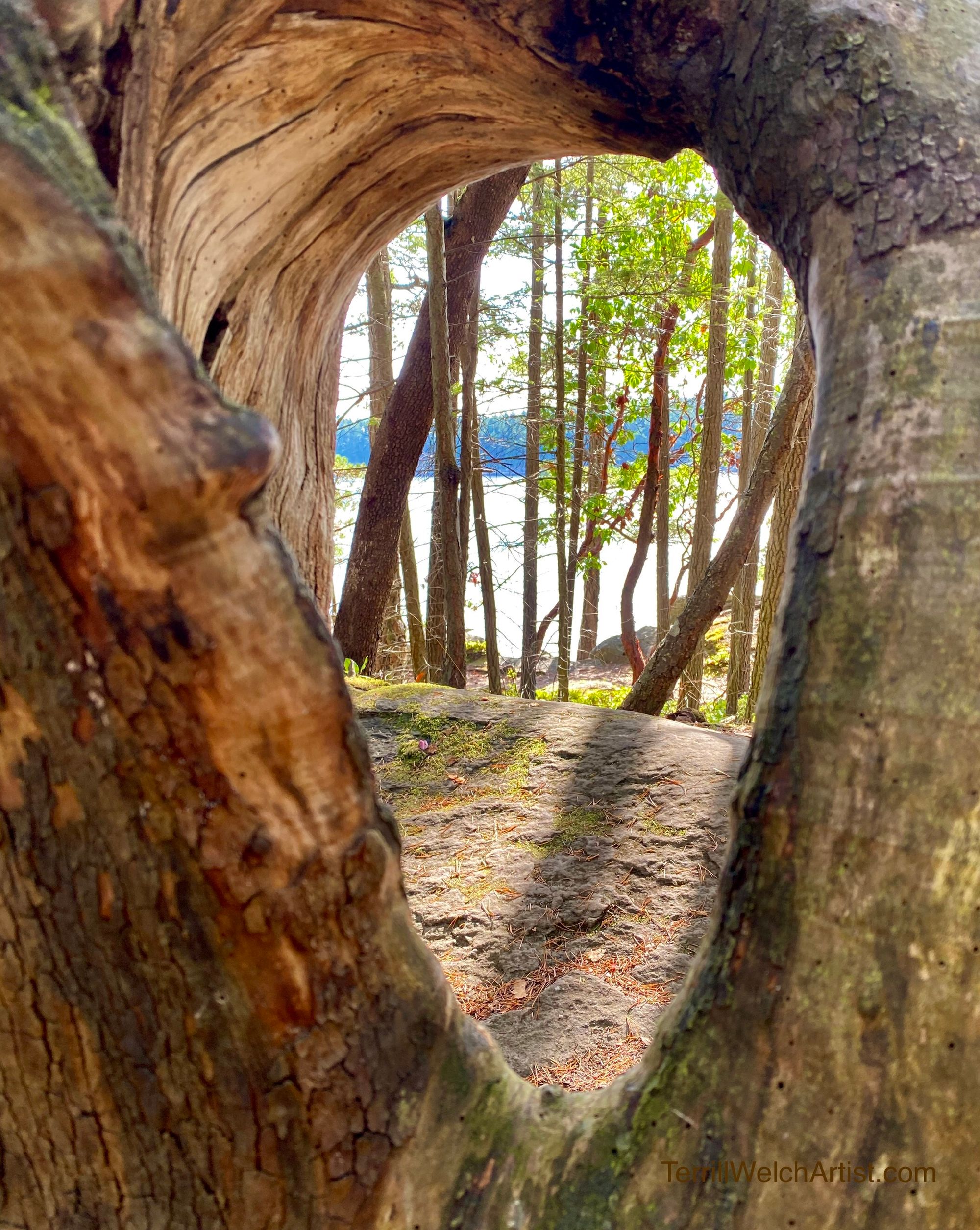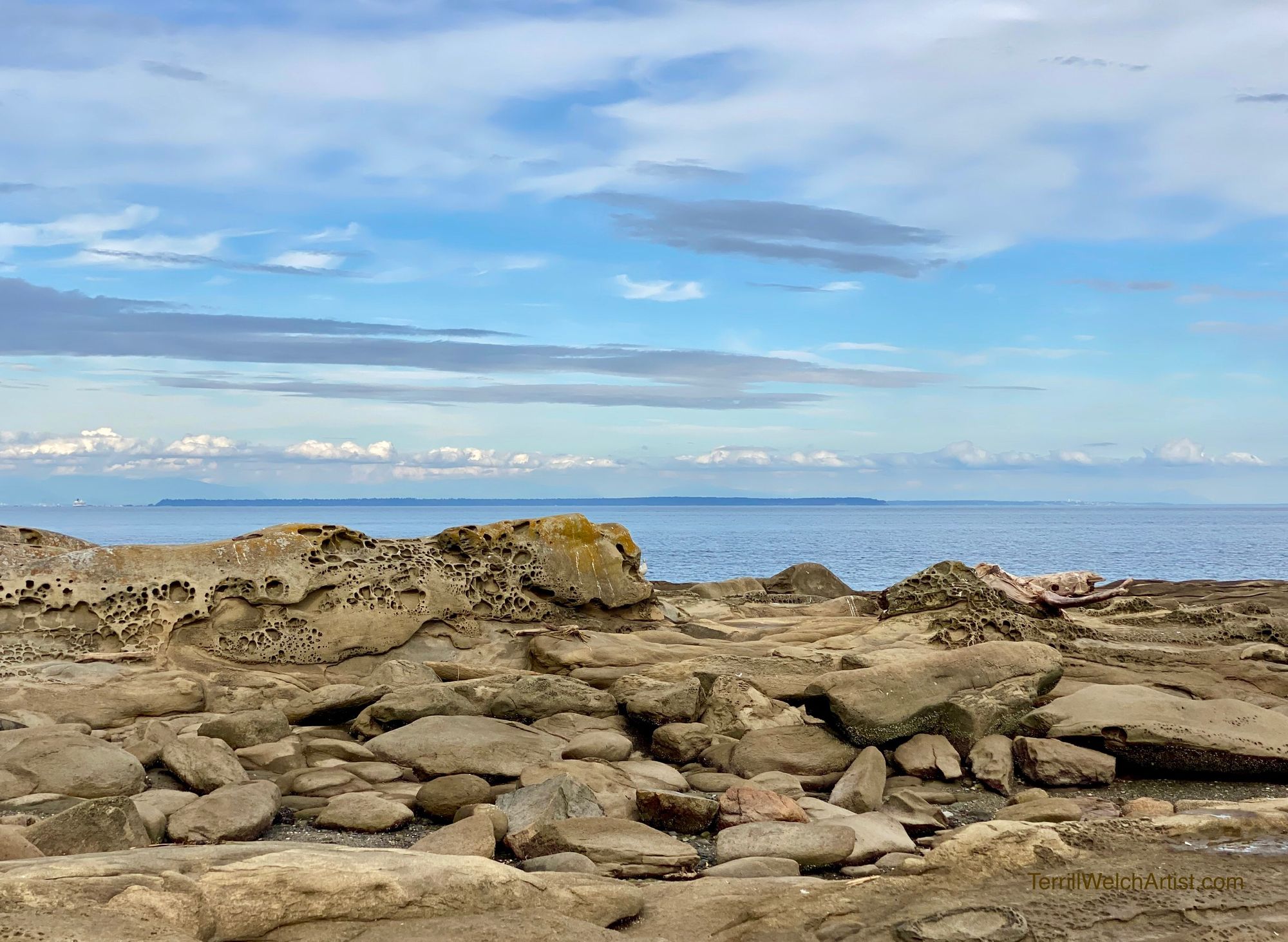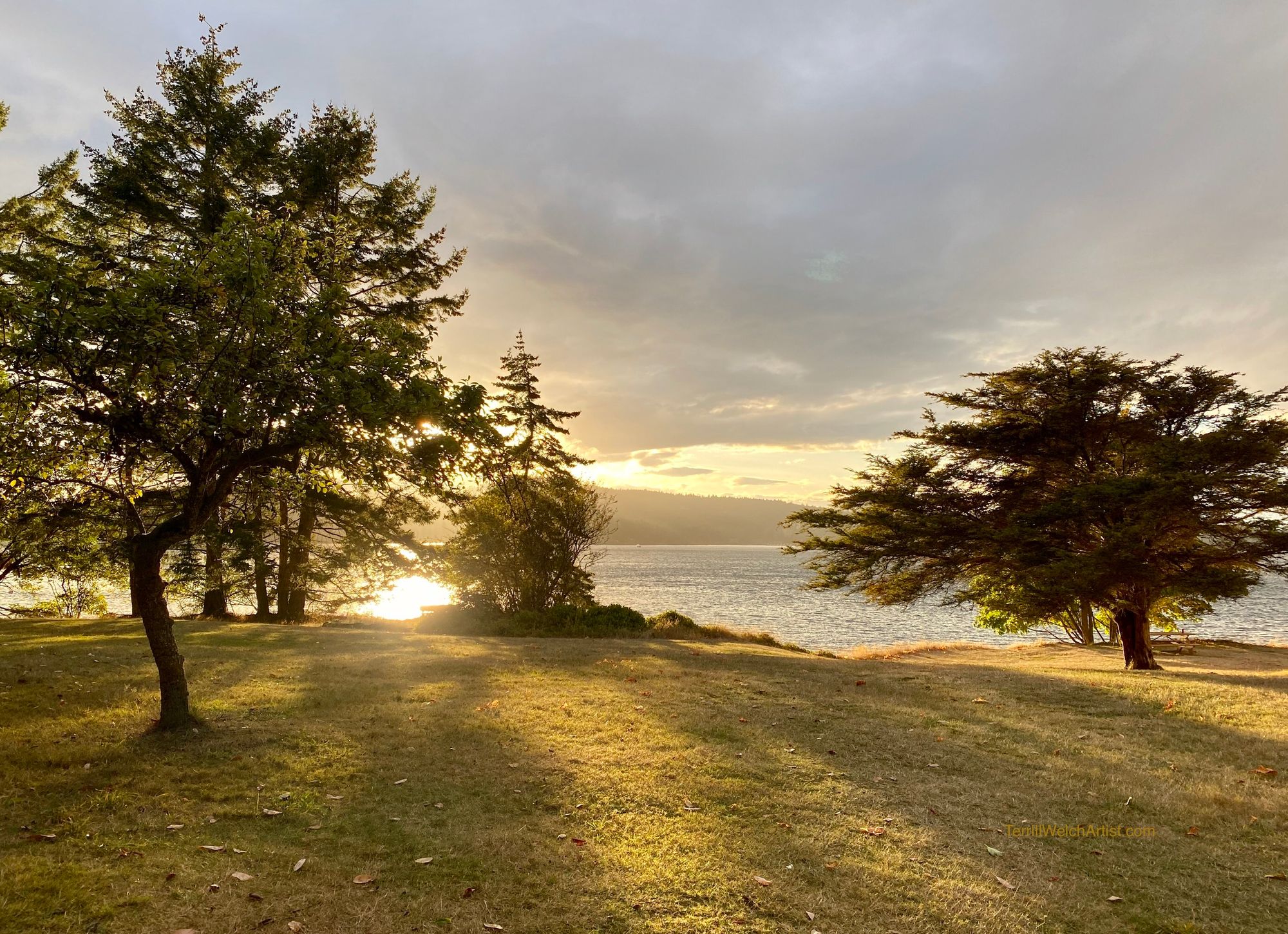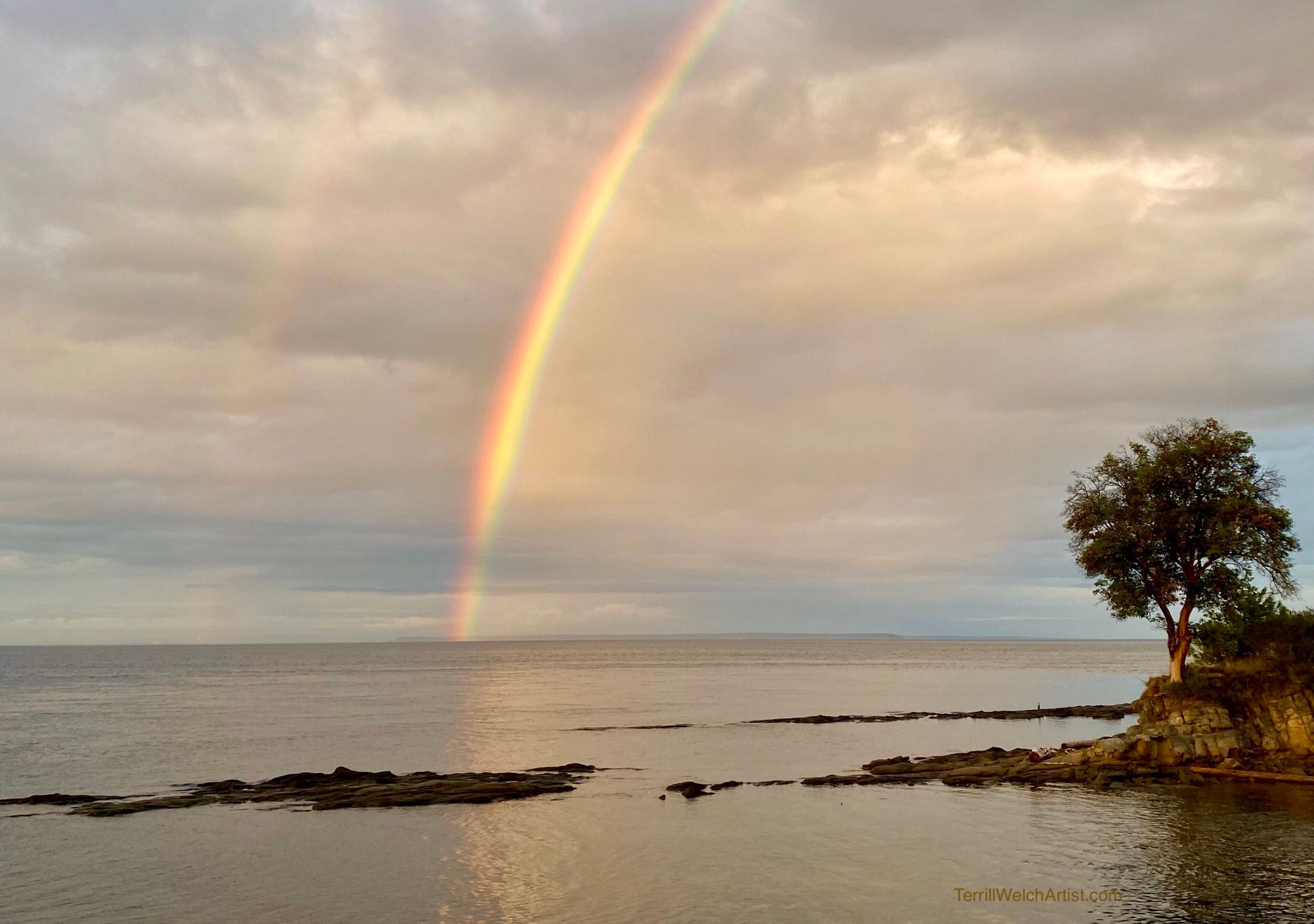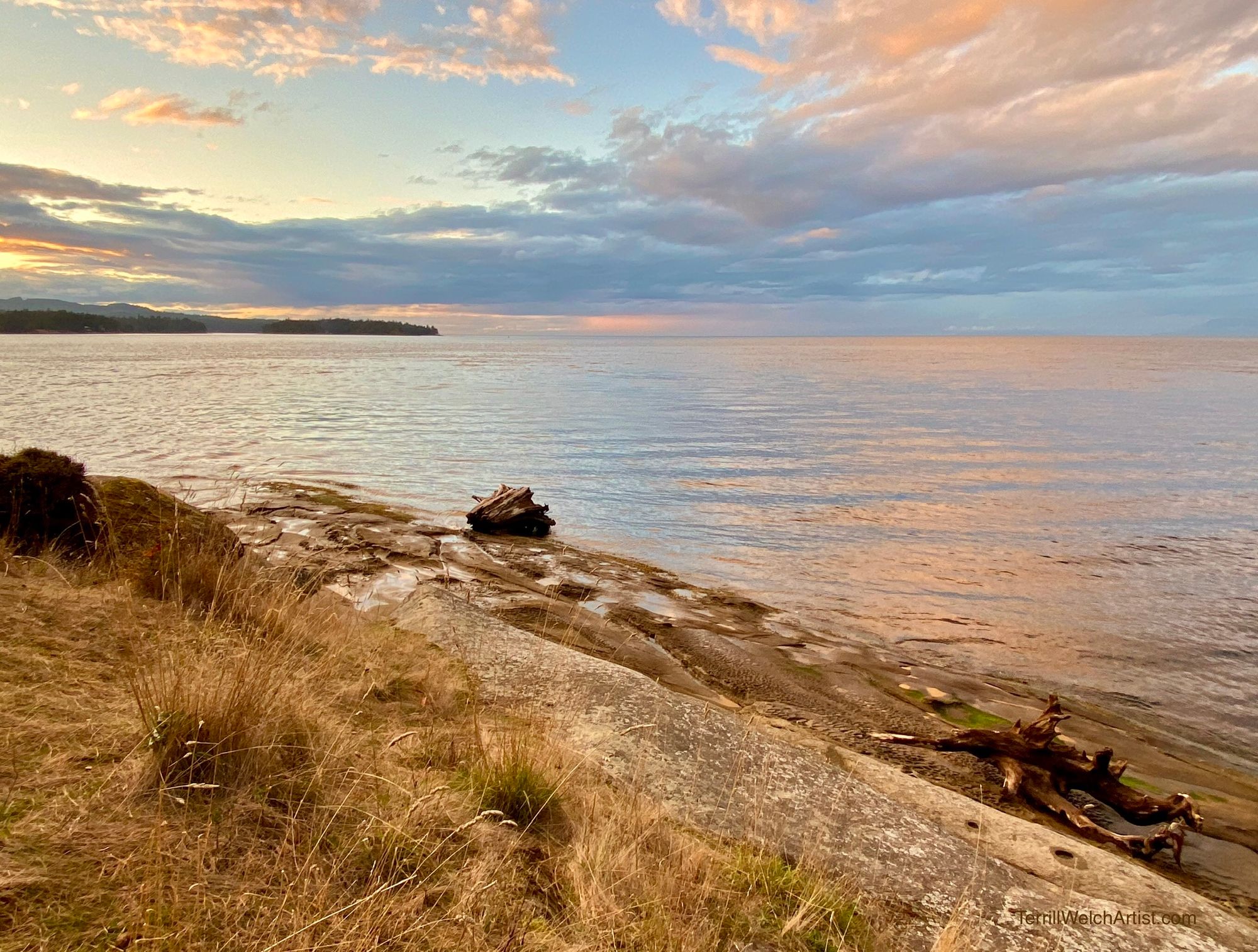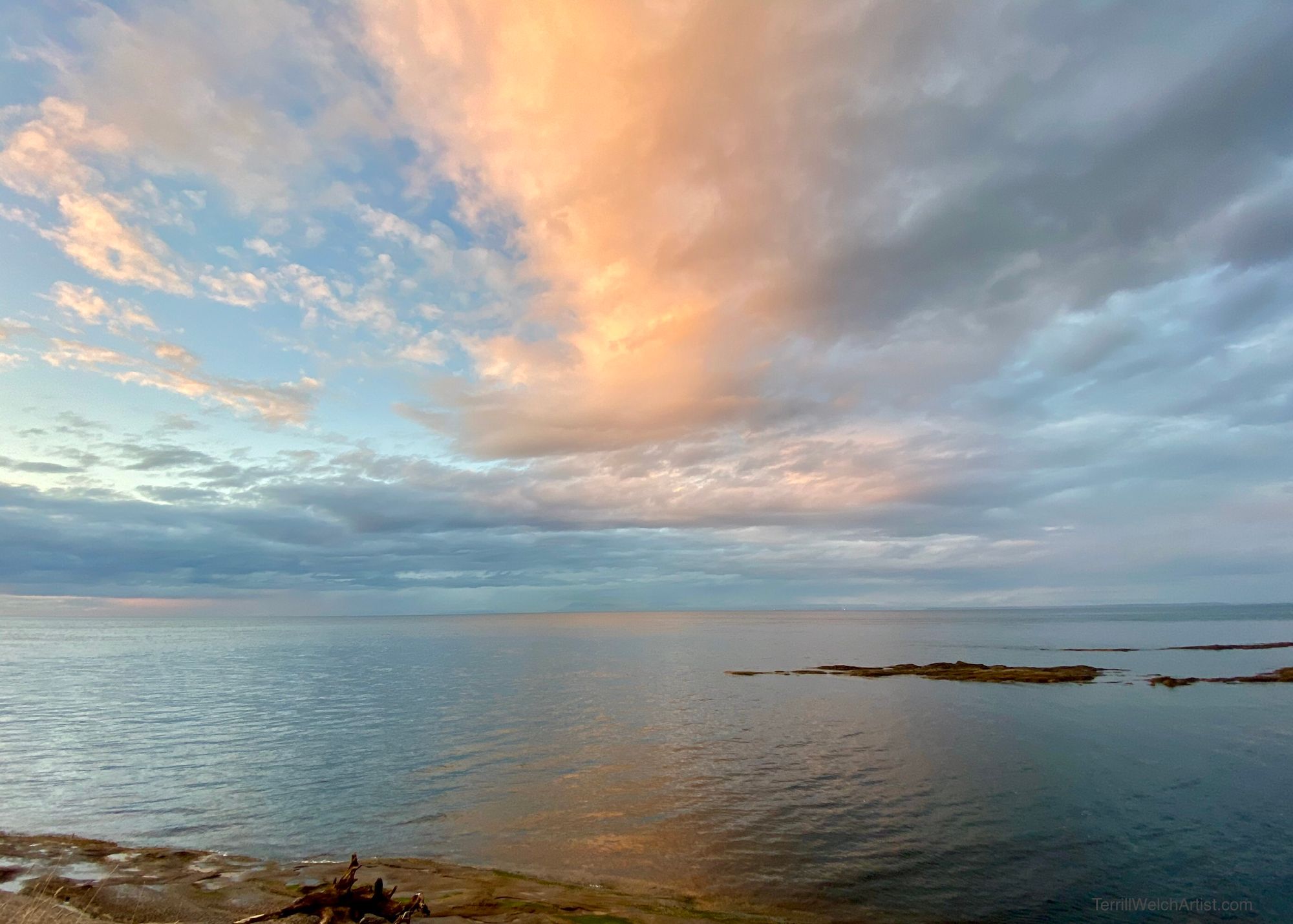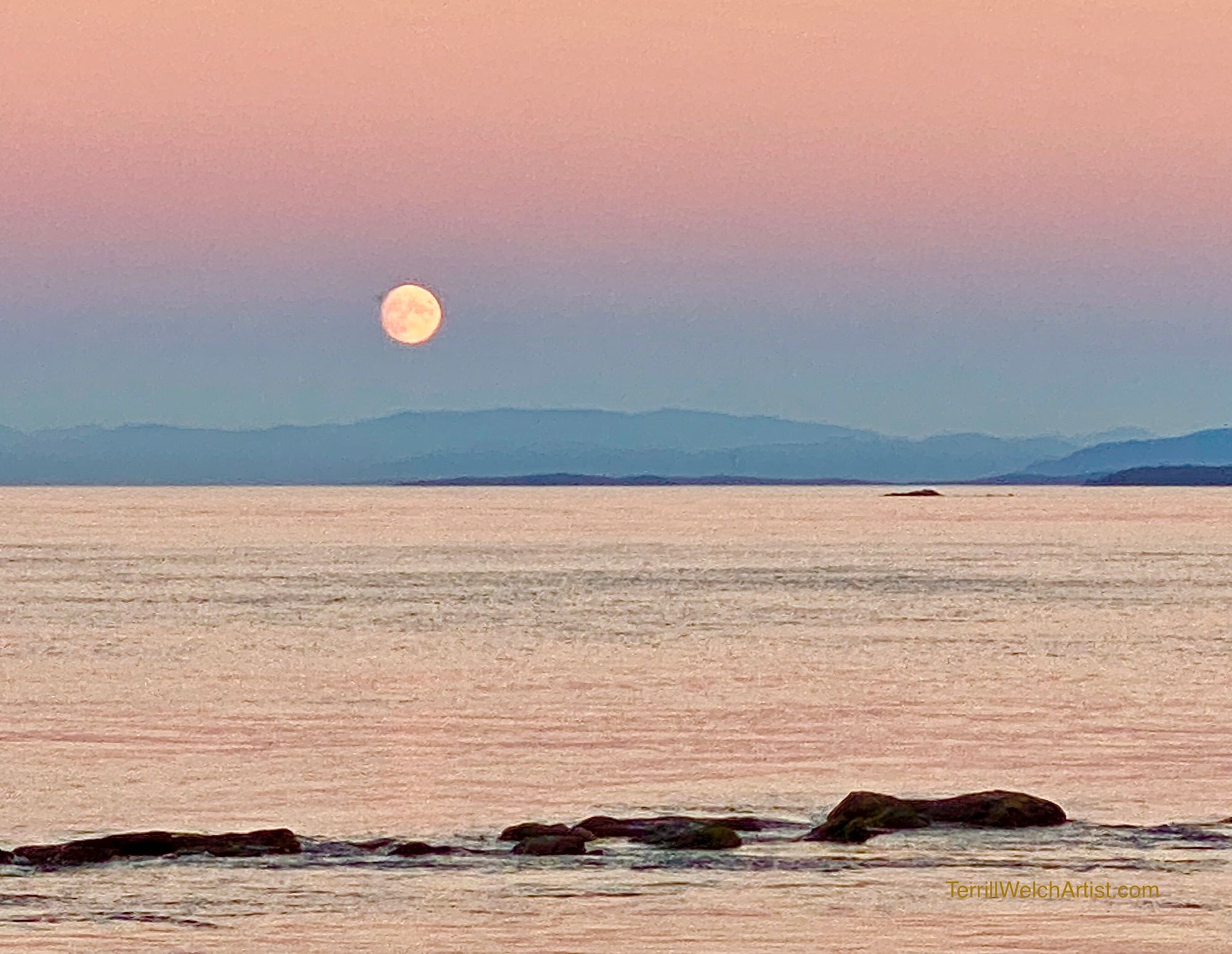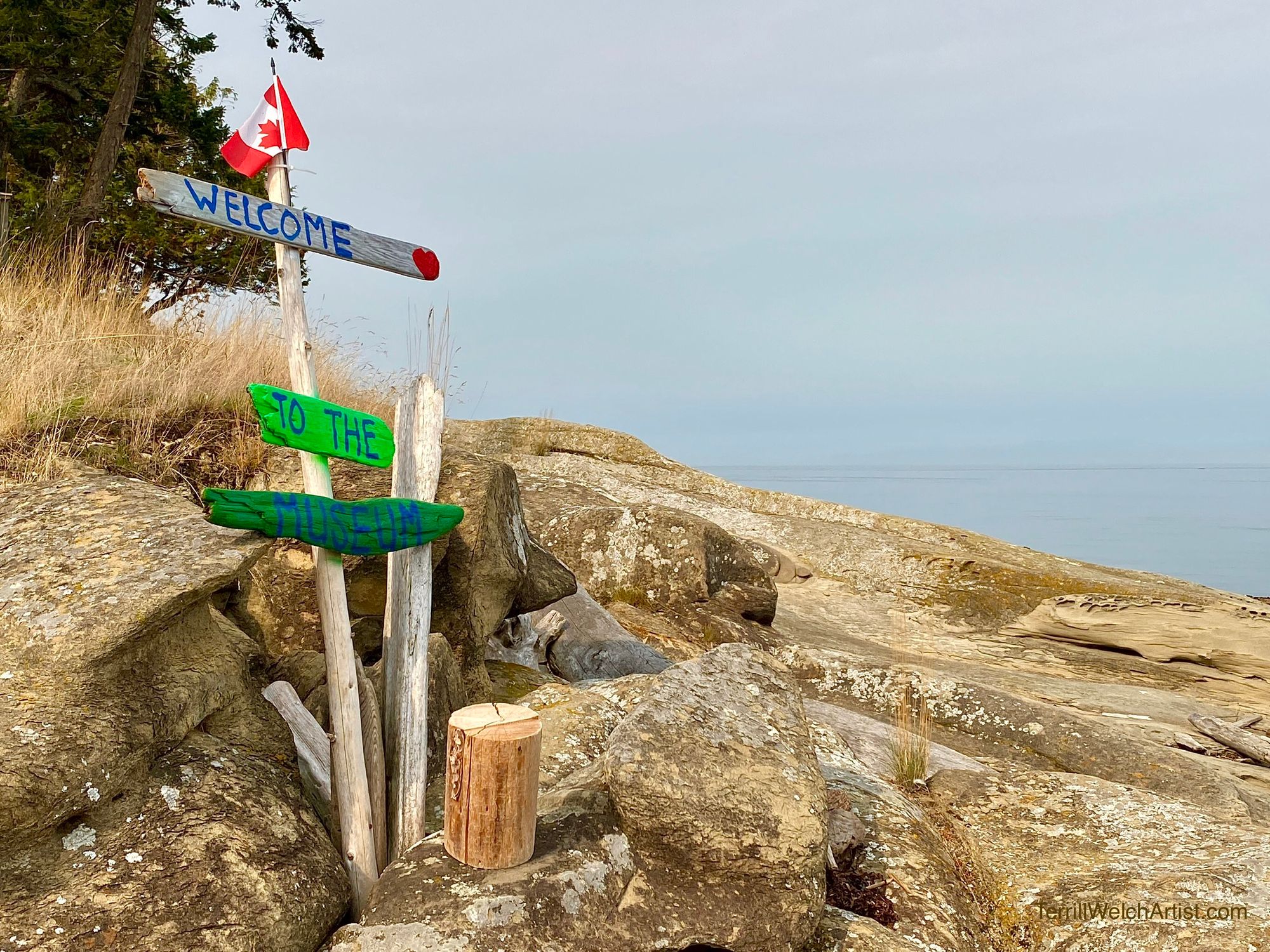 What Is Now In A Private Collection
As many of you know, every five years or so, I offer family members a chance to choose a painting for their birthday. If this practice is news to you, the reason is to allow at least some of my work to remain in family collections. I come from a rural farming and logging heritage. It has been only in my generation that a few children have gone to university and then primarily the girls went because the boys could make a good living following in their father's footsteps. Art galleries and museums were in the larger cities, far from where we lived and not something that was high on anyone's wish list to go and see (except mine). If anyone thought about art at all, it was as a hobby, something to keep your hands busy when you had nothing else to do. Great art was viewed from the pages of history and art books. Original fine art was appreciated and wondered about but not necessarily accessible or part of our daily lives. This is strikingly different from a comment that came from one of my nine-year-old grandsons who stated to his mother that I was his favourite artist and yes, he would like to visit the gallery when he was over. Then there is the other two grandsons who slip on my red painting apron to paint with me, giving it all the professional status generally reserved for a scientist's lab coat. To these young boys, painting is serious work and of great importance, not a hobby, not just something to keep your hands busy. Some of this is due to the fact that they have my original painting in their homes. They hear others who visit and their parents talk about these paintings. It is the old adage that what we pay attention to becomes important. This in turn has become important to me. The best way to make sure they have daily access to my work is to keep ensuring it is available for them to experience in their own home. Original art is definitely part of their lives and I have no doubt they will happily visit art museums and galleries online and/or in person when they grow up and then take their own children. I truly believe their lives will be much richer as a result. All this preamble is to let you know that my son-in-law has chosen his painting for this year's birthday. I am thrilled that "Hope For A New Day" will stay in the family as I was extremely reluctant to send it off into the world. I wanted to keep it even though I knew this wasn't practical. This is a great solution, possibly even a better solution.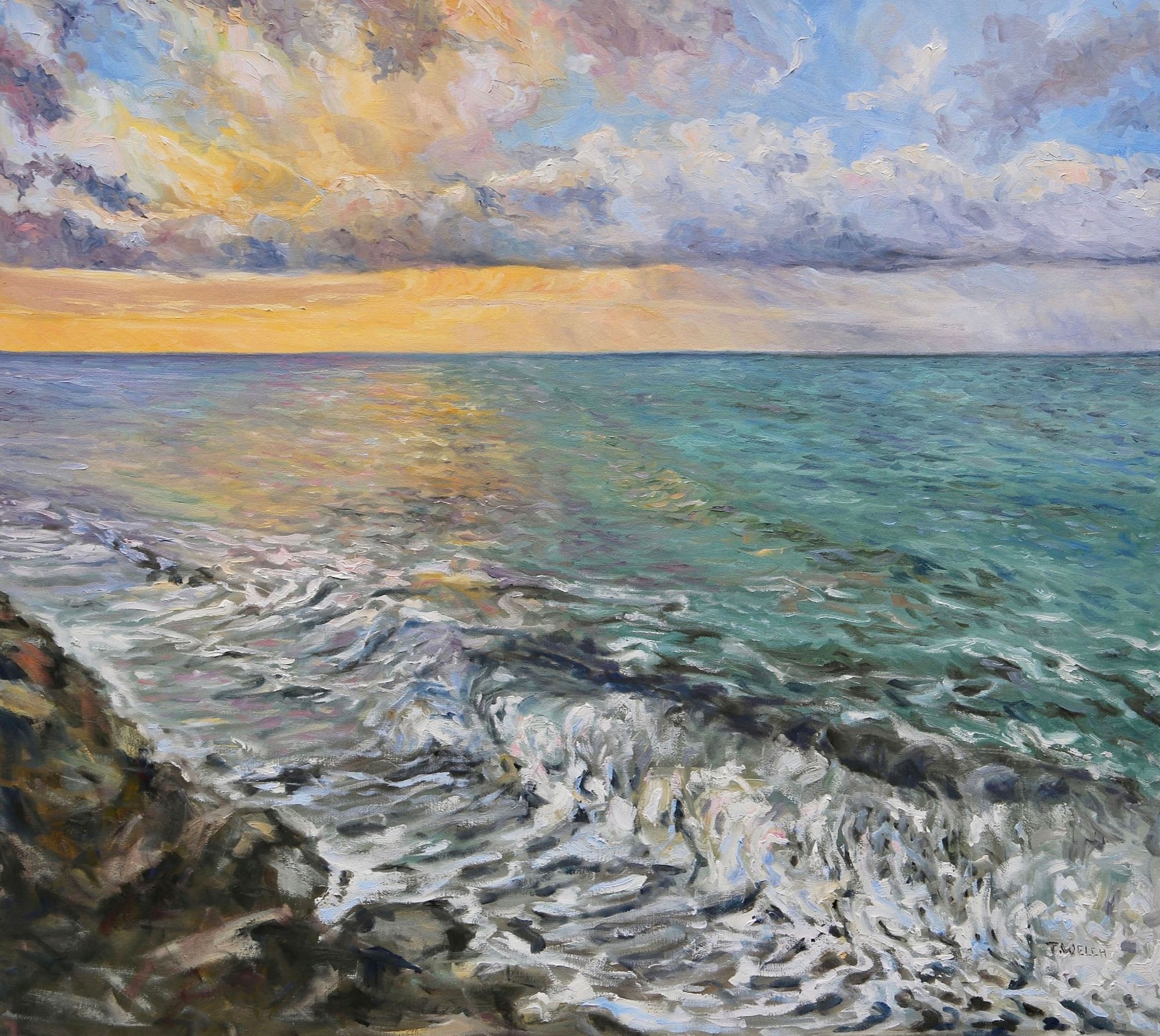 What Terrill Is Reading
This article about an art discovery of 700 paintings and drawings hidden in the walls of a home in Prague by two friends before the artist was killed during WWII caught my attention. Gertrud Kauders' paintings were discovered 80 years later when a construction worker doing renovations had 30 artworks fall on his head as he was taking down a ceiling. There are 25 high quality images of her work attached to the article and it is intriguing reading about what happened after the discovery. I shall tell you no more for it might spoil the read for you. 😉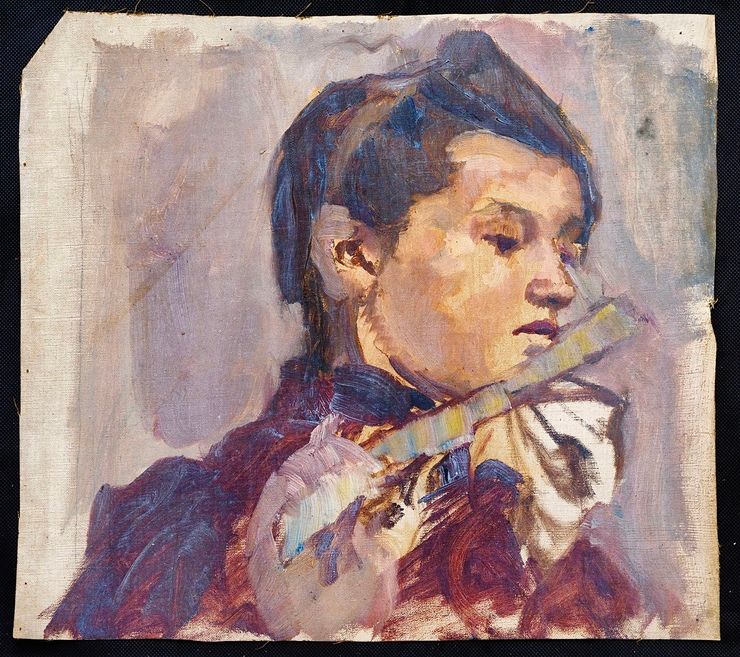 Two years after an art treasure with a harrowing backstory was uncovered in the walls of a Prague house, the holder has gone public with the historic scale of the discovery.
Until Next Time!
New images of the installed new show in the Arbutus Room will be coming for the next issue and will be added to the online show in advance. New paintings will be started of course by all artists and we will be moving more into our studio for fall and winter. Take good care, be safe and remember to be kind - to yourself as well as other.
Terrill 👩‍🎨🎨❤️
Our gallery program brings extraordinary connections to ordinary moments in our natural landscape. The Terrill Welch Gallery opened in August 2017. Since then, the gallery has more than doubled its physical gallery exhibition space and online reach.