A Brush with Life - Issue #63 What A Difference A Day Makes
A the tip of Edith Point one day and then down at Reef Bay the next. What a difference a day makes! It is this diversity that has kept me engaged with our natural Mayne Island landscape for years. In this issue we will start there, and then we have a video introduction to the new "Close To Home" gro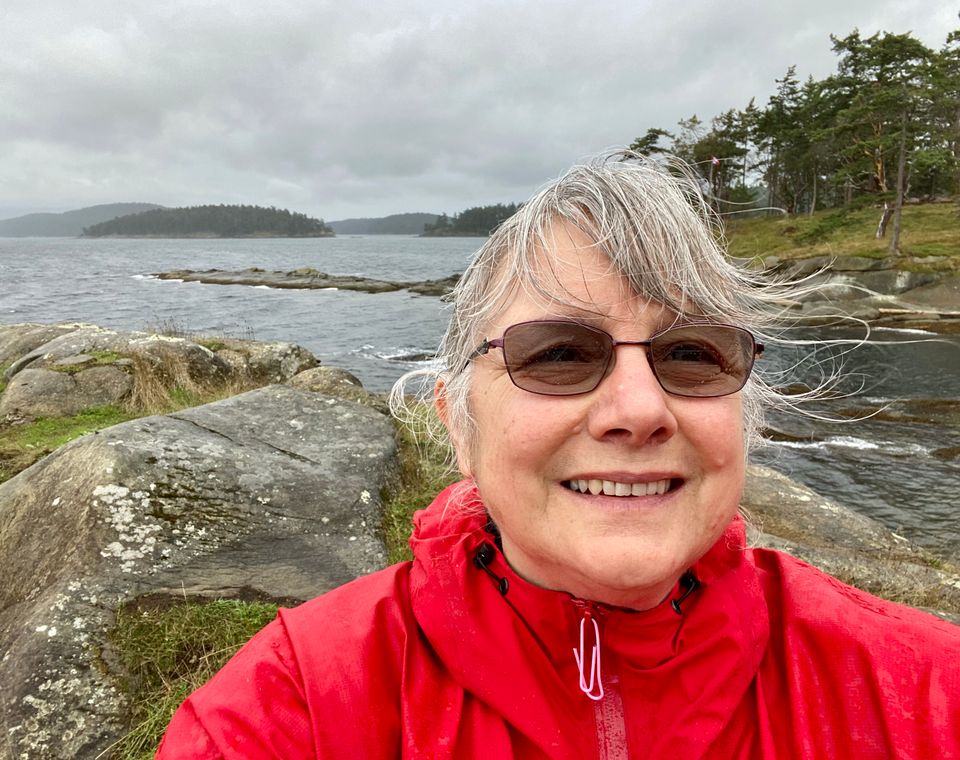 A the tip of Edith Point one day and then down at Reef Bay the next. What a difference a day makes! It is this diversity that has kept me engaged with our natural Mayne Island landscape for years. In this issue we will start there, and then we have a video introduction to the new "Close To Home" group show in the gallery's Arbutus Room, the release of a freshly pressed Travel Within focus book by Terrill Welch and more.
Let's start with a tromp through the Mayne Island weather and some seasonal delights.
---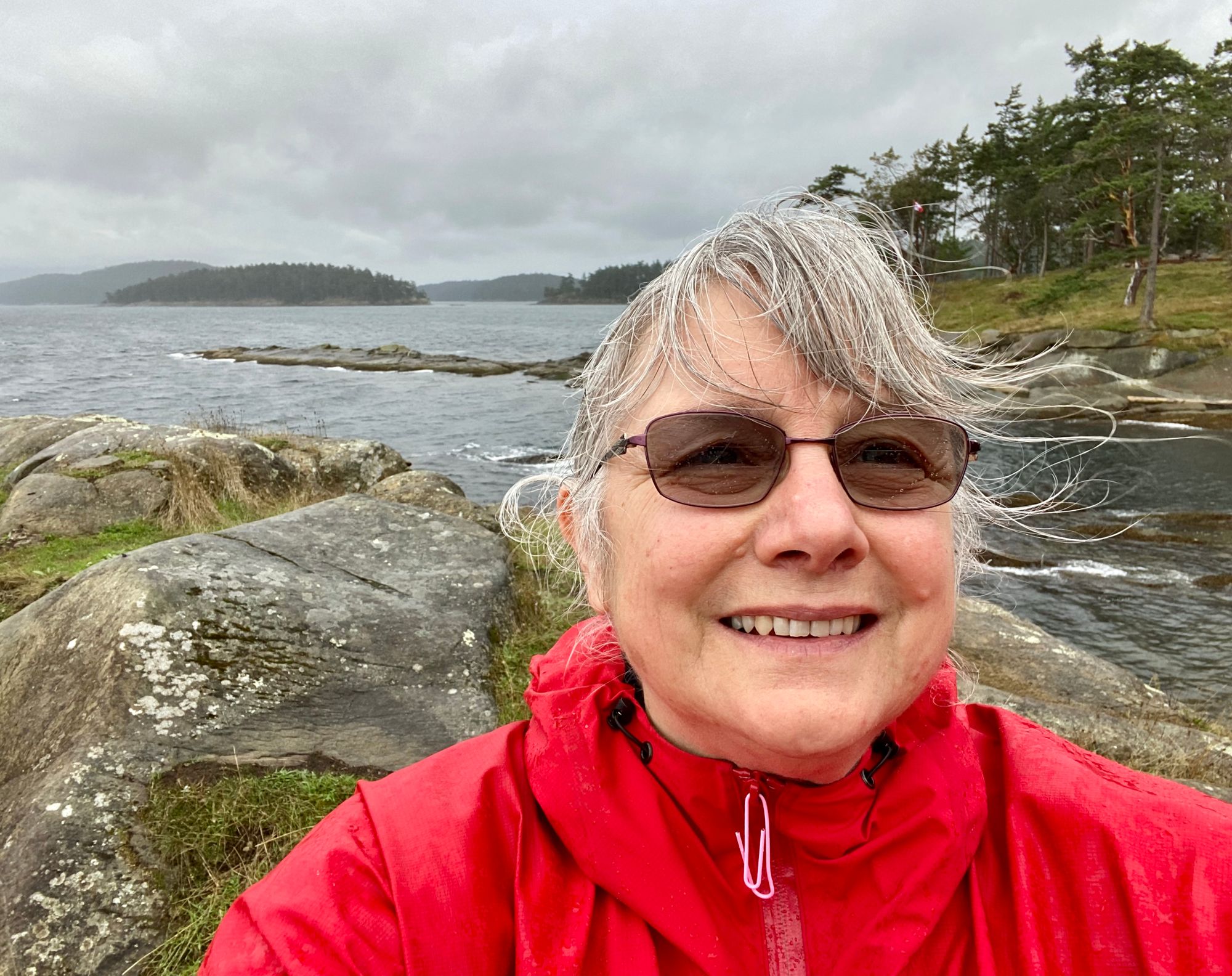 I just needed a long stroll, even in the rain and wind. I was getting rather wet by the time I got to the tip of Edith Point, partly due to my resistance to wearing a hat unless my ears are going to freeze. It was wet but definitely not that cold. I might need to purchase a new raincoat this year though. 😉
The greys in this view beg for a canvas!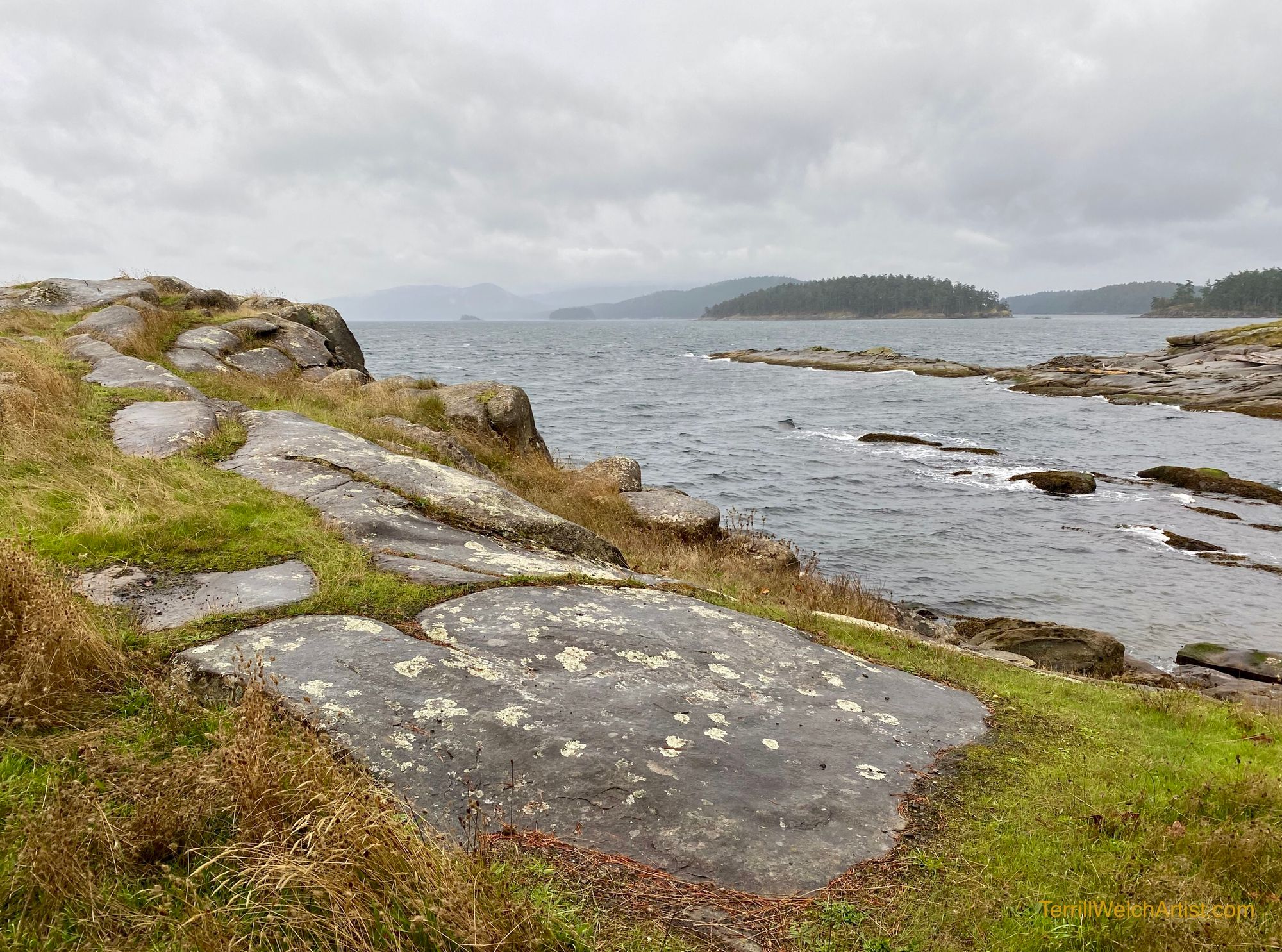 The very next day is hard to believe with its brilliant west coast blues. Again, an excellent subject for a future canvas.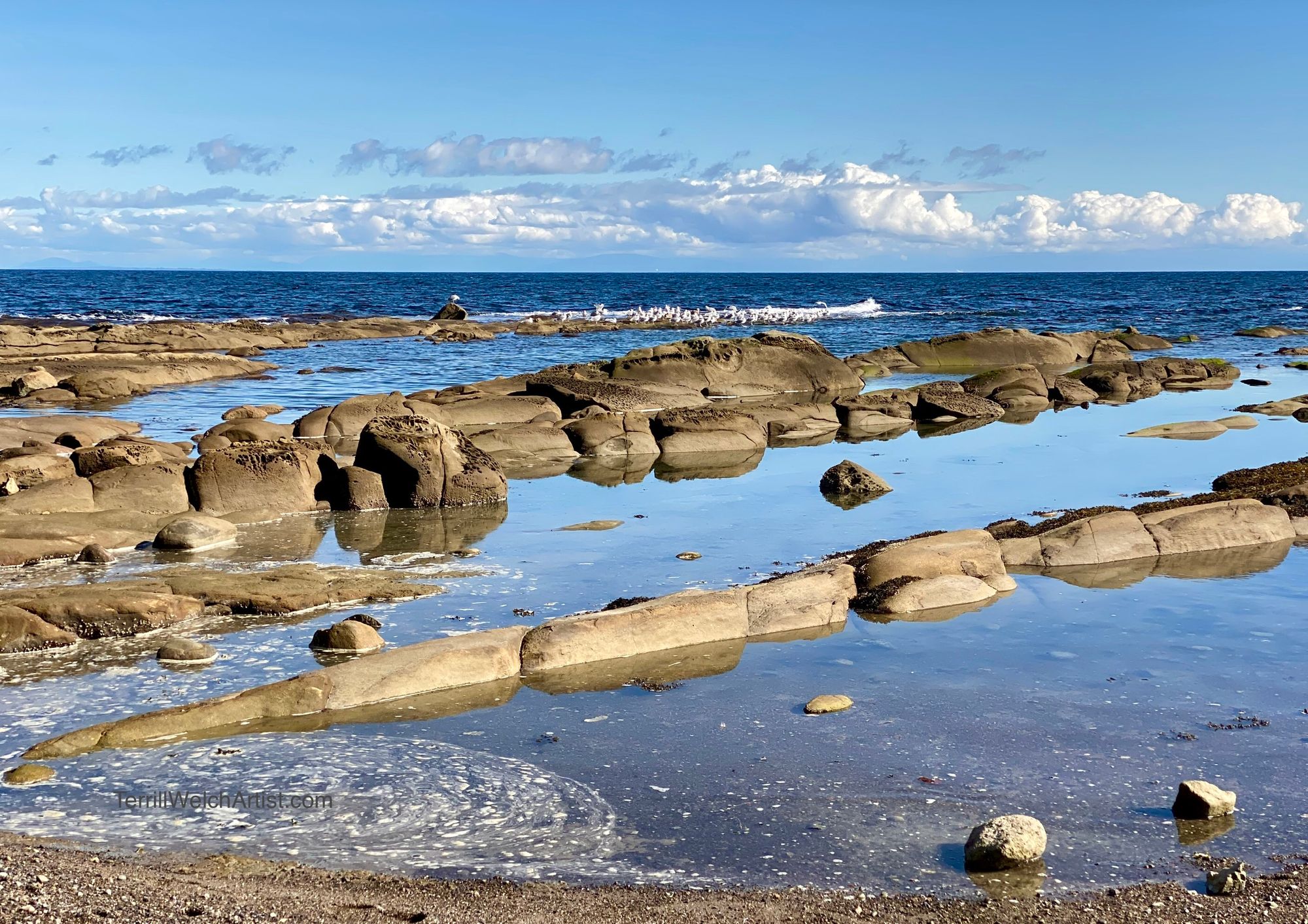 Earlier in the week, after several days of necessary screen time, I also did the circle hike on St. John Point. Even though it was another grey day, the colours were rewarding.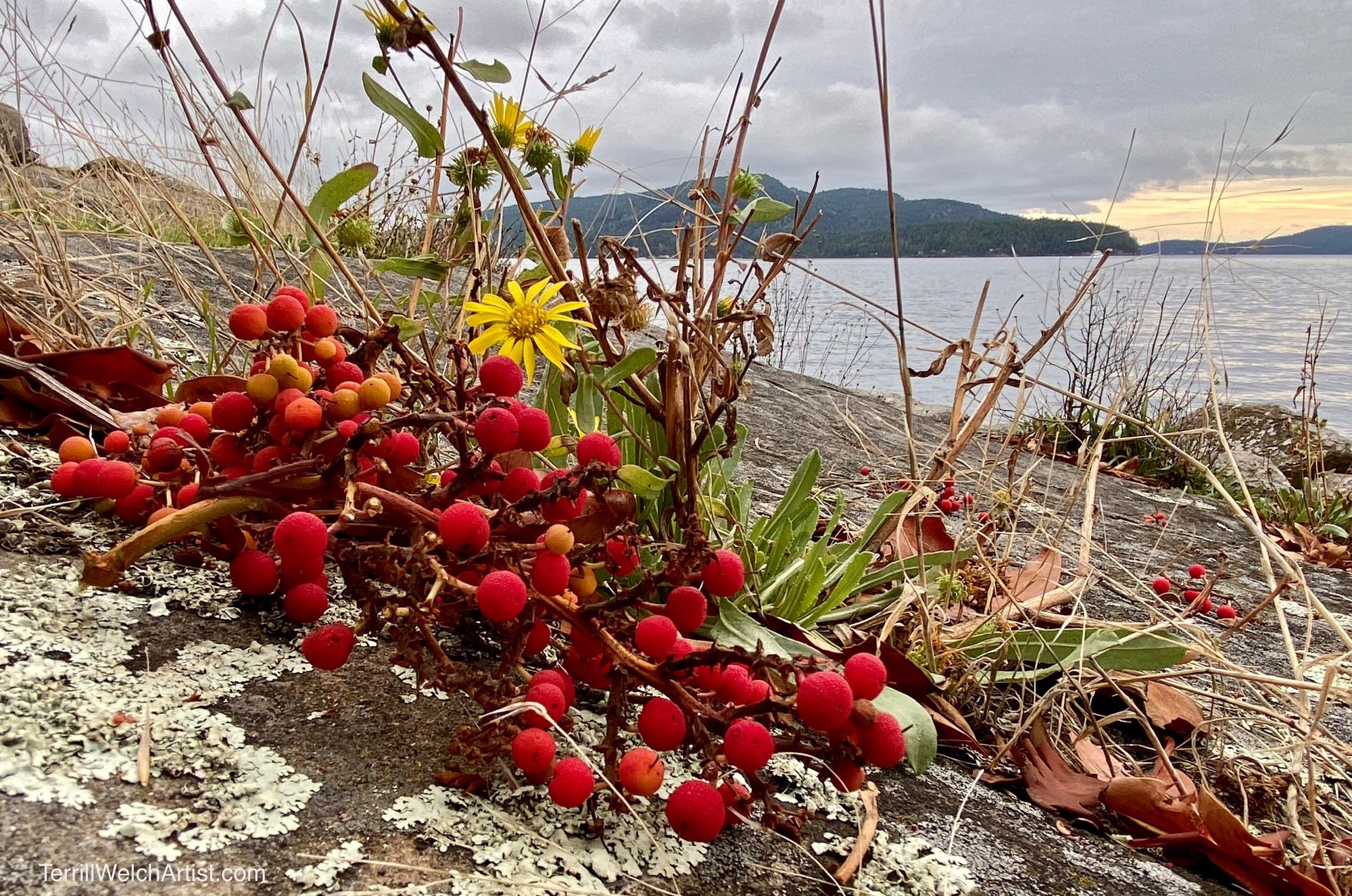 As you can see, it has been most pleasant exploring the island between and during raindrops these past two weeks. Now, we shall slip back to the gallery refreshed and ready to view paintings!
Video Introduction to "Close To Home"
Allow us to give you a gallery tour. But before we do, we want you to know that once the paintings have been received, it usually starts something like this...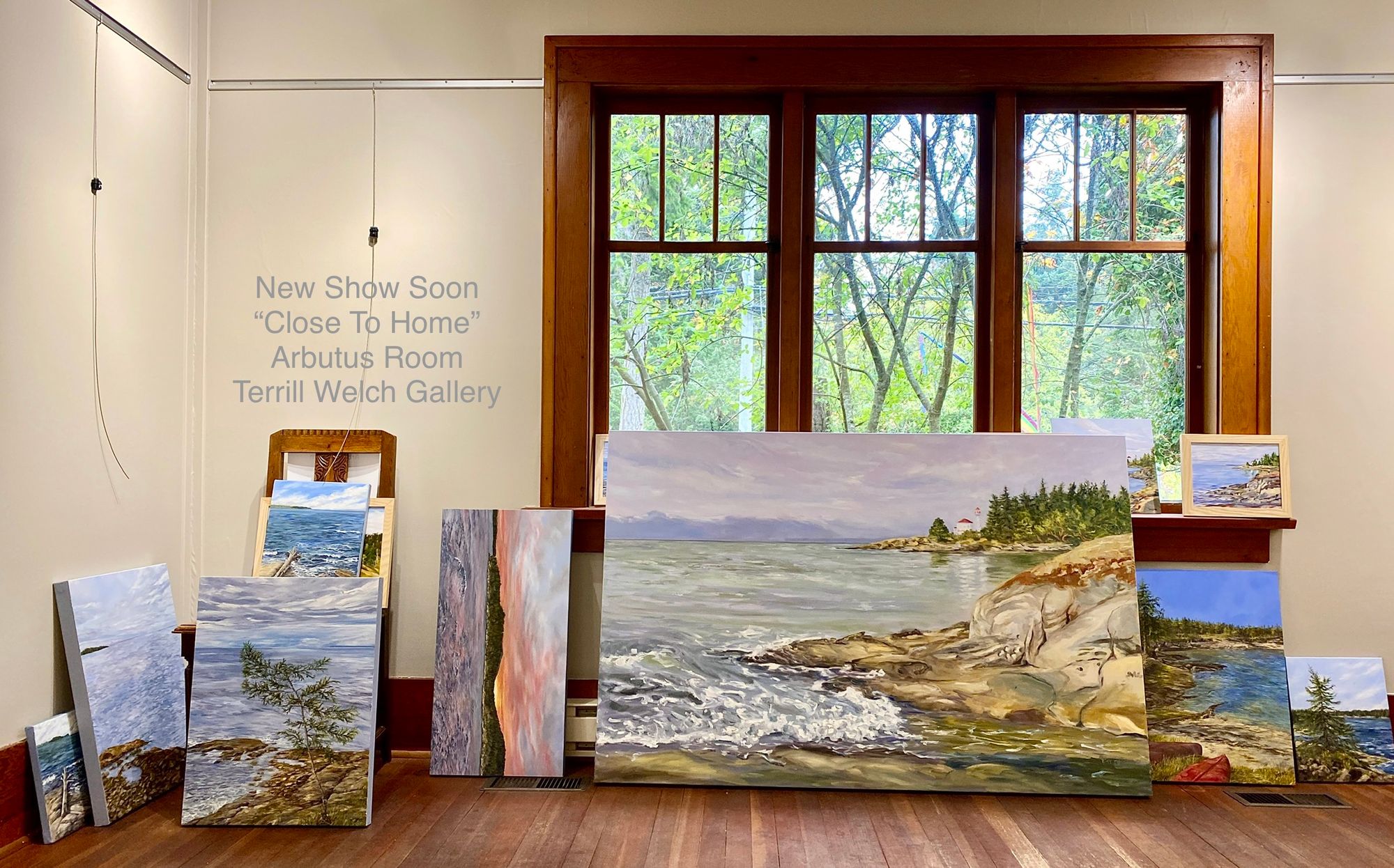 Then, after a few hours of moving work around and and a little head scratching, we end up here...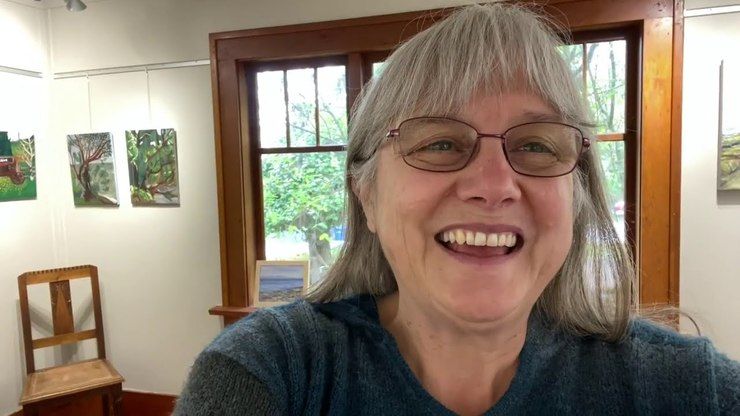 The pandemic has kept most of us close to home during these past months and this reality has brought many changes to our daily lives and expectations. Artist...
Here is the direct link again to the 'Close To Home" group show online gallery that now has installation images and all of the 31 artworks that are available in the show...
Current show featuring works by Terrill Welch, Jody Waldie, Glenda King and Jennifer Peers at Terrill Welch Gallery Mayne Island, 478 Village Bay Rd Oct 7th, 2020 – Feb 7th, 2021
What Has Sold
These next two paintings by Terrill Welch were snapped up while still on the easel. There was a lot of interest in these arbutus tree oil paintings. However, they found their own very perfect home.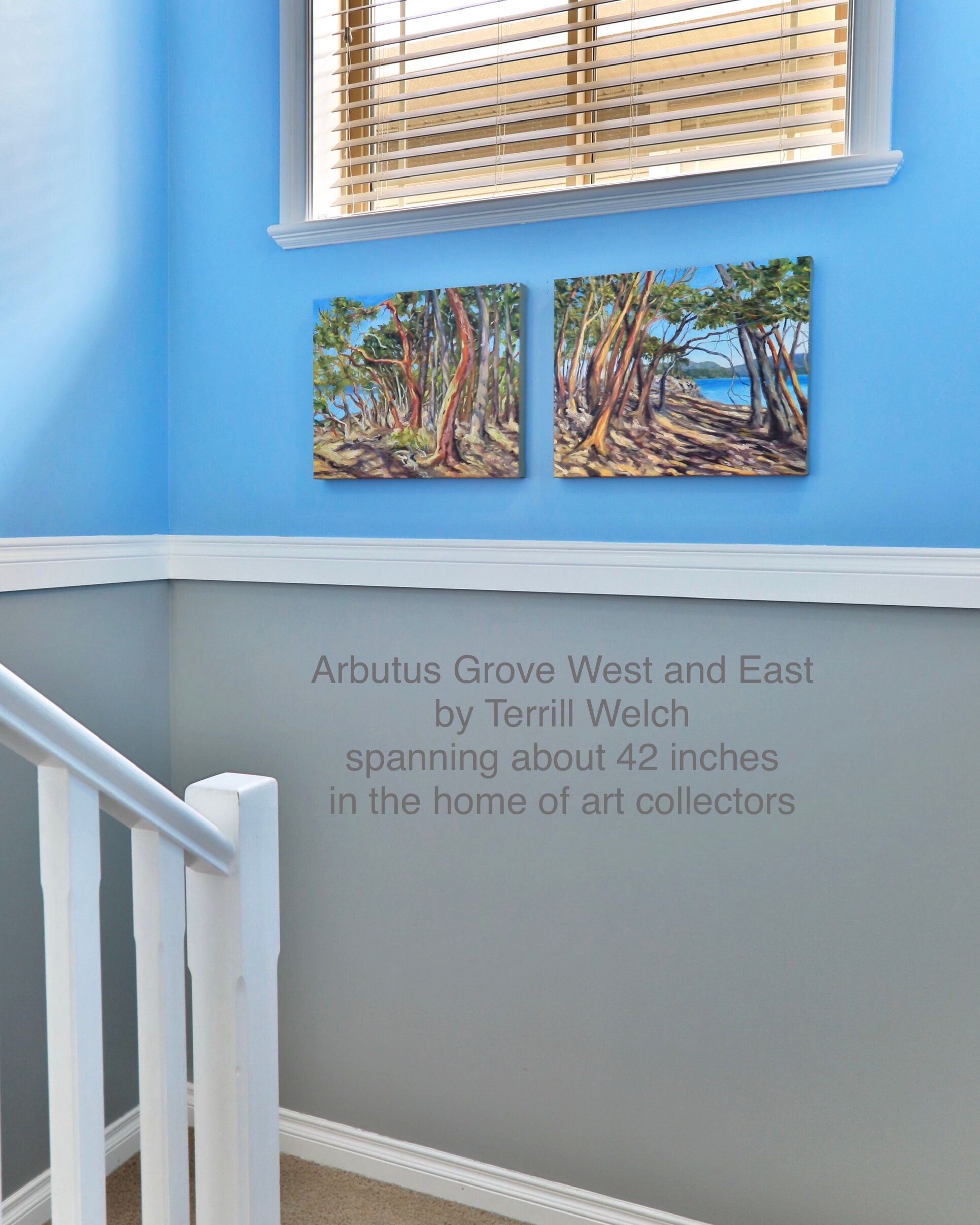 With permission from the art collectors, we share "Arbutus Grove West" and "Arbutus Grove East". Each painting is 16 x 20 inches and are fortunate to have been added as a pair to this private collection.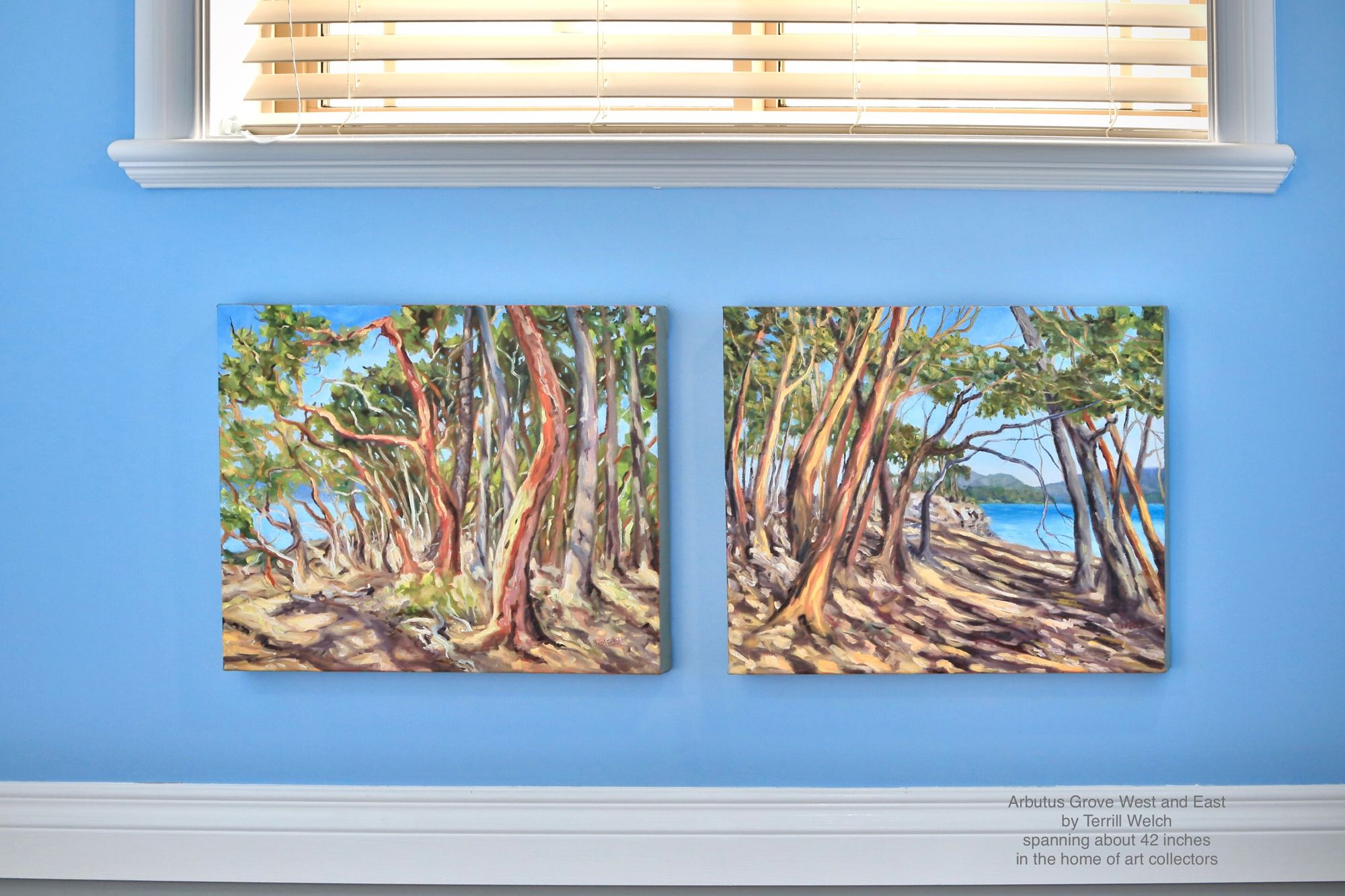 About a week after the paintings were settled, we received this from the art collectors - "Just a note to let you know how much we're enjoying the arbutus grove pair. Zero buyer's remorse. They truly are remarkable."
There you have it! Just what we like to hear. Happy art collectors!
Terrill's Latest Project
My latest project is a unique focus book. Preview - Travel Within by Terrill Welch | Blurb Books Canada, linked below...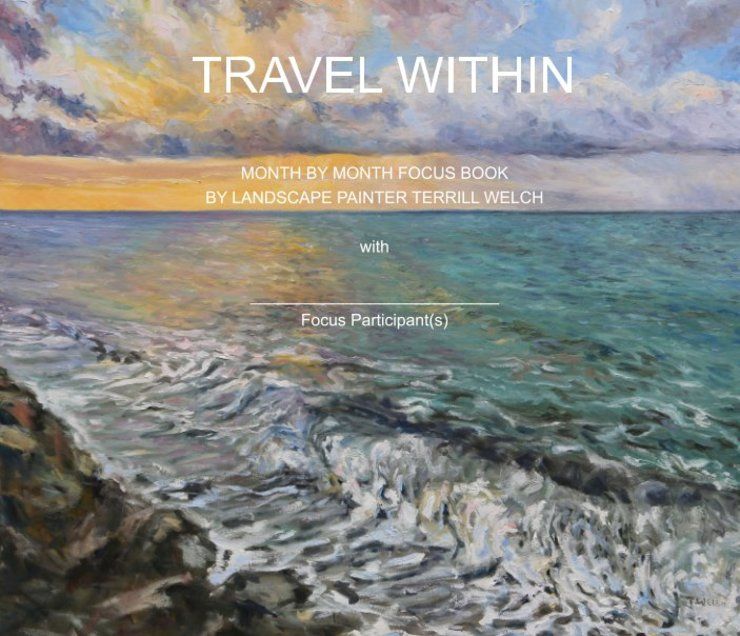 Find Travel Within by Terrill Welch at Blurb Books. TRAVEL WITHIN: month by month focus book, is Terrill Welch's gift to you for living a life with gently held i...
Instead of calendars this year, I have created this participatory focus book which is neither a calendar nor a journal but rather a container to notice and guide your work and everyday living. You can preview all of the pages to see how it works before deciding if it is something you might like to try. I have designed it for myself, family, friends, artists and art collectors alike.
These are challenging times. Times where intentions are more flexible than goals. Times where we must keep our eye on what needs to be courageously finished. Times where we will be stronger and more resilient if we regularly acknowledge highlights, surprises and our gratitude.
I often get asked how I do what I do or concern that I might be working too hard or amazement in what is accomplished. My inside voice is always surprised and a little shocked by the disconnect between my internal view of joyfully plodding along and how this is perceived by others. So I started to explore what might possibly be the disconnect. I realized that I mostly hold flexible, lightly held, intentions rather than hard fixed goals developed into detailed work plans. I keep my focus on small actions I can take everyday towards fulfilling my intentions. Yes, there are firm deadlines at times. Sales taxes that have been collected must be filed and paid on a specific schedule. Income Tax has specific filing timelines as does gallery rental, art show openings and so on. But these items are actually a short list of actions to be completed during an overall year. The rest of my life and work is often quite flexible and within my ability to focus and organize as I wish. There are always challenges, failures, losses and frustrations. I do notices these. I give them their moment of consideration and then I like to move on.... to what is next, what is working, what is giving me energy and fills me with curiosity. Travel Within is designed to focus our intentions in this way. I hope you enjoy the adventure that is supported by a painting or painting sketch for each month.
P.s. If you are located outside of Canada, just change the icon flag to that for your country in the top right.
Until Next Time
The undeniable smell of snow was in the air over this past Canadian Thanksgiving weekend even if it was far too warm down at sea level for such things. I couldn't see the mountains but when the clouds clear I expect they will have pull their white quilts up over their heads.
We counted our many blessings and and along with the usual holiday dinner, I baked a pumpkin spice cake and pumpkin soup with the homemade purée I made from a French cooking pumpkin.
May your days be filled with quiet appreciation.
As always, Terrill :) 🍂🍁🍂
Our gallery program brings extraordinary connections to ordinary moments in our natural landscape. The Terrill Welch Gallery opened in August 2017. Since then, the gallery has more than doubled its physical gallery exhibition space and online reach.