A Brush with Life - Issue #74 The Painting Forest Bather
In Japan, sometime in the 1980's, a term developed called "shinrin-yoku" or "forest bather" in English. It means to take in the forest atmosphere or mindfully be in our natural world. The benefits of forest bathing has now been part of studies and can even be part of your physician's prescription to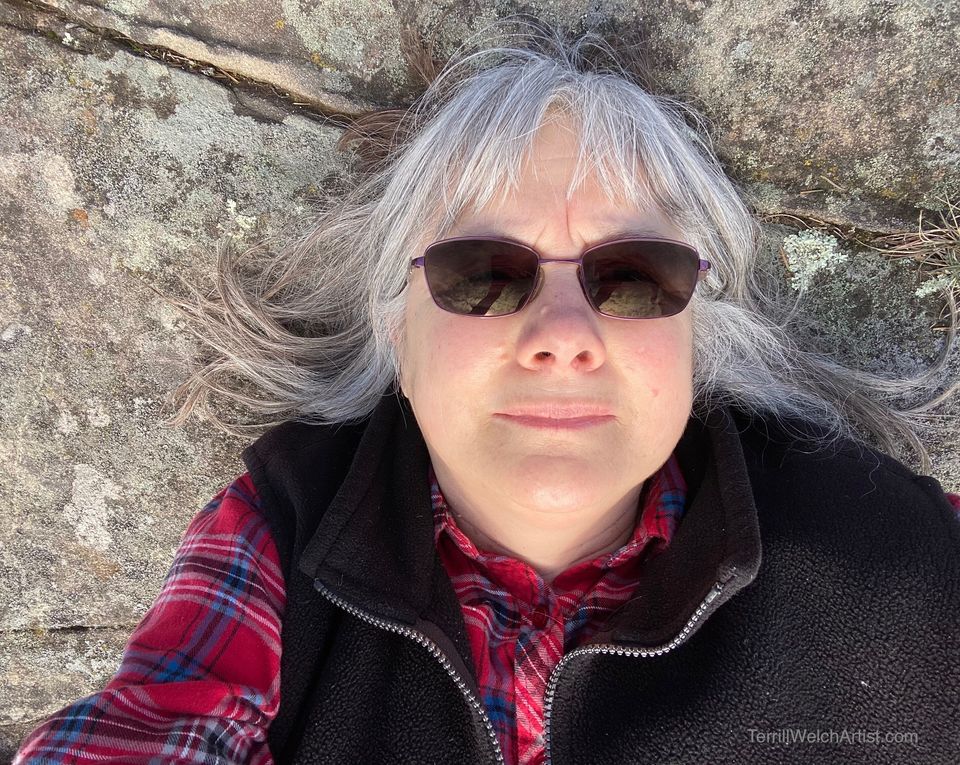 In Japan, sometime in the 1980's, a term developed called "shinrin-yoku" or "forest bather" in English. It means to take in the forest atmosphere or mindfully be in our natural world. The benefits of forest bathing has now been part of studies and can even be part of your physician's prescription to help relieve stress and anxiety. But what is forest bathing exactly and could you possibly be a forest bather without knowing it? Let's see what contemporary landscape painter Terrill Welch has discovered on the topic before we move on to other gallery highlights....
---
Are You a Forest Bather?
I came across a description that puzzled me the other day - forest bather. What are forest bathers? So I read several articles and list of things you could do if you wanted to bath in the forest. Then I laughed until tears rolled down my face... I suppose any of you might have already known, I am a forest bather. How is this different from going on any other walk in a forest, or taking a day hike or doing yoga in a field or picking berries? Outwardly, I am guessing that the forest bather doesn't look any different than any other person doing these purposeful outdoor activities. Inwardly, I think there might be differences. A forest bather is keenly aware of their full sensory information and is tuned into the forest or sea in a way that allows for a flow of conscious energy between the natural world and themselves. I will see if I can explain better with each photograph from my latest hike on Saint John Point and you can decide if you might be a forest bather as well, or at least a forest bather some of the time....
Do you lay down on the earth's surface just about anywhere there is an opportunity? Or sit directly on the ground or a log or stump for no other reason but to sit there?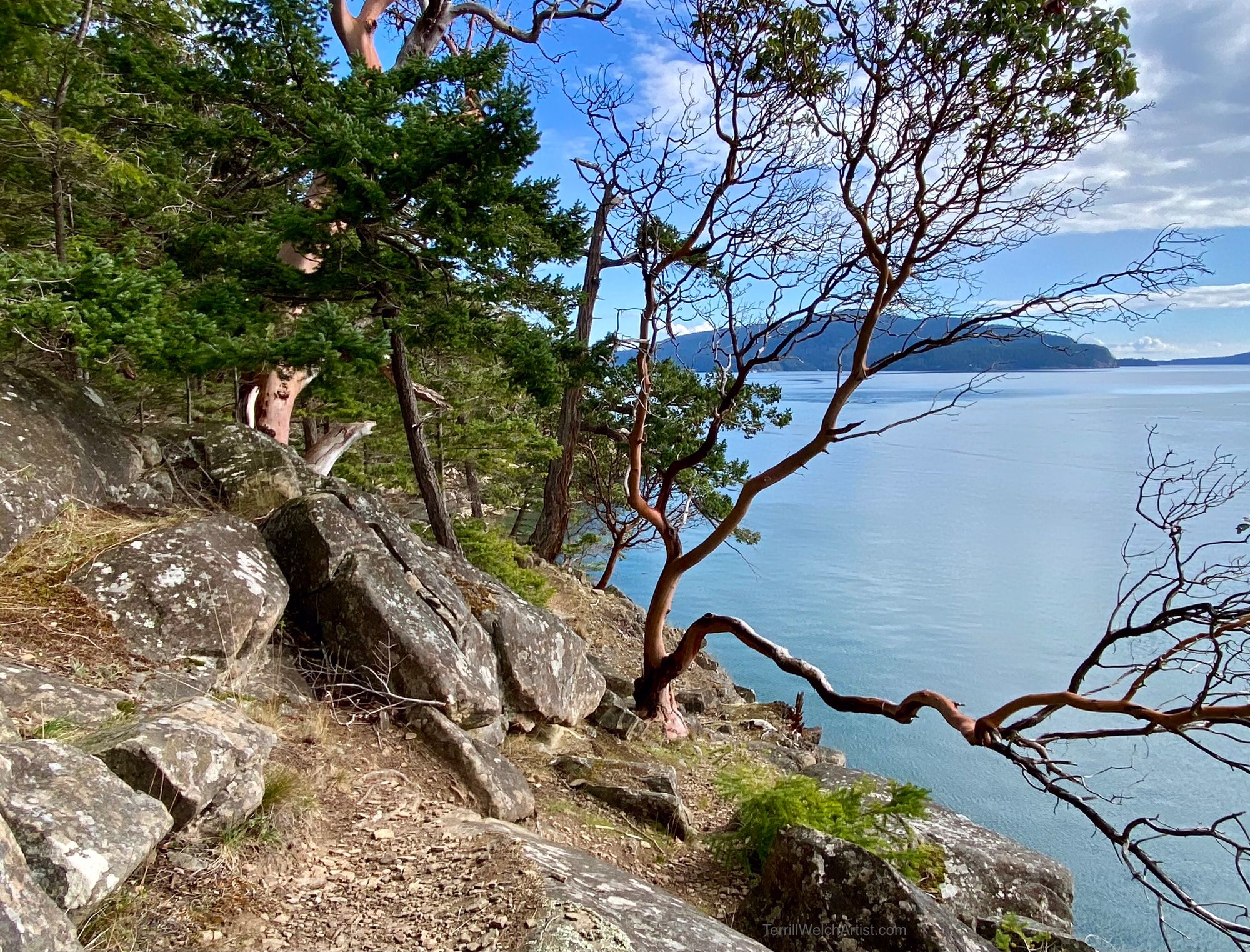 Do you notice all the changing smells as you go from shade to light and into different vegetation? Do you recognize the continual changes in temperature on your skin as you move along? Have you spent so much time in a specific forest that you can name the trees, plants and moss partly by their smell and texture and where they are growing?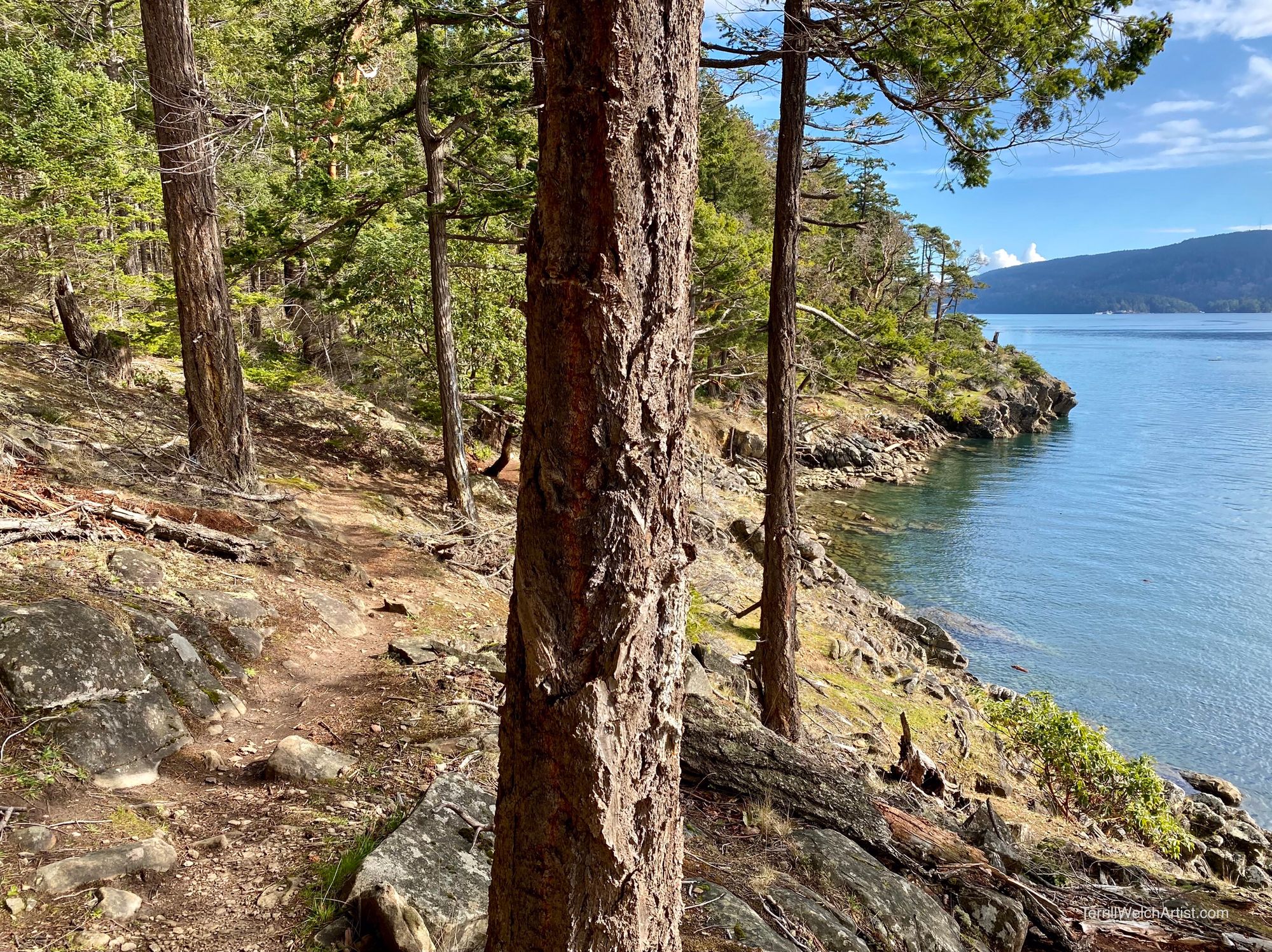 Are you aware of where the sun is? Not just on this particular day but in this particular season?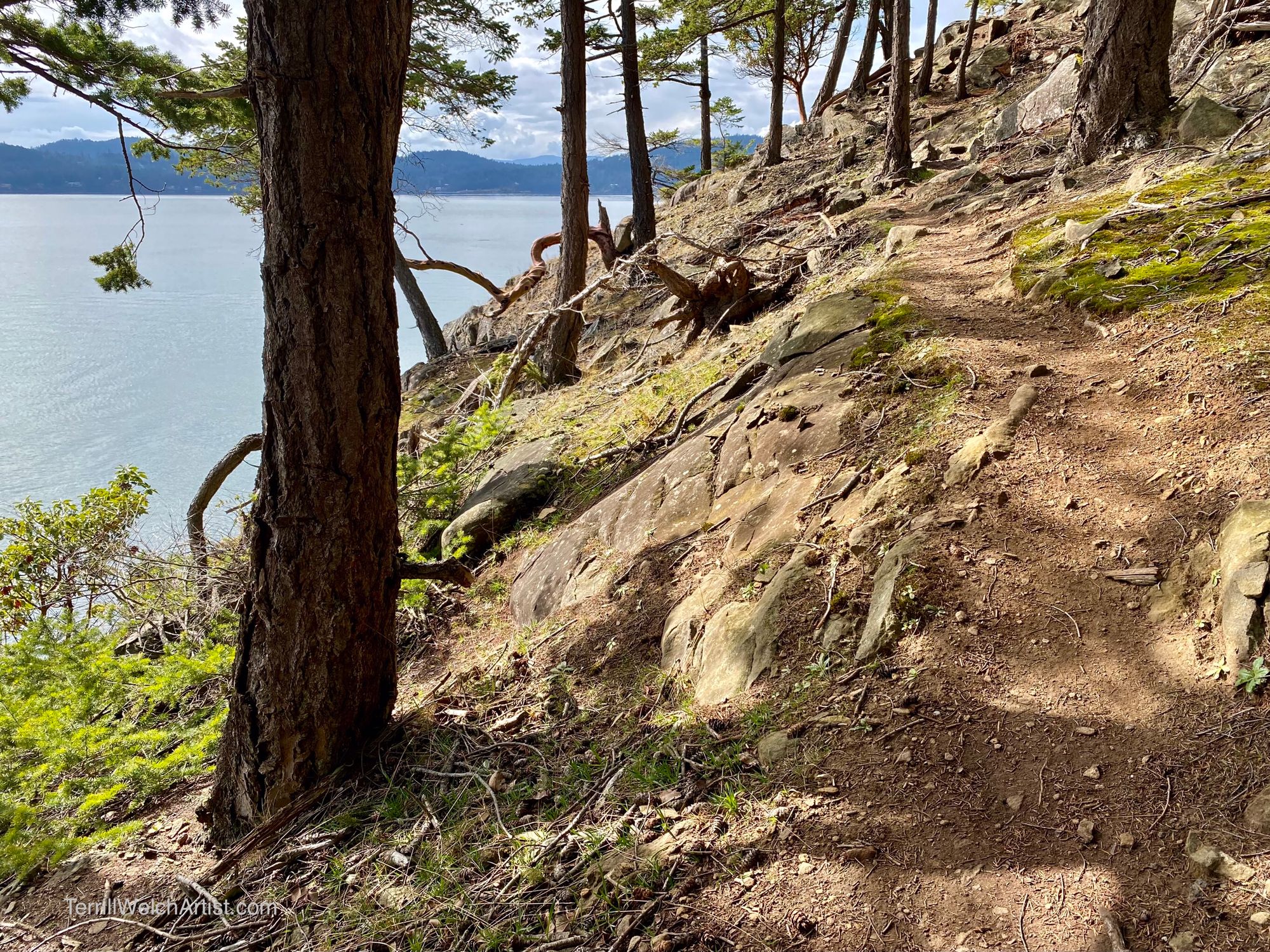 Do you remember to look forwards and back as a matter of habit when you are in the forest and have a pretty good idea where north, south, east and west are and if given a map could find yourself in the larger geographical area? Do you most often tell someone where you are going and what time you expect to be back? Do you do this because you know it gives you more freedom to safely roam?
Are you quiet enough as you walk that the eagle doesn't fly until you are standing right next to its perch? Or the otters keep playing along the shore? Or you can hear a seal sneeze?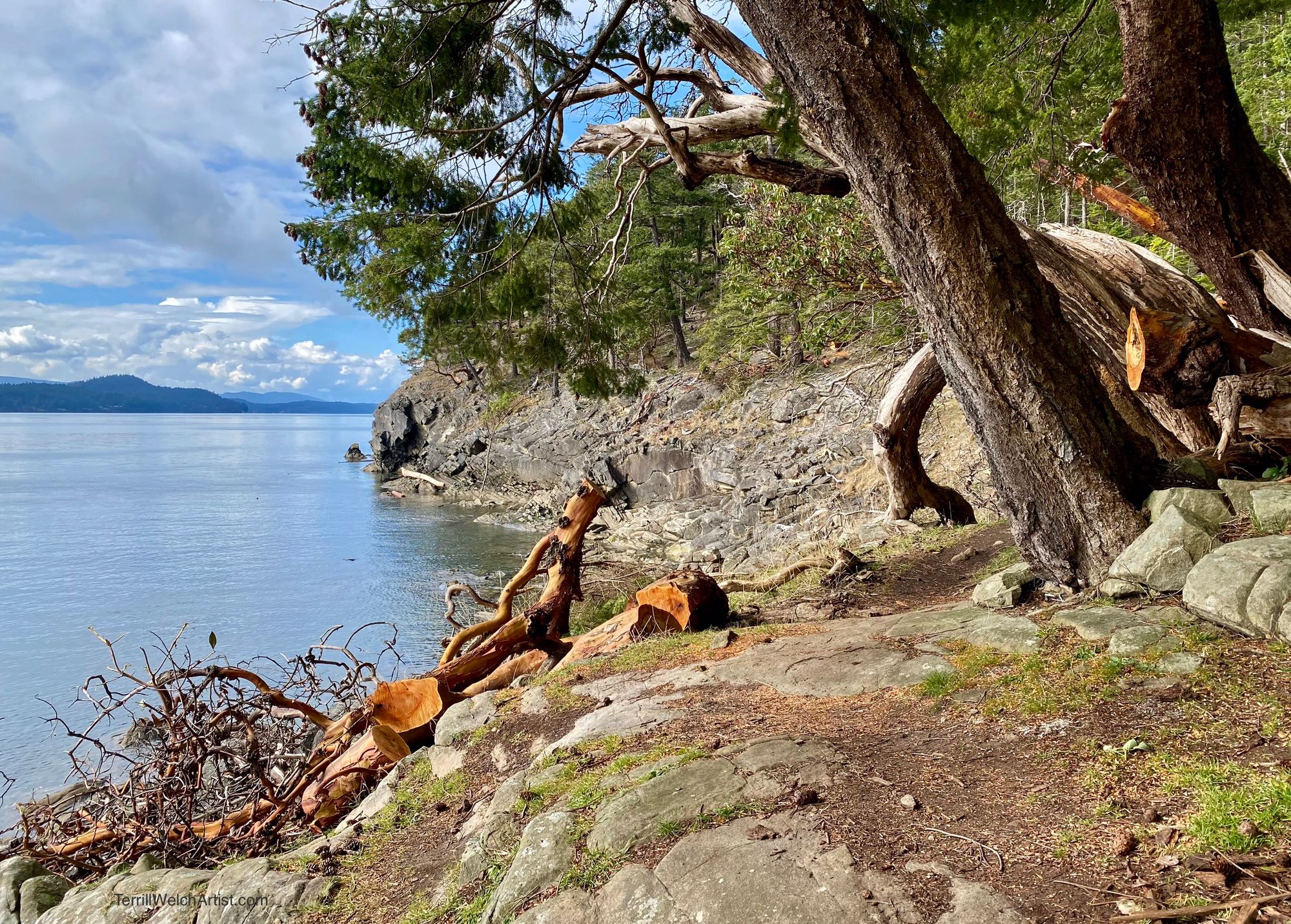 Do you become overwhelmed by the sadness of losing a familiar tree? Even when you know its demise was for the safety of less cautious hikers who liked to climb out on its dying trunk hanging over the bank?
Do you like to observe the landscape from low angles to the point that the knees of your pants are often wet and dirty? Do you prefer to wander in the woods alone? Did you daily or weekly take your children, nieces or nephews and grandchildren to the woods and place them on the earth from the time they were tiny, sitting with them, playing with them so they would know the earth in the same way that you do? Did you teach them how to be quiet for long periods of time so they could hear the sounds of the wind in the trees, the lap of water or the trickle of a stream or the song of a blackbird? Did you let their fingers brush naked across the grass, sticks and stones or into the snow? Did you laugh as you taught them not to eat dirt or snow even though you could still imagine the taste in your mouth from your own childhood?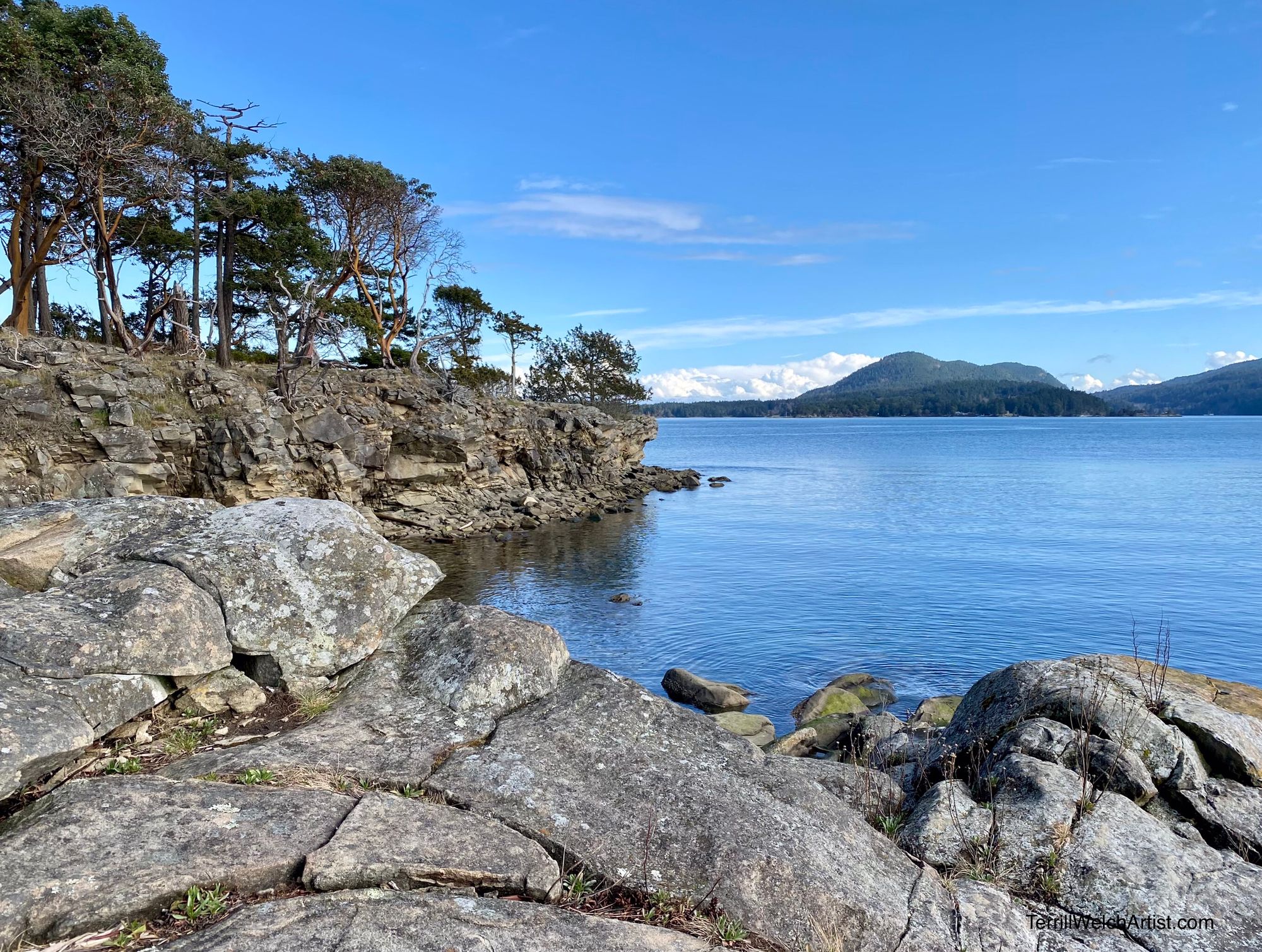 Do you stay in one place for a long time, for no reason? Do you tell yourself that you just want to watch the light change? Do you tell yourself that you just want to notice and see what you can see? Do you ever admit that you are sitting there because it is like the best hug you have ever had?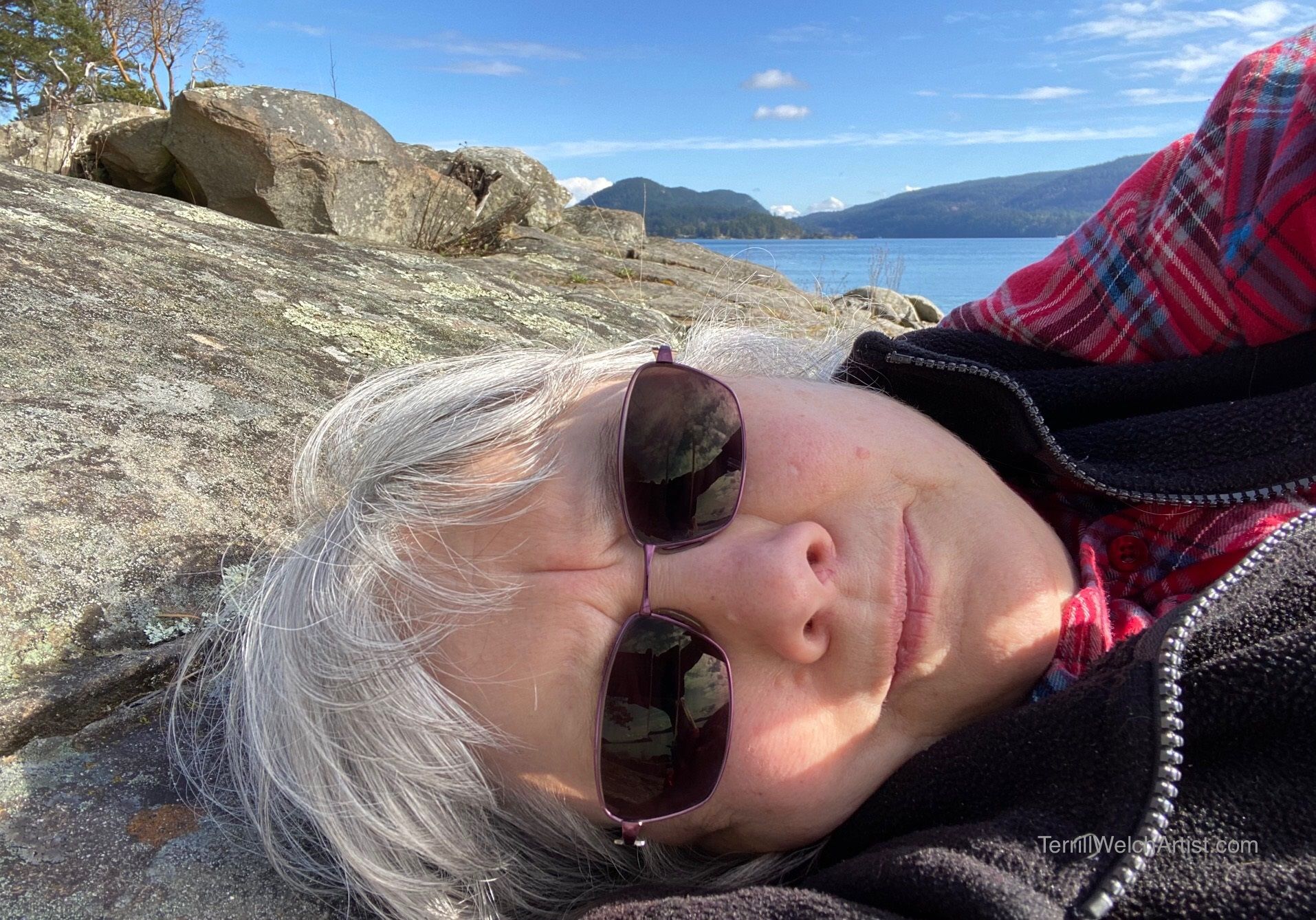 If you have answered yes to many of these questions, then you are likely a forest bather like me.
Show Feature: Standing on the edge of the world
Next to the shore "Standing on the edge of the world" by Bill Hibberd, a 30 × 48 inch oil painting. Diptych.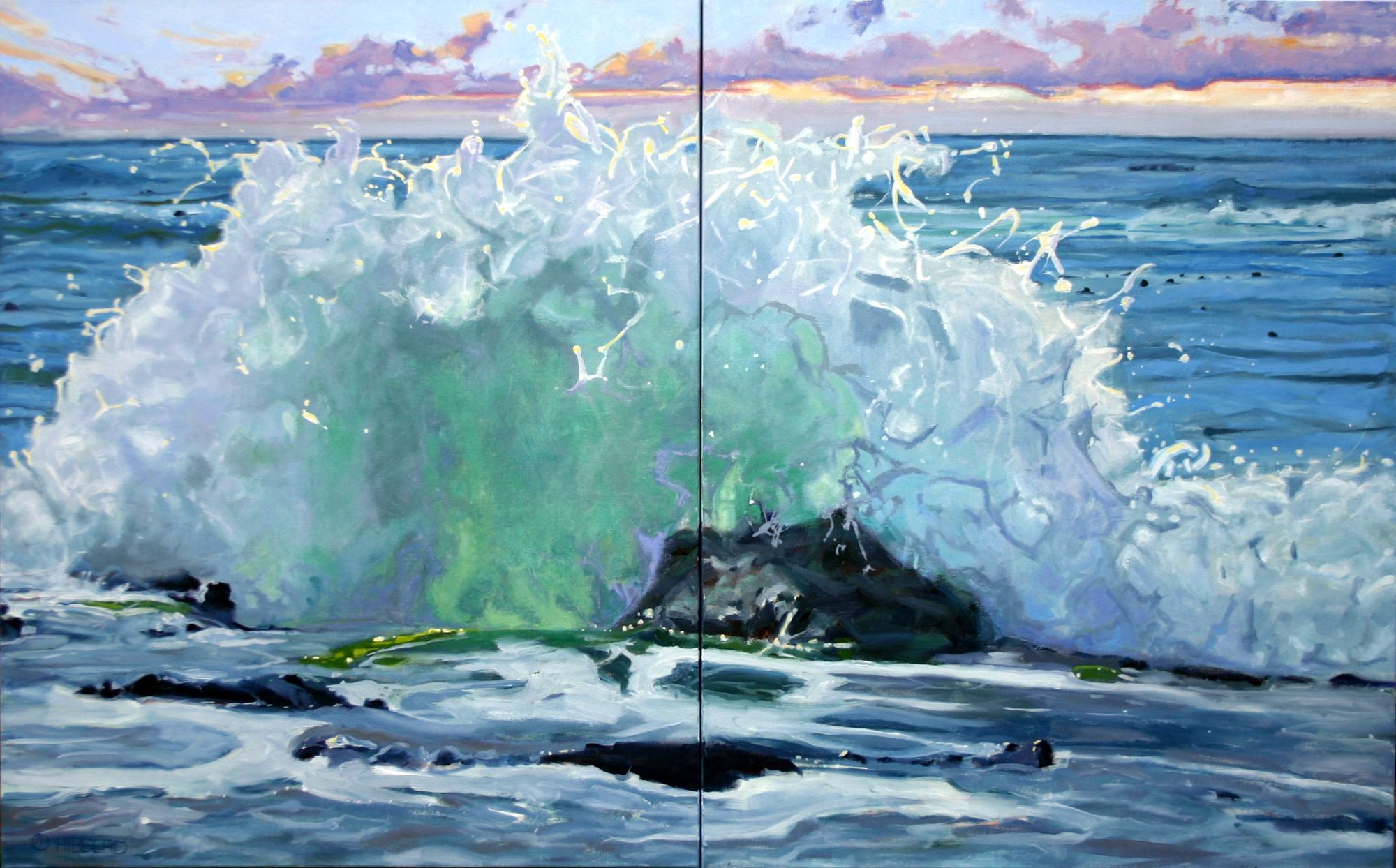 Artist Notes: Standing on the escarpment at the interface on the western edge of the continent. Consistent gentle summer waves are interspersed with occasional aquatic explosions from rogue waves.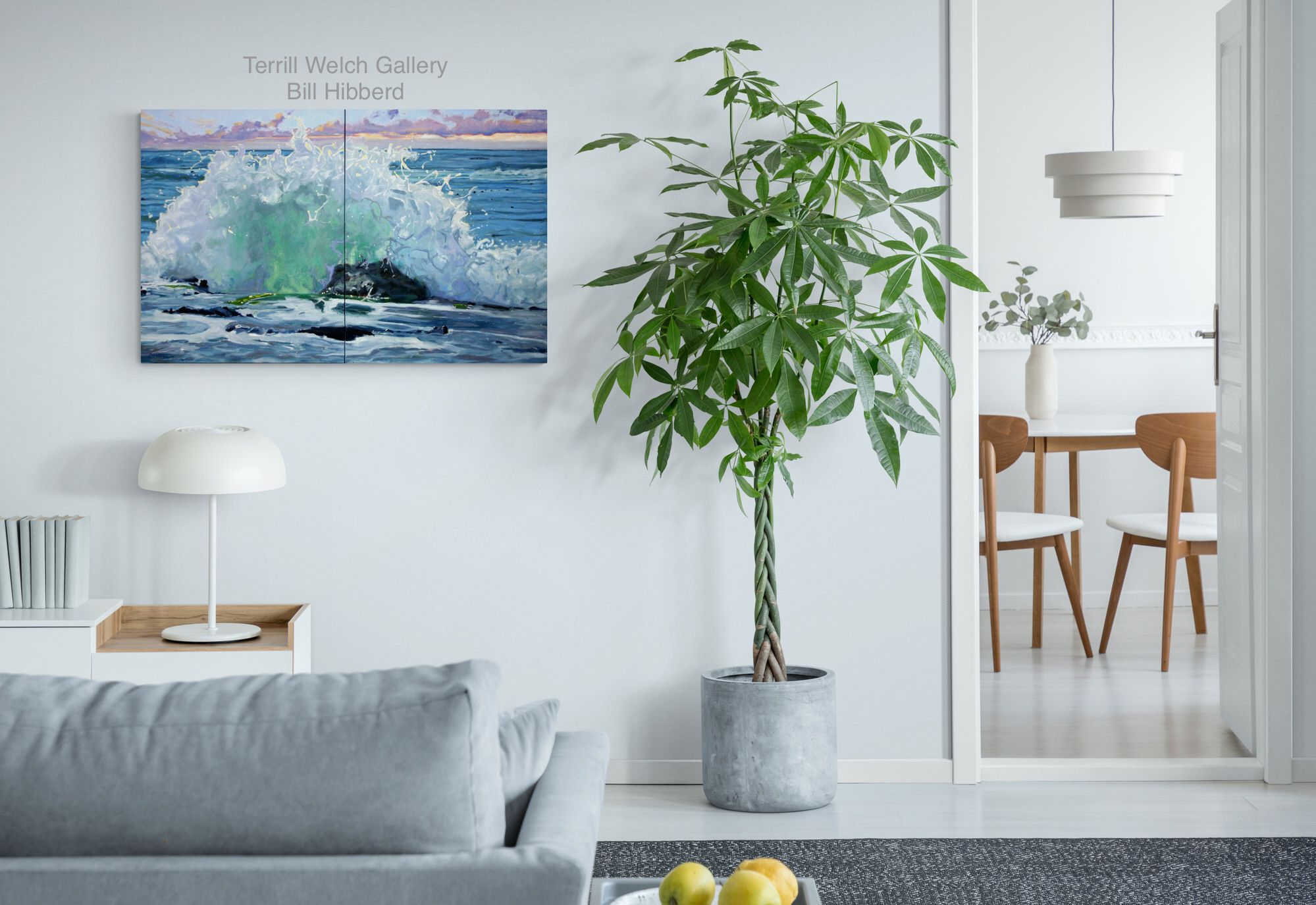 More information about this painting is available in our online gallery by clicking on the link below...
Available for sale from Terrill Welch Gallery, Bill Hibberd, Standing on the edge of the world  (2020), Oil on canvas, 30 × 48 in
This work is showing in the Terrill Welch Gallery current two artist online exclusive show "West Coast Edge" that is up until May 19, 2021.
Landscape painters Bill Hibberd and Terrill Welch push their brushes up against the dramatic west coast edge between sea and shore.
Show Feature: Rumbling Reef Bay
The music of the sea in "Rumbling Reef Bay" by Glenda King, a 14 x 18 inch oil on canvas.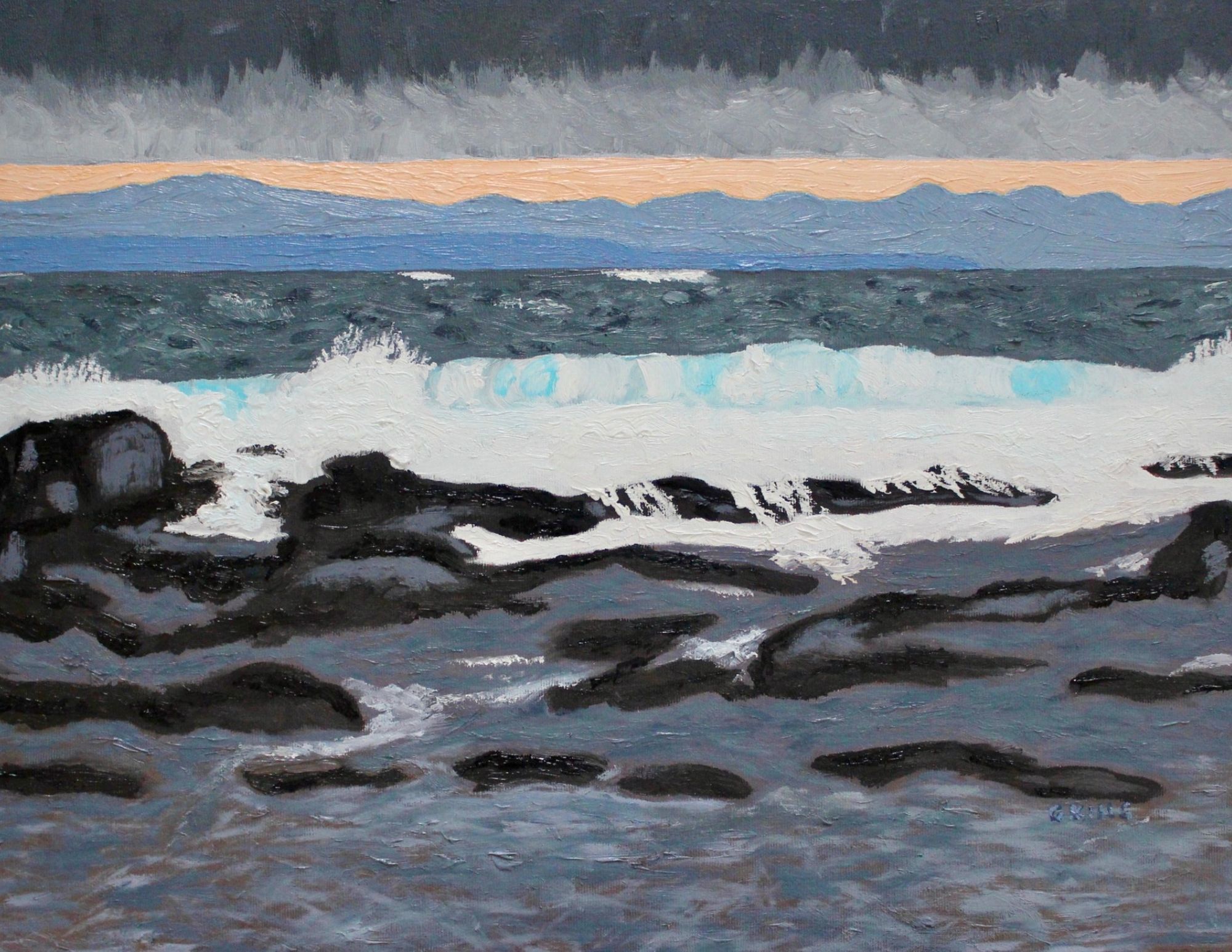 Artist notes: An ever changing view depending on the weather at Reef Bay. The sky was starting to clear in the horizon but barely.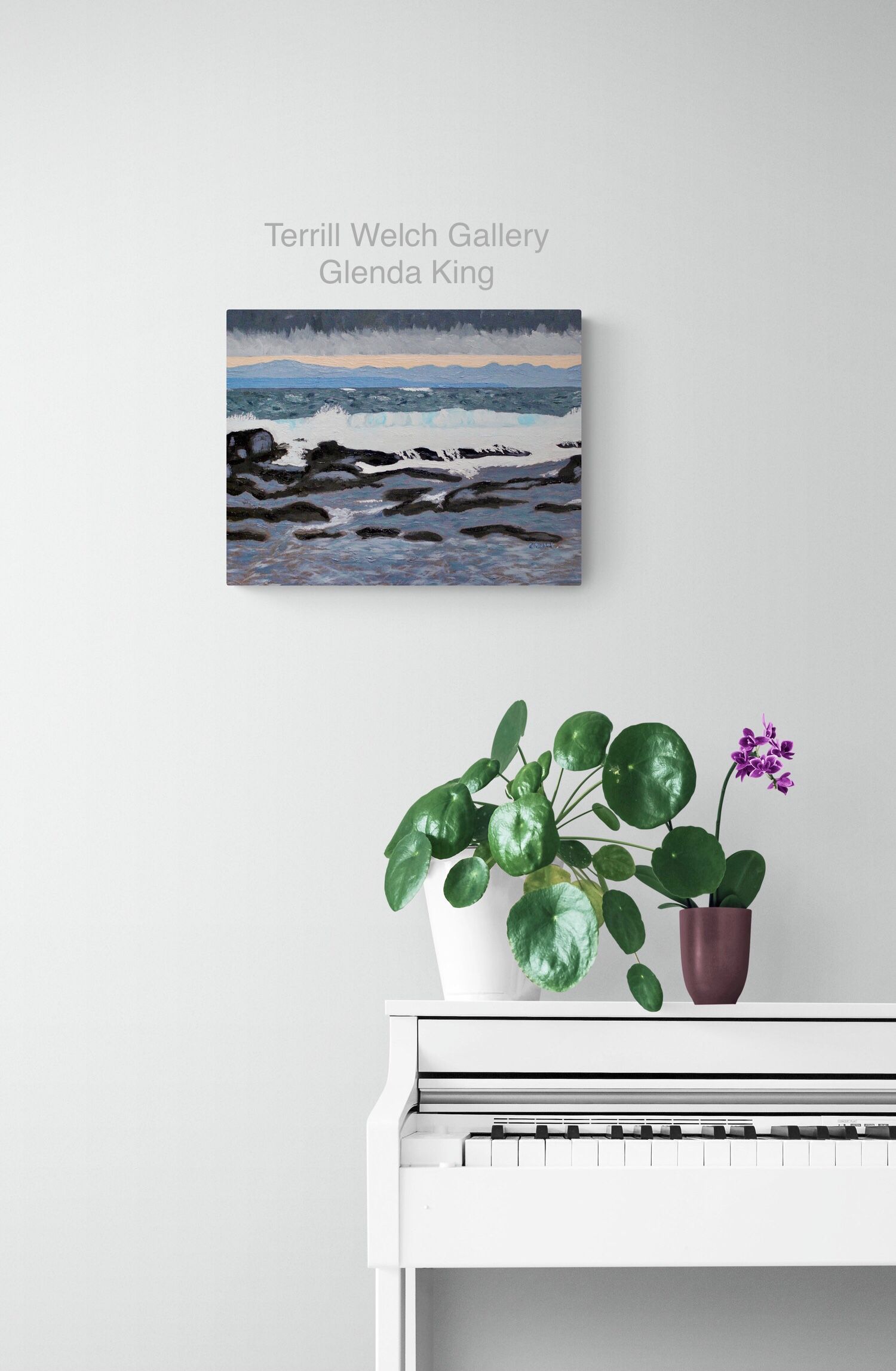 More information about this painting is available in our online gallery by clicking on the link below...
Available for sale from Terrill Welch Gallery, Glenda King, Rumbling Reef Bay (2020), Oil on canvas, 14 × 18 in
This work is showing in our current group show in the Terrill Welch Gallery Arbutus Room "Embracing the Unknown" that is up until May 16, 2021. The gallery continues to be open by appointment or the Arbutus Room can also be casually browsed on specific days during the week. However, travel to and from Mayne island is currently recommended only for essential reasons. Until this changes, we are most happy to assist you through our online gallery and virtual conversations and tools.
Paintings that place our minds in a cradle of nature's loving kindness with work from landscape painters Jennifer Peers, Jody Waldie, Glenda King and Terrill Welch.
What is on Terrill's easel
The latest painting just off Terrill Welch's easel is not quite ready to release yet but we thought we would share it anyway. Sometimes, she just needs them to linger a little longer. She will paint the edges, let those dry and then take another final photograph before deciding to list it as "available". For now, it is "just for looking."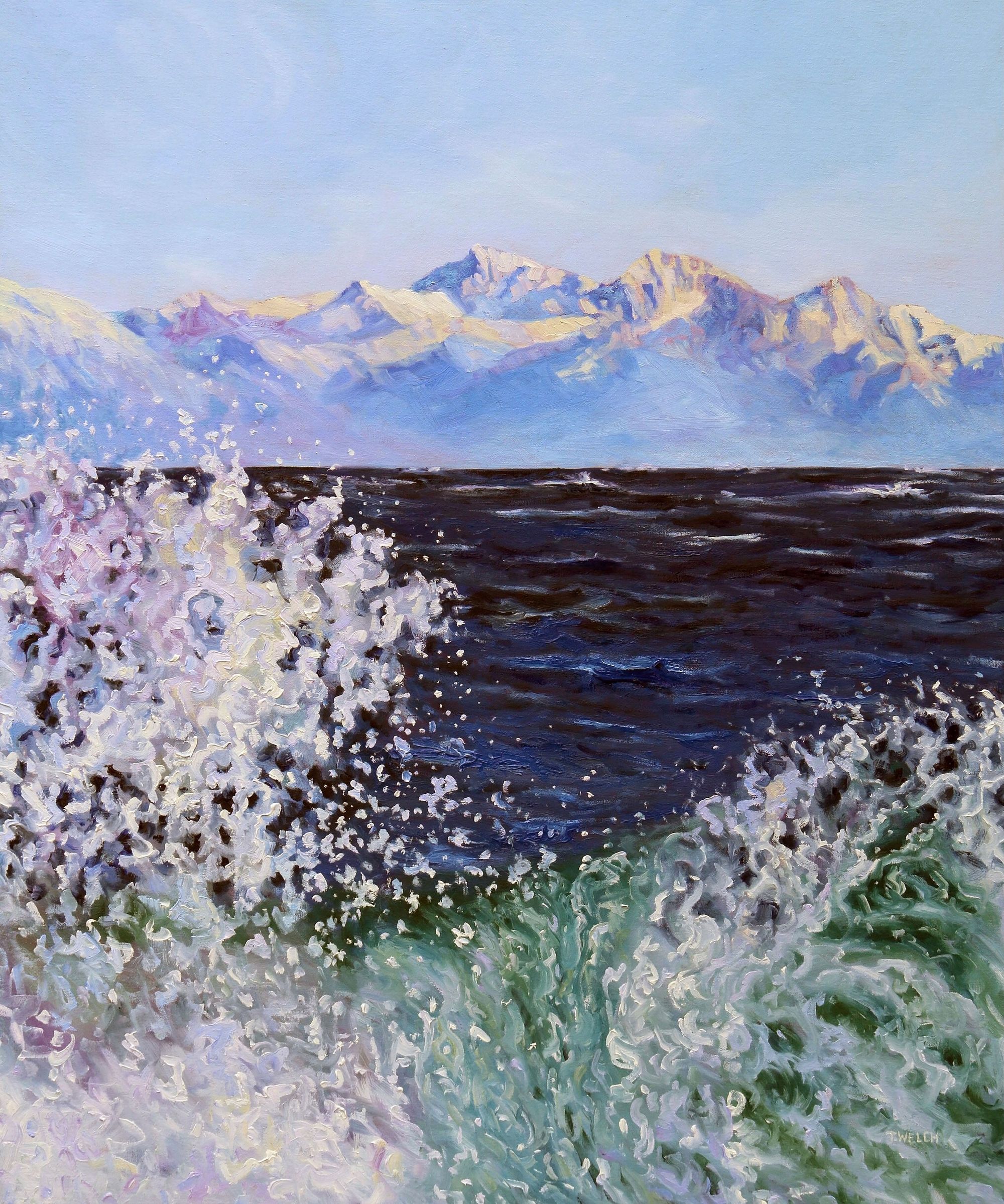 "Rolling up on the Strait of Georgia" by Terrill Welch 36 x 30 inch, oil on canvas.
Artist notes: Morning sun reveals a rough sea from winds farther up the Strait of Georgia. As the rollers hit the edge of the sandstone reef it is enough to take my breath away and shout into the roar of the wave.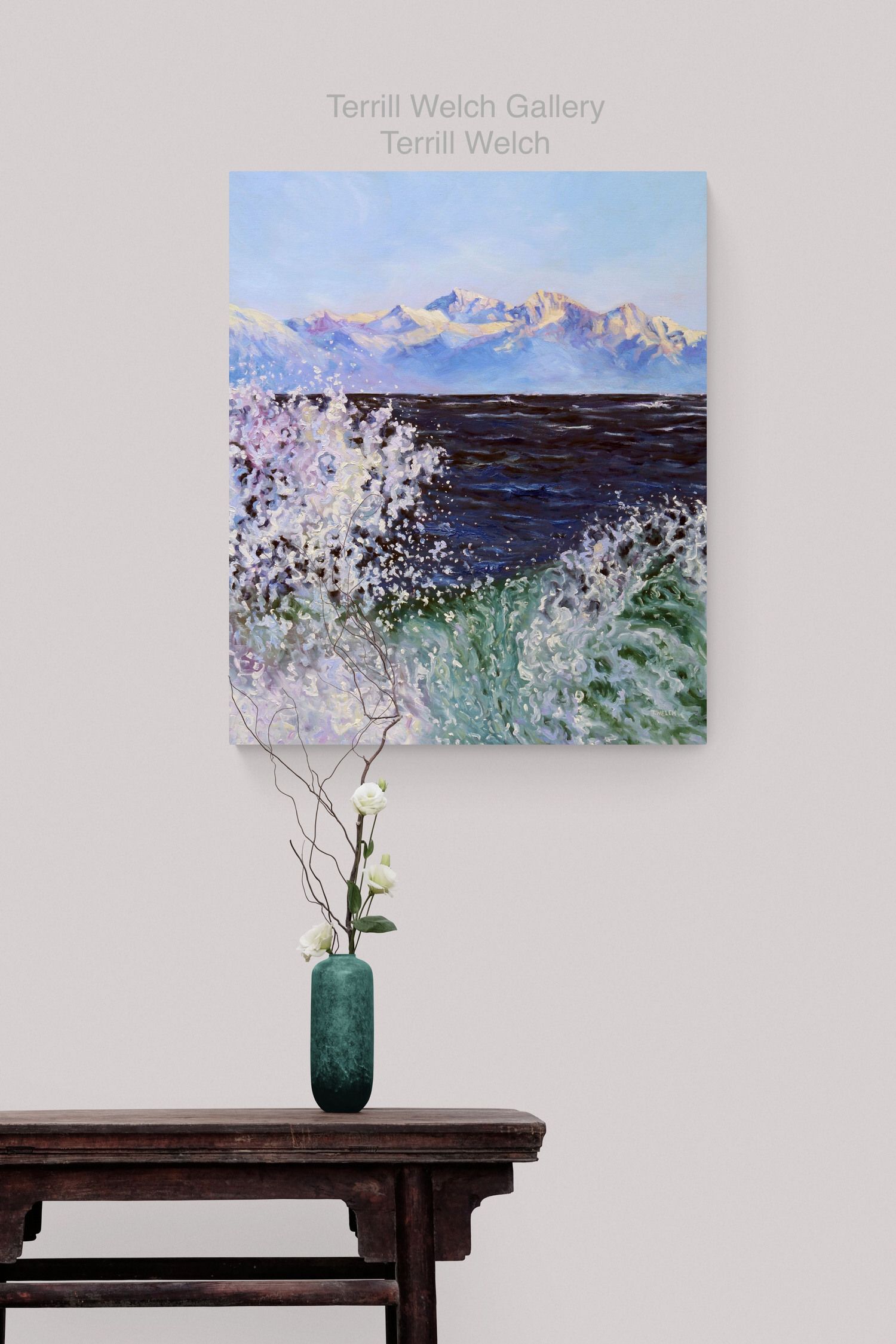 Because we have the work-in-progress images, would you like to see these as well? We thought as much...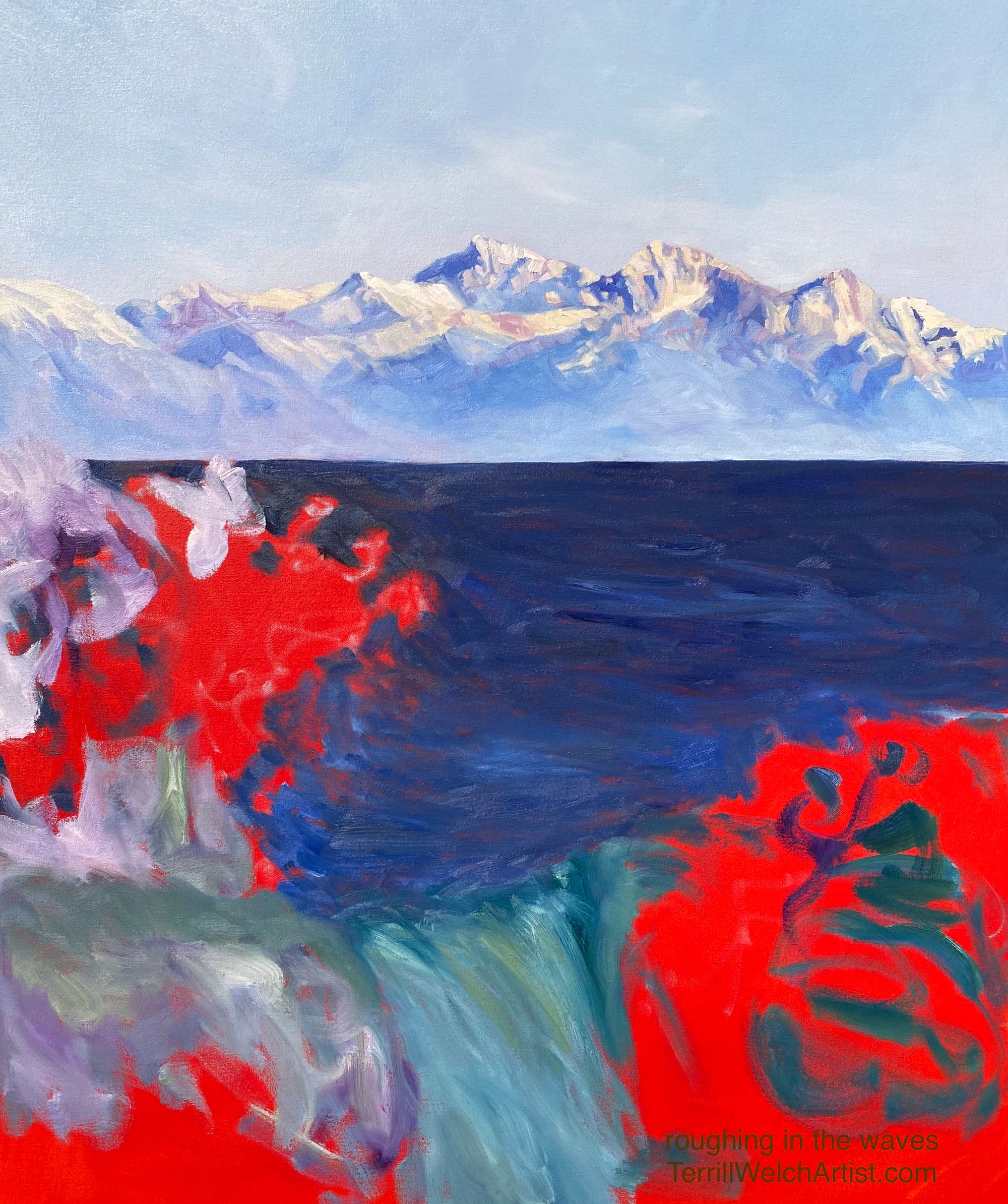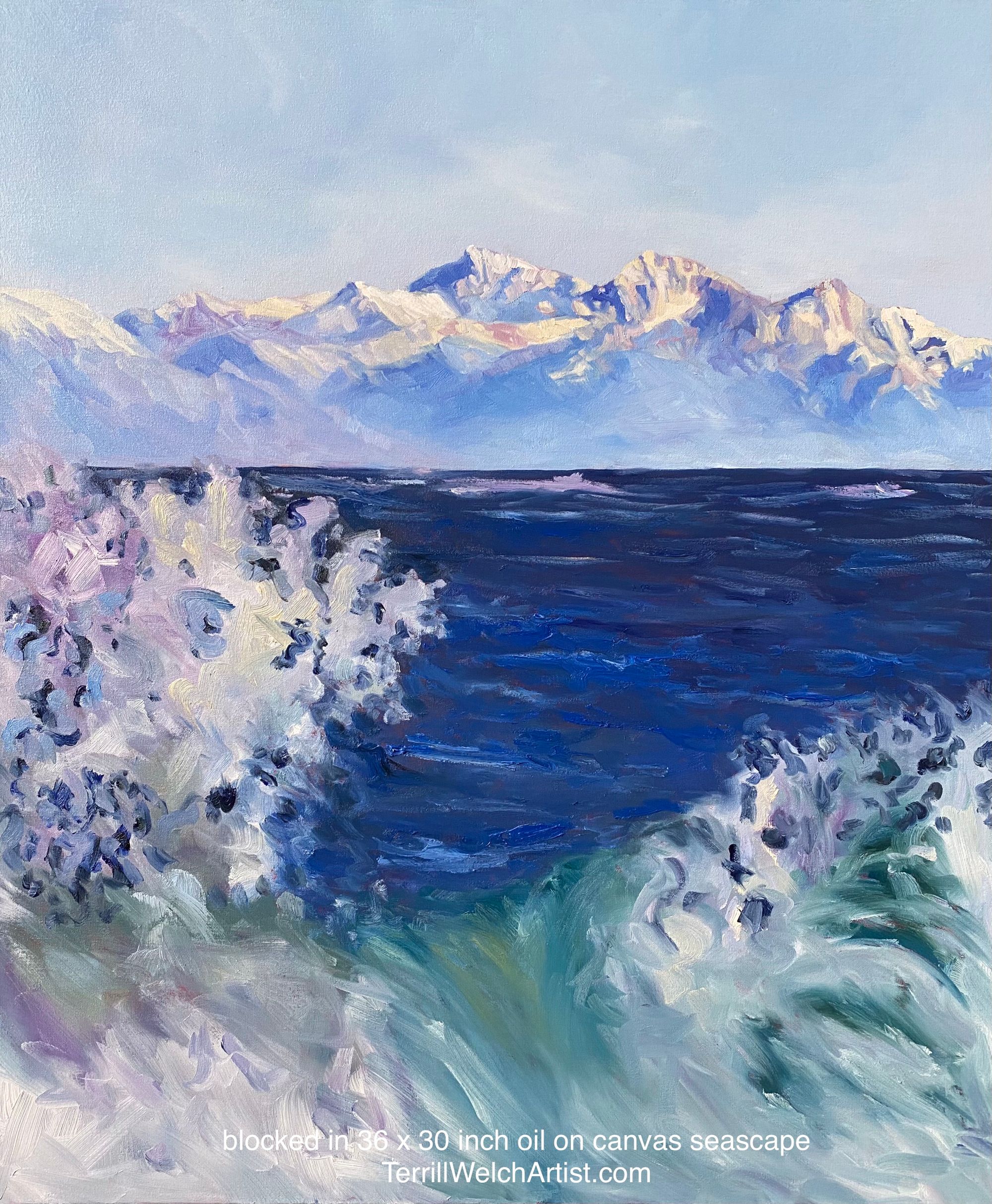 And then it is just a matter of building up the paint until the painting yells - enough already! Well, they don't always yell. Sometime they just whisper and the painter has to listen ever so closely.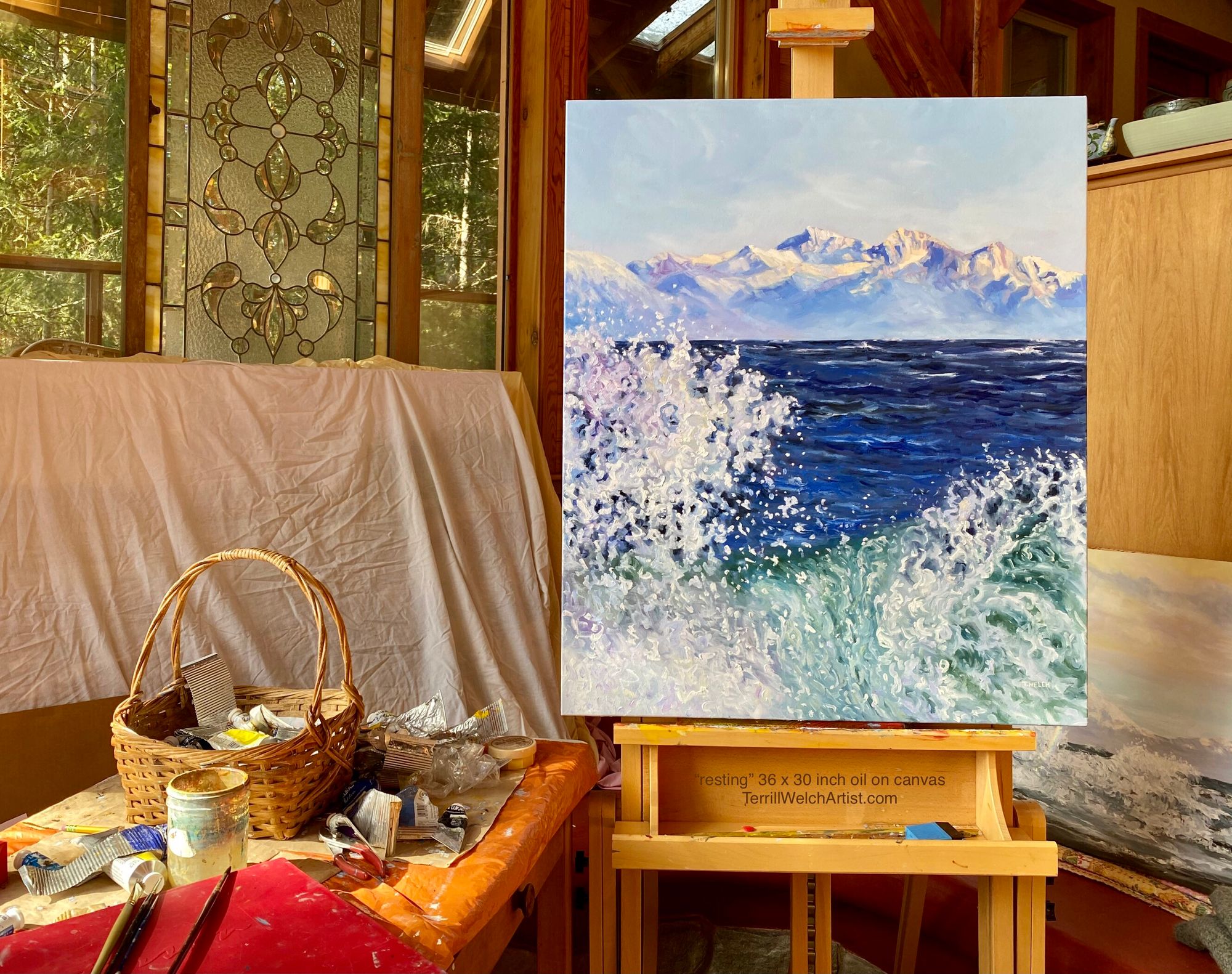 What Has Sold
In this past two weeks it is reproductions of two of Terrill Welch's paintings that have sold through the Redbubble storefront. The first is coming to Canada.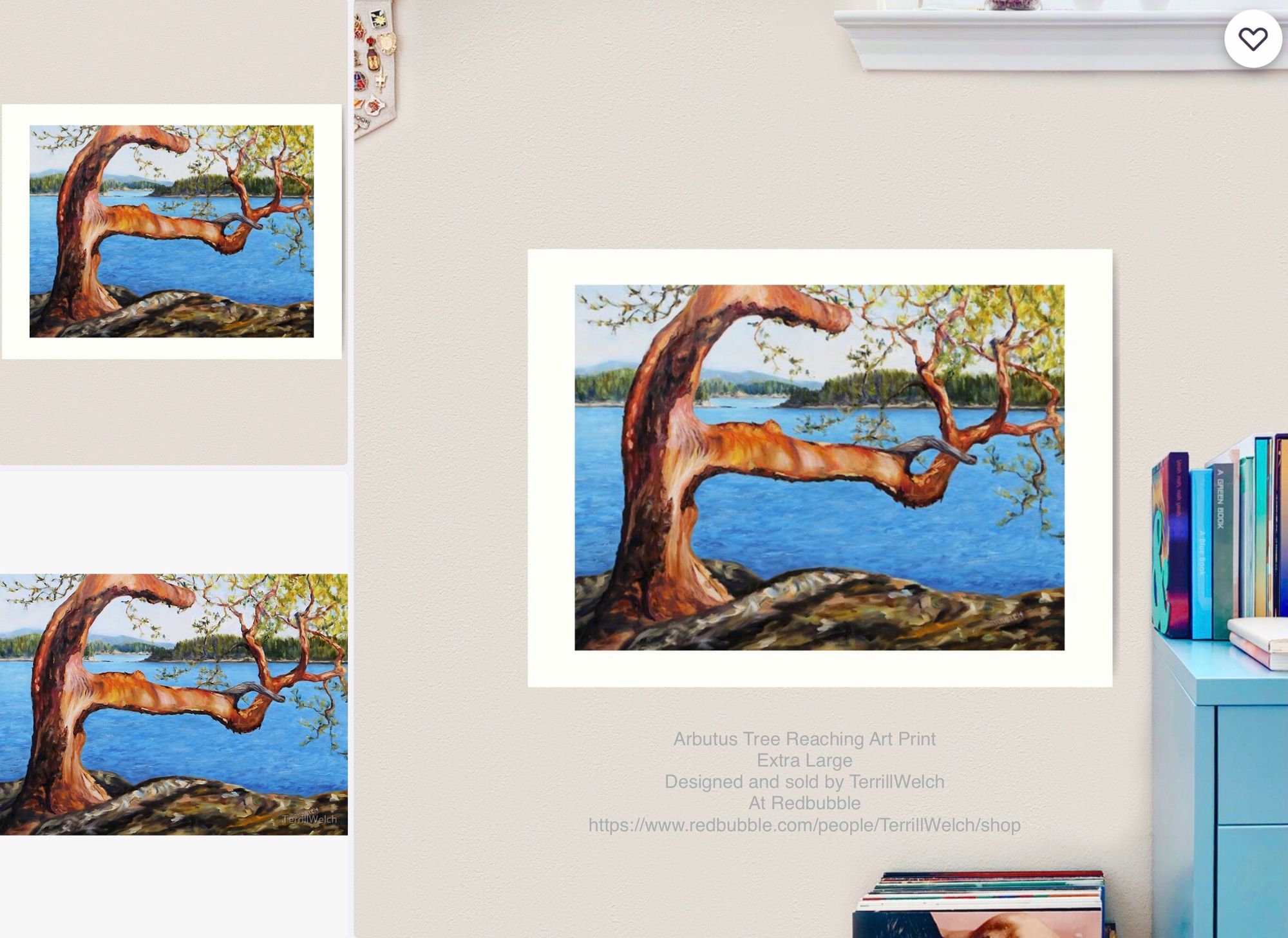 The second is going to Austria and seems like an appropriate nodded to "From Away with Terrill Welch" that has recently opened in the gallery's Garden Room.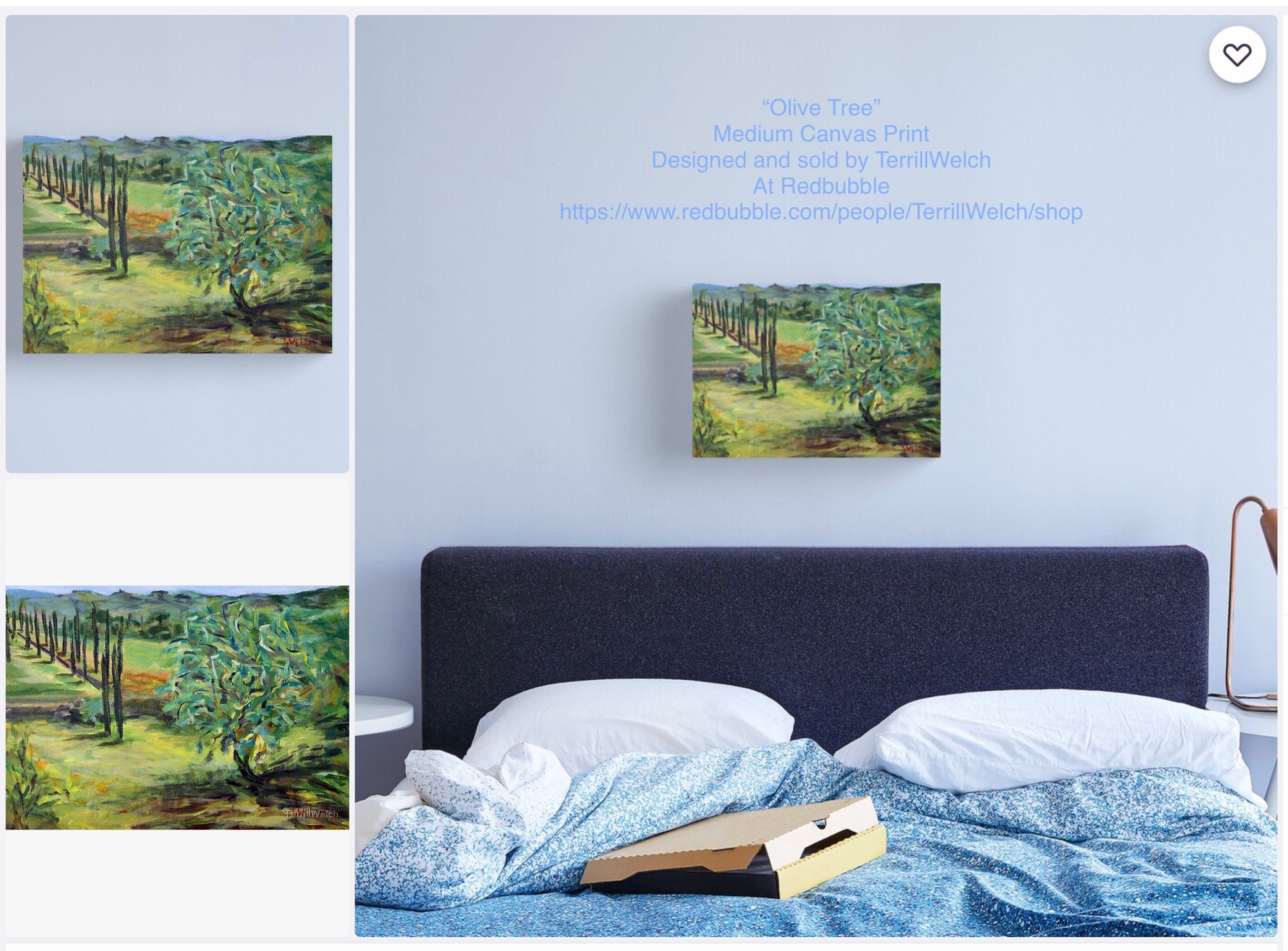 These decorative reproductions or prints of paintings are great purchases when the original is currently outside of your budget or if you want to put a work where it is not suitable for an original painting, such as in a bathroom. Below is the link to the Redbubble storefront in case you wish to browse for decorative print or other products yourself...
TerrillWelch is an independent artist creating amazing designs for great products such as t-shirts, stickers, posters, and phone cases.
The viewing options below the header allow you to "Shop Products" or "Explore Designs". Have fun!
A Painting Waits Two Years for its Home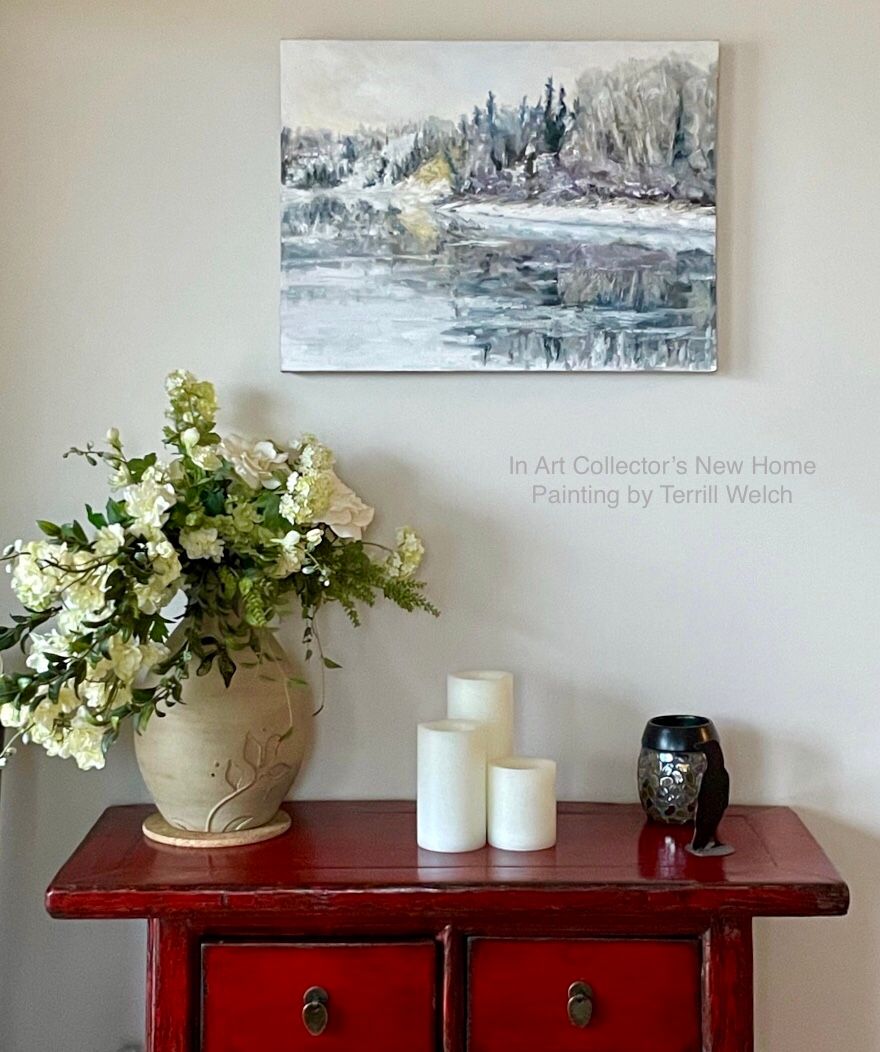 An art collector fell in love with this painting two years ago. She had never been to the Stuart River and wasn't sure exactly what it was about the painting that drew her in. There was also the challenge that the art collector's "forever" home was still under construction. She had no idea exactly where the painting was going to ultimately go or how it would fit into this yet unfinished space. But the work had cast its spell and that was that! The art collector purchased the painting and hung it in a temporary location up until just a couple of weeks ago. She has sent me this photograph, with permission to share it with you, so we all see can where the painting now lives. Congratulations to the art collector on her new home and finding just the right place for this painting. Ta-da!
Terrill's Opinion Piece - Phygital Art Future
I was just reading an article about this pivot to Online Viewing Rooms or OVRs by galleries and artists in the New York Times and I like the new term that has come out of it called "phygital" which is I think where art viewing is going. Nothing beats being in front of physical art, unless you can't get there or it is irresponsible to try.
I had the good fortune to launch my full-time art practice online in 2010, mostly through Twitter at the time. This resulted in immediate international online followers, fans and sales and many of those art collectors are still following today. In the summer of 2017, I opened a small physical gallery just for my own work after having shown in other venues and galleries since the mid 90's. Basically, I needed a permanent kind of showing space and a lot less of dragging and shipping work around. The result was a seamless interaction or "phygital" kind of engagement that surprised even me. I would have art collectors first see work online and then come in to make a final decision or come in and then ask if I had something specific they were looking for and I would turn my large view iPad around on my high desk and they would stand in the physical gallery and make a selection from the online gallery. I would then tell them to give me 20 minutes and I would go to the home studio and pick up the work and bring it back for them to see while they went for a coffee. This worked so well, that I decided to add another physical room to the gallery in February last year and represent the work of other landscape painters along with my own.
Then the pandemic hit.
Both gallery rooms were closed even before the second room's renovations could be completed. I thought, that is it. My art business is toast! In fact, for the whole of the 2020 year, the number physical gallery visitors were less than 20% of the previous year. For a brief period during the summer, I had both gallery rooms open for walk-in visitors with protocols in place and mostly by appointment. By fall, it was mostly by appointment only. I had one gallery room (the new one) that could be viewed during the hours of a neighbouring business but even that was limited and still required pandemic protocols. Yet, I kept curating group shows in the new gallery room and solo shows in the original gallery room and showing everything in as high a quality as I could online. I did videos, individual Zoom, FaceTime visits. I added a whole new digital gallery platform (by invitation only) with Artsy at the end of July. And I kept up with my usual and regular social media post on Facebook, Instagram and Twitter plus publishing the gallery every-second-Friday newsletter. It was hard work!
The learning curve was steep because I was not only keeping up my own painting practice in a restricted environment, learning new digital tools and implementing new protocols for viewing work in the physical gallery because of the pandemic but I was also learning how to best curate and represent the work of other artists while living and working and showing art on a small island off the southwest coast of Canada (not exactly the center of the global art world).
You would not be alone in thinking it was a recipe for disaster! Some nights were more than a little restless as I figured out ways to scramble forward over a moving art market terrain. But I had good strong digital social media legs underneath me. I had saved to do the physical expansion and was glad I took the risk into a blind future to complete it. I still feel like I am trying to see through heavy fog and can only clearly see just the next step right in front of me and must guess at the rest. I still feel like I am working right at the very edge of my capacity, both as a painter and a gallery owner. However, sales revenue was up more than 40% in 2020 over the year before. Personally, I painted and released and sold more work than the year before. I love using OVRs and digital room views to show the scale of paintings and how one might live with them. I love having physical gallery space to show work. I love representing the work of other carefully selected landscape painters whose work is in line with the gallery's vision. Both digital and physical viewing of artwork will stay I believe as we move forward and hopefully I can soon see more clearly where we have ended up and farther out on the horizon to expand the stretch of the gallery's strategic plans beyond the end of my brush. One never knows though. I am just certain that I must try. I must continue to be bold and flexible. Any less than this and I would regret it. So I encourage us all to find ways to to say "yes" to change in a way that work for us. It is scary. No question. But not to try would be the worst.
Psst! Next I am exploring the idea of NFTs or "Nonfungible tokens" and blockchain technology. I have an internal researcher and developer working with me and an art collector who is willing to pilot a specific painting and we have paintings to pilot that are in my own private collection. It is early days yet but IF this idea seems to have practical applicability and advantages, I will be sharing more about our exploration in this area soon - ish.
Until Next Time!
The plum blossoms are now in full bloom and I have been our for the first plein air painting session of the season. It was glorious!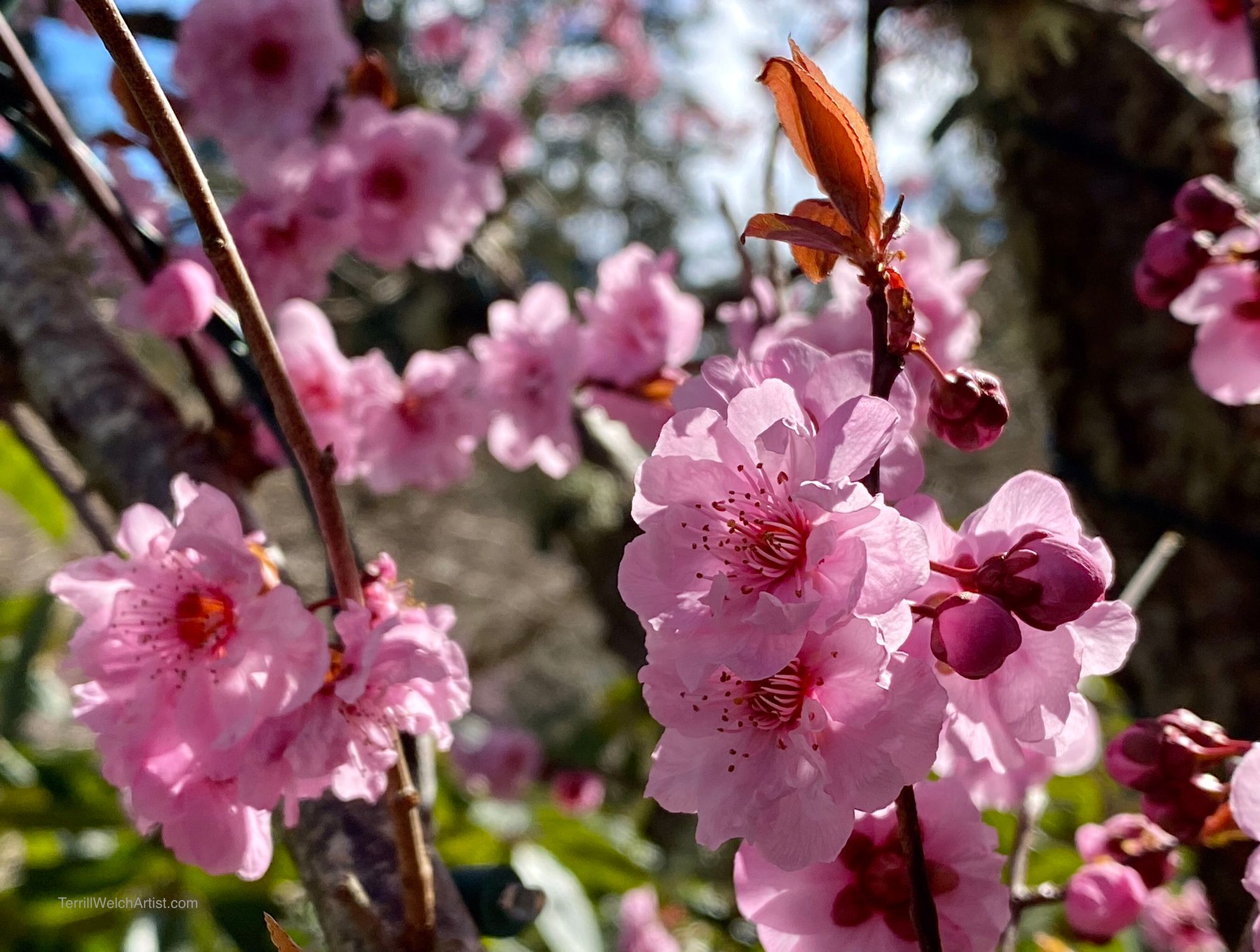 A fellow painter and friend Julie Ireton had come to visit the Japanese Garden and insisted on a big smiling artist's portrait. So here you go.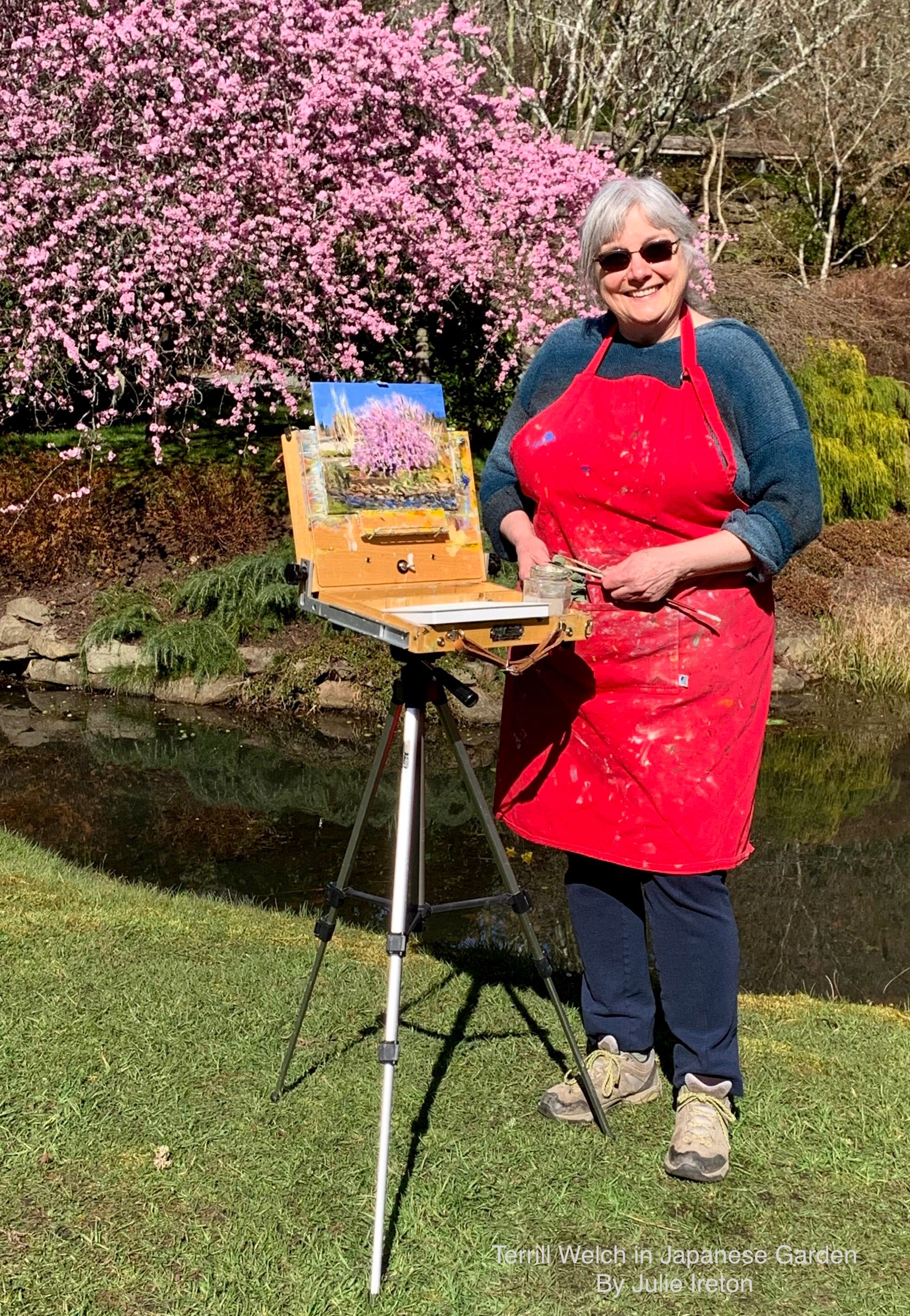 We now have over 100 available original paintings by six different artist and four current shows up and listed in our online gallery. If you haven't yet, we recommend you create an Artsy account and follow the gallery and each individual painter. This will provide you with notices directly when new work is listed or a new show opens. Plus, you will be able to inquire directly from the painting listing if you have a question or would like to purchase the work. It is easy, just click on the link below and go for it! I promise it will give you an even greater online viewer relationship with our gallery paintings.
All the best as always! Terrill :) 👩‍🎨🎨❤️
Our gallery program brings extraordinary connections to ordinary moments in our natural landscape. The Terrill Welch Gallery opened in August 2017. Since then, the gallery has more than doubled its physical gallery exhibition space and online reach.