A Brush with Life - Issue #79 Mindfully Opening
New art shows will be opening in the Terrill Welch Gallery in June. We will also begin to again have a few walk-in hours available for both of our gallery rooms, starting with this Saturday 11:00 am to 2:00 pm. We are mindfully opening in a slow and thoughtful way. Following this week's Provincial a
New art shows will be opening in the Terrill Welch Gallery in June. We will also begin to again have a few walk-in hours available for both of our gallery rooms, starting with this Saturday 11:00 am to 2:00 pm. We are mindfully opening in a slow and thoughtful way. Following this week's Provincial announcement, recreational travel is again allowed within our regional designations. This means people can come to Mayne Island from Vancouver Island and the other Gulf Islands and we can go there just the fun of it! Like, you can come visit the gallery during a day trip or week or weekend visit from Victoria. Now how cool is this!? Mostly, we will still be open by appointment though. So do contact us if you are coming and we will open the doors (and windows) wide to welcome you! The usual protocols are still in place for now - such as masks, two at a time and distancing and there is hand sanitizer at the door. If everything goes well, there will be more Provincial wide recreational travel coming by mid June and we will be ready to welcome even more of you!
---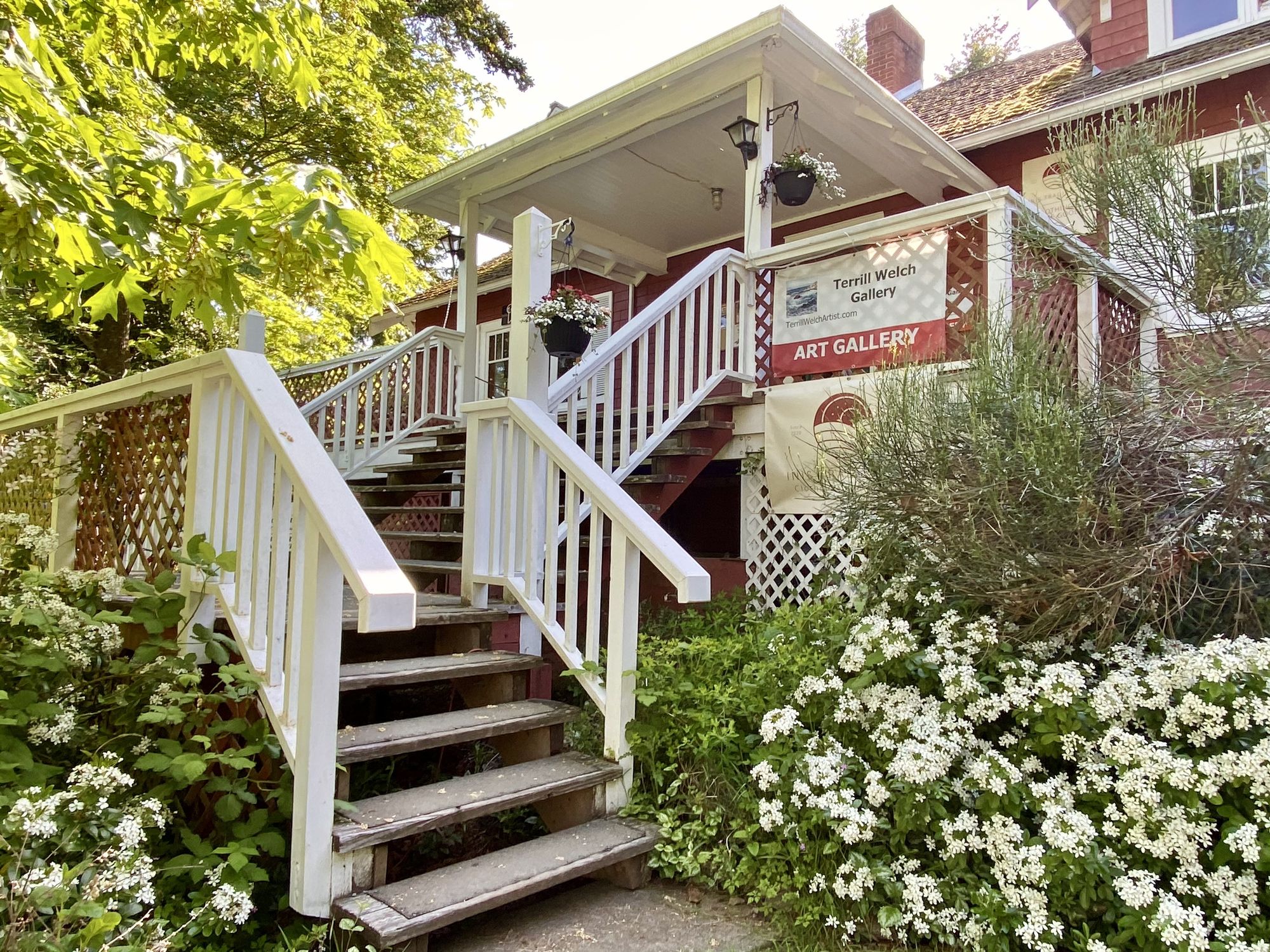 For now, let's see what we have to share...
Featured Work...
In our online exclusive exhibition, "Promise of California Greens" with Elena Maslova-Levin, we bring these selected pieces...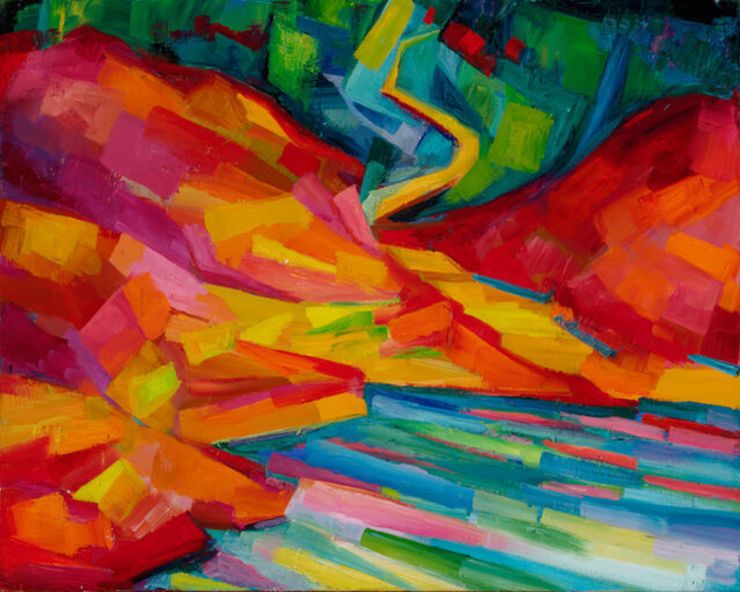 Available for sale from Terrill Welch Gallery, Elena Maslova-Levin, Path to caverns: Shores of Lake Shasta revealed by drought (2014), Oil on linen panel, …
And because it is the season of Irises we wanted to be sure to feature this painting of Elena's...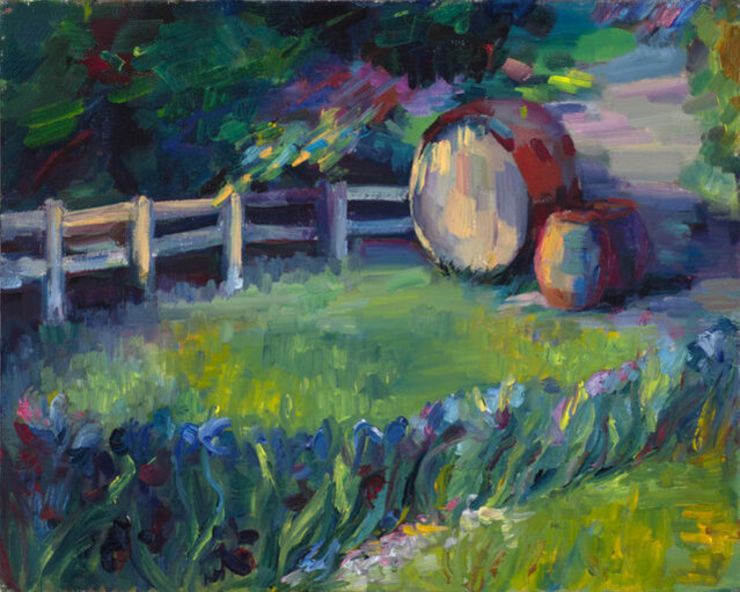 Available for sale from Terrill Welch Gallery, Elena Maslova-Levin, Van Gogh's irises (2011), Oil on canvas panel, 16 × 20 in
In the Arbutus Room "Embracing the Unknown" group show (that will close June 20, 2021), we would like to offer you a closer look at...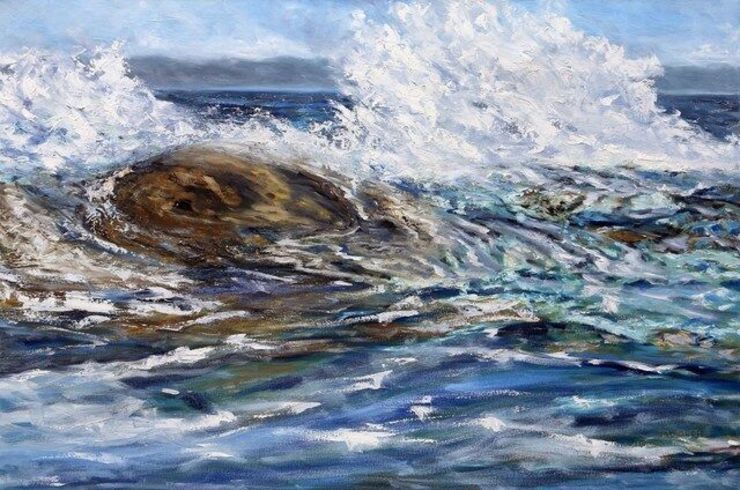 Available for sale from Terrill Welch Gallery, Terrill Welch, Tossed by the Salish Sea (2020), Walnut oil on canvas, 24 × 36 in
And then there is a smaller work by Jody Waldie you may not have noticed yet...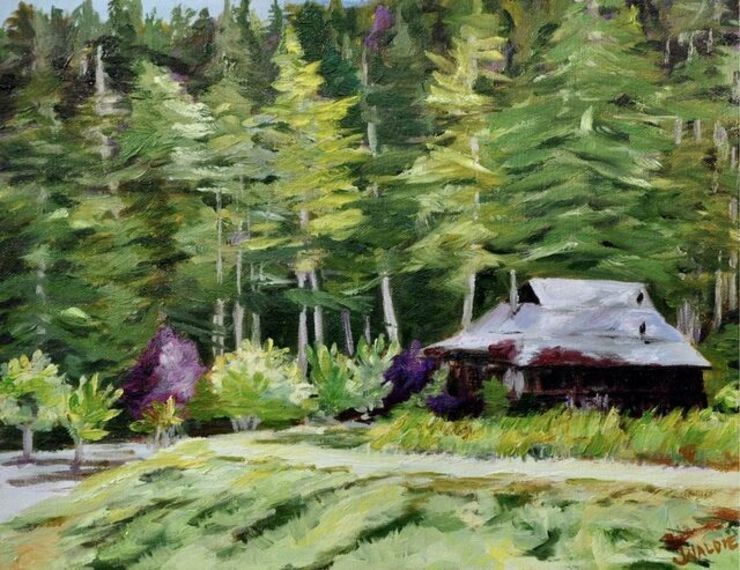 Available for sale from Terrill Welch Gallery, Jody Waldie, Peace and Plenty (2020), Oil on canvas, 11 × 14 in
Also in "From Away with Terrill Welch" which will close June 6, 2021, we offer you a private viewing room that provides behind the scenes plein air painting captures for some of the later work completed in the studio that is in this solo show. The private view room is only available until June 5th. To access, just open the link and sign in to Artsy (or if you haven't already, sign up). While you are there, "follow" the Terrill Welch Gallery and each of our artists to receive first viewing of new work as it becomes available. We promise, you will be thrilled that you did when these new releases trickle into your inbox ahead of each show.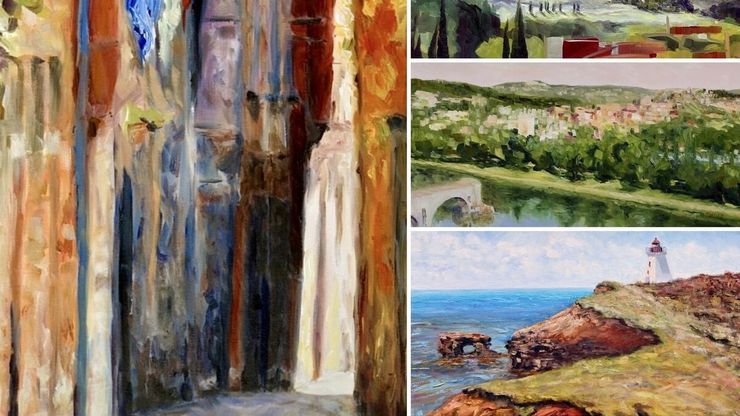 "I long to visit again and again as we stay in place."
Coming soon..
There is a lot of excitement when it comes to selecting new work for the next shows. We are not quite ready to give away everything yet but here are a few room views of work that is coming soon...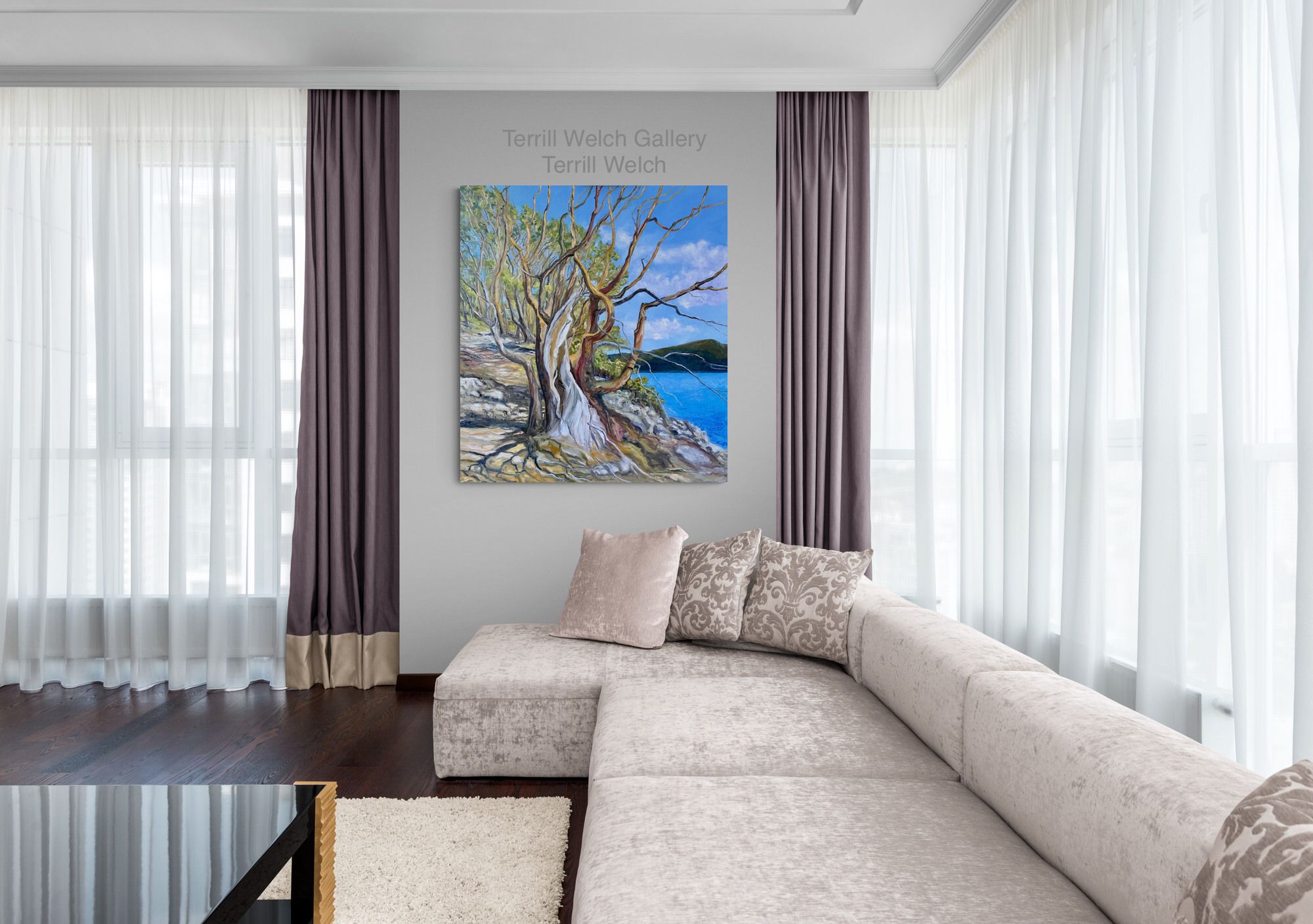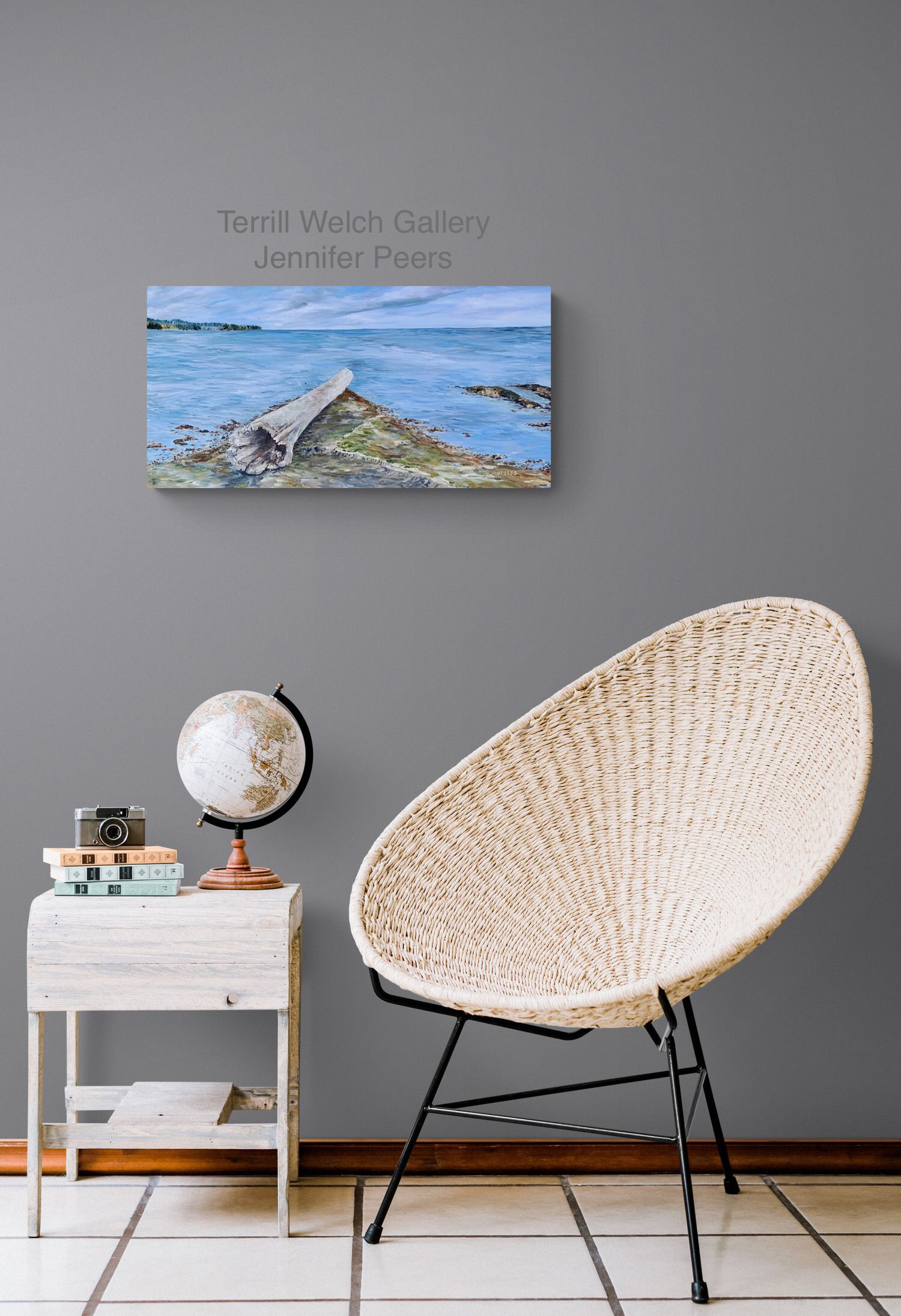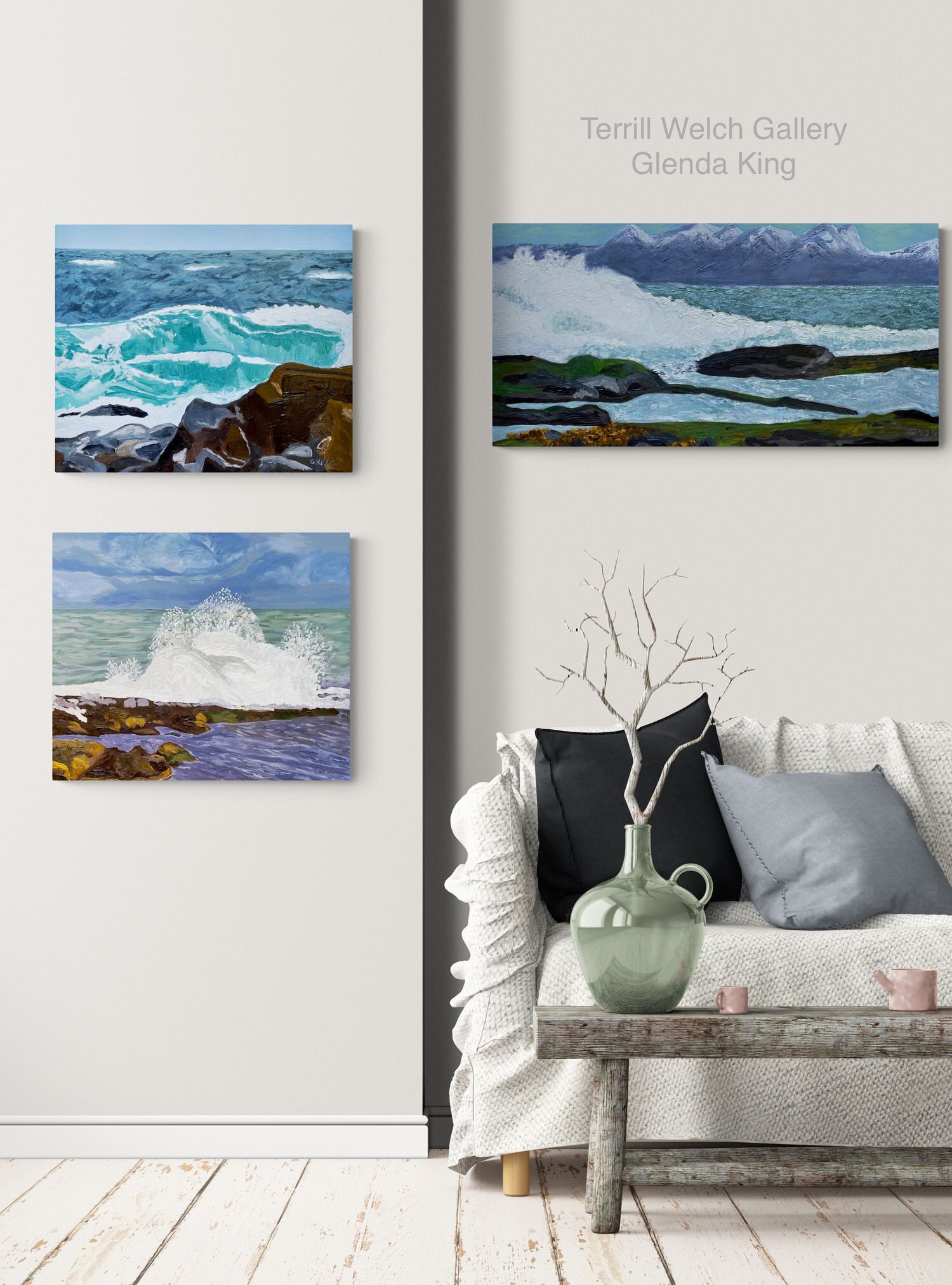 There are more still coming of course and we will be able to share the whole show with you in our next issue. Maybe not this work-in-progress that Glenda King has underway but we look forward to seeing this work when it is completed as well....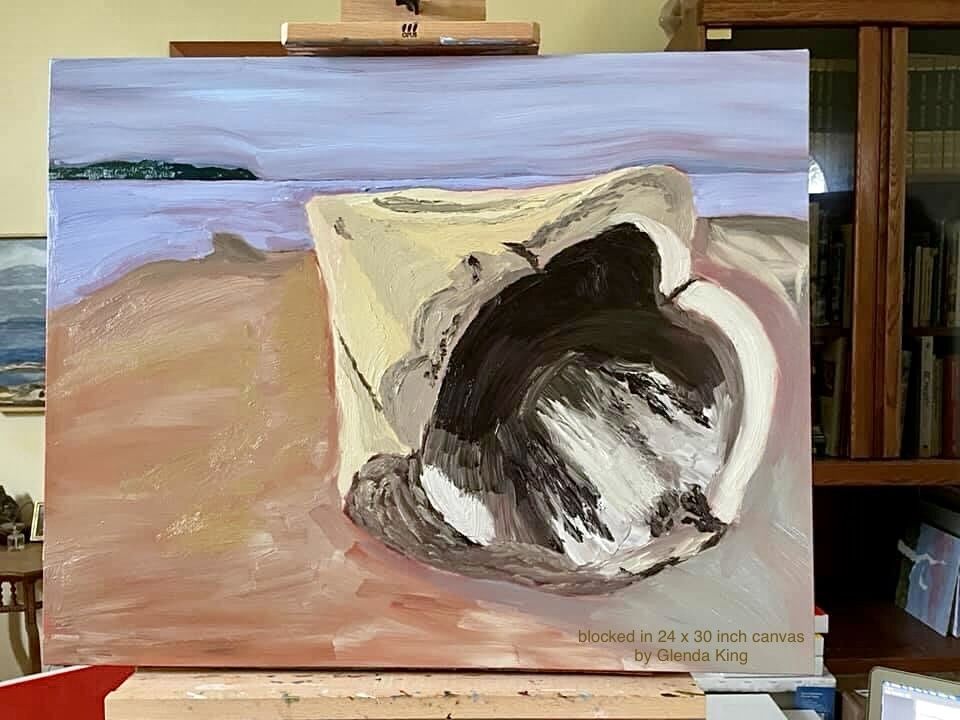 Opening This Coming Week!
But before the next Arbutus Room group show opens, this coming week on Wednesday June 9, 2021 there will be a solo exhibition of Terrill Welch's work opening. Some of these paintings are new and some are moving over from the group show and one is included even though it has recently sold simply because it was suppose to be in this show. As "A Brush with Life" subscribers you have VIP early viewing privileges starting right now...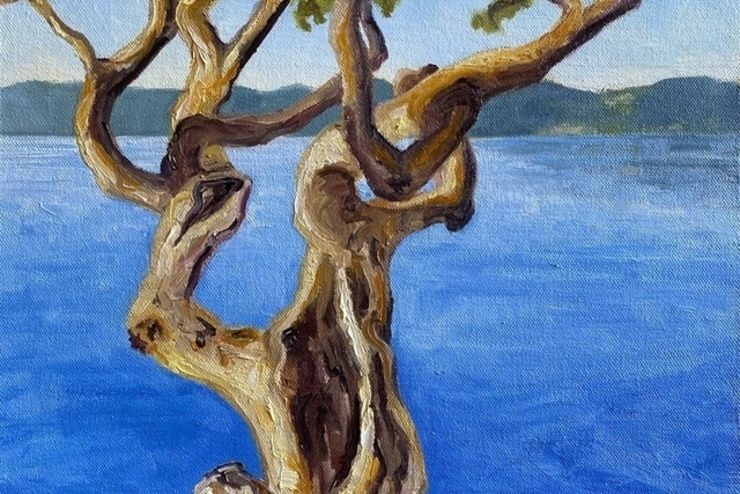 Through her paintings in this solo exhibition, Terrill Welch invites us to stand with her during this unique space and time, together. We shall open up in ways that we have never thought mattered, by design, filled with purpose, rising towards possibility. Do you dare?
Reluctantly Released...
For a short while, Terrill Welch held onto this recent work with the hopes it could go in a specific space and stay in her private collection. Alas, it is too large and she feels it needs to have a special home of its own. Therefore, this work is now available for your consideration and will be included in her next solo show that is link above and will be in the gallery's Garden Room.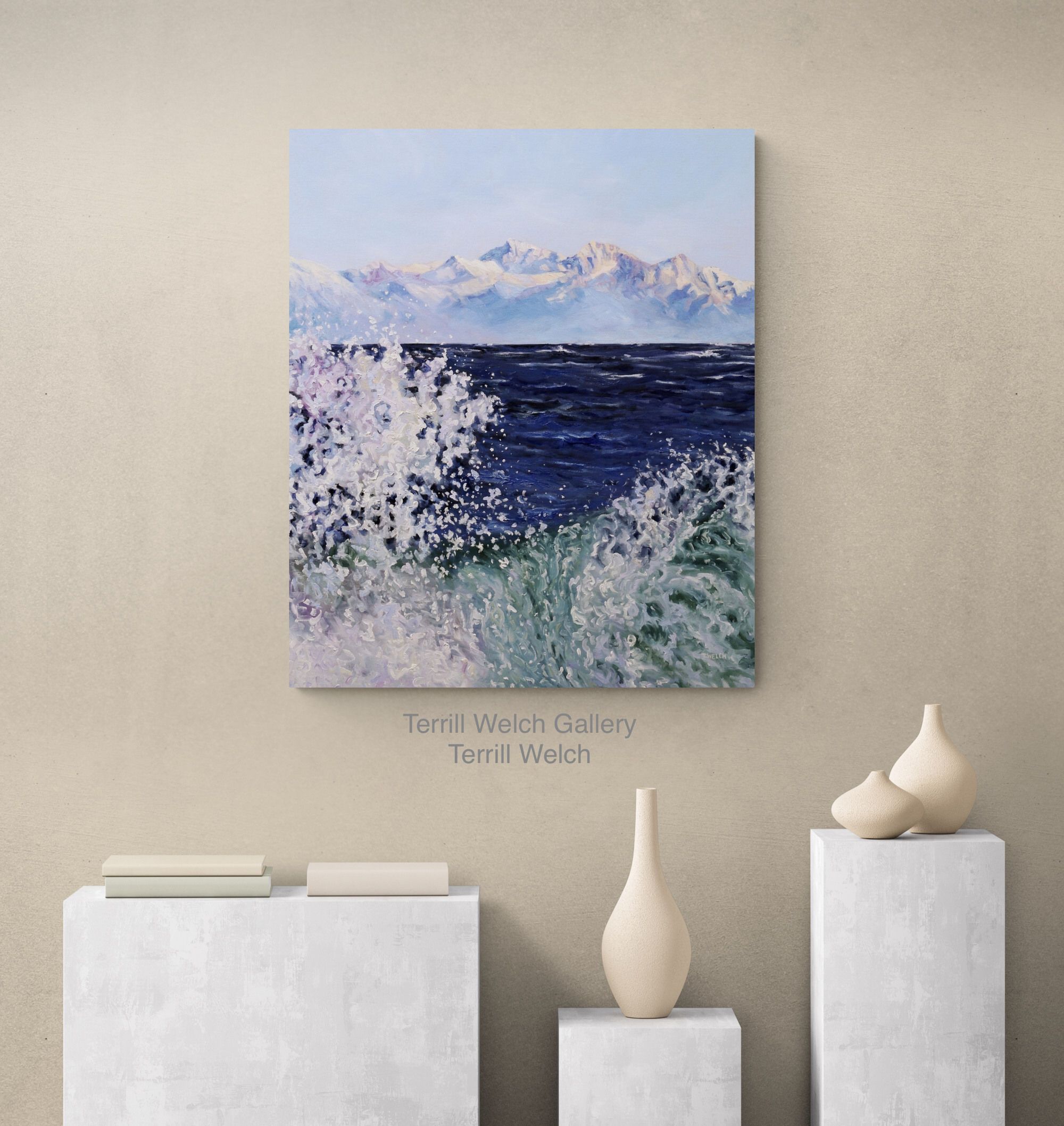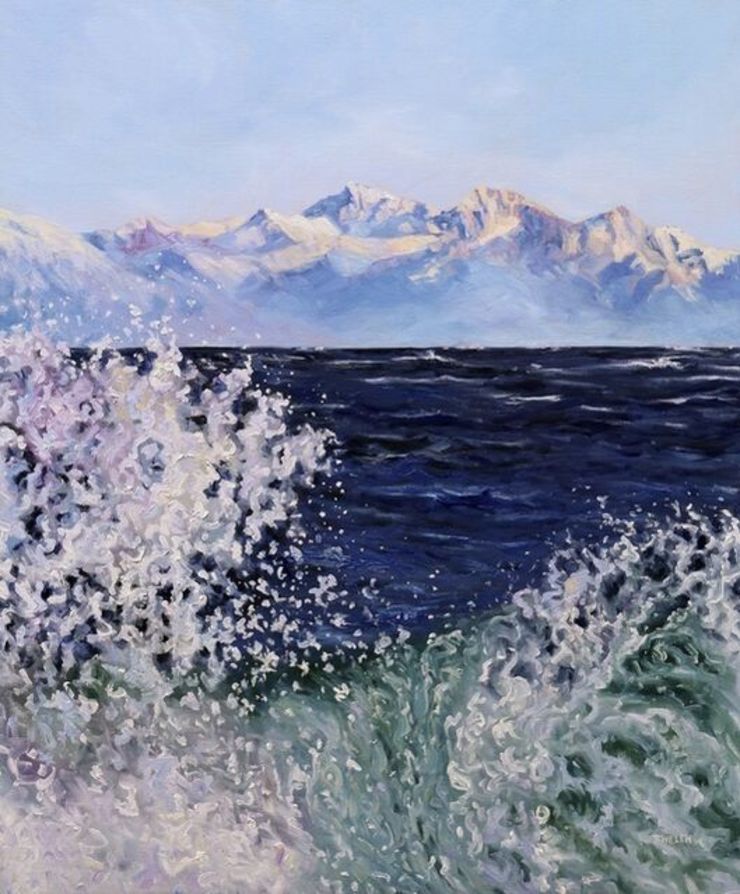 Available for sale from Terrill Welch Gallery, Terrill Welch, Rolling up on the Strait of Georgia (2021), Oil on canvas, 36 × 30 in
Artist notes: Morning sun reveals a rough sea from winds farther up the Strait of Georgia. As the rollers hit the edge of the sandstone reef it is enough to take my breath away and shout into the roar of the wave. These storms often mean power outages on our small island off the southwest coast of Canada. This means that ferry sailings might be canceled. So within all of the storms beauty there is an underlying respect for the power of the wind and the sea.
Time with Terrill and the Arbutus Trees
We have a short video capturing older and newest Arbutus tree painting from Saint John Point by Terrill Welch. Some of these have already found homes and some are brand new. We thought you might enjoy the chance to see them together...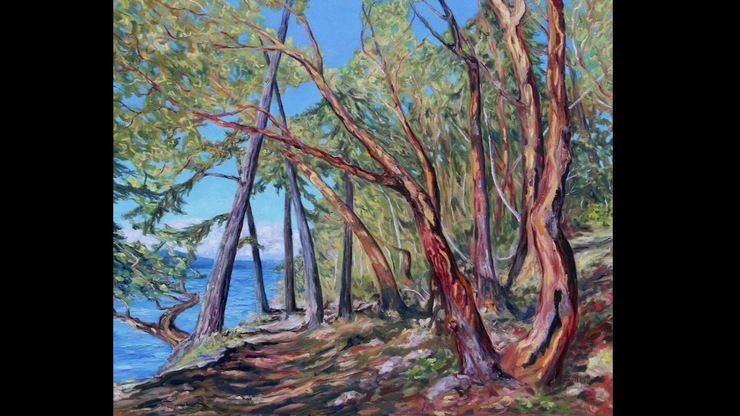 Arbutus Tree oil paintings of various sizes from 36 x 48 inches to 18 x 14 inches by Landscape Painter Terrill Welch between 2018 and 2021. Learn more about ...
What Has Sold
Sometimes a painting and our experiences rub up against one another years apart...... and there it goes! This painting is off to California in the United States.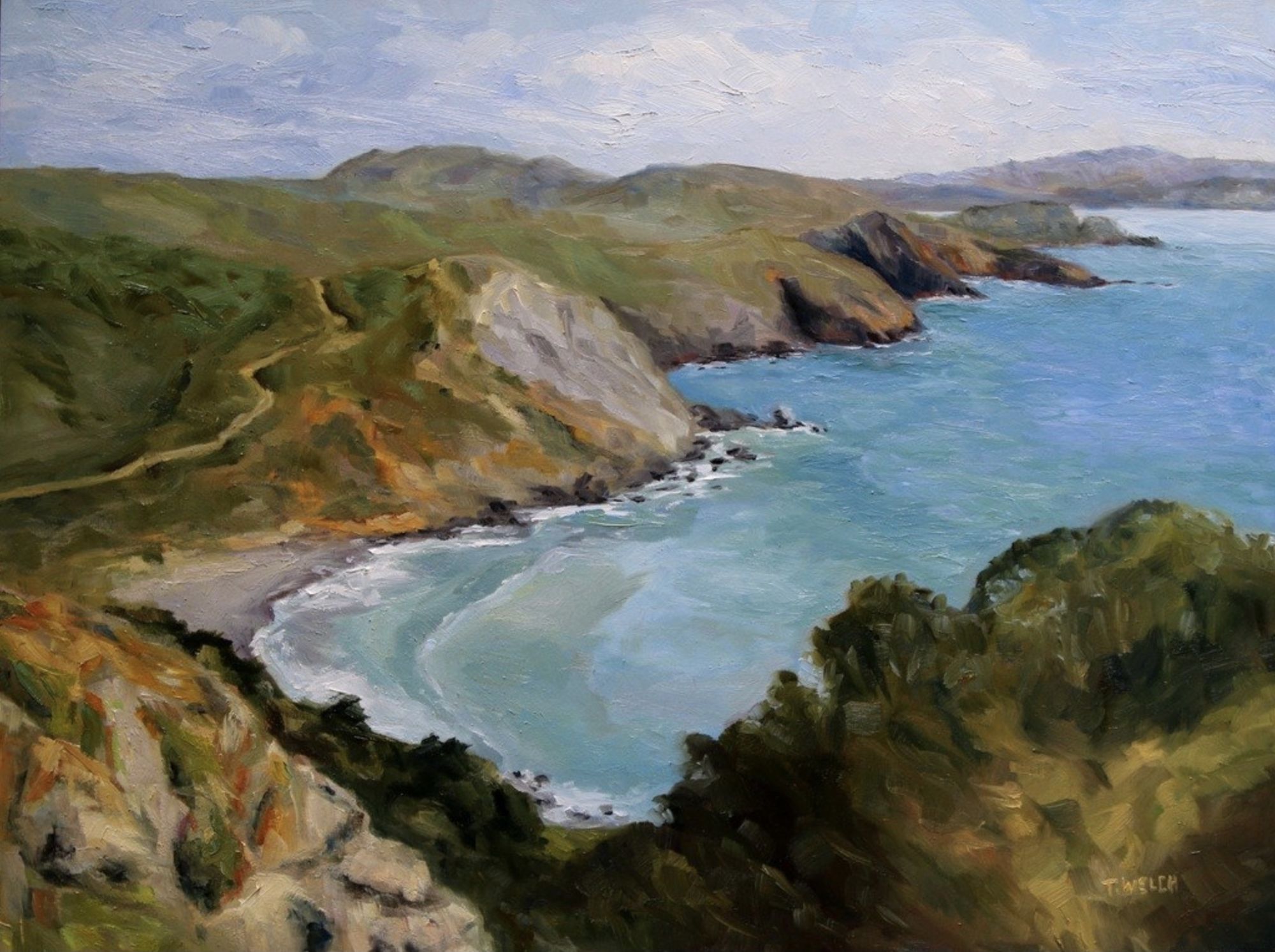 The art collectors discovered the painting through a blog post from 2015 that documents the painting's work-in-progress...
I do think it is important that regardless of an approach that a painting is plausible or maybe it becomes plausible with time as we begin to experience the work as the artist did in its creation. This means if there is a recognizable hill in a painting that has a recognizable road then it…
From Art Collectors...
We again have actual room views from within our art collector homes of a few of "Terrill Welch paintings" to share with you. Thank you so much for the collectors that gave their permission for these to be included in the newsletter.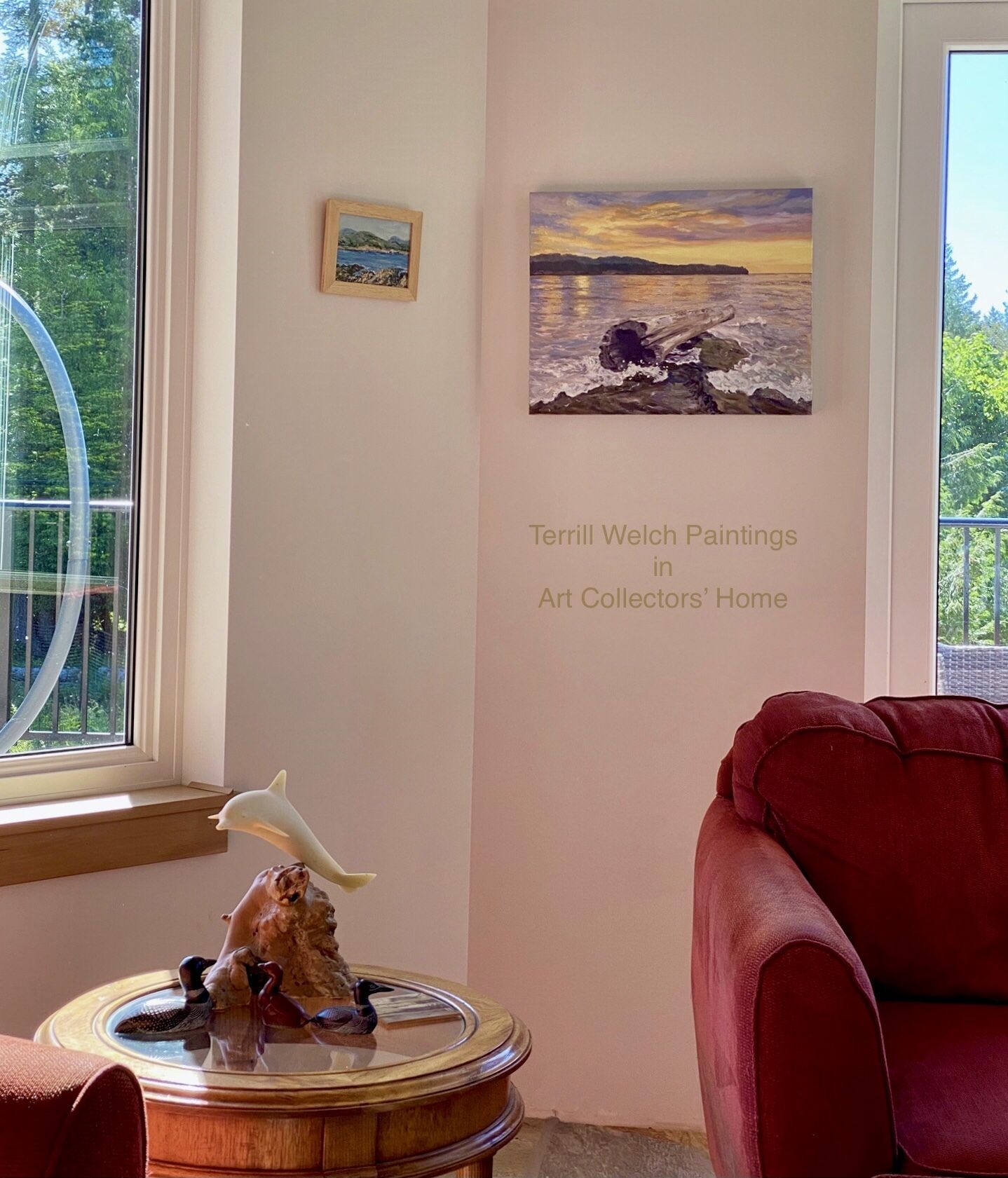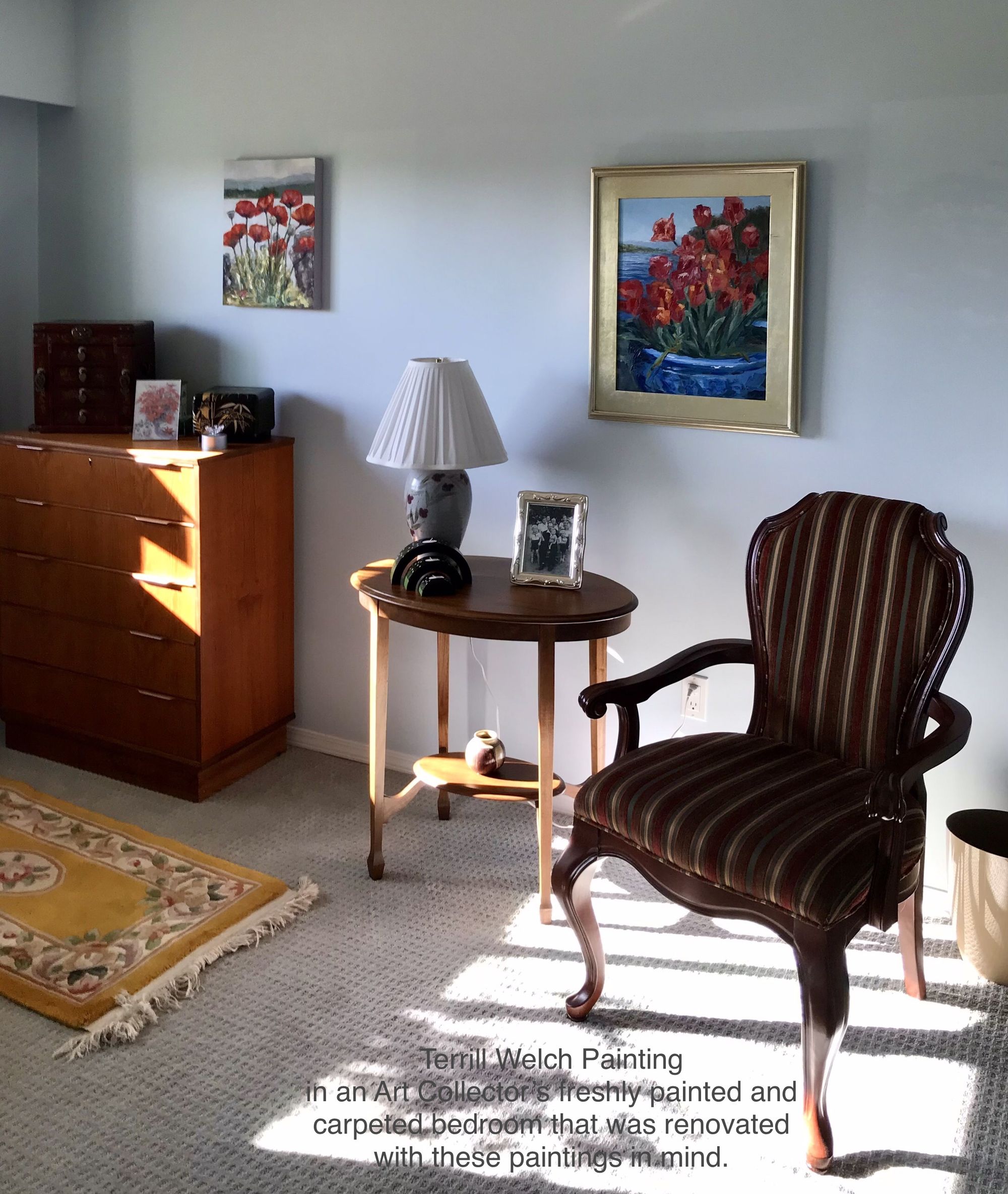 Art News
Just because we thought you might want to know...
Laurence des Cars, who will become the president of the world's most visited museum in September, shares some of her plans in an interview.
Until Next Time!
We wish you brighter days with greater freedom ahead! May our smiles be as warm as the mid morning sun and visible during our outdoor walks. Wave to the people you know and the people you don't yet know as you shout a "hello" greeting. All the best as always!
Terrill 👩‍🎨❤️🎨
Our gallery program brings extraordinary connections to ordinary moments in our natural landscape. The Terrill Welch Gallery opened in August 2017. Since then, the gallery has more than doubled its physical gallery exhibition space and online reach.