A Brush with Life - Issue #85 Wild Seas and Last Call
First things first. This is last call, last chance, final reminder! However one says it, this is it for the gallery's rare opportunity which is….Until midnight PST, on my birthday, August 28, 2021, with the purchase of any painting available by any of our artists, you can add an original T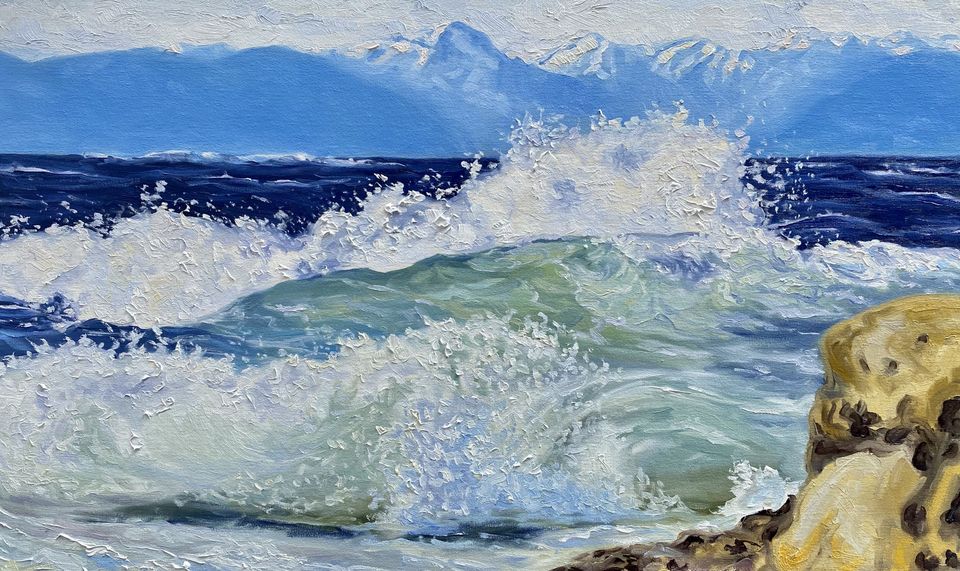 First things first. This is last call, last chance, final reminder! However one says it, this is it for the gallery's rare opportunity which is….
Until midnight PST, on my birthday, August 28, 2021, with the purchase of any painting available by any of our artists, you can add an original Terrill Welch acrylic painting sketch for half price! This can be done in any combination and can even be one smaller painting sketch combined with a slightly larger painting sketch for half price. It can be a small or large painting by Jody Waldie, Glenda King, Jennifer Peers or Elena Maslova-Levin and then adding an acrylic painting sketch by Terrill Welch for half price. It could be an original oil painting by Terrill Welch and then adding in an acrylic painting sketch by Terrill Welch for half price. I think you get the idea. Lots of different combinations to access this offer for one of my acrylic painting sketches…. and I happen to know some of you like these as much or even more than my larger oil paintings. So this is a great opportunity to add another of my painting sketch to your art collection.
Plus, if you are already one of our art collectors, your art collector savings still applies to the first painting in this combination.
Double Plus, since it is my birthday and I have everything I need, I am going to donate $20.00 to the Mayne Island Housing Society for every work (painting or painting sketch) sold between now and August 28, 2021. So far, I have a commitment to donate $60.00 on the day of my birthday!
---
Best place to view all available work by all artists in online gallery
Our gallery program brings extraordinary connections to ordinary moments in our natural landscape. The Terrill Welch Gallery opened in August 2017. Since the…
Best place to view Terrill Welch acrylic painting sketches
View the full portfolio of artwork from Terrill Welch
More about the Mayne Island House Society
Secure and diverse housing, including dedicated rental housing are all part of creating and sustaining healthy communities. As you might guess, this project is near and dear to my heart. If I had more time, I would be participating directly in a more substantive way.
However, life is such that I need to find smaller ways to help out. In the words of Martin Luther King Jr., - "If I cannot do great things, I can do small things in a great way."
My birthday and the sale of new work through the "rare opportunity" offer seemed like an ideal way to contribute yet again to this non-profit housing project.
Very recently, Patrice Leslie with Mayne Island TV did an excellent interview with Deborah Goldman, President of the Mayne Island Housing Society about the exciting new project that is underway.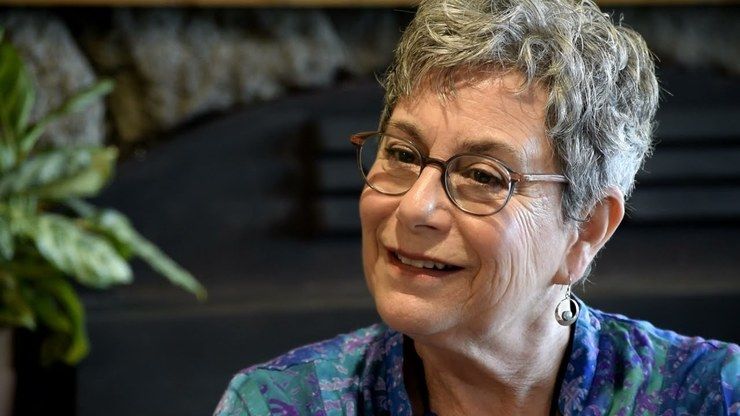 Deb Goldman is the President of the Mayne Island Housing SocietyPatrice and Deb discuss the issues around affordable housing as well as the features and stat...
Please do consider taking advantage of my special offer so we can increase my donation commitment and together "make a small difference in great way".
New work resting - "Wild Seas"
Now for a little seascape drama…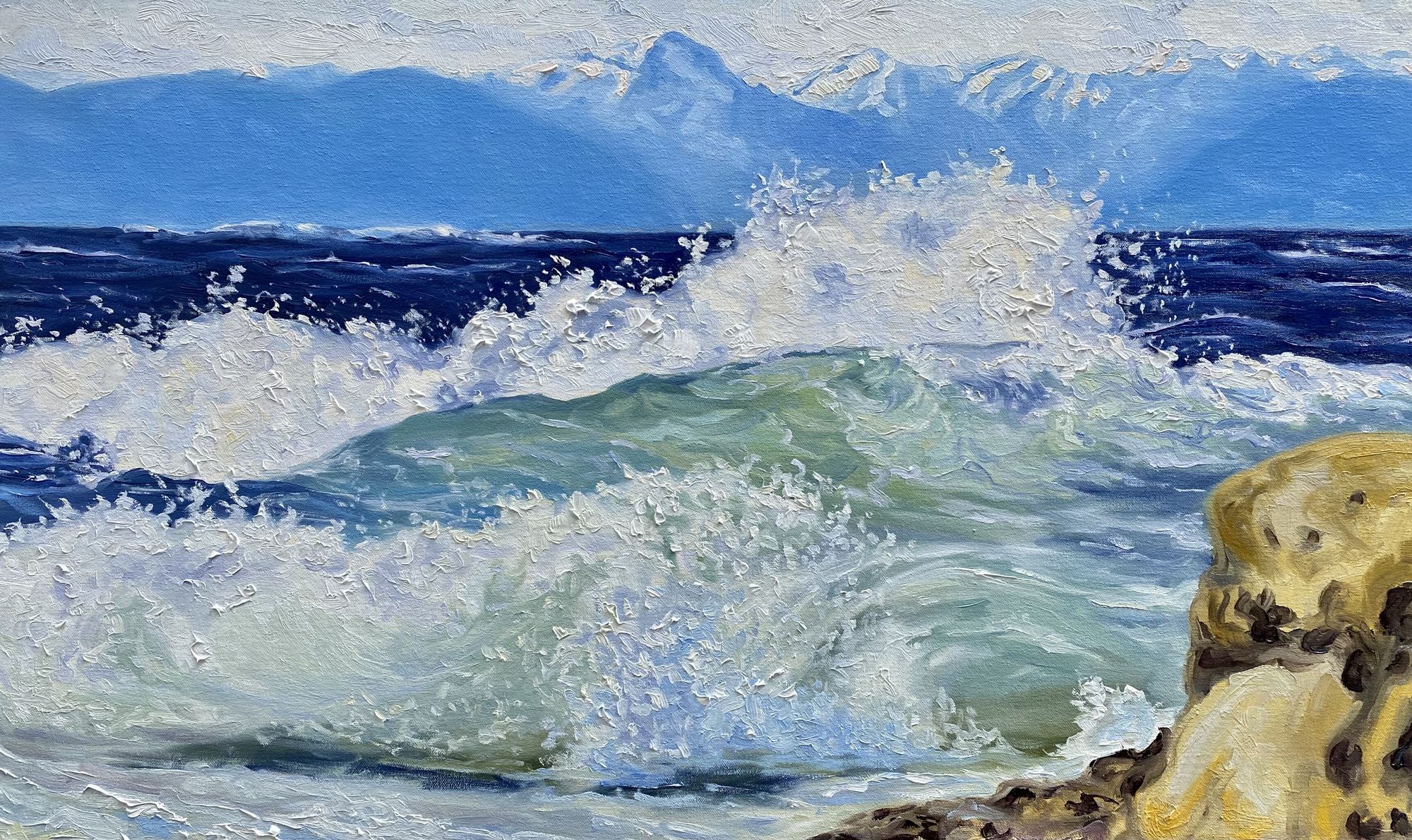 This new 24 x 30 inch oil painting titled "Wild Seas" has developed from some of my references during last winter's storms. I wanted another work to paint live in the Arbutus Room and this seemed like a good choice of subject.
It started as usual with a few marks over a yellow ground. Once I had the main elements roughly in place, I started blocking the work in.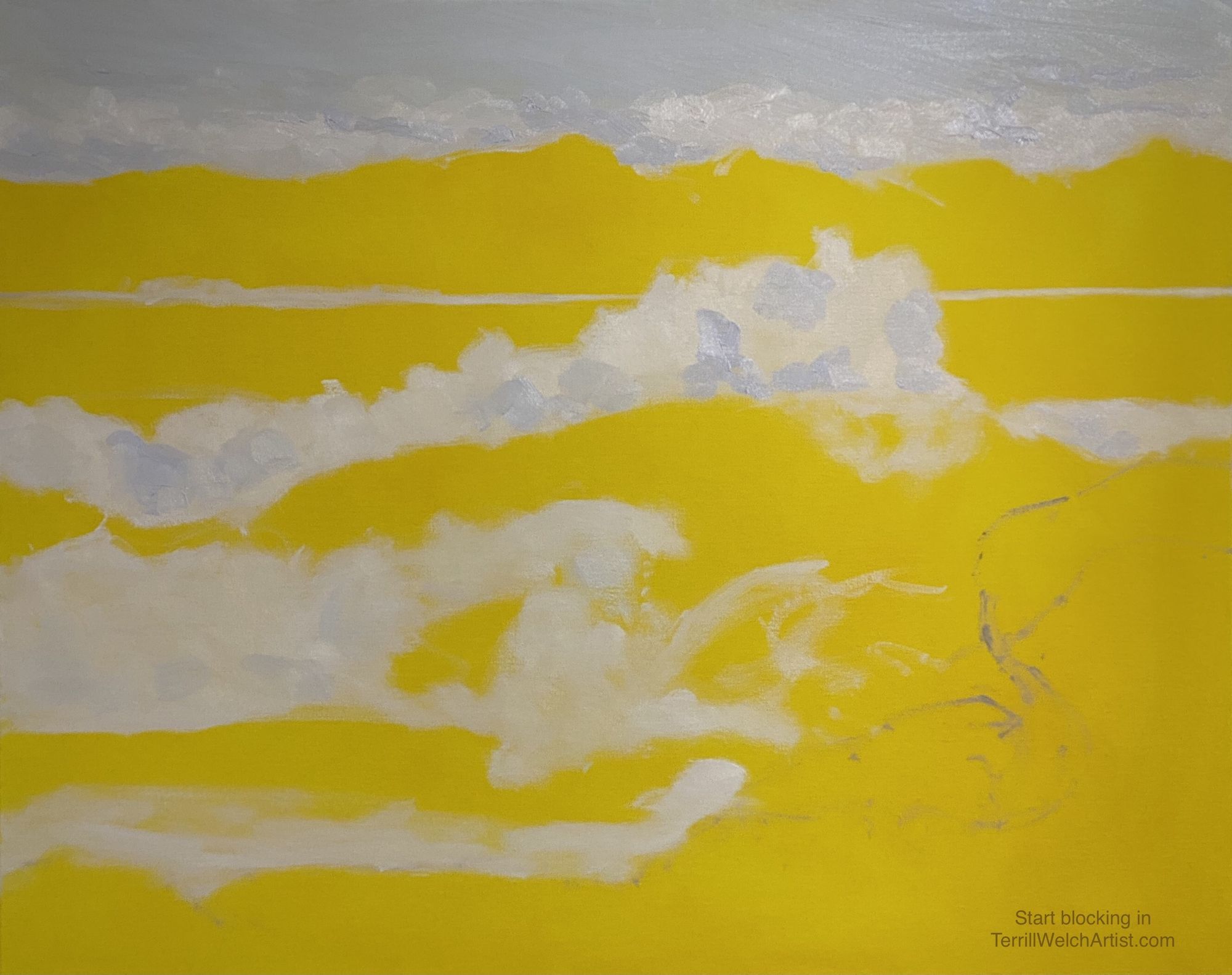 Before long, we can see the solid bones of this work and I leave to set up overnight.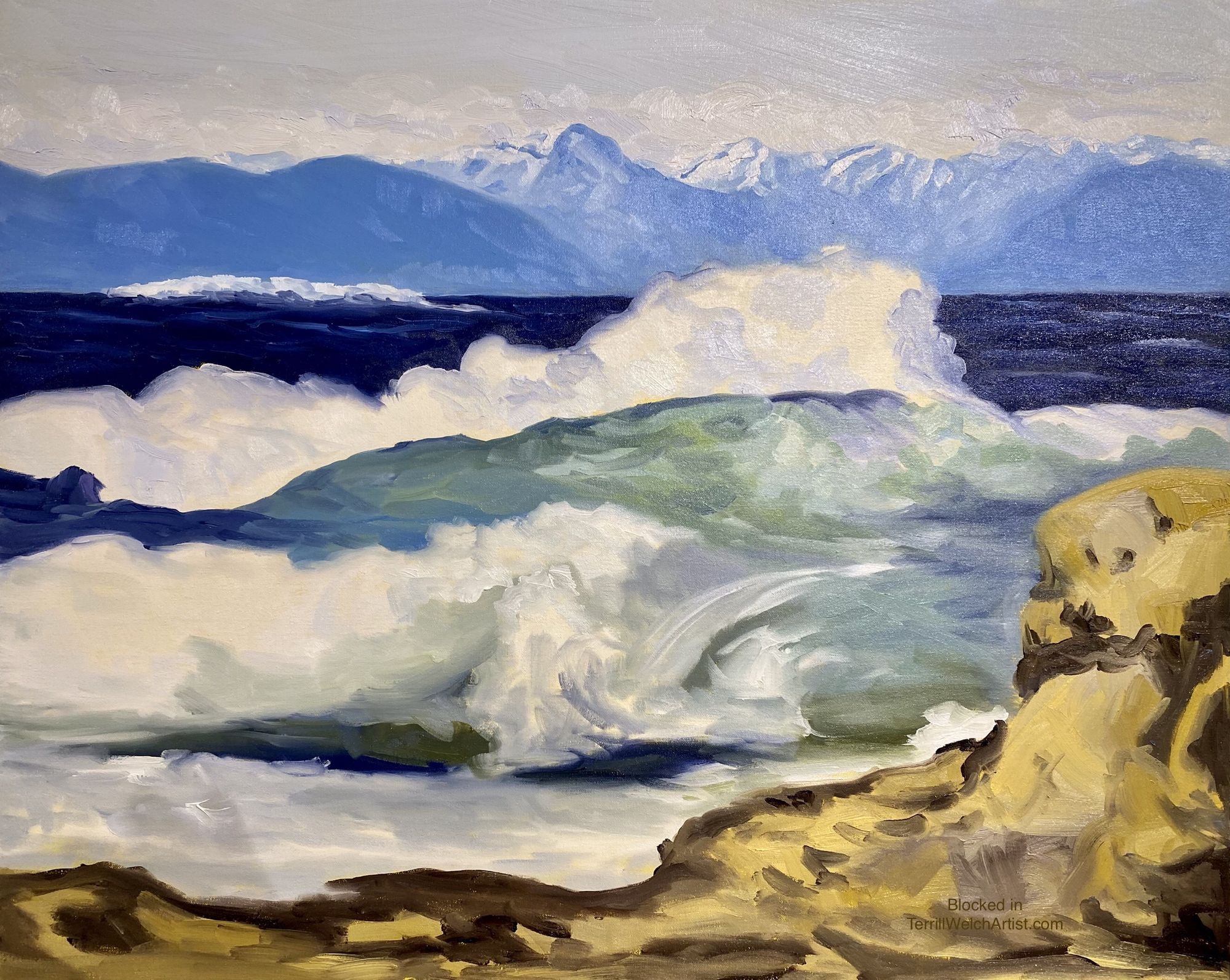 The next afternoon, I settle in and, between visiting with gallery guests, I work hard and focused for about 3.5 hours. I am working with my water-mixable Lukas Berlin paints that I know are going to dry quickly and I need the easy movement of the paint to bring this work alive. Time is of essence. I pace back and forth across the room adding brushstroke after brushstroke while I check it at a distance to assess how the painting is coming together.
Then I look and the brush pauses mid air. That is it. It is done… or it is at least "resting".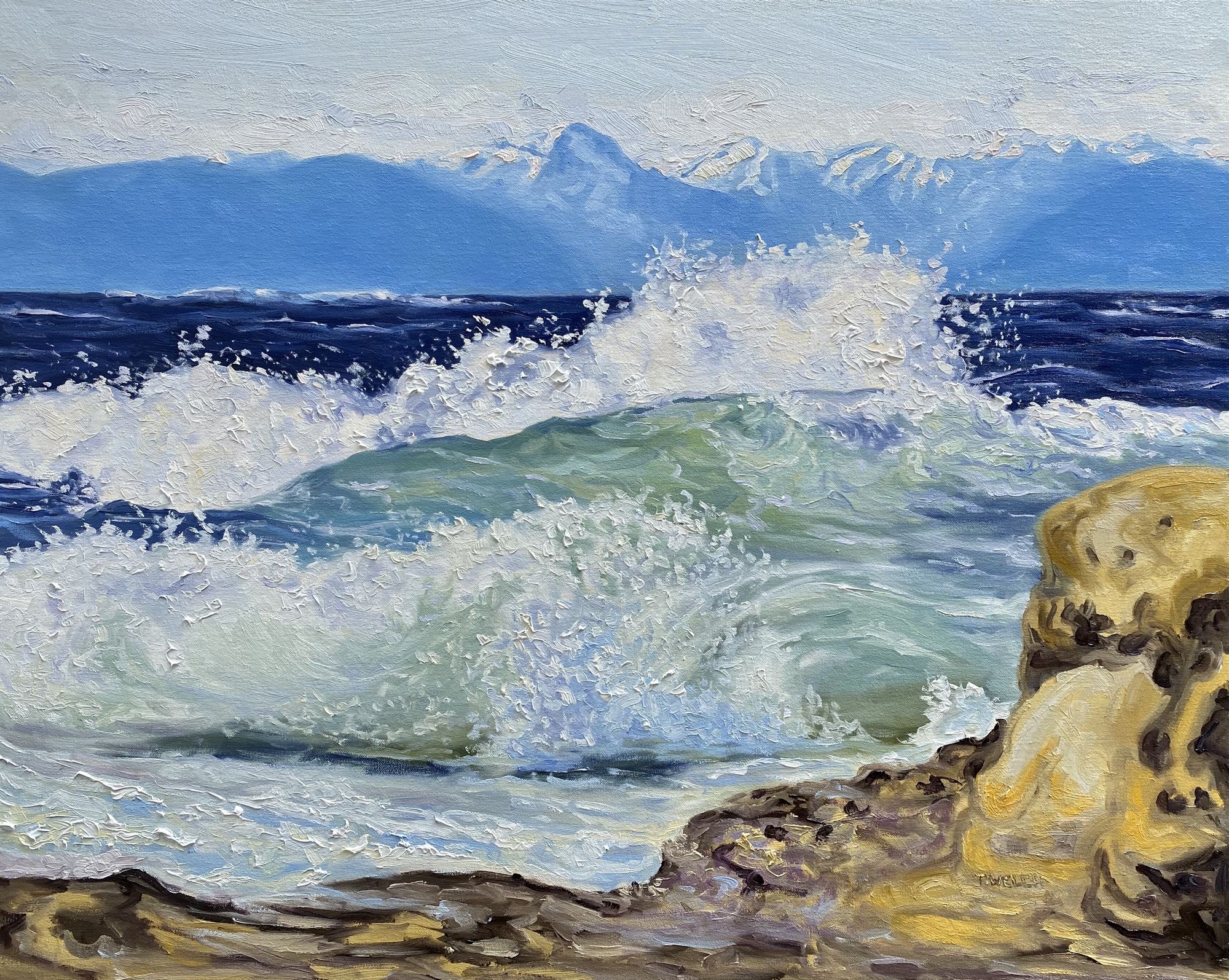 It is a little hard to really get a feel for this work so close. Let's step back a bit and look again…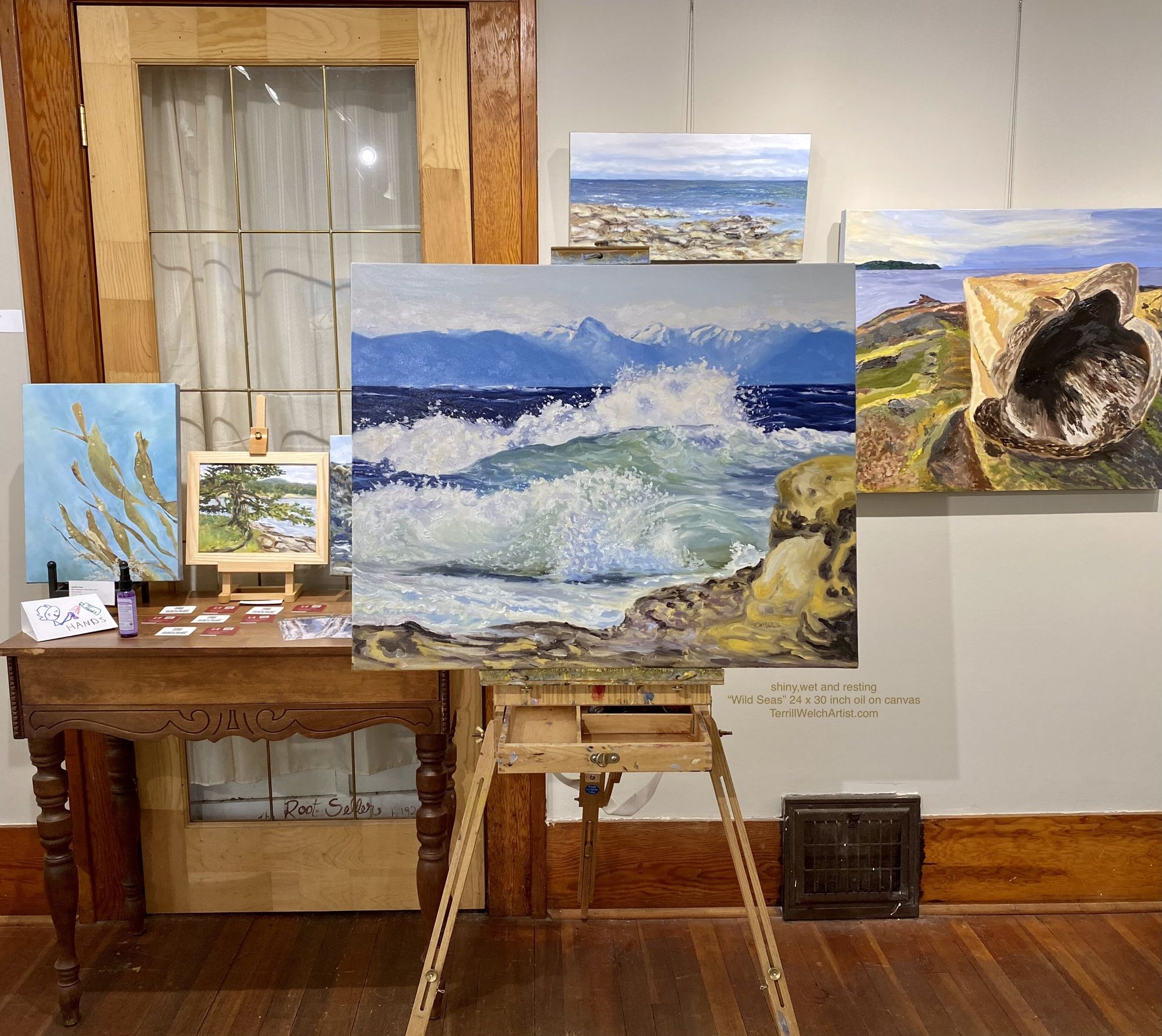 Or let's try a room view maybe and see if that is more helpful…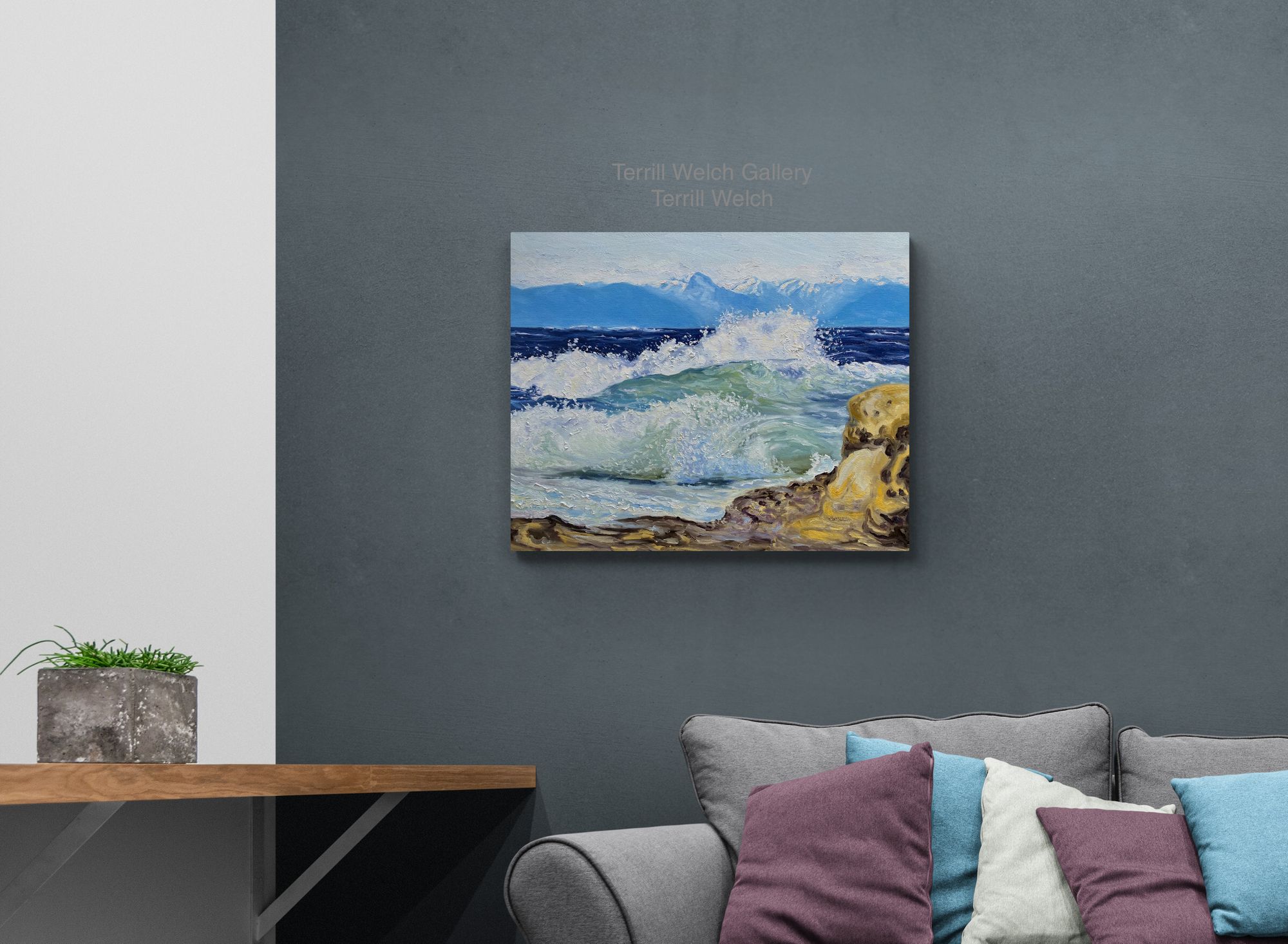 And there we have it! Another painting waiting for a final photograph and its edges to be painted.
What Has Sold
The "Morning Glenwood Farm Lookout" painting sketch to head off was chosen by someone who said that this was her favourite view on the island. I can relate. This is one amazing view and to think it took me 14 years of living here before I discovered it.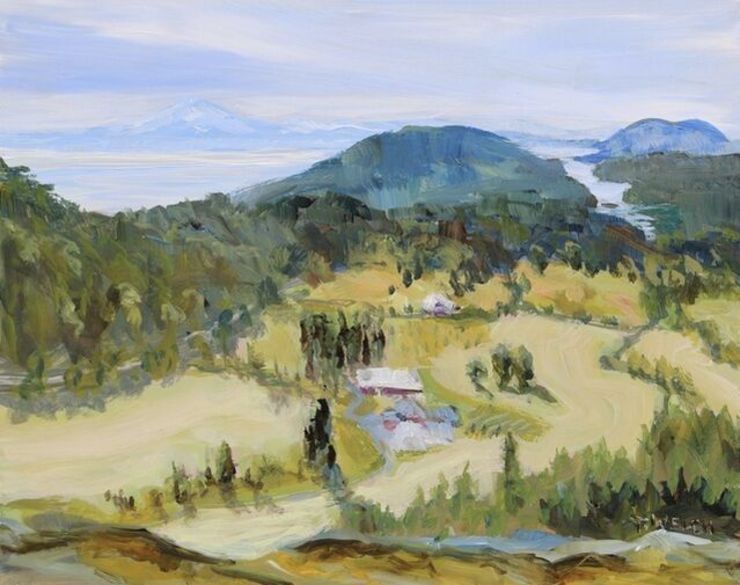 From Terrill Welch Gallery, Terrill Welch, Morning Glenwood Farm Lookout (2021), Acrylic on gessobord panel, 8 × 10 in
This painting sketch's REALLY big sister (though not released yet) IS STILL AVAILABLE and temporarily hanging in the gallery's Garden Room while its edges dry more thoroughly. The painting actually should be in the Arbutus Room as it needs more distance to view it at its best. But this will do for the moment.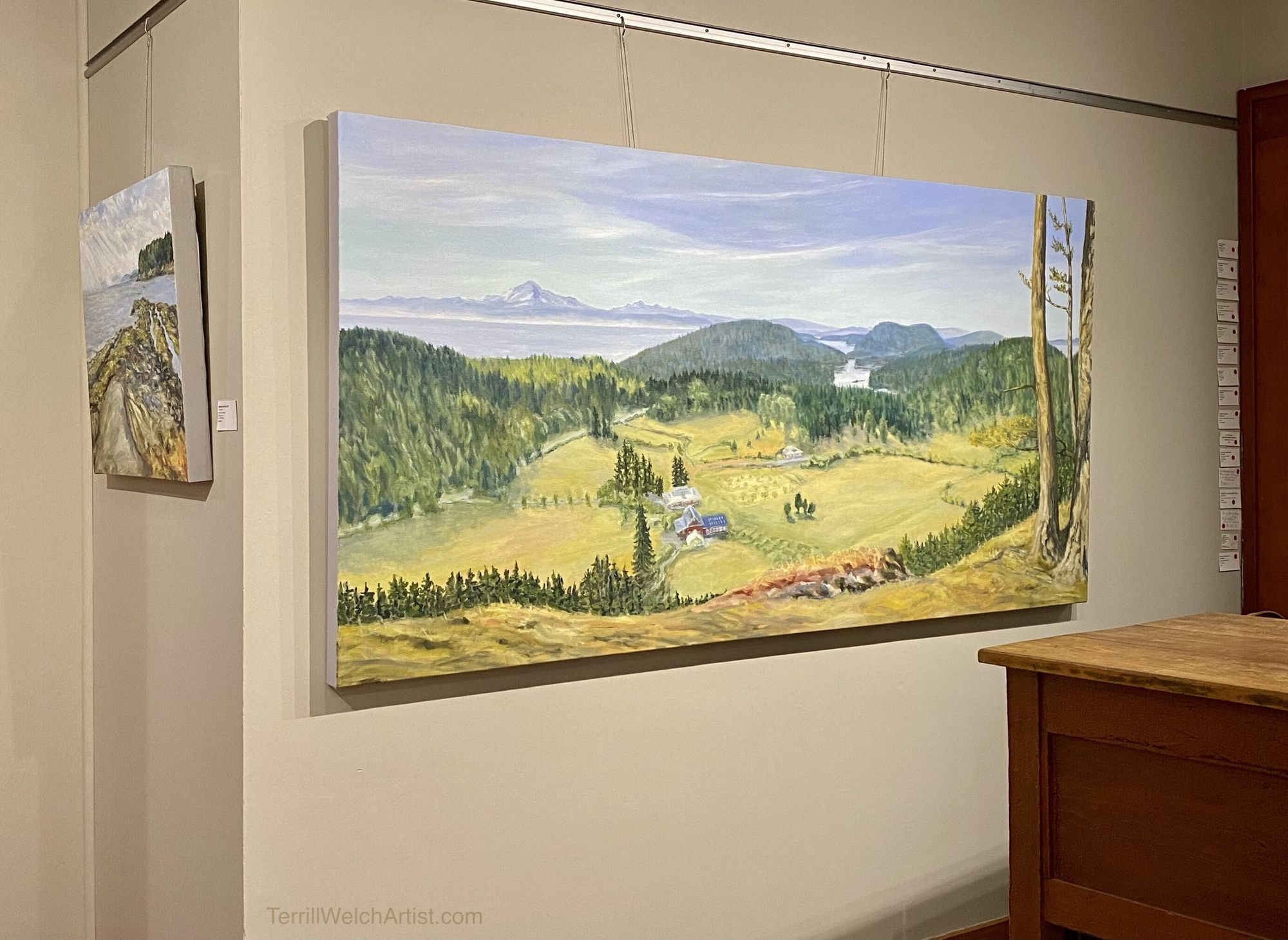 I like the angle-view it from my desk…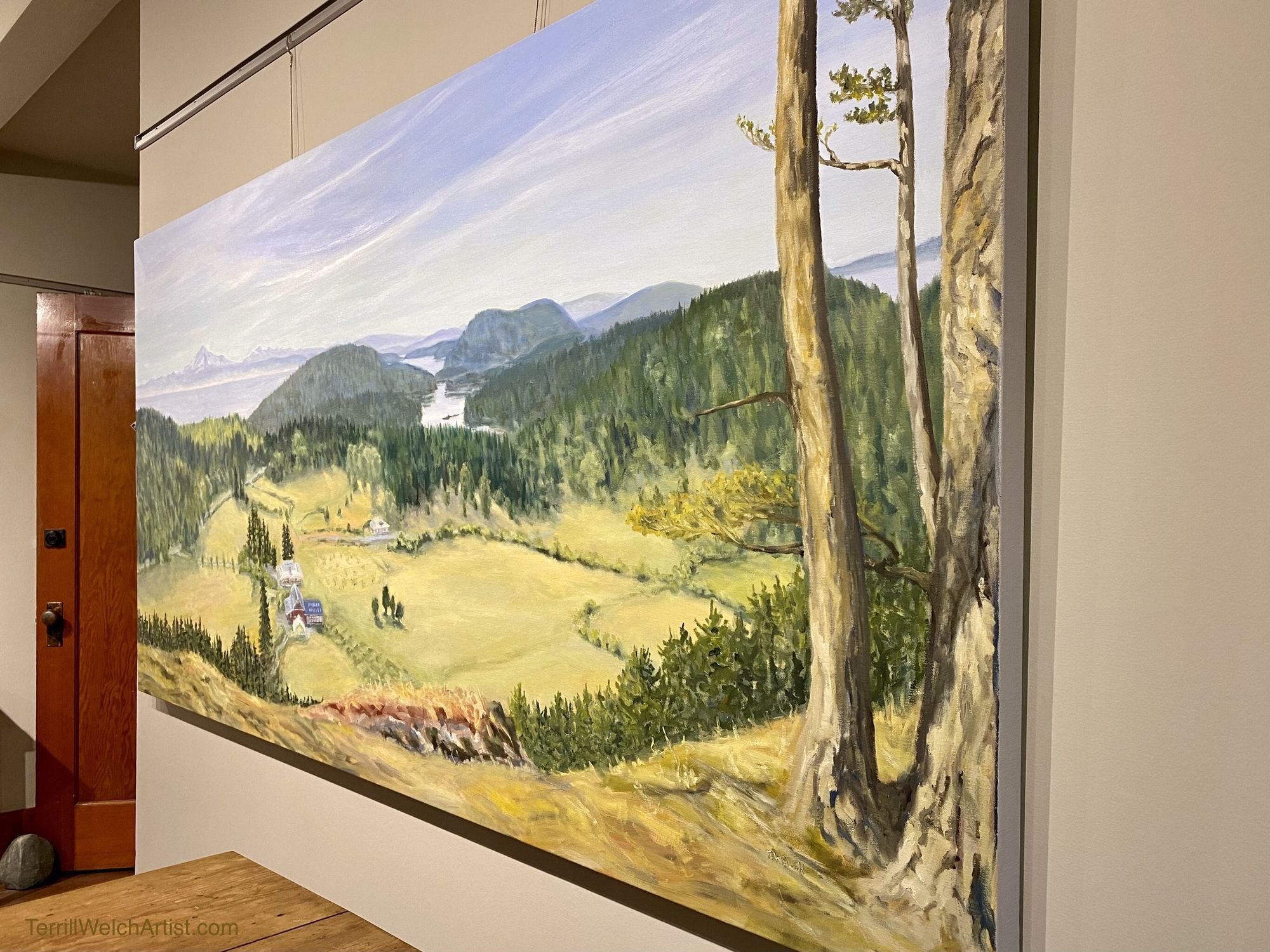 Another work that has sold is "Brilliant Blues" by Jennifer Peers. This painting has been purchased by an art collector in Kelowna and has the perfect place to offer a visual anchor to an elegant living room.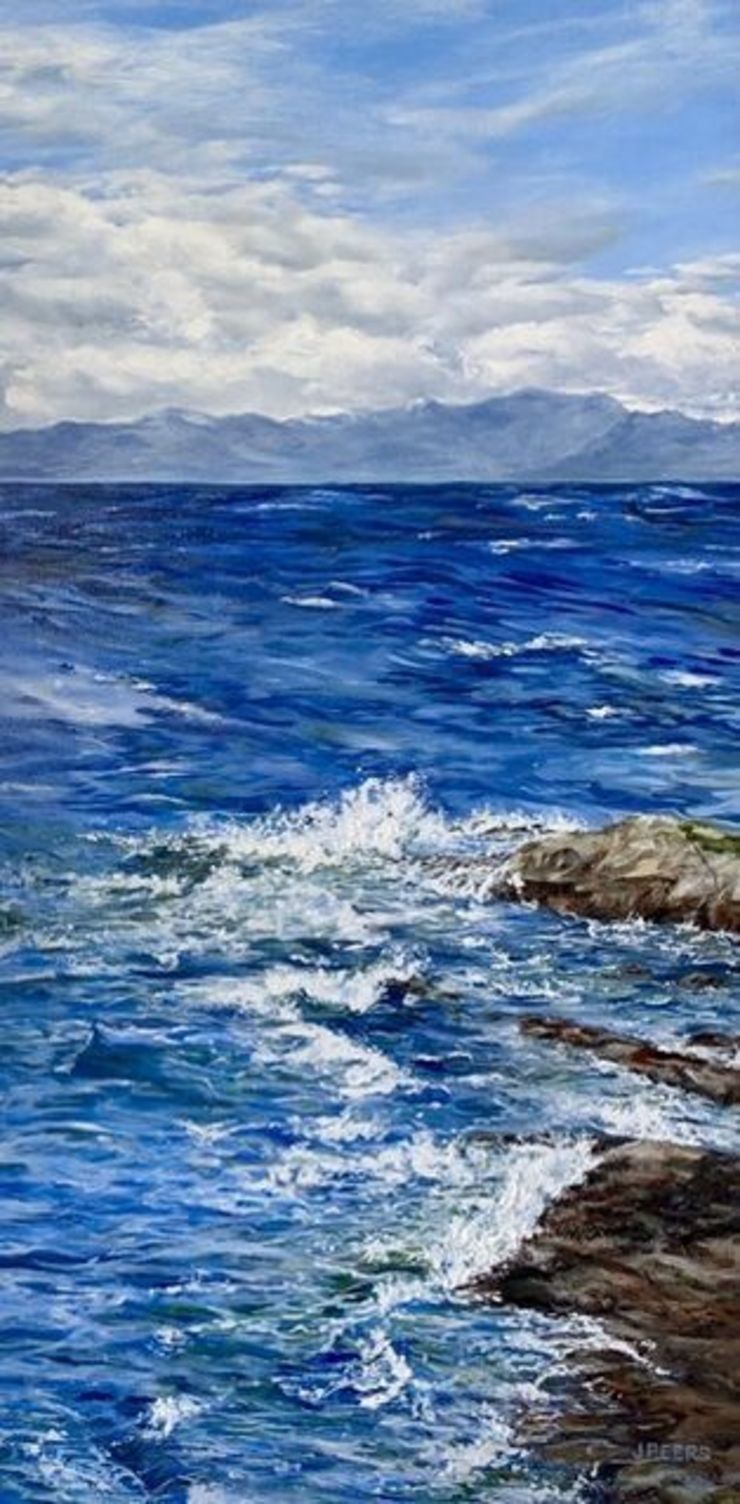 From Terrill Welch Gallery, Jennifer Peers, Brilliant Blues (2021), Oil on canvas, 24 × 12 in
With this purchase, the buyer chose to take advantage of the rare opportunity to get one of my painting sketches for half price with the purchase of any other work. She chose a painting sketch of the cabin with the laundry on the line to balance off another original painting of laundry she has from the east coast. This way she has Canadian laundry paintings covered from coast to coast.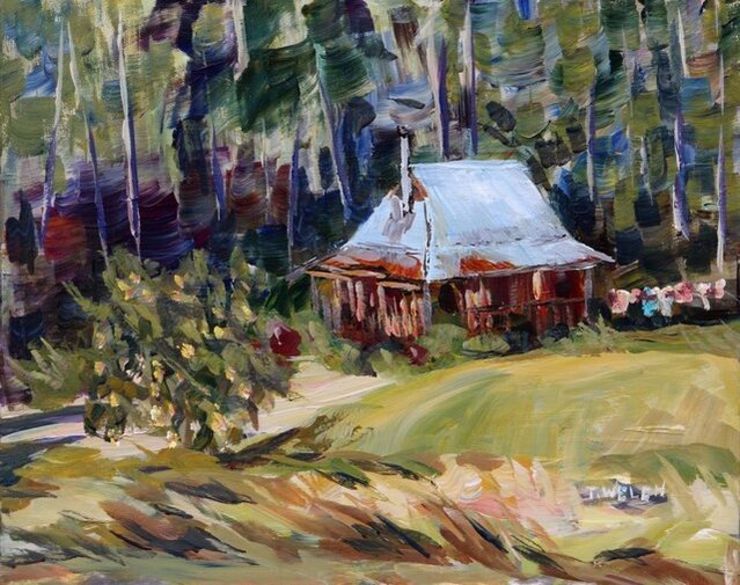 From Terrill Welch Gallery, Terrill Welch, Laundry Day at the Cabin (2020), Acrylic on gessobord, 8 × 10 in
Forest Fires, Smoke, Heatwaves and Covid-19 spikes
British Columbia is not having an easy summer. We have just completed our third heatwave on the southwest coast of the like that I have never seen before! Before this final one arrived, we purchased a window air conditioner and it is something that I never thought we would ever need living here surrounded by the Salish Sea.
The wildfire situation this year is dire with one town (Lytton) that completely burnt to the ground and several communities in the Province under evacuation order or evacuation alert. Where my sister lives just outside of Armstrong and west of Enderby, the smoke was so thick at 4:00 in the afternoon one day this past week that it was already dark. Some recent rain is helping. Still, between the wildfires and rising Covid-19 cases in the Okanagan (primarily in those who are unvaccinated), the local and provincial governments have requested that visitors not travel to that area. This situation , tends to increase the travel to Vancouver Island and the Southern Gulf islands. Which in turn stretches our modest ferry service causing delays and people being turned away.
Mayne Island is dry and we are limiting our water use to only what is necessary with our skillful water conservation practices getting further honing to save the last drop such as using grey water to keep shrubs alive.
Even with all of this, I have made it out to plein air sketch in the shade at Piggott Bay and off for a hike with the trees. I need this time. This is how I stay centred and flexible and above all, resilient.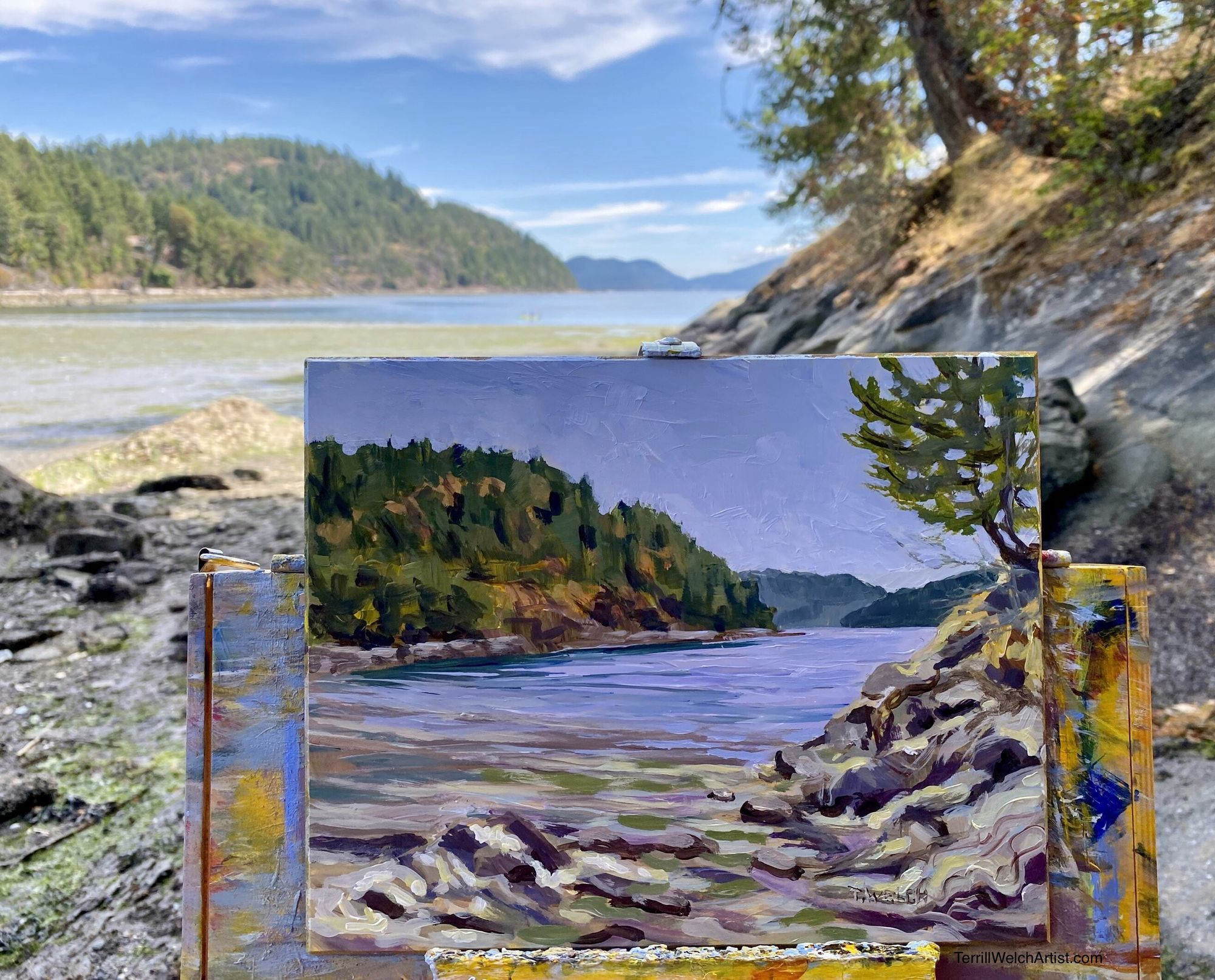 Our skies have been smoky on some days but nothing like other areas where people and animals are really suffering from the poor air quality. I was able to get out one morning and hike St. John Point while the smoke was still high above me and it was easy to breathe. Here are a few images for you from this day…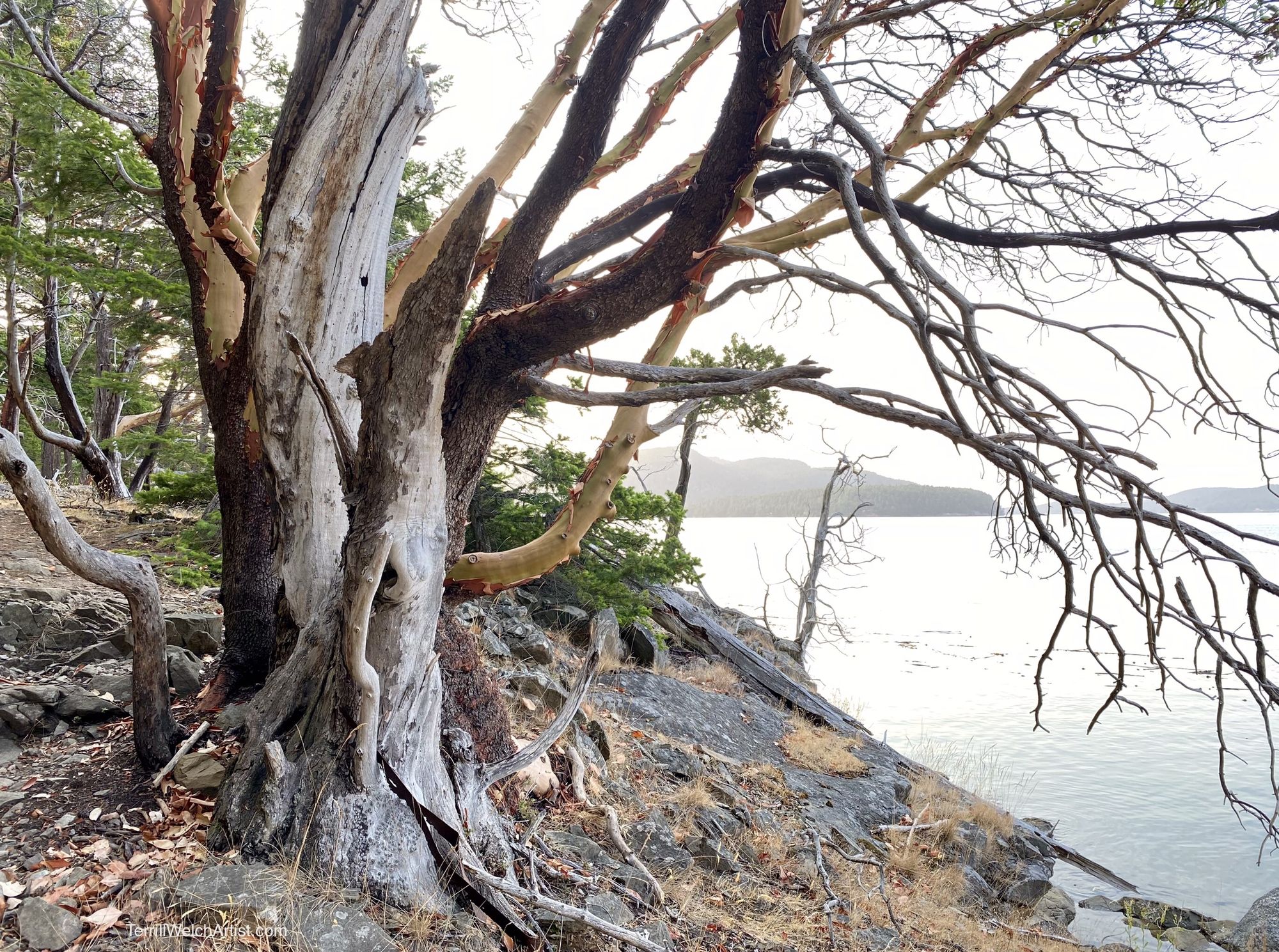 I saw two dolphins or porpoises (I am not familiar enough with them to be able to tell the difference) surface out in front of this Arbutus tree cluster but didn't get any photographs. Such a treat!
Then there is this favourite tree of course.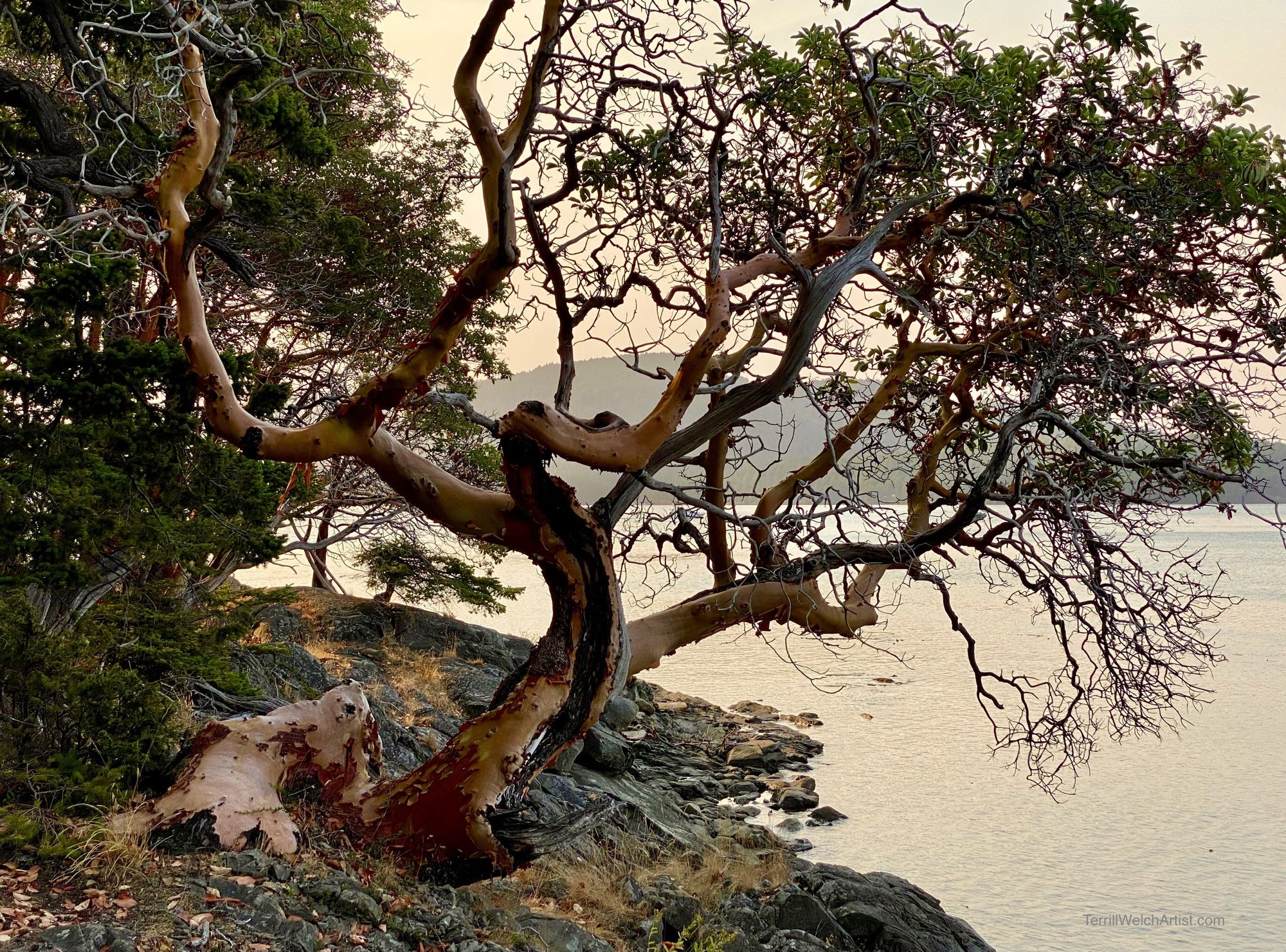 As I sat out on the point, I thought about all these Arbutus trees and how another year of a long summer drought was going to affect them. Like the rest of us, these gorgeous trees will do their best.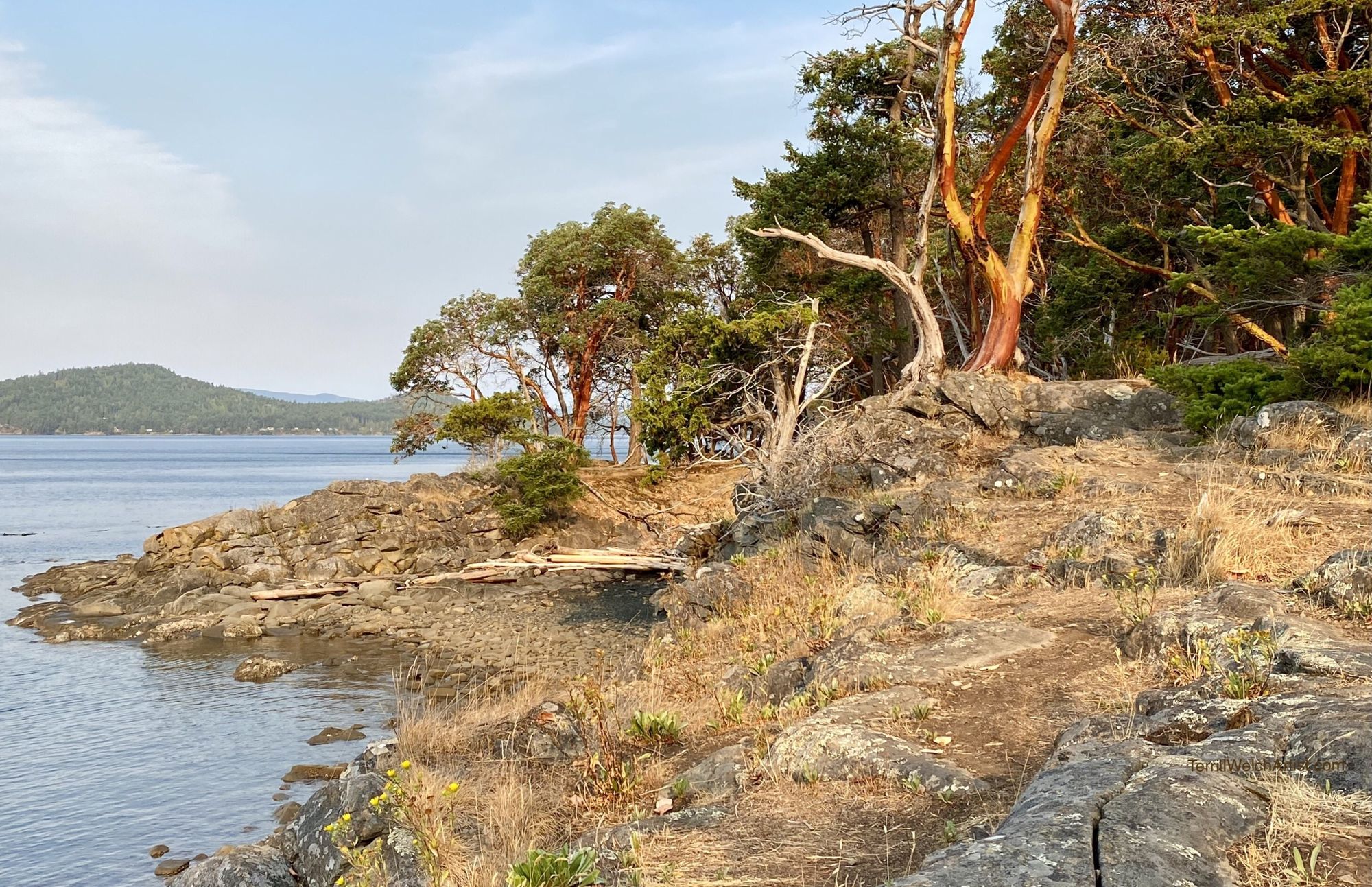 A few days earlier, I had pulled together most of my available Arbutus tree (or Madrona tree) paintings into an online exclusive show because many are large works and even if I was to use both rooms of the gallery, it wouldn't be enough space to show them all physically.
New Online Exclusive Show - until August 30th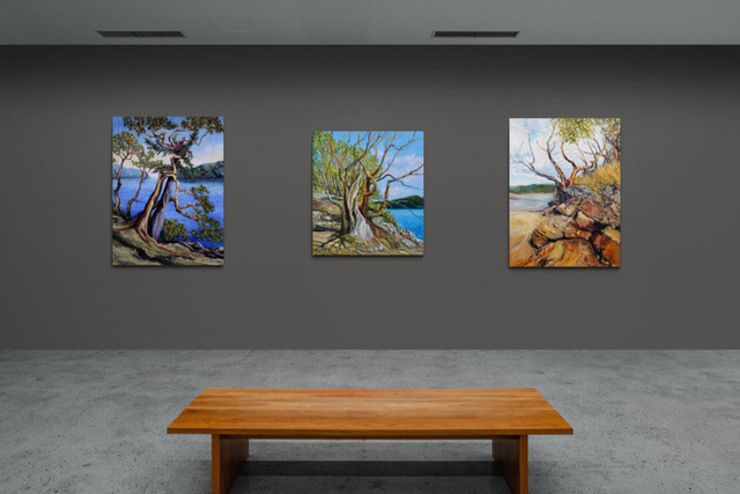 Twisting its curves around our hearts and imagination, the Arbutus trees on Terrill Welch's canvases reach for the light as if all things are possible.
Terrill Welch's passion for the landscape and our natural environments, particularly the arbutus trees and the sea of our southwest coast of Canada. Arbutus Trees (or Madrona Trees as they are called in the United States) are frequent subjects in her body of work both as small en plein air (in the open air) painting sketches and larger studio works.
"Arbutus trees are one of my primary focuses in my everyday and ongoing painting practice. My dream is for these paintings to have such a profound impact and to be so widely regarded that the landscape itself will become something worthy of respect, celebration and conservation." ~ Terrill Welch
Until Next Time
Welcome to all our new subscribes to this issue! Please feel free to send me a note if you have any questions. And thank you to all our regular readers. The past issue saw more opening of the issue and the links than ever before. I have so enjoyed the notes sent to me recently and the visits from those of you who have be able to come by to the gallery in person. What a treat and a pleasure to be able to connect by whatever means is possible.
My plein air backpack is by the front door this morning. I am meeting a couple of painting colleagues in the national park. As this newsletter is trickling into your various inboxes, I will have the water on for coffee and be grinding the beans. By 7:30 am, I will be in the car and heading out. It is a good way to close off the week.
Take good care and all the best of the final weeks of summer to you!
Terrill 👩‍🎨🎨❤️
Our gallery program brings extraordinary connections to ordinary moments in our natural landscape. The Terrill Welch Gallery opened in August 2017. Since the…