A Brush with Life - Issue #88 West Coast Autumn
The southeasterly winds can bring rains across our valley straight sideways at times during a west coast storm. It is a time when I am thankful for good waterproof hiking shoes and a rain jacket. After our summer drought, the rains are welcomed, even when I can smell the snow capping the coastal mou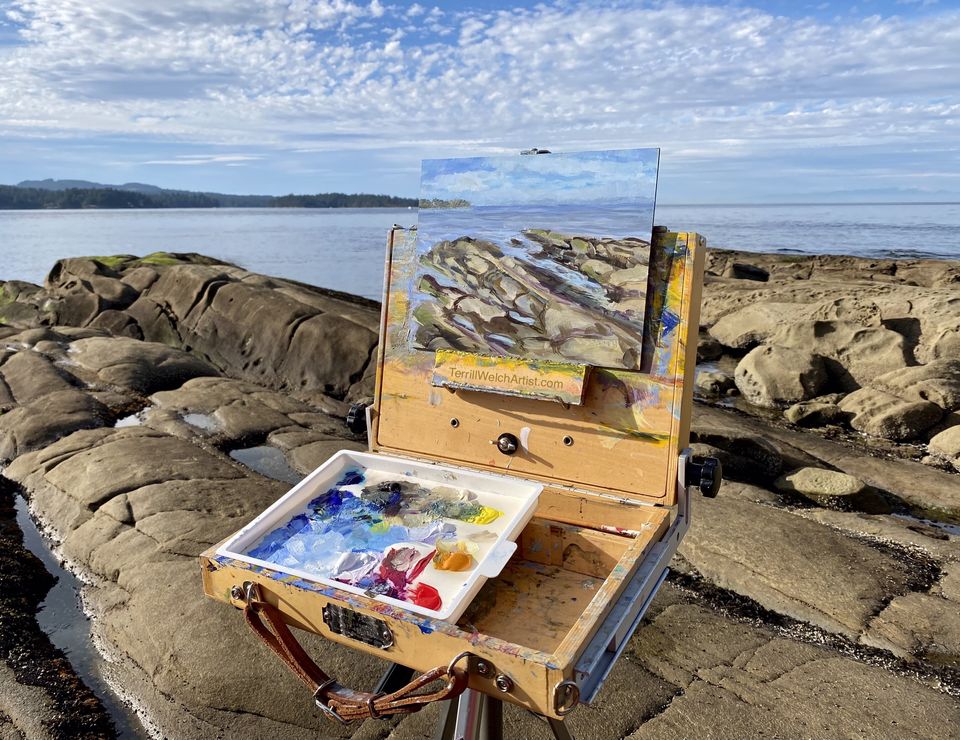 The southeasterly winds can bring rains across our valley straight sideways at times during a west coast storm. It is a time when I am thankful for good waterproof hiking shoes and a rain jacket. After our summer drought, the rains are welcomed, even when I can smell the snow capping the coastal mountain ranges. The day before the seasonal rains began, it was warm and gorgeous out. I finished up at the gallery and grabbed my plein air backpack. The late afternoon was a perfect transition of the seasons for a landscape painter!
---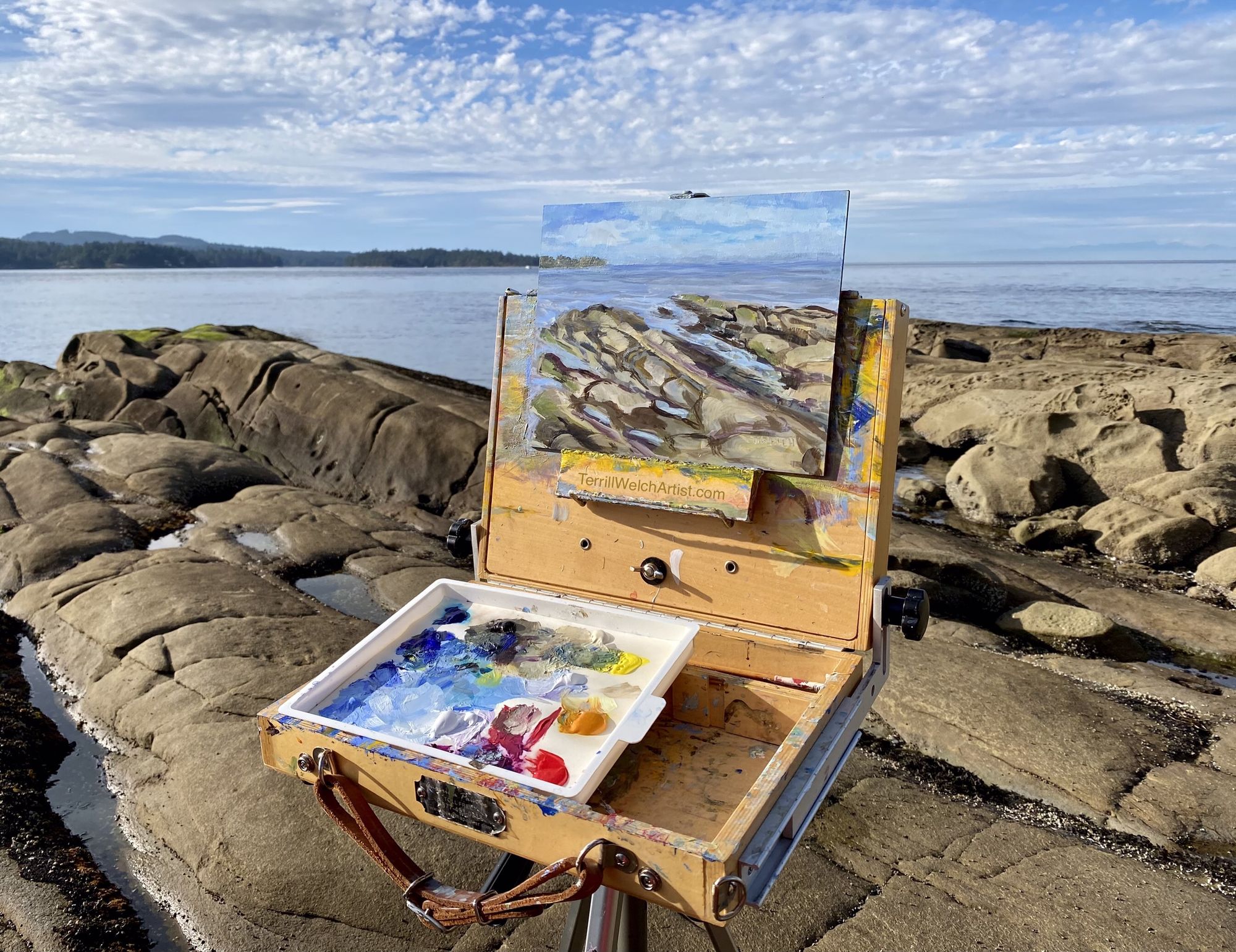 The results seem to foreshadow the inevitable, west coast winter is coming. There is a heaviness under those cascading blues.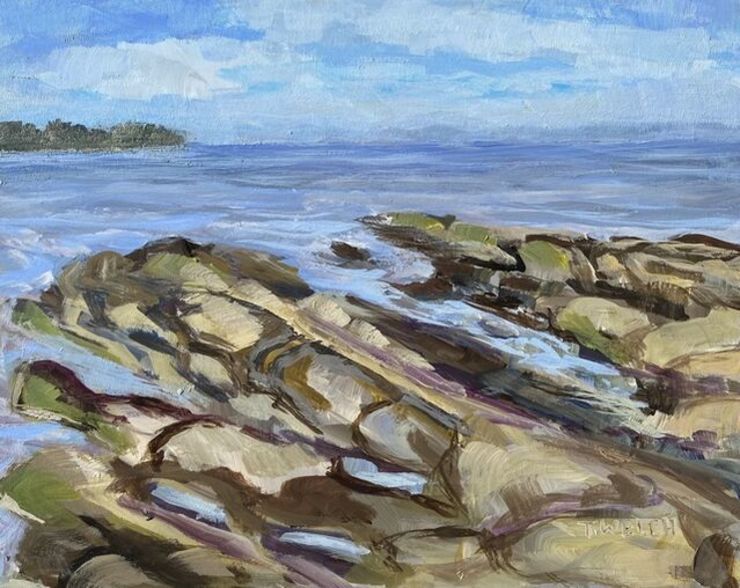 Available for sale from Terrill Welch Gallery, Terrill Welch, Last Warm Day at Georgina Point (2021), Acrylic on gessobord, 8 × 10 in
Artist notes: Sometimes there is nothing more important to do than hang out on the sandstone rocks beside the Salish Sea during the last of the warm September sun.
The past two weeks seem to have put wings on my daylight hours. Still, I have a painting sketch that is the second in the developing Red Line series.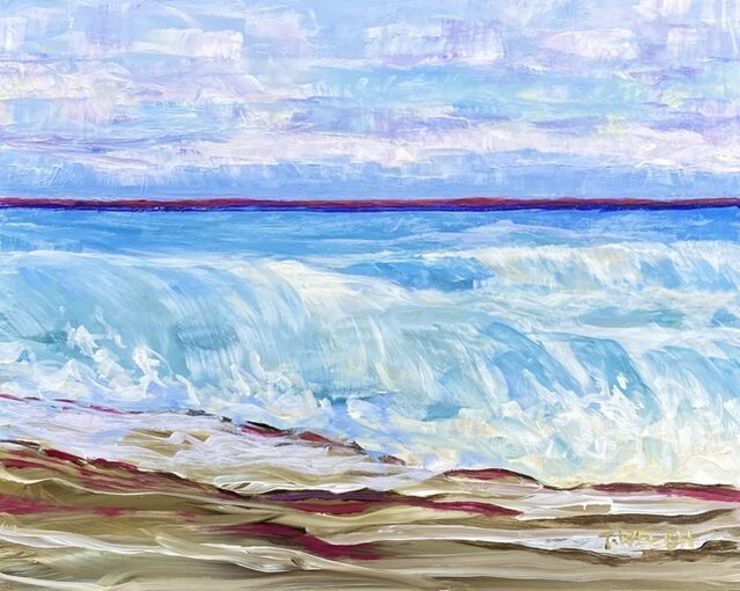 Available for sale from Terrill Welch Gallery, Terrill Welch, Red Line 02 (2021), Acrylic on gessobord, 8 × 10 in
Artist Notes: When we look out at the sea, it's beauty often over shadows the trouble it is in due to pollution and climate stress. The red line, that is visible at the horizon, comes up onto the sandy shores at our feet. This red line in the painting is intentional and purposeful because much of the damage to our seas is within our collective human capacity to address. Why should we, you might ask? Well, because tiny ocean plants called phytoplankton contribute 50 to 85 percent of the oxygen in Earth's atmosphere. Yes, our trees, forests and jungles are important suppliers of oxygen to earth's atmosphere. But it is these tiny phytoplankton in the oceans that do a lot of the heavy lifting in this respect.
These passed couple of years of staying close to home have given me time to reflect on our human patterns of activity. How might we meet our needs and desires differently? What is required to fulfill those needs in a meaningful way? How could these small and large changes help to heal the earth? Or, as some like to say, how can we allow the earth to heal us?
Questions without easy answers are the grit for my creative mill. Stay tuned, the hoppers are full!
New Shows Opening Soon!
We are close to having two new shows ready to open. One is an online exclusive solo show "Forest Floor" with Annerose Georgeson that will open October 18, 2021.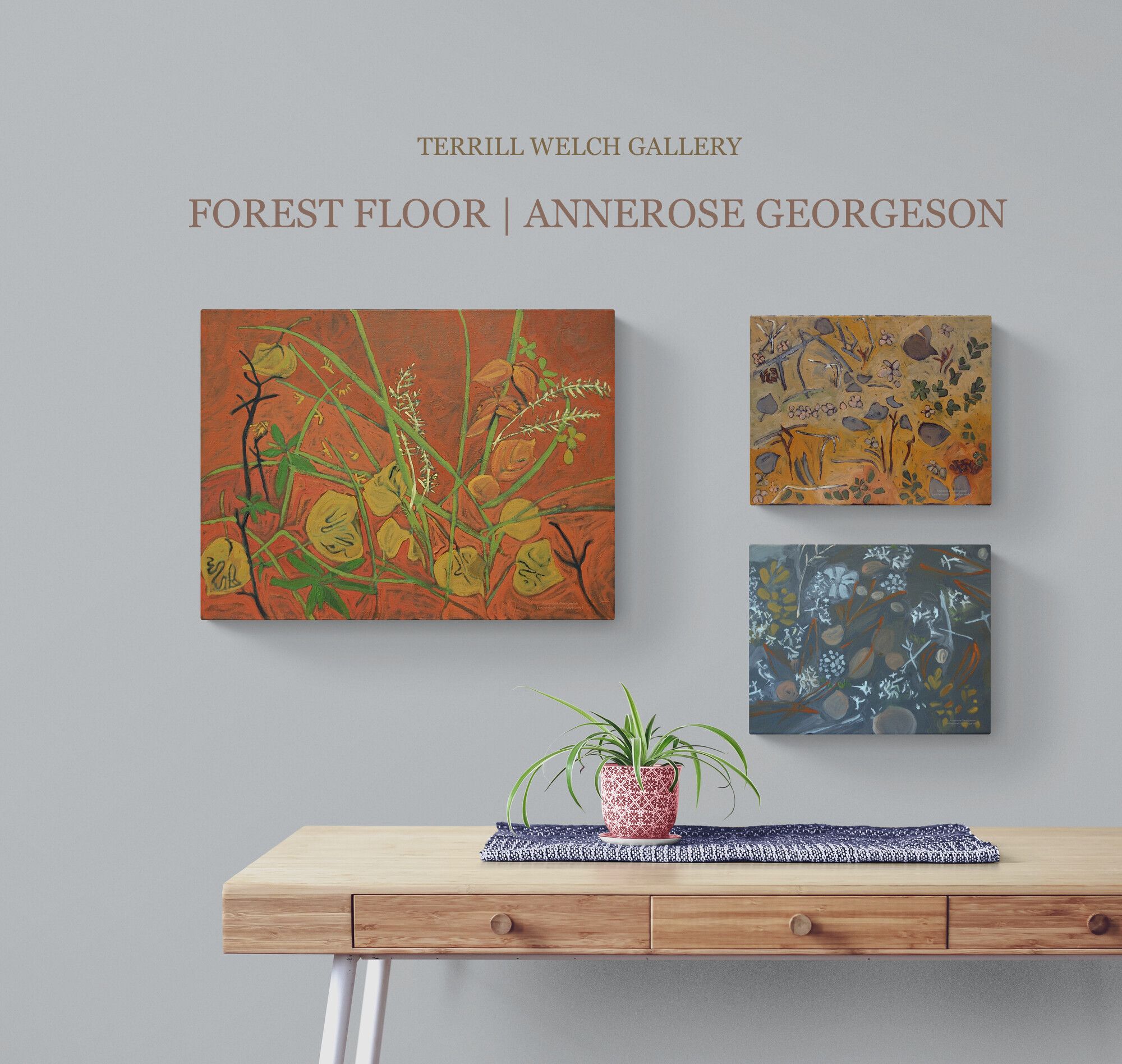 This is a thoughtfully selected show of seven paintings in an ongoing area of exploration by Annerose. We will introduce this show more fulling during the weeks ahead. While you wait, let me provide a link below to one of these seven paintings so you can browse it in more detail.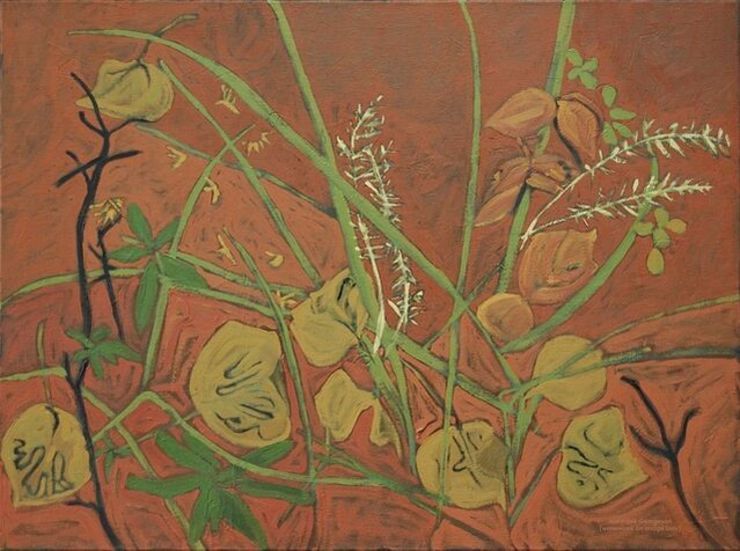 Available for sale from Terrill Welch Gallery, Annerose Georgeson, Leaf miner (2019), Oil on canvas, 18 × 24 in
However, before this show opens another new show will be put up next Friday October 8, 2021 in the Arbutus Room. This show will be a mix of new paintings and some favourites from the quiet times during last winter when we were unable to have many walk in gallery visitors.
Just for an appetizer, here is a room view of these two sweet small acrylic paintings by Glenda King that will be included and will be made available in the online gallery over the next few days.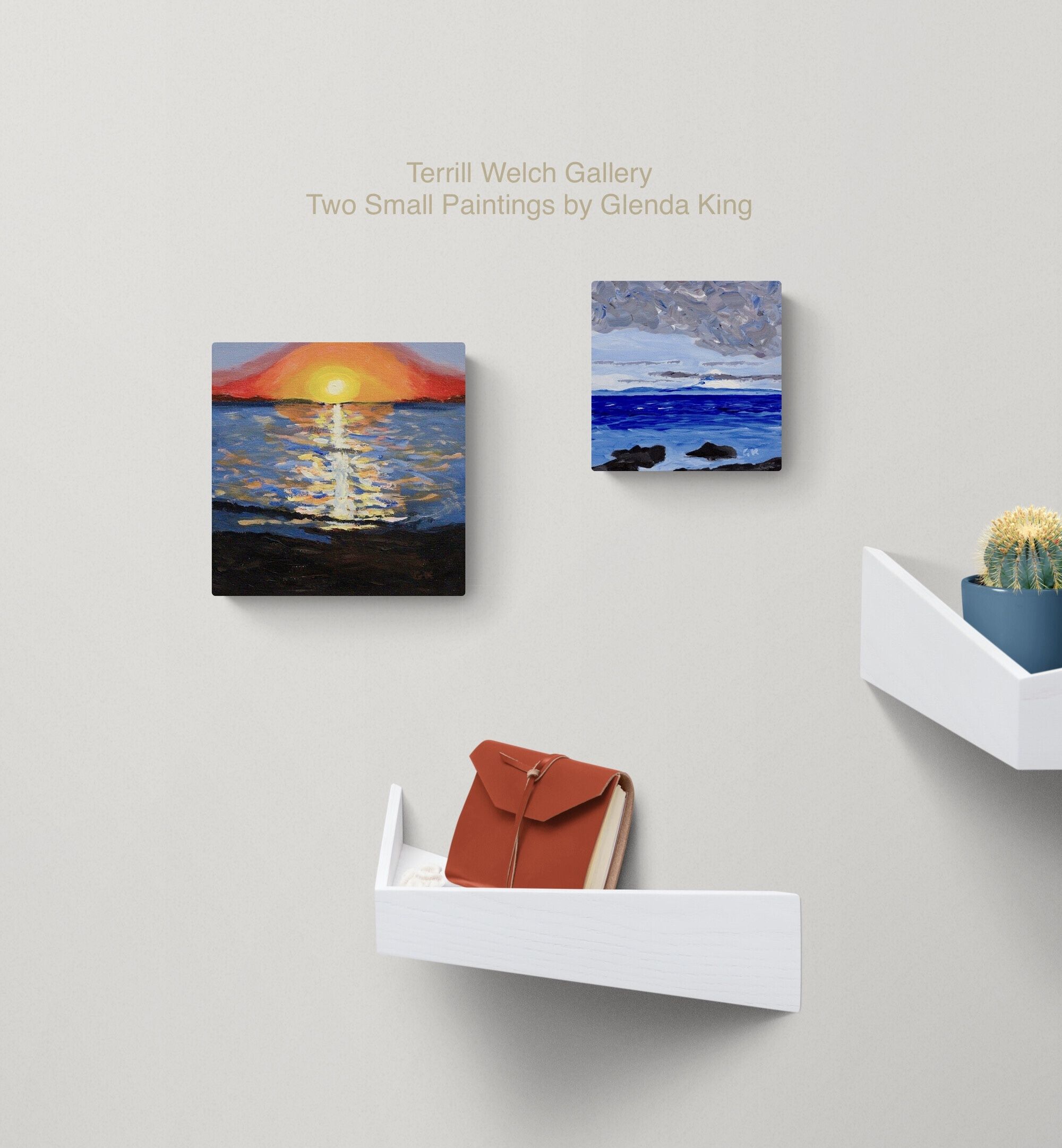 Along with these, there is also the first painting in my Red Line Series that I introduced last issue….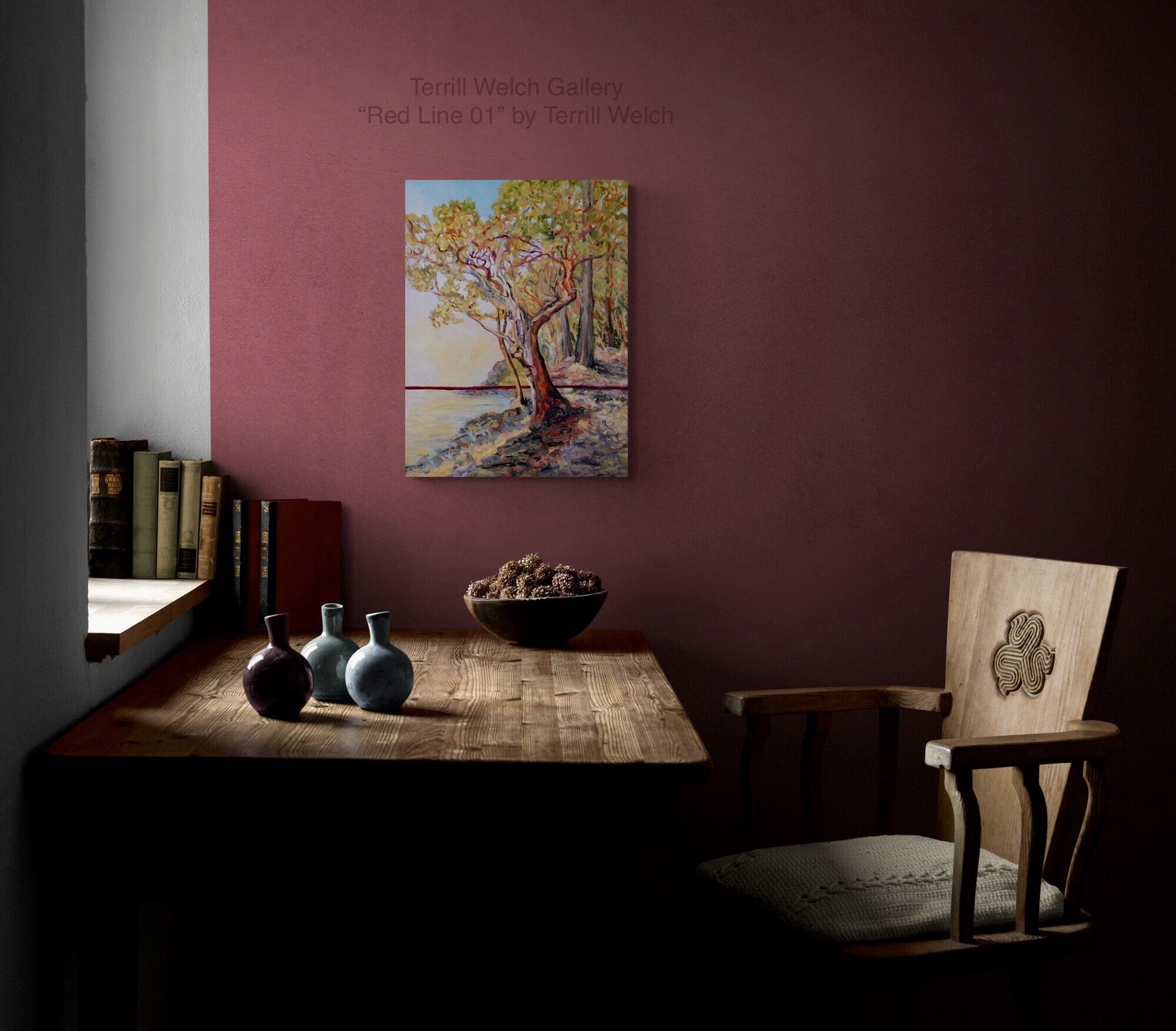 This painting can be viewed in detail with several room views at the link below.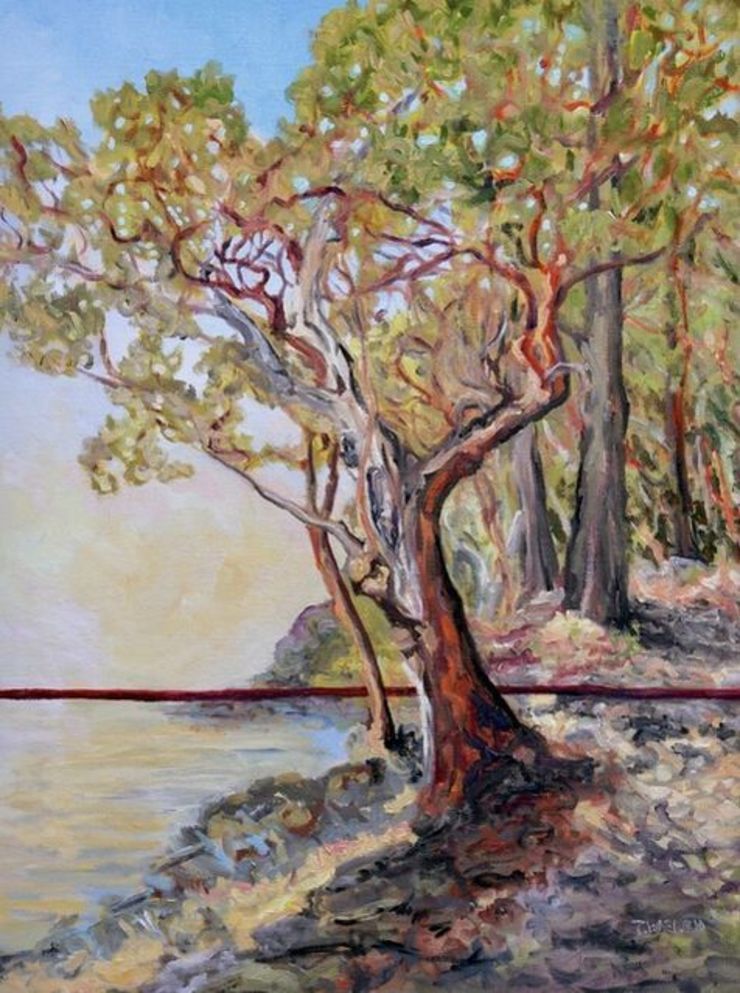 Available for sale from Terrill Welch Gallery, Terrill Welch, Red Line 01 (2021), Walnut oil on canvas, 24 × 18 in
On My Reading List
As I mentioned a couple of weeks ago, I am earnestly researching and studying historic and contemporary landscape art for inspiration and clues to where I want to take my painting practice next with particular attention to Red line Series. One of these conversations has led me to a new book and the discovery of Canadian painter Mary Hiester Reid. I knew about her husband George A. Reid's paintings. But her work is new to me. As the story goes, his work ended up in public galleries while her paintings were and are mostly in private art collections, even though she was well known and highly regarded for her contribution to art during her lifetime. I have therefore added Flower Diary by Molly Peacock to my reading list to fill this gap in my knowledge about settler Canadian art history.
A Book Jacket Summary - In this book, Molly Peacock uncovers the history of neglected painter Mary Hiester Reid, a trailblazing artist who refused to choose between marriage and a career.
Molly Peacock looks at the balancing act of female creativity and domesticity in the life of Mary Hiester Reid, a painter who produced over three hundred stunning, emotive floral still lifes and landscapes. Born in the U.S. in 1854, trained by libertine Thomas Eakins, Mary fought for her place as a professional artist without having to live as a tragic heroine.
Flower Diary: In Which Mary Hiester Reid Paints, Travels, Marries & Opens a Door: Molly Peacock uncovers the history of neglected painter Mary Hie
Until Next Time!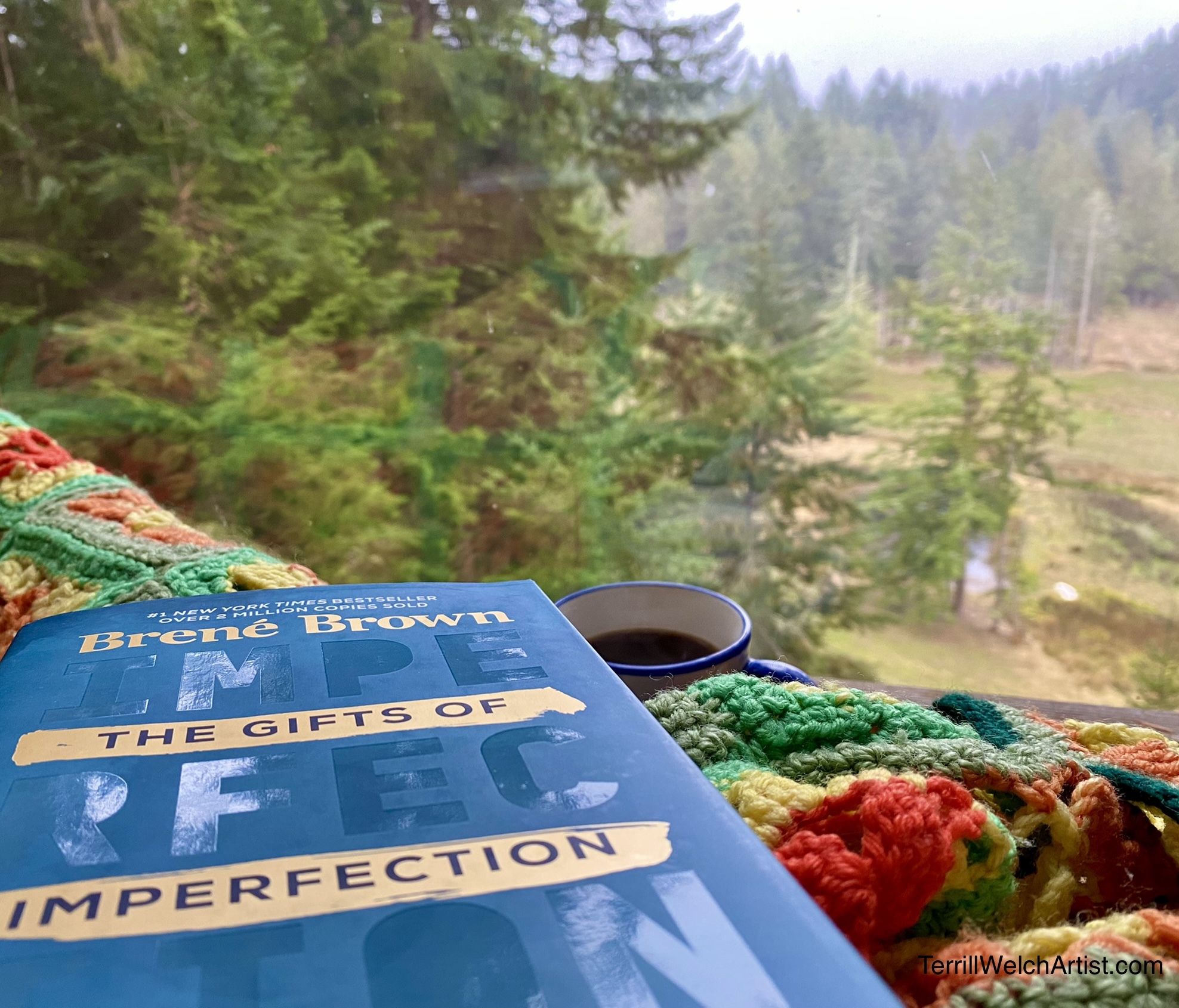 I hope you enjoy the newly released paintings available in this issue and my hints about what is to come over the weeks ahead. There is no rush. Each of these shows will have a long horizon for exploration. Take your time with the links that are provided and feel free to check out our online gallery a few times over the next two weeks if you don't want to wait for the next issue to see what is new. But there is time to wait and to linger. Our West Coast Rains are an excellent reminder of this. Put your feet up, throw a blanket over your knees and enjoy!
Terrill 👩‍🎨🎨❤️
Our gallery program brings extraordinary connections to ordinary moments in our natural landscape. The Terrill Welch Gallery opened in August 2017. Since the…