A Brush with Life - Issue #87 Bigleaf Maple Leaves Drifting Down
Walking through the park at Georgina Point, I watched the Bigleaf Maples (ACER MACROPHYLLUM) releasing their leaves on a light breeze in the afternoon sun. The ferry whistles as comes through Active Pass and I wait in the golden light for the wake to break up the soft ripples of the sea. It is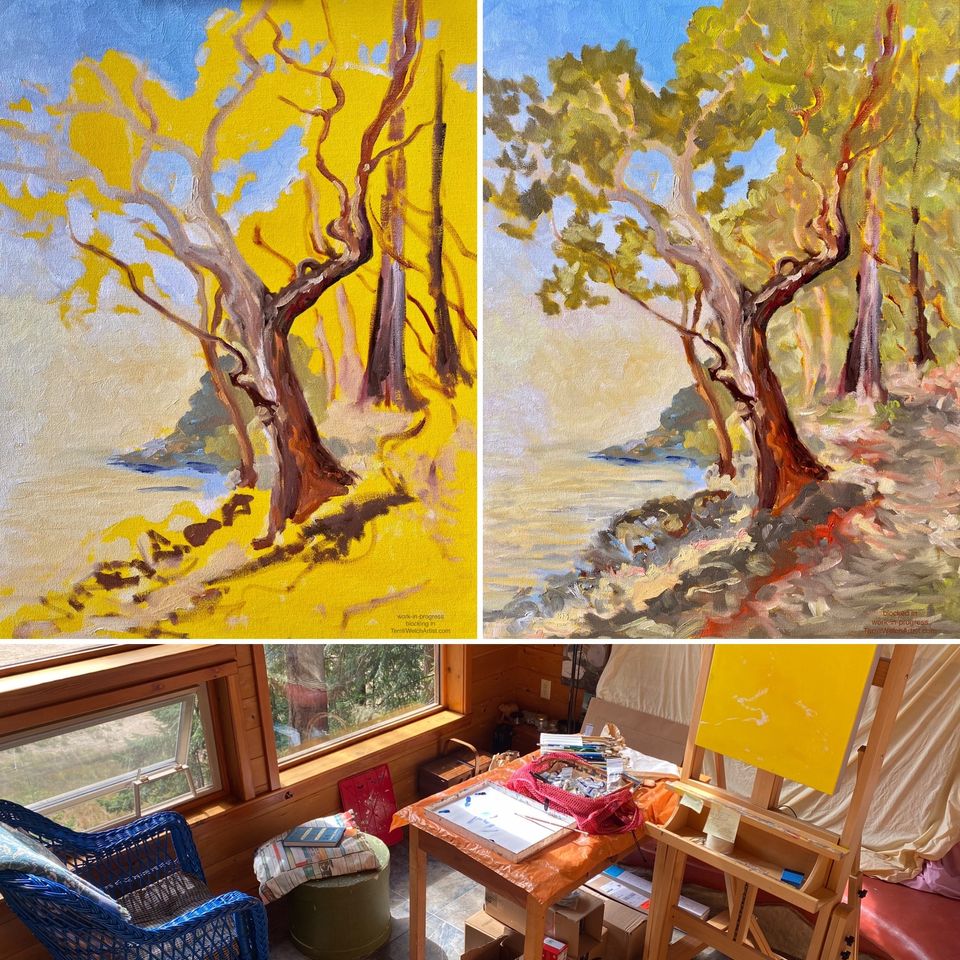 Walking through the park at Georgina Point, I watched the Bigleaf Maples (ACER MACROPHYLLUM) releasing their leaves on a light breeze in the afternoon sun. The ferry whistles as comes through Active Pass and I wait in the golden light for the wake to break up the soft ripples of the sea. It is autumn on Mayne Island. The pace has slowed to a lazy stroll. This is my favourite time of year.
---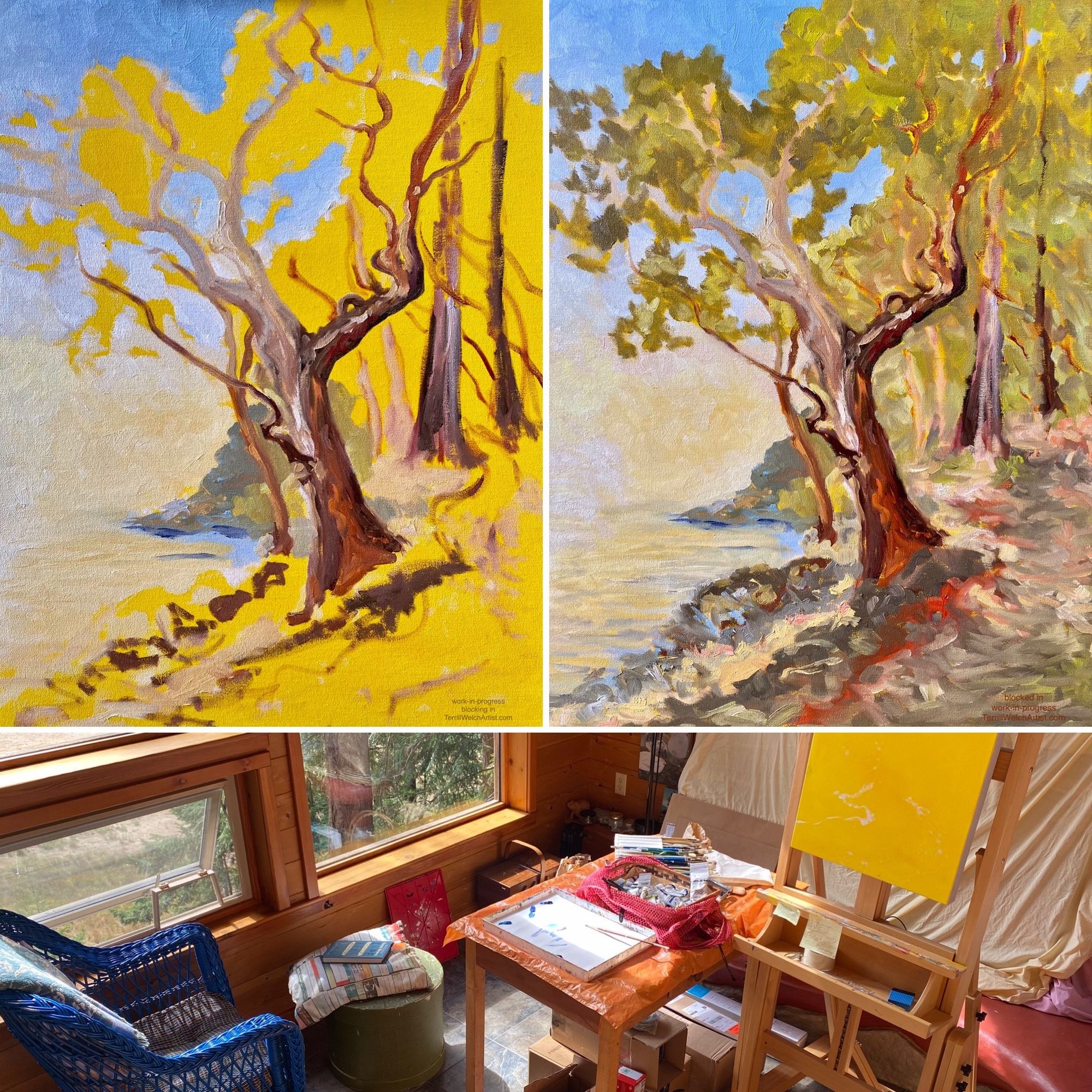 I have a new work completed in what started out being a temporary studio during our renovation to create a main floor bedroom. Now it seems I might keep this as my home studio, even though it is full south exposure. This painter has always had to be adaptable and it seems these skills have come in useful yet again.
I remind you that I paint first and foremost for me. I could paint stunning landscapes for the next twenty years. But, in a way, they would be a lie, denying the pain and lump in my throat as I walk amongst the trees. Right now, such paintings of bliss seem irresponsible, an unacceptable personal denial. So I went to work to find a more honest way to render my experiences. This is a start - "Red Line 01" 24 x 18 inch, walnut oil on canvas.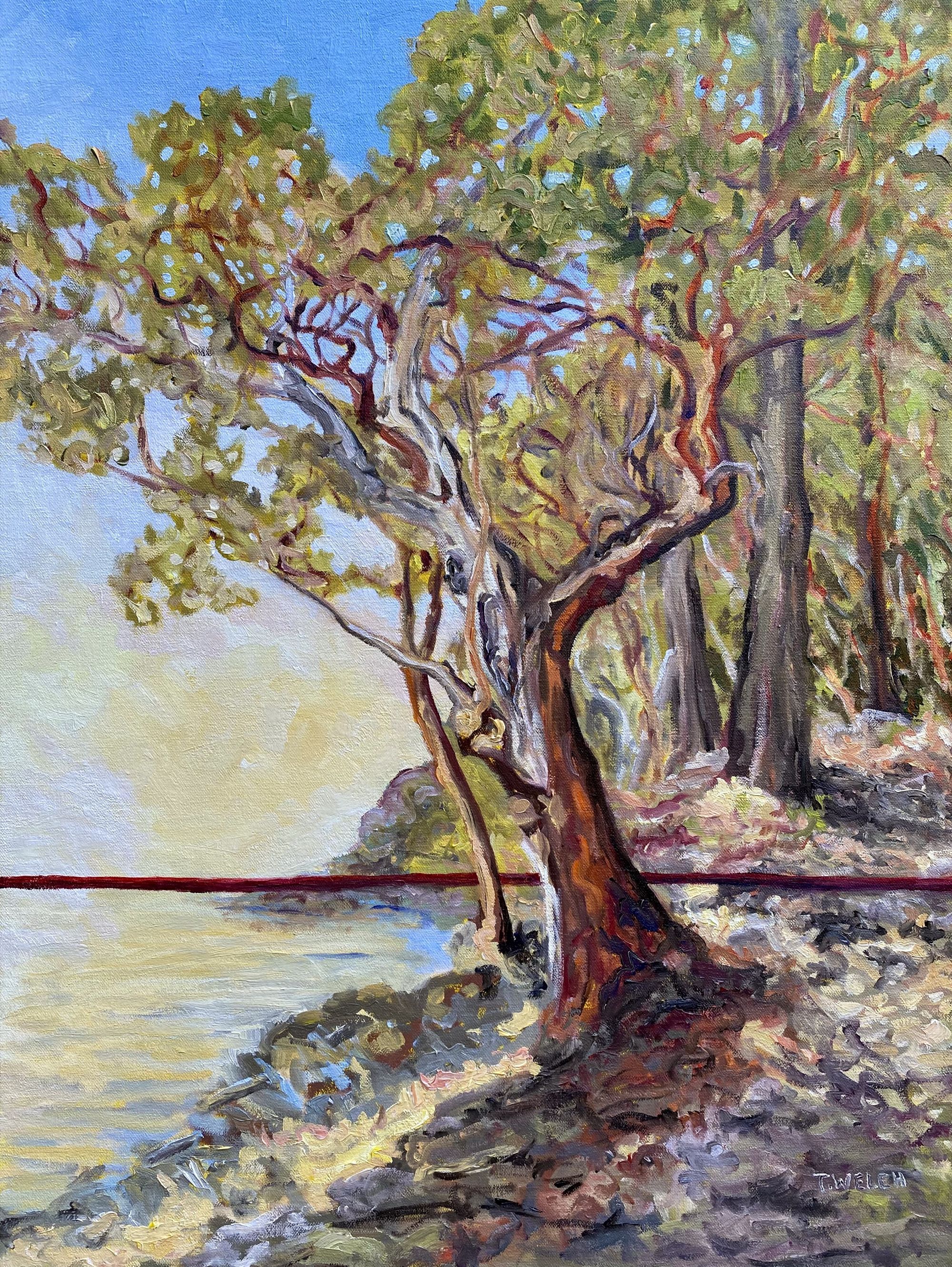 Artist Notes: These Arbutus trees are in trouble. There is a good chance they won't survive, at least in this location, over the next twenty years. I am baring witness, keeping a record, standing with them in their suffering. The path has widened over another dry summer from thousands of tromping hiking shoes. I wonder if these fellow walkers see what I see. Dried grasses are carried away on a hot breeze, revealing shards of naked stones. For the fourth year in a row, the drought has been long, too long. Stressed, the trees will be susceptible to various kinds of native fungus that turn their leaves black and branches are forces to die back. Sometimes whole trunks become standing grey skeletons. These are simple observations that leave a red line reminder in an otherwise blissful landscape. I have chosen to add that red line.
However, it is this painting below from a couple of years ago that has the Bigleaf Maple tree in it.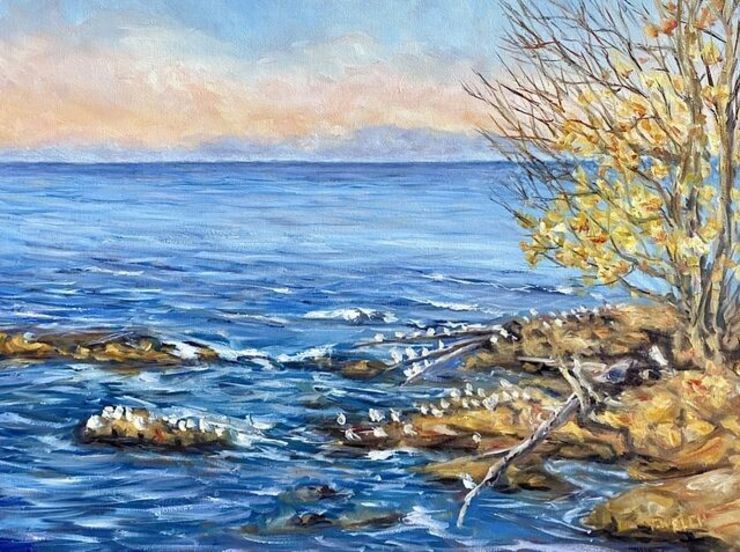 Available for sale from Terrill Welch Gallery, Terrill Welch, Golden Evening Across the Strait of Georgia (2020), Oil on canvas, 18 × 24 in
And of course, this large oil painting which is in a private collection.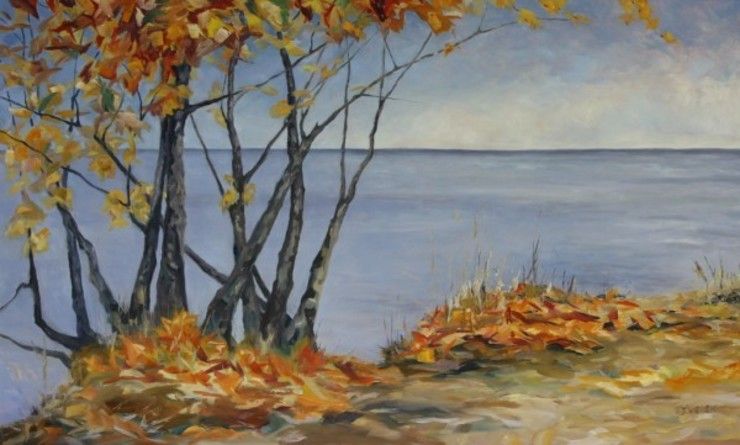 There is something about autumn by the sea with the gray melancholy wrapped in fall colours. This particular day is one of those slow-baked, melancholy west ...
There is a road on the island that is lined with a row of these Bigleaf Maple trees that we shall be finding time amble along some sunny afternoon in the near future. When these large leaves start to turn rust, and warm yellows, their slow drift to the ground is mesmerizing. Soon!
Resilience within Emotional Weariness
As Mayne island begins to quiet with September, I can feel a heavy weariness in my bones. It is not a physical tiredness but rather an emotional weariness from 18 months of pivoting a small gallery business, keeping up with my own painting practice and getting us personally through changing mandates, vaccinations and health challenges. It is common for me to wait until there is a reprieve before I notice that I am due for some downtime. I know enough about myself not to push through these passages because if there wasn't room for some acknowledgment, I wouldn't yet notice. This is where resilience comes in for me. I have already reached deep and got us to this little September back eddy in life. Thee is no need to push us out into the current just yet. I have time.
I have time to catch a sunset after a light rain…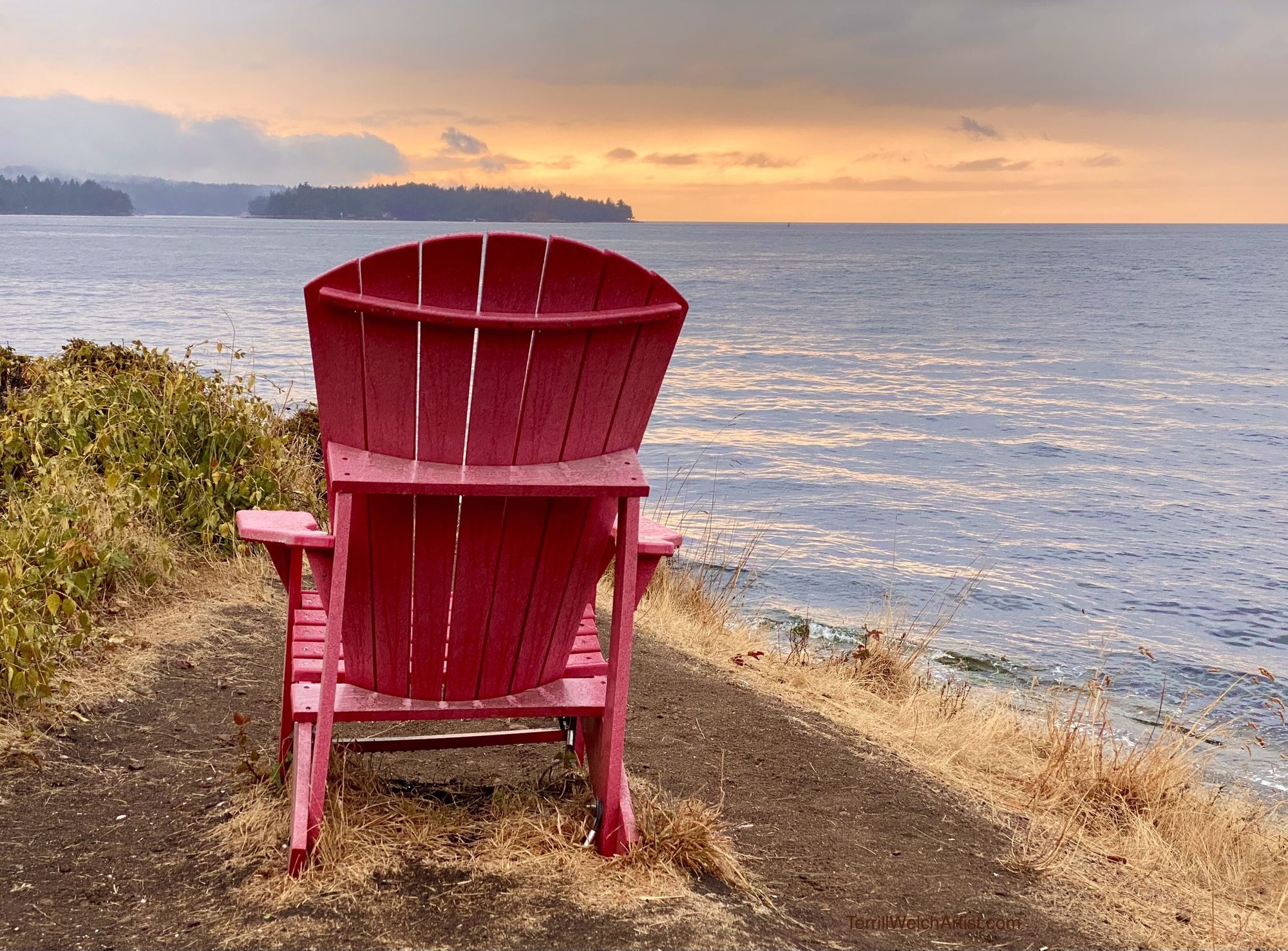 And take a long view of sky and sea…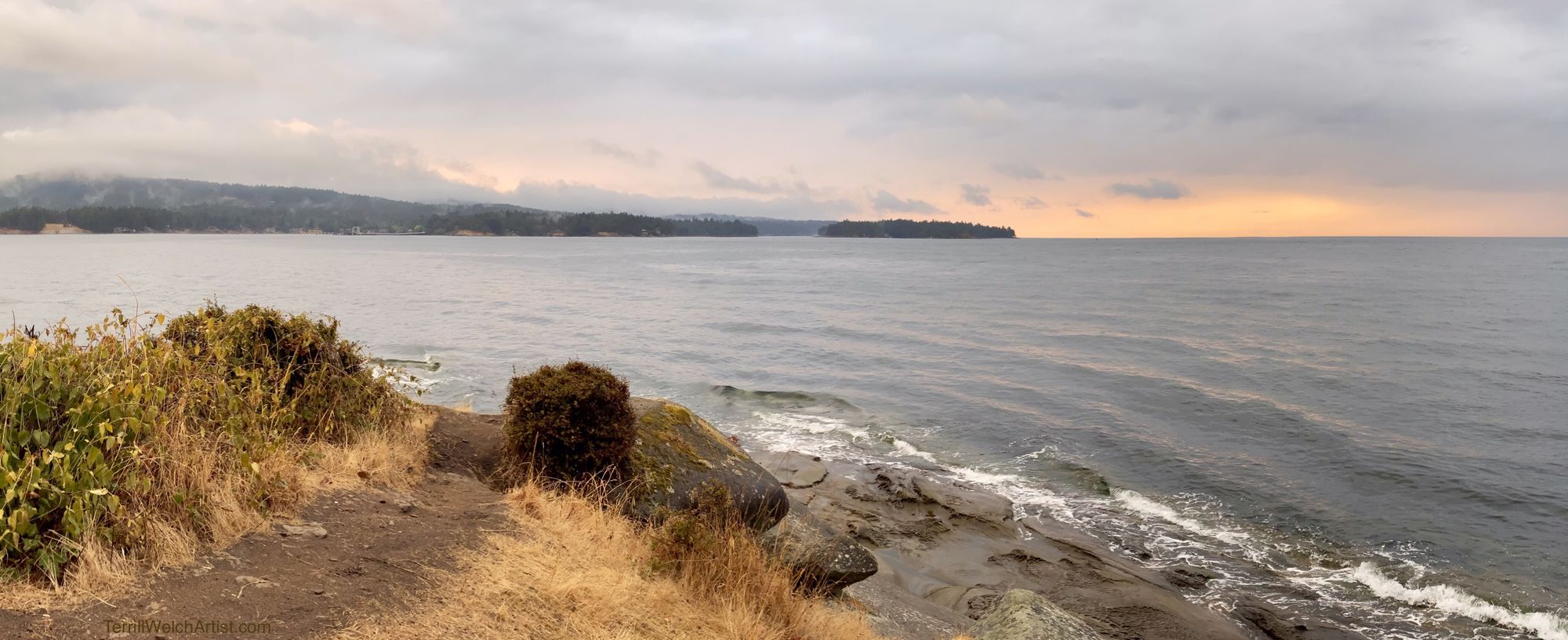 I have time to celebrate with a belated birthday cake complete with family visiting.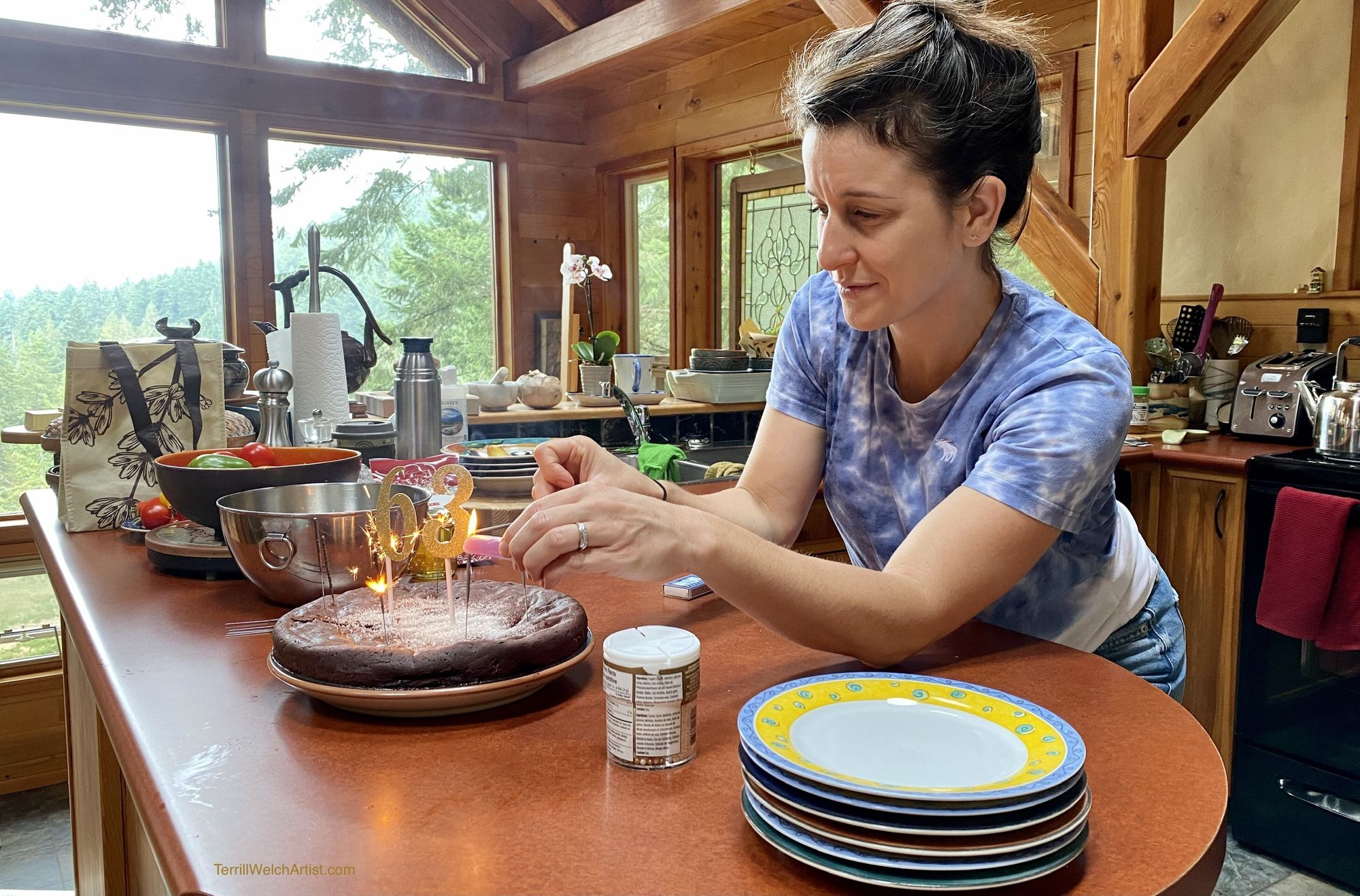 And offer the requested painting lessons with grandchildren.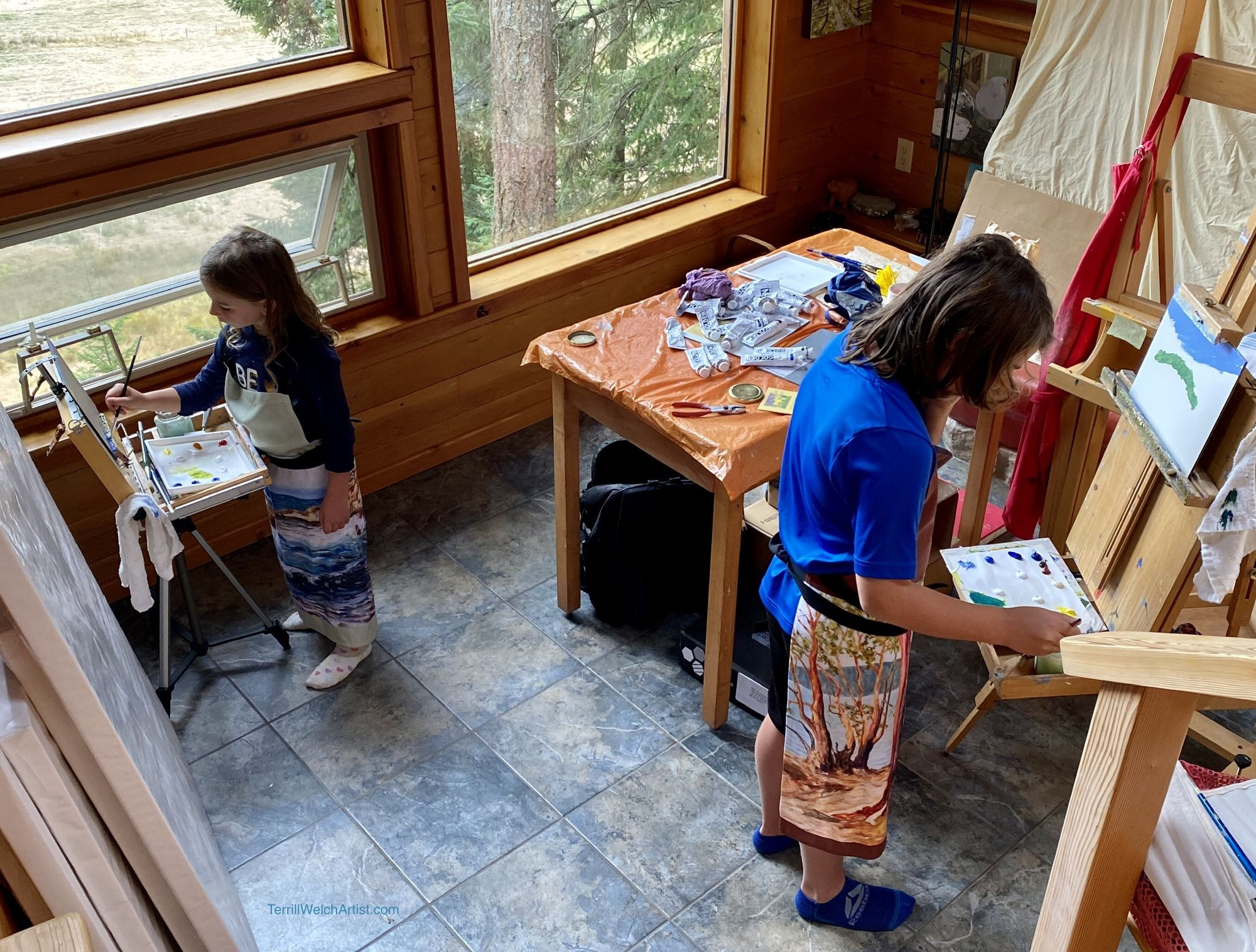 I have time to take a Breadcrumbs challenge this past week with Nicholas Wilton. I have time to take a longer online class with the Vancouver Island School of Art offered by Wendy Welch (no relation) called Landscape Painting Now. This is a two part course and the recommended textbook for this first class has been on my bookshelf since it was first published over a years ago. These things allow me to shake up my own studio patterns and get that freshness that comes from exploring the same things in different ways.
But mostly, I have more time to hike the trails…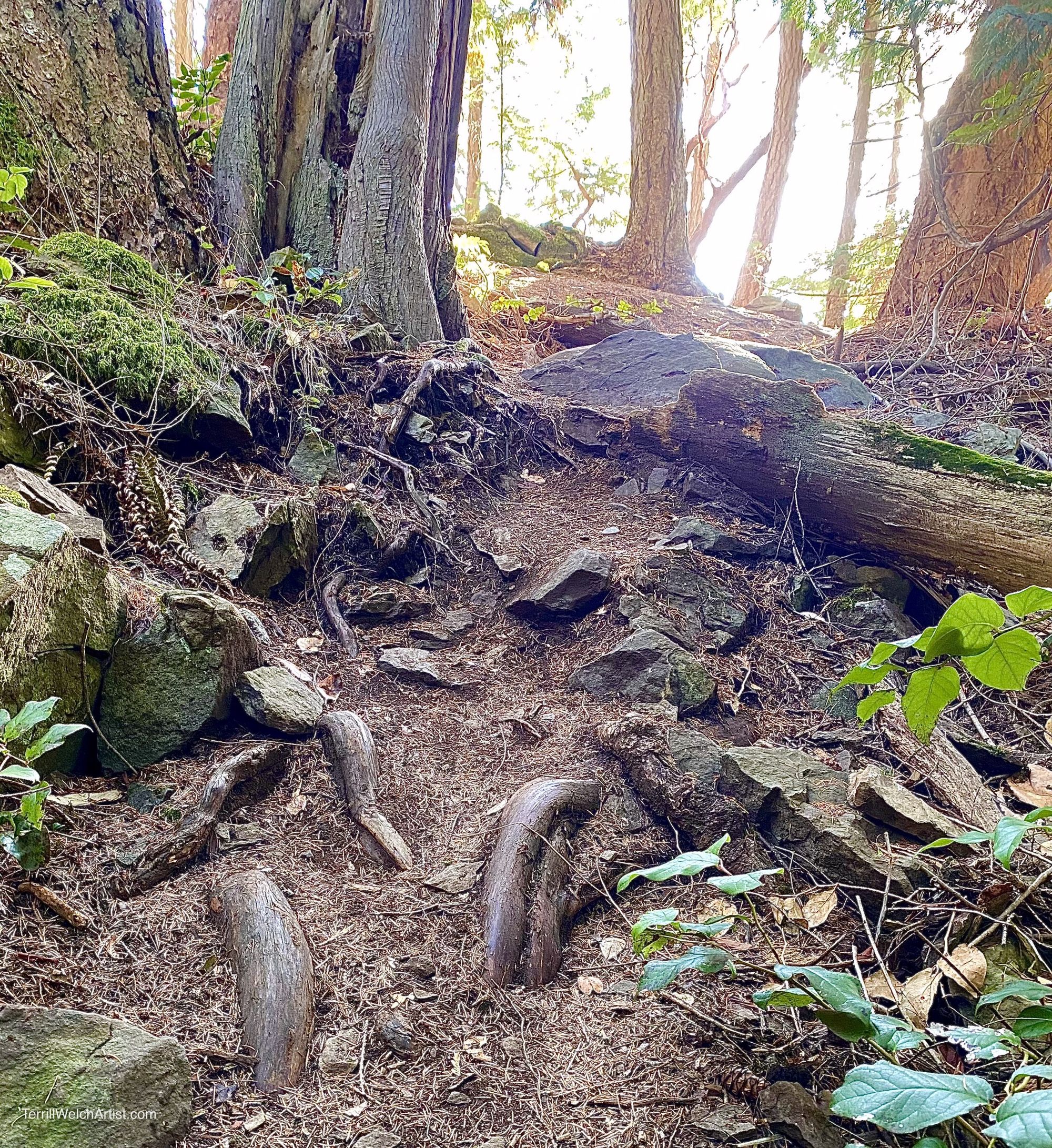 Time to catch the evening's light through the peeling bark of the Arbutus Trees.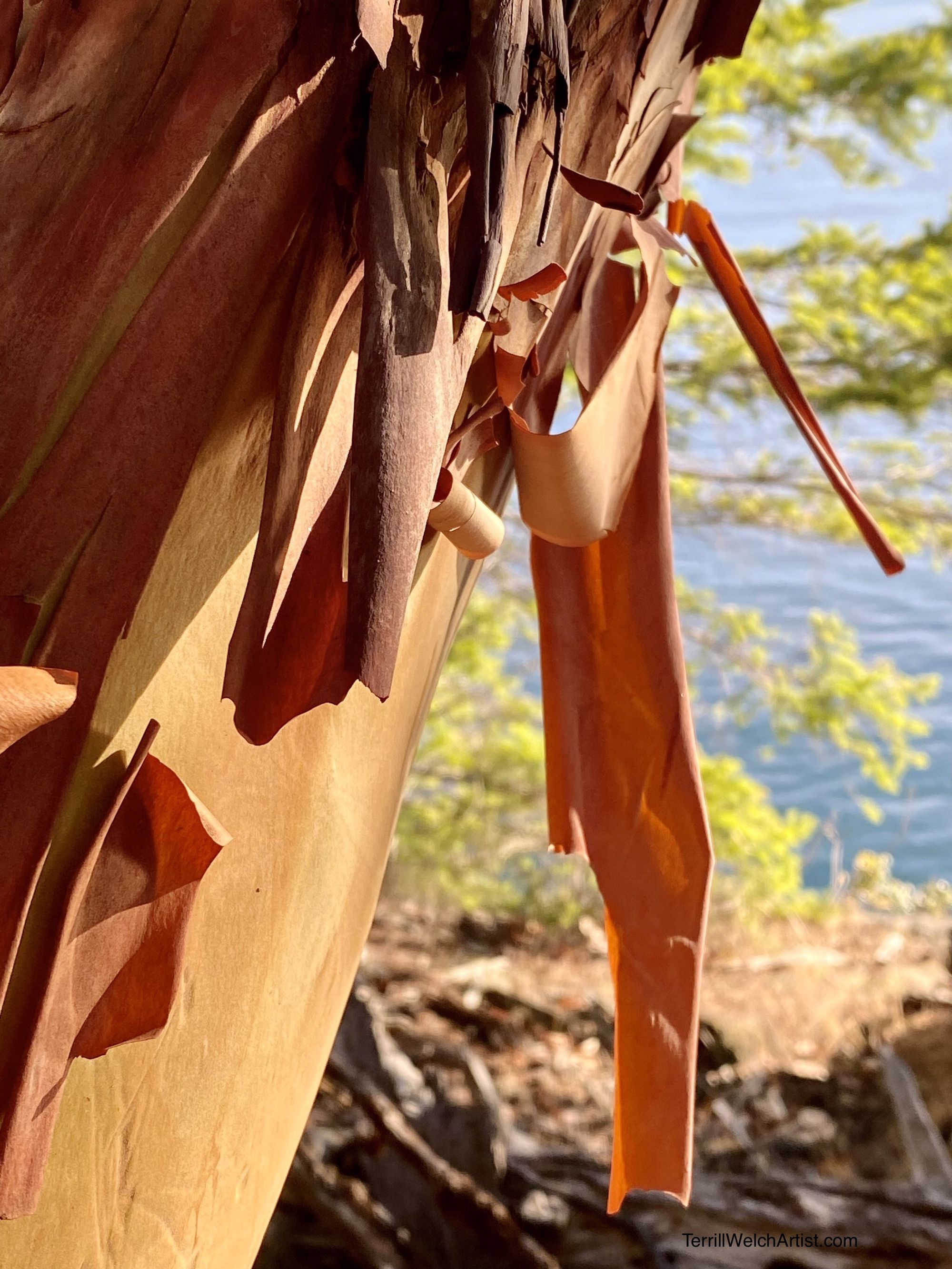 Or the hazy gift of looking back along the trail of these same trees that led me to that new painting.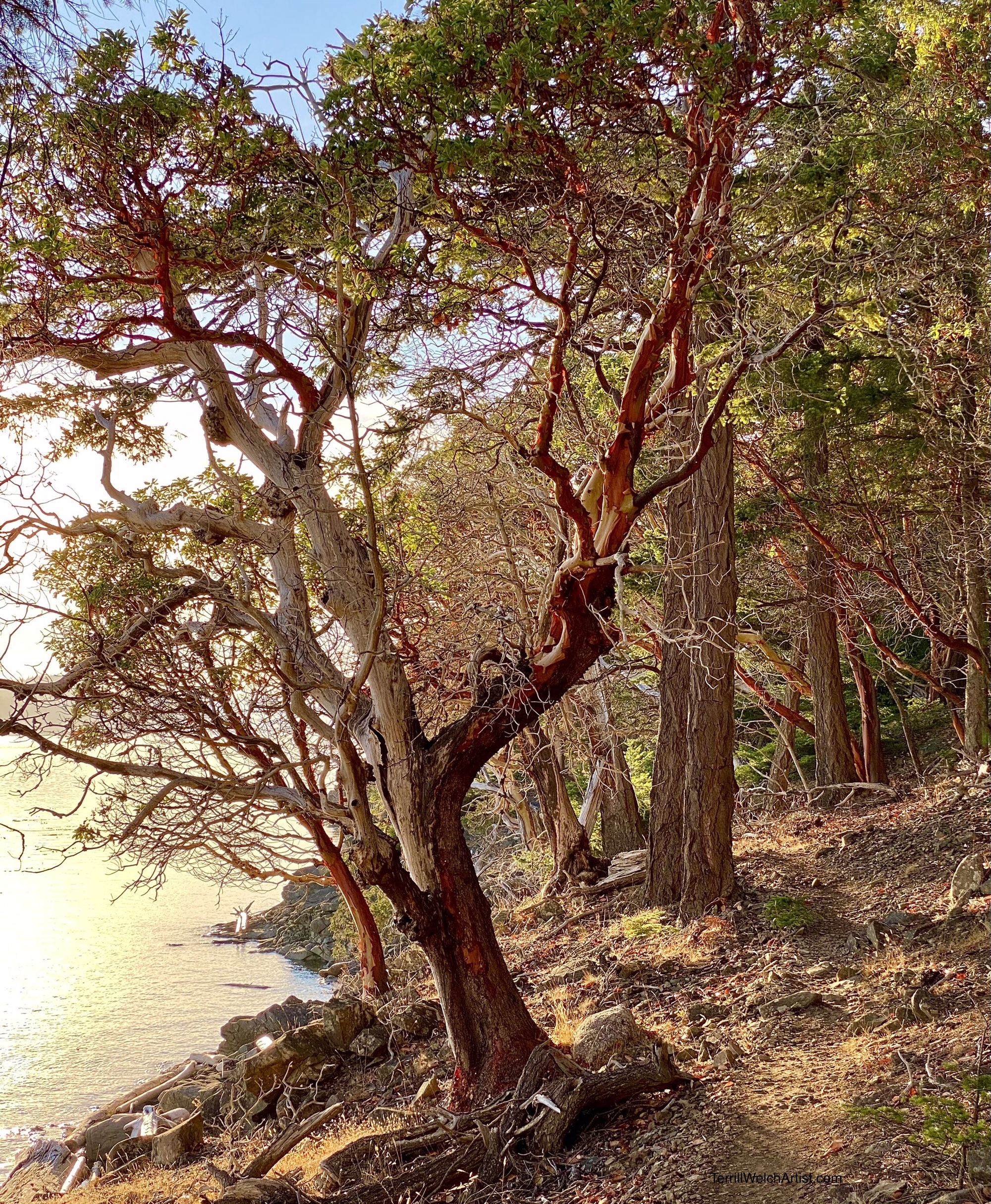 These kinds of activities seem to almost always cure my emotional weariness and this time is no exception. This is where and how I find resilience and the drive to gather myself up and set clear intentions during uncertain times.
What Has Sold
Another small work by Terrill Welch has been spoken for in the latest Garden Room show.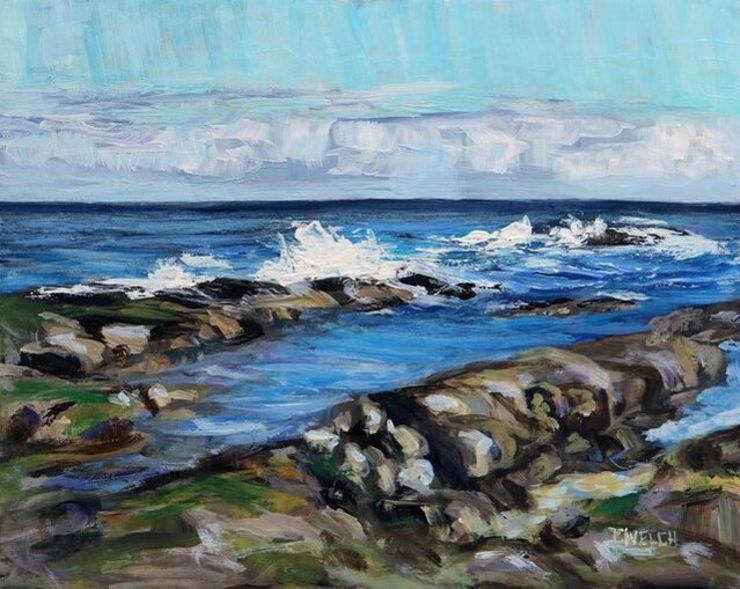 From Terrill Welch Gallery, Terrill Welch, A Swish of Sea (2021), Acrylic on gessobord, 8 × 10 in
New Artists Direct Show "Sparks Fly"
As mentioned in the last issue, a new artists direct show is being sponsored by the Terrill Welch Gallery and is up in the Arbutus Room. Here are a few images to give you a glimpse. If you see anything you are interested in, just write to me and I will point you in the right direction to contact the artist directly.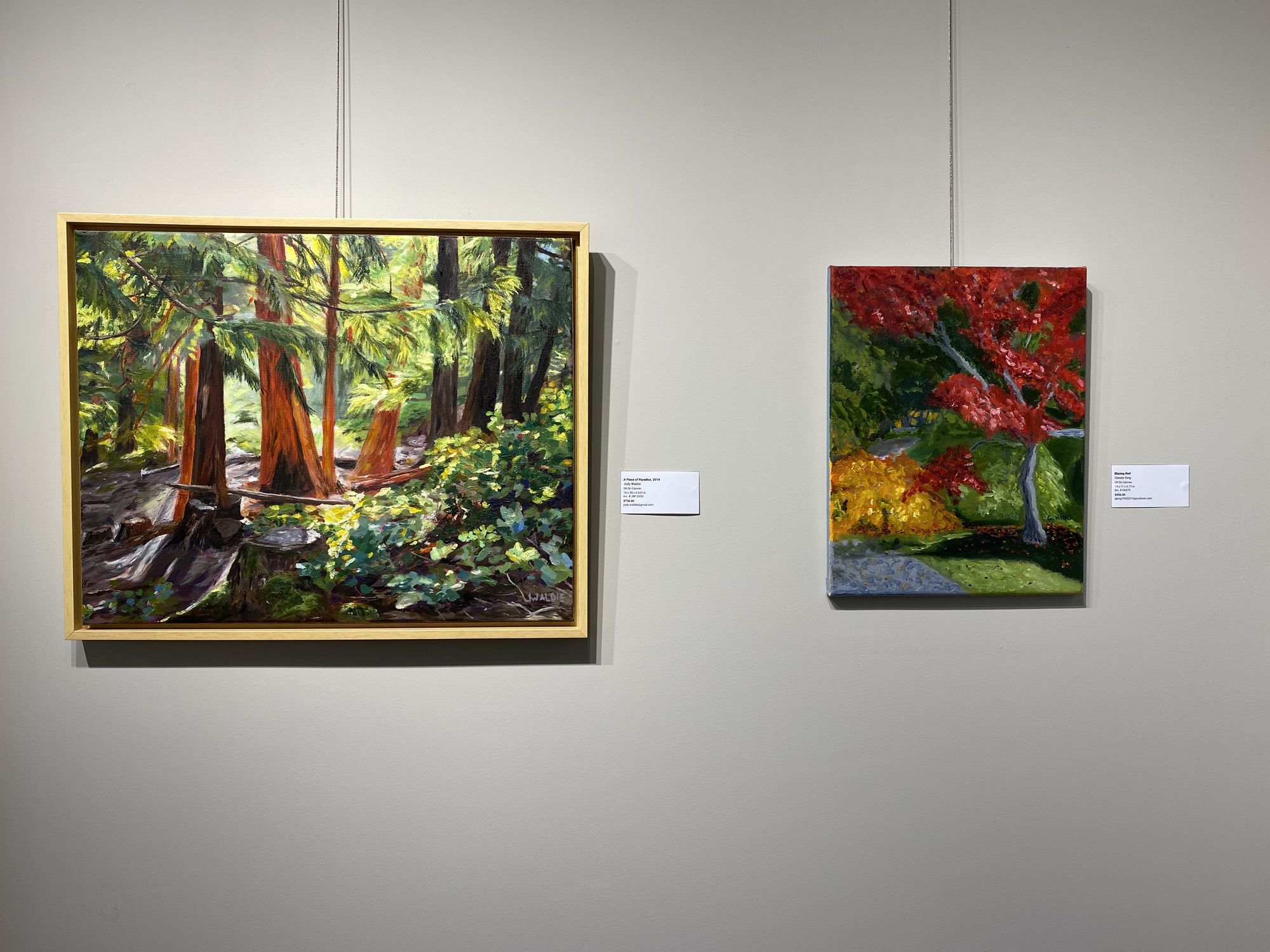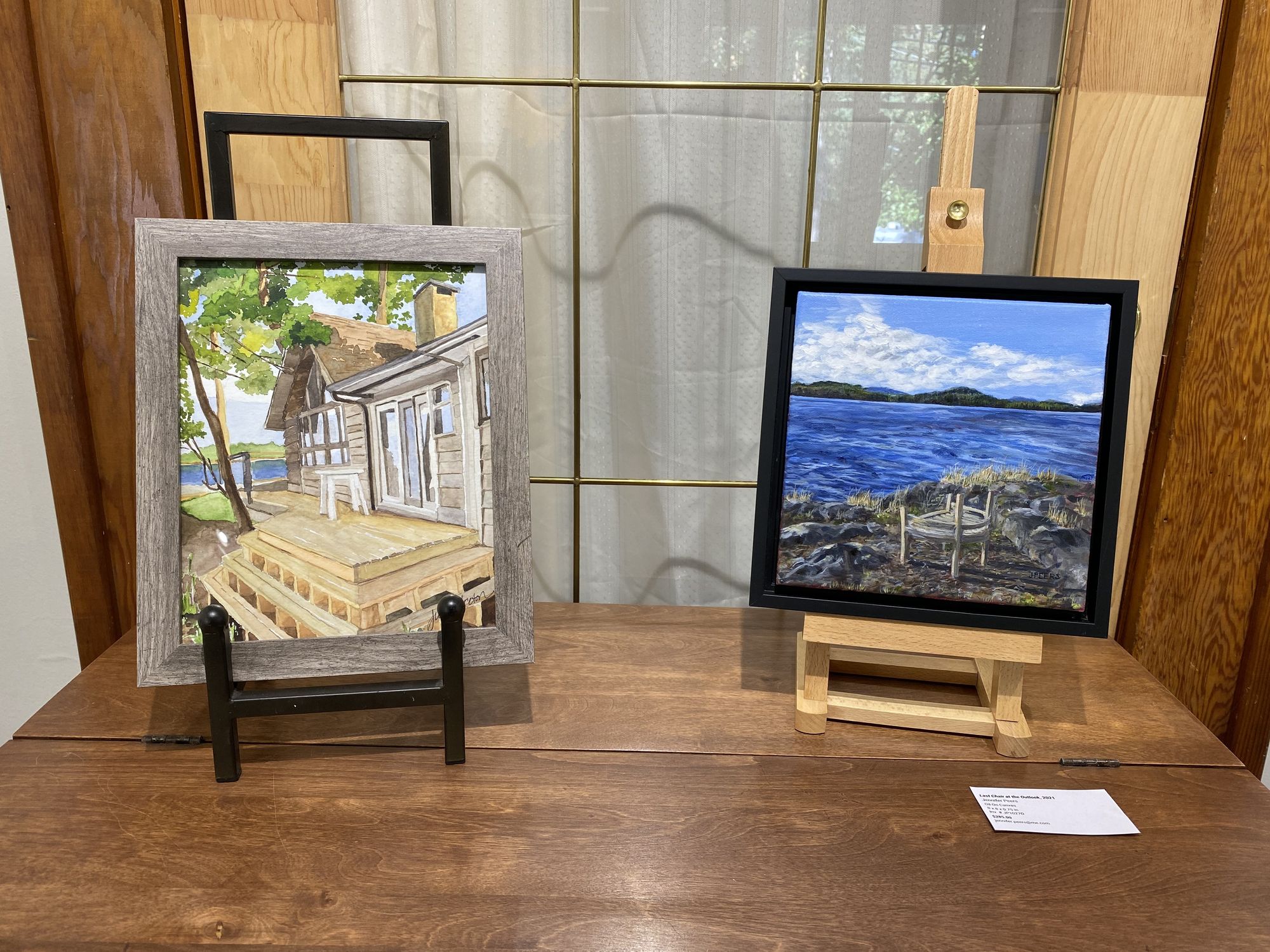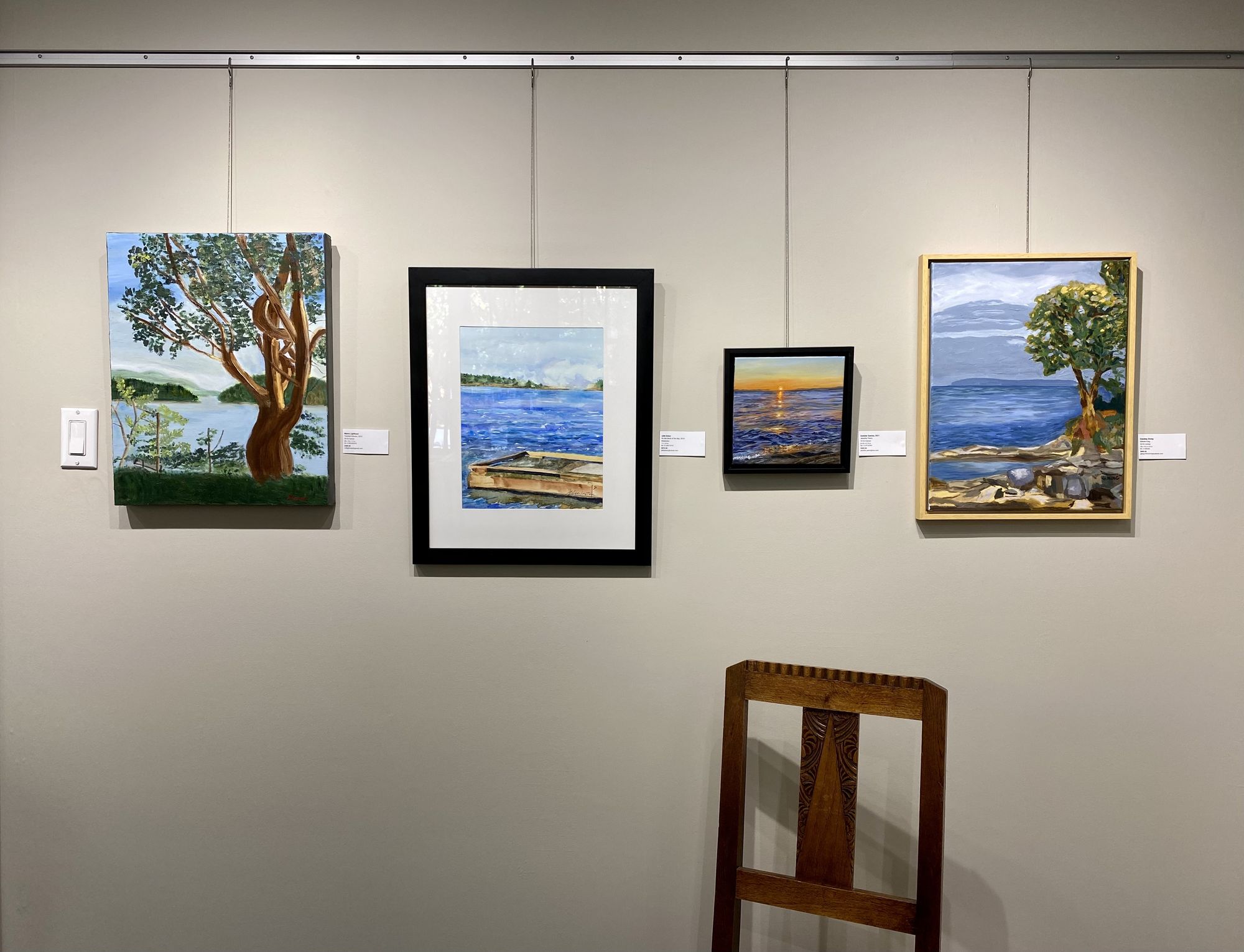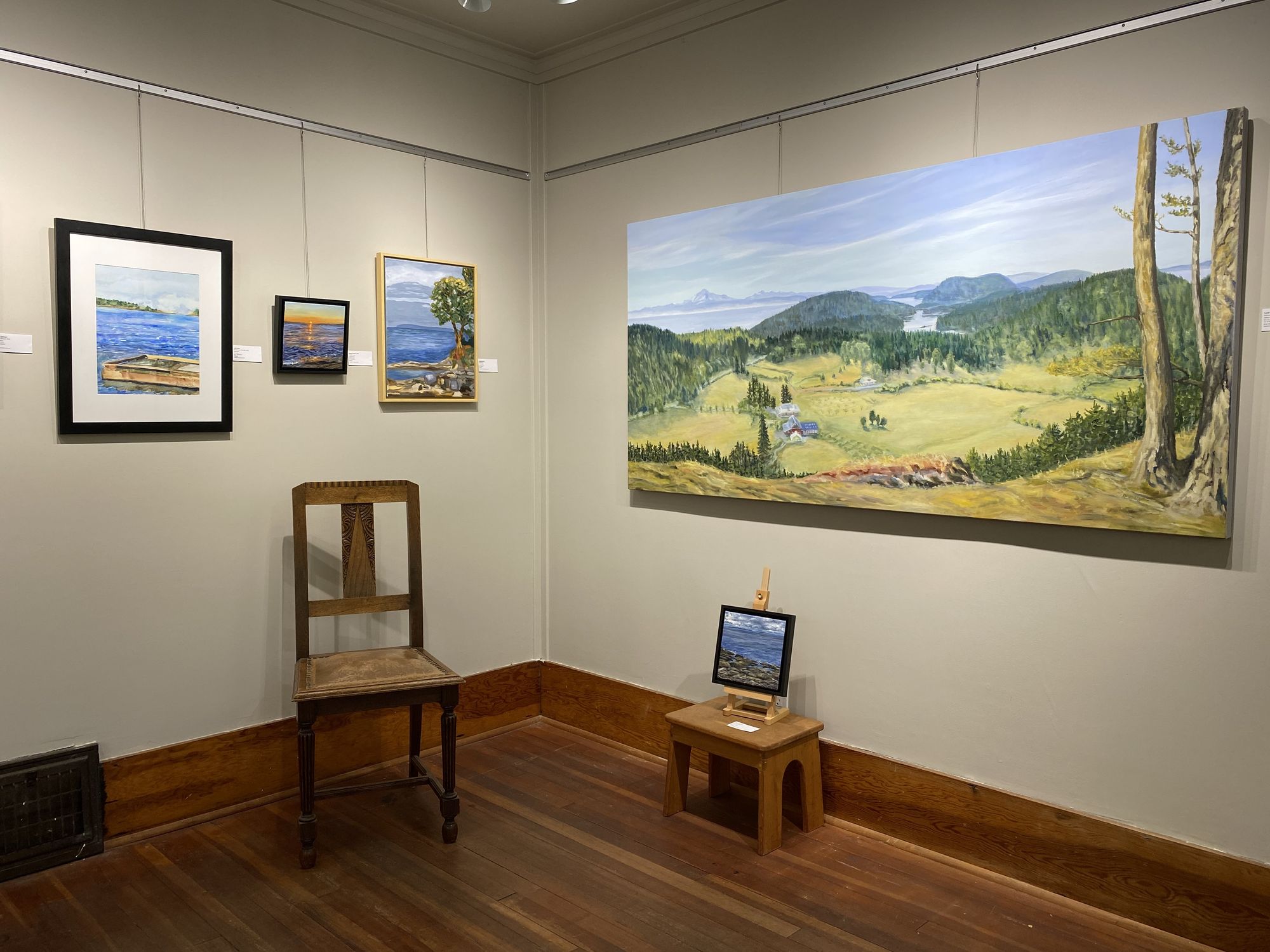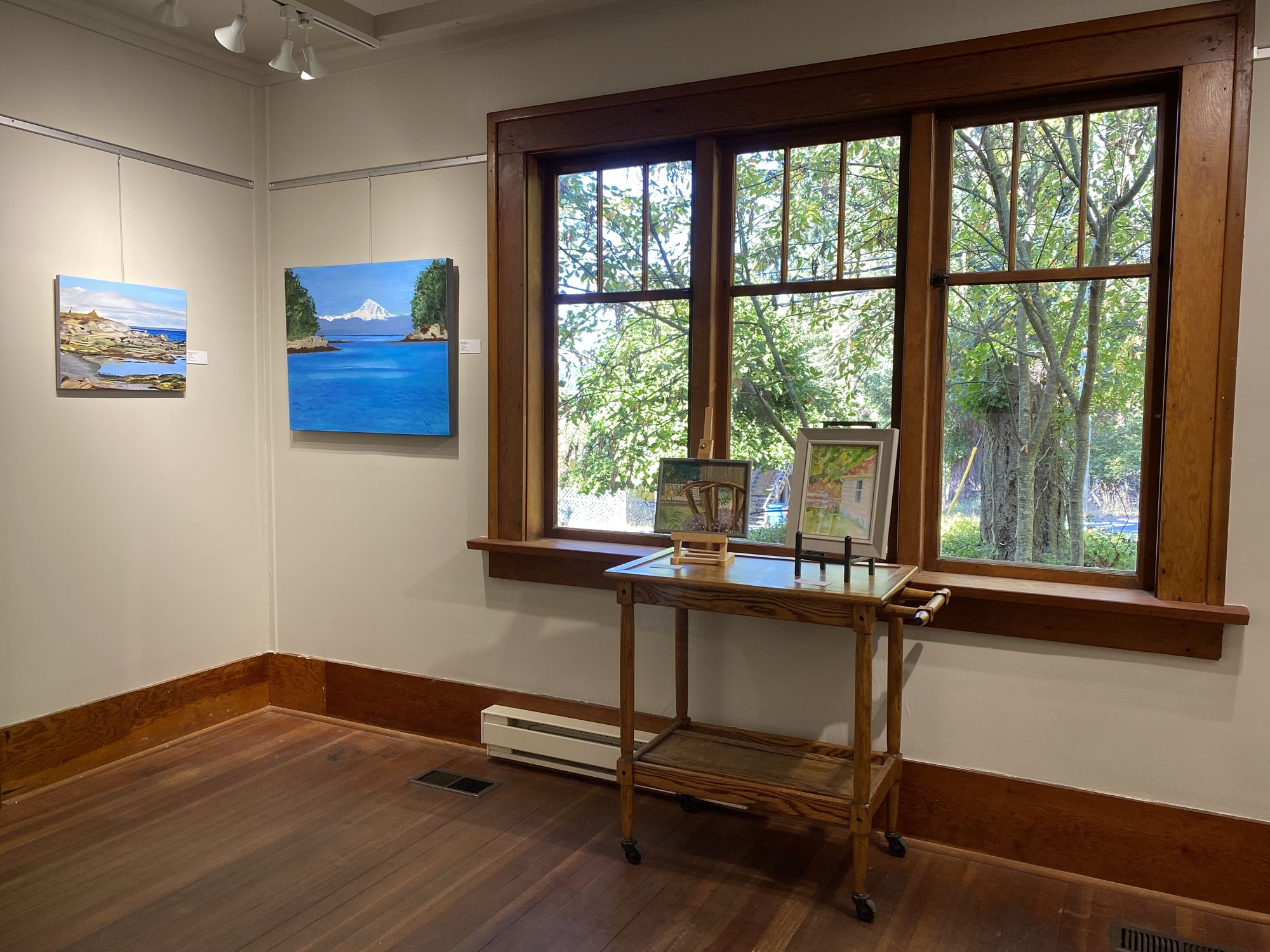 The paintings in this show are by Maeva Lightheart, Julie Ireton, Jennifer Peers, Glenda King, Jody Waldie and one large "Glenwood Farm Lookout" by Terrill Welch. As mentioned earlier, please inquire directly with each artist or send me a note and I will help you connect.
Until Next Time
I closed the windows the other morning in the misty dampness of another day of much needed rain. There is something about the first closure after the summer that sends an undeniable signal of the change in seasons. There will be nice days yet but the temperature will be cooler in the evening and over night. Thank you for being here and cozying up with my notes from the studio and gallery. Until next time!
Terrill :)
Our gallery program brings extraordinary connections to ordinary moments in our natural landscape. The Terrill Welch Gallery opened in August 2017. Since the…