A Brush with Life - Issue #90 The Dance I choose is Painting
Recently I read a quote that no one seems to know who wrote. It fits my current life view perfectly - "We can't always choose the music life plays for us but we can choose how we dance to it." There are always going to be events and circumstance that surprise, disappoint and send us scrambling to fi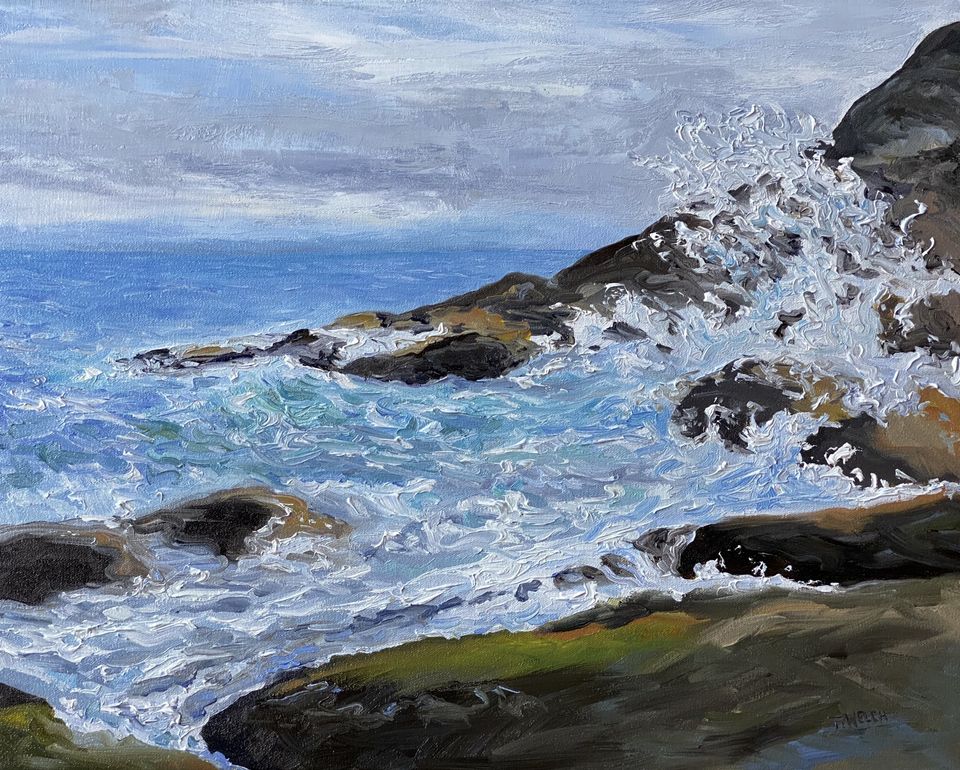 Recently I read a quote that no one seems to know who wrote. It fits my current life view perfectly - "We can't always choose the music life plays for us but we can choose how we dance to it." There are always going to be events and circumstance that surprise, disappoint and send us scrambling to find our balance again. This is just life. Uncertainty is a predictable circumstance. Our joy, freedom, personal power and love and belonging are strengthened most by how we dance rather than by the music that life chooses to plays for us. Painting has always been one of my best dance steps to whatever music life is playing. Our ability to reach out and engage other dance partners, to be quick on our feet as the tempo changes and to be creative in our moves is our super power. So dance! Dance with your full ability and your heart wide open! With toes tapping and the occasional spin across the studio floor, I shall paint in the same manner!
This issue will feature new works yet to be released, paintings that have recently sold and selected paintings from our current three shows.
---
New Paintings Yet to be Released
This first work is done but edges still need to be painted. It is a seascape is inspired from along the Strait of George shore at Edith Point on Mayne Island.
"Morning with an Unsettled Salish Sea" by Terrill Welch 16 x 20 inch walnut oil on canvas
Artist notes: Sometimes it is hard to tell what kind of day it is going to be. Sometimes it helps to stroll along the shore and watch the Salish Sea. Mostly, it is just being with the sea and letting things unfold as they must.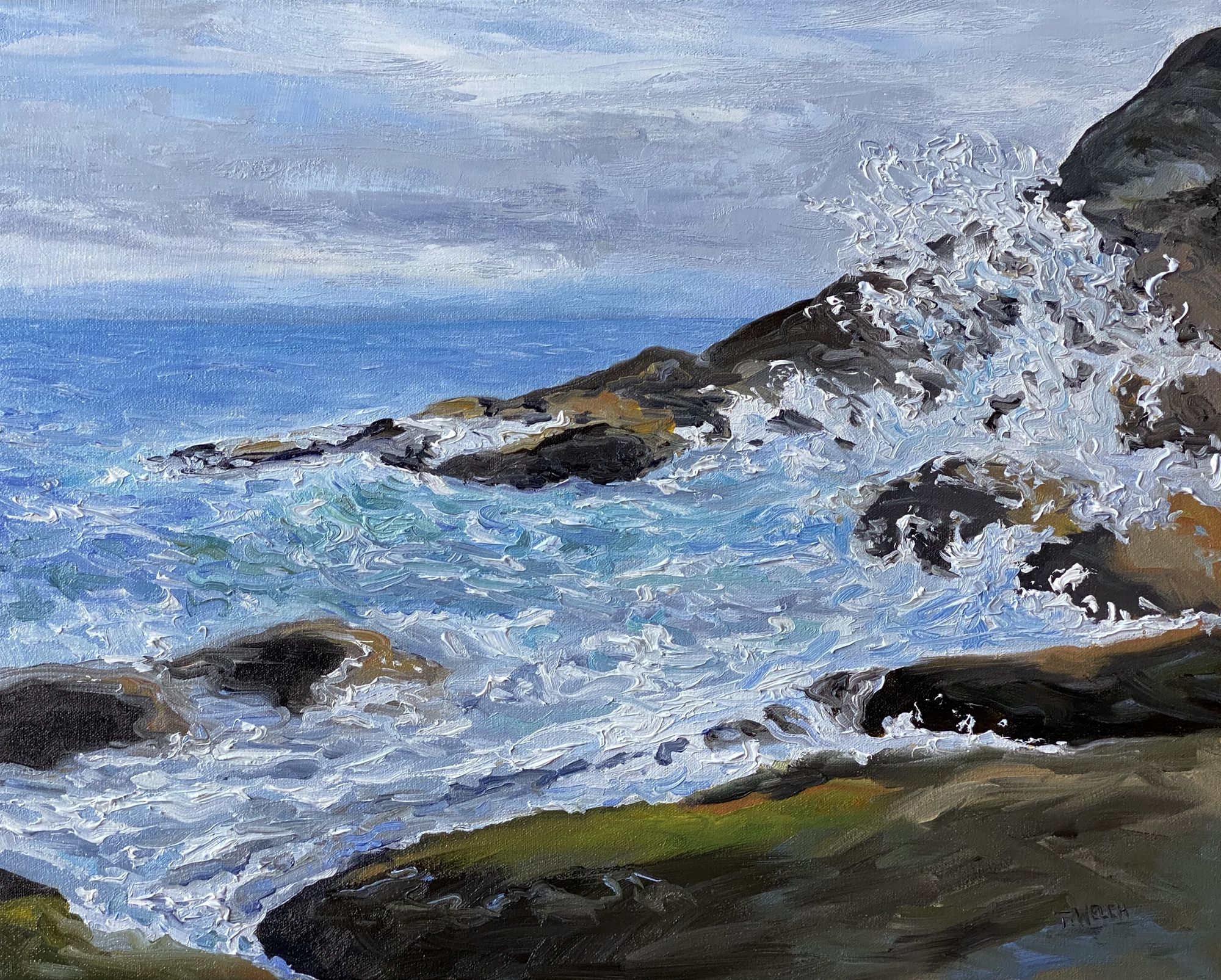 This second work is a little different subject matter for me and I enjoyed the challenge. It took me half a day and I already had the rough sketch on the linen board. For an 11 x 14 inch linen board, this is a long time, much longer than I would usually take. It is a unique work for me because of the heavy emphasis on complex non-organic structures. I took the reference this past summer from under the new Johnson Street Bridge and thought - I wonder if I will ever dare to paint it!? All those intersecting lines and curves framing the industrial shore along the Gorge waterway!  It is aggressive somehow with a masculine strength. Still, there is something compelling about the view and it is a perfect fit for an addition to my Red Line series. This was the day that the oil paint hit the linen board in a new way! And yes the red band is likely to stay at the bottom of the painting. It just feels right to me.
"Red Line 03" by Terrill Welch, 11 x 14 inch walnut oil on linen board.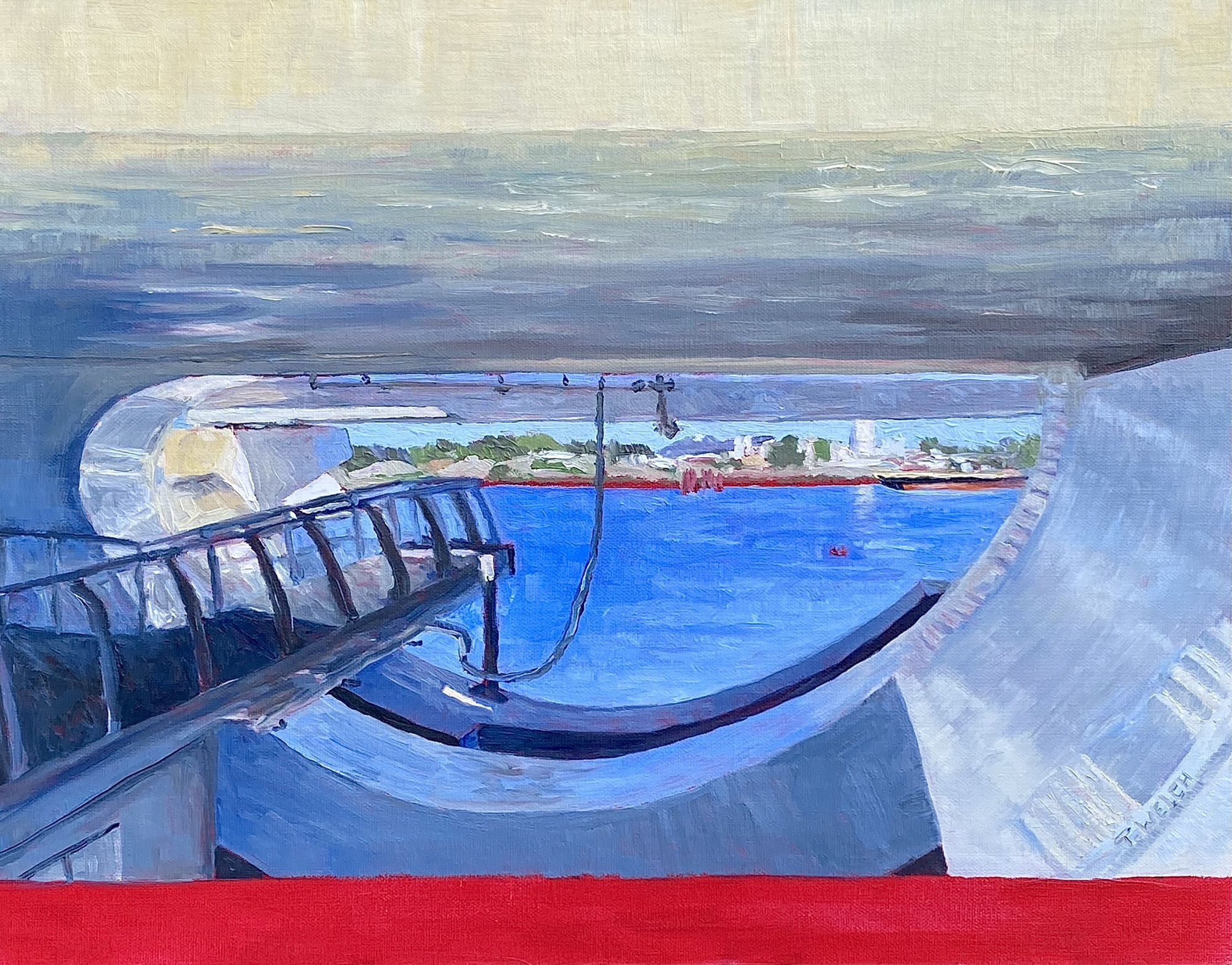 Artist notes: About 20 years ago I used to run across the old Johnson Street Bridge during my lunch breaks while working as a Provincial Director for Government. I left that job as part of a voluntary departure program later in the year. My fear with this decision was that I would become destitute and end up with a shopping cart and a down quilt sleeping under this bridge. This is not an uncommon fear when leaving a job with no prospects in sight and an even more common fear for women. So, while I was gathering the references for this painting, I couldn't help but think that I was farther than ever before from sleeping under this bridge and even the bridge itself has had a substantial upgrade.
This work has the smallest of nods, just a slight dropping of the chin with eye contact, to New York based landscape painter Rackstraw Downes who has been known to paint industrial areas from under bridges or overpasses. Rackstraw was born in 1939 in Kent, UK. He started off painting abstract work and then began these large ambitious plein air works that are now so appreciated. I may have never attempted this view from under the Bay Street Bridge without having spent some time studying his work.
What Has Sold
We have had several paintings find homes since the last issue. Here are the links to each of these paintings that will be treasured by their art collectors. We offer congratulations and an extra special thank you for their ongoing patronage!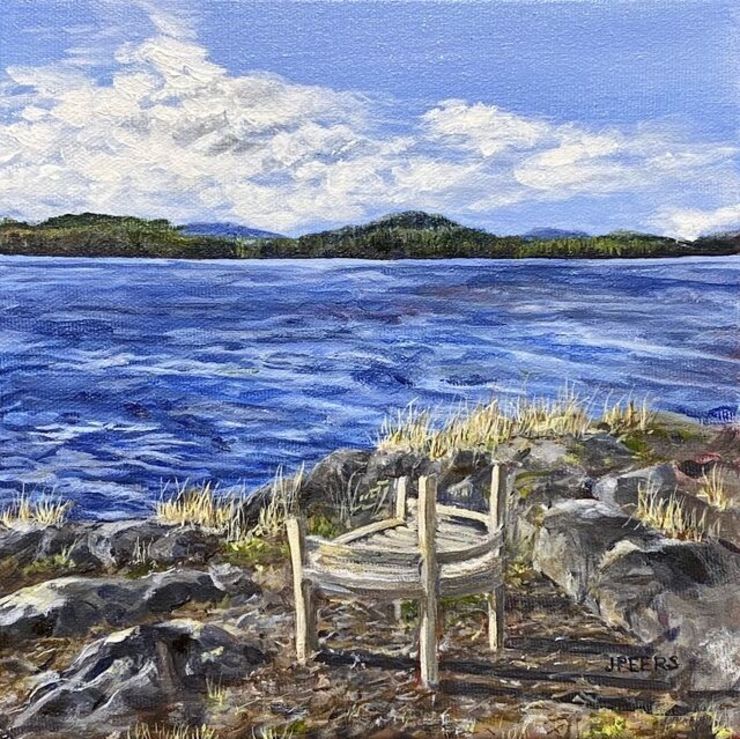 From Terrill Welch Gallery, Jennifer Peers, Last Chair at the Outlook (2021), Oil on canvas, 8 × 8 in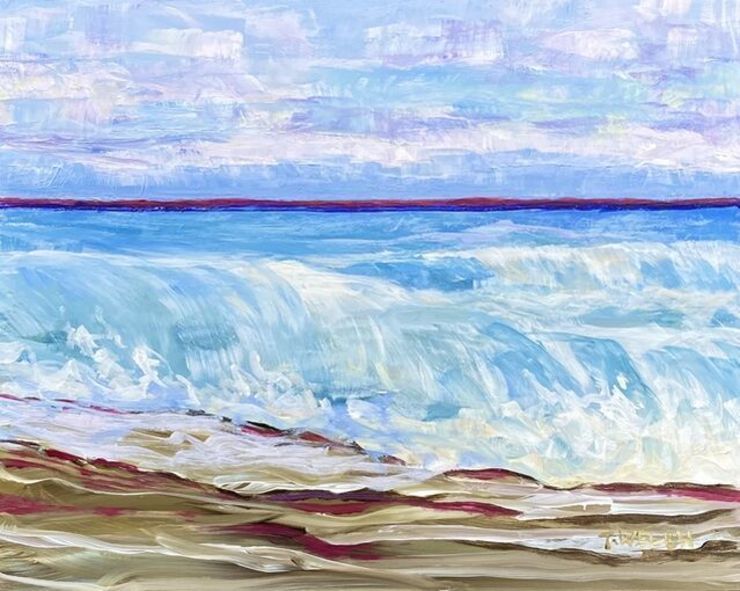 From Terrill Welch Gallery, Terrill Welch, Red Line 02 (2021), Acrylic on gessobord, 8 × 10 in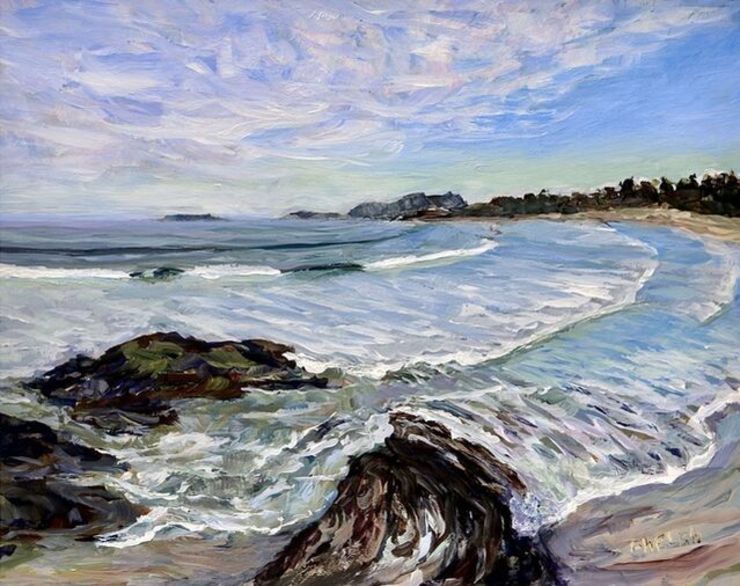 From Terrill Welch Gallery, Terrill Welch, Wickininnish Beach Study (2020), Acrylic on gessobord panel, 8 × 10 in
From Terrill Welch Gallery, Terrill Welch, Arbutus Entertaining A Grey Day (2020), Oil on canvas, 30 × 24 in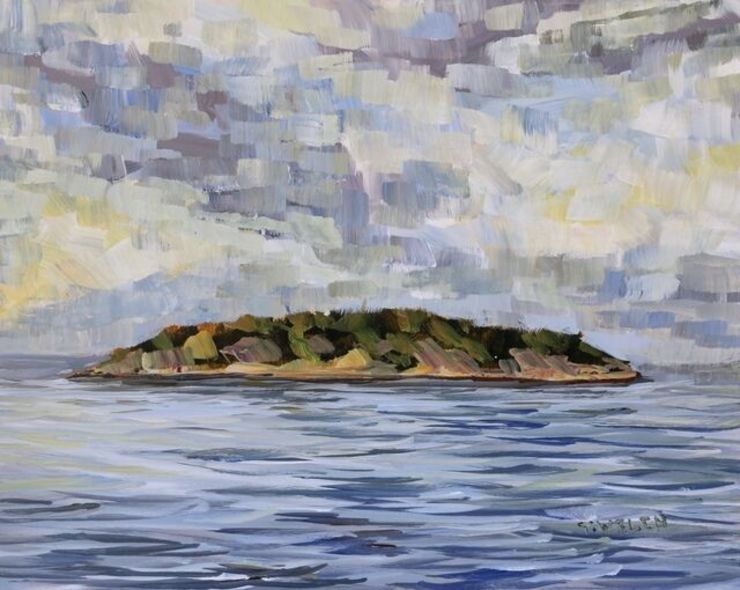 From Terrill Welch Gallery, Terrill Welch, Georgeson Island In Summer Evening Light (2018), Acrylic on gessobord, 8 × 10 in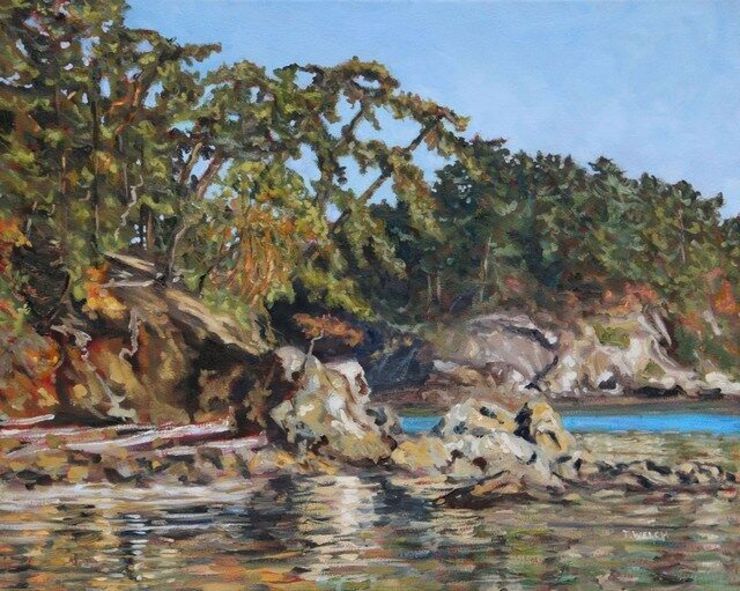 From Terrill Welch Gallery, Terrill Welch, Bennett Bay Afternoon (2020), Walnut oil on canvas, 16 × 20 in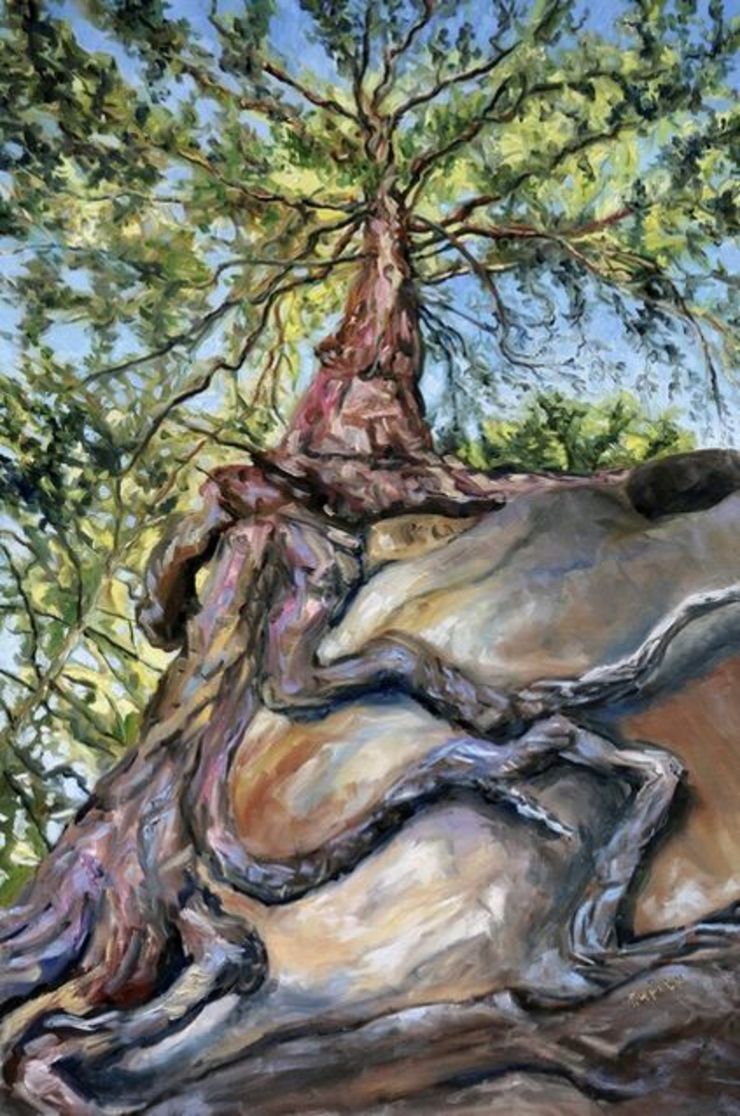 From Terrill Welch Gallery, Terrill Welch, Standing below the old fir at Tribune Bay (2019), Oil on canvas, 36 × 24 in
Psst! Just so you know, I have a private and "by invitation only" special email offer for just the "Terrill Welch original paintings" as a way to help fund a new gallery adventure in 2022. (Yes, this email offer is really from me and my email has not been hacked! Thanks to those that have checked though.) This opportunity only lasts until November 15, 2021. That is just over two weeks from now and this is the only time I will mention it here. I have been carefully and selectively sending out email invitations to a few serious fans and art collectors over the last couple of days. If you have not received your invitation yet, and you would like one, send me a note from this newsletter and I will fill you in. After all, if you receive and read each of these issues, you qualify as a serious fan, even if you may not yet be a collector of my work. Please note that this offer doesn't extend to any current works on hold or commissions that have already been discussed. As you can see, some paintings have already sold and others are being considered. The best choices are still available right now, today!
Featured Paintings From Three of our Shows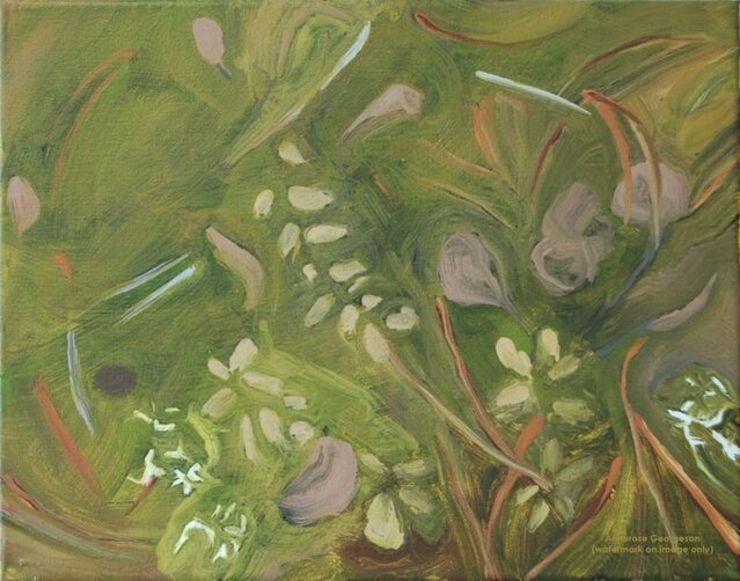 Available for sale from Terrill Welch Gallery, Annerose Georgeson, Forest floor 3  (2019), Acrylic on canvas, 11 × 14 in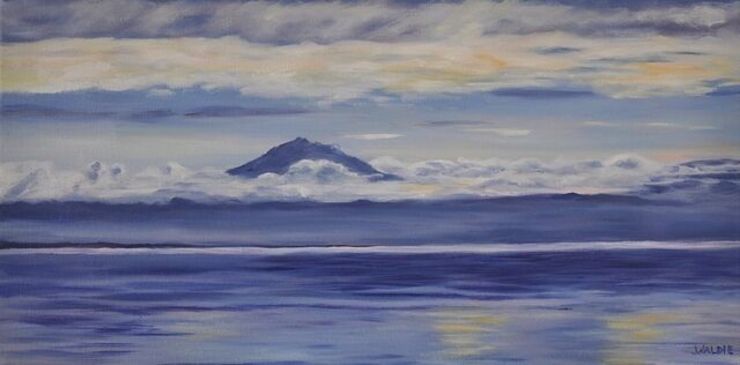 Available for sale from Terrill Welch Gallery, Jody Waldie, Baker Blues (2021), Oil on canvas, 12 × 24 in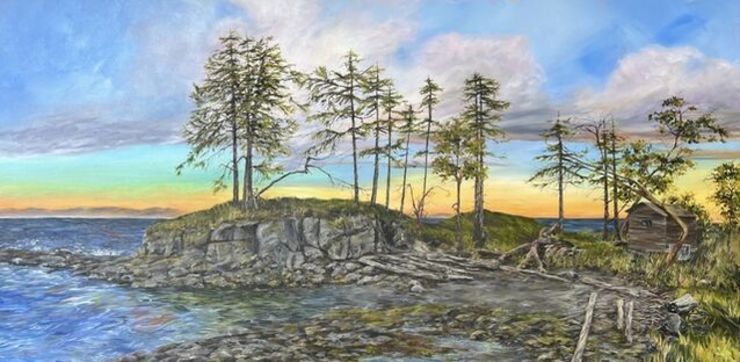 Available for sale from Terrill Welch Gallery, Jennifer Peers, Lingering Colours after Sunrise (2021), Oil on canvas, 24 × 48 in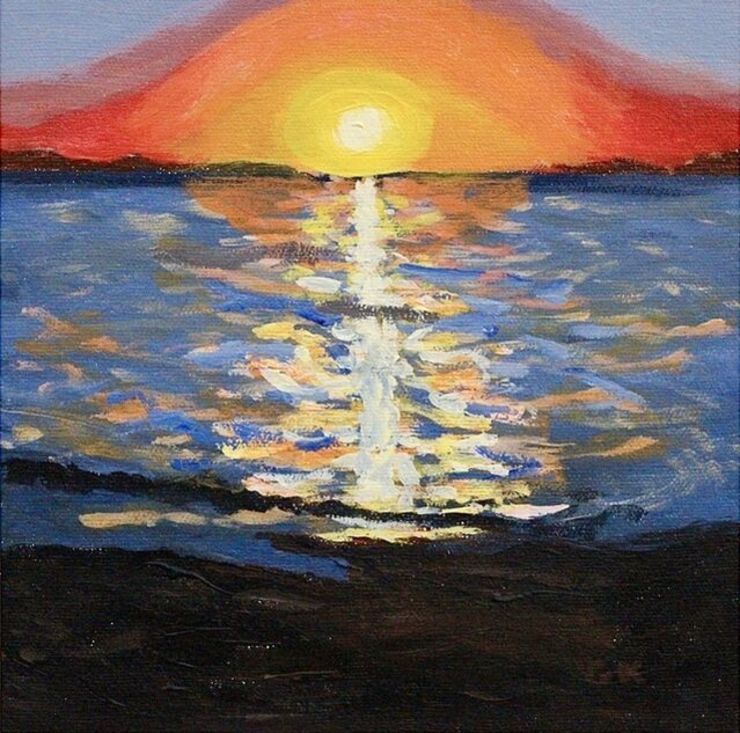 Available for sale from Terrill Welch Gallery, Glenda King, Sweet Rising (2021), Acrylic on canvas, 8 × 8 in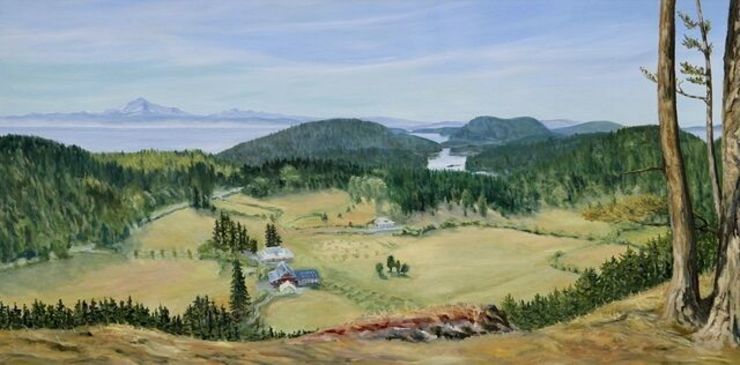 Available for sale from Terrill Welch Gallery, Terrill Welch, Glenwood Farm Lookout (2021), Walnut oil on canvas, 36 × 72 in
And the final selection is….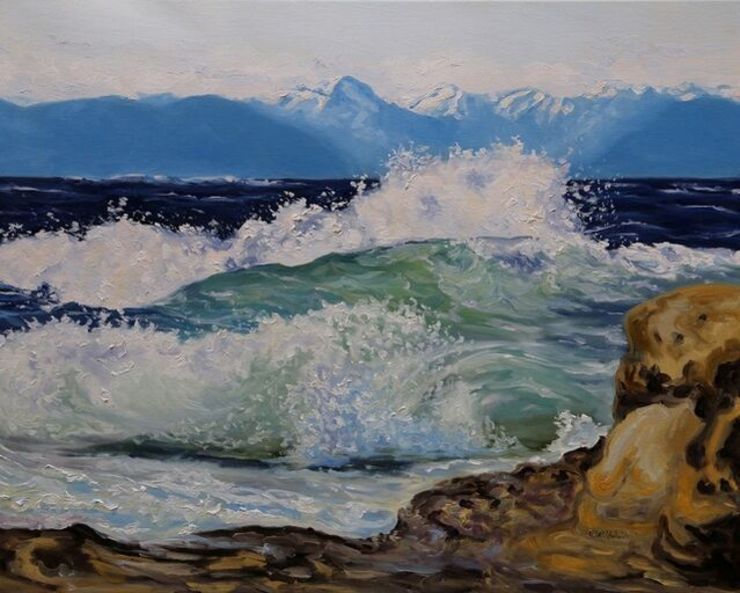 Available for sale from Terrill Welch Gallery, Terrill Welch, Wild Seas (2021), Oil on canvas, 24 × 30 in
Speaking of Wild Seas
We did have a good winter storm come through our area but the worst of it stayed thankfully stayed out at sea. We only lost power for about four hours which was very good all things considered. However, I went out and took some fall photographs before the leaves blew off the trees and few images down by the sea after the wind warning was removed. I thought you might enjoy this Mayne Island meandering with me…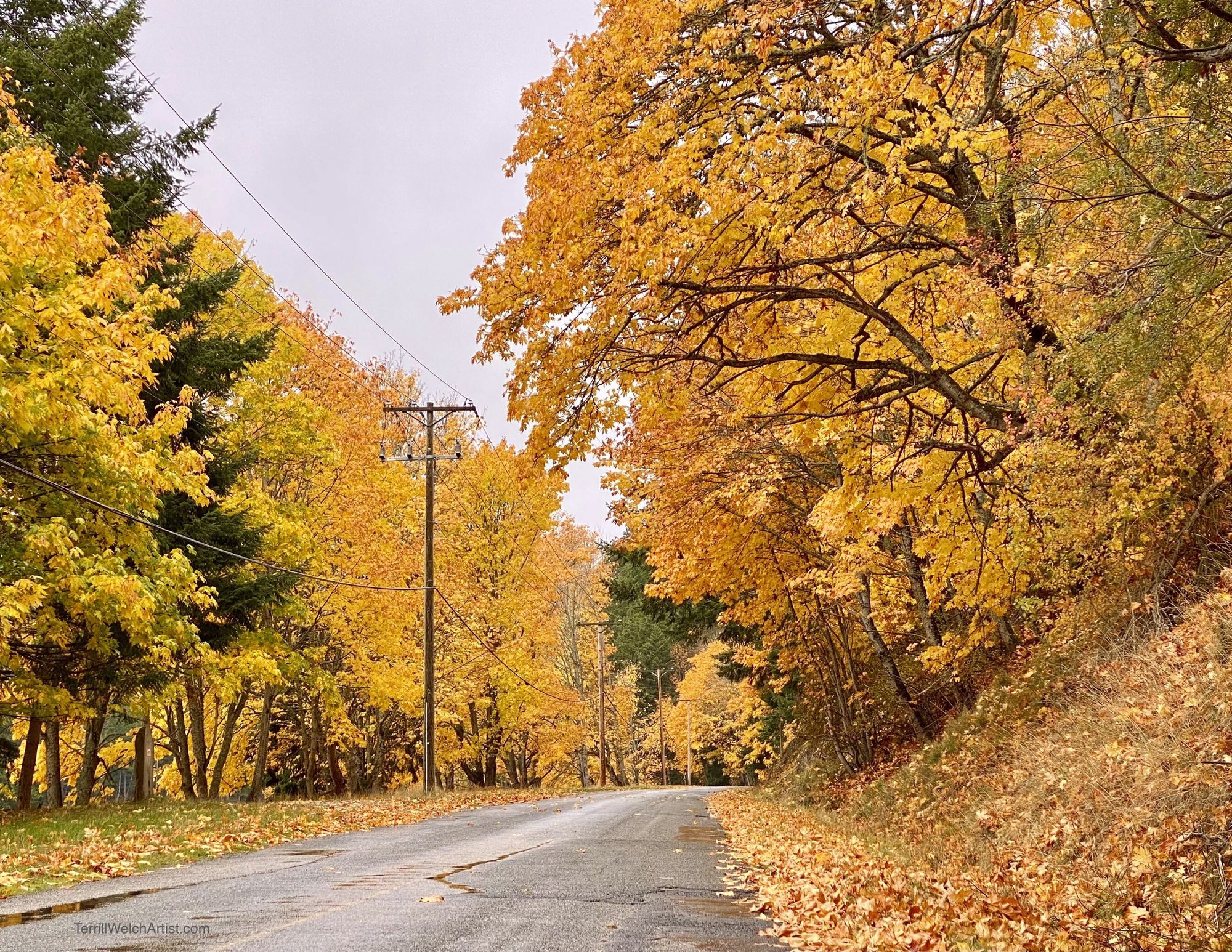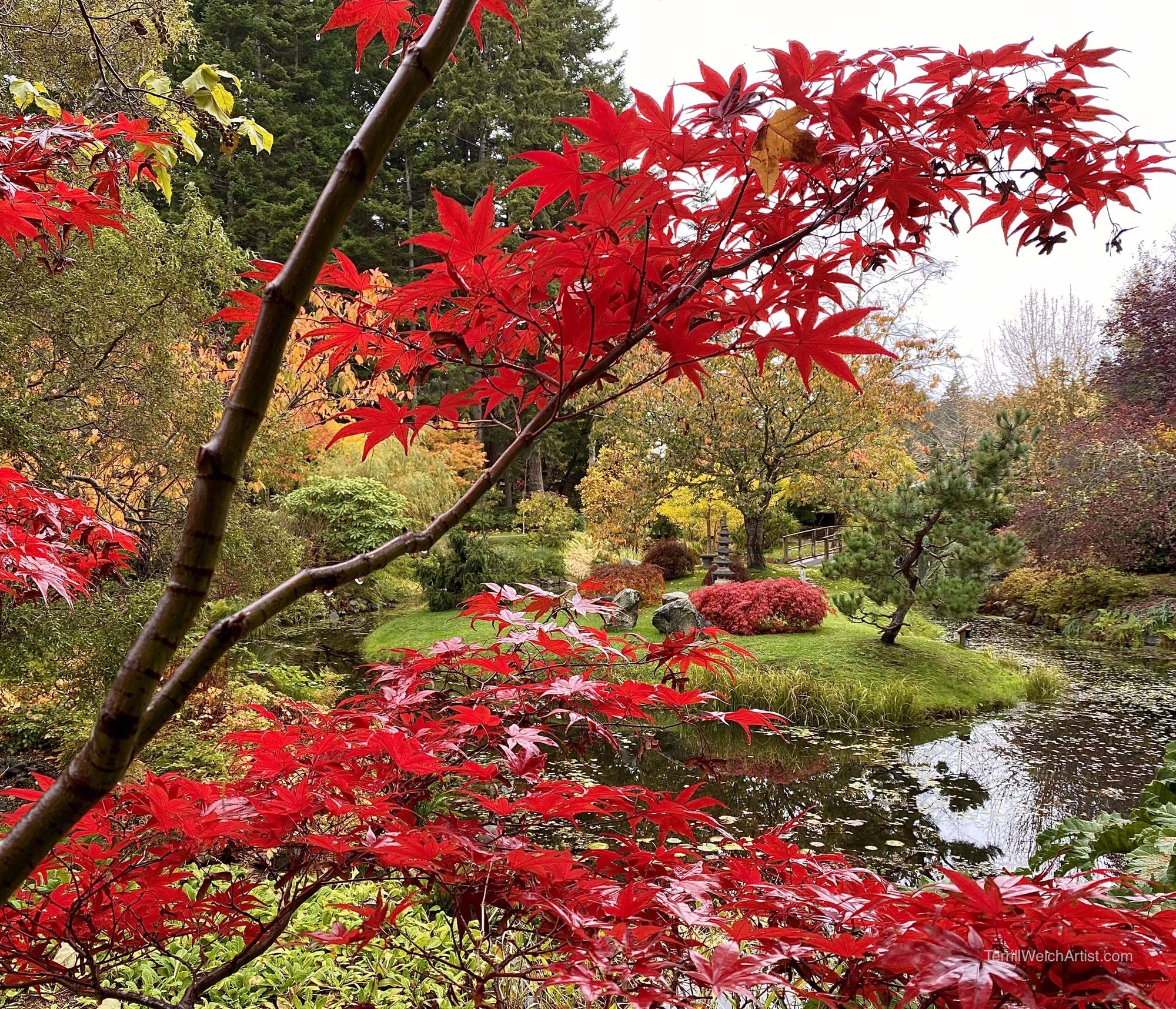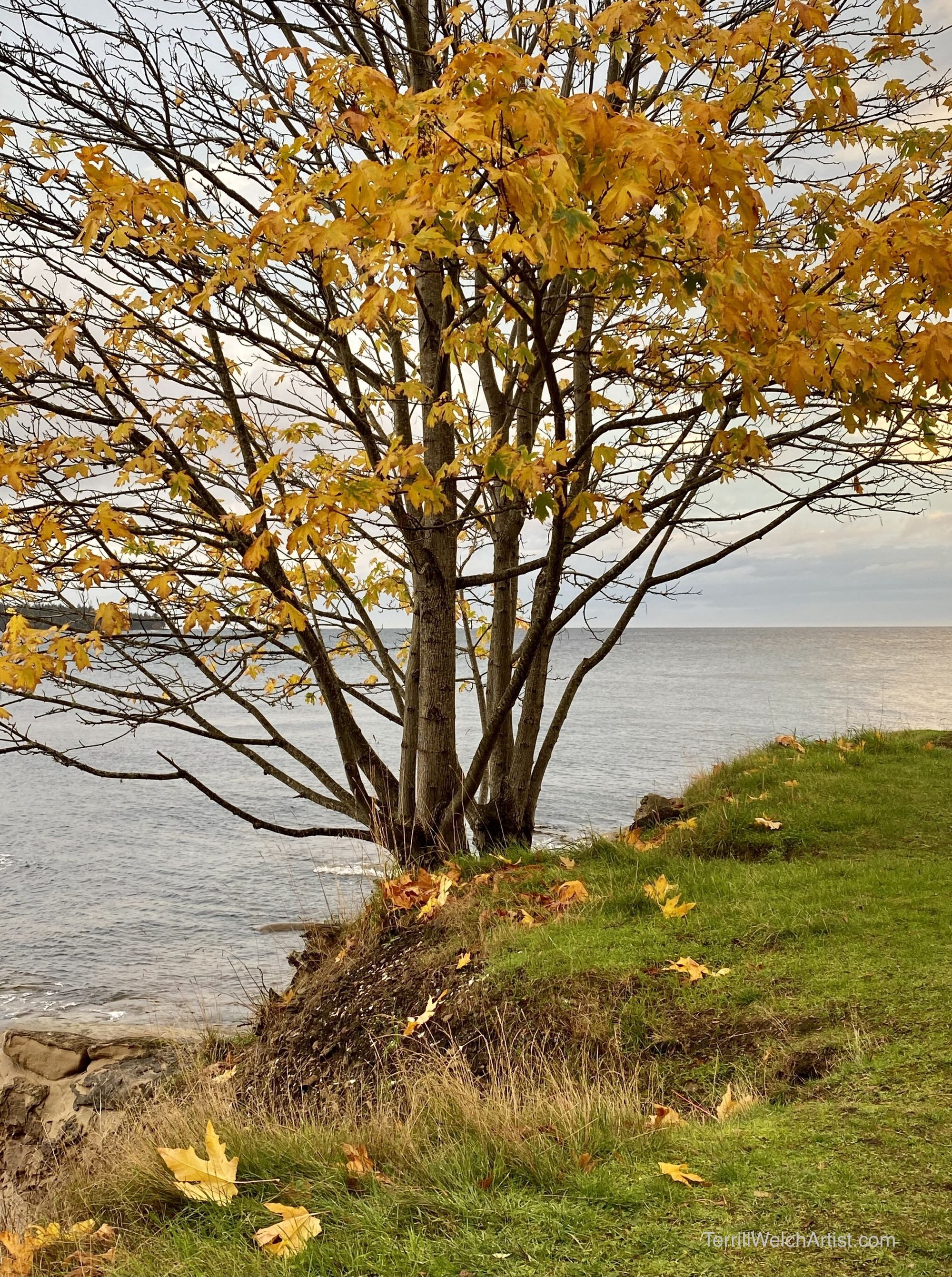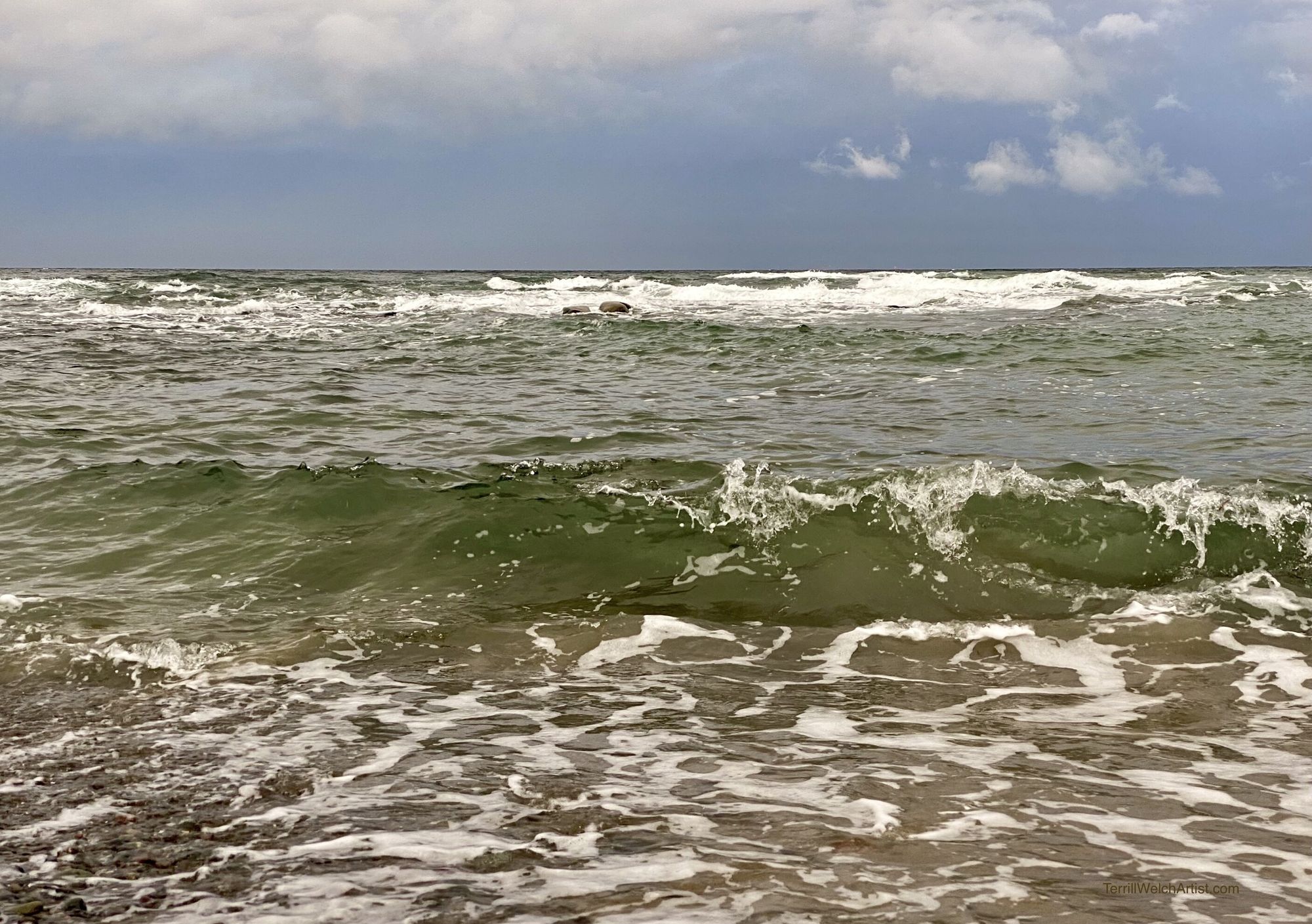 Online Exclusive Show Closing on Halloween!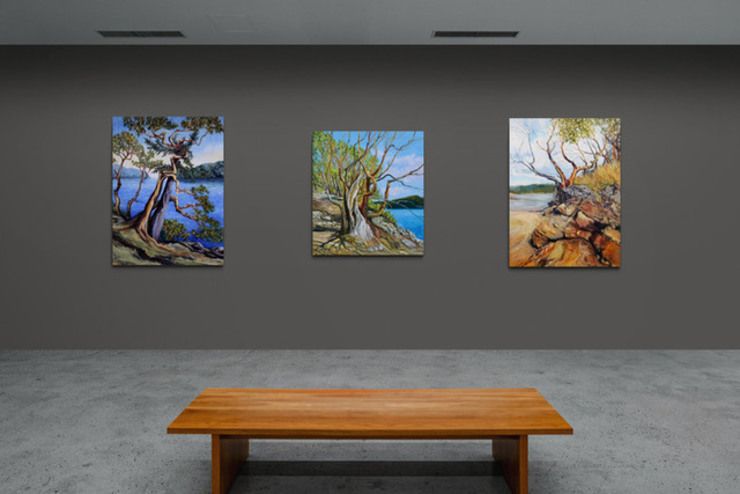 Twisting its curves around our hearts and imagination, the Arbutus trees on Terrill Welch's canvases reach for the light as if all things are possible.
Until Next Time!
I think this about wraps things up for this issue. Wishing you all the best on your dance steps no matter what music life is playing. There are magical moments everywhere - always! We just need to be brave enough to look. Take good care and a last reminder to inquire about the "by invitation only" special offer for my paintings if you haven't received yours yet and are interested.
Warm regards,
Terrill 👩‍🎨🎨❤️
Our gallery program brings extraordinary connections to ordinary moments in our natural landscape. The Terrill Welch Gallery opened in August 2017. Since the…