A Brush with Life - Issue #91 It's Okay to Ask Sometimes
Recently, we were informed of coming changes to the short-term arrangement and long-term use of our commercial gallery space. The bottom line is that the gallery tenancy will end October 31, 2022.This situation is nothing new for small businesses in rental spaces. It is the nature of the insecurity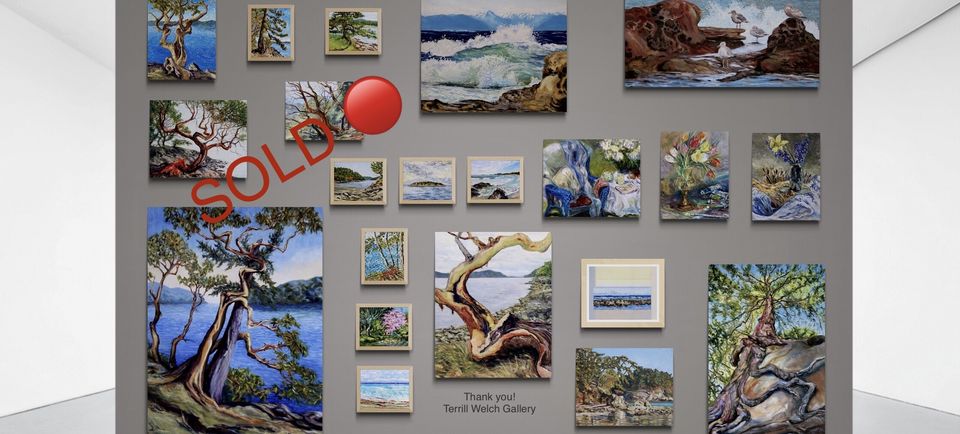 Recently, we were informed of coming changes to the short-term arrangement and long-term use of our commercial gallery space. The bottom line is that the gallery tenancy will end October 31, 2022.
This situation is nothing new for small businesses in rental spaces. It is the nature of the insecurity of our situation. I was reading just last week about eight artists who lost their studio space in Longueuil, Quebec when the city sold the property to a developer. This is something that has happened to small and large galleries all over North America and elsewhere as property values and rents increased and sometimes usage changed. But not being the only ones who have faced similar circumstances seldom makes it easier. We have always been aware of the risks for our carefully renovated gallery rooms that are located in an heritage house right in the centre of the tiny commercial hub of our small island. Still, one hopes against hope - until it happens. When the unthinkable does happen, then it is important to take a deep breath and come up with a workable, if not ideal, solution. And I found an excellent and creative option! We can have a small portable container gallery pod at our home property. It will work extremely well since most viewing and purchase requests are made from online. And the gallery pod is eco-friendly, long lasting and adorable!
Next, I needed to come up with a compelling offer for my art collectors and serious fans… and then ask. Yes ask! Like, for help. Gulp! That kind of ask.
The timelines were tight to get in on the next building cycle to be able to receive the gallery pod by May of 2022. I quickly drafted a letter for my special "Terrill Welch Originals" offer that included a high level background and a little about my creative solution. Then, I sat my bum in a chair and sent an individual, personalized email to 50 of my existing art collectors and serious fans. I found it extremely difficult to send each letters. Ten letters each day was all I could manage. But I got it done!
The results have exceeded all of my expectations! Each day, with each group of letters, more paintings sold. In just five days, 19 works had found new homes plus 4 more were commissioned. And the purchase requests keep coming in. I was blown completely sideways as if a Pineapple Express weather event had swung the doors to my idea wide open! In just five days, I had reached my bottom threshold to go ahead and work out the details and confirm my order for the new gallery pod. Now how cool is that!?
Never be afraid to ask when you are committed to a vision. The answer back from the universe might just be one big YES!
---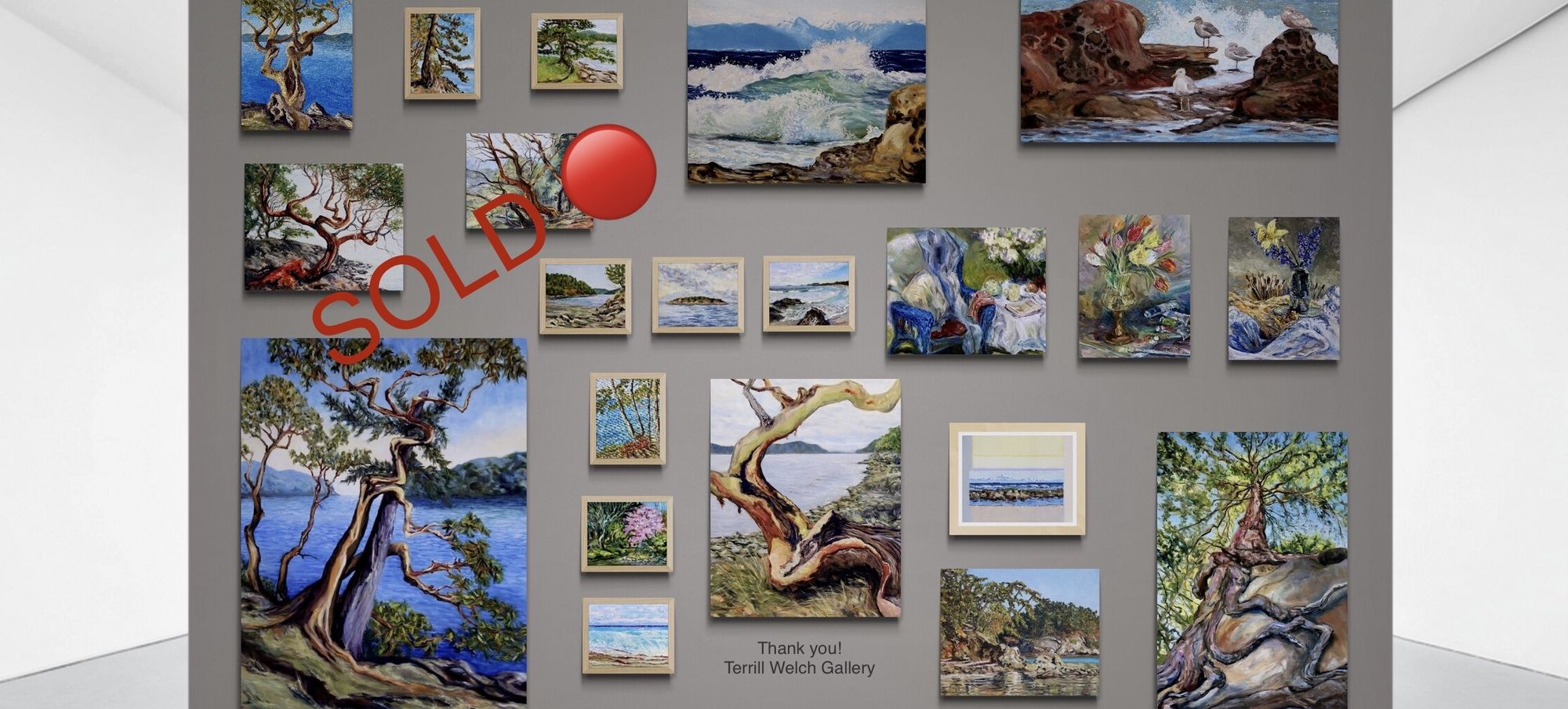 Thank you to each and everyone of you who participated in this special "by invitation only" private offer. Your ongoing patronage and support for this next gallery adventure is deeply appreciated.
P.S. if you feel you should have received a special "by invitation only" email letter and didn't, let me know. I did my best to reach out to everyone who has seriously followed my work for years, purchased several paintings in the past and those who share my paintings often with friends and family and on Social Media. If I missed you somehow and you would like to participate, do reach out. The deadline for this special offer is midnight PDT Monday, November 15, 2021.
Before we have a look at what has sold, let's take a good long gander at some inspiring paintings by the other artists whose work is represented by the gallery. Would this be a good idea?
Curator's November 2021 Selection
As a gallery owner and curator of the artists work we represent, I have the opportunity to spend extend time with various paintings and chat behind the sense with each painter. This is such a privilege and something I never take for granted. These exchanges not only help me to share their paintings with you but it also enriches my own life. Even with the changes ahead, I am confident that we will find ways to continue to bring you some unique and amazing landscape paintings by these outstanding painters that I have the honour to share with you.
ANNEROSE GEORGESON
If I have a favourite in Annerose Georgeson's new Forest Floor series it might be this one of "Leaf miner." Annerose is a skilled mark maker and has a unique way of capturing the history of her observations that often starts with drawing from life. When this is combined with her excellent understanding of colour, the results are exquisite!
When I look at this painting, I can hear Annerose's strong, yet soft, rounded voice sharing with us what she sees and feels and what is important to her…… that then becomes important to us.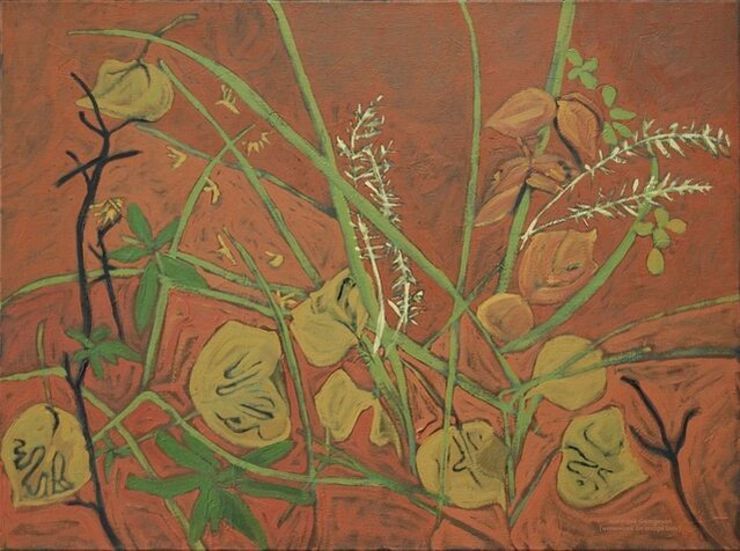 Available for sale from Terrill Welch Gallery, Annerose Georgeson, Leaf miner (2019), Oil on canvas, 18 × 24 in
JODY WALDIE
As we move up from the forest floor, we might notice what the keen eye of Jody Waldie has so gracefully captured on her west coast forest walk. This large painting is currently hanging in the gallery's Arbutus Room and really is worth the effort to see in person. For anyone with the wall space to add this work to their landscape art collection, it is a true gem! Jody is a dedicated and life long learner who continually builds and strengthens her work with specific objectives. When she says "I want to learn how the light comes through the trees" we can see in this work that she has taken that task seriously. Her results not only render something beautiful but also give us something that we may not have noticed on our own. Jody is a painter to watch, add to your following and even better yet, start collecting.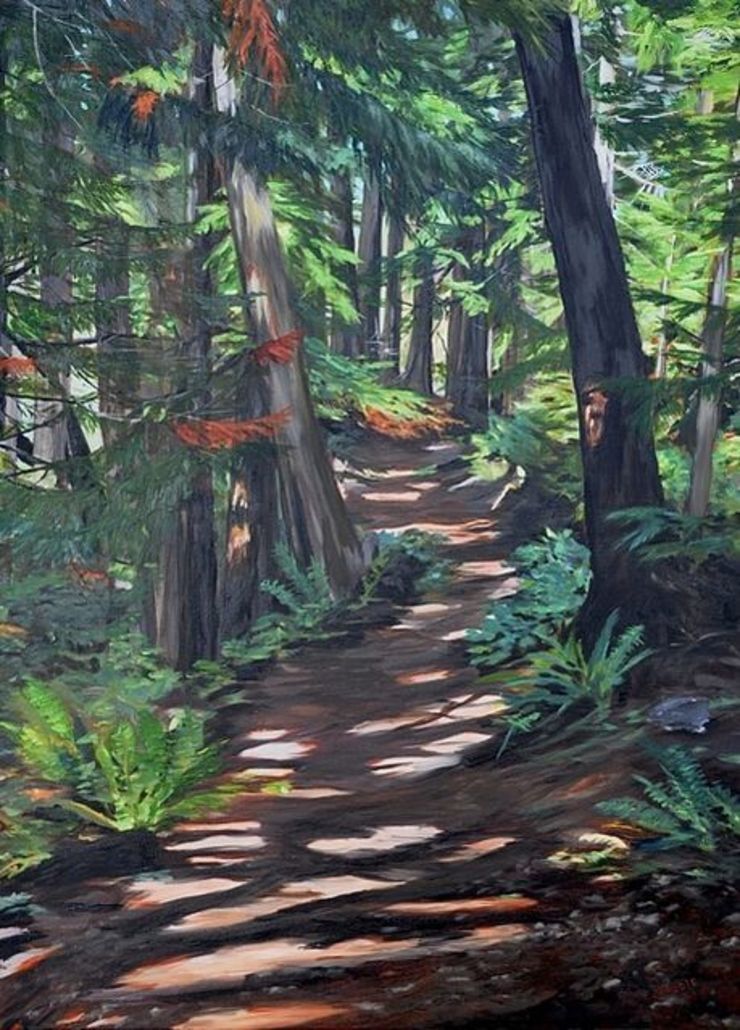 Available for sale from Terrill Welch Gallery, Jody Waldie, Follow the Light (2021), Oil on canvas, 48 × 36 in
JENNIFER PEERS
This next painting by Jennifer Peers is also currently showing in gallery's Arbutus Room. Jennifer always notices more than average human being! To go along with this is her endless patience to dig into the details of her chosen subject to give us a sense of place that is more familiar to us than our own experiences. There is a quiet determination in Jennifer's paintings that expresses a kind of single-mindedness that is not immediately prescriptive in her initial invitation to join her on the canvas in a particular view. Over the past two years of showing Jennifer's work we have found homes for several paintings and hope to continue to do this for a long time to come as her painting practice evolves and new themes and approaches emerge.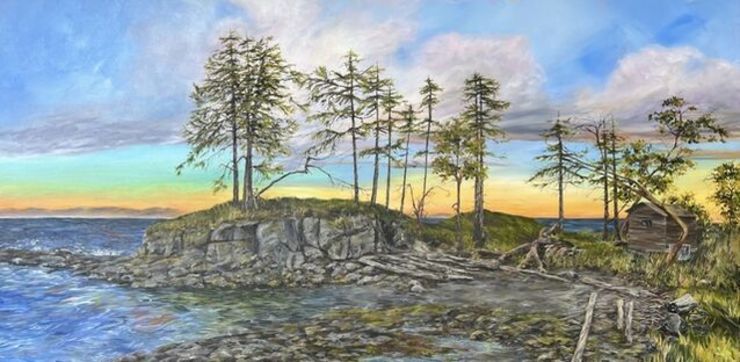 Available for sale from Terrill Welch Gallery, Jennifer Peers, Lingering Colours after Sunrise (2021), Oil on canvas, 24 × 48 in
GLENDA KING
The physicalness of the landscape and of paint combine in a powerful way on Glenda King's canvases and no-more-so than in her recent "The People's Log" painting. Glenda has a recognizable contemporary painting style. Her composition and design are strong and balanced with an ability to reveal the more solid underlying colour harmonies that we may not notice on our own. Glenda is brave on her canvases and not afraid to leave her large expressive brush marks raw and naked on the canvas. If you do not have one of her paintings in your art collection yet, I highly recommend this one that comes with an entertaining story about the log.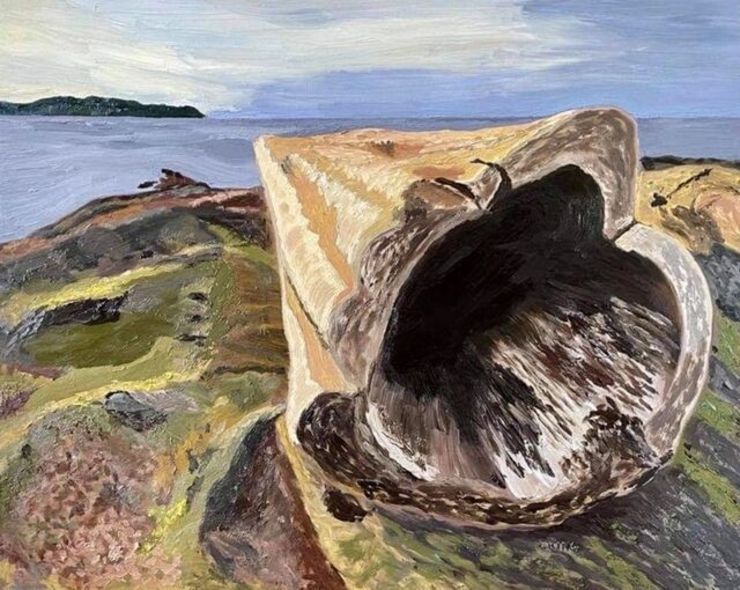 Available for sale from Terrill Welch Gallery, Glenda King, The People's Log (2021), Oil on canvas, 24 × 30 in
ELENA MASLOVA-LEVIN
For our final painting in this November curated selection, I have chosen this landscape self portrait by Elena Maslova-Levin. We have other more traditional landscape paintings by Elena represented in our online gallery but this painting is a excellent example of the breadth of her painting and life practice. Born in Russia and first educated and working as a linguist, Elena often brings together her inner and outer observation through snatches of poetry or whole Shakespeare sonnets. She is no stranger to philosophy and science and these influences come readily into her painting practice. I have the good fortune to have several of her works in my own private collection and can tell you from this experience that each time you look at one of her paintings you learn, not only more about the painting and the painter, but also more about yourself. What more can we ask of a work of art than this!?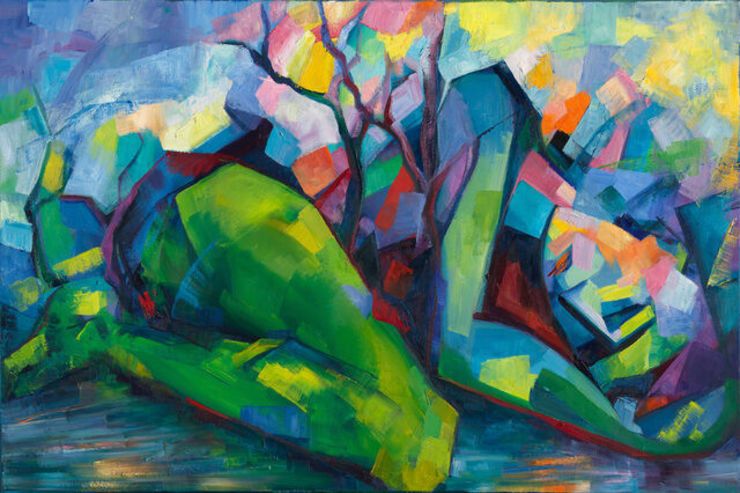 Available for sale from Terrill Welch Gallery, Elena Maslova-Levin, Gaia (Self) Portrait (Coyote Hills) (2016), Oil on canvas, 24 × 36 in
What Has Sold
This is the most challenging section to share with you in the history of this newsletter. I did manage to get a few of the newly sold works in the last issue but we have a LOT more sold works to share now. I have been trying to think of a creative way to manage this news so that it doesn't feel so much like our current section of sold houses in the real estate listings. The best way I could come up with are gallery collages of the sold paintings, rather than individual images and links. Please stay with me as I do my best to group the first of these sold paintings together on one wall.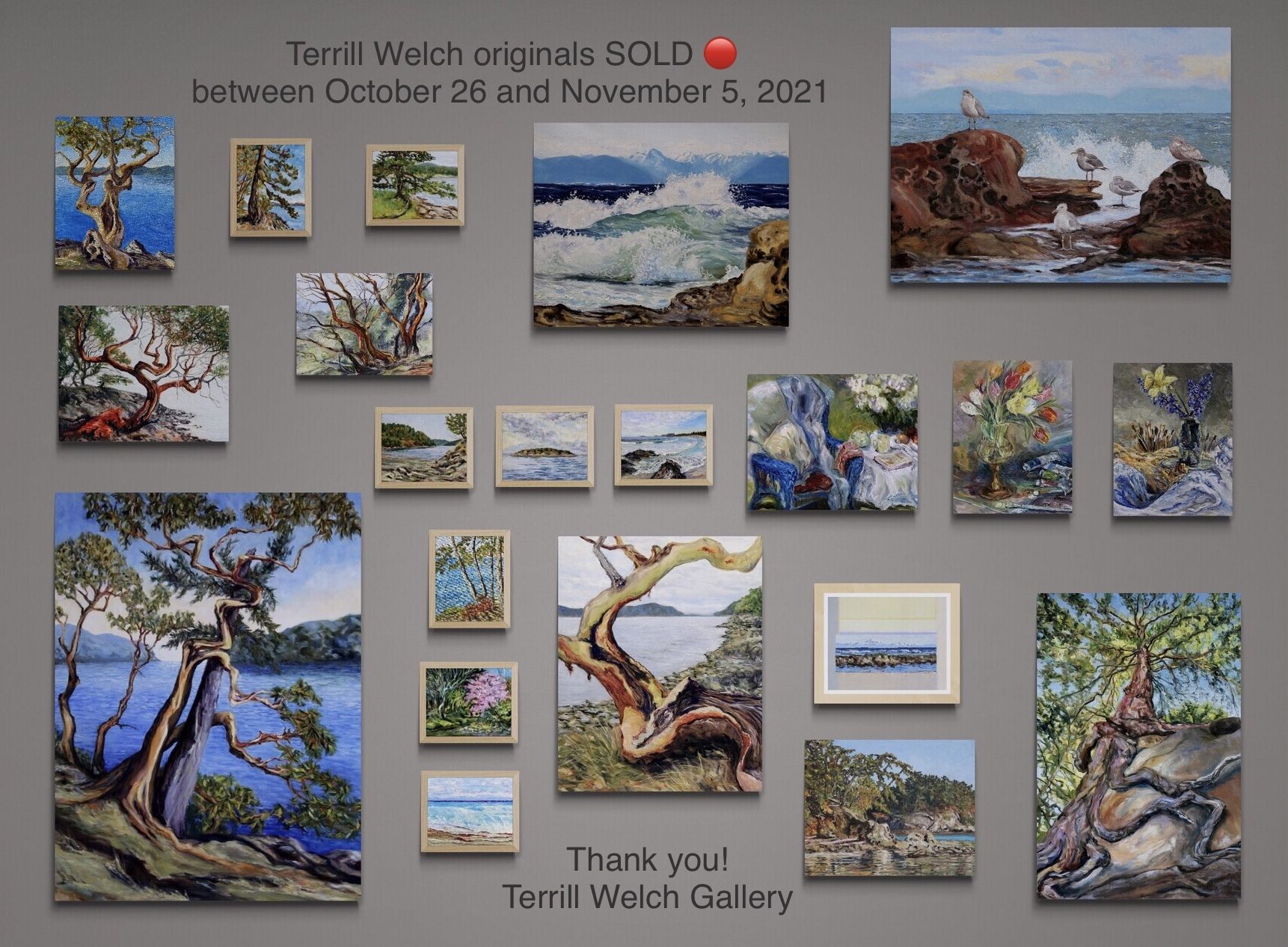 Unfortunately (or is it fortunately?) they do not all fit! I will include the rest in our next issue.
Until Next Time
With the short days of winter in the northern hemisphere upon us, it definitely feels like time to cozy in and enjoy the soft light that this time of year offers. I am looking forward to some family time next week with one of the young grandsons having just had a birthday. May your days be filled with art, unconditional love and a sense of gratitude and mystery for all the things you are yet to discover and learn.
All the best as always,
Terrill :) 👩‍🎨🎨❤️
Our gallery program brings extraordinary connections to ordinary moments in our natural landscape. The Terrill Welch Gallery opened in August 2017. Since the…