A Brush with Life - Issue #92 Mudslides Floods and More Rain Coming
The next evening after publishing of our last issue, we left for Duncan on Vancouver Island. The rain was heavy going up over the Malahat and visibility poor in the dark. But the traffic was cautious and driving suitable to the road conditions. We arrived at our BnB without incident. The following f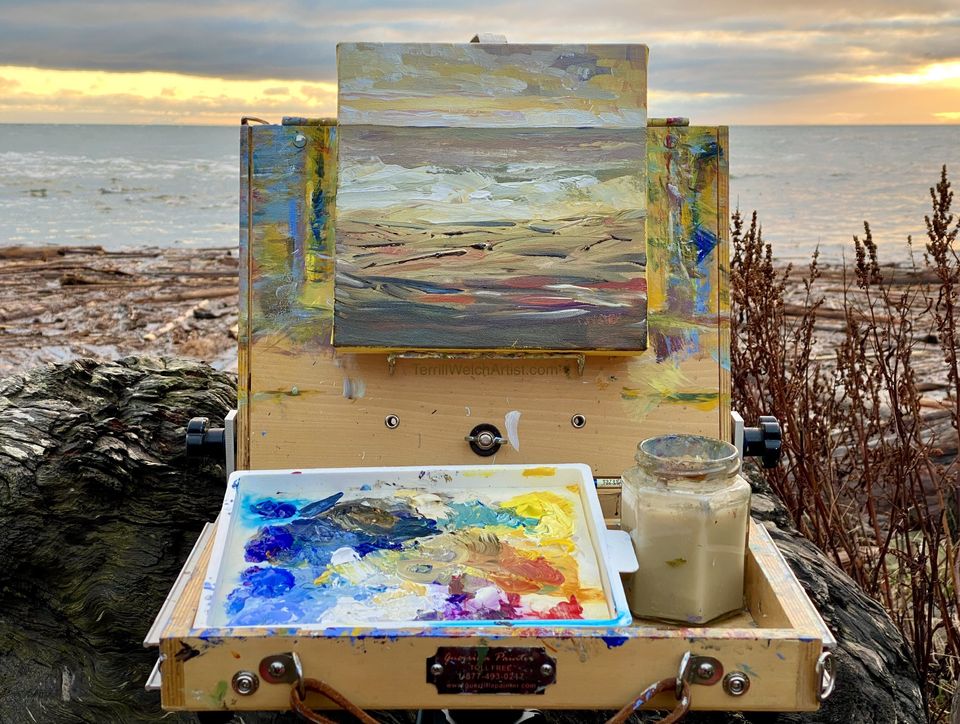 The next evening after publishing of our last issue, we left for Duncan on Vancouver Island. The rain was heavy going up over the Malahat and visibility poor in the dark. But the traffic was cautious and driving suitable to the road conditions. We arrived at our BnB without incident. The following few days of heavy rain did not go as well for Southern British Columbia with all the main highways and roads in and out of Vancouver closed due to mudslides and flooding. The Malahat highway was also closed because of a washout. We hunkered down, visited with children and grandchildren, while we waited for things to clear enough to enjoy a long hike. A friend checked on our Mayne Island home and we knew it was also safe from flooding and everything was in good shape. Not everyone was as lucky and the devastation was extensive, taking both animal and human lives. We are physically not experiencing any hardships at this time. We have always had a practice of keeping around a months worth of non perishable food supplies along with what is in the fridge and freezer. We also tend to refill our vehicle when it is only half empty and we have very low gas needs because we do not need to commute long distances for work. Therefore, we were able to avoid any long grocery store and gas station panic buying lineups that resulted in a 30 litre per fill gas Provincial restriction order until December 1st. So far, life here on Mayne Island is not showing too much impact and alternative delivery routes are being accessed and roads begin to open up. Hopefully, it just might stay this way. On Mayne Island, were basements that flooded, banks that slide into the sea, gardens that washed away, septics that stopped working and roads that were temporarily flooded. Overall though, the damage was minimal compared to other areas of the Province. This next "parade" of three "atmospheric river" due during the coming weeks may result in a different kind of story by our next issue. The heavy rains are arriving onto already saturated soil. We are prepared as best that we can be and will just have to wait and see.
Two of my recent paintings capture some of the intensity of these past couple of weeks. We shall start there and see where this takes us….
---
Painting My Way Through Adversity
When faced with adversity I most often paint. Paintings are good to express things when it is harder to find words. We arrived back on Mayne Island the Thursday evening of November 18th. I put a yellow acrylic ground in a 8 x 8 inch square canvas in a lamp lit studio so it would be well dried for the next day. Waking just before daylight, I finished packing my plein air backpack.
Plein air mornings at Reef Bay for sunrise are the best! The sun is rising way off on the right in the southeast right now and the light bounces right across the Strait of Georgia. Plus, it is not so early to catch it. I am there shortly after 7:00 and all set up to paint by 7:20. Sunrise is at 7:29 am PDT. This was taken at 7:55 am. A painter has to be fast if they want to render a plein air sunrise. 😉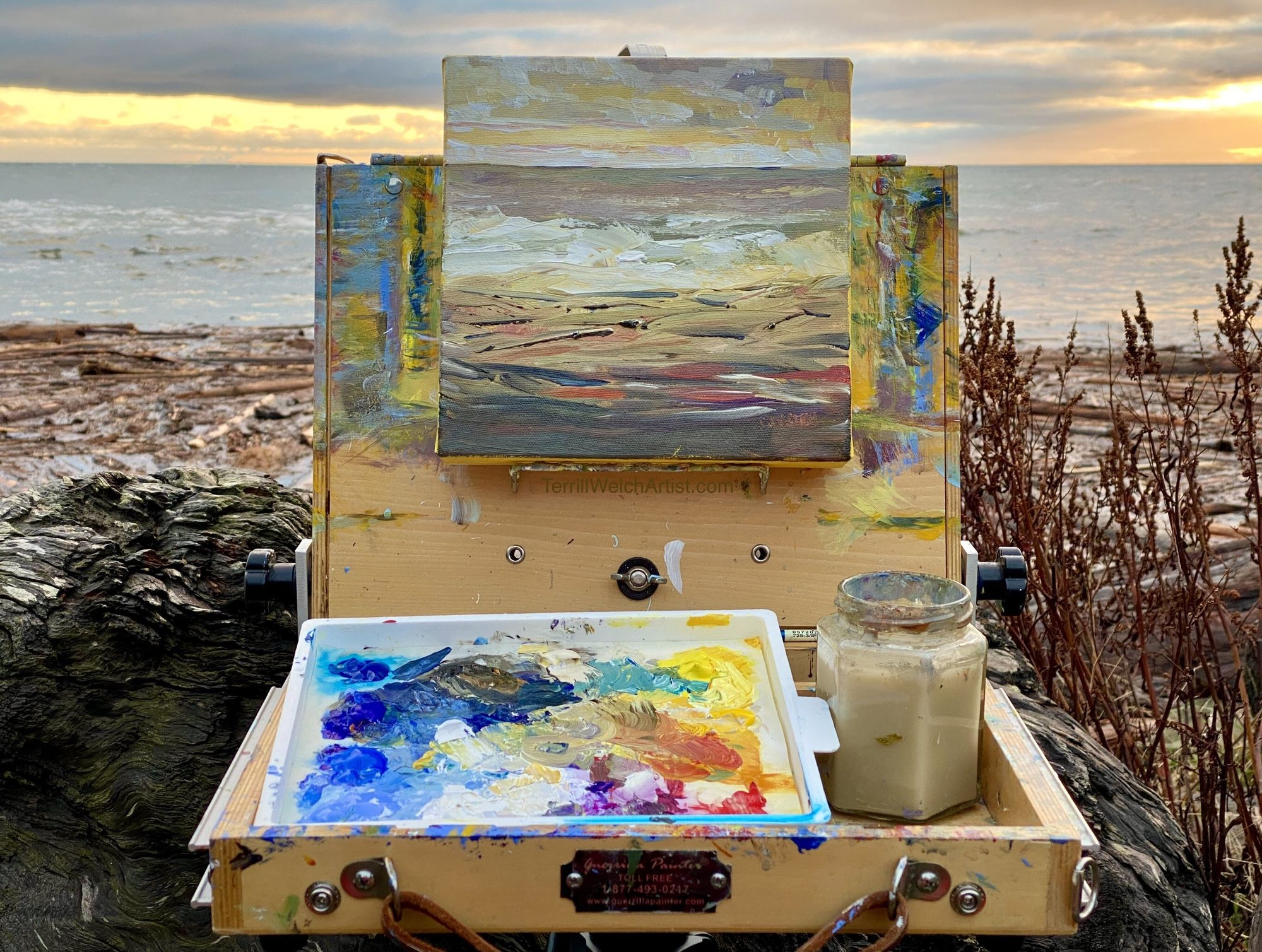 It is bit nippy for standing around painting with a slight breeze and only 4 degrees Celsius so we made it quick. A friend makes these amazing fingerless gloves that I use when plein air painting during our west coast winters. They work extremely well for keeping my fingers flexible in the cold.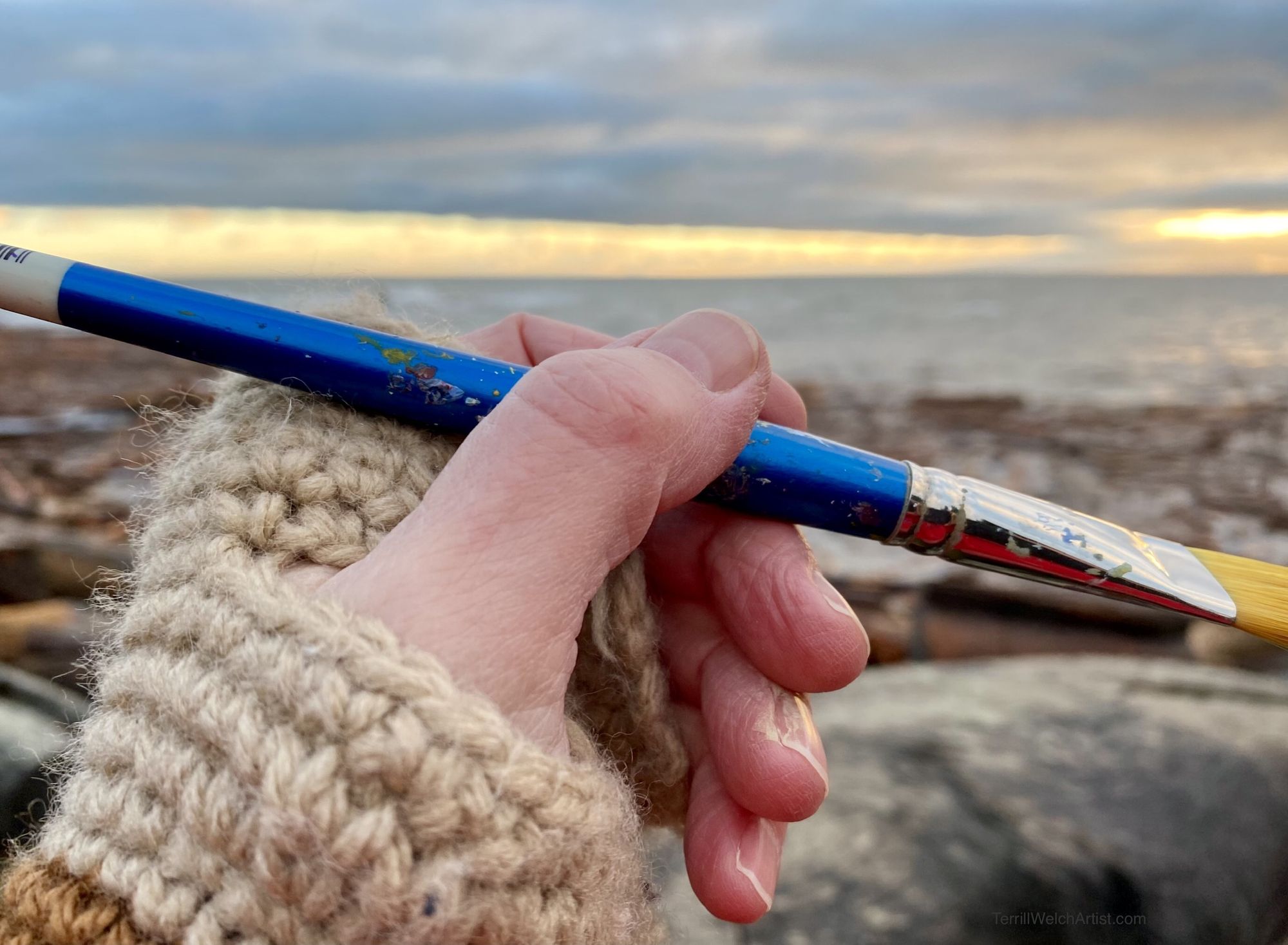 And, not yet released, here we have "Reef Bay November Sunrise" by Terrill Welch 8 x 8 inch plein air acrylic on canvas painting sketch with 1.5 inch edges.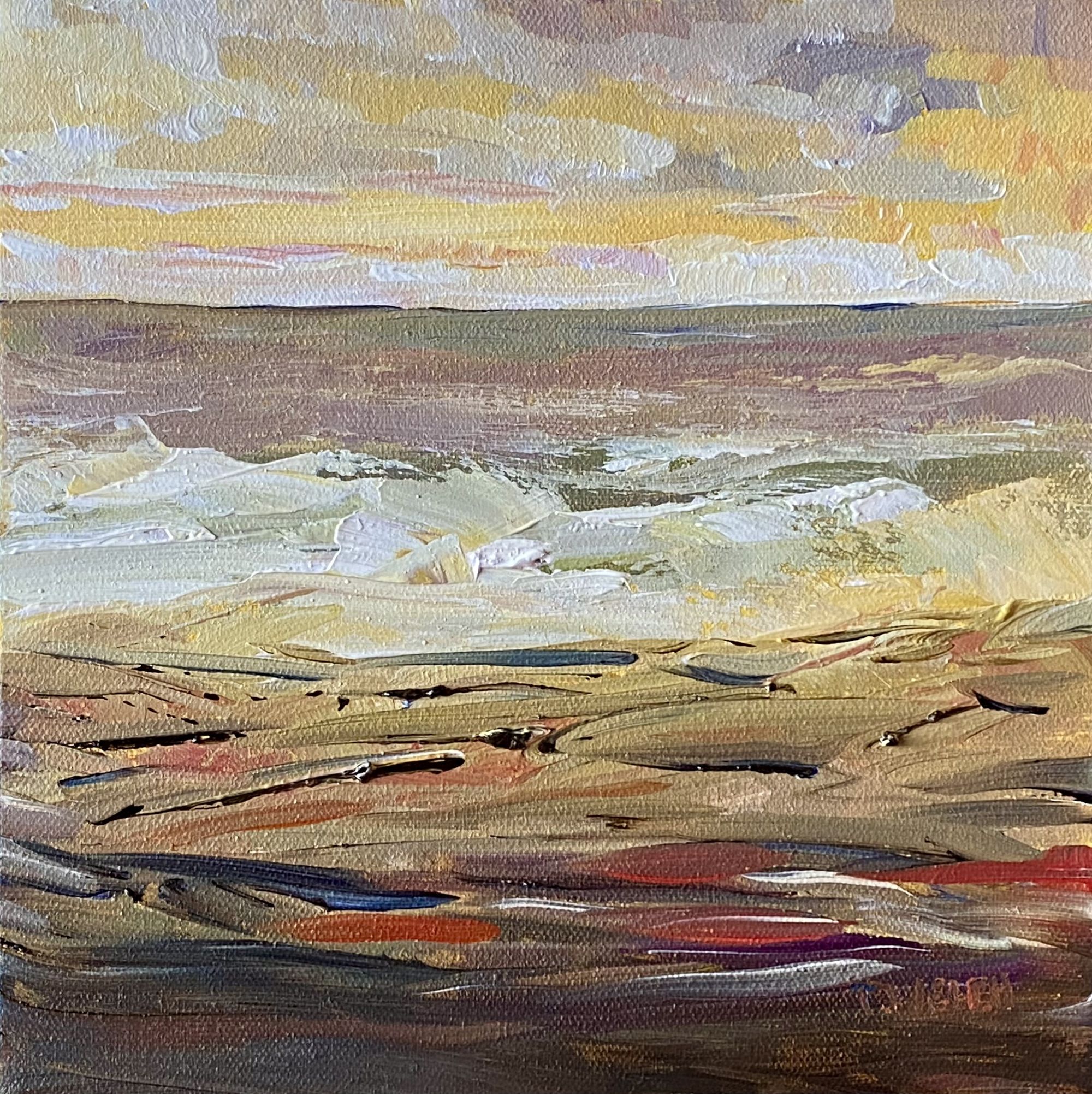 The shores are littered with wood debris from the resent rain, mudslides and flooding. Sometimes whole trees are floating in the water. However, as sad as it is, the sun came up just the same as always.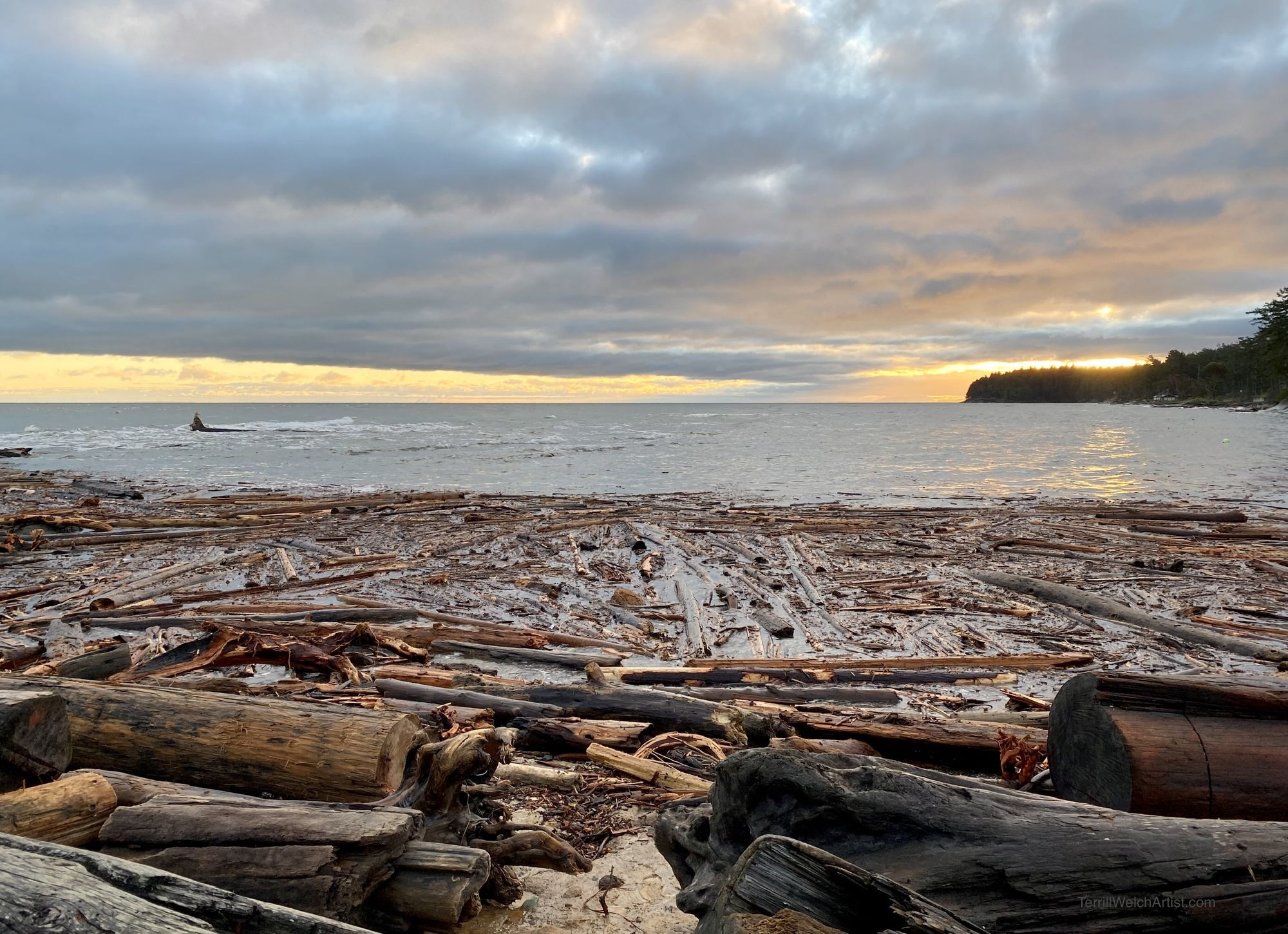 I only had my phone camera with me but there is fresh snow on the mountains to catch some of that morning sun. A good way to start the day even with the murky muddy sea filled with debris and uprooted trees.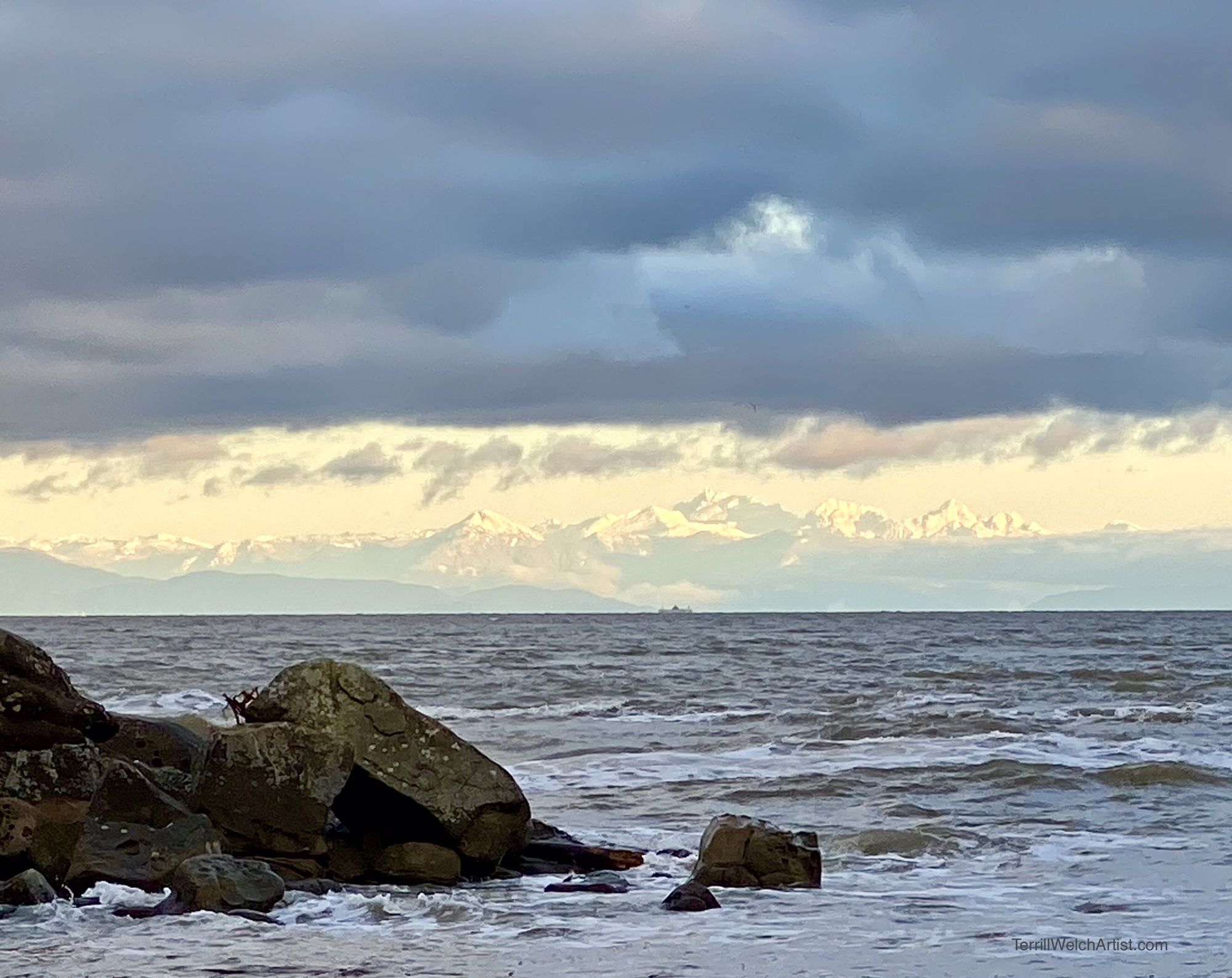 For the next few days the tide brought massive amounts of wood and debris to our bays, coves and shore line all around the island. I waited a couple of days and then went out during the golden hour before sunset. The sea is blue again and the debris seems a little less.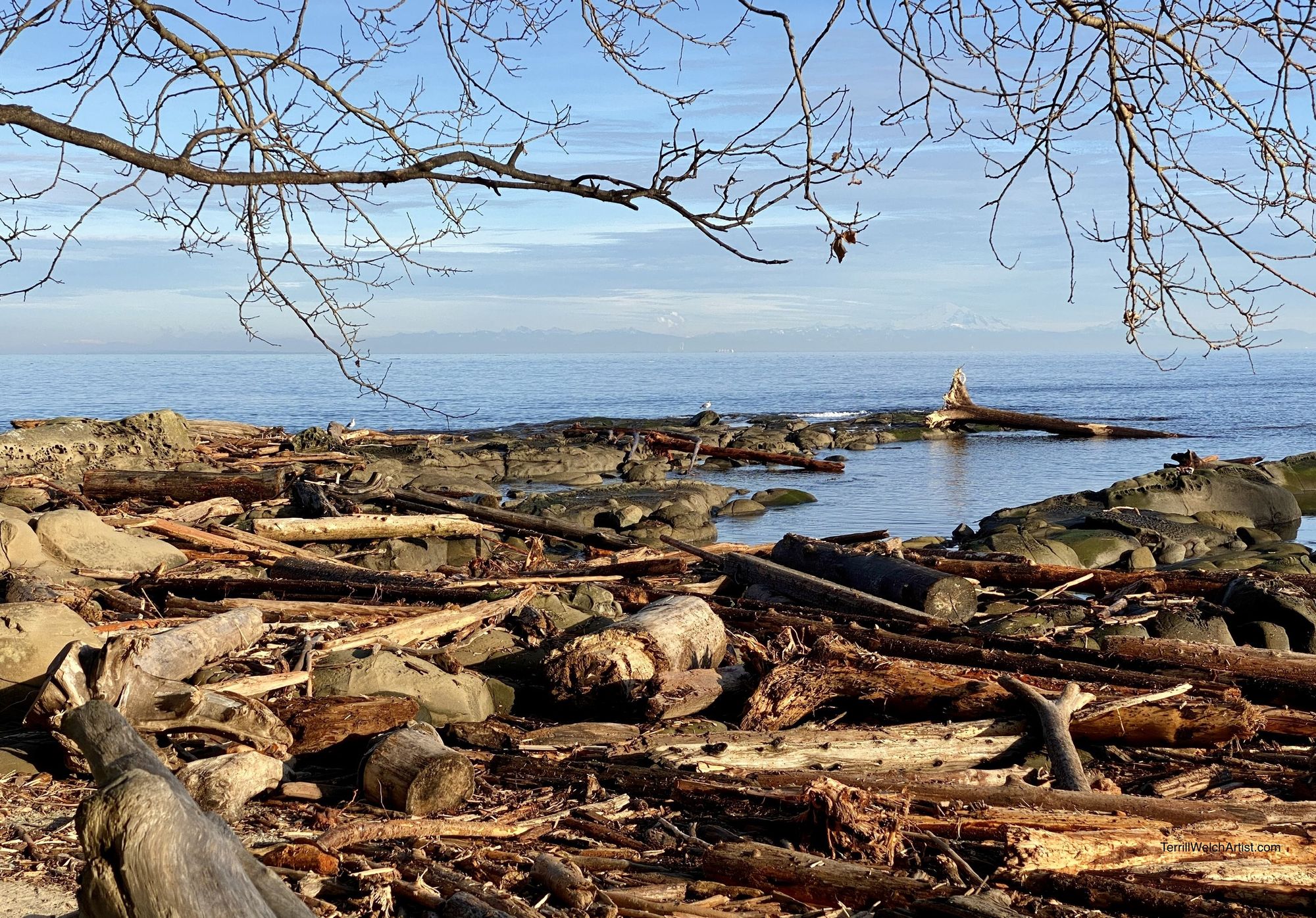 There are still large stranded logs sitting at the high tide line but it feels much more promising.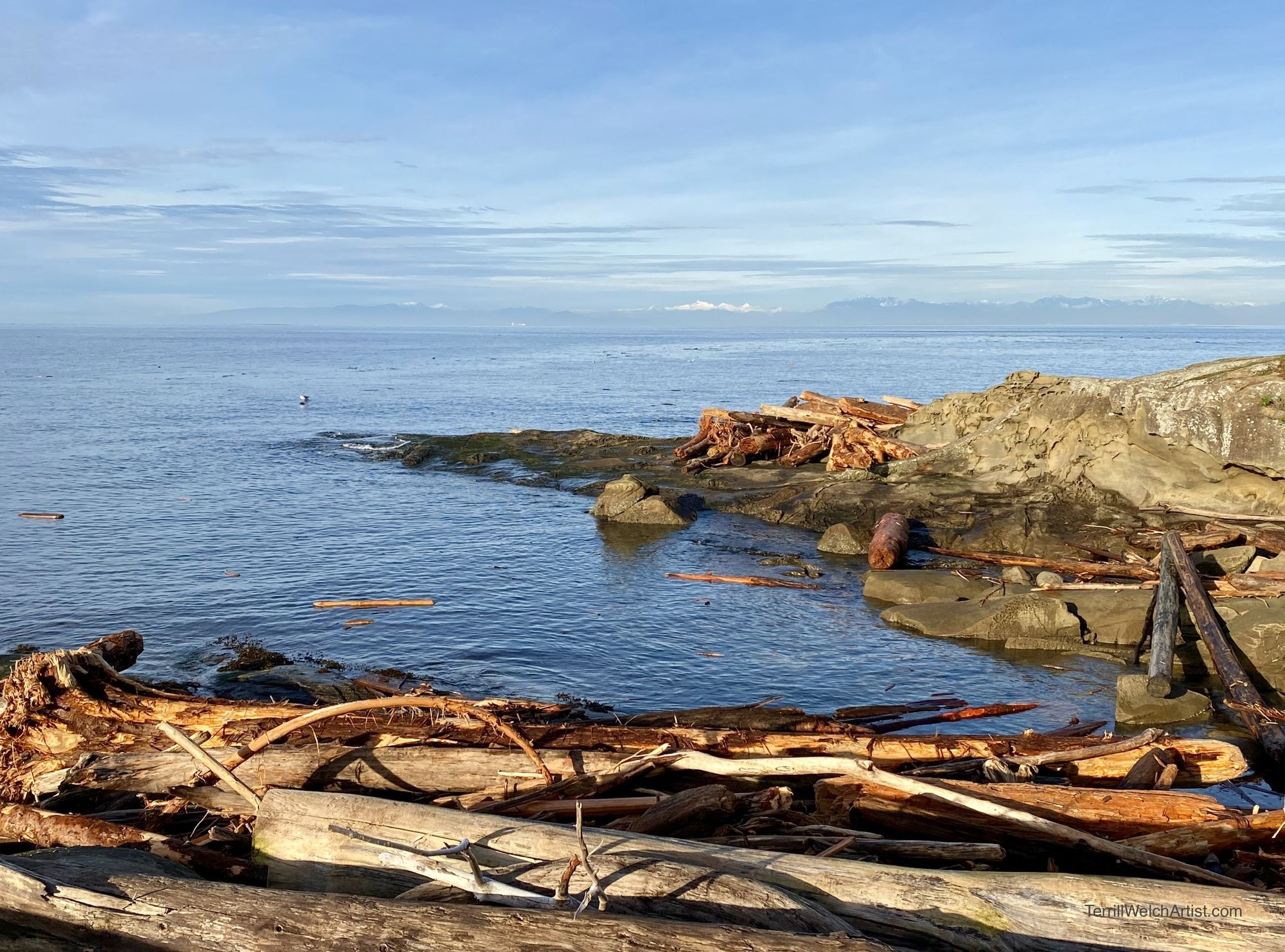 Now for the next painting….
Flooding, Strait of Georgia, Red Line 04: Embracing the approach to painting of Jules de Balincourt
I started from an intuitive place with no plan or sketch, just a haunting idea that comes following the recent flooding in British Columbia and witnessing the amount of debris that ended up on our Mayne Island shores. I have a very old night terror of being in a car that slides off the road over a steep bank into the Fraser River on the way to town where we lived when I was a child and then the car starts to fill with murky water. My earliest memory of this nightmare are about the age of five and it repeated itself every few months with further embellishments right up until sometime in my mid thirties when in my dream state I somehow figured out how to get out of the sinking car and float to the surface. Then the nightmare never came back except as a waking memory now and again and when watching or reading about flood and mudslide victims.
Using Jules de Balincourt's practice of responding to a previous painting as counter balance, I set last week's plein air painting at the corner of my eye as a memory aid for the thoughts and feelings from that morning. Balincourt, born in Paris France in 1972 and now living and working in Brooklyn New York, uses the analogy of painting as if on a road trip, stressing the ideas of not knowing where you will be or what you will see along the way. It seemed fitting as I was thinking of the people who had been trapped between the mudslides on the highway. No matter how carefully one plans a road trip, the unexpected is always possible. This is true of painting as well. To embrace this aspect with a sense of freedom and freeing oneself to the process is the Balincourt way. So I began my quick painting sketch of an idea…
There is a deliberate ambiguity of scale and content in this painting. We do not know the actual size of the the logs or the raggedy Anne doll which are sometimes bigger than the children that pack them around. We don't know if it is even a doll or if its muddy and surf-battered existence is actually an unintended emotional self portrait of the painter. I suspect the latter but I am too close to the painting to be certain. The water has a heavy quality that was purposefully left as a reference to the effort that is required of the sea to clean and absorb this recent weather disaster. The only preplanning for this painting was to measure in the horizon line and I knew from the start this would be another in my Red Line series.
The painting was completed in one painting session with the brushes never leaving my hands as I worked standing at the easel in my usual manner and moving back and forth from the canvas and allowing the painting to emerge without interference. Is it a "good" painting? Probably not. However, it gets the nightmare out of my subconscious again and resting lightly on the canvas instead. This is always a good thing for a painter who has always had horrific, yelling-everyone-awake, leaping-up-in-bed, nightmares. I generally paint for self-comfort and hope. In its way, this painting is still this. The sun still came up. We are still there as the viewers to view its glorious rise in in the face of adversity.
"Flooding, Strait of Georgia, Red Line 04" by Terrill Welch 9 x 12 inch walnut oil on unstretched canvas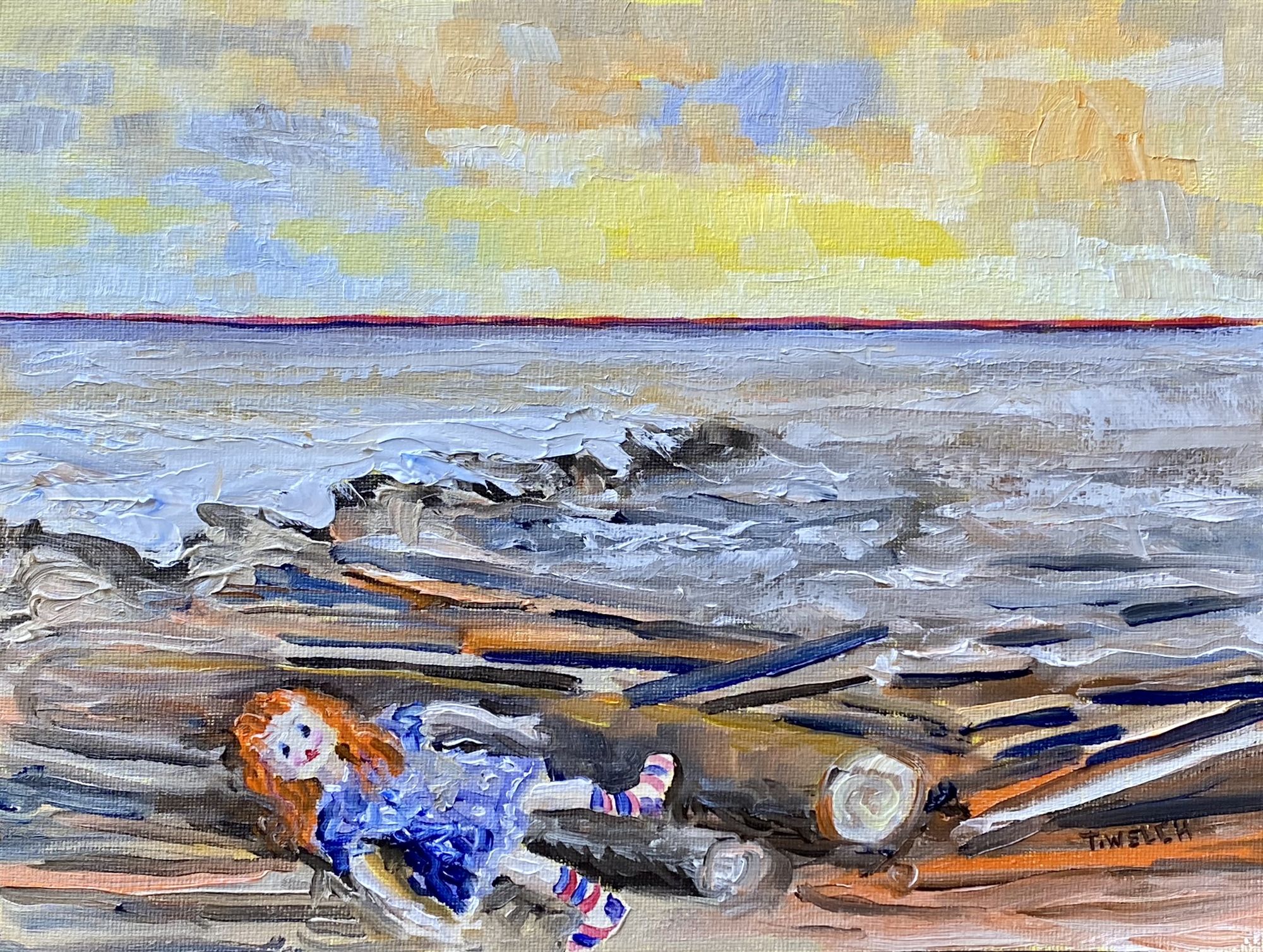 During these contin
During these continued and more than usual unsettling times our creative practices and our experiences of the creative work of others is part of our human ability to survive and thrive during adversity. For me it is painting. For others it might be writing, singing, playing music, dancing, cooking, knitting, wood carving or making a sculpture. Each expression adds to our emotional communal space and creates a sturdy raft to weather the storms ahead. May you have access to all that you need during the days ahead.
Current Gallery Shows
For this issue, rather than individual paintings, I am going to share with you the direct online link to each of our three current shows for the gallery. It is a way to remind you of the many paintings by our various artists that we have available.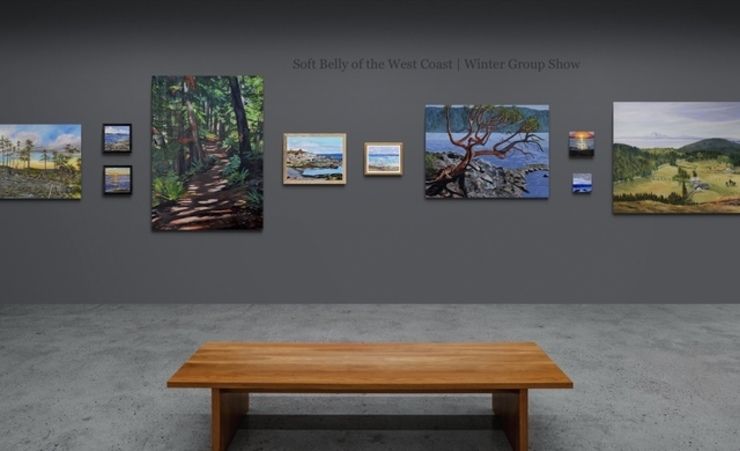 Regardless of their unique differences, each painting leaves us with the feeling that this is the soft belly of the West Coast that continues to  capture the attention of Mayne Island landscape painters Jody Waldie, Glenda King, Jennifer Peers and Terrill Welch.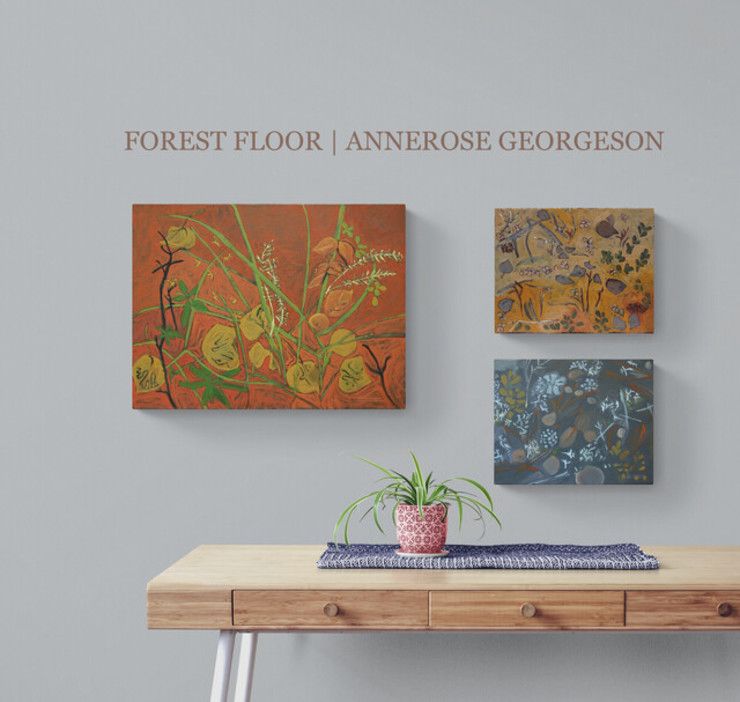 Deep in the Canadian woods, Annerose Georgeson keeps her gaze low. Her careful observations bring us landscapes of the forest floor.
And, closing December 23, 2021, this will be the final solo show of my work in the gallery's "Garden Room". I have given notice for the end of January 2022 because I am using my home studio as winter studio space and by late May or early June, I anticipate having the gallery pod ready for its first show. So enjoy the gallery install shots of the physical show because they are the last ones in this beautiful  space. In fact, eight paintings in this image have sold and seven of those are no longer there.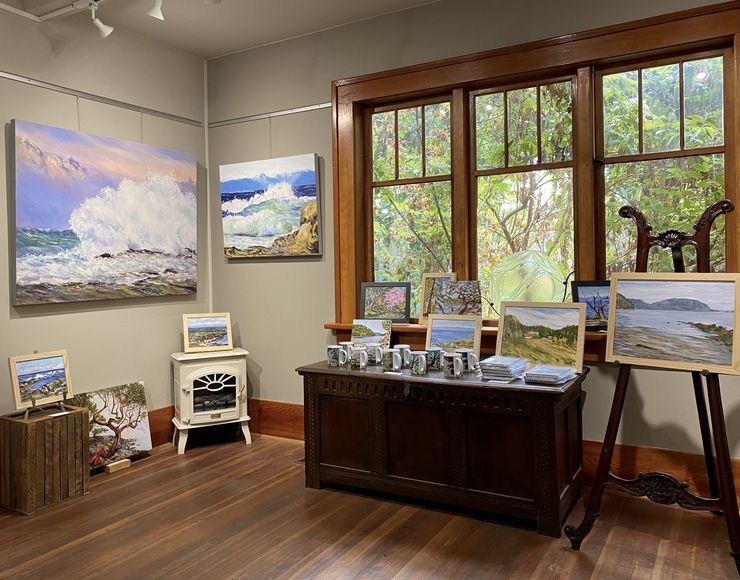 Cozy up in your woollens with west coast storms, snow and sublime landscapes by Terrill Welch.
What Has Sold
Speaking of paintings that have sold, I promised to share with you a second collage of the works that found homes during my special gallery pod offer initiative. However, before we do this, I am pleased to announce that this beautiful work by Jennifer Peers has recently sold…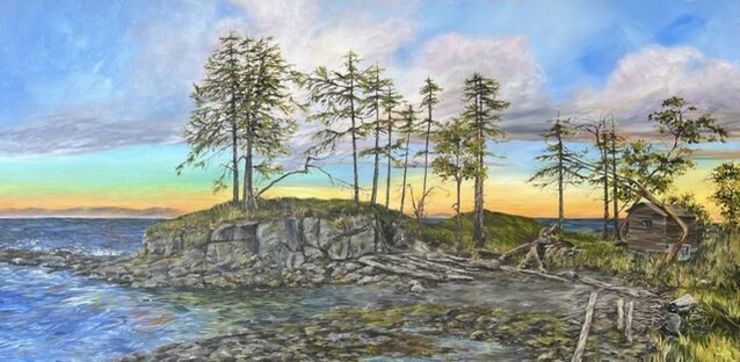 From Terrill Welch Gallery, Jennifer Peers, Lingering Colours after Sunrise (2021), Oil on canvas, 24 × 48 in
Fortunately for us, the art collectors have left in the show for a couple of weeks with its red dot for others to continue to enjoy. Our heartfelt congratulations to the art collectors and to the artist!
In addition, art collectors were in this week to purchase a new painting that will accompany them in a few weeks into their newly renovated home.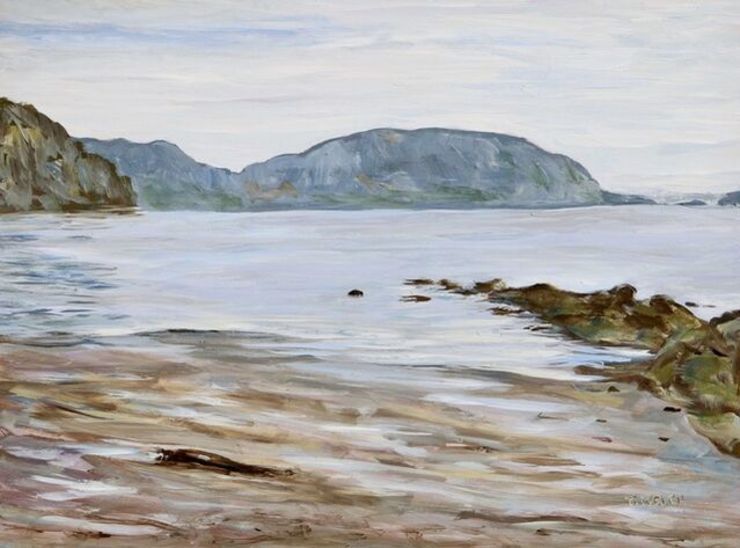 From Terrill Welch Gallery, Terrill Welch, West Coast Grey (2021), Acrylic on gessobord panel, 12 × 16 in
This couple are avid kayakers and know this view well. I wish them many years of enjoyment and kayaking memories when viewing this painting.
Now for the final collage of sold "Terrill Welch original paintings"! In total, 29 paintings have been committed to or taken into the care and custody of long time art collectors and serious fans between October 26th and November 15th of 2021. That is 29 paintings sold within less than a month! This includes 24 existing paintings (though one was painted immediately to accommodate a gift) and five commissions that you will see here represented to scale by a yellow ground and notes about each one.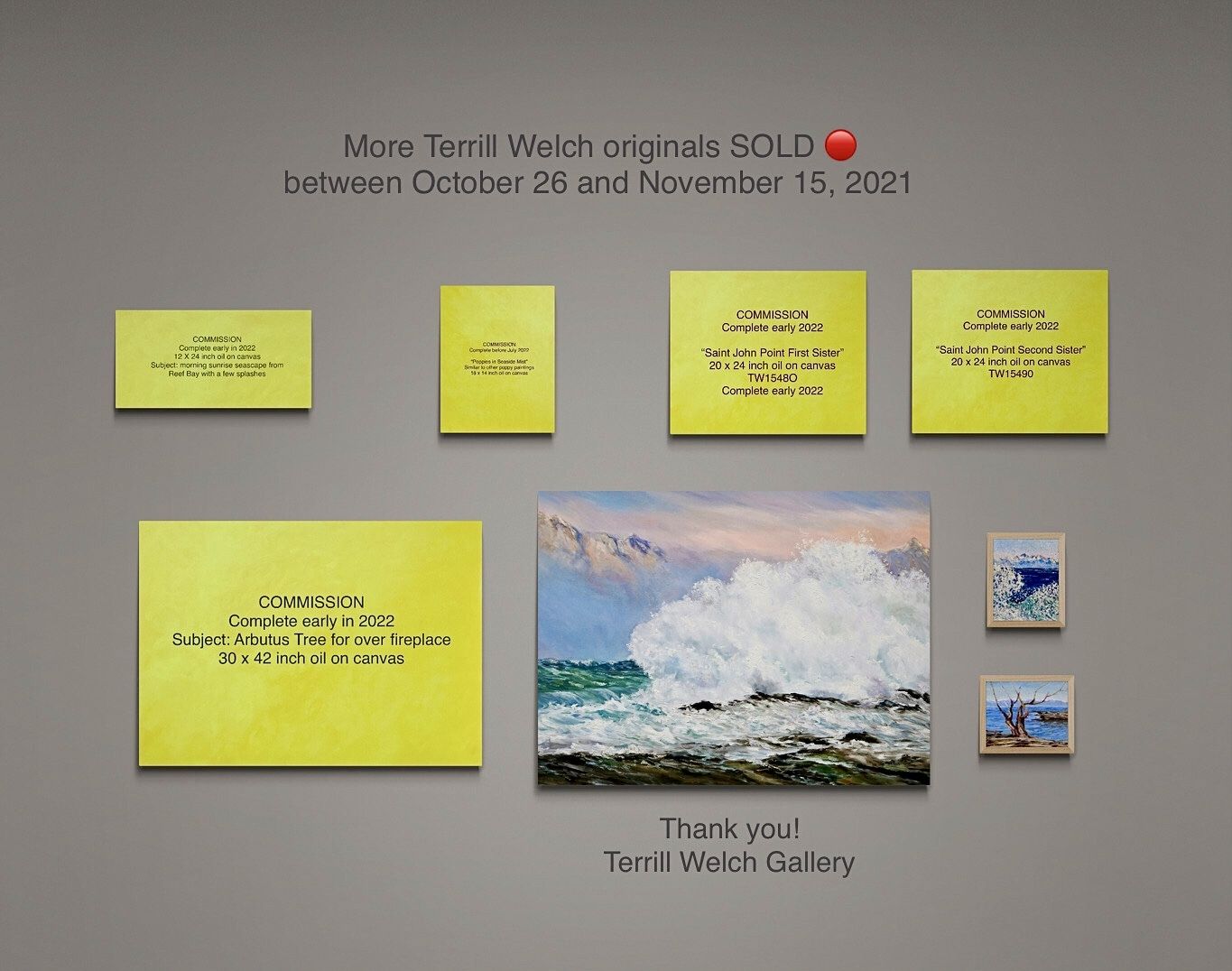 These paintings have found or will find homes in New Mexico, Texas, Saskatchewan, Alberta and in various location on Vancouver Island and the lower mainland. Four of the 29 paintings are actually staying on Mayne Island.  Just so you can see them all together, here is the collage from our previous issue as well.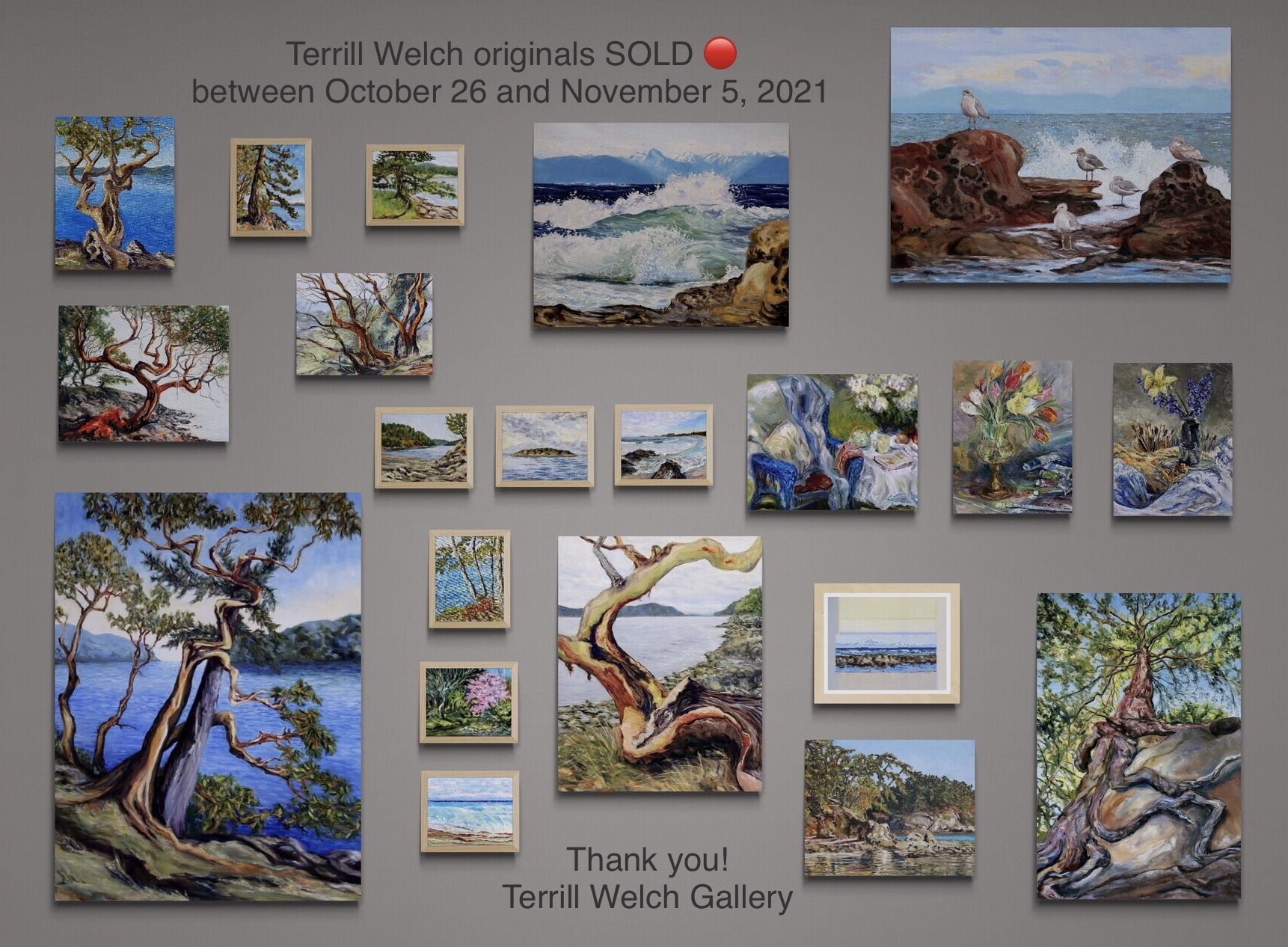 Many of these have now been packed up and been picked up, delivered or shipped. There is something very special about saying goodbye to a painting.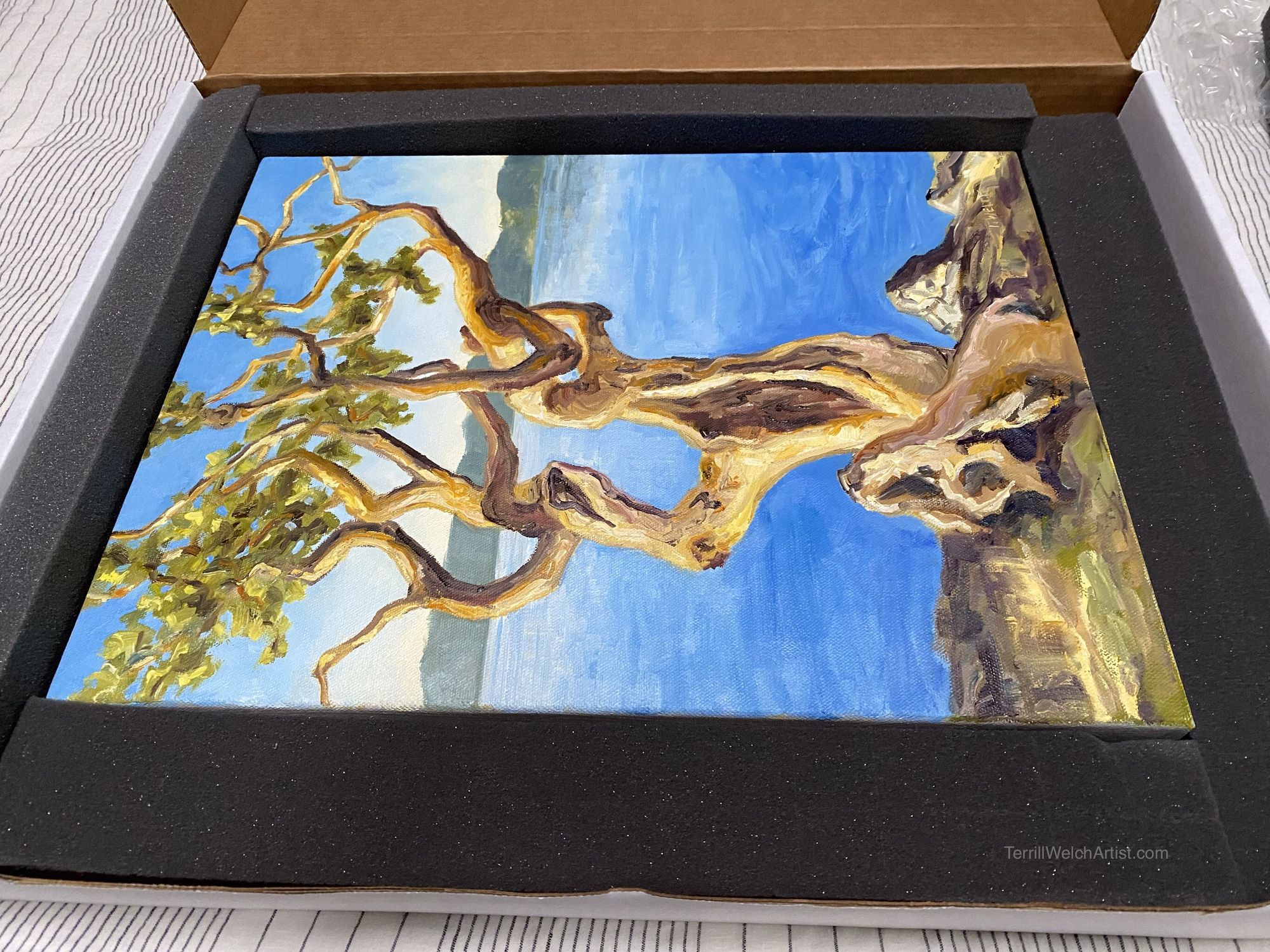 This number of works sold at one time is a rather knee-wobbling experience! However, the sales will support the showing of many future paintings in our new gallery pod for which we have already paid the retainer and then the first 60% of the purchase price.
The gallery pod is a purposed designed space based on the concept of a portable backyard office pod for those who need an additional or separate space to work from home. The gallery pod will look something like this image below with the addition of a high up sliding window at the back for extra ventilation and it will be slightly shorter than this container model. But with the same door and windows combination at the front.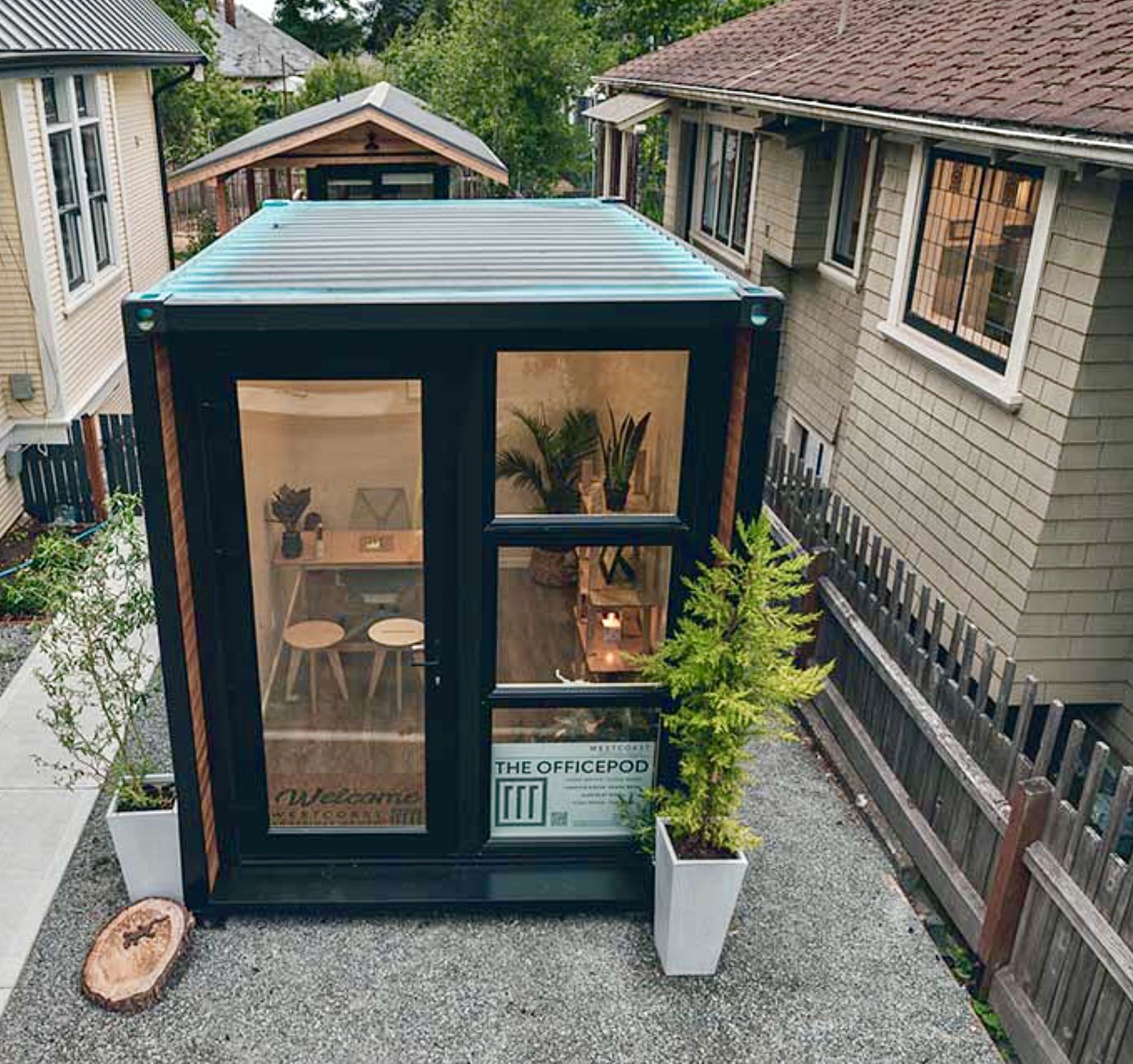 This petite and compact space is well insulated with eco-friendly foam made on Vancouver Island. The portable gallery pod will be delivered inspected, certified and ready to install the hanging system and LED track lighting with a built in heater.
Adam Benning is a pleasure to work with and don't let his New South Wales Australian accent surprise you. He has our southwest coast Canadian environment and needs thought through and built into the company's production cycle. Here is a link to their website so you can learn more about what they do…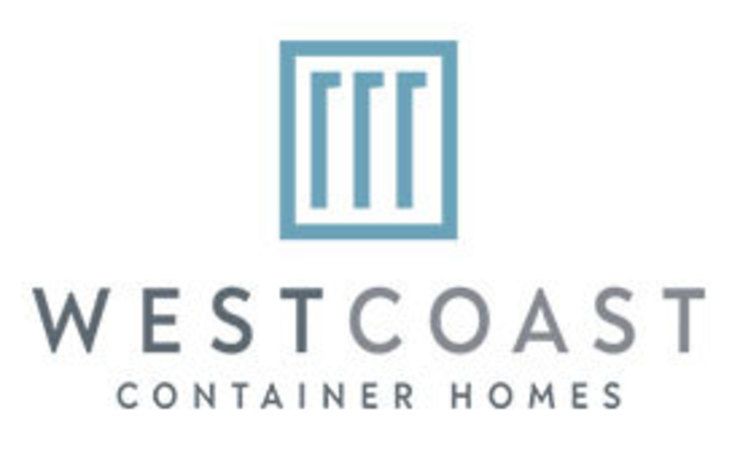 "Our units combine the unique aesthetic and functionality of industrial steel with a modern, ready to use interior space. Our high-quality units are handcrafted right here on Vancouver Island using minimal waste practices, which is something we are very proud of." -Adam Benning, Founder
So there you have it! Our next gallery adventure is well underway!
Until Next Time
As you will note, the past month has been a whirlwind of unexpected changes. So far, everything is still right side up and we have a good way forward. This is enough for now. May your own situation be the same. My biggest "thank you" ever to all of you who continue, in various ways, to support the work that I do both as an artist and a gallery owner and your support for the other artists whose work is represented by the gallery. It is no small thing during times like this. I offer our deepest appreciation!
Happy Thanksgiving weekend to our America art collectors and serious fans!
warm regards,
Terrill 👩‍🎨🎨❤️
Our gallery program brings extraordinary connections to ordinary moments in our natural landscape. The Terrill Welch Gallery opened in August 2017. Since the…