A Brush with Life - Issue #98 Sunflowers, Peace Doves and New Paintings
It is Sunday morning February 27, 2022. I write the following words for my social media profiles:If you are a praying person, today is a day to pray for peace. If you are a thoughtful person, today is a day to fill your mind with successful examples of peaceful resolutions. If you are a meditative p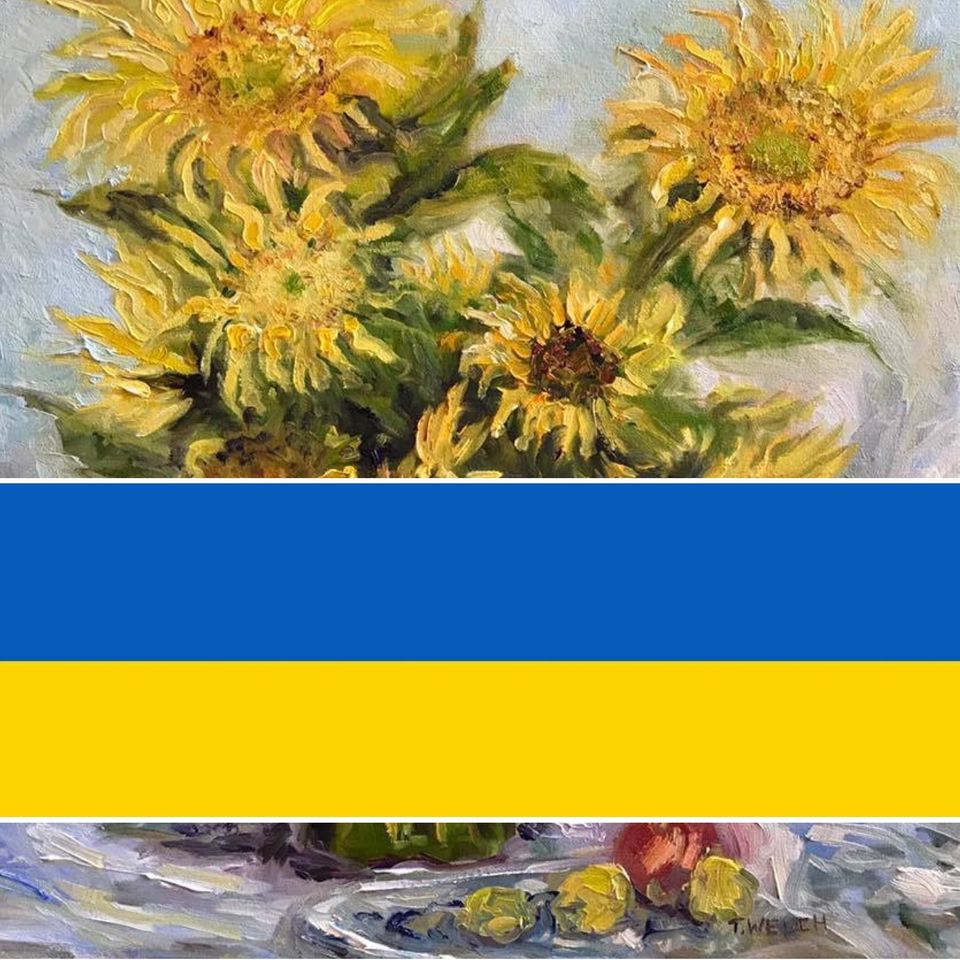 It is Sunday morning February 27, 2022. I write the following words for my social media profiles:
If you are a praying person, today is a day to pray for peace. If you are a thoughtful person, today is a day to fill your mind with successful examples of peaceful resolutions. If you are a meditative person, today is the day to sit on your cushion and breathe in calm and breathe out fear. If you are a person who must go to war or work or for a walk, today is a day to notice each step and what it stands for. May today, as everyday, we find our inner strength and fill it with love, especially for those with whom we fear and disagree. May we negotiate this day as if it were to be our last because, for some, it will be, for others, it might be, and for all of us, it will someday be.
Even as the words appear on the screen above my fingers on the keyboard, I have a hard time believing I feel compelled to this level of gravity in my observations and requests. But alas, this is where I found myself.
---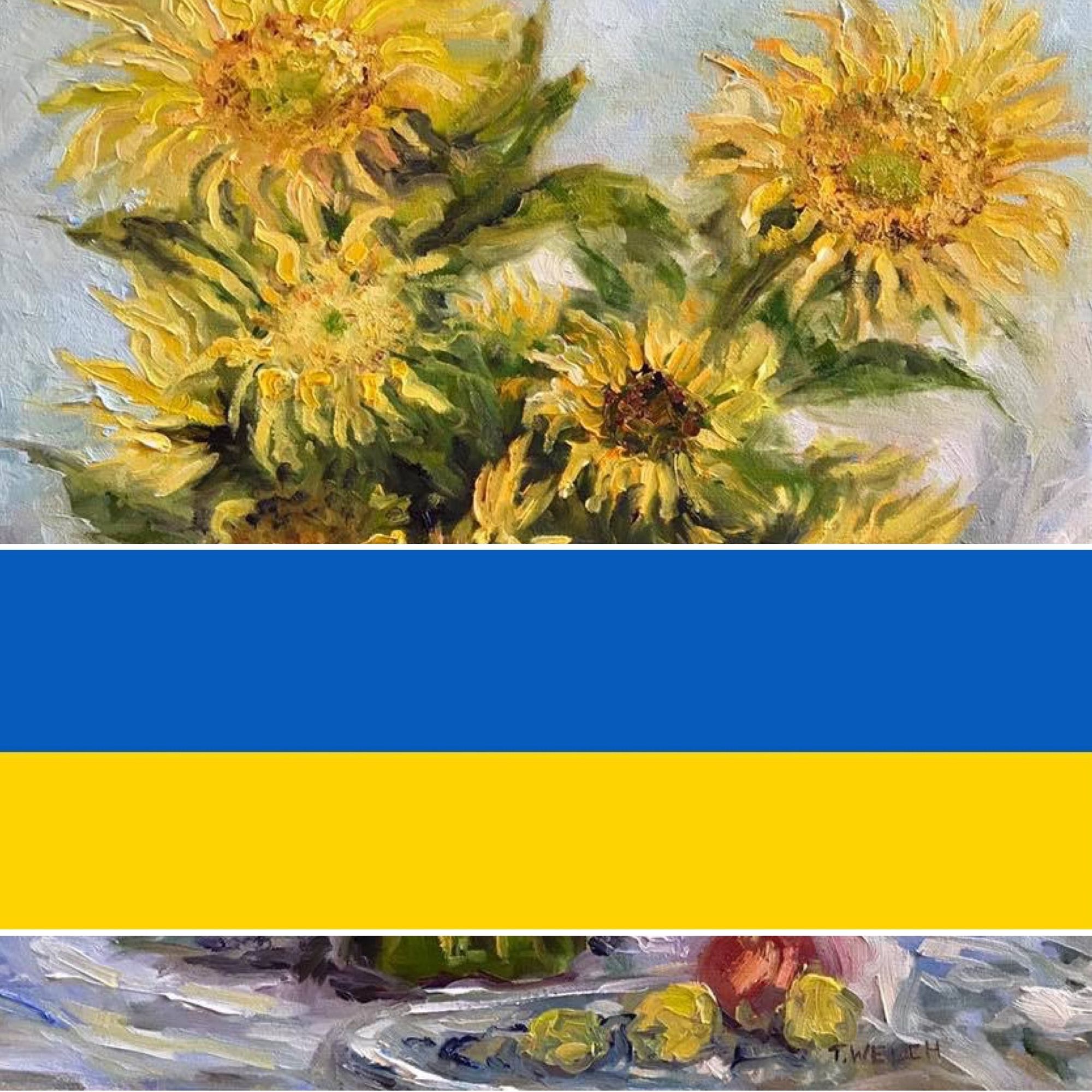 The day before I had posted the painting above with the colours of the Ukraine flag and these words:
Sunflowers are the national flower of the Ukraine and many artists have been posting their sunflower paintings in support of Ukraine. However, there is more to this story. In a video, an Ukrainian woman is seen confronting Russian soldiers in the Henychesk, Kherson region. According to English translations, she asks what they are doing there and then she says angerly "Take these seeds and put them in your pocket, so that at least sunflowers will grow when you all lie down here." [I shudder now with the truth of her prediction.] So I post this image of my sunflower painting overlaid with the Ukrainian flag in support for Ukraine and as a reminder of the importance of our resistance and our hope for a better day in the future.
My friend, artist, linguist and a Russian American citizen eloquently articulates the context for this exchange "I believe this is one power Ukrainians have in this situation: for better or for worse, there is a shared ethnicity, shared heritage, and a shared language. This means a Ukrainian woman can tell something like this to a Russian soldier in a language he understands, and she looks and sounds like his mother or grandmother admonishing him for some misbehavior or another -- had she looked differently, in another country, he might have shot her on the spot. If these atrocities go on for long, this may end, of course."
When someone asked the translator if they were speaking Russian or Ukrainian in the video, the translator replied that the soldier was speaking Russian and the woman was speaking mostly Russian with a few Ukrainian words thrown in. I hope this is helpful in understanding the complex gravity of this situation for the individuals directly in conflict and those taking risks to protest in over 50 cities in Russia.
Shortly, a call came in for a flash mob of artists to post their sunflowers. I posted the painting again by itself with the information requested.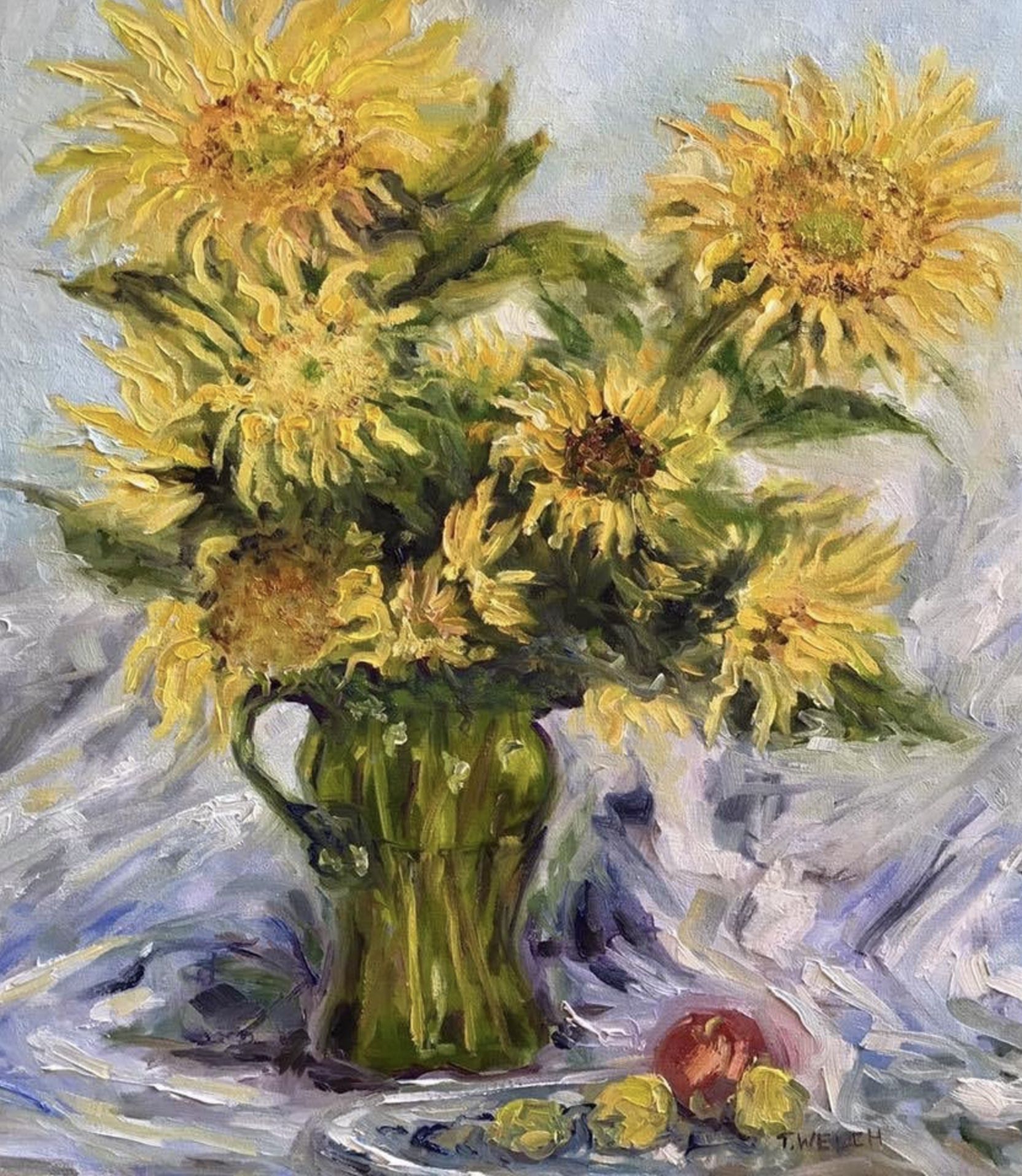 In support for #ukraine
"Katherine's Sunflowers" by Terrill Welch
Oil On Canvas, 24 x 20 inches.
Artist notes: Their specific sunflower fragrance from being freshly cut drifts over to the easel as I work. From life, yes, from life I work briskly in the moving natural light.
#ukrainianflowers #sunflowersforukraine #artistsforukraine
To finds ones bearings in such times is difficult and possibly next to impossible. On the evening of February 23, 2022 at approximately 8:00 pm PST, I was alerted about the situation we are all now so painfully aware of today. I posted something on my Facebook and then took down my post because, though I grieve the destabilizing of an always qualified World Peace, it did not seem a useful comment on such a fast changing situation. I then read, watched and listened directly to reporters on the ground until after 1:00 am. After a fitful sleep, I awoke to a text from my daughter asking how I was doing...
As I look out at the early dawn in our quiet valley I wondered - how does one do on such a day as this?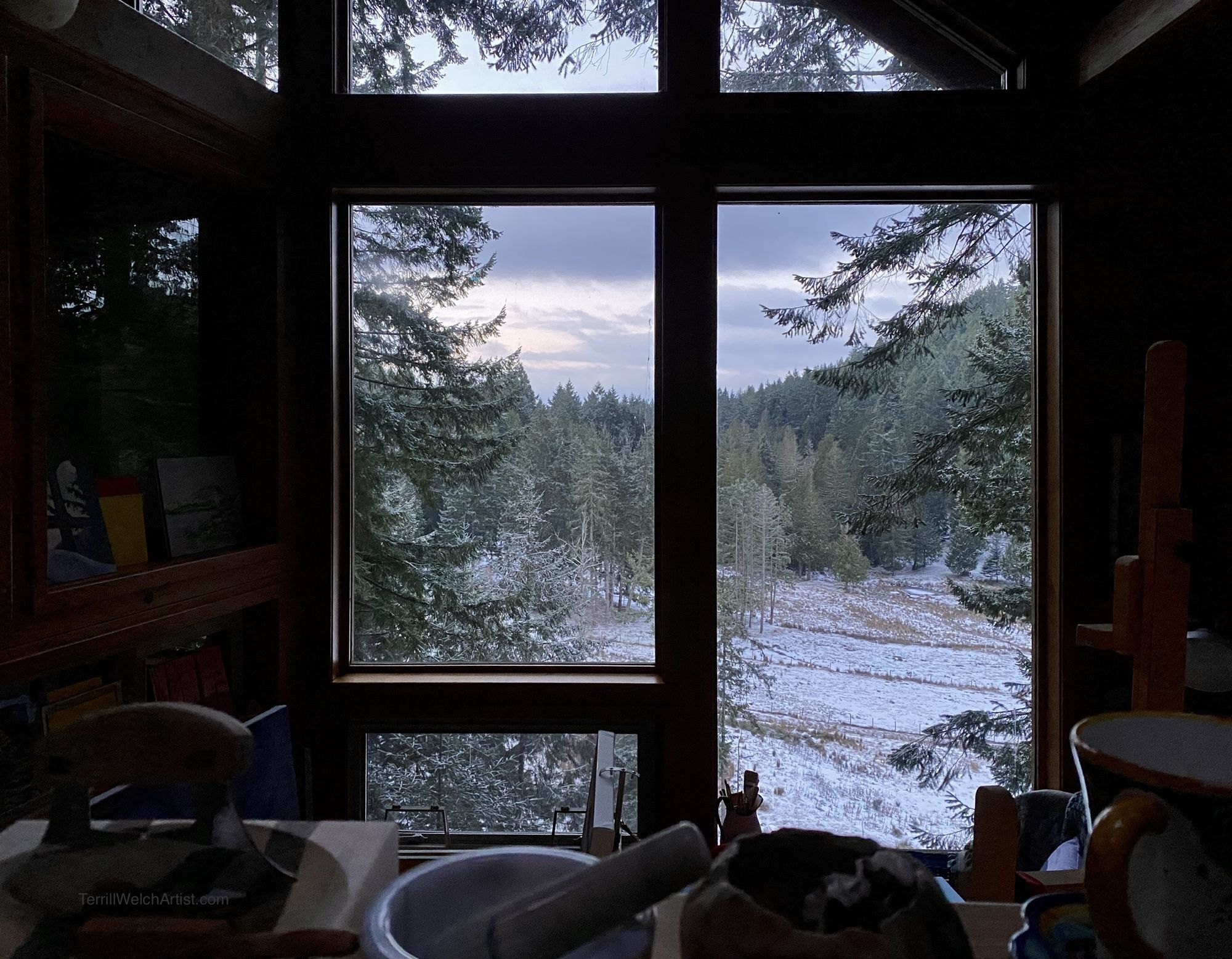 By the time the sun was catching the skiff of fresh snow, I was sipping my first coffee with live news feed in the background on my iPad and my fingers flipping through my Twitter feed - how am I doing on a day like this?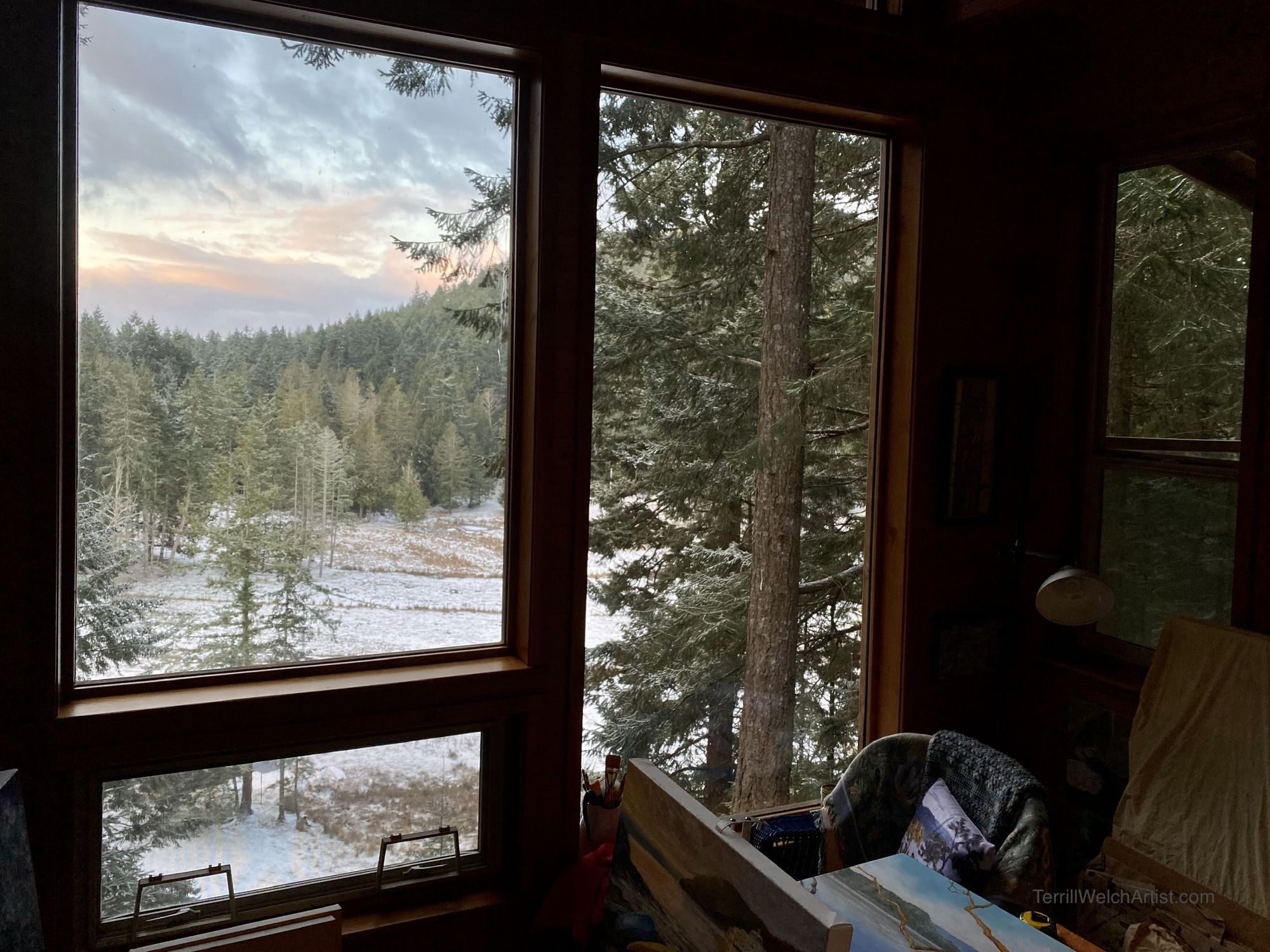 As the sun starts to brush across the studio paintings, we waited for the Canadian Prime Minister's address. There are the panicked screams of a child as we both hear the bomb blast in a civilian video clip - is this how I am doing?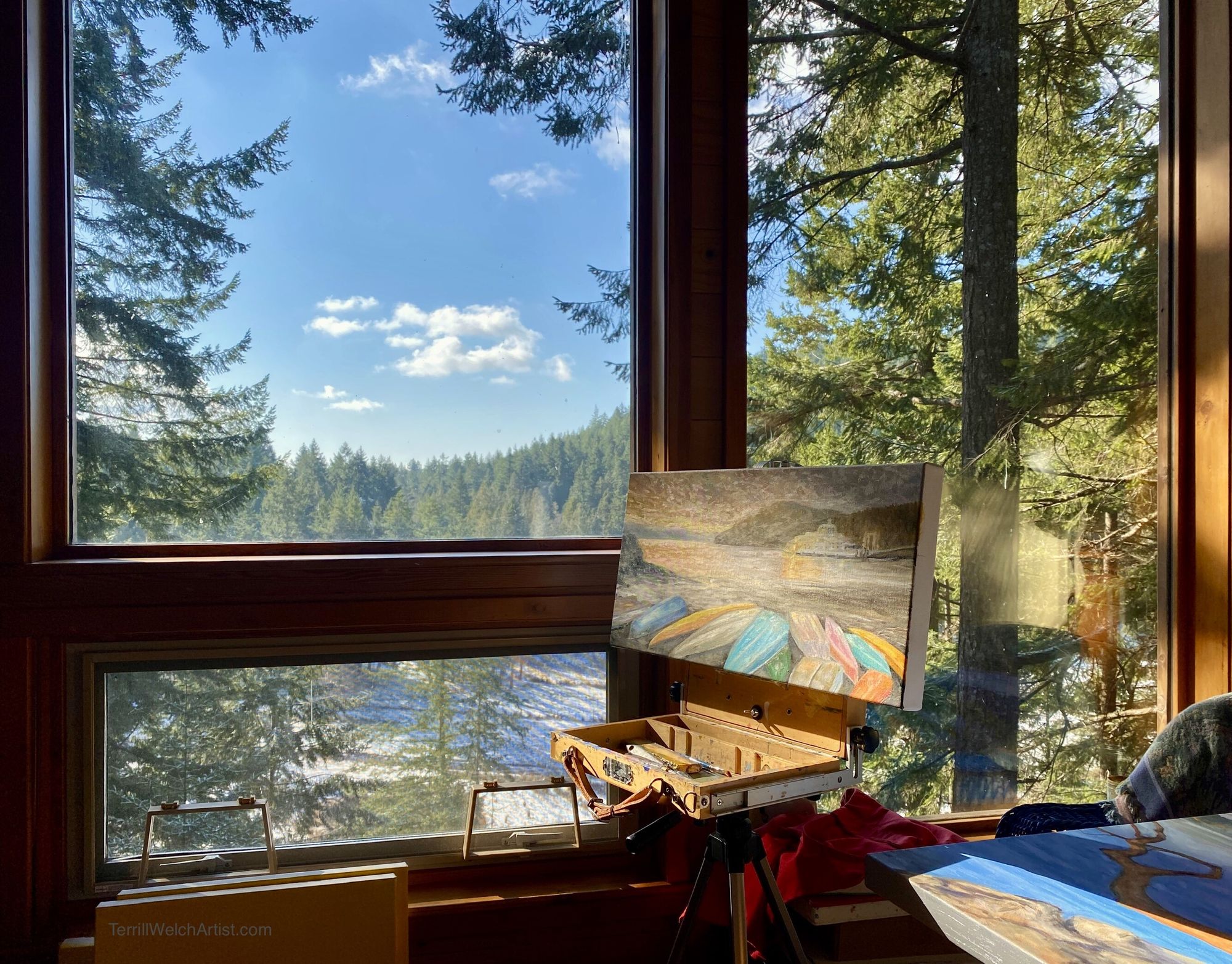 We turn on CBC radio in the car as I navigate a few slippery patches on our rural roads. The talk is of sanctions, more sanctions and organized sanctions. We eat our breakfast trying to share ear buds to listen to the U.S. President's address. Then we head for my favourite beach. Under a clear blue sky, warm sun and calm seas, I marvel that it is still there. How could remain unchanged?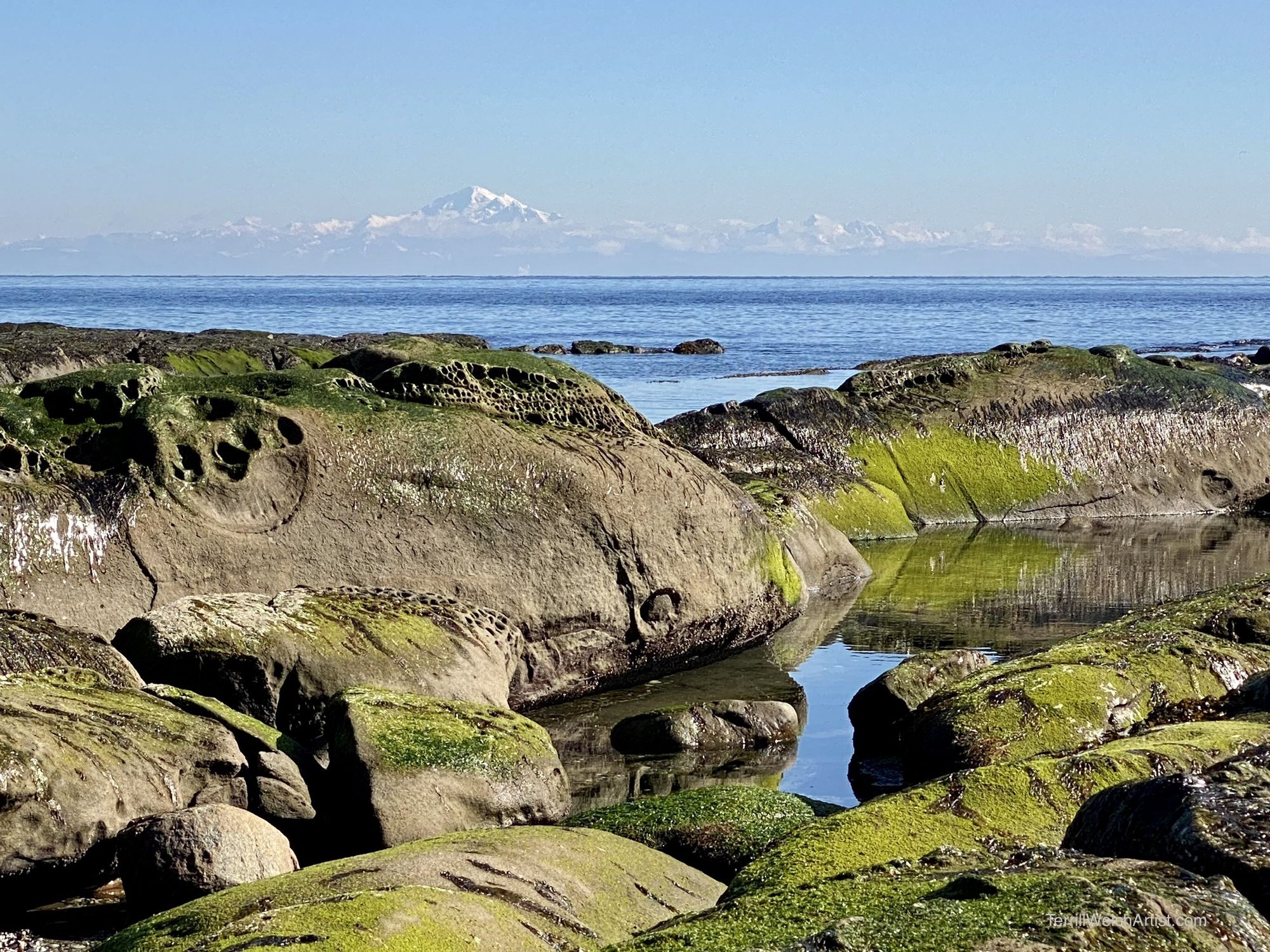 I think of my friends that are from Russia. I think about how the common people of Russia are not their leader. I think about democracy and the fragile balance of World Peace for which we in the west have fought for and cling to as it shatters into multiple shocking shards across Ukraine. I think about the Victoria university professor who is from Ukraine. When she is asked how her sister and family will be able to leave Kyiv, her response was "yes, they are running for their lives." I watch a young Ukrainian father saying goodbye to his daughter as he puts his family on a train to safety while he stays behind to fight for his country. They are all crying. This, all of this, is how I am doing… and still, the sun is dancing between the big fir branches outside the window as I write. This too is also how I am doing. I wish I had a better answer.
Is this a Time For Art?
I asked myself as I sat down to write this issue of A Brush with Life - is this a time for art? The answer came swiftly. Yes, horrific times are always a time for art because art is where we keep our stores of humanity. When I wrote the original words in the opening about prayer, thought and meditation, I first went and visited with the work of Matisse and Picasso who were rivals in attempting to create the greatest work of their time. I decided they wouldn't mind if I collaged their work together as a symbol for World Peace.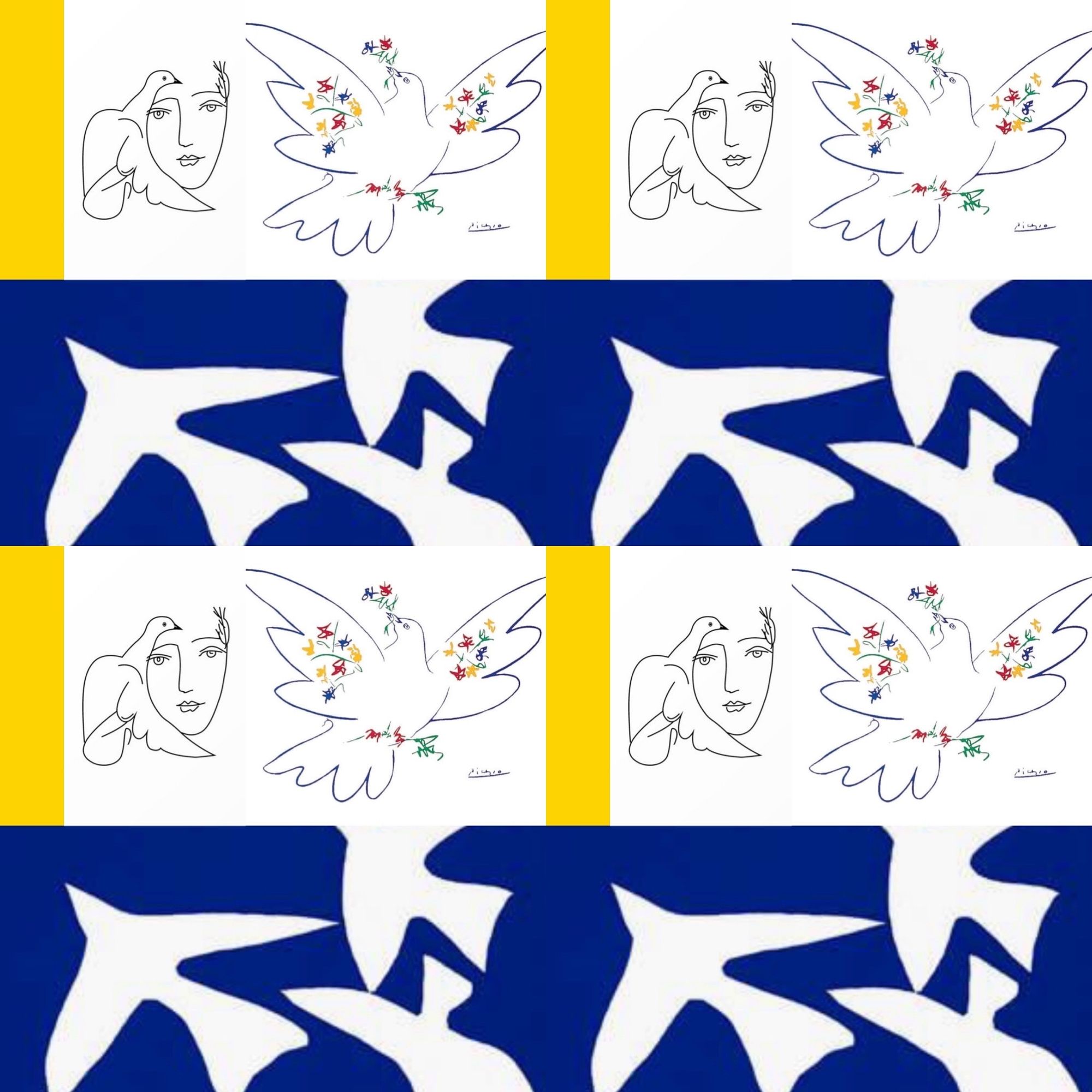 This is my own personal touch stone for imagining peace. This and how we have gathered behind 44 year old President Zelenskyy and the Ukrainian people when they defied expectations and stood their ground against such David and Goliath odds while sustaining brutal military attacks on their peaceful free sovereign country by Putin and the Russian army. I will never forget how grim things were as I was reading one post after another from Kyiv. In the middle all this the U.S. government suggested President Zelenskyy should leave and that they could still get him out. He replied "The fight is here, I need ammunition, not a ride." At that moment I knew, he was not just synonymous with bravery but also of hope. This is the kind of hope that will live on, long past his life, long past my life and long past our children's life…. If we are left with a world at all, it will have hope for the resolve and resilience of free will. When he stayed to fight with his people, knowing the chances are not in his favour to survive, his actions created a folk legend that has no expiry date. There are very few individuals in history that galvanize our efforts for peace. I believe in this man, a former comedian, the voice of Paddington Bear in the Ukrainian translation, and the grandson of the only surviving Jewish son out of four brothers in World War II.
So I will take Matisse and Picasso's doves, along with Ukraine's Paddington Bear and ask us to stand with Ukraine for freedom and hope and for a better world eventually. I just wish the human cost on lives did not come at such a high price for Ukraine, and for Russia, and beyond.
New Works in Progress
I worked all day Wednesday and most of Thursday on this 40 x 30 inch canvas.
Painting quotes include rivals Matisse and Picasso in this work for symbols of peace doves that I first put together as you saw above. There are mussels because they often remind me of prayer hands. The oysters are there for strength and endurance. The sun and blue sky are because my heart and thoughts are with Ukraine and all the mothers and fathers from all countries who will bury their children during this invasion. The white is for the hope. We must keep our sense of hope.
Now resting - "My Thoughts are East" by Terrill Welch, 40 x 30 inch acrylic and oil on canvas
Artist notes: Hope remains as difficult and destabilizing as this time may seem.
And a room view for a little distance with this fresh, shiny and wet painting.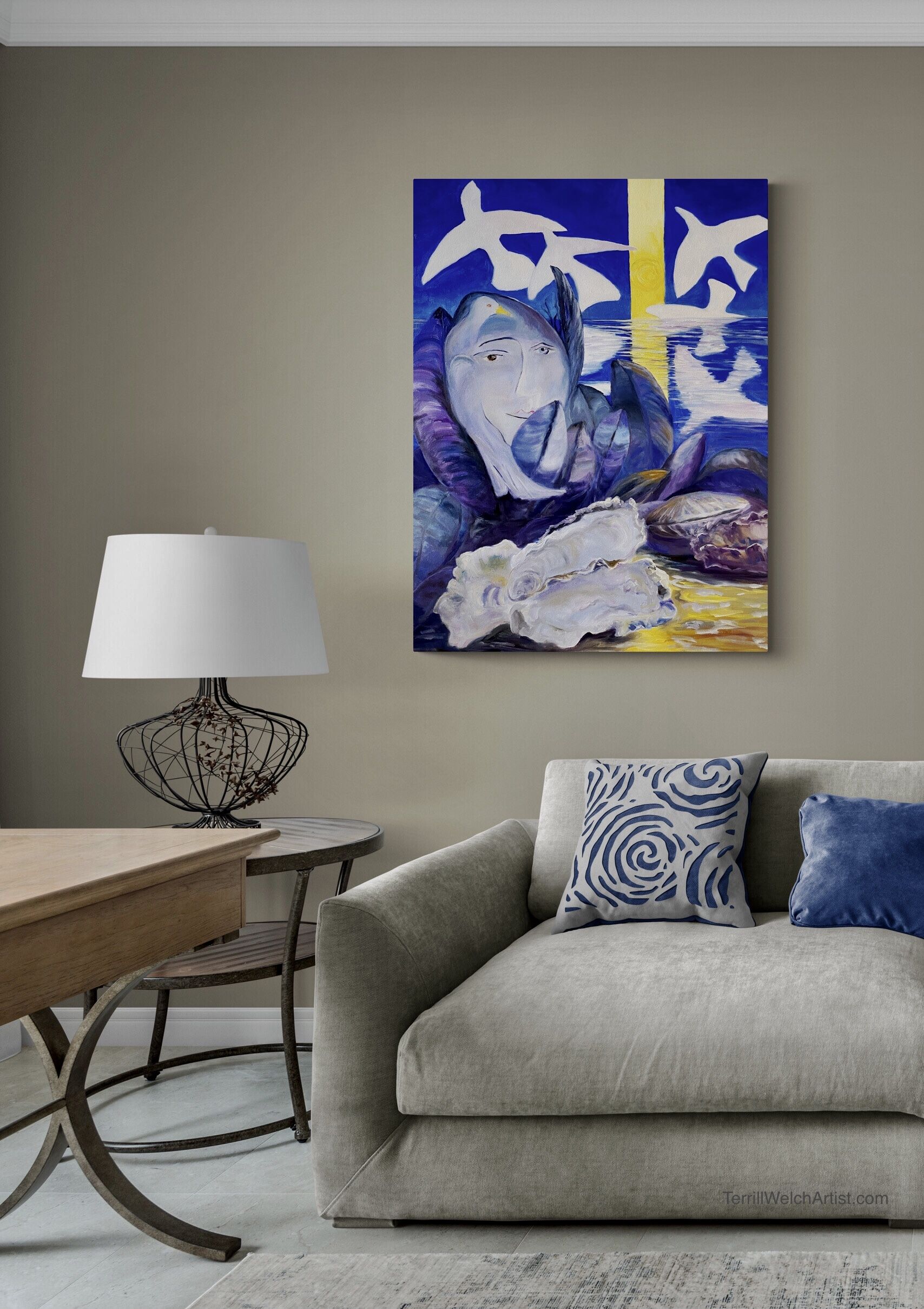 In the mids of following the news updates Aden painting the painting for peace, I have also managed to still start the last two commissions.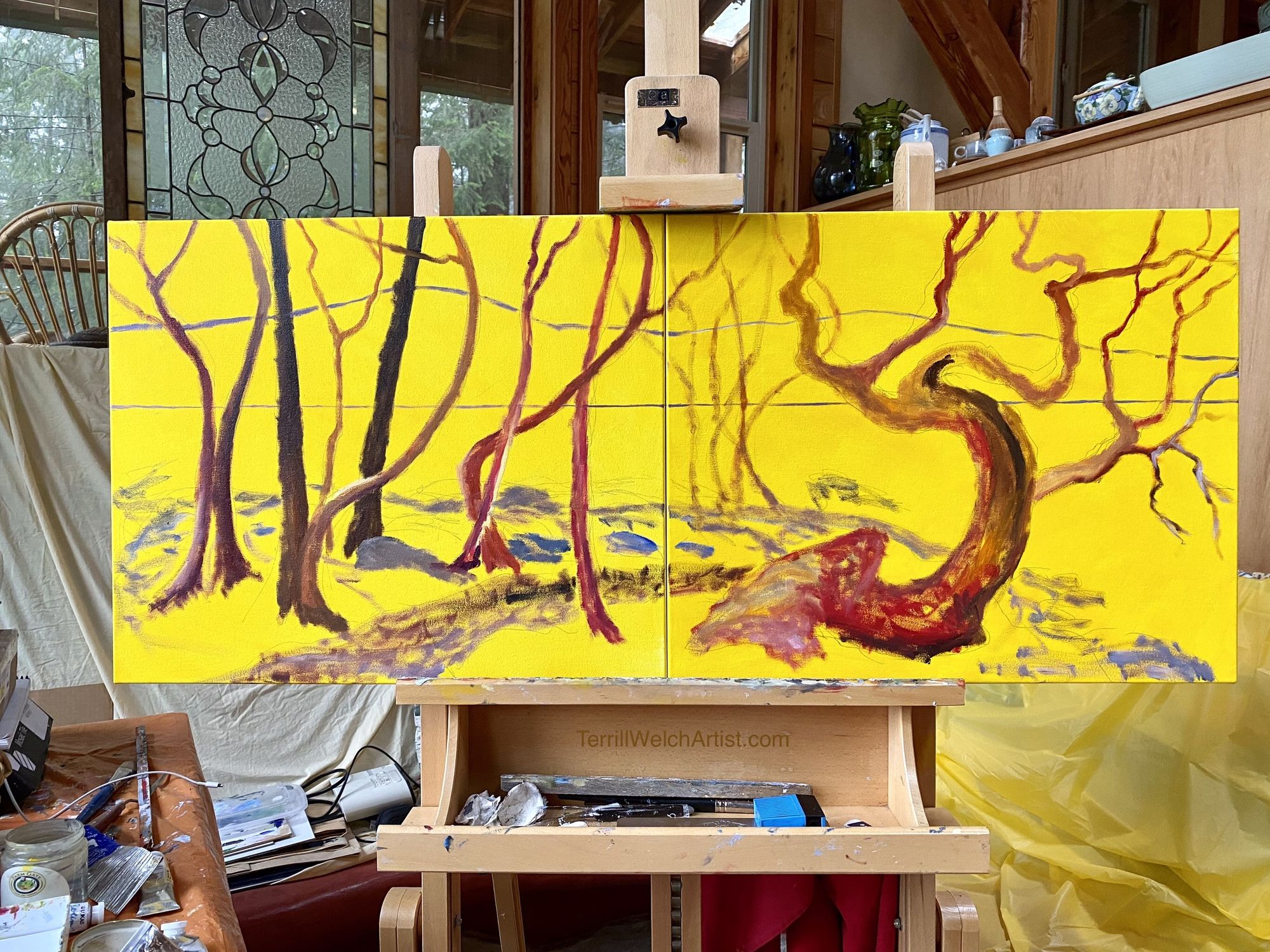 It is a necessary to keep working no matter how difficult. My body and mind demand me to anchor the rhythm of the day with the brush on the canvases. It is what painters do. I will hopefully have it blocked in and finished by the end of the weekend or soon thereafter.
What Has Sold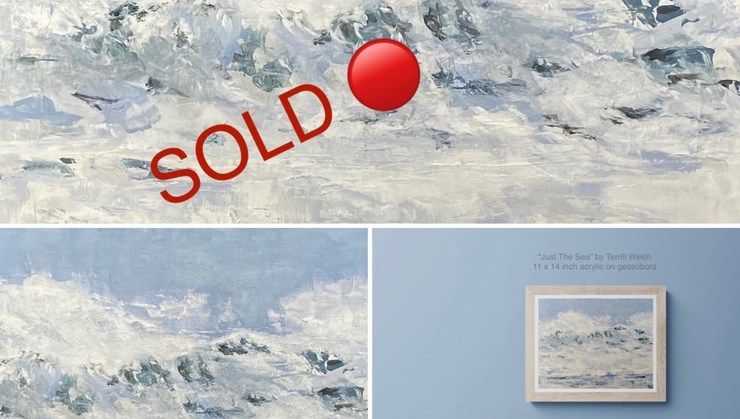 And another recent Terrill Welch painting has been scooped up by art collectors before it could be listed.… SOLD - "Just The Sea" by Terrill Welch , acrylic on gessobord panel, 11 x 14 inches. This is a common occurrence. The best way to learn about Terrill's new paintings as they are being painted is to…
Until Next Time!
I apologize if this post is contrary to what I usually manage to pull together for us. But these are contrary and unusual times. I will hopefully do better next issue. Let's close with a Mayne Island sunset through the trees.
On Wednesday evening, I looked up to see the sun setting through the fog amongst the trees and gasped. The coming together of so many natural elements can lead to such unexpected beauty.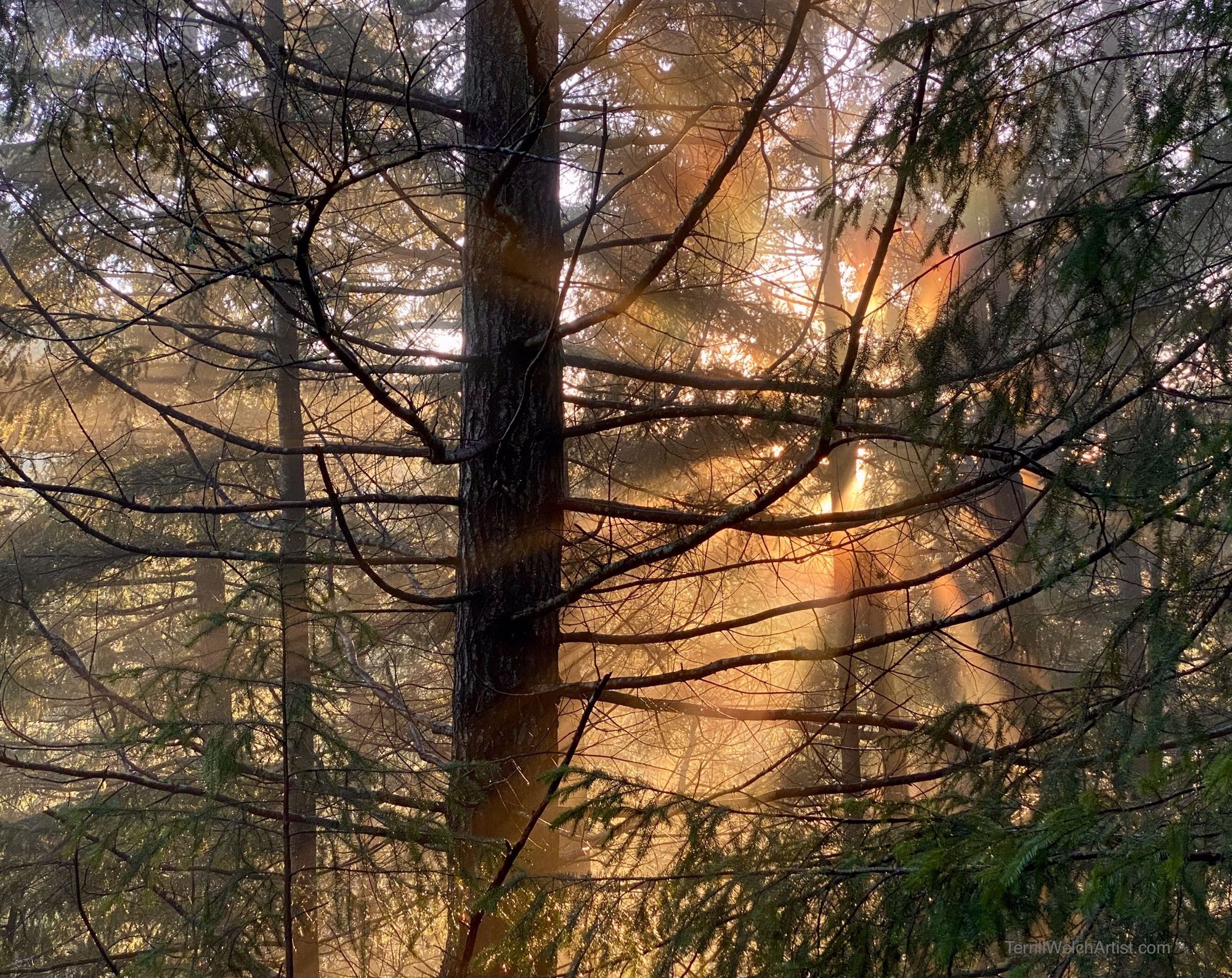 May we hold hope in our heart's in the face of impossible situations.
warm regards,
Terrill Welch 👩‍🎨🎨❤️
Canadian landscape painter, Terrill Welch, exposes the mystery in an ordinary day, reminding us that there is only one moment – this one.