A Brush with Life - Issue #99 Moments of Abstraction
Every ten to twelve years I will paint an abstract painting. It is a process of working that never really sticks for me but sometimes it is the right approach for a specific idea. Both of these small abstract studies in this issue were done as part of my course work for the Contemporary Landscape Pa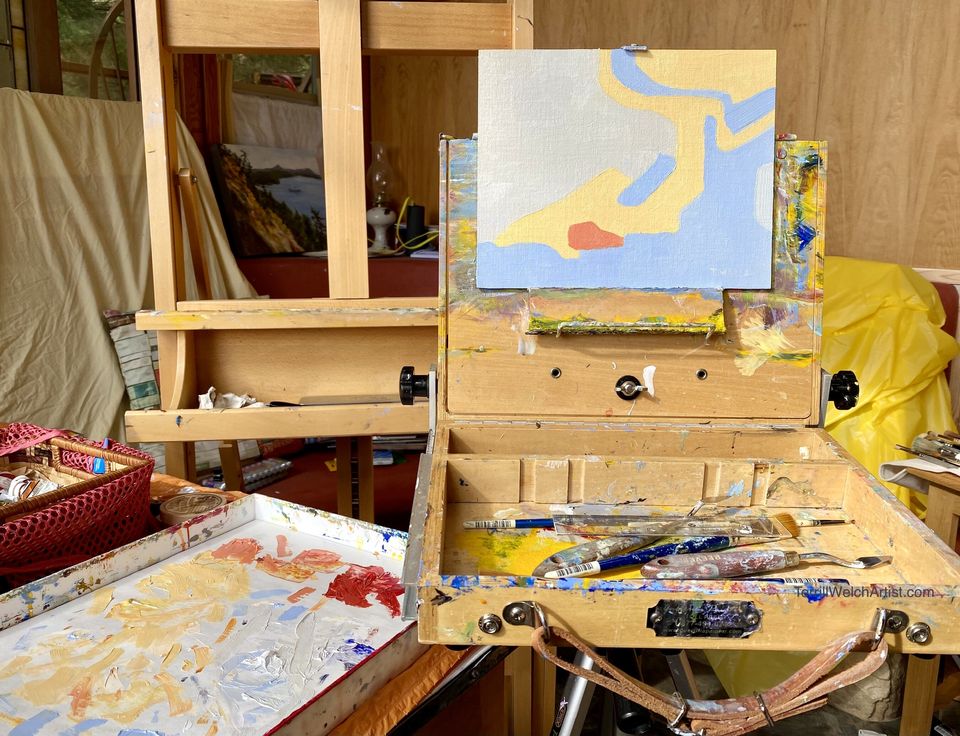 Every ten to twelve years I will paint an abstract painting. It is a process of working that never really sticks for me but sometimes it is the right approach for a specific idea. Both of these small abstract studies in this issue were done as part of my course work for the Contemporary Landscape Painting Now course with Wendy Welch at the Vancouver Island School of Art. Like most excellent art courses, the work we do is based on our own references and ideas so very much our own paintings that are influenced by some aspect of the artists we are studying. This means I do not hesitate to sign them off and add pieces that I have handed in for class to my regular art portfolio inventory. So, lucky us! Along with my usual representational paintings, we will have a few outliers. This issue will feature these two new abstract works along with the last two commissioned sister paintings that are now complete. Let's see what we have!
---
Arbutus Tree Poem Study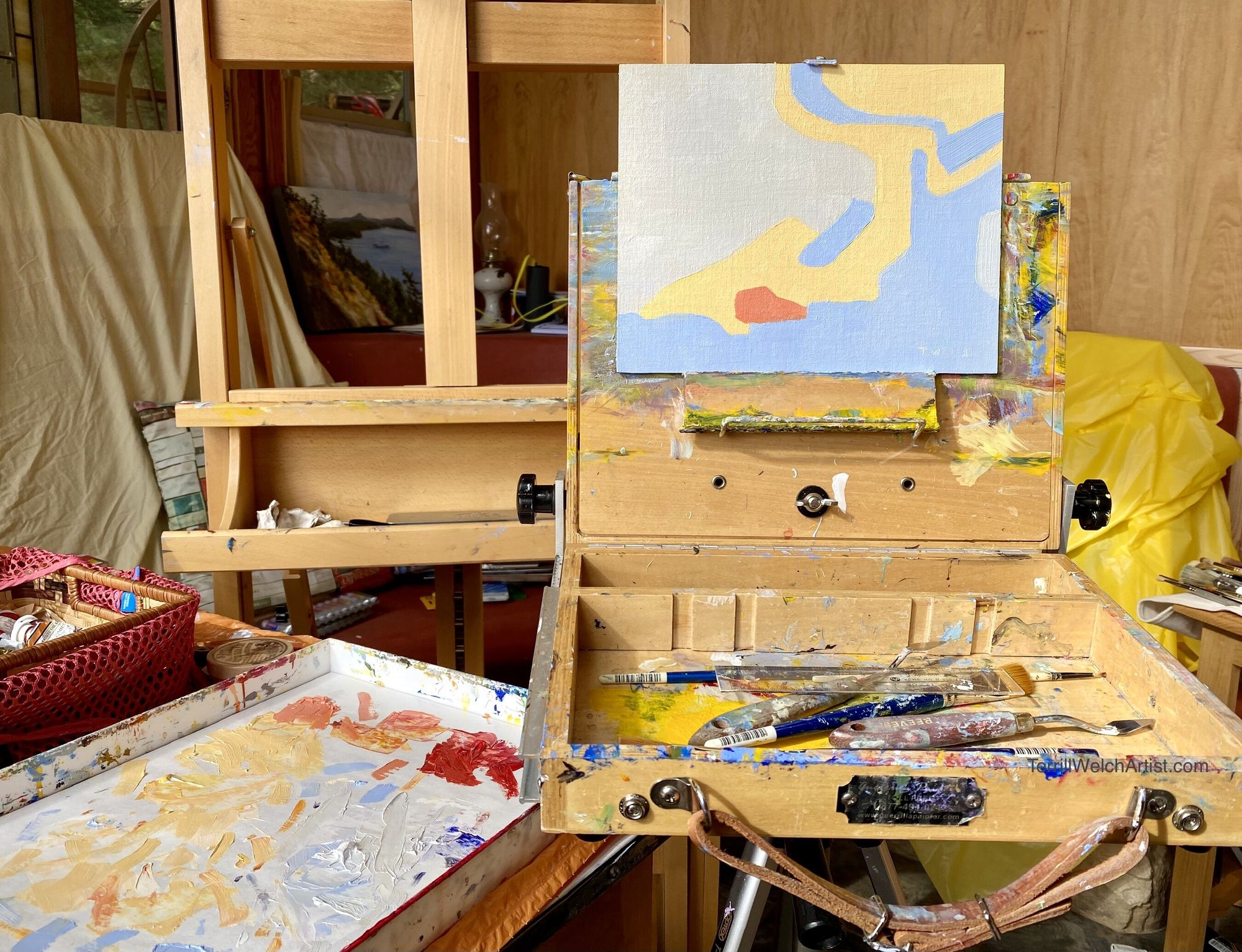 Wet on the easel, this work is inspired by Etel Adnan (1925 - 2021) who started painting in San Francisco in the 1960 where she taught the Philosophy of Art at the Dominican University of California. In the beginning she often limited herself to four colours and she worked flat and sitting at a table. With my trifocals, this is not something I can do easily so I set up on the the small easel. The painting is not released yet but is available for inquiry.
"Arbutus Tree Poem Study" by Terrill Welch, 8 x 10 inch walnut oil on linen board.
Artist notes: Arbutus Tree, curves of time and seasons, next to the sea.
Etel Adnan, who died just last year, was also a poet. She felt there was a strong connection between her approach to paintings and to the writing of her poems. I have attempted to stay true to this notion. If we think of this small work as a poem then the sister paintings I will show you next are a novel. Each approach are complete in their own right but not the same even though they are about the same subject. I find this kind of exploration most satisfying and one of the many benefits of being a life-long learner. Painting, like many other creative endeavours, is one of the practices where it is impossible to ever know everything. Ongoing learning is not only rewarding but necessary.
Before I share the completed sister paintings, I want to provide you with a short video interview with Etel from 2018 on lightning-strike paintings and words as gestures - San Francisco Museum of Modern Art. I think you might enjoy learning about her life and work as much as I have….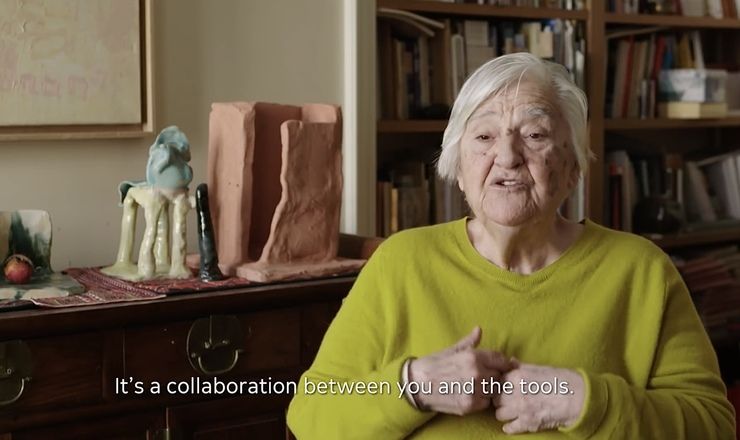 Artist Etel Adnan has dedicated her life to creating poetry and visual art. Here she explains how she began working in those mediums and what she sees as the...
Though Etel grew up speaking Greek and Turkish in a primarily Arabic-speaking society, she was educated at French convent schools and French became the language in which her early work was first written. After completing graduate studies and teaching in the United States for a number of years she worked for a newspaper in Beirut Lebanon for a while and then lived between California and Paris where she died on November 14, 2021, at the age of 96. There is a website dedicated to her art and writing that you can explore in the future if you wish at the link below….
Etel Adnan was born in 1925 and raised in Beirut, Lebanon. Her mother was a Greek from Smyrna, her father, a high ranking Ottoman officer born in Damascus. In Lebanon, she was educated in French schools.
If you enjoyed the first part of interview, here is one more very short video excerpt…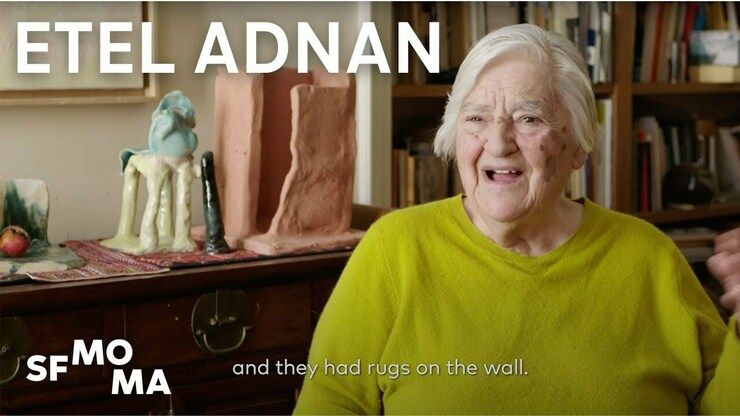 "Etel Adnan catalogs the scarce paintings she encountered as a child, shares her memories of a formative trip to the Louvre, and explains her current fascina...
The Saint John Point Sister Paintings
I painted the small abstract study above following the completion of the sister paintings that I had been working on for more than two weeks. The curves of the Arbutus tree in the abstract study are deeply familiar to me by now from several previous paintings but had been refreshed during the creation of this diptych.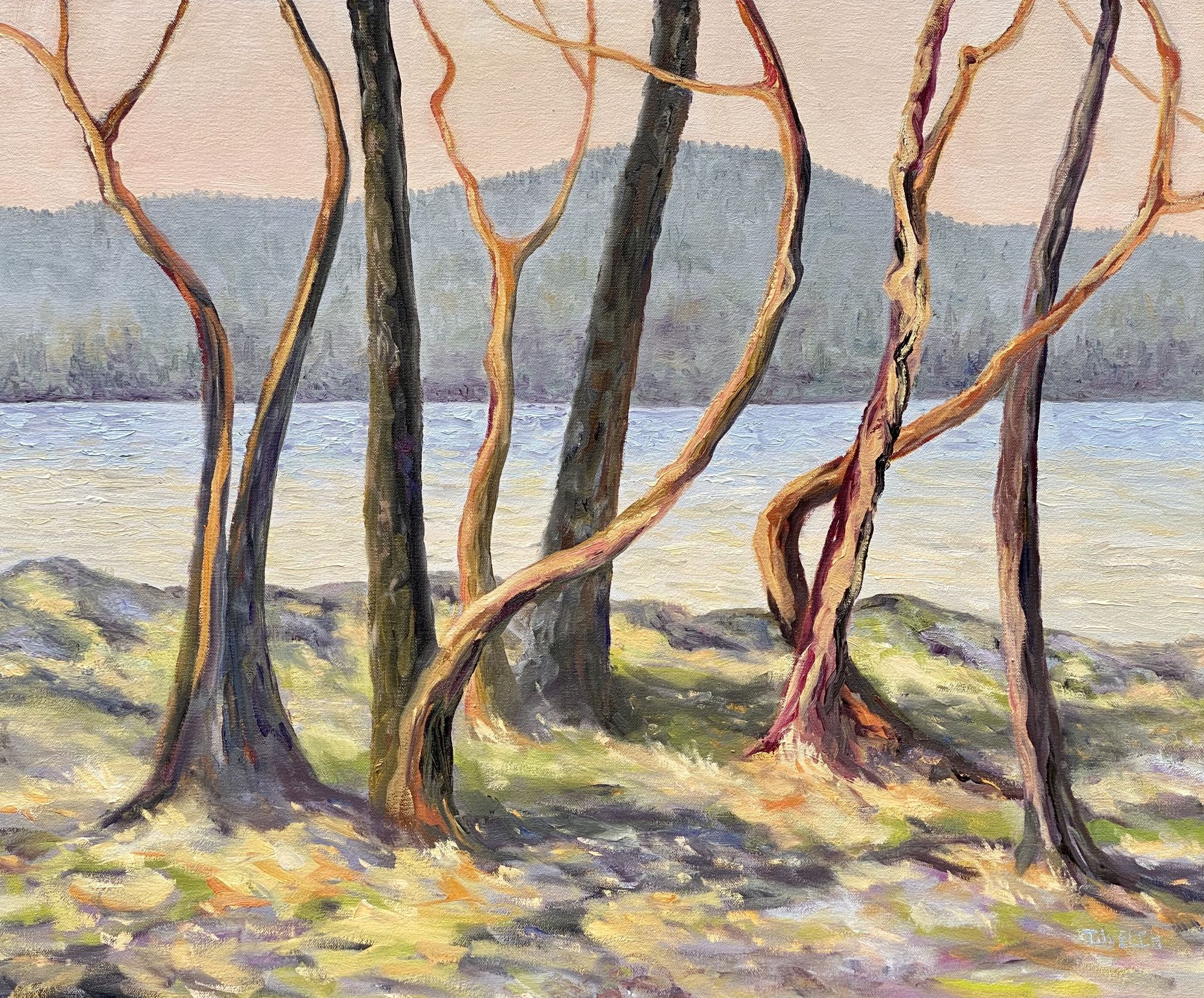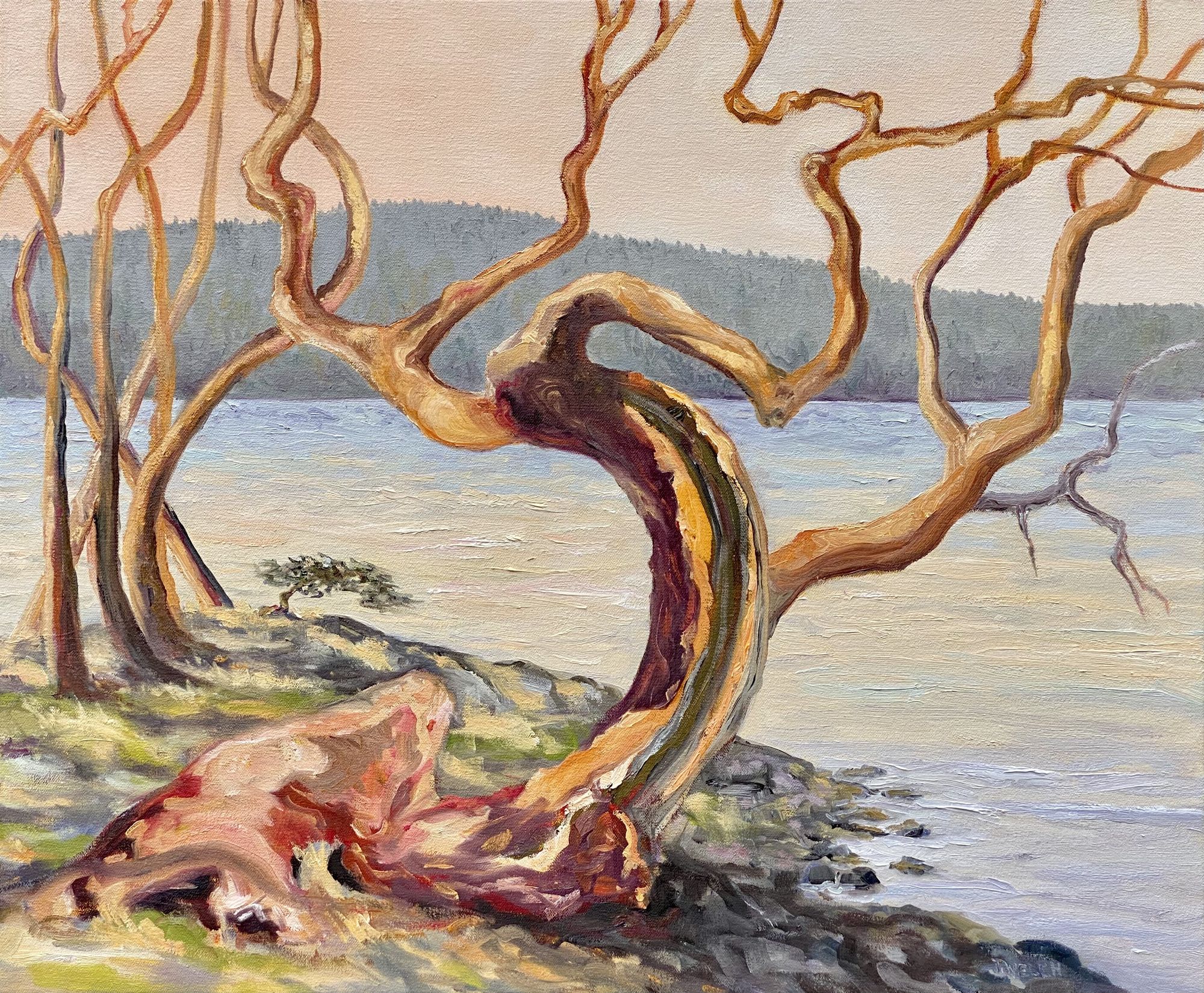 These paintings will be hanging on either side of a bed in a primary bedroom similar to this one once they reach their final destination with art collectors in Alberta.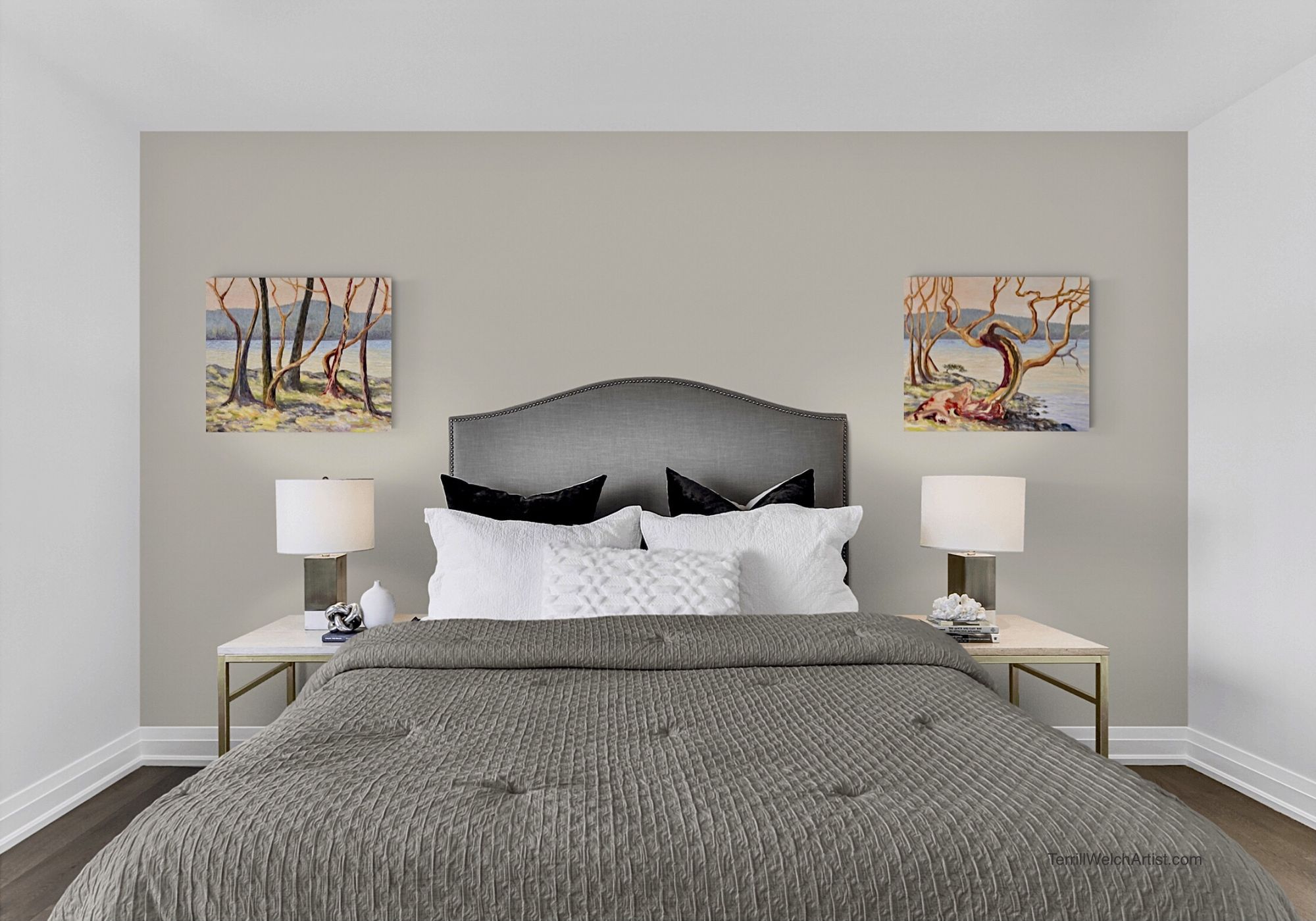 But they could also someday be hung like this as well.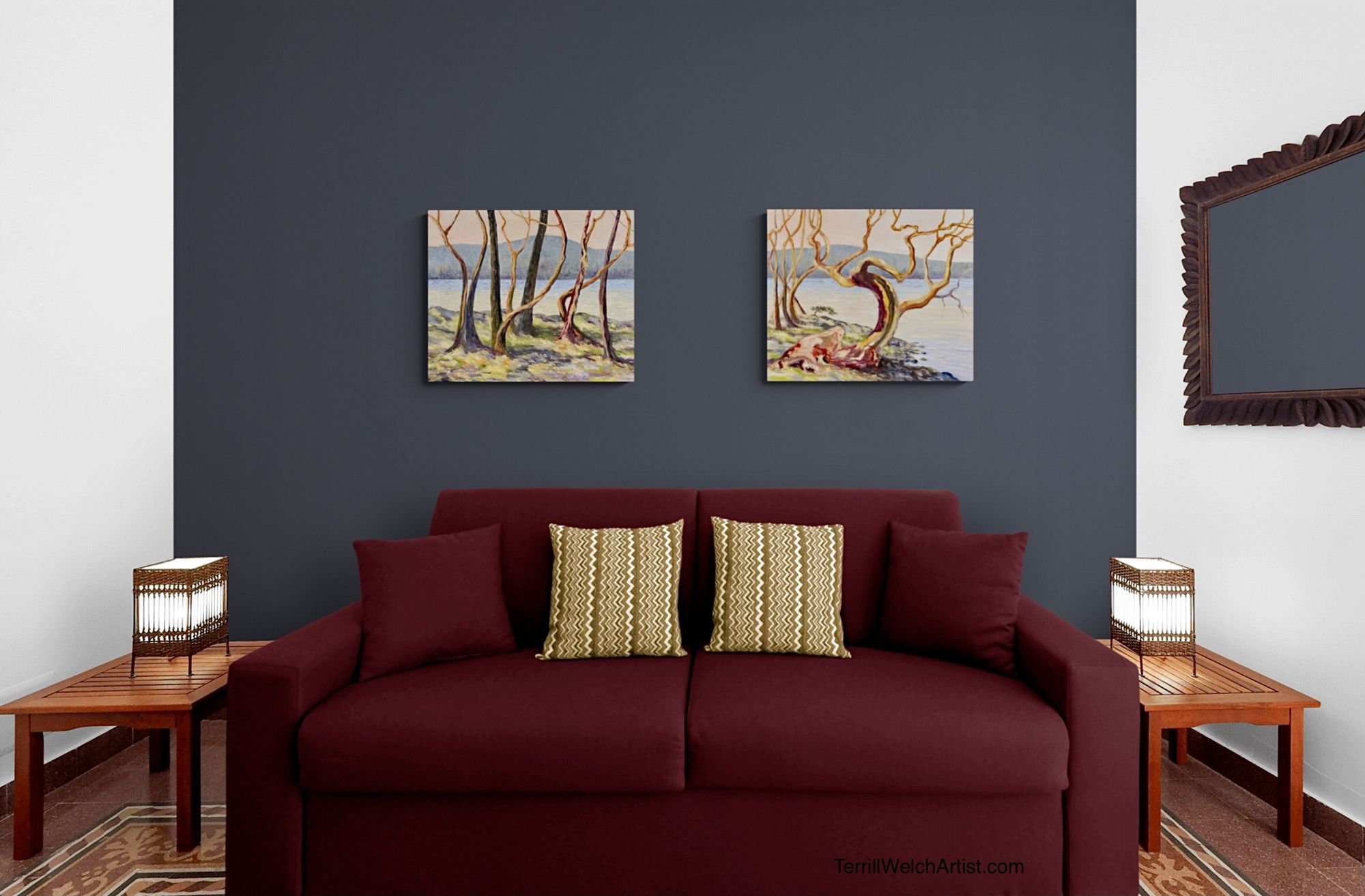 Or they could even be hung like this…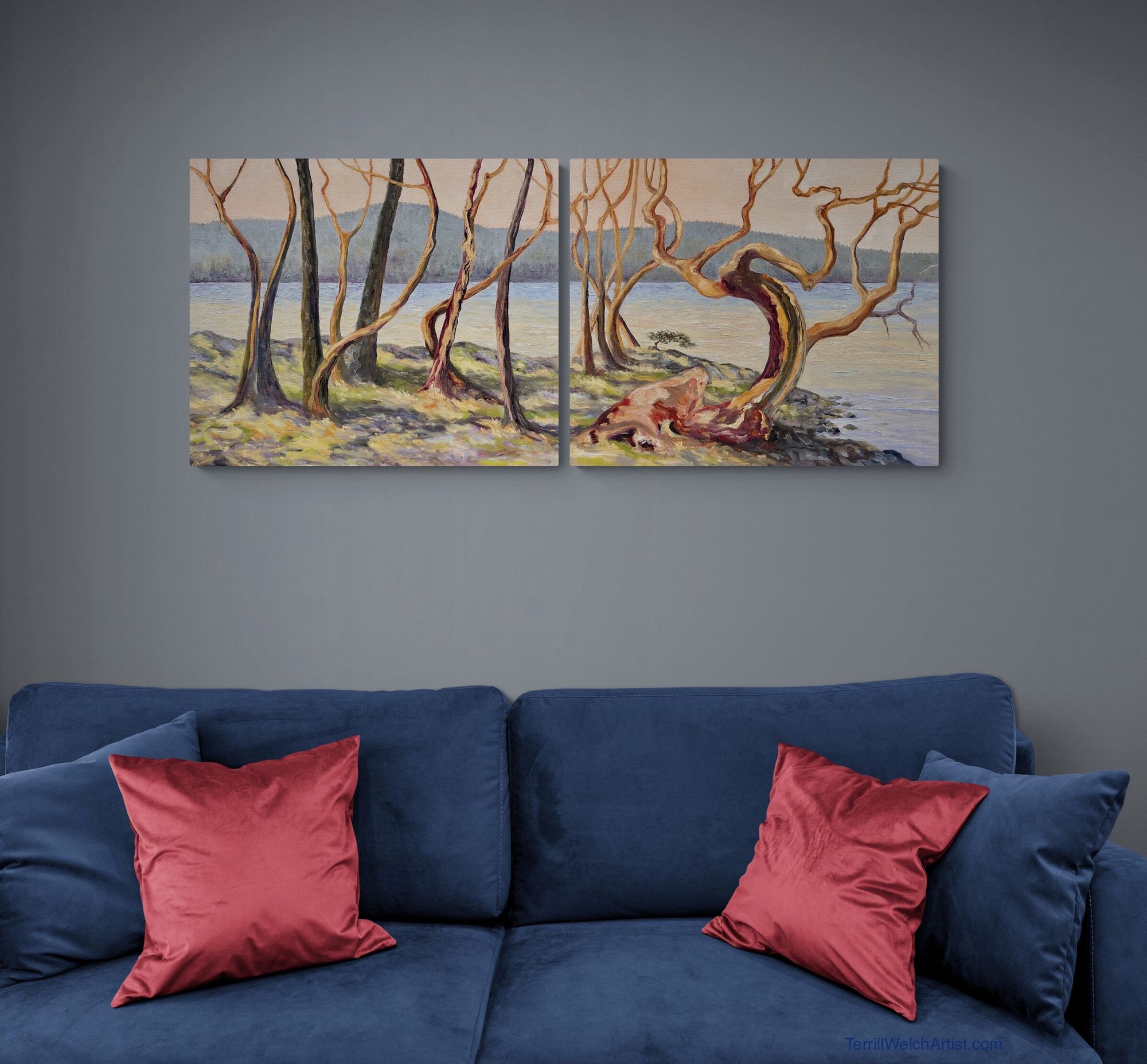 For now, they are resting and drying before I paint their edges. Besides, anyway you look at it, these two sister commissions are spoken for which makes me very happy. 😊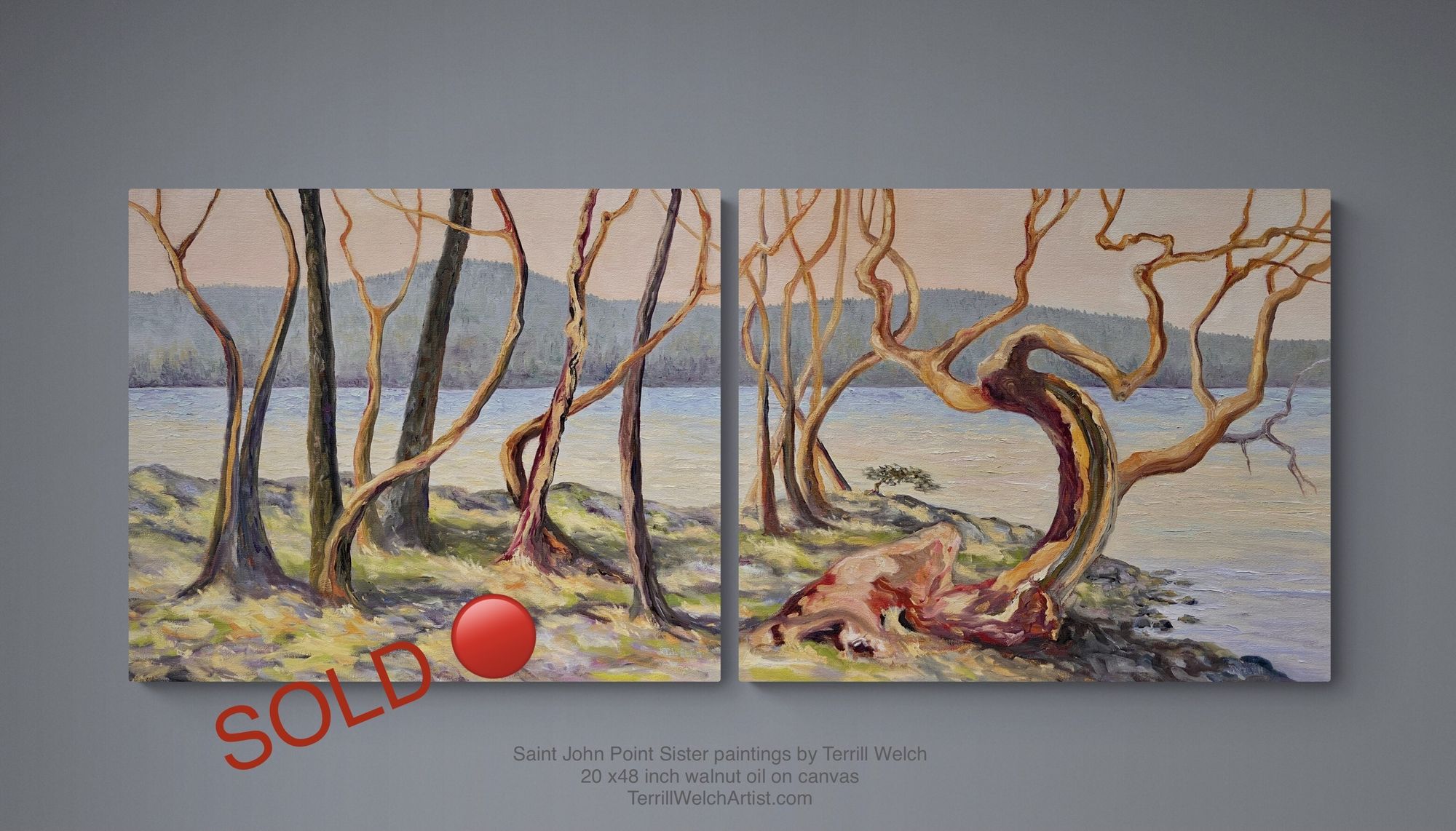 Future Fragments Study
The second abstract paintings was inspired from a long hike and the process for painting used by Danish painter Per Kirkeby (1938-2018). Per talked about his interest in double awareness. First an innocent look for object and light. Then a second look for structure and systems to find the essence or nature of the subject. His paintings are dependant on what he sees and he has to look as if getting permission to paint his subject. If looking doesn't feel like enough then he goes for a walk. The resulting paintings were many layers and frequently huge but there were small studies as well. Though our body of paintings are vastly different, Per's approach to both life and painting resonated with me. So this small study is a tribute to his observations of abstract structures in nature. This work is also not released but is available for inquiry.
"Future Fragments Study" by Terrill Welch 10 x 8 inch acrylic and oil on gessobord.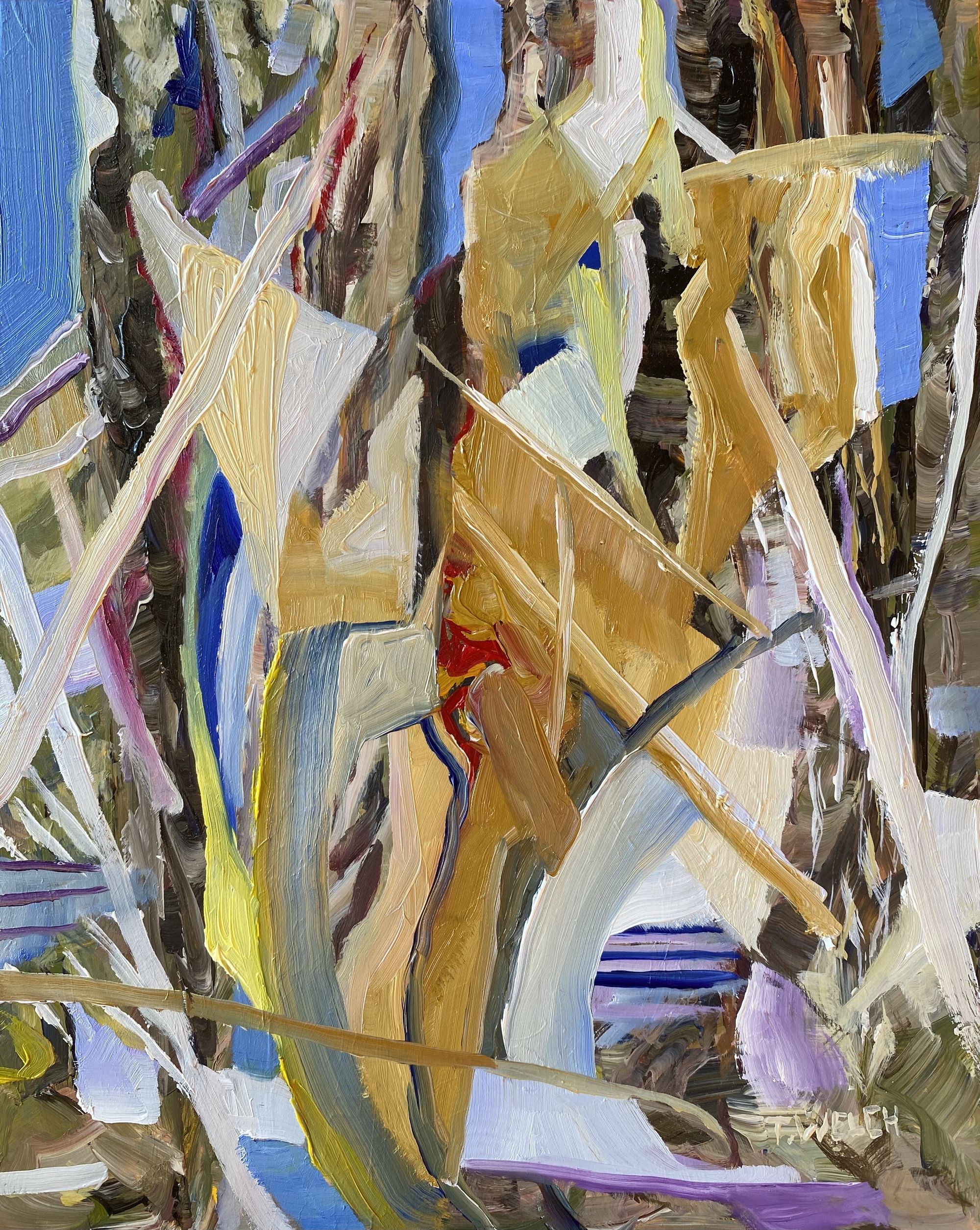 Artist notes: I walked and wondered about what will remain as future fragments to rebuild upon? Will there be another fragile sense of wholeness and interwoven harmony? What did it feel like then? What does it feel like now? Are any bits reusable?
In preparation for working on a small abstract study, I took myself out to Saint John Point. The sun was glorious and warm on its protected south slope. In good times and hard times these trails keep me resilient and hopeful. I am just going to post my images in the order they were taken with no extra bits of storytelling because I know that you will most likely bring your own and mine might disrupt your contemplation.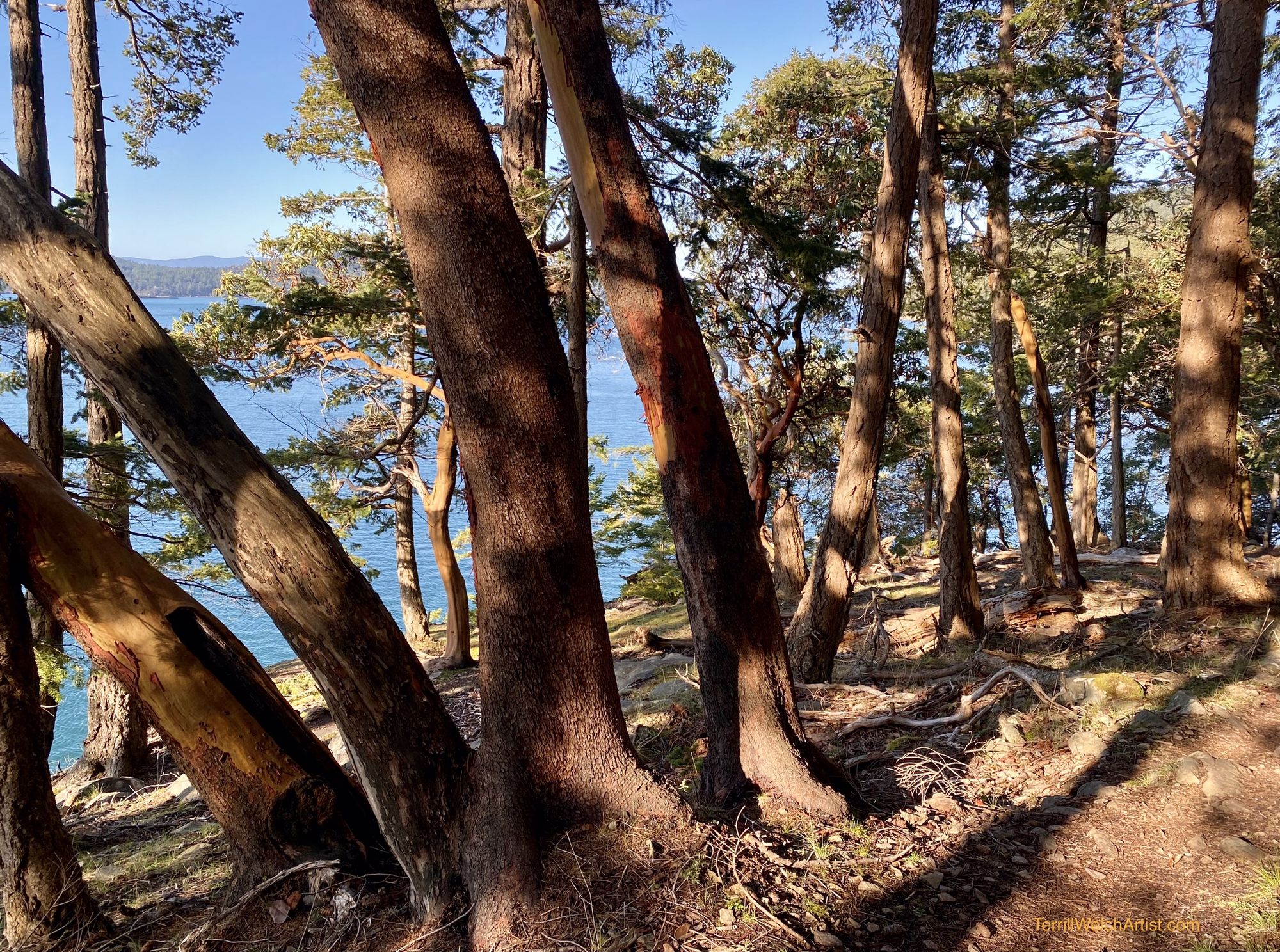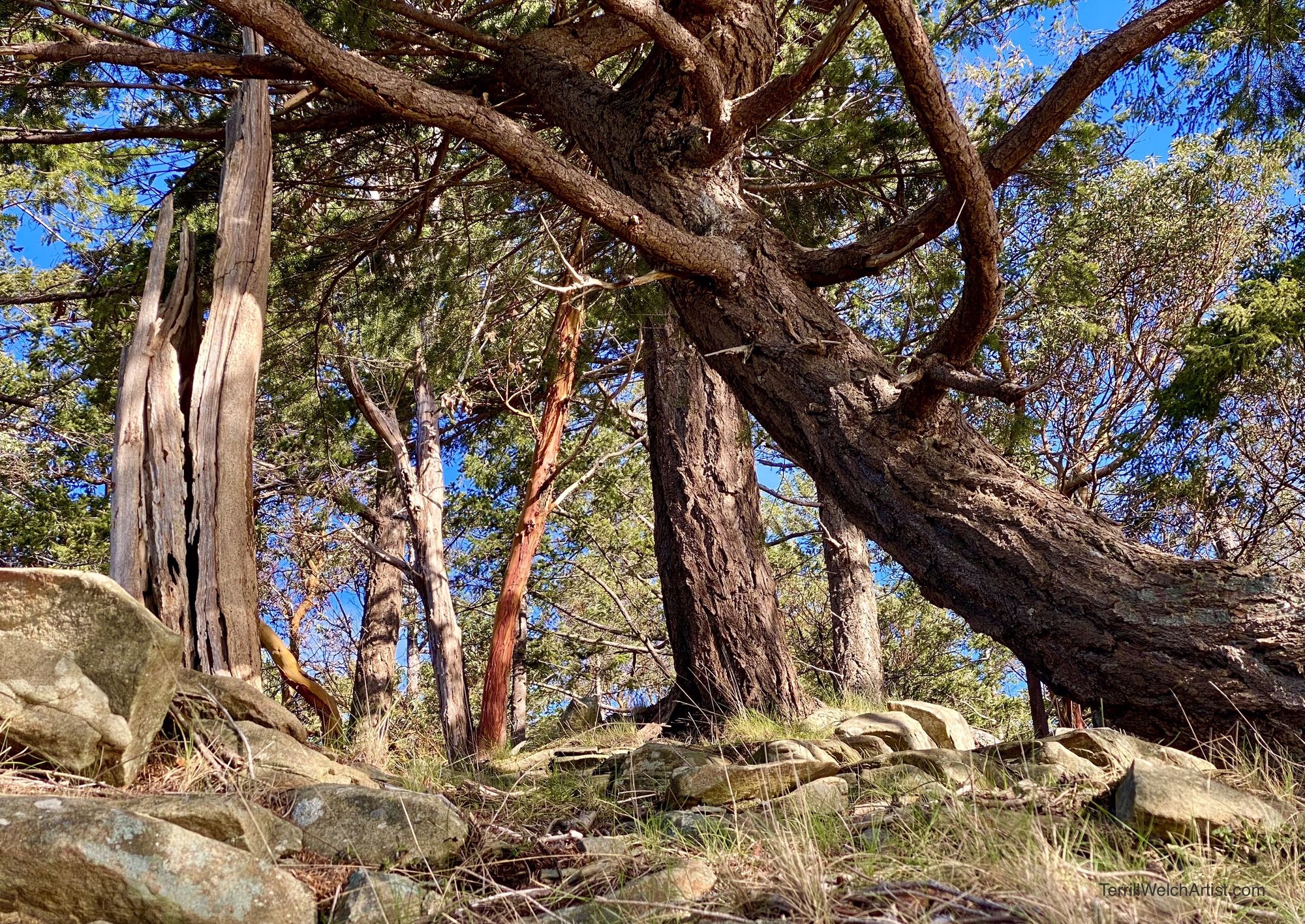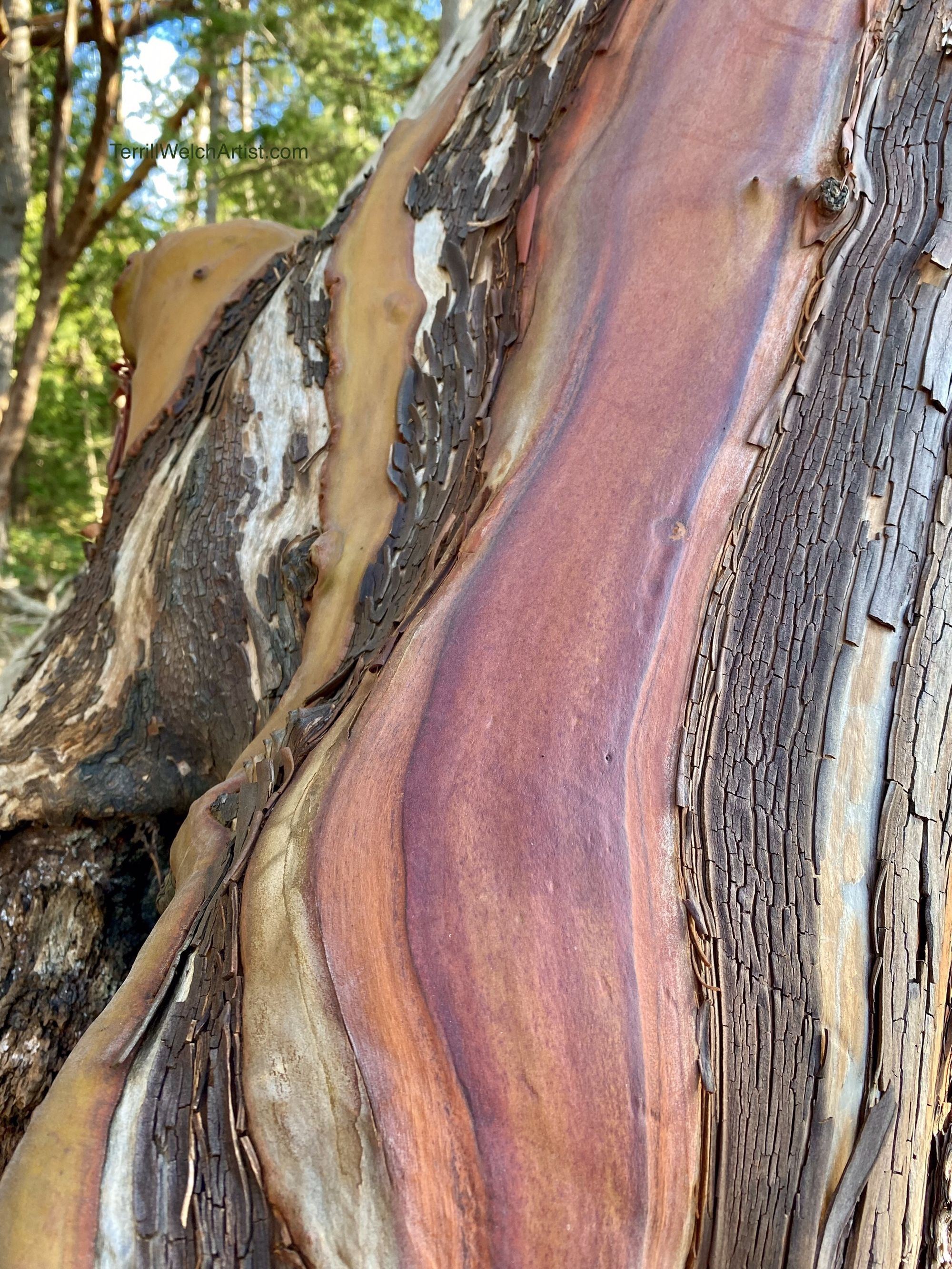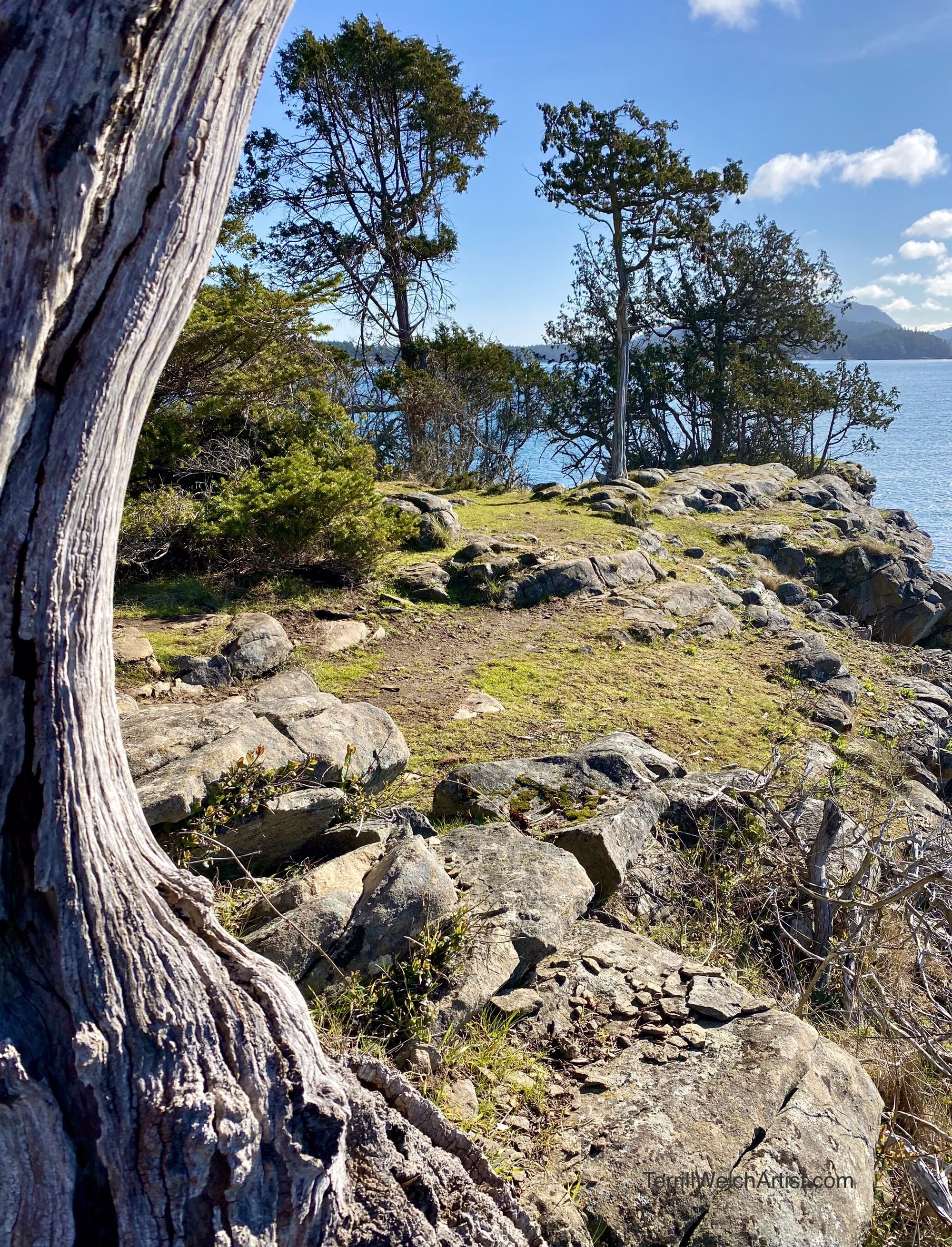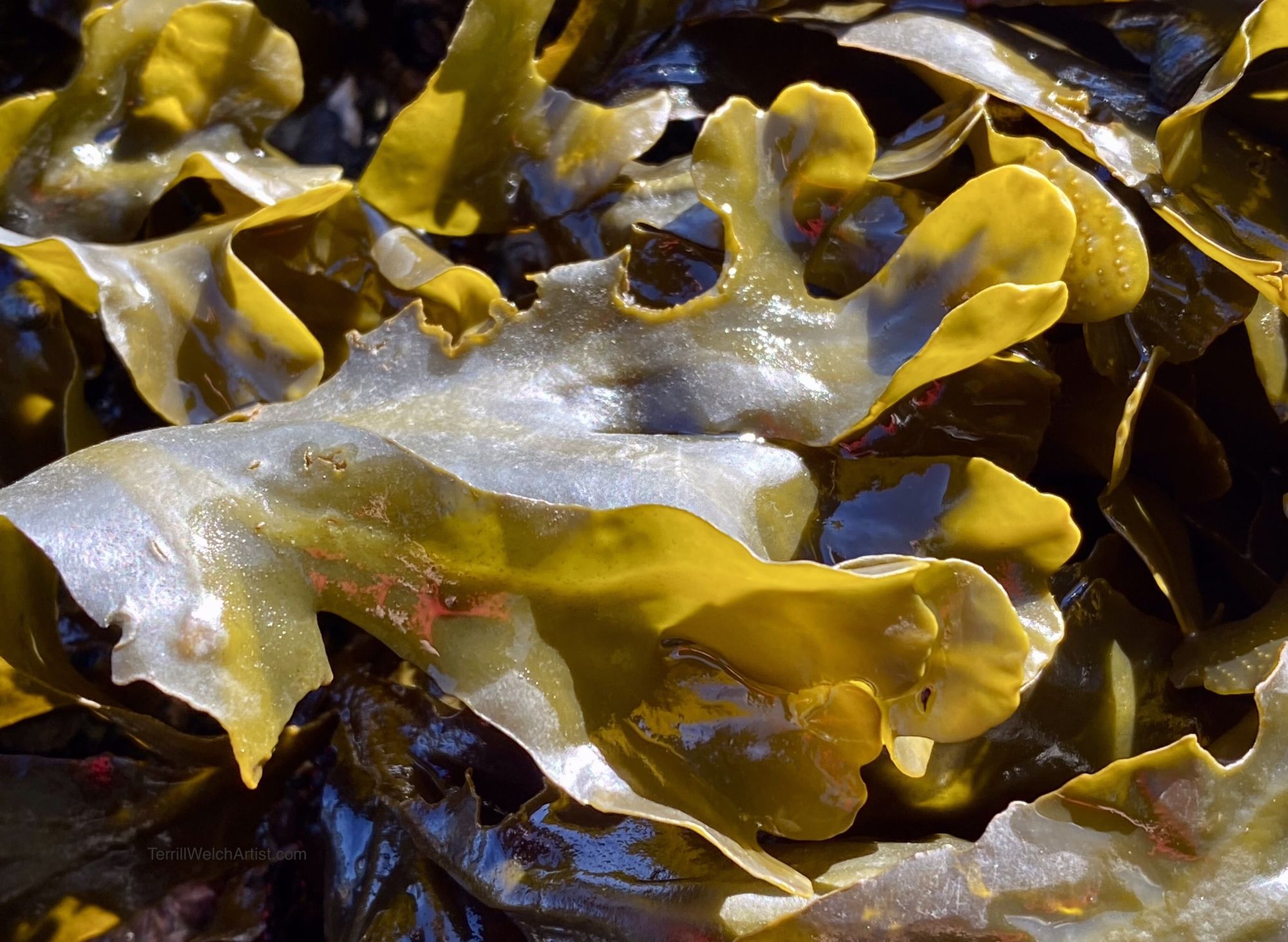 And here is the small abstract study again in a room view now that you have seen where the inspiration comes from….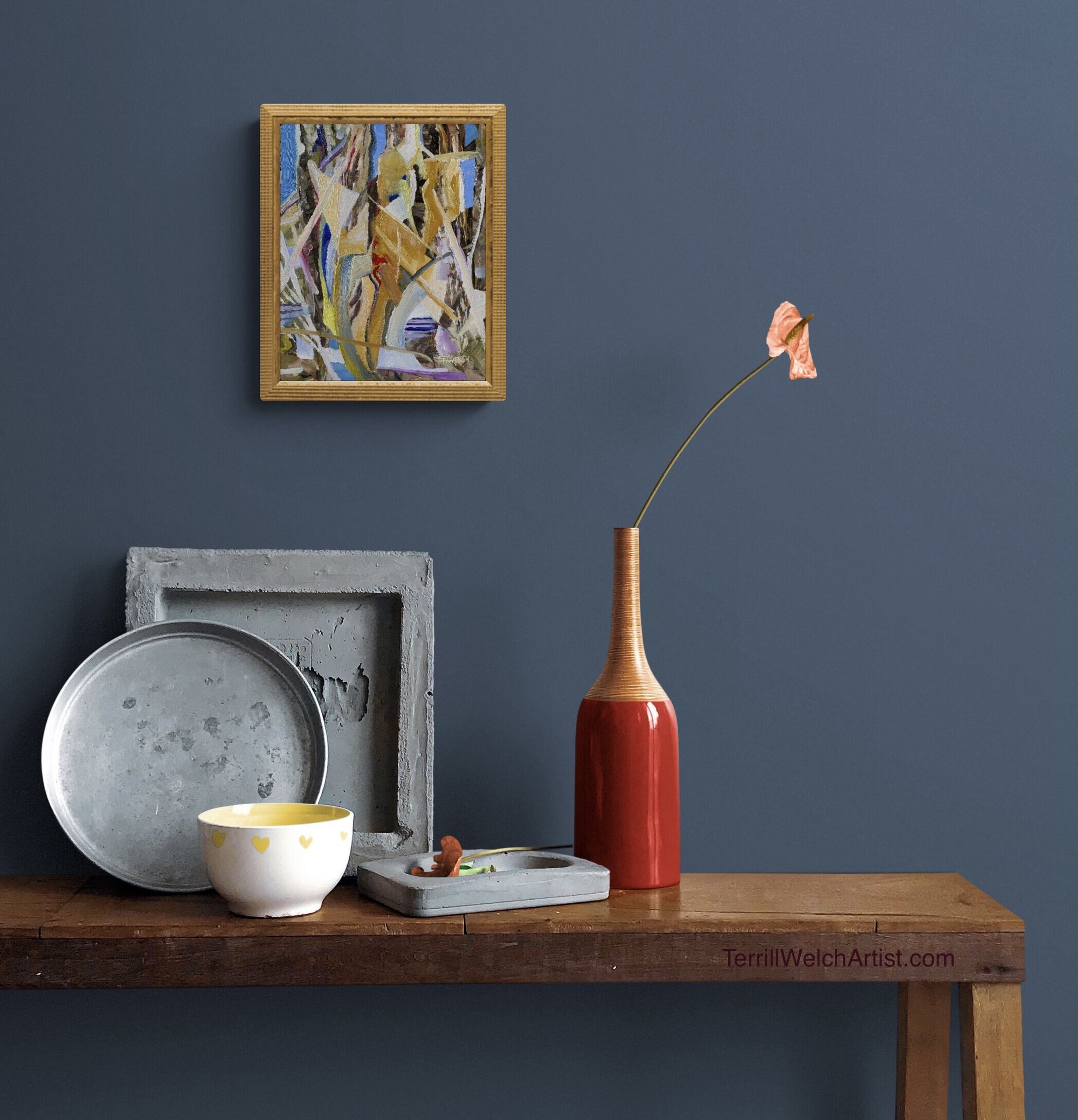 Update On New Gallery Spaces
I have added a new blog post to our website so that you can access current information about our new spaces all together. You may want to read the full update but the most significant news is that the gallery pod has been delayed by a month waiting for windows and is now expected in near the middle or end of June….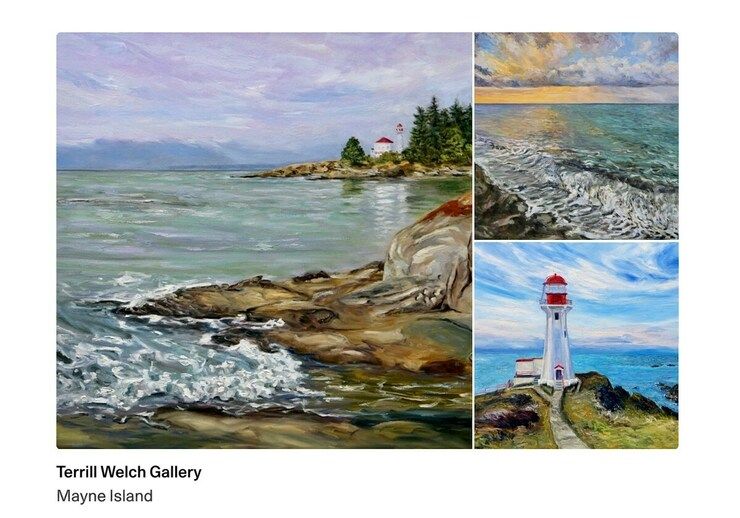 Yes, we have moved and will be in two unique locations going forward. The First Location Opening Soon- Opening April 14, 2022, the Terrill Welch Gallery ISLAND TIME ART is excited to offer modest, high-quality art gems that are available for immediate purchase or by shopping online. Our new art room will be located in…
This week, I gave a final sweep to the empty Arbutus Room Gallery. I still have the space until the end of March but it is ready for its own new adventure….
I wonder what kinds of conversations these walls will hear next?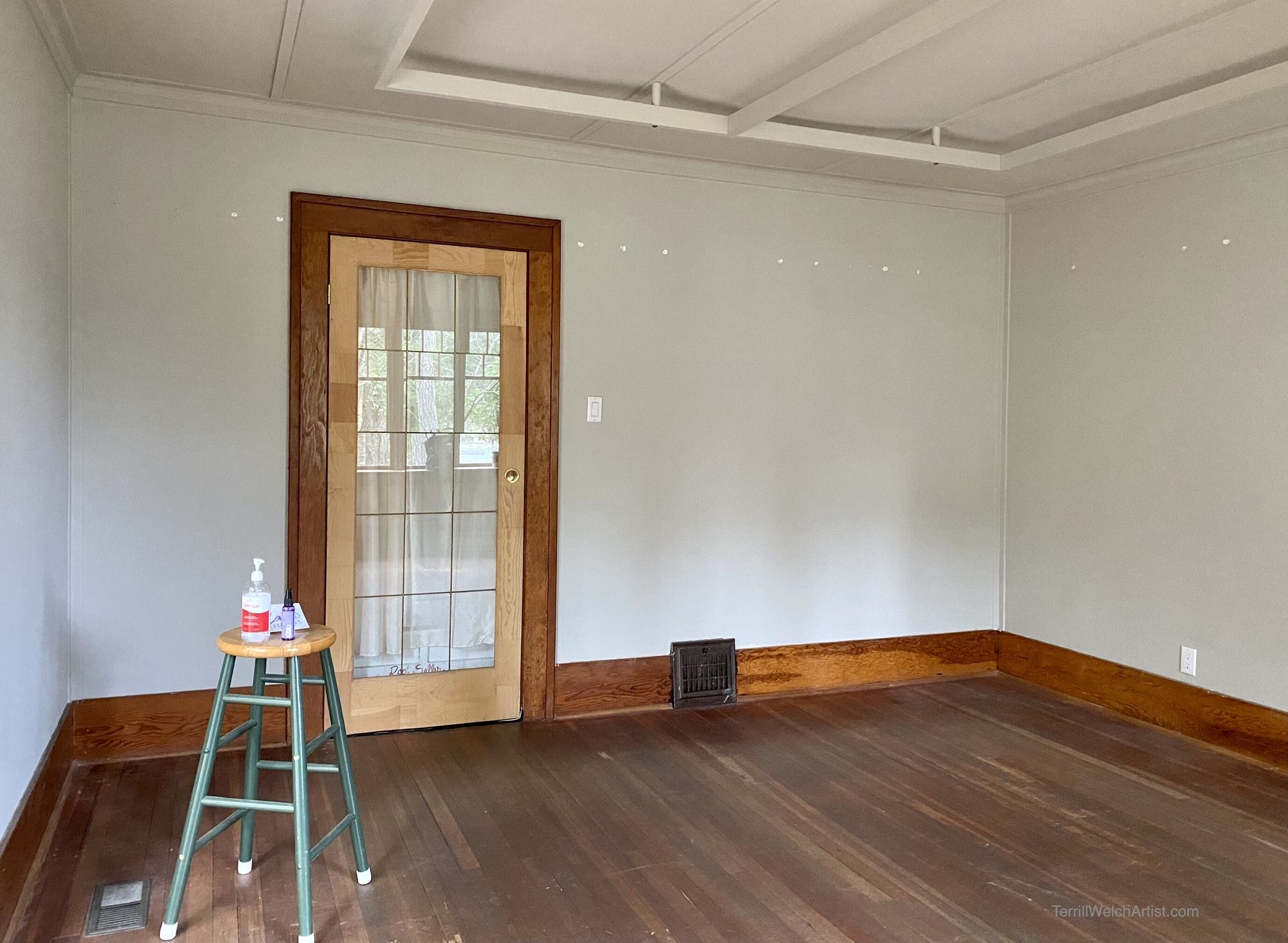 It was once the dining room when the house was a residence and BnB before.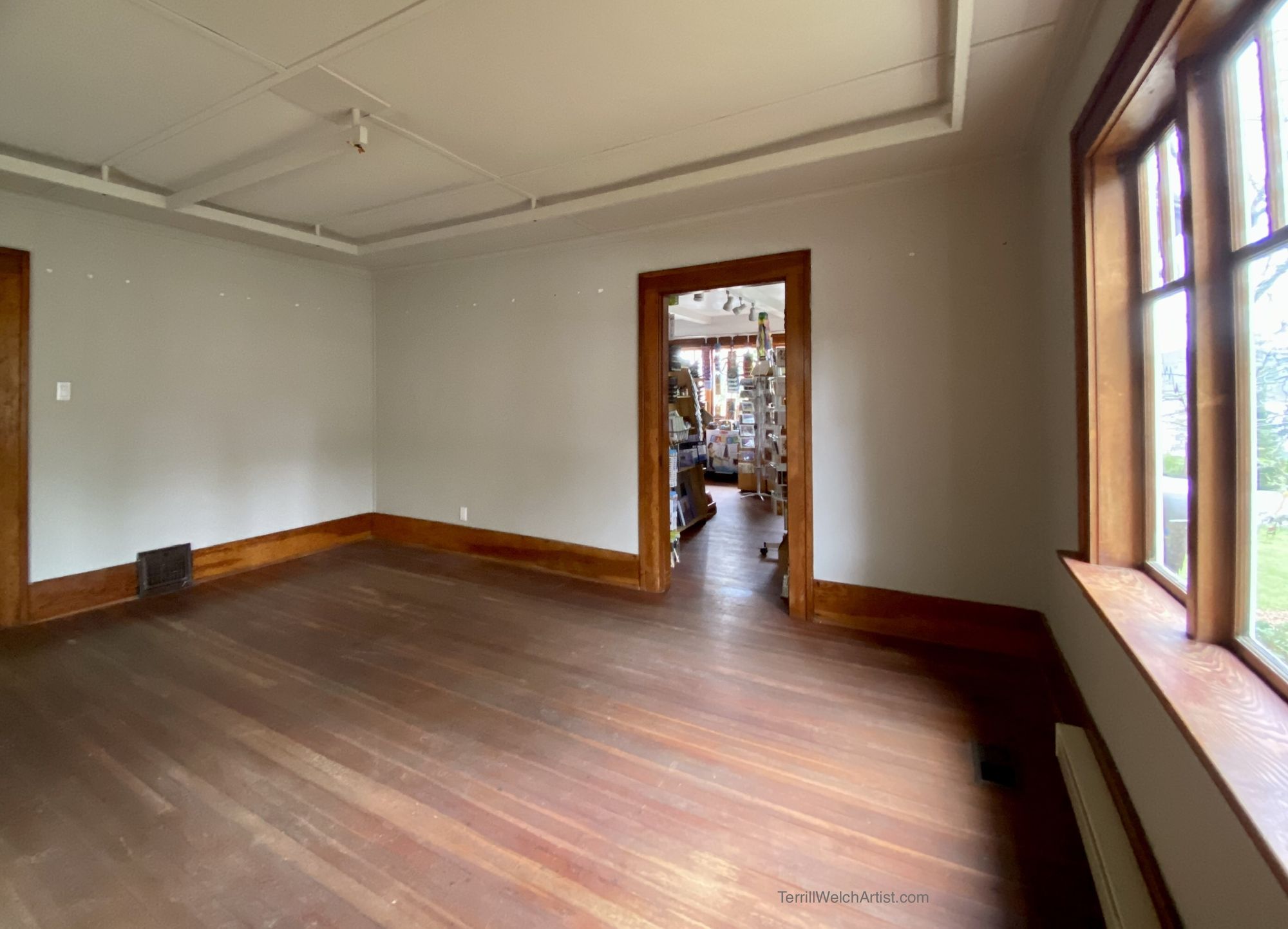 I wonder if it will be again?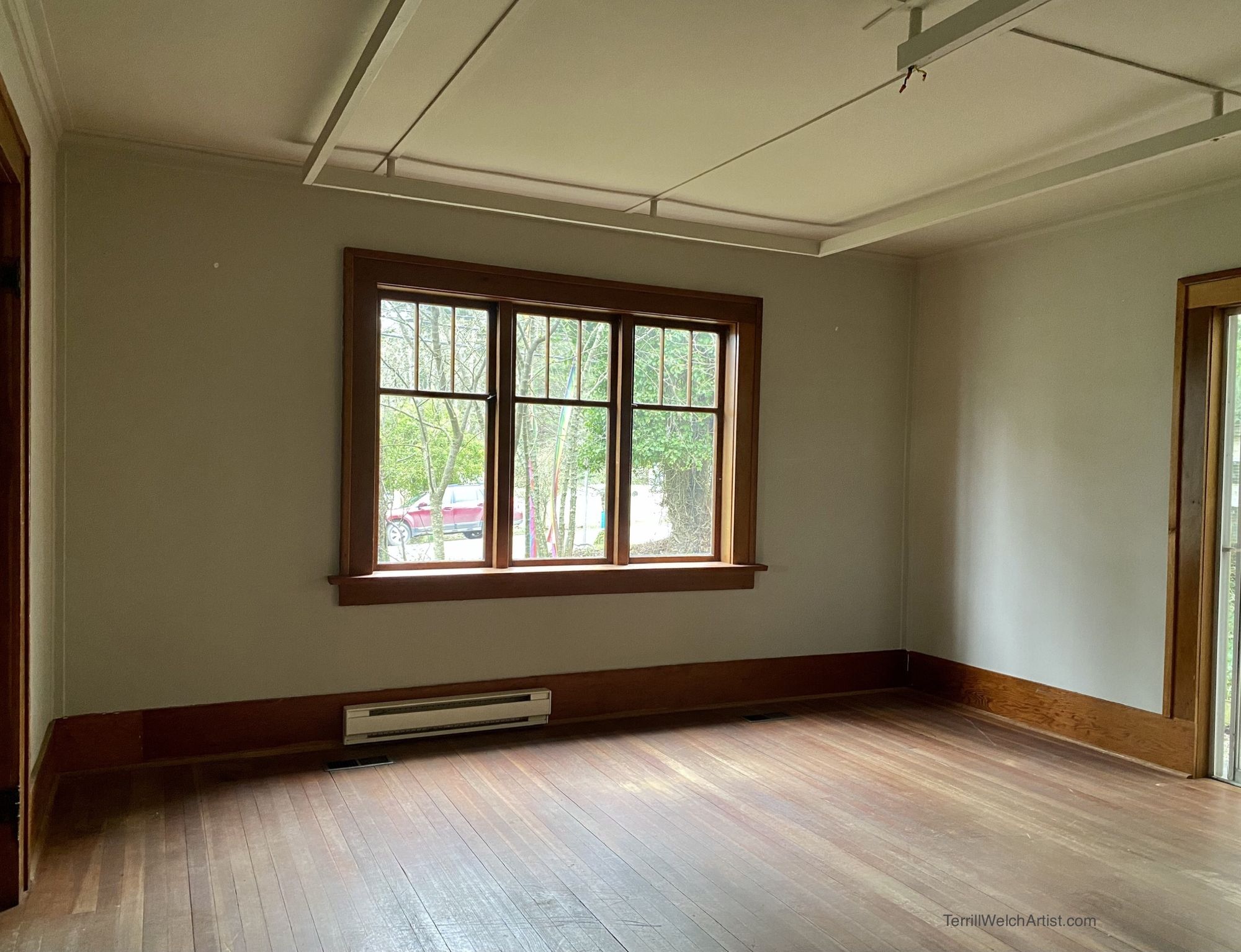 The gallery sign is now at the front gate holding space for the gallery pod which has been delayed waiting for windows. It should be here by the middle to end of June.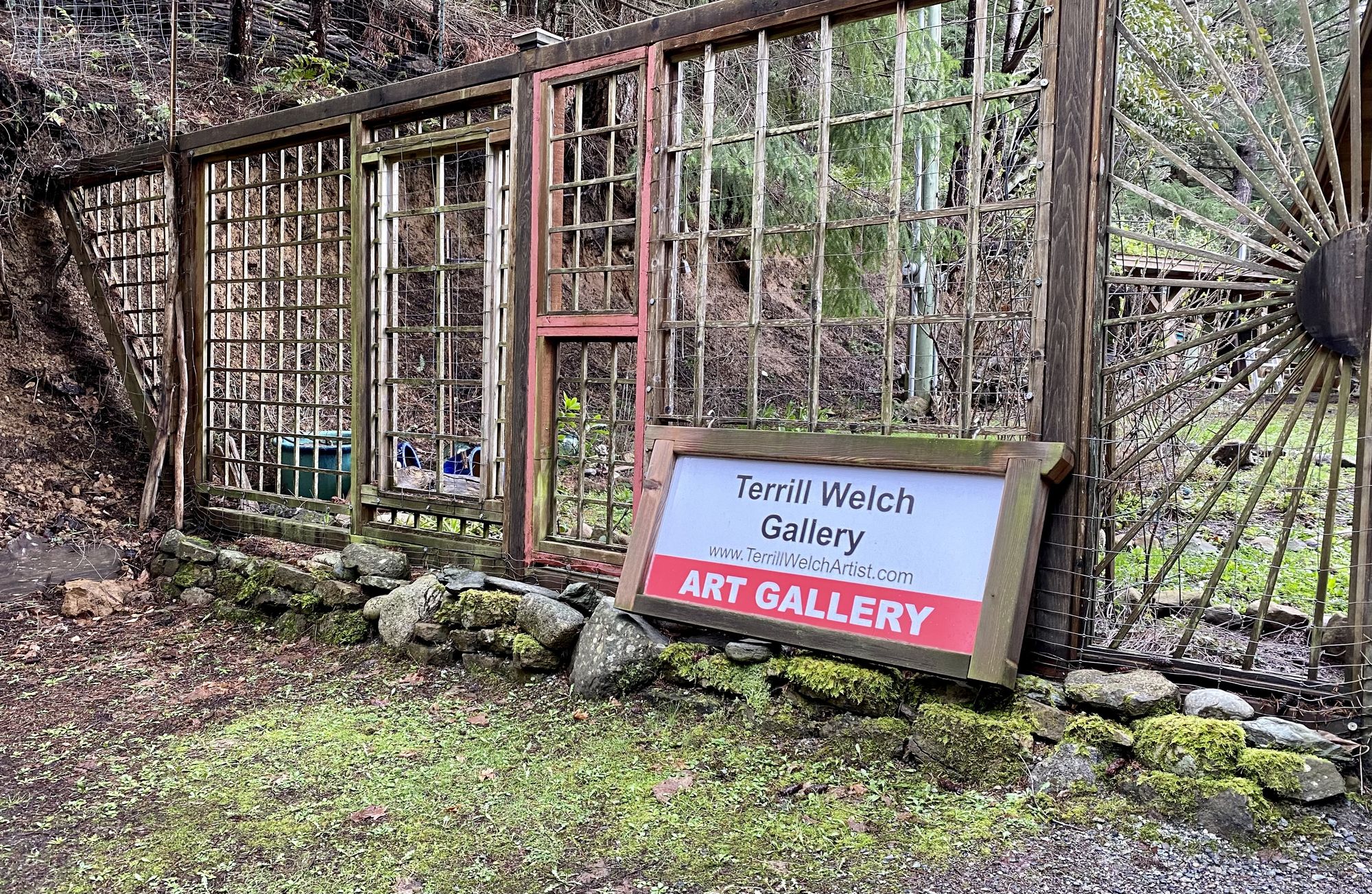 We managed to get all the paintings and all the furniture from both gallery rooms tucked into our living space. It was a challenge but only temporary until the new gallery spaces are ready. On the next morning, after a much needed restful sleep with the window open last night to hear the frogs singing in the pond, and having read the news, I decided on a slow start with coffee in bed. I just need a few moments to gather myself up. I did the final edit today's newsletter from under the covers and then head upstairs to my desk to prepare my bio, artist statement CV and work plan to give copies to a consultant who is assisting me with exploring a new aspect of the business going forward. More on this soon.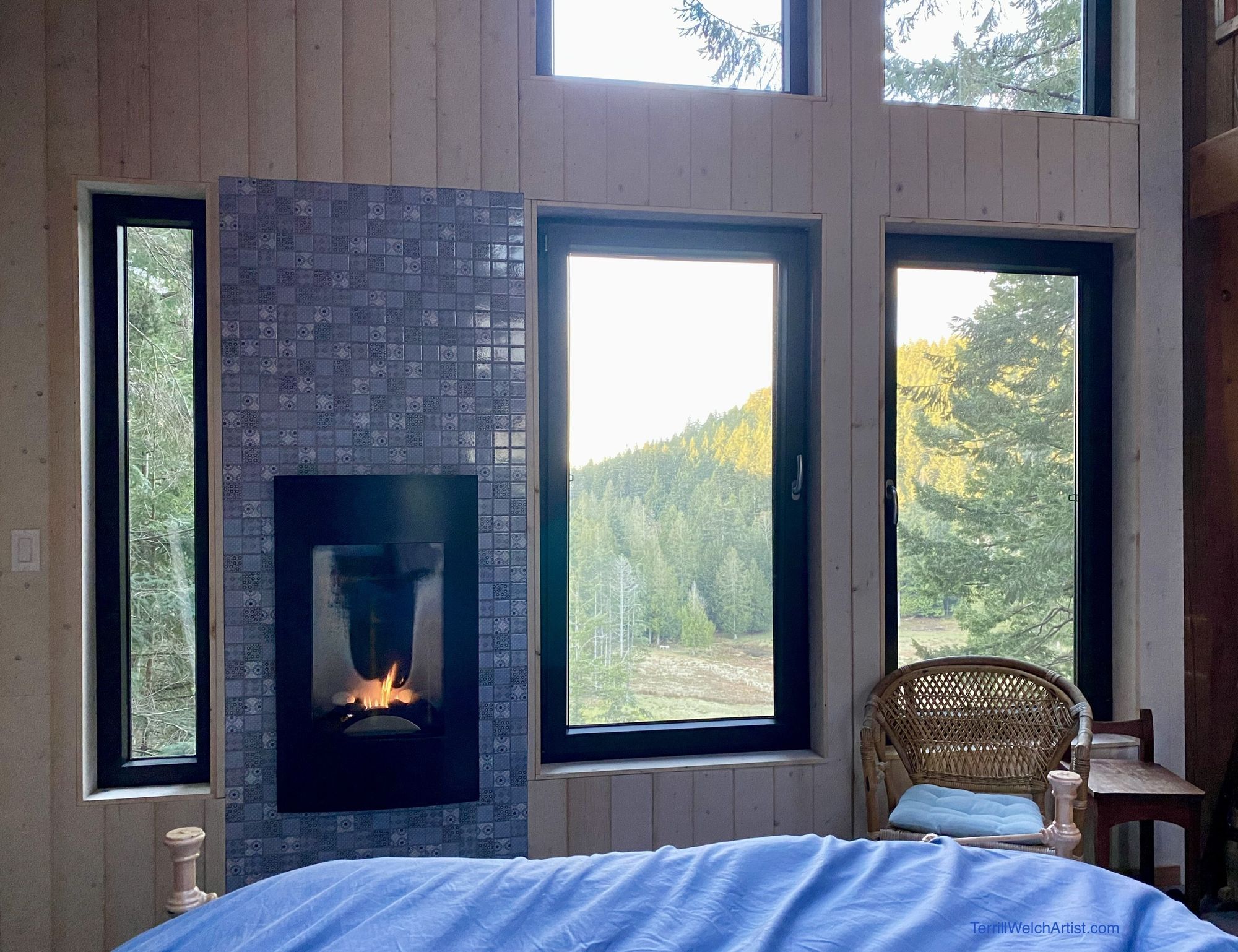 During the recent 10 short weeks since the beginning of the year, I have completed 14 paintings. Six of these paintings are already sold and are going into private collections. Only one of the others has been released so far. I expect to be doing less painting over the next six to eight weeks and more work preparing the new physical gallery spaces as well as getting recent work released in my online gallery. But we shall see. The paint brushes always have their own ideas.
A Quiet Nod to Artists and Art of Past Shows
All of the Terrill Welch Gallery shows are closed until we open in our new venues. However, it is possible to browse our past shows online at Artsy until the end of June. If you see something you are interested in, I am happy to connect you directly to the artist. We would like to thank all the artists that have shown with the gallery since 2017 and we look forward to more adventures in the future!
Our gallery program brings extraordinary connections to ordinary moments in our natural landscape. The Terrill Welch Gallery opened in August 2017. Since the…
Spring in our Japanese Gardens
In natural defiance of war and tragedy and rain, our Japanese Garden is waking up and providing solace to anyone who ventures in and wanders its quiet paths.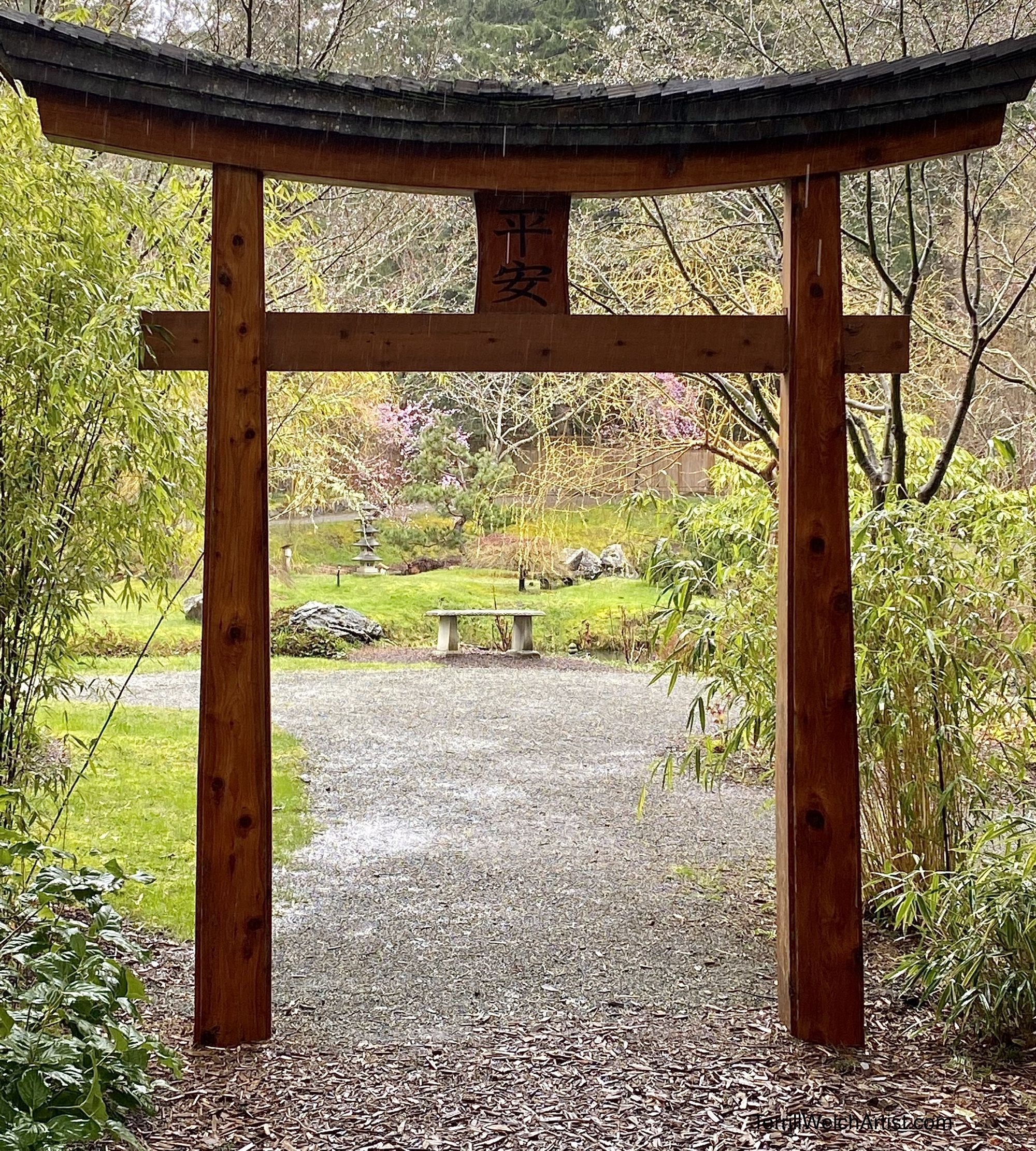 Various clumps of daffodils bow their heads towards the ground.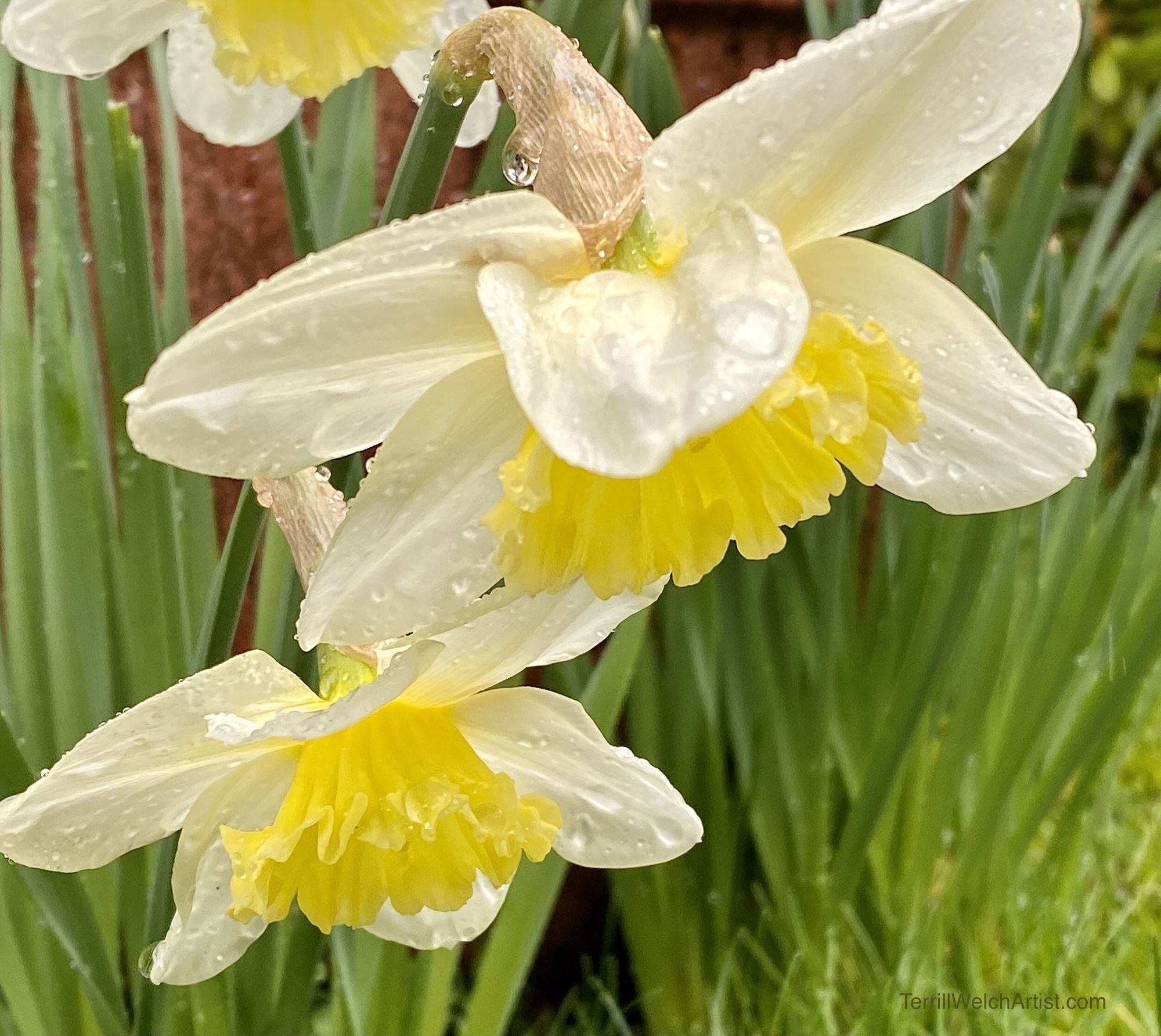 Magnolias are stretching out of their winter jackets.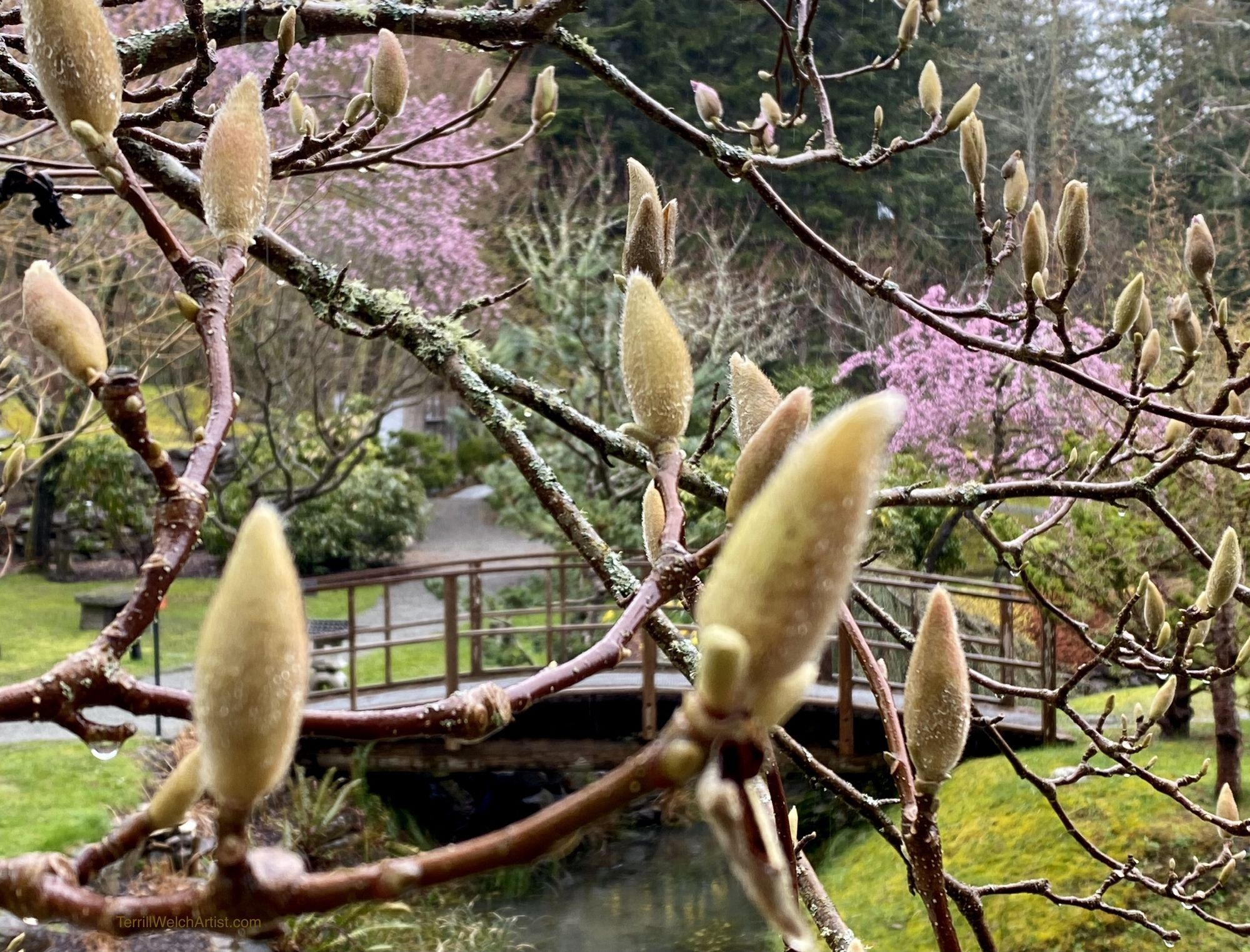 While rain-soaked plum blossoms reflect the world around them.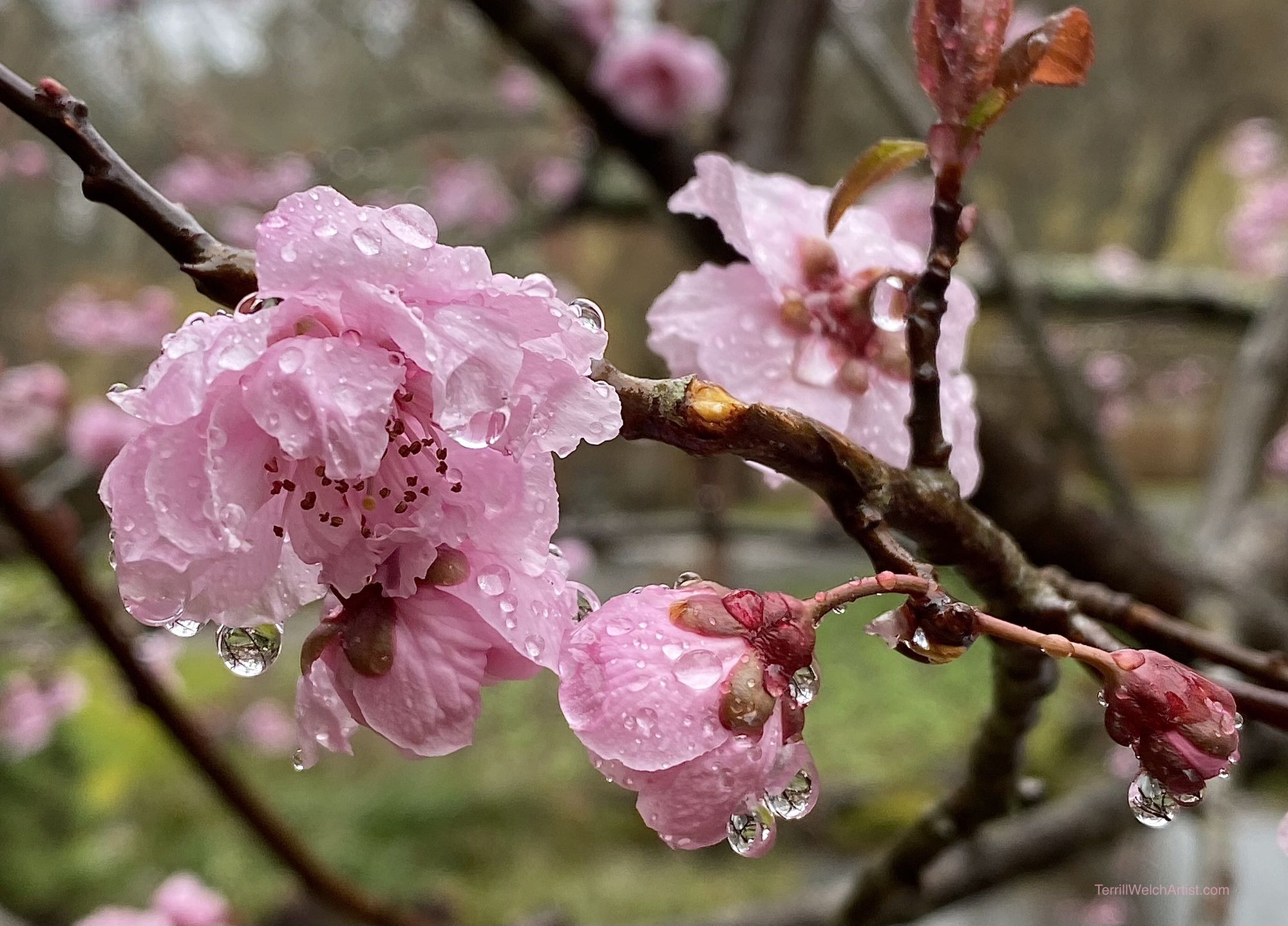 As the weeping willow greens up, I can't but marvel at the combination of early garden hues.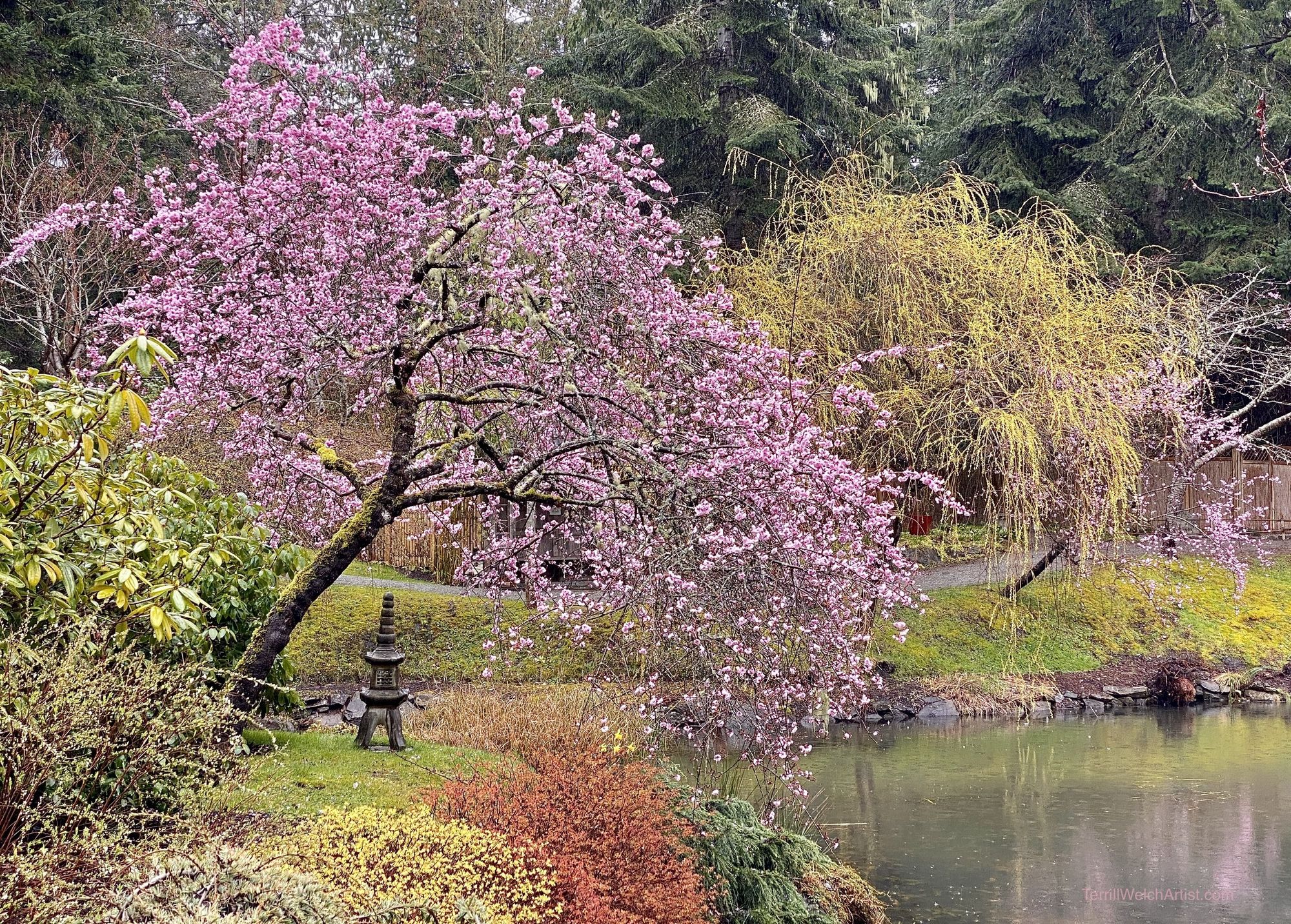 It is as if fairies and pixies are hiding in plain sight.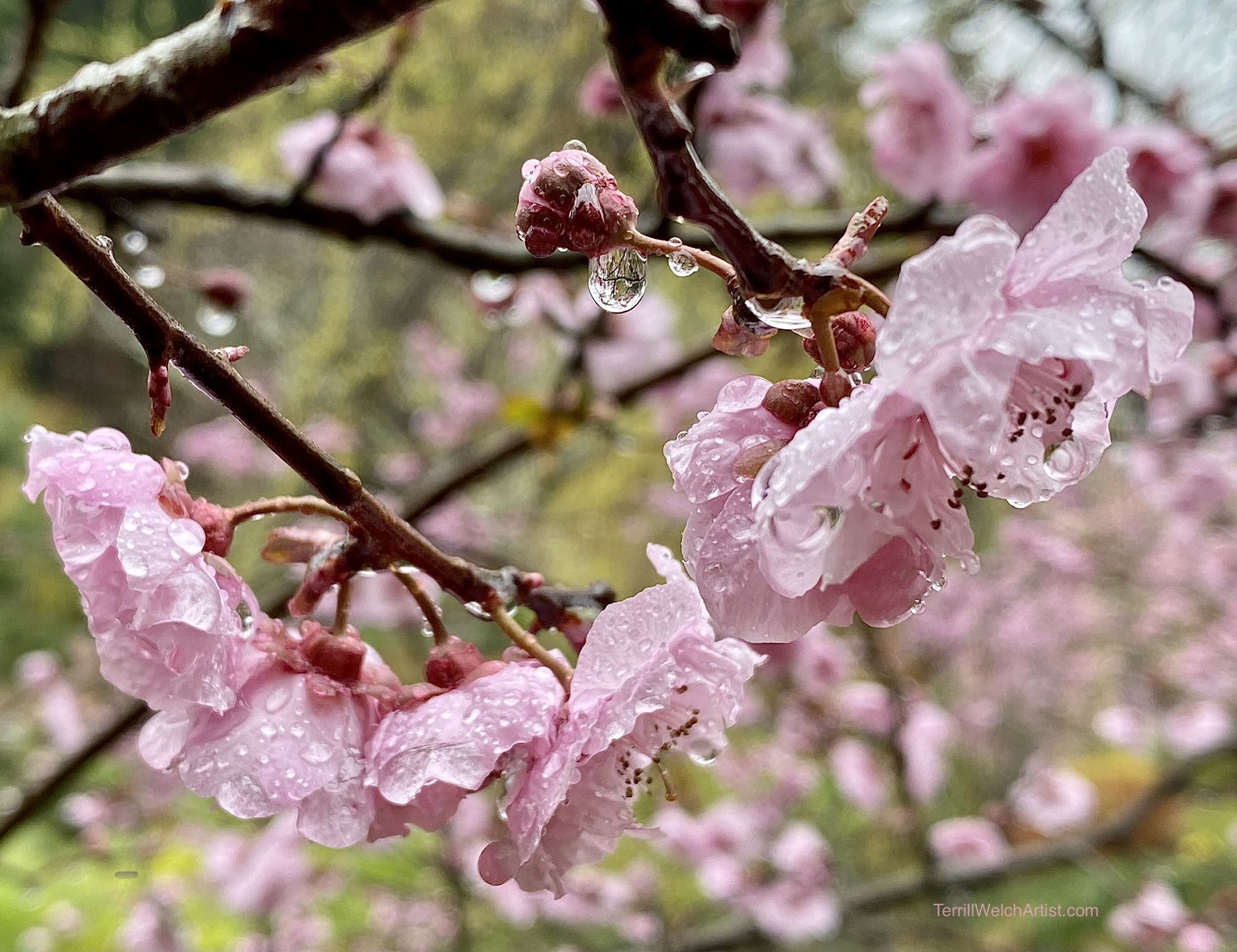 Even in the rain, when I get soaked to the skin, there is always a little magic in this garden which also has its own tale of honouring hardship and unfair responses by Canada towards our Mayne Island Japanese families during World War II. In this honouring, there is hope, even though it feels too far off and not nearly fast enough for the number of lives lost everyday right now in Ukraine.
Until Next Time
These are such difficult times for Ukraine and for the world. As someone said recently, it is hard to think about much else. An artist friend in Eastern Canada mentioned that her life had taken on a new morning ritual. She woke, checked on Ukraine and then made coffee - in that order. I can concur with this sequencing in my own morning routine. I find it difficult to focus on the tasks at hand but know that this too is necessary. My mother reminded me that we must proceed as if there is a tomorrow so that there will be. That means, for those of us not in immediate danger, part of our job is to keep things going and to keep believing that this terrible time too shall pass. It is not an easy task because of our guilt about being safe while Ukrainians endure war crime after war crime. However, I see three immediate and necessary task for myself right now. The first is to bear witness by obtaining and reviewing fact-checked media and to become knowledgeable about the contexts and the present and potential impacts of this war. The second task is to do what I can, be it a donation, a letter to our government encouraging more support, participating in a peaceful protest, engaging in a fundraising event, sharing critical information or listening and supporting others in my circle of influence. The third and final task is to prepare for and believe in a peaceful tomorrow. In this third task is my painting practice and art business activities. Writing and publishing "A Brush with Life" every second Friday is one of the activities that is in my third task category as a way to make a difference. Also, there is preparing a good meal, watching a funny movie, having coffee with friends and making time to visit with my family. As we face this time of war together, from wherever we are in the world, let us uphold and embrace each other's strength of character and goodwill.
With the kindest of regards,
Terrill 👩‍🎨❤️🎨
Canadian landscape painter, Terrill Welch, exposes the mystery in an ordinary day, reminding us that there is only one moment – this one.