A Brush with Life - Issue #100 Within An Ordinary Day 100 Times
As recent weeks slip past in a tragic and unsettling rattle of explosives that results in rubble and far too many losses, I ask myself - is there still such a thing as an ordinary day? And if there is, can I really write about it every two weeks for one hundred times? Apparently there is an ordinary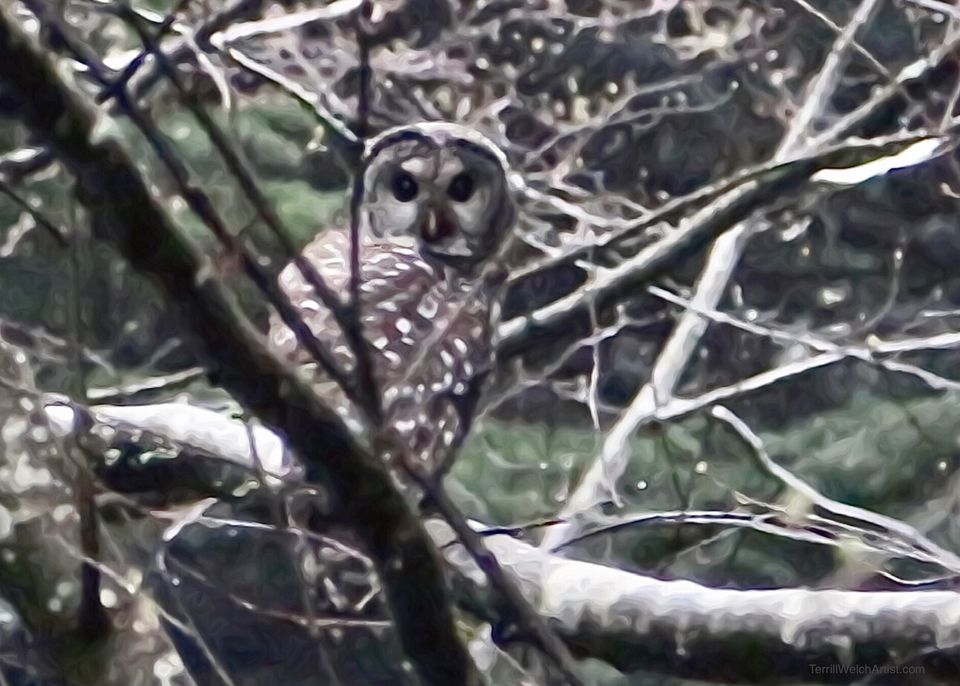 As recent weeks slip past in a tragic and unsettling rattle of explosives that results in rubble and far too many losses, I ask myself - is there still such a thing as an ordinary day? And if there is, can I really write about it every two weeks for one hundred times? Apparently there is an ordinary day, even during times of war. And yes, it appears that I can write about the extraordinary within an ordinary day in one hundred issues of "A Brush with Life." Yes, one hundred! As in 1 - 0 - 0, like 100 times. For this celebration of our 100th issue, I am going to share my most ordinary of extraordinary days as a painter, a creative being and a human being over the past two weeks. Let's see, where shall we start?….
---
An Owly Beginning
I woke one morning two weeks ago today to geese landing onto the field in the valley below. We have a window slightly open to listen to the frogs at night. So the geese were loud! I lifted my head off the pillow and looked out the window into the side yard and there was an owl fluttering onto a low branch of the fir tree about 15 feet away. Then I was really awake! 😂 I got a rather blurry photograph with the big camera of it a little later when the owl was up in the alder tree. But the image is just "evidence" not a great photograph. Still, I thought you might like to see.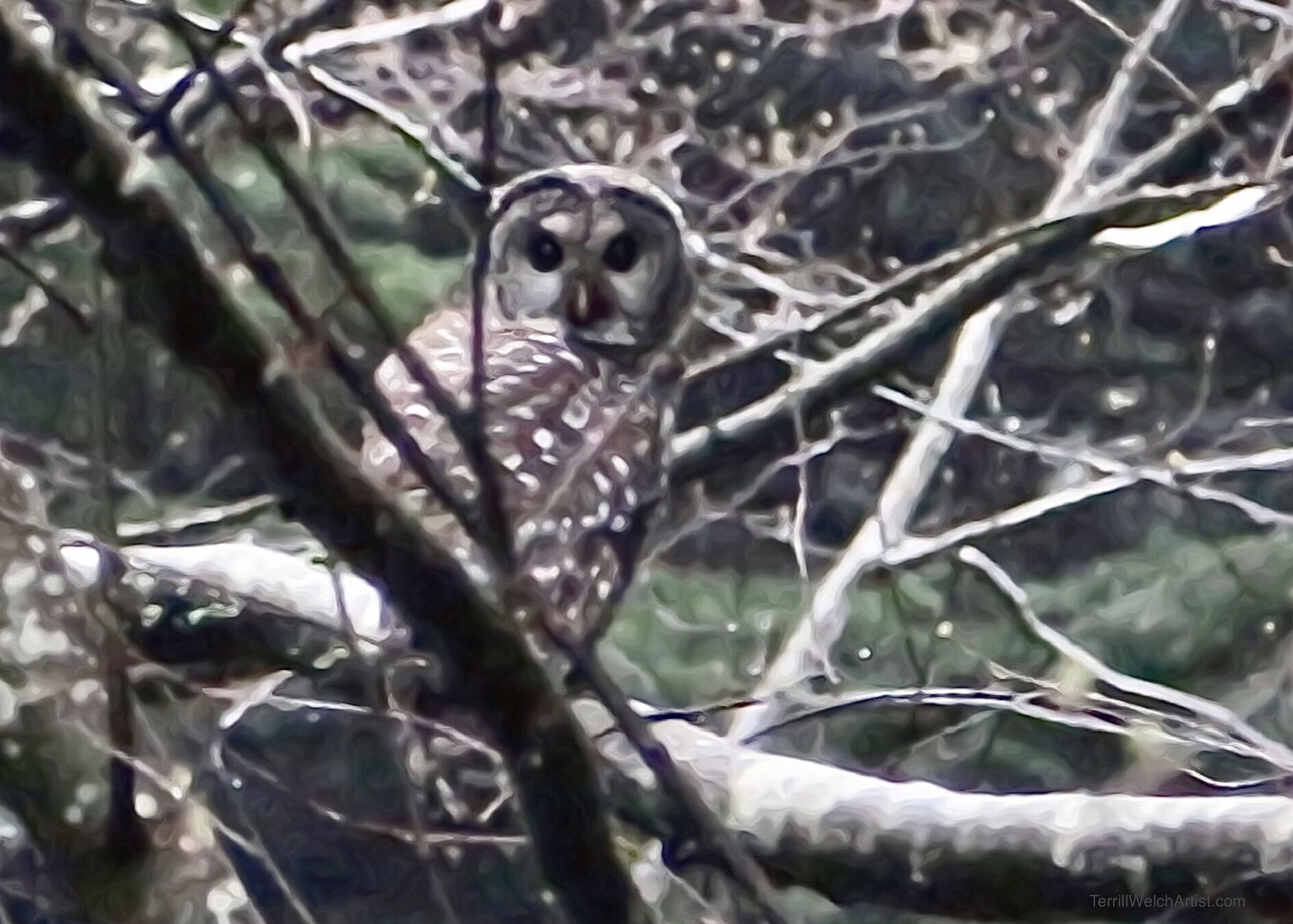 We hear the owls a lot at night but rarely see them. I remember one day we were sitting at the table and one flew across all the front windows over the valley and then through the side deck on west side next to the the road and turned to look at us in flight. We turned to each other with mouths still wide open. What an experience that was! This was pretty special as well though… and this time we have evidence.
In the Artist's Art Collection
We have everything for both of the new gallery rooms, including paintings, furniture and products tucked into our home right now. I had put the antique show easel in the bedroom and it had nothing on it for days. Then I thought what am I doing!? It could be hosting a painting while it sits there taking up space! This seascape is by Jody Waldie and David and I added it to our art collection a couple of years ago. You are probably wondering what we are doing collecting art when we already have a house full of my own paintings. The truth is we enjoy the variety of special works by some of our favourite artists. And as a painter, it is more restful to look at something that I haven't laboured over.
This 16 x 20 inch view oil paining by Jody Waldie is from the lighthouse and is called "Storm Watching"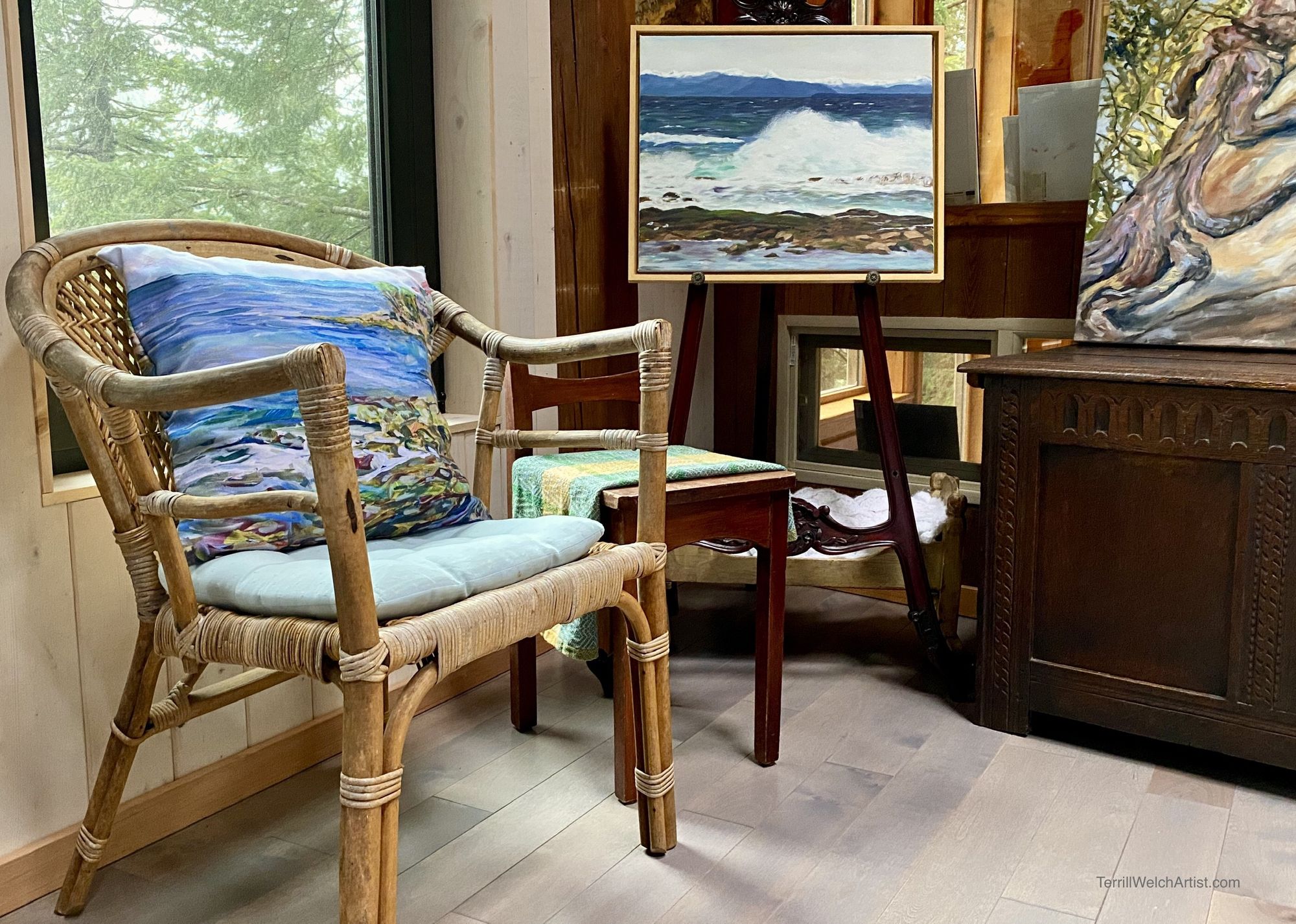 Jody's Artist Notes: The seagulls and I tuck in for a symphony of wind and waves. The lights and darks of a spring storm trick us into thinking we can almost touch the mountains across Georgia Strait.
It was in the second show we ever had at the Arbutus Room and is always good company.
In the Grey Zone
We had to make a trip to Sidney for medicine and banking needs. It was grey and drizzly but pleasant at the same time. It had been two months since we ventured off our wee island. David was teasing me that he was amazed that I still knew how to drive in traffic.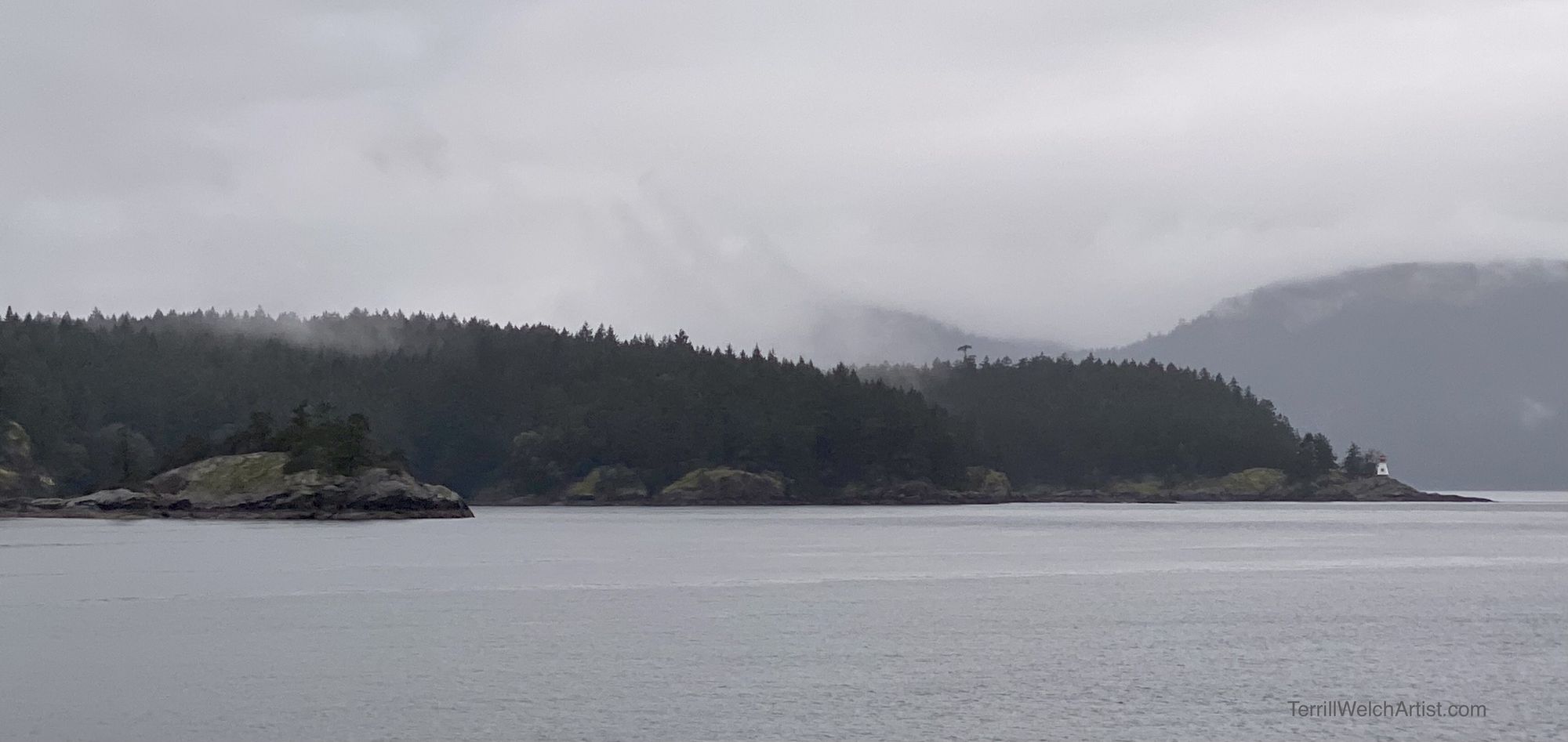 These images are from the trip home and it is even more grey this morning with heavier fog.… the kind of fog that has everything hushed and muffled over top of the damp wool of our sweaters as we stroll along a trail in the trees.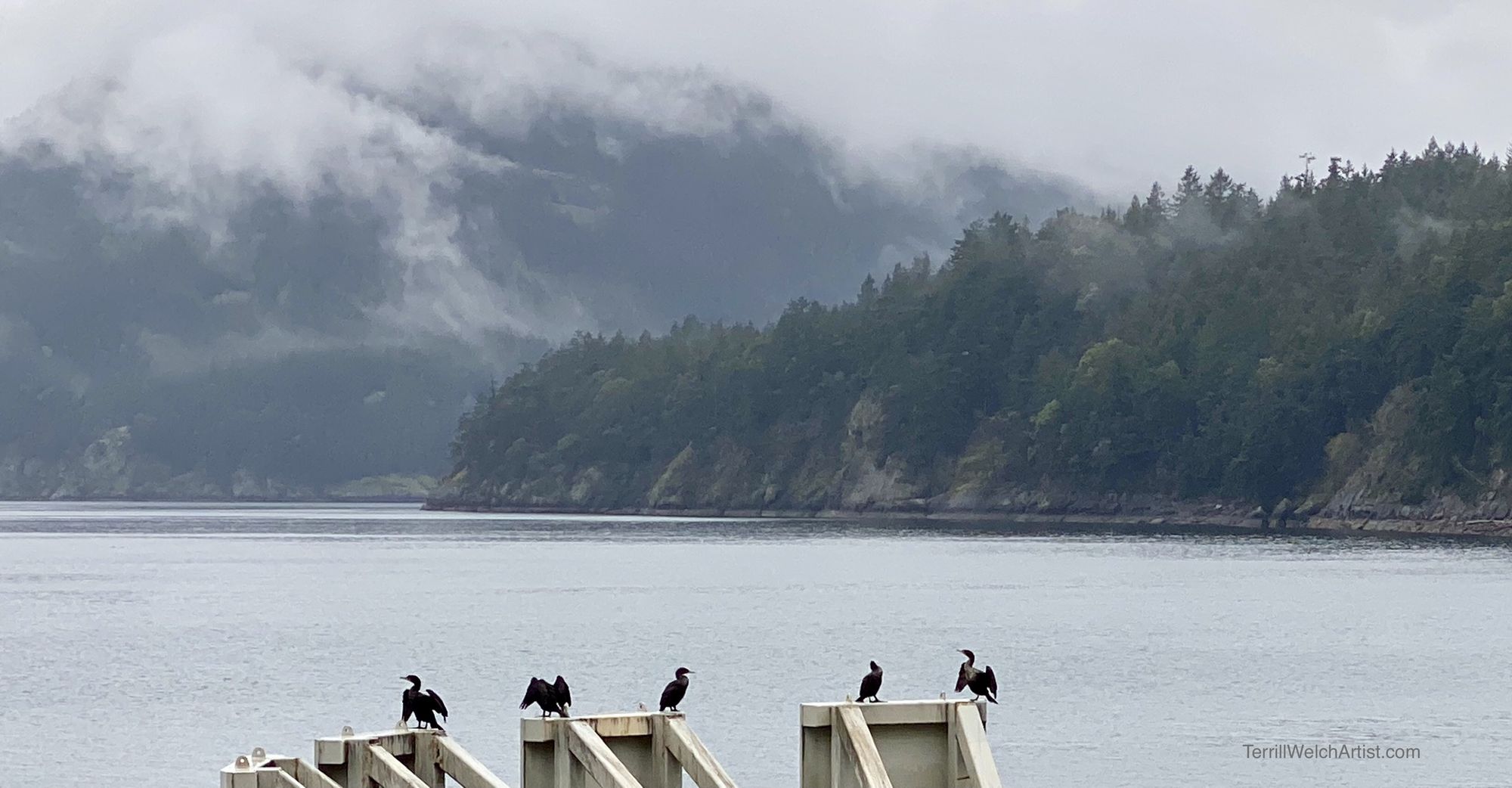 A few days later, the mist is still with us. I step out onto the covered side deck to take in some laundry. As my bare feet measure the coolness of the decking in contrast to the outdoor rug, I can almost hear the trees breathing beside me. The experience was so all-in-compassing I almost forgot what I went out there to get…..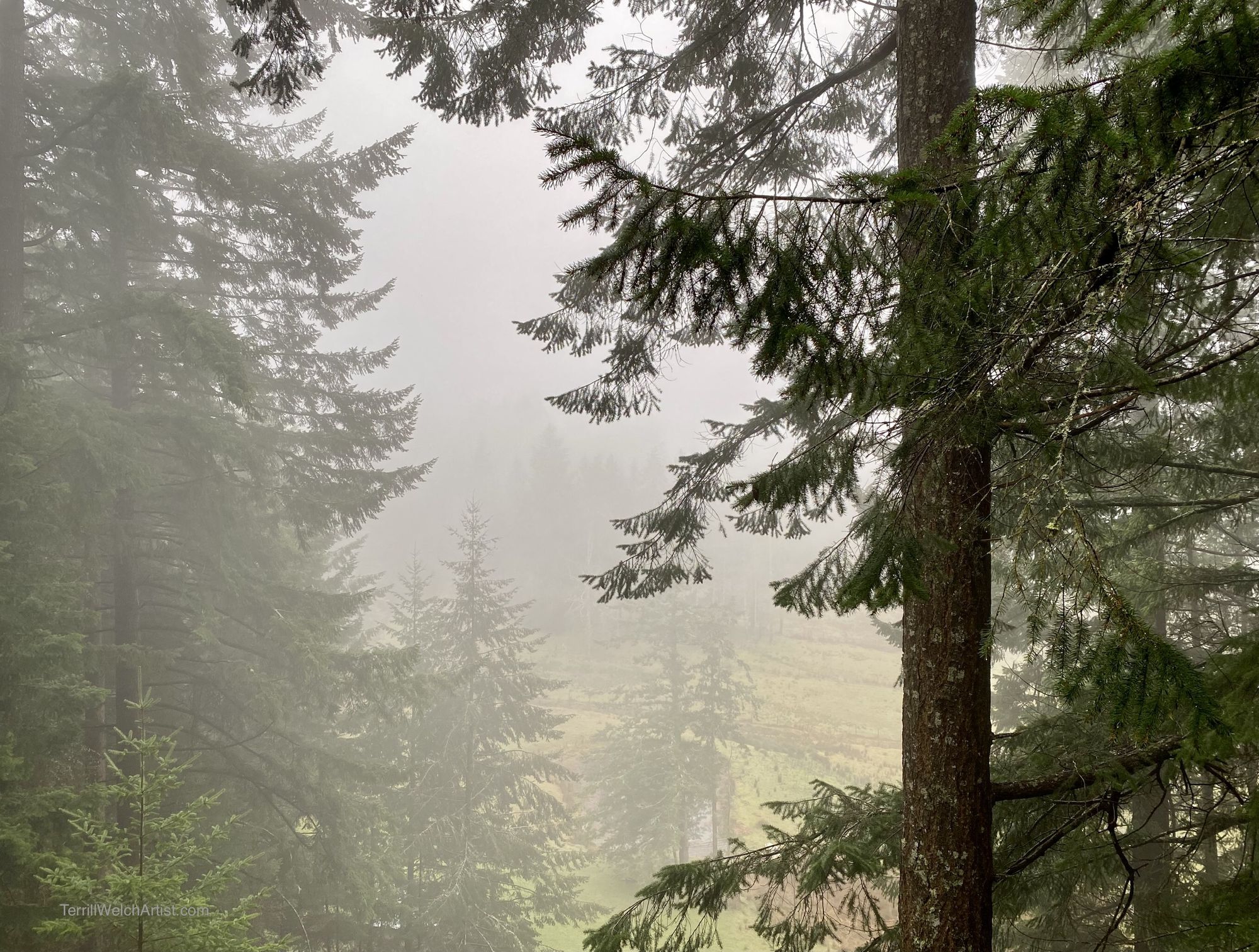 First Plein Air Sessions of the Season
Still in the greys, I venture out to a morning at the Seaview water access with an outgoing tide. The humidity is so high that I wasn't sure I would get the yellow ground to dry. But it eventually relented.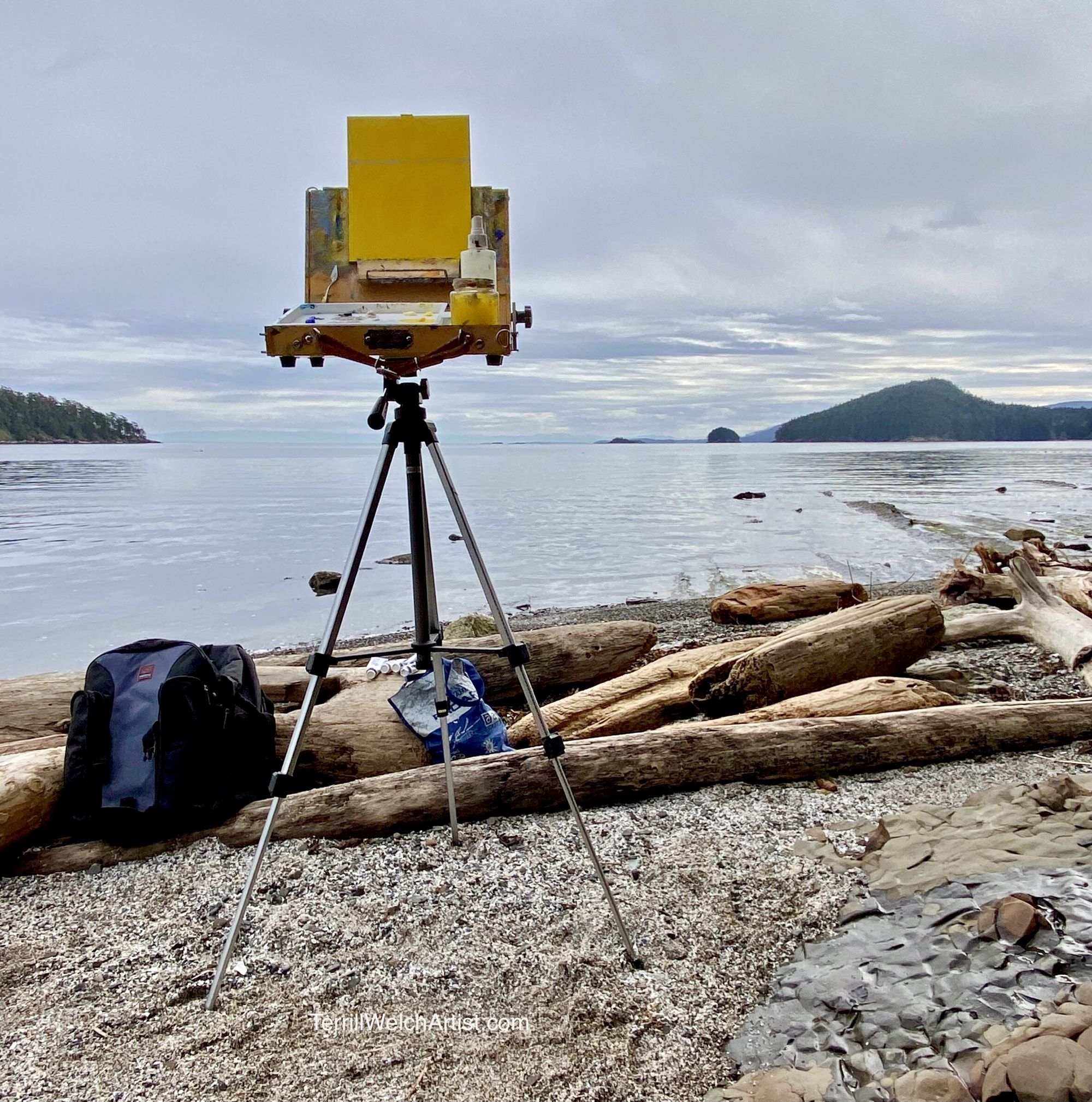 And there we have it! A bright selection of colours rendered into the soft tones of our overcast west coast greys.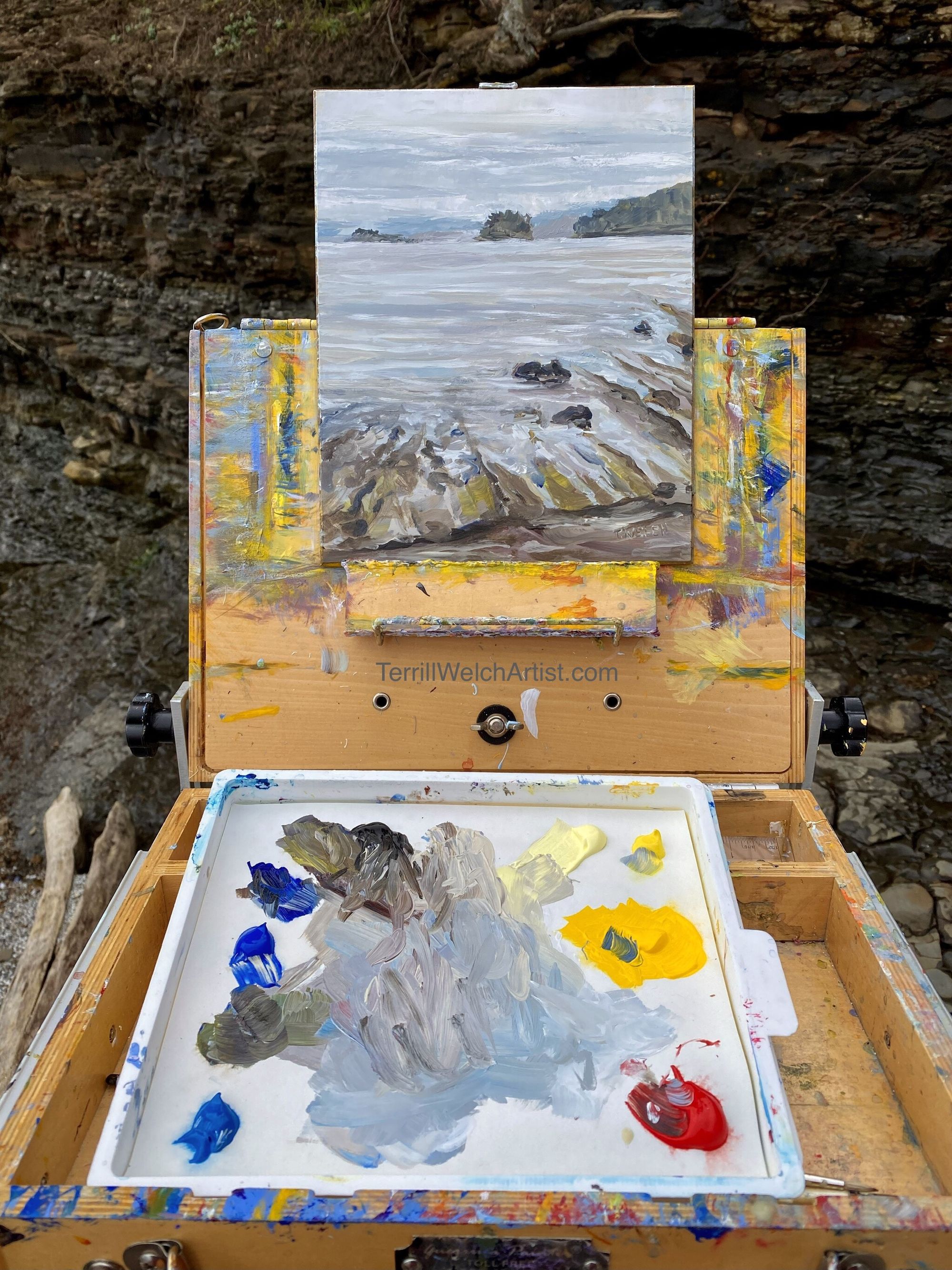 "Seaview Grey Study" by Terrill a Welch, 8 x 10 inch acrylic on gessobord plein air. Not yet released but inquires are a.ways welcome.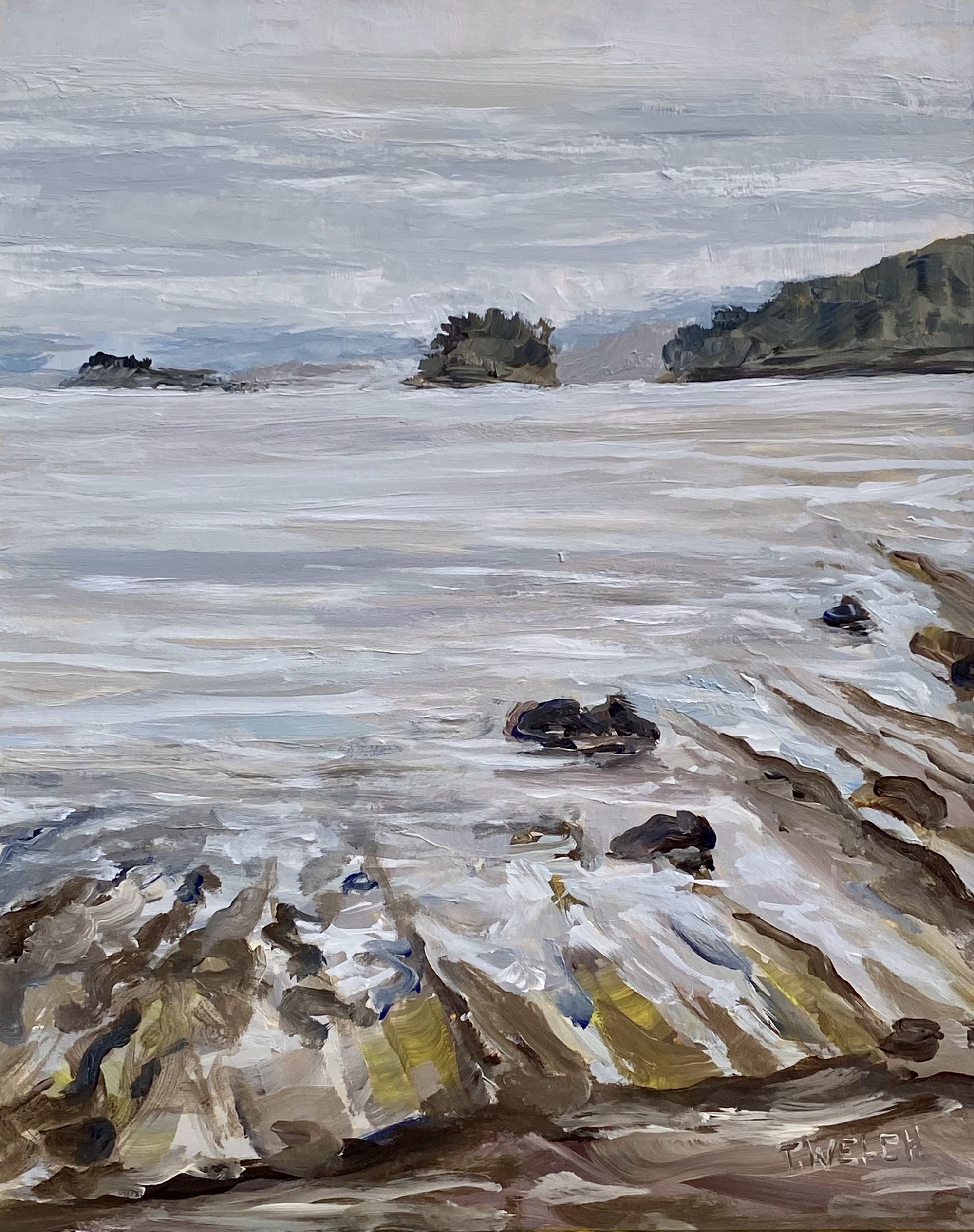 Artist notes: I just wanted to take my brushes and paints outside and I was pretty sure it wasn't going to rain. The temperature was around 10 degrees Celsius and the tide was going out. It was perfect for doing a study of west coast greys.
This past Wednesday was a blue sky day and warm. There was a bit of a breeze from the southwest so I tucked in at Reef Bay and turned my back to the sea and painted.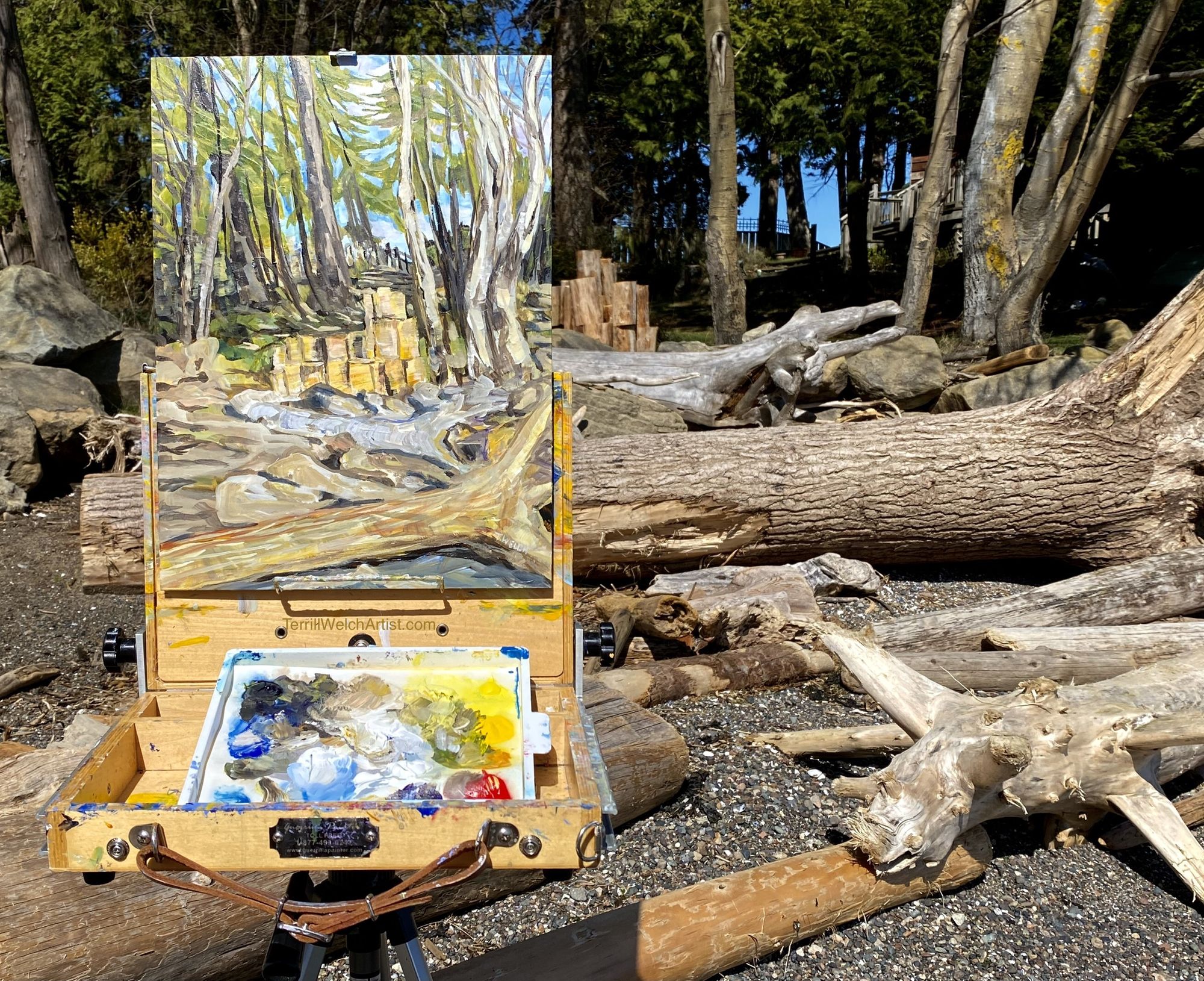 A couple of hours of just hanging out enjoying the sun while looking at shapes and patterns and shifting light was just what I needed!
"Winter Firewood" by Terrill Welch 16 x 12 inch plein air acrylic on gessobord. Also, not released yet but inquires are welcome.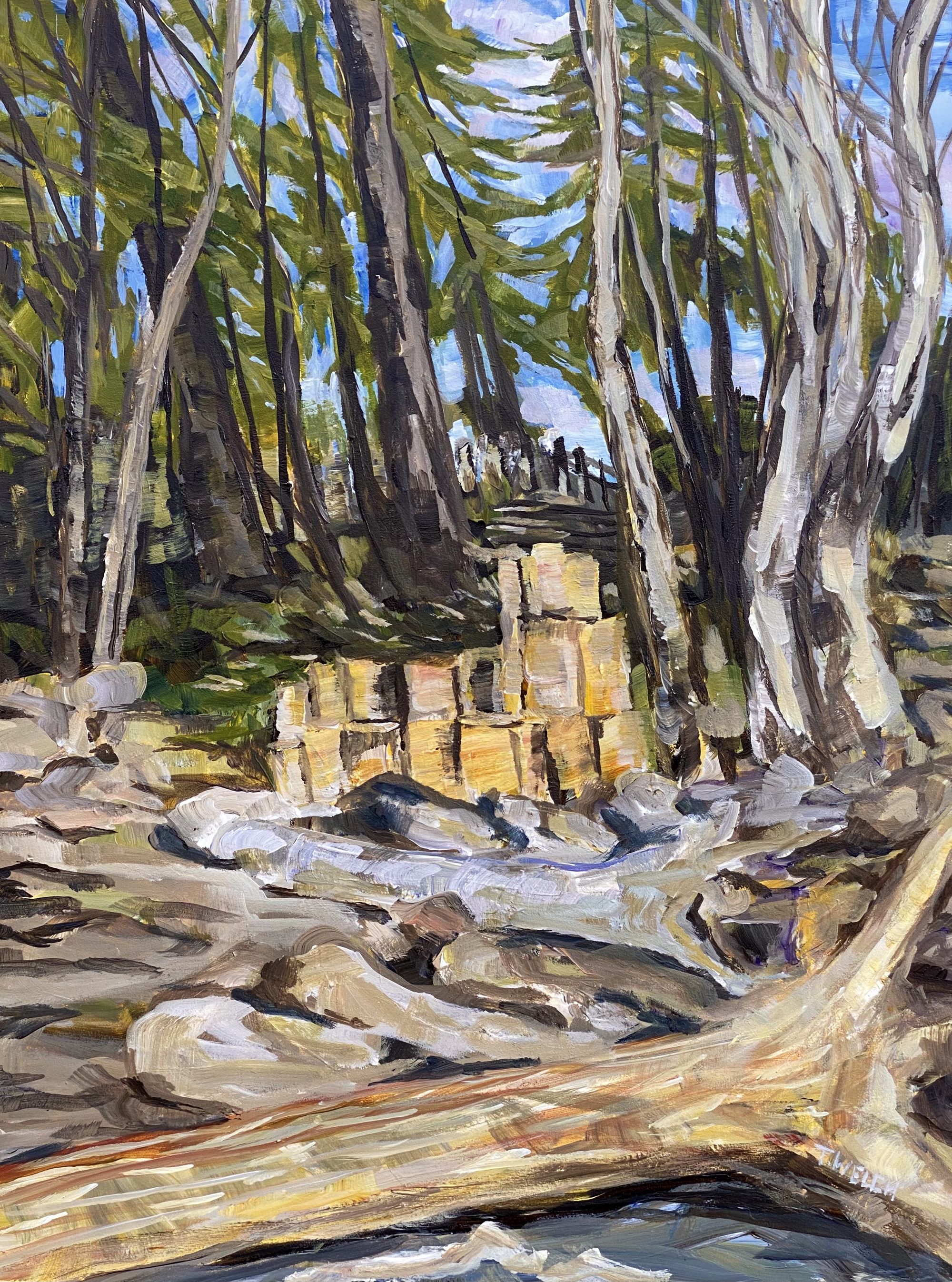 Artist notes: It is just 12 degrees Celsius but the sun on my back is glorious as I seek out that place where the sea and land meet in a never ending shift between deconstruction and construction. I love a nice stack of firewood almost anywhere and anytime. These will be hauled home by someone living in the neighborhood to be stack the other way soon.
Afternoon Sun
There has been the odd break in the drizzle and mist for short windows over the past two weeks. On one of these occasions, we went for a stroll (or two) in some of our favourite places…
The trail at Saint John Point has widened and become more pronounced over the past two years but no less enjoyable.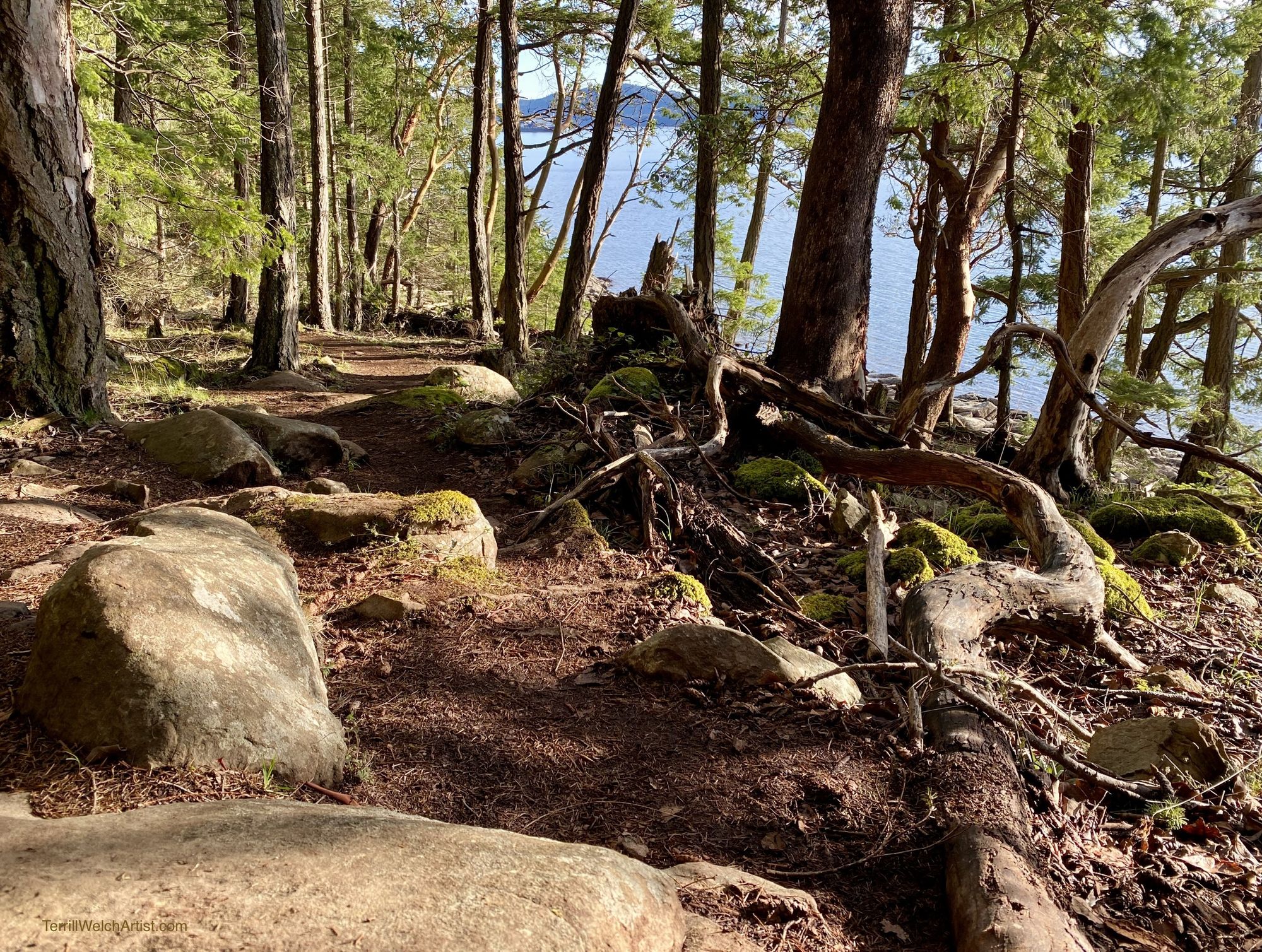 Trees pose next to Navy Channel as if the sky was made just for them.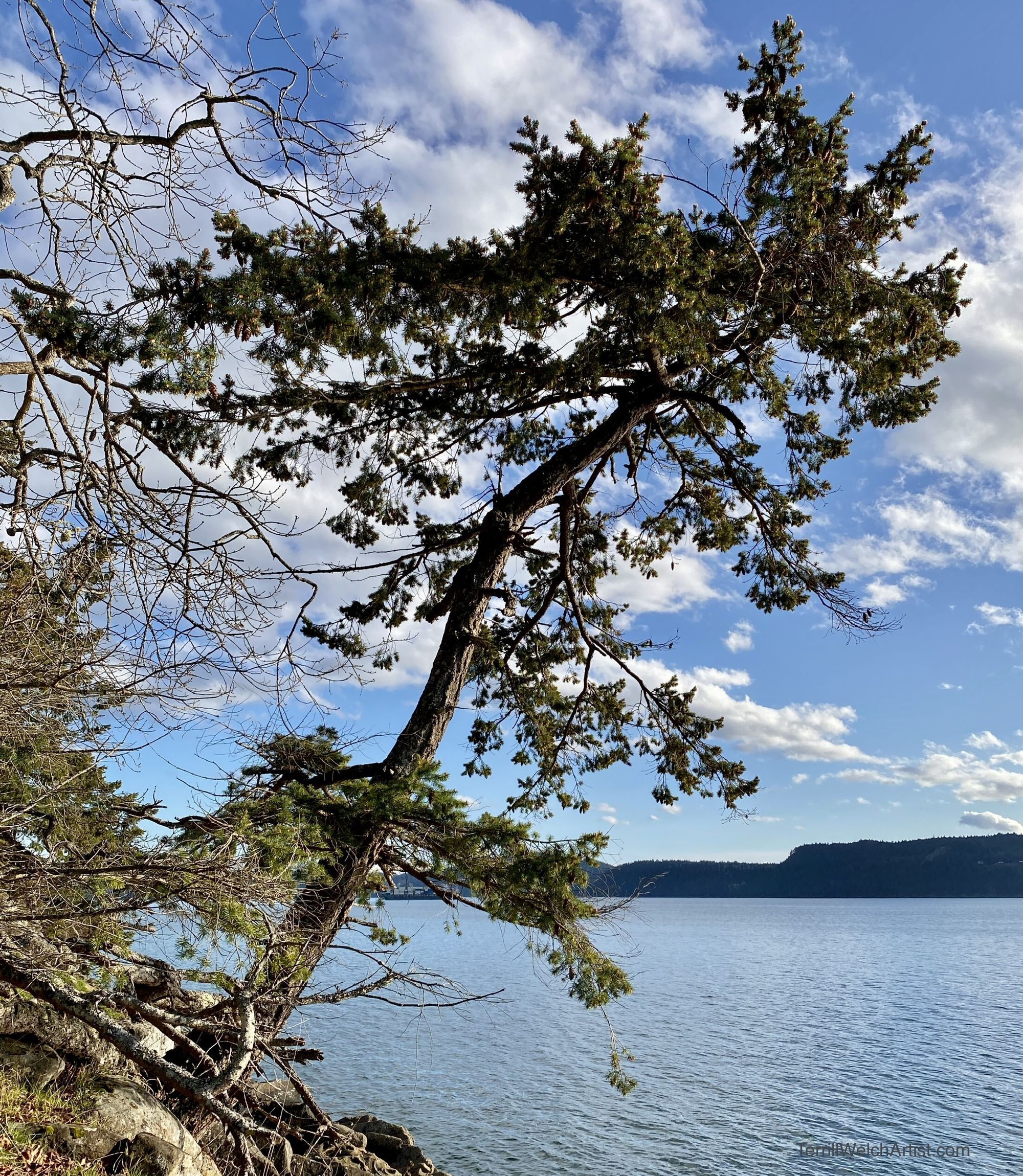 The late sun casts sharp angles of light beside the stairs at the lighthouse.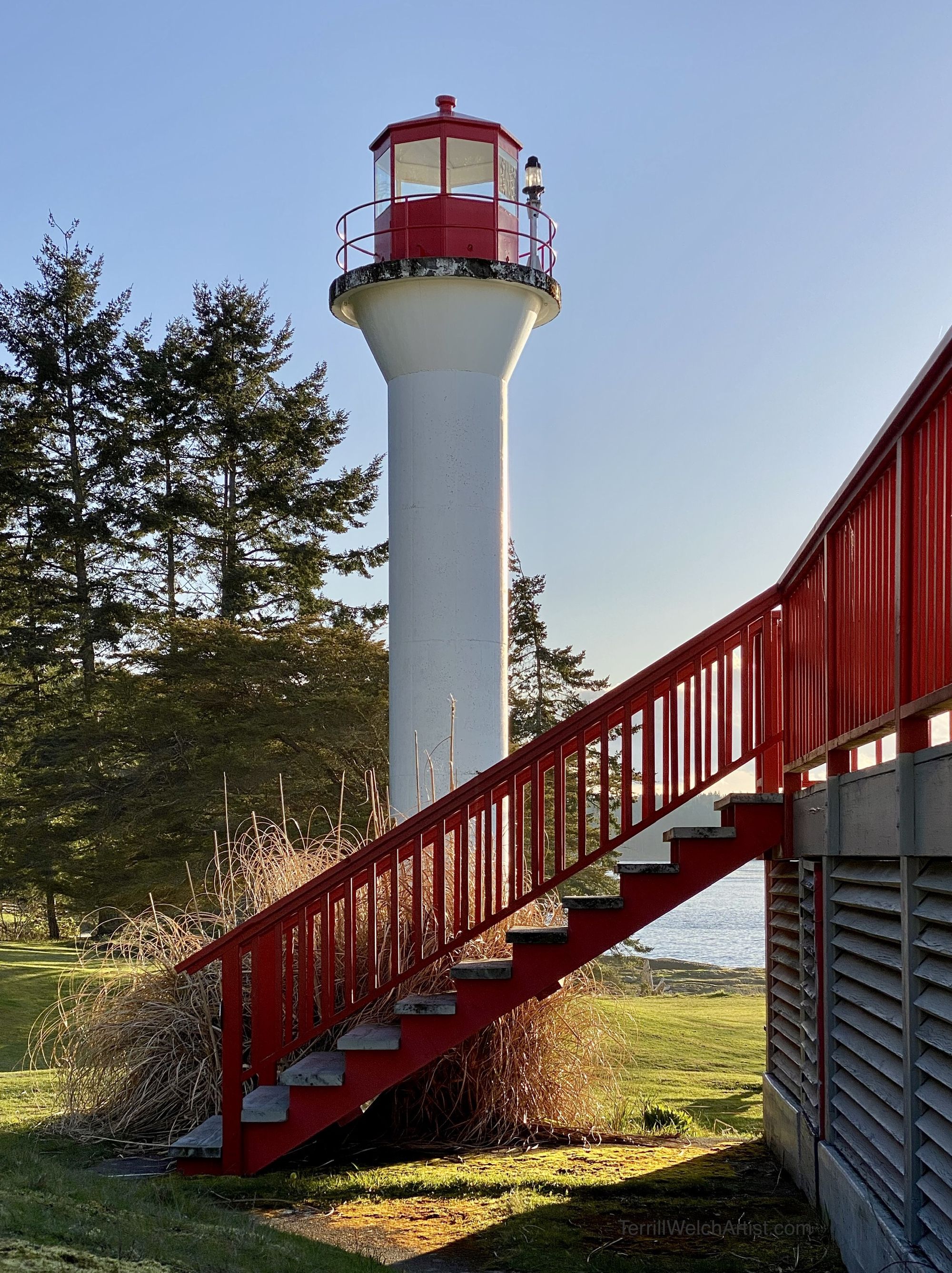 The sandstone is forever being moulded by the wind and sea.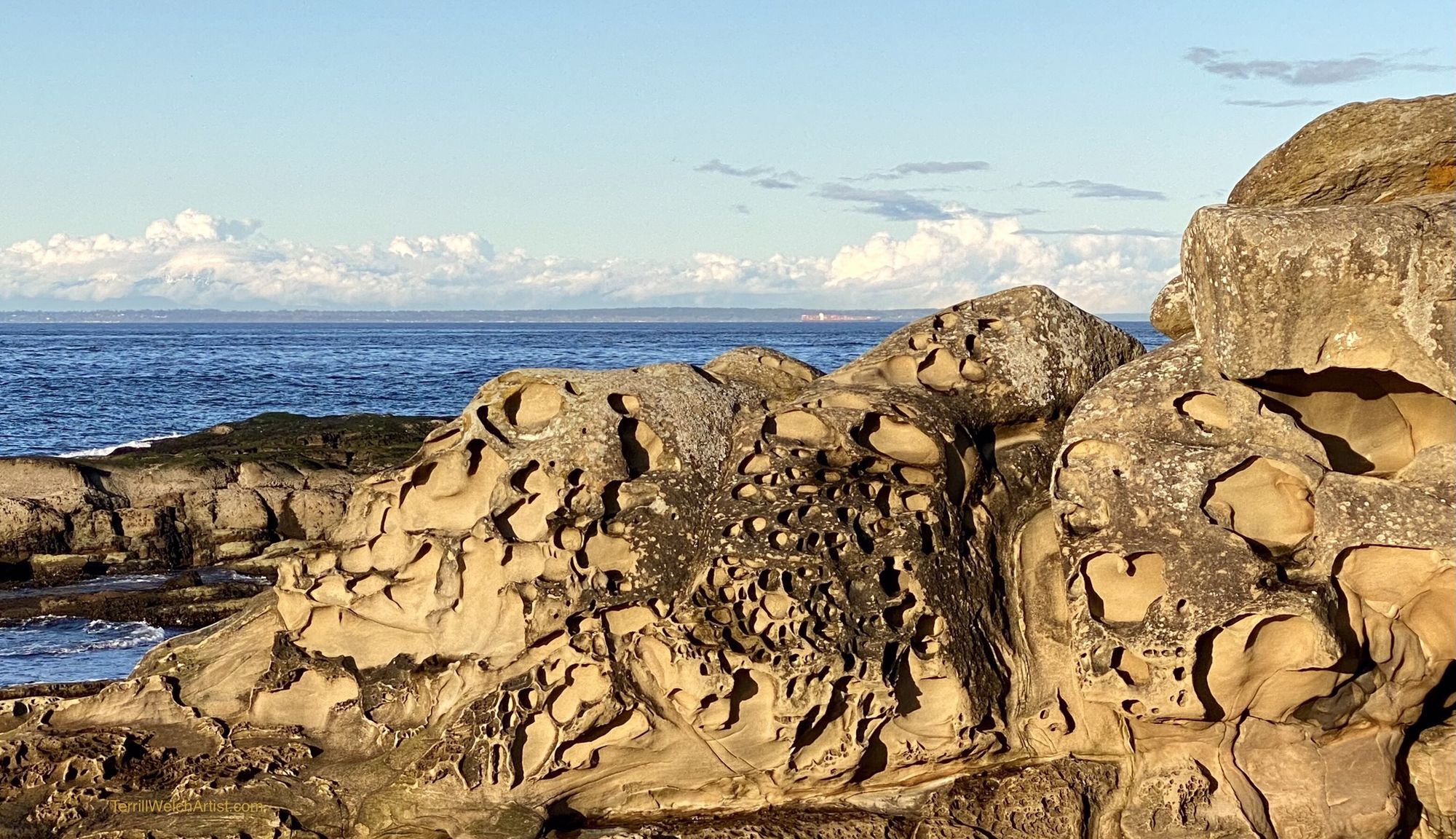 Small splashes and the pungent scent of the sea at low tide means a long pause… just watching.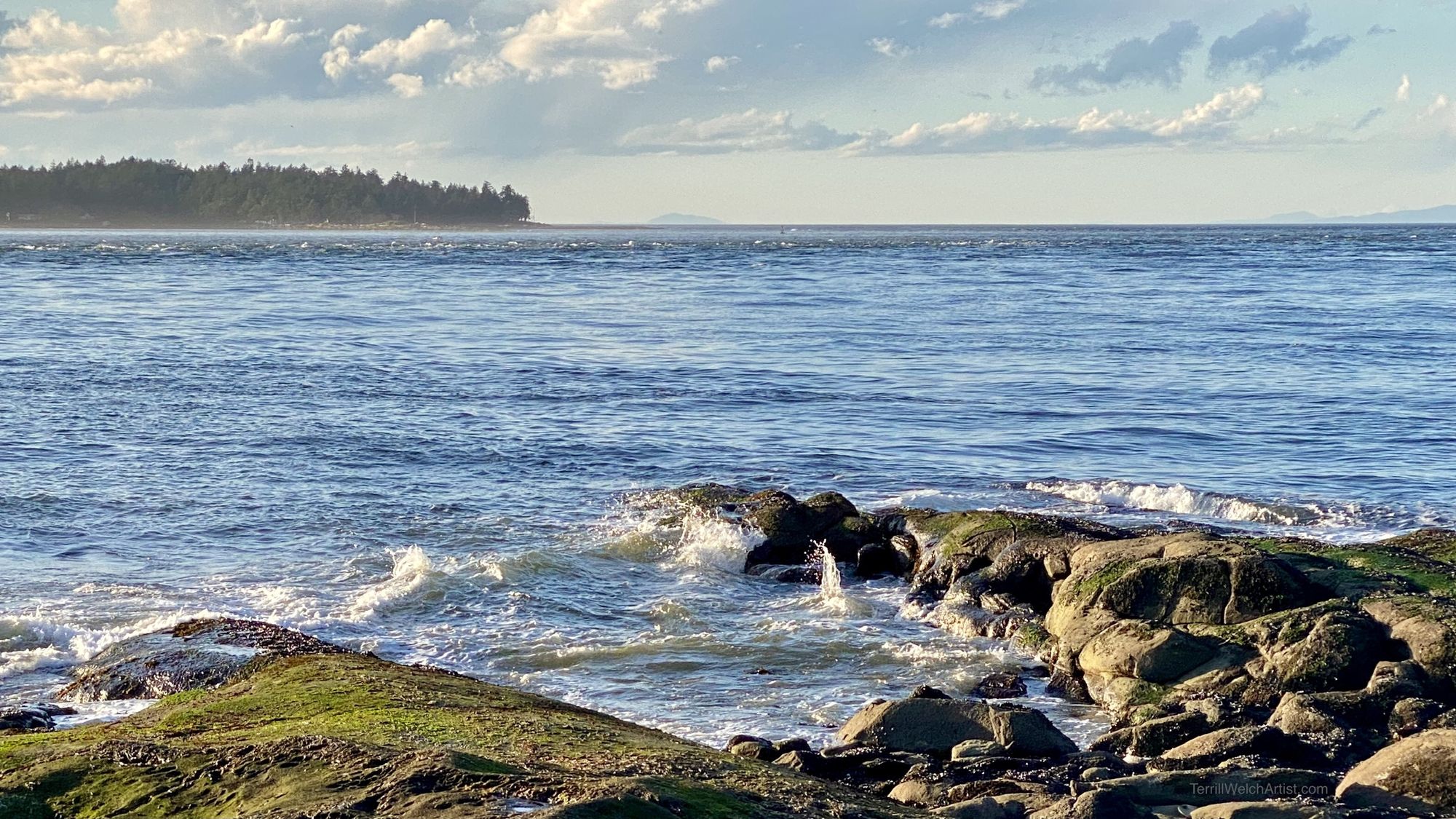 Our red chair becomes less red each year but this doesn't mean less sitting as you can see from the path worn around its base.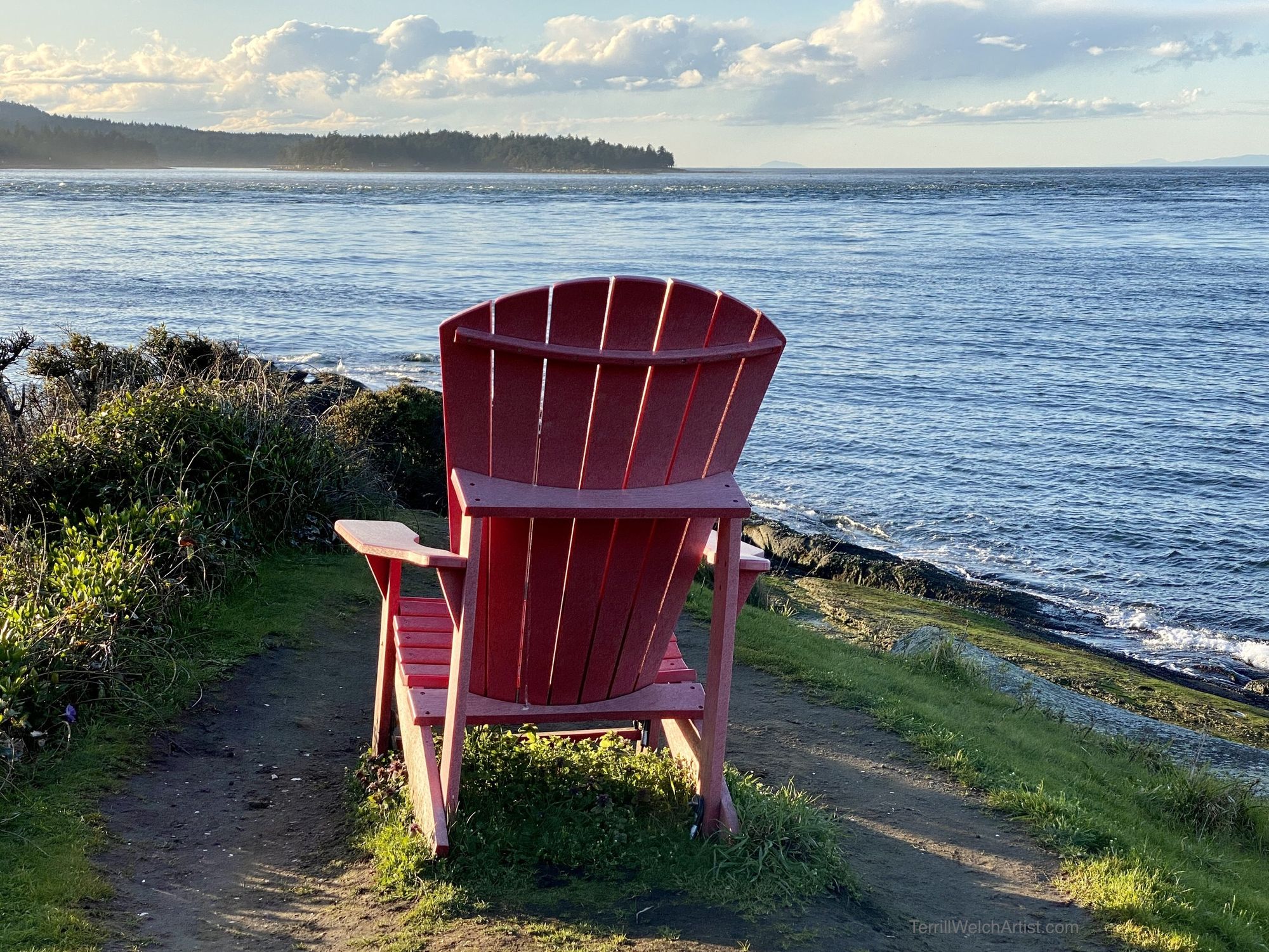 Maybe this trail will just drop us off the end of earth into another universe… maybe not forever but for a little while.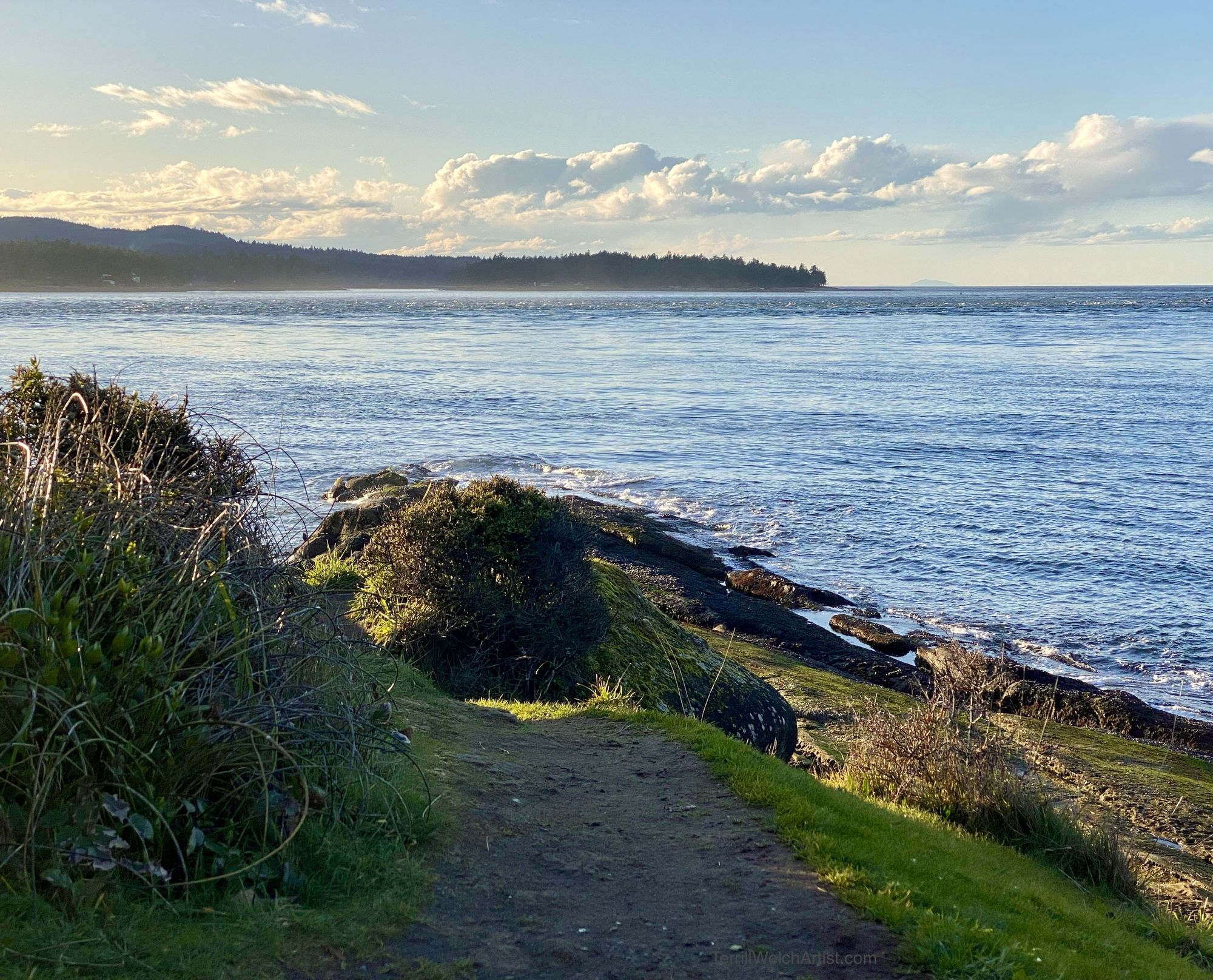 Draft of a Revised Artist Statement
I am working on revising my artist statement this week. In the process, I reviewed the last six month's paintings looking for themes and overall meaning in my painting practice.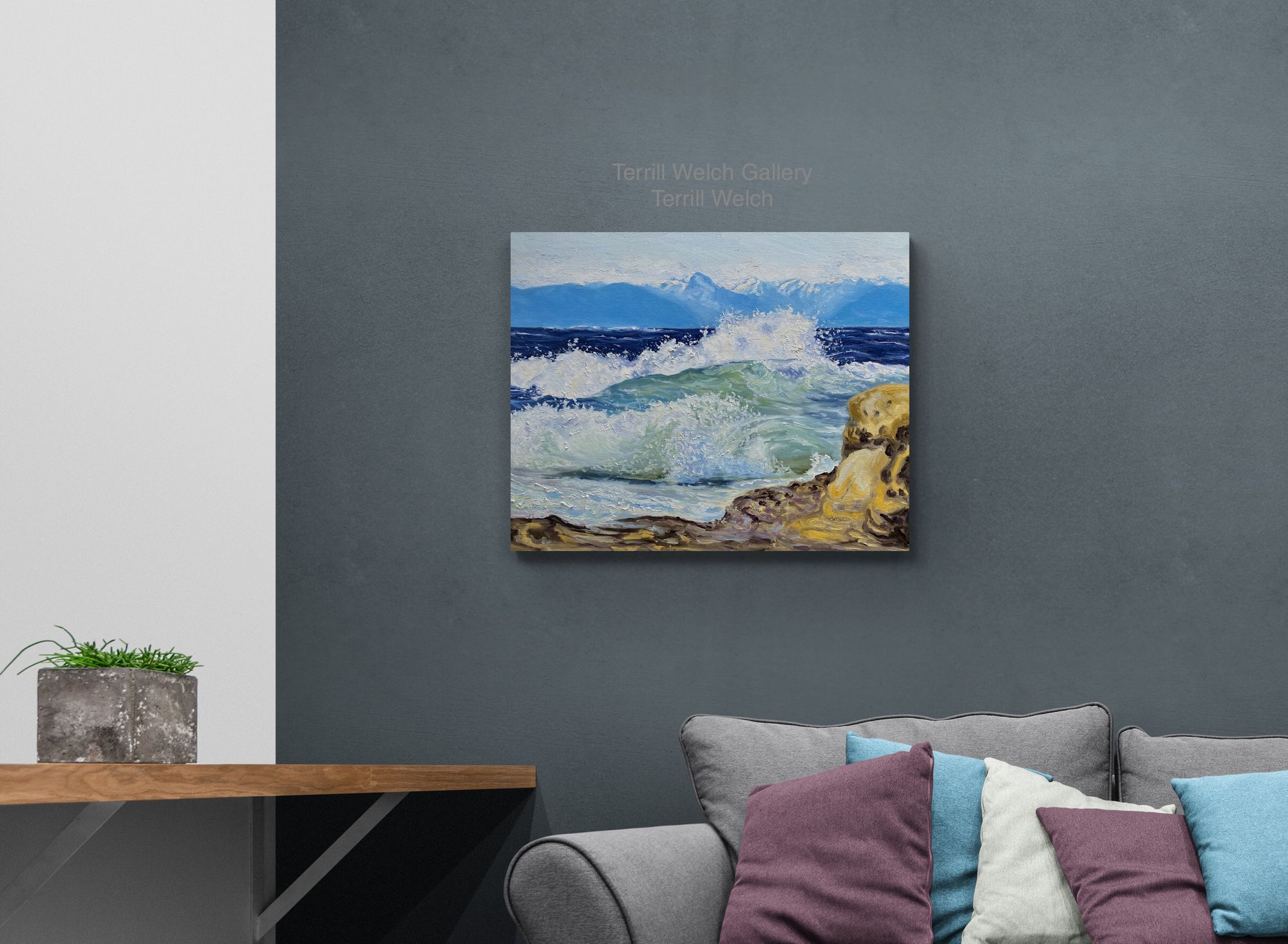 New Artist Statement:
I have broken into enduring shards over these past few years of pandemic waves, heat domes, atmospheric river floods and war in Ukraine. Old ways and familiar comforts have crumbled into fine grains drifting over windswept memories. Only the most resilient aspects of my painting practice seem to have remained. Not all canvases look unlike past work. Still, there are definitely differences, particularly with the red line series. Will this new expression stay and grow or will it dissolve again, along with our collective adjustments to a changed world? We shall see. For now, I will continue painting as if there will be a tomorrow with my beloved nature and kind humans in it.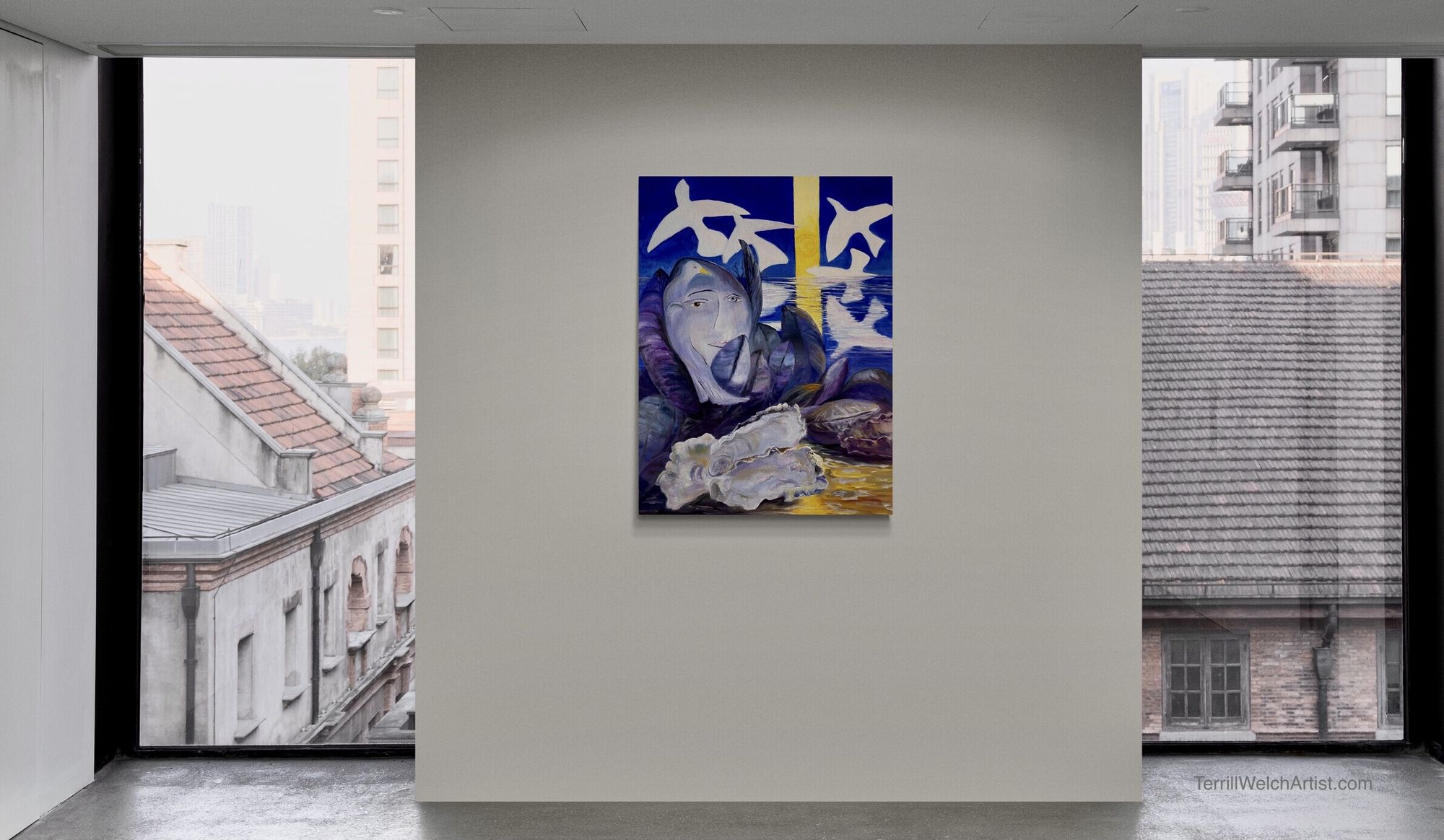 I am a landscape painter exposing life's mystery in an ordinary day.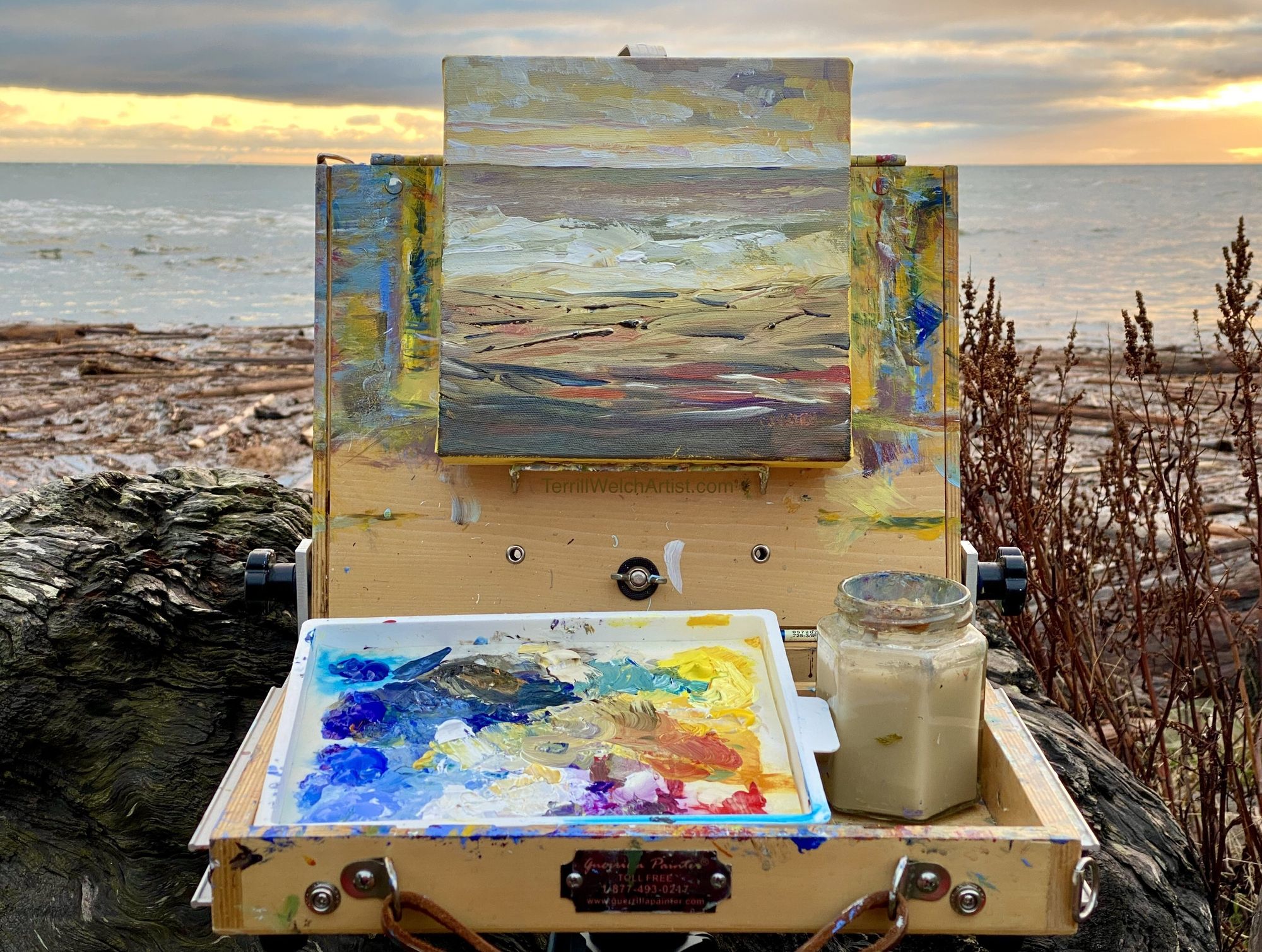 Stripping away the human illusion of our separation from nature is at the core of my work. I have a driving need to succeed in creating bridges with my art between humanity and nature, before it is too late. These works reflect my surrounding landscapes. The brushstrokes render the light, shadow, movement, smells, sounds and emotions I am experiencing in our natural world.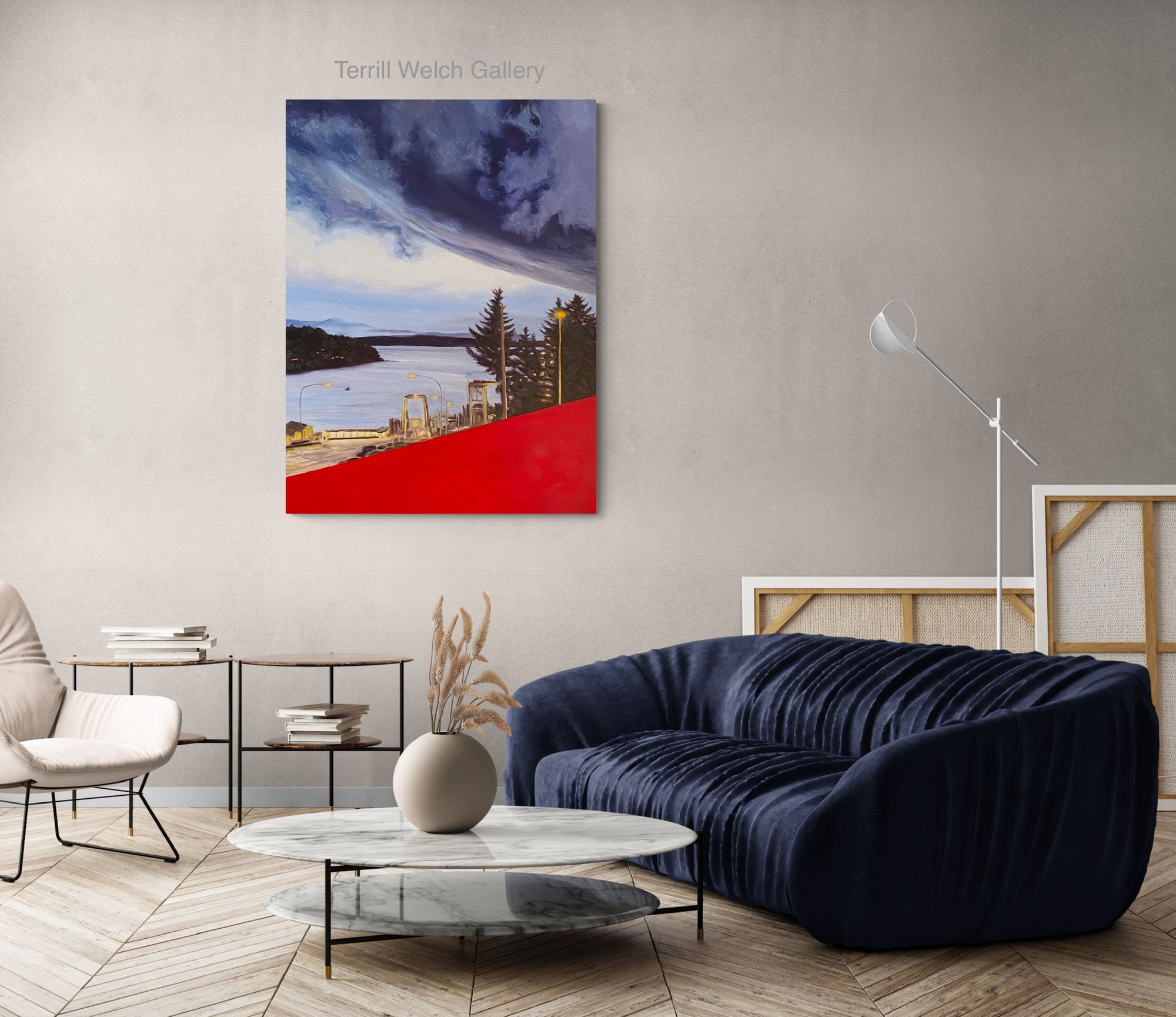 The work is an invitation to join me in exploring this relationship between the innate elements of our environment and ourselves. My intention is for viewers to find themselves within these landscapes as I have - filled with curiosity, wonder, discovery and a desire to survive. It is a tall order for a painter with a brush and a canvas. Yet, I must try. I must keep painting until we pause before the work and weep in our knowing - without our natural world, we will no longer exist. It is my sacred practice as a landscape painter to ensure that this message reaches into the hearts of humanity.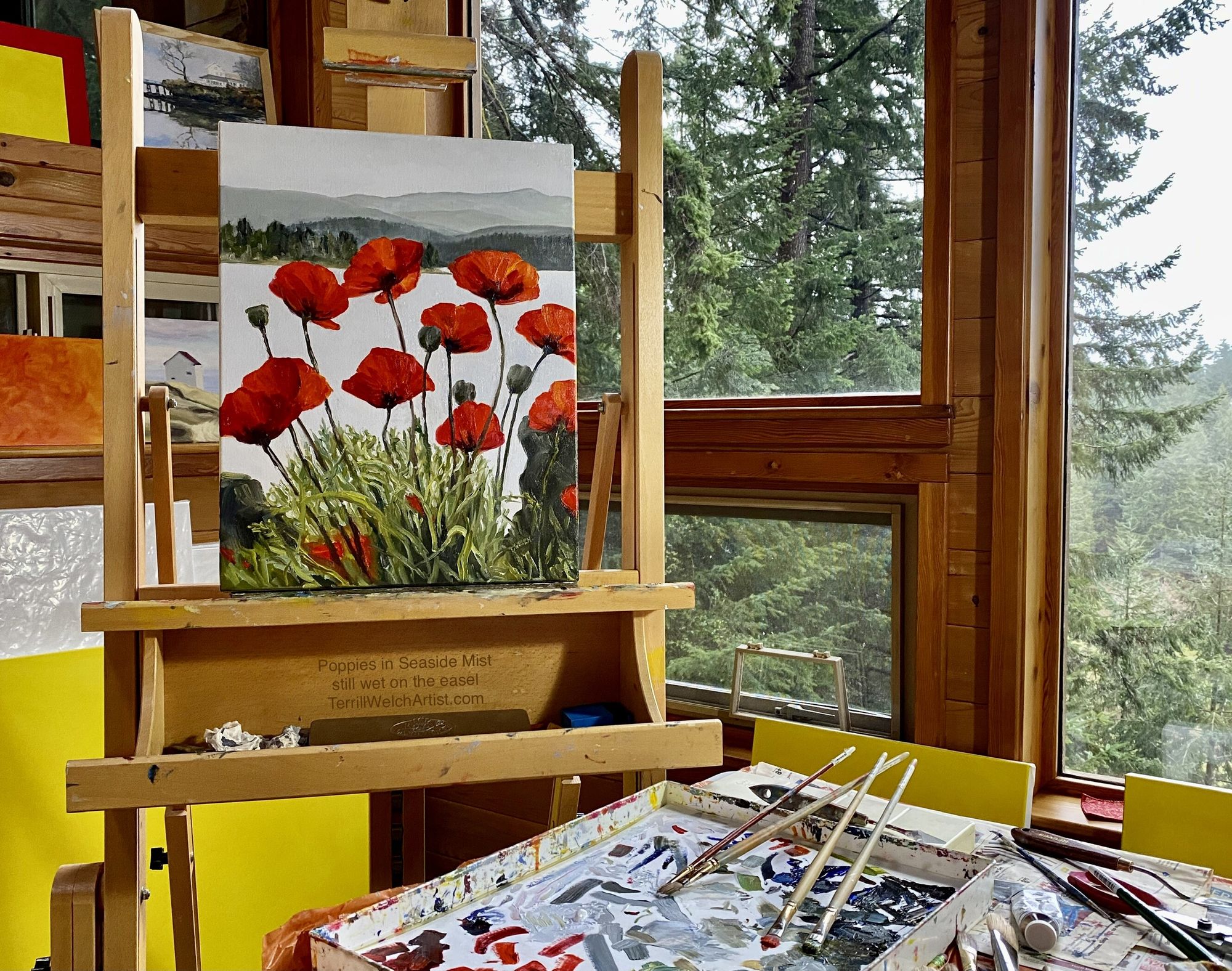 This is my mission - my in-progress life's work.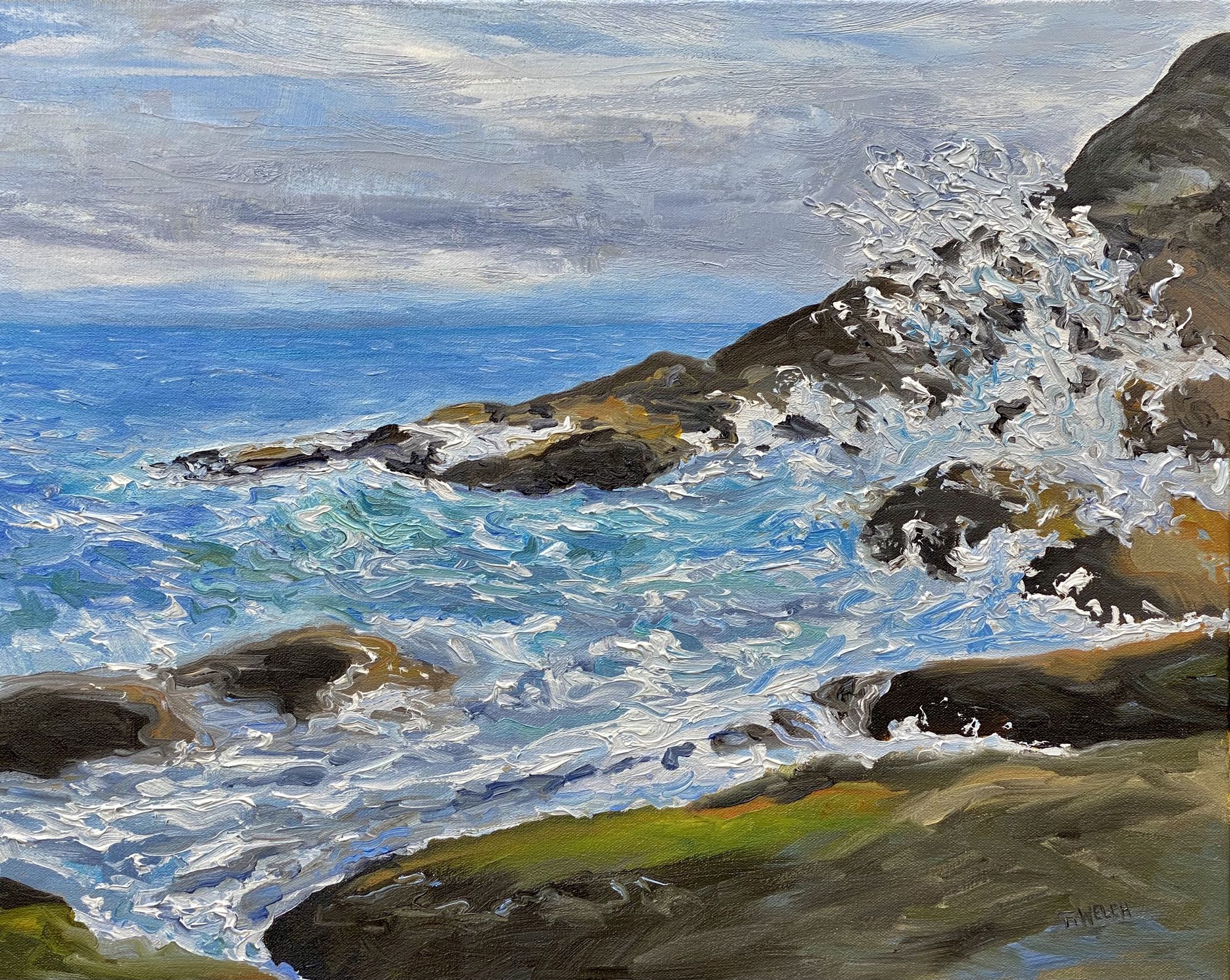 If you have thoughts on what might be missing or something that could be left out in favour of simply discovering in the work or you notice a pattern or theme I have not mentioned, feel free to send me a note. All thoughts and feedback are welcome because you are the ones that know my work the best.
What Has Sold
Last Sunday a request to purchase came in for a seascape painting sketch of Reef Bay.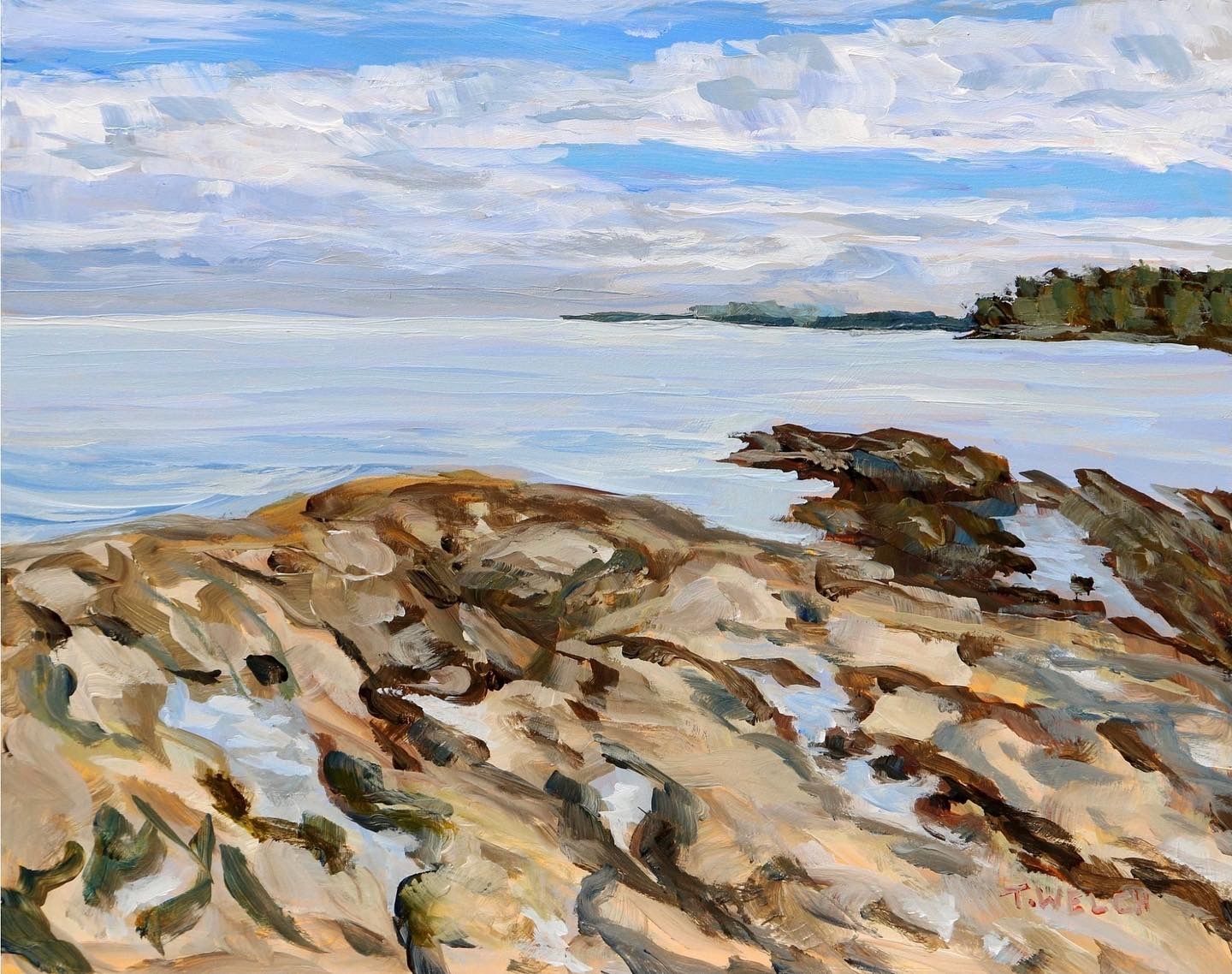 By Tuesday afternoon I had it packaged up and in the mail.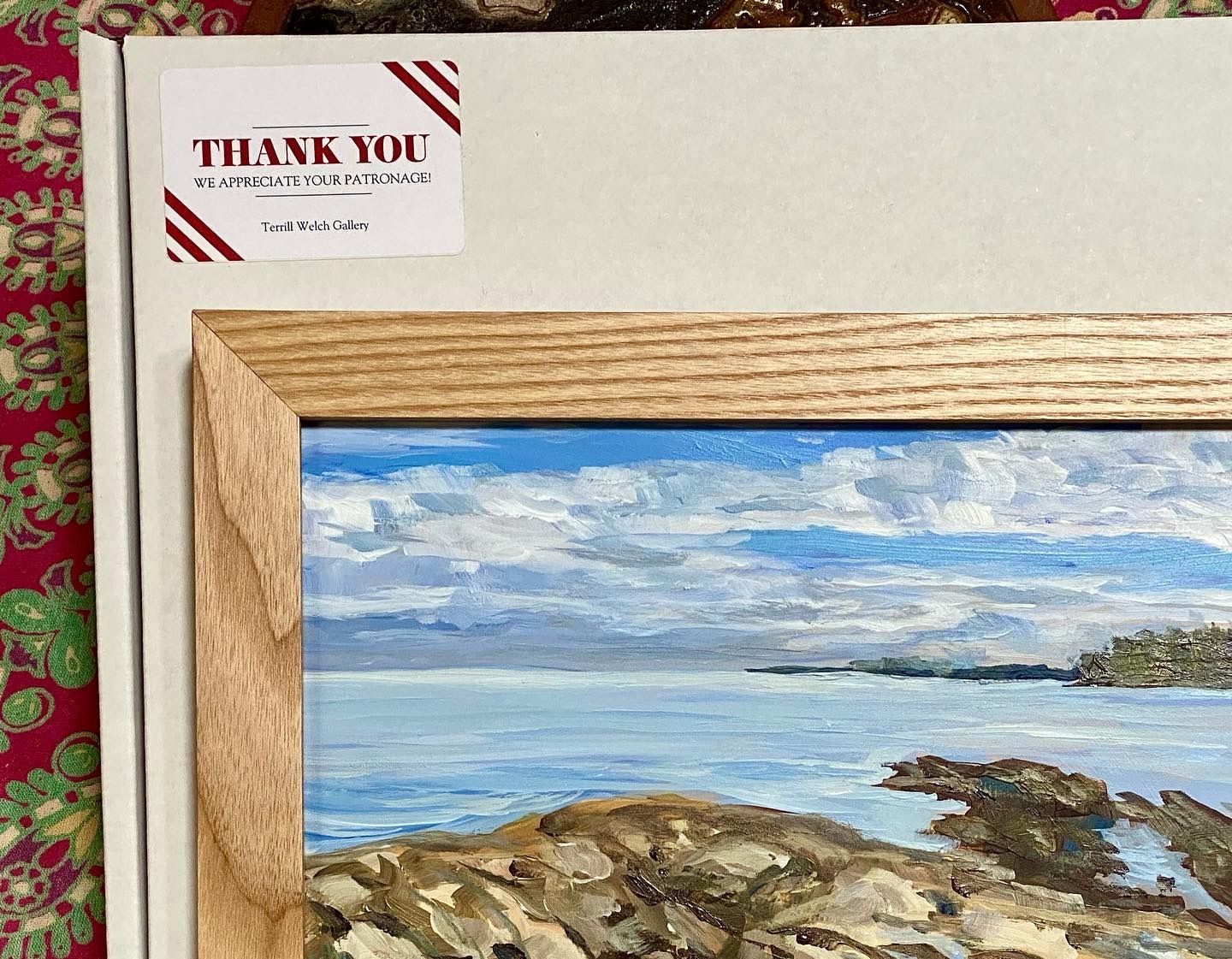 The payment came through about the same time and that is that. Another painting is off on an adventure of its own.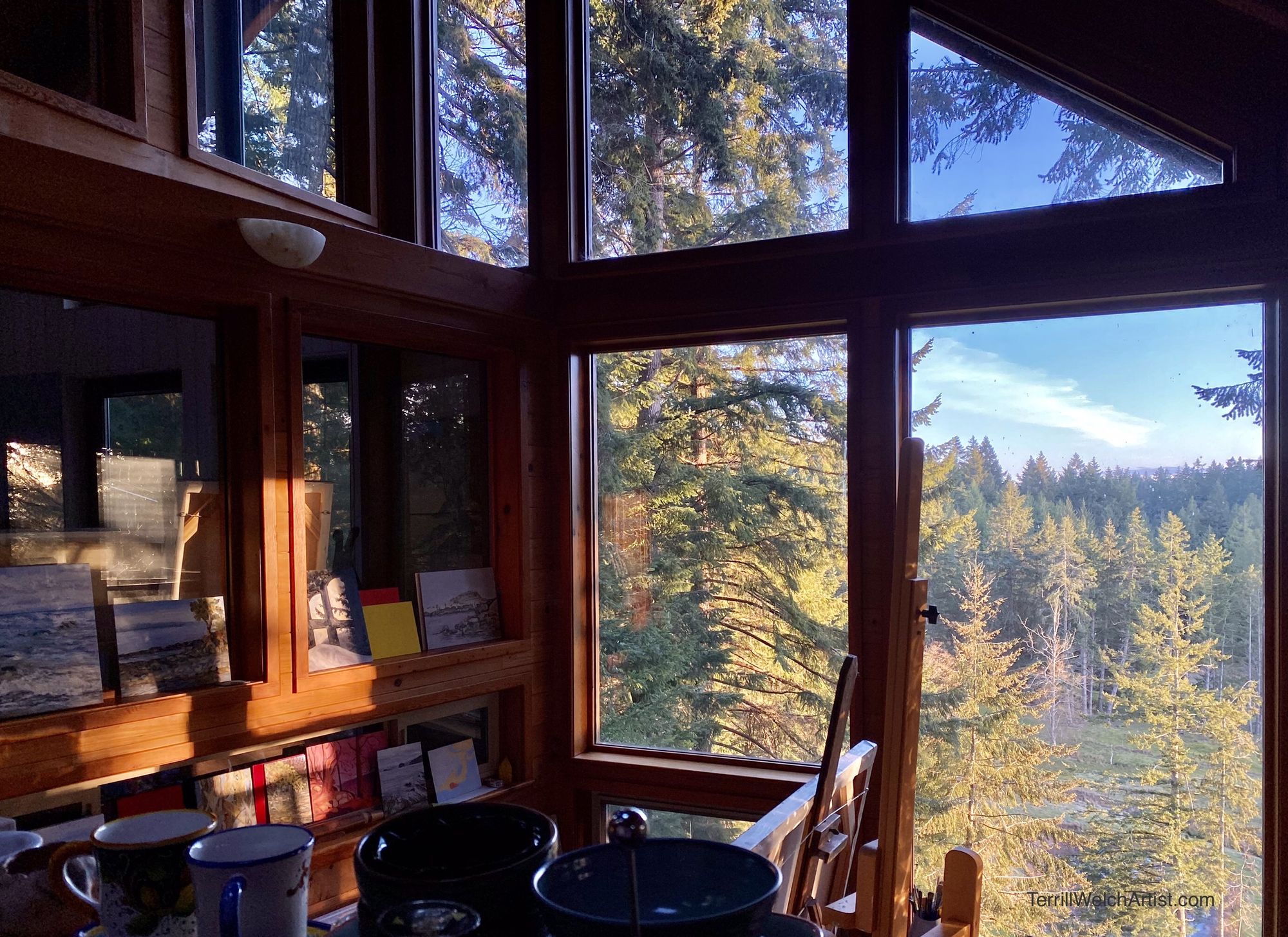 Until Next Time!
Well, another issue of "A Brush with Life" draws to a close. Whether it is the first issue, the twenty-seventh issue or the one hundredth issue, I hope that each one brings you a little something that you need and brightens your day, even on the hard days. May the longer hours of daylight bring you to your garden and listening to the birds or on a hike in nature with the sounds of the trickle of a stream nearby. For it is Spring!
All the very best until next time!
Terrill 👩‍🎨🎨❤️
Canadian landscape painter, Terrill Welch, exposes the mystery in an ordinary day, reminding us that there is only one moment – this one.