A Brush with Life - Issue #101 OPEN - ISLAND TIME ART
We would be fibbing if we said there was anything happening over the past two weeks except doing a long list of tasks both in getting the physical space and the online and social media connections in place for opening ISLAND TIME ART. And we did it! With the Made on Mayne Spring Studio Tour starting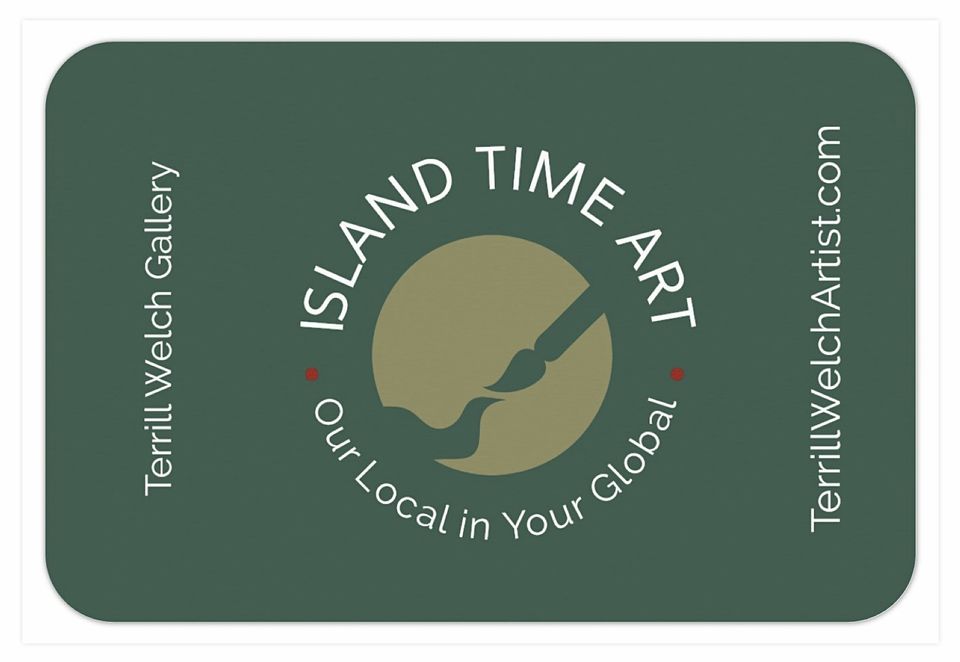 We would be fibbing if we said there was anything happening over the past two weeks except doing a long list of tasks both in getting the physical space and the online and social media connections in place for opening ISLAND TIME ART. And we did it! With the Made on Mayne Spring Studio Tour starting today, our doors will be open at 10:00 am. It has been a whirlwind but with a some critical help from my builder friend, Jean-Daniel, to do a little TLC on one wall and get the studio track lighting and hanging system up, the walls and ceiling has been painted and first show is now hung.
---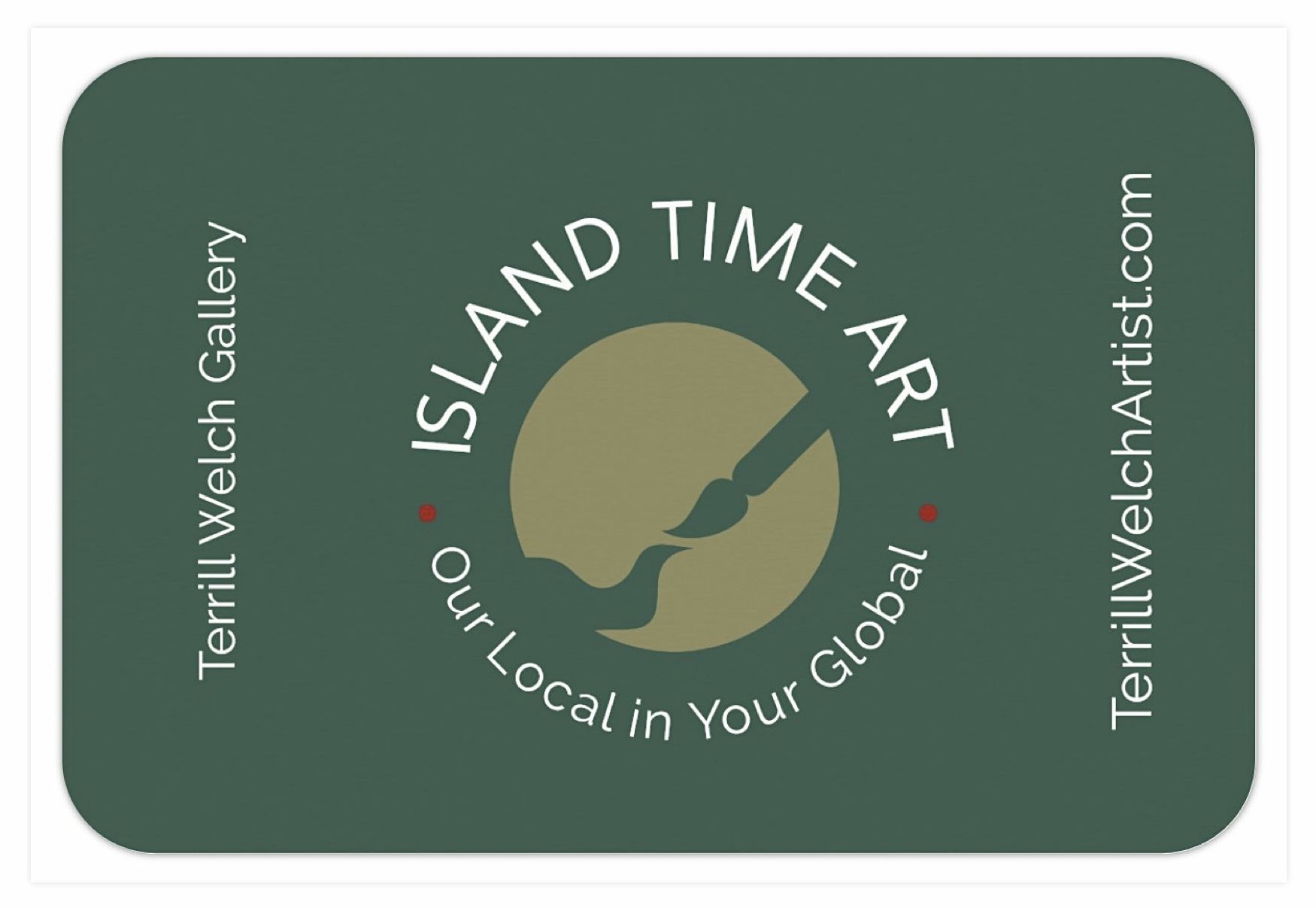 ISLAND TIME ART is located at 492 Dalton Drive on Mayne Island in British Columbia. The petite gallery room is in the blue building with Dragonfly, just above the ferry terminal. It is open to walk-in visitors 10-5 Wednesday through Monday and closed on Tuesday. The hours may very some throughout the season and I will keep you posted about any changes. For those living in Vancouver or Victoria or traveling from afar to these cities, it is possible to visit Mayne Island for a day trip via B.C. Ferries. In July, once we have the Gallery Pod in place,  you can easily walk to both locations from the ferry terminal. We are working on a postcard-size map that you can pick up at ISLAND TIME ART to be able to find the new Gallery Pod once it is open. For now, we are celebrating the opening of ISLAND TIME ART!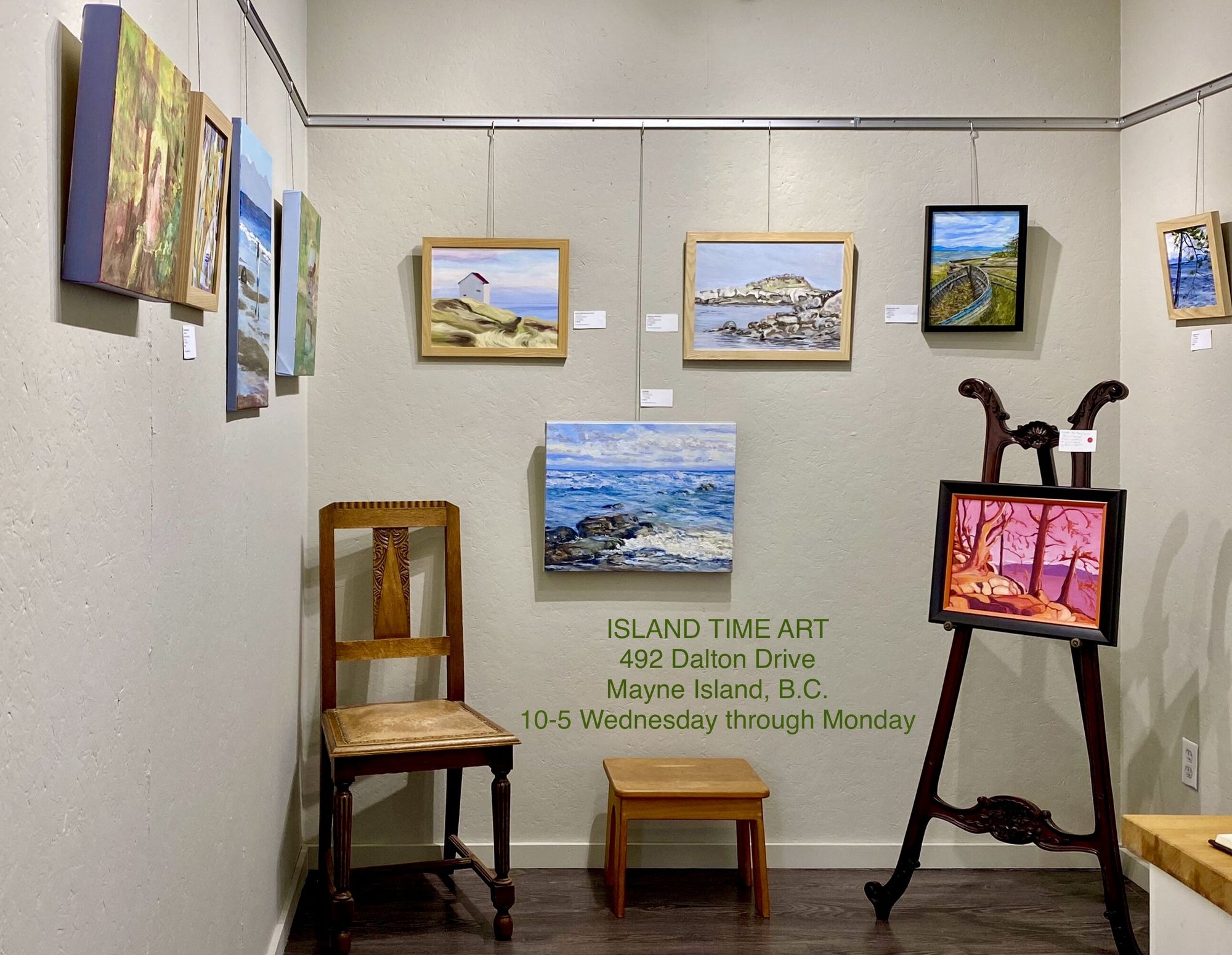 And we have a short two minute video linked below of our first show that opened yesterday…
ISLAND TIME ART will have the same hours as the Dragonfly which is currently 10-5 Wednesday through Monday and closed on Tuesday. All ISLAND TIME ART purchas...
New Releases
There is nothing like the push of getting paintings up on gallery walls to move along the inventory process and get frames and hanging wires on new paintings. Here are a few of my works that are showing currently at ISLAND TIME ART. You are able to purchase paintings from the new the art room at the Dragonfly counter. Just ask Vania for assistance to package your painting choice up for travel. Or, you can use these links to inquire or purchase the paintings directly from me online. Whether you are down the street on Mayne Island or in Toronto or New York City or Berlin, we have you covered! These are all smaller paintings with the largest being 16 x 20 inches and smallest one being a 10 x 8 inch abstract painting. Let's see what we have for you to consider at each of the links below…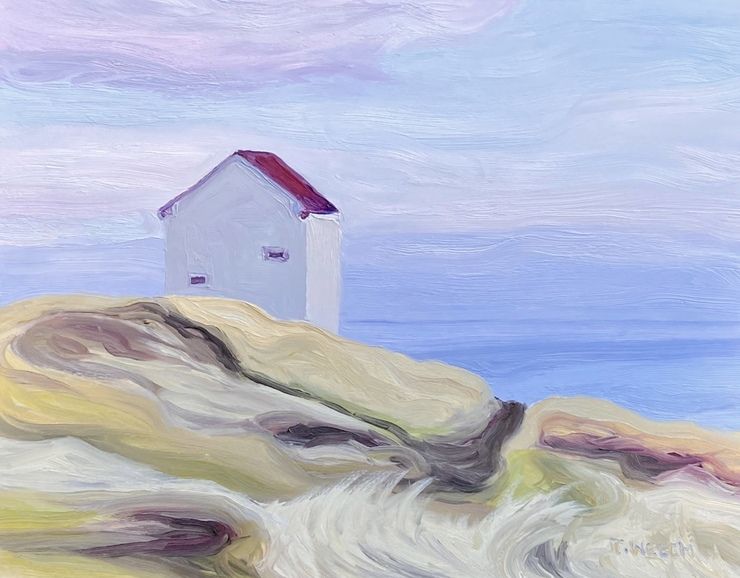 Artist notes: Standing defiantly alone, whipped by wind and rain and then sun bleached in the Southern Gulf Island's summer sun, this small red and white bui...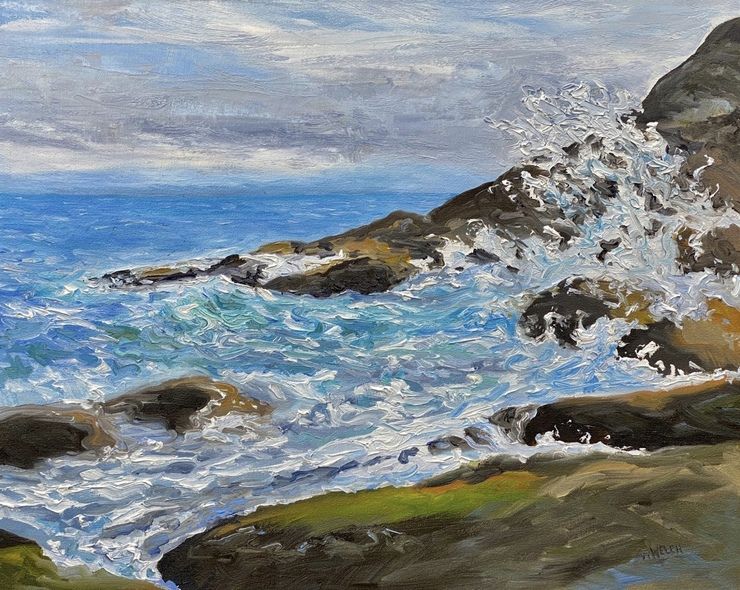 Artist notes: Sometimes it is hard to tell what kind of day it is going to be. Sometimes it helps to stroll along the shore and watch the Salish Sea. Mostly,...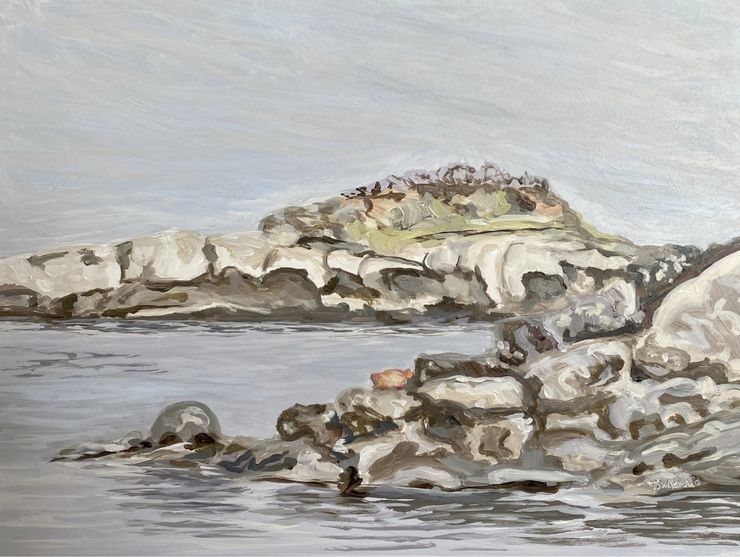 Artist notes: Fog changes a familiar view and shifts shapes into prominence and disappears others. Colour becomes muted in the half light and soften under th...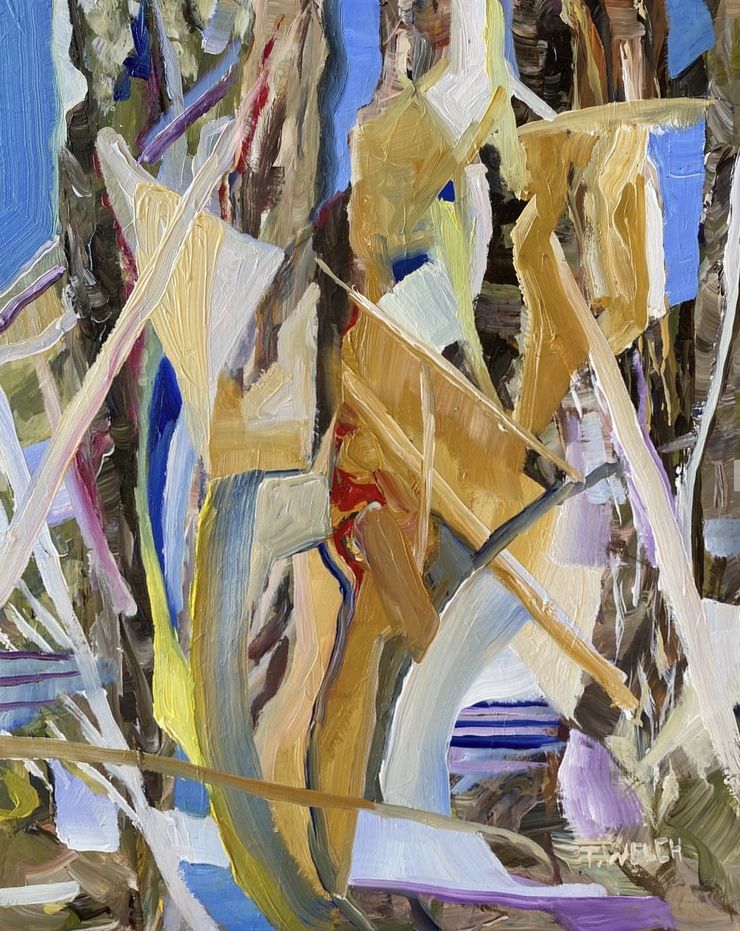 Artist notes: I walked and wondered about what will remain as future fragments to rebuild upon? Will there be another fragile sense of wholeness and interwov...
What Sold in Pre-sales
To my absolute delight, a new painting "Under the Red Line in Navy Channel" has found a home in pre-sales as part of the opening show at ISLAND TIME ART. We have the painting available for viewing during the Made on Mayne Island Spring Studio Tour in our new art room.
The painting fits perfectly into a frame I have had for years in my studio stash of materials. The art collector thinks so too.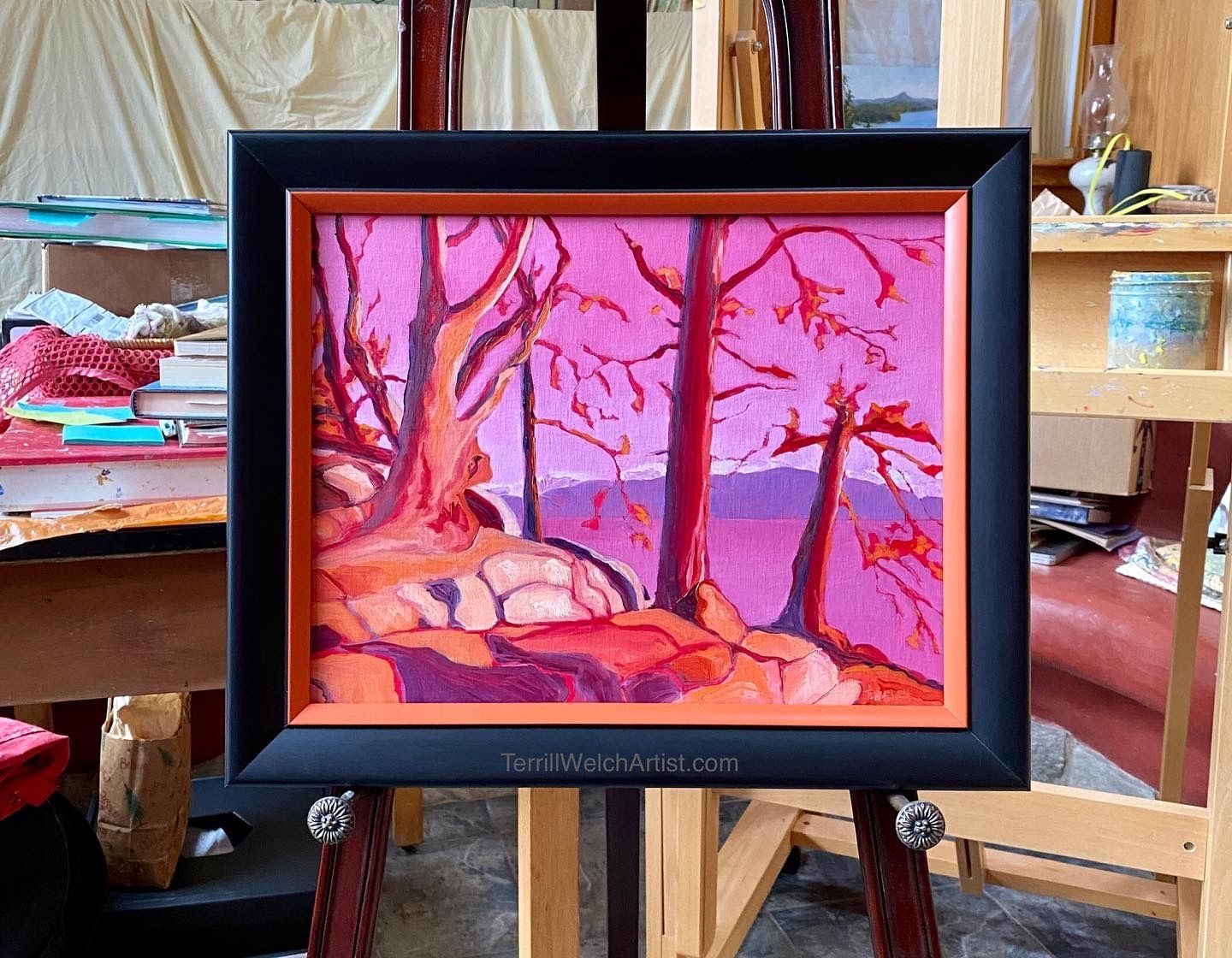 For those that can visit in person, we also have three new paintings by Jennifer Peers, two by Jody Waldie and one by Glenda King showing in ISLAND TIME ART's opening show. We are going to do things a little differently for this new venue and though I will share my new releases in the newsletter as always, work by other artists and the usable art products will be more generally profiled rather than individual featured. This will likely be different for the Gallery Pod which will be more of a gallery-gallery with only original paintings and often large works. It is all a bit of an experiment so we shall see how it goes. If you see something specific from another artist in the ISLAND TIME ART images or videos that you would like to know more about, just let me know. I am happy to provide it and assist you in acquiring the work as usual.
What I am Watching
A few days ago, art historian Waldemar Januszczak, who currently lives in London, England, went to Lviv in western Ukraine to visit the art museums. His purpose was to discover how art collections are being protected and preserved. This YouTube video is one of my most favourite of all his videos yet. I thought you might also like to join Waldemar as he goes from museum to museum and to artists from Kyiv living and working within a museum, and then to store houses of Ukrainian art in this 32 minute documentary…
Waldemar Januszczak goes to Ukraine to see how Ukrainian art is being preserved in times of war.
Finding the Ordinary in Extraordinary Times
Everyday, many of my thoughts bring me to the horrors of war in Ukraine. As a result, I have a very difficult to view small painting sketch called "One World, Two Places" that I am hesitant to share. It is meant to be an honouring painting for civilians who lost their lives in Bucha. I loosely referenced part of an image taken by local photographer in that area. Then this is placed as an insert to a view I did from memory of Reef Bay. I might find the courage to share it with you next time. The painting is of a tough subject, and though I am happy with how I rendered it, I am just not sure if it is ready to be shared yet. I will speak to it next time and see what artwork has to say for itself.
I am sure you are like me and trying to find your everyday footing in a changed and still rapidly changing world of circumstances that come with the tensions of war and an ongoing pandemic (that appears to be easing at least some). I try to get out everyday, if not for a long hike, at least for a stroll on a trail or down beside the sea…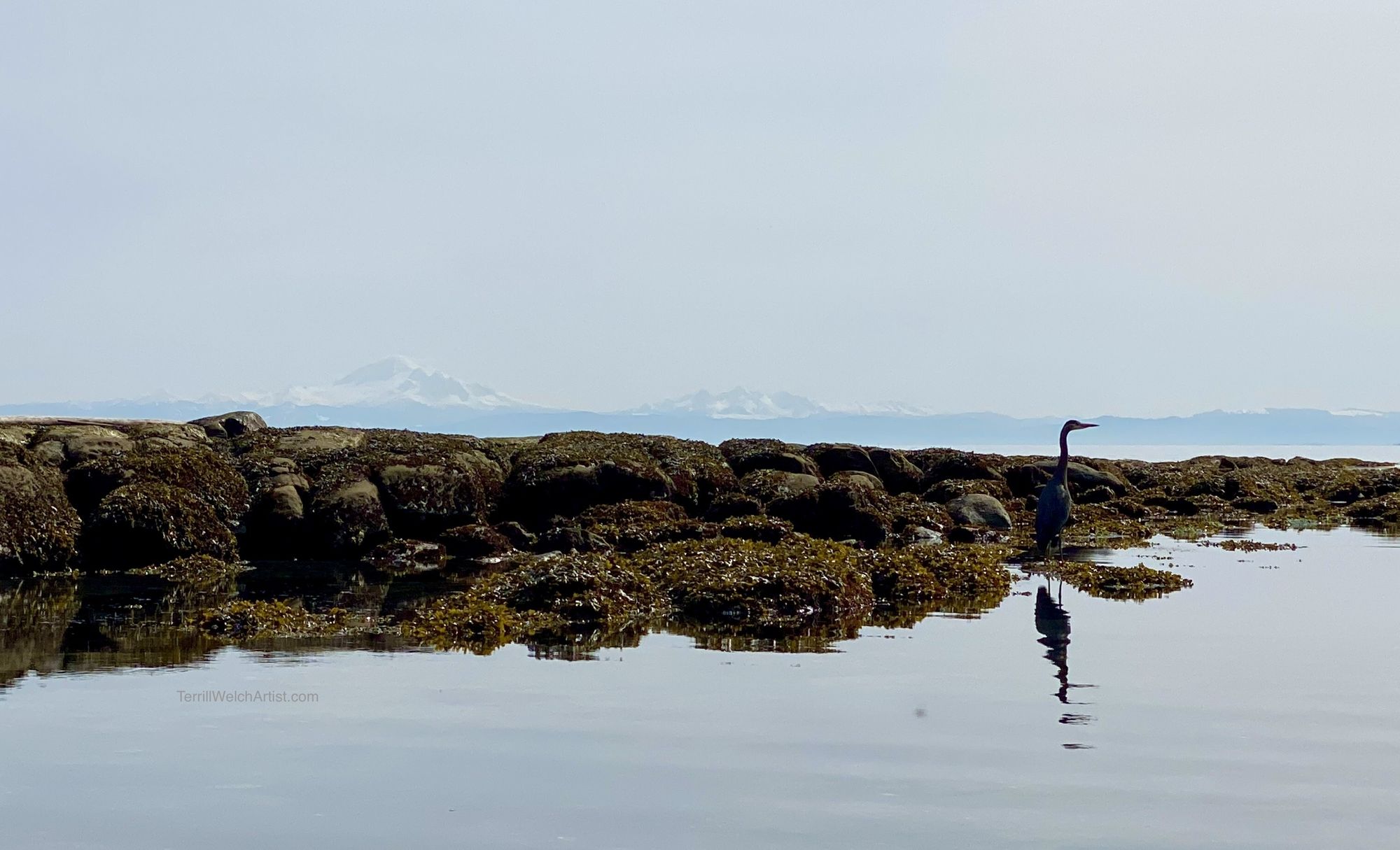 Sometimes, I look for comfort in the patterns and shapes in small things…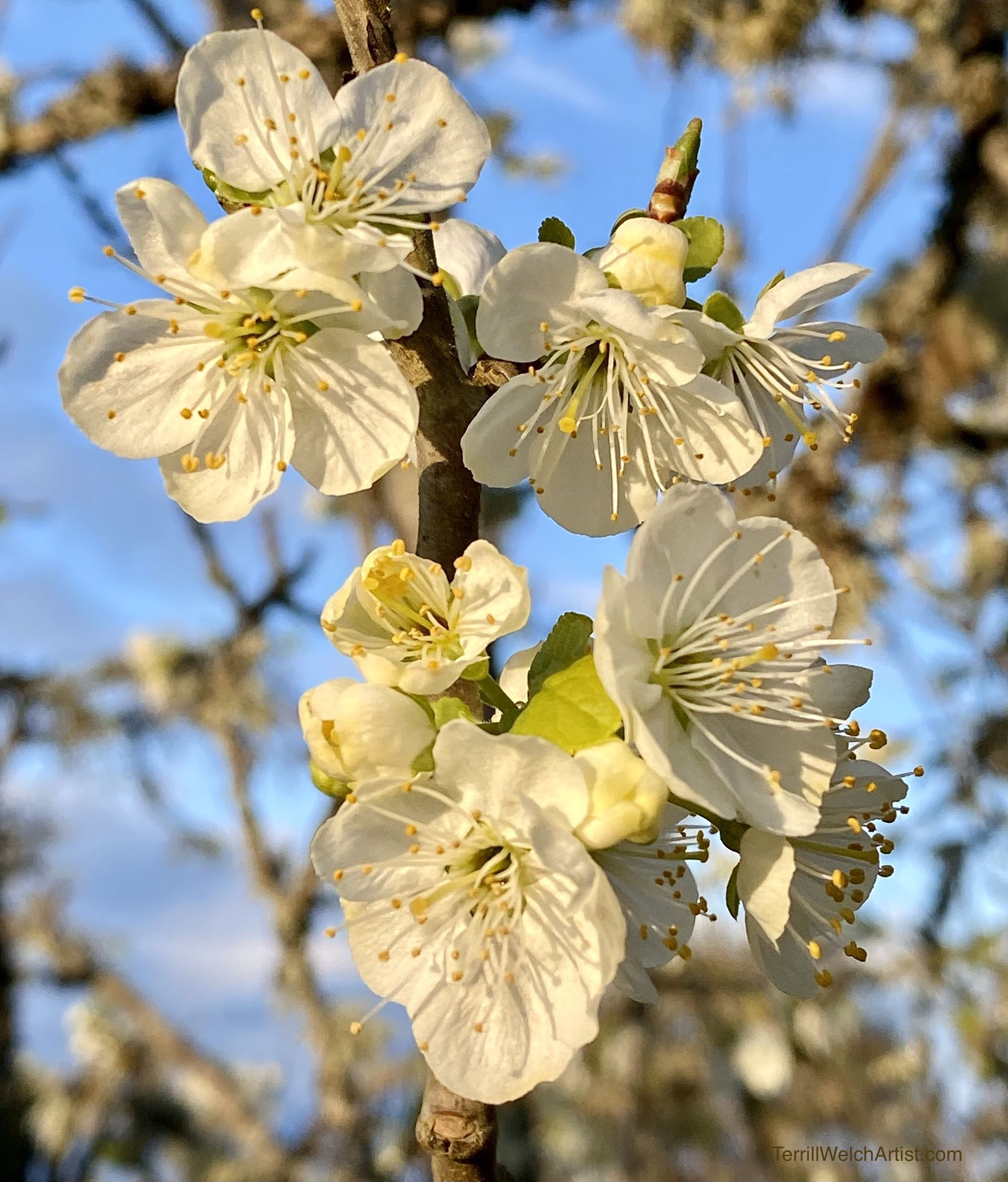 However, I note that one of my favourite Arbutus trees is not doing so well…
The sea and the sandstone still appear to be sturdy and holding sway along our shores…
These moments are some of the ways I stay present and flexible and open to conditions that come to our shores and into our lives no matter where we are in the world. I wish that you two might have some equally refined practices of your own.
Until Next Time
The longer days are bringing wild flowers and nesting peregrine falcons to the cliffs above us, where the turkey vultures have returned to soar on the updrafts until fall again. The weather is still cool and dropped down to just 2 degrees Celsius this past week. Still, it is a beautiful time of year to be on Mayne Island. May you find your own moments of renewal this Spring. Happy Easter holidays and happy spring to you and yours!
Terrill 👩‍🎨🎨❤️
Canadian landscape painter, Terrill Welch, exposes the mystery in an ordinary day, reminding us that there is only one moment – this one.