A Brush with Life - Issue #102 Art Studio Organizing
The edges are painted on the last of the commissioned paintings and now it is time to work on getting more of the edges done on the red line series and deciding where to focus my painting next. This is a perfect time to do some studio organizing. Besides, a freelance writer and photographer has come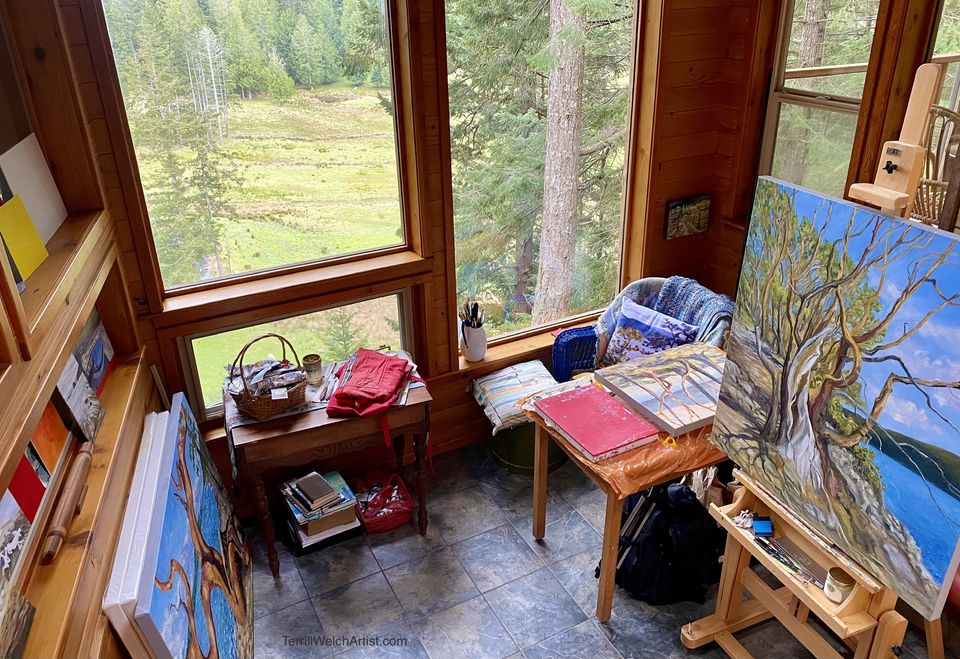 The edges are painted on the last of the commissioned paintings and now it is time to work on getting more of the edges done on the red line series and deciding where to focus my painting next. This is a perfect time to do some studio organizing. Besides, a freelance writer and photographer has come to visit for an article he has been requested to write for a provincial magazine. I am one of the artists he is interviewing. I deemed it best to have things in some sort of presentable display. 😉 What do you think? Will this do?
---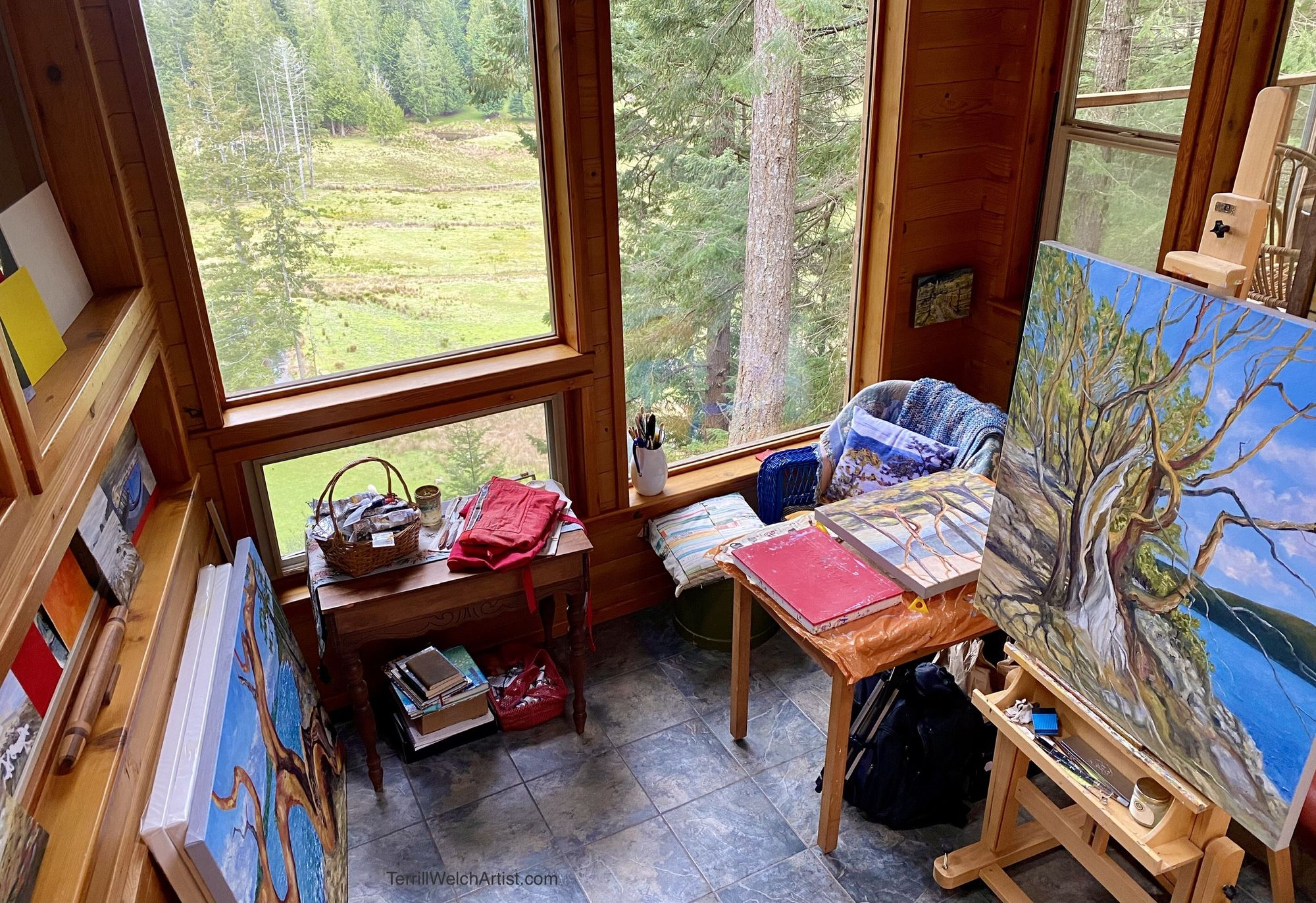 I hope you are nodding because he has already come and gone. I will let you know if anything interesting is published. Interviews and having my photo taken are not my favourite things to do. Still, they need to be done and I tried not to think too much about how I would rather be out on the trails hanging out with the trees.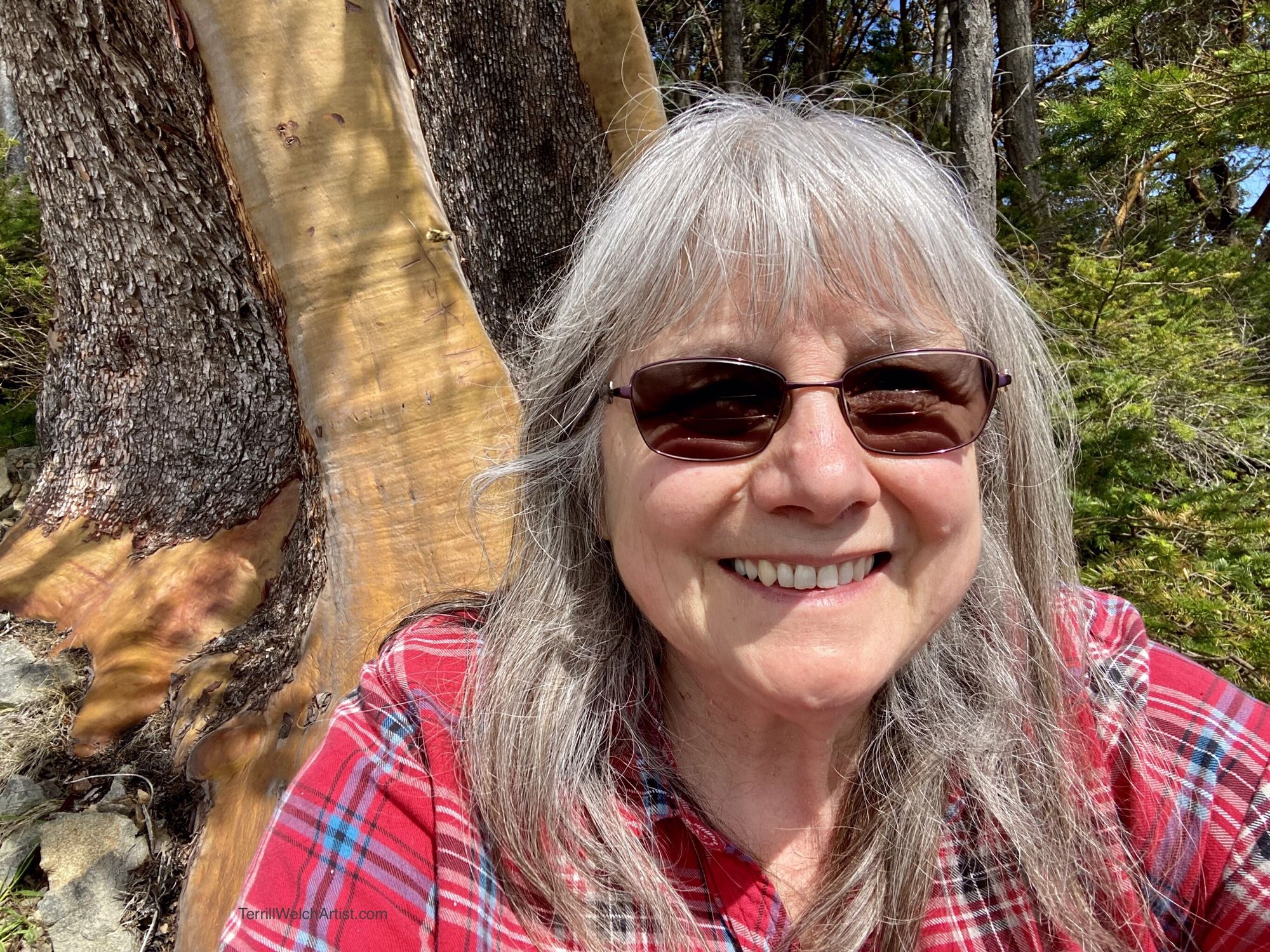 This issue will be a mix of things because, like this interview, there have been a few unexpected and great surprises. Let's just dive in shall we?
Just-because Gifts
On occasion, I receive random just-because gifts. Lately, it has included beautiful flowers for our garden from daughter and grandsons. And a bouquet for the new gallery room from another friend and artist. Then some new shirts that another friend knows I love them because I have just about worn the last one she gave me for my birthday to shreds. Other friends made a point of insisting that part of their work for the new gallery spaces be on the "friends" account. We have another friend that does a twice a year manicure of our yard simply because it is something she wants to do and she refuses compensation of any kind. I love these unexpected surprises and the thoughtfulness and caring that is offered totally without expectations.
Yesterday though, I was really, really surprised. I received a package from far, far away that was totally out of the blue. A dear friend had put something in the mail. We have never met in person but we visit often online during the ordinary rhythms of our day musing about life. She has handmade this gorgeous throw for cozying up with in our new bedroom. Now how special is this!?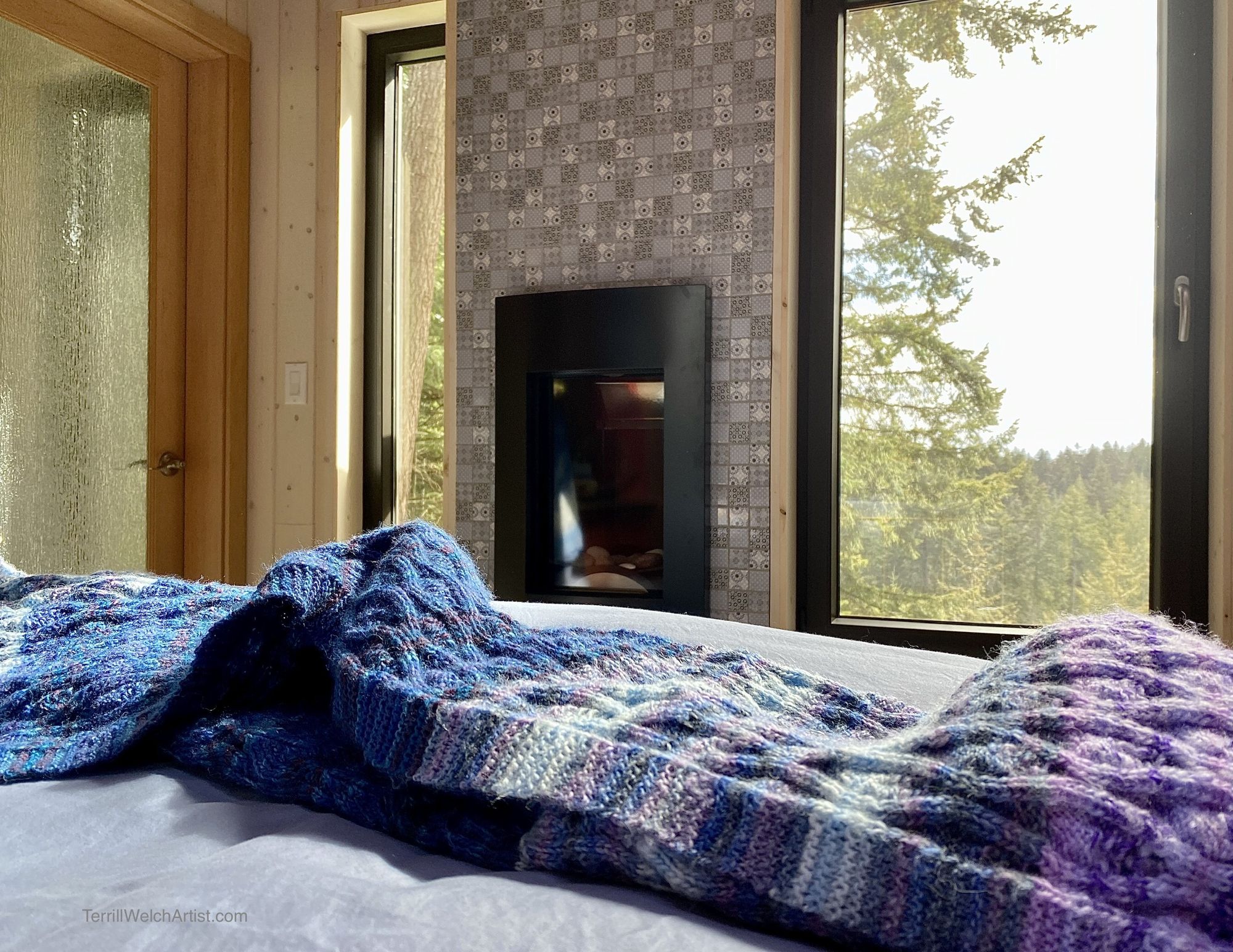 Look at that splash of purple in there! I would never have thought to add this to the bedroom palette and it is stunning in this room. Like a wee bit of magic and excitement. I shall treasure this special-gift-of-caring and smile every time I look at it!
How fortunate we are when we have each other in our lives. Our family, our friends (and even strangers) who share something of themselves with us. I believe that being able to receive caring is equally as important as giving kindness to others. However, I find the receiving much more confounding and harder to manage. I am so very glad I get so many amazing opportunities to practice.
I wish you at least one opportunity soon to gracefully say "thank you" for an unexpected kindness shown to you. 🤗❤️
Featuring Small Paintings in ISLAND TIME ART
As we have mentioned the ISLAND TIME ART room will change works frequently. These paintings in the show by Jody Waldie, Jennifer Peers and Glenda King do not have direct online links but I can tell you that, at this time, they range in price from $285 to $750 before taxes. These paintings will be available at ISLAND TIME ART until the middle of next week on May 4, 2022. If you would like to know a specific price for a work, just reply to this newsletter with your request. For now, let's have some fun and explore each work and include a room view…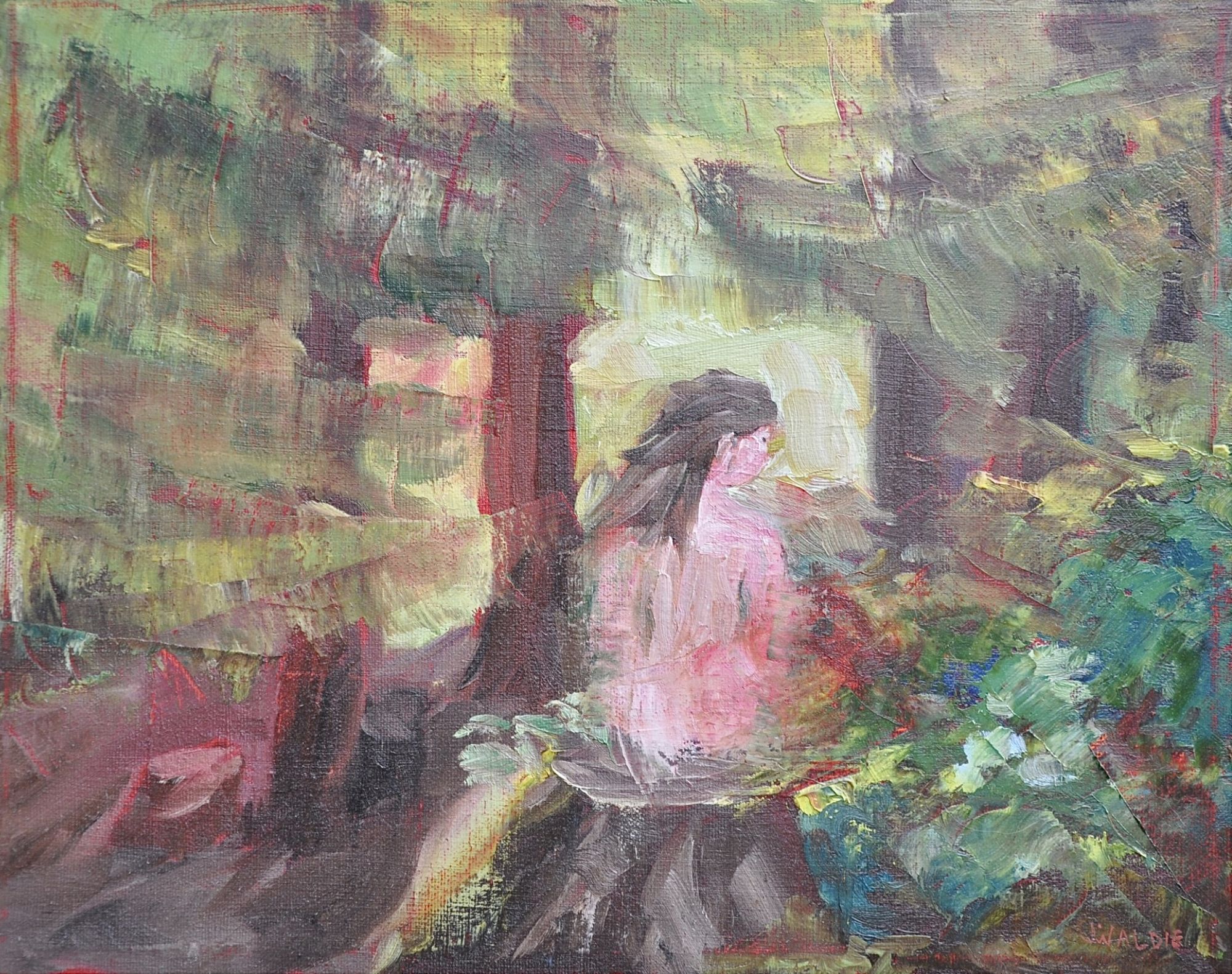 Artist notes: The peaceful atmosphere and gentle caress of the surrounding trees nourish the bather's mind, body and soul.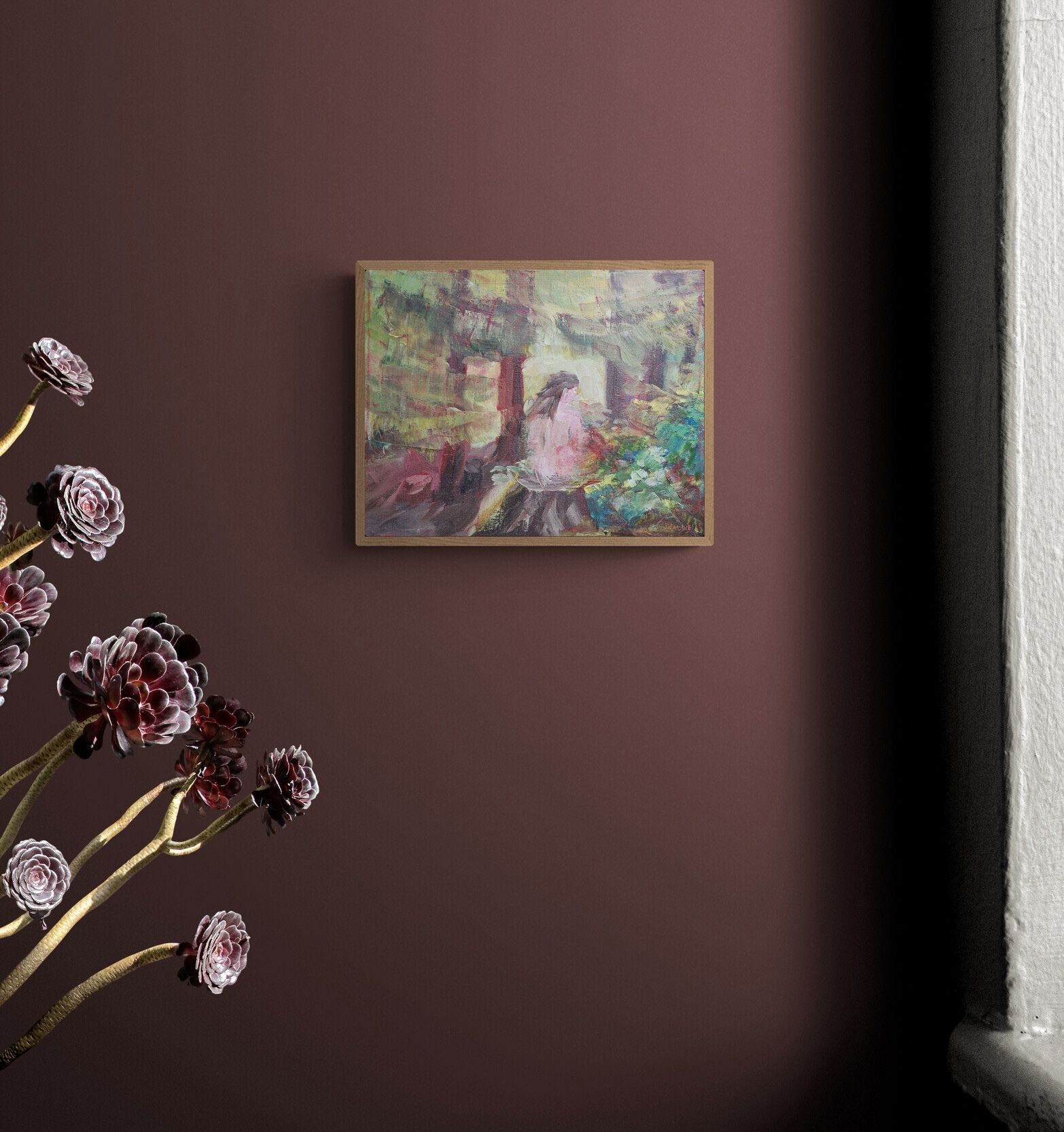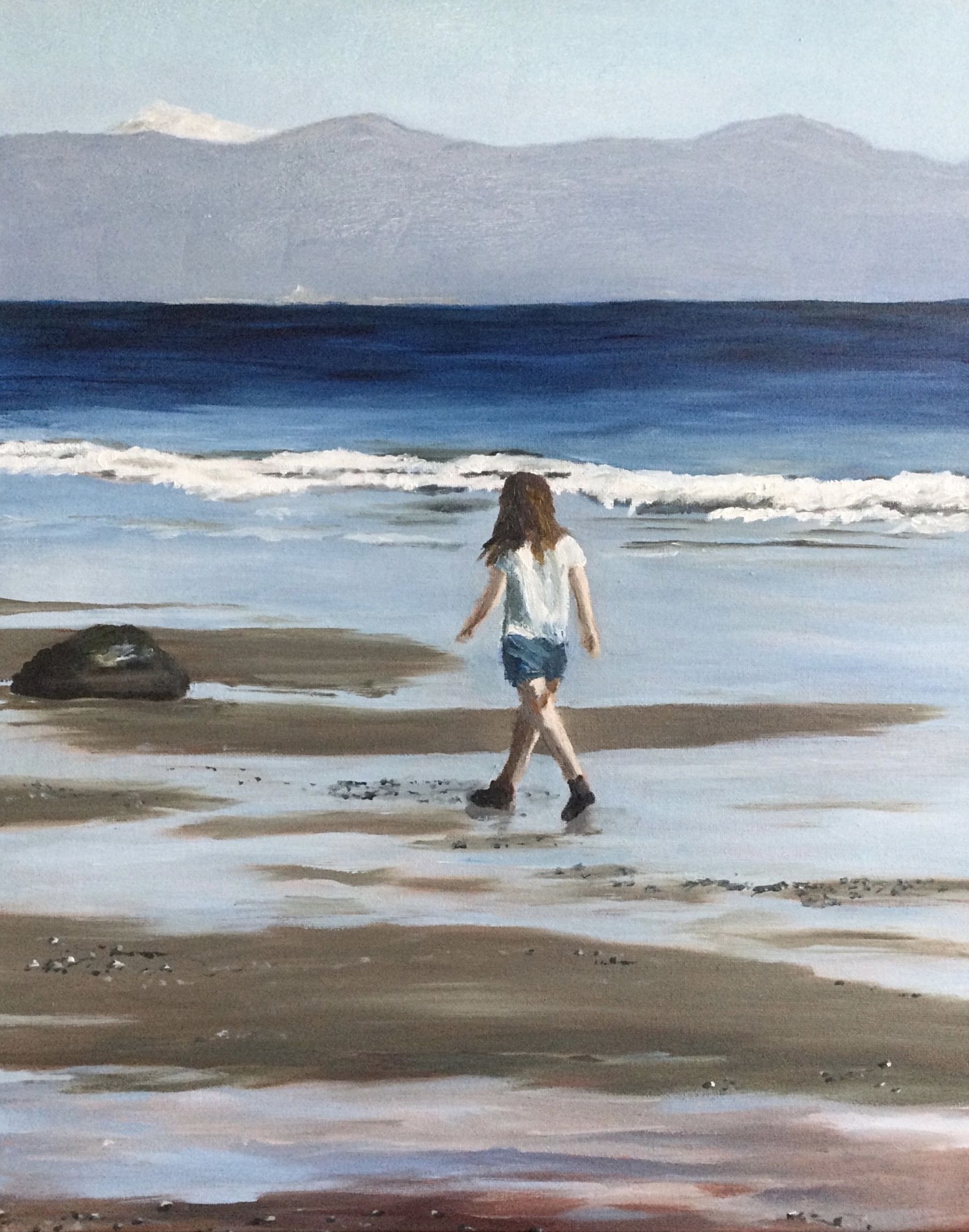 Artist notes: Striding confidently to the rhythm of the waves.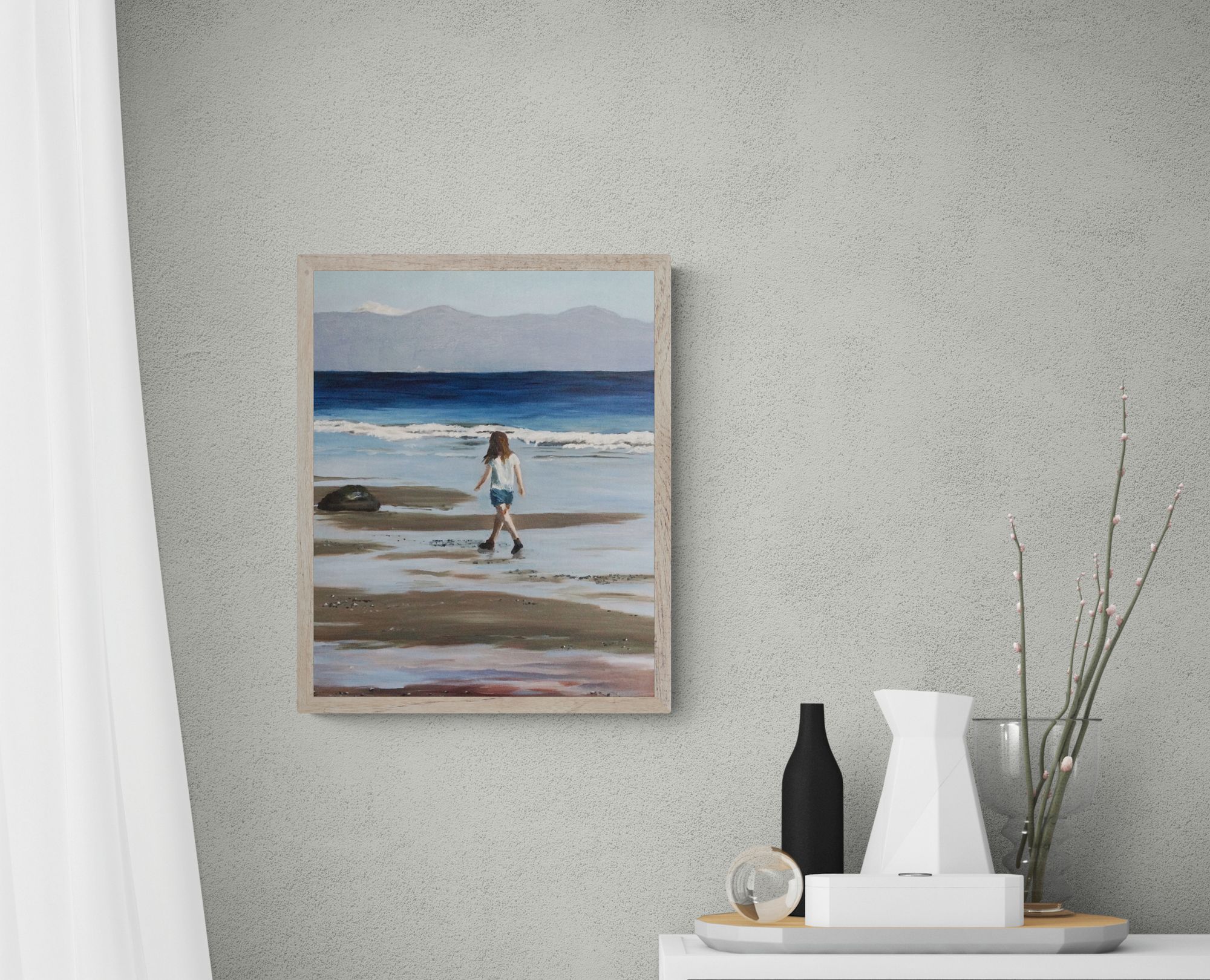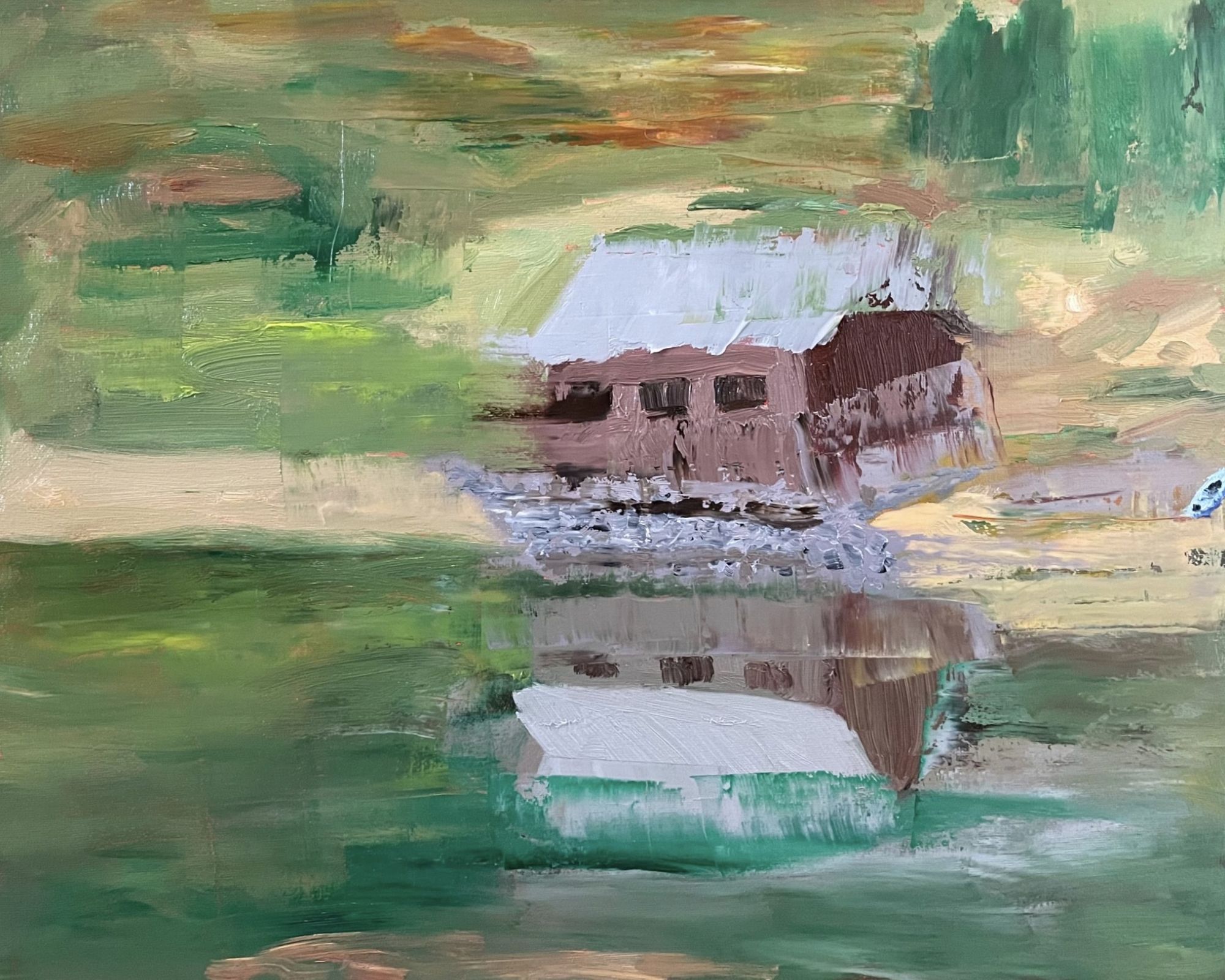 Artist notes: There is a wonderful spot in the Horton Bay area of Mayne Island which this quaint building sits against the water and the reflections can be caught at the right time of day in the right conditions. I caught it.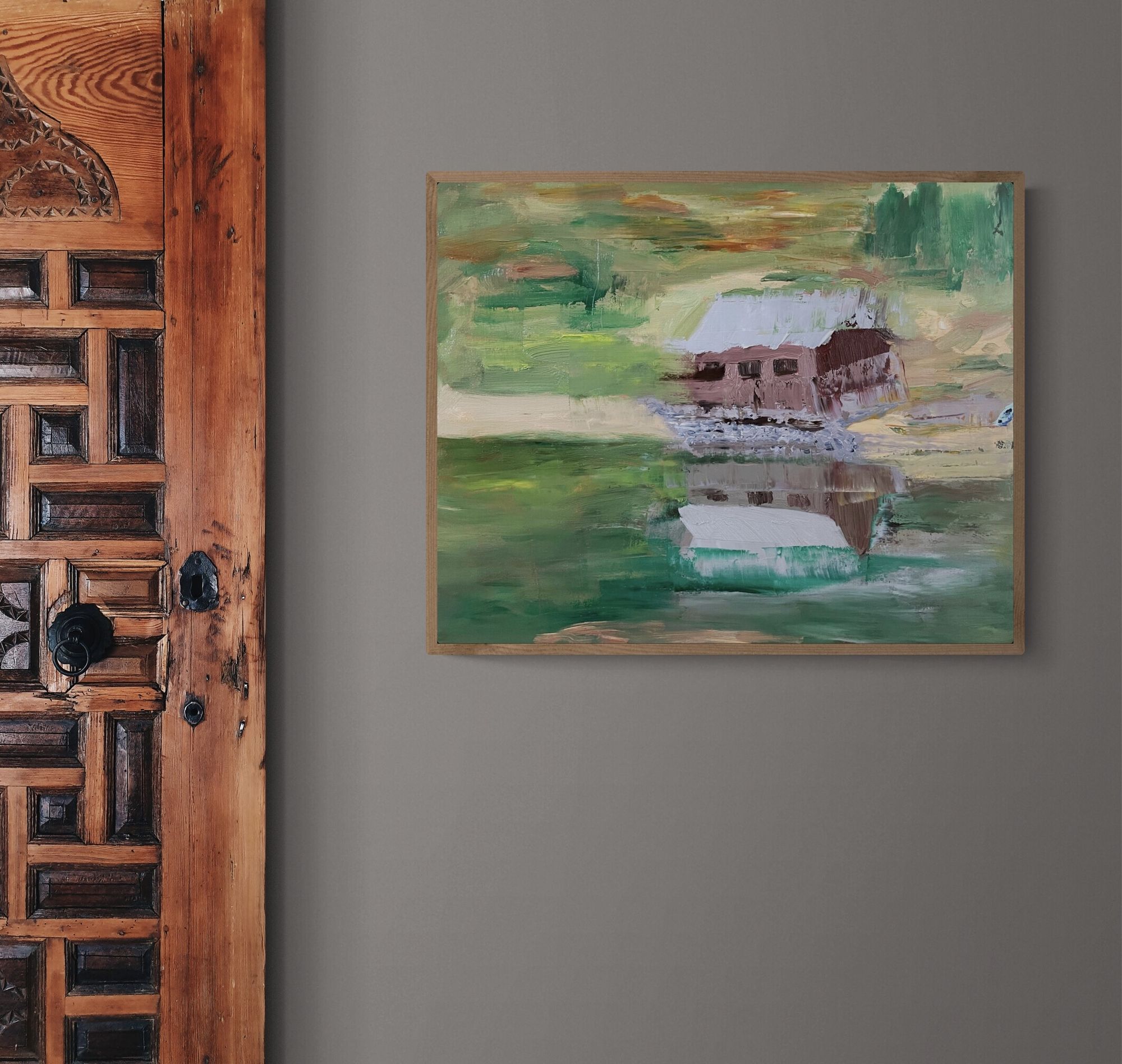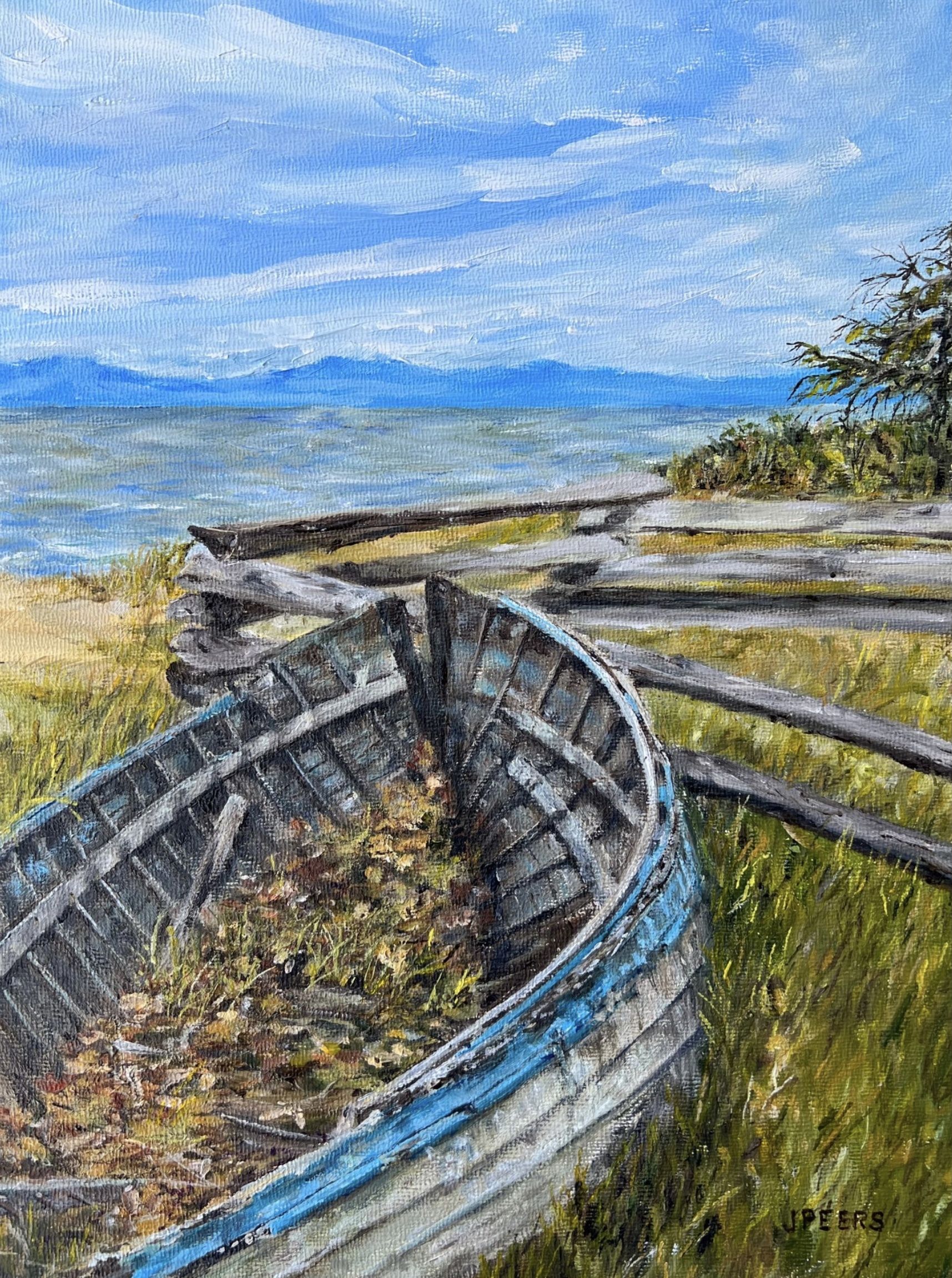 Artist notes: I'm sure this old rowboat has some stories to tell! For now she is just resting at the light house on Mayne Island slowly surrendering to the whim of the weather.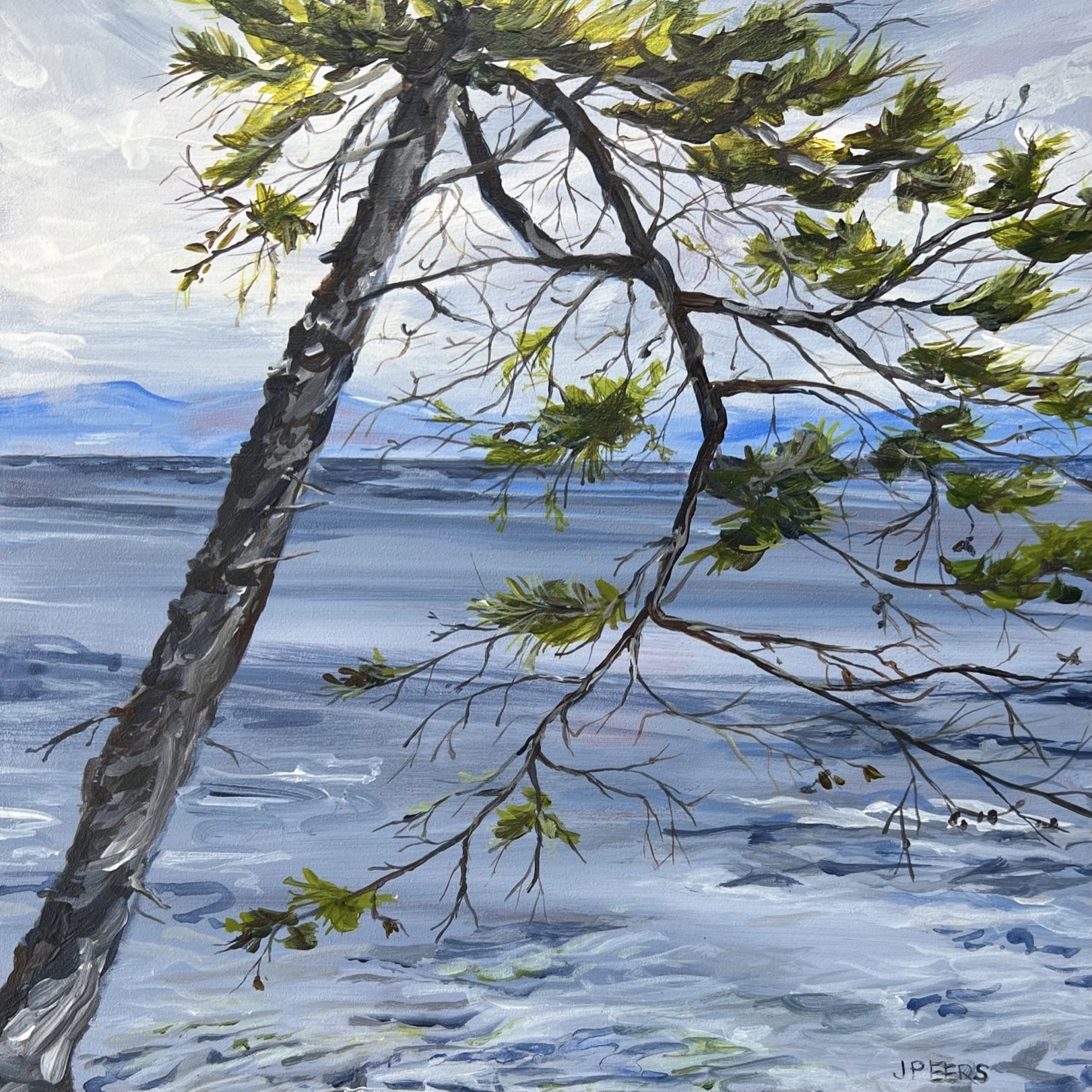 Artist notes: Leaning out over the Salish Sea, a precarious spot but solid along the rocky shore! A lone pine is always a beautiful sight during a hike through Edith Point!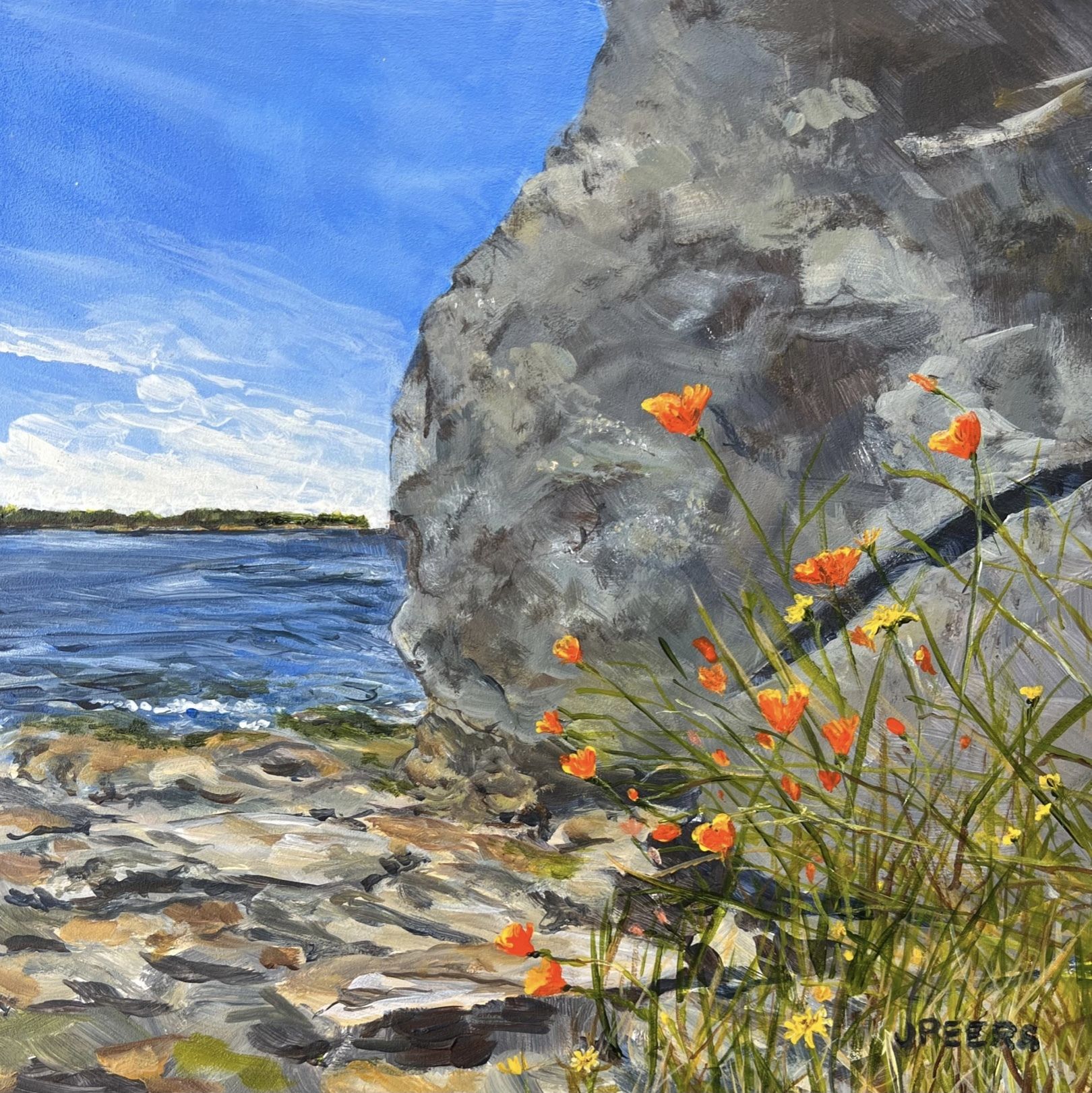 Artist notes: Oh how I love a crisp day! The tiny California Poppies just sway in the breeze overlooking Active Pass. Never a dull view with them in the foreground.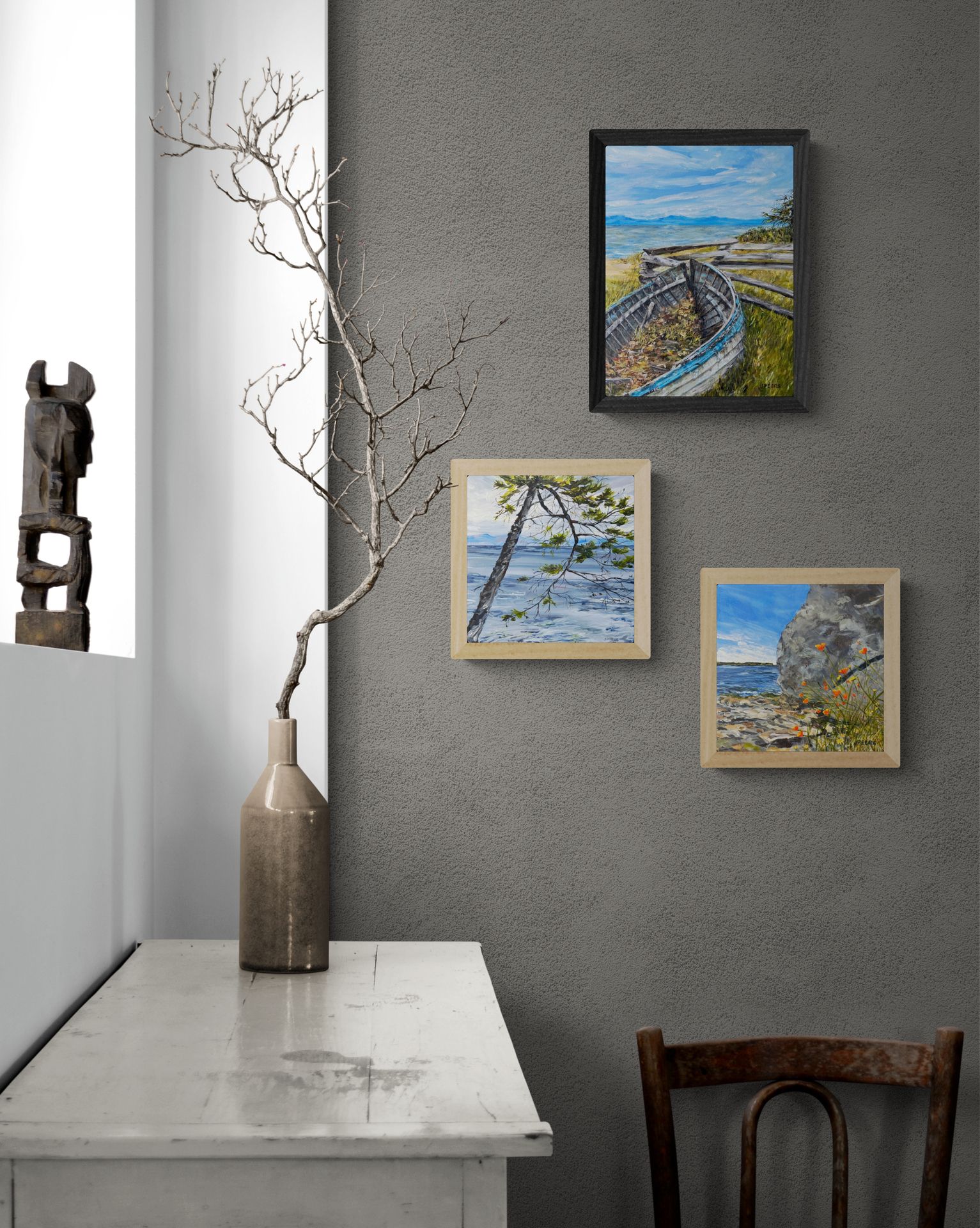 We do remember that we were not going to individually feature the work showing in the ISLAND TIME ART room and we might not always be able to do so. But for this time, well… these small landscape paintings are just too lovely to pass up the opportunity.
Each of these paintings can be viewed in person until Wednesday May 4th between 10-4 on Wednesday through Monday at 492 Dalton Road, Mayne Island British Columbia.Vania at the Dragonfly counter will be most happy to assist you or you can make arrangements for Terrill to meet you there and provide an individualized viewing experience.
Back to the Woods and Sea with Terrill Welch
The weather has been rather unsettled with plenty of rain and it is still cooler than usual. Still, there are occasions when the sun does shine and I have been making the most of forest and seaside hikes.
This first reference is definitely being shortlisted for a painting.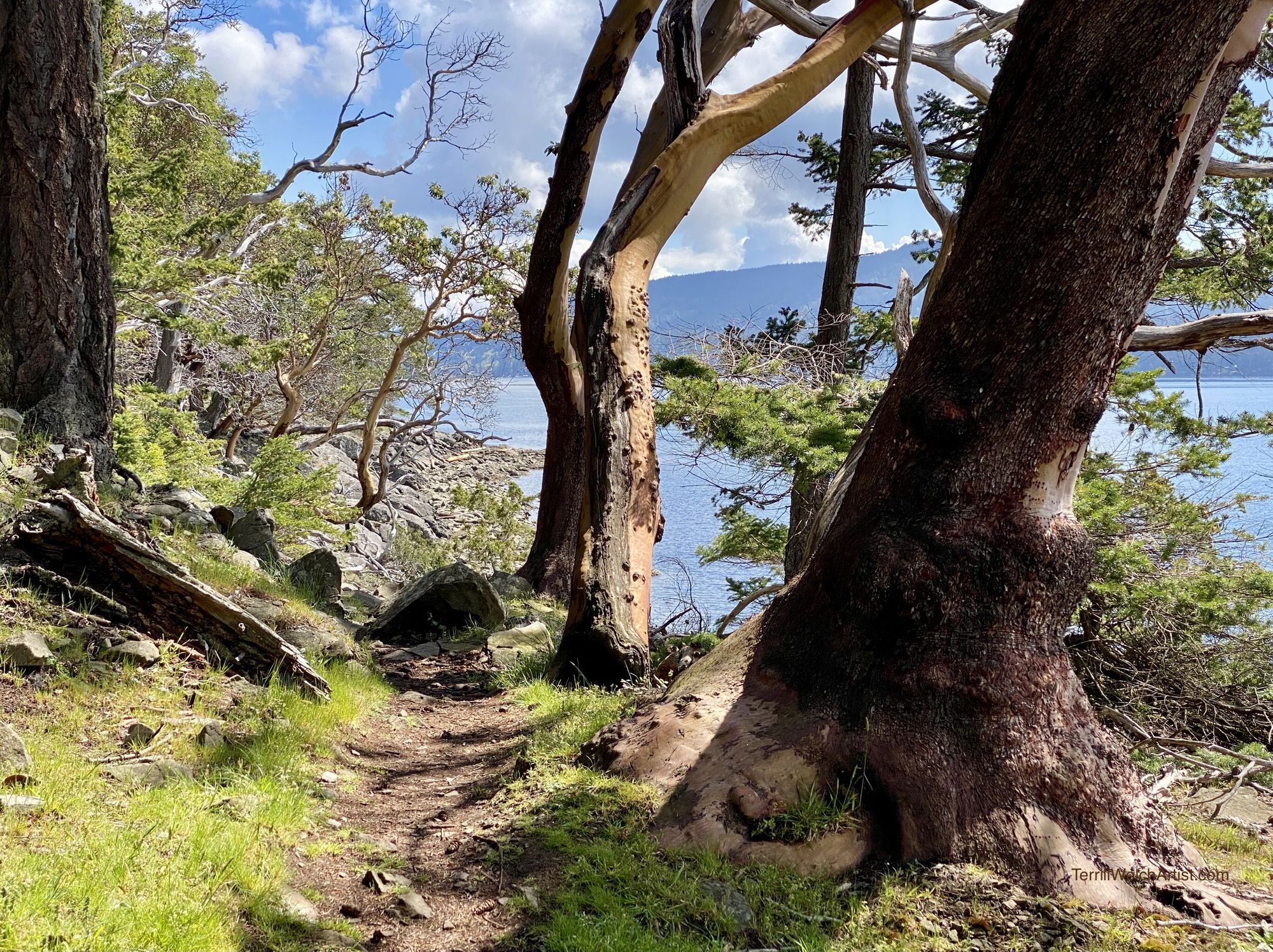 Maybe this one too…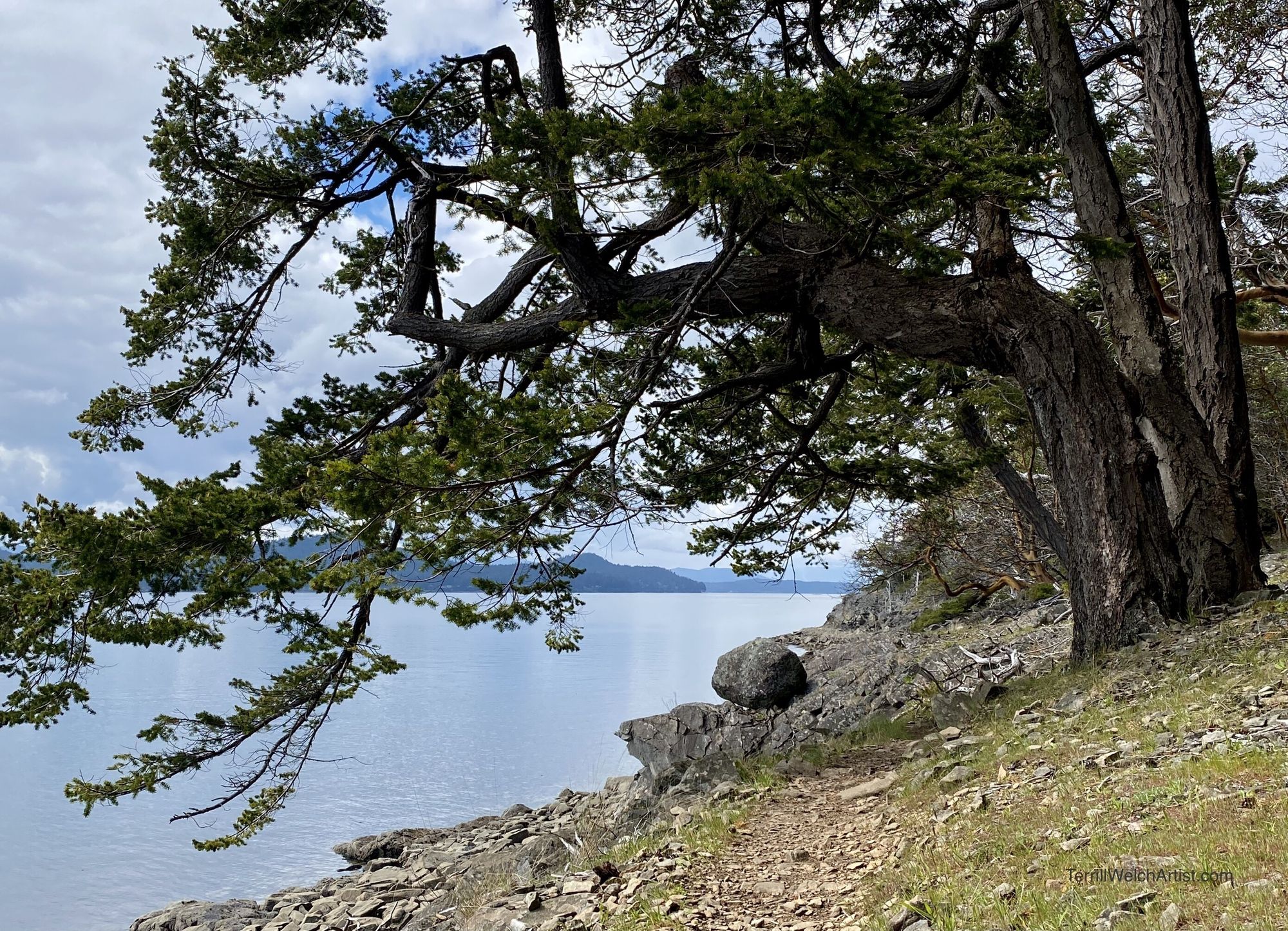 Yet, is the tiny wild and naturalized flowers that really have my attention, like these lady's slippers…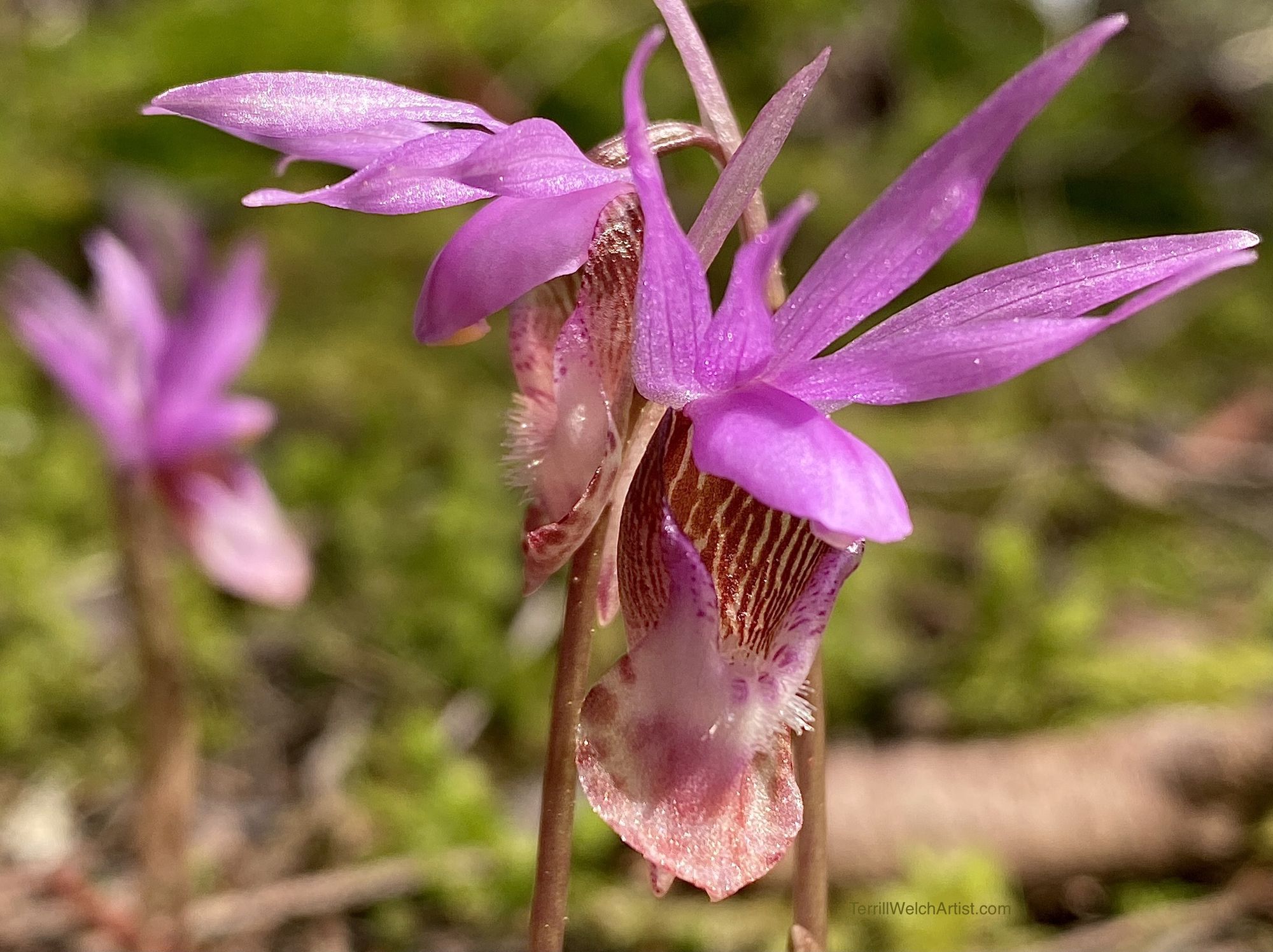 When I was out in the woods today walking with a friend, we had the company of these tiny beauties everywhere!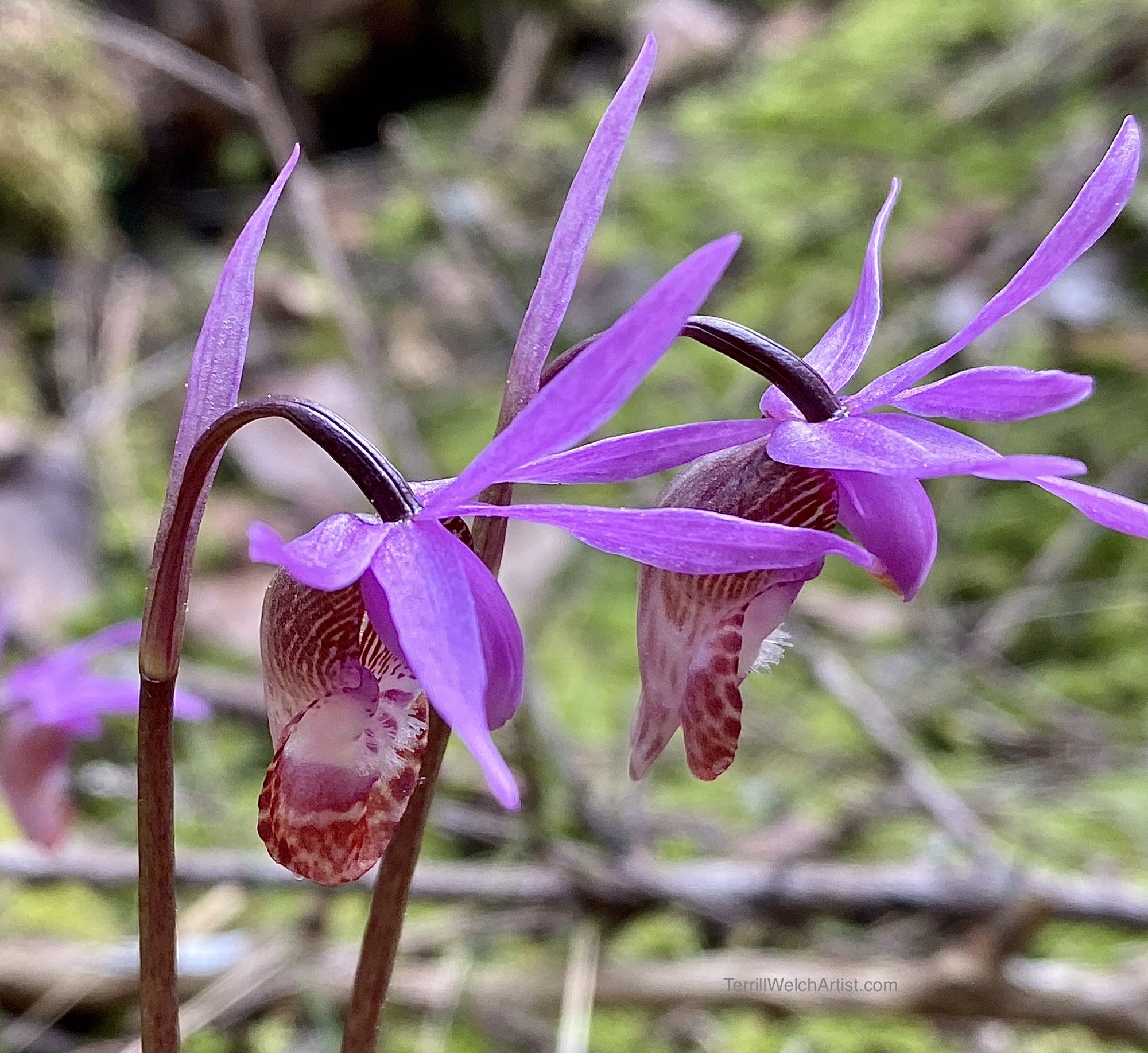 There they were, singing away on the wet mossy forest floor as if things were just absolutely perfect! Mayne Island Lady's Slipper or Calypso orchids! Love them!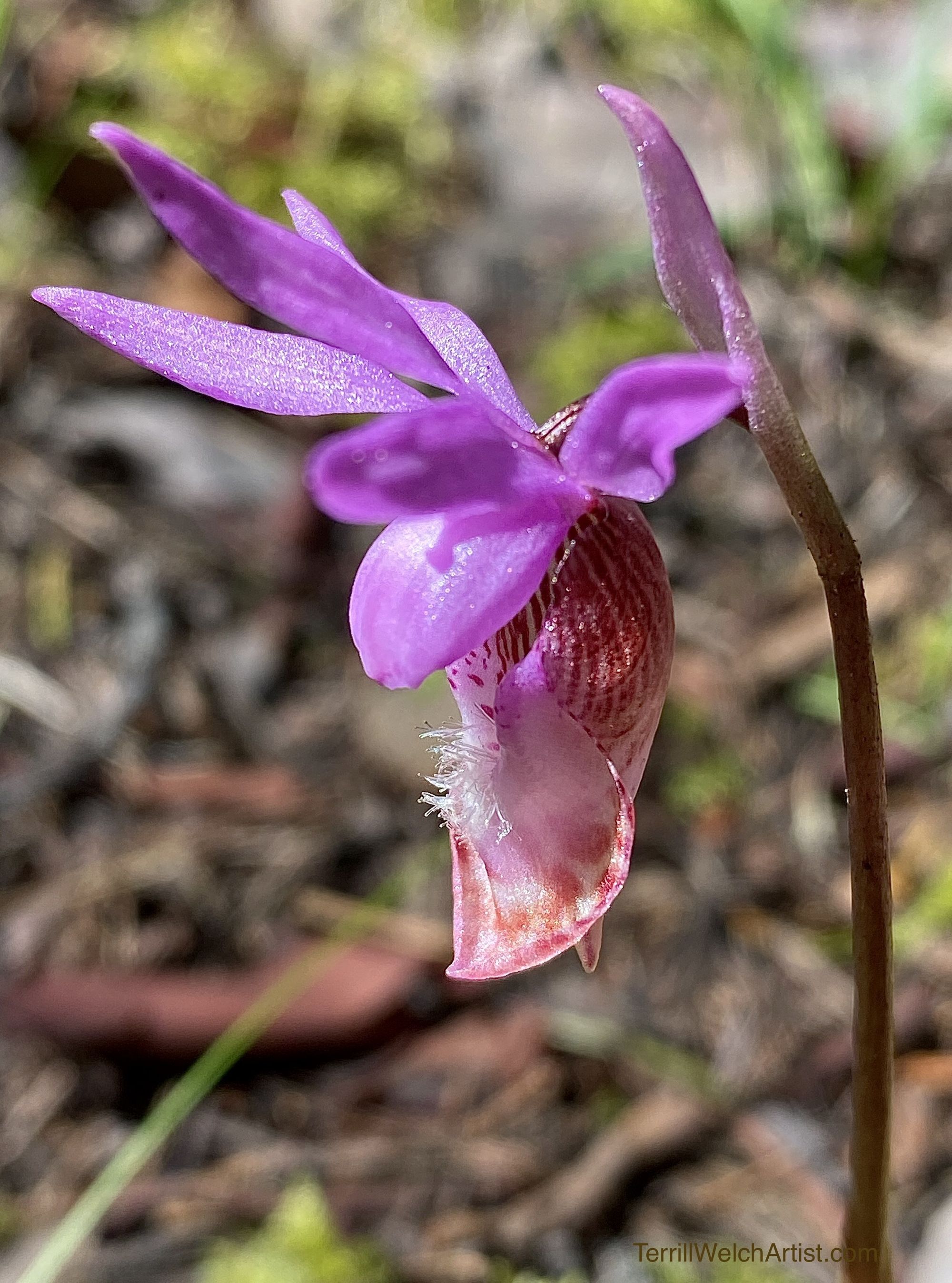 Below is an early chocolate lily. I will go back in a couple of weeks and see how it is doing.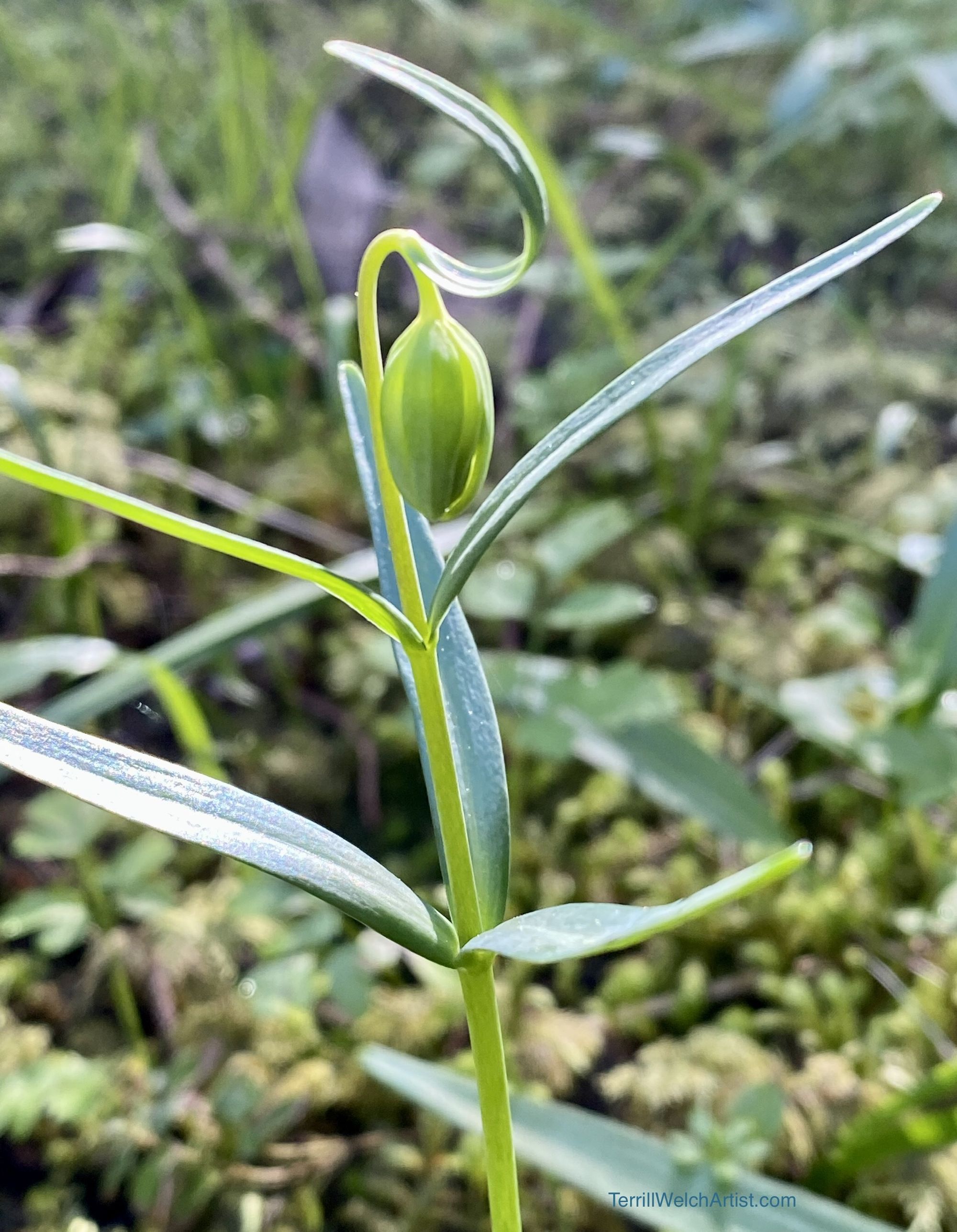 Here is a giant white fawn lily blooming beside the sea.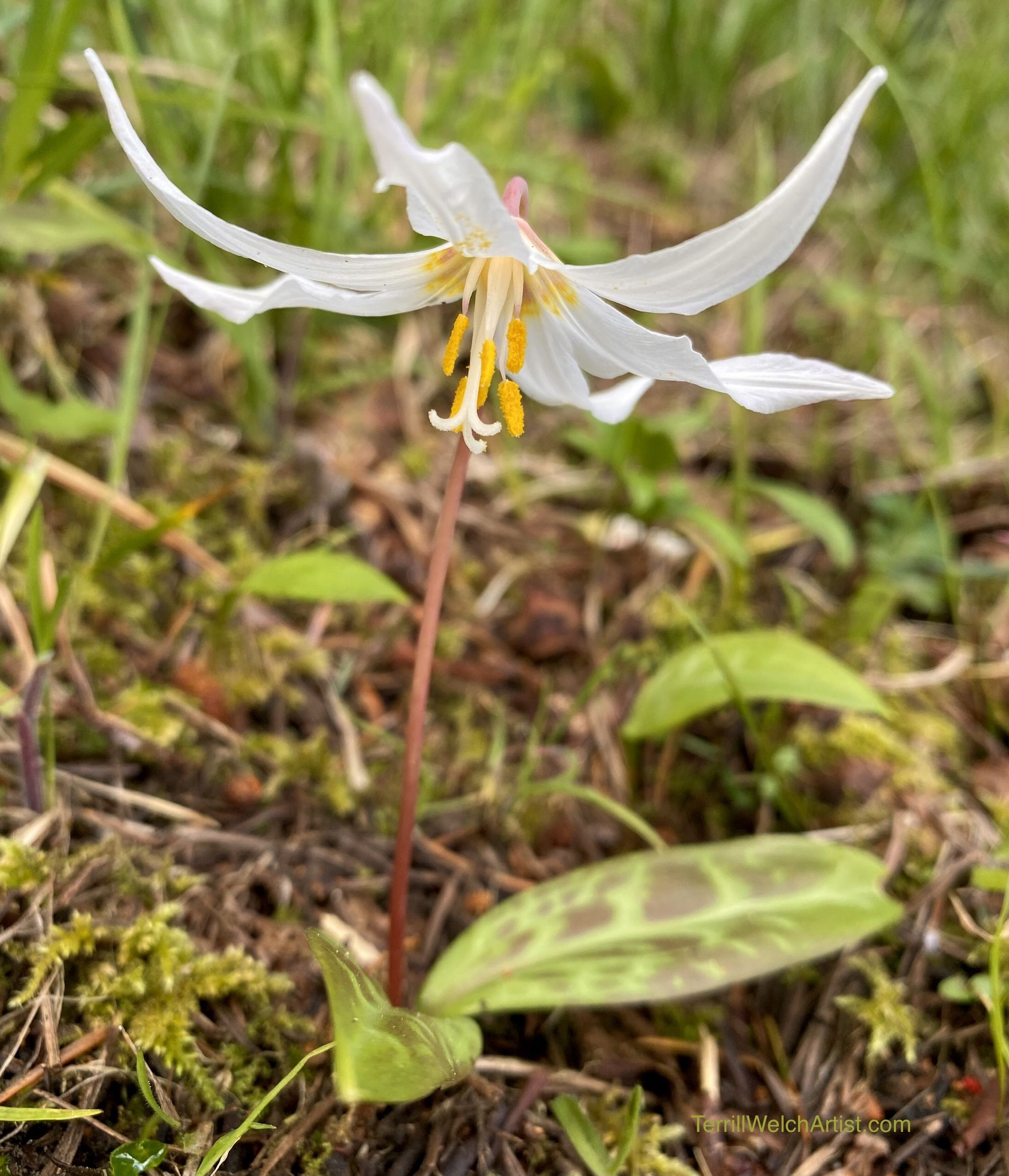 I just love how this Erythronium oregonum or giant white fawn lily settles into its seaside view.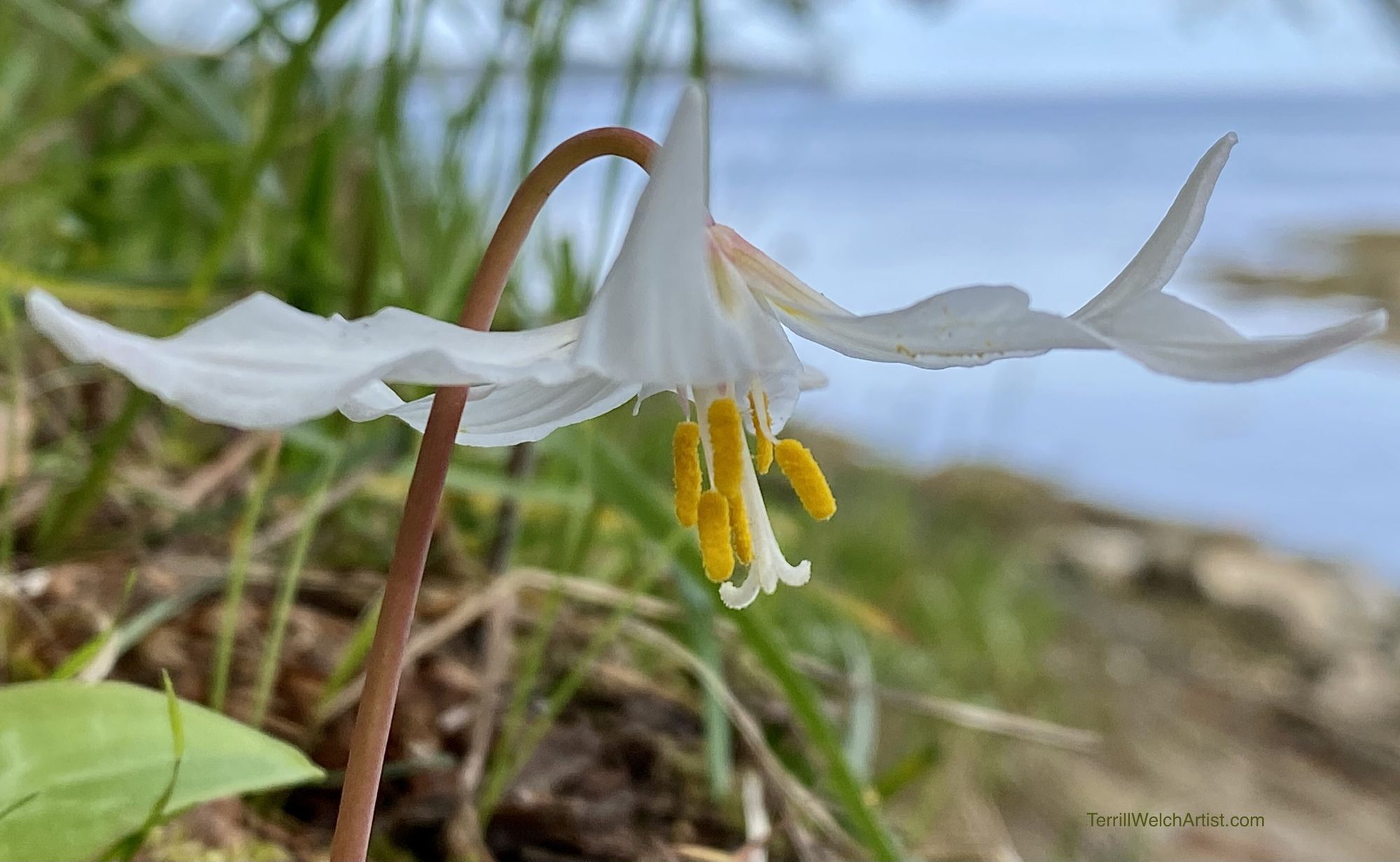 And a Spanish bluebell which was introduced at some point and has naturalized.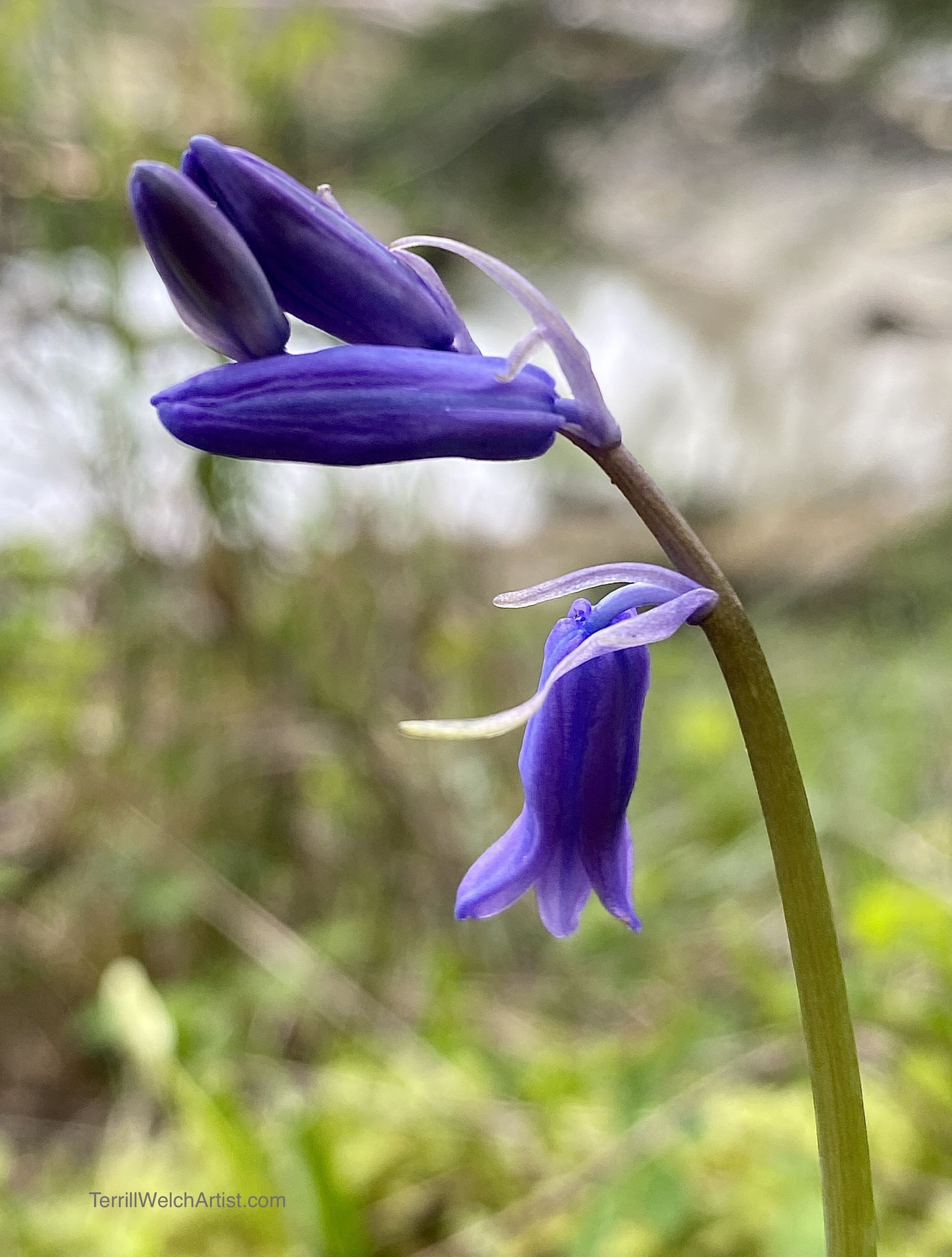 These are a neighbour's cherry blossoms and hopefully it warms up enough for a few more bees to visit.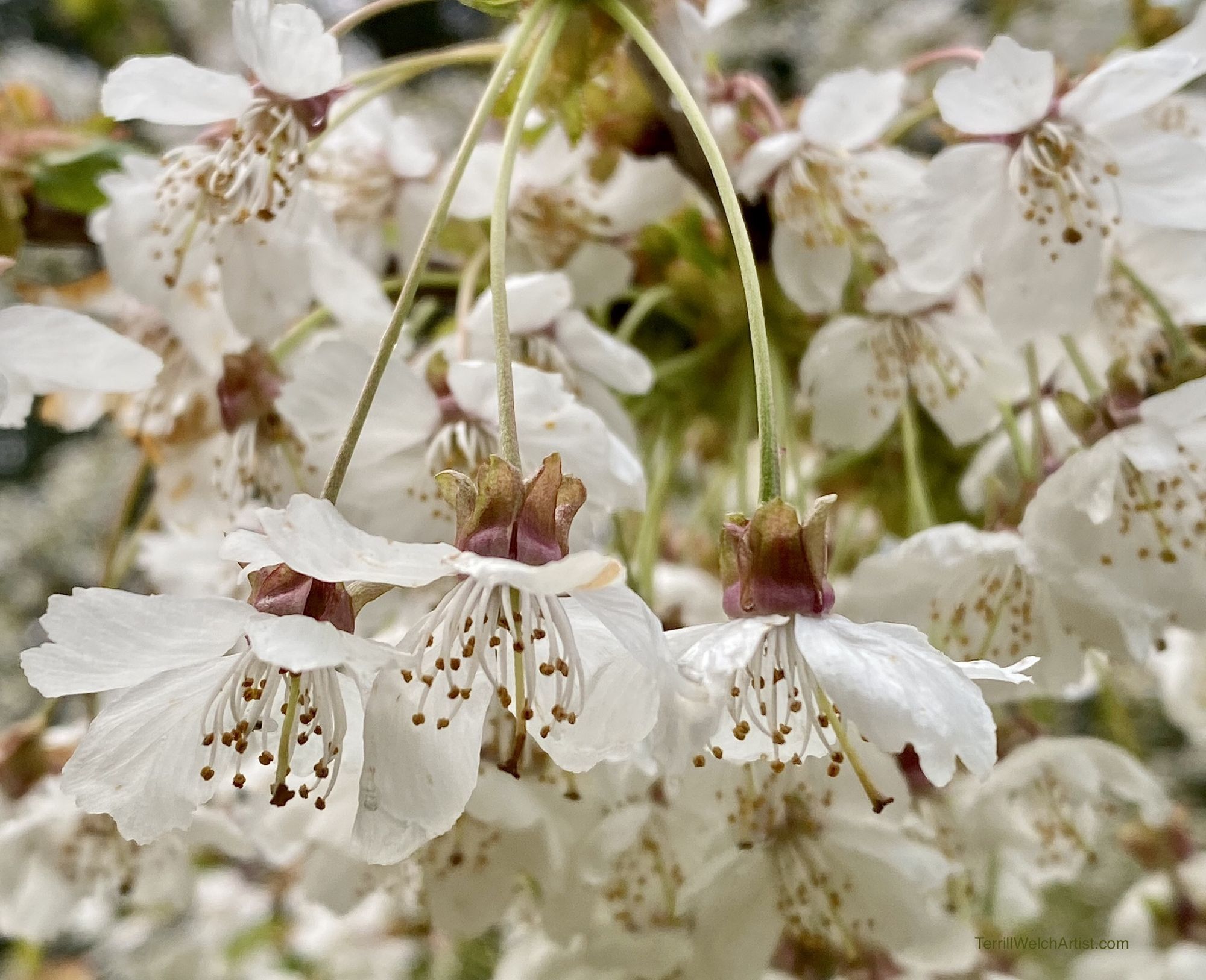 This brings me to our lovely Japanese Garden which is stunning this time of year with the cherry blossoms and more…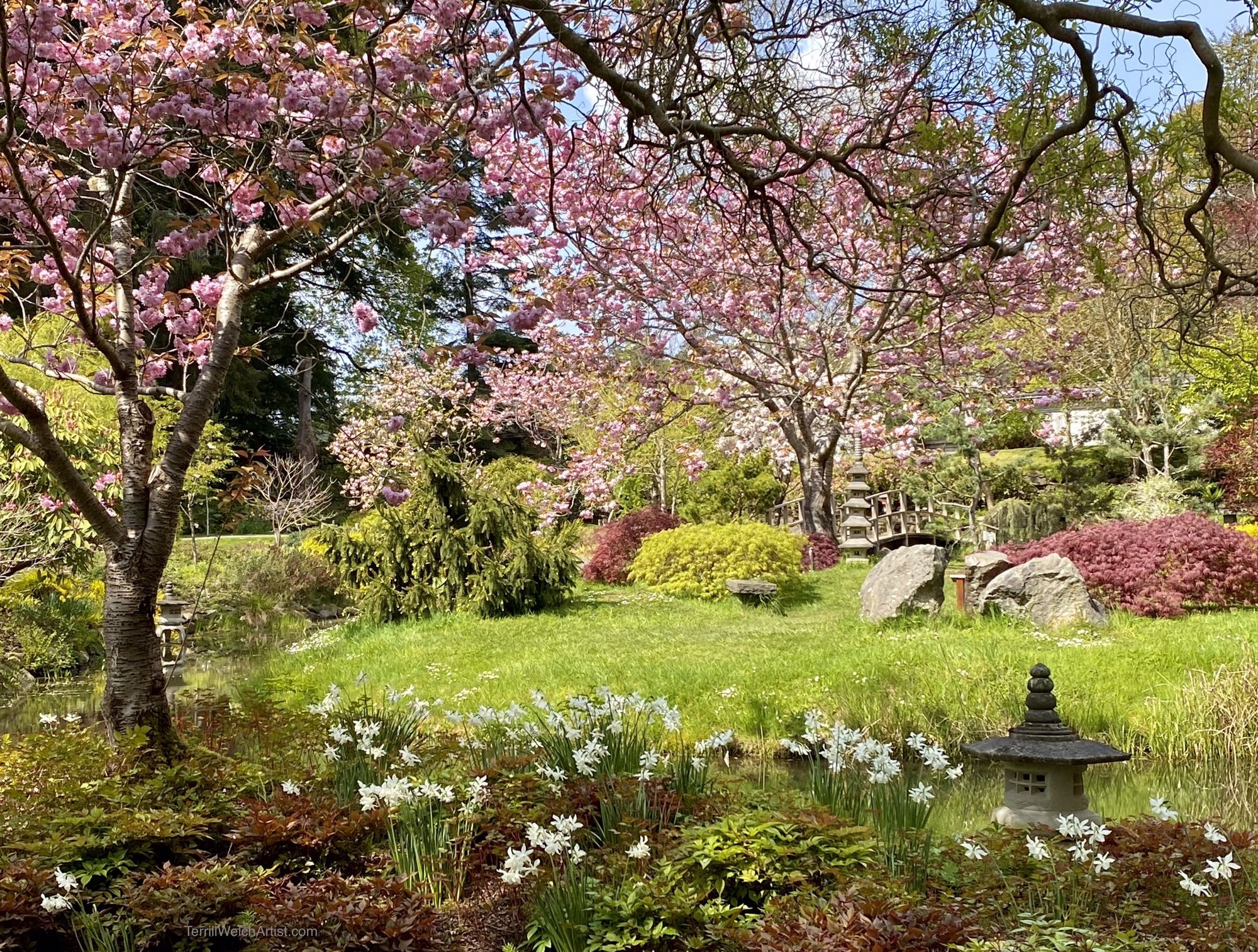 Until Next Time!
So there you have it. Not much painting happening at the moment other than a few edges. This shall change soon. In the meantime, I hope you have enjoyed our latest adventures and we look forward to hearing from you. All the best as always!
Terrill 👩‍🎨🎨❤️
Belated HAPPY EARTH DAY on April 22, 2022!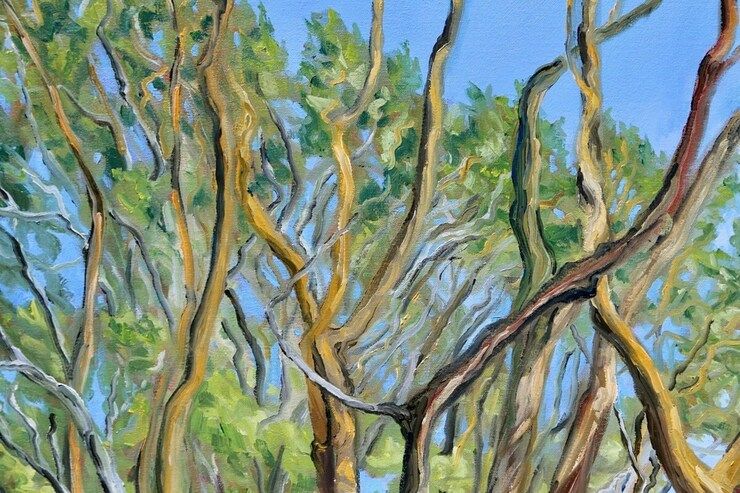 A note from landscape painter, Terrill Welch, for Earth Day 2022 as we feature her painting: "Conducting An Orchestra", oil on canvas, 40 x 36 inches. More information about this west coast oil painting is available at: https://www.artworkarchive.com/profile/terrill-welch/artwork/conducting-an-orchestra-terrill-welch In her own words… "I am a landscape painter exposing life's mystery in an ordinary day…." "Stripping…