A Brush with Life - Issue #103 Mixing Things Up and Still Mixing
There are times when the only way to make something work is to mix up stray bits until something comes together in a cohesive formation. This is what the past two weeks have been like for the new ISLAND TIME ART room and the home studio… except things haven't quite come together yet. In fact, I thre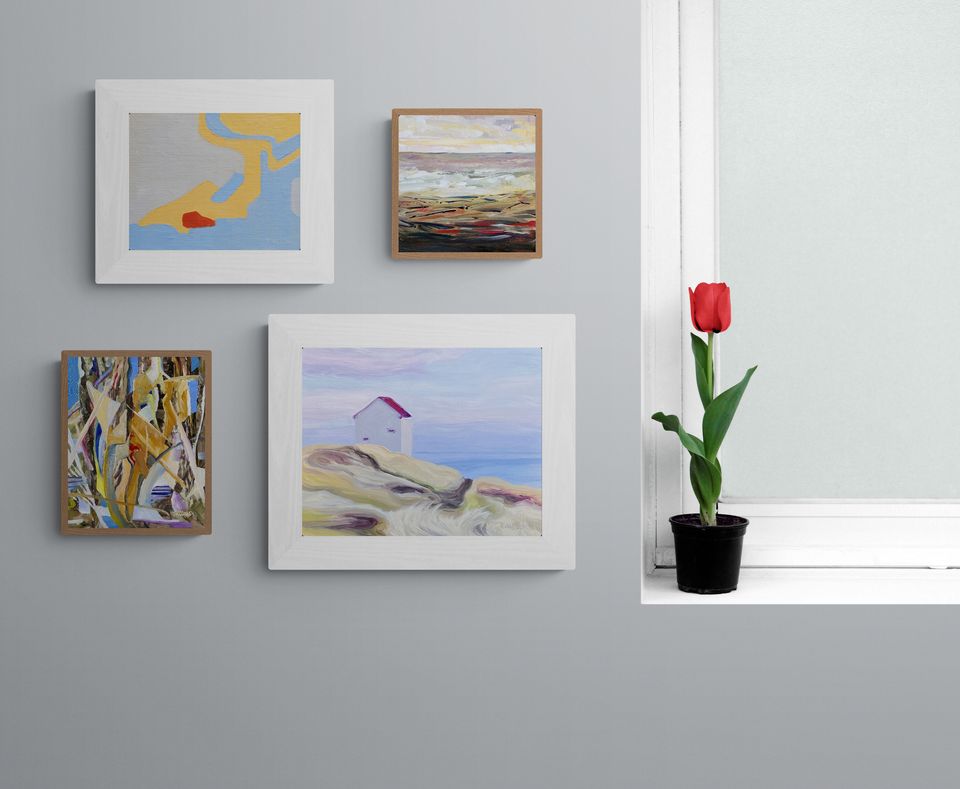 There are times when the only way to make something work is to mix up stray bits until something comes together in a cohesive formation. This is what the past two weeks have been like for the new ISLAND TIME ART room and the home studio… except things haven't quite come together yet. In fact, I threw my hands in the air, packed the car and we headed out on an art trip to deliver sold paintings, plein air paint and gather references in the Rocky Mountains before heading over to visit my parents for a few days. Then I shall pick up the threads that are still holding and see what kind of sense I can make of them. We have installed a caretaker for our home and the studio, filled the gas tank and are now on the road. We haven't been any place much in two years and are definitely ready for an adventure. But you will have to wait until next issue to learn much more than this hint about our travels. In the meantime, here is the shape of things at the moment…
---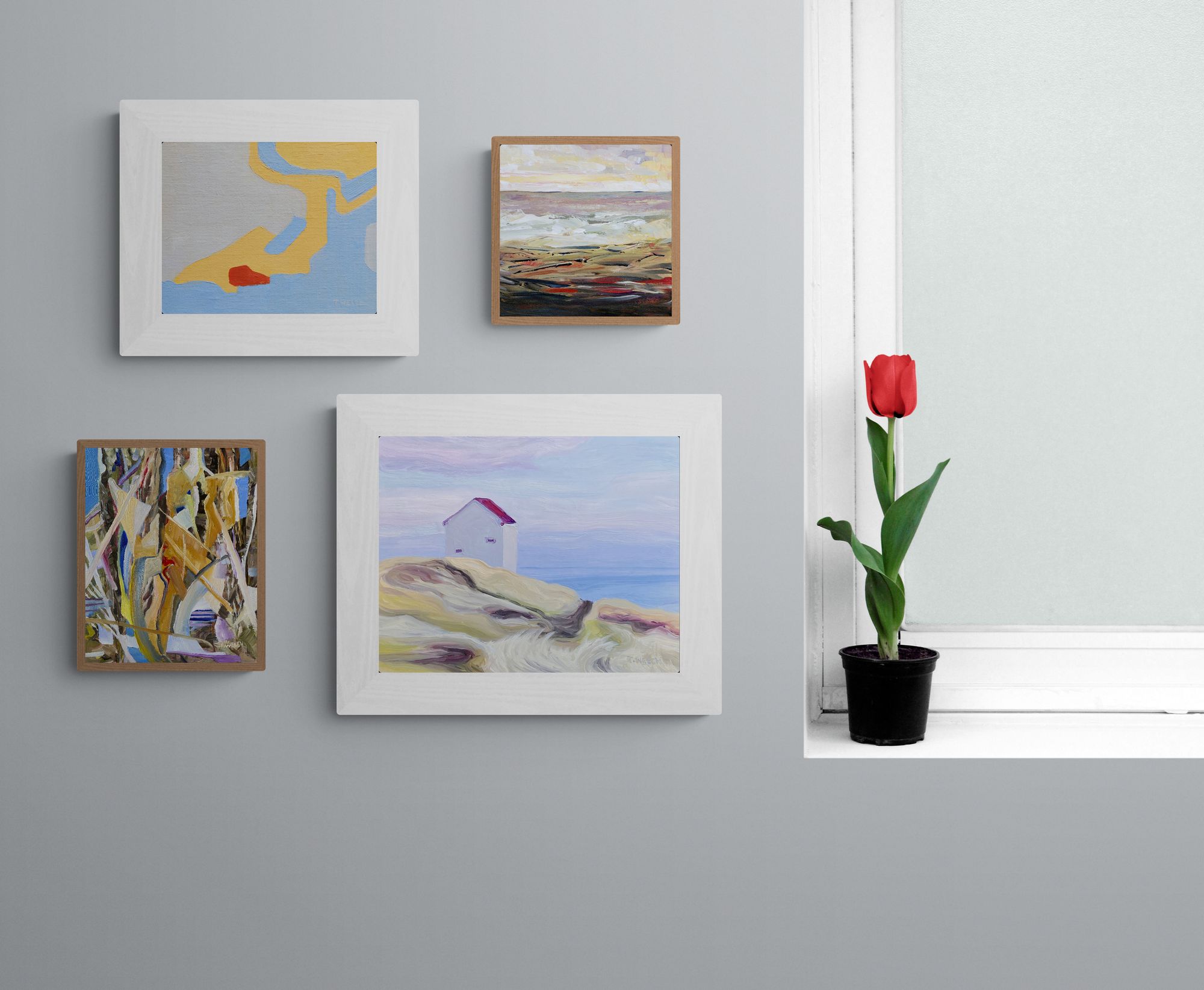 New Releases
Two new small Terrill Welch paintings have been release to add to the ISLAND TIME ART room. The frames shown in the room view above are not included but rather shared for an art collector's inspiration.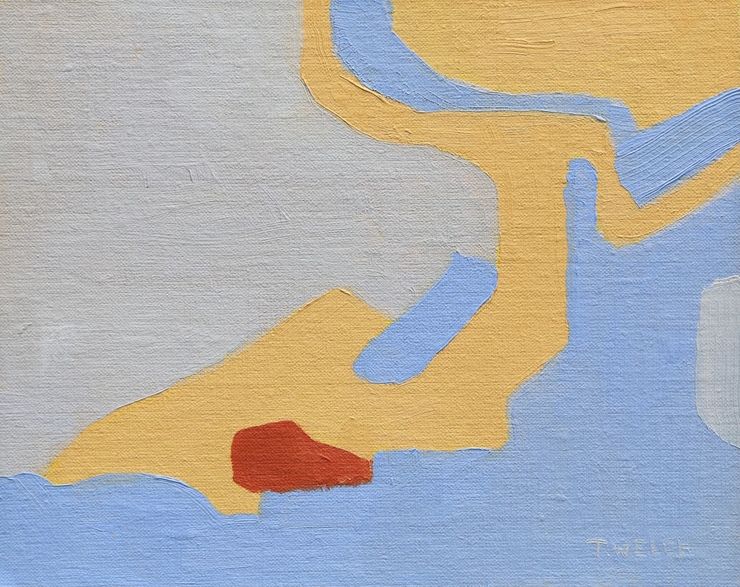 This small study was inspired by the early work of Etel Adnan (1925 - 2021) and was completed with just three colours with minimalist shapes as a poem might ...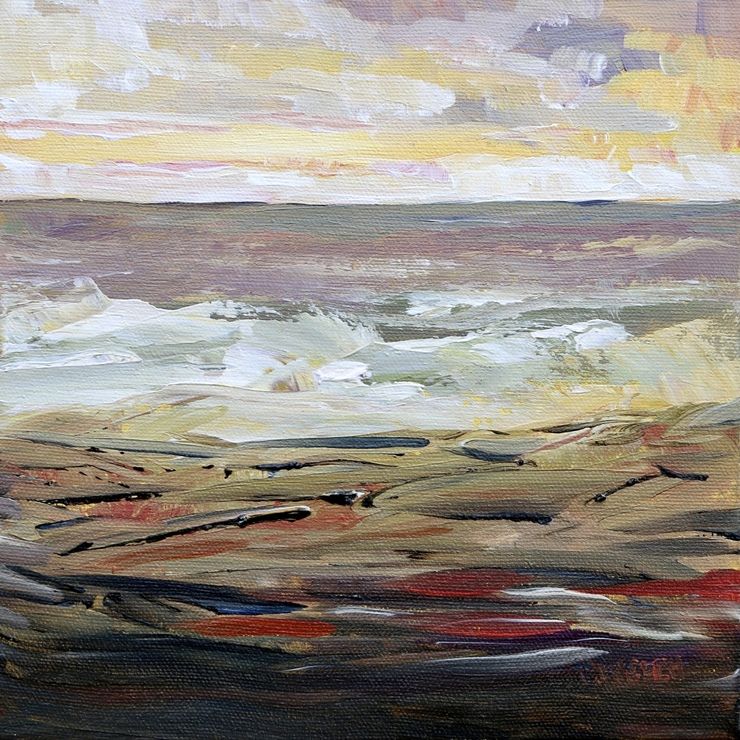 Artist notes: Plein air mornings at Reef Bay for sunrise are the best! The sun is rising way off on the right in the south right now and so the light bounces...
All four of the small paintings in the room view are showing in the ISLAND TIME ART room Wednesday through Monday from 10-5 at 492 Dalton drive on Mayne Island in British Columbia. Or they can also be purchased online and shipped world wide from Terrill Welch's portfolio at the link below:
View the full portfolio of artwork from Terrill Welch
What Has Sold
We would like to take a moment to congratulate one of our art collectors for adding this new Terrill Welch painting to their private collection.
"Evening Sun Catchers at Village Bay" (a 12 x 24 inch acrylic and oil on canvas) was not yet released and had never been shown. It was purchased from the artist's studio and has slipped away to join other paintings in this private collections. The painting had received significant attention due to online sharing and we thank everyone who was interested.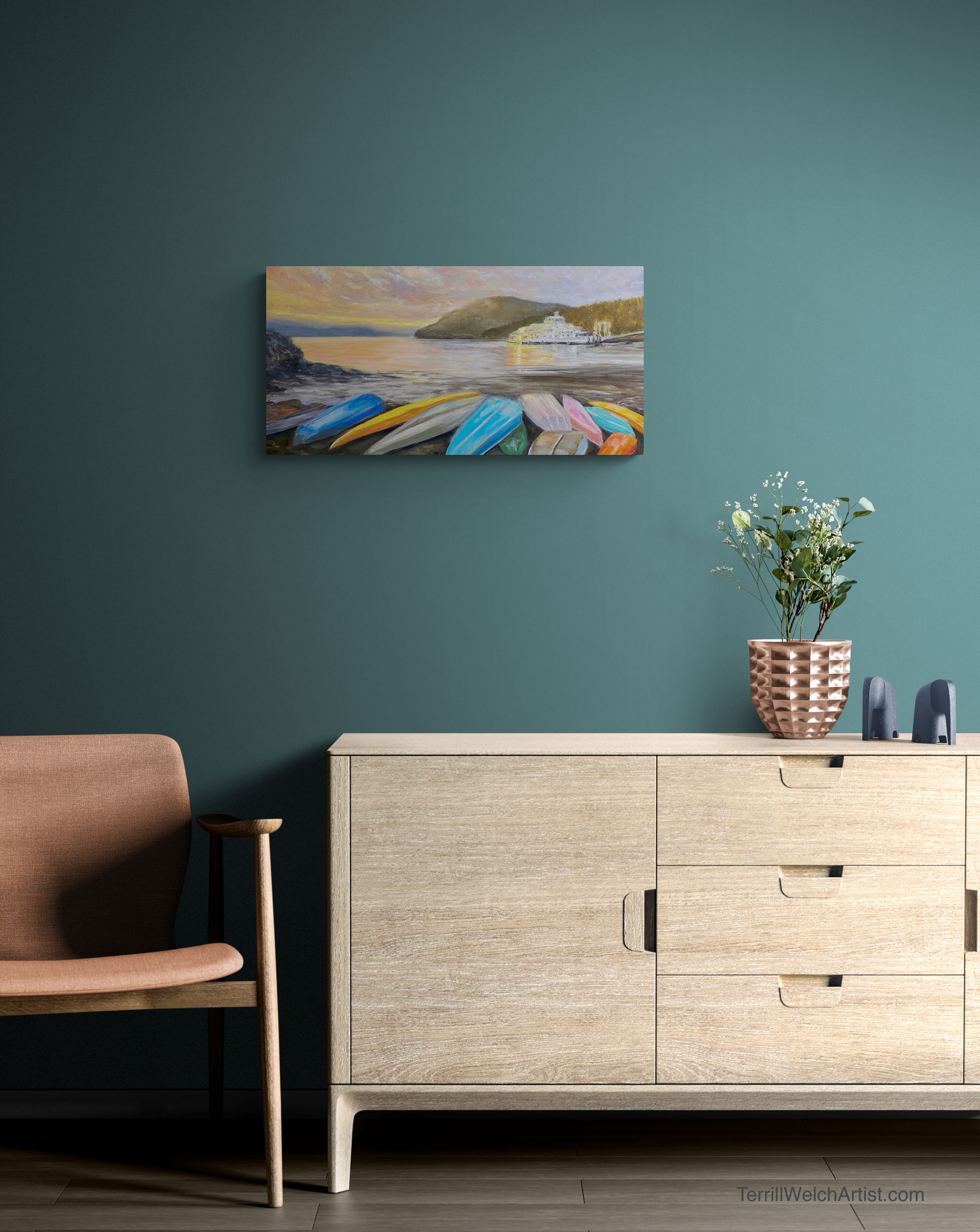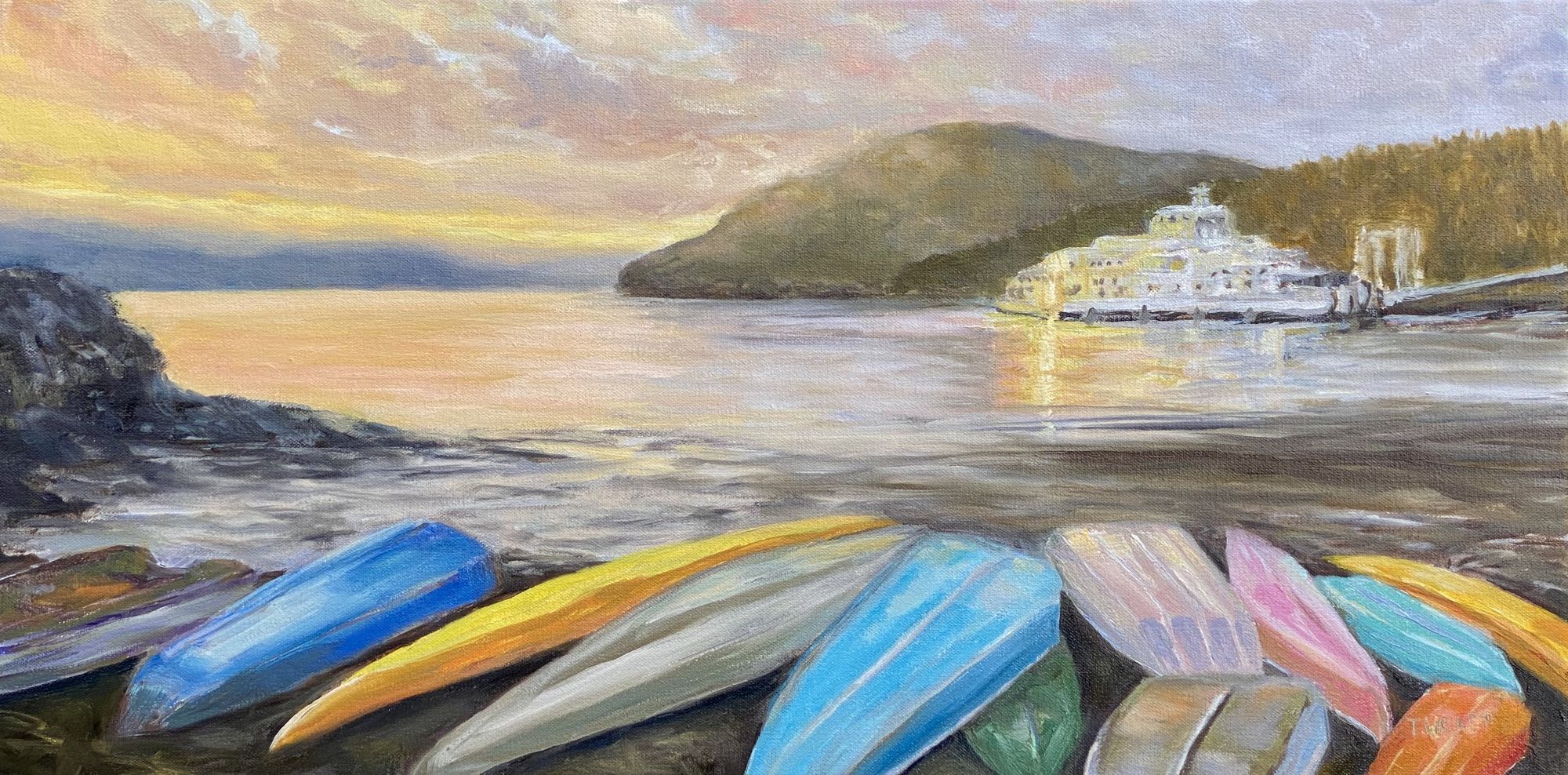 Artist notes: With longer days we find ourselves heading out to catch the last light after an early dinner. The warm light dances as it lengthens across the calm of Village Bay. The magic won't last long before all will shift to shadows. The colourful stillness is hauntingly lifted by the calls of a Barred Owl in nearby trees.
An Idea to Streamline Edge Painting
The intrigue of new studio equipment cannot be denied. I purchased a rotating easel for a specific purpose and that is to be able to paint edges and then stand the painting up on the easel out of the way while I worked on something else. This should be way better than having the canvases laying on their backs in the middle of my work table like the one behind the instructions for setting up the rotating easel.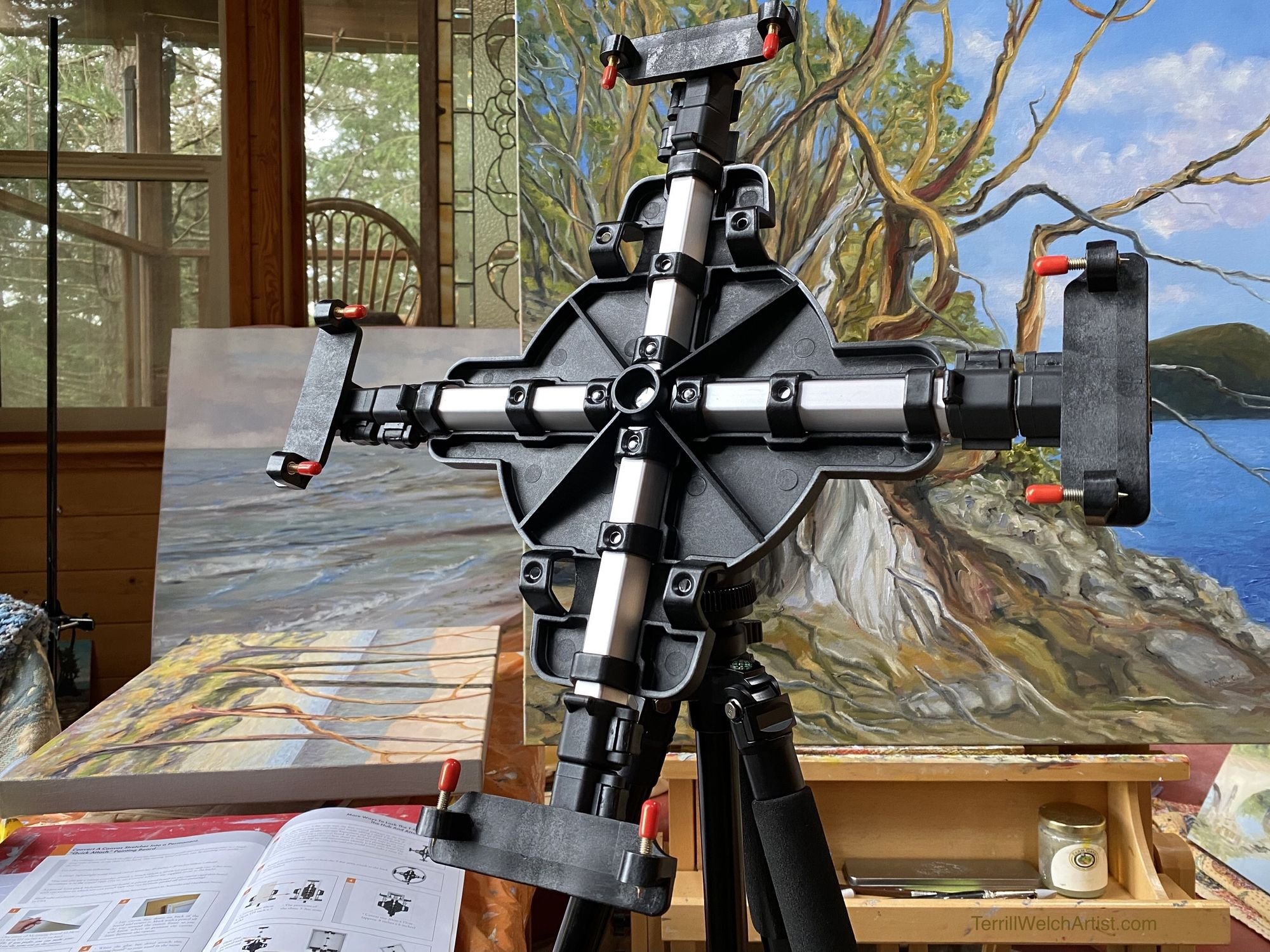 Of course the first canvas I tried needed a modified set up but it only took a few seconds to change things around.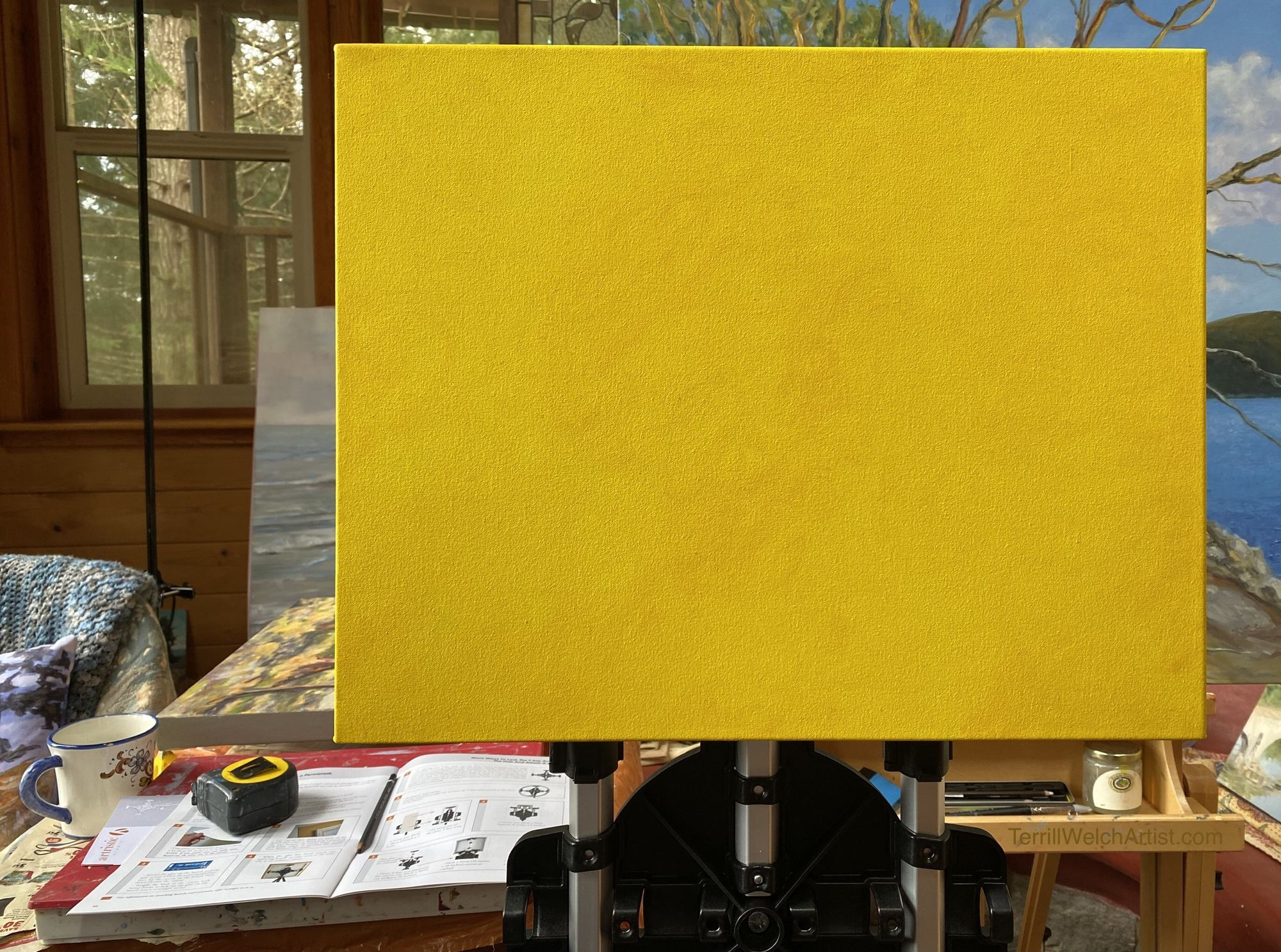 Something I didn't know before I started working with this easel is that it has two bubble levels and a compass. I don't usually have any trouble knowing where the sun is or where it is going to be an hour from now. But if I did, this compass would be like the best cheat. And getting the three legs level to begin with is a total bonus. So take a good gander because this easel will never look this pretty again. Just ask my painting apron if you are wondering why. 😉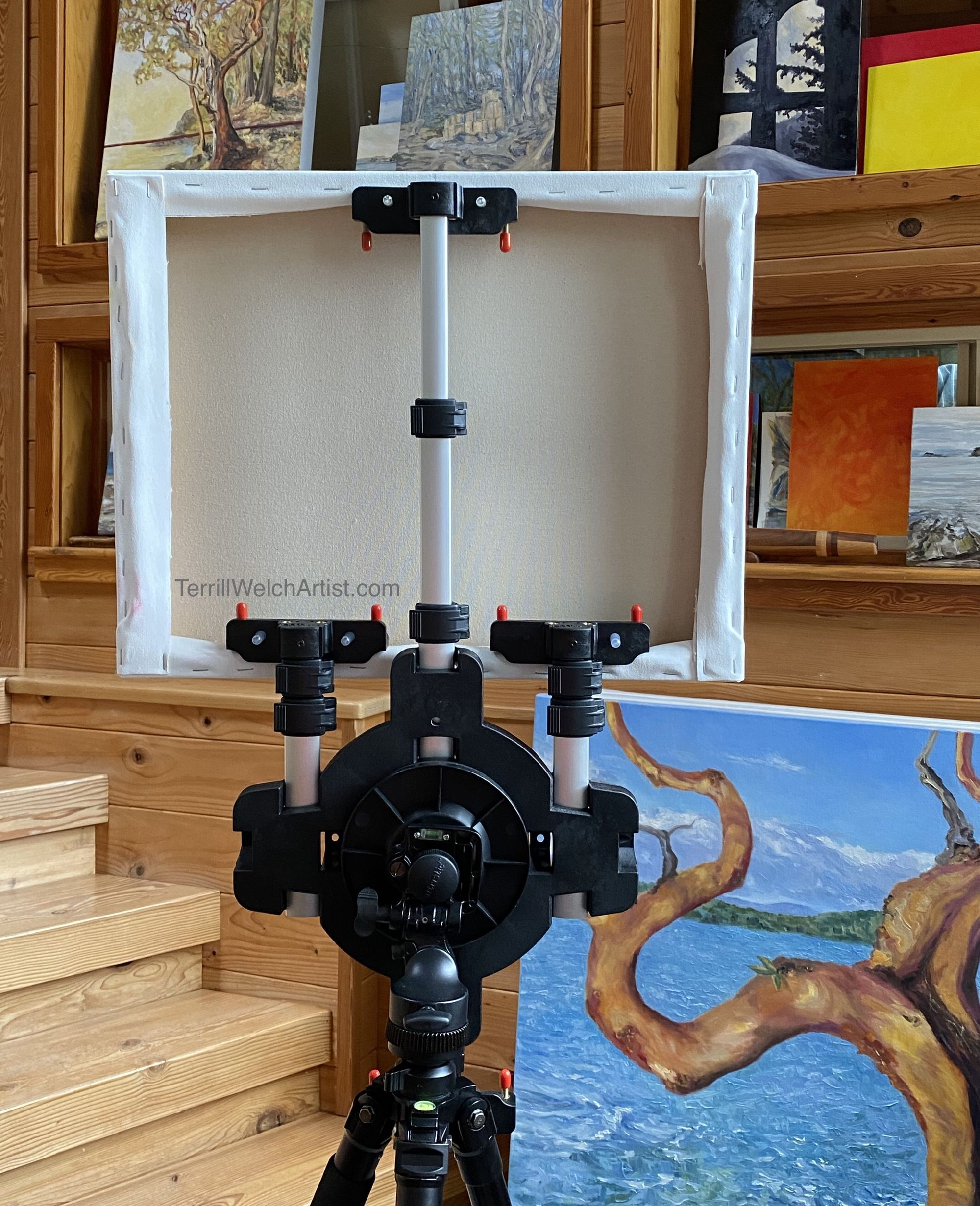 I will let you know how it stands up to the rugged use of a full-time landscape painter who might find more uses for it than an edges painting stand. However, it is too heavy to want to take it up the side of a mountain or anything. I will keep my alter light tripod and small Guerrilla Painter French Resistance easel (not made anymore) and plein air backpack for those adventure.
What is new in the ISLAND TIME ART room
We have changed out five of the original paintings for you to have a look at which include one from a new artist, Maeva Lightheart who is showing with us. Maeva grew up in Vancouver, graduating from the University of British Columbia. She taught ESL at Vancouver Community College for 25 years retiring in 2005. She moved full time to Mayne Island in 2011. She is a wife, mother to four and grandmother to eight-the joys of her life. She has a strong attachment to the rugged mountains, oceans and wildlife of the West Coast. Though she loves travelling, the beauty of the West Coast always calls her back. She started painting in 2017 and has shown her work in Student Exhibitions and Arts Council shows and now the ISLAND TIME ART room.
Maeva has a loose, rough and sweeping expression on her canvases that we love. We have chosen her "Lighthouse 2" (16 x 20 inch oil on canvas) as our first painting to introduce her artwork to you.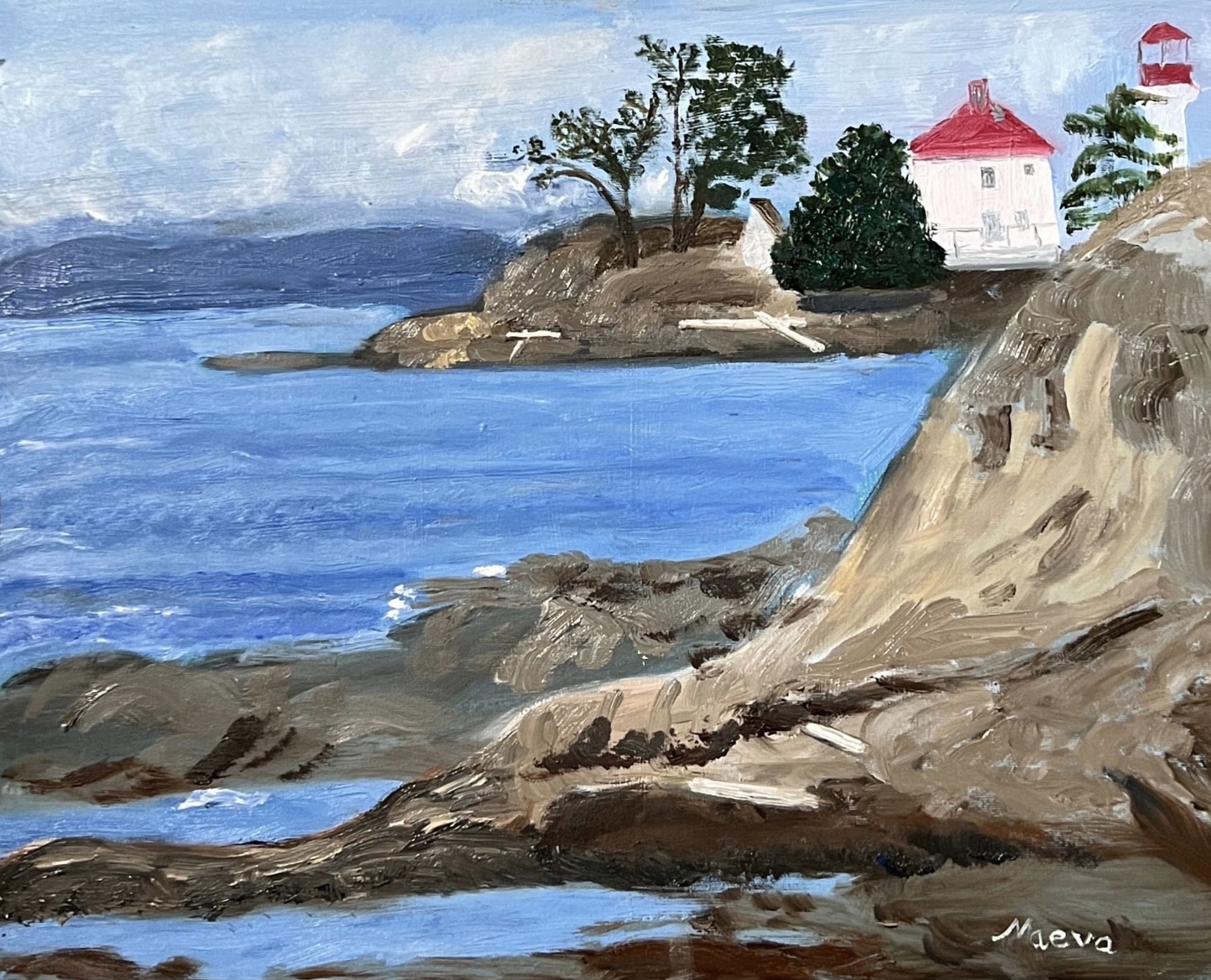 Artist notes: This painting was inspired by a small plein air study and photographs of the Mayne Island Lighthouse.
If you are interested in this work just reply to this newsletter. The painting will be showing in the art room until approximately June 4, 2022 and can be purchased directly from the Terrill Welch a gallery during this time frame through a personalized online transaction.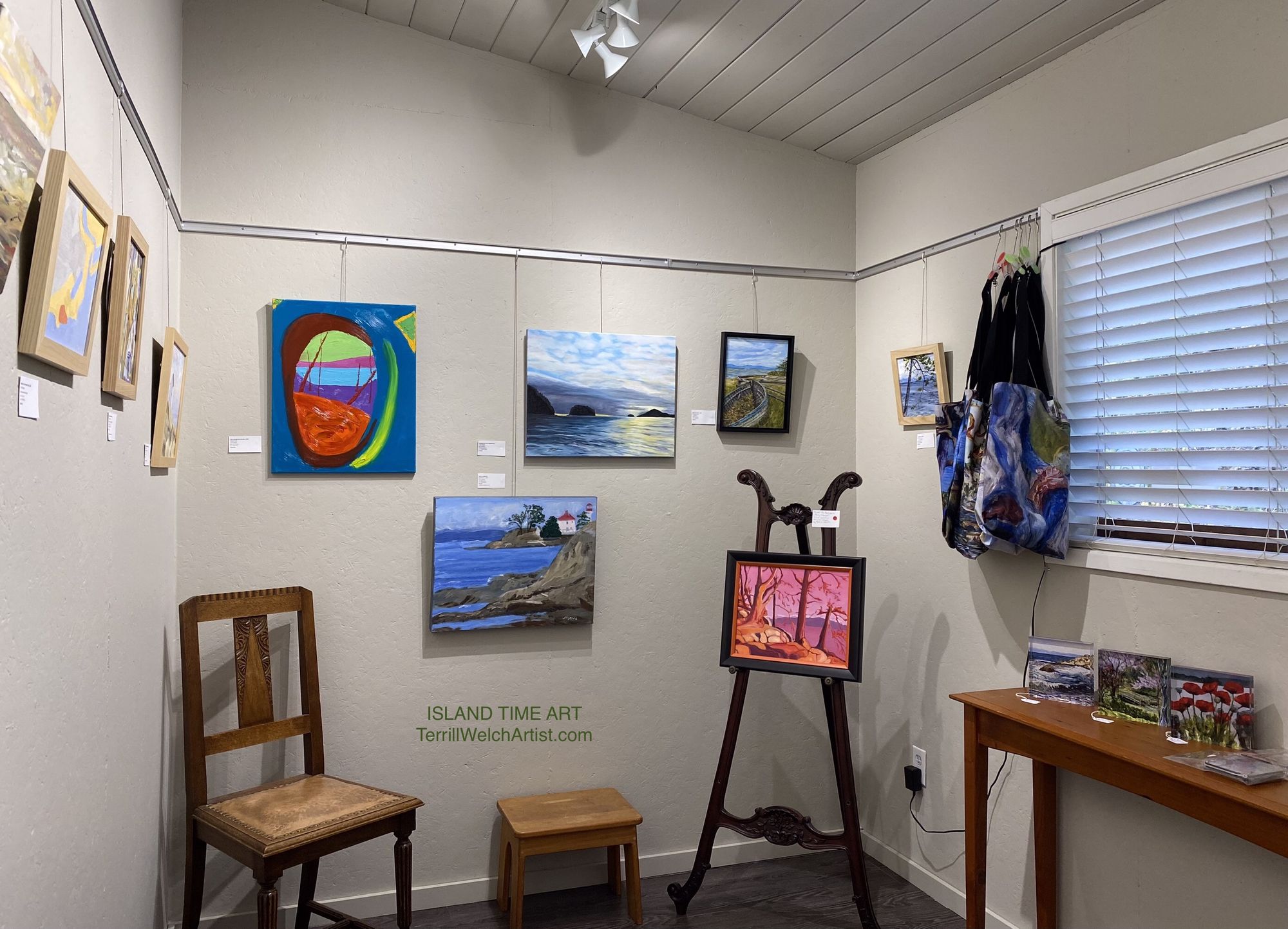 Above, you can see Maeva's painting below an abstract landscape on the top left by Glenda King and a sky and seascape painting by Jody Waldie above on the right. We will look more closely at the other two paintings next issue.
In addition to new paintings, new useable art products have arrived.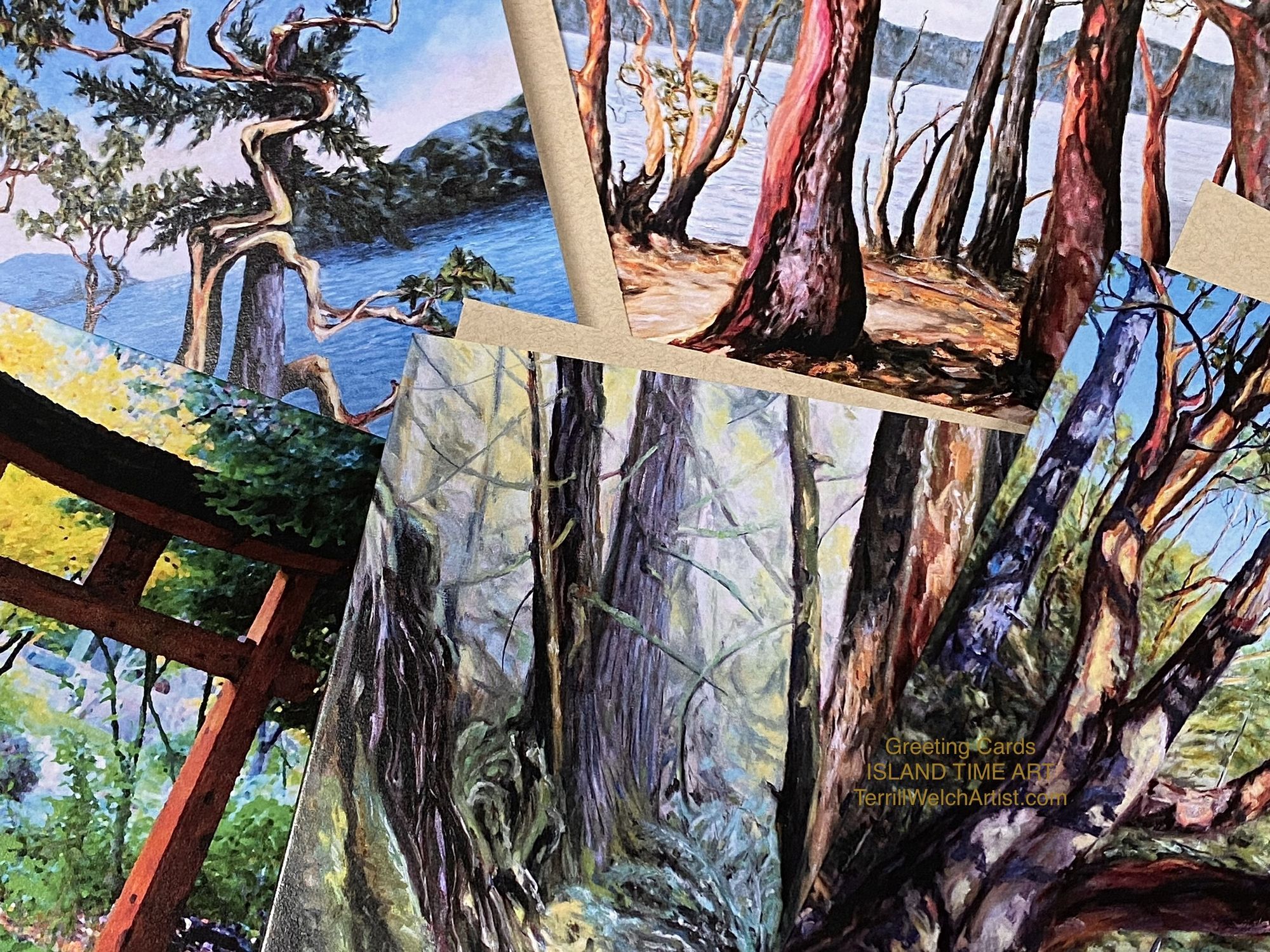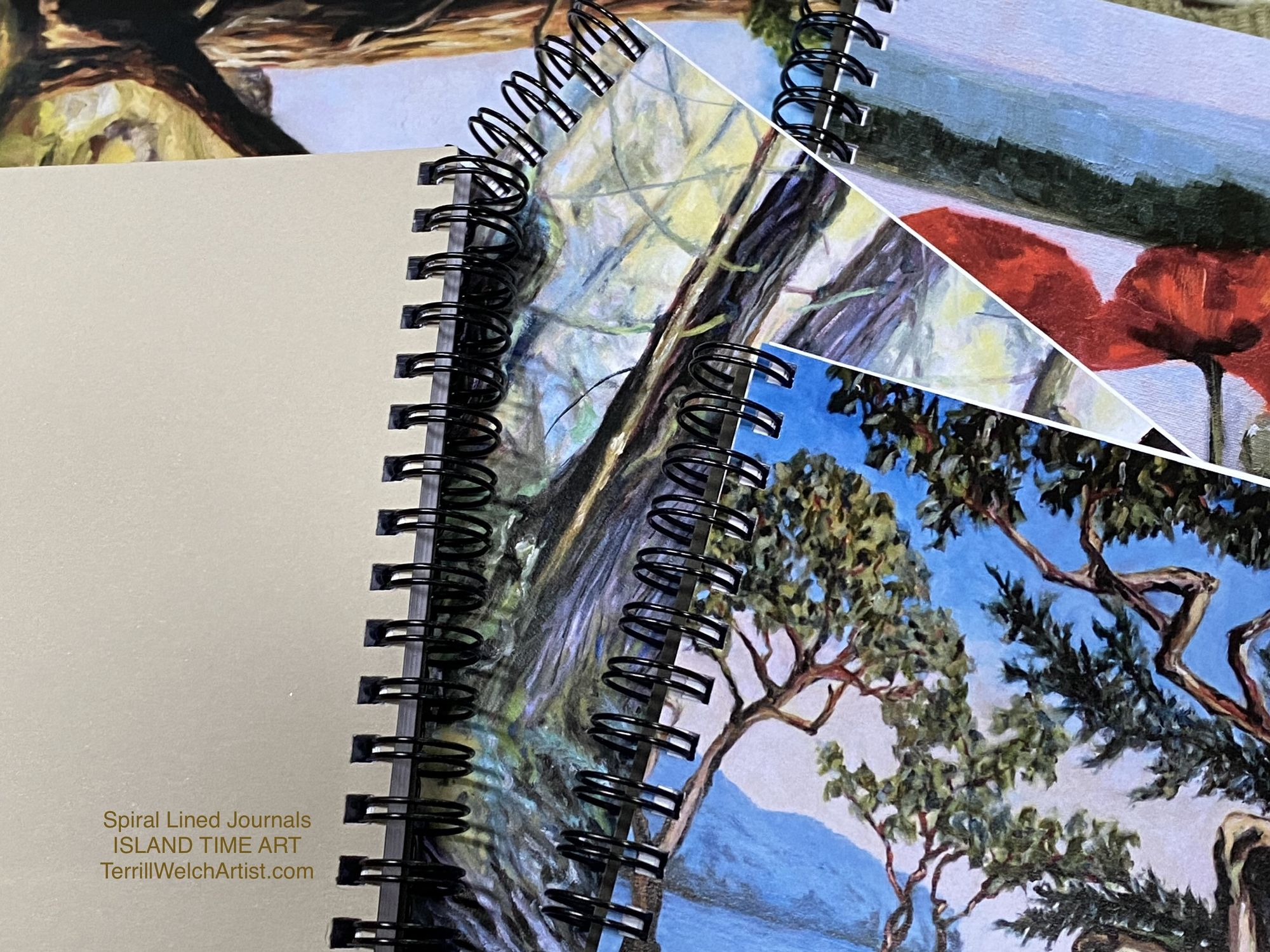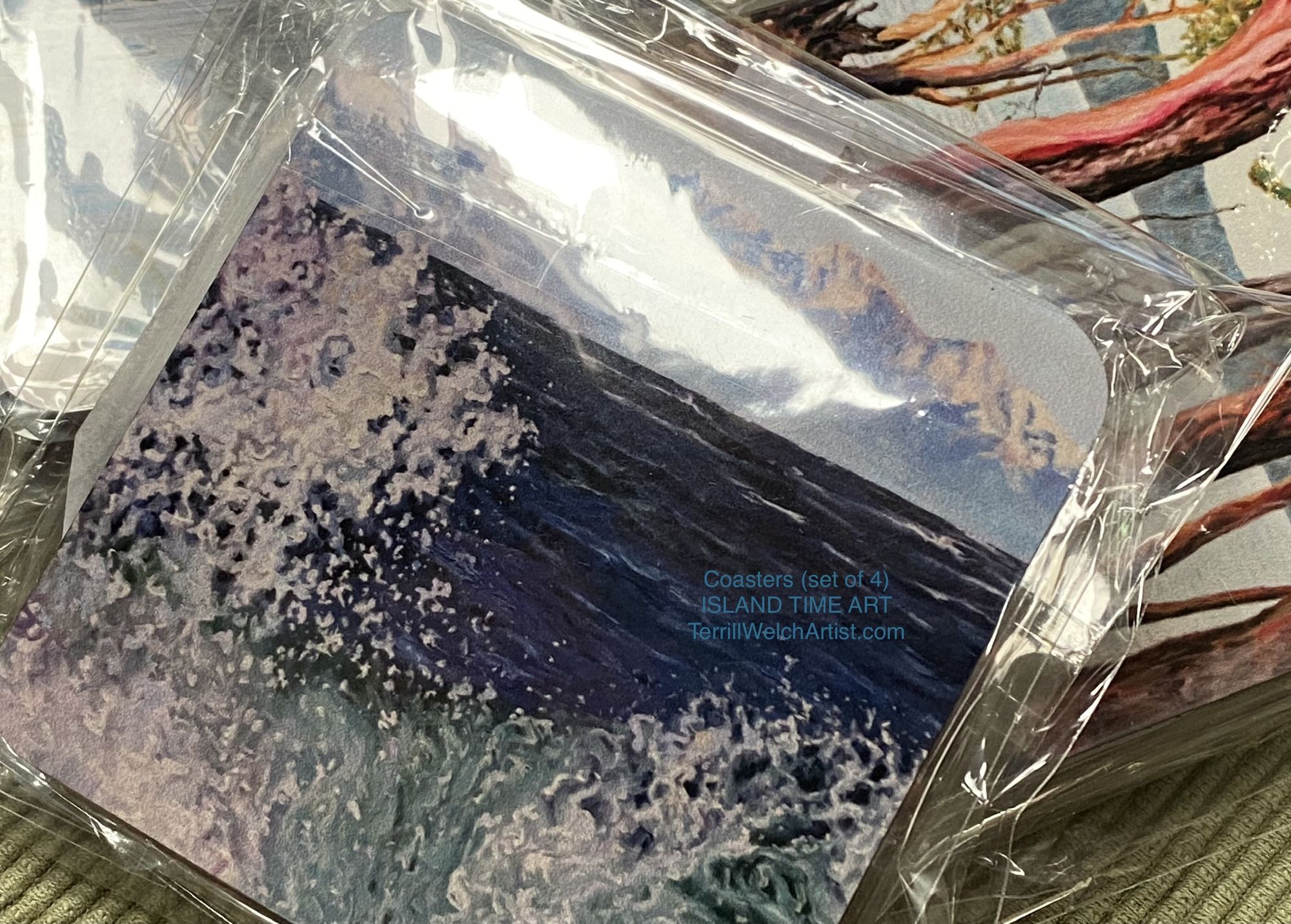 And then for something completely different, we have acrylic block prints. This is unique novelty item that is new to us. We would love to hear what you think and how you might display or show such an item.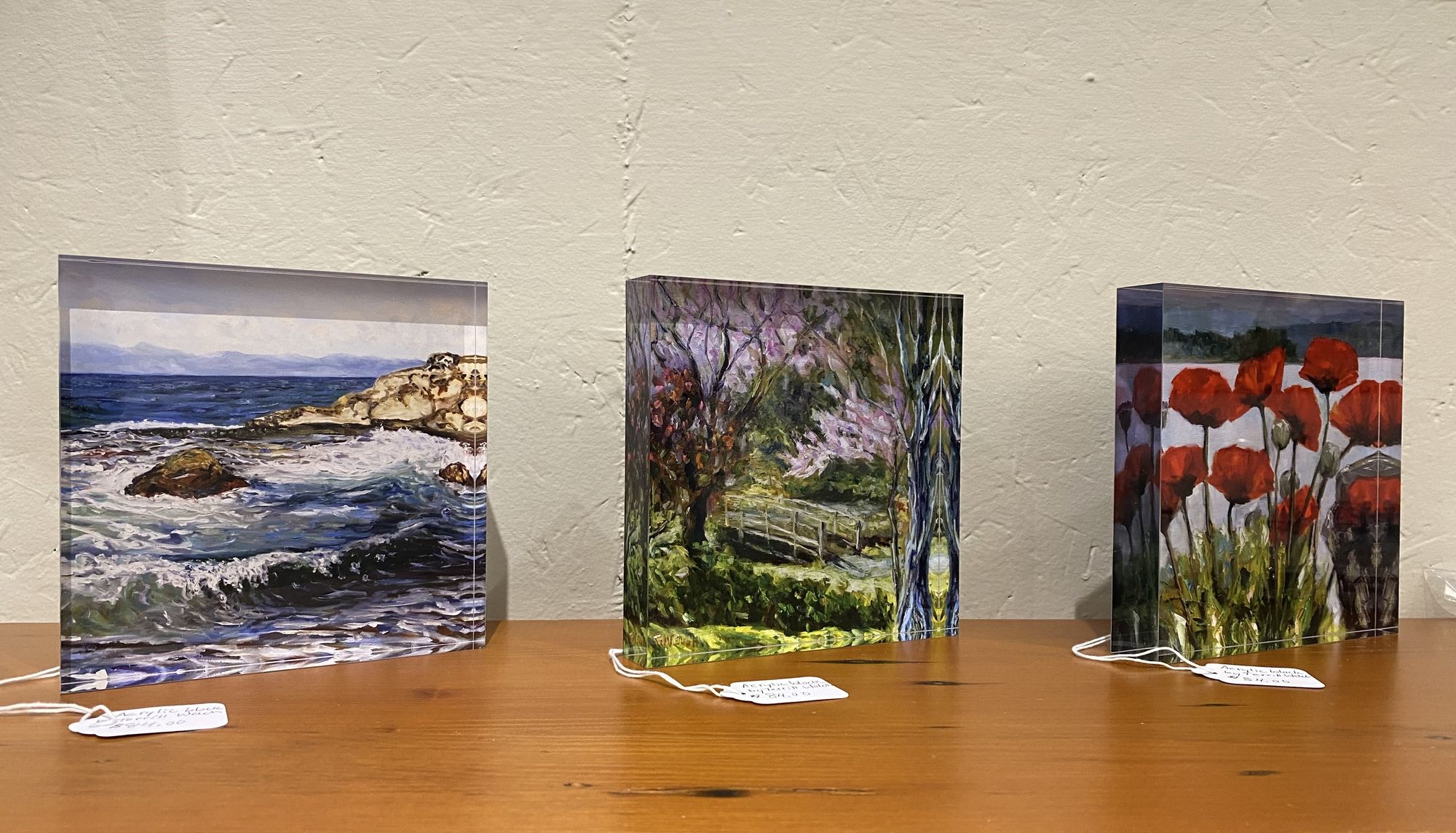 We all have more of your most favourite totes and aprons with Terrill Welch painting images.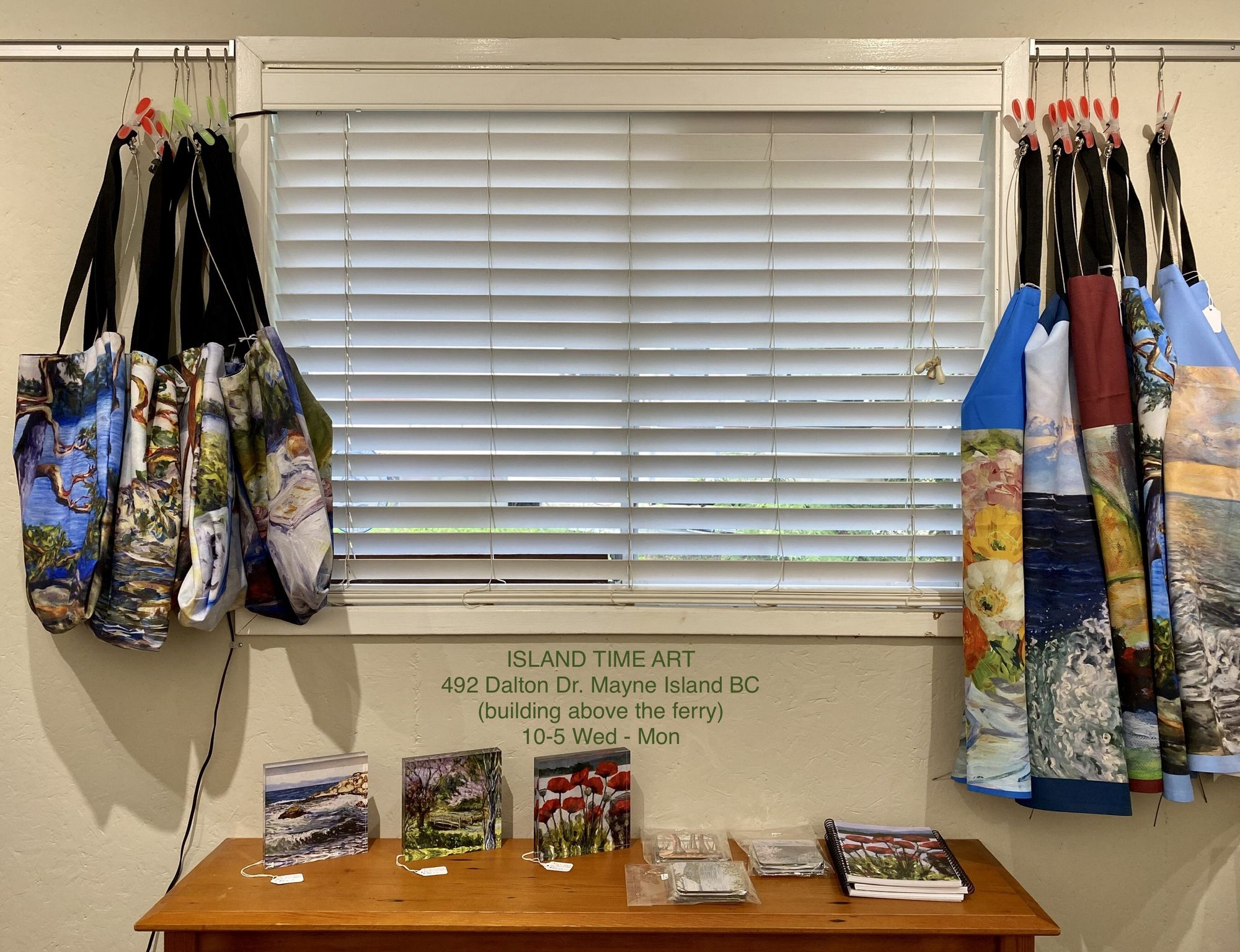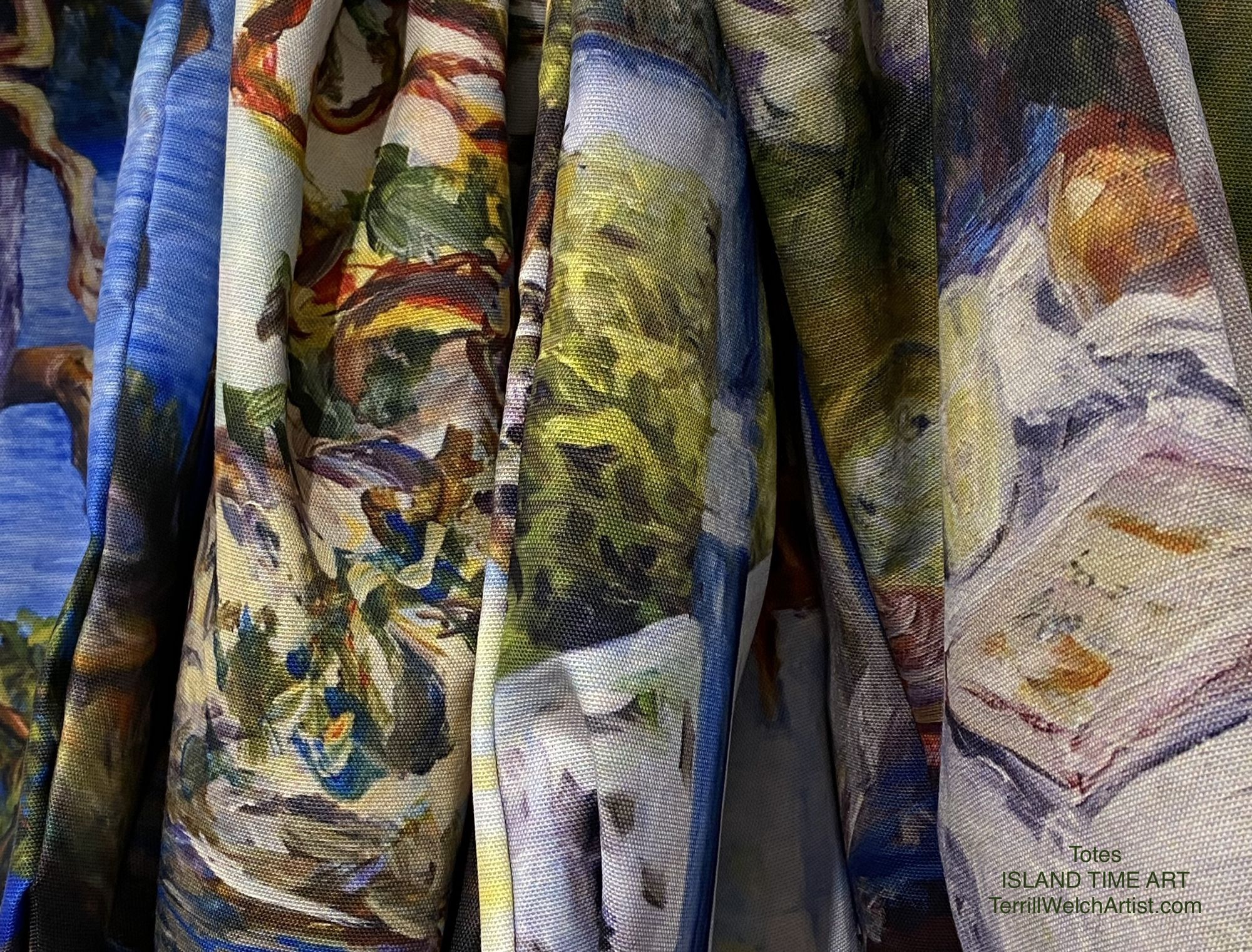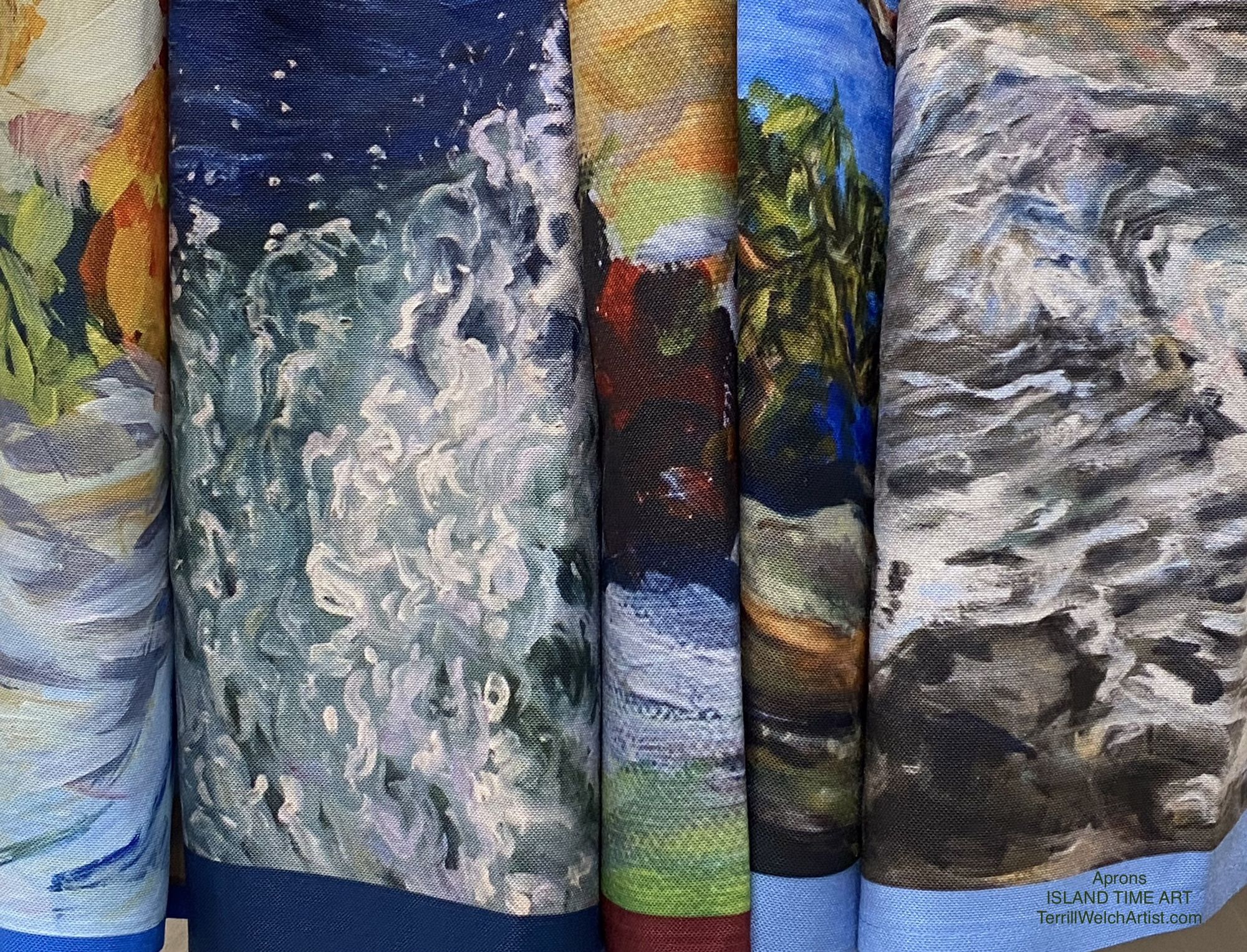 We do know that most of you are far away from being able to drop into our Mayne Island ISLAND TIME ART room. The good news is that we have you covered. Simple visit Terrill Welch's Redbubble shop and explore the various painting and photograph designs available and order the useable art products of your choice at the link below:
TerrillWelch is an independent artist creating amazing designs for great products such as t-shirts, stickers, posters, and phone cases.
Have fun exploring and let us know what you love the most!
Mayne Island Gardens, Woods and Shores
We are still unseasonably cool and wet here on Mayne Island but this hasn't dampened the beauty in our landscape. Here are the best of the best from Terrill's recent island strolls and hikes.
We will start with the Japanese Memorial Garden…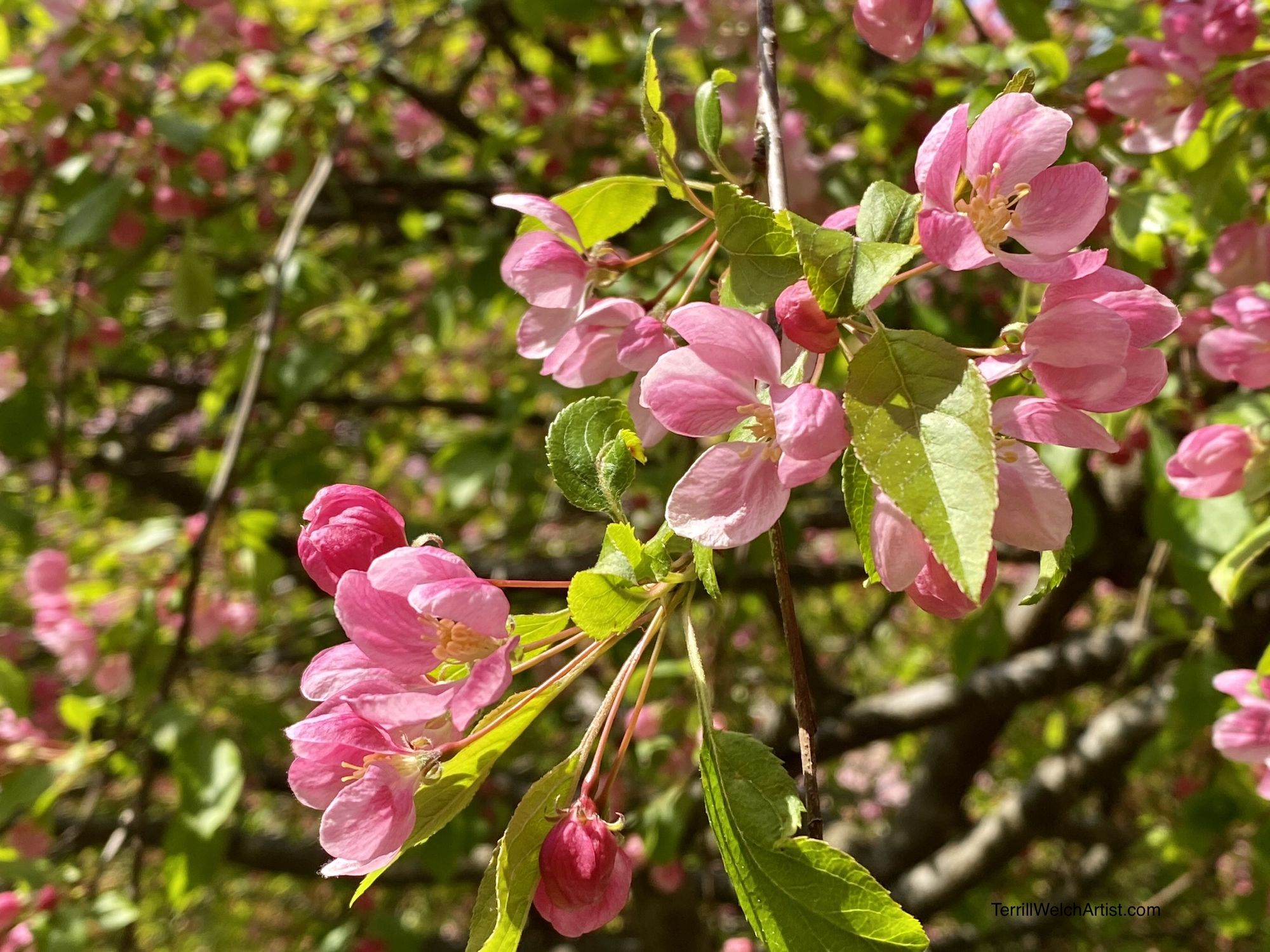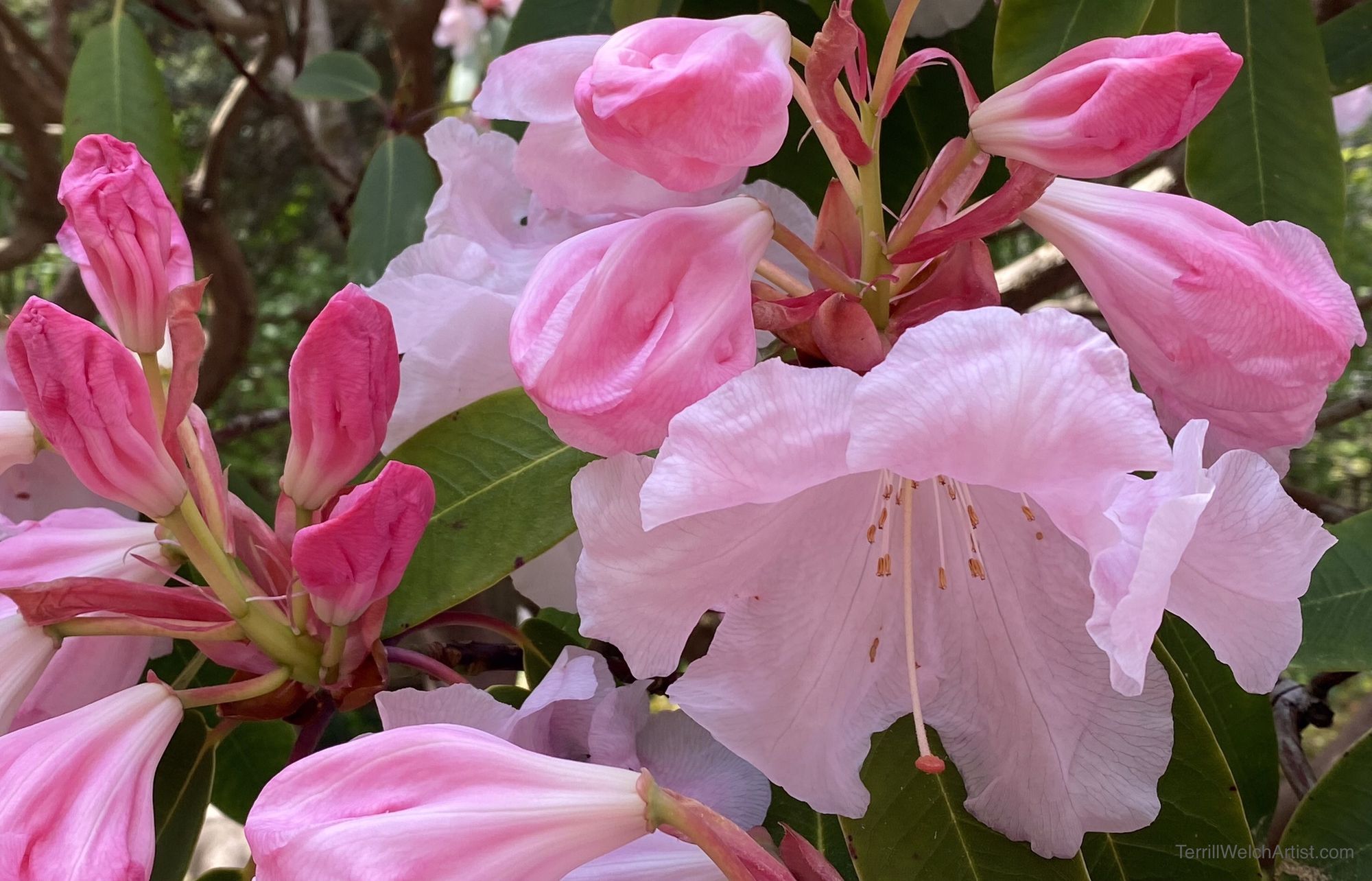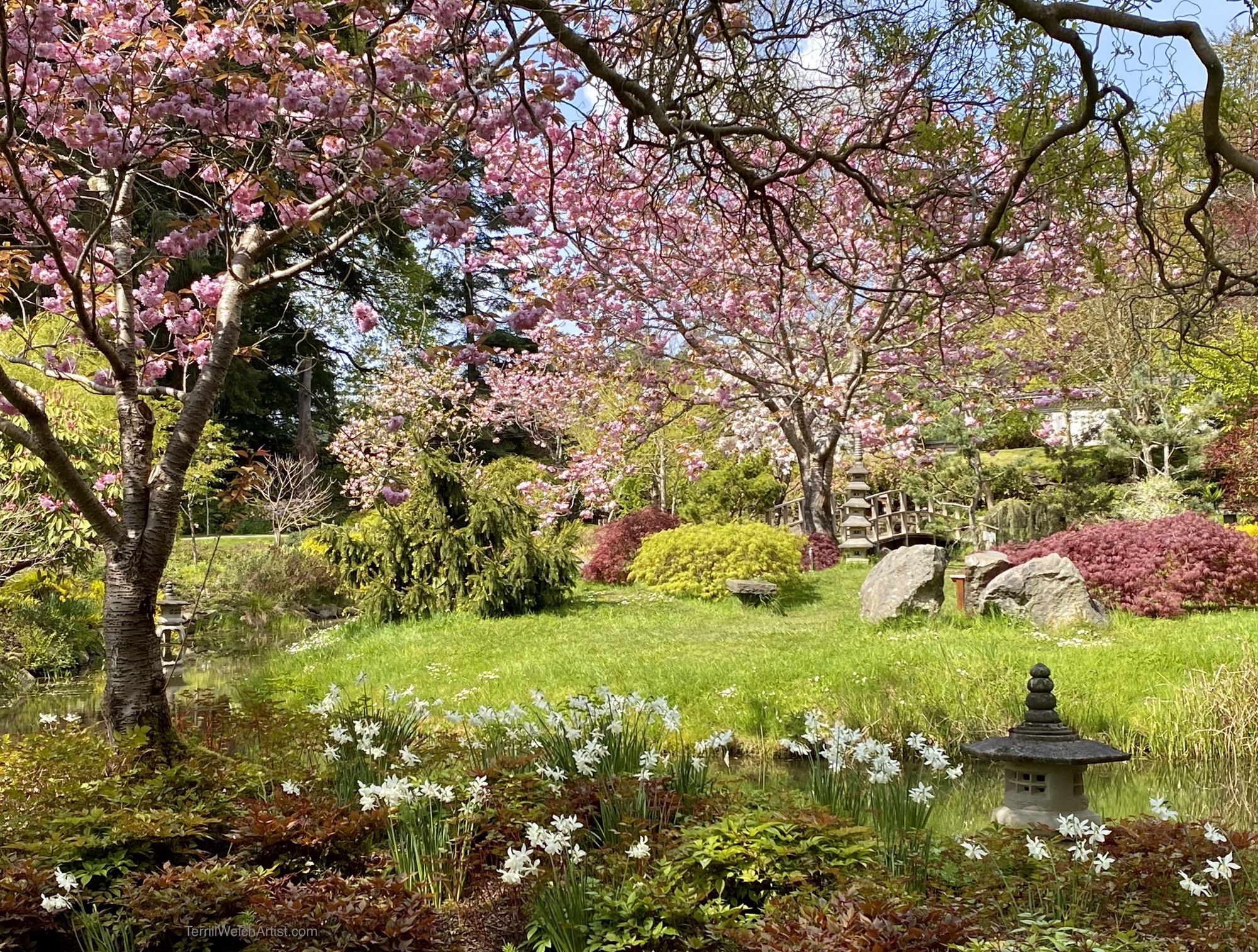 Then, how about out to Saint John Point with a friend in the mist?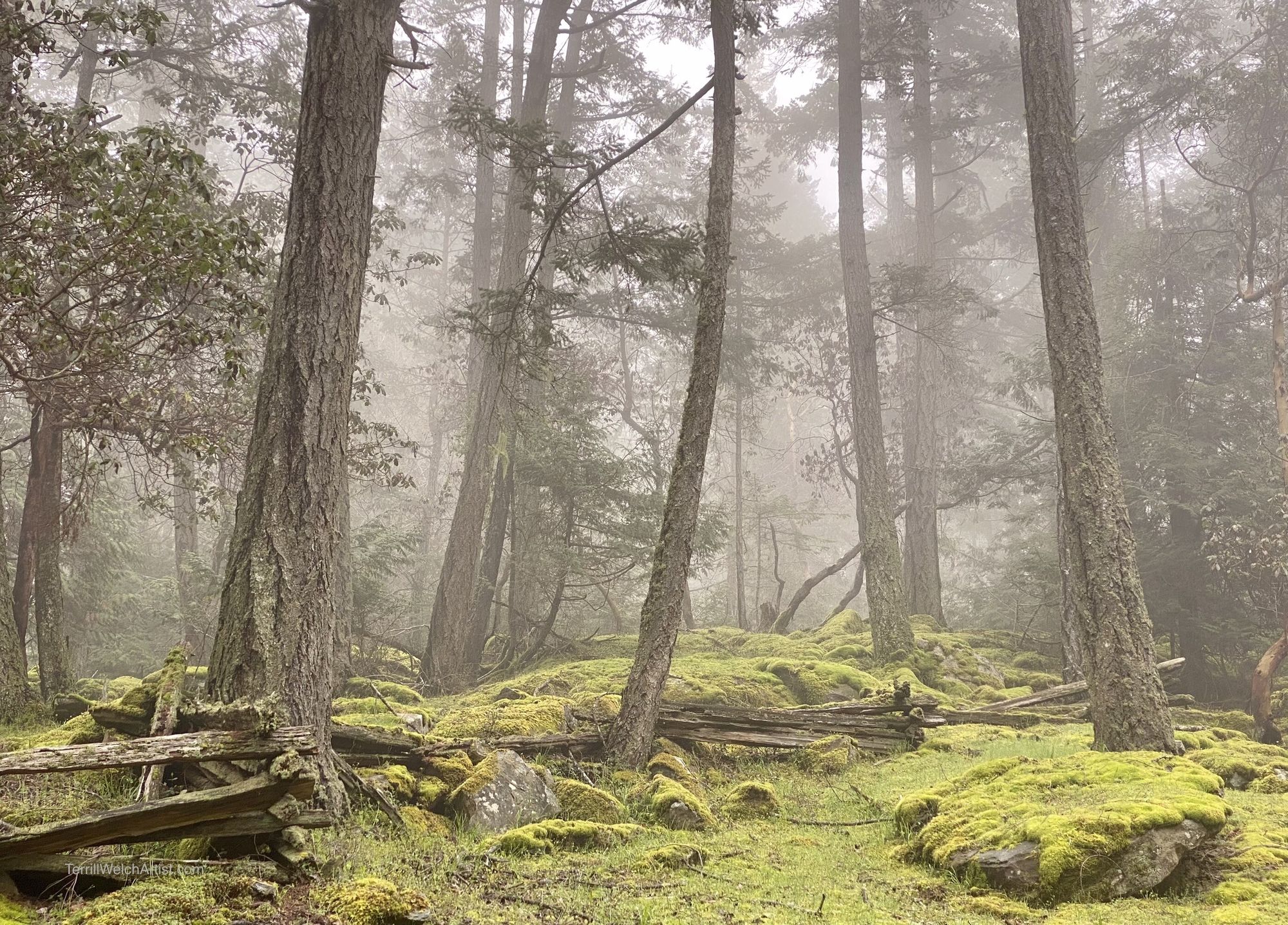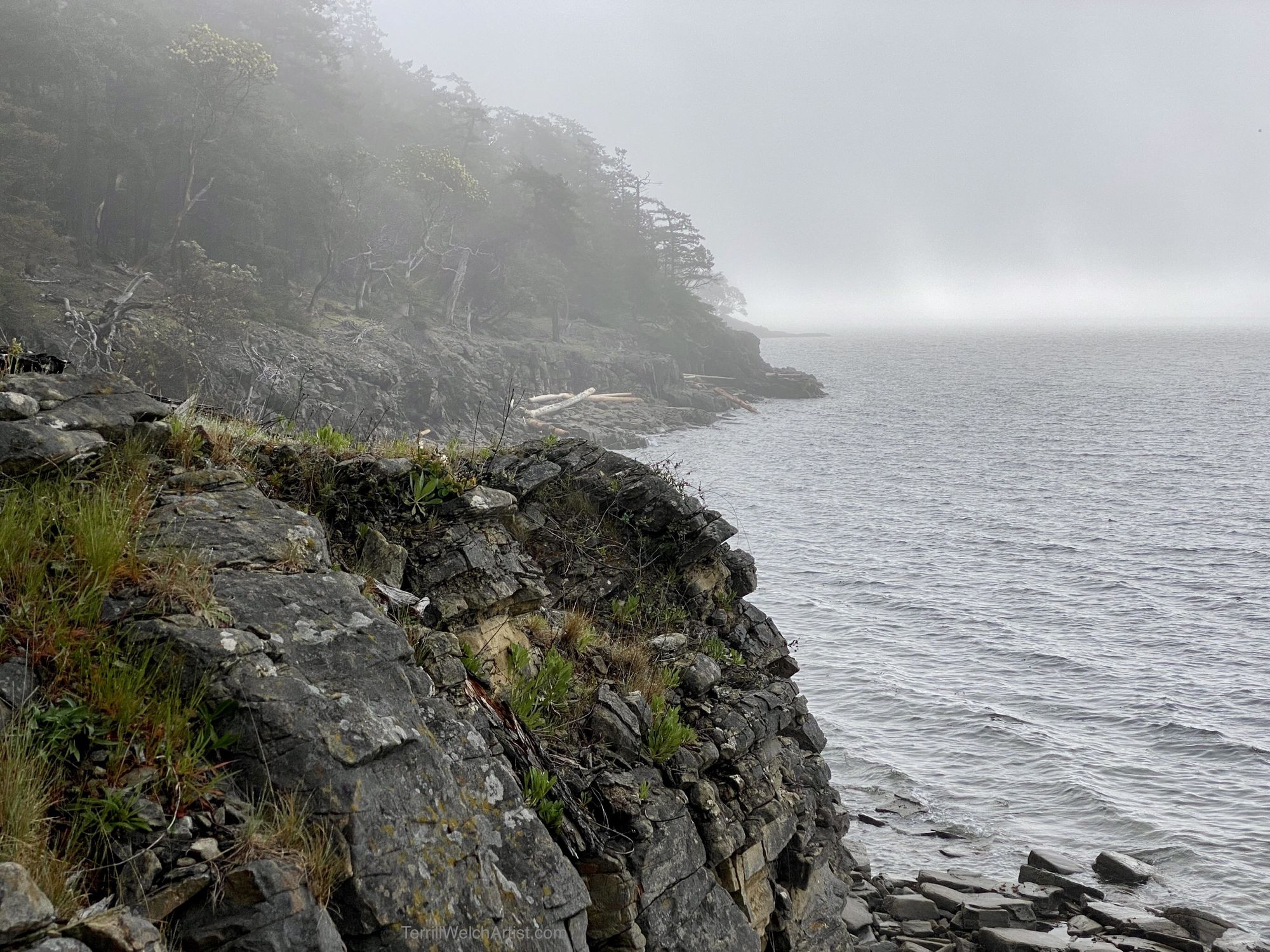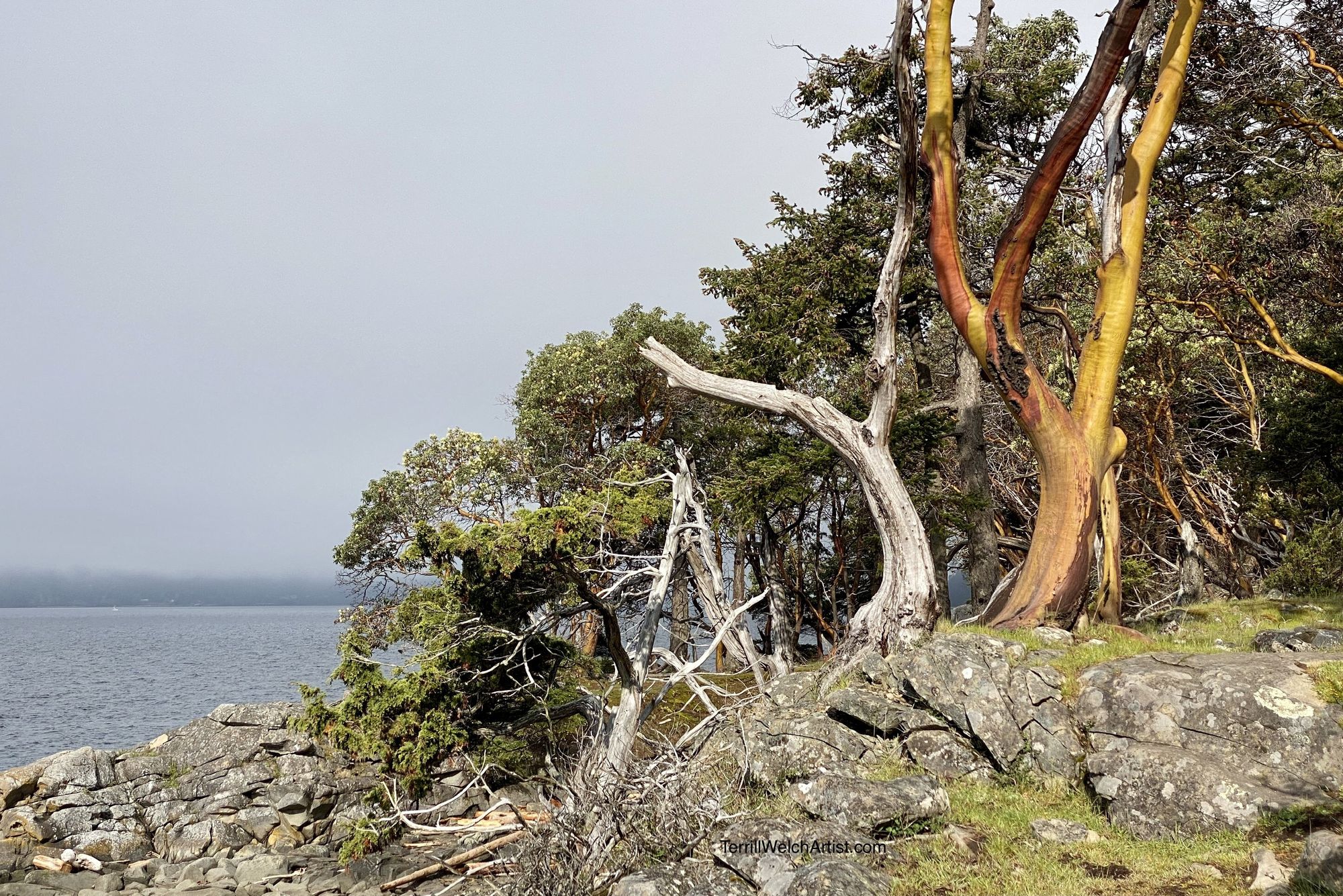 Now, if we go deep into the woods until we find a small meadow there will be Chocolate Lilies.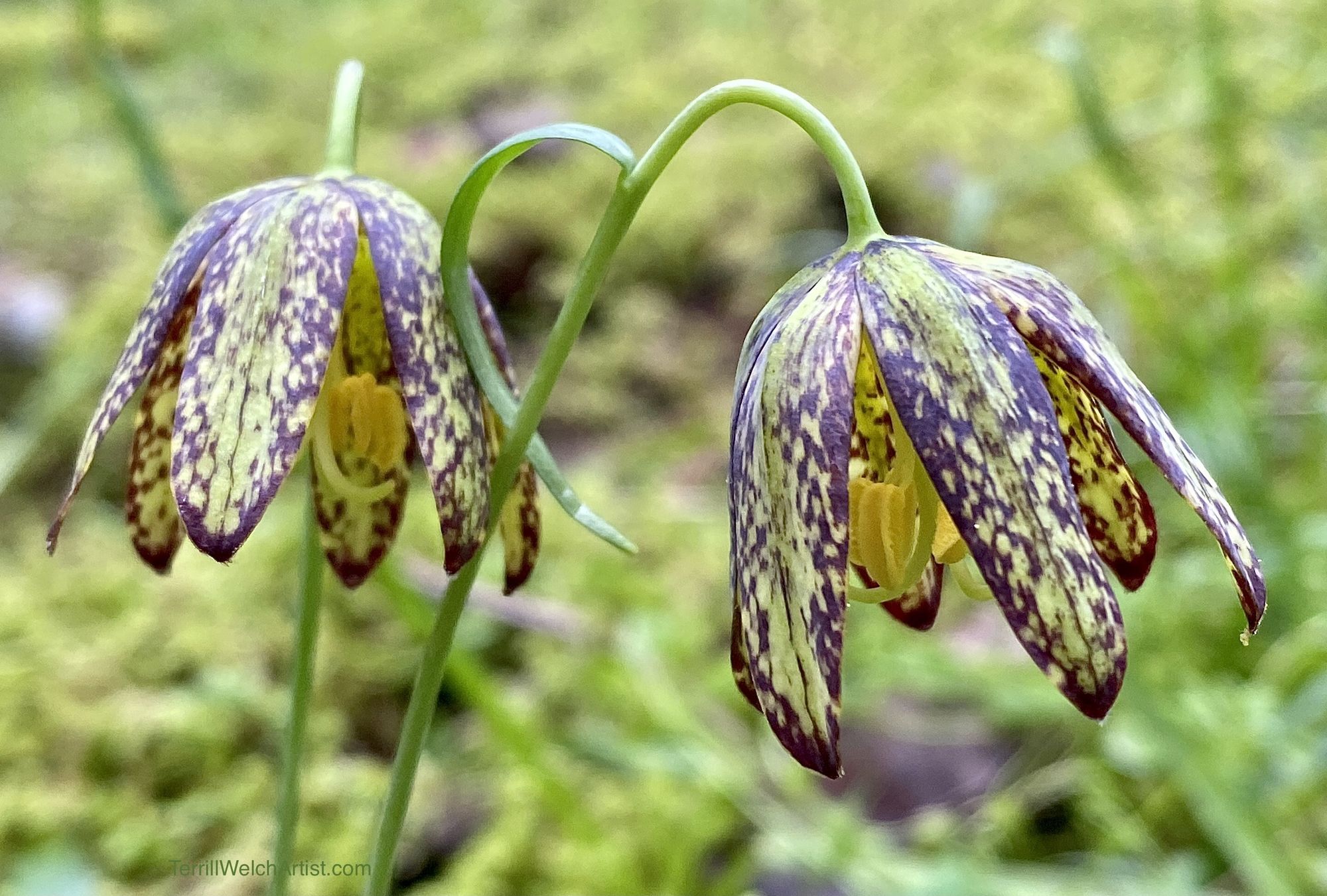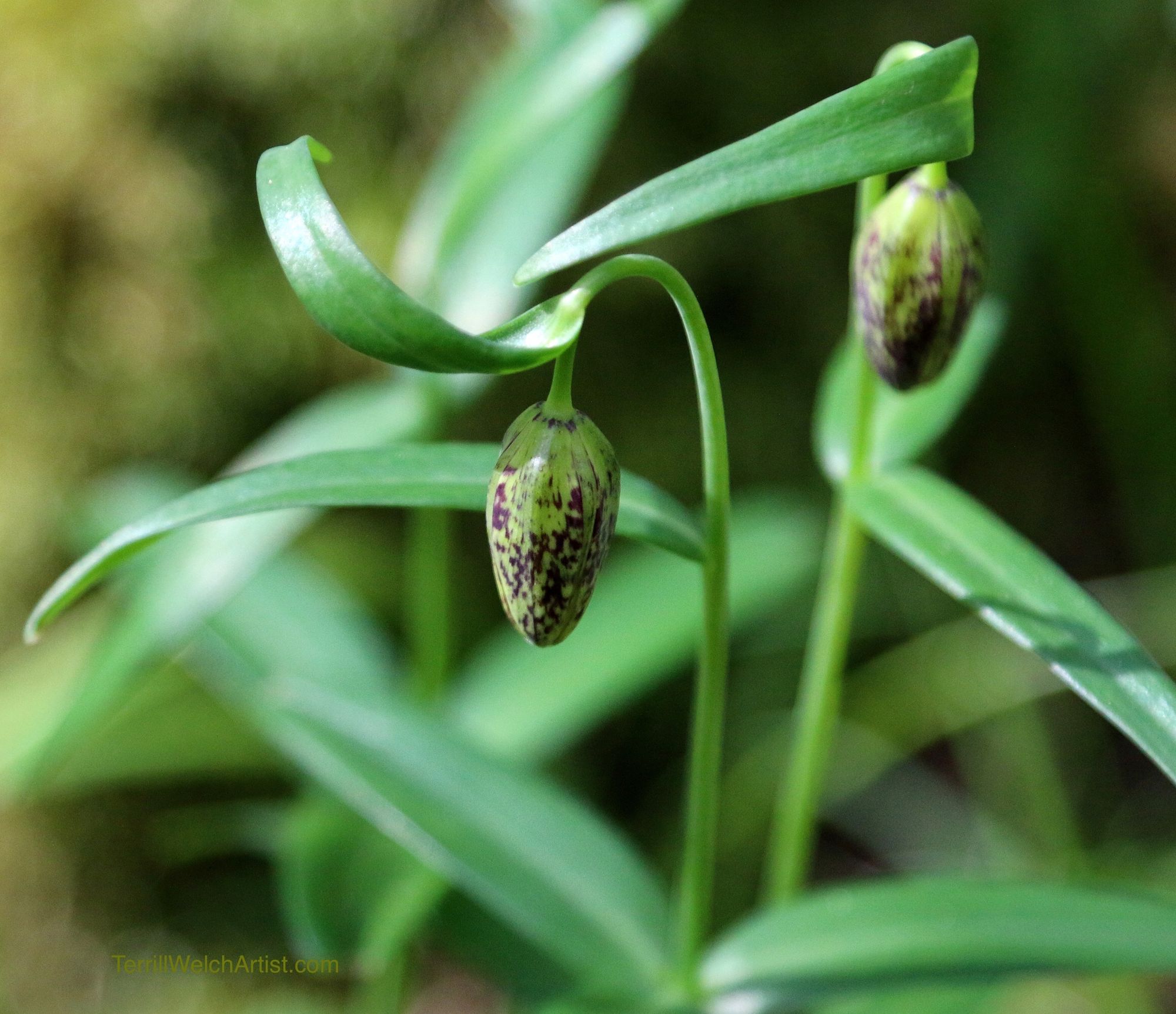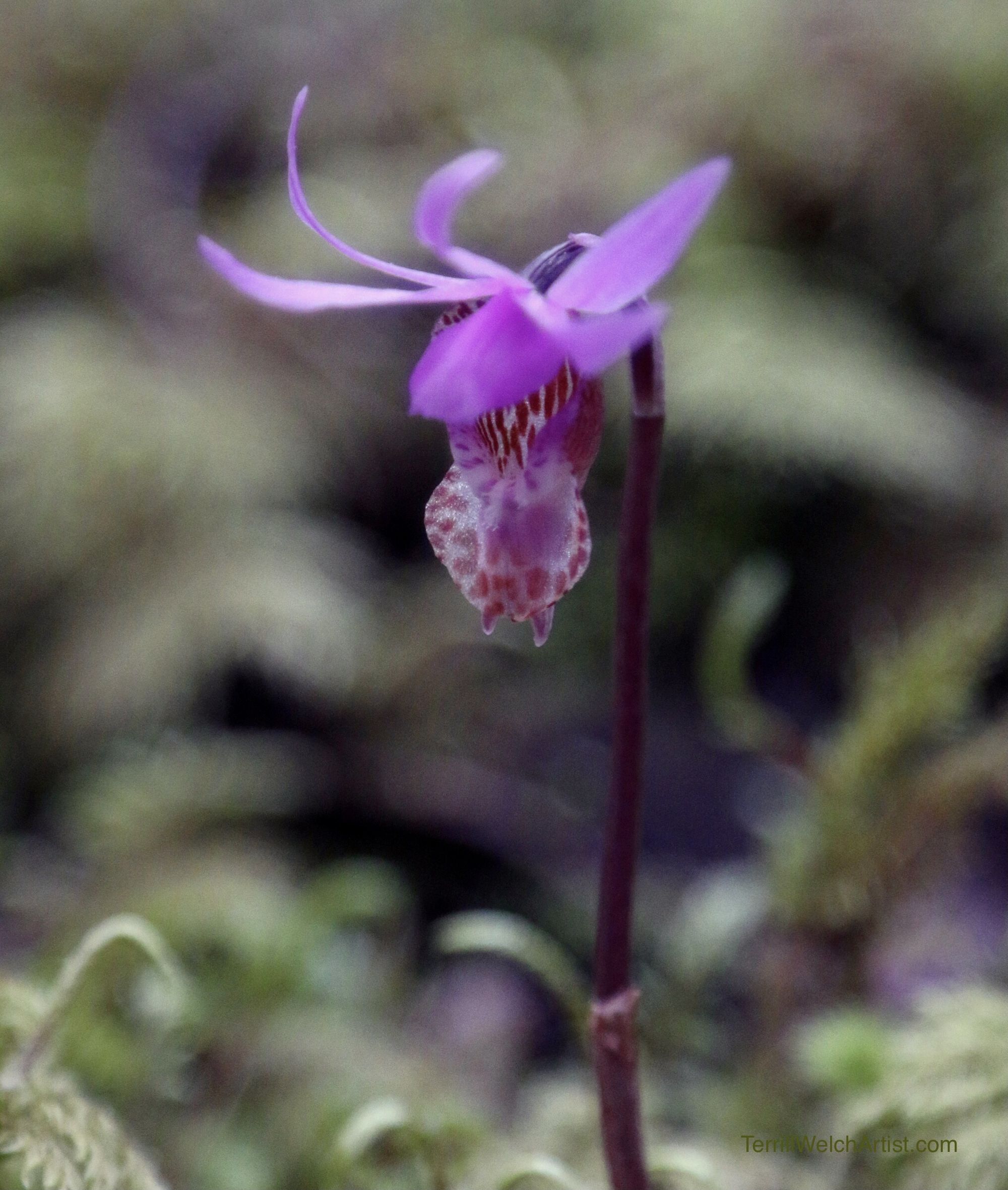 And, if we wander out into our National Park at Bennett Bay, there are, as always, wonderful delights as well.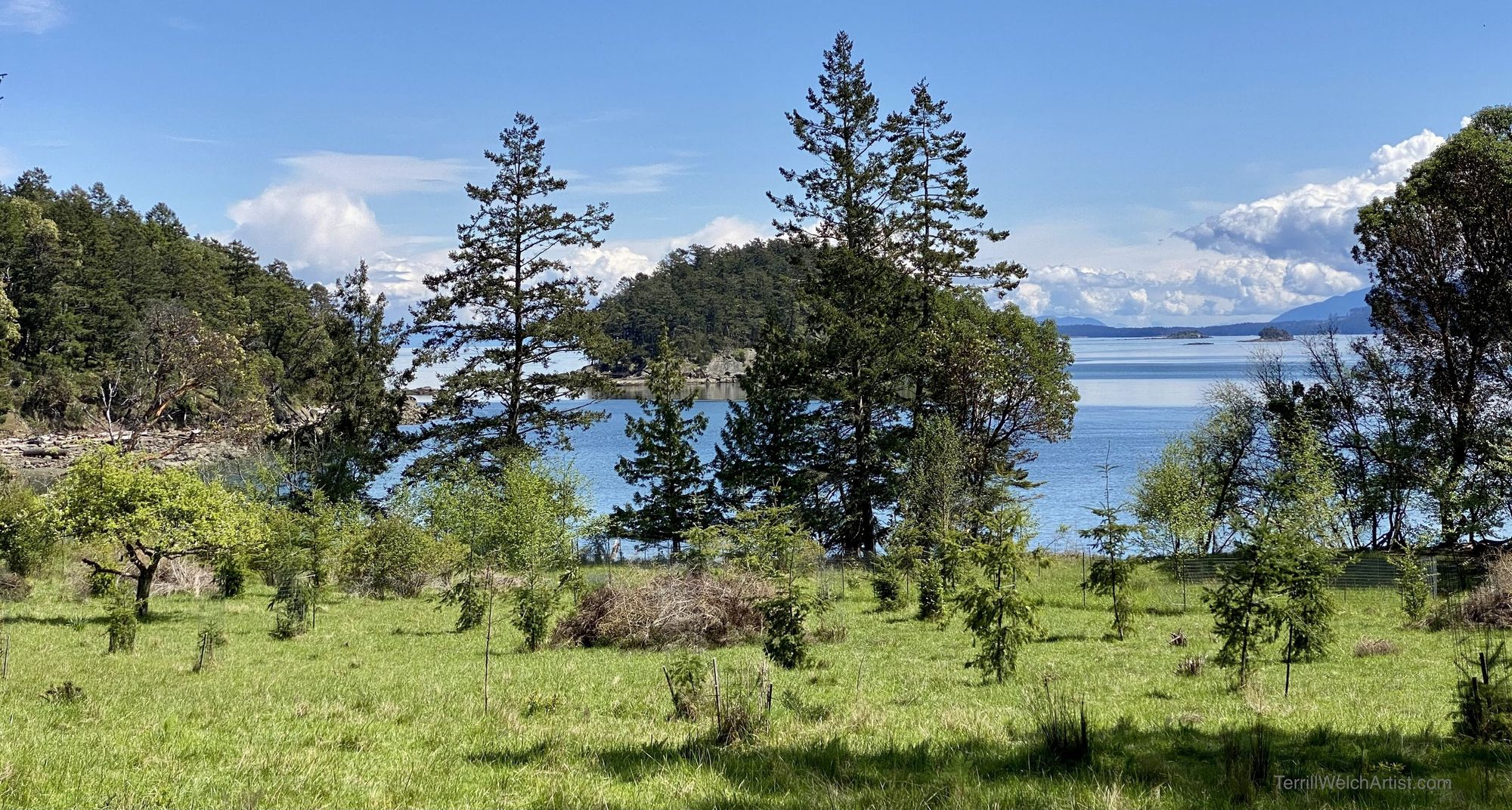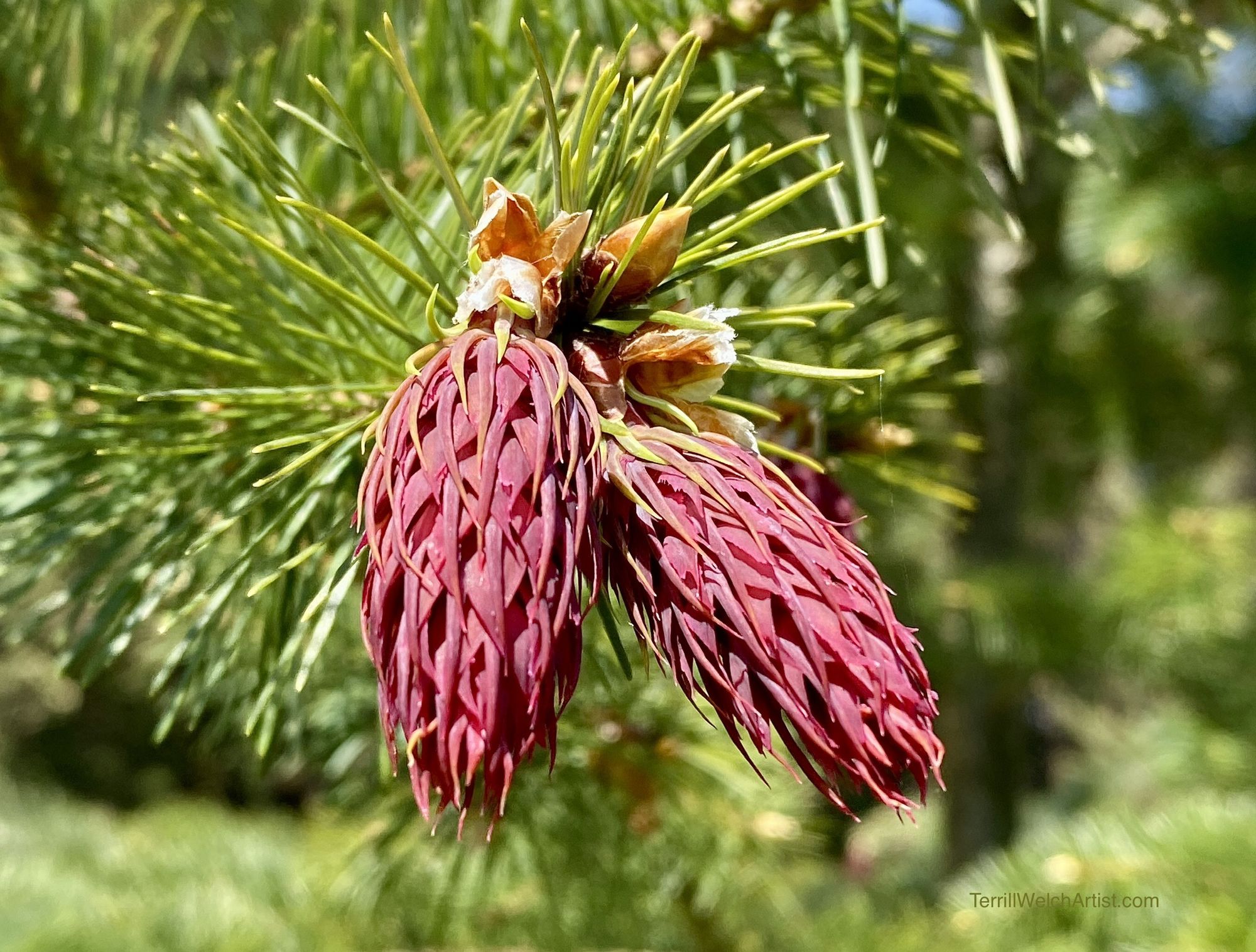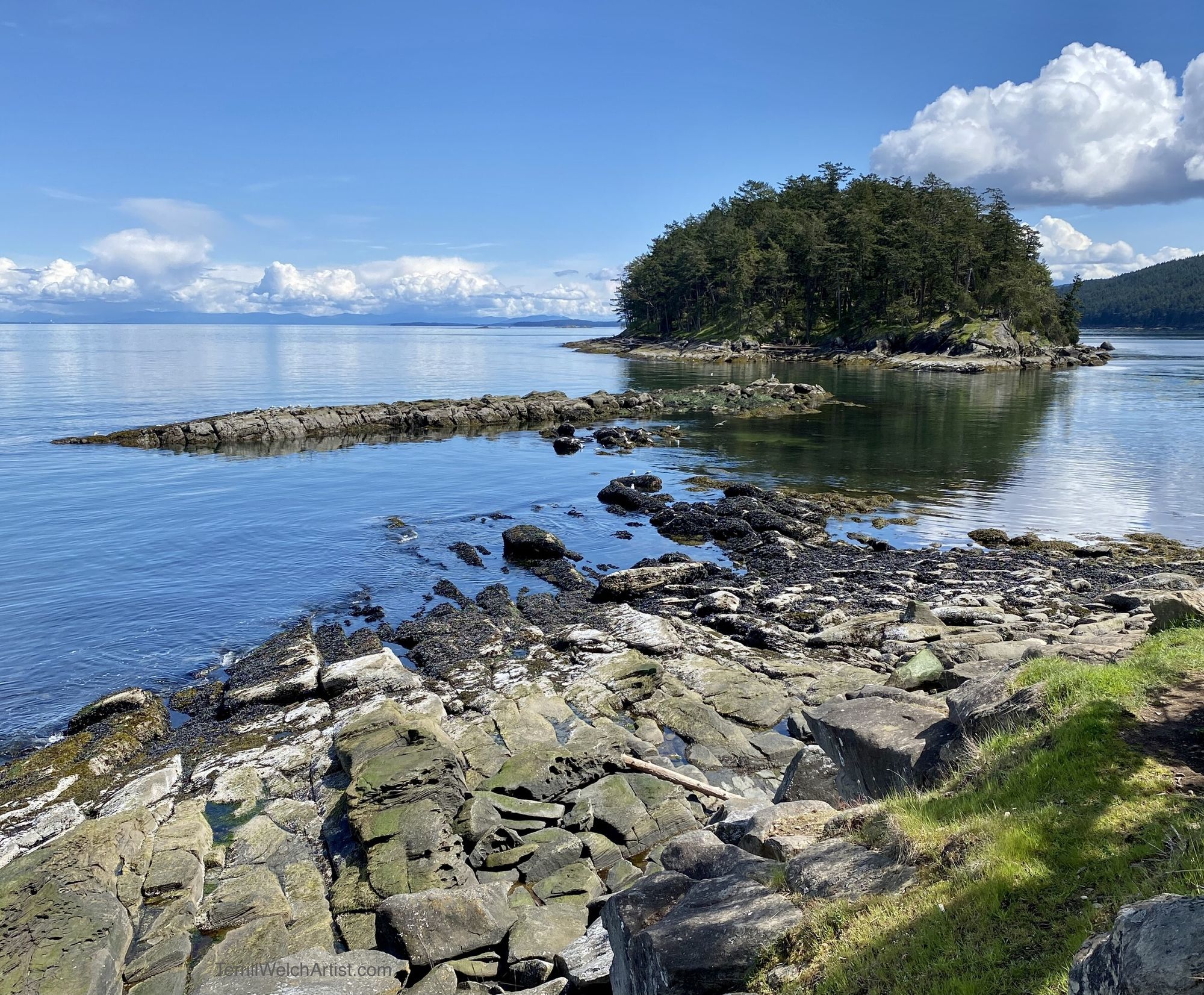 Until Next Time!
We wish you all the very best of May's fine weather and grand landscapes no matter where you find yourself today and during the weeks ahead. If necessary, to lift your spirits, get down on your belly in the forest and view the world from there. You never know what new you might see.
Warm regards as always,
'Terrill 👩‍🎨🎨❤️