A Brush with Life - Issue #104 Artist Road Trip - part one
Artist road trips are likely when work most seems like play in a slow and meaningful way. We left Mayne Island on Wednesday morning May 11th and by Wednesday May 25th had slow travelled 3,520 km, delivered two paintings to art collectors in Lethbridge Alberta, completed two plein air painting sketch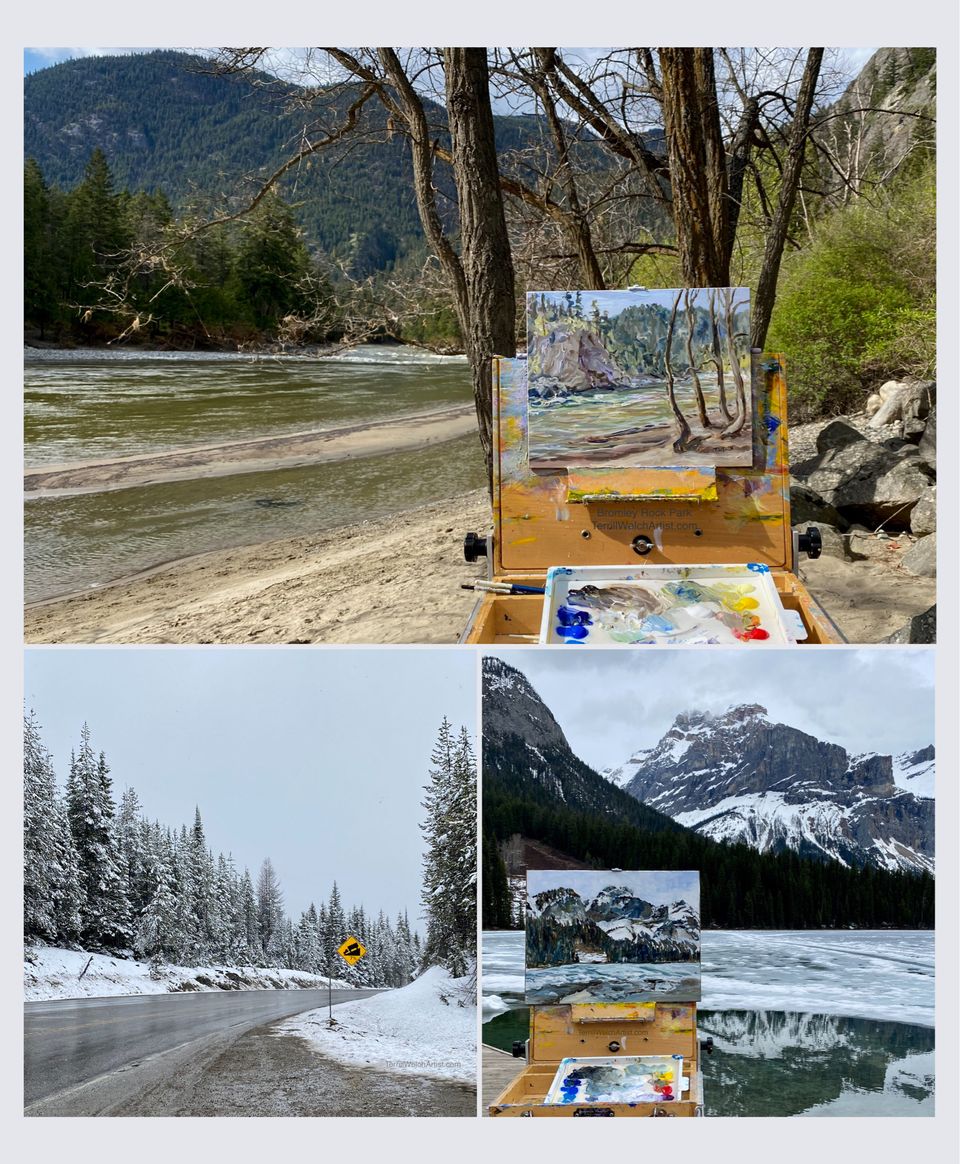 Artist road trips are likely when work most seems like play in a slow and meaningful way. We left Mayne Island on Wednesday morning May 11th and by Wednesday May 25th had slow travelled 3,520 km, delivered two paintings to art collectors in Lethbridge Alberta, completed two plein air painting sketches and in between taking a nice collection of reference images. So are you ready for the highlights? Fasten your seatbelts and bring your travel pillow.
---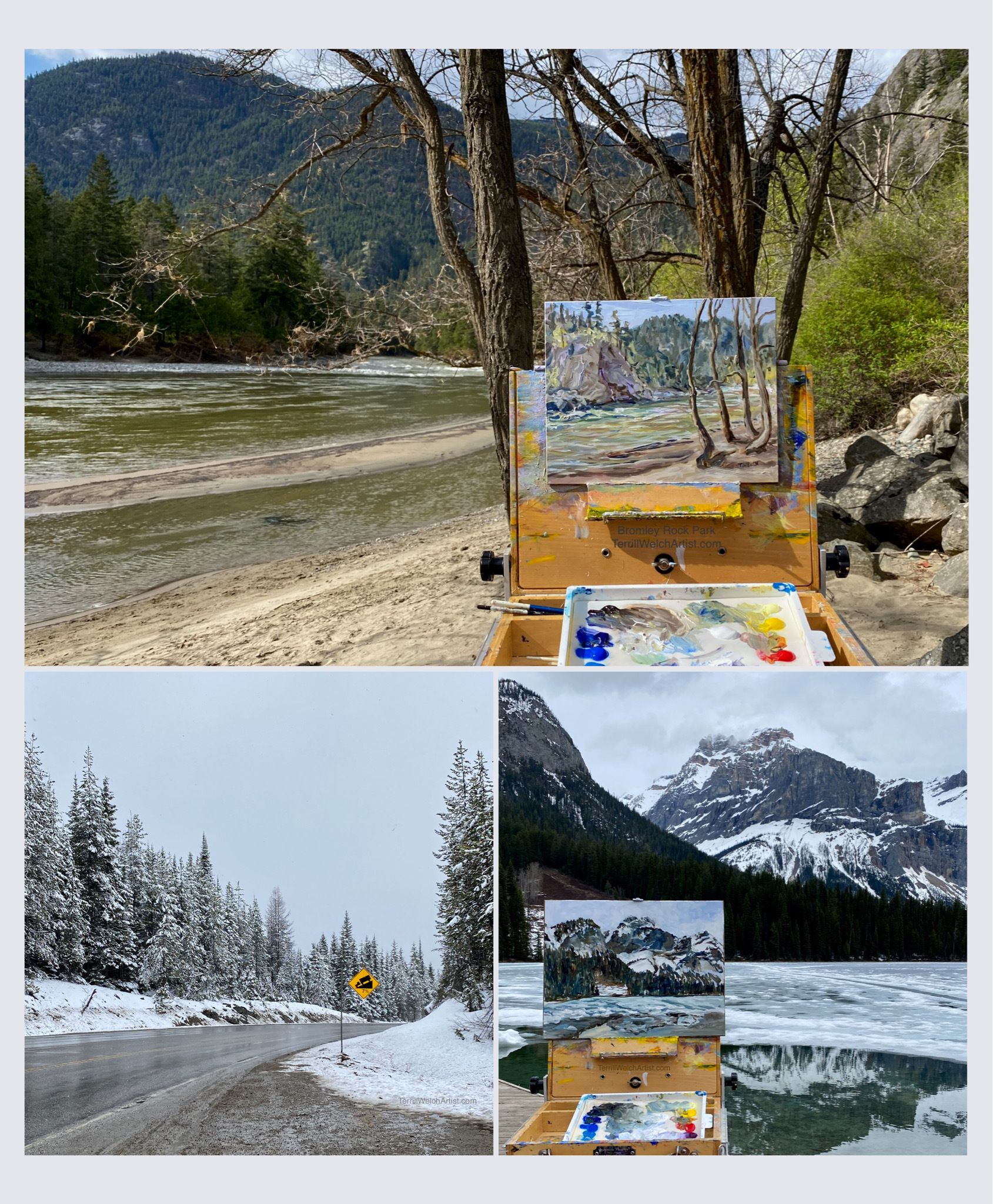 Mayne Island to Hedley BC
The first day saw us go from a damp 10 degrees on the southwest coast to a gorgeous warm and dry 20 degrees in Hedley BC. We saw snow still at the edge of the road as we went through the mountains but it was a perfect traveling day along fast running rivers on the Hope Princeton #3 Highway.
Lunch was at the Hope Slide of 1965. Gruyère cheese and prosciutto on artisan white bread with tiny sweet oranges prepared by me before we left that morning.
It was unbelievable how far the falling rock travelled and that a whole lake disappeared. The cause apparently was a small earthquake.
Our next stop was very close to our destination for the next two nights. Bromley Rock Park won't be this quiet for long if the weather holds.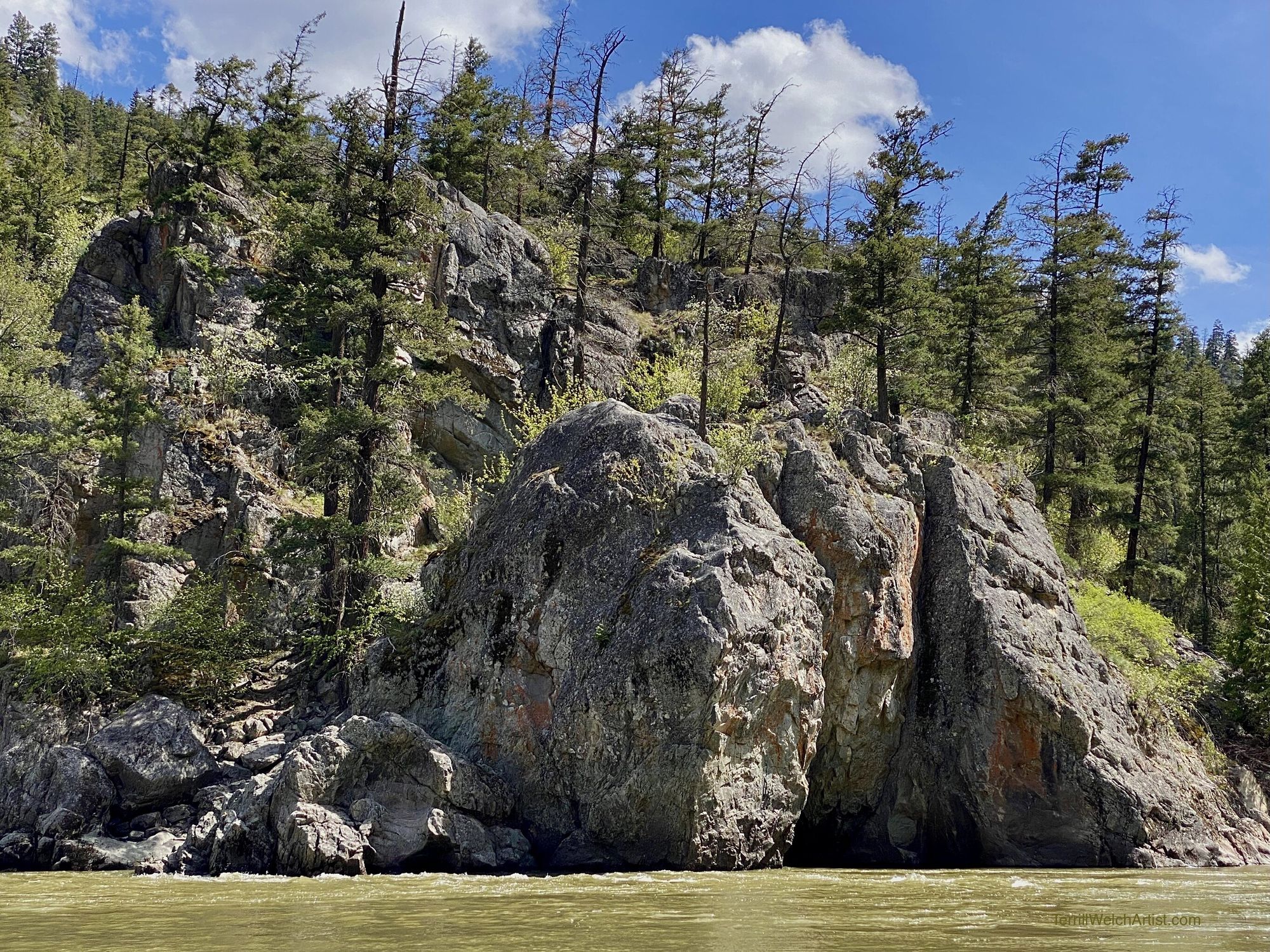 This is a favourite swimming spot in the area.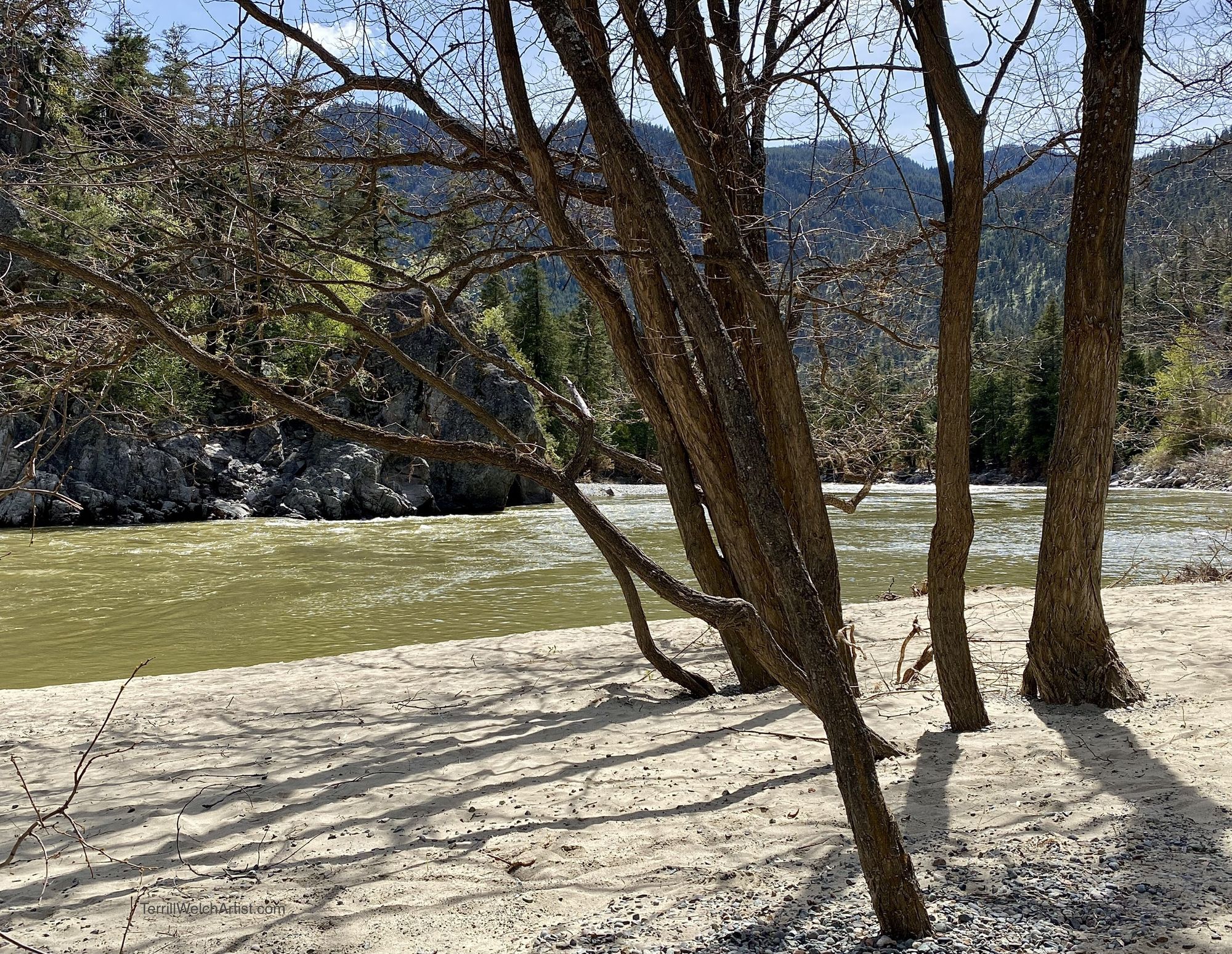 Arriving at our small basic BnB on a small holding by 3:00 in the afternoon and located about five minutes outside of Hedley we tucked into the front yard and soaked up the sun along side the on the Similkameen River.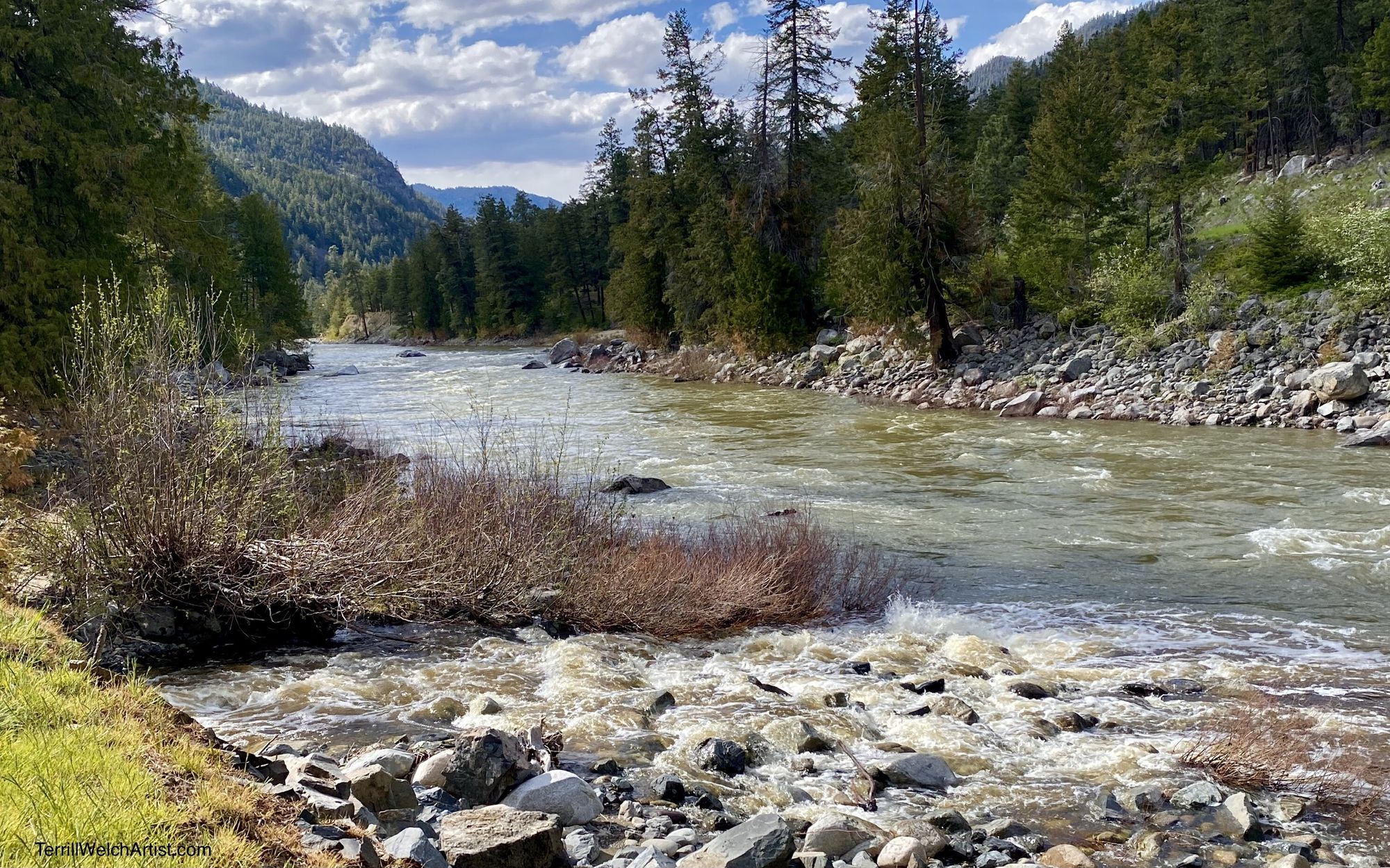 I was really taken with Bromley Rock Park so we went back first thing in the next morning for me to paint and David to read. It was just shortly after 8:00 am when we pulled back at the park again on the Similkameen River. David contented himself with reading in the car while I hefted the plein air pack and camera with me down to the sandbar. I decided on a lilac ground with all those fresh greens and colourful buffs and greys.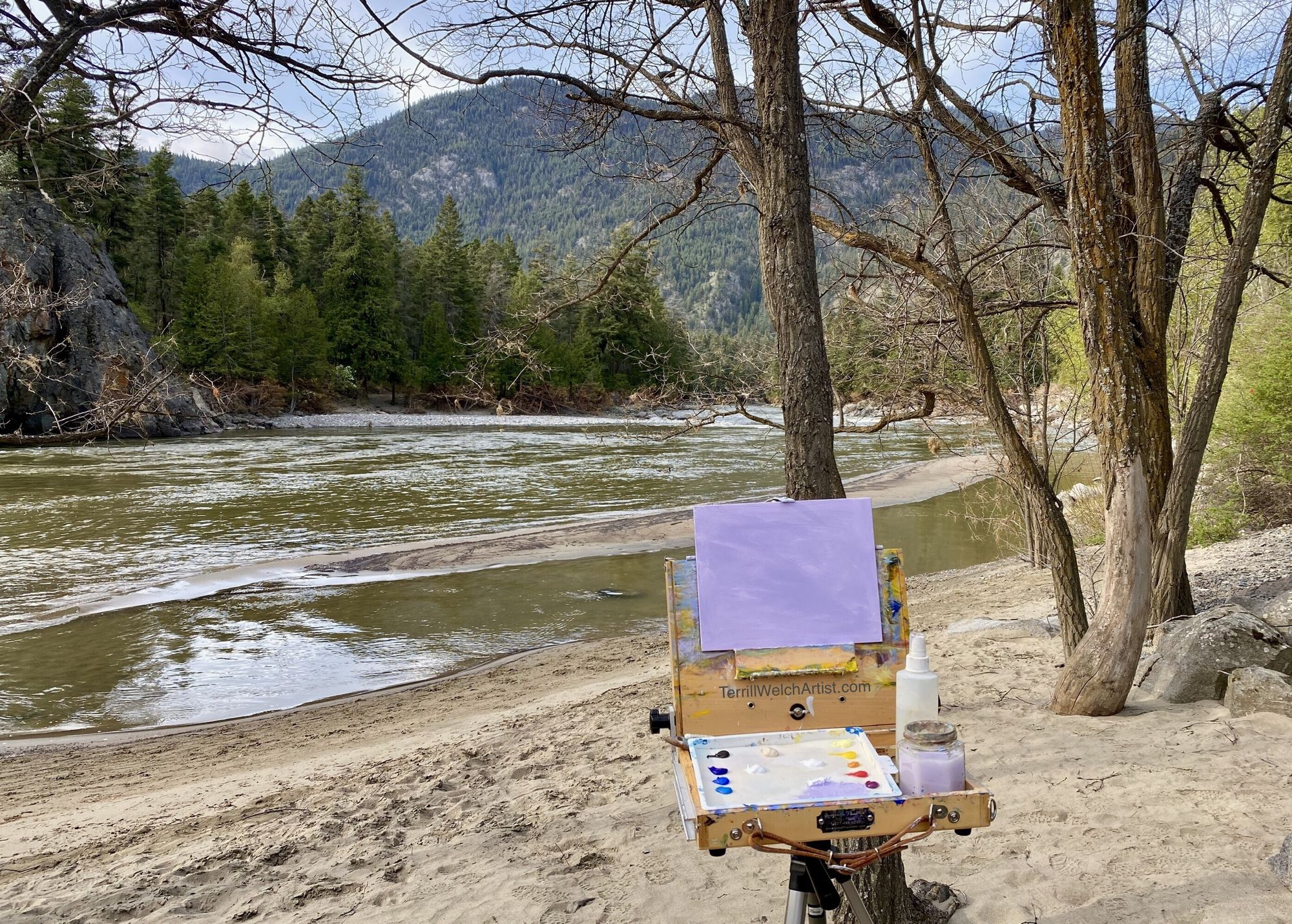 The light shifted and changed constantly with the breaking cloud cover as I painted.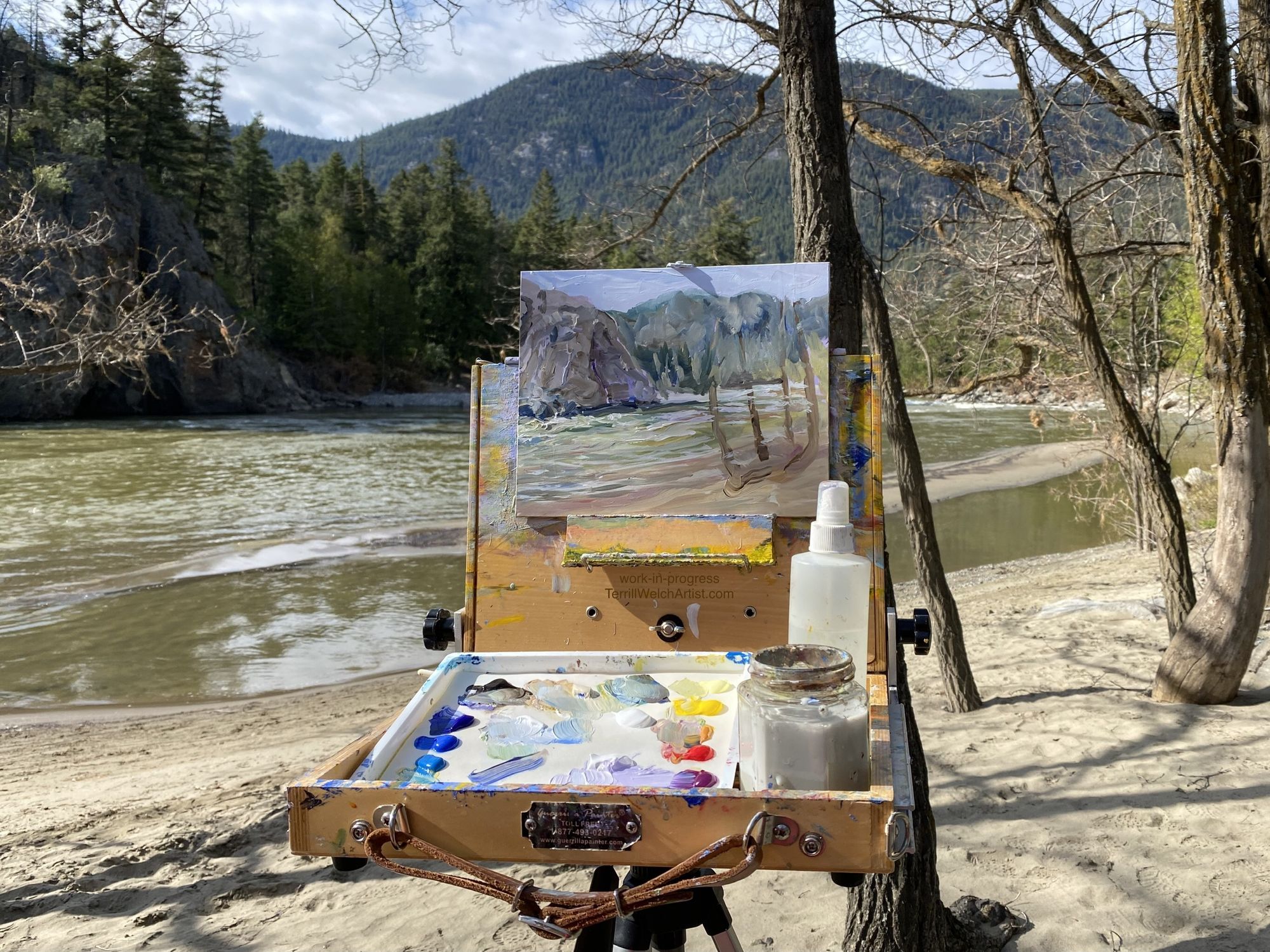 But in about an hour, I had painting as done as it was going to get.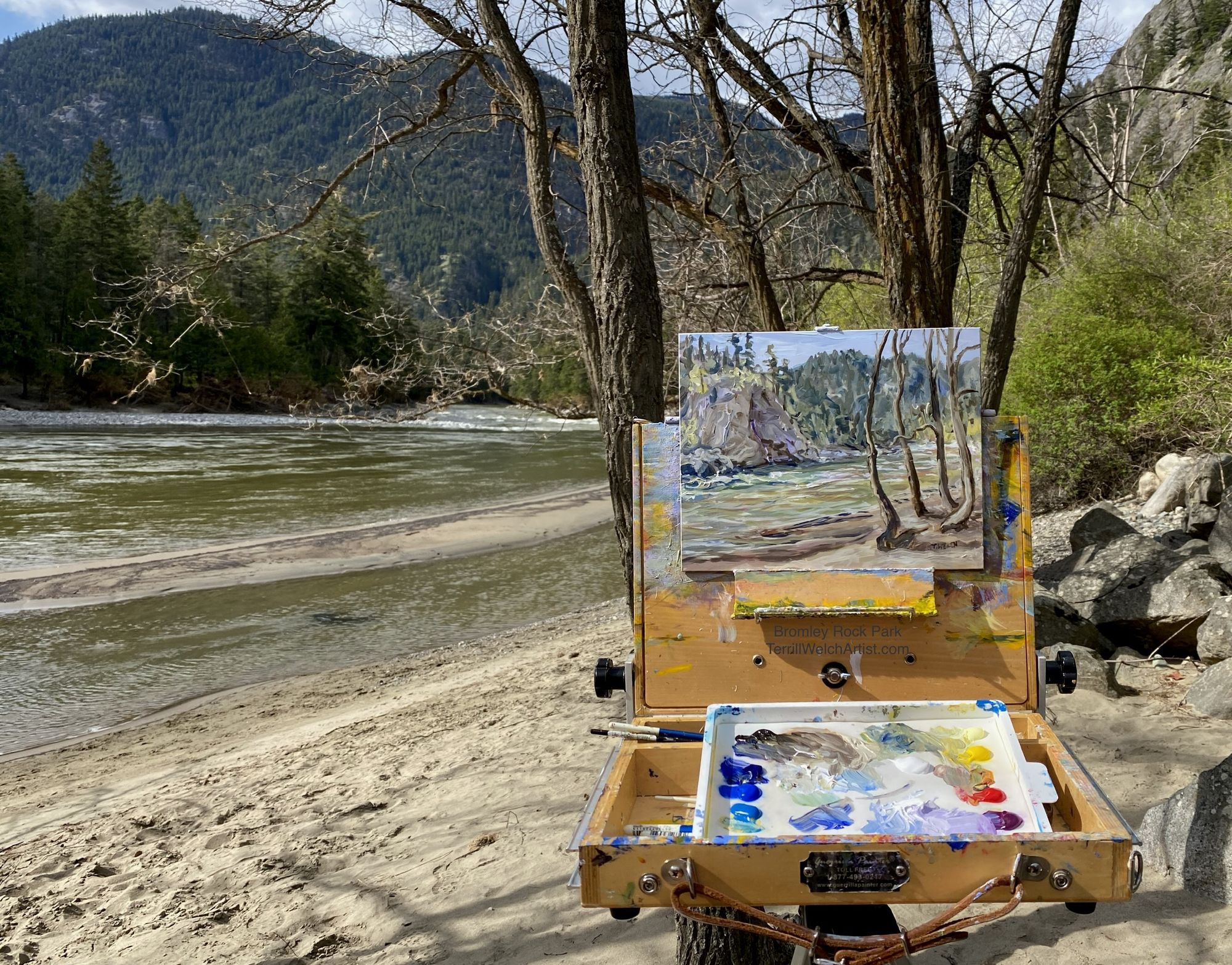 "Bromley Rock on the Similkameen River" by Terrill Welch, 8 x 10 inch acrylic on gessobord.
Artist notes: There were fresh elk tracks in the sand and a pair of Canada geese exploring while a curious chipmunk dashed along the stones beside me. I was definitely not alone in the soft morning sun on the sandbar with fast moving river.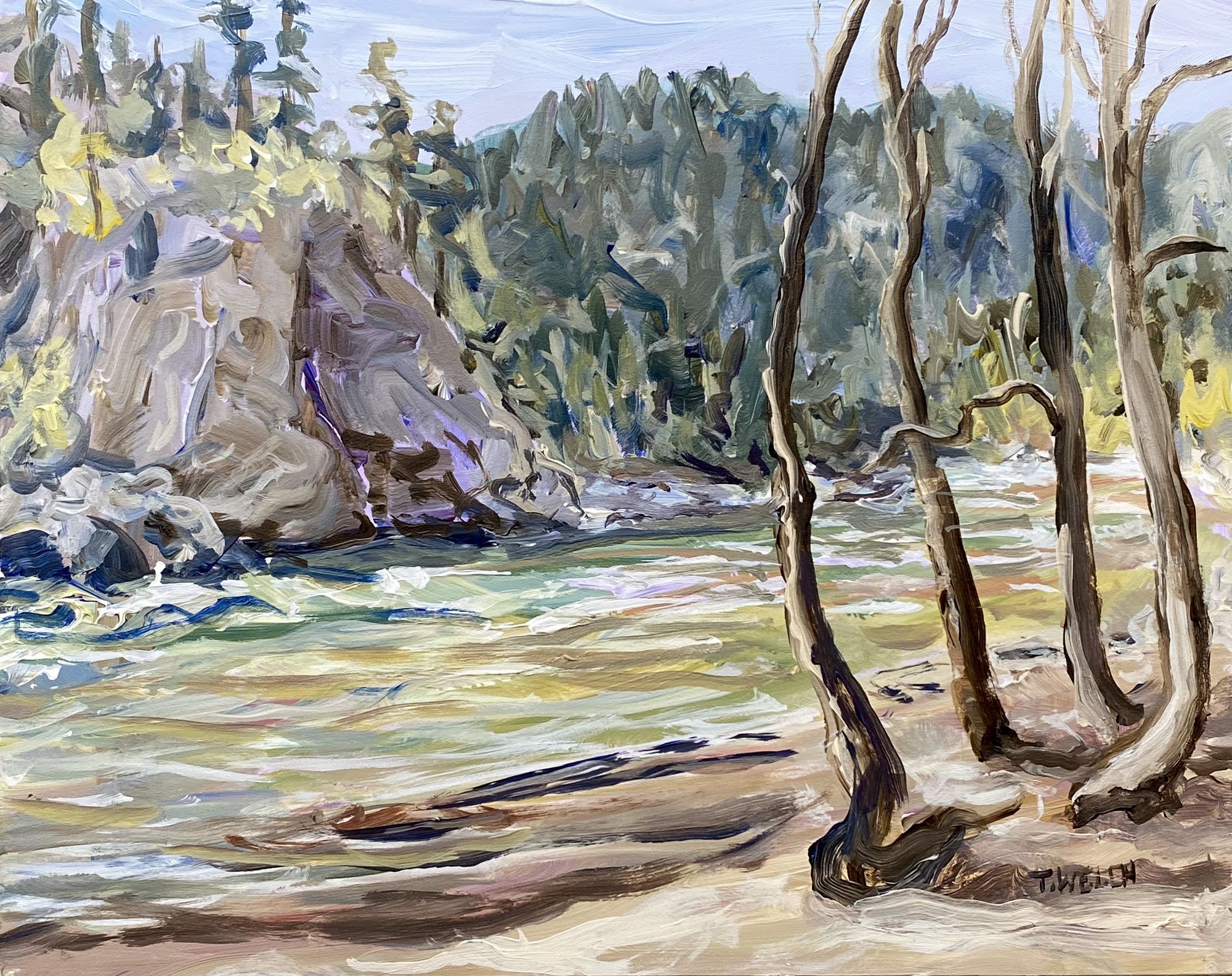 Art collector's requested that this painting sketch be put on hold  for final consideration in person within hours of its completion.
Hedley to Creston BC
Before I begin telling you about our travels between Hedley and Creston, I would like to preface this story with - we are perfectly fine and had a wonderful adventure-filled day! We had weather. Lots of weather. I am definitely not going to be able to truly give you the feeling of going from 12 degrees in the fresh sunny spring greens to -1 in less than an hour while it is snowing so hard that it feels like 4:00 pm on a winter's evening… and then back up to 10 degrees - twice, in the same day. Because of these dramatic weather changes going through the mountain passes, combined with windy roads with few pullouts (except for pullouts used for checking your brakes and putting chains on) I have very little evidence of our journey. But let's see what we can do…
The day began with a little cloud and sun drama between Keremeos and Osoyoos where we stopped for breakfast.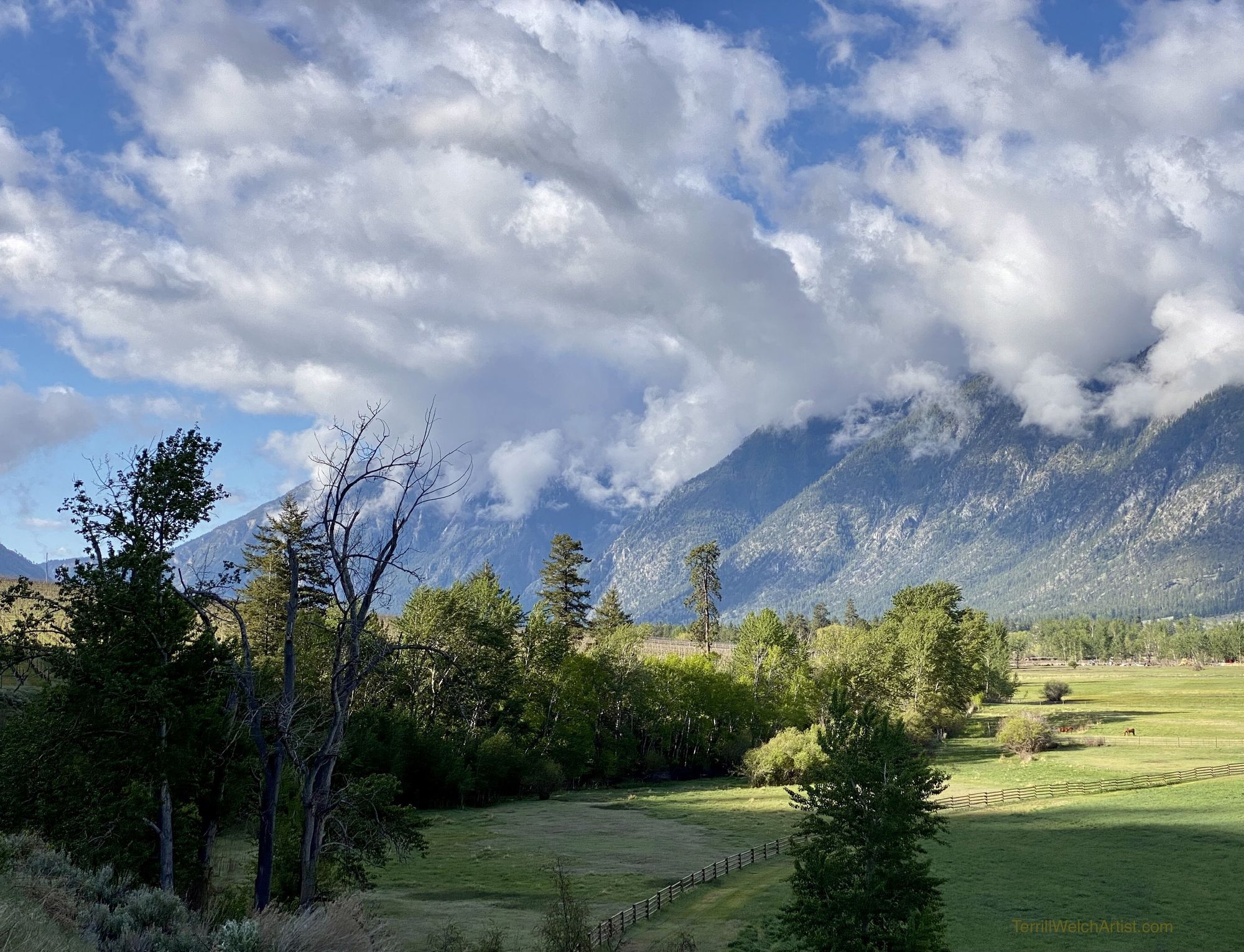 A most grand start to the day and a sunny six degrees.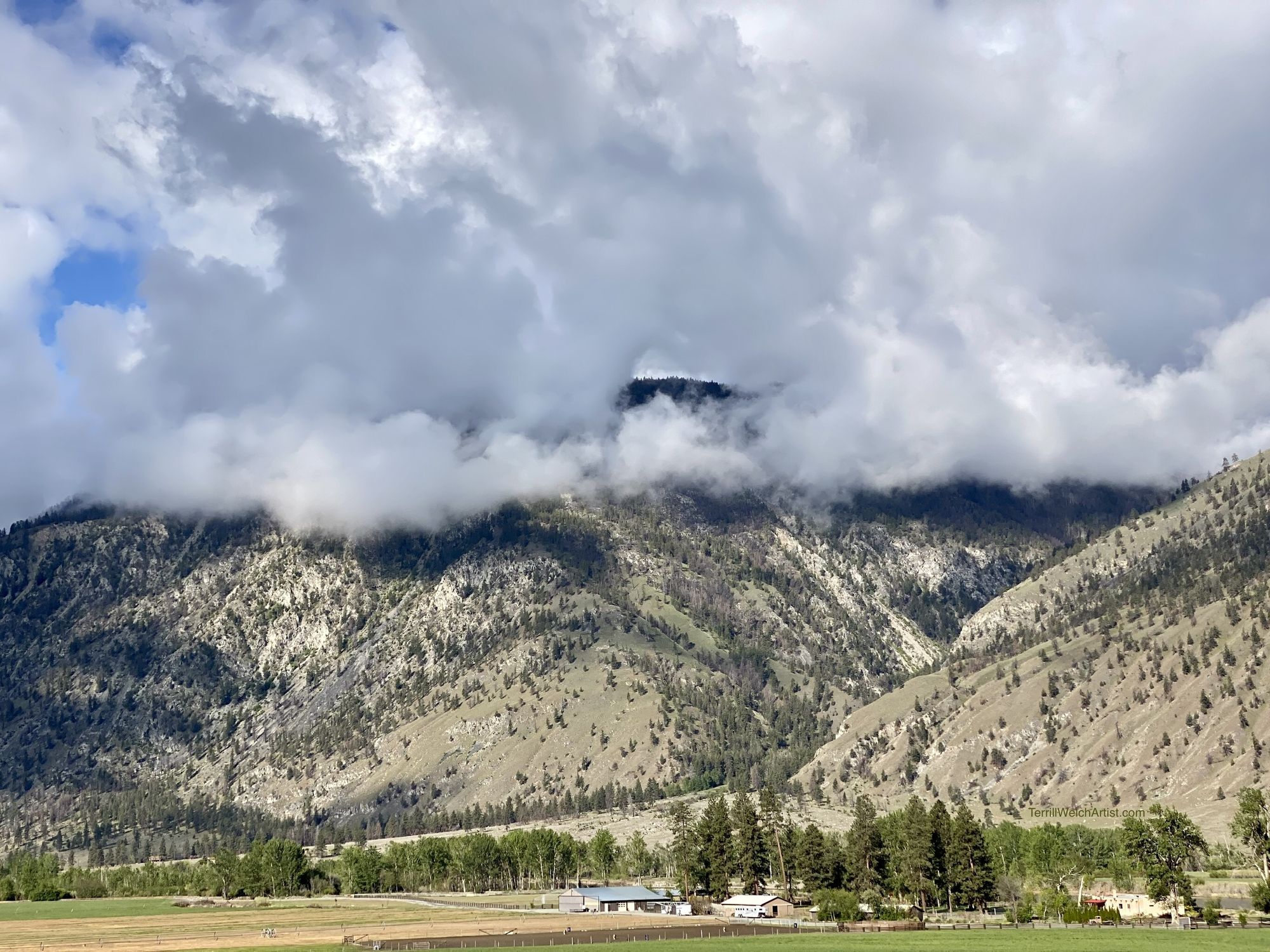 After taking our time for a little extra coffee, we are on the road again and catching up to the snow on the hills just past Christina Lake.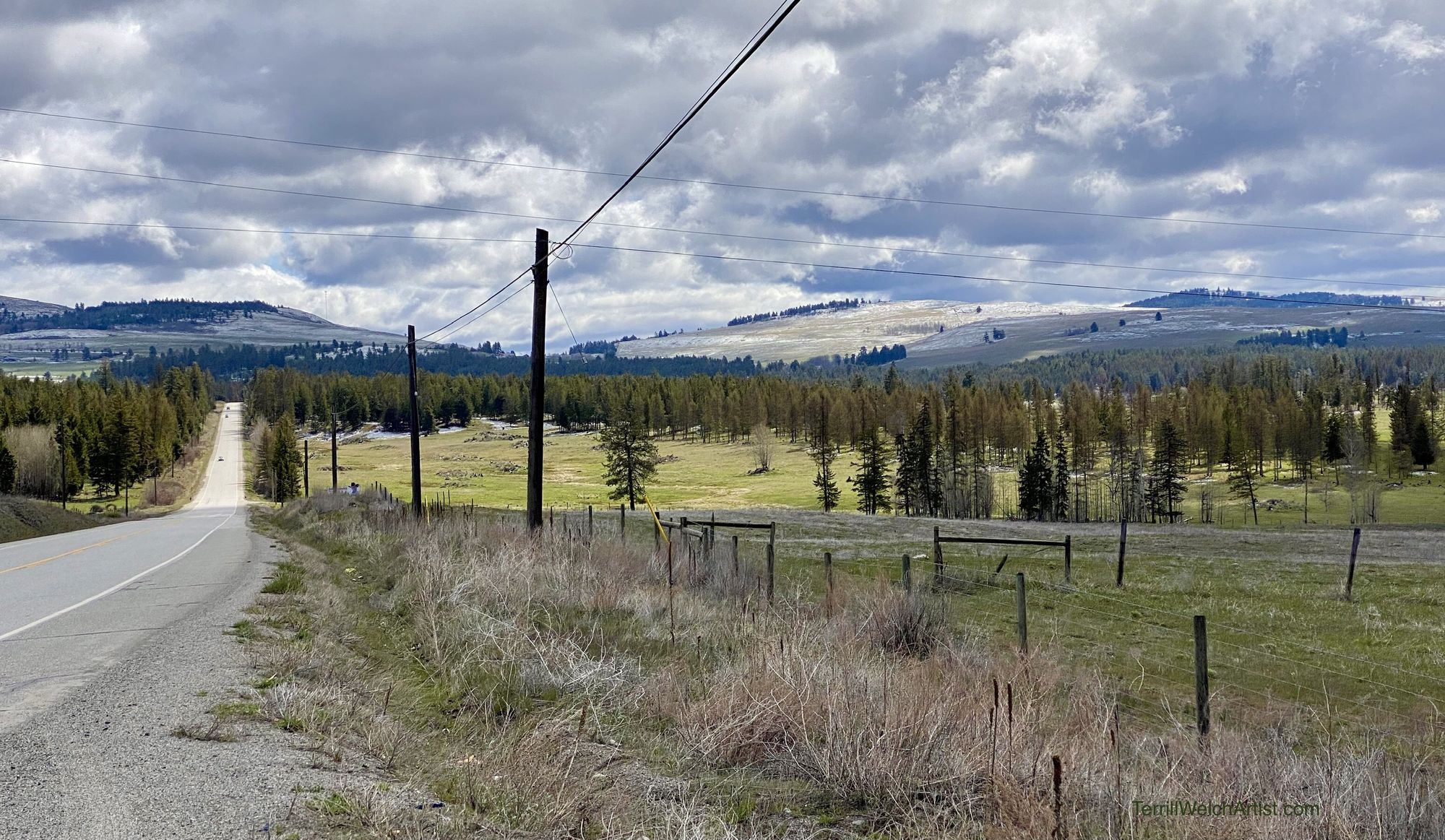 Yep! We are getting higher now and the leaves on the poplars haven't completely come out yet. We have seen this before though on this trip as we roll up and down the hills. Still, there was a weather alert about snow in the mountain passes. "Looks like there is definitely going to be snow," we say to each other. It is just after lunch time now. I had recently gassed up and we were still too full from breakfast to want anymore to eat but I pulled over to stretch anyway.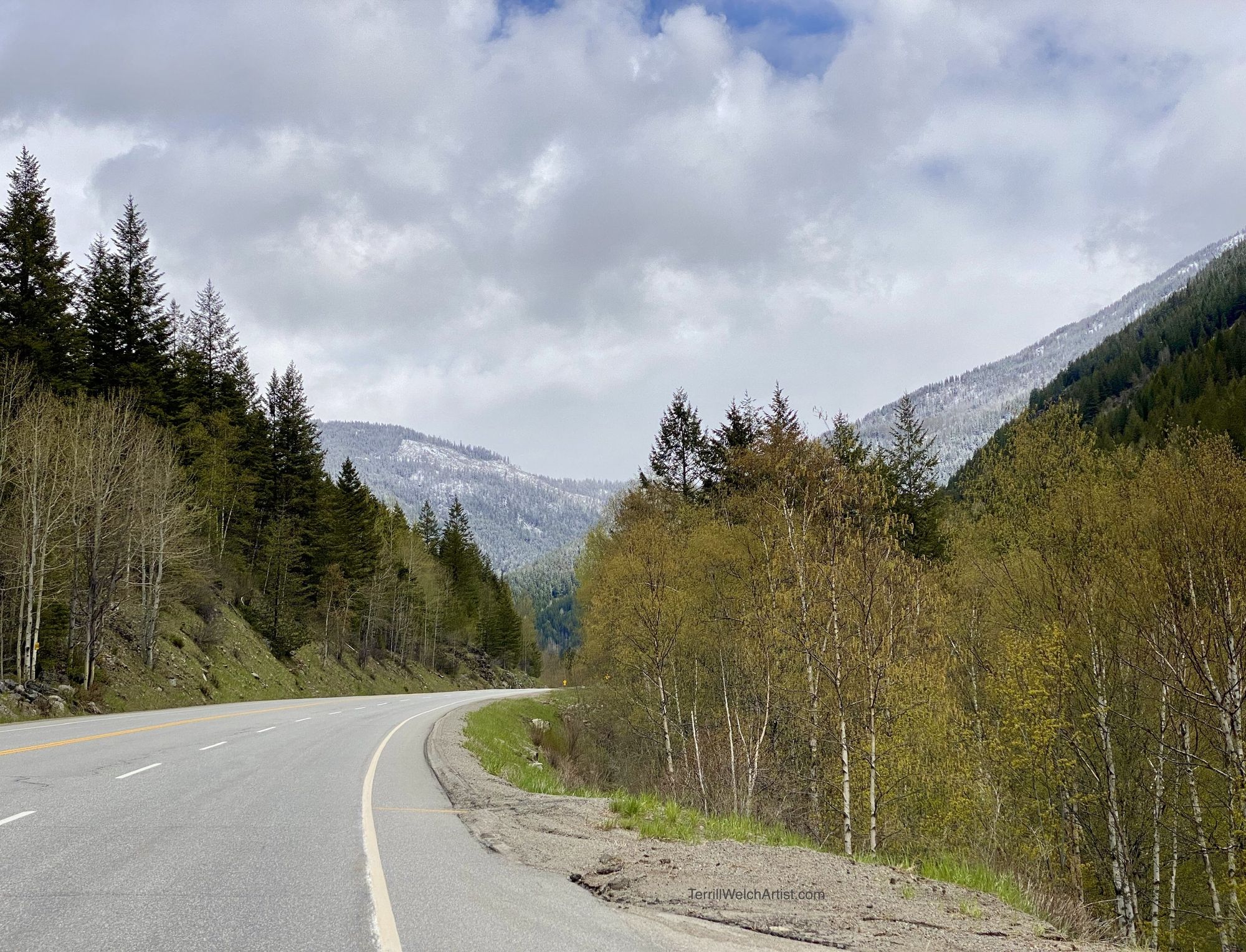 About 15 minutes later we found that snow. It was only just freezing and the highway was bare and wet.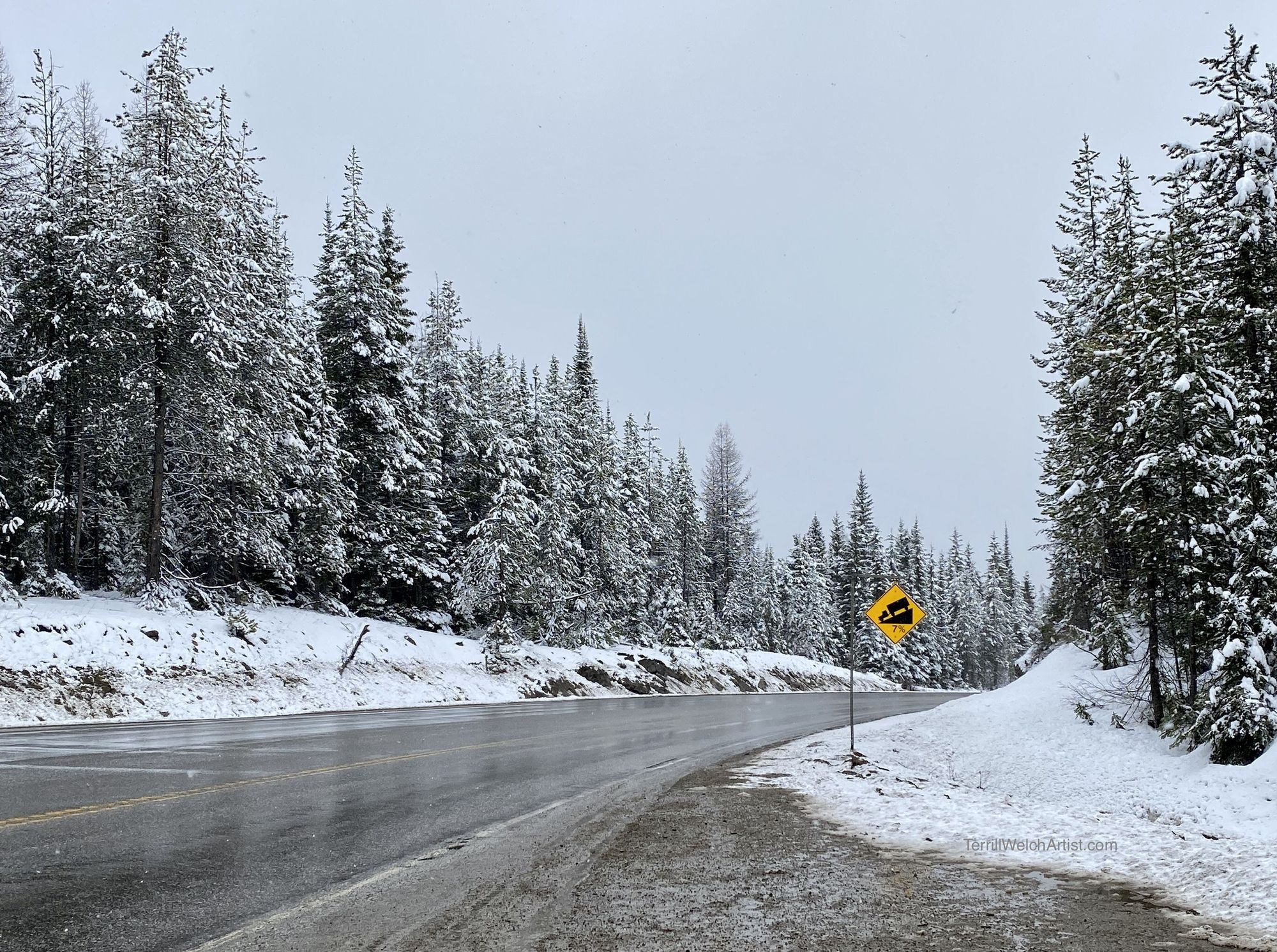 Continuing on, we decided to take the #3B highway to Rossland, Trail and over to Salmo. I pulled out into the chain up area to gather snow evidence.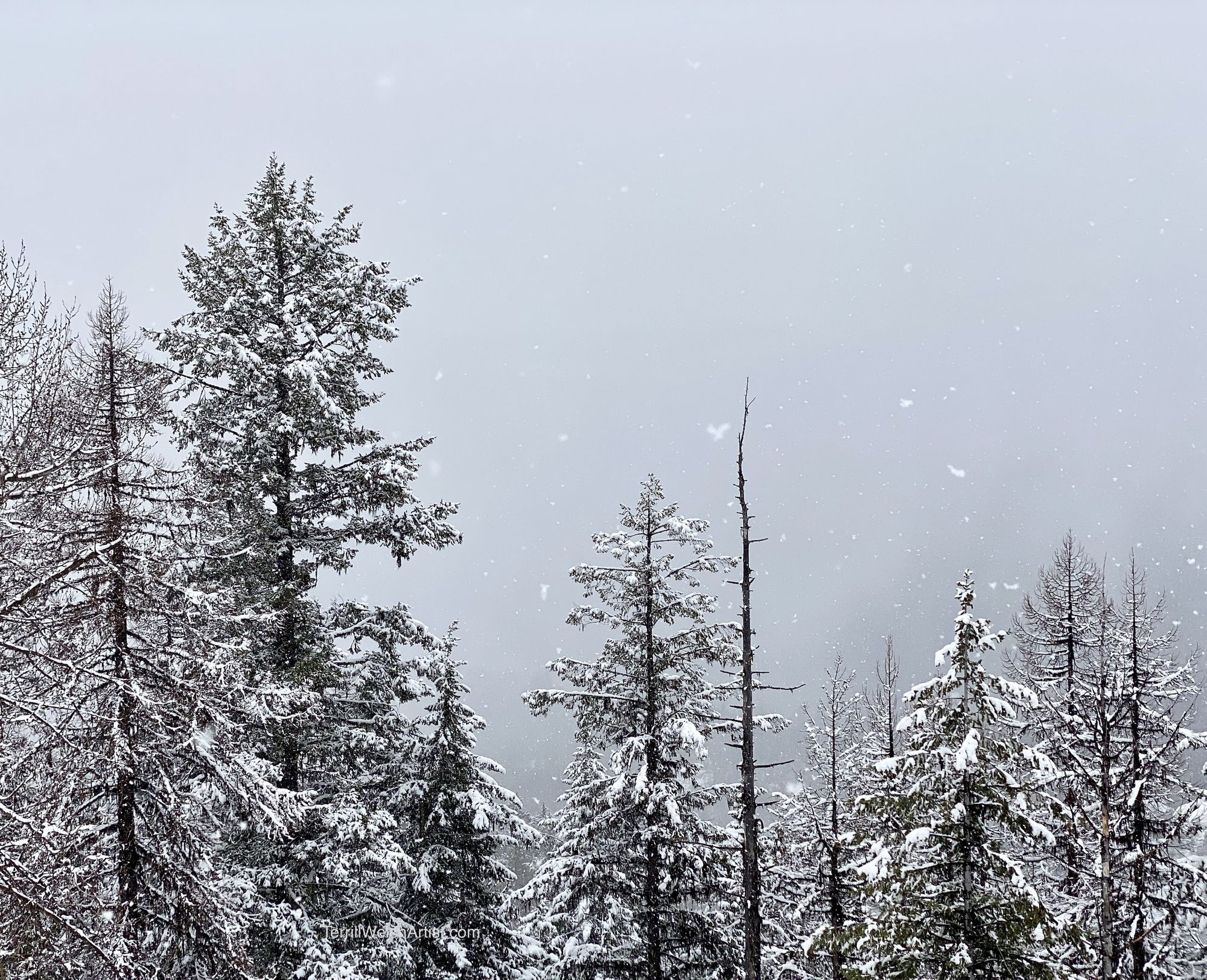 It was some kind of gorgeous but not much to see and I heard a ptarmigan on the rock face.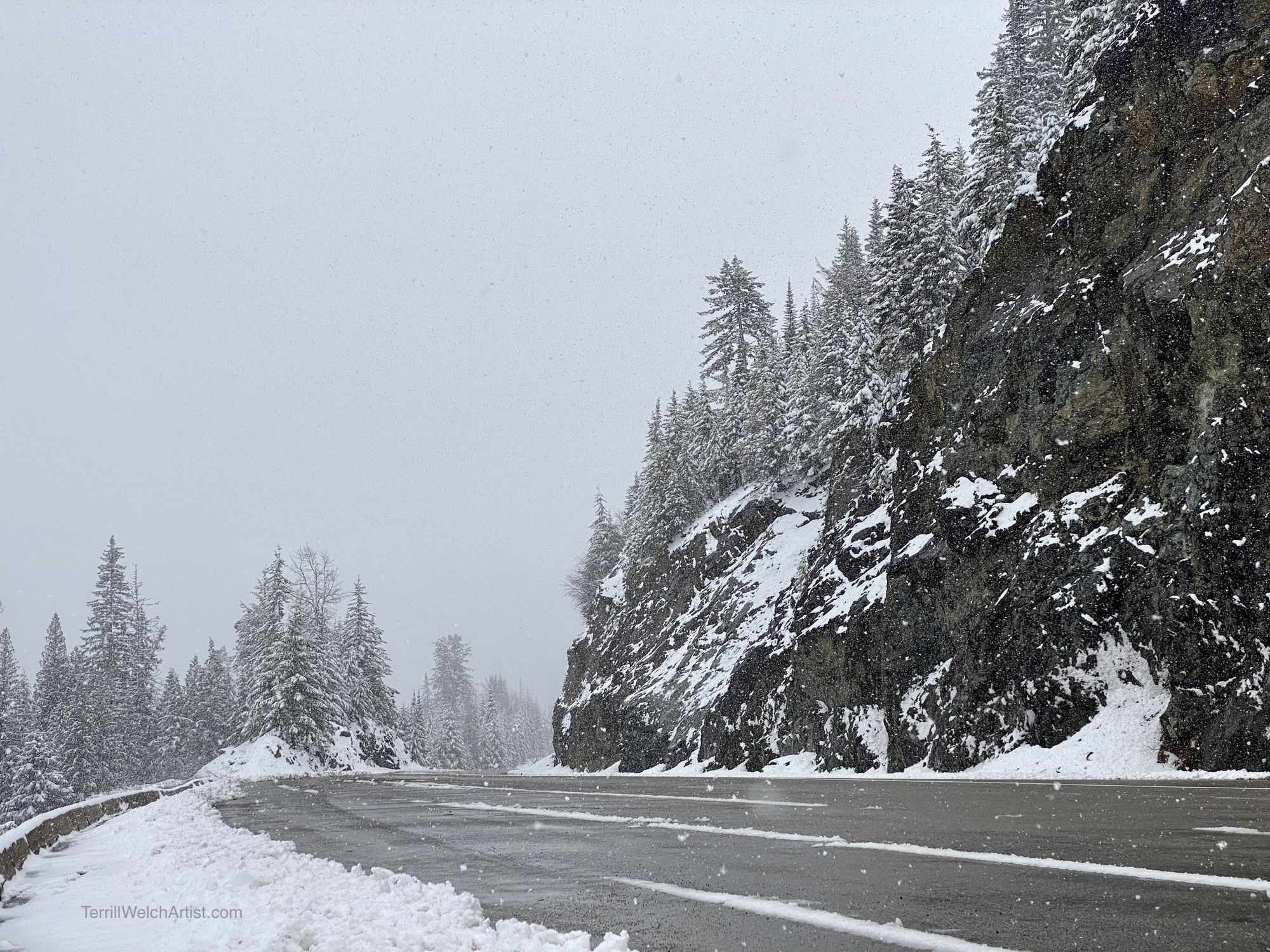 I didn't take any photos in Rossland, Warfield or Trail until we were leaving as I loved the view above the Columbia River. And this is about an hour from the last snow image. It was warm and sunny again. Just like that!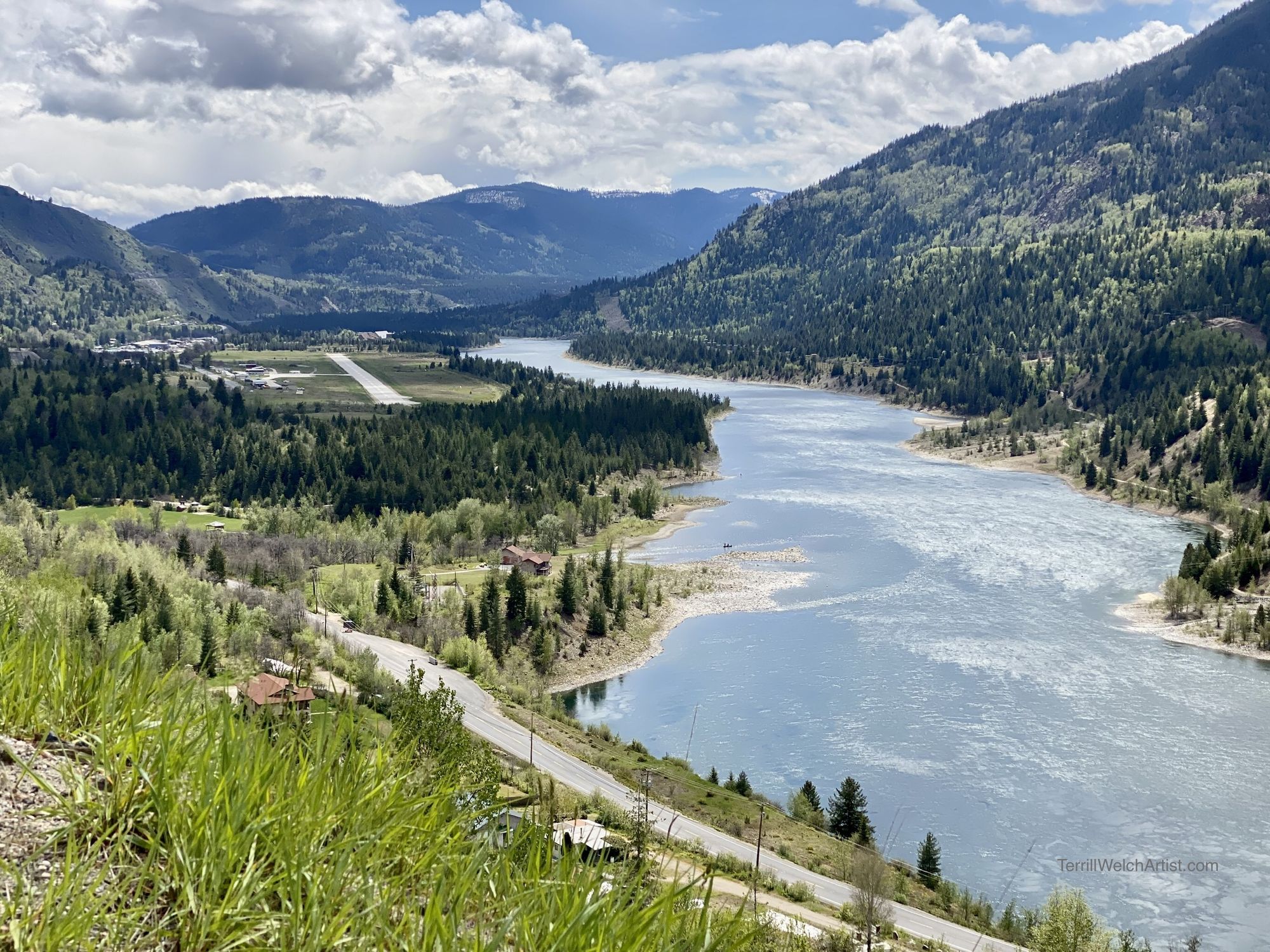 But then, as we leave Salmo, I notice the leaves were not out fully again. And this "Lost Creek" is running clear, clean mountain water.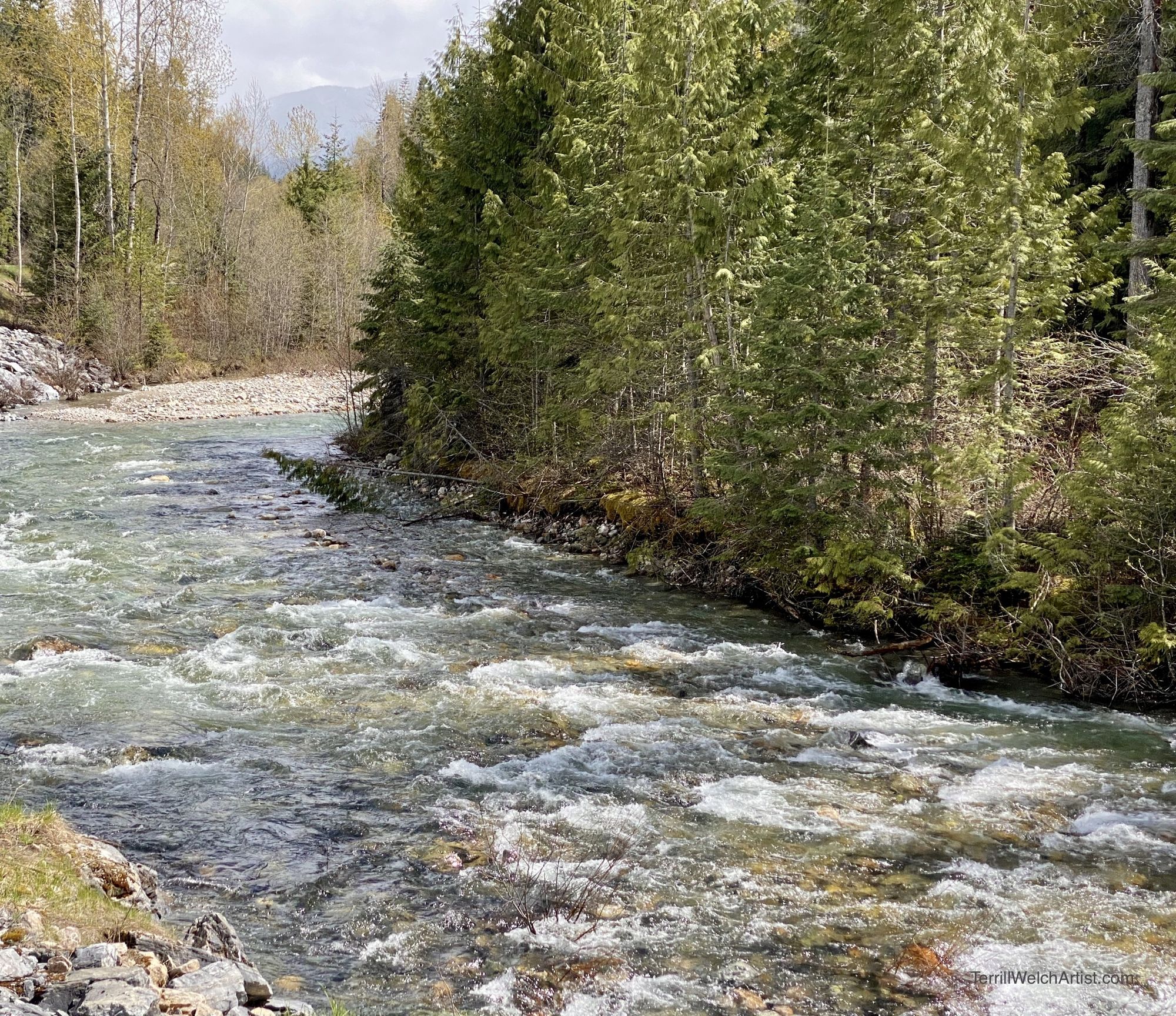 Up there is the last patch of blue sky we see until we come out into the big open valley at Creston. This time, no snow photos. It was -1, slushy with poor visibility and the roads required my full attention with no looking for suitable pullouts for photographs.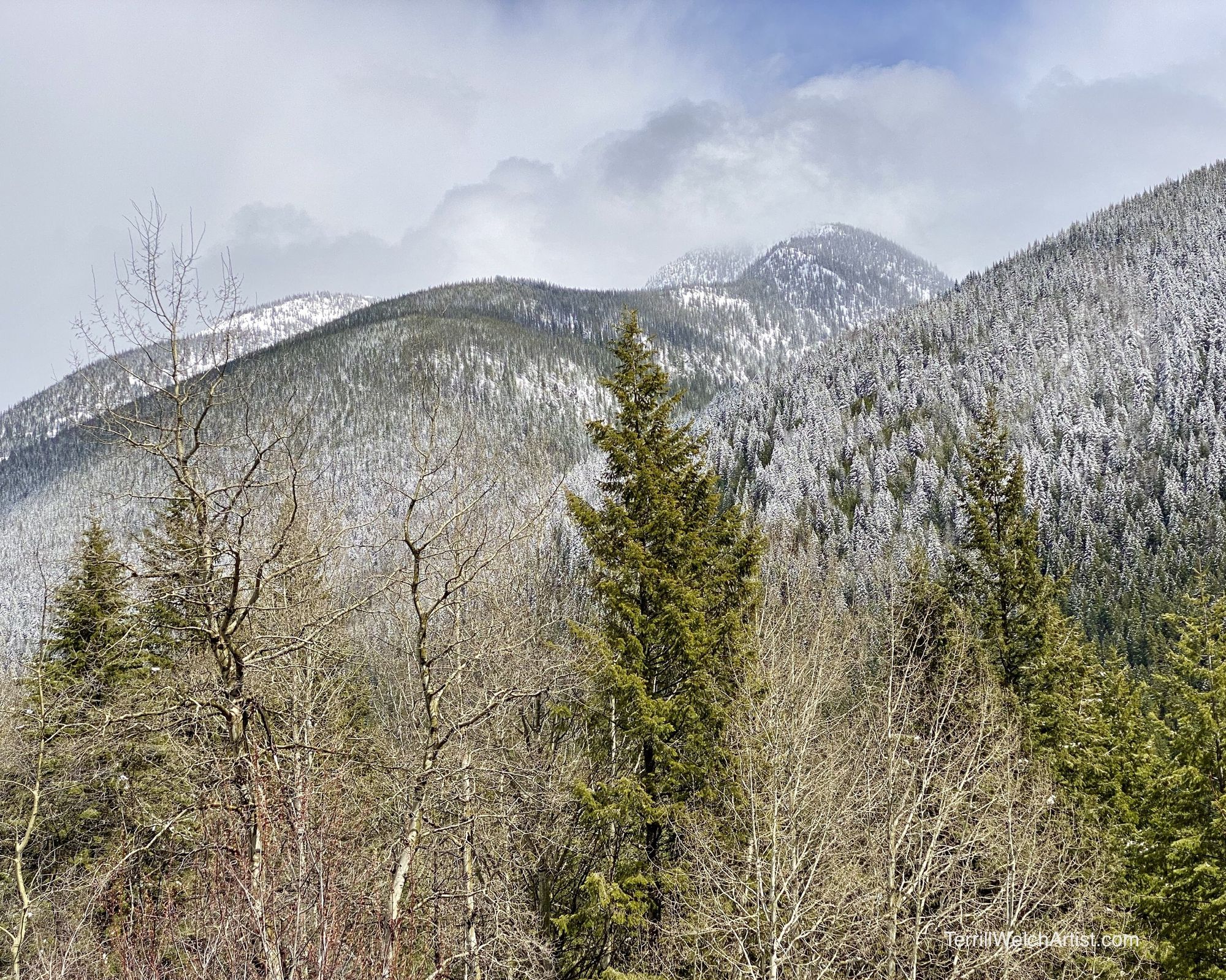 We tucked into our king-sized bed for the night with my red pillowcase sleeping pillow at the end there. Our room at the Creston Valley Motel is adorable, crispy clean and retro with warm friendly hosts. Filing it under - highly recommended.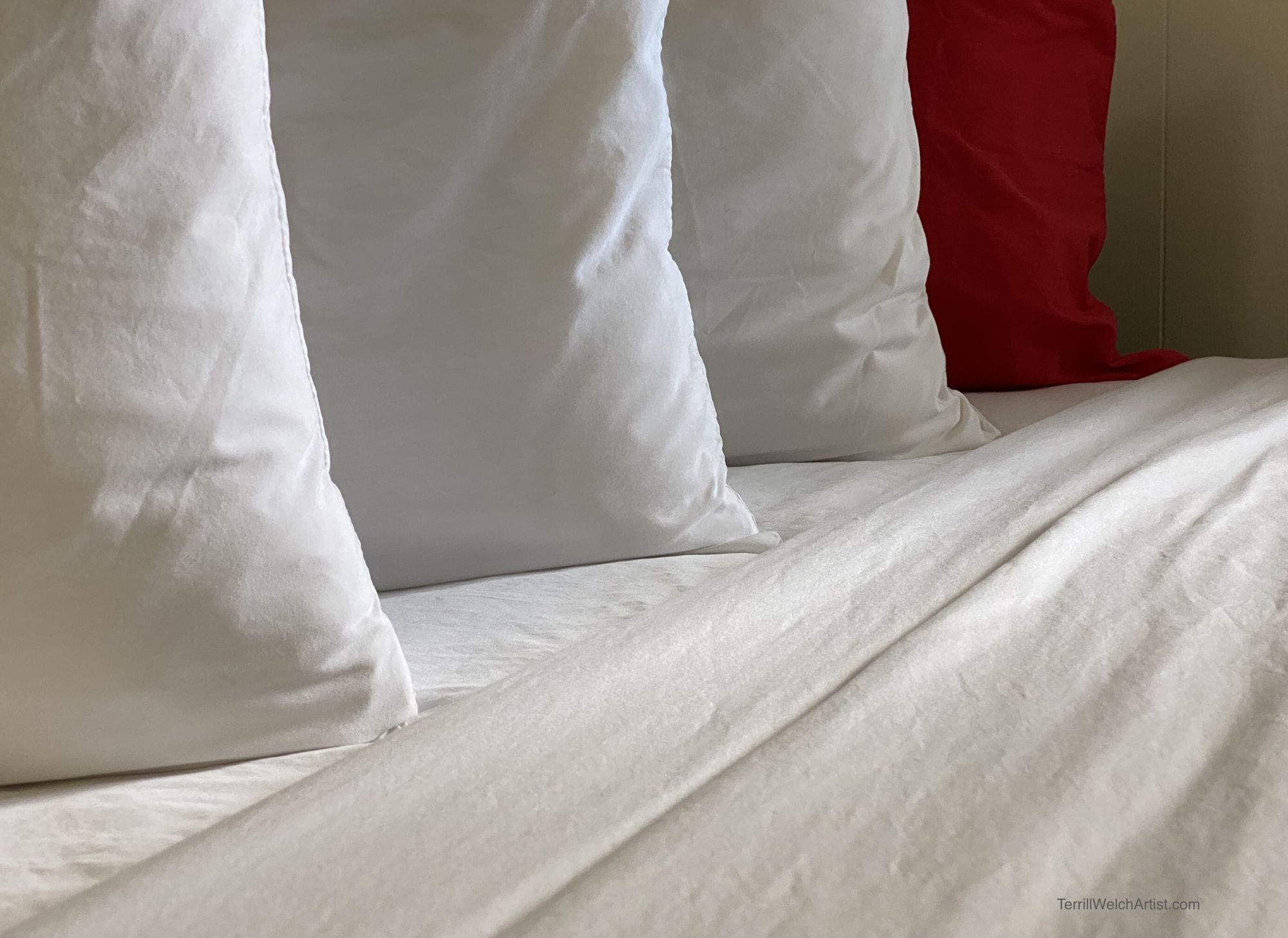 Creston BC to Lethbridge AB
This section was all about easy transitions and mountain ranges. Some of which I have made a guess at naming and others I am hoping someone more familiar with the areas can eventually help us out.
Across a field at the far end of Moyie Lake we got our first glimpse of mountains. But we didn't stop until the sanctuary just outside of Cranbrook. It was really too far a reach for my phone camera but we got something to play with in the art app anyway. And these are appropriately named "The Steeples" mountain range. Thank you Anne B Mcevoy for filling me in on their name.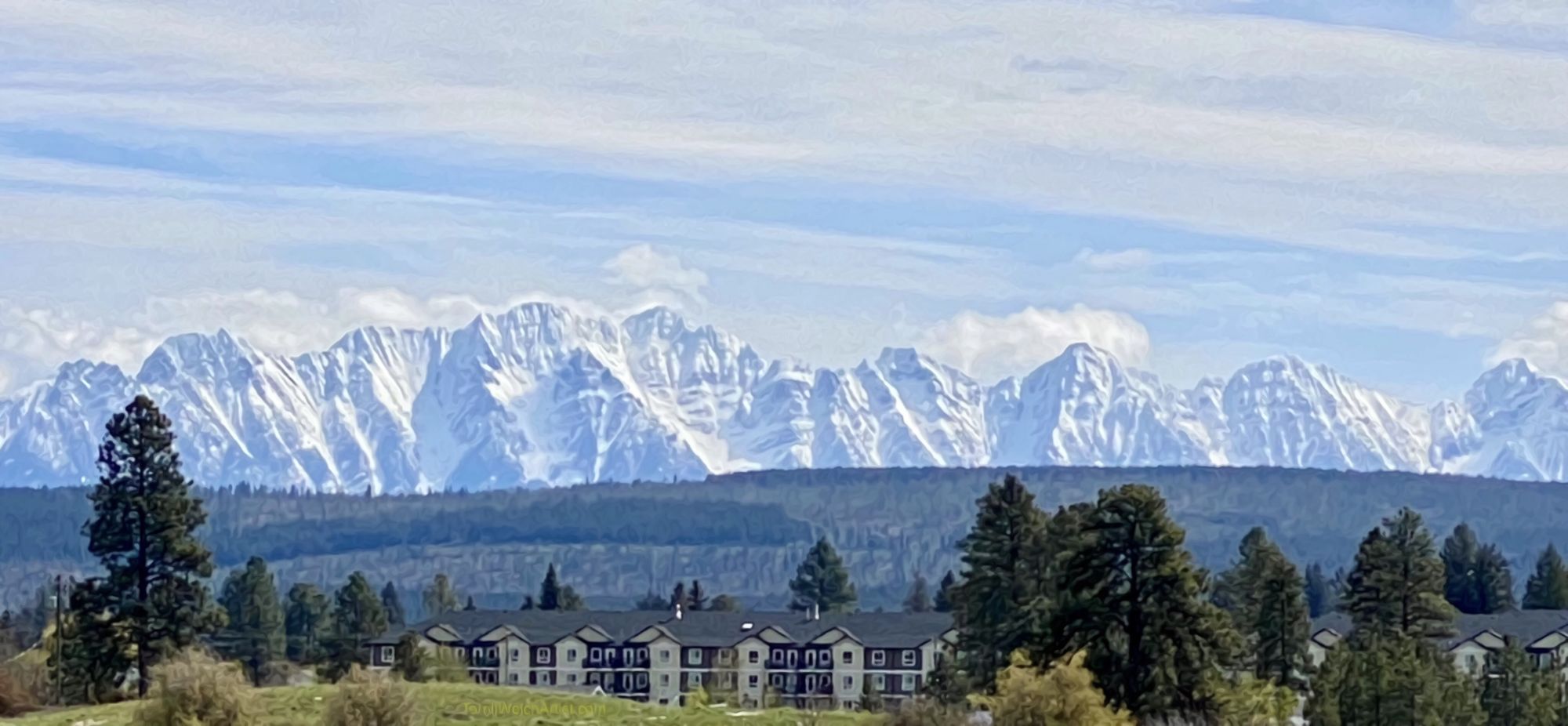 The Three Sister Mountains near Fernie along the Elk River on Highway 3 practically pirouette across the landscape.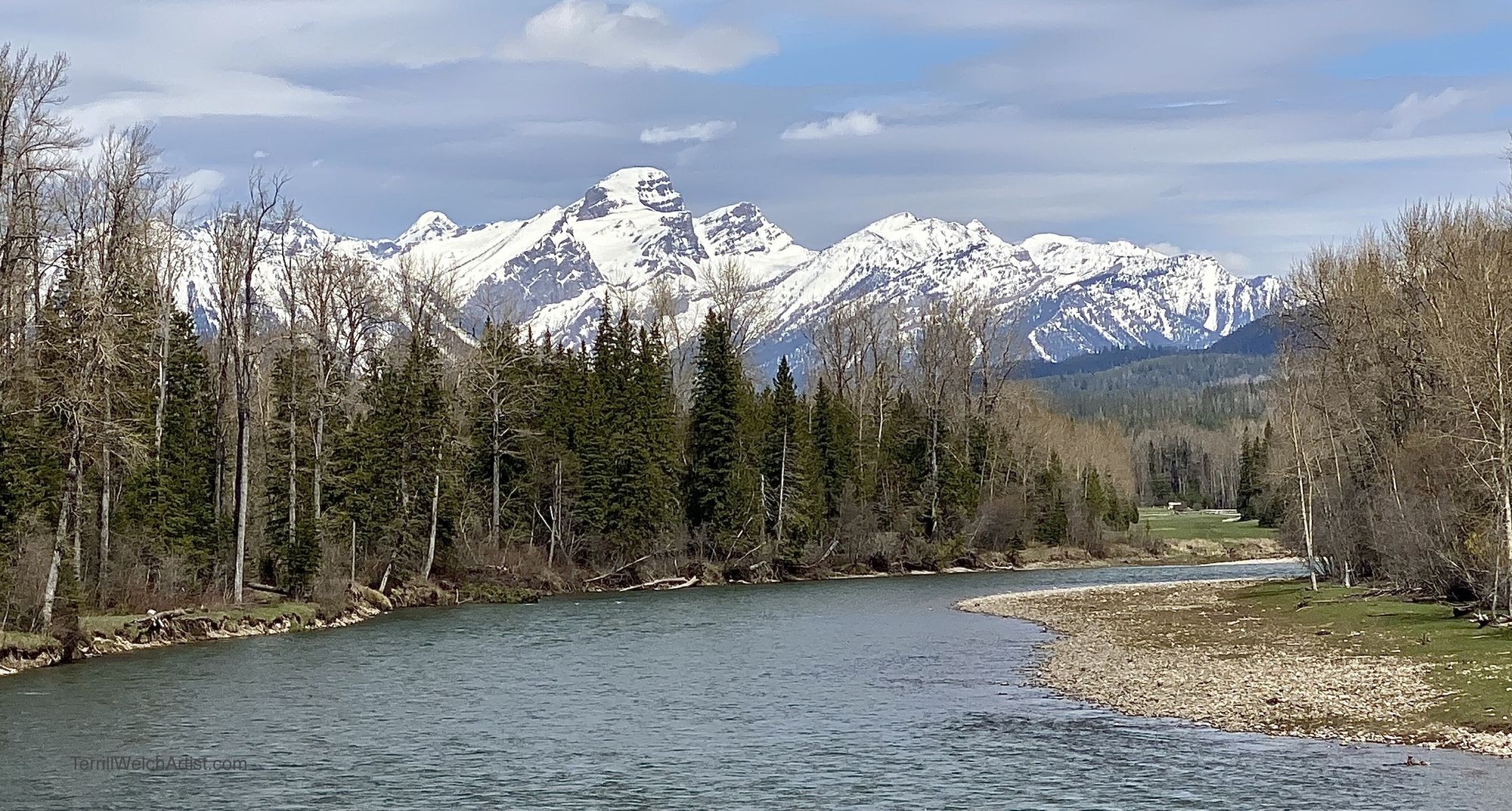 Looking across Elk River near Fernie, I am totally smitten with the patterns of colour that feel like an intricate weaving of time and space.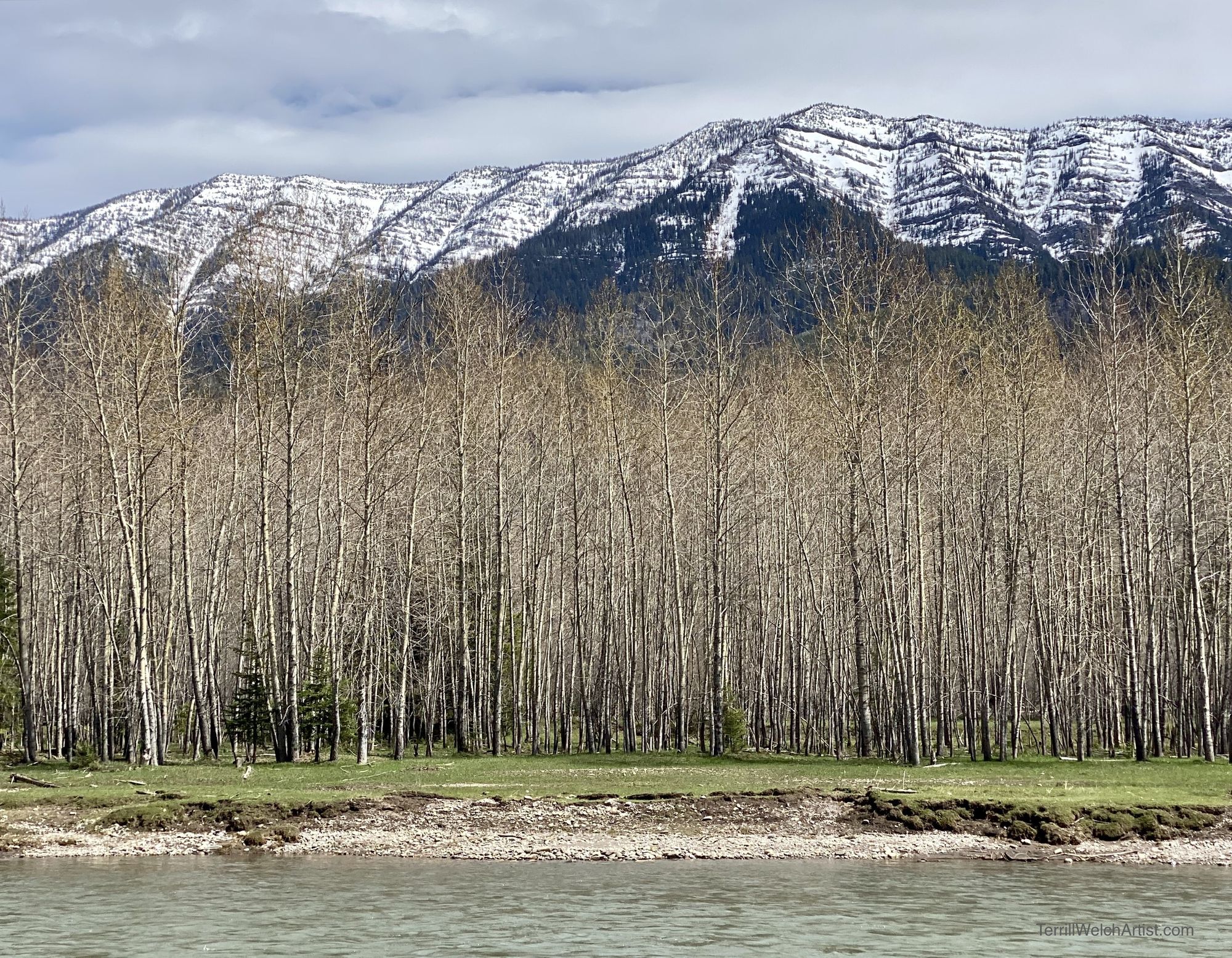 These next three mountains are just after the Crowsnest Pass in Alberta. The first two I have no idea what they are called.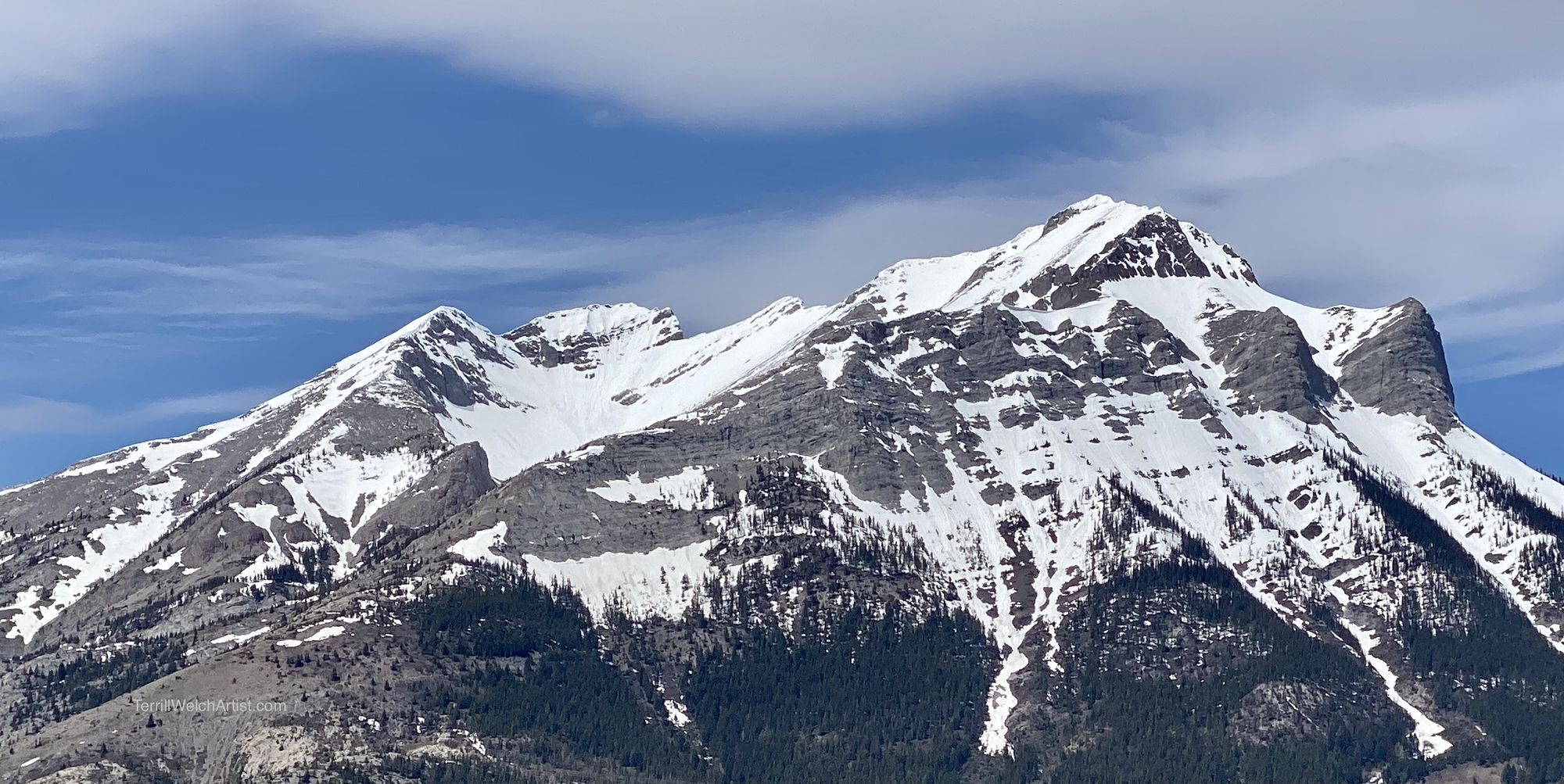 I love the sweep of space that mountains take up when they are this close.

Crowsnest Mountain is unmistakable though!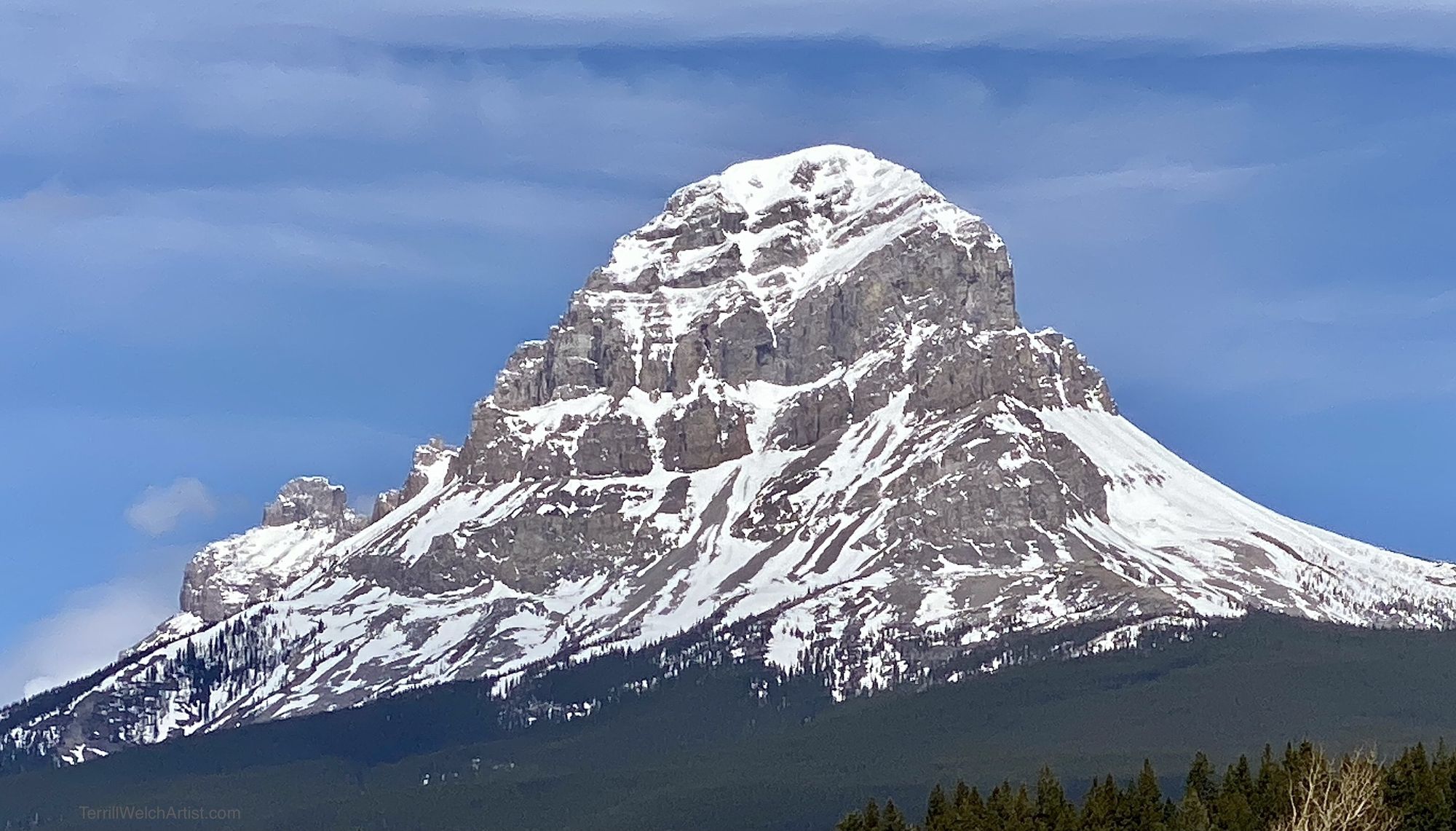 Southwestern Alberta pleases my personal pleasure in wide open spaces. I have never spent much time on the prairies but I could.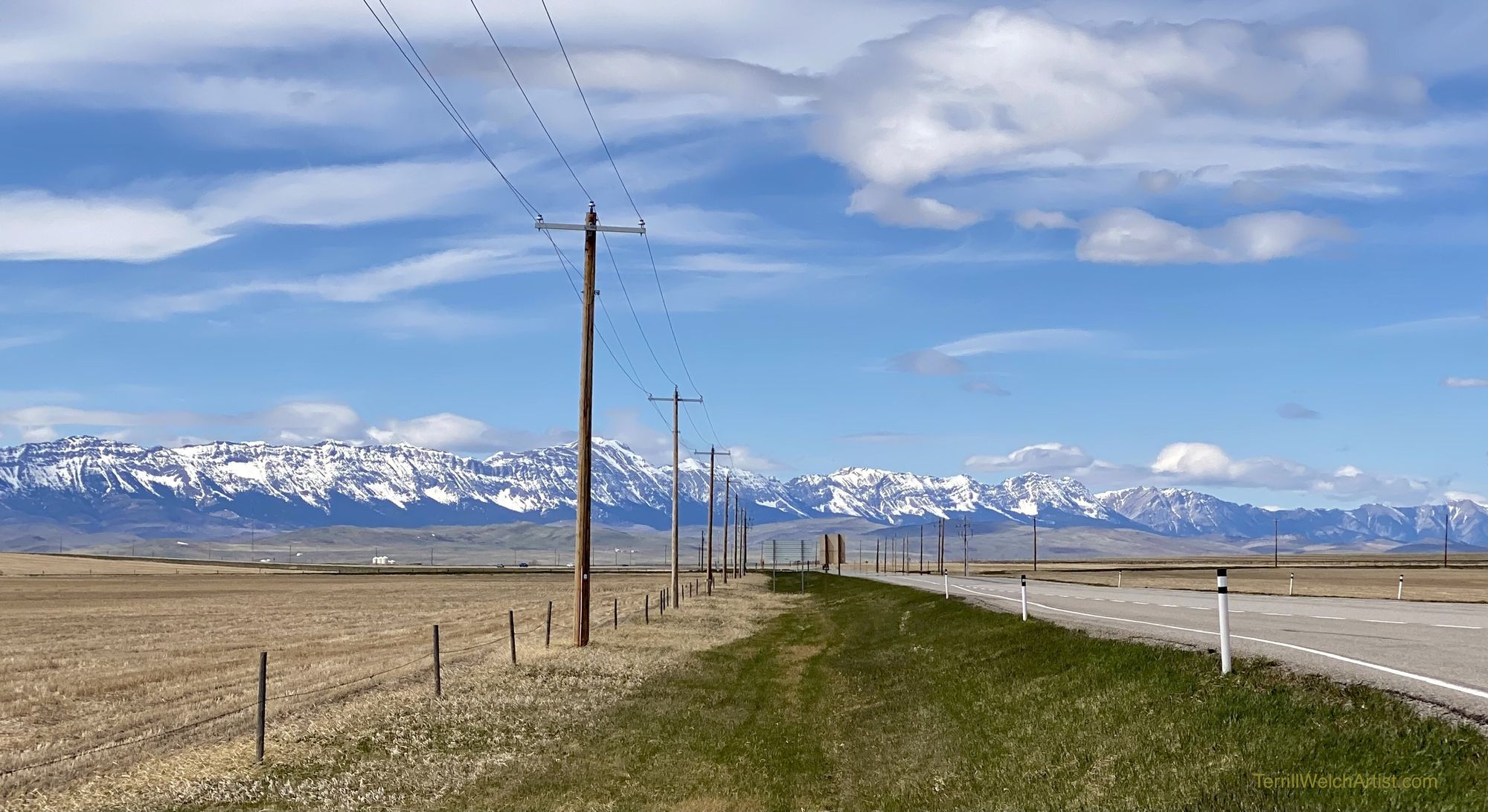 Wind farms in Alberta…. So many! It has been over 20 years since I was through here. I was surprised.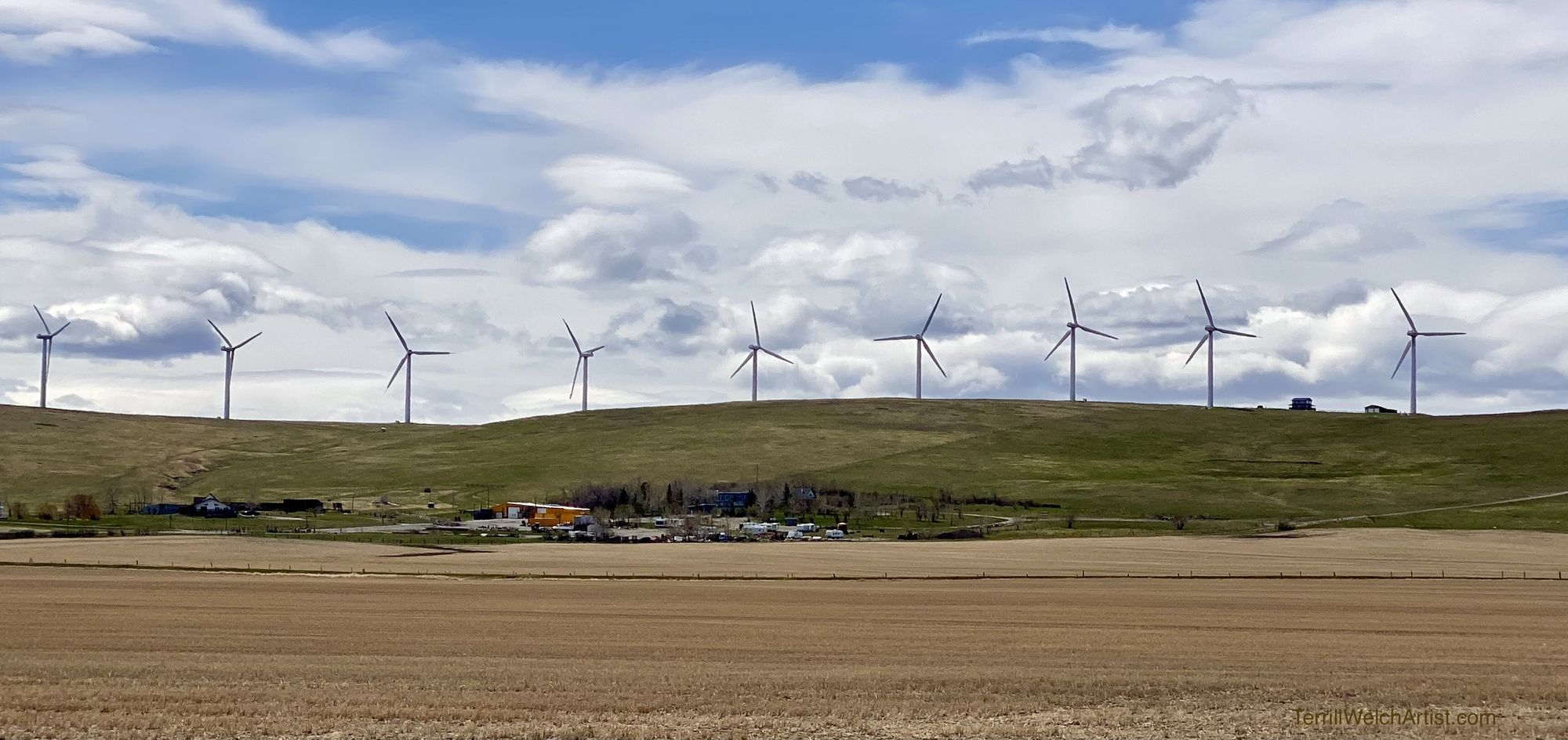 More prairie and mountains. I couldn't have told you which mountain range. But my friend Roberta Murray can - "That's the Lewis range." Ta-da! The Lewis Range is within Waterton Lakes National Park in Canada, and in Glacier National Park and the Bob Marshall Wilderness Complex located in Flathead and Lewis and Clark National Forests in Montana. On the left, between the last telephone pole and above, just left of the farm buildings, is Mount Cleveland which is the highest peak in the Lewis Range at 10,466 ft. It doesn't look the tallest here just because it is farther away and we have some phone camera distortion making things look farther away than they are.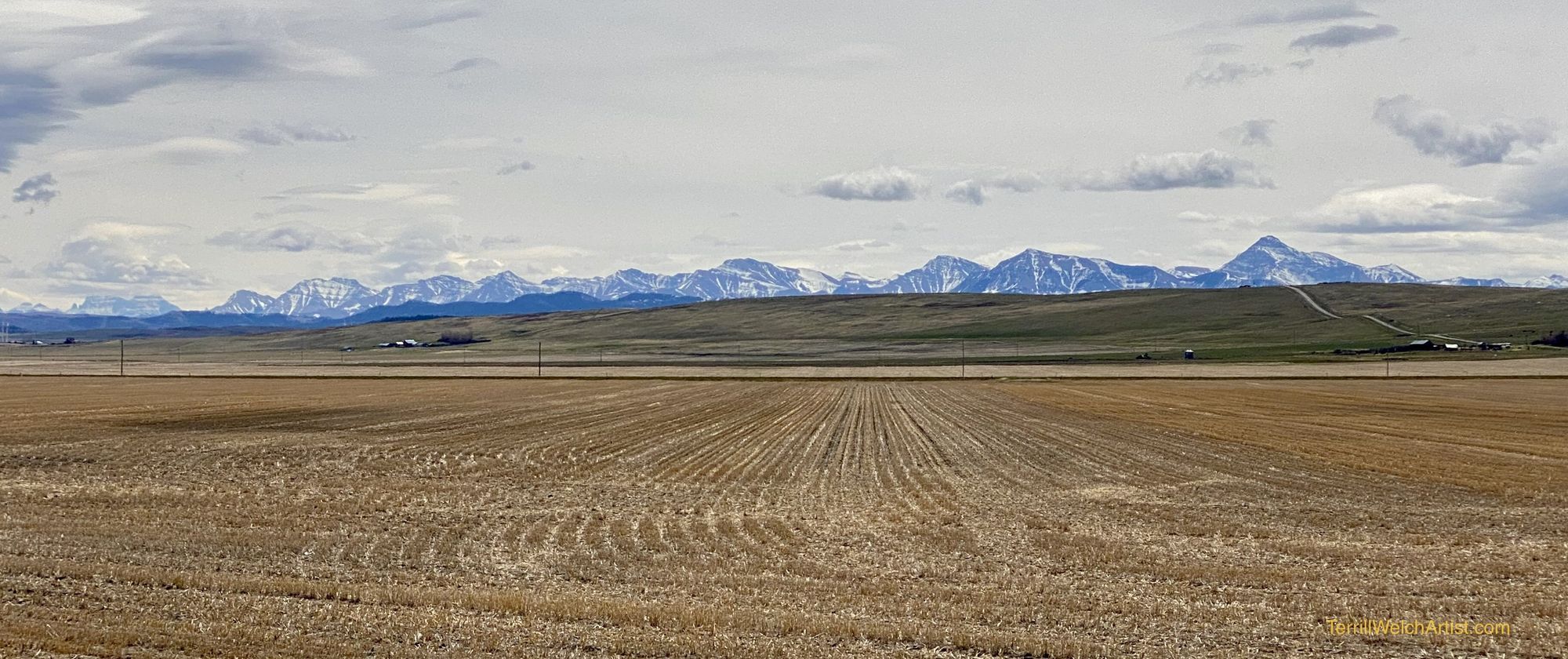 We arrive at our accommodation in Lethbridge at a comfortable time in the late afternoon. Then, the very next day, it is time to deliver the paintings! There is a certain kind of special excitement in bringing artwork directly to the home of art collectors. I am not always able to do it but when it works, I am happy to offer this personalized service.
"Is this about the right height?" he asks.
"And what about this one?" they both say.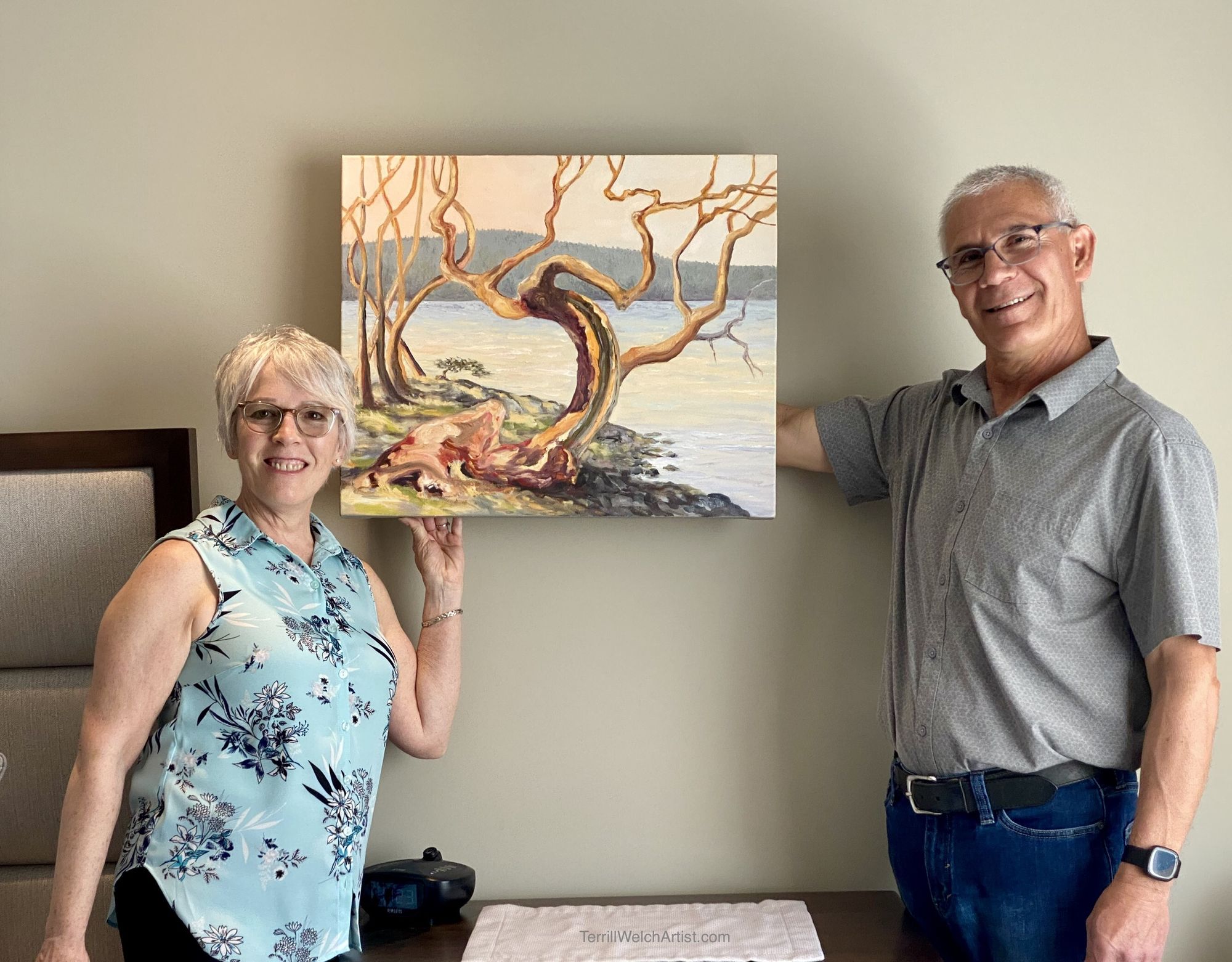 We lay them carefully down and save the actual hanging for a quieter moment when they can do it together.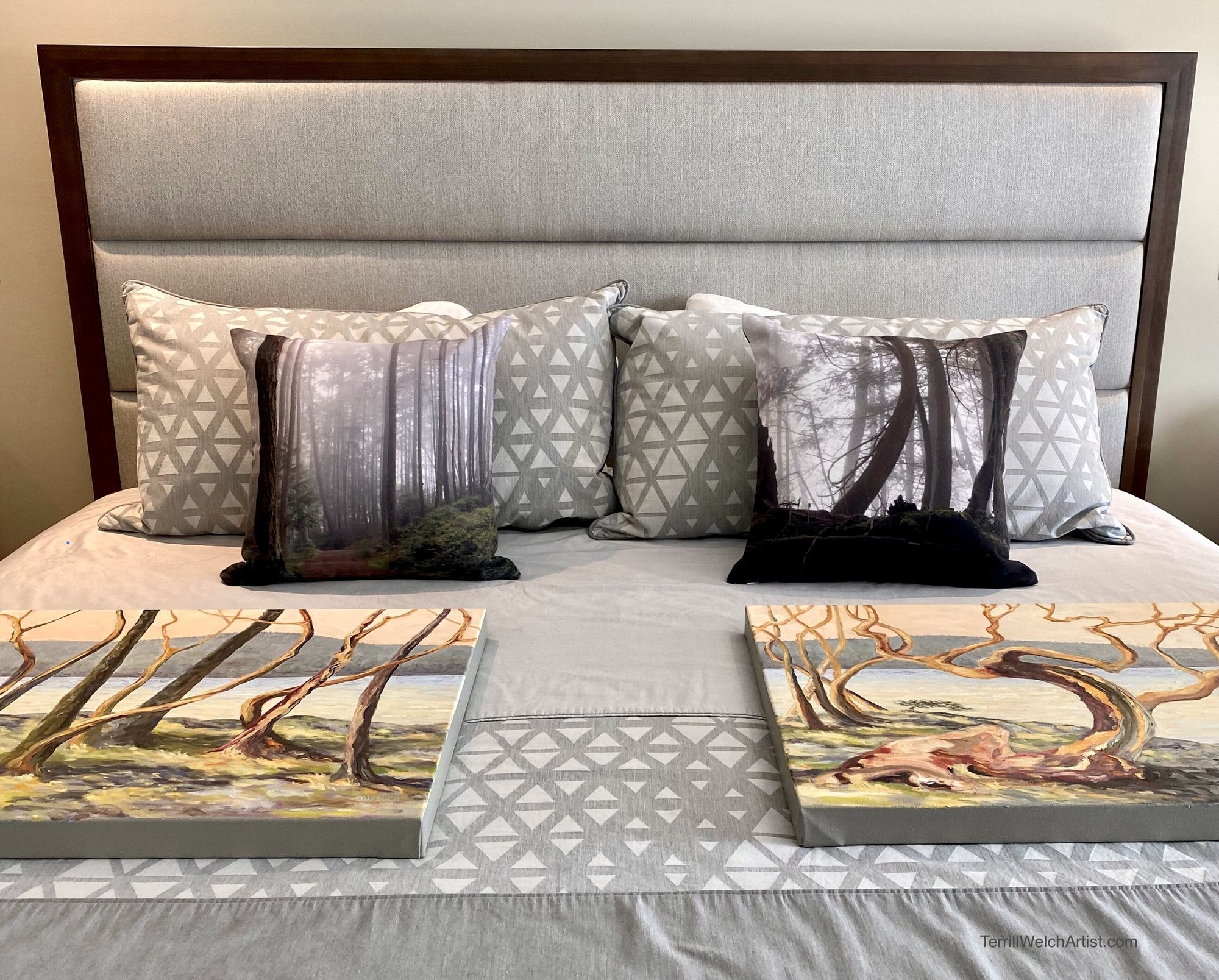 Like they did with this larger painting of mine below from a couple of years ago.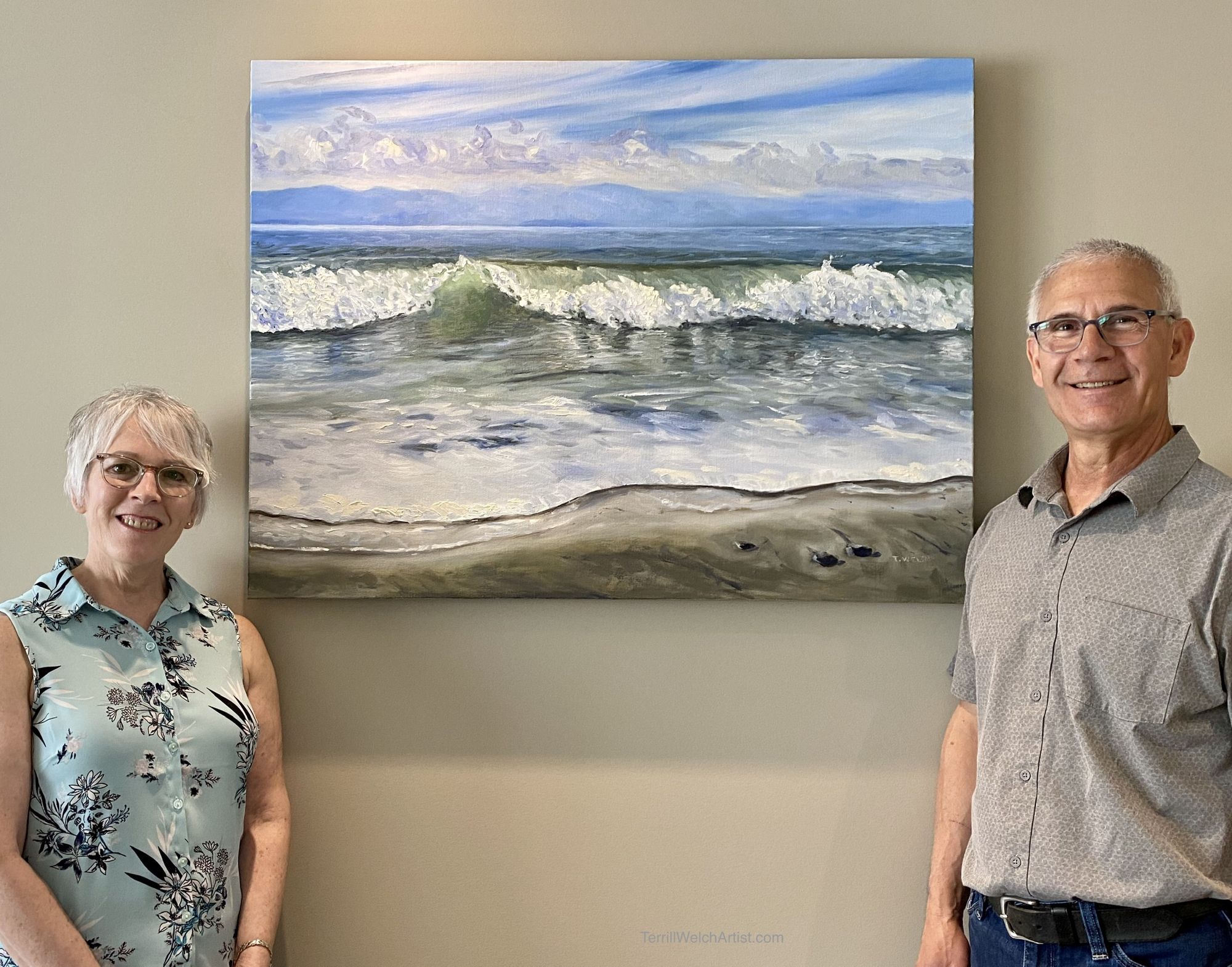 I am very fortunate to have treasured art collectors who are also friends and family by marriage. These two are amazing people, welcoming hosts and I know without a doubt that these paintings along with another one are in a great home that they share with other original art by other artists.
And the final reveal! The paintings are in their special places.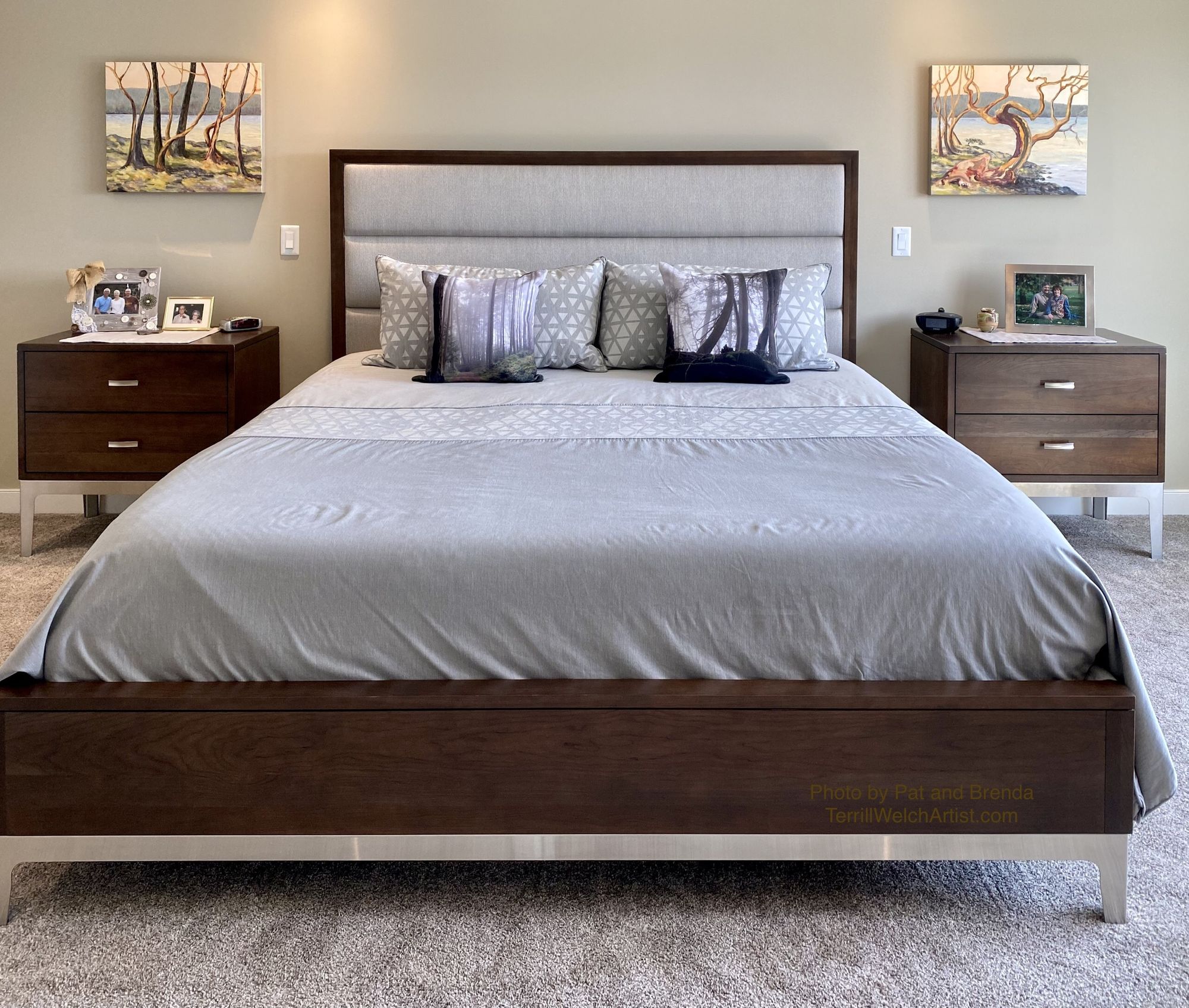 End of Part One
I am a little worried that I might break the newsletter framework with the length of this artist road trip travel issue. For this reason, I am going to break the issue into two parts. The next one will arrive in your inbox tomorrow morning at 6:00 am. So, this time, you will have something to look forward to on Saturday morning as well! I will give you a hint that there is more plein air painting and that there are many more mountains. Huge beasts of mountains in fact!
Meet you over in Artist Road Trip - part two!
Terrill :)