A Brush with Life - Issue #105 Artist Road Trip - part two
We have never had an issue where two weeks of artist adventures requires that it be broken into two parts. But there is always a first for everything. If you haven't read part one that arrived at the usual time on Friday morning in your inbox, you might want to start there. Or, if you are a person t

We have never had an issue where two weeks of artist adventures requires that it be broken into two parts. But there is always a first for everything. If you haven't read part one that arrived at the usual time on Friday morning in your inbox, you might want to start there. Or, if you are a person that can comfortably reading a book series out of sequence, feel free to proceed. 😊
---
Lethbridge to Lake Louise AB
A few of the mountains seen today on our way to Lake Louise and then once we arrived in the village. It was a gorgeous drive and I probably should have stopped more for references but I didn't. Here are a few of my favourites...
Grotto Mountain just before Canmore.

These next mountains are just before arriving at Lake Louise village but I do not know their names yet.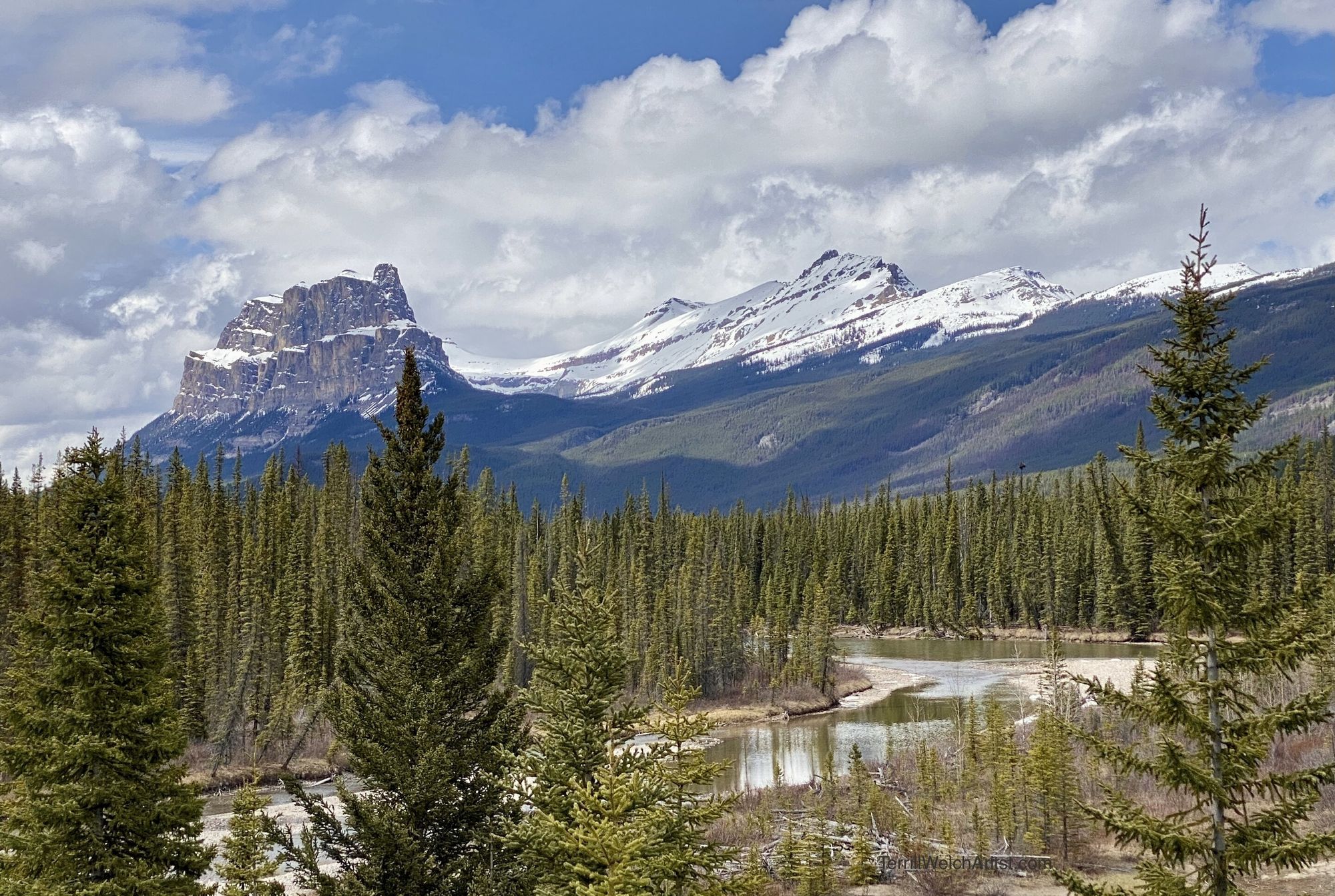 These next three mountains are viewed from where we were staying in Lake Louise village and were captured at around 7:00 pm in the evening and again at 7:00 am the next morning. I just love the differences the light makes and how each has its charm.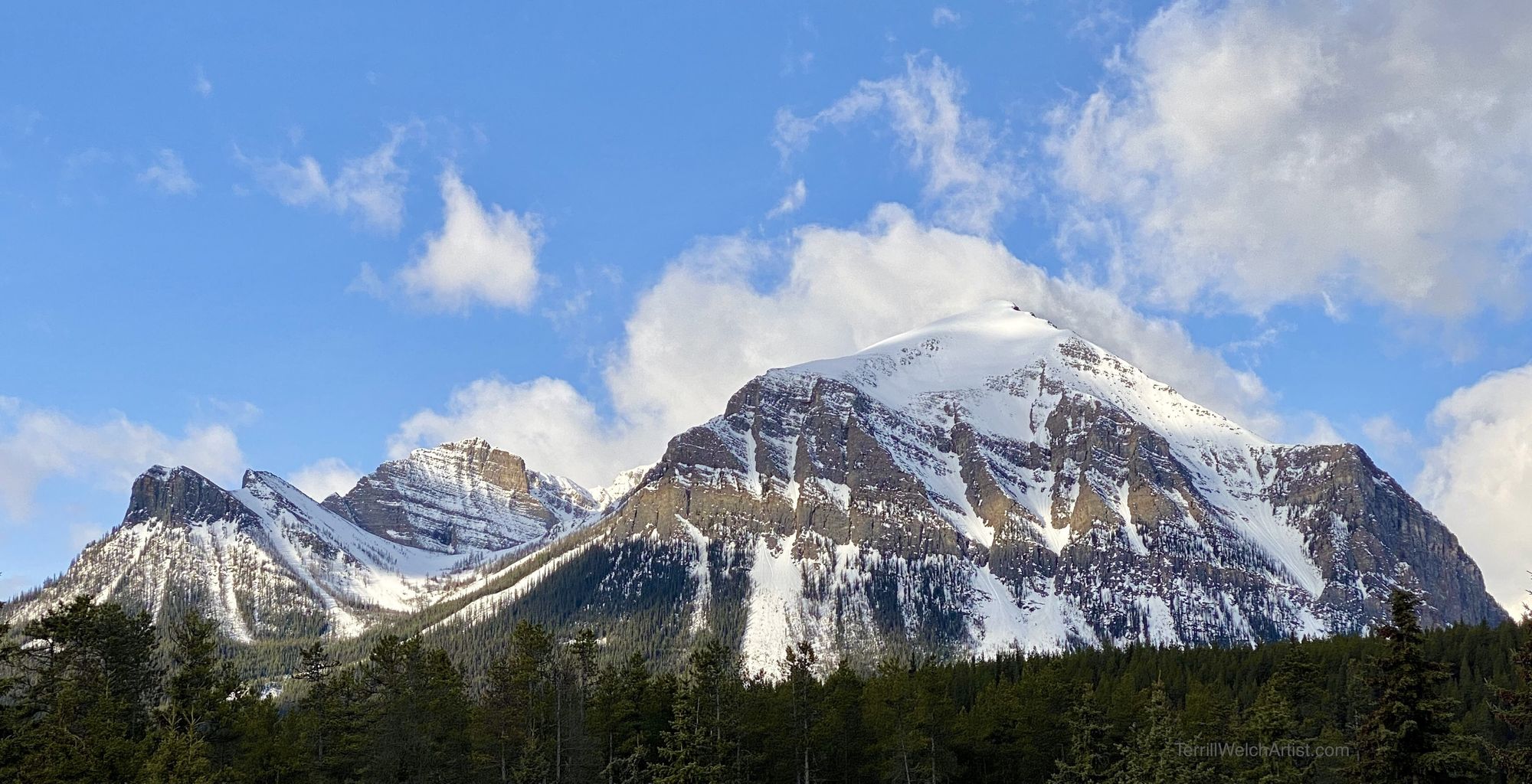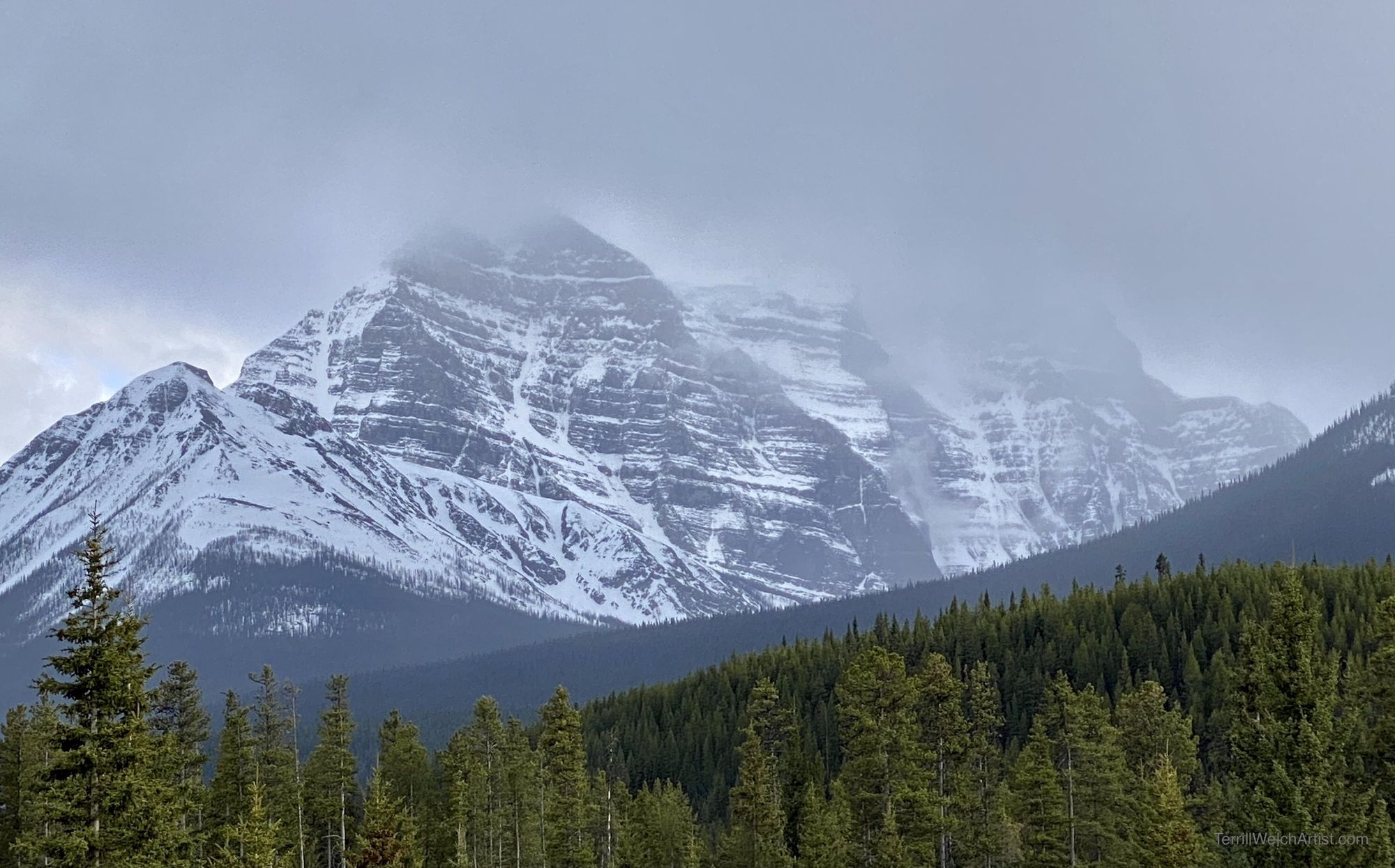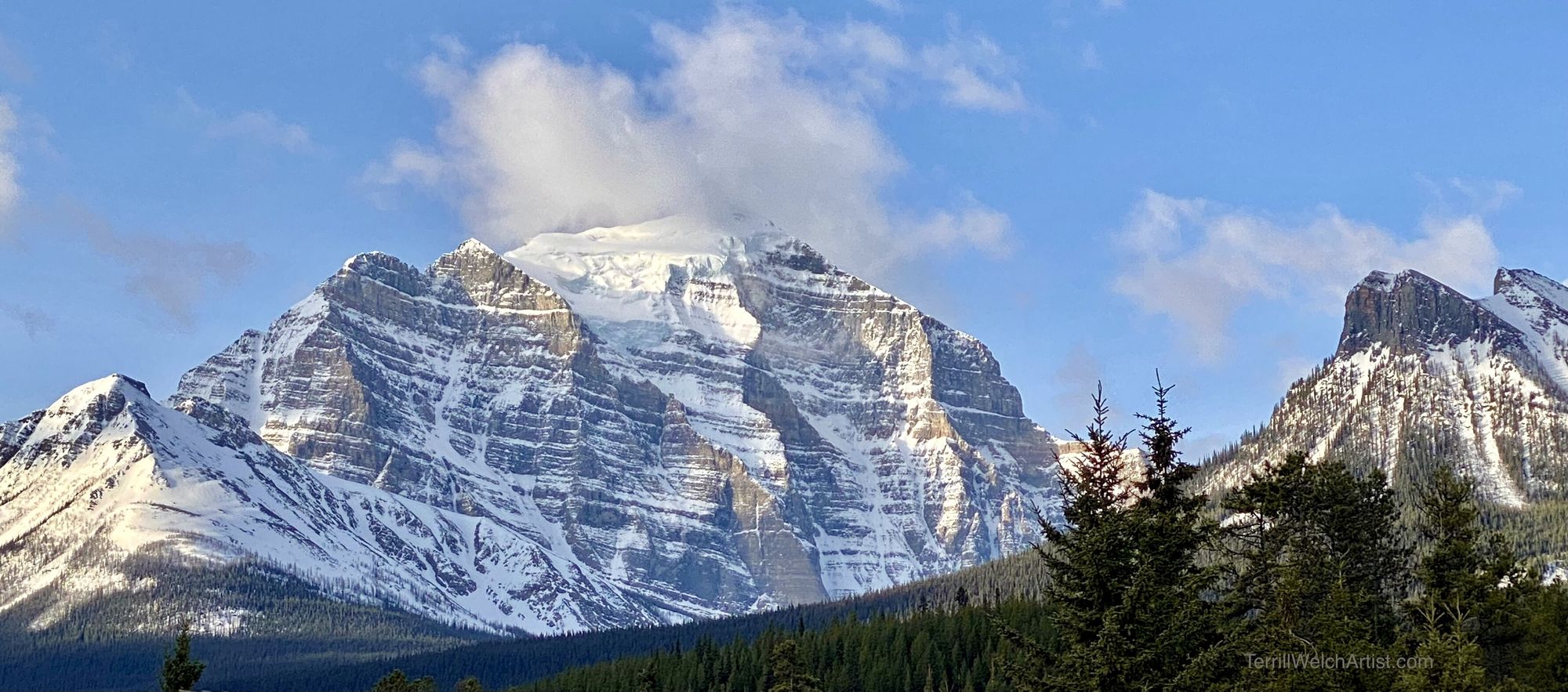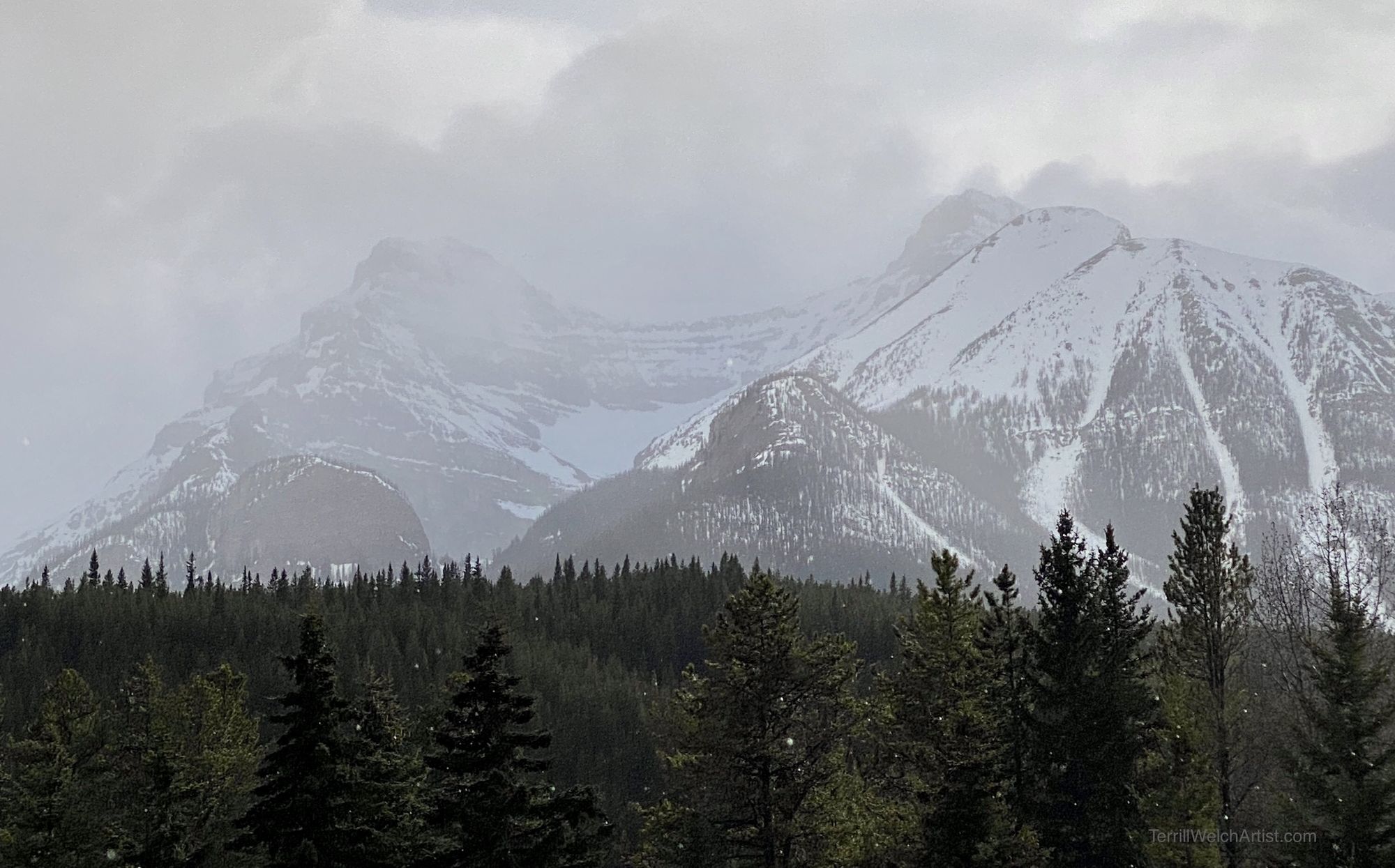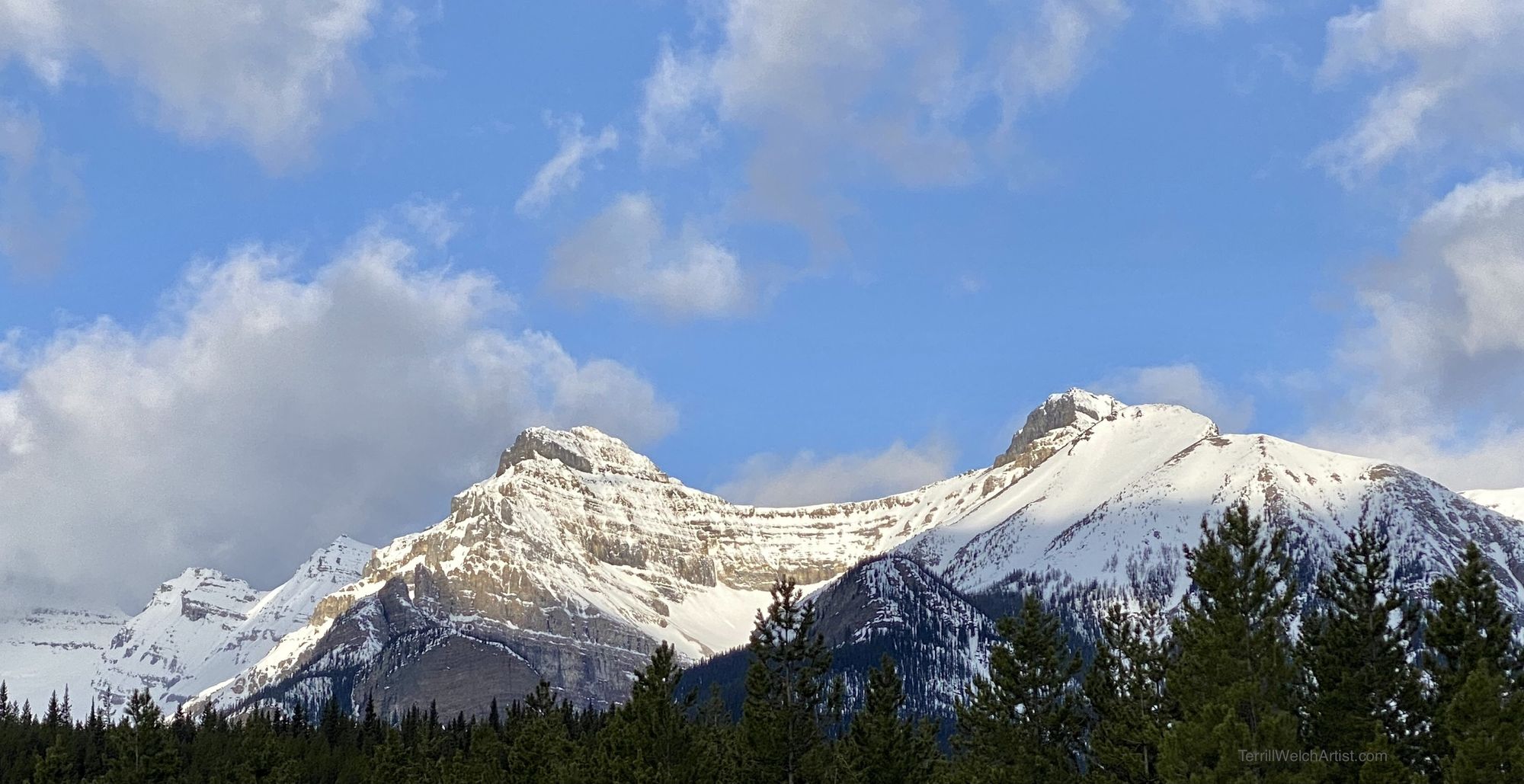 Pretty fun isn't it? I find I change my composition to suite what is prominent but these images were all taken from the same vantage point.
The next morning I had a dilemma. I thought long and hard about whether I wanted to be shuttled squished onto a bus in seats that had to be reserved in advance to visit an over crowded Lake Louise. After visibly shuttering five or six times, I started looking for an alternative adventure. Emerald Lake, in Yoho National British Columbia, is a 36 minute drive from the Lake Louise Inn where we were staying. I knew from the weather forecast that we were likely only going to have good weather for a few hours in the morning. So, after taking some morning sunlight photos of the mountains immediately around us, I scouted out a coffee for me, a mocha for David and two egg salad sandwiches to bribe David out of bed at 7:30 am. I promised he could sleep all afternoon. He blinked and smiled and was in the car at a record speed for David of 20 minutes. I am talking a-mile-a-minute about where we were going and he nods, drinks his mocha and was the perfect listener 😉.…
Emerald Lake is only starting to open up and when I spied the dock, I just turned around and went back to the car and grabbed my plein air gear. It is 8:33 am.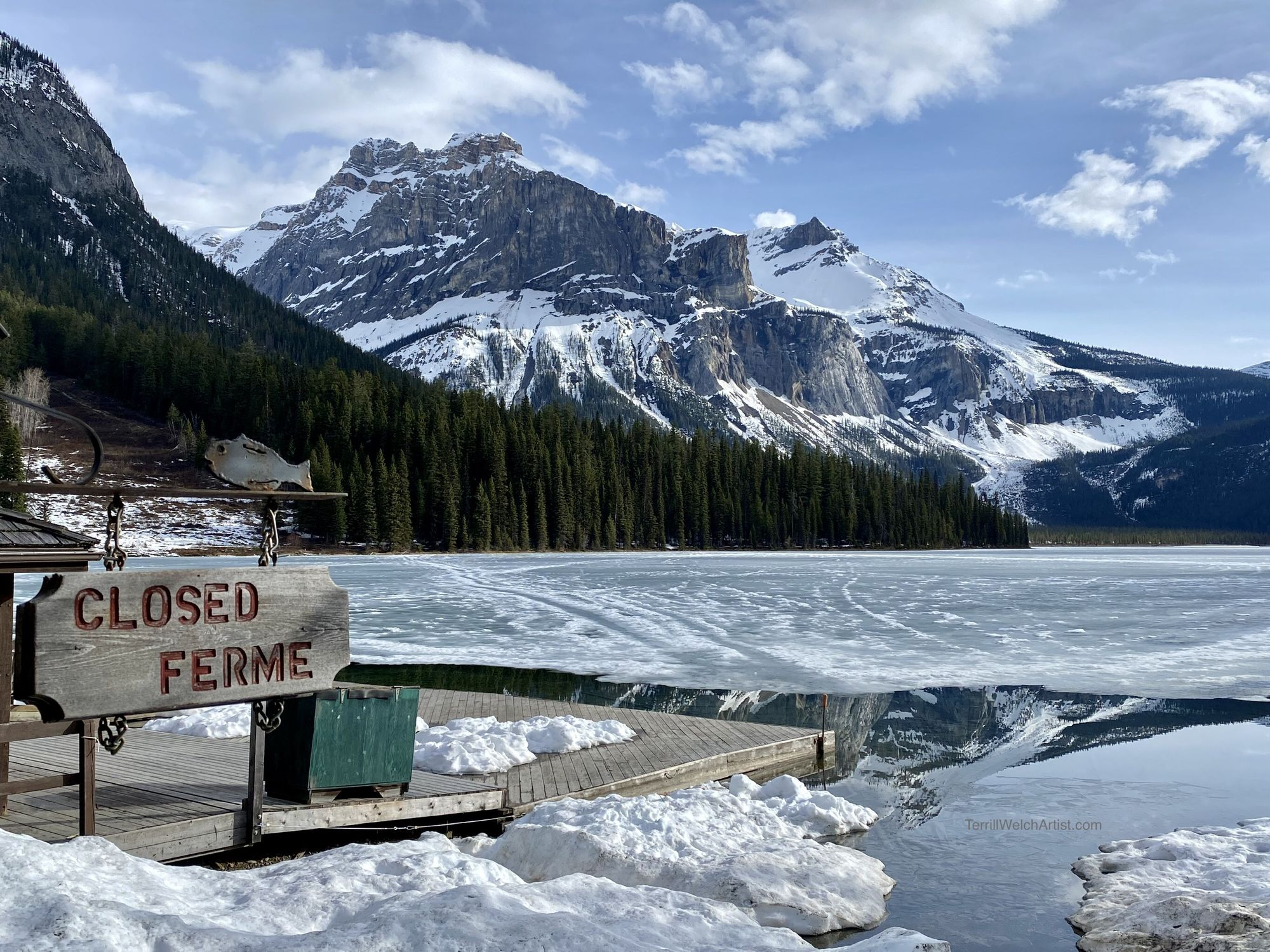 I laid down flat on the dock to get this image below. I knew I would never ever be able to plein air painting from this position but that it was the best angle for references.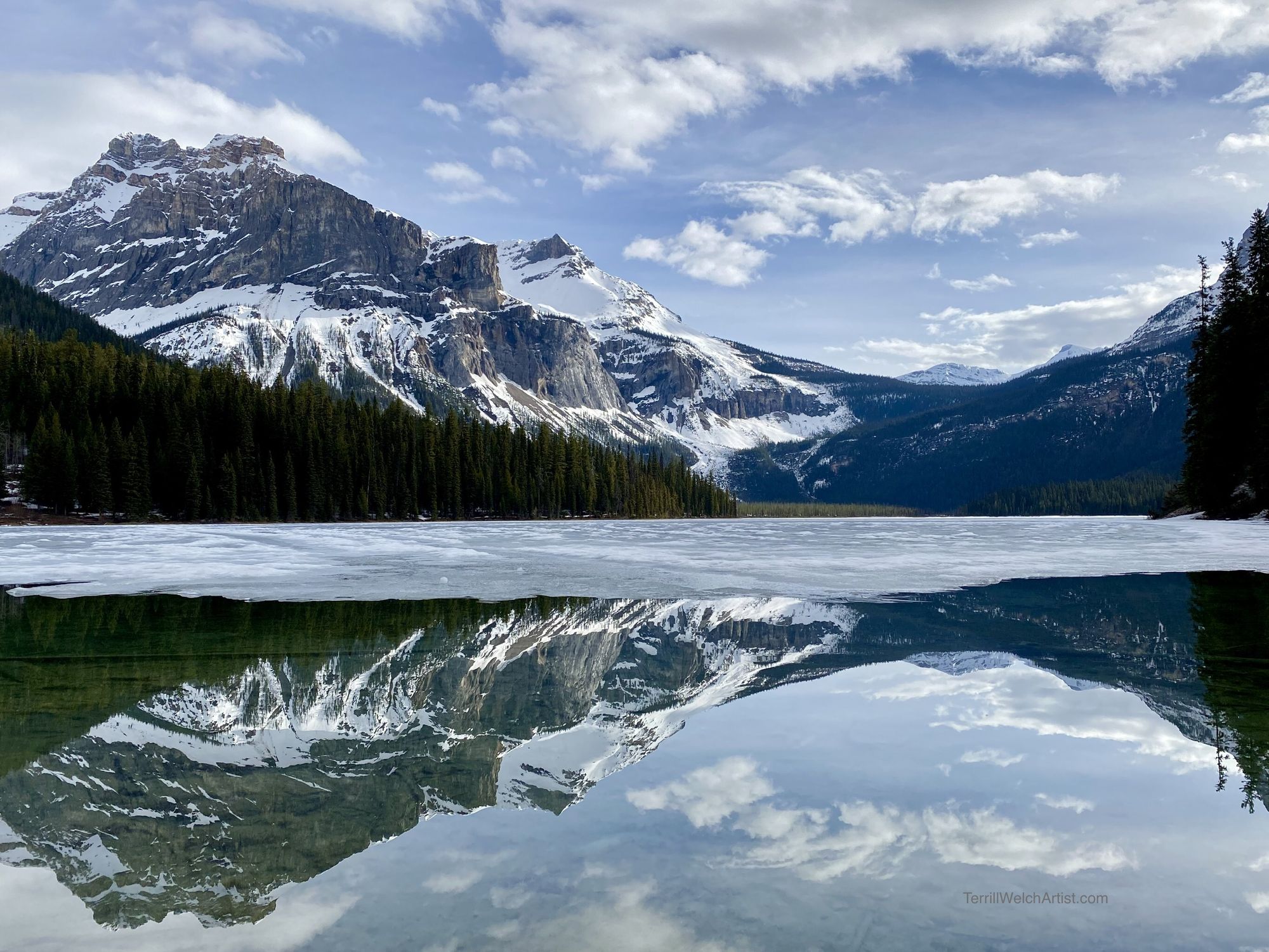 It is about 6 or 8 degrees now, not warm but warm enough. I check the time It is now 8:52 am and I am ready to get started. I use a pencil to rough in the shapes so I hopefully don't get totally lost. Time is moving along and it is 8:59 am.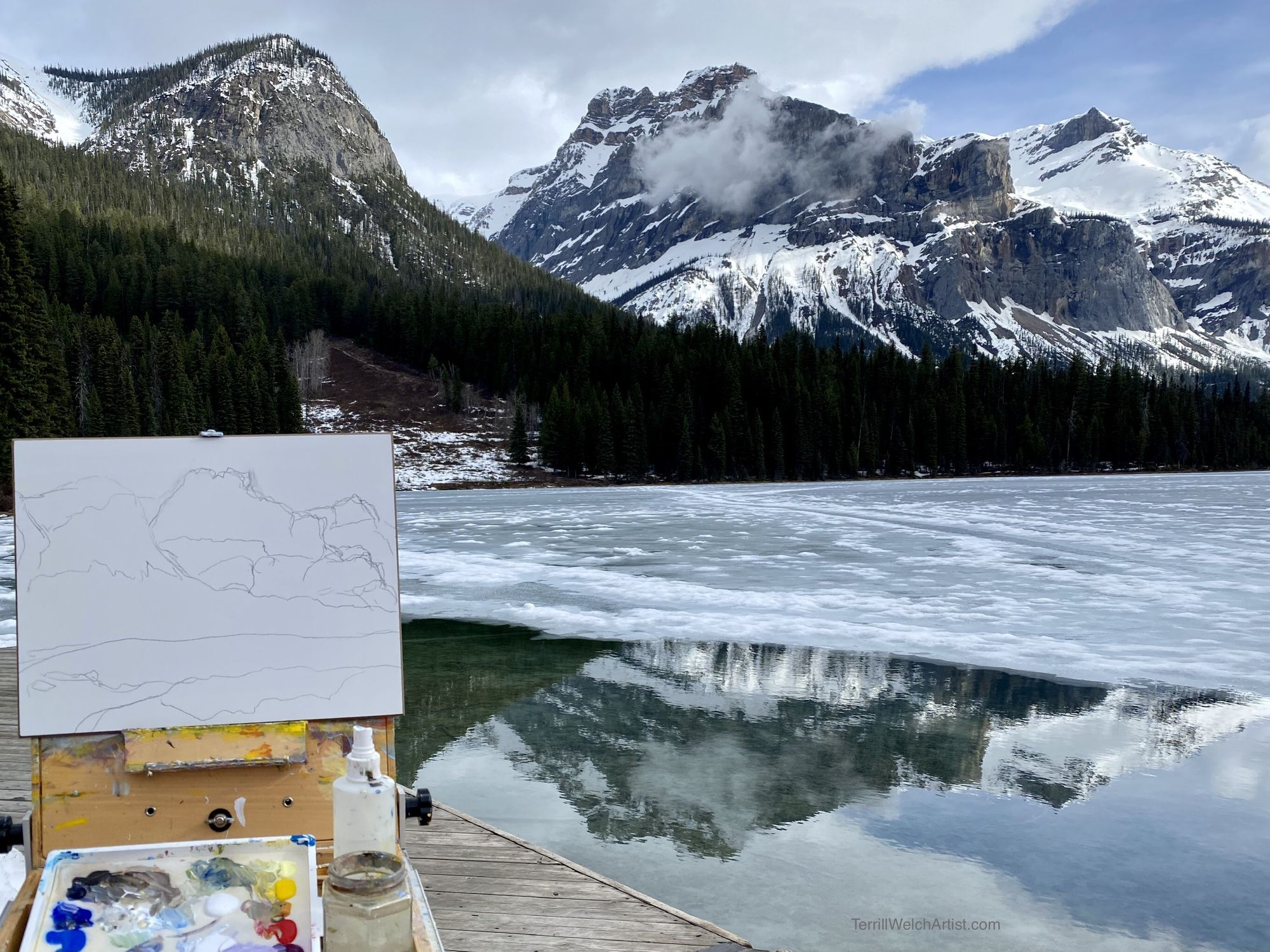 I start marking in the darkest darks and using the white of the canvas to help me keep track of the lightest light. A rhythm is developing between the brush, the palette and the landscape. There are a few people around who softly come to visit and say a few words but do not interrupt. It is 9:12 am and there is still a wee bit of sun coming through.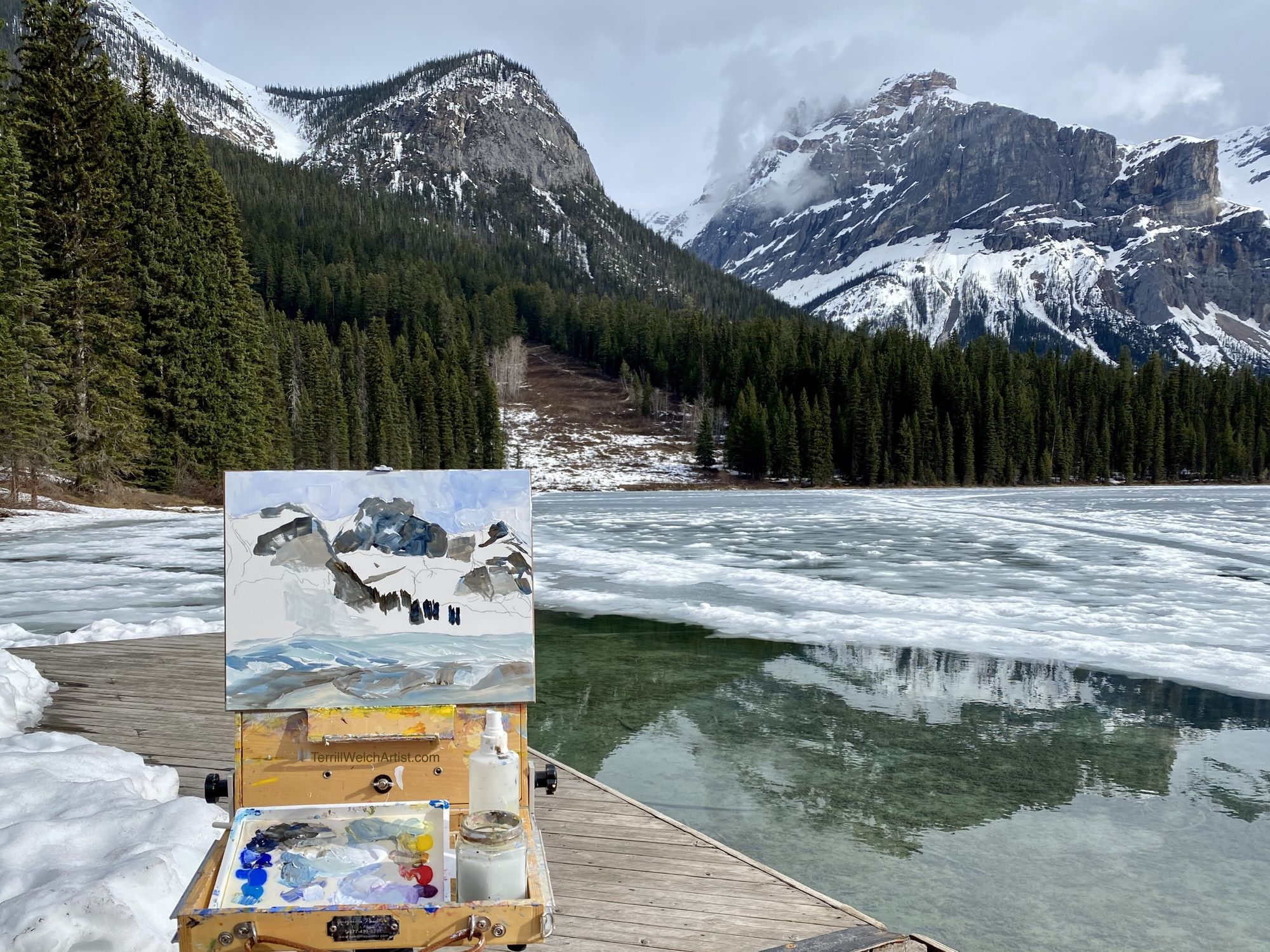 Finally, at 10:08 am, I am finished this 11 x 14 inch plein air acrylic painting sketch. The light has gone but it still holds some of the morning richness of colour. The thing with plein air is to not try too hard to get things perfect but rather work towards getting the painting to feel right. This one feels right to me from my morning in front of the easel. This process holds the memories of a place much better than a photograph reference and allows for a significantly deeper understanding of the relationships between ourselves and the landscape.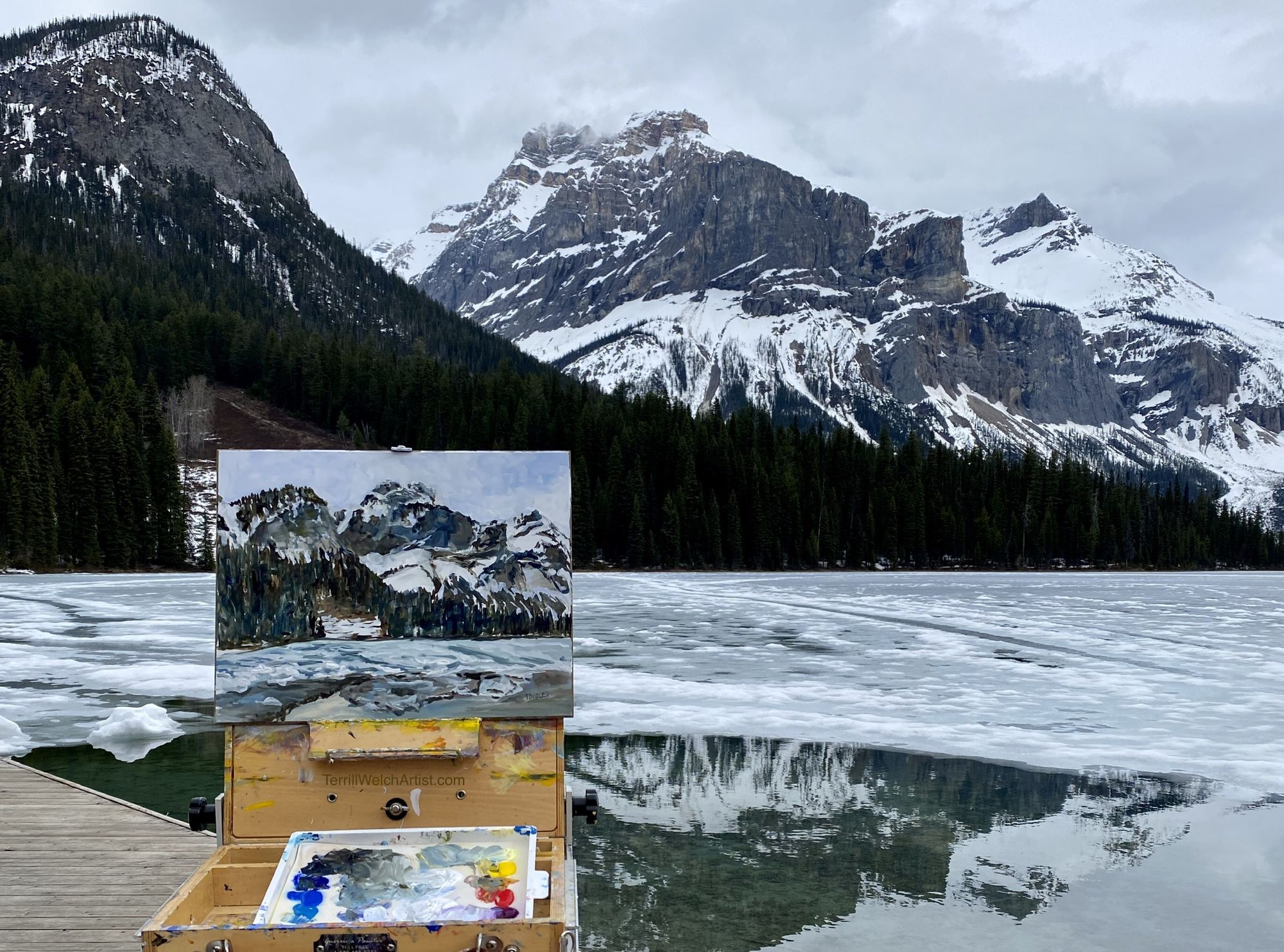 David, with my help, attempts to take a photo of me. 😂 It is a keepsake anyway. We pack up and, after a stop at the Kicking Horse River, come back to our room in the Lake Louise Inn. David takes me at my word from this morning and crawls directly back into bed and sleeps for another couple of hours. So there you have it! A grand morning that is followed by a quiet afternoon all cozy while it attempts to get ready to rain or snow outside.
Emerald Lake morning in Yoho National Park by Terrill Welch, 11 x 14 inch plein air acrylic on gessobord. Please note that this painting sketch of Emerald Lake is also now on hold for final consideration when it can be viewed in person. If either of the paintings sketches from the artist travel trip become available again, I will be sure to let you know.
Artist Notes: A 36 minute drive from Lake Louise Inn for the morning light was worth the effort. I was painting just before 9:00 and finished shortly after 10:00 having lost the light to cloud cover. The winter ice is just start to break away from the shore. It is May 17th and 12 degrees by the time I finished painting. Emerald Lake is the largest lake in Yoho National Park and is surrounded by President Range.
As I mentioned, on the way back we stop at the Kicking Horse River. There is a natural land bridge that was rather fascinating. I am definitely putting a couple of these in my reference folder for later in the studio.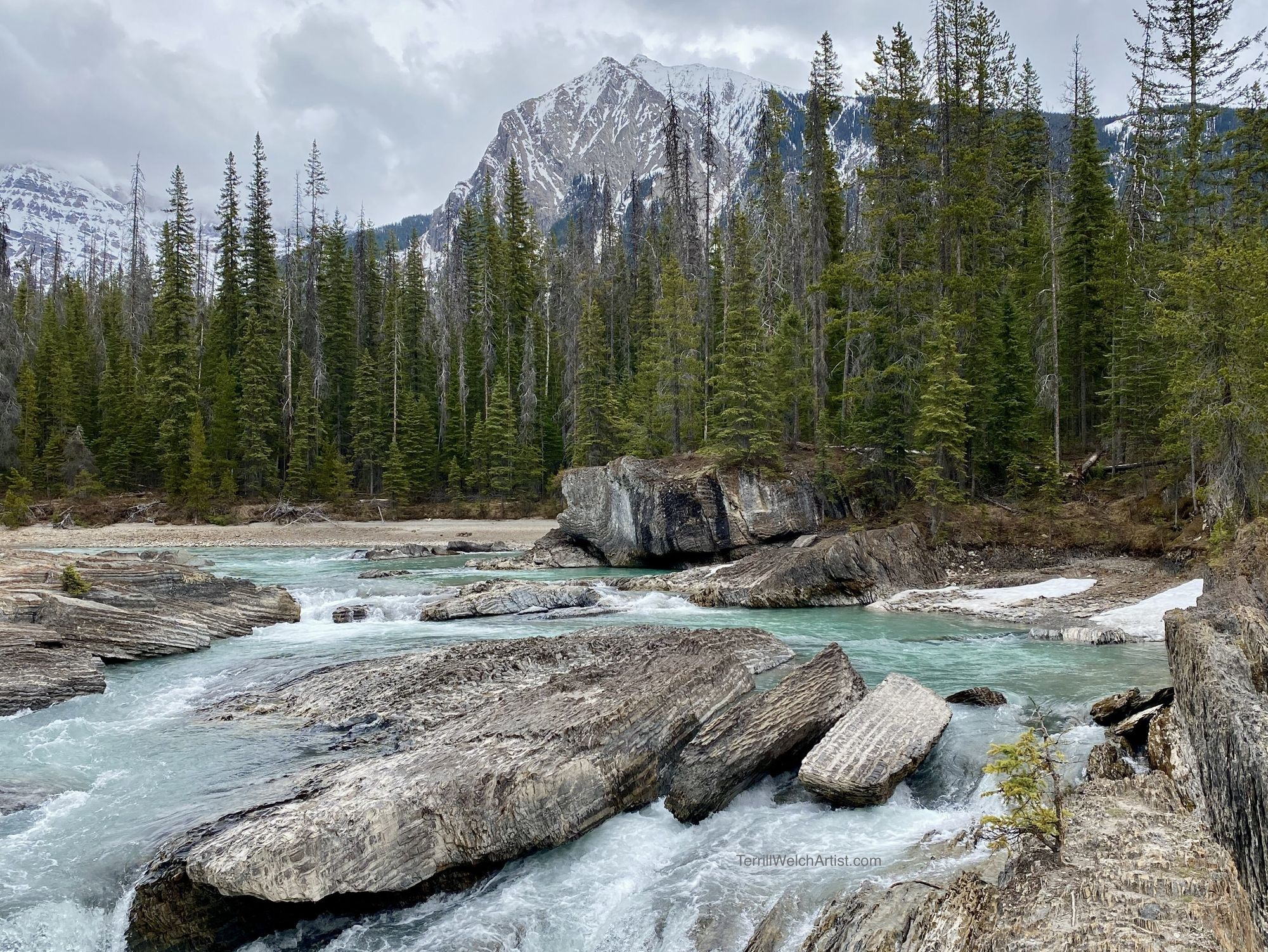 Below you can see the actual land bridge. It use to be a waterfall but the river is actually eating the riverbed away and so this natural land  bridge was formed. It will eventually eroded away as well. But for now, it is kind of fun to see.
Lake Louise to Jasper AB
Our travel was punctuated by steady snow flurries, a little rain and a low ceiling for visibility. Not exactly ideal for a landscape painter gathering references while traveling between Lake Louise and Jasper. But we made the most of it…
It all started the night before at the Post Hotel & Spa Lounge in Lake Louise village with light snow. Interesting facts: the Hotel has a collection of 25,000 bottles of wine and does cellar tours. Known originally as the Lake Louise Ski Lodge, the Post Hotel first opened in 1942. Jim Boyce, a noted guide and packer from Banff, was the builder. He sourced the logs for the Lodge in Revelstoke and at the headwaters of the Bow River. With a crew of just 10 men, using mostly hand tools, the building was completed in a remarkably short time. The war, amongst other reasons, forced a closure soon thereafter and the doors would not open again until 1948.
We did not stay here, only came by for dinner. 😉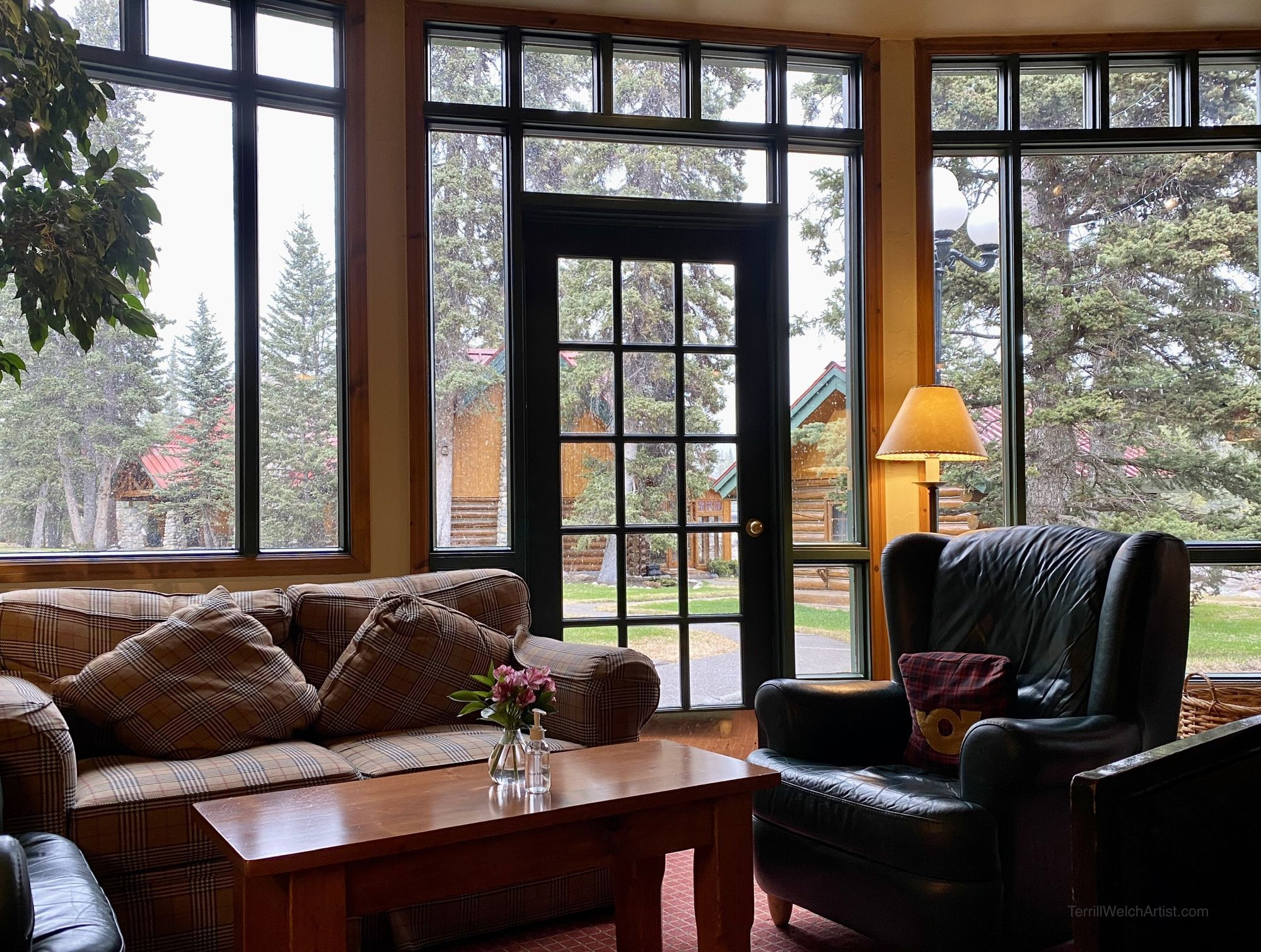 As we were leaving the Post Hotel, it was still snowing and seemed to foreshadow today's weather.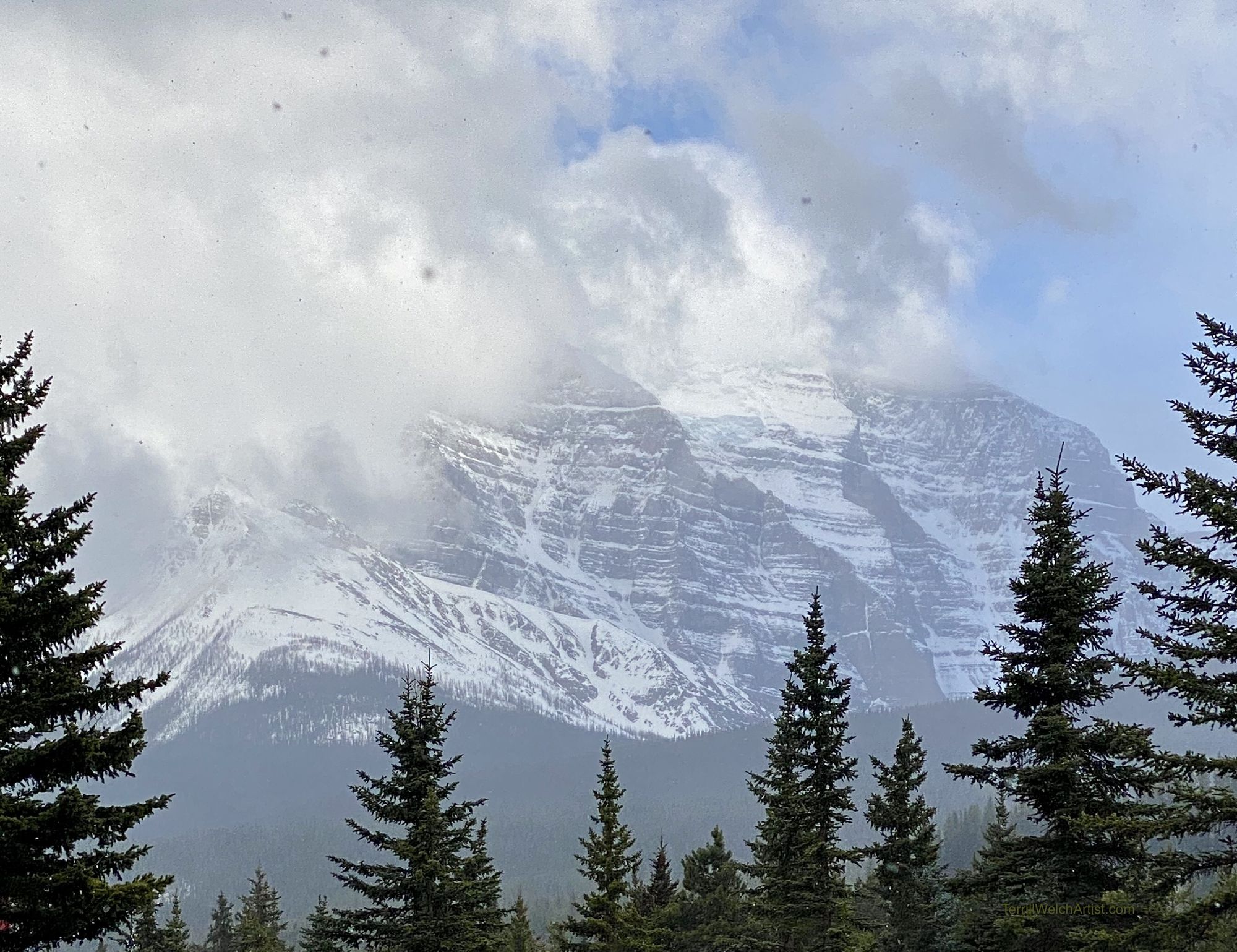 Almost all of our day looked something like the image below. The roads were good and the drive is actually really pleasant because the National Park speed is set no faster than 90 km, providing ample ability to stay on the road and look around at the same time.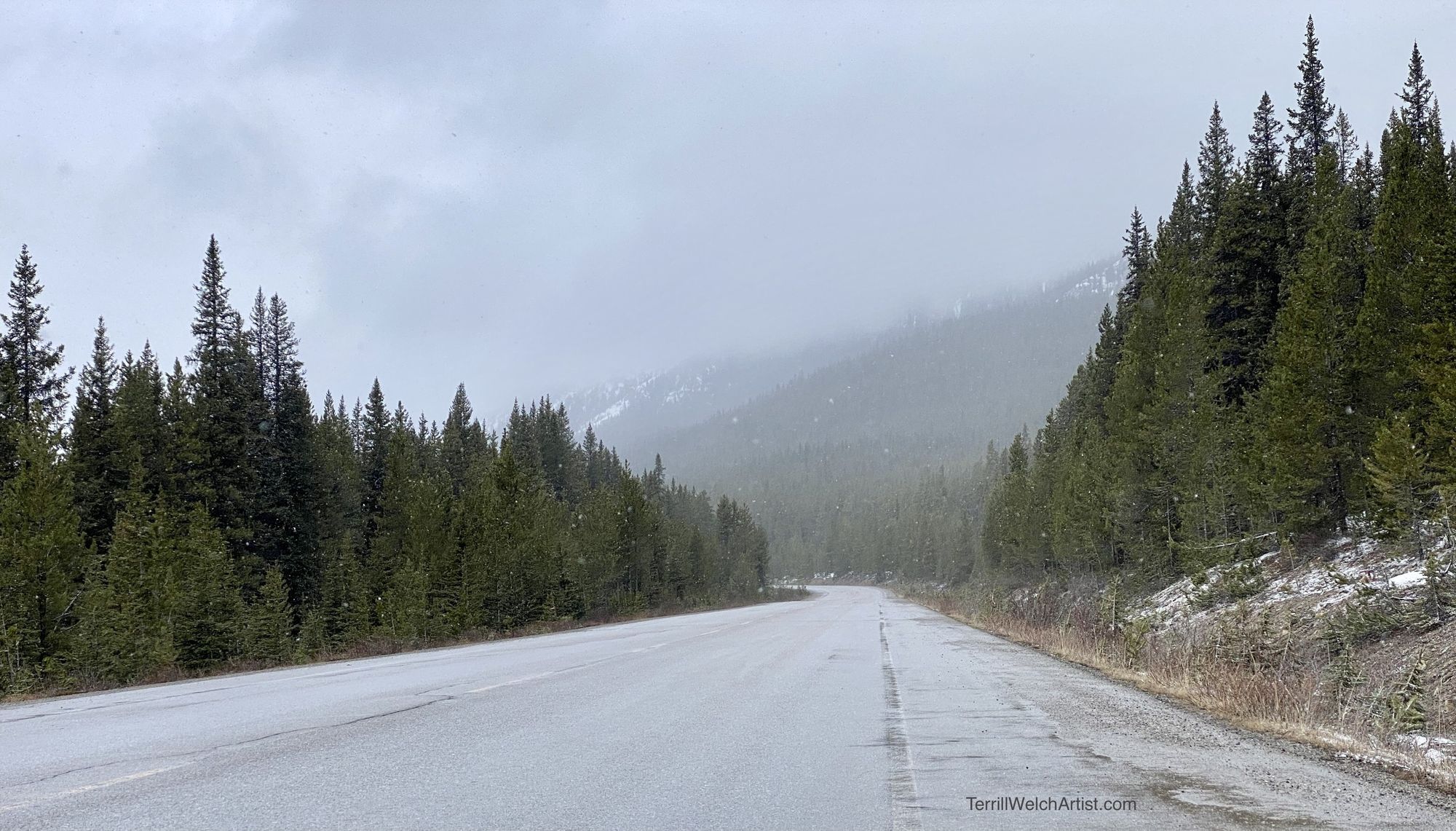 We could feel the mountains all around us and sometimes  like giant ghosts, one would appear through the snow.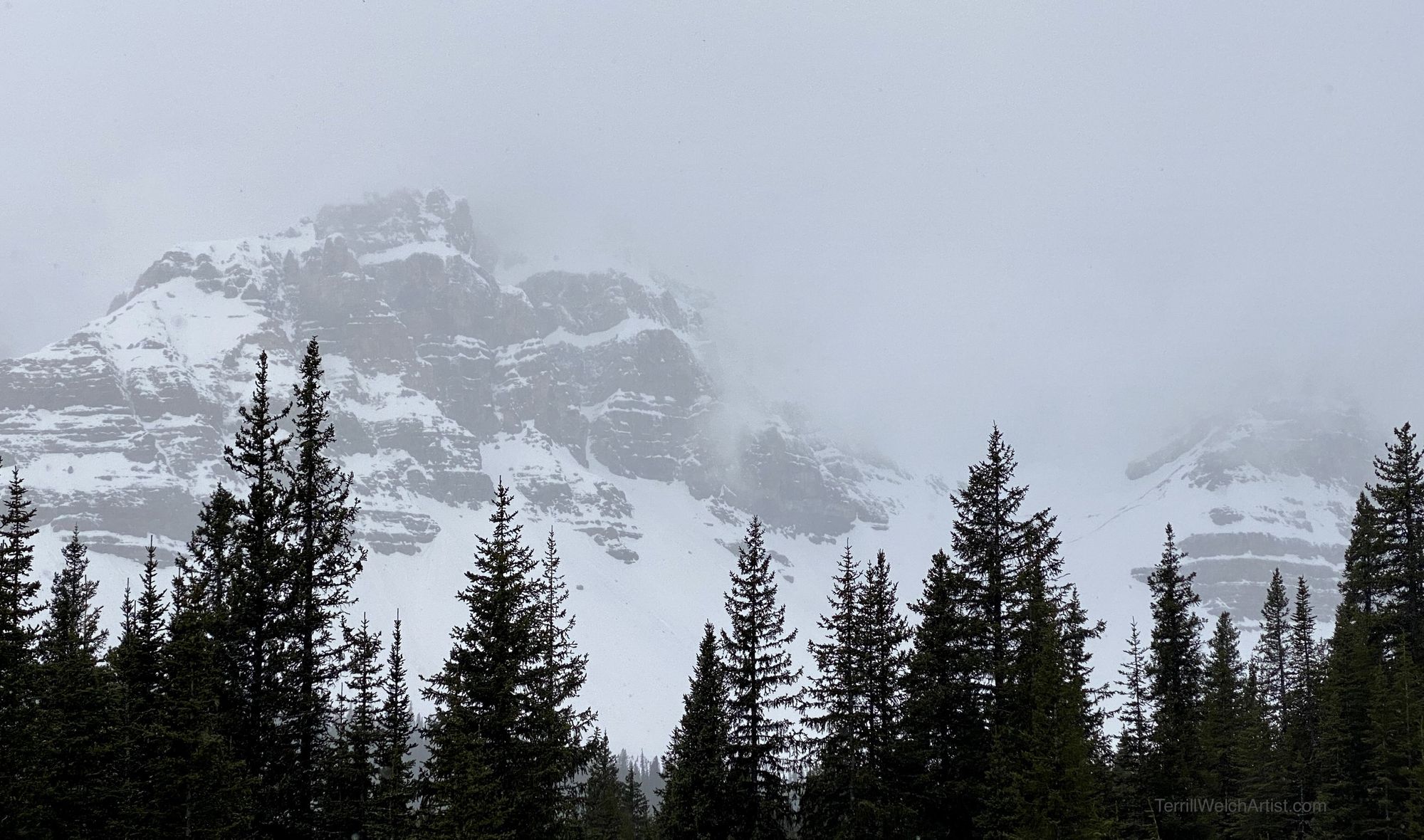 Bow Lake was particularly stunning in its grey scale presence.
Bow Summit view point on the other hand was sporting snow banks in the parking lot that are still taller than me. Not that this is particularly tall but for the middle of May, taller than I wanted.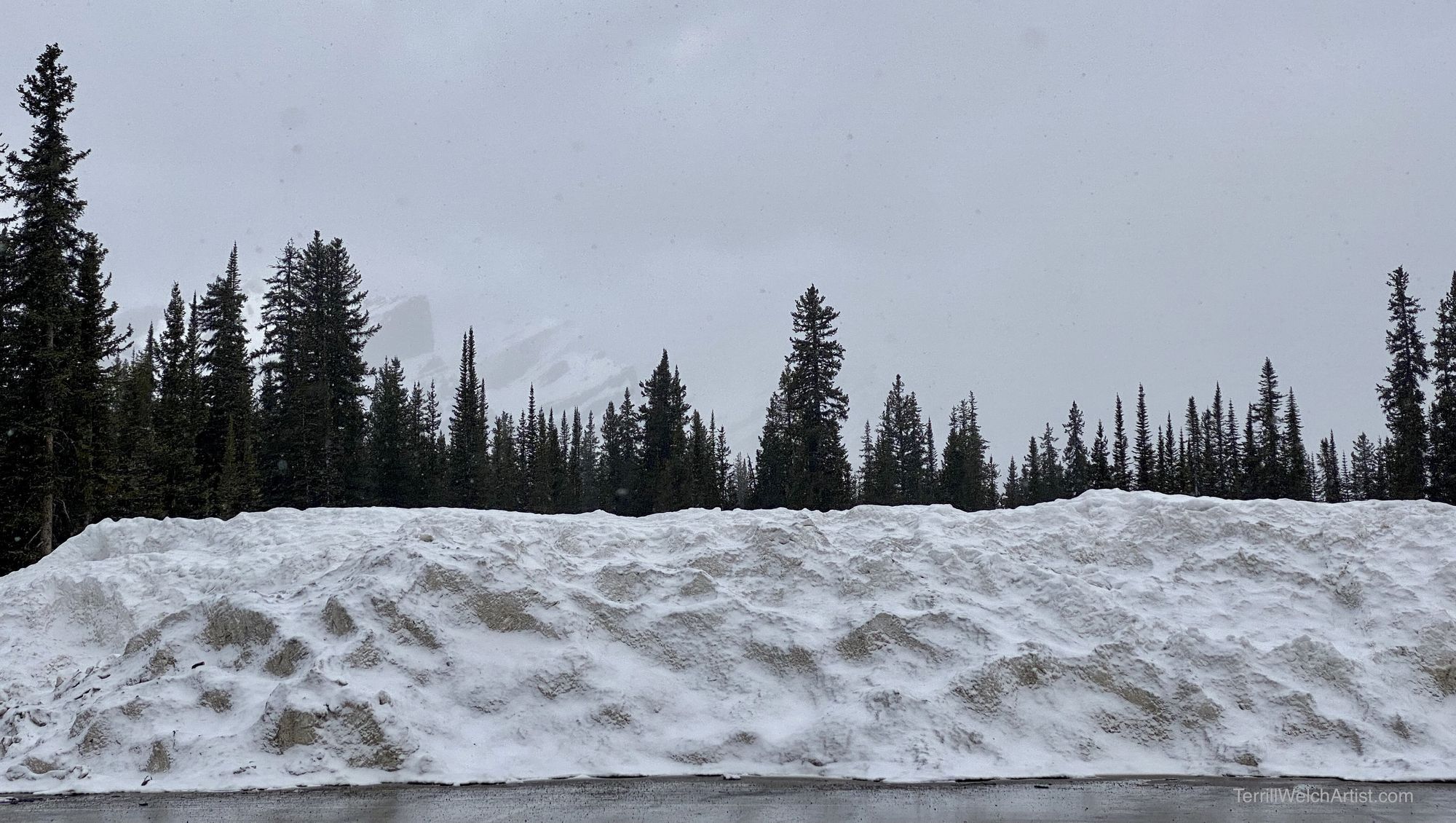 Still, along the way one giant or another would quietly keep appearing beside us.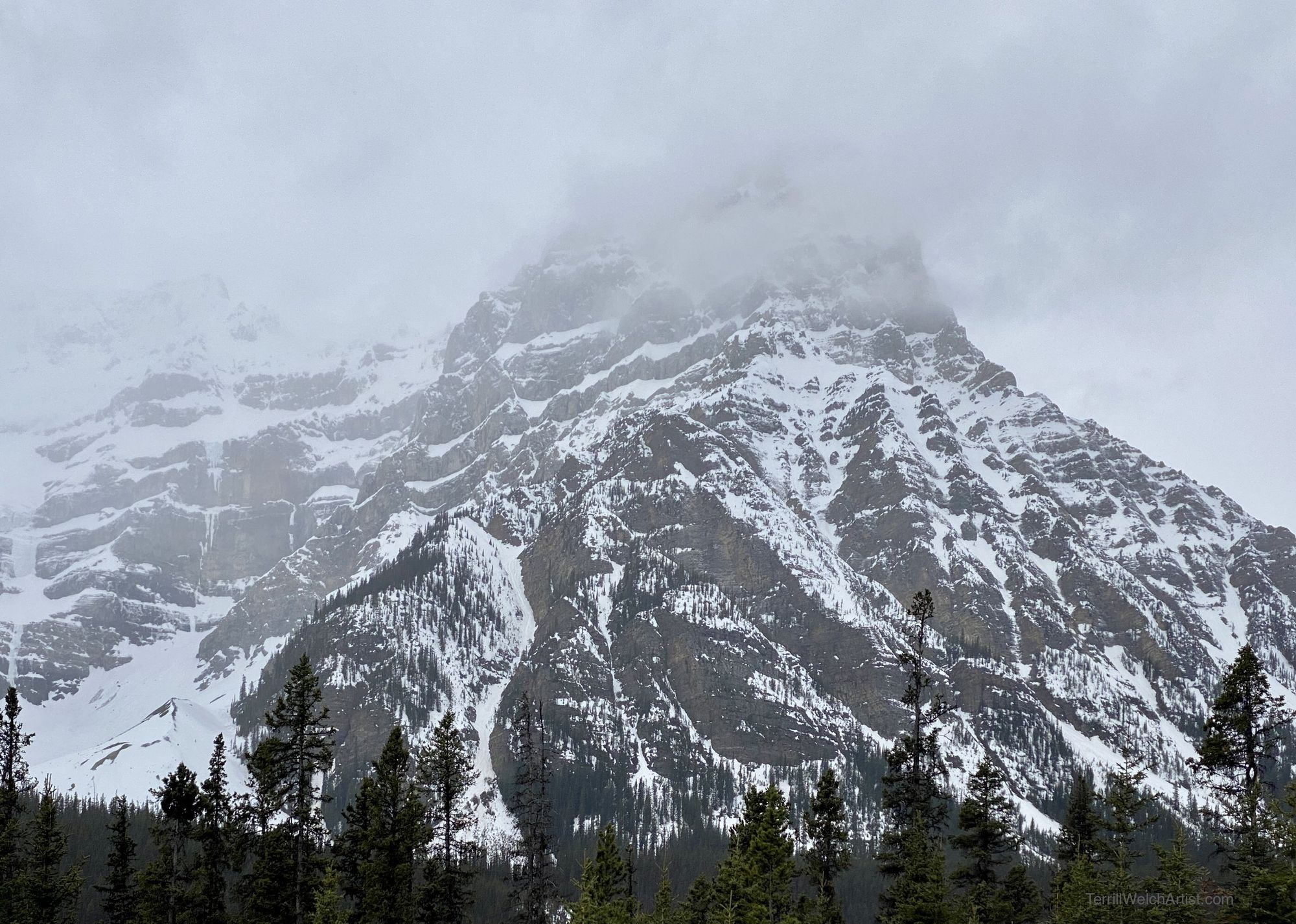 This is Silverhorn Campground on a snow day in mid May. At this point David had about lost patience with me climbing up roadside embankments and slipping into every pullout we passed. So I made a promise to only stop at points of interest that I thought were spectacular…. he might not have agreed to the merits of my choices going forward but, almost good-naturedly, went along without complaint.

We eventually arrived at the Saskatchewan River Crossing.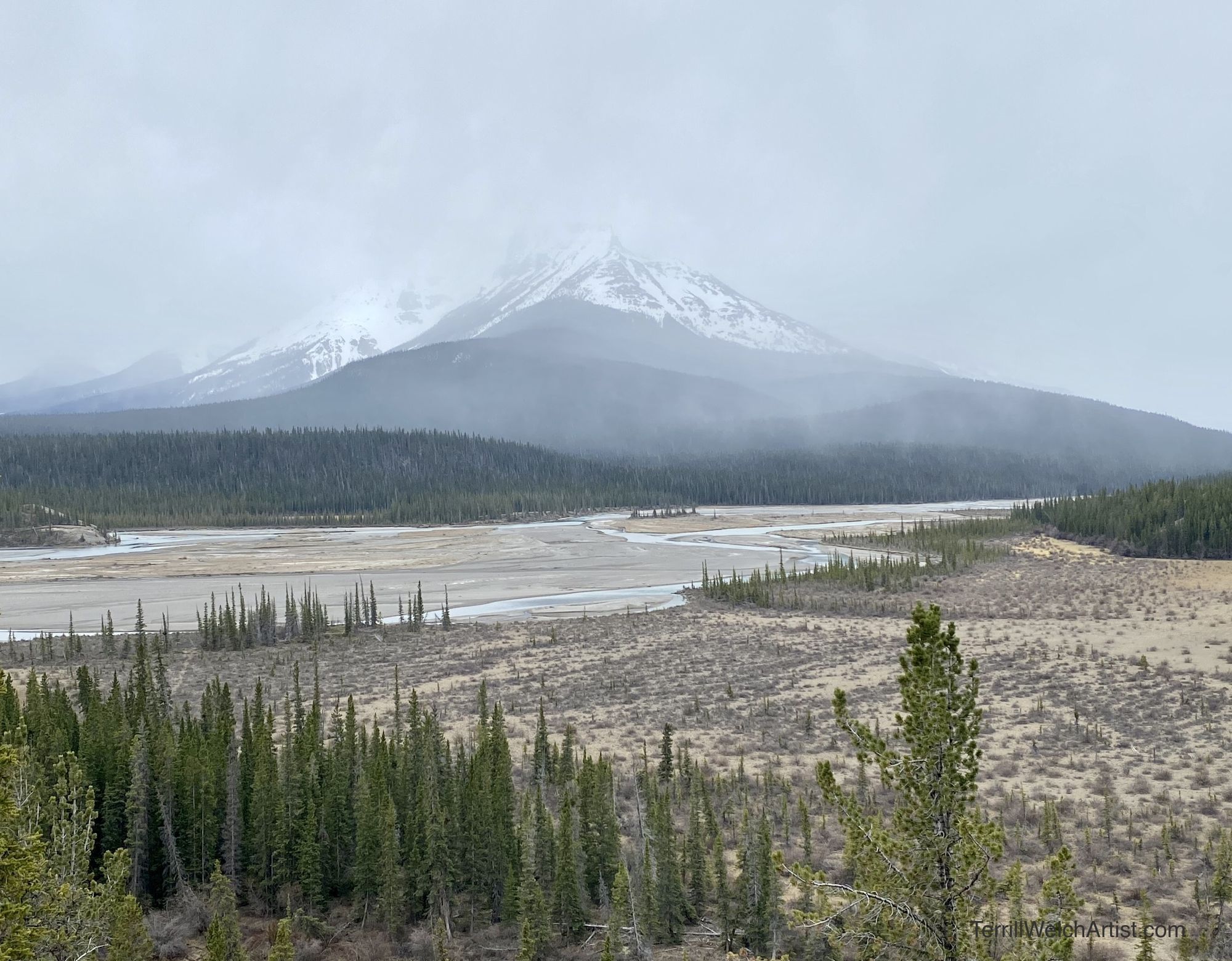 There is a trail going along the top which begs for exploration… I didn't. Not this visit. Maybe next time.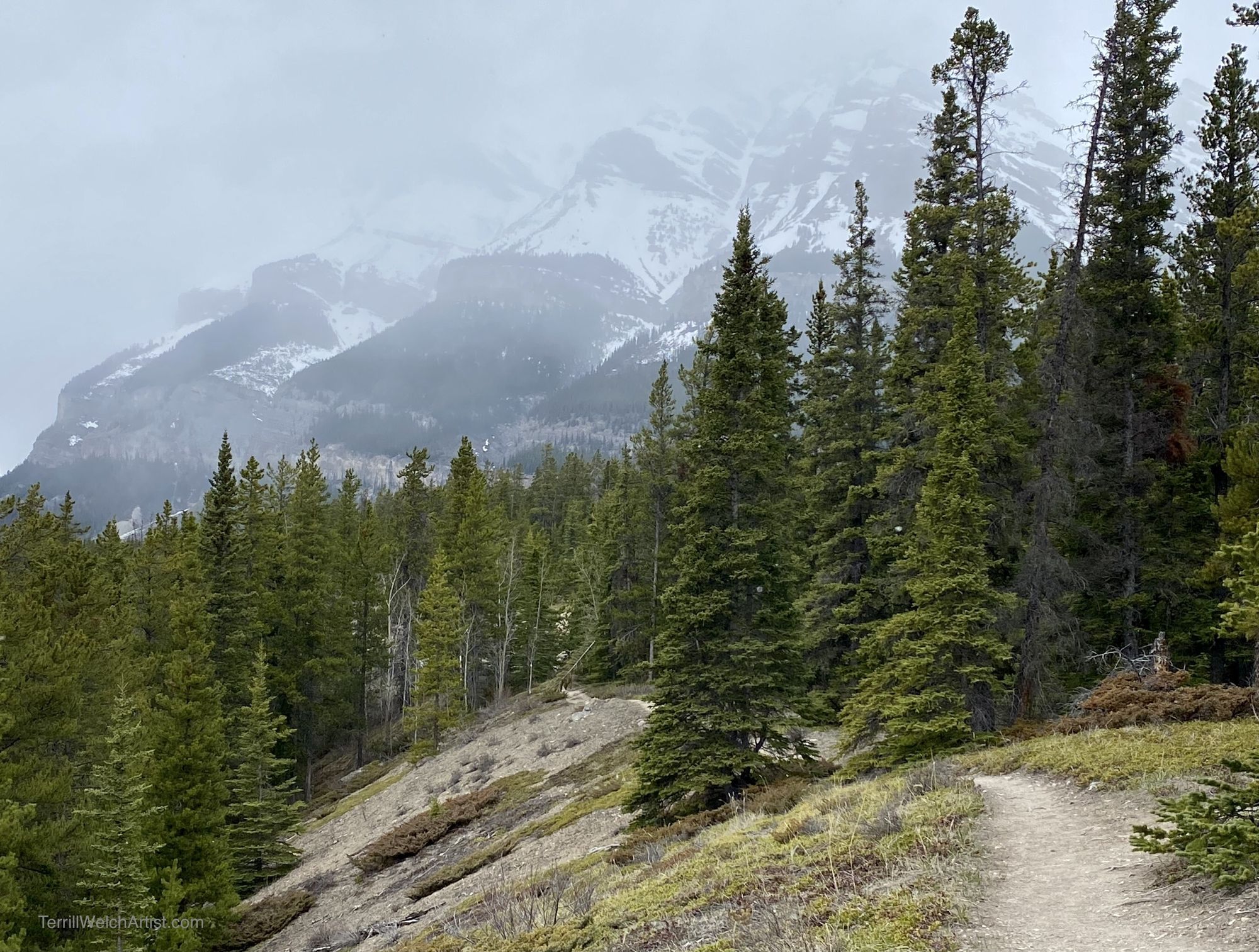 We didn't stop at the Glacier Icefields. The parking lot was clogged with tourist buses and the visibility was poor. But just up the road from there, I pulled off and had a little poke around.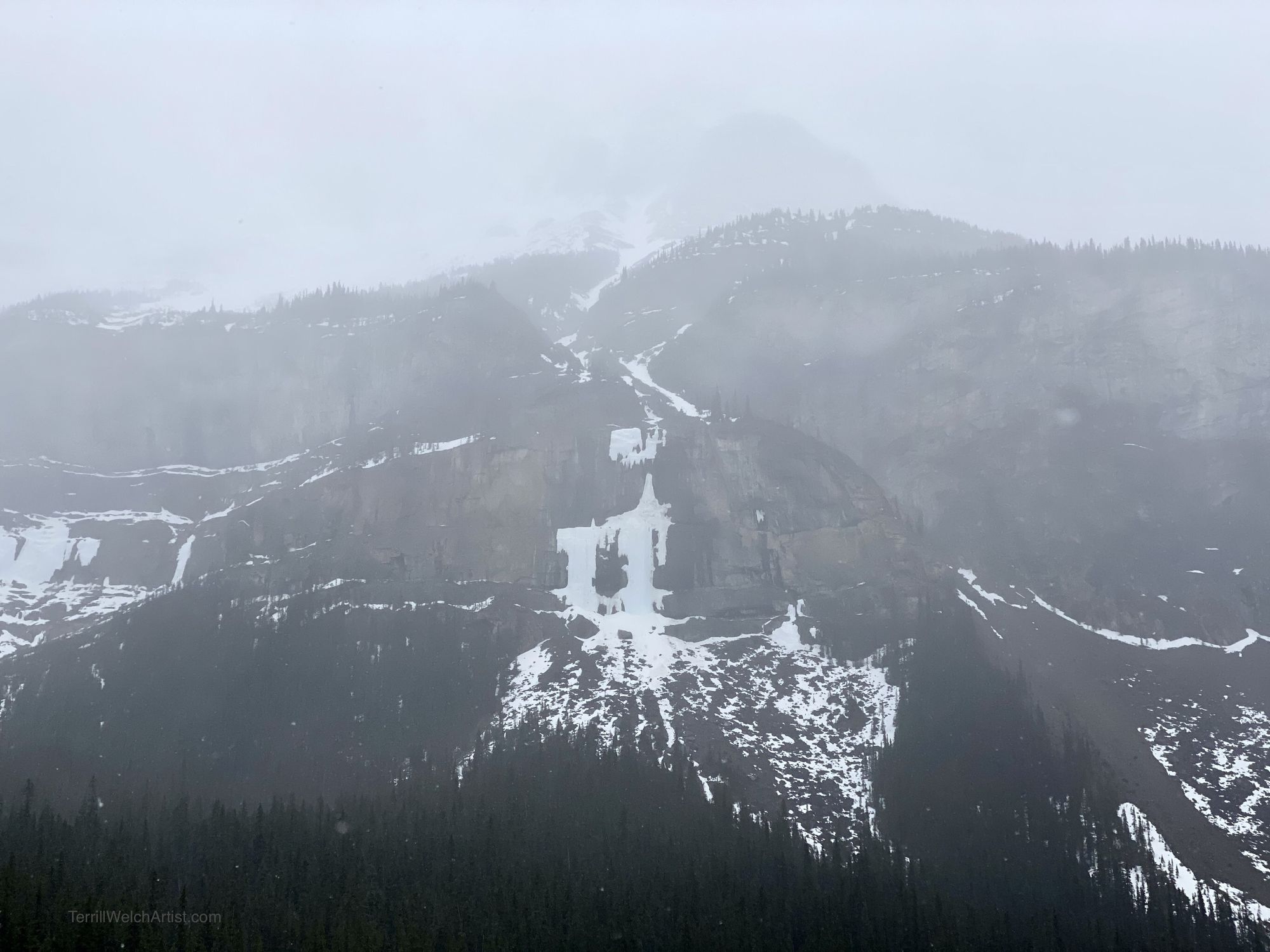 We saw these tiny alpine like trees for miles and they made me smile. I remember small trees like this when I travelled the Alaska Highway in 1976.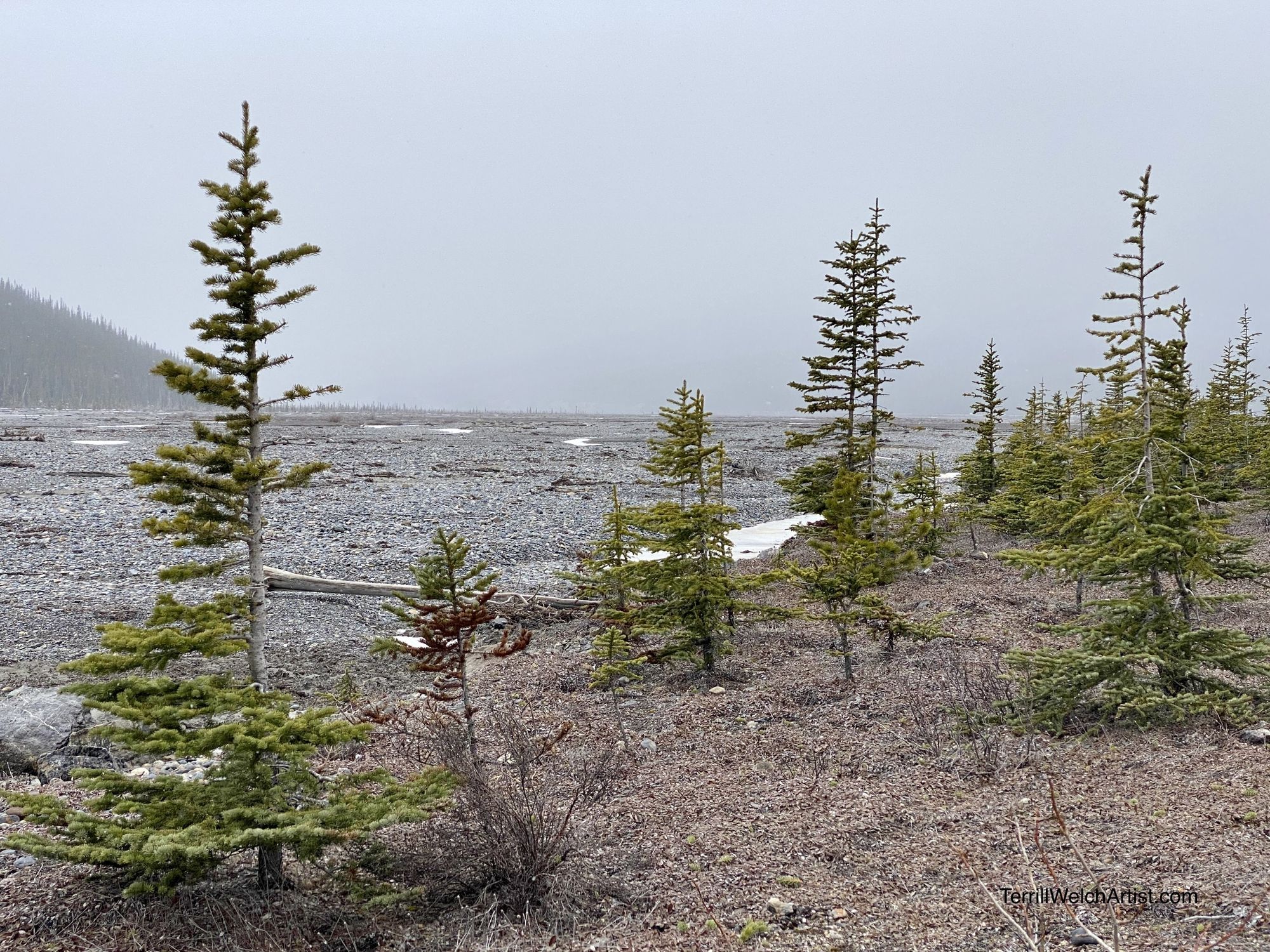 We pull into Boboktan creek for a short rest. This would not have been a good time to ask David if he was having fun yet. 😂 I have his permission to share and he was laughing beside me when I asked if it was okay.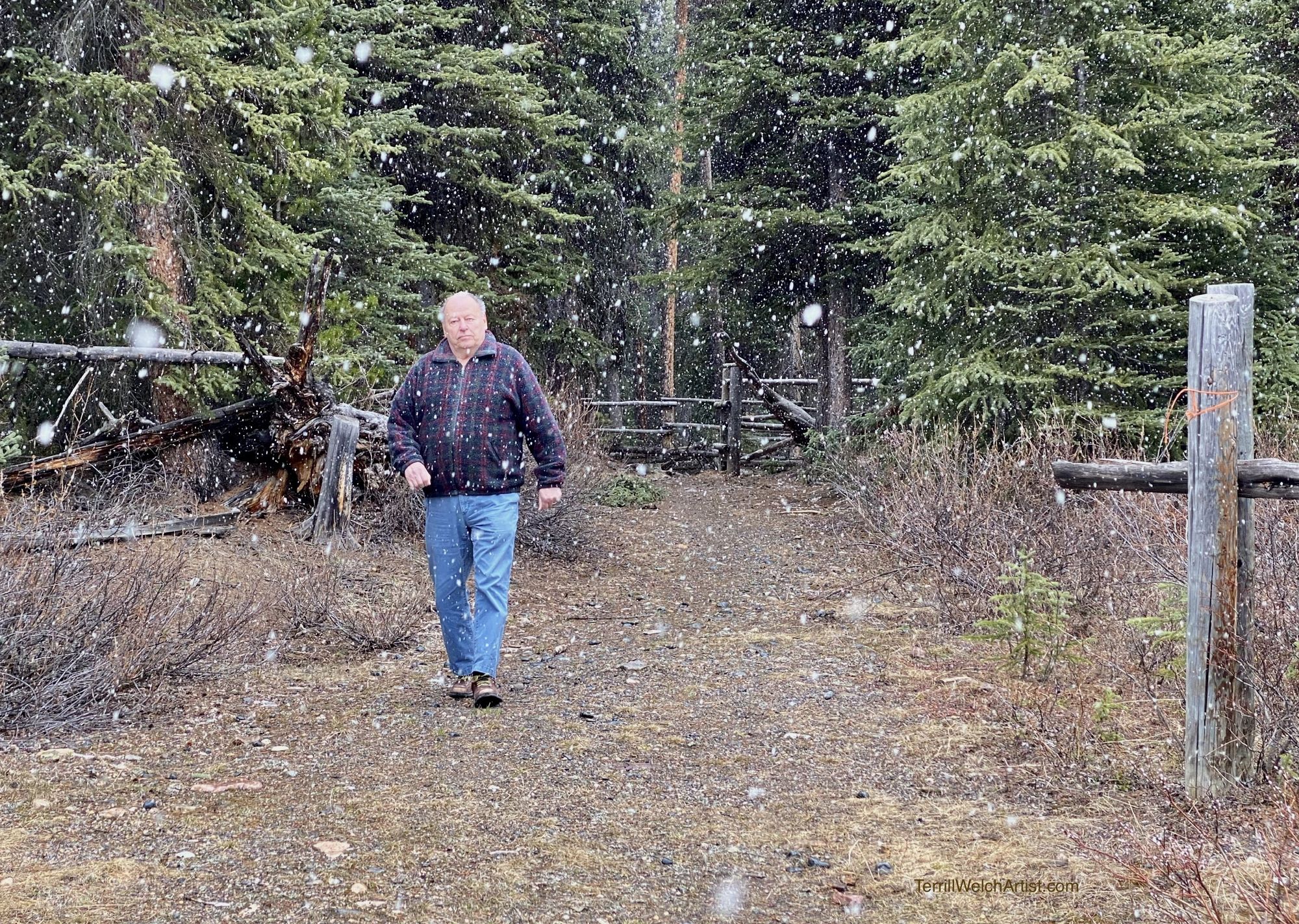 A view of the Athabaska River below Mount Kerkislin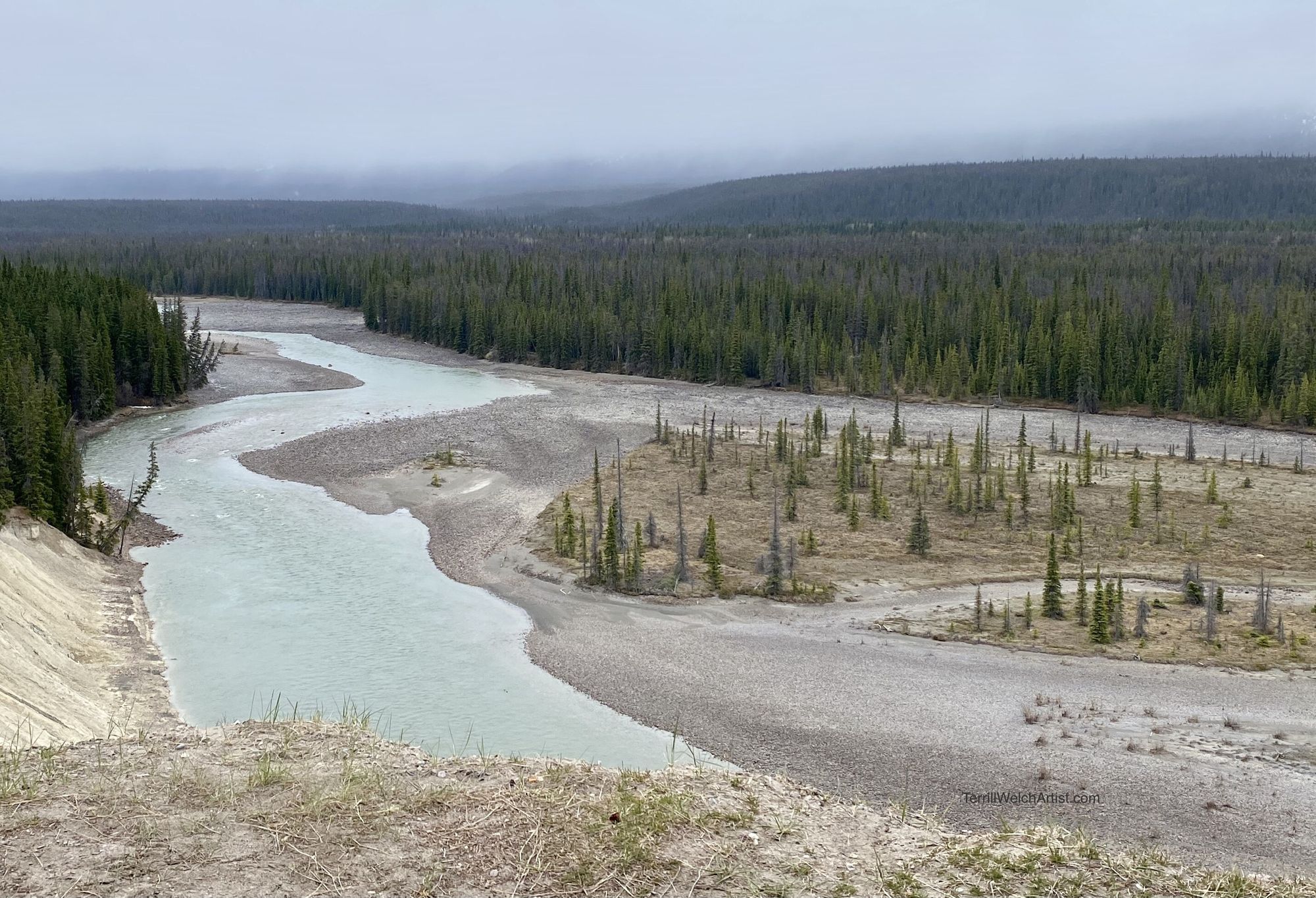 The information boasted goats and glaciers. We saw neither.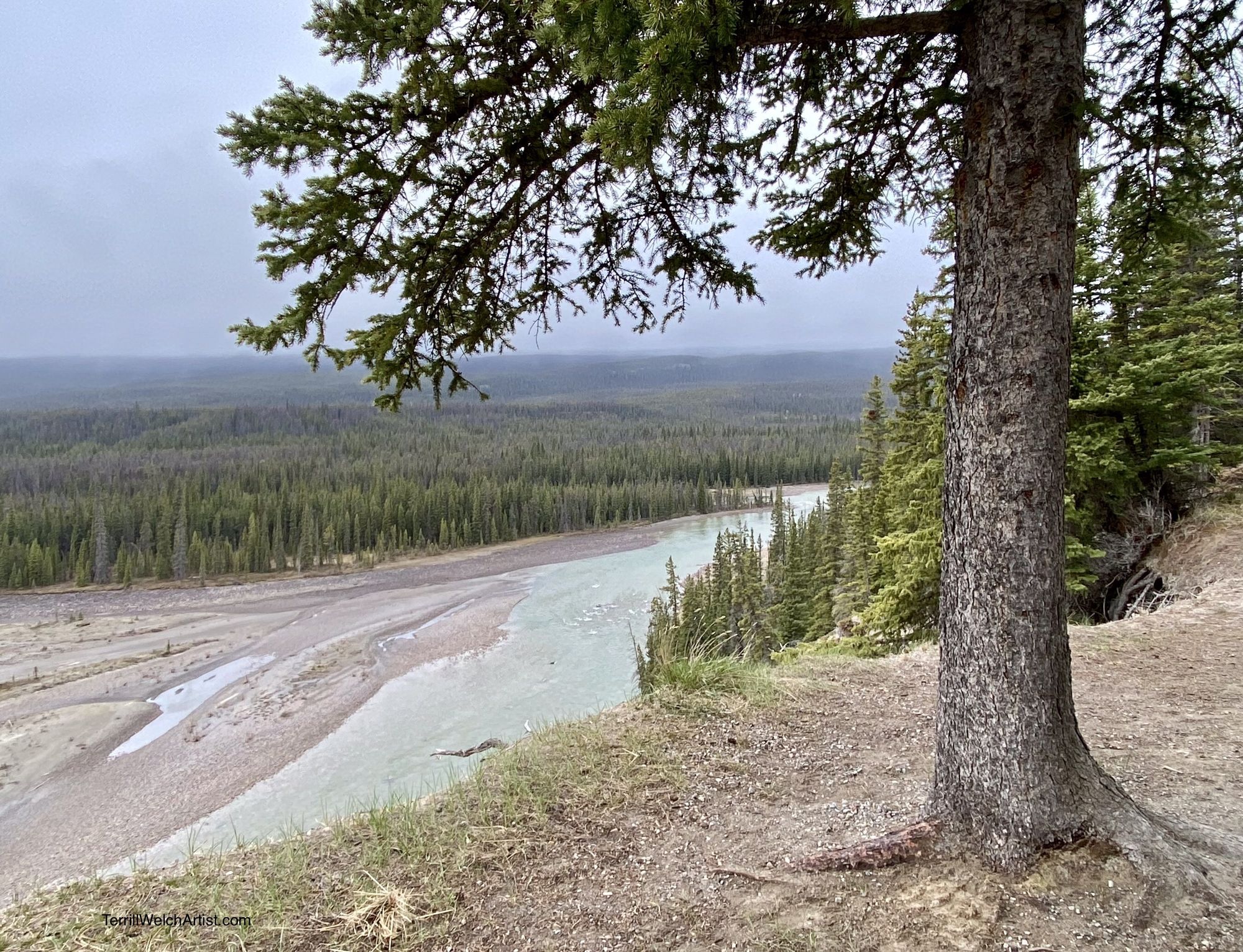 I make one last attempt to capture something interesting just before we get to Jasper.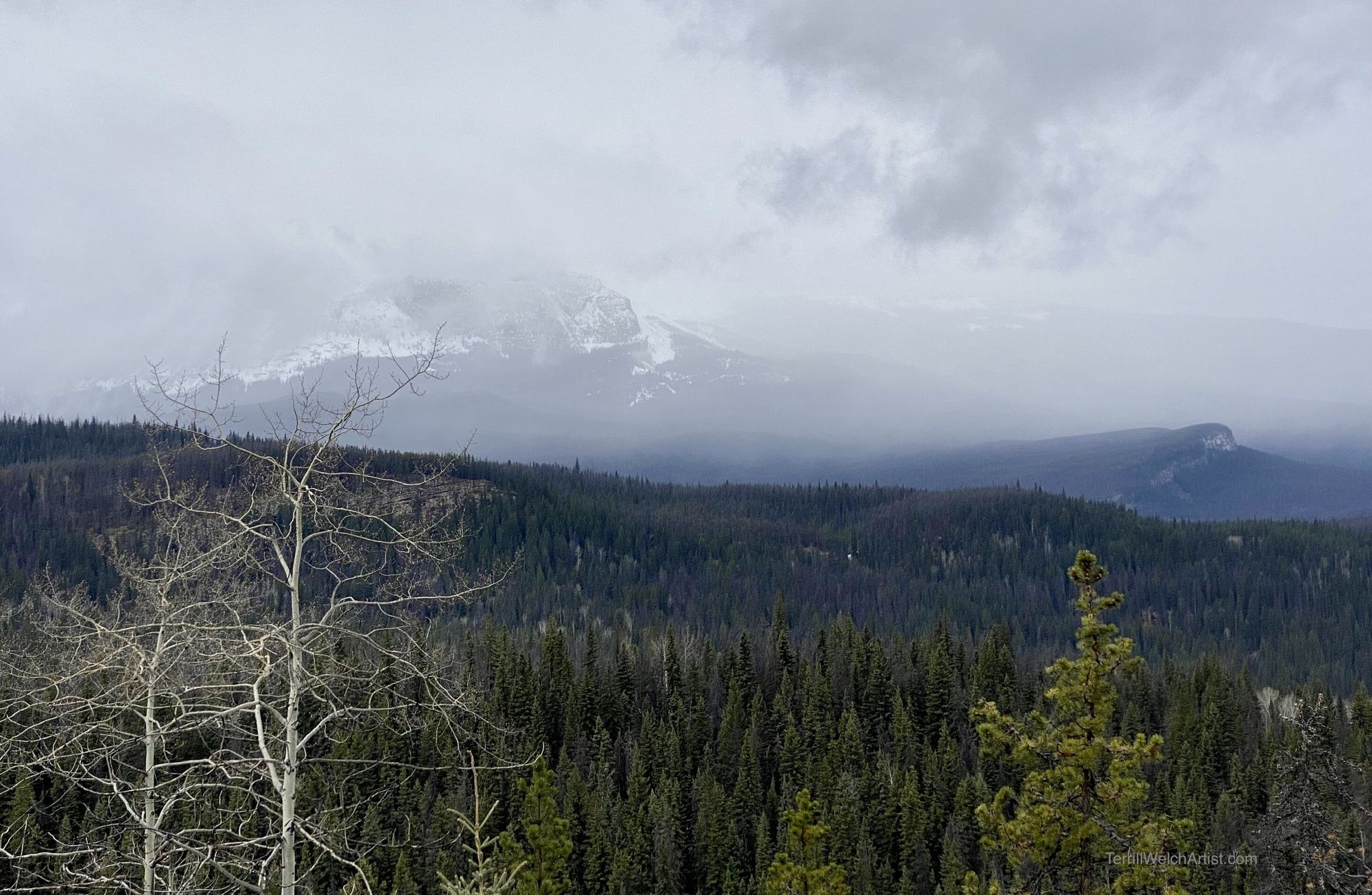 After a couple of hours poking around Jasper and having a late launch/early dinner, we are all tucked to our home for the night at the Athabaska Hotel. Pheewwwf! A good day even though different than what would have been ideal.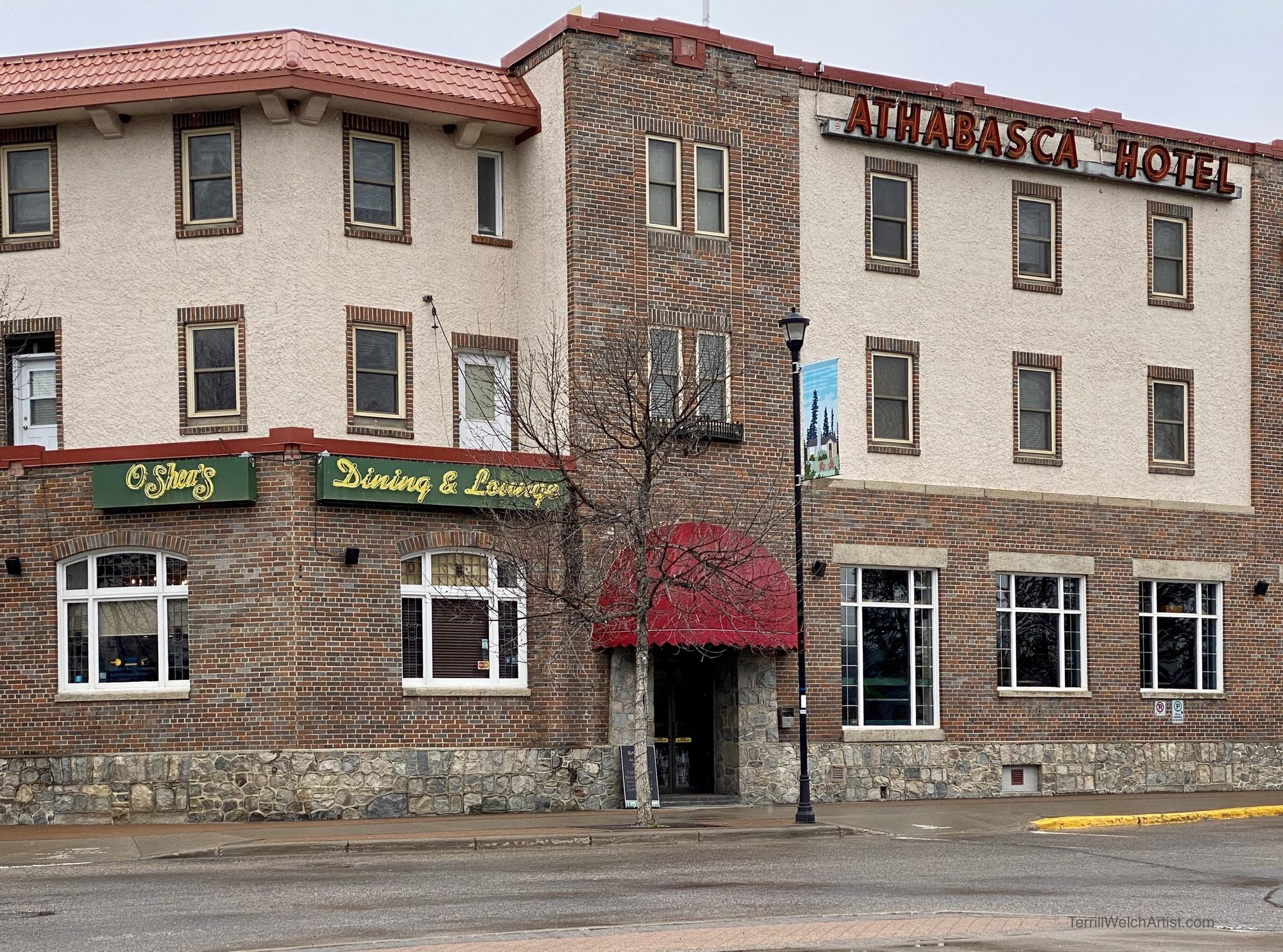 P.s. learn more about this sweet hotel at https://www.athabascahotel.com/about-us/
Jasper AB to Vanderhoof BC
We didn't stop to take many photos between Jasper and my parent's farm. We did see three black bear and one brown bear and a moose right up close and personal as it slowly walked across the highway in front of us near Mount Robson. But no photos were taken of wildlife due to highway safety.
Our time in at the farm outside of Vanderhoof
Though this was my personal time rather than work time I thought you might find it interesting and I did get some nice references for later.
My parent's farm on the Stuart River is 43 km outside of Vanderhoof where they have lived since I was 12 years old. There are something like 38 cows with their calves getting ready for the gate to open so they can go their spring pasture out on the point.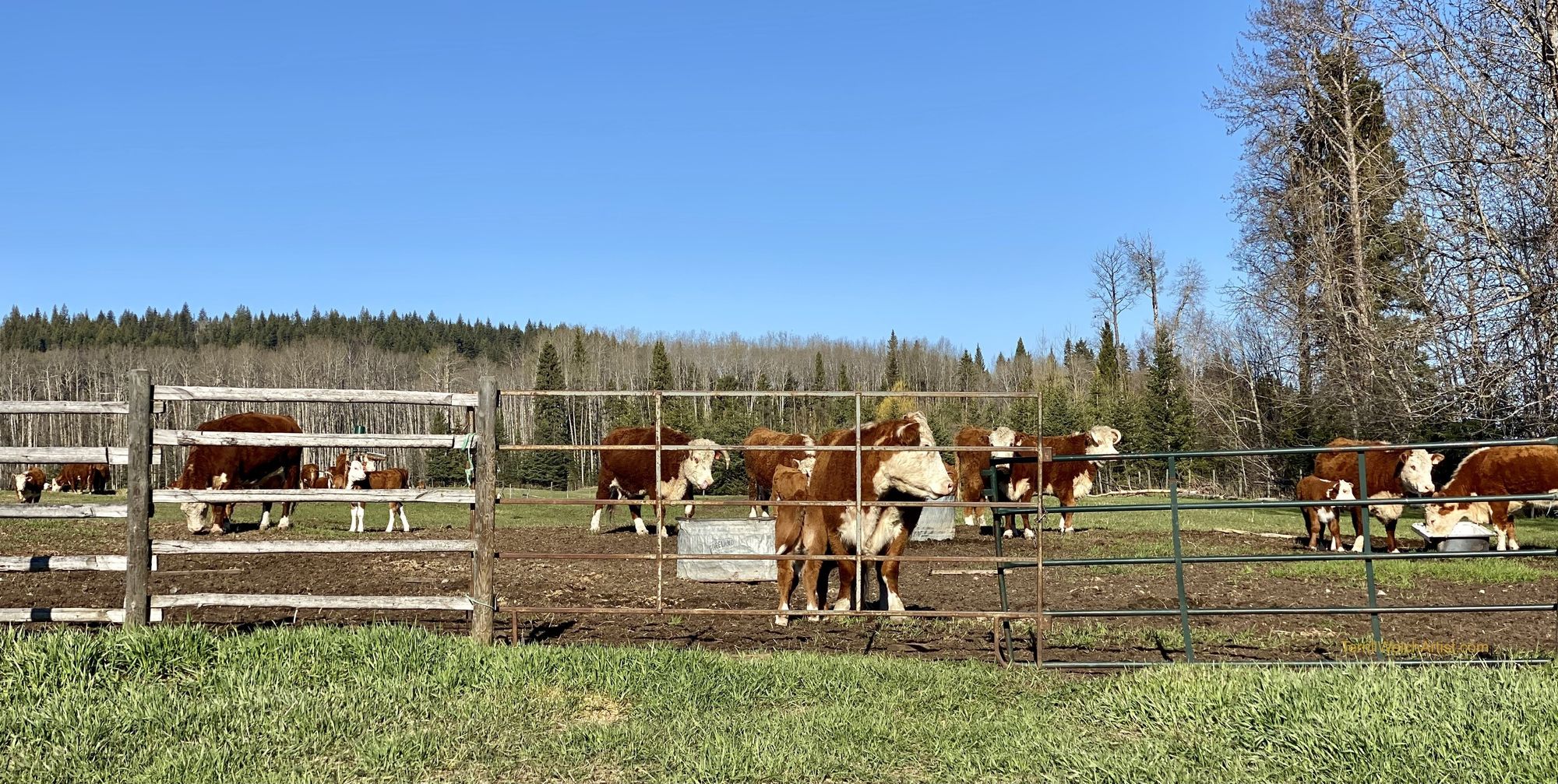 Dad and mom manage the farm, the house and the garden just the two of them. As you are reading this, dad will be doing mechanic work on the tractor and the skidder. While we were there he did the harrowing (a twisty looking thing that you drag behind the tractor to spread the manure and poke holes in the field so the natural fertilizer can get into the soil). About the time he gets all the equipment ready he will soon be able start the haying. Mom is going to be getting her garden planted and settling in a bunch of seedlings from the nursery.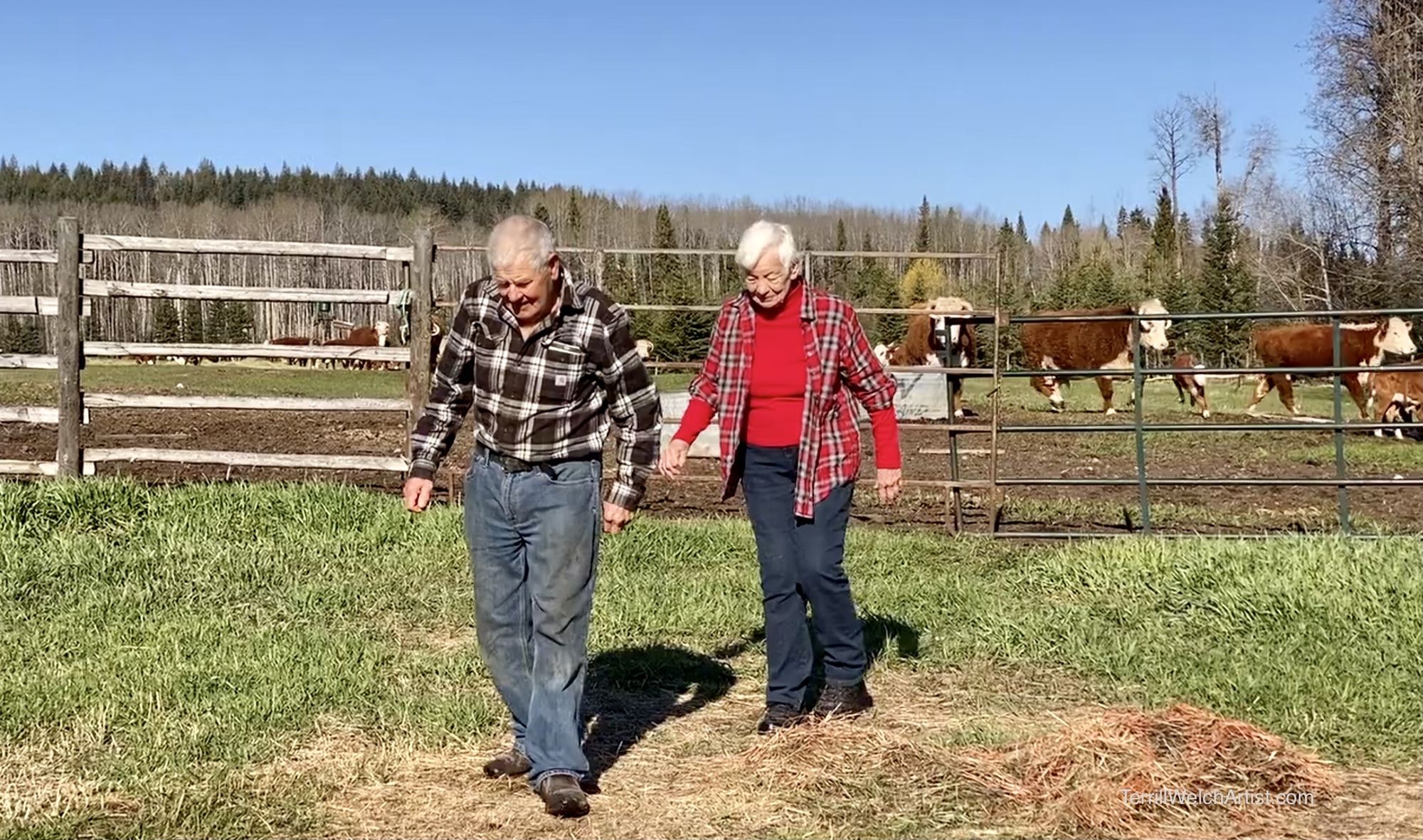 It is both hard work and a good life. Dad will be 86 this fall and mom 85. I feel awfully fortunate to still have them both and be able to stay at the farm with them and just pitch in where we can.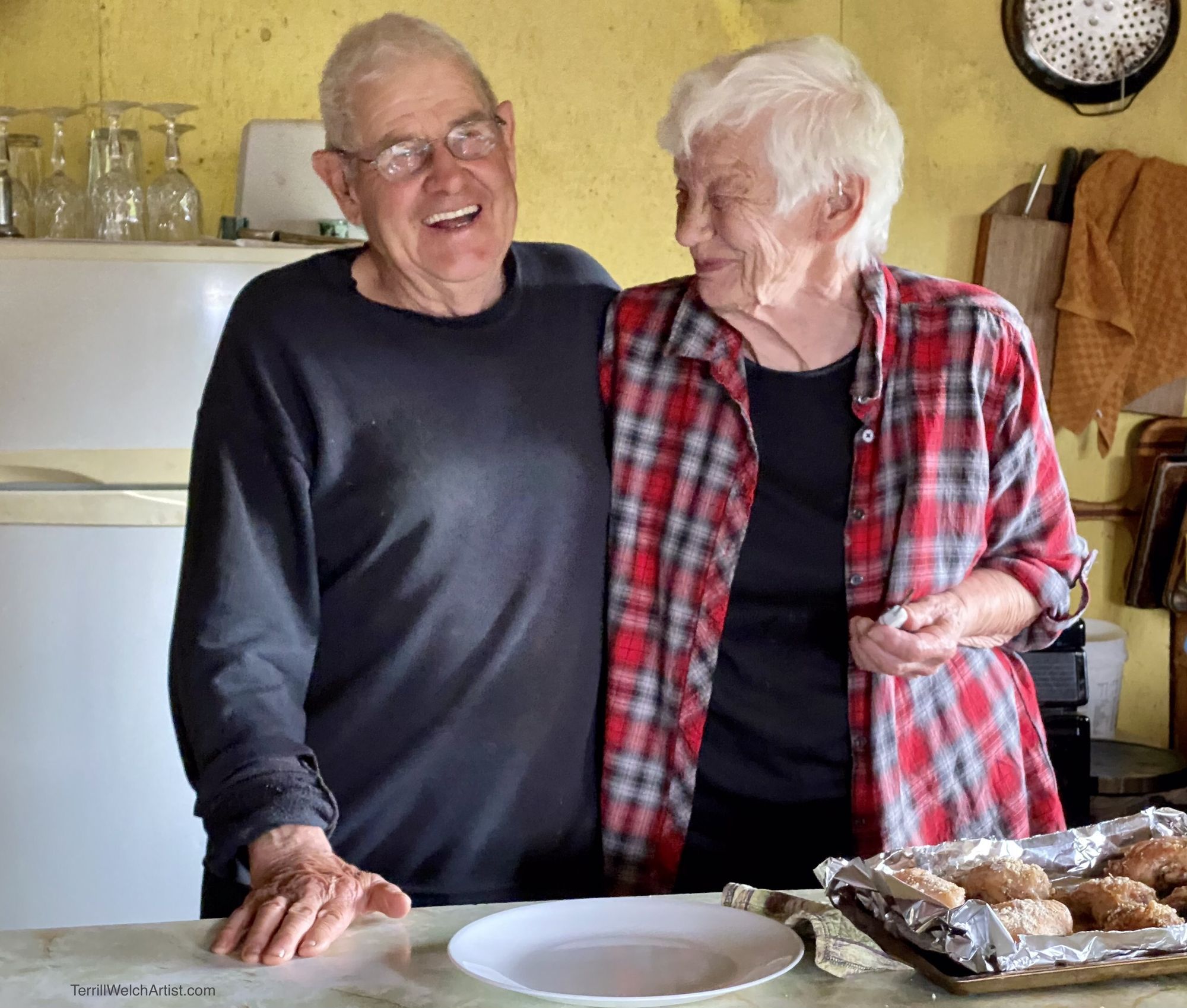 The house is more or less the original one that was supposed to last five years when I was twelve. It has had additional insulation added, several new roofs and new windows and doors since then as well as other cosmetic touches. The greenhouse my cousin gave my mom and dad and put it up for them. It is my mom's pride and joy as there can be a hard frost every month of the year up there. In fact, it froze every night down to -1 or -2 that we were there. During the day it went up to 15, 18, and even 20 degrees Celsius.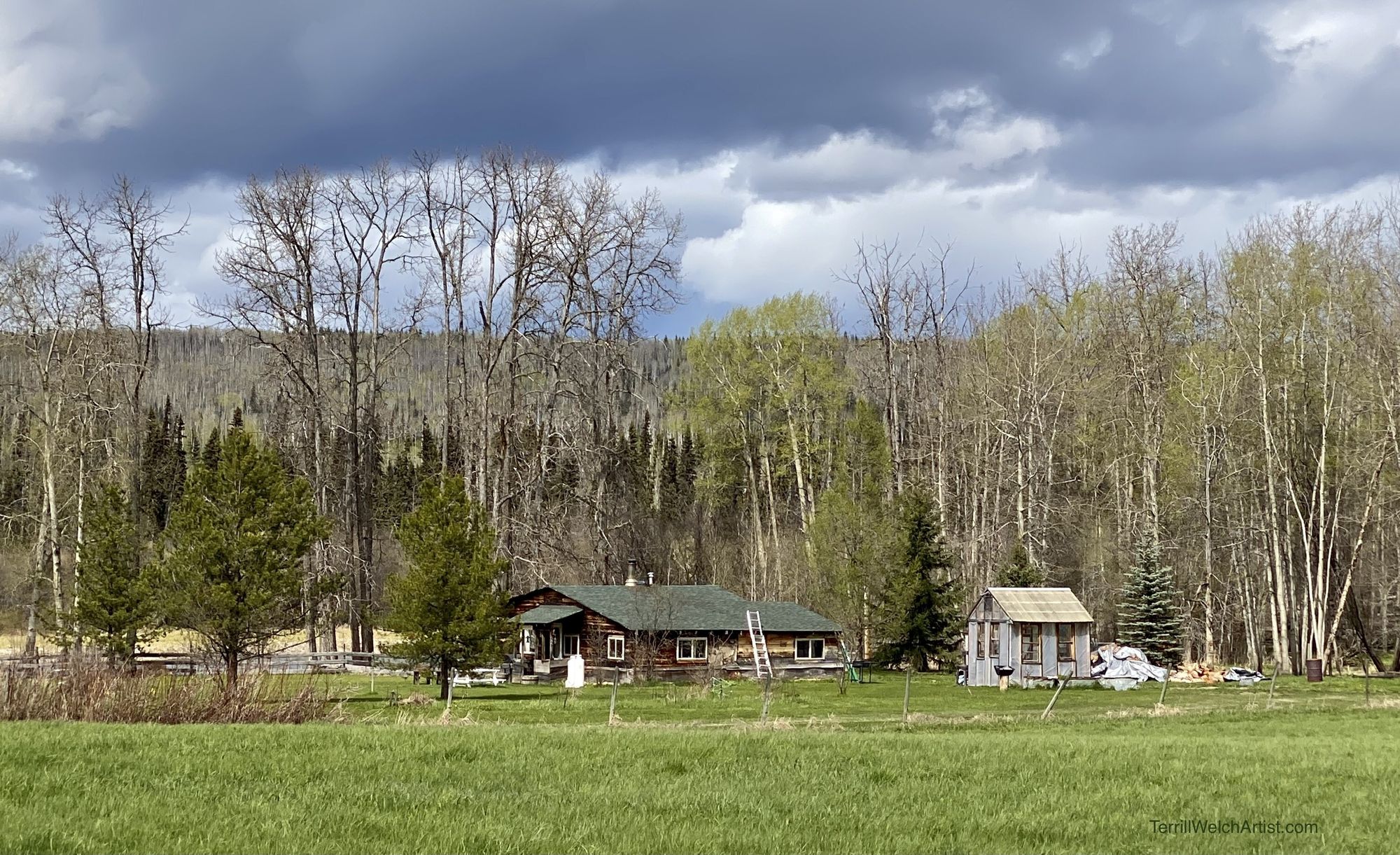 It even froze the last morning when the fog rolled in along the river. The farm is off grid. With no electricity. There is only wood heat and they have a small generator to pump the water into a holding tank and to water the cows. The generator also runs the washing machine and toaster and will charge things as needed. They have an off grid propane stove, fridge and hot water tank and a few propane lights. Dad is still wrestling the 100 pound bottles back and forth to town but they make it work. They have been looking into adding solar for years but so far it hasn't happened. There is no internet and no cell service. Mom sometimes takes her laptop to the public library to use but this hasn't happened during the pandemic. Still, the place is warm and comfortable and feels like home.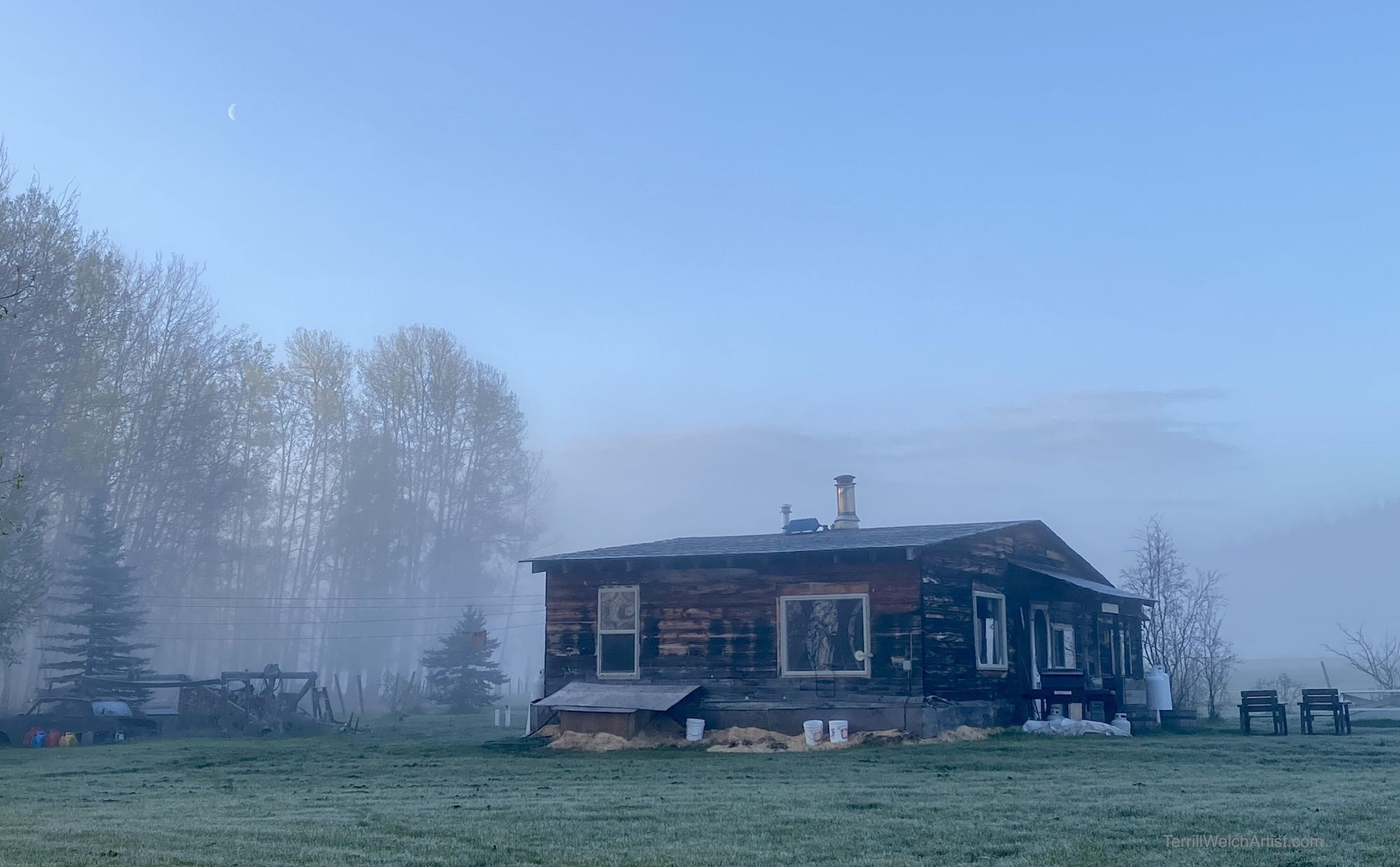 The cows come in sometimes to hang out close to the fence by the house, particularly if there is a bear sharing their pasture which is often this time of year.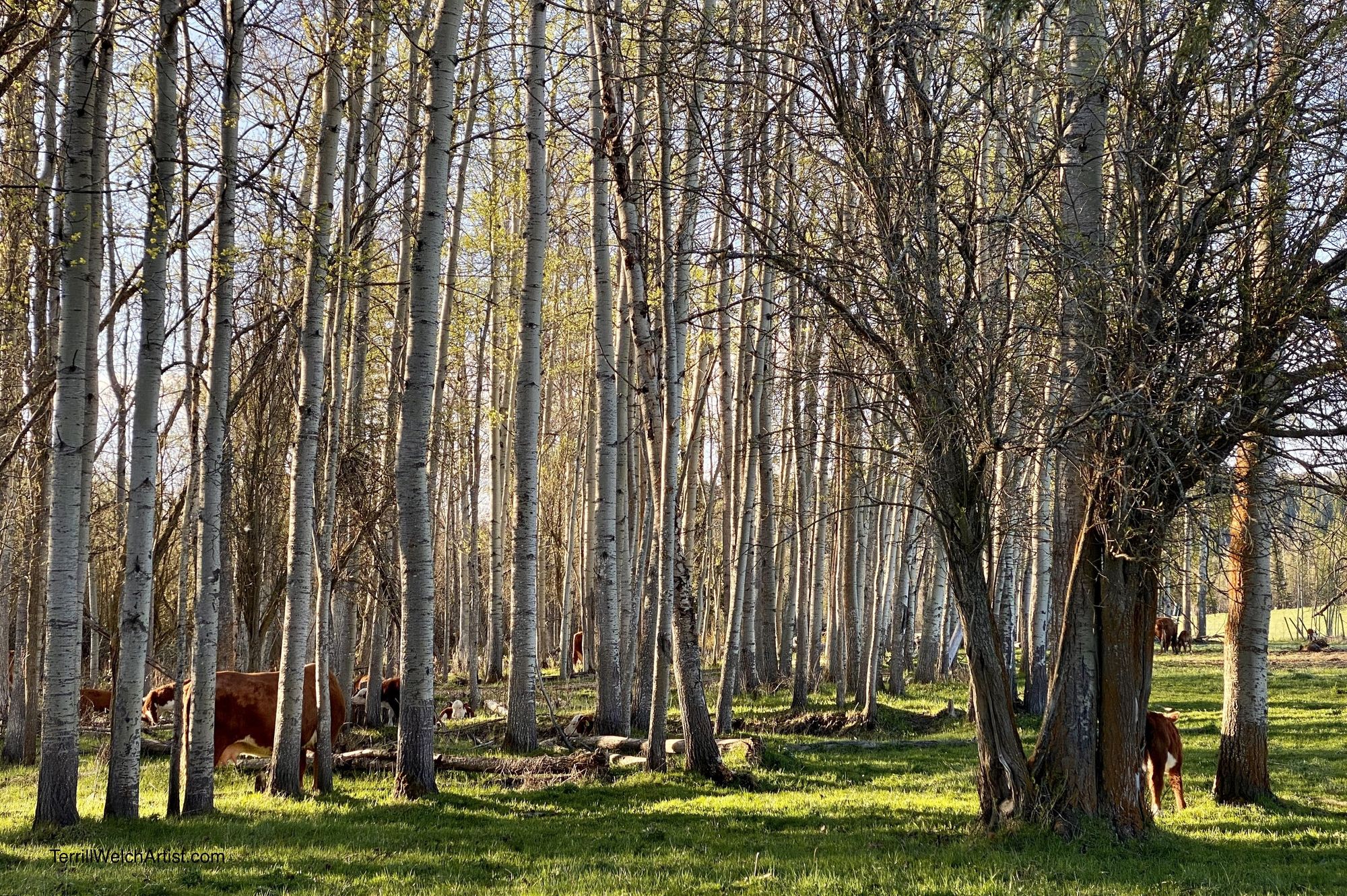 I love it when the river is still and the reflections visible.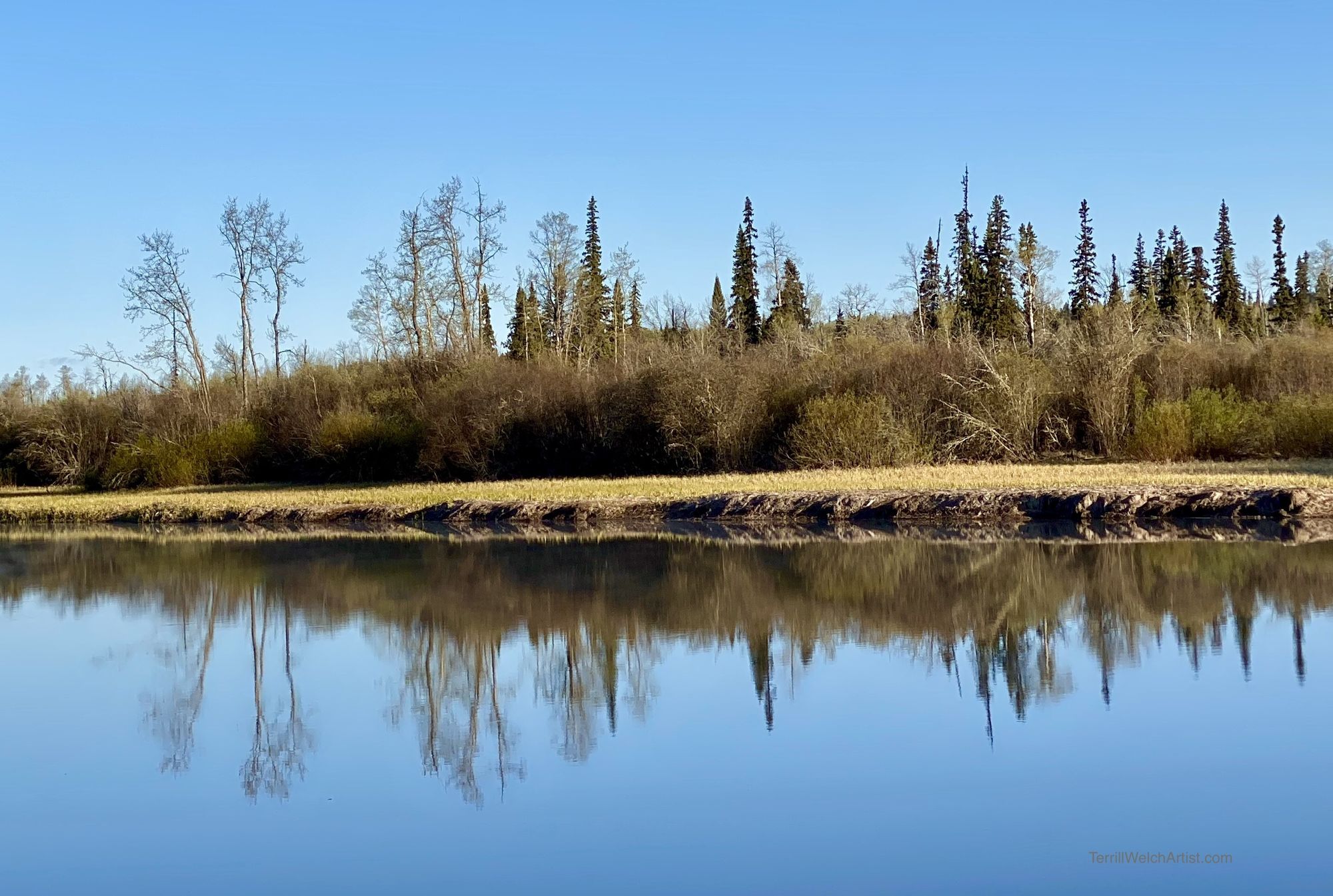 The morning sun coming through the trees out to the pasture never disappoints.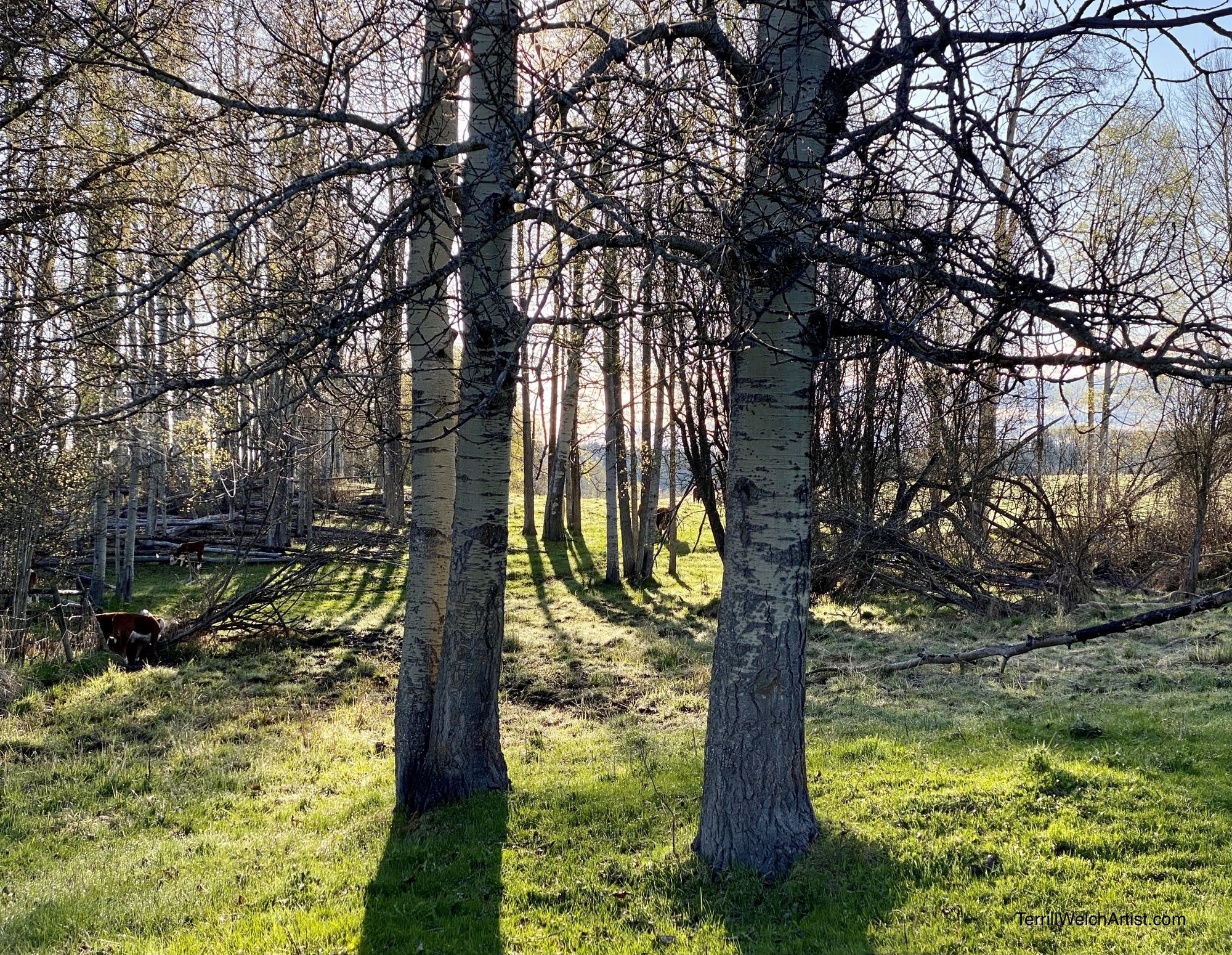 But the fog creates magic!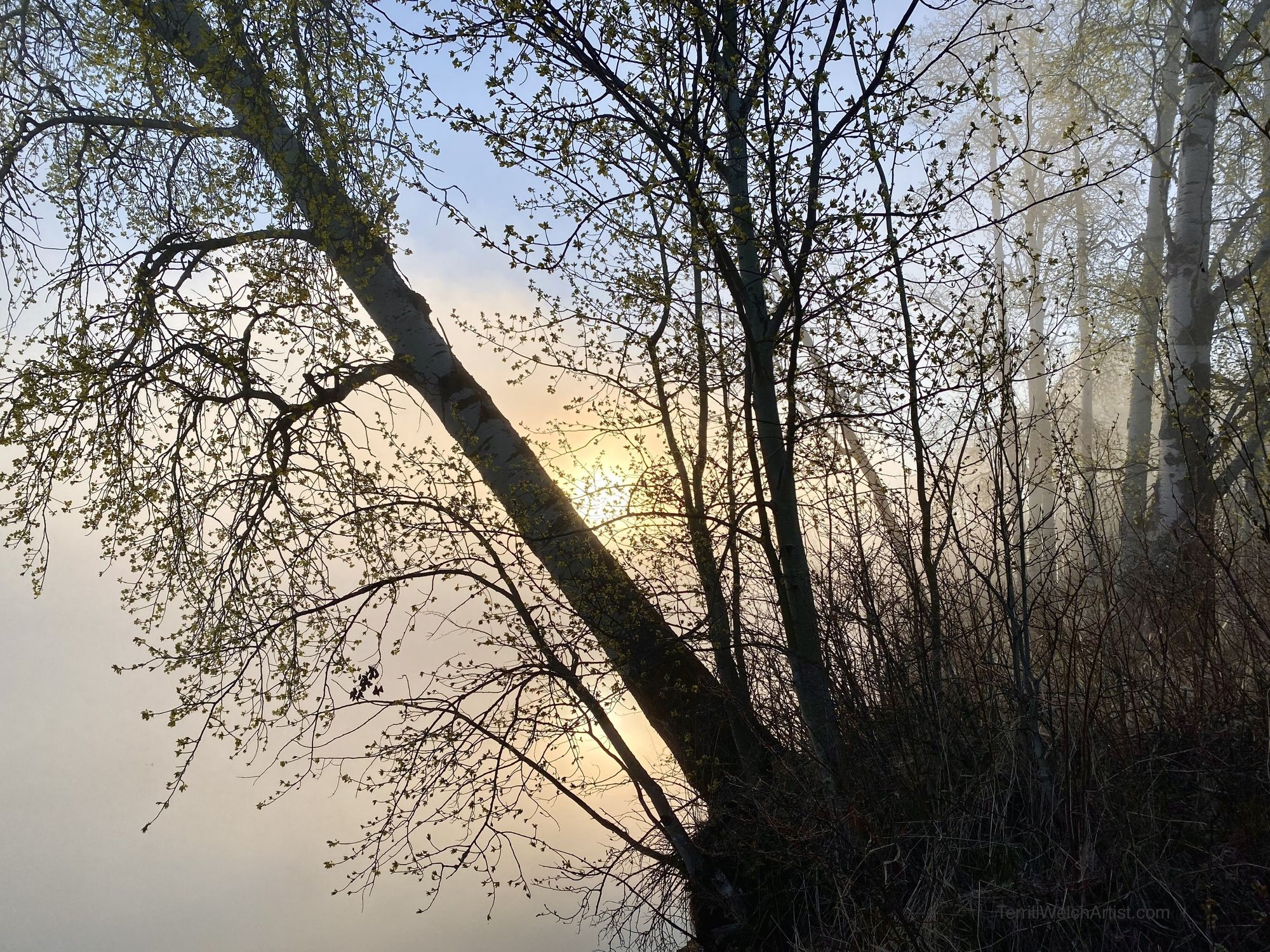 In about an hour it will burn off and there will be sun.
For now, I will take the bit that makes it through the trees and mist. This one below is definitely on my shortlist for a painting.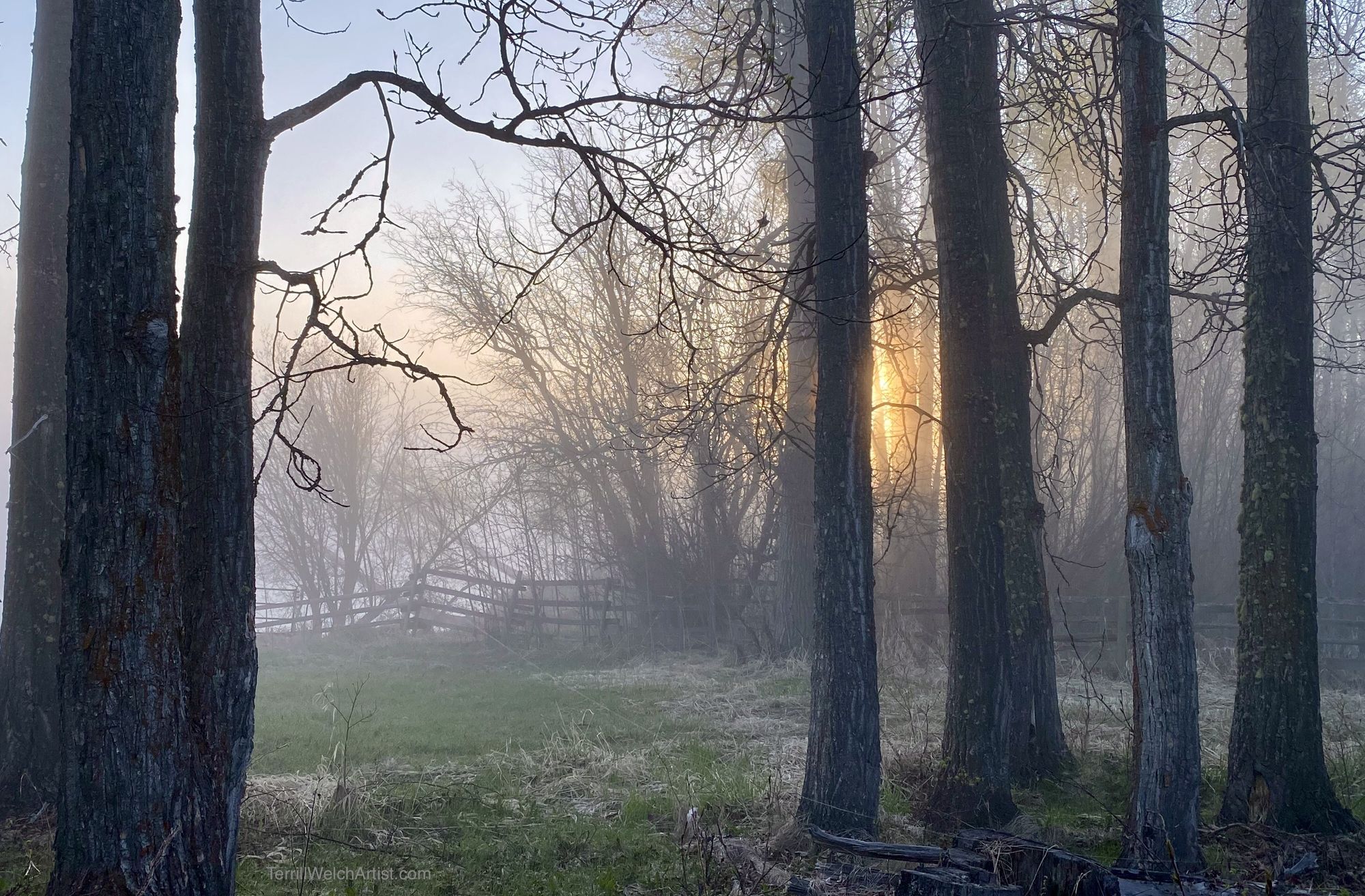 I think this next one was the first I took at 5:42 am. I slipped out the door before Dad poured my coffee which he had ready at 5:30 am and I knew would be waiting for me when I went back in. The days are long this time of year up there. For example, Mayne Island yesterday was 5:18 am for sunrise and 9:02 pm sunset for 15 hours, 43 minutes of daylight. Vanderhoof yesterday on the other hand, was 4:56 am for sunrise and 9:30 pm sunset for a total 16 hours, 33 minutes of daylight. This is almost an hour a day longer right now of daylight and something I always notice living on the southwest coast in the summer months.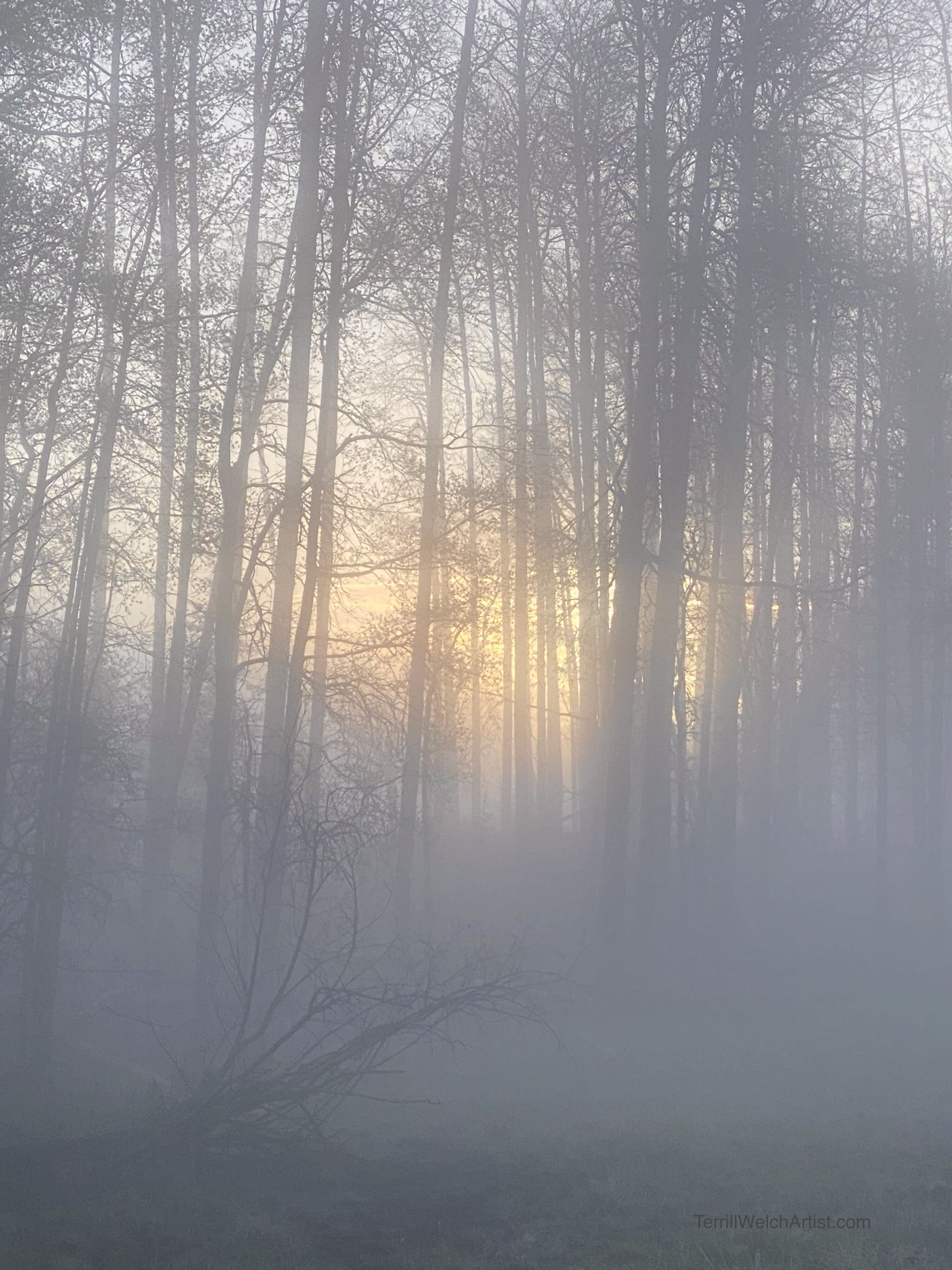 Mom, David and I walked up the road and he borrowed my phone to take this picture of mom and I. At the end of our visit this time it was much harder to say goodbye than usual and the days we were there went fast. We are not sure if it will be possible to come up again in the fall as we would like to do. We shall see and tomorrow is Saturday morning. I will call them as usual from our home on Mayne Island.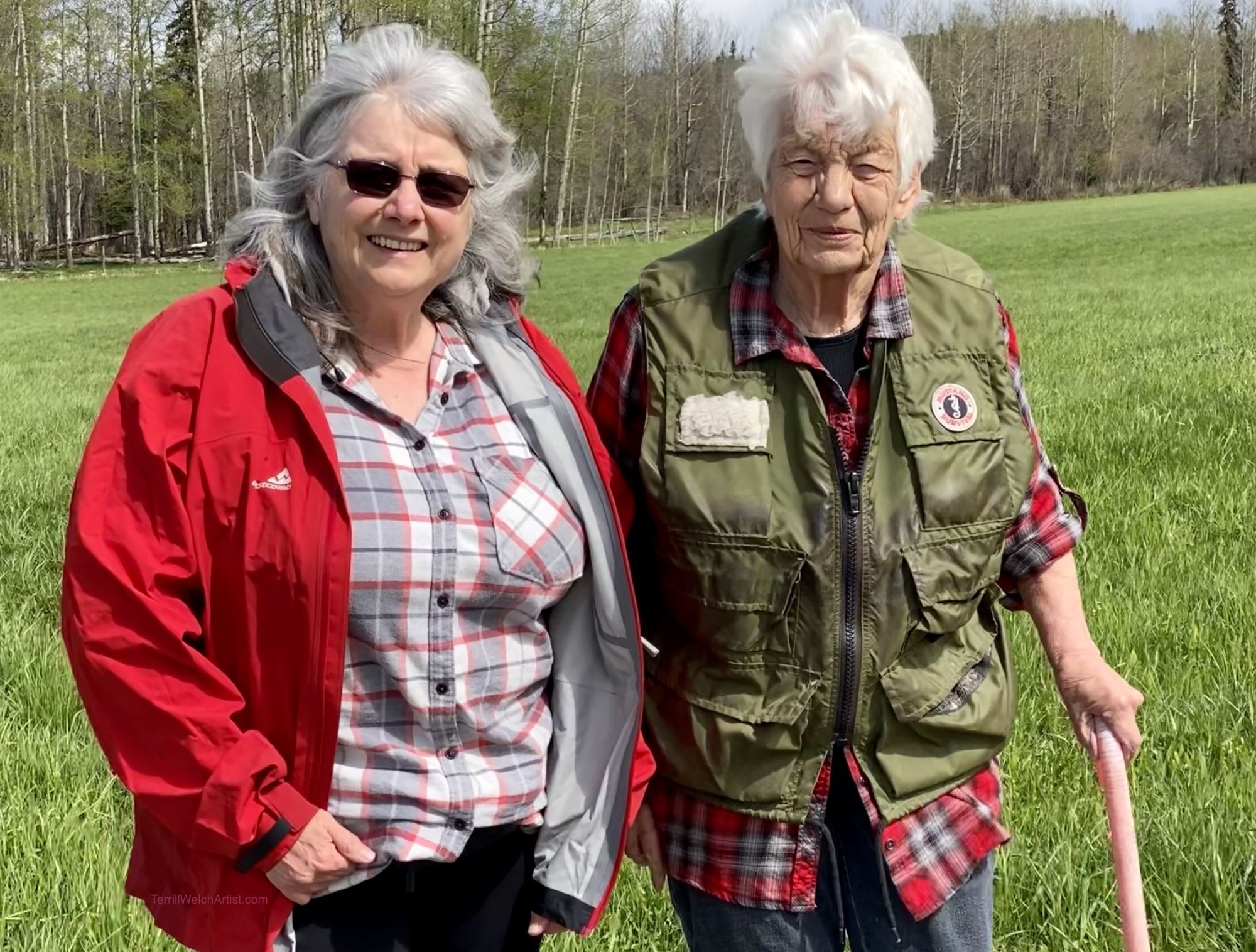 Until Next Time
I hope you enjoyed this two-part artist travel post. We will get back to our regular programming for the next issue. May you find joy and fulfillment in whatever you choose to do with your day. Here is a wish for you to have a chance to experience the ordinary everyday things that life has to offer!
Warm regards as always,
Terrill 👩‍🎨🎨❤️
Canadian landscape painter, Terrill Welch, exposes the mystery in an ordinary day, reminding us that there is only one moment – this one.