A Brush with Life - Issue #106 Hints of Summer and New Painting
The southwest coast and much of British Columbia has been having a hard time warming up and dying out. We are at least a couple of weeks behind recent years. However, the wild flowers have flourished and it is still pleasant out as long as you keep your sweater on or at with you. I shall evidence ev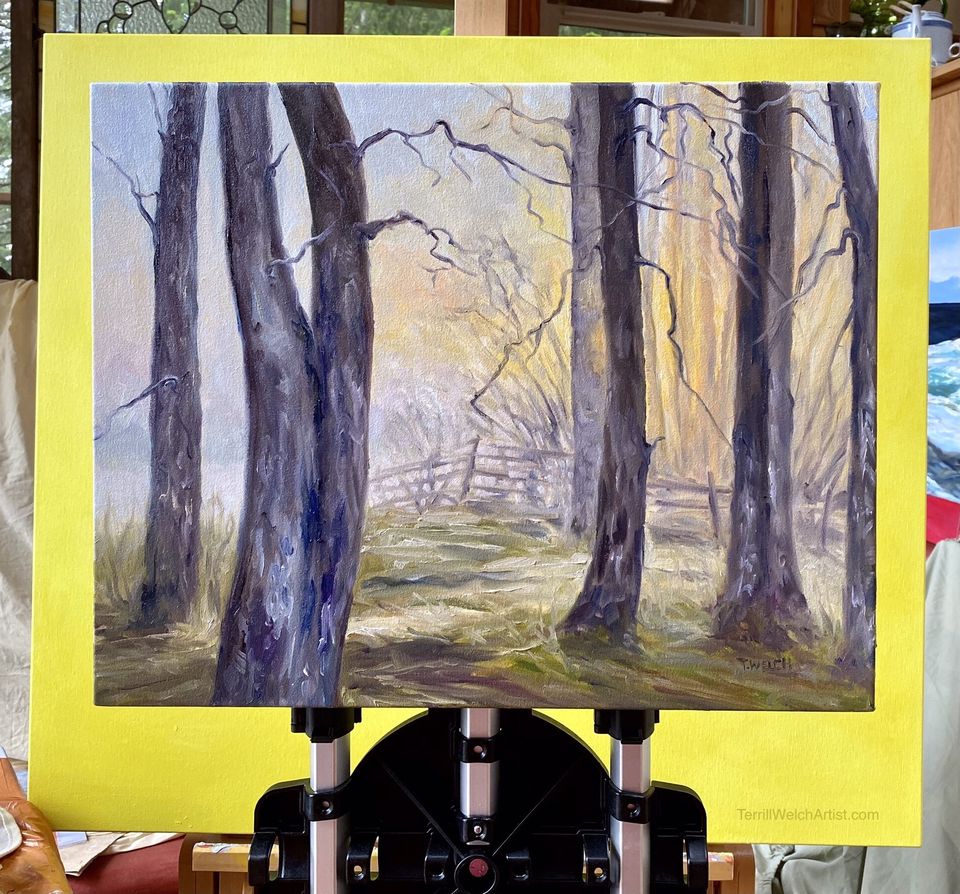 The southwest coast and much of British Columbia has been having a hard time warming up and dying out. We are at least a couple of weeks behind recent years. However, the wild flowers have flourished and it is still pleasant out as long as you keep your sweater on or at with you. I shall evidence eventually. First, let's look at what is new on the painting side of things
---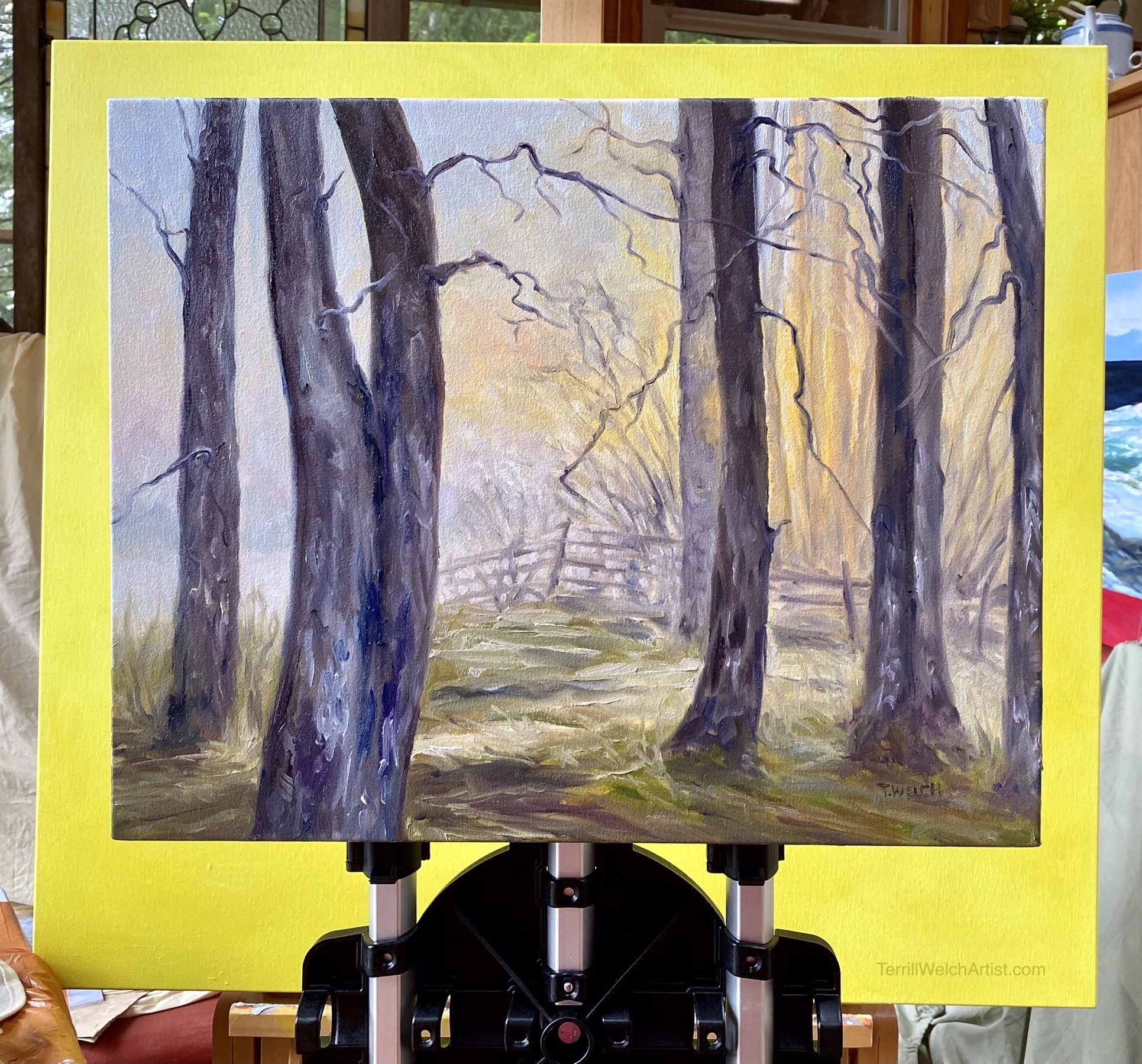 New Painting Resting
I have a couple of new grounds painted this week with the large 36 x 40 inches set aside for a seascape.
These are going to be dry enough to start using today I think. In the meantime I had one dry ground still available and went to work on one of my favourite views from this last trip to my parent's farm. With a few pencil marks for a guide, I began to put down some oil paint.
In about 30 minutes I have the composition blocked in.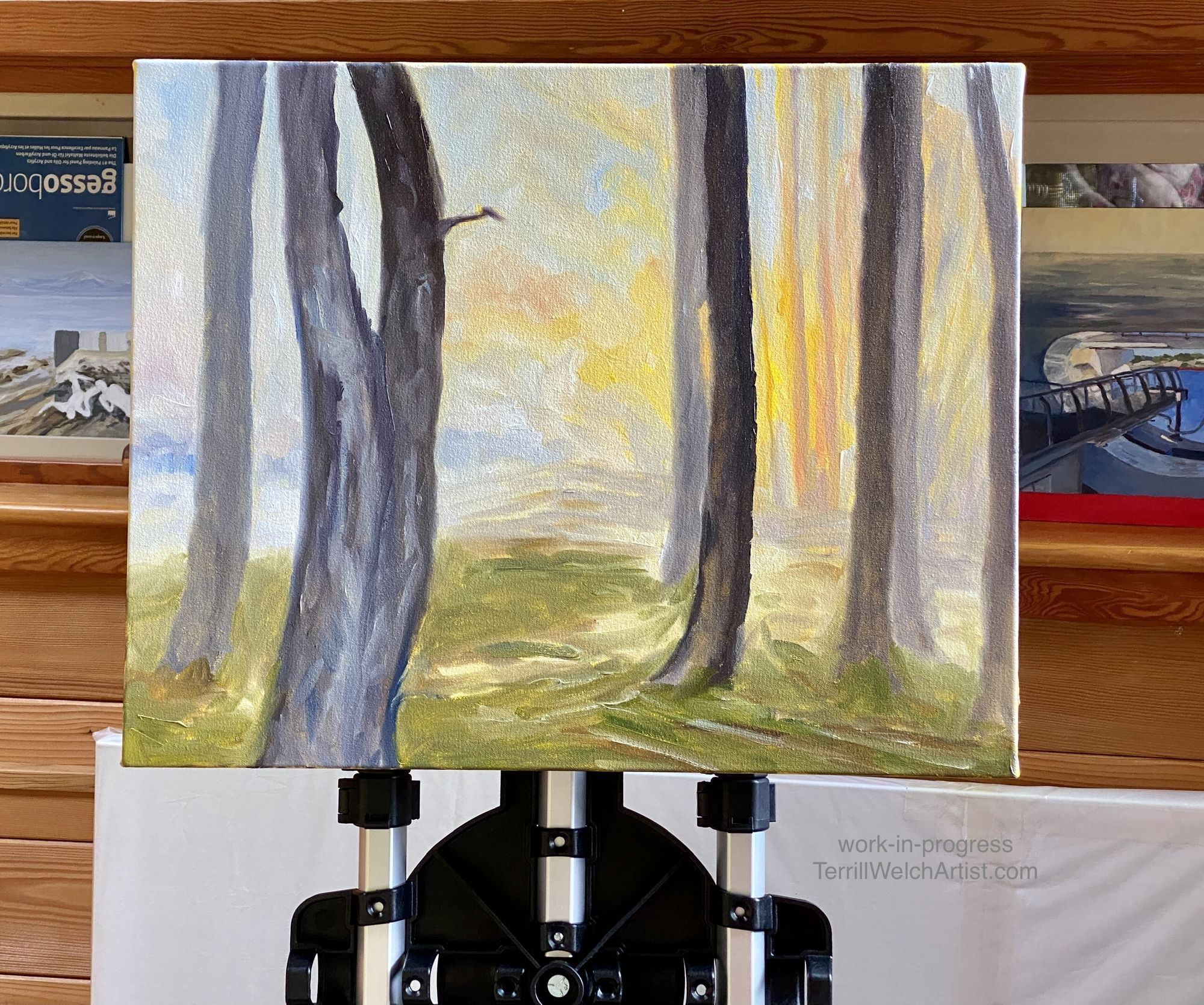 And in a couple of more hours of standing at the easel, I have it to the point of "resting". Then, there are still a few small things that I did over the next couple of days to bring it to completion.
"Early Morning Mist" by Terrill Welch, 16 x 20 inch oil on canvas. To be release soon once the edges are painted and inquires welcome.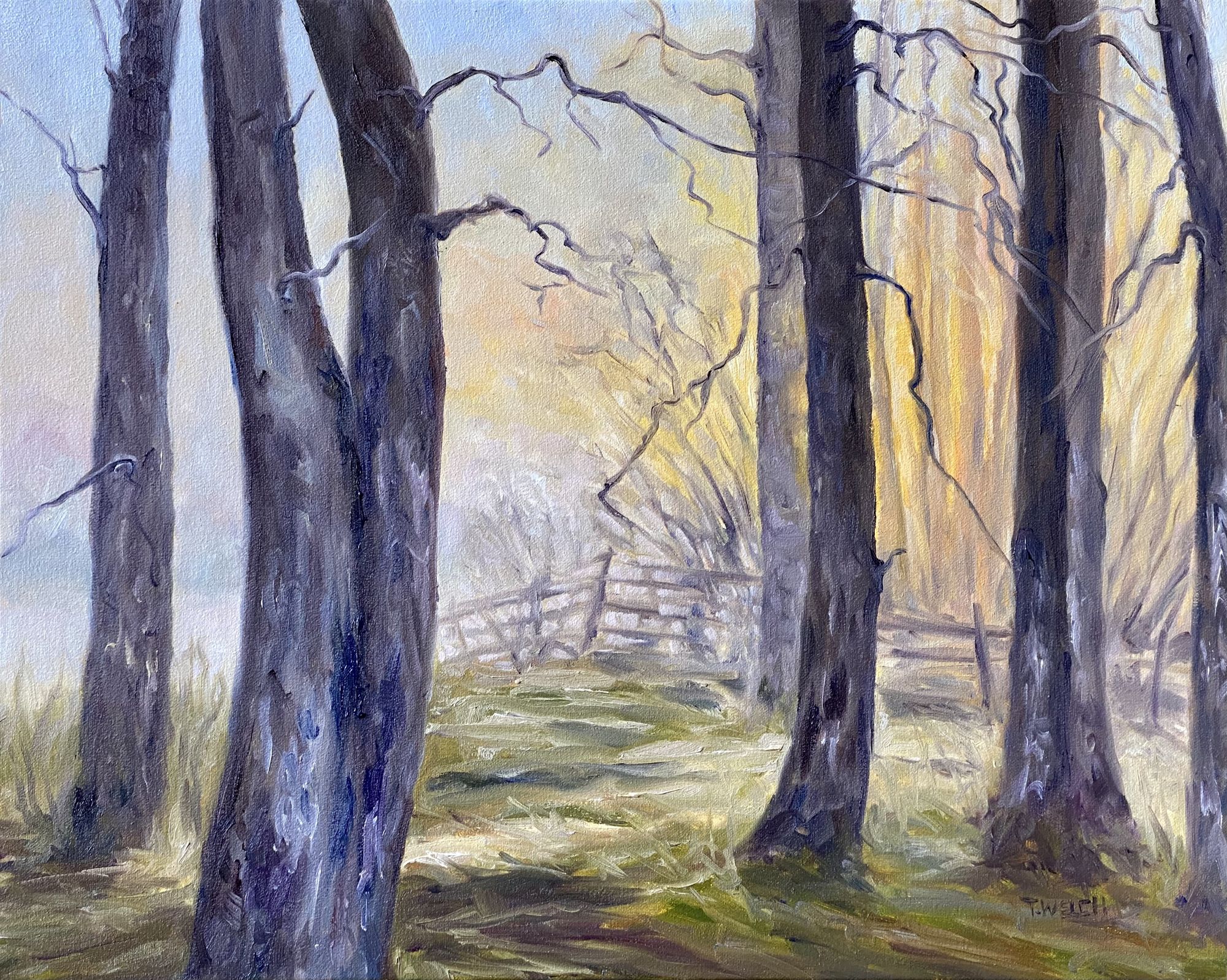 Artist notes: The early morning mist filtering sunlight through the willows, poplars and cotton woods beside the river is a magical time of day and filled with years of memories.
Large Solo Online Exclusive Show
I recently curated and released a large online exclusive show of my work for our Artsy audience that I thought you might enjoy checking out.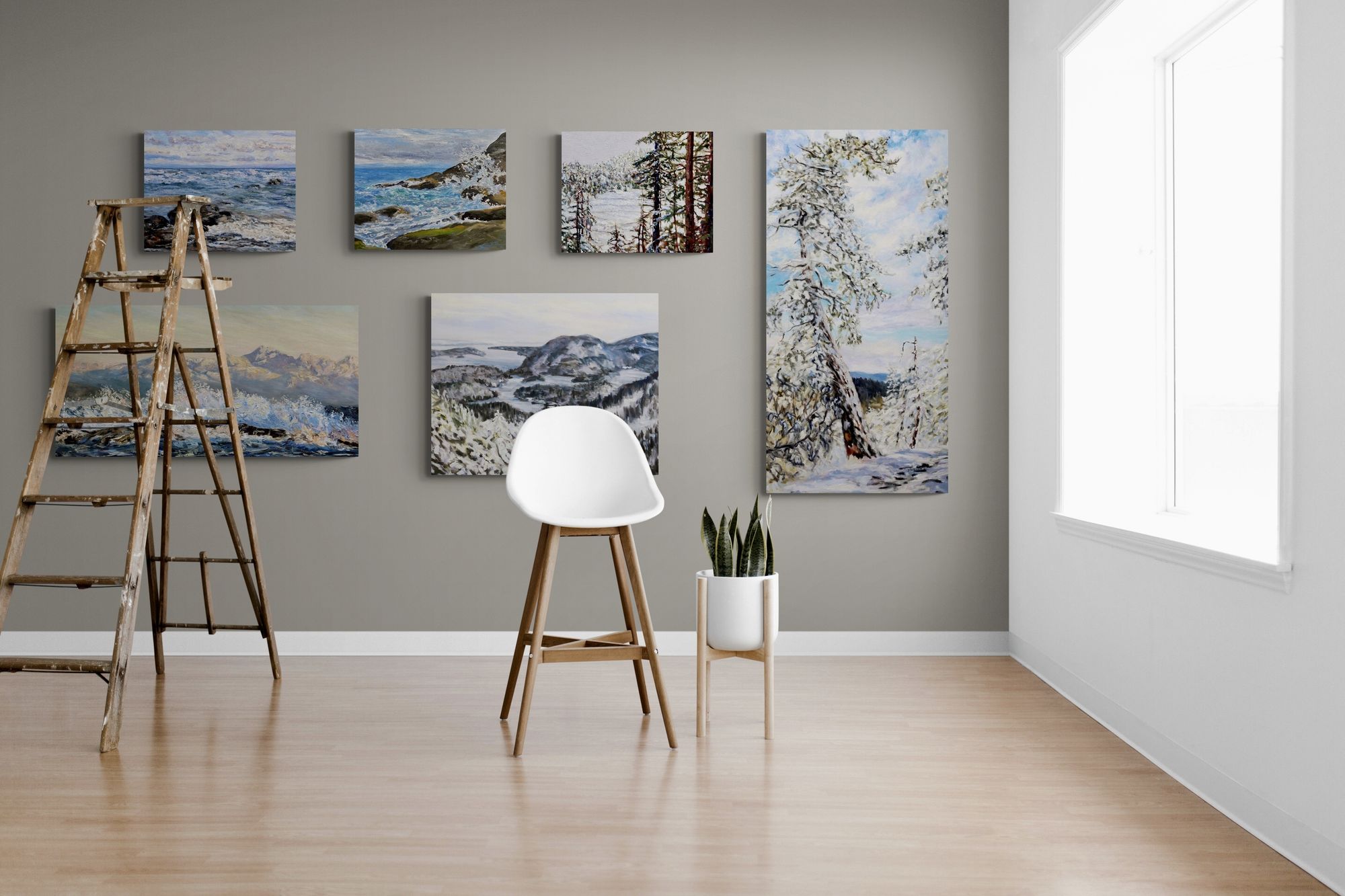 There isn't a lot of new work to you in this show but they are some of my very favourites of the work I currently have available. Anyway, have a look and see what you think.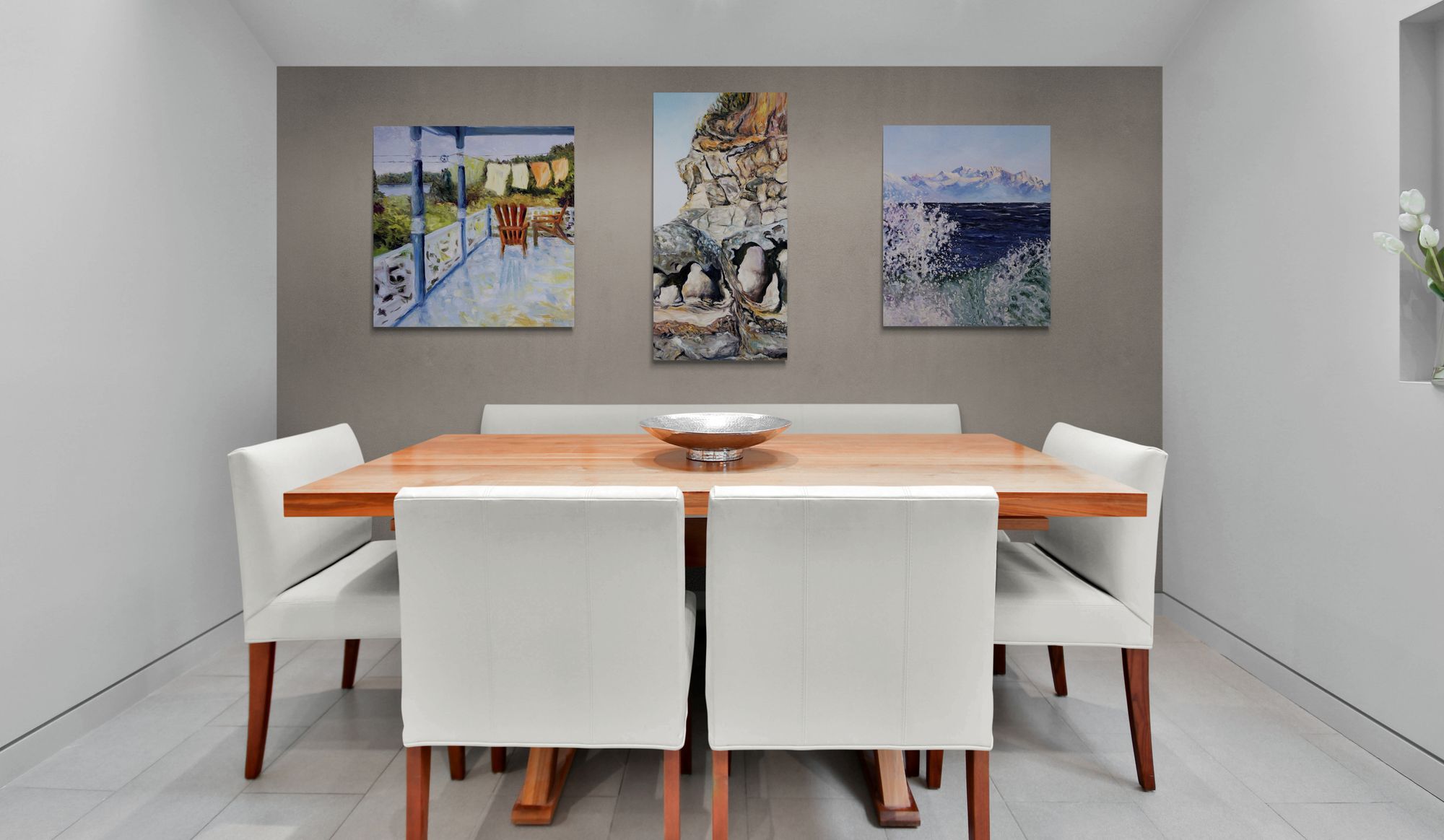 You never know, you might find something you hadn't notice before in this new context that is exhibiting 40 paintings. Also, please feel free to share with anyone you think might be interested, even just to browse…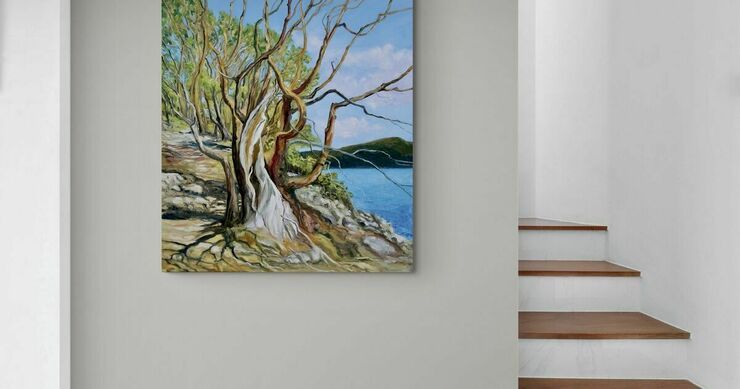 The spirited southwest coast of Canada moves with rhythmic power and ease under Terrill Welch's brushstrokes. Viewers of Terrill's oil and acrylic contemporary landscape paintings feel as if they know these places, even if they have only visited through her paintings.
What Has Sold
Well, I am sure you won't be too surprised when I tell that one of the new plein air paintings that was on hold has sold….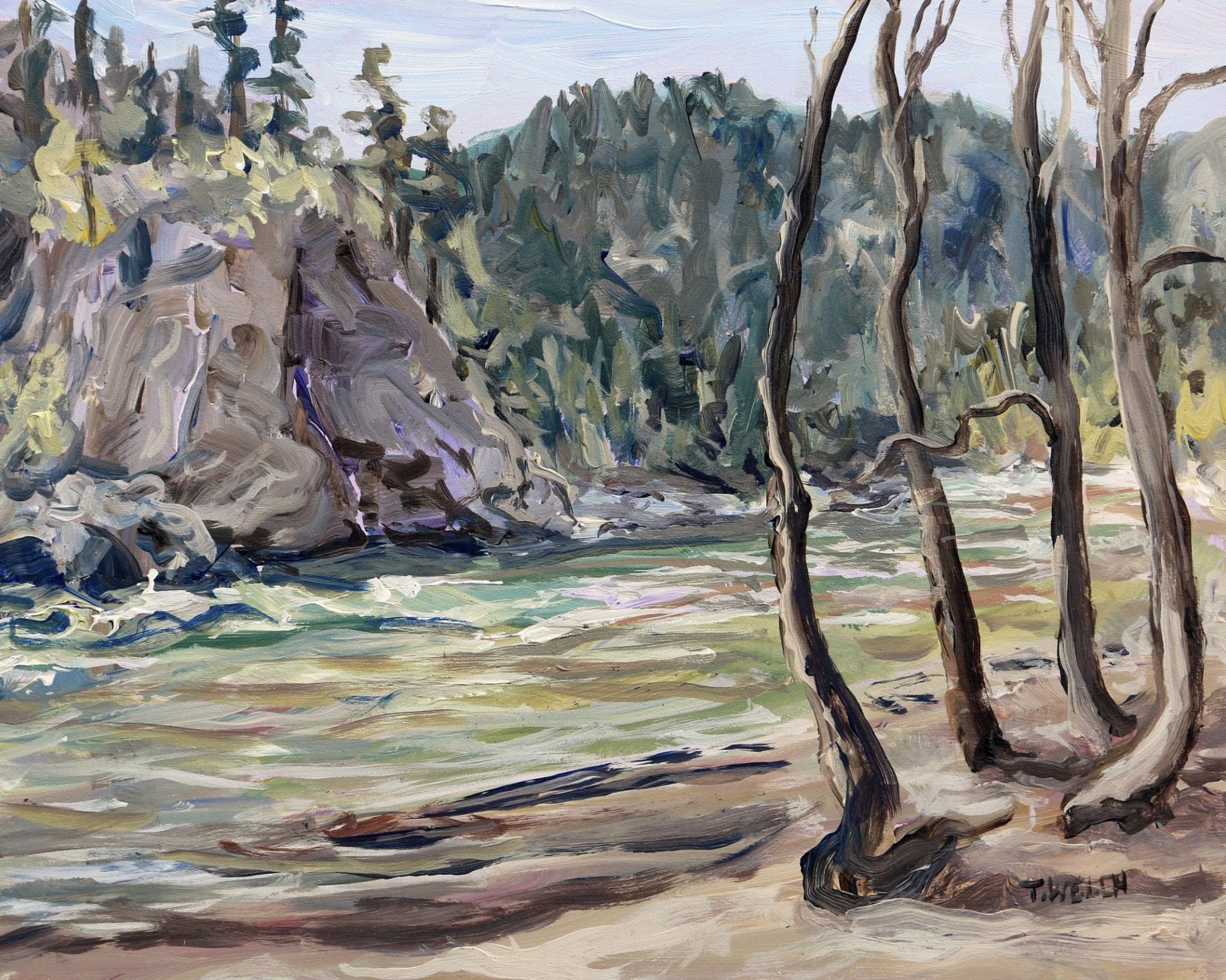 But you know what this means right?
Still Available
Drum roll please… 🥁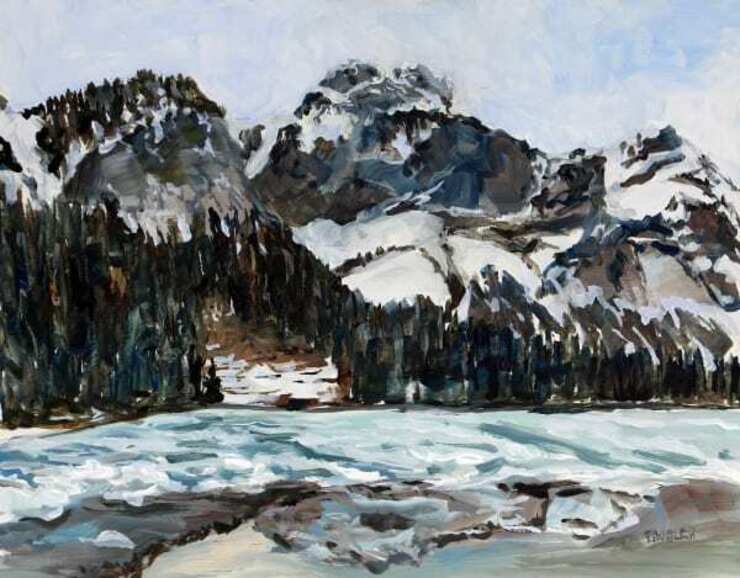 Artist Notes: A 36 minute drive from Lake Louise Inn for the morning light was worth the effort. I was painting just before 9:00 and finished shortly after 1...
If you had your eye on this painting sketch but were disappointed when it was on hold, now is the time to put your hand up, quick! 😂
Opinion Piece - Thriving within Accountability
I am sure we have all heard, and likely read, about the current great unraveling that is fed by climate change, a pandemic, global economic practices, the end of cheap fossil fuels and a war that risks a loss of humanity in a nuclear flash rather than the steady distraction of floods, heat waves and famine. We are intimately experiencing the generational labour shortages in North America and the impact when "just in time" supply chains fail to deliver. We know what it means to decrease our driving and put on a sweater in the house because of fuel costs. We may have already started changing our menus to reduce grocery costs. I sense that these are only the beginning of darker days which will reach their blackest before my grandchildren reach middle age. There will be no returning to a tentative world peace anytime soon. National budgets will, out of necessity, be realigned to weaponize and defend in ways we haven't seen since World War II. As individuals and countries, we will be called upon in more physical ways to defend democracy, our lands and the sovereignty and the lands of other countries, such as Ukraine. No matter our limited or largess wealth, most of us likely will be doing more with less and making decisions that are based on global capacity rather than independent desire, such as reducing international travel for pleasure.
I have heard the notion that we are likely to return to something of the 1950's and early 1960's in North America. I have some memory of this time when there was hardly any credit except that held on accounts by small businesses in our local towns. My family bought and built homes using cash only savings and this cash was hard to come by. No one traveled except to visit family a few hundred miles away. Few even had a passport that I remember. Children worked as soon as they were able and the only organized sports were in the lot or field next door ruled by the oldest children. Most people had a family garden and most meals were eaten around the kitchen table at home. Good things were handed down and kept within the family including mattresses, couches, tables, chairs, cooking utensils and tools. We read for those precious hours before dark when the days were long enough to have light left after our chores and supper. There was to be no wasting batteries on reading in a house with no electricity. How many of you are guilty of pulling the blankets up over your flashlight for just a few more pages while "wasting" precious batteries?
What of this time will actually be in our future? Will we keep open access to the internet? Seems we might in some places and not in others. Will we need to live without credit for all our needs? Could this be a good thing? Will we have family gardens and laying and eating chickens or eating rabbits or goats or a milk cow more often because it will be the only reliable fresh food supply? Maybe this could be a good thing as well? I am not sure. I do know we need to be thinking about what a non-globalized market means for us. And what will waves of famine and war refugees mean for North America? Are we ready for this possibility? So many questions! I do know that the least reliance on credit possible is often the best place during instability and volatility. It just means being able to have more options if something unexpected happens. Even a very modest life can become pleasant when living within our means and not just within our means to make payments. We usually even have something to share with others then too. Funny how that is.
Keeping all this in mind, how does one navigate daily life while thriving within accountable? First, there is a place between complacency and panic that is broad and flexible. This is the path of resilience lined with invigorating possibilities when things that we thought we knew can no longer be relied upon. How do we recognize this path? It usually means holding a complex mix of noncompatible positions and beliefs at the same time. It is the ability to be comfortable with being uncomfortable. This is how I came to paint a small sketch a while ago that I have been hesitant to share.
"One World, Two Places" is a small 8 x 10 inch acrylic sketch.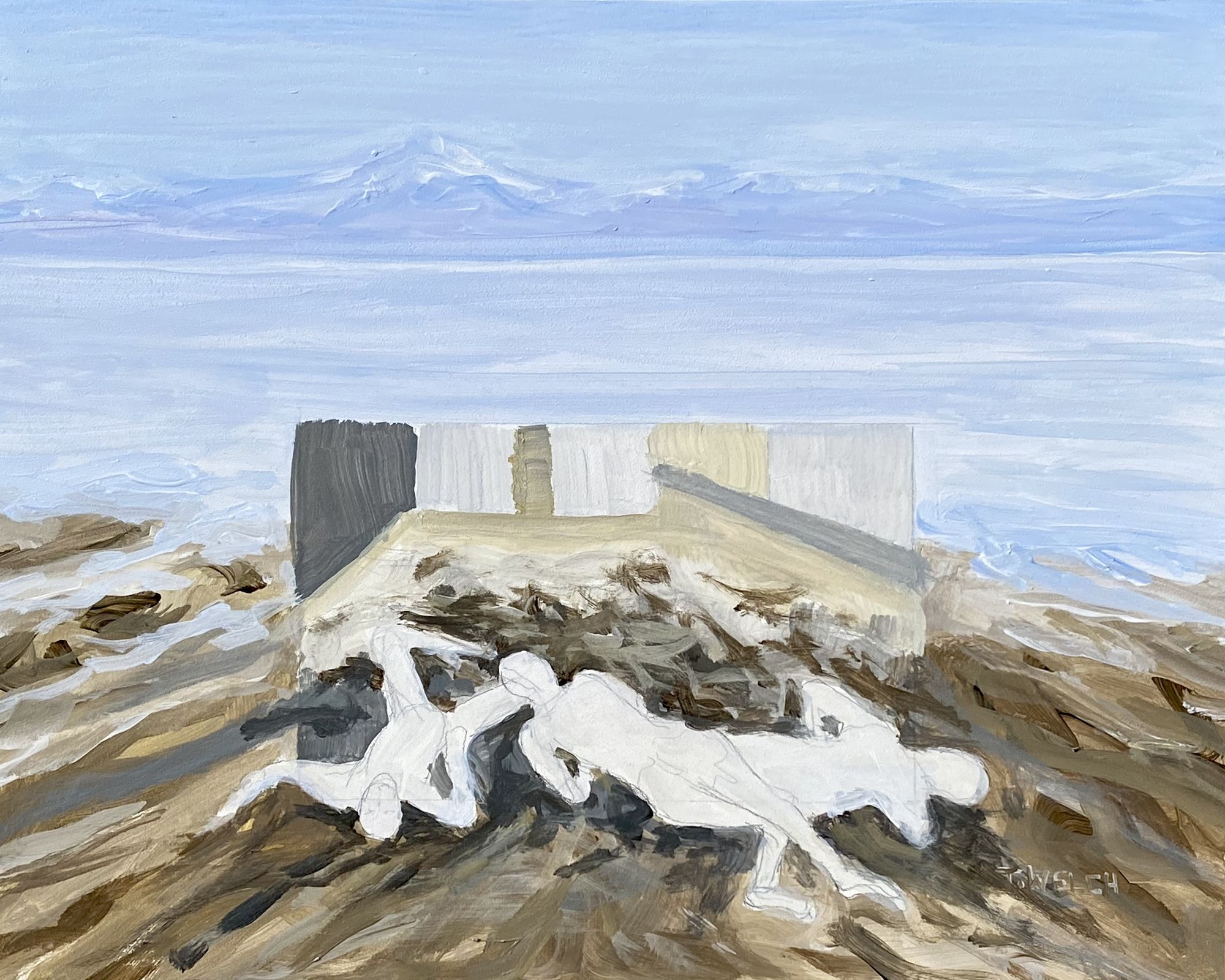 Artist notes: During mid April 2022 war photographers began releasing images of Bucha in Ukraine following Russia's forced retreat. The inhumane atrocities were nightmarishly haunting. I was overwhelmed by the graphic possibilities for sickly human behaviour. I went from our calm, warm, cozy home to the shores of the Salish Sea on the southwest coast of Canada where Mount Baker loomed across the waters in the United States. What if our neighbouring country were to attack us in this way? What would we do? These lands too have witnessed atrocities by European settlers towards Indigenous communities. There is no place of virtue for how despicable humans can be to one another. The miracle might be that we have even moments of peace, compassion and caring at all. Yet, the seascape of my island home is tranquil and takes the edge off of my inner turmoil. I return home and paint "One World, Two Places" using several reference but with a specific image quote from a photographer who (along with other journalists and photographers) risks his physical, mental, emotional and spiritual well-being to document the crimes in Bucha and the war in Ukraine.
[This painting sketch is not for sale and may never be. I am currently working with a translator to ask permission to reference the photographer by name.]
Now, we definitely need some time along the trails, in the woods and by the sea….
Mayne Island Nature Meanderings
Honestly, sometimes these truly are hikes and other times I just go out poking around or lay on the sandstone that has been warmed by the sun. Either way, it has been splendid! Wild flowers everywhere!
When it is the end of May or early June, and still sunny at 7:00 pm on Mayne Island, I like to go to the trails along the sea that catch the last rays and hang out on the warm sandstone. Usually it is a solo adventure and most often I do not see anyone at all. I mean, I like you all, but I don't always want to see you. 😊 So here is an evening's adventure along a wildflower fill natural stone wall garden….
Don't you just love it when you are walking along enjoying the sea breeze and the dappled light… when you spot something!?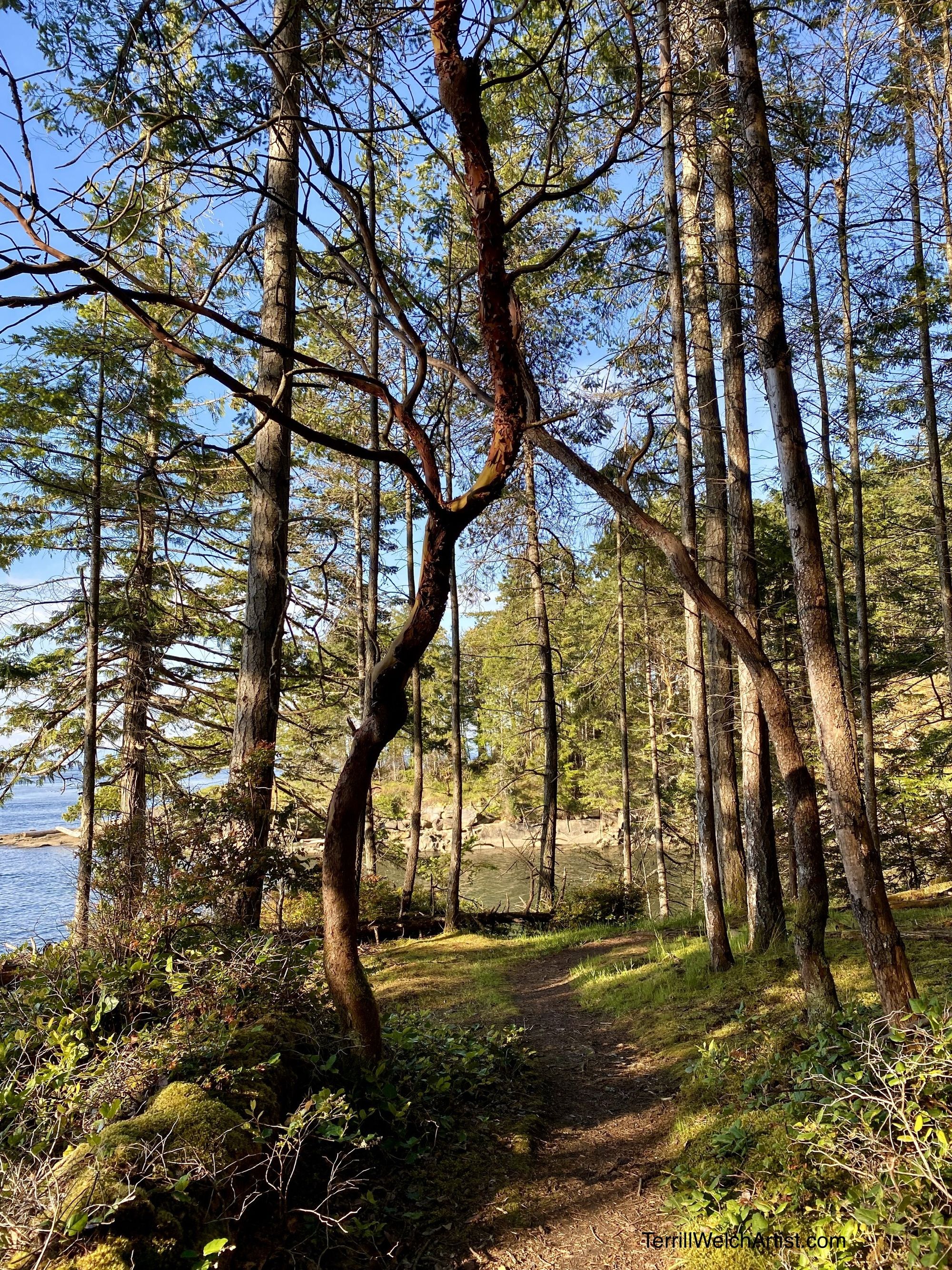 Lysimachia latifolia commonly called Western Starflower or Pacific Starflower or Broad Leaf Starflower is part of the primrose family. It is common, tiny and a very light pink but still seems dramatic in the woods.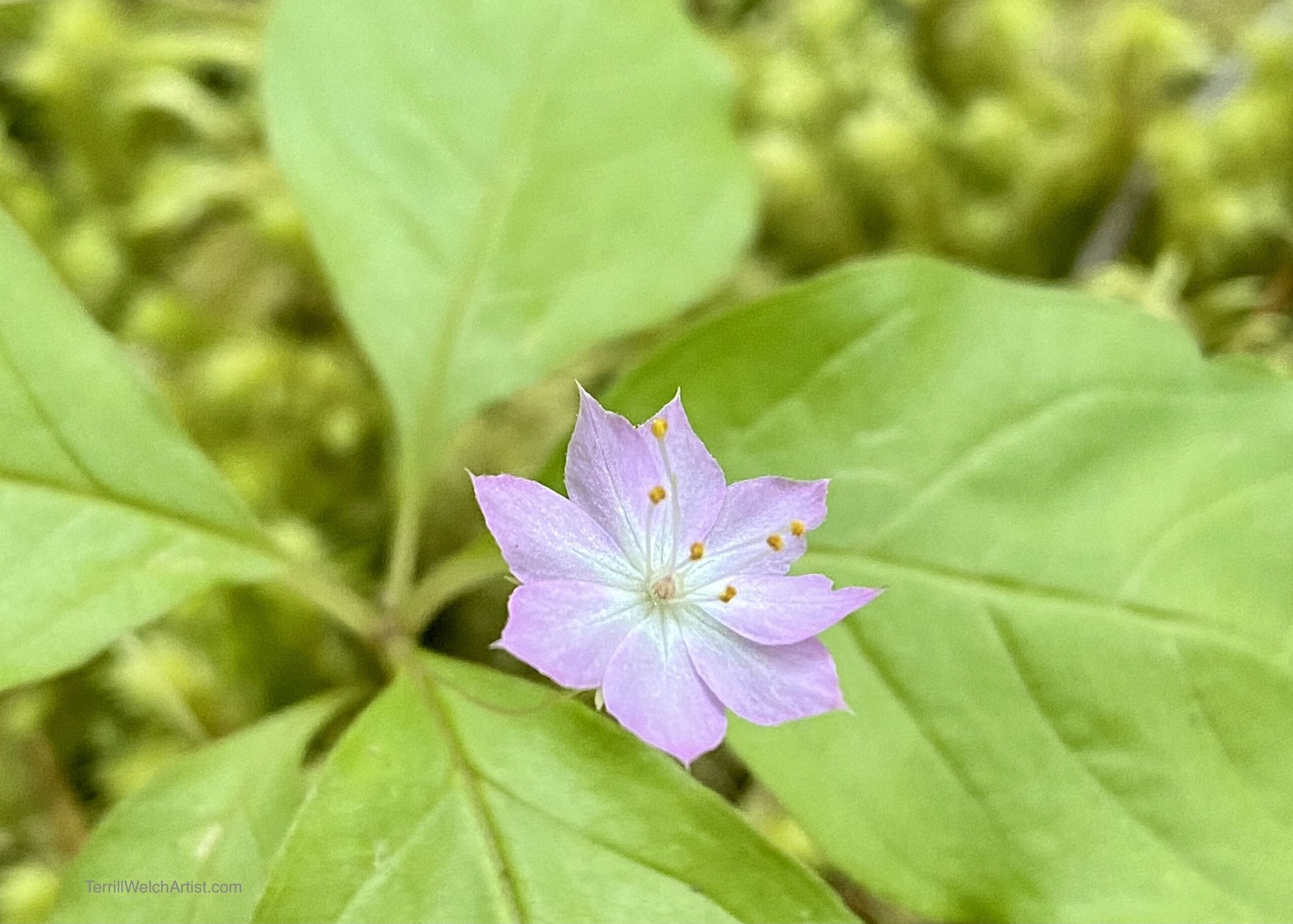 Seablush or plectritis congesta is a stunning wild spring flower that grows along the seashores of the southwest coast. Apparently, they are not a favourite with deer but I think hungry deer will eat most anything.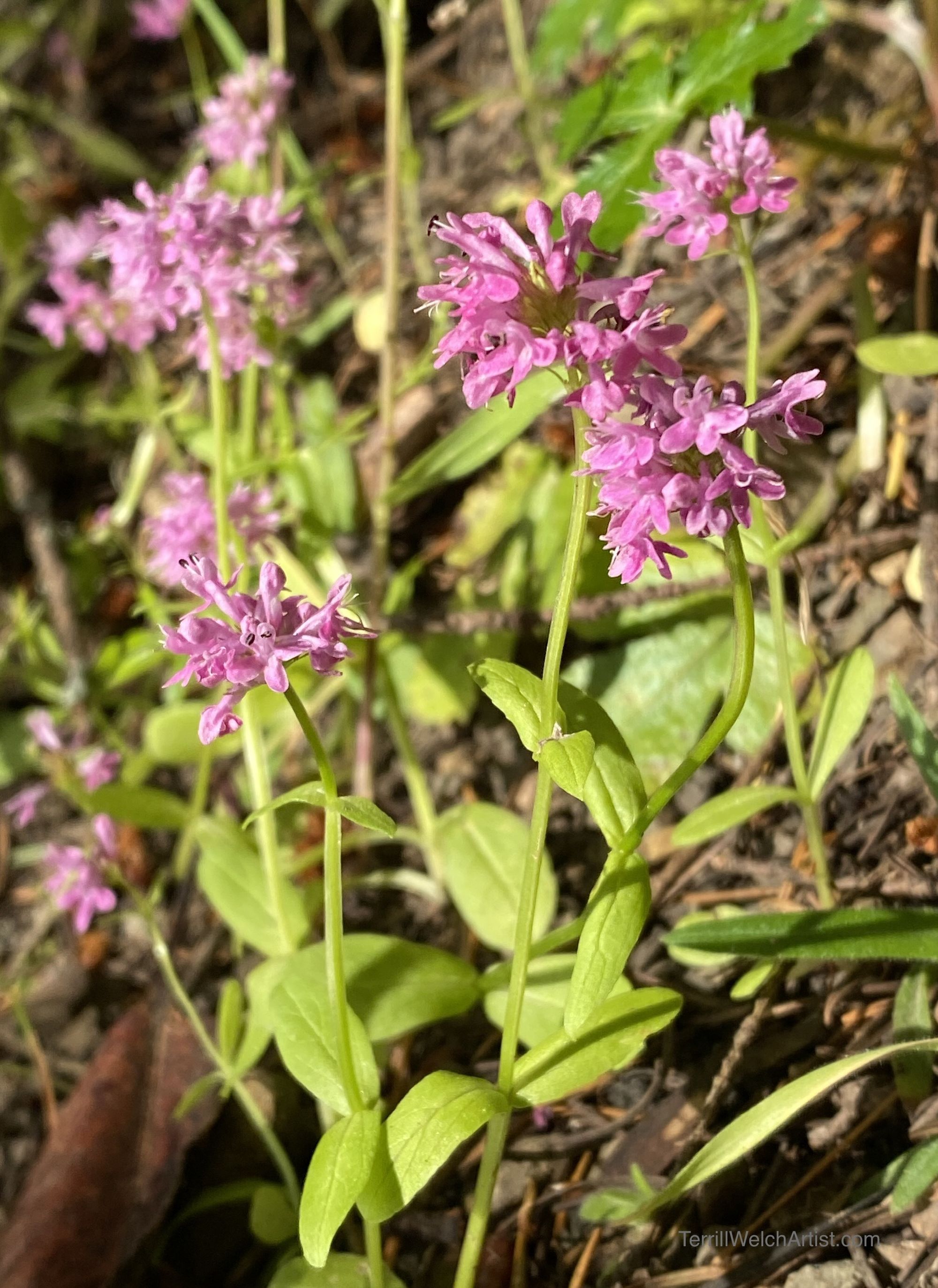 My next find was a clump of Small-flowered Blue-eyed Mary (Collinsia parviflora) The best name!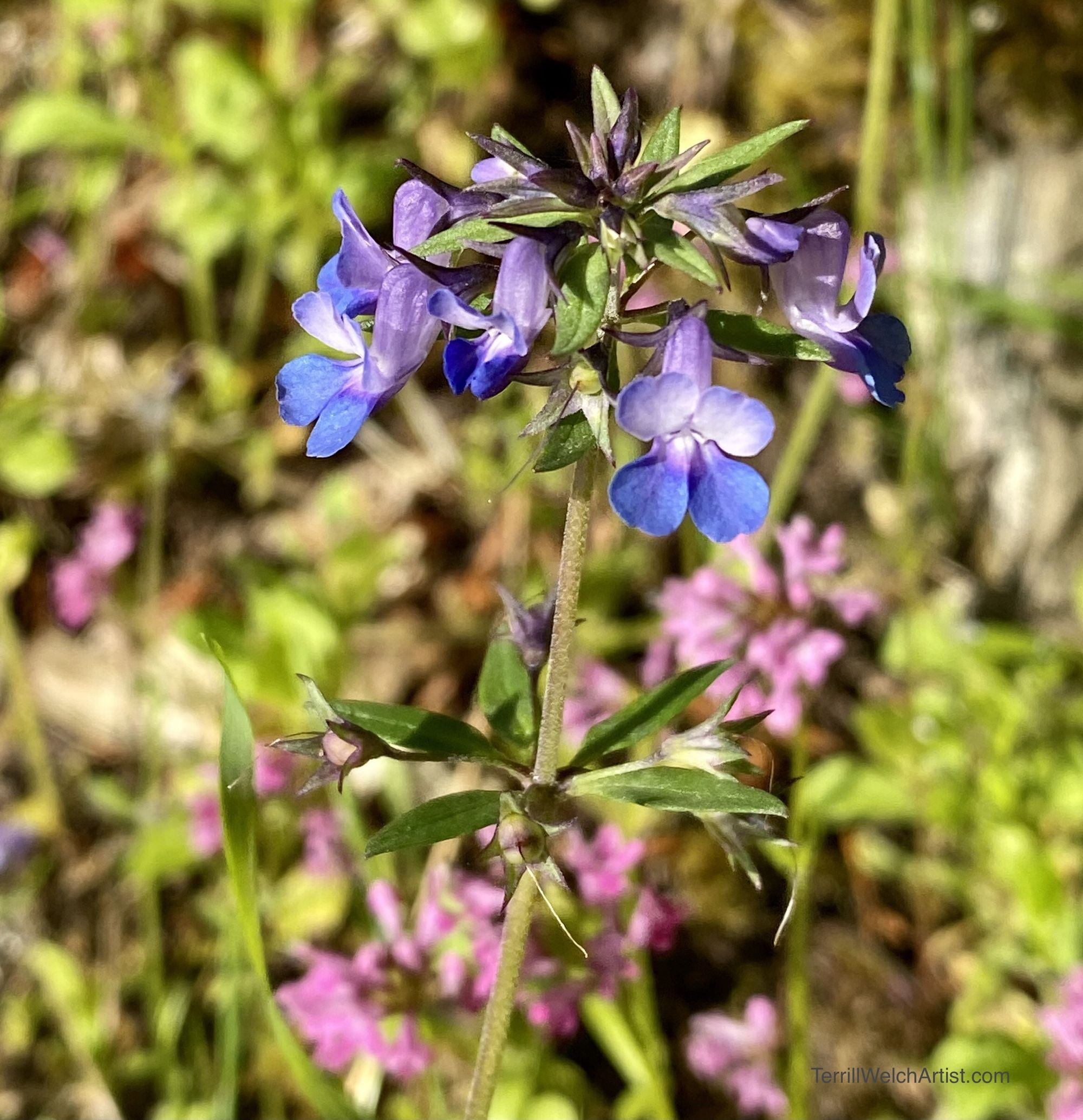 The prize was the natural sandstone wall though. Just look at these beauties!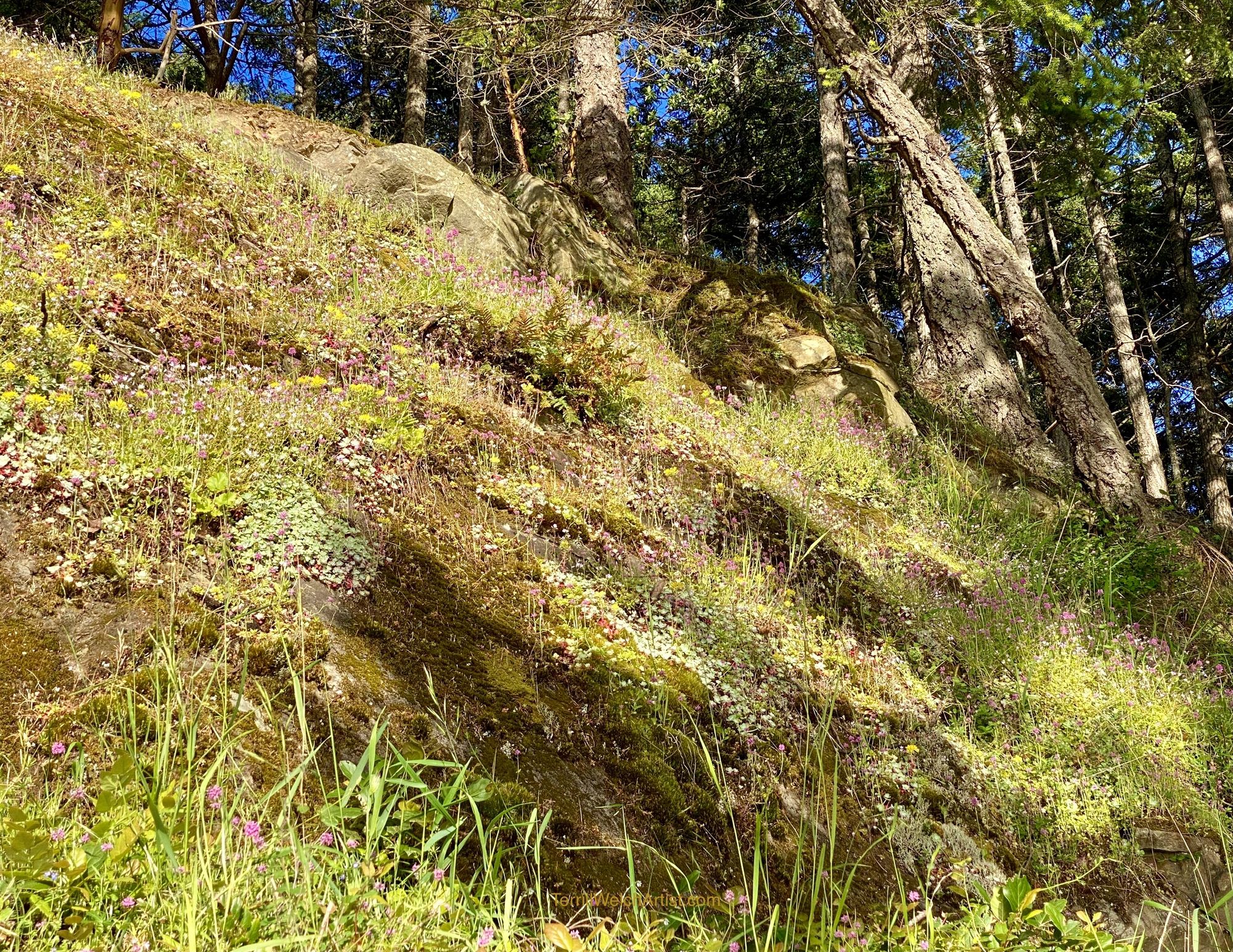 The rocks directly overhead held Broad-leaved Stonecrop (Sedum spathulifolium) and we shall see more of these gorgeous lovelies. Here they are growing with these leggy spotted specimens with mauve flowers - a Small-leaved montia - Montia parvifolia in the family Montiaceae along with the miner's lettuces. Love the combination!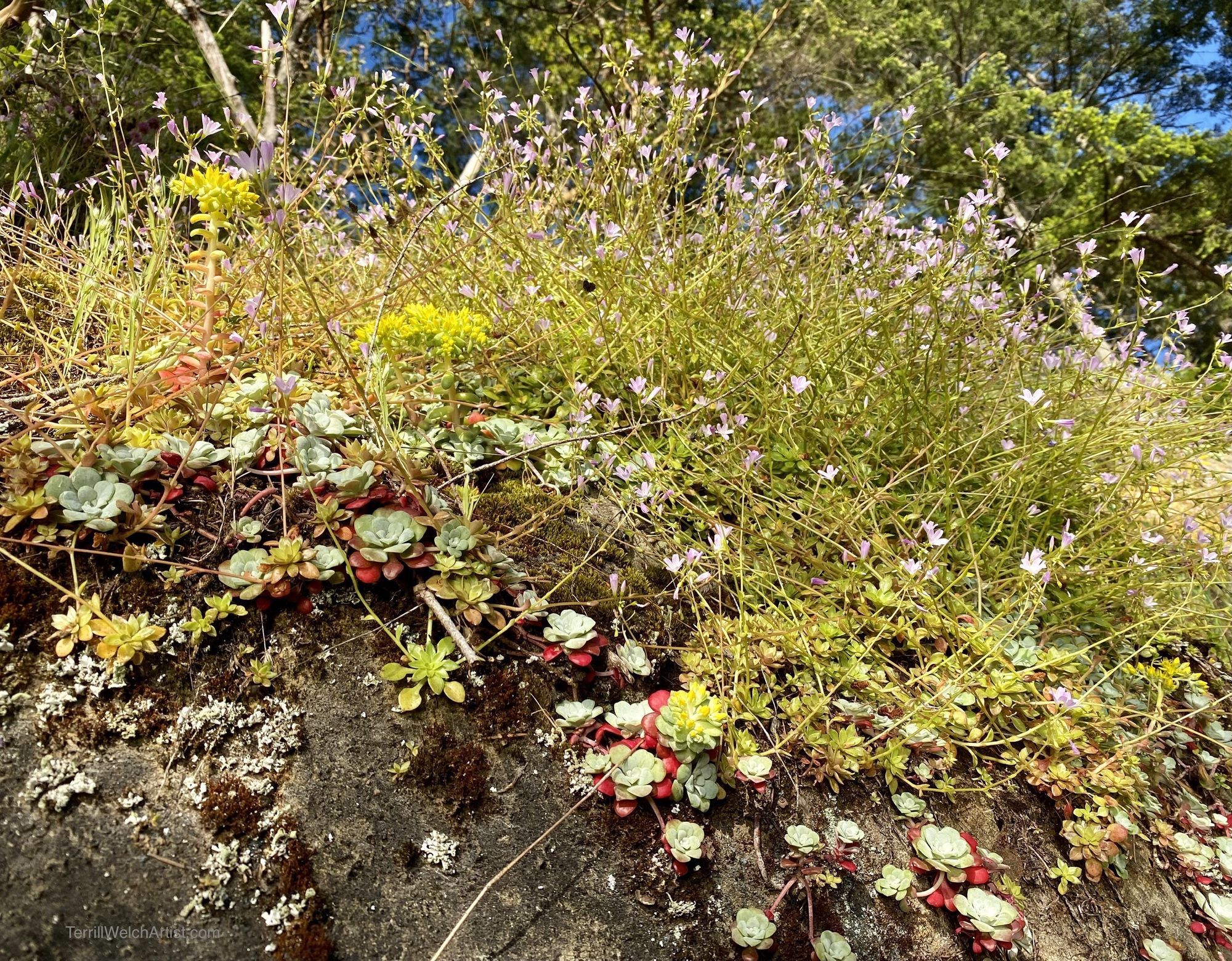 I keep following the trail along the shoreline for a ways further.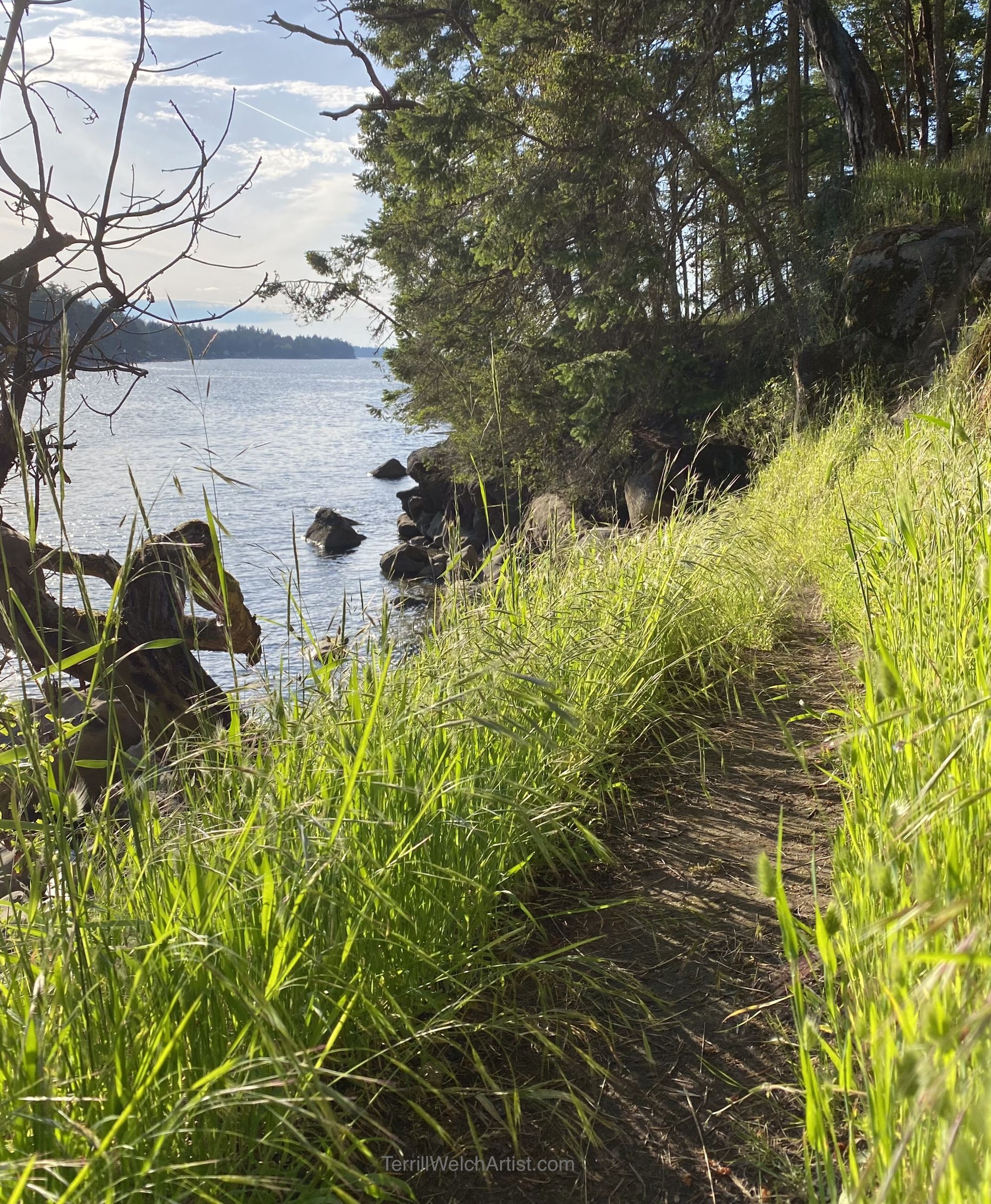 I catch sight of another Broad-leaved Stonecrop (Sedum spathulifolium) farther out on the point that is pretty darn handsome all by itself with just a few grasses.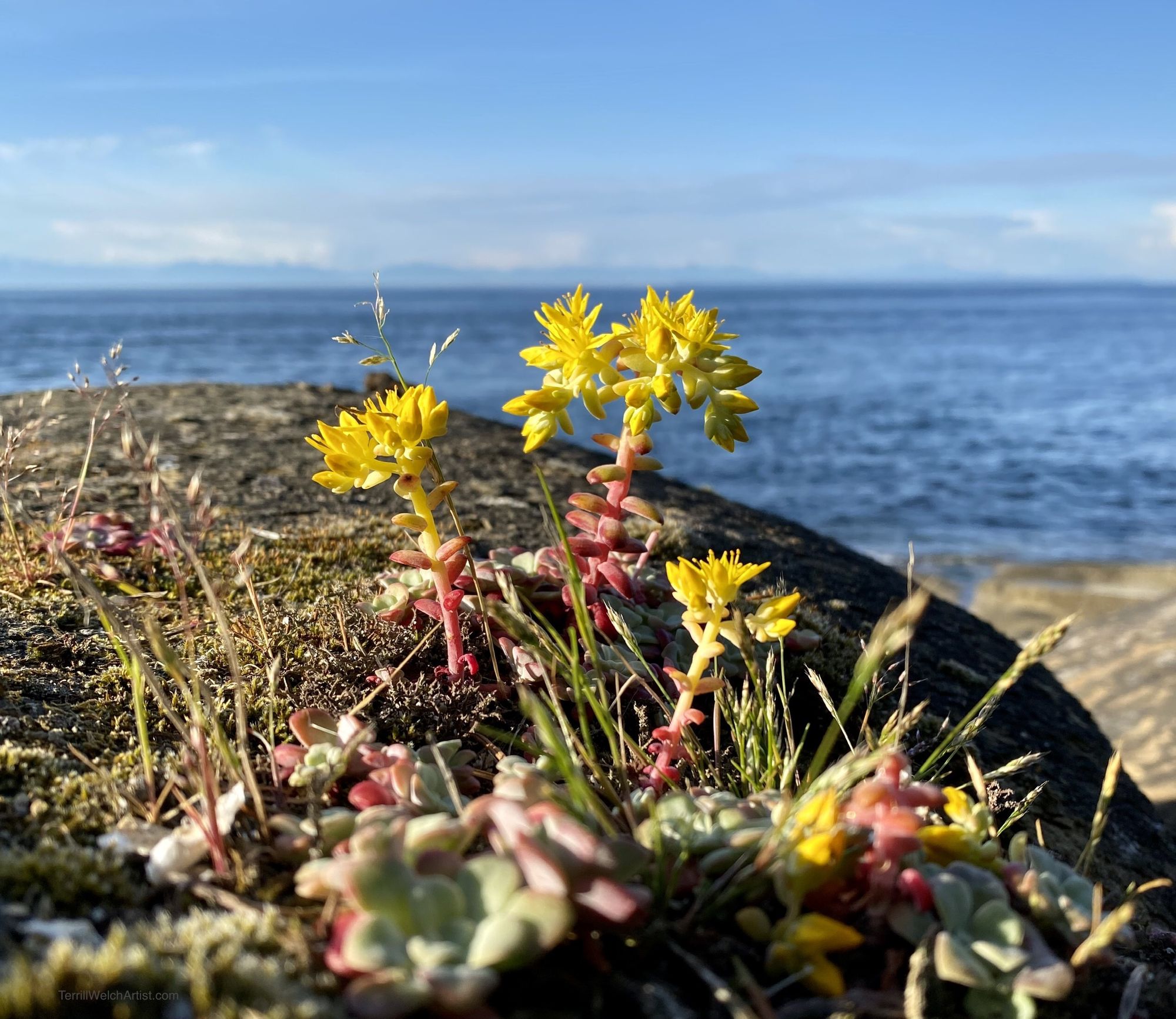 Just a little farther along yet is the Erythranthe guttata or Yellow Seep Monkeyflower.
Now, do you remember me mentioning the sun warmed sandstone? If you follow the trail up around the bend, there is a spot that is perfect for laying on your back listing to the sea and doing nothing at all. But you have to wait until evening in a longer day of the year or go early in the morning once the evenings are warmer.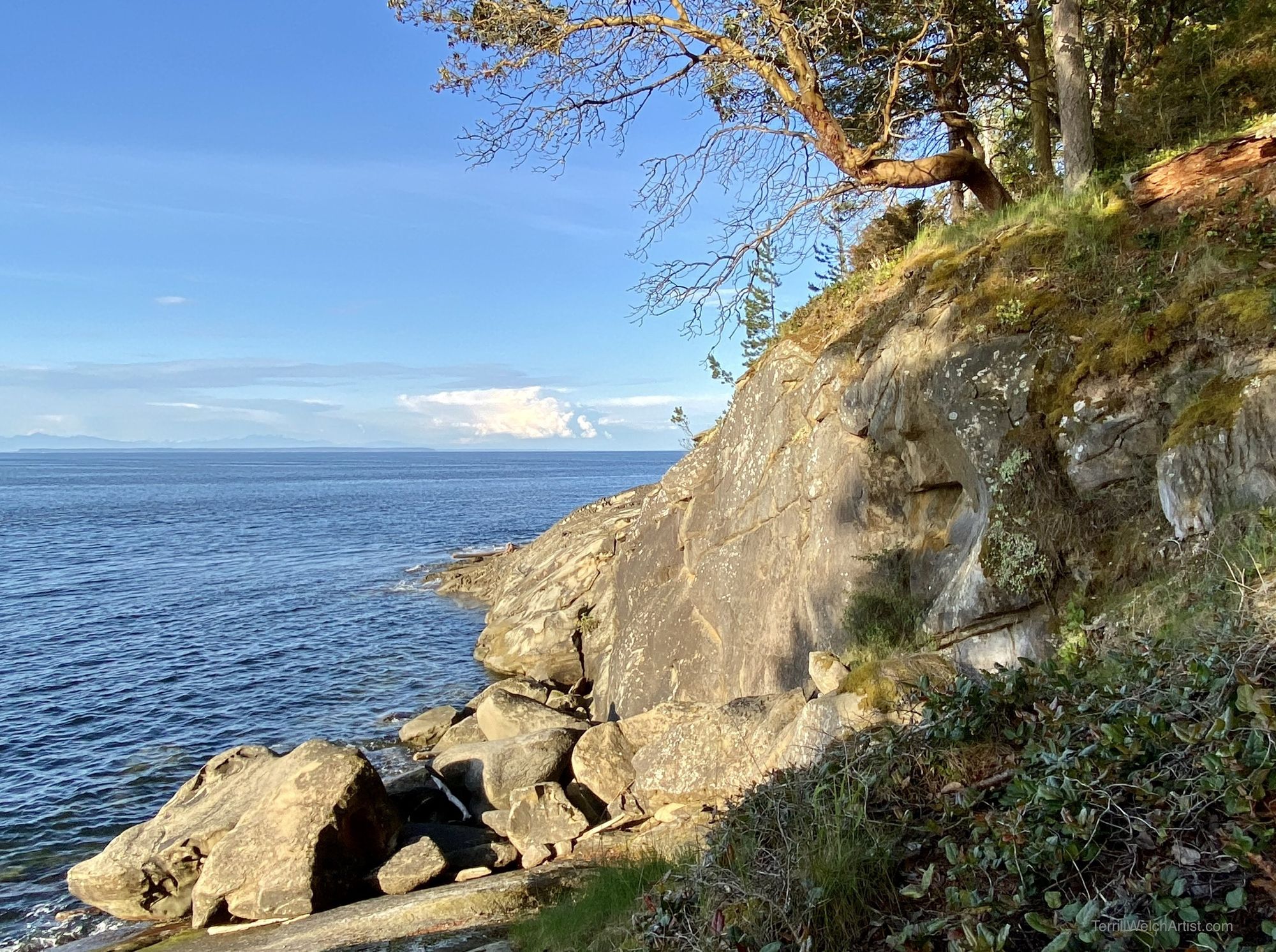 This past Tuesday I made it out for a real hike as well! I was out early on a perfect Mayne Island Bee's Knees kind of June morning today. Totally glorious and at 7:30 am I was the only one in the Saint John Point Parking lot and when I returned at 9:12 am I was still the only one in the parking lot. Now that is a quiet trail hike except for the birds, bees and float planes...
Don't you just love a morning that holds the promise of summer?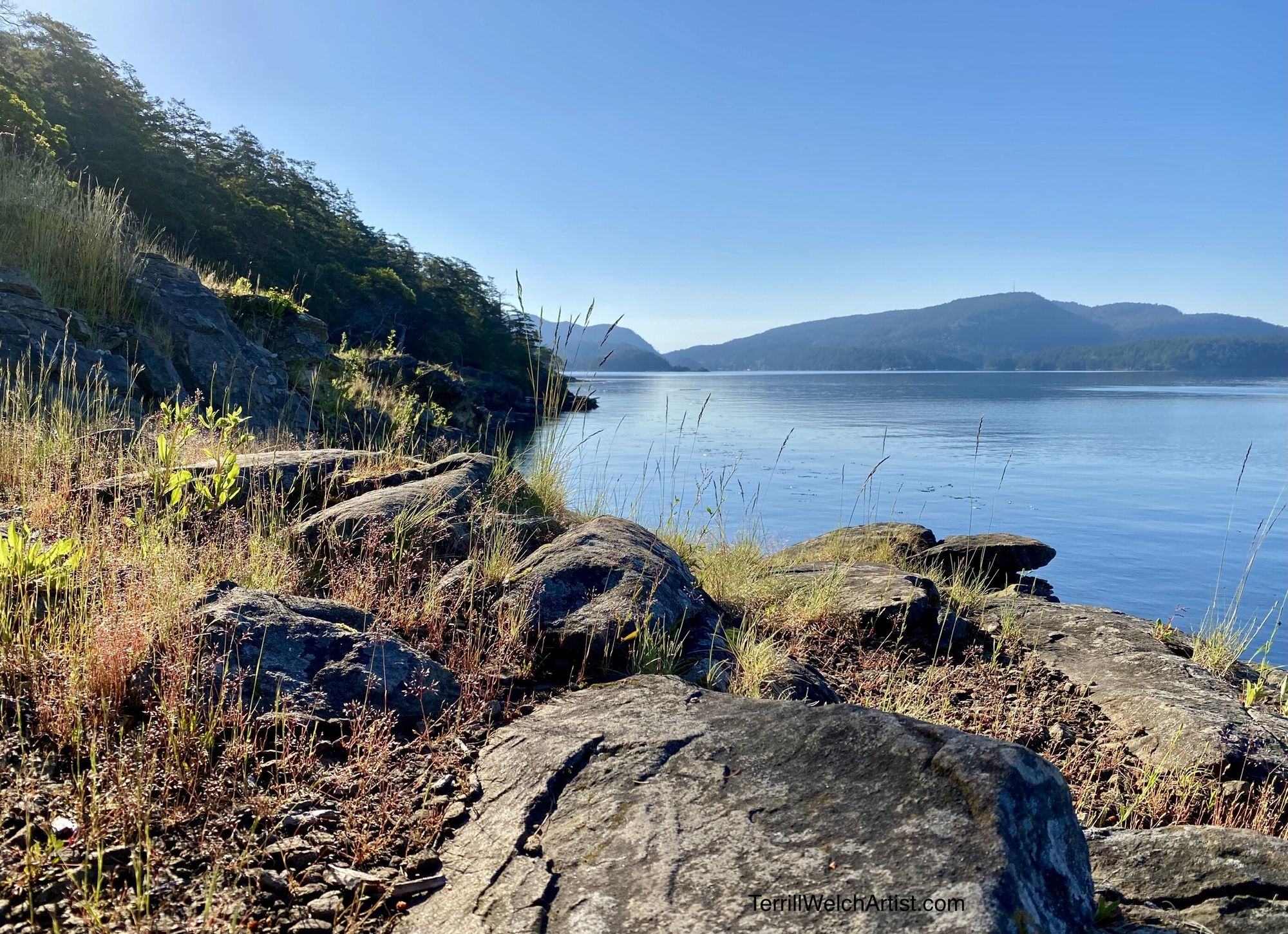 The sun is just starting to come over the top of the trees and reach the north side shores in Navy Channel.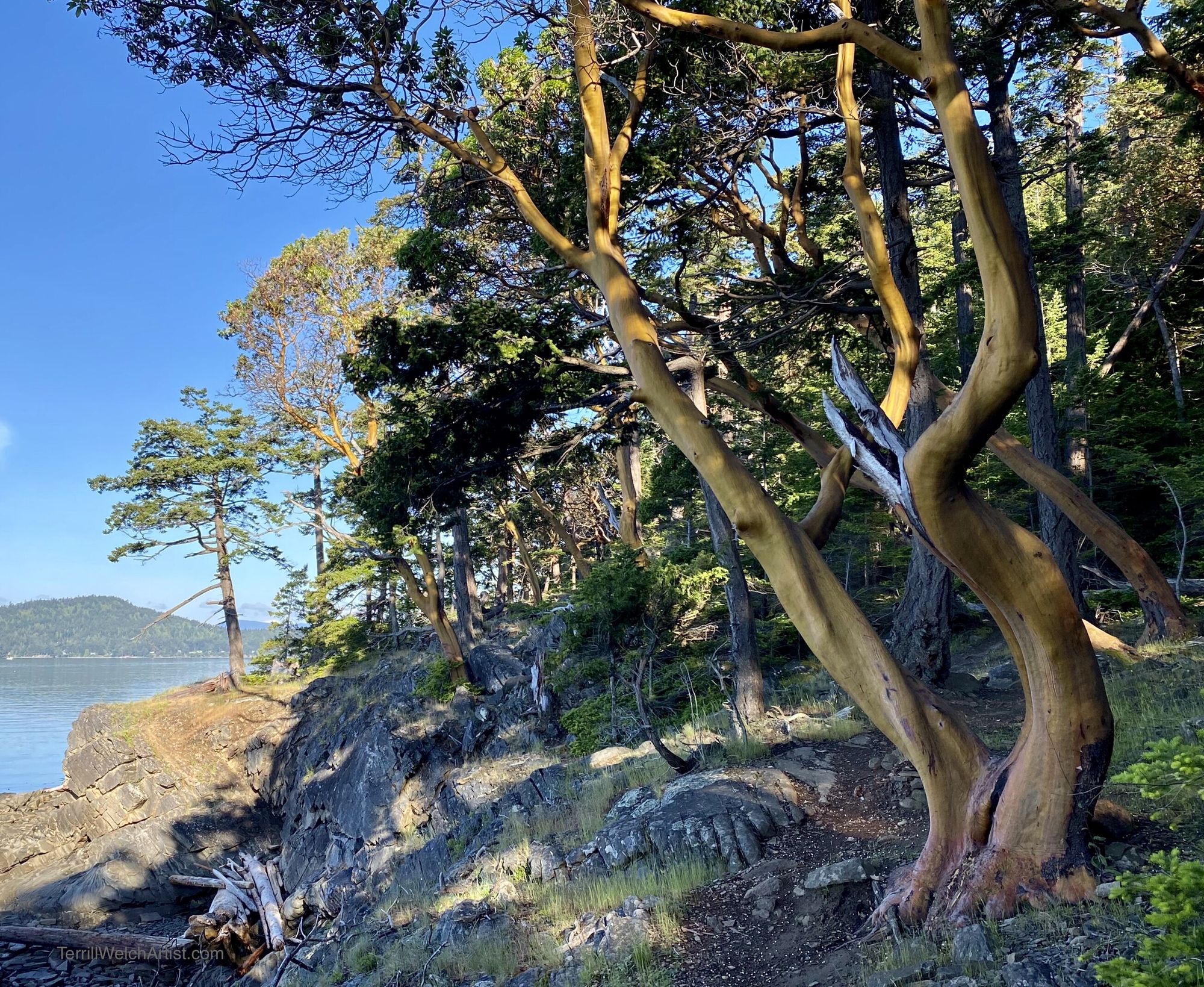 Aaah but it was lovely!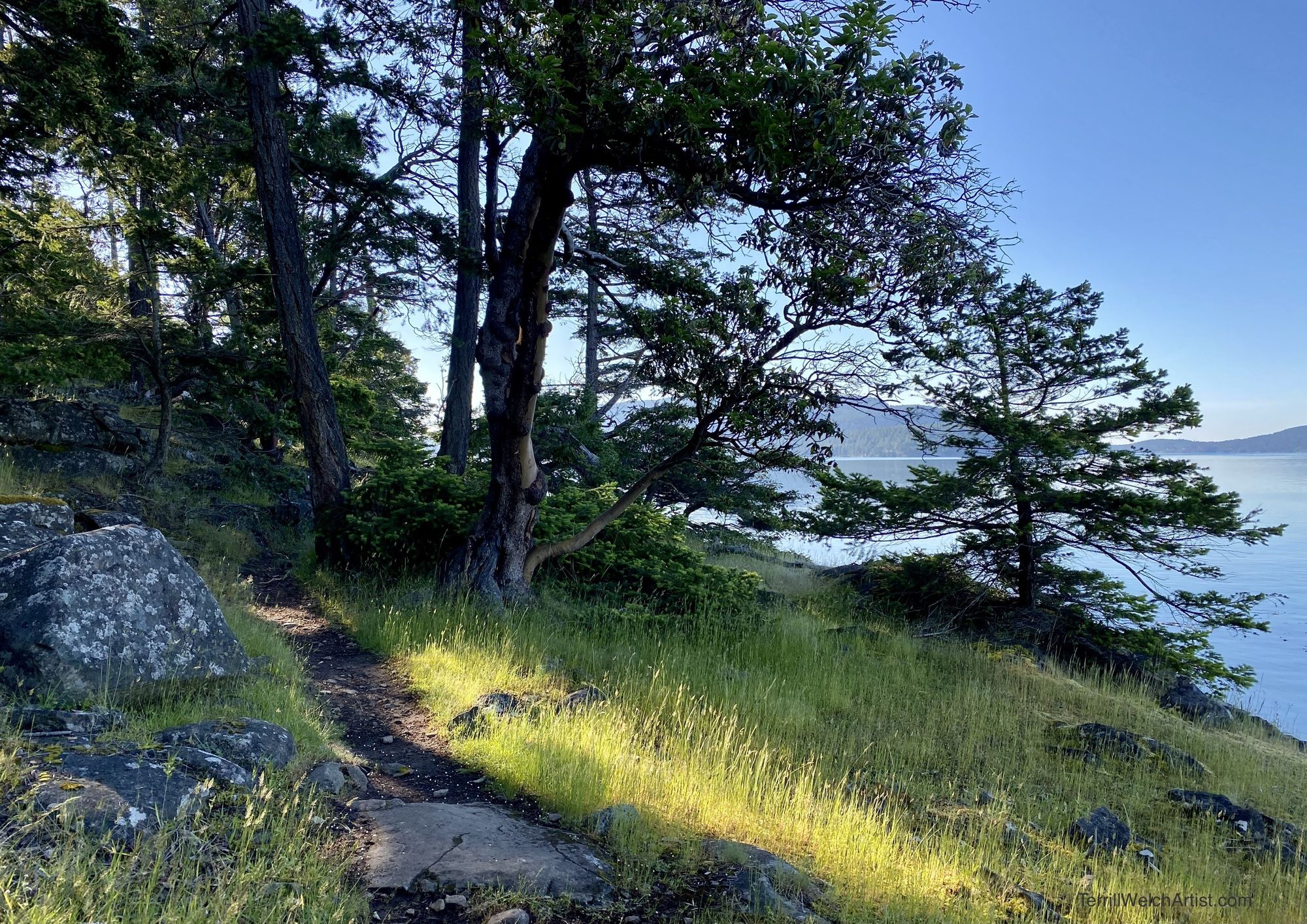 This is I think Deschampsia flexuosa, commonly known as wavy hairgrass. It is a species of bunch grass trees that grows in really dry tough conditions. I always find it just a little whimsical this time of year.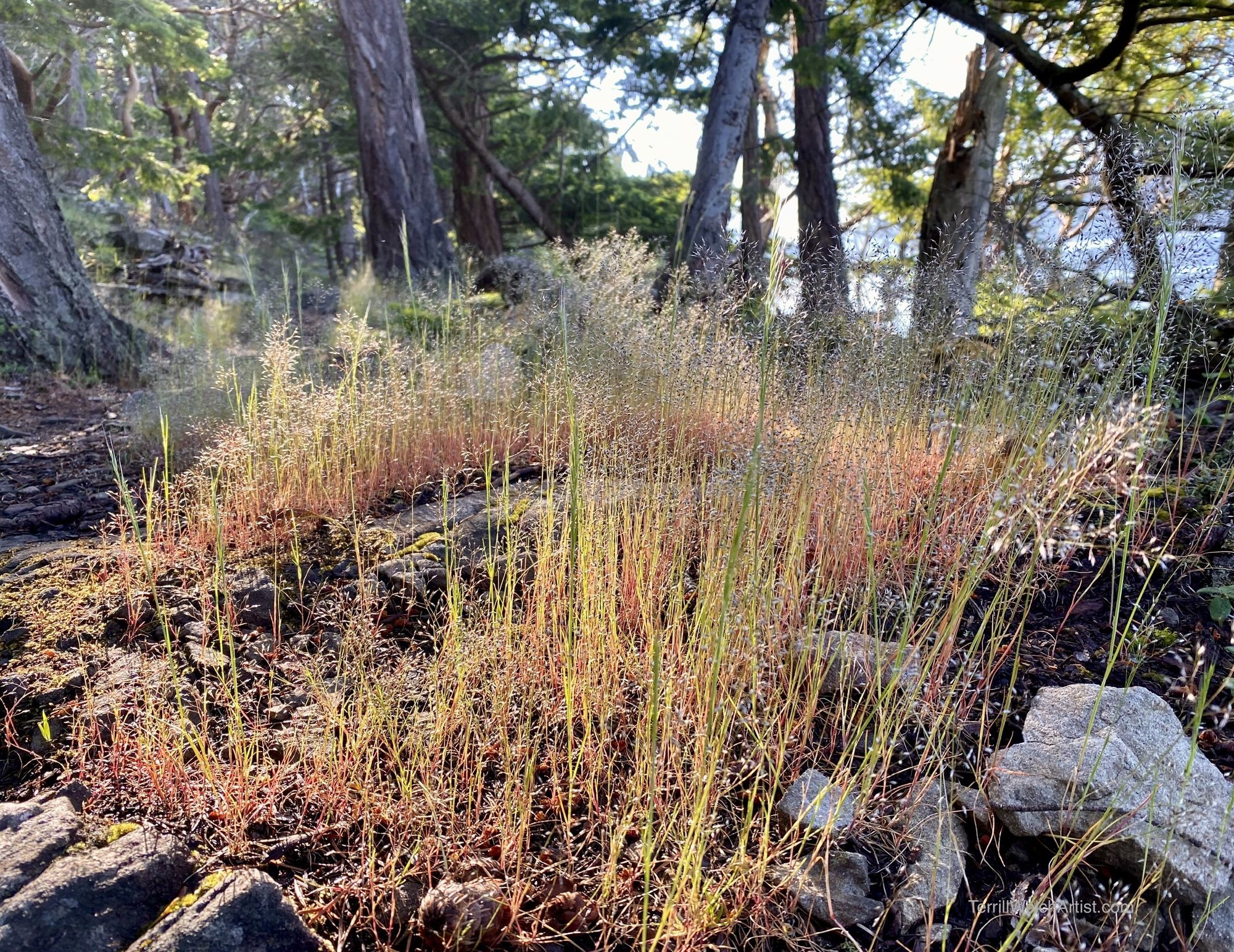 Allium cernuum or wild nodding onion has caught my eye since I was a child chewing stems under the pine trees. These are highly attractive to short-tongued bees, but not to grazing deer. Each flower develops into a spherical fruit, which splits at the end of summer to reveal more shiny black seeds. Beneath the soil, the bulbs split and multiply just the way tulips do.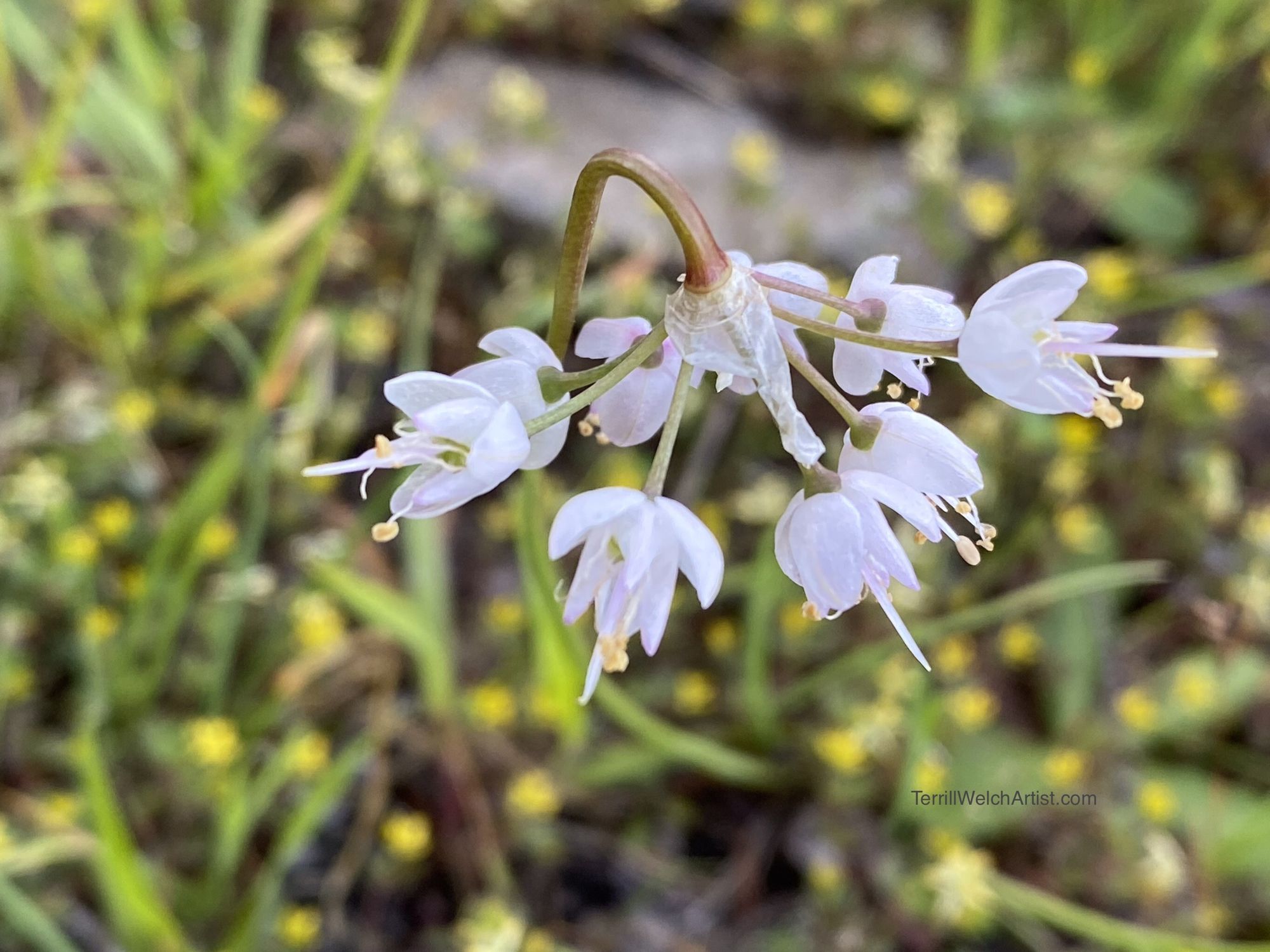 And Trifolium willdenovii, or Tomcat clover, is a species of plant in the pea family Fabaceae. Next time I pass a patch I will just say… ah yes! Another bunch of Tomcat clover!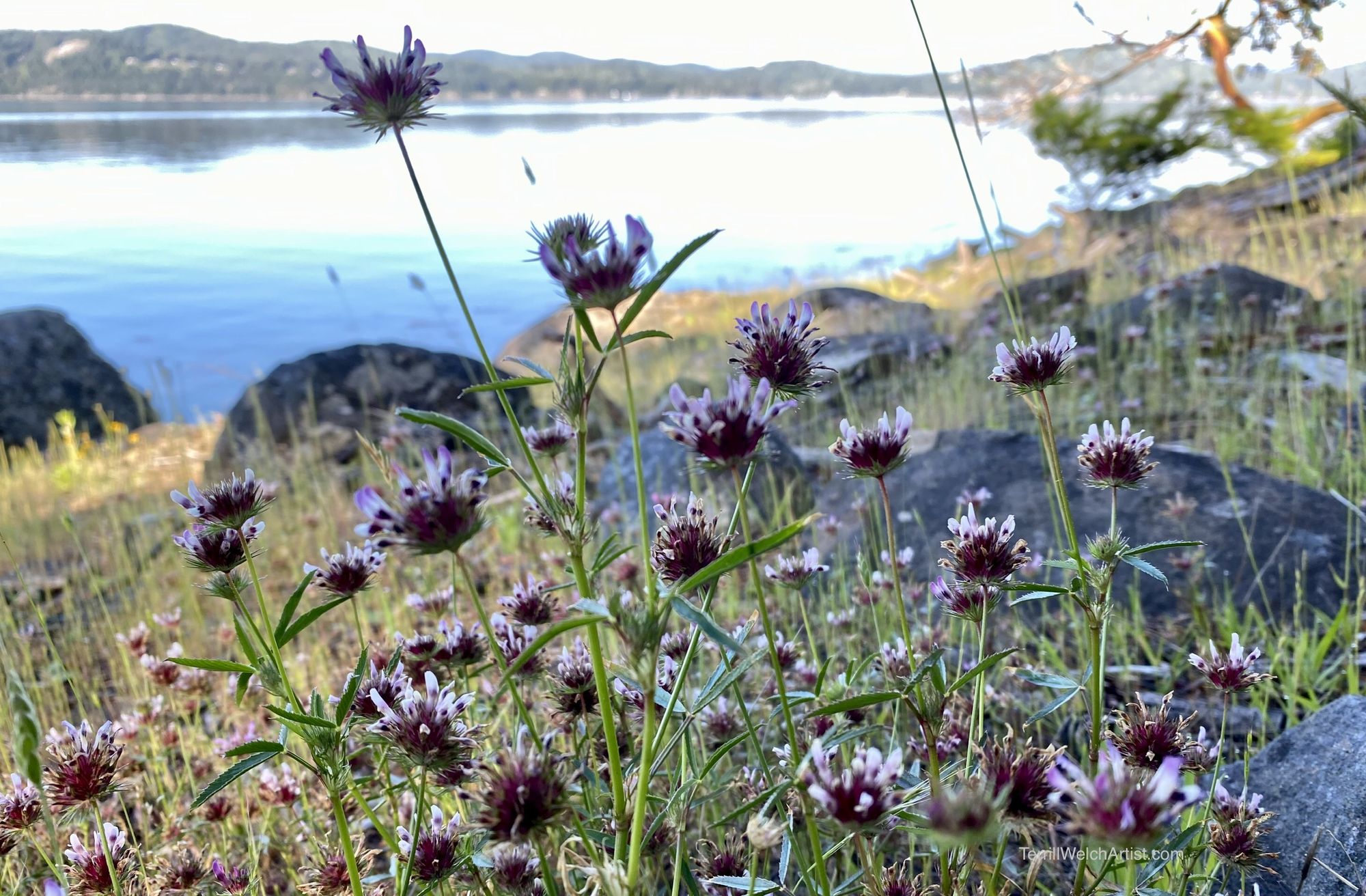 I discovered this wee woolly sunflower last year for the first time but our cool damp spring has really offered up a bouquet in bunches this year. Eriophyllum lanatum, with the common names common woolly sunflower and Oregon sunshine. It is a perennial herb growing from 1 to 2 feet (30 to 60 centimeters) in height. The woolly sunflower grows in well-branched clumps. Both stems and leaves may be covered with a woolly gray hair, but some plants lack this hair. The hairs conserve water by reflecting heat and reducing air movement across the leaf's surface. The hairs impart a dusty gray color to the plant.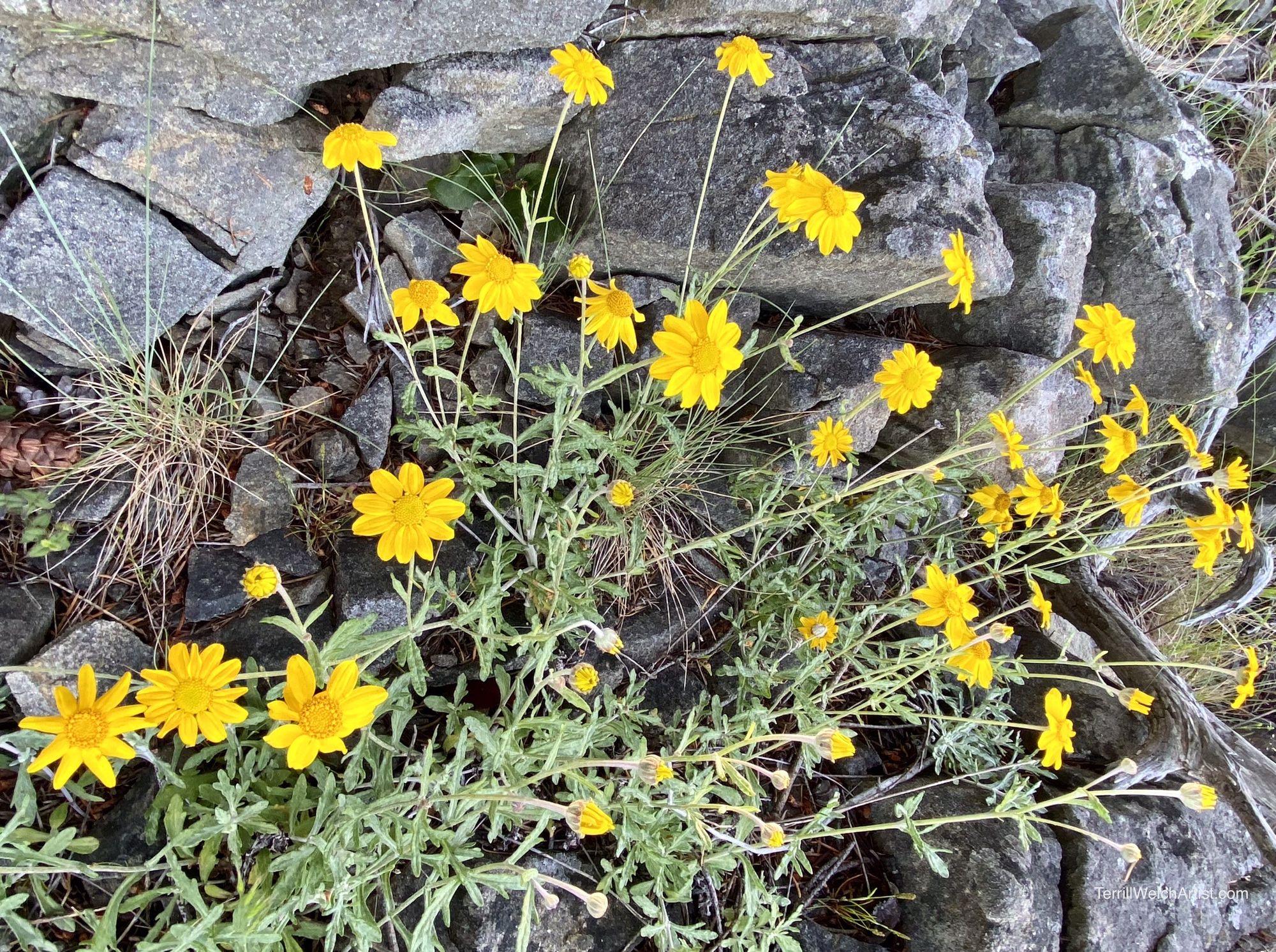 The tide was low so I was able to get some different views.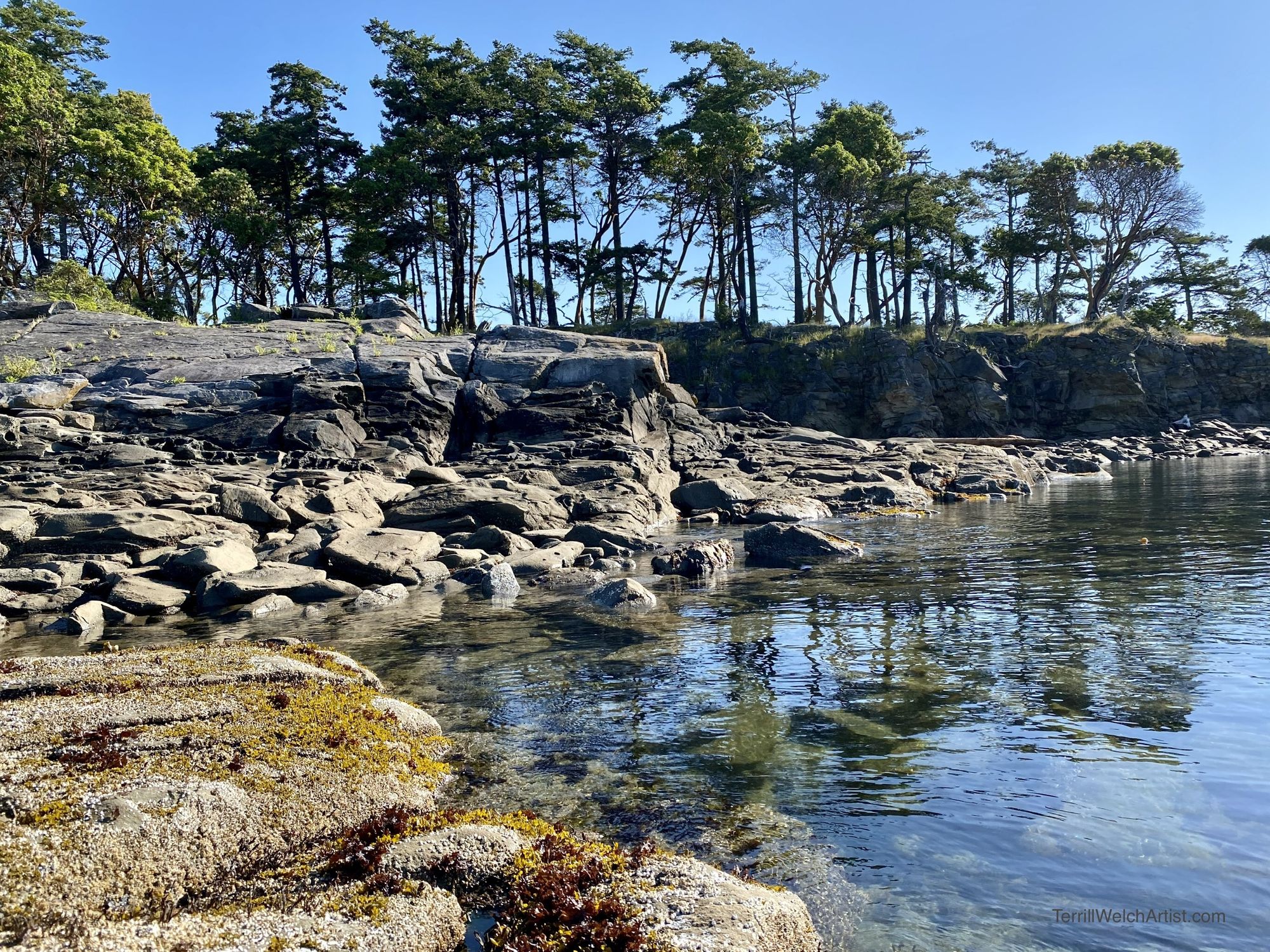 But then there are old favourites as well.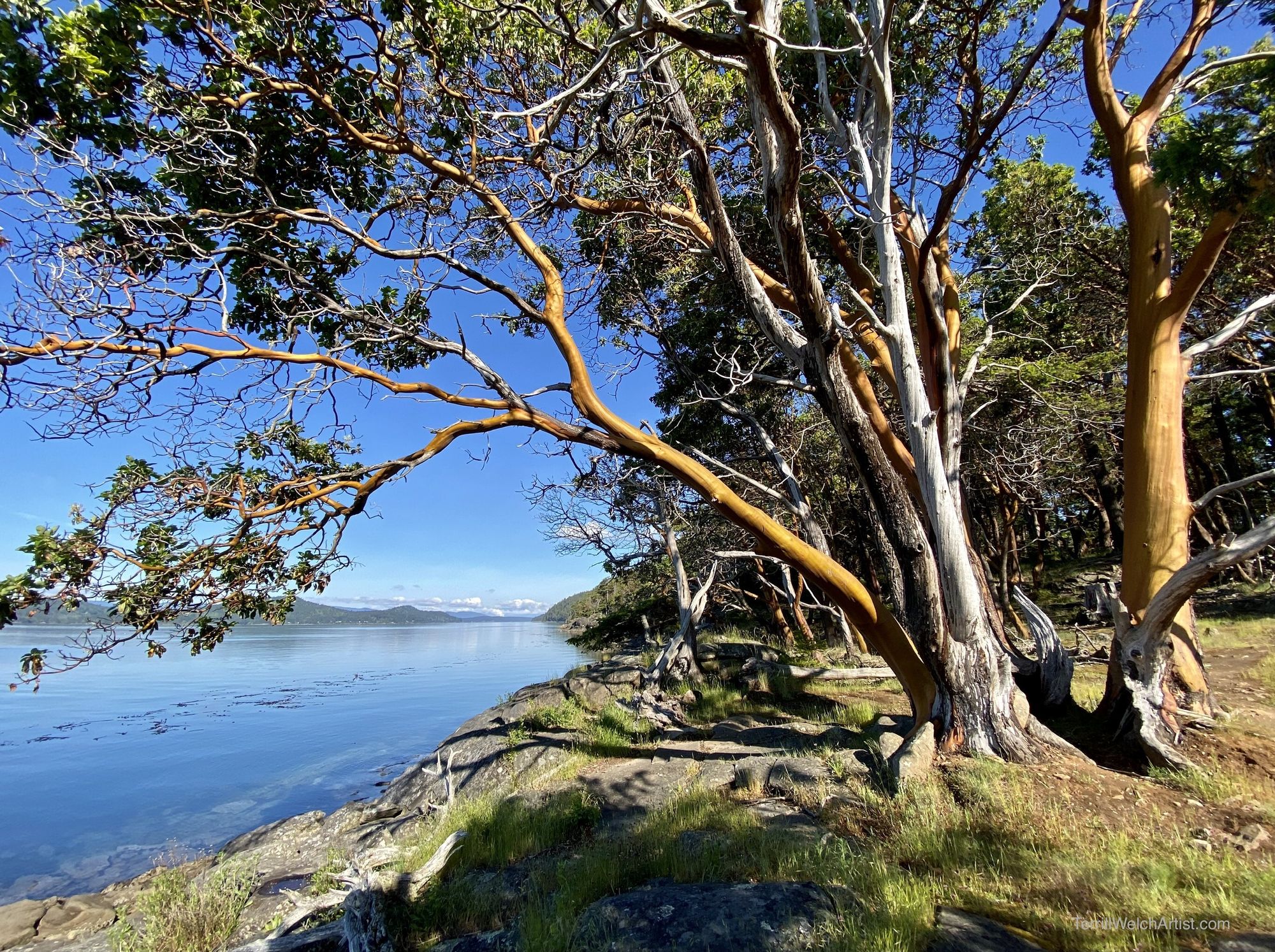 I was practically humming to myself by the time I was heading back to the parking lot.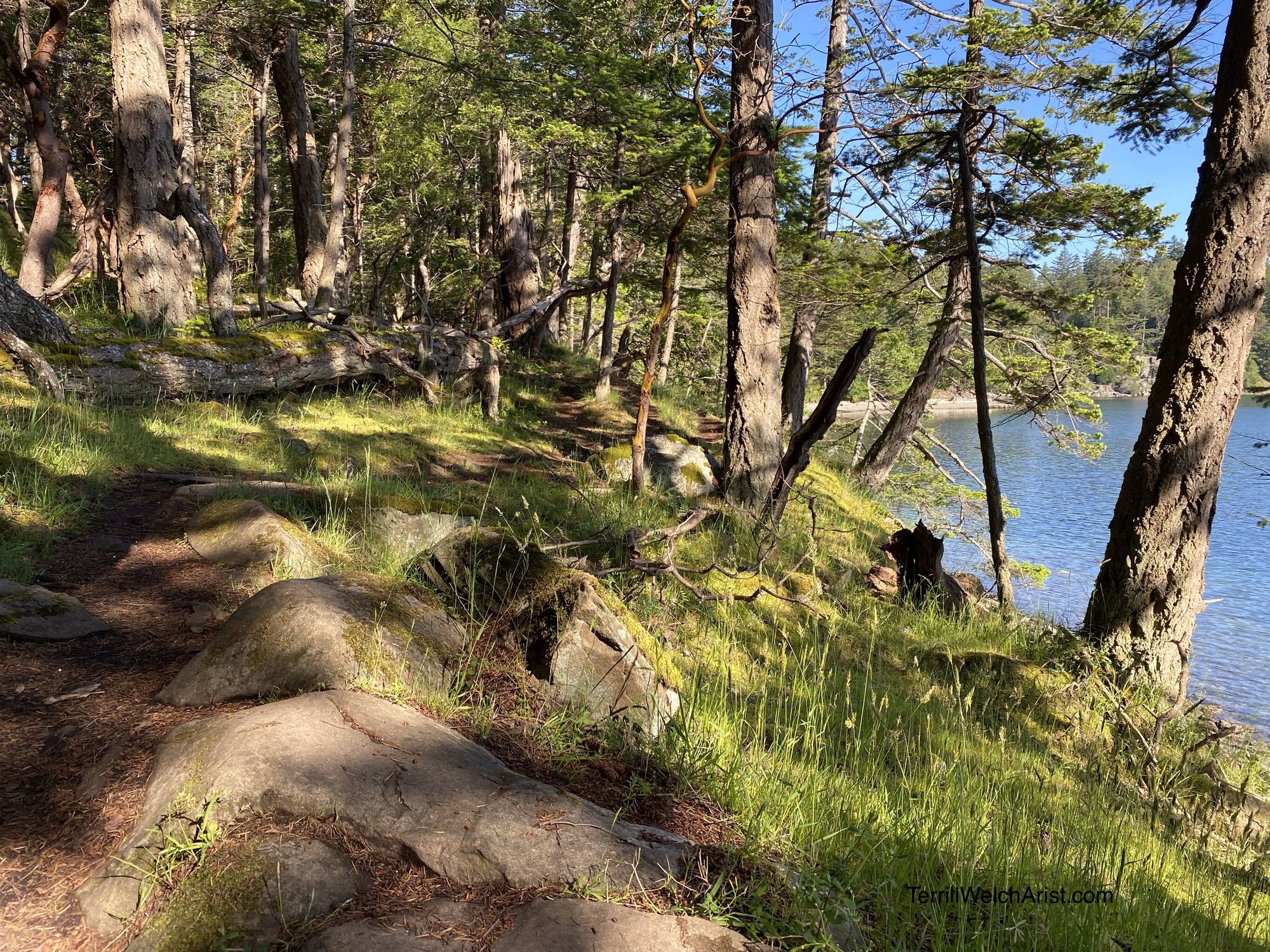 Then I spotted Heuchera micrantha is a species of flowering plant in the saxifrage family known by the common name crevice alumroot, or small-flowered alumroot. It is native to western North America from British Columbia to California, where it grows on rocky slopes and cliffs.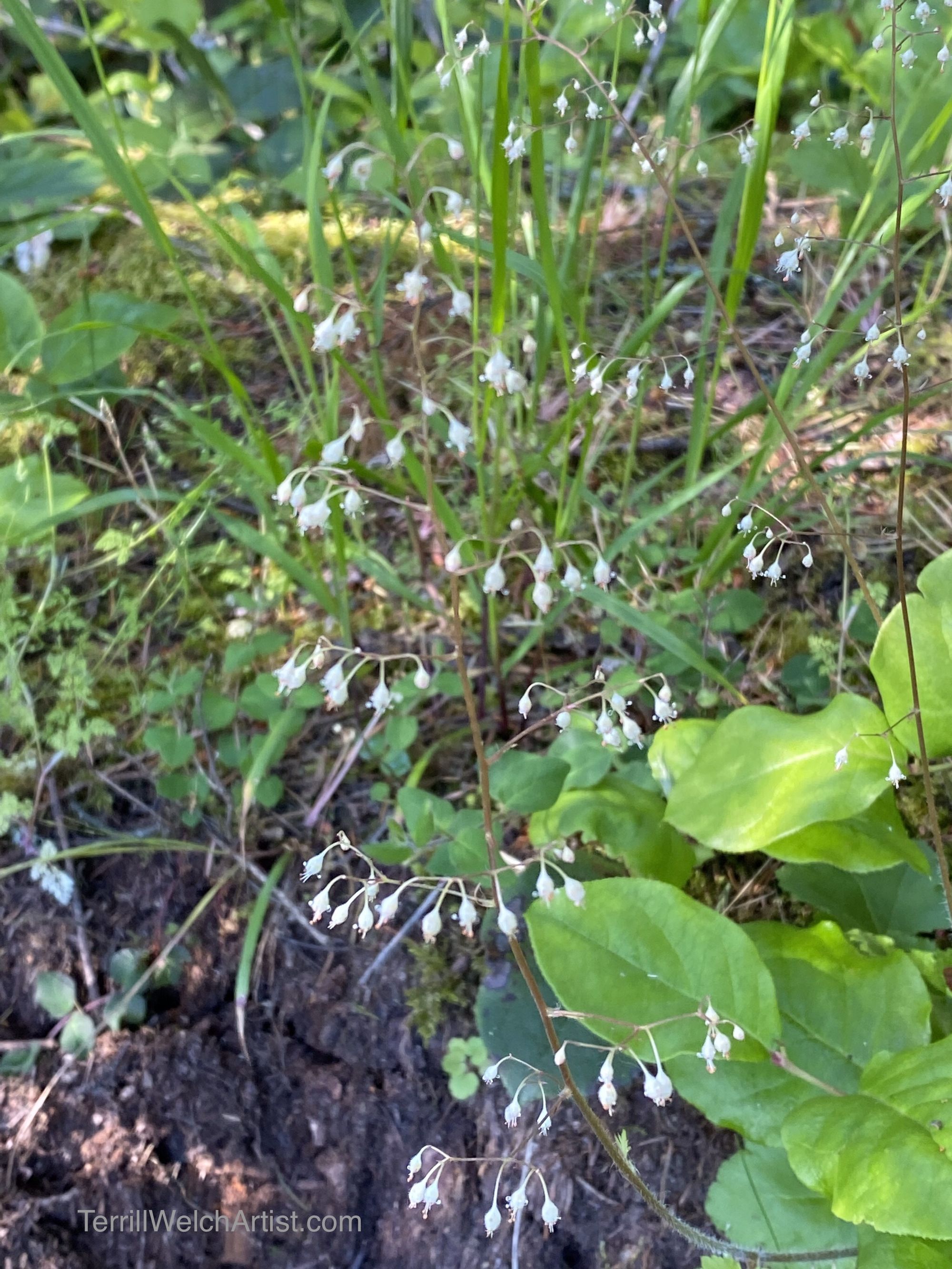 Orange honeysuckle, or western trumpet (Lonicera ciliosa) is found across southern BC, but is more common west of the Cascades. The species name ciliosa refers to hairs found along the leaf margins. Unlike the creamy white, scented blooms of the English honeysuckle or woodbine (Lonicera peridymenum) which are pollinated by moths at night, orange honeysuckle is unscented, due to the fact that it is primarily pollinated by hummingbirds which are attracted to bright colours rather than scent.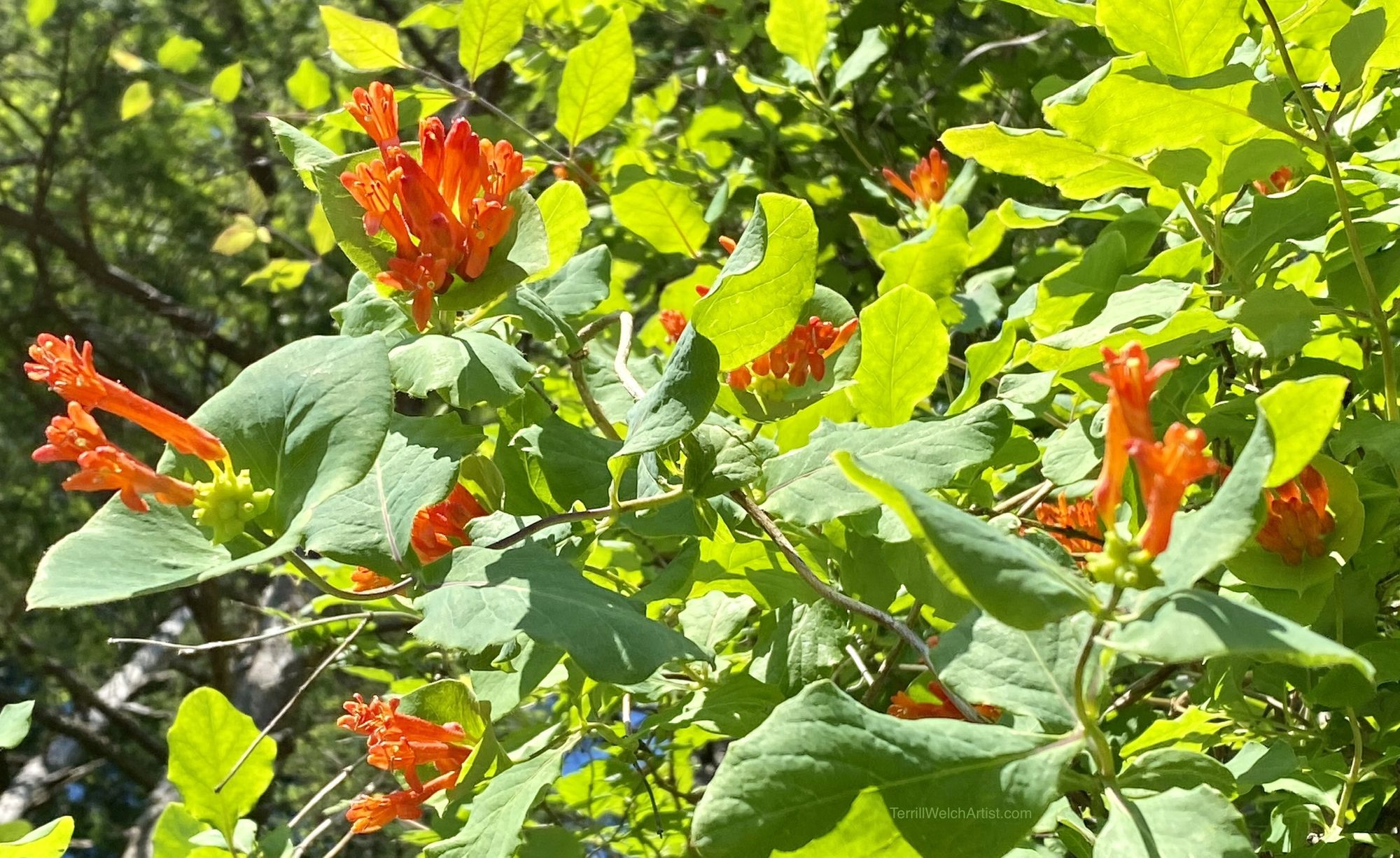 P.s. I do not inherently know a lot about our Mayne Island wild or naturalized plants but I am always curious about what I am looking at so take the extra time to find out. Once I am relatively sure I have identified a plant correctly using photos and descriptions, then the rest is easier. The information about each plant I share usually comes from a few sources which I haven't mentioned because you will be able to do the same Google search yourself and find out even more. If I get stuck identifying a plant or a tree then there is a great Facebook group call Field Naturalists of Vancouver Island (FNVI) which has some really knowledgeable plant people for our area. If you like to know and are having a challenge figuring something out then this is a group for you.
In the News
Oh! I picked up the mail on Wednesday and found the latest Summer 2022 edition of British Columbia Magazine with a nod to Southern Gulf Island artists thanks to Hans Tammemagi who is a freelance writer and photographer living on Pender Island.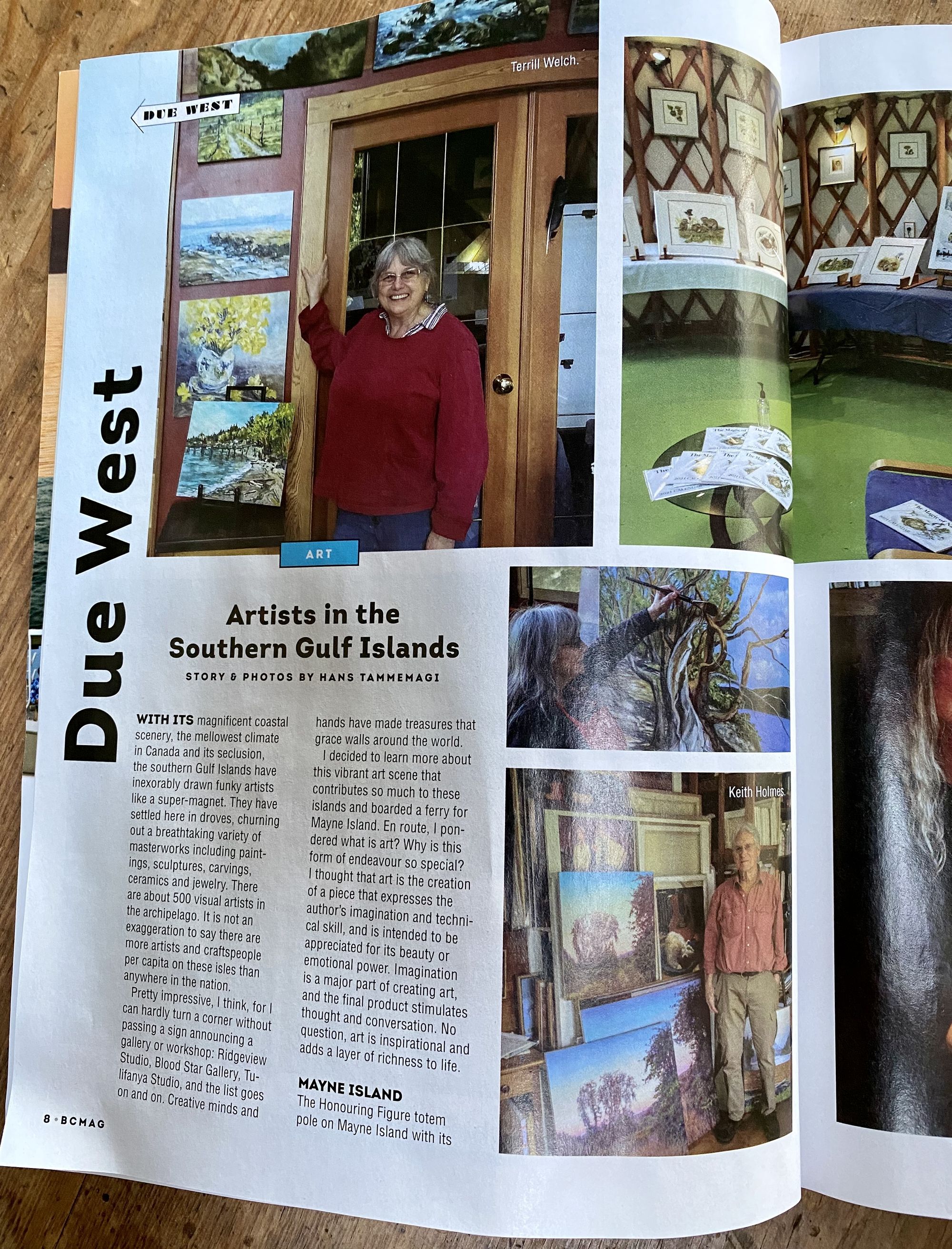 Anyway, if you happen to see the magazine, the article starts on page 8 and includes brief snippets about a very few Southern Gulf Island artists.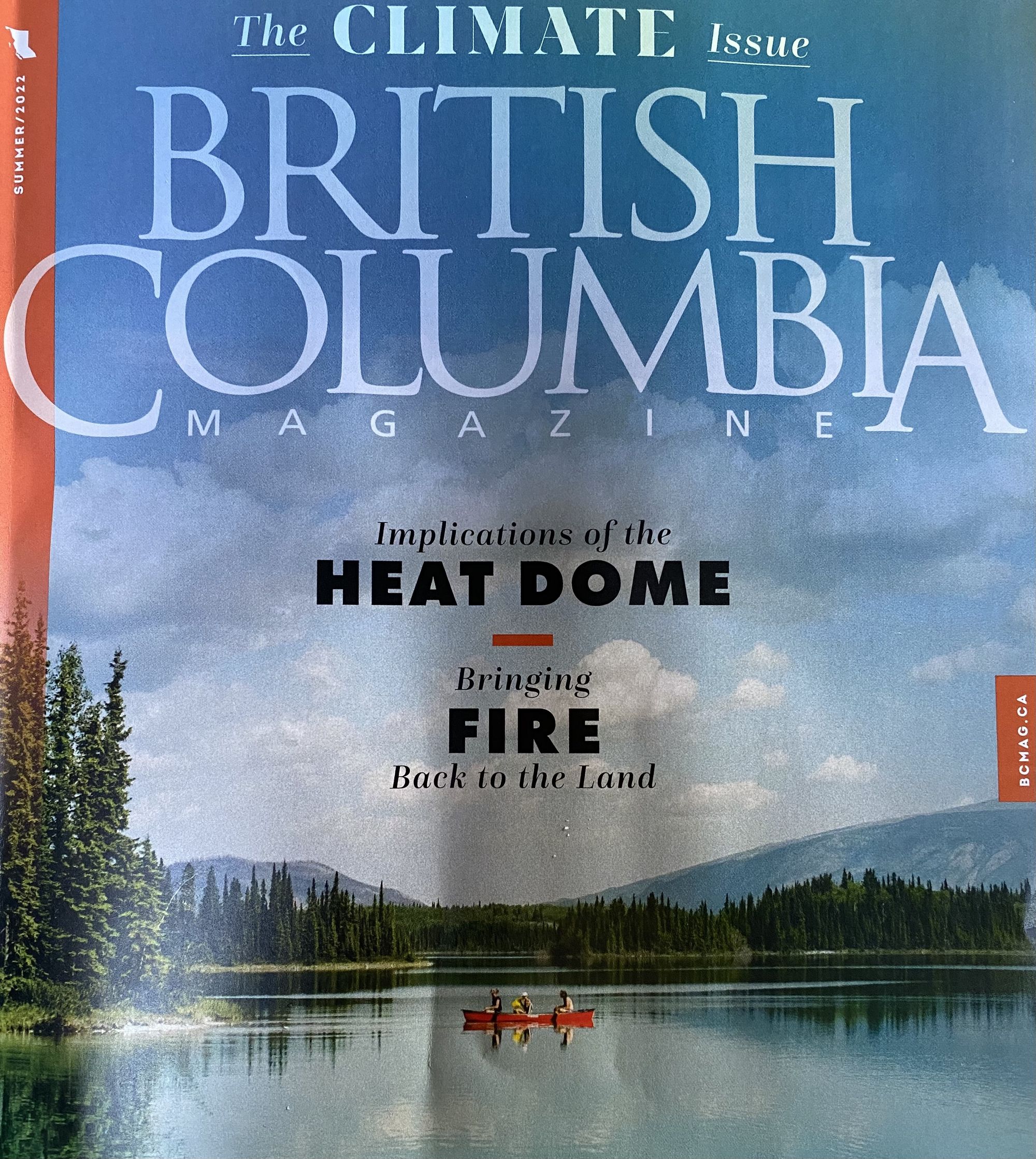 Most appropriate to be included in the climate change issue, don't you think? This magazine is offered both in hard copy ($8.00) or digital version ($2.00) for a single issue at the link below.
We publish the successful niche magazines known as Pacific Yachting and British Columbia Magazine. Our sister publications include BC Outdoors and Outdoor Canada. Shop for subscriptions, books, single issues and more.
Thank you and Until Next Time
I want to take a moment and thank you all so much for continuing to join me on these creative adventures and musings. The last few years have been a wild ride for sure but I have managed to keep going due to your ongoing support and patronage. Next issue I hope have another update for you on the Gallery Pod. I haven't received samples for the floor yet so I know it still has a ways to go. But the wiring placement for the lights has been sorted and the colour of the outside. So fingers crossed that we are going to be close to on time for delivery.
Wishing you all the best until next time.
Terrill 🤗👩‍🎨🎨
Canadian landscape painter, Terrill Welch, exposes the mystery in an ordinary day, reminding us that there is only one moment – this one.