A Brush with Life - Issue #107 Loafing Around
The creative genius hidden in idle loafing around should never be underestimated. The art of doing next-to-nothing is a practice that deserves to be well honed, revered and celebrated. This is what I tell myself. I am truly not very good at loafing even though I practice several times a week. I will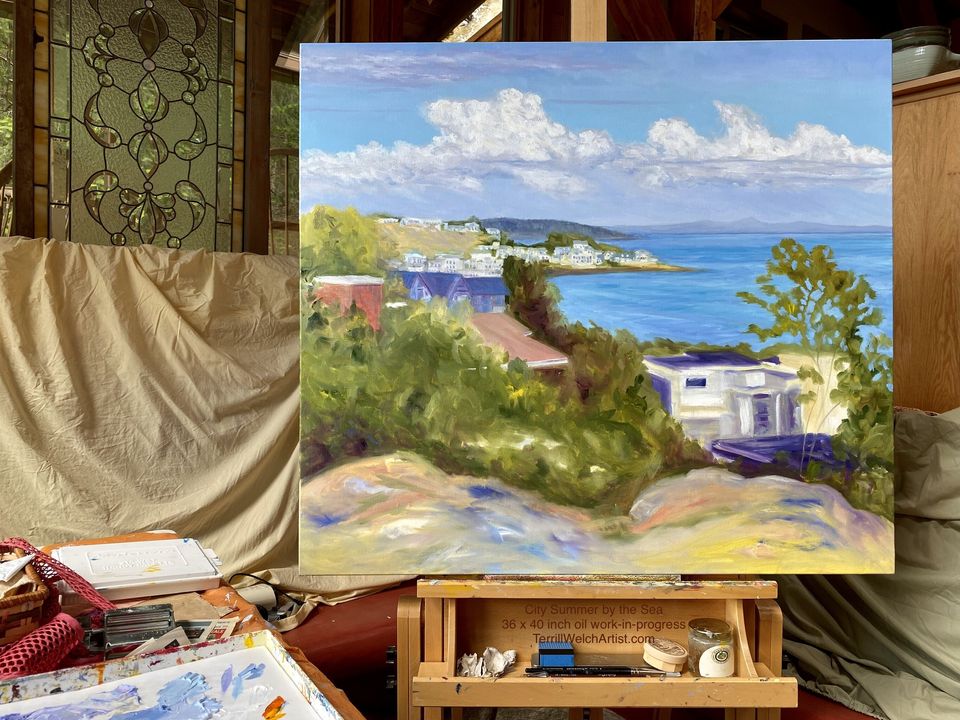 The creative genius hidden in idle loafing around should never be underestimated. The art of doing next-to-nothing is a practice that deserves to be well honed, revered and celebrated. This is what I tell myself. I am truly not very good at loafing even though I practice several times a week. I will start out loafing and after a few minutes carry my tea with me from my chair to the thing I want to do. By the time I am done that thing there is another I decide to do. A loafing day for me is an unscheduled day where I only do the things I want to do on that day or in that hour. I loaf best in the late afternoons or after the supper dishes are done. I loaf better on days with no appointments, meetings in person or in zoom. Sundays are my favourite loafing days and summer seems to offer more potential. So this past two weeks has felt like the beginning of loafing season where I take more of an unhurried approach to most everything. Still, as you will see, things get done…
---
Work In Progress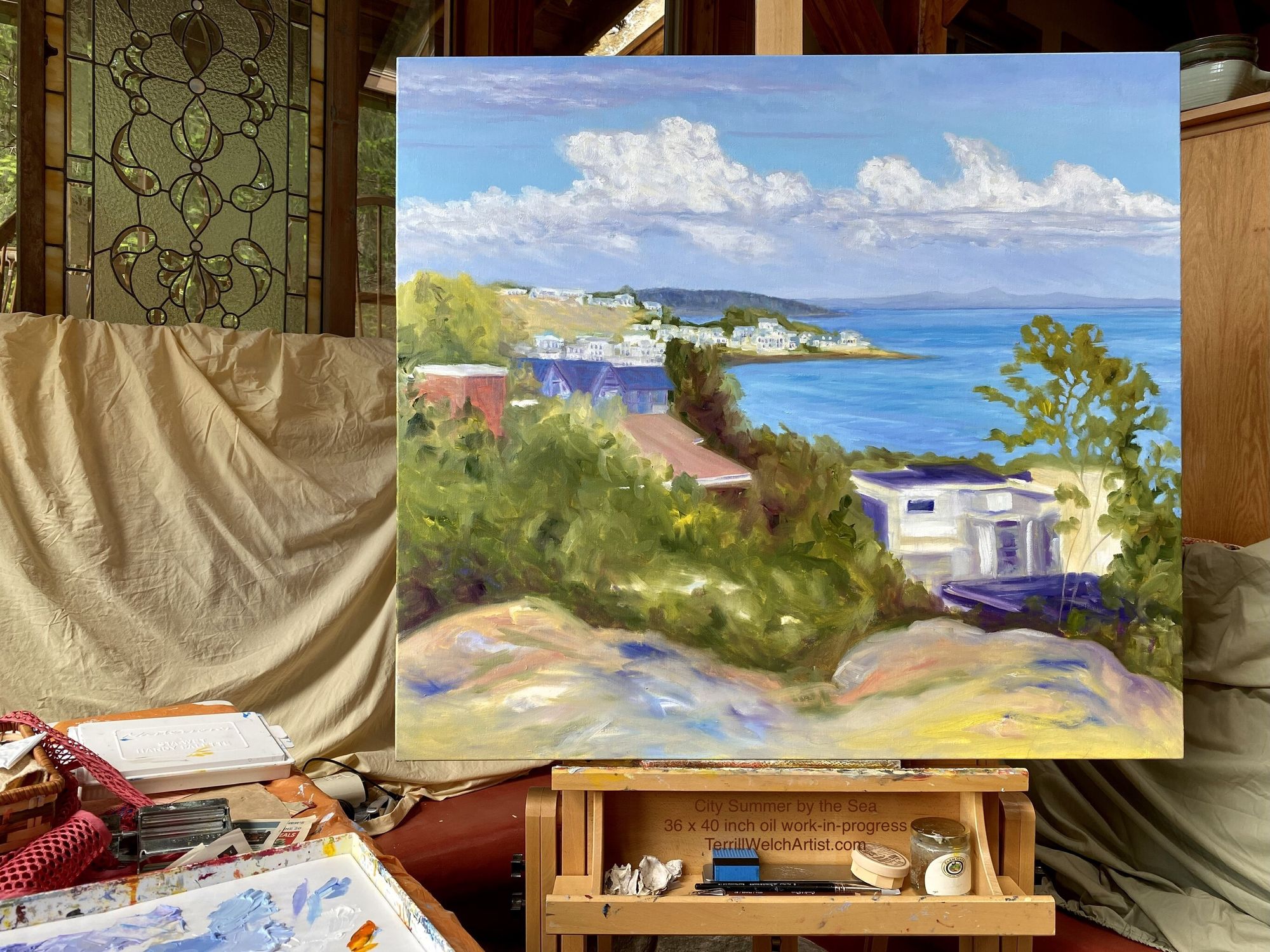 We had to make an unexpected trip to Victoria and once the one urgent task was completed found ourselves with several hours until we could catch the late evening ferry home. This new painting is from references gathered while we were waiting. The canvas is large enough at 36 x 40 inches that I am able to build the paint up in several layers over time without losing my way. It is a perfect loafing subject. I am now working from the far distance forward. The sky, sea and far lands are about done. Someone mentioned that it reminded them of the south of France. I smiled because I too have been thinking about our time in the south of France while I paint. However, it is Trafalgar Park lookout along King George Terrace in Victoria, British Columbia. I still have a ways to go with this painting but there is no rush…. I am loafing my way through it.
Gallery Pod Update
It seems the universe has taken my commitment to loafing seriously. Due to material delays, the Gallery Pod is now anticipated to arrive the first week of August which will mean that it will be the end of August before it will likely be open. This is life and a reality with our current building construction. At first, my brain started to scramble to figure out how I could market and set up a solo in person show elsewhere during the summer. Then, I exhaled and thought about how I have released fourteen new paintings in 2022 so far and I only have five that are still seeking homes. This delay offers me more time to paint this summer and greater flexibility for short painting trips. This is something I haven't had since I opened the first gallery room in 2017. I am taking it! I invite you to visit my home studio by appointment where we can pull out specific paintings you might like to see or to just browse what is hanging around and on the easel. We can have tea and catch up while savouring the work of the brush. How does this sound?
Walt Whitman - known as excellent loafer
When seeking to learn to do something well, it is always important to have some esteemed role models. I have chosen Walt Whitman for studying the practice of loafing. On close examination though I find a person who lived a most self-directed life that included regular long walks and a commitment to having an unscheduled calendar. There is a wonderful documentary in two parts that includes several readings of his poetry sprinkled throughout the story of his life. I shall put the first part of "In Search of Walt Whitman" by East Rock Films below and then you can look up the second from there, if you are interested.
I'm happy to report that we met the Kickstarter campaign goal for our upcoming film on Edgar Allan Poe! If you'd like to contribute, there are still 14 days ...
This is definitely a loafing around kind of listening in two 1.5 hour parts. I have been listening an hour or half hour at a time and looking up poems in between. The poem "This is what you shall do:" is on a card that lives on our fridge and was a gift from my husband when we first met because he said it reminded him of me. The poem is best appreciated by reciting and there are several versions on YouTube if you choose to explore. But here is the rather worn copy of the words that live with me…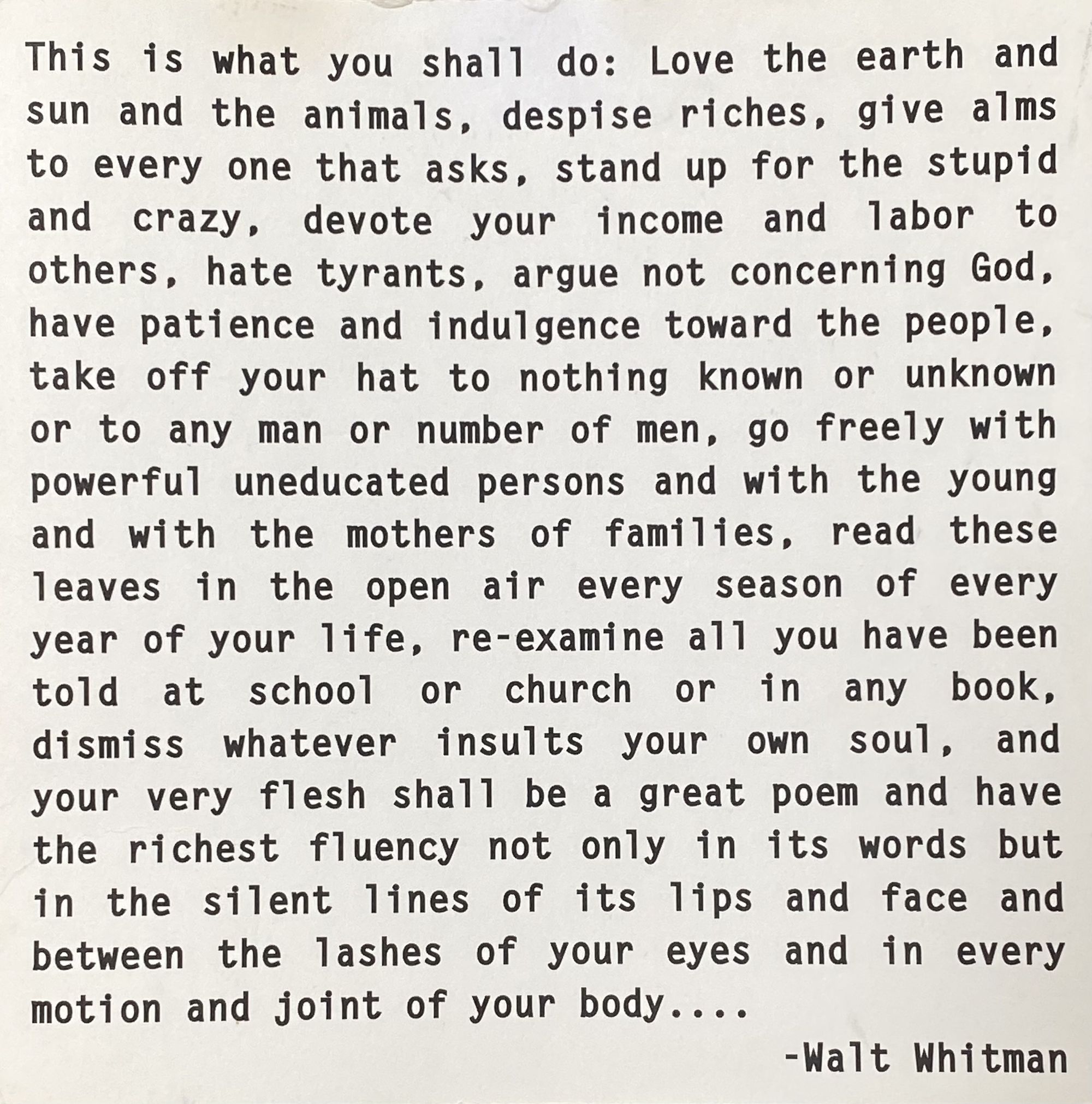 In the New Home of Art Collectors
I was recently sent this photograph of one of my paintings in an art collector's new home. I thought you might enjoy seeing as well…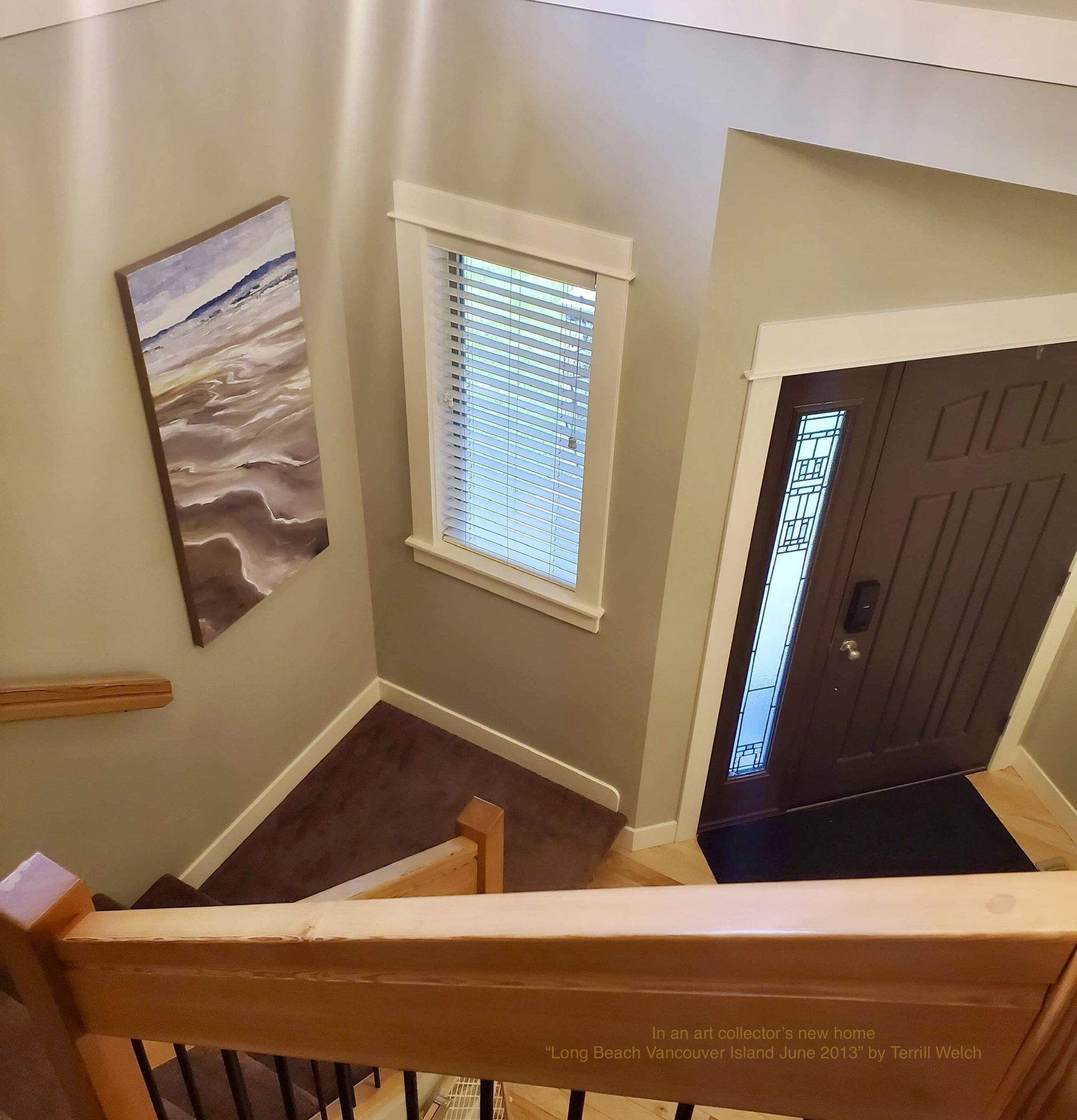 I was told that they knew exactly where the painting was going to go before they had finalized the purchase for the house.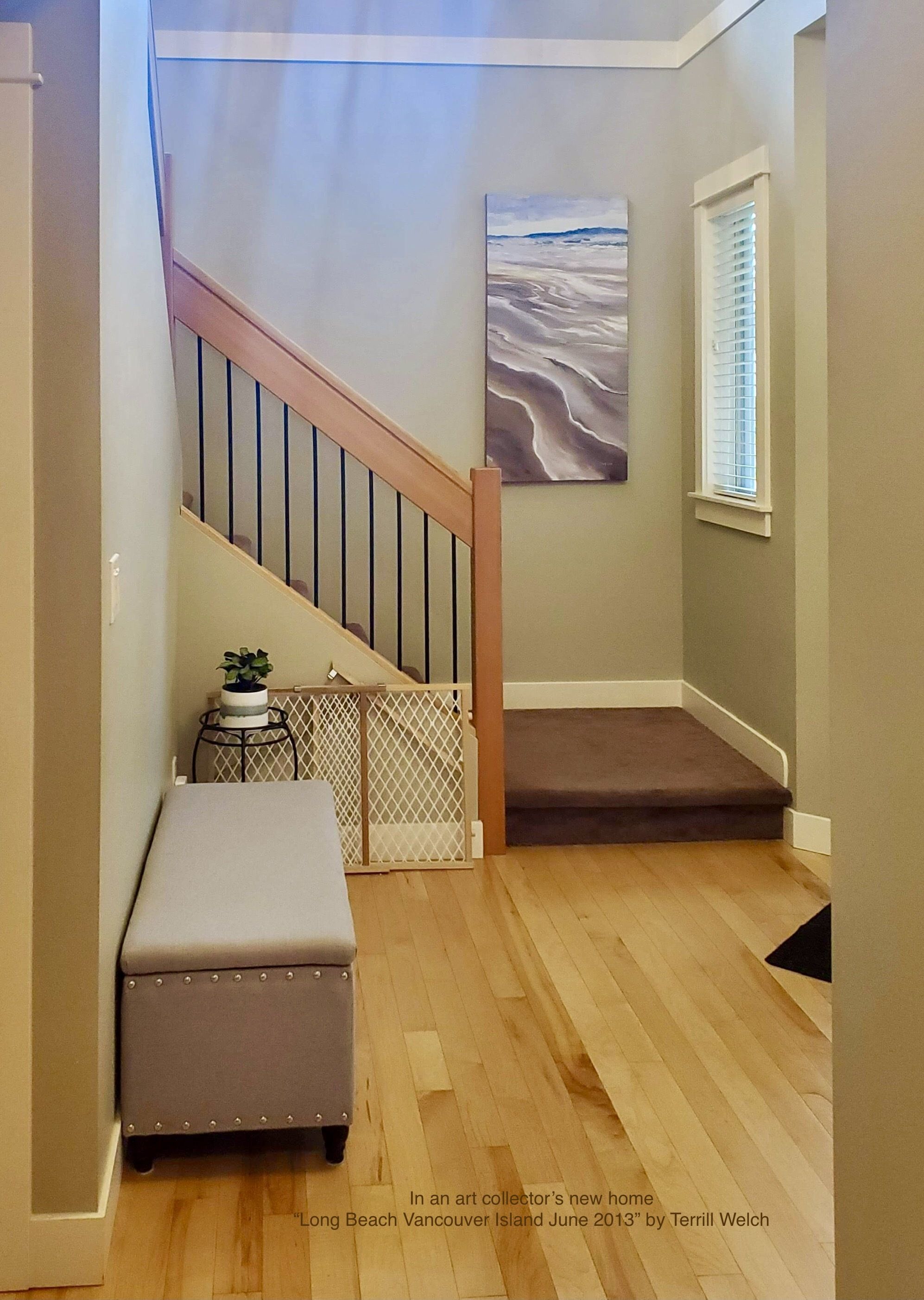 I think it should be very happy there, don't you?
ISLAND TIME ART
Our wee ISLAND TIME ART room above the ferry is picking up its pace in sending various classic mugs, aprons, totes, coasters and greeting cards off with admirers. In addition, we are adding new paintings and products such as this backpack and duffel bag.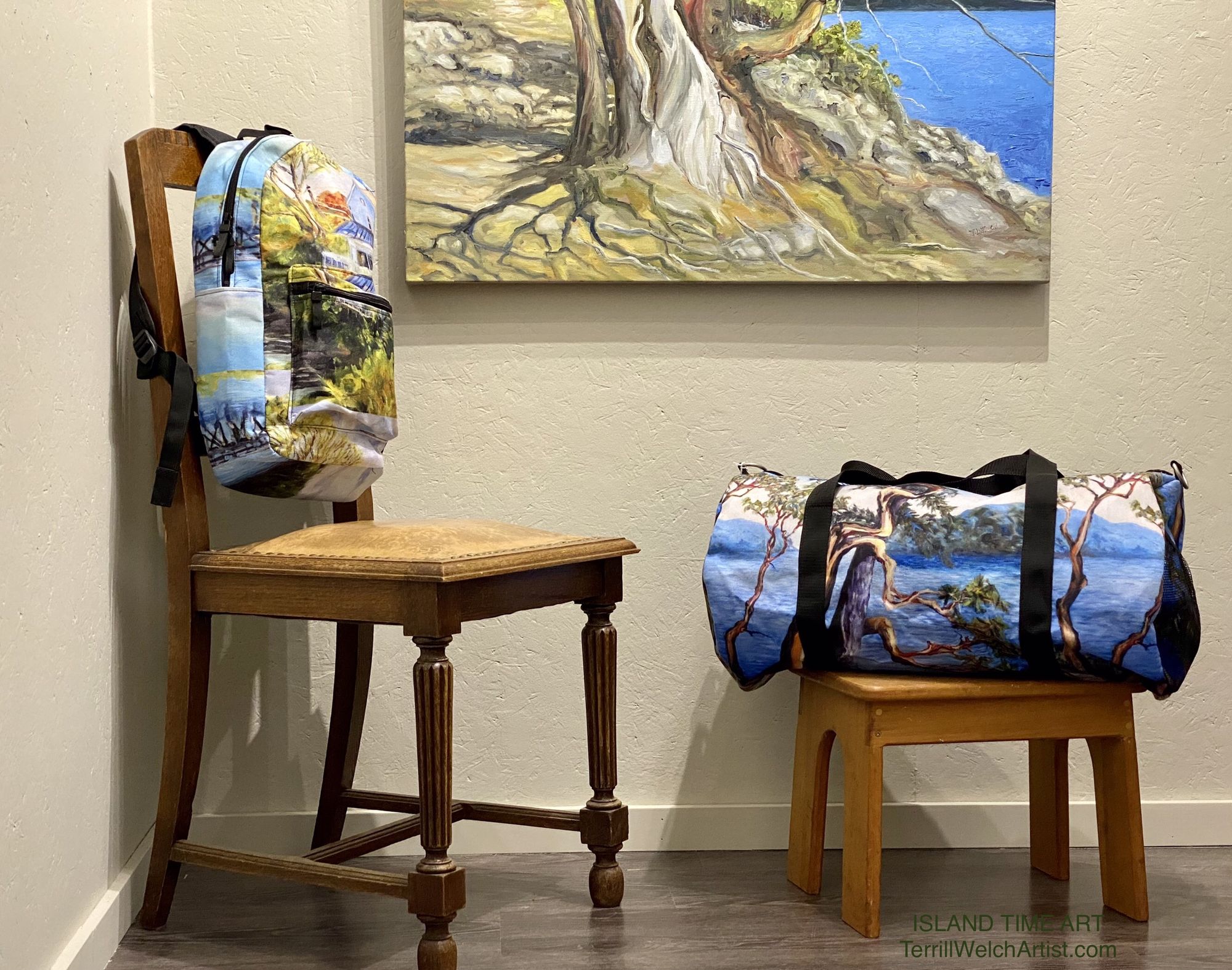 There is now a larger work to anchor the far wall.
In addition, just this week, we have added a few decorative art board prints. There is an archival linen label that has been created with an archival pen and added to the back of each art board print.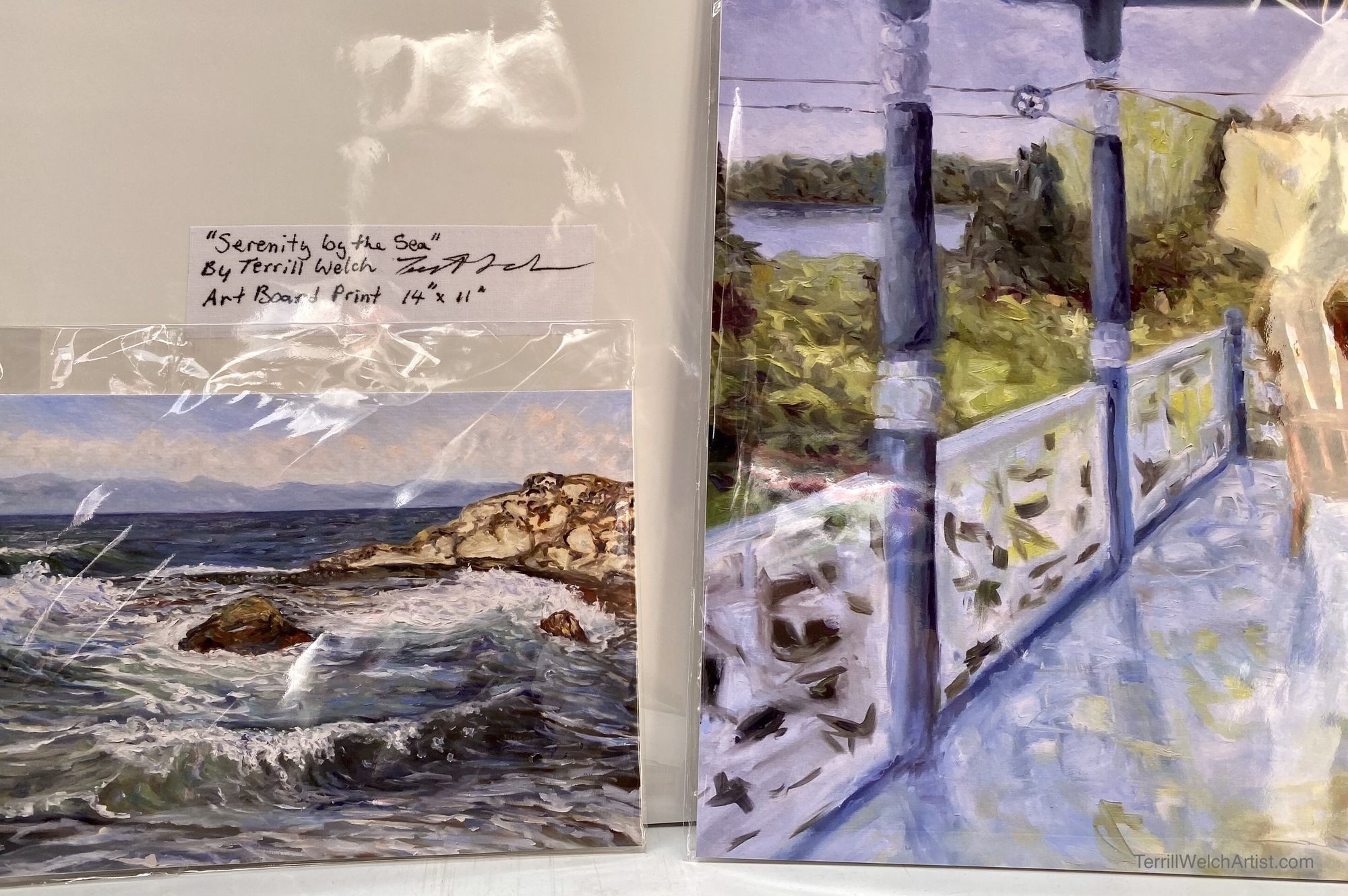 If you order these online and wish to add such a label, just send me a note and we will pop it in the mail. The stamp will be on us. 😉 Upon request, we will do this for any reproduction print you order from Redbubble online.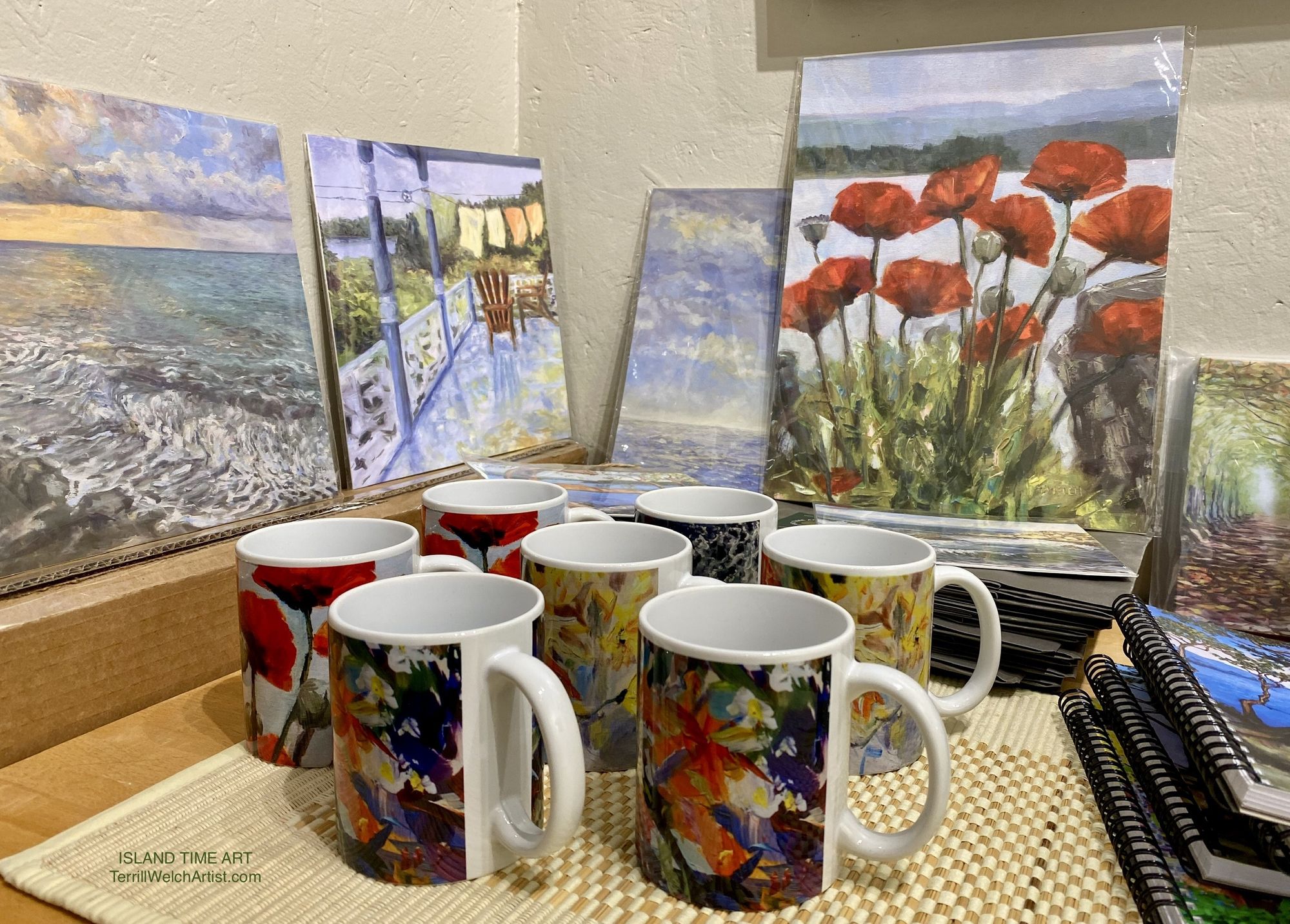 I often call these "leaners" as they can lean in a windowsill or on a bookshelf or against a lamp on a desk. They are not as precious as original art so could even lean on a bathroom shelf. They can also be framed if you wish to keep the print in mint condition for a very long time. The surfaces are soft under your fingers and have a porous matt finish. Anyway, here is the link where you can check out the choices online.
TerrillWelch is an independent artist creating amazing designs for great products such as t-shirts, stickers, posters, and phone cases.
Taking Time
Can one really take time or simply acknowledge its passing? Regardless of our answer to this question our construct of time creates rhythmic patterns in our cognitive awareness of self, others, and place.
There is the time that is dedicated to sustenance and a good meal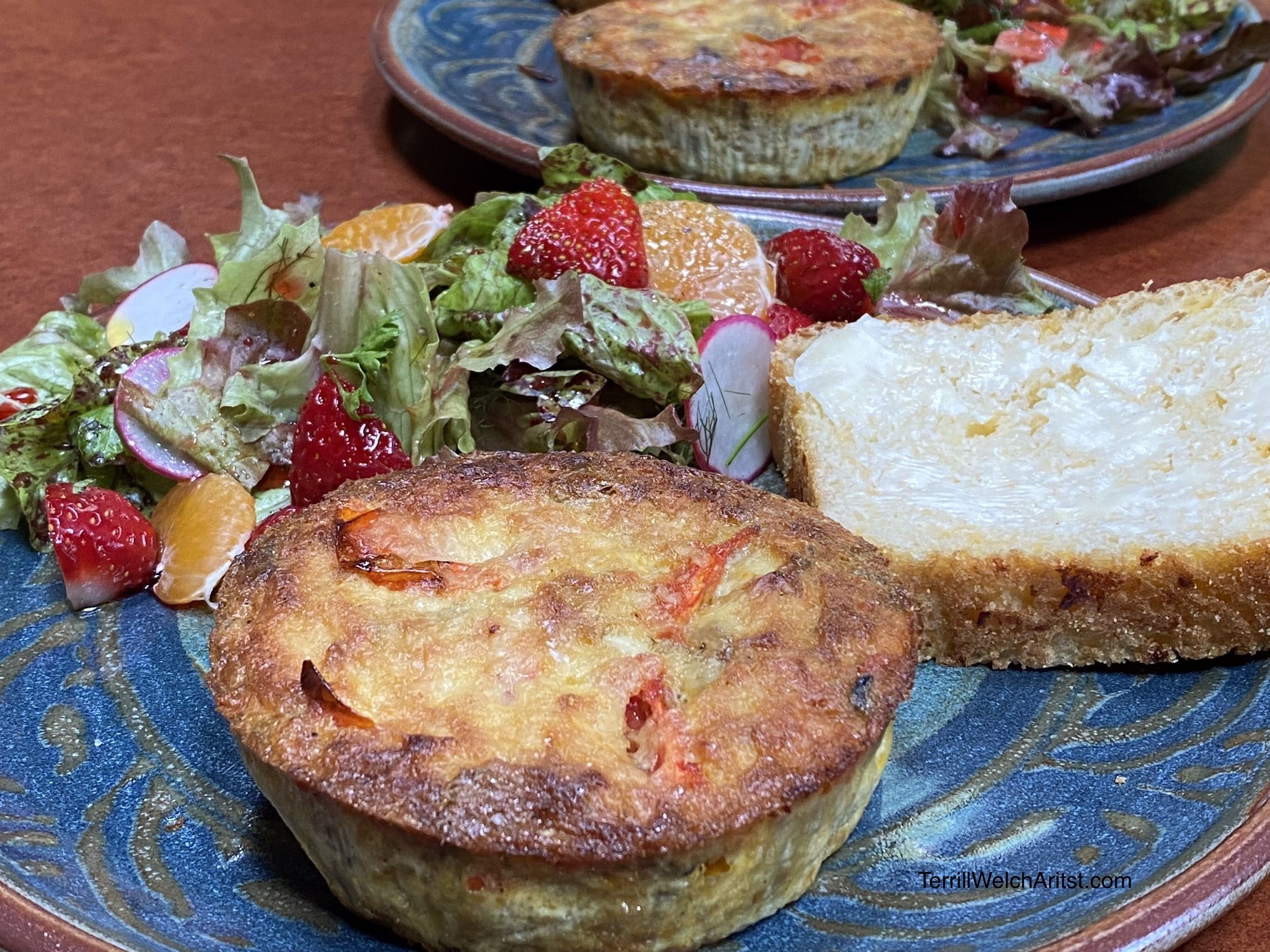 that begins with locally grown produce from RavenVale Farm a Frittata and cheese bread from La Maison Rouge served on a Quasimodo Pottery plate.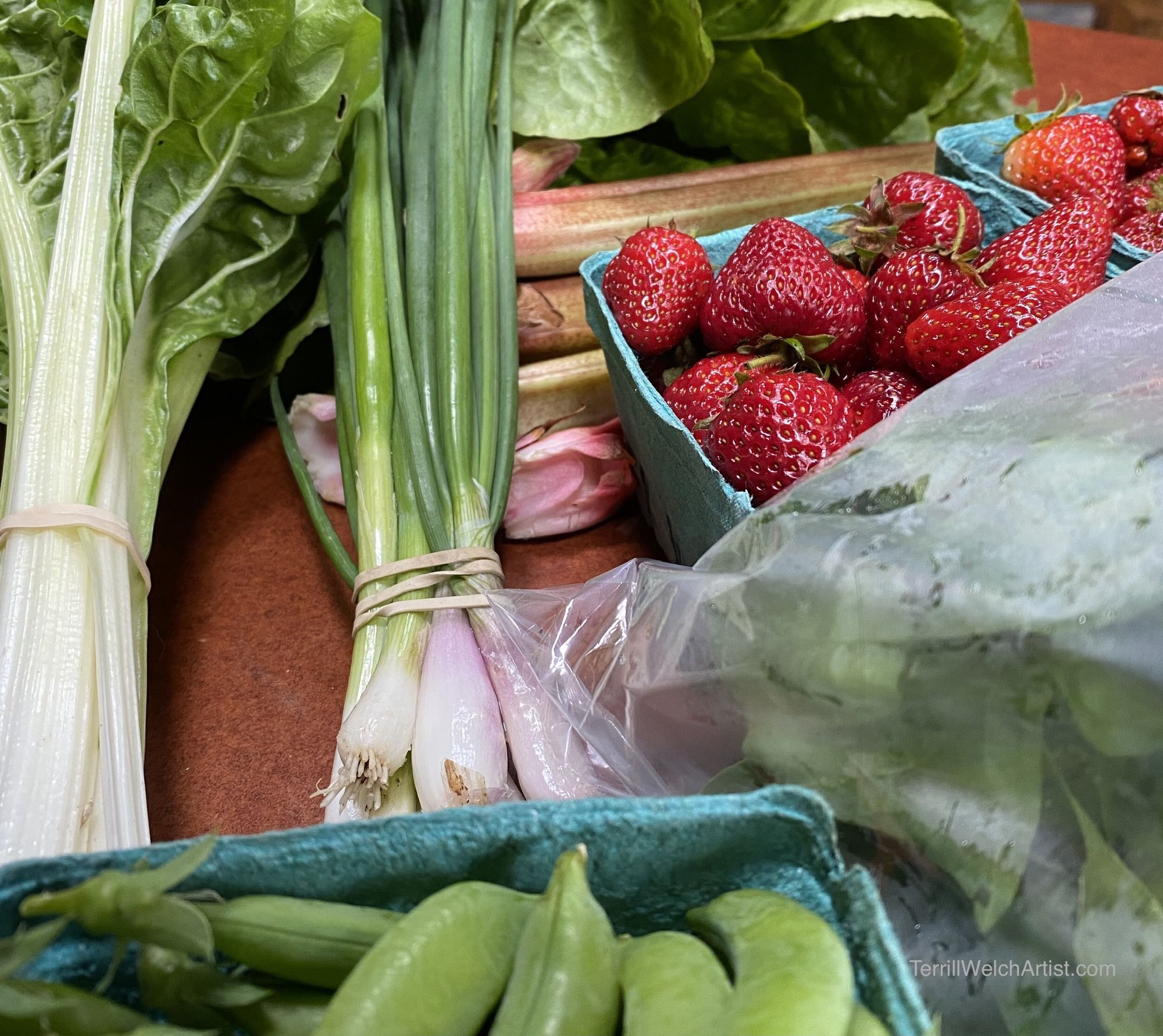 There is the time taken out to examine a sculpture by Linda Lindsay at the Trafalgar Park lookout in Victoria.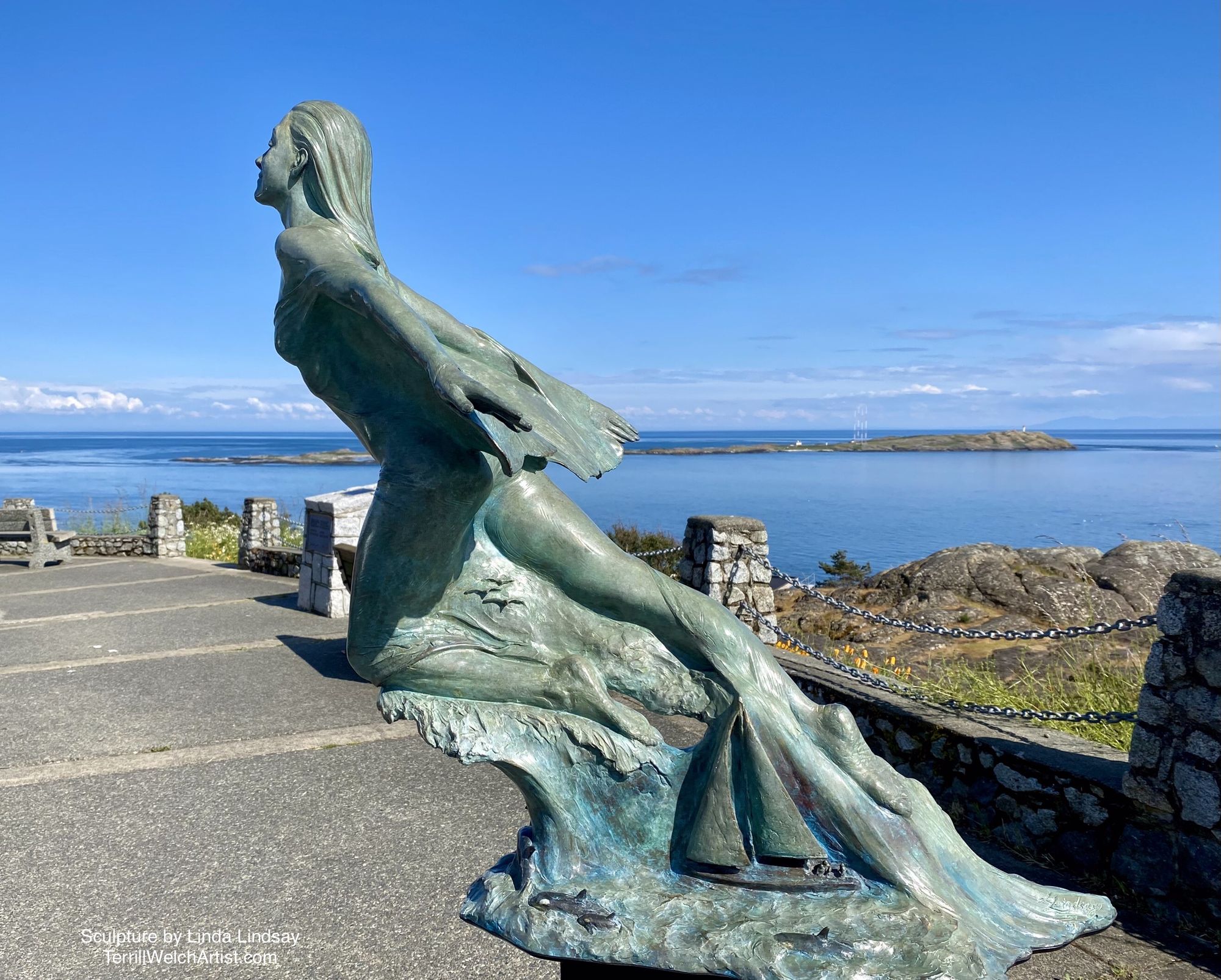 There is time to write to a friend who I hadn't heard from for a while and then slowly read his long elegant letter in reply. There is time for a coffee in a roadside cafe on the scenic route and to pause with the setting sun on the ferry home at the end of the day.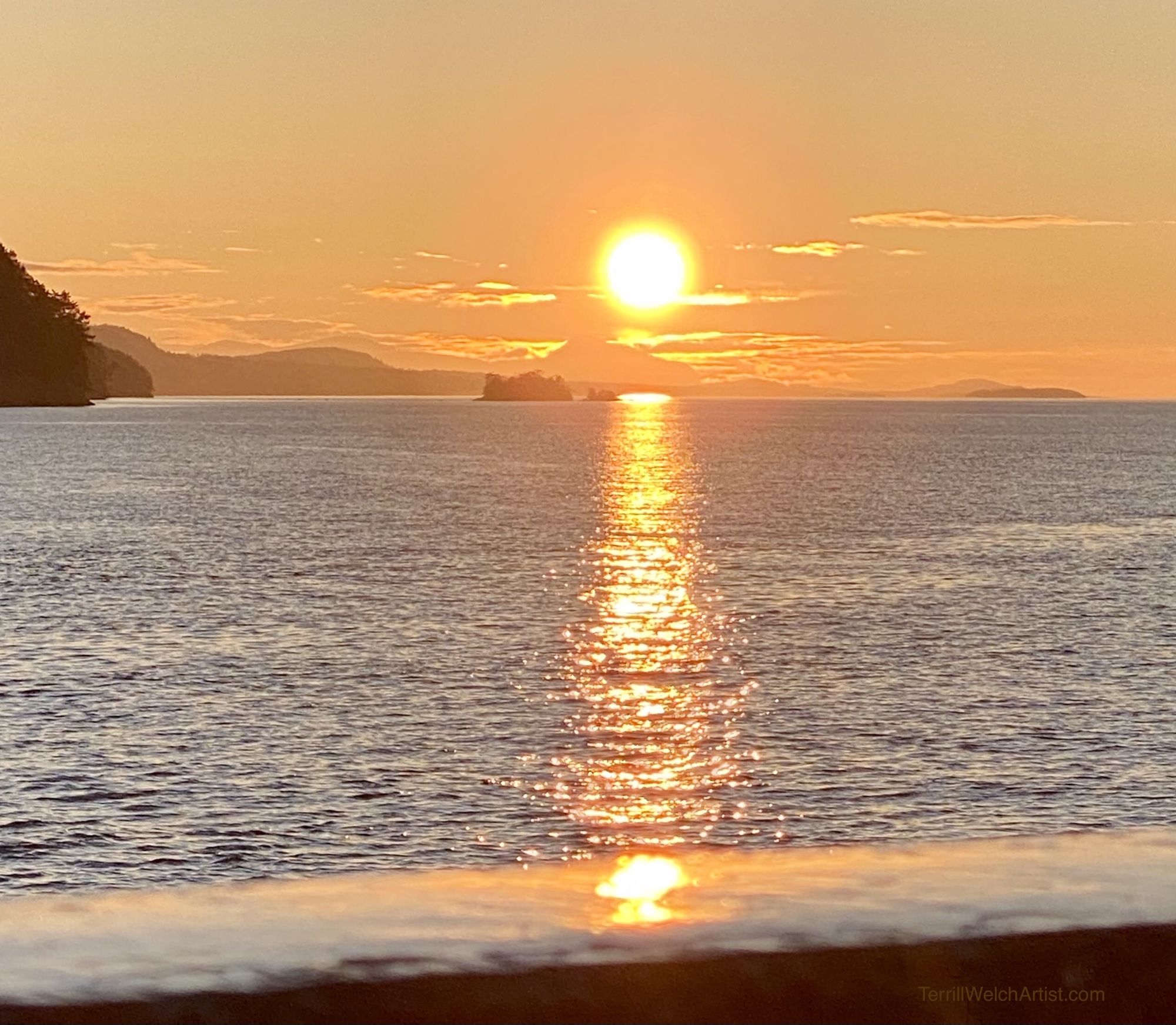 There is time to notice the peeling of the Arbutus tree bark along the cliff of a seaside trail…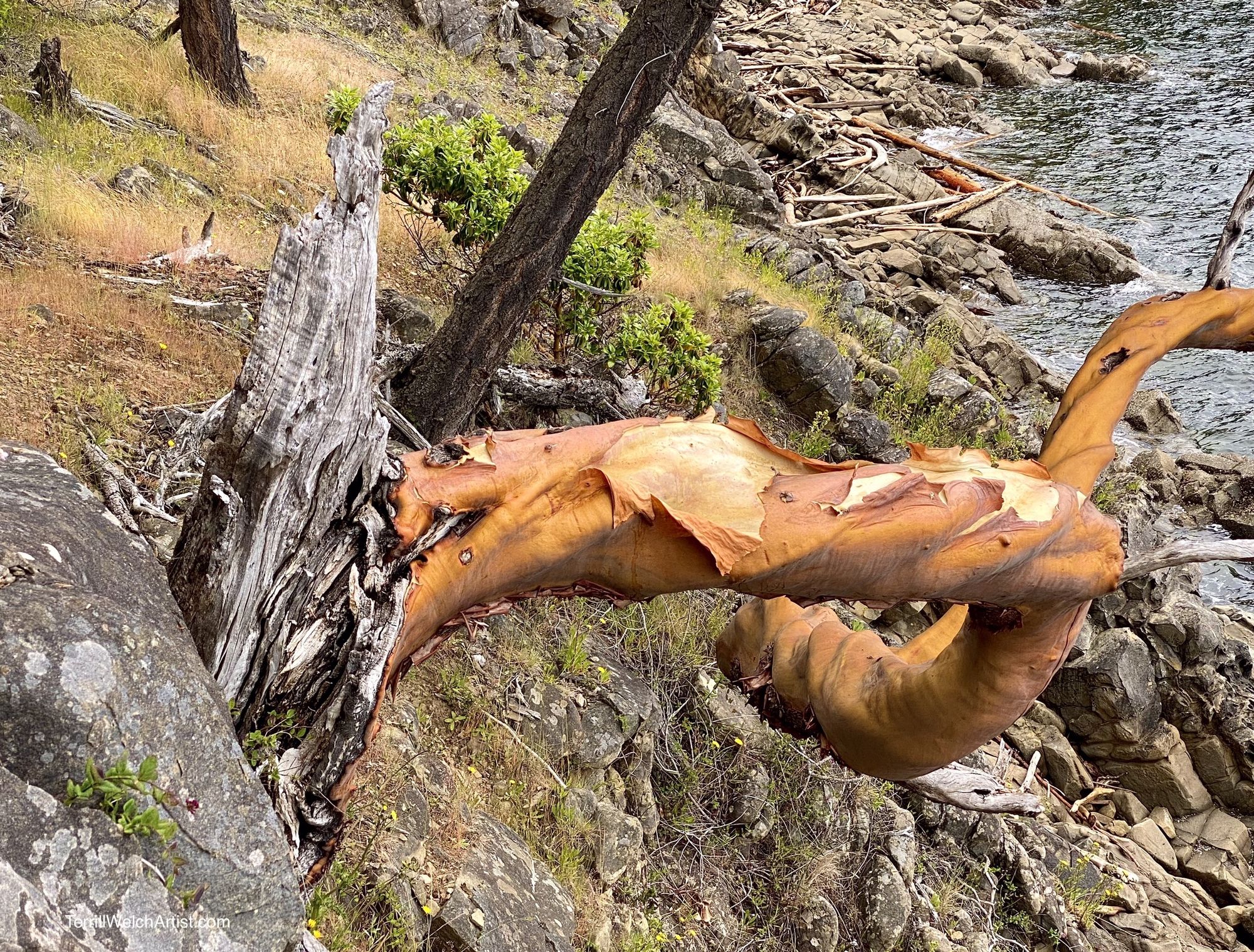 and the unfurling of a fern frond in the deep woods.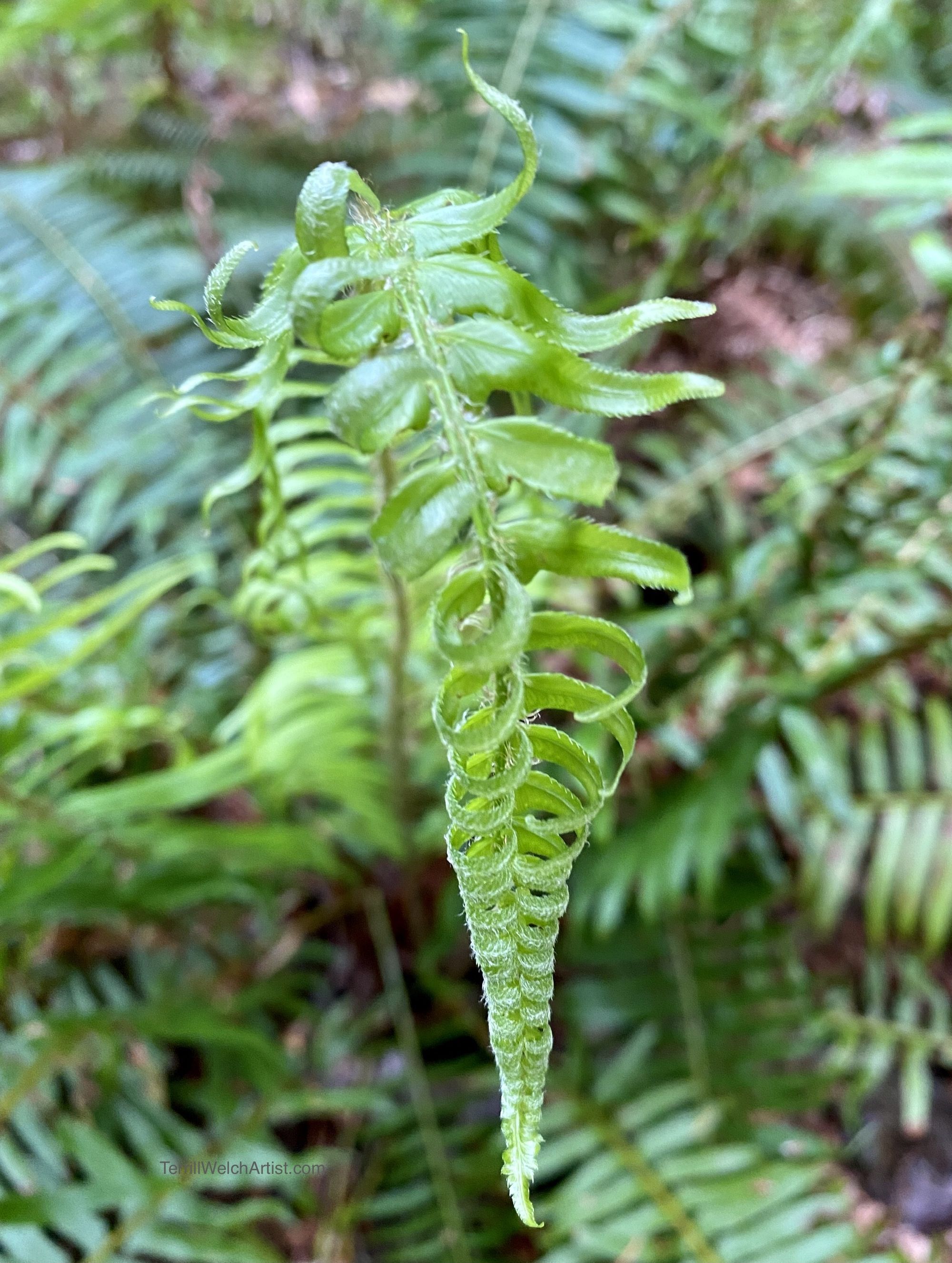 There is time to learn the name of a wild flower. Here we have a common Grindelia squarrosa, also known as a curly-top gumweed or curlycup gumweed…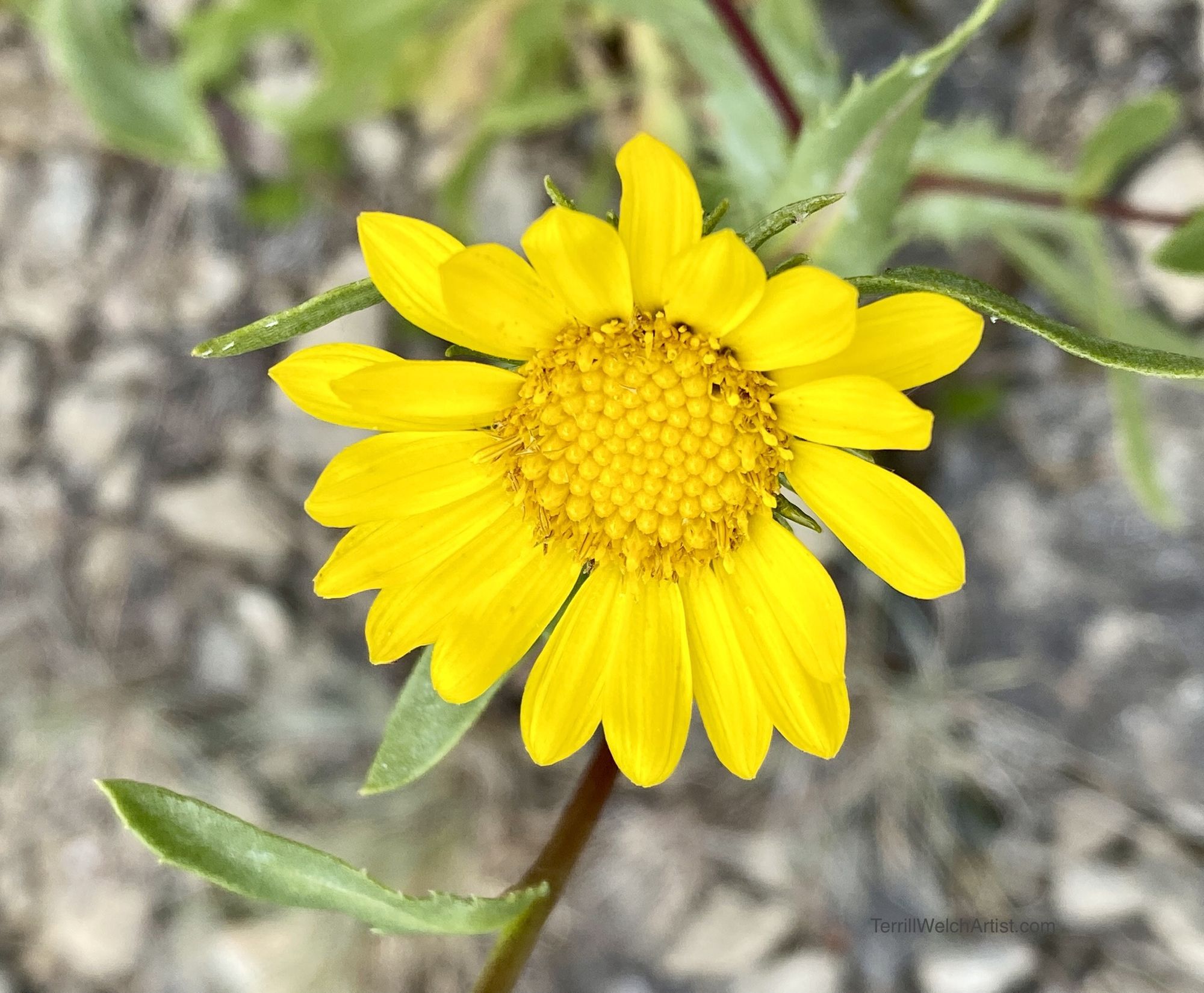 And there is time to paint slowly, finding the shapes and forms loosely within a chosen composition at the start…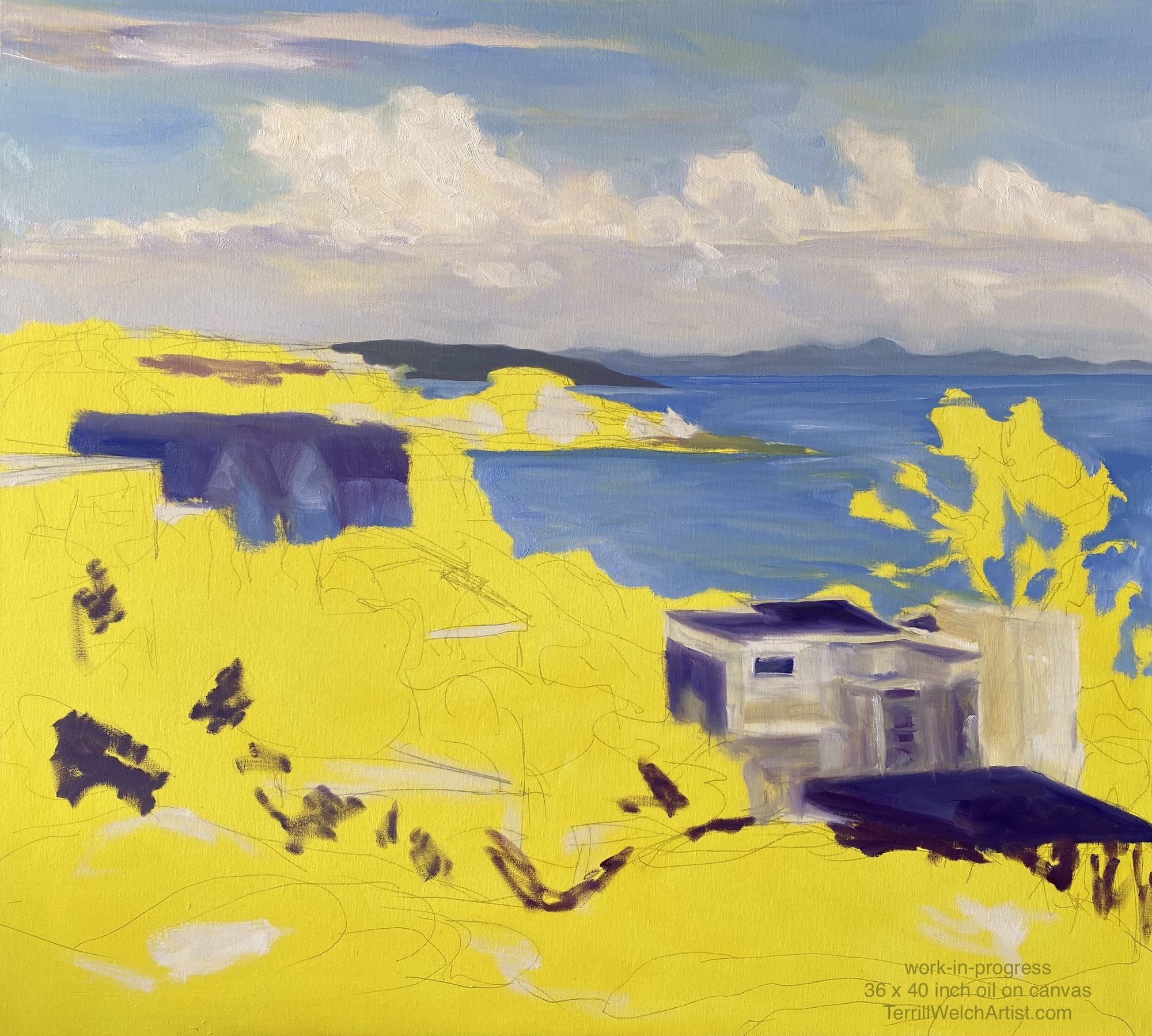 There is time to take time.
Until Next time!
We wish you all the best with loafing around over the next few weeks and welcome a phone call, text message, email or reply to this letter, to come have a home studio visit if you happen to be on island while we wait for the Gallery Pod to arrive. May we see some warmer summer-like weather that will support painting in the evenings on the lawn in front of ISLAND TIME ART. We have a couple of Sunday evenings tentatively scheduled for our West Coast Spark on Mayne Island Painters group. More on this in our next issue.
All the best as always,
Terrill 👩‍🎨🎨❤️
p.s. closing with a link for more opportunity to browse. 😊…
View the full portfolio of artwork from Terrill Welch