A Brush with Life - Issue #108 Just Breathe
There has been this rolling over-and-under ease between work and rest these past two weeks. My mantra has been - just breathe. I am waiting and preparing for a turn in the tide that usually flows through my artist's work life. This year's summer lull as I wait for the Gallery Pod leaves my energy so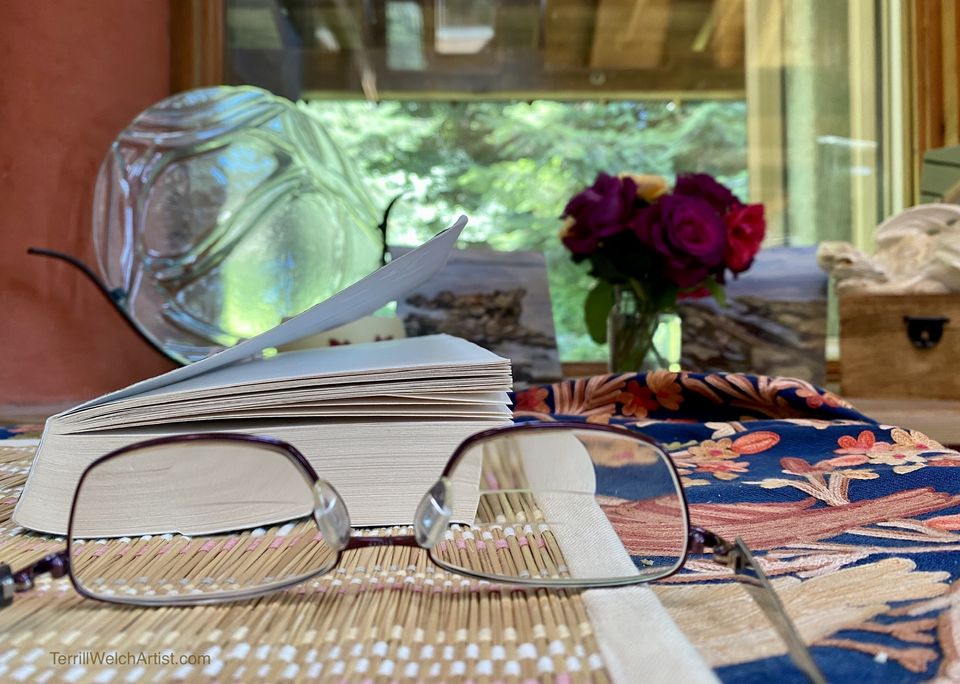 There has been this rolling over-and-under ease between work and rest these past two weeks. My mantra has been - just breathe. I am waiting and preparing for a turn in the tide that usually flows through my artist's work life. This year's summer lull as I wait for the Gallery Pod leaves my energy soft, open and often directed by some impetuous in the moment rather than a calendar commitment. Still, as you will see, things get done just the same.
---
The Over and Under of Work and Life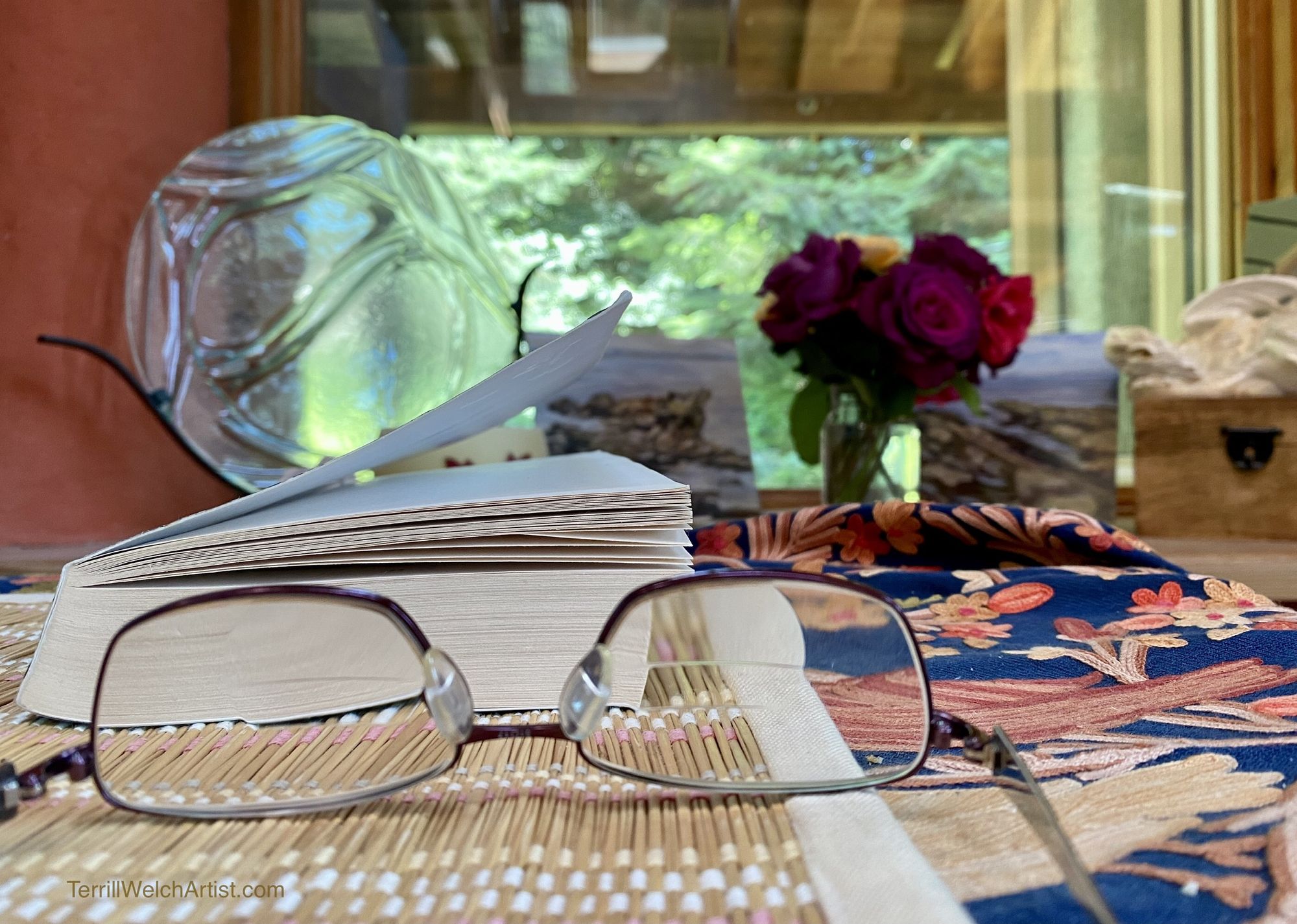 I love summer afternoons reading in the coolness of our new bedroom with the breeze from the valley swishing through the house from all the screened open windows. Sometimes I even manage to stay awake for several pages. Often though, the deliciousness of a short nap is too much to resist.
It is not that I don't have painting work to do. We picked up my latest order of custom, high quality canvases this week. I should have enough to get me through until spring with the exception of any commissions that are requested. I wasn't sure where I was going to squirrel them all away but we made it! 😂 I have to put grounds on four this week to continue working on my red line series. I have ideas and references sorted for specific canvas sizes. Now it is time to squeeze out some paint and see what happens.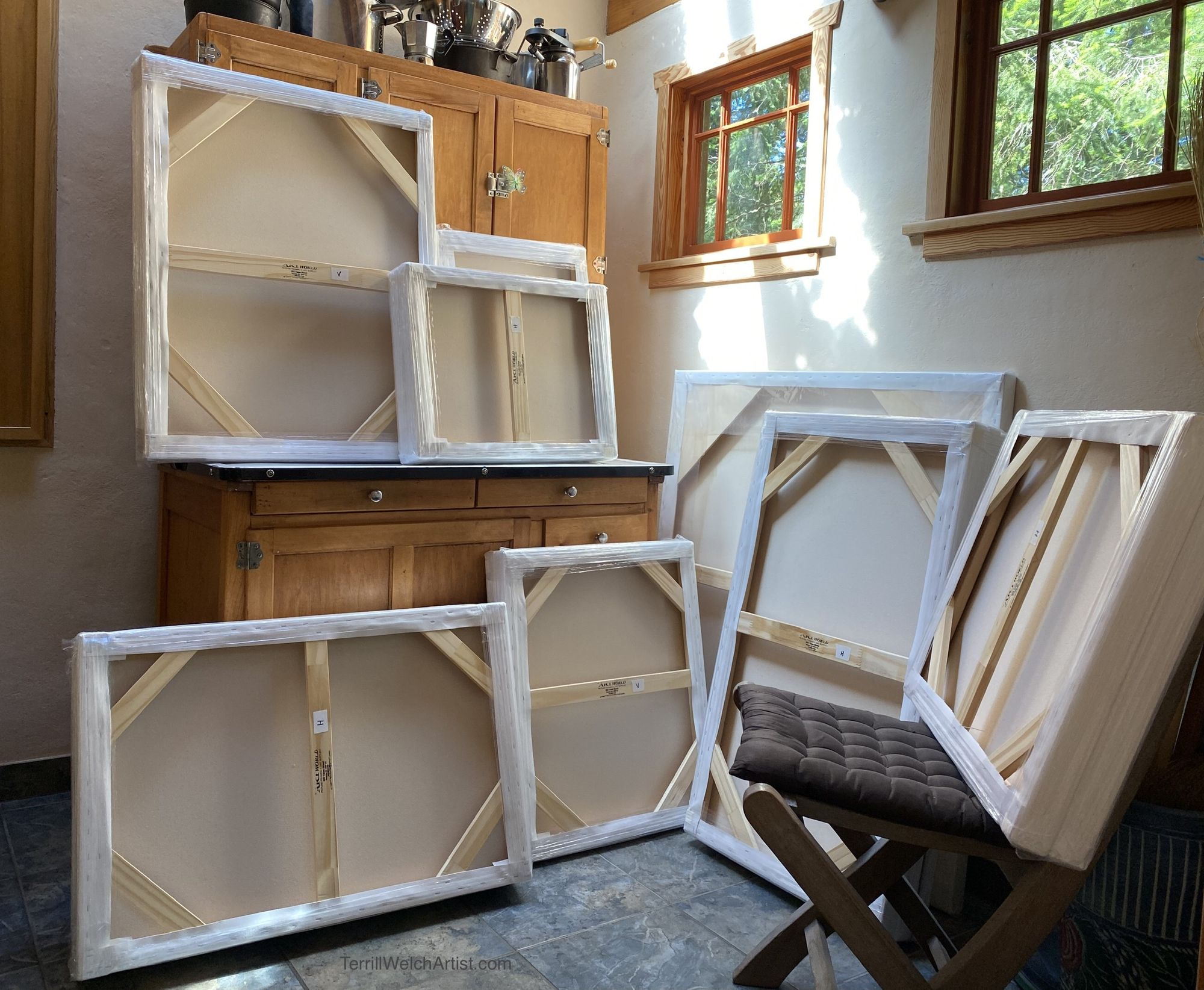 In between, I found time to play with some photos of the roses that were given to me by my daughter a couple of Sundays ago in the 30 degree Celsius heat. They were from her garden and traveled in our vehicles all day. The roses not only survived the trip but last over a week on the windowsill.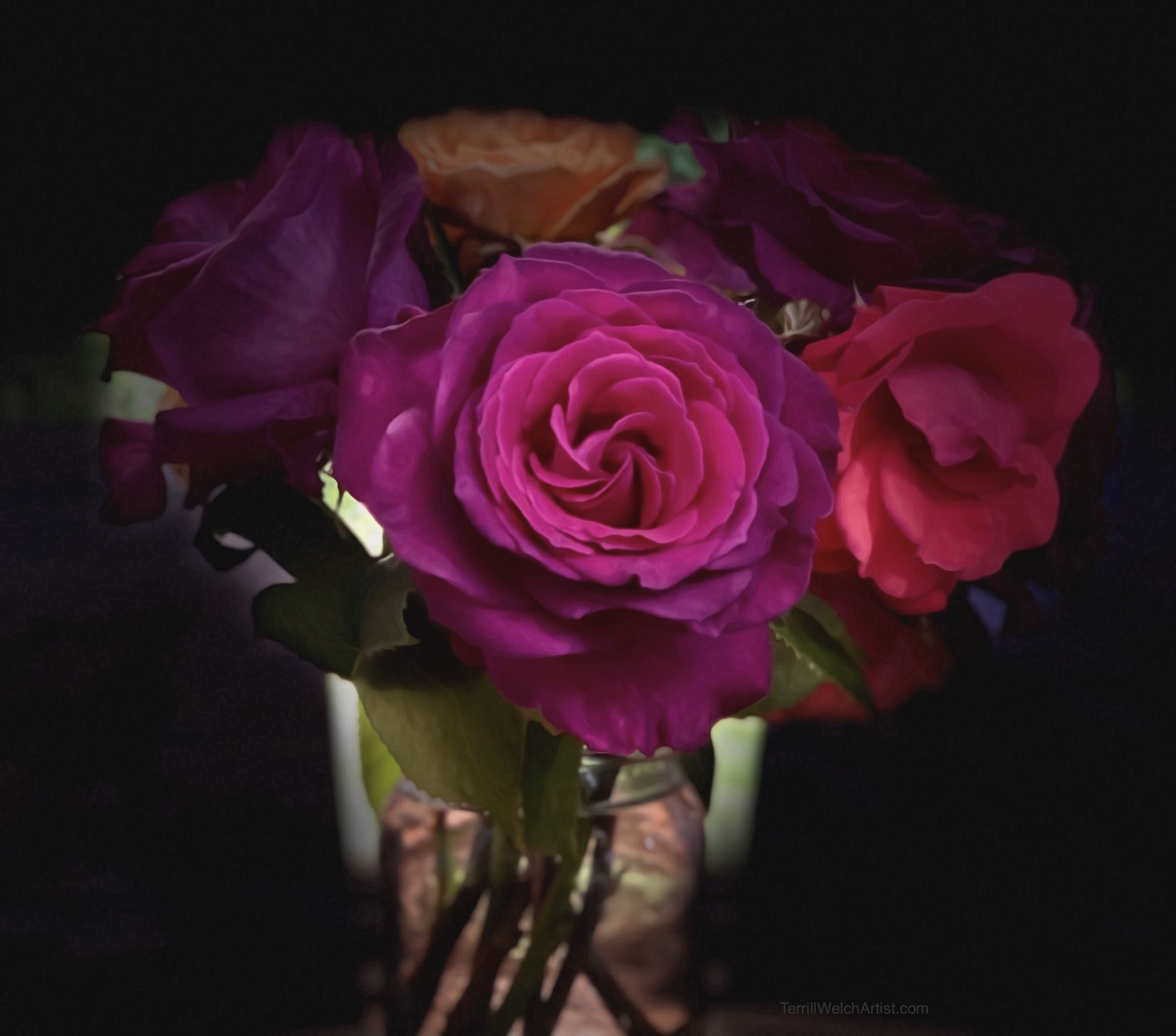 There are strolls down to the Salish Sea.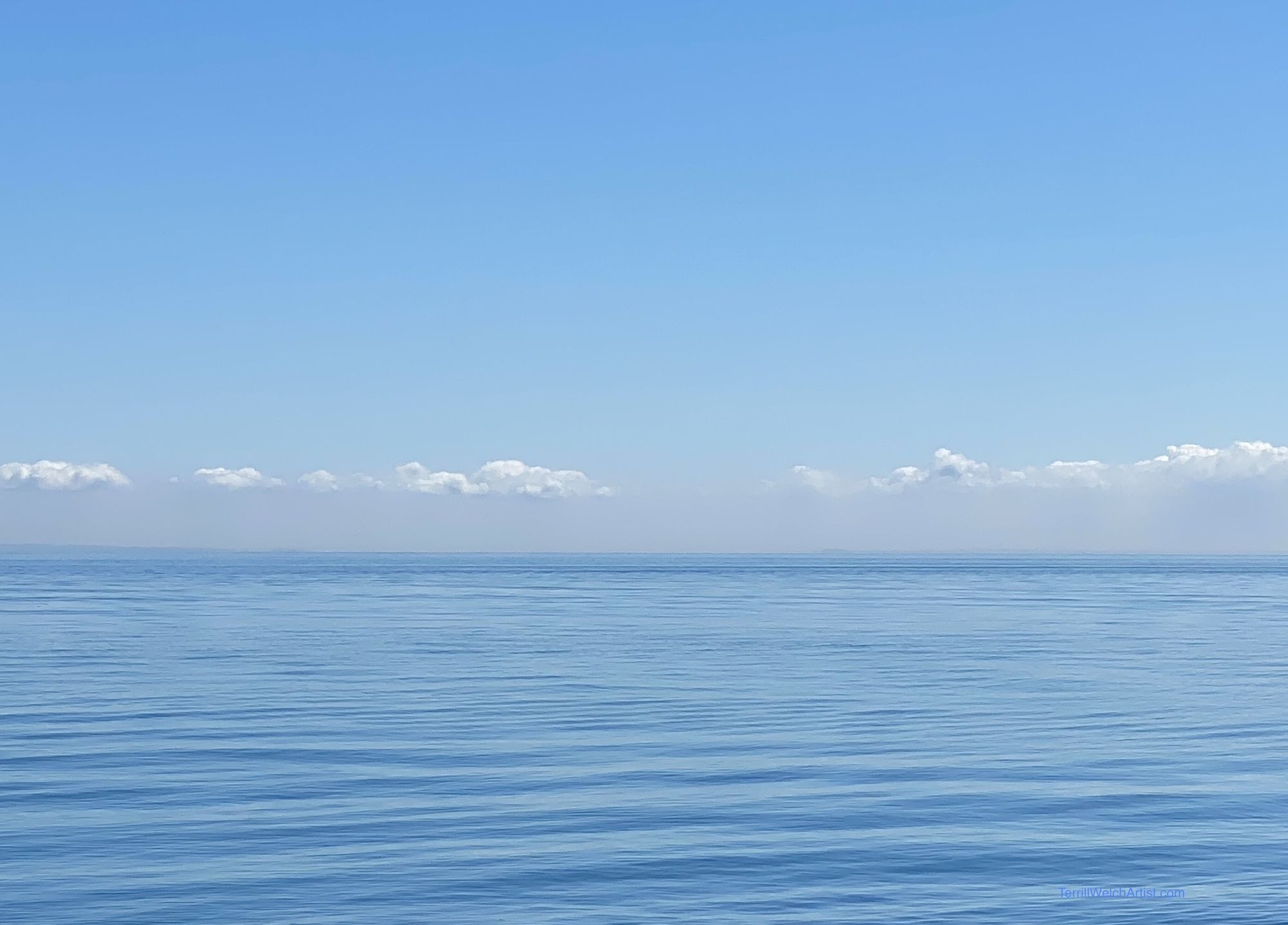 There is time to sit on the rocks and watch the world go by. Sometimes an island friend will come along and visit for a bit but mostly it has been quiet.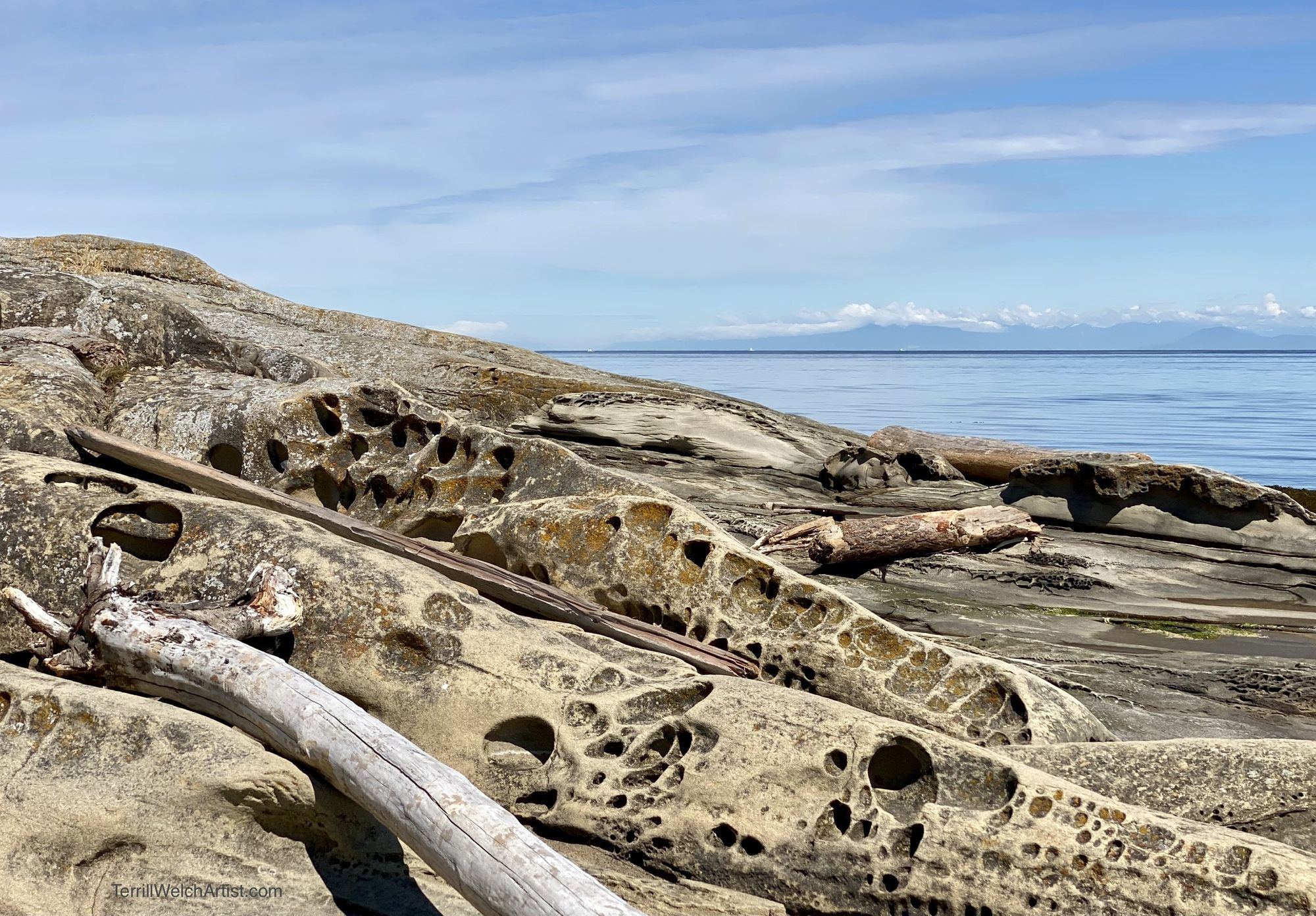 There is an #artflashmob over on The Bee's Knees of Mayne Island public Facebook group that I created over a year ago. Six Mayne Island artists from "A West Coast Spark on Mayne Island" painters group were able to participate. By all indications it was a successful event with 14 paintings being shared in two hours in what resulted in an instant online art show complete with descriptions and artist notes. Here is a collage of some of the work.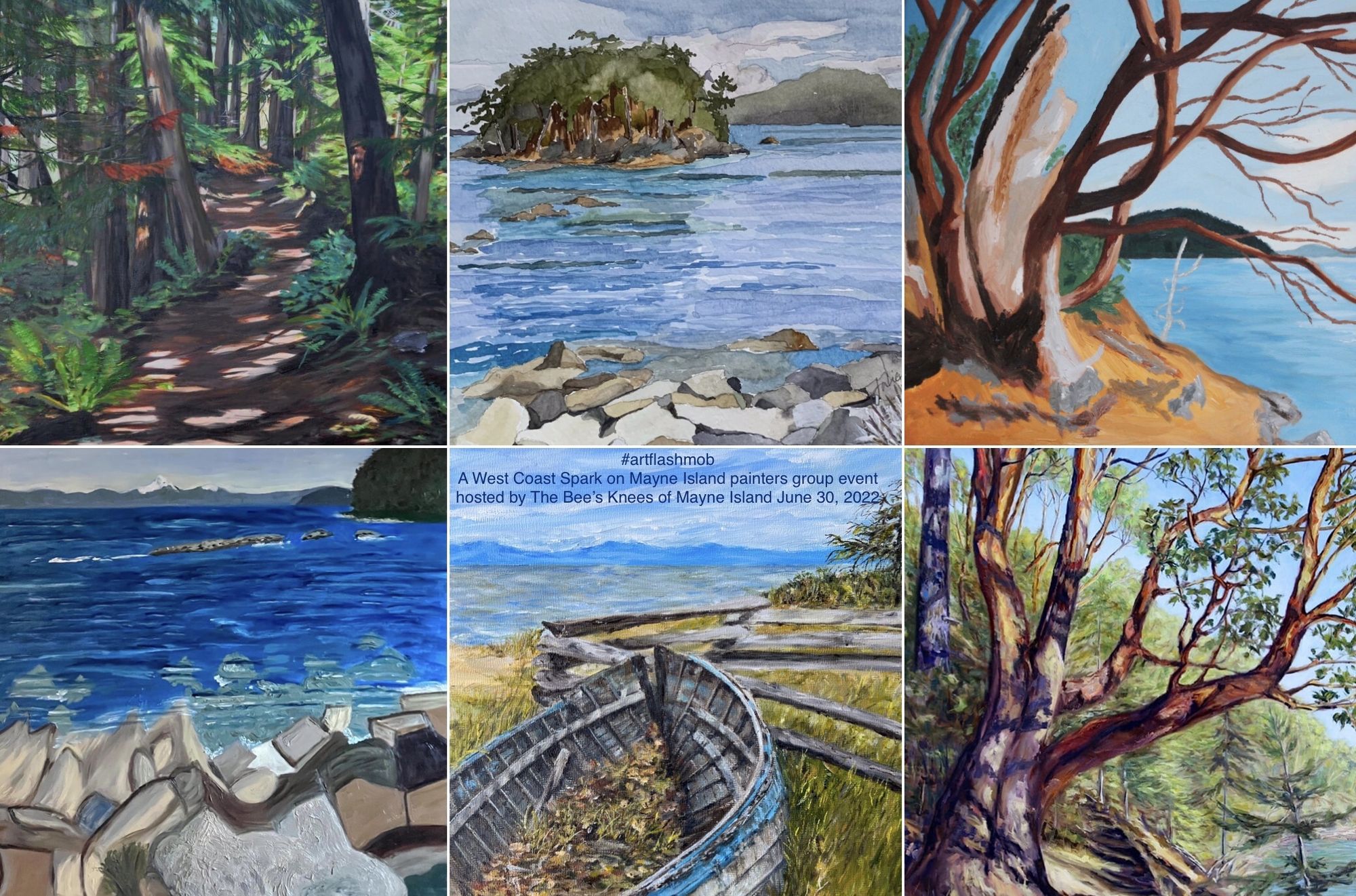 Starting at the top left the first row, paintings are by Jody Waldie, Julie Ireton and Glenda King. Starting at the bottom left in the second row, paintings are by Maeva Lightheart, Jennifer Peers and me. We will likely do it again later in the fall.
One of our La Casa de Inspiracion late breakfasts is attributed to a lover of my youth from Sri Lanka. This scramble is made with whatever herbs, curry spices and fresh veggies are handy and crack those beauties to scramble with a fork and a bit of heavy cream. It was first served to me with flat bread and black tea made with warmed milk and three, yes three, teaspoons of sugar per cup. I still shudder a little at the thought of that tea! 😂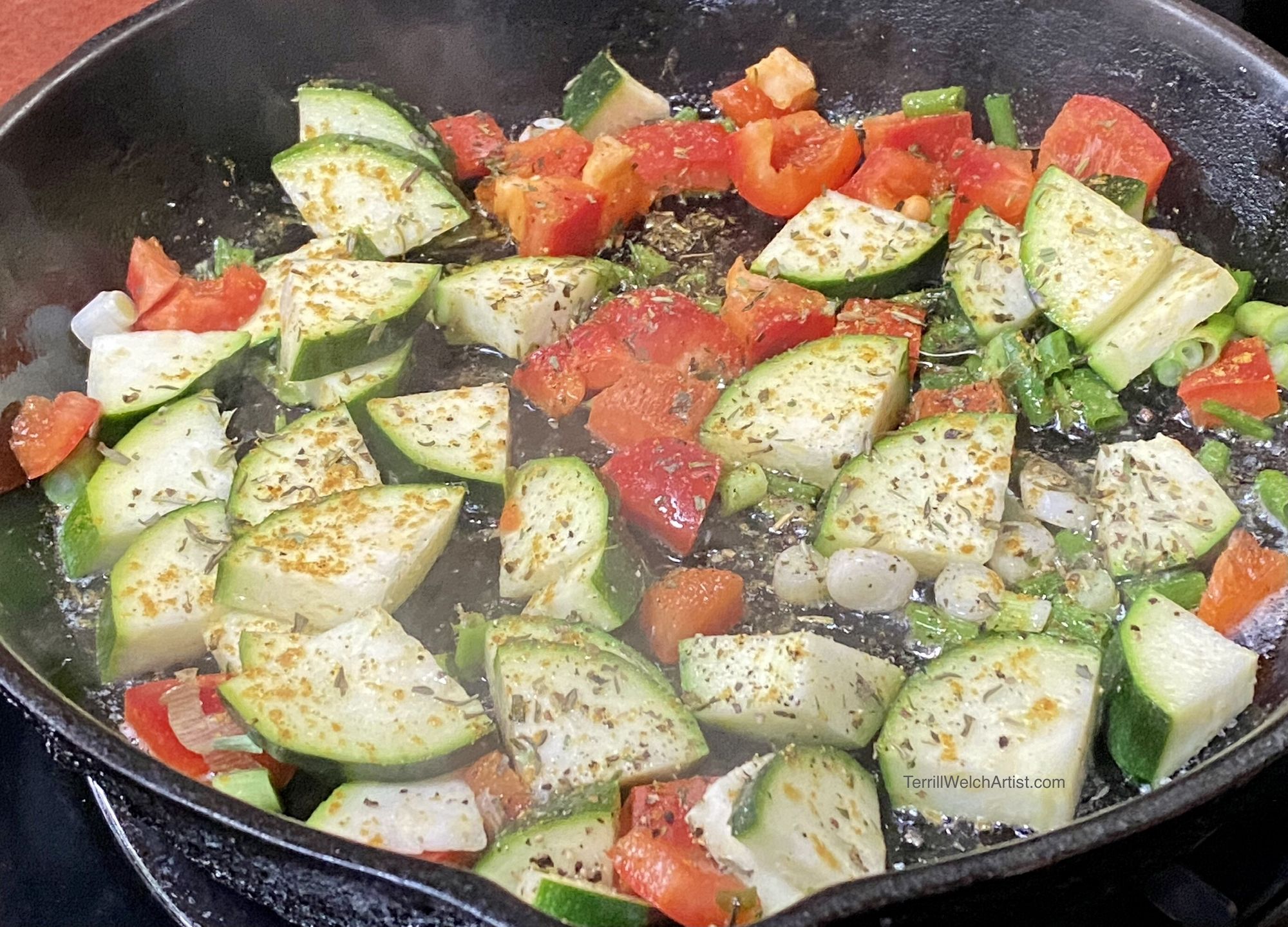 We have fresh zucchini from Hardscrabble Farm heated through in the cast iron skillet with olive oil and a bit of butter, part of a red pepper from Farm Gate Store and onions and fresh round shelled delights from RavenVale Farm. The herbs in this case are a dried mix from France with a light sprinkling of a medium curry powder and salt and pepper. We added the end of a baguette with butter and café solo (dark roast black coffee by itself).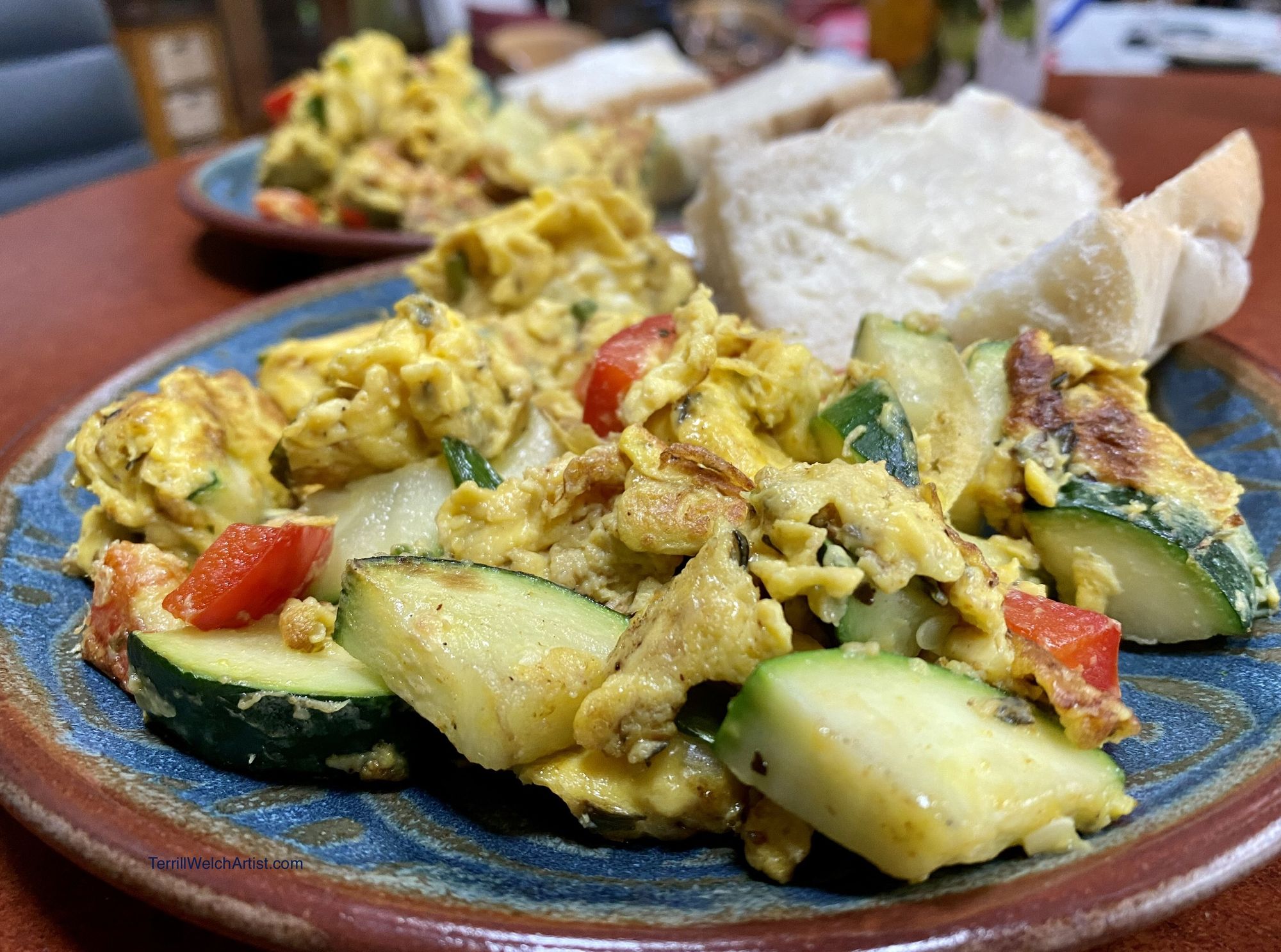 A Previously Sold Painting is Picked Up
The gate is opened for a painting purchased a while ago to be pick up by the art collectors.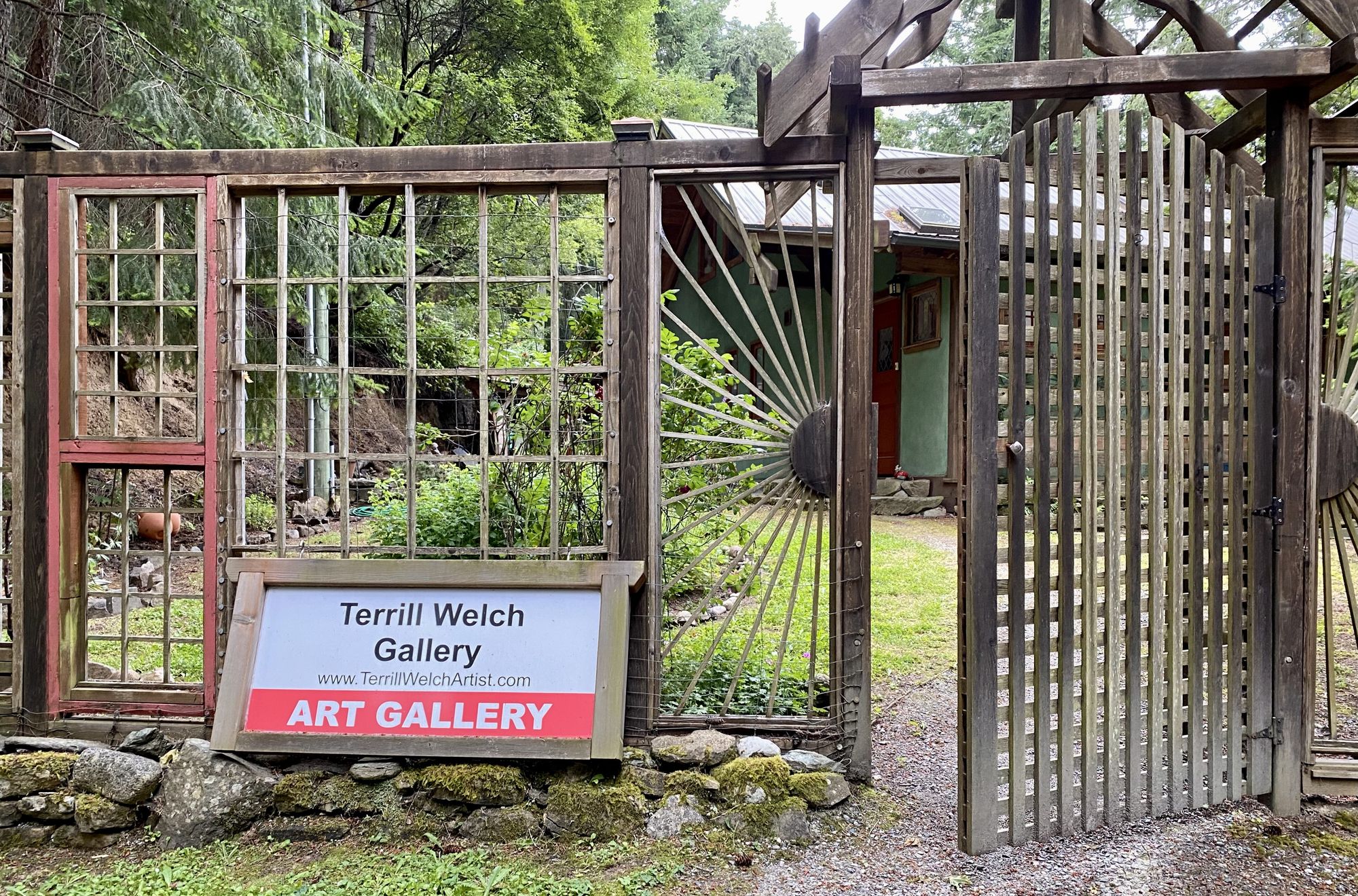 The sign for the gallery leans casually where the Gallery Pod will hopefully take its place in early August.
Grounds are Painted on Small Gessobords
One of my secrets for plein air painting is to have everything ready to go so I can make my coffee and grab my painting backpack and go first thing in the morning or slip out in the afternoon with a peppermint tea and do the same. This week I had a session scheduled with a seven year old budding artist and her mom. While I was preparing the painting boards for this commitment, I put grounds on all eight of the 8 x 10 inch boards I had left. More will be ordered shortly.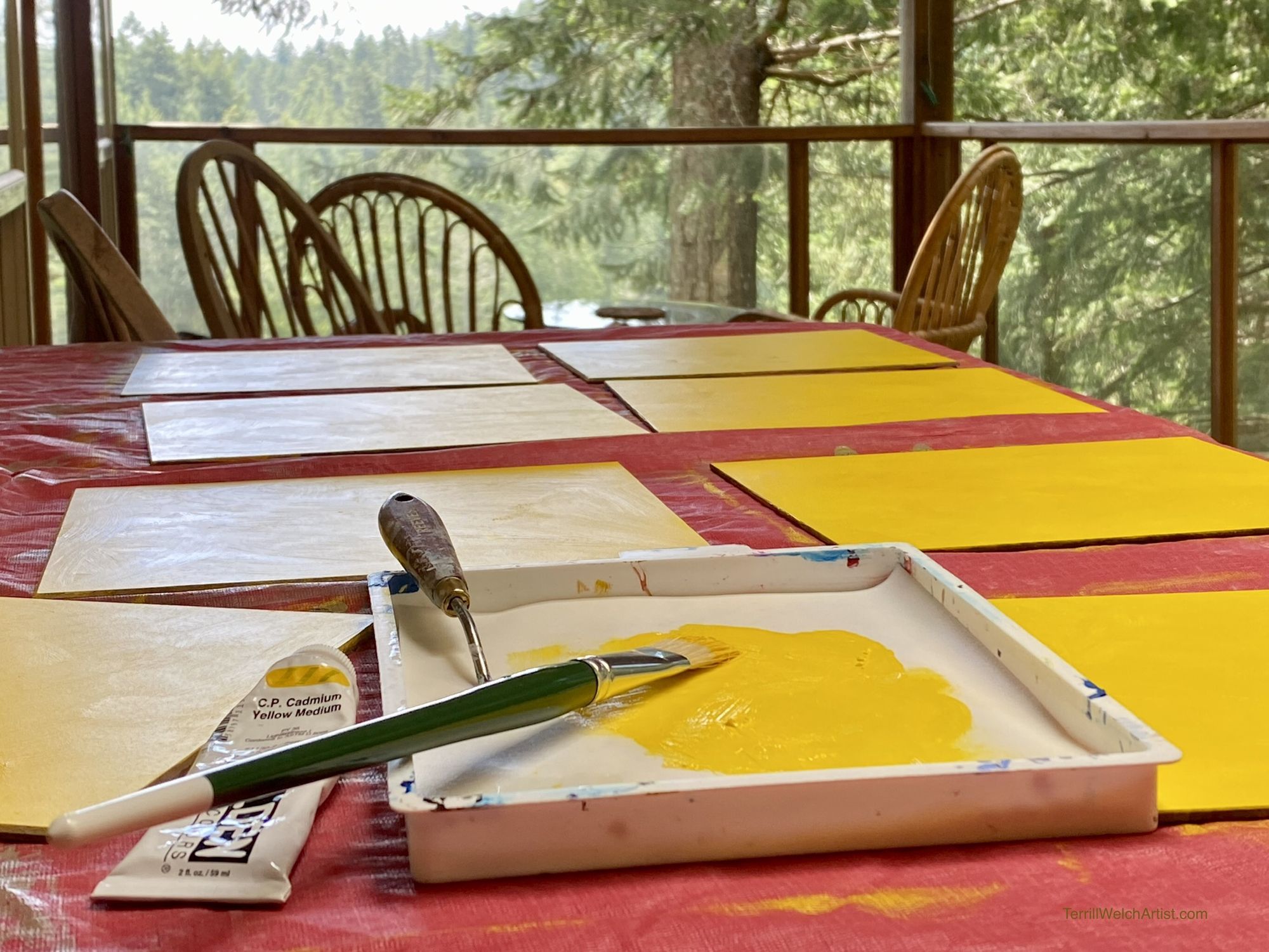 The day was pleasant enough and so I worked outside on the patio.
Mayne Island Homes and Gardens
We took in the Mayne Island Assisted Living Society House and Garden Tour 2022. This fundraising event has always been one of our favourites and many years ago our home was on this tour so I have some idea about the amount of work that goes into preparing a home for this special day. Here are a just a very few of the photo highlights that I took with permission…
One of my favourite discoveries today was this fresh seawater, wood fire heated, hot tub that I hope the owners had a good soak to warm up that evening after a lovely but very wet west coast day.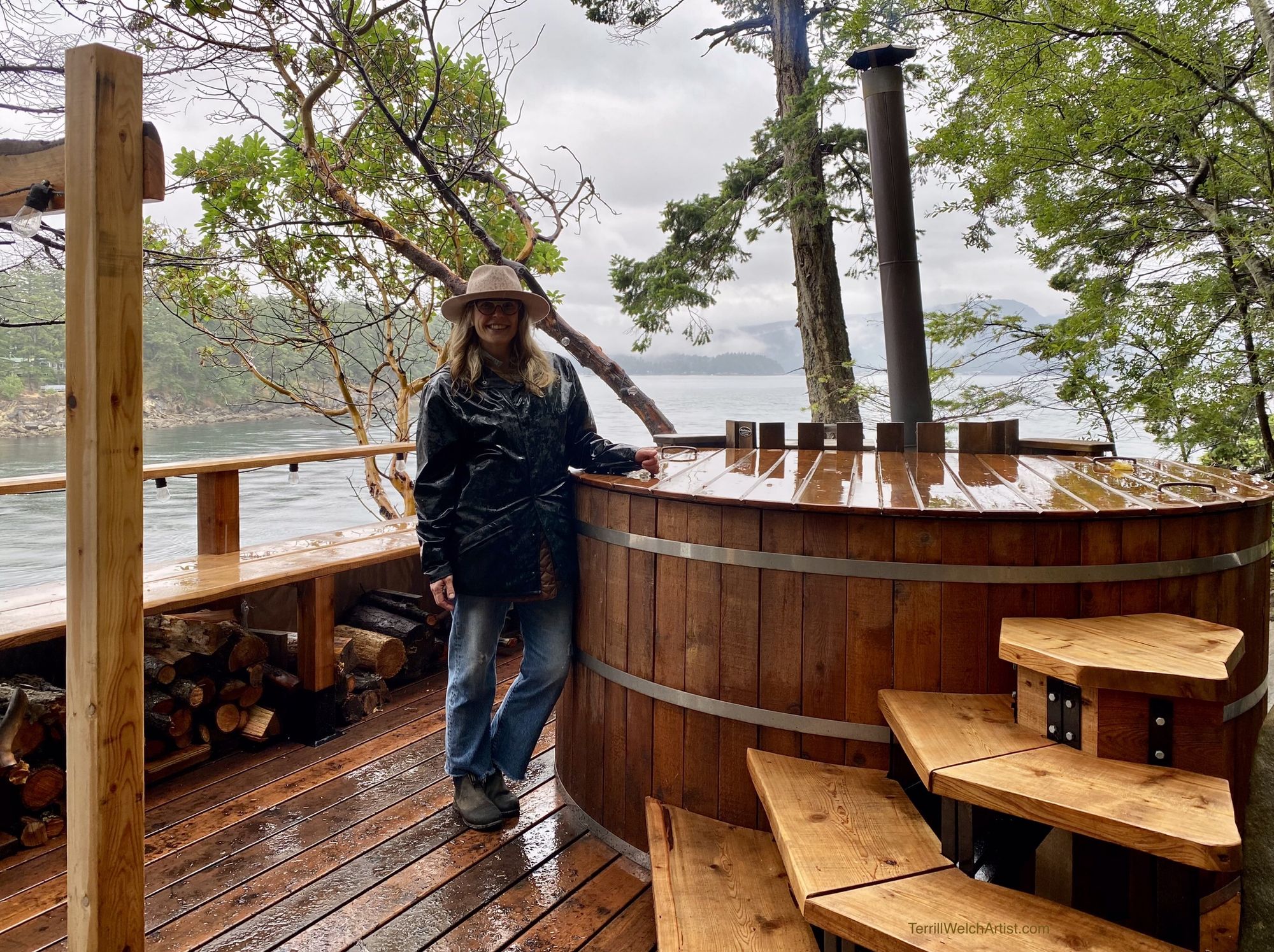 In another home, this northeast facing view would be almost enough to get me to eat an early breakfast. Almost 😉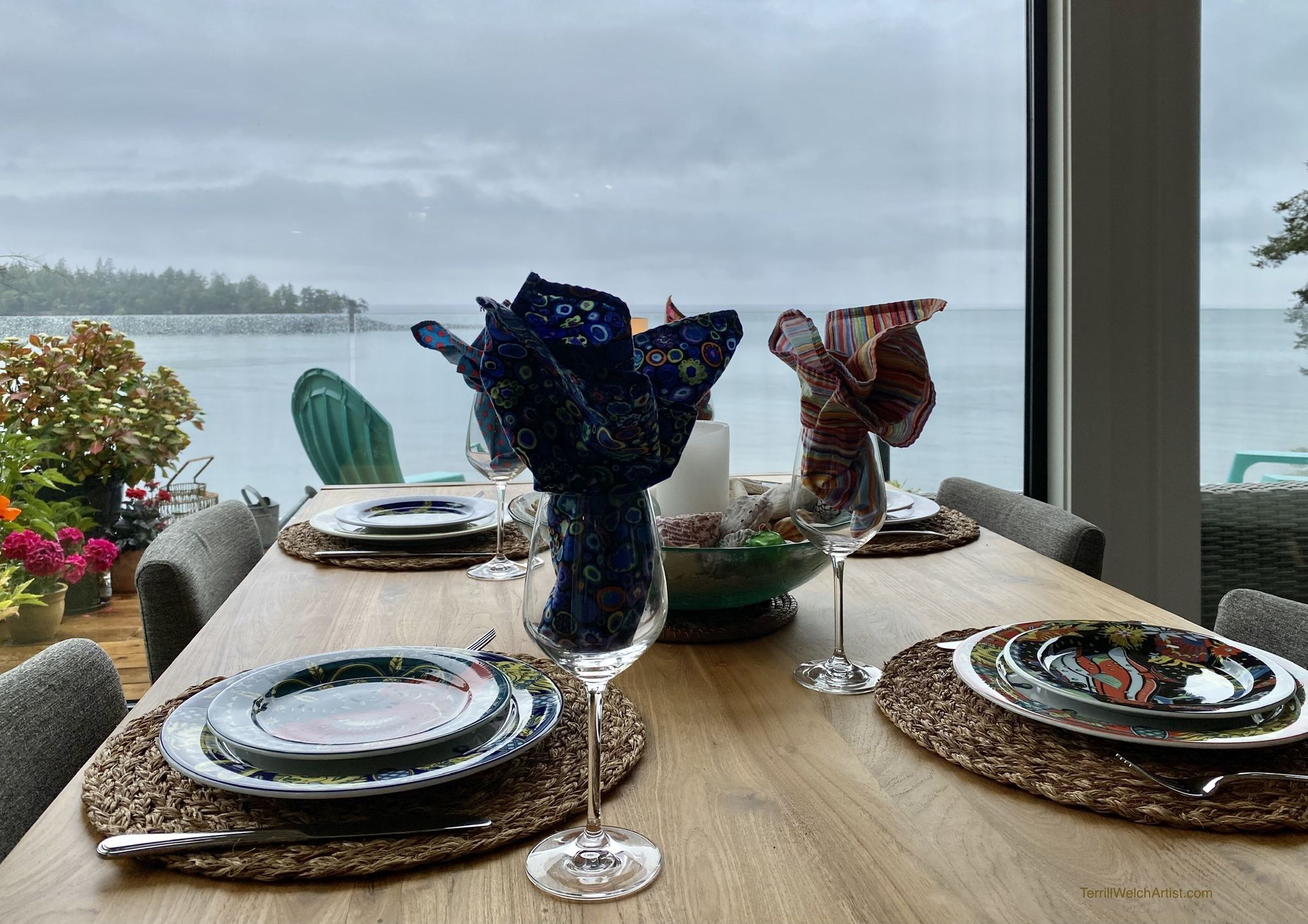 From the ashes of tragedy where a fire burnt an island home to the ground,  this new home in its place feels like it has settled in for a long bright future.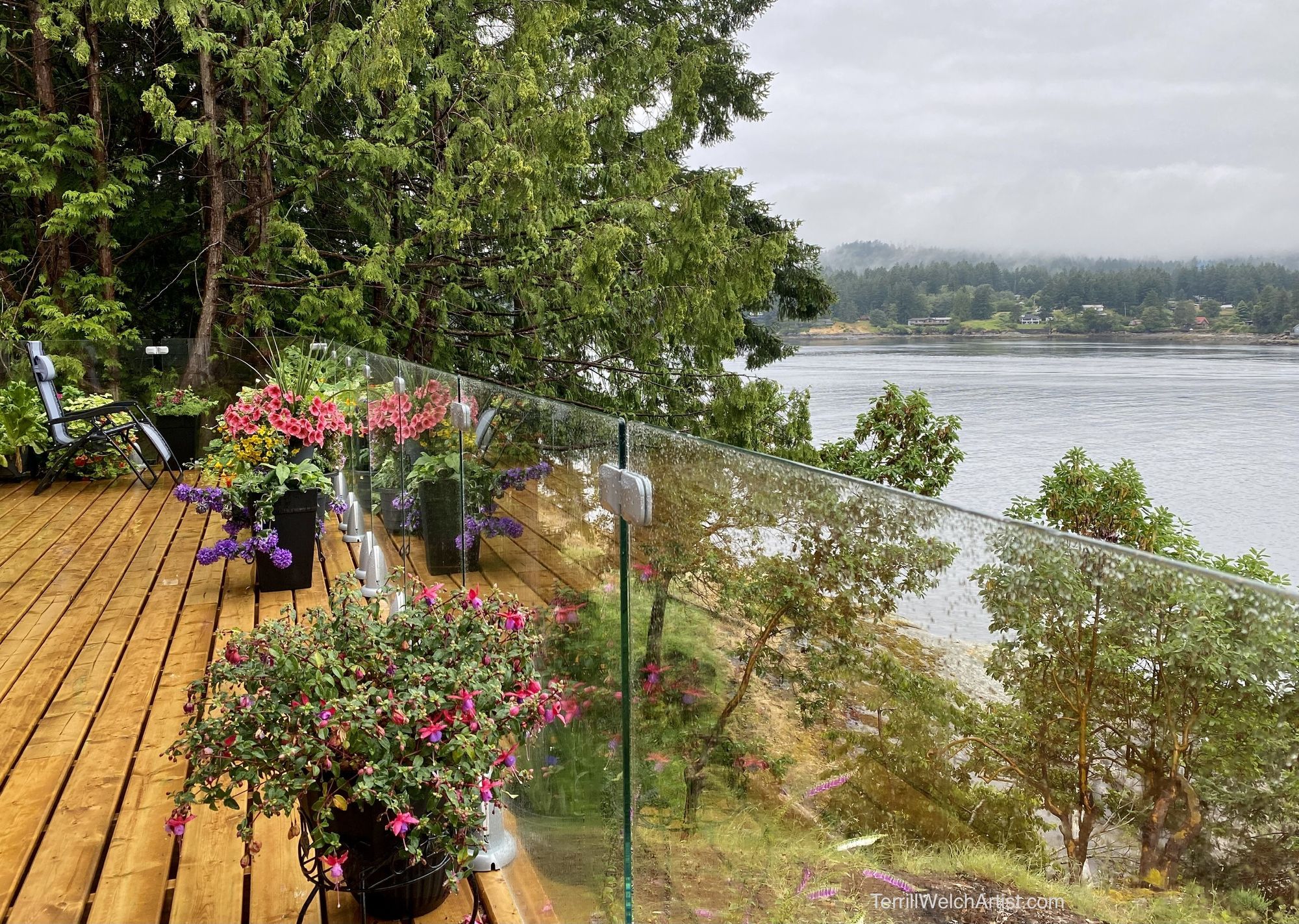 Then there is a unique look at a familiar view warms my imagination.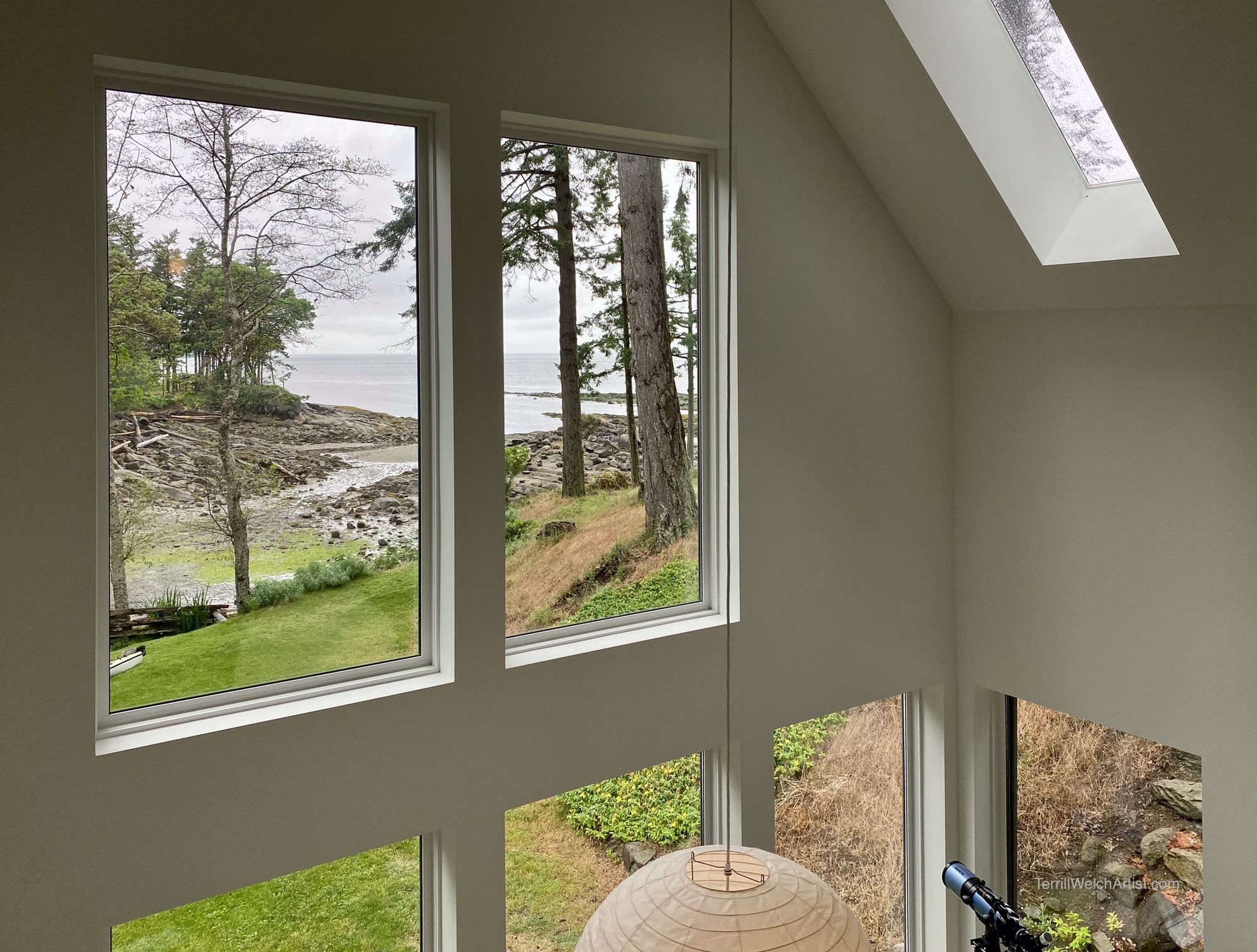 Some homes, like the ones in the photos so far, have grand views. Other homes feature a quite garden oasis that invites one to stroll the grounds seeking discovery.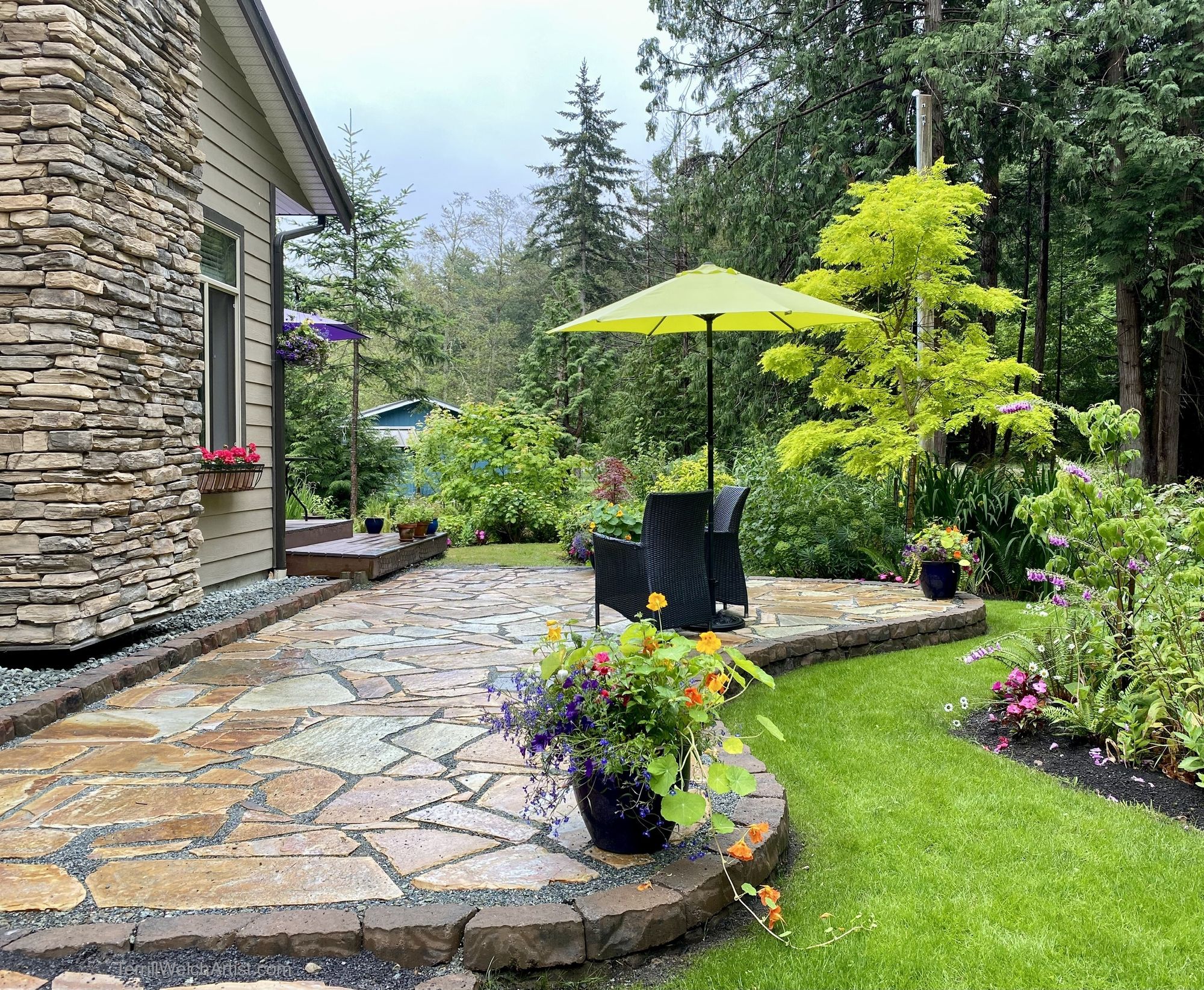 Gardens can be incredibly beautiful in the rain.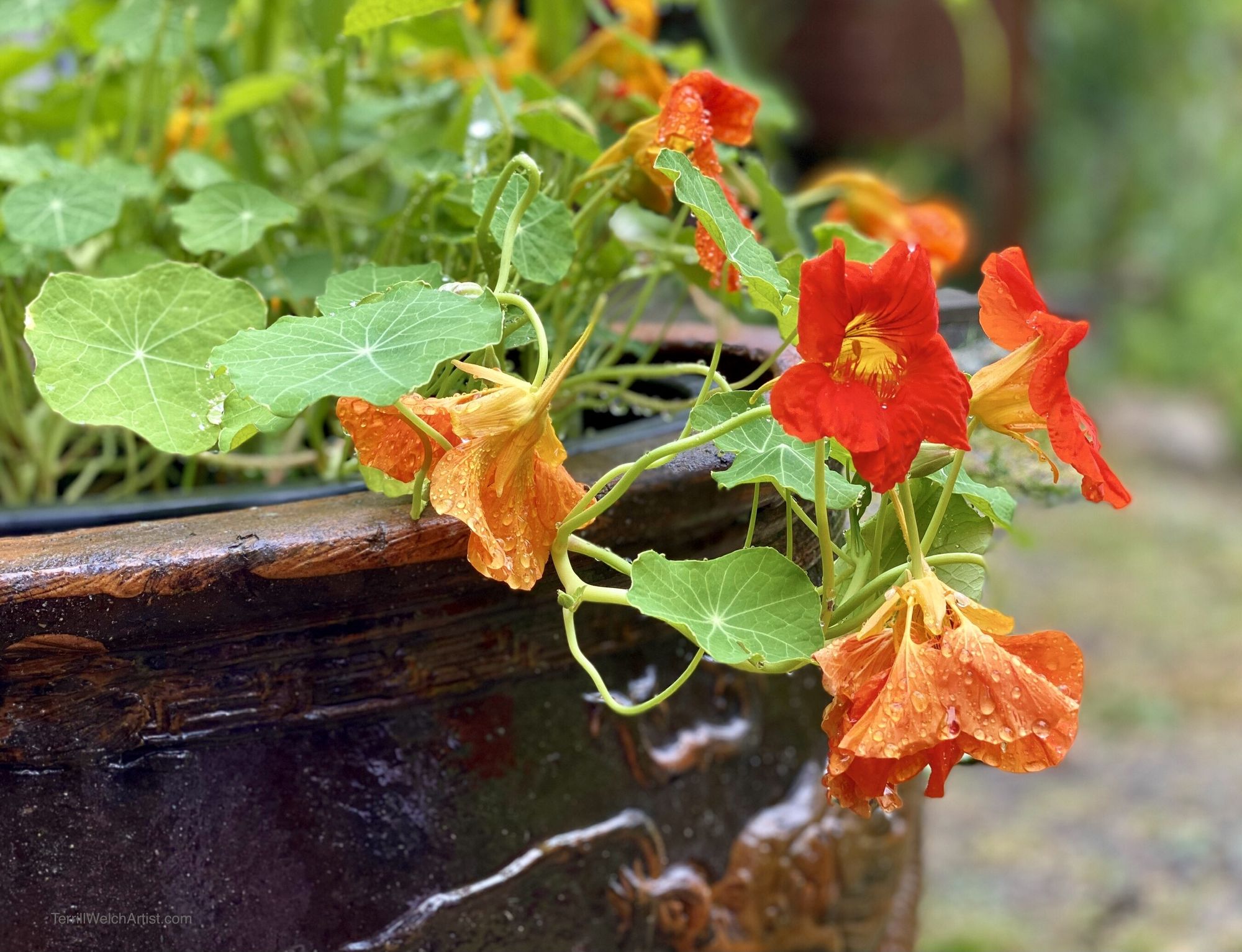 A few trees had to be removed from this yard and I was invited specifically to observe how much this cedar tree appreciated it's new abundance of sunshine. If trees could show us their smile, this one would be grinning.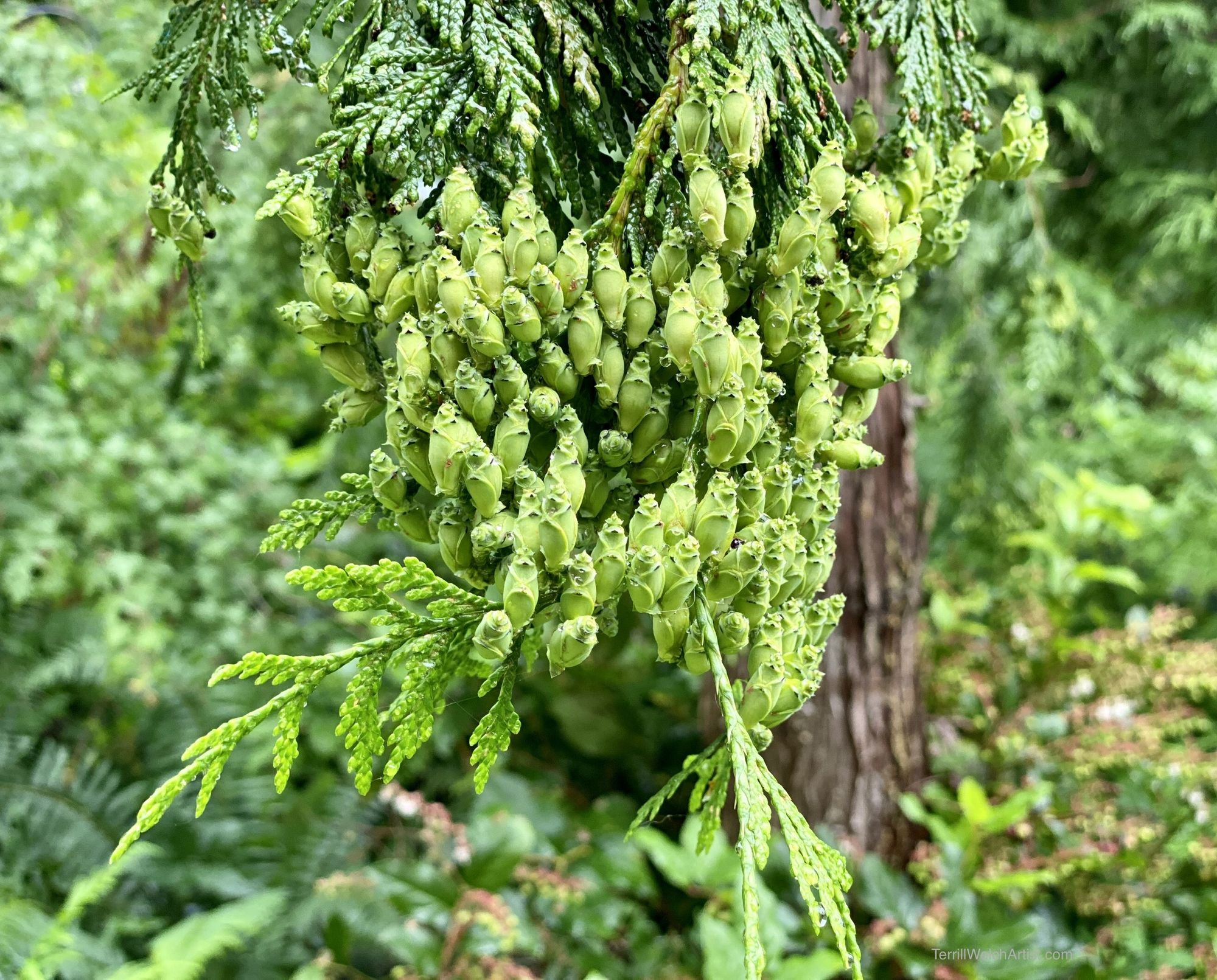 Colours dance and drift in and out of my view…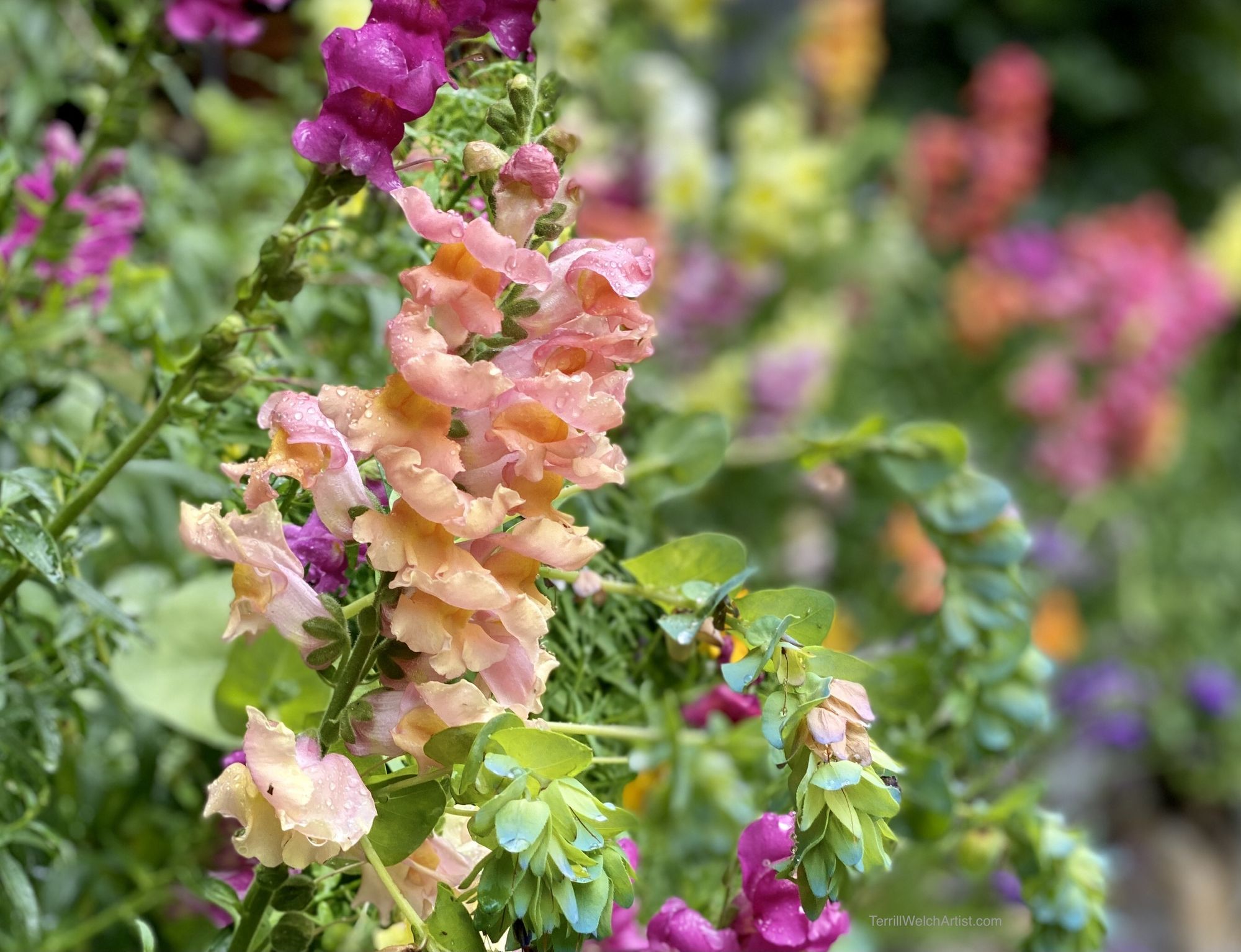 where these flowers provide a frame to yet another sanctuary space.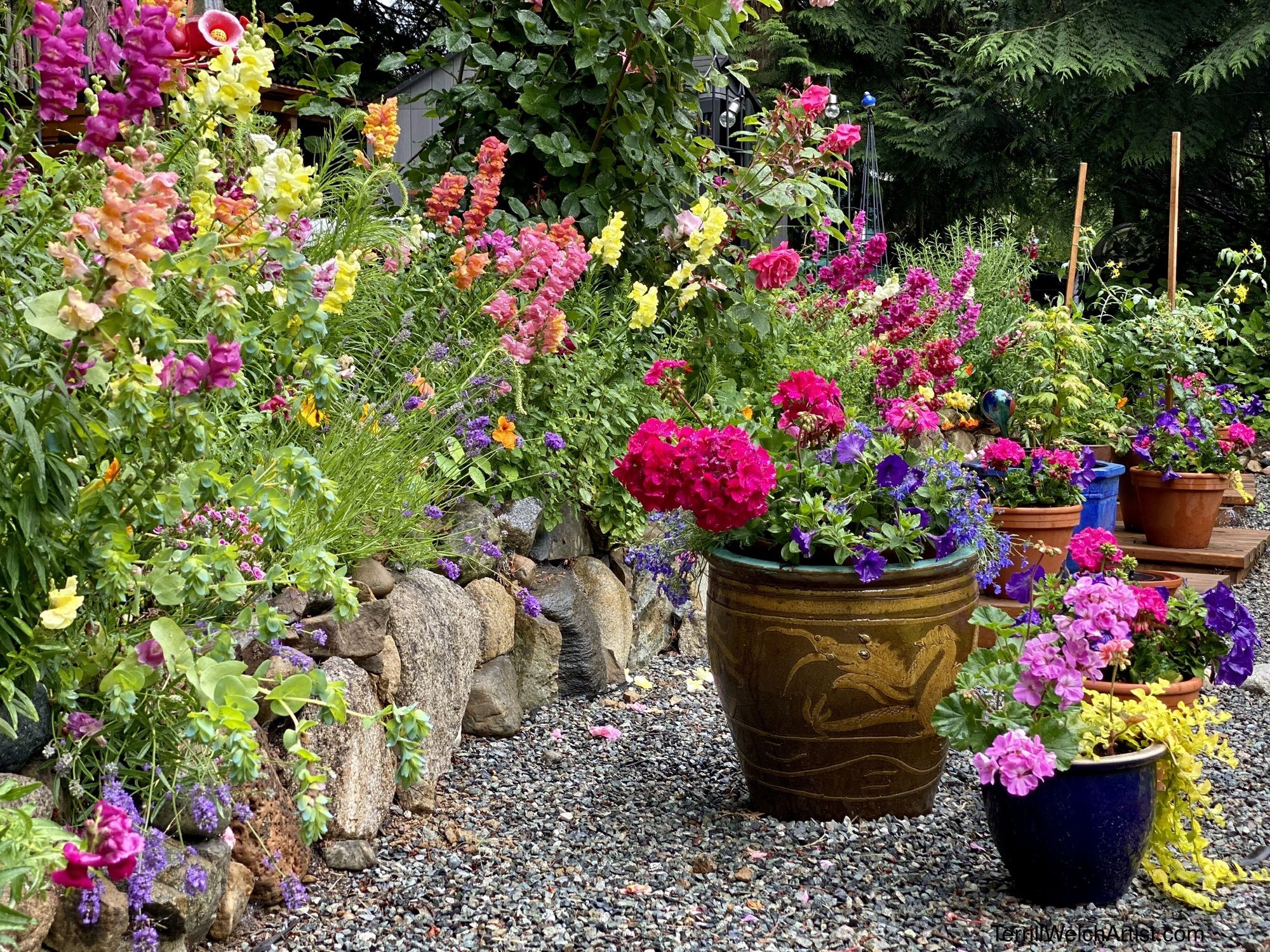 At another place, hard work and creativity are admirably in abundance in a new she-shed space in an already adorable home and incredible mature garden.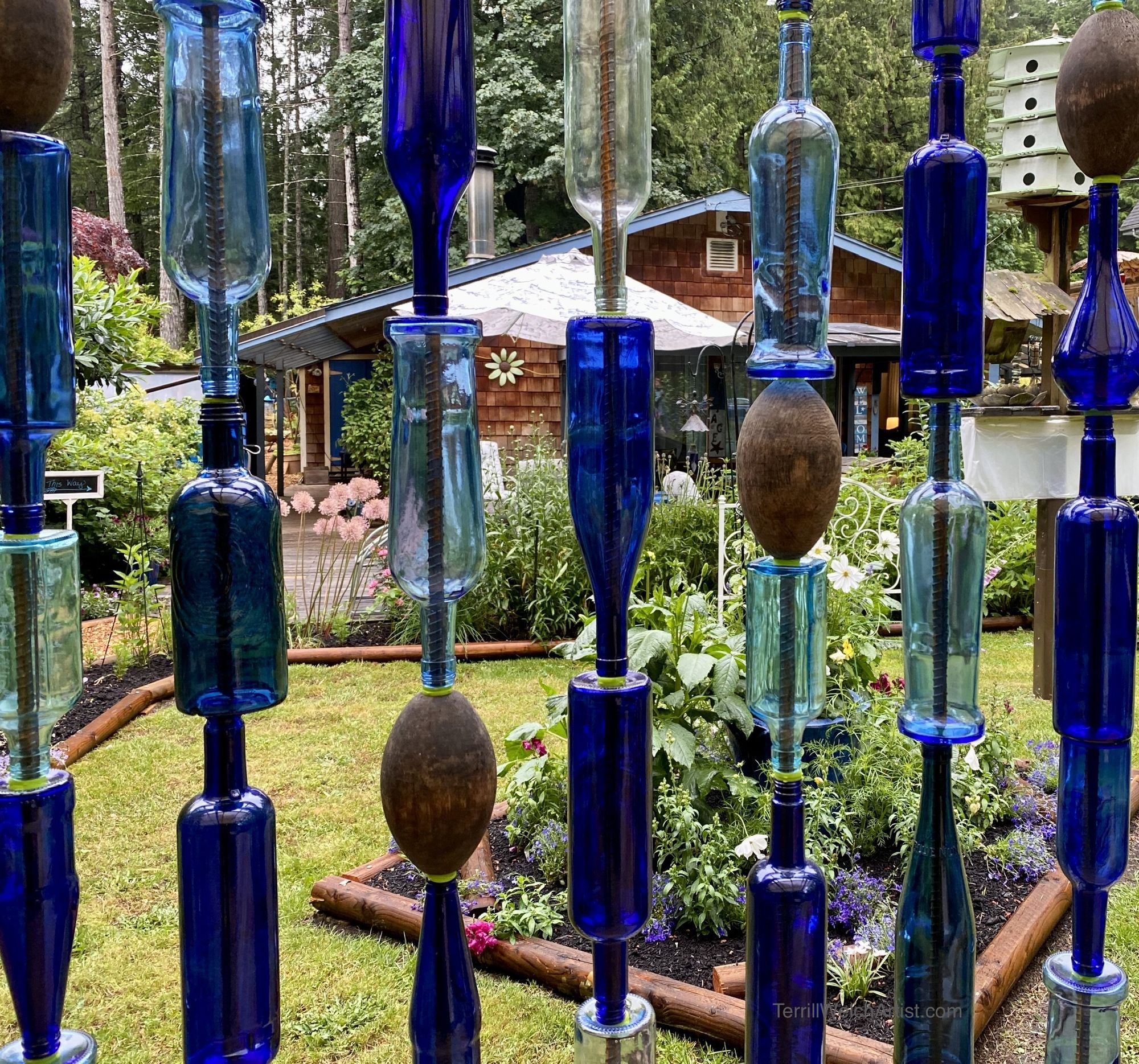 A unique garden sculpture featuring the owner's signature passion for blue seems to sail along beside the path.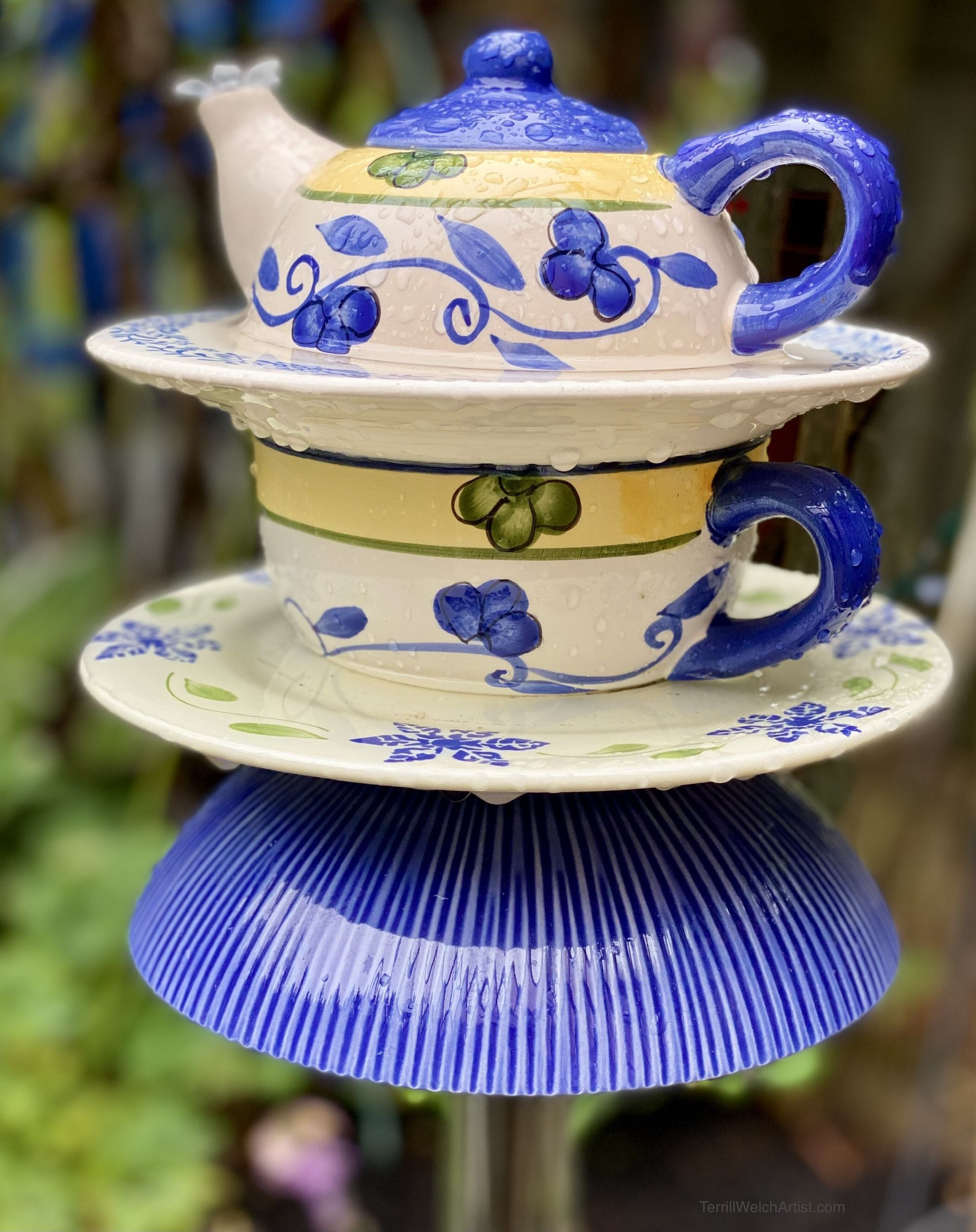 Small creations are tucked into garden beds everywhere!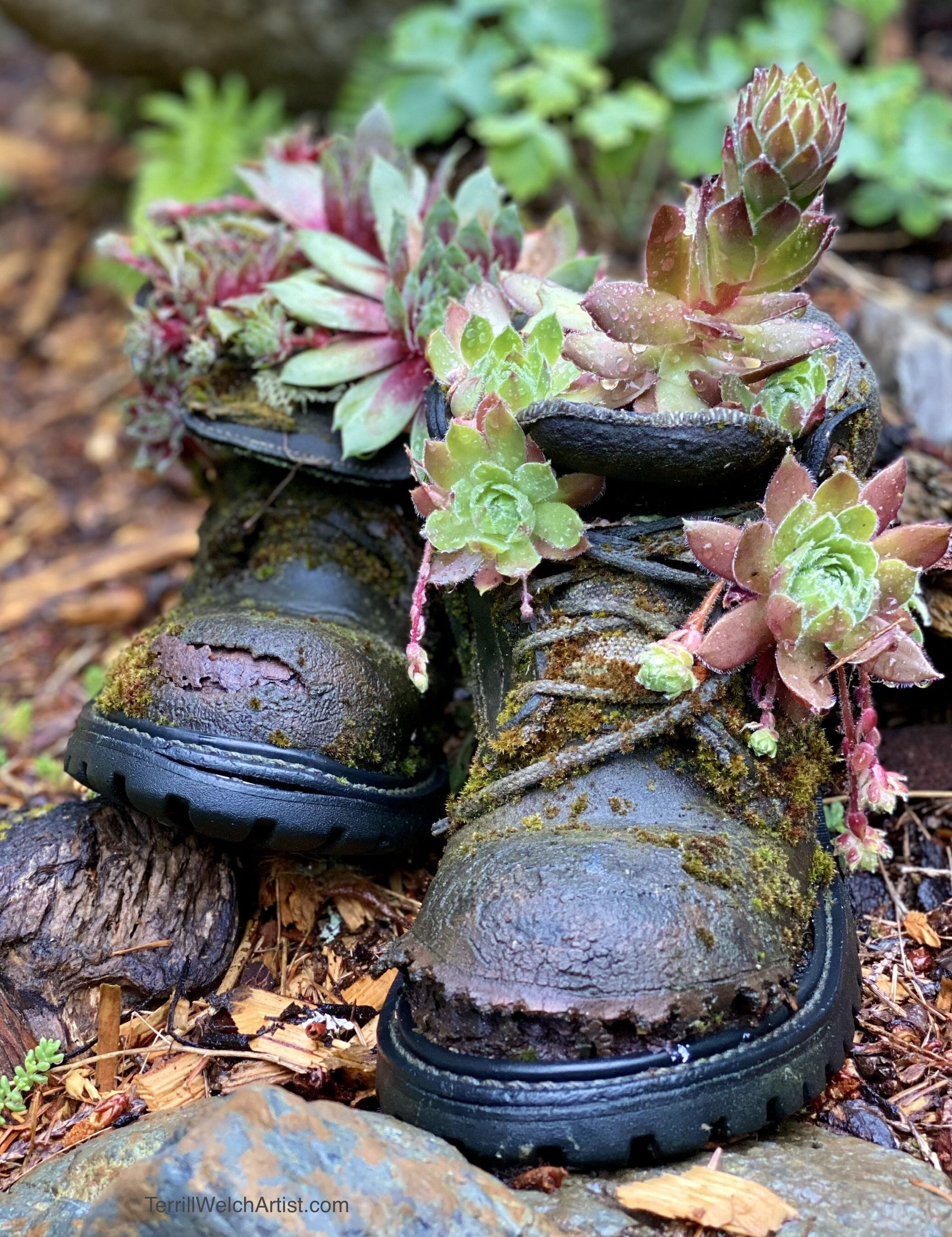 And so, in this weather best suited for frogs, trees, flowers and Mayne Islanders of all sorts, best wishes to Mayne Island Assisted Living Society for their successful fundraising event!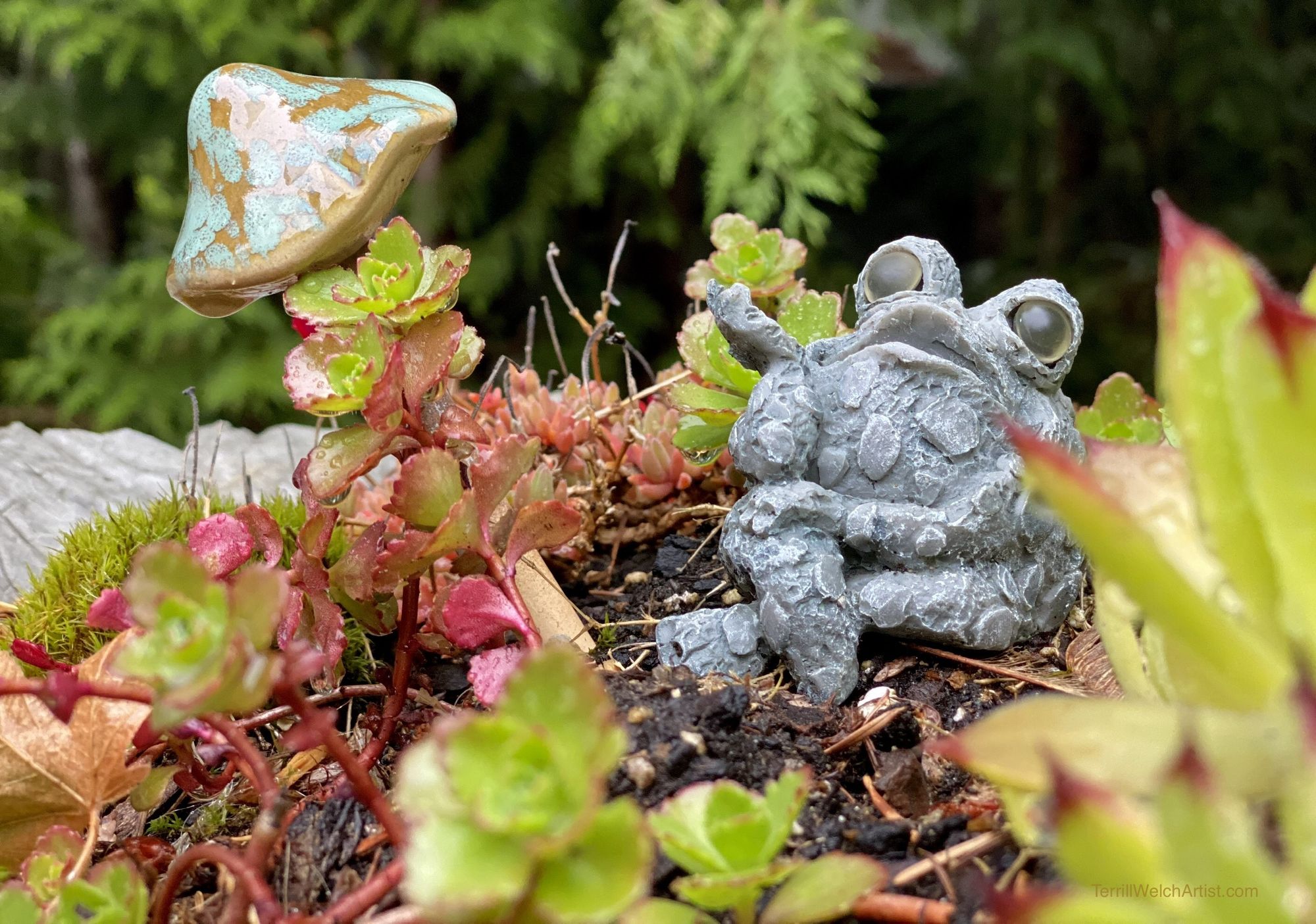 I hope you enjoyed these snippets into the homes and gardens of my fellow islanders.
Missive from a Morning Walk
Through the mist I strolled down the old road in the park. I am slightly later than usual this morning. I hadn't been sure I would walk today in the damp but I am glad I did. A deer snorts at the far end of the trail and bounds into the salal. Ring neck pigeons coo in the tall cedar and fir trees along the path. There is an owl hooting farther away, possibly confused by the heavy mist into thinking it is still night. Then there is me. I have a cotton tote pulled up across my shoulder so it doesn't slide while I walk… and think.
Forest fragrances drifted between muffled murmurings of island life that are only broken by morning birds and the neighbour walking his two dogs. I stop to visit for a few minutes and pet one of the dogs while we chat.
I arrive at the farm and take my eggs out of the cooler on the step. Then send a quick message to say I have them. I return the way I have come, complete with another few words with the neighbour and another dog pet.
I had tentative plans to paint grounds on four canvases when I got back. It didn't happen. David has jazz playing in his office. I take care of booking a couple of appointments for him. I mention my plan for homemade leftover spaghetti and meat sauce for him and that I was going to make beef and broccoli on rice with salad for me. He really dislikes broccoli and secondly dislikes salad. But he loves the leftover option so this seems like a great idea to him. Win-win and peace and harmony reigns in a quiet little home overlooking a valley.
Plein Air Afternoon
There were these little spitting showers but it was warm so I thought I would attempt a plein air painting down at the end of Seaview road. I got everything set and began my painting like this…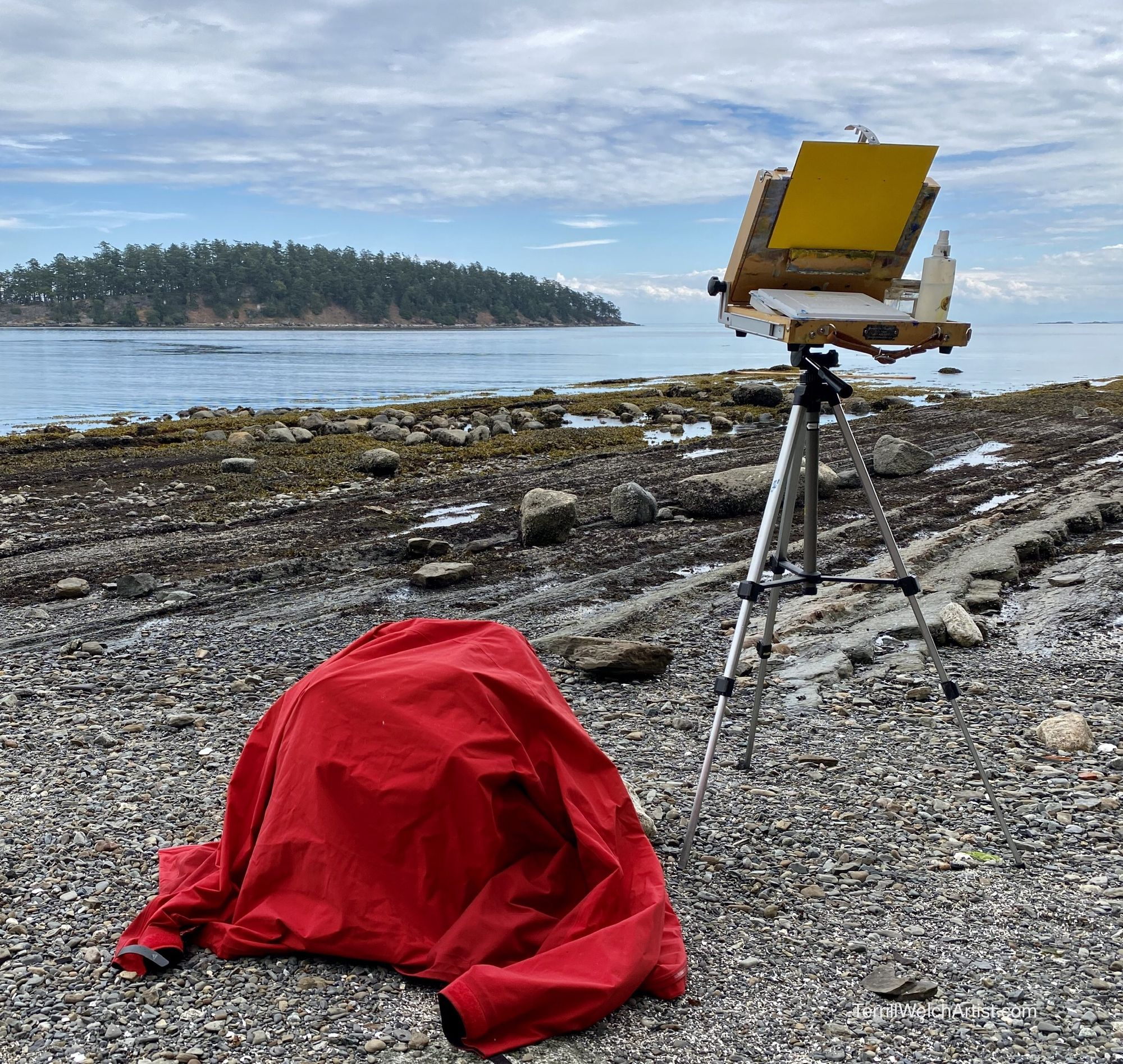 I had to tilt the painting downward a few times but it was warm and pleasant. Pretty soon the tide had gone out much future and what was on the canvas was from another time.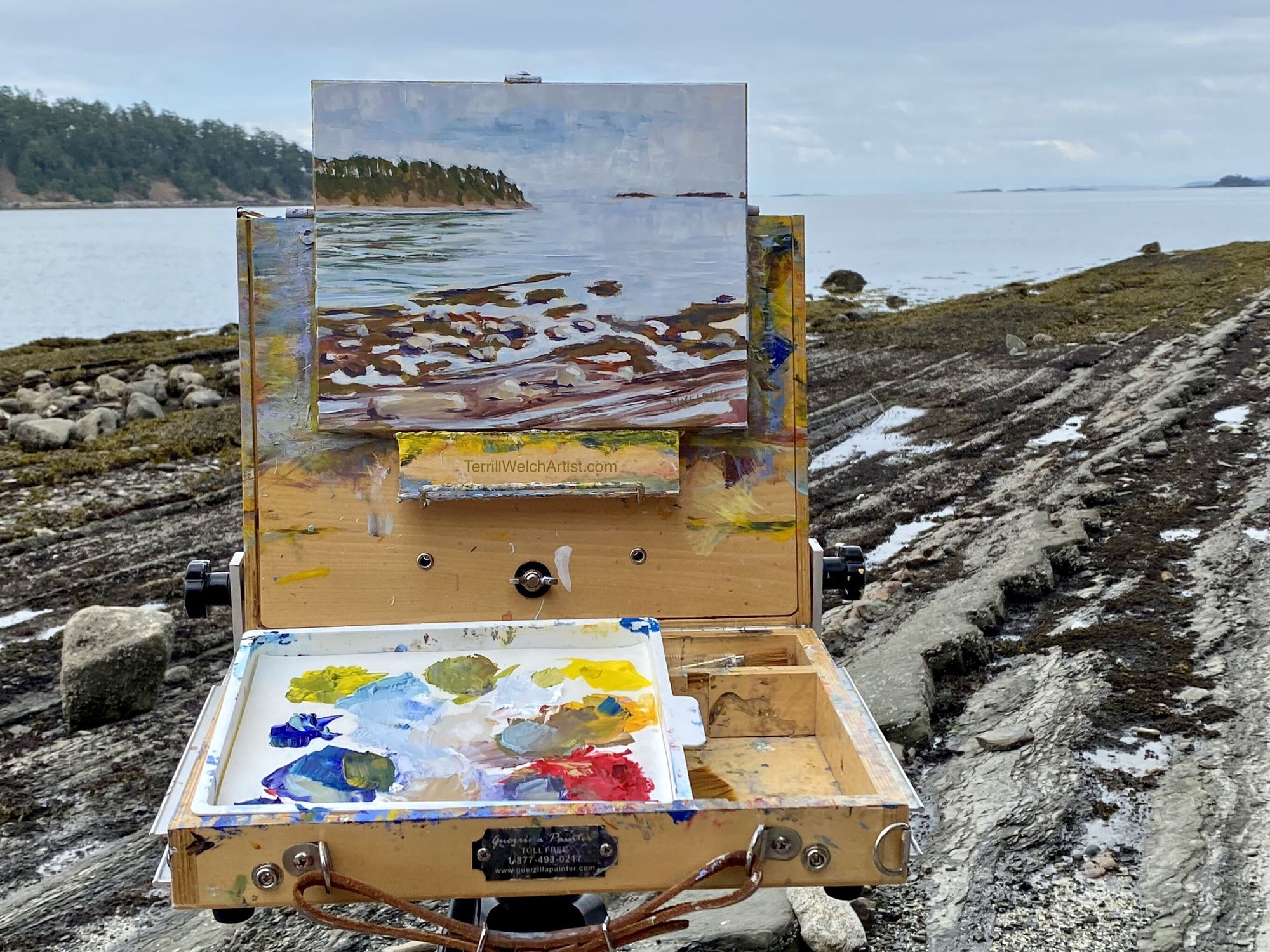 "Between Showers" by Terrill Welch, 8 x 10 inch acrylic on gessobord plein air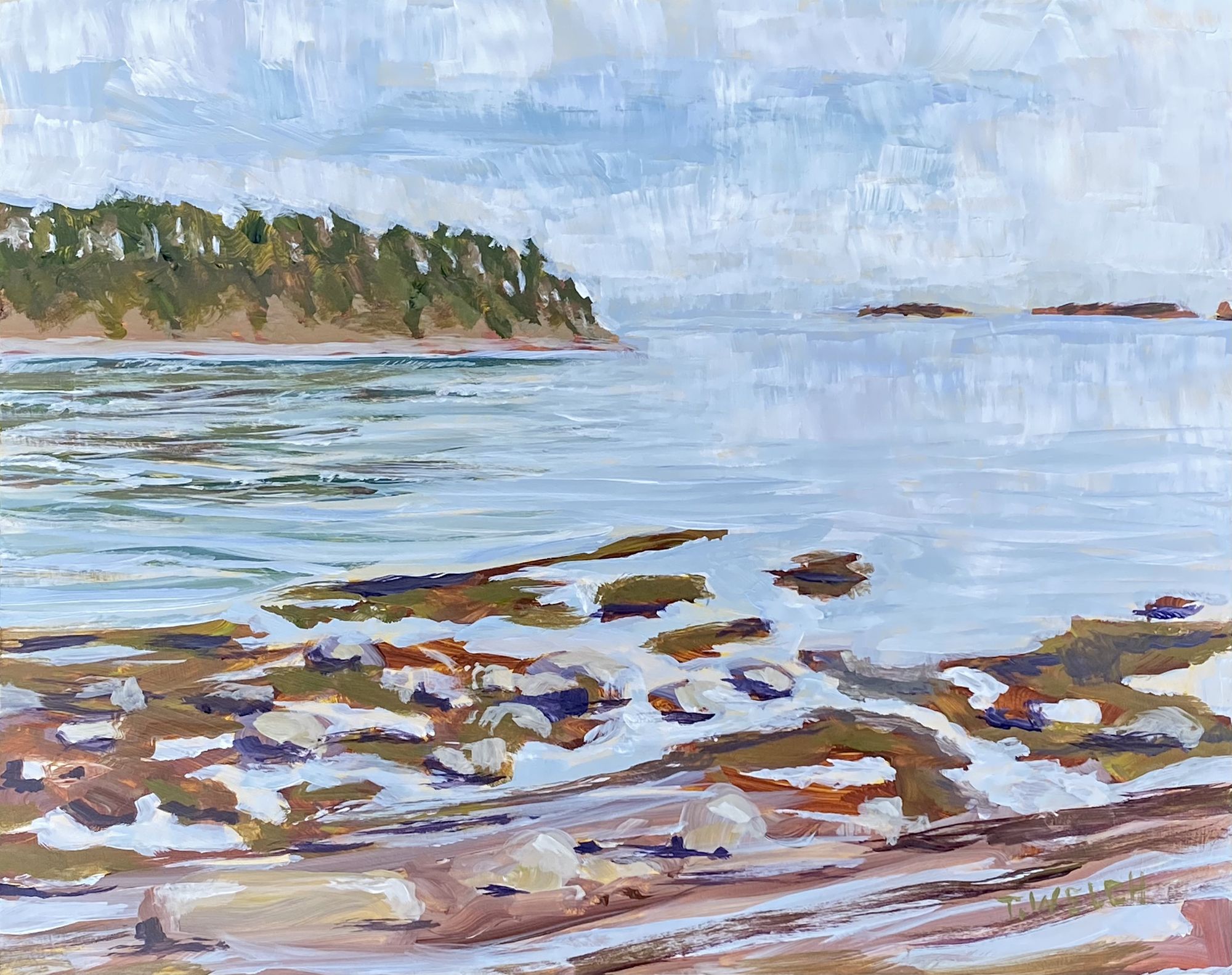 Artist notes: The weather was unsettled but warm. I decided to take a chance on a July afternoon plein air painting. It required at times tipping the painting downward to keep the rain off of it and the humidity is so high that the layers dried slow. Still, it is possible the best place to spend an afternoon if one must have a paint brush in their hand.
And Newly Released!
Artist notes: The weather was unsettled but warm. I decided to take a chance on a July afternoon plein air painting. It required at times tipping the paintin...
Animated Reading of Poem
To close this issue, I would like to share a beautifully animated reading of a favourite short poem "Peace of the Wild Things" by Wendell Berry that was shared with me by a friend in one of her recent posts.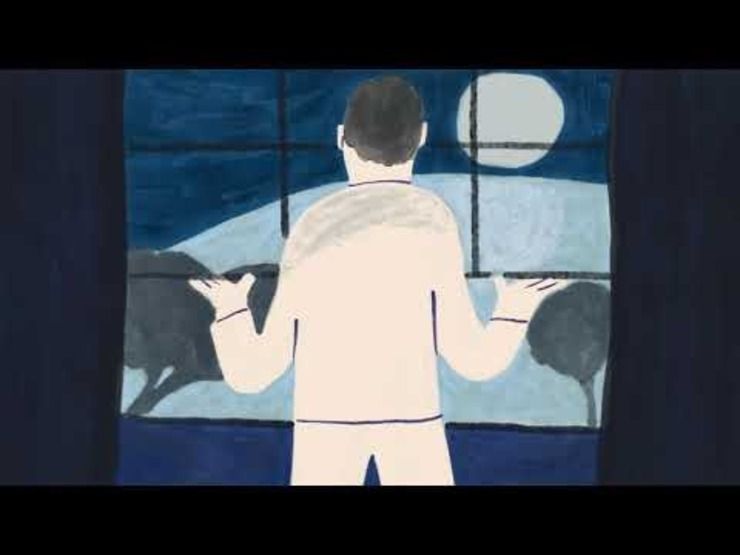 "The Peace of Wild Things" by Wendell Berry is part of our "Poetry Films" series, which features animated interpretations of beloved poems from our archive. ...
Until Next Time
So there you have it with my personal lesson and practice on how to - just breathe. As we release a long exhale into summertime and breathe in good will, hope and possibility, I wish you all the best that each day can bring.
Terrill :) 👩‍🎨🎨❤️
P.s. Based on your feedback and usage statistics, I have made the decision to discontinue our Artsy platform and it will close near the end of this month. However, all my available work is in its usual online home at Artwork Archive which is where most of you seem to prefer to connect…
View the full portfolio of artwork from Terrill Welch