A Brush with Life - Issue #12 Cozying Up to Brushes for Winter Season
Long shadows stretch across the valley before supper time. A light is already on next to the table. The studio lamps remain set up, even for daytime painting. Our northern hemisphere winter season is upon us. This is always a time for review, reflection and development of a work plan for the year ah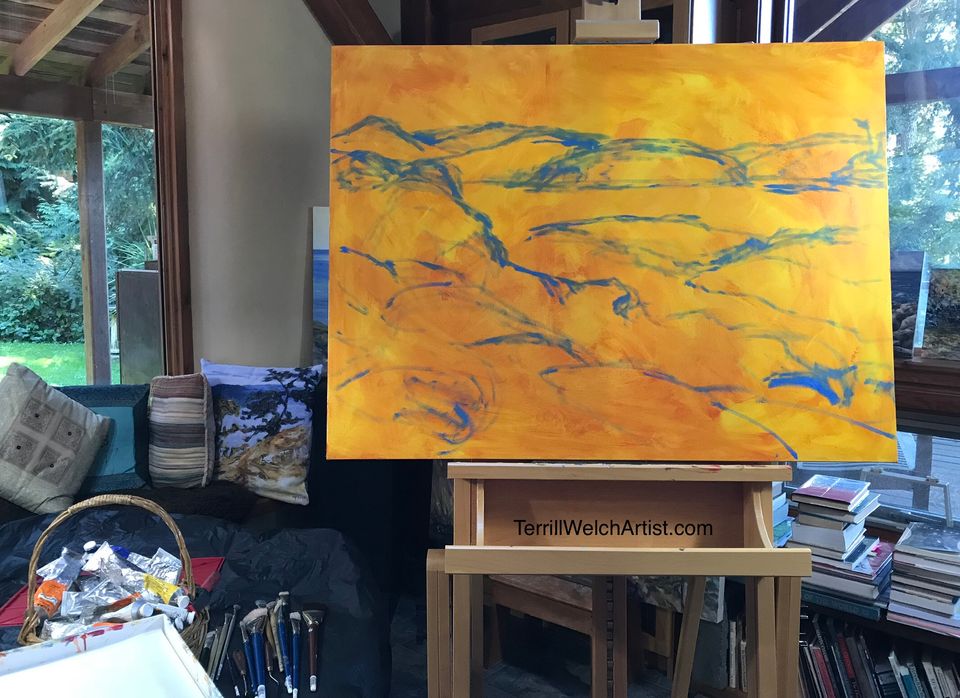 Long shadows stretch across the valley before supper time. A light is already on next to the table. The studio lamps remain set up, even for daytime painting. Our northern hemisphere winter season is upon us. This is always a time for review, reflection and development of a work plan for the year ahead. It is a time of studio painting and deciding on the direction for the next body of work. An anchor or intention is emerging - Sky, Earth, Water, Fire - Sky above me. Earth below me. Fire within me. Possibly this. Possibly. We shall see.
For now, the final show of 2018 is in place. The painting classes that I am teaching are coming to a close... along with a couple of social media platforms. Don't worry, since you are receiving this newsletter, all is good. Though, I want to let you know that after 5 unopened emails in a row, you are unsubscribed from this newsletter and sent a re-commitment notice. There is basically, no dead weight in the gallery newsletter delivery system. The Terrill Welch Gallery strives to share only with those that are interested, excited and intrigued by what the gallery has to offer. There is no point in clogging up valuable inbox space with unopened good intentions. Also, I LOVE the email replies I receive from time-to-time from so many of you. Life is but a brief moment. Let's continue to make each exchange meaningful, fulfilling, desired and genuine!
---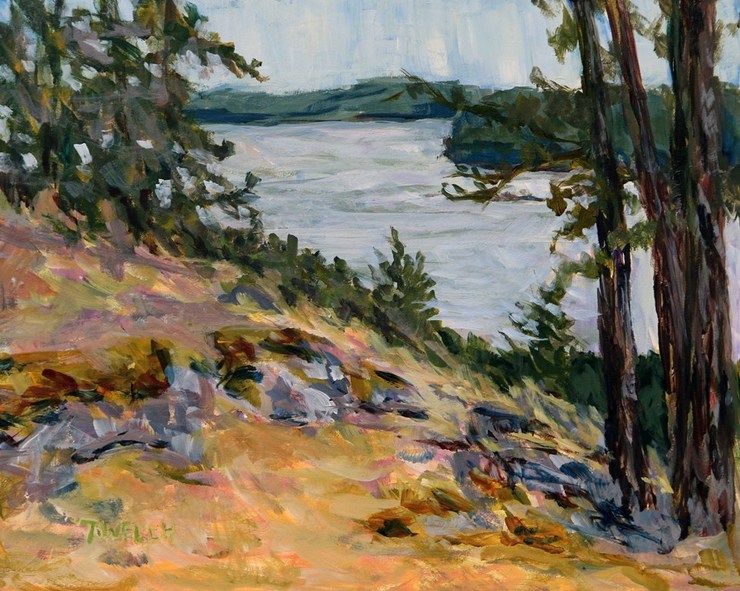 Who loves the little paintings, the small works, the pieces that are always perfect to hang or rest or prop in your modest space? Maybe one like this small 8 x 10 inch acrylic sketch on gessobord? Yes? Who wants to support their favourite artist for International Artist Day but a large work is just…
Work-in-Progress from the Home Studio
My paintings often begin with a ground and a few guiding lines...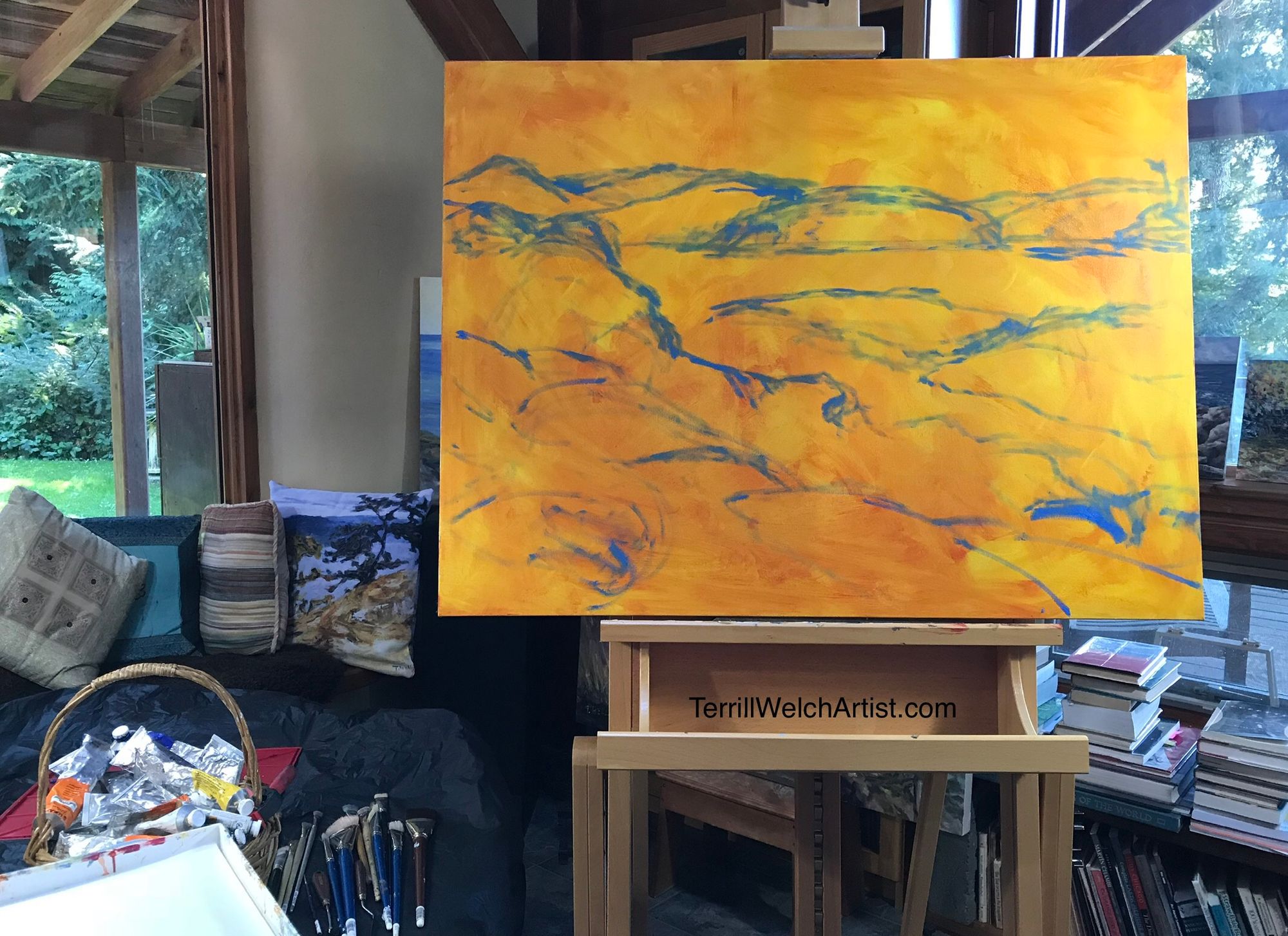 Then I begin to block the work in...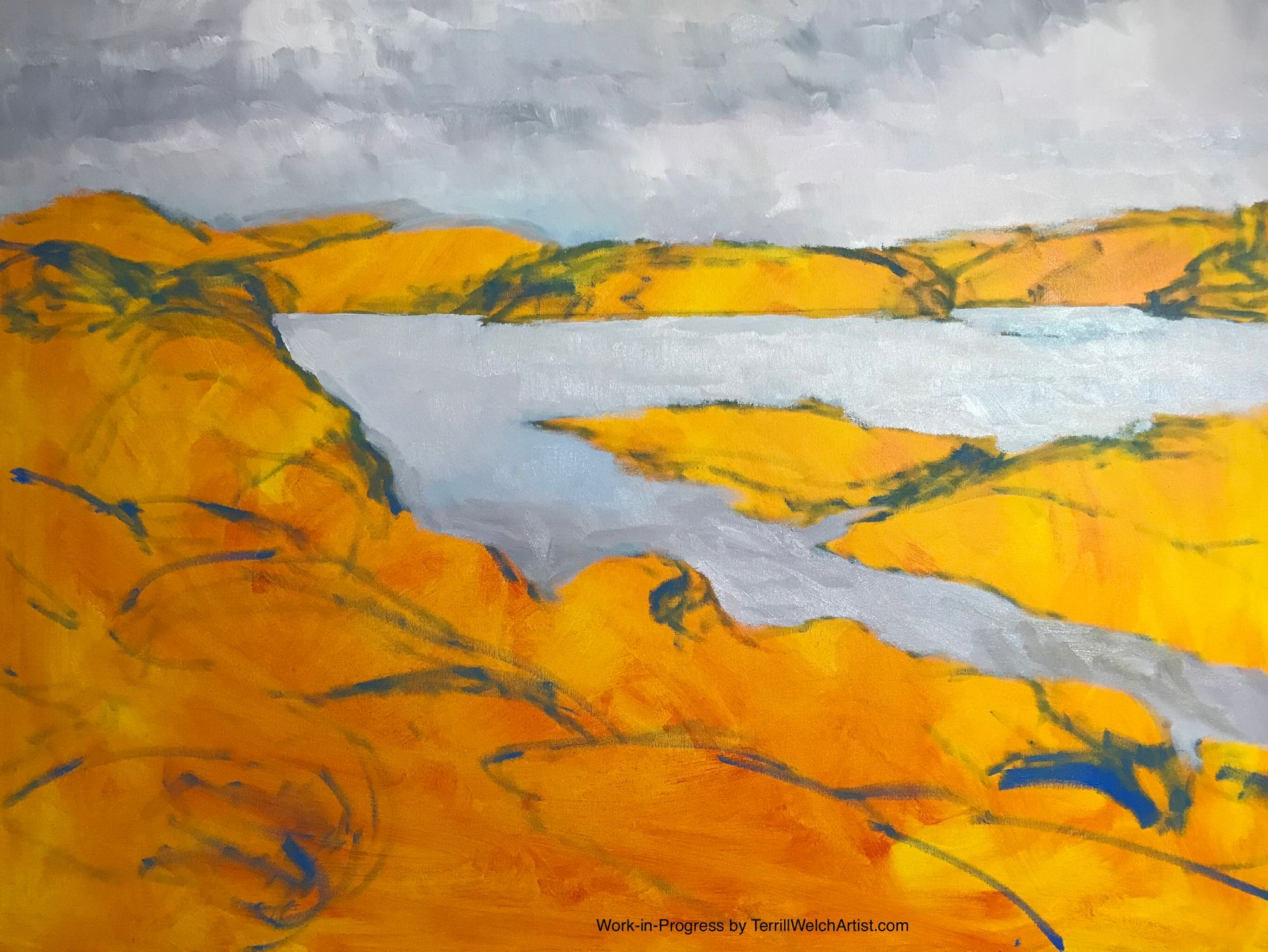 And once the painting is blocked in, the paint is built up brushstroke by brushstroke....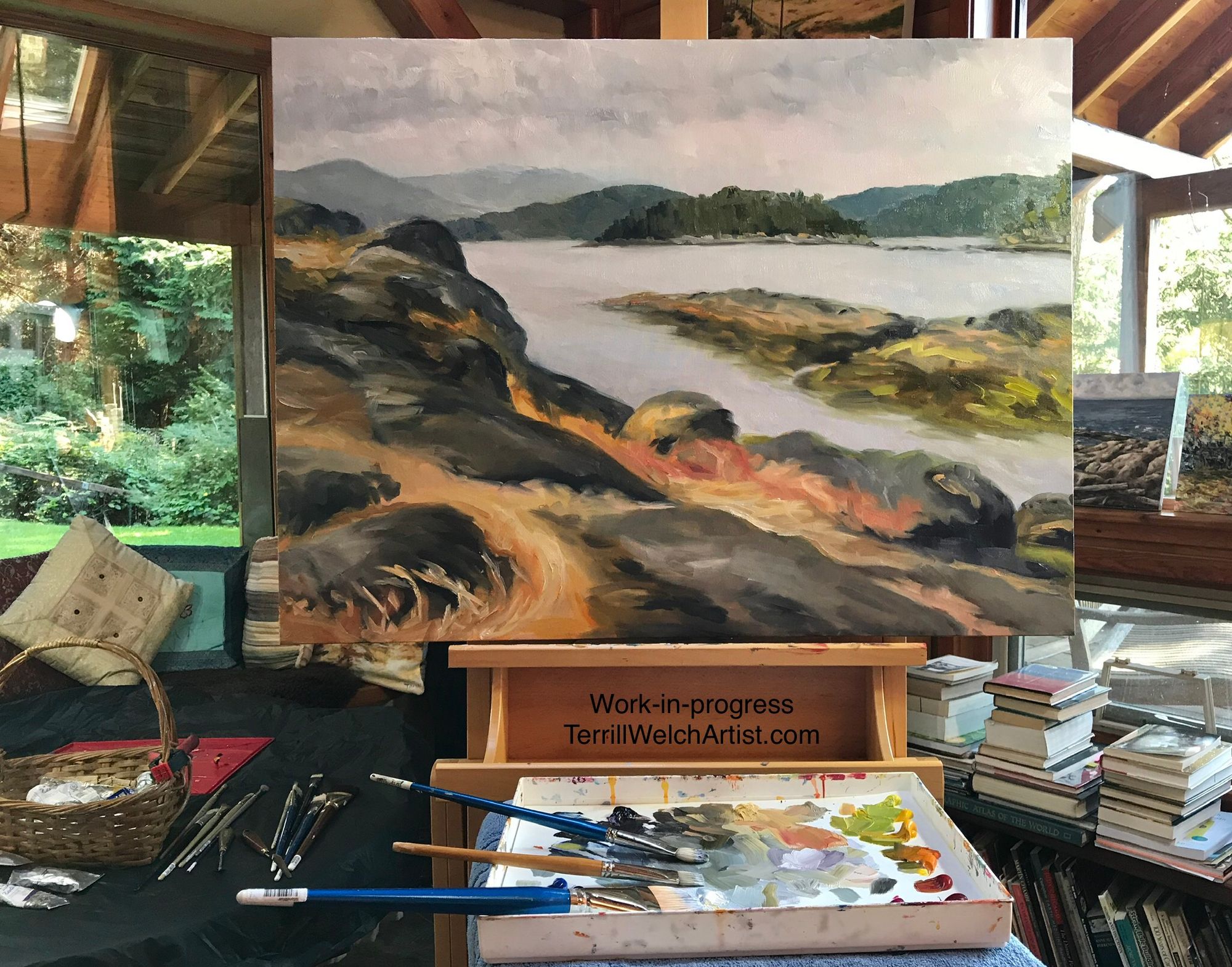 The work eventually comes to a place of "resting" or more precisely to a place where I do not see an obvious next brushstroke.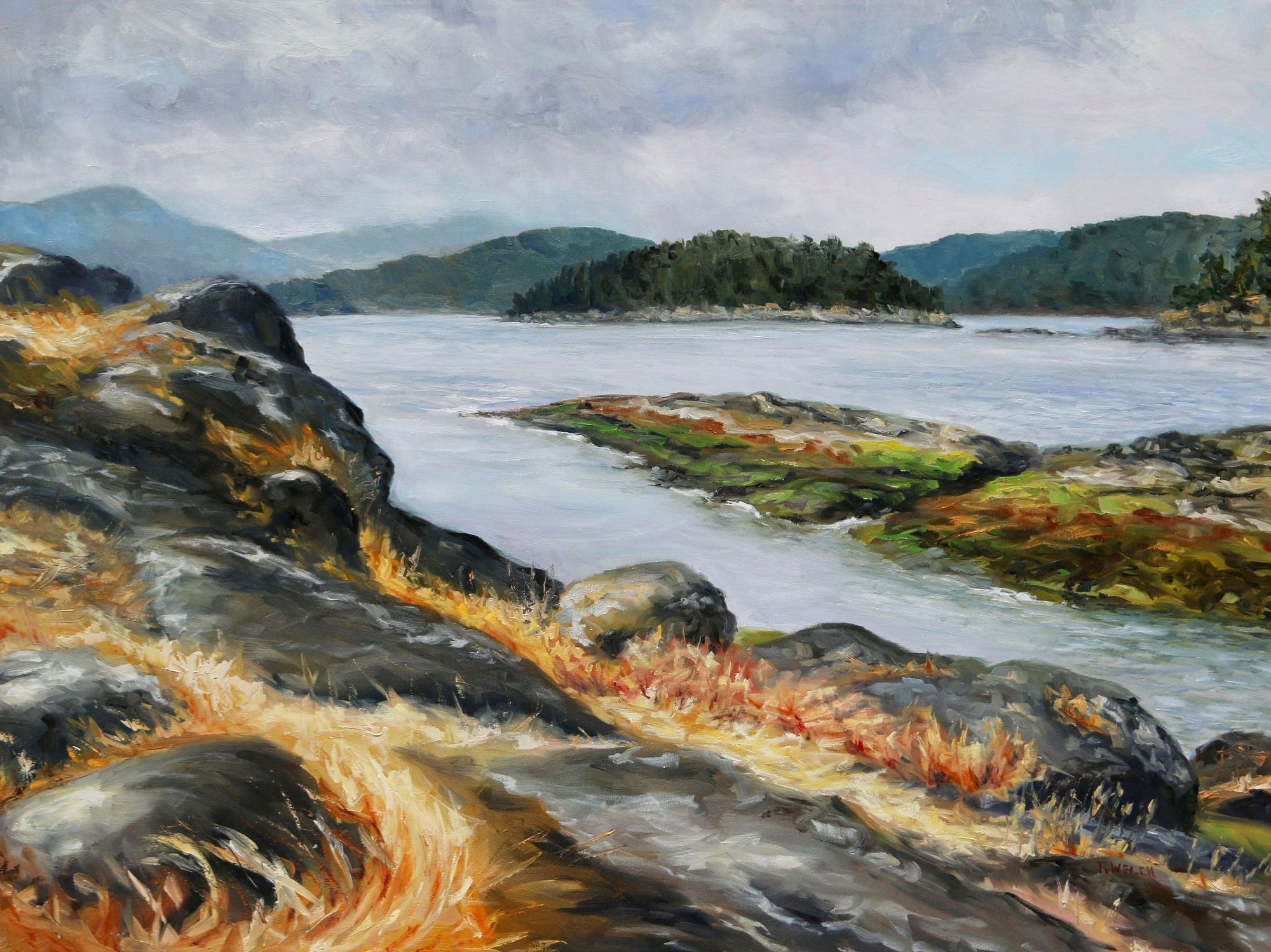 This final stage can take days, weeks, months or even years before I am satisfied that there is nothing more to be done on the canvas. After that, a final photograph is taken, the edges are painted, hanging wire added and it is released. And so it goes painting by painting, year after year until a life time has come to a close.
Opinion Piece
It Is Work
I am driving down the highway, reviewing my reference images from our travels in my mind and thinking about which will make paintings, when he says "aren't you glad you don't have to go back to work tomorrow?"
I think for a moment about how I had woke early to finalize the sale of a painting and make payment arrangements before we left the hotel. I think about how I had been agonizing over a representation offer for two days that I have decided to decline. I think about the art students' assignment notices I have placed in a folder while we are traveling so I can review them when we get home. I think about how, in just five days, I have to go pick up a large solo show with several big paintings from a neighbouring island. They must be carefully packed and loaded so that they will all fit in the car and nothing will get damaged. It is a nerve-raking and difficult task. I think about the posters that still need to be finished, printed and put up for the November show in my gallery. I think about the two video conversations about paintings that still needed to be edited. I think about the paintings that are just begging and demanding me to paint.
I pause.
I reply "I do love my work. But it is work. And though the past ten days have been delightful, I have still been working and I will continue working tomorrow. That is what artists do. Yes, this is different than other work I have done but it is still very much work and often hard and demanding work."
There is a longer pause broken only by the pronounced hum of the tires on the highway.
"Well...." an arm waves to indicate "Of course, of course! But it is not the same."
What can I say?
As an artist, I love my work. But it is work, often hard and demanding work.
Please don't mistake my usual smile, cheerfulness and enthusiasm for ease.
Recently Sold
A few paintings have left the gallery for adventures of their own recently. Here is the latest...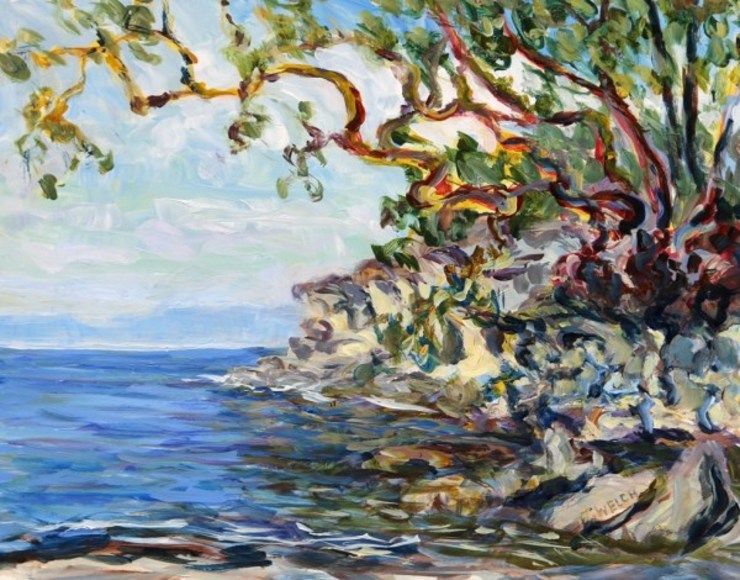 Sweeping curves round above seal-shaped forms below. Light and shadow intertwine in a symphonic melody. I am standing, painting, studying for a large canva...
Paintings seem to find their own way out into the world. Sometimes it happens quickly and other times it can take years. As the painter, I humbly admit to being unable to tell which it will be! My only advice for art collectors and serious fans of my work is not to wait. If you have been coveting a work, that will make you sad to have missed out on purchasing, hit the "inquire" button in the online gallery to send me an email and make arrangements to bring the work home - to your home - into your collection.
What I am reading...
The Goldfinch by Donna Tartt, published in 2013, can be as irritating as it is great. I have been practicing unconditional love for the main protagonist as he trips, stumbles and fumbles his way into adulthood. Yet, I am reading for a second time. Imagine that! The novel was awarded the 2014 Pulitzer Prize for fiction and I have no trouble understanding why. Of course, it was the intrigue of a stolen master painting that had me choose the book first off. But it is the story of a boy who loses his mother and at times his way that kept me reading.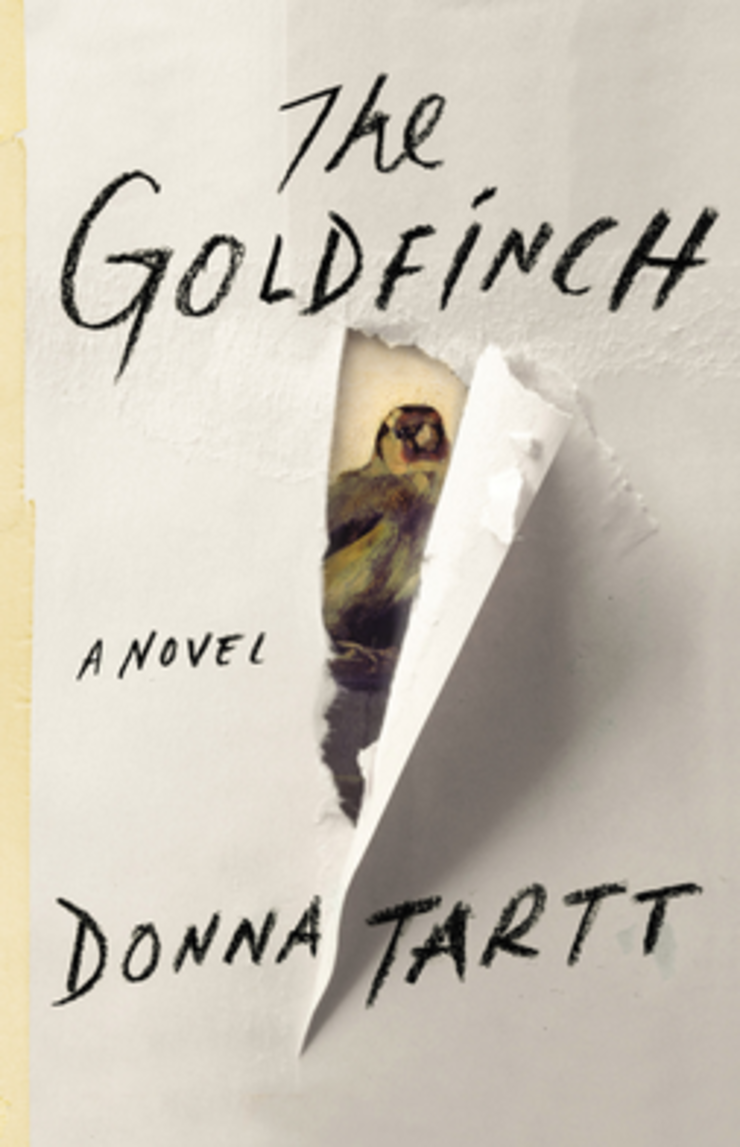 The Goldfinch is the third novel by American author Donna Tartt. Published in 2013, it was Tartt's first novel since the publication of The Little Friend in 2002.[1] The Goldfinch won the 2014 Pulitzer Prize for Fiction, among other honors.[2]
What is your Winter Season offering up?
Landscapes and more by impressionist painter Terrill Welch